Stadium Complex to Host Historic Commencement
05/13/2014
This weekend, SUNY Cortland will celebrate the largest commencement in its nearly 150-year history with two undergraduate ceremonies in the College Stadium Complex.
An estimated 1,477 seniors will receive bachelor's degrees during the ceremonies, scheduled for 9:30 a.m. and 2:30 p.m. on Saturday, May 17. It is the first time that undergraduate commencement has been held outdoors in the stadium complex, and the largest crowd of family and friends ever admitted to the events is anticipated. An estimated 2,080 undergraduate students will receive SUNY Cortland diplomas this year, the most in recent memory.
"This is truly an extraordinary class of students and I am thrilled to help them begin the next phase of their lives with a truly extraordinary event," said SUNY Cortland President Erik J. Bitterbaum, who will preside over Commencement exercises. "The record number of commencement participants testifies to their hard work, determination and engagement with the College."
Twice as many guests as usual — an estimated 11,000 people — are anticipated top fill the stands Saturday; rain or shine. Guest passes, which typically allow one visitor access, will allow two guests entrance Saturday.
The SUNY Cortland Commencement ceremony for students earning master's degrees and certificates of advanced study, meanwhile, will be held indoors as it has in the past. It is scheduled for 7 p.m. on Friday, May 16, in Bessie L. Park Class of 1901 Physical Education and Recreation Center Alumni Arena.
The College will award 234 master's degrees and 19 Certificates of advanced study. After the ceremony, a reception for the graduates and their guests will take place in the Corey Gymnasium.
The record number of students who will march at undergraduate commencement Saturday illustrates both SUNY Cortland's popularity and its growing retention and graduation rates – measurements of student success that reflect how many of a college's students return after their first year and complete their degrees. SUNY Cortland's nearly 70 percent, six-year graduation rate is the highest of any comprehensive college in the 64-campus SUNY system.
In 2013, 1,204 undergraduates received their diplomas during this one of two indoor Commencement ceremonies.
On Saturday, A total of 161 students are scheduled to graduate summa cum laude — the highest academic honor — with grade point averages of at least 3.75 on a scale of 4.00.
The largest number of majors set to graduate in each of the three schools are: 141 physical education majors in the School of Professional Studies, 192 childhood education majors in the School of Education, and 123 business economics majors in the School of Arts and Sciences.
Barbara J. Ryan '74, secretariat director of the Intergovernmental Group on Earth Observations in Geneva, Switzerland, will address the graduates during the morning ceremony. Wang Gongxin, an internationally respected artist who introduced modern computer-aided video art to China and as a visiting student at SUNY Cortland in 1987 and 1988 helped inspire the creation of the College's new media design major, will address the graduates during the afternoon ceremony. Ryan and Gongxin both will receive an honorary degree of Doctor of Humane Letters by the State University of New York during the ceremony.
Peter Kanakaris '70, president of the SUNY Cortland Alumni Association Board of Directors, will welcome these newest graduates into the ranks of the College's alumni, who live in all 50 U.S. states and more than 40 countries. In its 146-year history, SUNY Cortland has graduated more than 72,000 alumni.
Since Saturday's two ceremonies will be outdoors, all participants and guests should be aware of weather forecasts and dress appropriately. For guests who would find outdoor bleacher seating difficult, there will be an indoor option inside the Park Center Alumni Ice Arena where the ceremony will be shown live on a large video screen.
Students must participate in the ceremony they have already selected. If a student is signed up for the afternoon ceremony, that is still the ceremony he or she must attend.
Additional information is available on the Commencement website.
Professor's Final Gift Continues Legacy
05/13/2014
The late Lawrence Smith, associate professor emeritus of mathematics, spent 33 years teaching difficult concepts to SUNY Cortland students.
Now, thanks to a $125,000 bequest, he will continue educating students forever.
Smith, who died Jan. 17, 2013, left a portion of his estate to the Cortland College Foundation, which plans to use the funds to endow the Faculty Senate's annual scholarship.
The Faculty Senate must still decide many details about the scholarship, a $1,000 annual award that is jointly funded by the senate and the foundation. Smith's bequest, if used to create an endowment, would generate funding for five $1,000 scholarships every year.
"Larry would have liked this," said Dan Driscoll, professor emeritus of mathematics and a longtime friend and colleague of Smith. "He was a very generous man, and he was dedicated to his work."
Driscoll and his wife, Sylvia, helped Smith extensively during the last years of his life, as his once brilliant mind succumbed to dementia and he lived in several assisted living and nursing facilities. Smith had no immediate family and Dan Driscoll was forced to help his friend make complicated decisions.
One of those was dividing the estate Smith had built up in a variety of investment accounts. With no close family, all of his estate will go to charitable causes, including SUNY Cortland.
The Faculty Senate scholarship has already been awarded for 2014-15, so the first beneficiaries of Smith's gift are likely to be in 2015-16.
---
Capture the Moment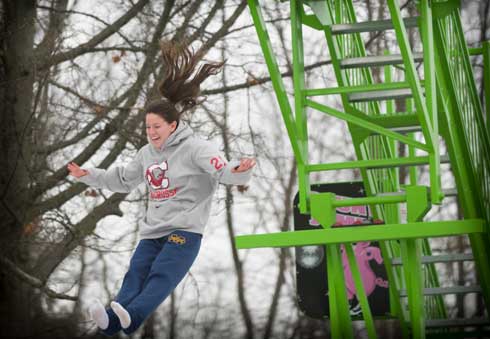 Mid-flight off the Stunt Jump, sophomore Geena Donovan entertains friends watching from below at the College's Spring Fling Carnival on May 3. The afternoon of outdoor fun was followed by a concert with Grammy-nominated hip hop artist J. Cole. This annual celebration is a last fling before final exams, which continue through tomorrow.
---
In Other News
Geology Professor Earns SUNY's Highest Honor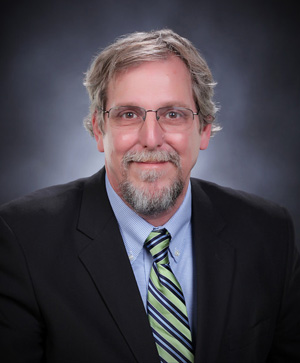 05/09/2014
SUNY Cortland Geology Professor Christopher McRoberts, an internationally respected paleontologist and expert on fossil mollusks of the Triassic period, has earned Distinguished Faculty honors from the State University of New York — the highest tribute for faculty members in the SUNY system.
The new title includes promotion to a tenured rank above professor. A 17-year SUNY Cortland employee, McRoberts becomes just the seventh faculty member in the College's history to be named a distinguished professor.
He will be recognized formally at SUNY Cortland's Undergraduate Commencement ceremonies Saturday, May 17.
For many years, impressive research as it relates both to personal work and to undergraduate discovery has become synonymous with the geology professor's name. McRoberts chairs the College's Undergraduate Research Council and in 2013 led a groundbreaking fossil study that incorporated the talents of a student and staff member. The trio's work was published in the scholarly journal Geology and attracted the attention of publications such as National Geographic and Nature.
Every year, scores of SUNY Cortland students from all academic disciplines are afforded opportunities to work closely with faculty members on original projects, thanks to support from the Undergraduate Research Council that McRobers leads.
In 2011, McRoberts received the SUNY Chancellor's Award for Excellence in Scholarship and Creative Activities in recognition of his work on the Triassic Period, which took place 250 million years ago, and on biostratigraphy, which focuses on correlating and assigning relative ages of rock strata by using the fossil assemblages contained within them.
McRoberts, Jeri Burke '13 and SUNY Cortland
physical plant worker Steven Mize were
co-authors of a scientific study that received
international attention.
He has conducted fieldwork across the globe in countries that include China, Italy, Canada, Austria and Hungary. Many scientific journals have published his work, including Science, Journal of Paleontology, Geology, Palaios, Palaeontology and Palaeogeography, Palaeoclimatology, Palaeoecology.
McRoberts often serves as an invited lecturer at some of the most important university and international conferences in his field, making more than 30 presentations in 10 different countries. Because of his expertise, he has been appointed to several prestigious positions, including research associate at the American Museum of Natural History in New York, secretary general for the International Union of Geological Sciences Commission on Triassic Stratigraphy, editor-in-chief of the international journal Albertiana, co-leader of an international Geologic Correlation Project, and chair of the Northeast Section of the Paleontological Society.
McRoberts has been awarded more than $450,000 in grant funding for his research from sources such as the National Science Foundation, Petroleum Research Fund of the American Chemical Society, United Nations Educational Scientific and Cultural Organization (UNESCO), International Geological Correlation Programme and Alaska Division of Geology and Natural Resources. He served as a 1995-96 Alexander von Humboldt Research Fellow at the Institute for Paleontology, University of Wurzburg in Germany.
McRoberts also has written seven book chapters, four monographs and a number of governmental scientific reports.
He joined SUNY Cortland in 1997 as an assistant professor, was promoted to associate professor in 2003 and to professor in 2006. His courses are rooted in paleontology, historical geology and ancient environments.
Previously, McRoberts served as a research associate at Binghamton University.
He earned his bachelor of science, master of science and doctoral degrees in geology from University of Wyoming, University of Montana and Syracuse University, respectively.
McRoberts joins a group of current SUNY Cortland distinguished professors that includes Timothy Baroni, Michael Berzonsky and Terrence Fitzgerald.
Sharon Steadman Earns Rozanne Brooks Award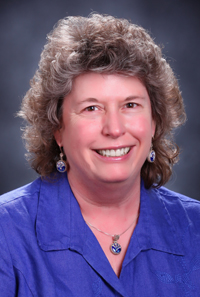 05/13/2014
Sharon Steadman, a professor of anthropology at SUNY Cortland, was named the College's 10th recipient of the Rozanne M. Brooks Dedicated Teacher Award.
She was recognized formally on May 7 during the College's annual Excellence in Teaching, Research and Service Reception in the Corey Union Function Room.
The Brooks Award honors a faculty member who devotes a significant amount of time both to teaching and to working with students outside of class. The award includes a $5,000 honorarium to enhance the recipient's teaching initiatives.
"Dr. Steadman is an exemplary model of a complete faculty member who has an outstanding record of service, research and scholarship," said Associate Professor of Physical Education Timothy Davis, a past Brooks Award recipient who was speaking on behalf of the Selection Committee. "She has dedicated her career to ensuring the very essence of what Dr. Rozanne M. Brooks outlined as the essential criteria for this award. Dr. Steadman's record of outstanding teaching and service clearly sets her apart."
The selection committee includes two other former Brooks Award recipients, Professor of Biological Sciences Steven Broyles and Associate Professor of Communication Studies Kathleen Lawrence.
Steadman said she will use the Brooks Award stipend to cover expenses to visit Central and South Asian countries — primarily India, and central Asian countries such as Uzbekistan and Kyrgizstan — in order to develop a new course unlike any currently offered by the College.
A faculty member in SUNY Cortland's Sociology/Anthropology Department since 1998 and a professor since 2011, Steadman is a research anthropologist and an authority on architecture and landscape archaeology, archeology of religion, and prehistoric economic systems and interaction analysis. She is a specialist in the Chalcolithic Period, a culture that dates back to 5200 B.C.
Steadman has served as co-director of the Cadir Hoyuk excavations in Central Turkey each summer since 2010, and previously as a field director since 1998. She has played a key role in other excavation sites, including Horom, Armenia; Akrotiri-Aetokremnos, Cyprus; Gordion, Turkey; and Tell el-Hammah, Israel.
In 2004, the State University of New York recognized her contributions as an educator with a SUNY Chancellor's Award for Excellence in Teaching.
"Dr. Steadman is a role model for her students and community because she radiates courage, integrity and dignity in every situation," one former student wrote in a letter supporting the nomination. "I would not be the teacher I am today without Dr. Steadman."
Teaching isn't just about imparting knowledge about topics in class or learning by rote, Steadman asserts. She wants her students to feel passionate about the course material.
"Things that they learn in the classroom help them understand things they see on the street, on TV, on Twitter," Steadman said. "I feel it will enrich their lives and it will affect everything they see or hear, and in a broader perspective and in wider ways.
"I may be biased in my perspective because my field, anthropology, is the study of world cultures. It's my job to show my students what they learn in my classes can help them understand what they see in the world."
Brooks honorees spend substantial time with students and they are very student oriented. Steadman advises the International Awareness Club and serves as the vice president for the international honor society Phi Beta Delta.
"Dr. Steadman's commitment to the classroom and her students are demonstrated in her enthusiasm and engagement of the subject material," Davis said.
In 2002, Steadman was a founder of SUNY Cortland's World First Learning Community, which remains in existence today.
"The learning community is a jewel in Cortland's crown, a model for the College and an unparalleled opportunity for students," wrote another nominator, Distinguished Service Professor Henry Steck, professor of political science.
Steadman has taught 11 different courses, including The Anthropology of Gender, The Making of the Modern World, Introduction to Museum Studies, and Peoples of the Middle East. She established in 2001 the Rozanne M. Brooks Museum, an ethnographic teaching museum in Moffett Center. She initiated and coordinates an annual Rozanne M. Brooks lecture series, which has significantly added to the intellectual life of the campus.
Steadman coordinated the College's International Studies Program from 1999 to 2013. She was interim director of the Clark Center for International Education from 2011 to 2012 and has served on its council since 1990. Currently she is a member of the Undergraduate Research Council.
"Her success as an innovative teacher and scholar reach far beyond the scope of the college campus," Davis noted. "Dr. Steadman contributed greatly to the American Council on Education (ACE) Internationalization project." Her work along with that of other faculty members to create meaningful links with classrooms on five continents led SUNY Cortland to capture earlier this year one of ACE's inaugural Internationalization Through Technology awards.
In 2003, the State of New York United University Professions Joint Labor-Management Committee presented her with its Nuala McGann Drescher Affirmative Action/Diversity Leave Award. In 2007, the Research Foundation of SUNY honored her among its most important and innovative scholars and scientists with a Research and Scholarship Award. She has been recognized with such awards as the College's 2013 Clark Center for International Education Internationalization Award and the 2012 Cortland Faculty Connections Award, chosen by the student body. She is a member of the honor society for all academic disciplines, Phi Kappa Phi.
Steadman's work on excavations in Turkey has been supported by 17 grants, including three Dumbarton Oaks Grants from the Dumbarton Oaks Research Library and Collection, an international research center affiliated with Harvard University; and currently she is funded by a second National Science Foundation grant.
An editorial assistant on the Bulletin of the American Schools of Oriental Research, she also serves as an editorial and advisory board member for the Journal of Eastern Mediterranean Archaeology and Heritage Studies and on the Committee on Archaeological Policy, American Schools of Oriental Research.
The author of numerous articles and book reviews and the co-editor of two books, Steadman has made many academic presentations. In 2009, she released her own book titled The Archaeology of Religion: Cultures and their Beliefs in Worldwide Context (Left Coast Press). She's at work on two others, Transcending Foundations: The Archaeology of Architecture and the Human Use of Space, under contract with Left Coast Press, and Ancient Complex Societies: An Archaeology of Civilization, co-authored with Jennifer Ross as lead author and also under contract with Left Coast Press.
Steadman, who lives in Ithaca, N.Y., earned her bachelor's degree at the University of California at Santa Barbara and her master's and doctoral degrees at the University of California at Berkeley. She is married to SUNY Cortland Professor of History Girish Bhat.
The Brooks Award was endowed through the generosity of the late Rozanne Marie Brooks, a SUNY Distinguished Teaching Professor and SUNY Cortland professor emerita of sociology and anthropology, and her former students, friends and colleagues. A SUNY Cortland faculty member for 36 years, Brooks died in 1997. The first award was presented in spring 1998.
Fulbright Recipient is Bound for Ukraine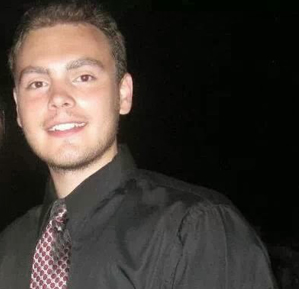 05/13/2014
Like many Americans, SUNY Cortland senior Peter Rakowsky wants to know what's behind the recent political turmoil and violence in Ukraine.
What's different is that Rakowsky, who graduates on Saturday with dual degrees in international studies and political science, will pack his bags and board a plane to explore in the coming year whether Ukrainians' destiny lies with the European Union (EU) or Russia.
Recently, Rakowsky was awarded a prestigious Fulbright Student Study/Research Grant that will pay for his trip to Ukraine, his travel inside the country, and his living expenses and research costs while he is being hosted by Ukrainian Catholic University for the 2014-15 academic year.
There the Clifton Park, N.Y., resident — who learned fluent Ukrainian from his parents — will interview about 60 relatives as well as economists and politicians in Ukraine and with the EU. He'll pore over others' research at universities and chat with ordinary people on the street.
"It's like a dream come true, actually," said Rakowsky, who aspires to a career in international politics serving the United States. "Ever since I could speak I've wanted to go back, and my parents have videos of me saying I wanted to be president of Ukraine."
Sponsored by the United States Department of State, Bureau of Educational and Cultural Affairs, this particular Fulbright supports study or research in both academic and arts fields in approximately 140 countries. As a recipient, Rakowsky has designed his own project, titled "A Quest to the West, European Neighborhood Policy and Ukrainian Integration," and will work with advisers at foreign universities and in government.
Rakowsky plans to interview professors from his host academy as well as Kyiv Mohyla Academy, Kharkhiv National University, Donetsk National University, Vasyl Stefanyk Precarpathian National University, Odessa I.I. Mechnikov National University and the Uzhhorod National University. He also hopes to speak with Ukrainian politicians and EU officials in Brussells and Kyiv. Public libraries will provide him with data from a Ukrainian perspective and will include media sources such as news broadcasts and newspapers. He'll supplement this information by interviewing the country's journalists.
Ukraine, which is 233,062 square miles in size and has 45.4 million people, primarily of Ukrainian ethnicity, is the largest country entirely within Europe. The country borders Russia to the east and northeast, Belarus to the northwest, Poland, Slovakia and Hungary to the west, Romania and Moldova to the southwest, and the Black Sea and Sea of Azov to the south and southeast, respectively.
Ukraine first signed a Partnership and Cooperation Agreement with the EU in 1998 and in Fall 2013, when Rakowsky applied to Fulbright, and the country appeared to be on the cusp of signing a new Deep and Comprehensive Free Trade Agreement with its Northern European neighbors.
"I first decided that I wanted to do a Fulbright when I was having dinner with my (Ukrainian) uncle," in 2012, he said. "My uncle just broke down crying, that's how excited he was about the agreement with the EU."
Rakowsky, then studying for a semester at Ukrainian Catholic University, also felt inspired upon meeting a Fulbright scholar. Deeply moved at the time about the political aspirations expressed by Ukrainians he met, Rakowsky finds even more commitment to his goal in light of recent developments.
Viktor Yanukovych, the country's Russia-friendly president declined to form a pact with the EU and was toppled in February and replaced by a pro-west president. Violence has arisen in Ukraine as Russia subsequently annexed the Black Sea peninsula of Crimea and appears ready to claim two restive eastern regions containing majority ethnic Russian populations.
"With the crisis I'm now a couch warrior, reading every article that comes my way," Rakowsky said. "I just hope to gain a deeper understanding of Ukrainian people as a whole. They are the borderlands people, living in the country sandwiched between the European Union and the Russians. I want to find out how the Russians have influenced the people.
"Everyone has a certain bias but hearing stories that are first-hand accounts from friends and family are a lot better than hearing stories on Fox and CNN," he said.
His research results will form the basis of a master's degree or even a future doctorate, which Rakowsky plans to pursue in Germany or the Netherlands. Upon learning about his post-undergraduate Fulbright award, Rakowsky deferred the start of his graduate studies at a German university where he already was accepted, Jacobs University in Bremen.
"The Fulbright Award is one of the top academic awards available in the United States," noted Jerome O'Callaghan, SUNY Cortland's associate dean of arts and sciences and an associate professor of political science. "The level of competition is very high and the quality of the student submissions is first-class."
Rakowsky is perhaps the first SUNY Cortland student to capture the prestigious grant in more than 20 years, O'Callaghan noted.
"A student who wins a Fulbright is tapping into the power of international educational exchange to transform lives," O'Callaghan said. "The award is designed to help current and future leaders in developing their research. It's about sharing knowledge on a global scale, and making a commitment to international engagement."
Presently Ukraine would not be considered one of the safer choices for foreign travel.
"I'm not at all afraid of being in a hostile environment," Rakowsky said. "I'm one of those young people who just think I'm not going to die. And I don't necessarily need to go to major hotspots, although I do need to go to major universities near the hotspots."
As a Shenendehowa High School graduate, Rakowsky considered attending nearby University at Albany before choosing SUNY Cortland for its international studies and political science programs.
"I absolutely love all the people who I came across in those two departments," he said. "It's such a well-kept secret how wonderful both of those programs are."
This semester, Rakowsky completes an internship at the New York State Assembly in Albany, N.Y. At SUNY Cortland, he participated in the Political Science Association, the Model European Union and the International Awareness Club. A President's List and Dean's List honoree, he was inducted into two honor societies, Phi Beta Delta for international scholarship and Pi Sigma Alpha for American political science.
"Peter has a passion that lies at the intersection of international studies and political science," said Alexandru Balas, coordinator of international studies and director of the Clark Center for International Education.
"He wants to solve some of the world's problems, and he'll get the chance to have a front row seat and analyze the global conflict in Ukraine, while being in Ukraine for a year of research. I cannot think of a more worthy recipient of the U.S Fulbright Student Award for Ukraine."
College Launches Solar Power Panels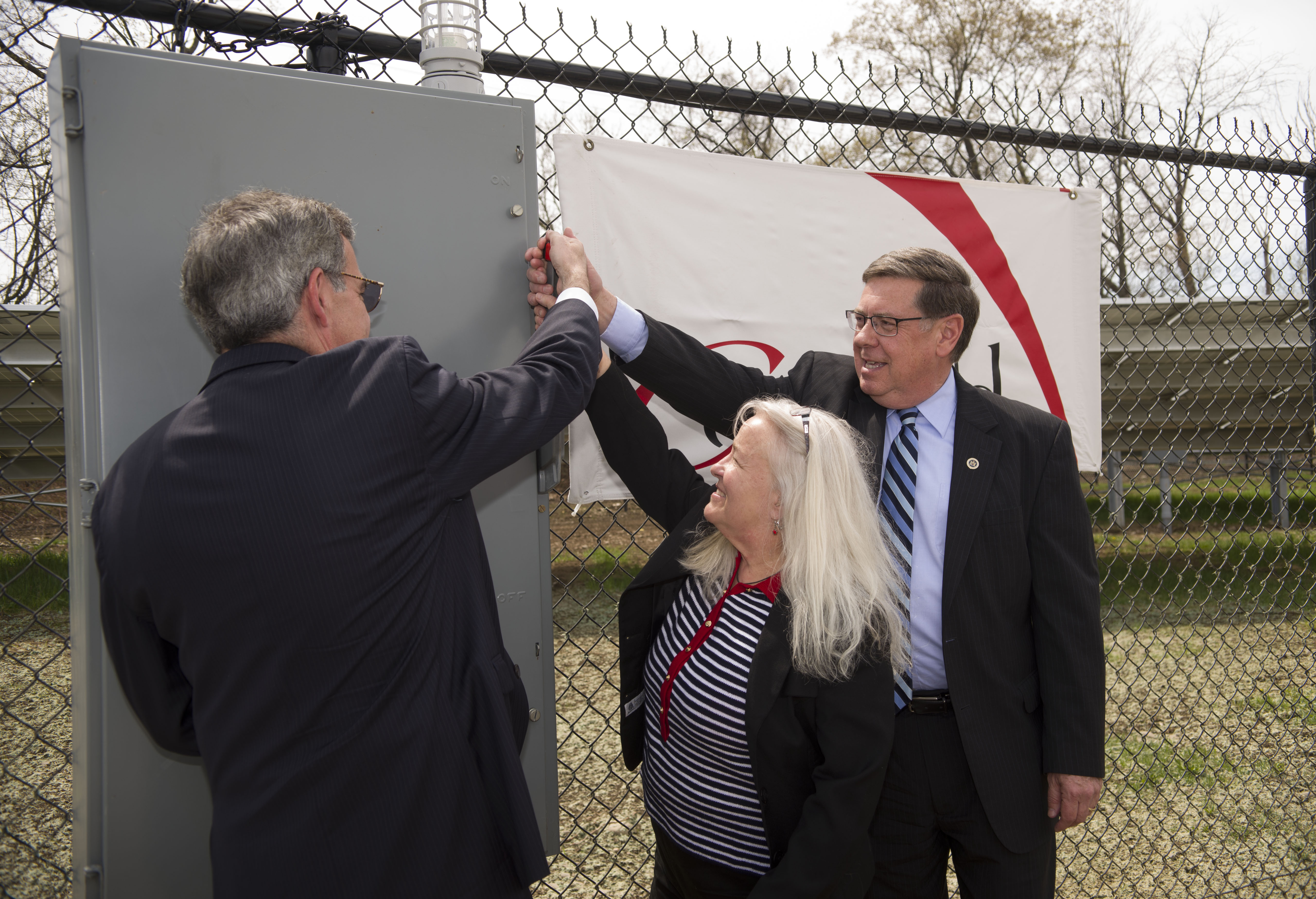 05/09/2014
SUNY Cortland symbolically threw the switch on more than 3,600 solar panels on May 9, highlighting the College's commitment to becoming one of the greenest campuses in the nation.
The $3 million solar project is the first of its kind in the 64-campus SUNY system and could serve as a blueprint for other public colleges in New York state. It will be used as a renewable energy laboratory for students and produce 1.5 million kilowatt hours of clean solar electricity — enough to power 130 homes.
"This will generate 6 percent of all our electricity in the future," said SUNY Cortland President Erik J. Bitterbaum, who joined state Sen. James L. Seward and an aide to Assembly Member Barbara Lifton in pulling a ceremonial switch next to one of the sprawling panel arrays. "We are very excited about this."
The panel project, built and owned by private renewable energy company SolarCity through a New York State grant, is just the most recent SUNY Cortland "first" in the area of energy and environmental sustainability.
Bitterbaum was one of the original signatories of the American College and University President's Climate Commitment and the College is the first, and only, SUNY institution welcomed into the federal Environmental Protection Agency's Green Power Leadership Club. SUNY Cortland pioneered the creation of "Green Reps," students hired to educate their peers about sustainability, and created a professional science master's degree program in sustainable energy systems that is unique within SUNY.
Last year, the College became the first SUNY campus to fill all of its electrical needs with green energy, largely by committing to buy renewable energy credits. In March, SUNY Cortland's newest residence hall became the first campus building in the SUNY system to achieve a platinum rating under the national Leadership in Energy and Environmental Design (LEED) certification system.
"I think the improvements and changes that are being made here on campus really do mirror the innovative thinking of those who are enrolled in classes here at SUNY Cortland," said Seward, who recently attended the grand opening of the College's state-of-the-art science building. "By becoming the very first SUNY campus to operate entirely on renewable electrical energy, it sets you apart as a trailblazing campus in all of the right ways."
The College used an innovative approach toward building commercial-scale solar arrays on campus by taking advantage of a unique state initiative designed to increase the number of solar installations throughout New York. Last year, Gov. Andrew Cuomo named SUNY Cortland as one of 79 project sites for an award by NY-Sun, a solar energy program run by the New York State Energy and Research Development Authority.
Through the program, SolarCity built three installations with a combined total of 3,604 photovoltaic panels on campus. The project spreads 2,244 panels across a grassy area near the old west campus entrance to SUNY Cortland off Route 281, and added 680 panels each to the roofs of the Park Center Alumni Arena and the new Student Life Center, currently under construction.
Under a 20-year power purchasing agreement with the College, SolarCity will continue to own and operate the panels and SUNY Cortland will buy the power they produce at a set rate that is likely to save about $200,000 over the life of the deal. Although the College had hoped to get to 10 percent solar power by 2050, the scale of the huge solar project has allowed the campus to pull about 6 percent of its electricity from the sun already.
"In light of the most recent report on climate change, the National Climate Assessment, that once again warns us of the dire effects of global warming and the fact that we have to act now and we have to act big, what is happening here at SUNY Cortland makes us all very, very proud of you," said Linda Smith '82, Lifton's chief of staff and a SUNY Cortland graduate. "It's just another example of SUNY Cortland uniquely training the next generation to go out into the world. It gives us hope that we can face the challenges of global warming."
The College has already incorporated the new solar installations into the studies of its sustainable energy systems students, according to Brice Smith, chair of SUNY Cortland's Physics Department.
"Residential-scale systems are important and they are going to continue to expand, but systems of this size have their own unique aspects," Smith said. "To be able to have a living, working system like this on campus will be an enormous help to our students. It will let them learn and really go into the world with a level of experience that very few others will be able to match."
The solar installations have not only caught the attention of students, alumni and community residents, but also impressed job candidates brought to campus to fill a new sustainable energy teaching position, Smith said.
"Every single one of our candidates who came and looked at our campus were just amazed at how much we have been able to do, how much we were already doing, and this system was a big part of that," Smith said. "On campus now we have solar systems at both the residential-scale size on Dragon Hall and at the commercial scale here. We have solar thermal, we have geothermal; the entire campus now is one giant laboratory for renewable energy, and that's a real remarkable change that has happened in a very short period of time thanks to some very important leadership on campus."
One key leader behind the push toward sustainability was not able to attend the May 9 ceremony. William Shaut, the vice president of finance and management who presided over the decision to pursue the solar project, commit to 100 percent renewable electricity and SUNY Cortland's other green initiatives, recently passed away after a long illness. Friday's ceremony was dedicated to his memory.
"Those who knew Bill will attest to his commitment to sustainability and energy conservation," said Nasrin Parvizi, associate vice president for facilities management. "He was a financial officer, so he liked energy savings. But that was not why he was such a great advocate: It was because he believed it was the right thing to do."
SUNY Cortland's other sustainability initiatives include:
Satellite boilers. The College shuttered its inefficient, natural-gas-fired central steam heating plant in favor of individual, high-efficiency boilers in every building, reducing natural gas consumption by 30 percent.
LEED standards. For years, the College has required that all new construction on campus met Leadership in Energy and Environmental Design, or LEED, standards set by the U.S. Green Building Council. These standards require a range of energy efficiency or alternative power measures. The new Student Life Center, set to open in January 2015, will be LEED gold.
Geothermal energy. The Professional Studies Building is heated and cooled by a series of 40 wells that carry natural, thermal energy from 400 feet below the surface. Since the building opened in 2011, an estimated 650 tons of carbon emissions have been avoided.
Green Days. The College holds a month-long celebration of sustainability and environmental awareness every April.
Dragon Buses. When the College replaced several of its campus buses, it chose to purchase propane-burning vehicles rather than the traditional diesel buses. These brightly decorated "dragon" buses operate more cleanly than their predecessors.
Community bicycles. The College has a long-established community bike program that allows members of the SUNY Cortland community to borrow recycled bicycles, free of charge, to use around Cortland.
"No Mow" Zones. The College installed several grassy areas that it intentionally decided not to cut in the summer, reducing fuel consumption and allowing wildflowers and animals to flourish.
Dining initiatives. Auxiliary Services Corporation, the non-profit entity that runs the campus dining areas and campus store, has implemented a variety of sustainability measures, including a high-tech system of measuring food waste that has led to changes responsible for dramatically reducing unused and uneaten food generated on campus. ASC also introduced compostable dining utensils, increased local food purchases and the recycling of used fryer oil into biofuel.
Summer Institute Offers Benefits for Teachers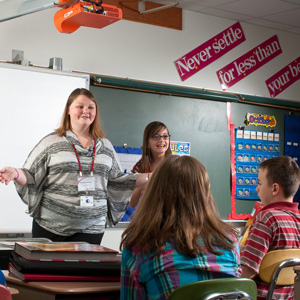 05/02/2014
A summer program housed at SUNY Cortland invites talented local teachers who double as leaders.
The Seven Valleys Writing Project Summer Institute is accepting applications from teachers at all grade levels in all content areas. The three-week program, which takes place from Monday, July 7, to Friday, July 25, offers up to six graduate credits, more than 80 professional development credit hours and a limited number of $1,000 stipends to offset graduate school expenses.
The application deadline is Saturday, May 31, and space is limited to 20 teachers. The program is open to mid-career teachers as well as graduate students who are entering the teaching profession and retired teachers.
"This is not an English program; it's a leadership program," said David Franke, a SUNY Cortland professor who leads the Summer Institute. "Writing is a way to learn and explore, and we make a supportive space for teachers to take risks."
The big picture goal of the program is to provide teachers of all subjects the tools they need to innovate and reflect.
"We might have a kindergarten teacher, an 11th grade social studies teacher, a physical education teacher, an English teacher and a seventh grade math teacher, all working on their own writing as well as writing lessons that will have their students understanding the subject matter more deeply," Franke said.
Summer Institute days typically span a normal workday and allow time for lesson plan development, research, personal writing and discussion. A math teacher, for instance, might lead a sample lesson where students — played by other Summer Institute participants — are asked to describe their thought process in words. The teacher is able to understand the most effective or ineffective parts of a lesson and the student is trained to articulate an idea.
"It's not about being a published writer," Franke said. "Summer Institute is an opportunity for teachers to return to what got them in this business in the first place."
"The folks we invite to join us tend to be highly motivated, creative and practical. They work very closely together for a period of three weeks."
In addition to refined lesson plans and polished pieces of personal writing, one of the Summer Institute's key takeaways is a group of close colleagues to consult with in the future, Franke said.
"One of the side effects of this is that it creates a community of teacher-learners," he said. "And that's what people report back as one of the most powerful effects."
Creativity and confidence are common words that appear in participant feedback evaluations.
"I have come to realize how little I have used writing," a former Summer Institute graduate wrote. "I knew it was missing, but after being here, I have so many ways to sneak it back into my classroom."
"I'm reminded to take risks and that if I don't think writing is interesting, no one in my class will," another past participant reported.
The Seven Valleys Writing Project offers a limited number of $1,000 stipends to those who desire graduate credit. Accepted applicants can use the Summer Institute to obtain three or six graduate credits.
Participants who wish to earn professional development credit can apply for tuition payment through their local school district by registering through My Learning Plan at Tompkins-Seneca-Tioga BOCES.
Complete registration information for the 2014 Summer Institute can be found on the Seven Valleys Writing Project website. For more information about tuition, payment or credit, contact Franke.
Cortland Athletics Wins SUNYAC Commissioner's Cup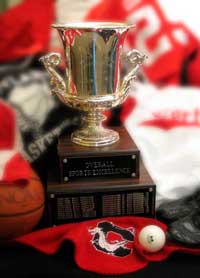 05/13/2014
The SUNY Cortland intercollegiate athletics program finished first in the Dr. Patrick R. Damore State University of New York Athletic Conference (SUNYAC) Commissioner's Cup standings for the 2013-14 school year.
Cortland has won the Commissioner's Cup, which is awarded for overall sports excellence, in 17 of the 18 years that it has been awarded, including the last 11 seasons. The Cup is named for Dr. Damore, the long-time SUNYAC Commissioner who retired in 2012.
Cortland finished with an average score of 8.18 points. Geneseo was second with an average score of 7.68 points and Oneonta was third at 7.56 points.
Commissioner's Cup points are awarded based on each team's finish in the SUNYAC standings, both during the regular season and in league postseason tournaments, when applicable. The first-place school in each sport receives 10 points, second place receives nine points, and so on. A school's regular-season finish is added to its postseason finish and is divided by two to determine the points for each sport. The total points earned are then divided by the number of conference sports the school sponsors.
Cortland won six league crowns: men's cross country; women's indoor track and field; women's lacrosse; men's lacrosse; baseball; and women's outdoor track and field. The Red Dragons also finished as league runner-up in five sports: field hockey; men's soccer; women's swimming and diving; softball; and men's outdoor track and field. The SUNYAC sponsors 20 sports.
2013-14 SUNYAC Commissioner's Cup — Final Standings
Rank, School



Number of
league sports

Total
points

Avg. points
per sport

1. Cortland
20
163.75
8.18
2. Geneseo
19
146.00
7.68
3. Oneonta
19
143.75
7.56
4. Buffalo St.
16
102.00
6.37
5. Brockport
20
119.00
5.95
6. Plattsburgh
16
89.50
5.59
7. New Paltz
14
74.5
5.32
8. Fredonia
18
92.75
5.15
9. Oswego
20
85.75
4.28
10. Potsdam
13
40.25
3.09
Phi Kappa Phi Honors Six Students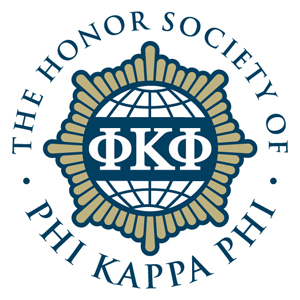 05/13/2014
Six exceptional members of SUNY Cortland's chapter of Phi Kappa Phi, the honor society for all academic disciplines, have set high standards for future student scholars through excellence in discipline, dedication and time management.
The students, named "Scholars of the Year" by the Cortland chapter, were recognized April 26 during a special ceremony in the Corey Union Function Room.
The scholars also each received $50 and were acknowledged later that same day during SUNY Cortland's annual Honors Convocation ceremony in the Park Center Alumni Arena.
The accolades were based on academic accomplishments as well as leadership and volunteer involvement at the College and in the community.
Founded in 1897 at the University of Maine, Phi Kappa Phi annually initiates about 30,000 new members from nearly 300 campuses in the U.S., Puerto Rico and the Philippines.
Here's a closer look at each Phi Kappa Phi scholar:
Natalie Gregory
Natalie Gregory
A senior biology major and chemistry minor, Gregory of Unadilla, N.Y., has made sure that her grades were a point of emphasis during the last four years.
The daughter of Ken and Molly Deck, Gregory has made Dean's List every semester and the President's List three times. She won a President's Scholarship in spring 2013.
This spring, she was awarded the Dr. Norman B. Reynolds Memorial Award, presented to an outstanding biology major who has a good academic record and has shown exemplary personal development.
When she isn't spending her time with the biology club, Gregory helps other students within her major. She has served as a supplemental instruction leader for six semesters in four different science classes. Gregory also served as an Educational Opportunity Program peer tutor in Spring 2013.
Laura Brennan
A dual Spanish and criminology major, Brennan of Congers, N.Y., has managed to use her college experience as a blueprint for a career as a high school Spanish teacher.
The daughter of Andria and Keith Brennan, Brennan has attained various awards over her four years at Cortland. She is a member of Sigma Delta Pi, the national Spanish honor society. In 2013, she was awarded the Clark Center Five Continent Scholarship for her study abroad in Costa Rica.
Laura Brennan
Brennan also has served as the Spanish Club's treasurer and vice president and is a member of the Phi Beta Delta international honor society.
"SUNY Cortland provided me the opportunity to study two very different majors at once," said Brennan.
"As soon as I set foot on campus, I felt at home, like I already belonged."
Hannah Greene
A senior childhood education and history major, Greene of Buffalo, N.Y., has dreams that exceed just being an elementary school teacher.
"Eventually I want to be a principal of a school and a superintendent of a school district," said Greene.
The daughter of Daniel and Laura Greene, she has received many awards since arriving on the SUNY Cortland campus.
Hannah Greene
A Kappa Delta Pi international honor society in education member, Greene received the Leonard F. Ralston Award from the History Department for the junior with the highest grade point average (GPA), as well as the Walter Hanchett Award for the senior with the highest GPA.
Greene was named to the Who's Who Among Students in American Universities and Colleges for the 2012-13 and 2013-14 school years.
"I chose SUNY Cortland because I wanted to go to a school in New York that had an excellent and competitive education program," said Greene.
Ryan O'Connell
Ryan O'Connell
A senior exercise science major from West Nyack, N.Y., Ryan O'Connell has made the most of his college career.
The son of Brendan and Helen O'Connell, he has attained many awards in his time at SUNY Cortland.
O'Connell has received the Sheier Family Scholarship, Arethusa Scholarship and the Emergency Medical Physicians Scholarship, to name a few.
"I chose SUNY Cortland because it was a good school with the major I was interested in for my career path at the time," said O'Connell.
Although an exercise science major, Ryan has switched gears to focus on a career path based around his minors. Minoring in both biology and chemistry, he looks to pursue a career in research of molecular physiology.
Kyle Shea
A senior physical education major, Shea from Walkill, N.Y., has displayed his hard work and leadership skills ever since becoming a member of the campus community.
Kyle Shea
He has maintained a cumulative 3.8 GPA, made the Spring 2012 and Fall 2013 President's List of the College's top scholastic achievers, and the Dean's List multiple times by maintaining at least a 3.3 GPA.
In Fall 2013, he coordinated Adopt-A-Family, serving as a liaison between the YWCA and Residence Life and Housing to provide gifts for 21 needy families in the Cortland community. Due in part to his dedication, $9,000 was raised for those families.
"Get involved in as many clubs and organizations as you can manage," advised Shea. "The people who love their college experience the most are those who spend their time being as productive as possible."
Brian Cook
Information for Brian Cook was unavailable.
Division of Student Affairs Honored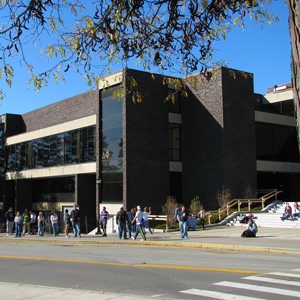 05/13/2014
SUNY Cortland has been named a promising place to work in student affairs based on a national study with an eye towards diversity.
The College was one of 31 institutions nationally — and just three in New York state — to earn the distinction, awarded by the American College Personnel Association (ACPA) as part of a collaborative project with Diverse: Issues in Higher Education magazine.
Conducted by the Center for Inclusion, Diversity and Academic Success (iDEAS) at Ohio State University, the study examined the administrative structures, priorities tied to diversity and staffing practices of various divisions of student affairs at ACPA member institutions.
Although the survey's questions mostly addressed SUNY Cortland employees and general campus practices, the results shed light on institutions that have created supportive spaces for their students.
"By creating and enhancing our efforts to create a supportive and inclusive environment for staff, we are able to support an increasingly diverse student body," said C. Gregory Sharer, the College's vice president for student affairs.
The initial survey was comprised of six categories, such as family friendliness and professional development opportunities. More than 100 institutions of higher education responded.
Questions addressed topics such as campus-wide diversity initiatives, support for different sexual orientations and flexible scheduling for employees. Many of SUNY Cortland's responses considered policies that guide the College as a whole, Sharer said.
The survey was launched during the fall semester and the official report of results appeared in the March 27 edition of Diverse magazine. Pace University and Stony Brook University were the other New York state institutions to be recognized.
The complete list of Promising Places to Work in Student Affairs 2014 can be viewed on the ACPA website.
Spitzer to Be Featured on 'Ivory Tower' Special
Robert Spitzer, Political Science Department, will be featured on WCNY's "Ivory Tower" program on Friday, May 16.
This special one-hour program in honor of the show's 500th episode will air at 8 p.m. on Central New York's public television station, WCNY TV.
Spitzer, a SUNY Distinguished Service Professor, is a panelist on the weekly public affairs program, which will begin its 13th year on the air this fall. Spitzer has served as a panelist since its initial broadcast.
"Ivory Tower" focuses on news and events from the perspective of academicians from across Central New York. The show is hosted by David Rubin, professor and dean emeritus of Syracuse University's S.I. Newhouse School of Public Communications.
The half-hour show, which airs weekly on Fridays at 8 p.m., has an estimated viewing audience of 11,000 people, up 3,000 from a year ago, according to the February 2014 Nielsen Report. "Ivory Tower" re-airs Sundays at 8 p.m. on WCNY's World channel, and is available online at wcny.org/ivory-tower.

Suggest a feature story
---
People on the Move
Interim Finance and Management Staff Named
05/13/2014
SUNY Cortland has named Mary K. Murphy as interim vice president for finance and management, filling the cabinet position formerly held by William E. Shaut, who passed away May 1.
Murphy, who worked closely with Shaut for nearly a decade as associate vice president for finance, moved into her new role this week.
She oversees all offices housed within the Division of Finance and Management, including the Physical Plant and the Business, Facilities, and Human Resources offices. The position is responsible for the College's budget and capital projects, and serves as its liaison with the Auxiliary Services Corporation and the SUNY Cortland Child Care Center.
Jody Maroney '00, chief budget officer for SUNY Cortland's Business Office since 2004, also was appointed as interim associate vice president for finance.
She will have primary responsibility for the areas of finance, student accounts, purchasing, payroll, internal control and Research Foundation fiscal administration.
"Both Mary and Jody are extremely talented professionals who have repeatedly demonstrated their dedication to the College throughout their respective careers at SUNY Cortland," said SUNY Cortland President Erik J. Bitterbaum. "Their expertise and vision will help the College to maintain its strong financial foundation and ability to meet future economic challenges."
Mary K. Murphy
Mary K. Murphy
Murphy, who joined the College in 2004, previously had served as director of financial analysis at Syracuse University since 1996, overseeing and managing financial analysis activities, plant accounting and property management departments. She had joined the university in 1993 as a financial analyst.
Prior to that, Murphy was accounting manager at L'Airco Ltd., a former manufacturer of computer room air conditioners in Syracuse, N.Y., from 1991-92. From 1984-1990, she was accounting manager with Alcatel-Transcom Corporation, a telecommunications assembly plant in Portsmouth, R.I. that was in the process of consolidating with its parent organization in North Carolina.
A native of Geneva, N.Y., and a graduate of Cicero (N.Y.) High School, Murphy completed the majority of her undergraduate work at the University of Massachusetts at Dartmouth and earned a Bachelor of Science in Accounting with honors from SUNY Empire State College in 2000 and a Masters of Business Administration with a concentration in accounting from Syracuse University in 2005.
Murphy is a member of the National Association of College University Business Officers, Eastern Area College University Business Officrers, State University Business Officers Association and National Council University Research Administrators.
She has served on College committees including the Jets Steering Committee, the Auxiliary Services Corporation Board of Directors Finance Committee, the President's Council and as treasurer and chair of the finance committee for the SUNY Cortland Child Care Center.
She is married to Matthew Murphy, a chef and owner of a catering business, Murphy's Complete Catering. They live in Marcellus, N.Y., and have two sons, Luke, who has a Ph.D. in engineering and works for Dielectric Labs in Cazenovia; and Zach, who is pursuing his master's degree in exercise science at SUNY Cortland and owns a personal training fitness business, Personal Trainings' Finest, in Baldwinsville, N.Y.
Jody Maroney
As the College's budget officer since 2004, Maroney developed, submitted and oversaw budgets for four separate funds totaling more than $80 million in operations. She coordinated, developed and submitted the dormitory 10-year capital plan and collaborated with the President's Cabinet, deans, department chairs and directors to ensure fiscal success. In 2011, she was recognized with the Business Office Award of Excellence.
Jody Maroney
Maroney joined the College's Business Office/Student Accounts as a staff assistant in 2000 and was promoted later that year to assistant bursar. In 2003, her title was changed to assistant director of student accounts.
Maroney accepted a position at SUNY Cortland upon receiving a Bachelor of Science in Business Economics from the College, where she concentrated in financial management and received a Fred Hanga Jr. Memorial Award for Excellence in Business Economics. She also has associates in applied science degrees in accounting and business administration from Tompkins Cortland Community College.
From 1993 to 1999, Maroney was employed as payroll supervisor at Suit-Kote Corporation. During the year before that, she was a bookkeeper at New Medico Highgate.
A native of East Freetown, N.Y., Maroney graduated from Cincinnatus Central School. She lives in Solon, N.Y., with her husband and two children.
---
Faculty/Staff Activities
Mark Dodds
Mark Dodds, Sport Management Department, recently had his article, "The Influence of Gender on Baseball Sponsorship Activation Tactics," published by the Journal of Brand Strategy.
Terrence Fitzgerald, Frank Rossi and Michael Wolfin '12
Terrence Fitzgerald, Biological Sciences Department, Frank Rossi, Chemistry Department, and former student Michael Wolfin '12, co-authored an article titled "Trail Marking by Larvae of the Cactus Moth, Cactoblastis cactorum" appearing in the current issue of the Journal of Insect Science. The paper reports the results of a study supported by the USDA-APHIS directed at developing an eco-rational approach to the control of the caterpillar, which is an invasive species. Wolfin, currently a graduate student at Cornell, was recently designated the George G. Gyrisco Outstanding Graduate Student in Applied Entomology.
Denise Knight
Denise Knight, English Department, has had her essay, "'[a] country of whose language I knew not a word': Charlotte Perkins Gilman In and On Italy," accepted for inclusion in a collection of essays titled Transatlantic Women: American Women Writers in Italy. The essay is an expanded version of the conference paper that Knight gave in Florence, Italy, last June.
Jean W. LeLoup
Jean W. LeLoup, International Communications and Culture emerita, along with U.S. Air Force Academy (USAFA) colleagues LeAnn Derby and Ramsamooj J. Reyes, and Sheri Spaine Long from the University of North Carolina – Charlotte, had their paper, "Fusing Language Learning and Leadership Development: Initial Approaches and Strategies," published in Dimension 2014. The white paper was a result of a semester-long Faculty Learning Community in the Department of Foreign Languages at the USAFA that met throughout the spring of 2013. The paper focuses explicitly on the relationship between language learning and leadership development through discussion, reflection and exploration to advance strategies and develop related resources.
R. Bruce Mattingly
R. Bruce Mattingly, School of Arts and Sciences, participated in a panel discussion on tenure issues in higher education hosted by Syracuse University on March 28. The panel was presented as part of SU's Future Professoriate Program for graduate students who intend to pursue faculty careers. Other panelists included Risa Lieberwitz, Cornell University, and Robert Rubinstein, Syracuse University.

Submit your faculty/staff activity