Two Promoted to Distinguished Ranks
05/14/2013
SUNY Cortland professors Robert Darling and Peter McGinnis, two faculty members who each boast more than 20 years of service to the College, have earned promotions to the distinguished ranks of the State University of New York.
Darling, a professor of geology, was promoted to Distinguished Teaching Professor and McGinnis, a professor of kinesiology, was recognized as a Distinguished Service Professor. The pair was among 16 faculty members to be ranked among the best educators the system has to offer by the SUNY Board of Trustees during its May 10 meeting in Albany, N.Y.
The Distinguished Teaching Professorship denotes mastery of teaching and outstanding service to students. Darling becomes the 10th faculty member with that distinction to currently serve SUNY Cortland. The Distinguished Service Professorship recognizes extraordinary service not only on campus, but also on community and system-wide levels. McGinnis is the seventh current faculty member to earn the title.
Robert Darling
Whether he's teaching a one-credit introductory course such as COR 101 or an advanced topic for geology majors, Darling approaches teaching the same way — with passion and excitement to foster a love of learning.
"Dr. Bob once told me: 'If you do what you love, you will never work a day in your life,'" wrote one of his former students in a course teacher evaluation. "I honestly believe this truly applies to him."
Darling
Darling has developed a reputation for bringing course materials to life, through drawings, physical models and easy-to-understand explanations. In one class, for instance, he shook a washbasin filled with golf balls and ping pong balls to show how heavy and light isotopes fractionate as a result of evaporation of water, demonstrating an important concept in how scientists decipher climate change.
"I still have my petrology notebook because it is the most concise guide I will ever find," wrote a former student who now works in the energy field.
Darling joined the Geology Department in 1992, achieved the rank of associate professor in 1996 and was promoted to professor in 2001. He has remained active as a scholar and researcher throughout his career, writing more than 30 published scientific abstracts, 10 geological guidebooks, two maps and a book review. The recipient of eight grants, including three from the National Science Foundation, his memberships include the New York State Geological Association and the New York State Museum.
"He has become somewhat of a legend with his work in the Adirondacks, his field guides relating to conferences are utilized by many professionals that I now interact with routinely," wrote a former student now working in the geology field. "I would not hesitate to put him in the top three experts on the geology of the Adirondacks in the world."
Darling also excels at bringing his scholarship back to the classroom, where he often mentors undergraduate students in research. In many instances, he has mentored students beyond their graduations.
"Truly great teachers, such as Bob, see little distinction between teaching in the classroom and outside," wrote Christopher McRoberts, a SUNY Cortland professor of geology.
Darling's "students come first" approach has earned him a reputation on SUNY Cortland's campus not just among geology majors, but learners from all academic disciplines. Further, his interpretation of higher education as a partnership was never lost on students.
Even those who found his course difficult praised his teaching methods.
"It was really hard material and an intense class," one student wrote. "But I really enjoyed it."
Peter McGinnis
The authoritative voice on the biomechanics of pole vaulting belongs to McGinnis, an internationally respected scholar who has worked extensively with U.S.A. Track and Field and the U.S. Olympic Committee for decades.
Pole vaulters, from beginners in Central New York to Olympic champions and their coaches, have depended on his analysis since the early 1980s. So have organizations such as the American Society for Testing and Materials and legal representatives requiring expert testimony in pole vault accident litigations.
McGinnis
His service to the sport and the study of its biomechanics — at the College, in the community and on a national level — has proven superior.
McGinnis joined SUNY Cortland as an associate professor of physical education in 1990, earned a promotion to professor in 1999 and moved to the Kinesiology Department when it was established in 2007. During his tenure, his campus commitments have included co-chairing the College Research Committee as well as chairing the School of Professional Studies Personnel Committee, the College Curriculum Review Committee and the Graduate Faculty Executive Committee.
Many individual College awards also have piled up during his career, including the Gerald DiGiusto Award for Outstanding Faculty Member in 1996 and the Exercise Science and Sport Studies Department's Award for Excellence in Teaching, Scholarship and Service in 2001-02.
And, of course, he lends his expertise in pole vaulting on a volunteer basis to the College's track and field teams. Since 1991, his pole vaulters have won a combined 42 State University of New York Athletic Conference titles indoors and outdoors as well as a national championship outdoors in 2009.
That service extended out into the community, where McGinnis served for 13 years as a volunteer track and field official for the Syracuse Chargers Track Club. Additionally, since 1997, he has led many pole vaulting clinics for Central New York high school athletes and their coaches.
On a national level, McGinnis is as respected in his sport as any, serving as the biomechanist for the pole vault event for U.S.A. Track and Field, the country's governing body for the sport. In December, the organization awarded him the Harmon Brown Sports Medicine and Science Award.
His scholarship related to the biomechanics includes the highly regarded book, Biomechanics of Sport and Exercise, plus 24 peer-reviewed articles. McGinnis also has authored 55 technical reports addressing pole vaulting topics and has chaired three committees responsible for establishing important safety standards in the sport.
A sought-after presenter at national and international conferences, McGinnis has obtained more than 40 grants to support his scholarship, further improving the ways researchers understand the biomechanics of pole vaulting.
Antlers Passes to Cortland College Foundation
05/14/2013
SUNY Cortland's plan to place more students and alumni in the living laboratory of the Adirondack wilderness took a giant step forward May 13 when the SUNY Cortland Auxiliary Services Corporation (ASC) transferred its Antlers property in Raquette Lake to the Cortland College Foundation.
College, Cortland College Foundation and ASC officials gathered in Brockway Hall to sign the change-of-ownership agreement, which gives the 2.7-acre camp complex, valued at more than $1 million, to the foundation. In conjunction with the transfer, SUNY Cortland enters into a 30-year lease agreement with the foundation for the right to operate the former 19th-century hotel and summer resort.
A SUNY Cortland student examines a specimen found near Antlers during a class in the Casino building.
"We are very pleased that Auxiliary Services Corporation is making this important transfer of Antlers," said SUNY Cortland President Erik J. Bitterbaum. "This will enable the College to further develop its vision for students to gain a greater appreciation of the Adirondacks. We hope that all SUNY Cortland students take advantage of the opportunities they have to experience first-hand the rich life lessons the Antlers experience has to offer."
As part of its campus-wide commitment to create environmental and outdoor education opportunities for all members of the College community, the College will increase its use of Antlers as a resource for students and alumni to strengthen their connection with the College.
"I'm very pleased the foundation is taking over Antlers and I can see only positive outcomes in the future," said John Silsby '69, who heads the annual Hearts of Gold retreat for alumni and students at Antlers. "I've been there many times and as an alumnus I am glad of the opportunities I've had."
The transfer solidifies the College's commitment to Antlers and the improvements needed to help SUNY Cortland's Raquette Lake facilities reach their full potential, said Kimberly Pietro, vice president for institutional advancement and executive director of the Cortland College Foundation.
"The Raquette Lake center is something that makes us special and very different from other college campuses," Pietro said, "It's a place we're quite proud of because we are among only a very few SUNY institutions that can offer this kind of unique, historical wilderness learning opportunity."
President Erik J. Bitterbaum, standing, presided over the historic change of ownership for the Antlers property. Adjacent to him were, on the left, Pierre Gagnon, ASC executive director, and on the right, Kimberly Pietro, vice president for institutional advancement and executive director of the Cortland College Foundation. Their attorneys, shown far left and right, were Mike Shafer and Don Armstrong.
With the property acquisition, the Cortland College Foundation ends the silent phase of a $1.5 million endowment campaign for programs at the two camps the College operates at Raquette Lake; Huntington Memorial Camp and Antlers. Robert Rubendall, director of the College's Center for Environmental and Outdoor Education, continues to develop unique programming and will play a lead role in determining how the endowment fund is spent.
The endowment initiative is part of "Educating Champions: The Campaign for Cortland," which since Fall 2011 has made steady and significant progress in raising a total of $25 million to support the College's major priorities. Although the overall campaign ends June 30, the Raquette Lake campaign will continue until all needs are met.
The foundation has numerous building- and room-naming opportunities on site at Raquette Lake, along with special Raquette Lake giving societies that will offer permanent recognition to leadership donors.
For its part, SUNY Cortland will significantly improve the Antlers facility by pledging $1 million for future upgrades to the infrastructure and by expanding the operation at Antlers to three seasons. The ASC — an independent corporation created by the College to provide dining, vending and other services for the SUNY Cortland community — purchased Antlers in 1965 to provide marina access and a staging area for water and ice access to Camp Huntington, a 400-acre historic great camp on the remote Long Point. The College had acquired Huntington in 1948.
Antlers hosts students studying biology, physical education, professional writing and other disciplines. It currently accommodates up to 45 overnight guests, serves meals and offers unique classroom and meeting space.
For decades, alumni have used Antlers to reunite with their classmates in an informal setting. Many feel a very strong connection to the camp.
Students unwind from a long day of learning on the upstairs porch in the Casino building at Antlers.
"It's such a tremendous resource for the College and for the alumni," said Silsby, who currently chairs the Harlan Gold Metcalf Endowment Fund. The fund, which benefits the Recreation, Parks and Leisure Studies Department, supports an annual Hearts of Gold reunion at Antlers for alumni who studied with the late, revered SUNY Cortland emeritus professor Harlan "Gold" Metcalf, as well as selected current recreation majors.
For more information about the Campaign for Raquette Lake, contact the Cortland College Foundation, Inc. at SUNY Cortland, Brockway Hall Room 313, P.O. Box 2000, Cortland, NY 13045; or call 607-753-5744; or email cortlandcollegefoundation@cortland.edu; or visit the Center for Environmental and Outdoor Education website at cortland.edu/raquette.
---
Capture the Moment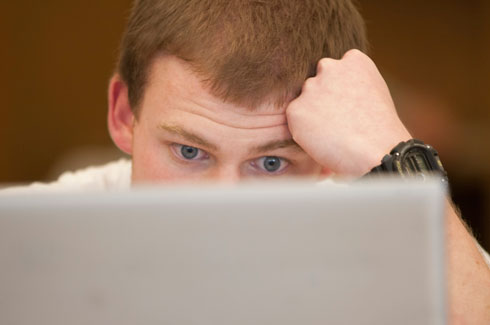 Junior Tyler Fallon, an exercise science major from Poughquag, N.Y., studies anatomy and physiology in Memorial Library during the College's scheduled study days on May 8 and 9. The two days are set aside each semester between the last day of classes and the start of the final examination period.
---
In Other News
Thailand Program Earns Chancellor's Award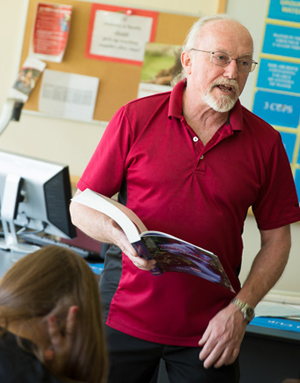 05/14/2013
Orvil White, the SUNY Cortland faculty member who pioneered a summer program bringing the College's student teachers to Thailand, has won a competitive State University of New York Chancellor's Award for Internationalization.
The assistant professor of childhood/early childhood education, who launched "Teach in Thailand: An Internship in Teaching Across Cultures" in 2012, is one of only four recipients across the SUNY system for 2013-14 and the first from SUNY Cortland in eight years. He will be recognized during the 2013 Undergraduate Commencement ceremonies on Saturday, May 18, in the Park Center Alumni Arena.
"I was very pleased to receive the Chancellor's Award and it is nice to have the time and hard work on the Thai program recognized," said White, a SUNY Cortland faculty member of six years. "I know it is not my effort alone that is being rewarded as I have supported my many others along the way.
"That support has come from my department chair, the College president and certainly from Mary Schlarb, the director of SUNY Cortland's International Programs Office. I also believe this award will continue to strengthen the collaborative efforts that have been established between SUNY Cortland and our Thai partners."
The Chancellor's Award for Internationalization distinguishes new and innovative programs in less commonly traveled destinations, along with the study of underrepresented academic disciplines in international programs. It also provides $4,000 to support White's Thailand program and encourage student participation in the future.
Coordinated by SUNY's Office of Global Affairs, the top proposals for the highly competitive award are selected by a committee of SUNY campus representatives from statewide applicants.
White was no stranger to Thailand when he built the program. In 2005, he developed a working relationship with graduate students from the Science Education Center at Srinakharinwirot University in Bangkok. He has visited the country six times, providing 20 professional development workshops for teachers and five university lectures during his travels.
This past August, a group of seven spent nearly three weeks in the Southeast Asian country, leading a series of professional development workshops for Thai teachers. Along with White, that group included SUNY Cortland senior childhood/early childhood education majors Kayleigh Caswell and Courtney Cox and Associate Professor of Childhood/Early Childhood Education Susan Stratton.
White
In addition to getting a taste of teaching English as a second language (ESL) in a foreign classroom, the SUNY Cortland students — as well as students from Tompkins Cortland Community College and SUNY Cobleskill who joined them — demonstrated a more hands-on type of instruction for Thai educators. Thai teaching relies heavily on antiquated lecture methods, so the task of the group from Cortland was to bring hands-on inquiry, which included games and activities, to the overseas classroom.
The trip was possible thanks to a unique partnership SUNY Cortland shares with SWU. Sponsored by the Ministry of Education and the Office of the Basic Education Commission, which provided transportation, housing and teaching materials in Thailand, it's a working relationship that views this past summer's visit as the first of what will become a regular study-abroad destination for SUNY Cortland students.
The SUNY system's international programs database currently only lists two programs in Thailand. SUNY Cortland's blueprint would allow future teachers throughout the system to hone their teaching skills while developing global competency and cultural awareness.
The program, in short, captures the essence of "SUNY and the World," one of Chancellor Nancy L. Zimpher's six fundamental ideas for the system. The award for internationalization has been earned by just 41 projects over the past decade.
Chancellor's Award Winners Named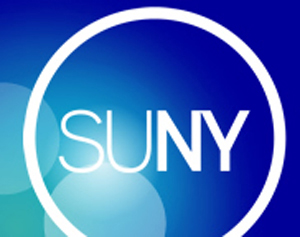 05/14/2013
Four SUNY Cortland faculty and administrators will receive the prestigious State University of New York Chancellor's Award for Excellence during the 2013 Undergraduate Commencement ceremony on Saturday, May 18, in the Park Center Alumni Arena.
The honorees are:
• Stacey Buckley, keyboard specialist I in the Physical Education Department — Chancellor's Award for Excellence in Classified Service;
• John Foley, professor of physical education — Chancellor's Award for Excellence in Scholarship and Creative Activities;
• David Franke, professor of English — Chancellor's Award for Excellence in Teaching; and
• Donna Videto, professor of health — Chancellor's Award for Excellence in Faculty Service.
The Chancellor's Awards provide system-wide recognition for consistently superior professional achievement and encourage the pursuit of excellence at all 64 SUNY campuses. Each campus president submits nominations, which are reviewed by the SUNY Committee on Awards.
This year's SUNY Cortland award winners are profiled below:
Stacey Buckley
Buckley, a College employee in the Physical Education Department since 2003, becomes the fifth SUNY Cortland recipient of the classified service honor, created by SUNY in 2009 and presented in recognition of outstanding job performance, flexibility, creativity and exemplary customer service.
She meticulously handles many different office duties, crafting Microsoft Excel spreadsheets and reports with precision, although she is best known for the genuine interaction she shares with students and faculty members.
"Her office is the 'hub' of the department and the first point of contact for most faculty, students and the community when they enter Park Center," wrote Lynn Couturier, professor and chair of physical education, in a nomination letter for Buckley. "… They immediately feel they have entered the 'helpful zone' as Stacey graciously tracks down whatever they need."
Buckley's efficiency and follow-through help her stand out in a department that trains more than 800 undergraduate and 150 graduate students. On a typical day, she acts as the person on the front lines for the many different questions from students and faculty members alike.
She has proven vital in tasks both big and small — from collecting data during the College's National Council for Accreditation of Teacher Education re-accreditation process to reorganizing Physical Education Department records and eliminating the need for nearly a dozen file cabinets in the process.
"In all tasks associated with her job, Stacey puts in the extra effort to ensure things are done correctly and in the best possible manner," Couturier wrote. "I marvel at her ability to accomplish her work despite numerous interruptions throughout the day, but her most impressive quality is her commitment to customer service."
Before joining the Physical Education Department, Buckley worked 12 years for SUNY Cortland's College Store.
John Foley
A leading researcher in the field of adaptive physical education for people with physical and intellectual disabilities, Foley is the 12th SUNY Cortland faculty member to receive the Chancellor's Award for Excellence in Scholarship and Creative Activities, which recognizes the reach, scope, impact and sheer volume of his work in the fields of exercise and sport sciences.
Foley's contributions can be measured by their impressive numbers — he's the author of 27 published journal articles and three book chapters since arriving at SUNY Cortland eight years ago — as well as by their quality. Recent examples of his works include several papers on the physical fitness of visually and mentally disabled children using pedometers, including one published in the Journal of Exercise Science and Fitness, and another on the global distribution of body mass index metrics in adults who participated in the 2011 Special Olympics.
A peer from the University of Victoria in Canada called the Special Olympics study "genuinely groundbreaking in the field of adapted physical activity and disability studies."
In addition to published articles, Foley's other creative contributions include a DVD series developed with colleagues from SUNY Cortland, SUNY Upstate Medical University and Syracuse University to promote physical activity among people with disabilities and their families.
"John is the go-to person to answer questions related to the latest research in the field," wrote Luis Columna, from Syracuse University's Department of Exercise Science.
Foley made 15 presentations at national and international conferences alone in 2012 and has secured funding for his research from a variety of sources, most recently $32,000 from the Cornell University School of Industrial and Labor Relations to consider accessibility of wellness resources at workplaces for employees with disabilities.
His many awards include the 2012 SUNY Cortland Outstanding Achievement in Research Award and the College's 2009 Excellence in Research, Scholarship and Outreach Award. Citations of his work in leading peer-reviewed journals have surpassed 200.
Couturier, SUNY Cortland professor and chair of physical education, sums it up best.
"Working with John is intellectually stimulating," she wrote.
David Franke
With his teaching ability often described as "superb" and "vibrant" in course teacher evaluations from students, Franke is the 48th SUNY Cortland faculty member to be recognized with the Chancellor's Award for Excellence in Teaching.
Animated discussions accompanied by intense training in writing and critical analysis are trademarks of his classes. Franke has taught nearly two dozen courses in support of the College's professional writing program and his students' evaluations indicate that each one comes across as intellectually stimulating as the next.
"I have been allowed to let my creativity go for the first time … because the professor creates a safe environment for everyone's thoughts," one student wrote.
"This has been one of the most challenging and rewarding classes I have taken," wrote another student. "It may very well have the most practical real-world application in the future."
A SUNY Cortland faculty member since 1999, Franke's way with students is matched by his ability to earn financial support to promote teaching across local, state and national levels. He has received more than $300,000 in grant funding, most notably from the National Writing Project to launch the Seven Valleys Writing Project regionally. That endeavor uses conferences and workshops to train teachers at all grade levels in writing and critical thinking throughout the year.
His teaching also has boosted the scholarly work of students on the SUNY Cortland's campus, as Franke continues to serve as an active member of the College Writing Committee and an influential mentor to aspiring writers. In addition to his teaching inside the classroom, transformational retreats and field trips often are woven into his curriculum.
"What mattered to me most was the effort he made outside the classroom," a student wrote. "Dr. Franke knew I was very serious about becoming a professional writer, so he suggested we have weekly meetings. Every week, he would discuss writing, potential jobs, extra schooling — and always encouraged me to continue on."
Known for his meticulous grading, thorough feedback and high expectations set for his students, Franke is known for consistently pulling out the best that his students have to offer.
"This class, although difficult, is among the best I have taken," one student wrote. "I may only get a 'B' but I feel I have learned 'A' material. The teacher is perfect for this class."
Donna Videto
Videto has devoted her entire career to providing service to others, a quality that has made her the 10th SUNY Cortland recipient of the Chancellor's Award for Excellence in Faculty Service. The honor recognizes her extensive College service and leadership, as well as her efforts to assist individual students, the community and the profession at large.
A list of Videto's campus-wide involvement stretches several pages and includes a range of activities, including her current role as coordinator for school partnerships and membership with the College's Health Department Curriculum Committee and its Graduate Comprehensive Examination Committee, two groups she has served since she arrived at SUNY Cortland in 1995.
If there's a committee on campus that serves others, whether students or fellow faculty members, there's a good chance Videto has served on it. Non-traditional students, undergraduates in the Cortland Urban Recruitment of Educators (C.U.R.E.) program and colleagues in the School of Professional Studies represent just a sampling of those who have benefitted from her service.
She also typically provides a key role in campus and community health issues, assessing school health programs, guest lecturing and involving her students in service learning opportunities. Videto also helped launch the Cortland City School District's "Growing Healthy" curriculum and has contributed to the health nutrition programs of several local schools.
"Annually, (Videto) reaches out to community health educators to see where the students may help us fill a gap in providing information to the community," wrote Christella Yonta, the project coordinator for the Seven Valleys Health Coalition.
Videto also has proven invaluable on a statewide level, serving the New York State Education Department as a lead grant co-investigator for the School Health Systems Change Project and a reviewer for the New York State Health Central kindergarten through sixth grade health education curriculum, among many other roles.
On a national level, Videto has provided extensive leadership to the American Association for Health Educators for decades, serving on its board of directors and as associate editor of two professional journals, the American Journal of Health Education and the International Electronic Journal of Health Education.
Her research and scholarship includes two co-authored books and numerous health education curriculum guides, including A Competency-Based Framework for Health Educators, a widely accepted publication that identified the competencies a health educator should be able to perform with five years of work in the field.
Jeanette Dippo, a lecturer of health, accurately summed up Videto's many contributions to her discipline.
"Donna's all-around, sustained efforts and commitment epitomize the meaning of community service not only on our campus, but in our region, state and nation," she wrote.
Students Dive Into Community Pool Drive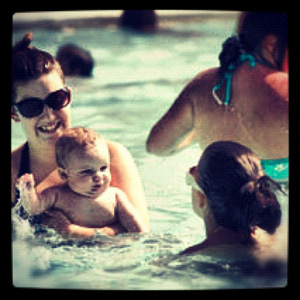 05/14/2013
Back in spring 2012, SUNY Cortland students dipped a timid toe into the waters of civic engagement with an effort to save the local community's Wickwire Pool.
They since have leaped into the deep end, figuratively speaking, by creating videos, building an Internet information hub and making formal marketing presentations to raise funds for the struggling, nearly 70-year-old public swimming facility.
One of the students' most recent projects is "Dive In: This is What Democracy Looks Like," a short film that offers a quick glimpse at their work on behalf of Wickwire. The clip was submitted for the People's Choice Award on the "Looking at Democracy" website and quickly rose to the top 10 in the vote standings. Fans can watch the short video and register their vote through Thursday, May 16.
"I like knowing that we helped to change a community," remarked Amy Halvorsen, a senior new communications media major from Albany, N.Y., who's been involved in the effort. "This project feels like you left something behind, instead of getting here and in four years, you're out. You can contribute to something while you're here."
Cortland Industrialist and philanthropist Charles C. Wickwire built the pool for the city. It opened for free public use in 1946. For many years the local community has raised funds to maintain the 150- by 70-foot public swimming pool and keep admission free.
Recently, the effort was joined by students of Communication Studies Professor Caroline Kaltefleiter — or "Dr. K" as many students like to call her. Every semester, a number of SUNY Cortland students take on community-inspired projects such as the drive to save Wickwire Pool through Kaltefleiter's New Communications Media (COM 350) and Issues in Digital Culture (COM 335) courses.
In the spring of 2012, INSTA-Act, a photo-based project by one of Kaltefleiter's COM 335 classes, caught the eye of John McNerney '87, the Cortland Youth Bureau's director and a leader of the effort to keep Wickwire Pool open.
Having seen INSTA-Act, which was designed to raise campus and community awareness of local economic and educational needs while forging a deeper connection between students and the community, McNerney thought communications students from his alma mater might be interested in a new and important task: saving the community pool.
Although the recreational facility had been mended many times, a 2010 engineering report stated that the aging pool no longer was suitable for swimming and $750,000 to $1 million in renovations were needed to keep it open.
"In the beginning, some students were adamant and kind of thought they were wasting their time," observed Simon Tuckey, a senior new communication media major from Palm Harbor, Fla. "But it wasn't so much that we were trying to raise the $1 million between 30 students, it was more about raising awareness."
To date, community efforts ¾ including those by SUNY Cortland students ¾ have raised more than $214,000, McNerney said.
Students and faculty have collaborated with numerous members of the Cortland community and company executives — some from as far away as Oregon — to find ways to raise enough money to renovate the community pool.
"We made a presentation at the beginning of this spring semester to City Council, and from that we raised a lot of awareness," said another project veteran, Ethan Giventer.
"We actually got Assemblywoman Barbara Lifton to secure quite a lot of funds for us, just because she saw how motivated we were for the project," said Giventer, a senior new communication media major from Massapequa, N.Y.
A few weeks ago, a marketing team, which consisted of four COM 350 students and Kaltefleiter, made a presentation to executives from a multinational corporation that received word about the project and wanted to help.
"They weren't just students anymore. They were a marketing team. And they were pitching Wickwire," Kaltefleiter said.
Although the potential sponsor was ultimately unable to donate to the pool project, some of their other marketing efforts met with success.
"We knew that if we were able to get enough people active about it, that the figures would come later, and they certainly have," Giventer remarked.
A donation page on hopemob.org serves as a kick-starter for causes like the Wickwire Pool Project. The students have set a goal of $1,000 this semester and are just below the $800 mark.
The students increased awareness for their project by creating a social media campaign and organizing several events in the community coordinated by student-run teams.
The student-built website, wickwirepoolproject.com, is referred to by the students as a media hub because it has links to all of the different social networks, such as a live Twitter feed, a Facebook news feed, YouTube videos the students have produced, and more.
Justin Smith '12, a SUNY Cortland graduate and former communication studies major, created the media hub during his senior year under Kaltefleiter's supervision.
As with many of Kaltefleiter's former students, Smith has stayed involved with the project and continues to maintain the website. Since spring 2012, nearly 100 of her students have joined the Wickwire Pool Project.
More students took the plunge last fall after Cynthia Sarver, an assistant professor of English, and her Introduction to Language Arts class blogged about the campaign's progress.
Although the COM 350 students have devoted much time to the effort, some say that they are happy to get a sense of what life might be like when it comes time to graduate.
"Dr. K. pushes you to the point where you're almost about to break," Tuckey said with a laugh. "But you don't quite break, and you get it done, and then afterwards you feel great and proud of what you've done and what you've accomplished."
"Working on stuff with real deadlines, and not just a hypothetical project that you can do over a semester, is much more of what I'm expecting to do when I'm out in the real world," said Kyle Atkinson, a senior dual major in new communication media and new media design from Corning, N.Y.
The Wickwire Pool Project and the INSTA-Act project have given the students a much stronger connection to the community and a sense of pride in the city of Cortland too.
"I'm in awe, absolute awe," said project veteran Christi Nassauer, a senior new communication media major from Mount Sinai, N.Y. "It's so much more than I expected it to be.
"My entire life, I wanted to do something that would impact someone else's life and make a difference."
On HopeMob, visitors can find a description of the Wickwire Pool Project and what the students are trying to accomplish. Although the students' donation cycle ends the weekend of May 12, subsequent contributions are welcome to the PayPal account, which can be found at the bottom of the media hub page.
For more information, visit the media hub, wickwirepoolproject.com, or contact Kaltefleiter.
Class Awards Grants to Four Nonprofits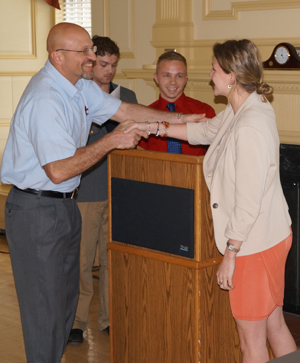 05/14/2013
A semester's worth of work recently benefited four Cortland area nonprofit agencies in a big way, when a course at SUNY Cortland that is devoted the practical side of philanthropy awarded each a grant of at least $2,000.
Sixteen local charities and agencies had submitted applications for a share of $10,000 in Learning by Giving Foundation grant funding. The lucky organizations were formally announced May 7 during a ceremony in Brockway Hall Jacobus Lounge.
During the Learning by Giving Foundation Grant Awards Celebration, the 16 students who took Philanthropy and Civic Engagement: Teaching Students How to Give met representatives from the organizations that will benefit from their hours of analysis, discussion and decision-making.
Erik J. Bitterbaum, SUNY Cortland's president, introduced and welcomed the Learning by Giving Grant recipients, accompanied by Richard Kendrick, director of the Institute for Civic Engagement (ICE), and Henry Steck, SUNY Distinguished Service Professor.
The awardees, the grants, and the projects each grant will support, are as follows:
• Catholic Charities of Cortland County received an award of $2,000 for its summer lunch program.
• The Cortland County Mental Health Association won a $2,000 grant to partner with the Cortland City Police Department to train a response team for emotionally disturbed people.
• Lime Hollow Center for Environment and Culture was awarded $2,500 to acquire environmental educational material for the discovery lab and classroom in the nature center's new building.
• The YWCA of Cortland earned $3,500 for the Bridges for Kids program, specifically its "Salamanders, Summer and Support — Oh My!" project.
For the second year in a row, SUNY Cortland joined a 32-member group of colleges and universities to earn the $10,000 in funds from the Learning by Giving Foundation, which aims to promote the study of philanthropy at the undergraduate level. The select class also includes institutions such as the University of California at Berkeley, Columbia University and Stanford University.
"In other classes, we talk about what we would do or what we might do," said Louisa Frick, an international studies major from Red Hook, N.Y. "In this class, we actually get to do something — something that's really important."
The course, which is backed by the competitive funding for the second year in a row, also receives support from the College's Political Science Department and ICE. None of the money from the Learning by Giving Foundation could be used on course-related expenses; all of it will split among the four community agencies.
"I personally feel really proud for the College and for (the State University of New York)," said Steck, a professor of political science who taught the course. "I'm proud for our students, too, because this demonstrates that we're on the cutting edge of doing things."
Sara Earl, second from left, accepts a check for
the YWCA's Bridges for Kids program.
The 16 students, coming from nine different majors that included business economics, professional writing, and exercise science, learned quickly that awarding grants would not prove as easy as handing out someone else's money.
"I was expecting it to be hard, but I didn't realize it was going to be so hard choosing between different organizations," said Lizaury Rodriguez-Marin, a political science major from Freeport, N.Y., noting that many of the not-for-profit agencies showed similar needs.
Guest lecturers in the class spoke to the importance of prioritizing specific needs. Among the many transferable skills students learned, they were trained in real-world ways to debate effectively, work collaboratively and write efficiently to a request for proposal.
"We also learned how stressful it is for the organizations on the other side just to get money for their programs," said Katherine Wick, a sociology major from Lockport, N.Y. "They're constantly looking for money, constantly applying for grants."
Matthew D'Alesio, a political science major from Yorktown Heights, N.Y., who aspires to a career in politics, said that the course introduced him to the community's specific needs and that he's more likely to give to not-for-profit organizations in the future.
"The proposals we saw all showed a lot of need," he said. "They definitely made me want to spread the wealth through philanthropy."
Army ROTC to Commission New Officers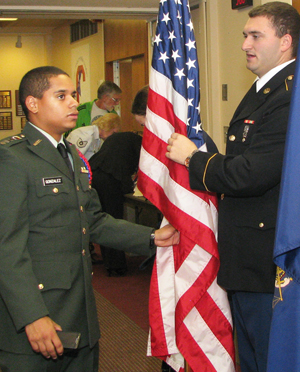 05/13/2013
A remarkable alumnus and New York Army National Guard colonel will give the keynote address at SUNY Cortland's Army Reserve Officers' Training Corps (ROTC) Commissioning Ceremony honoring two graduating members on Saturday, May 18.
Col. Carlton C. Cleveland II '91 will recognize seniors John Carlisle and Adam Gonzalez for completing the Army ROTC program as they are commissioned to the rank of second lieutenant at 8 a.m. in the Professional Studies Building, Room 1166.
The ceremony is free and open to the public.
A recipient of the Bronze Star Medal, Cleveland obtained a bachelor's degree in political science from SUNY Cortland and also was commissioned through the College's Army ROTC program.
Col. Carlton Cleveland II '91
Cleveland advanced his military and civilian education by earning a master's degree in public administration from Marist College as well as a master's degree in strategic studies from the United States Army War College.
He is currently the chief-of-staff of the guard's 53rd Troop Command, headquartered at Camp Smith, near Peekskill. The 53rd Troop Command is responsible for the training and administration of 4,000 combat support and combat service support guardsmen across New York.
Cleveland recently returned from a deployment to Afghanistan where he was responsible for training Afghan soldiers and police while serving with the 1st Brigade Combat Team of the 82nd Airborne Division. While in Afghanistan he also served as liaison officer to the Polish 6th Airborne Brigade.
The decorated colonel has received numerous military awards, including the Combat Infantryman Badge, Afghan Campaign Medal, Meritorious Service Medal (three awards), NATO Medal, Global War on Terrorism Medal, Parachutist Badge, New York State Humanitarian Service Medal and New York State Defense of Liberty Medal with World Trade Center Device.
A native of Mount Vision, N.Y., he and his wife, Michelle Lukeman Cleveland '90, also a graduate of Cortland, have two daughters, Catherine and Megan.
The fall 2012 semester marked the first time since 1993 for the College's Army ROTC program to have a presence on campus. Successful completion of the four-year program results in a cadet being commissioned as a second lieutenant, a platoon leader in charge of 20 to 30 soldiers.
For more information about the Commissioning Ceremony, contact Kevin Swab, assistant professor of military science, at 607-753-2692.
Athletics Pulls a SUNYAC Spring Sweep

05/05/2013
It was a weekend to remember for the SUNY Cortland athletics department.
The College's Division III powerhouse added a new chapter to a storied history filled with championships and individual accolades, sweeping all six State University of New York Athletic Conference (SUNYAC) team championships in spring sports.
It marked the first time any SUNYAC team won conference titles in baseball, softball, men's and women's lacrosse, and men's and women's outdoor track and field in the same season since the league first began sponsoring all six sports simultaneously in 2000. The College had previously taken home five spring sports titles seven times since 2001, including each of the past two years.
"That's just about as close to perfect as you can get," said SUNY Cortland Director of Athletics Mike Urtz '94. "This is another one of those accomplishments that speaks to the dedication we see day-in and day-out, year-round from all of our student-athletes and coaches. I'm just thrilled for them."
With each spring sports team winning at least seven conference championships between 1998 and 2012, the College unquestionably set the bar for athletic excellence in the SUNYAC's spring sports. The feat seemed likely to be reached at some point; it just happened to be 2013.
This year, Cortland earned the top seed and hosting privileges in three sports — baseball and men's and women's lacrosse. The College's softball team was seeded second and its outdoor track and field teams served as pre-determined hosts of their conference championships.
"That's something that shouldn't get lost in the celebration — just how hard our staff members work to host these tournaments," Urtz said. "From pre-game preparation until well after each contest ends, they work tirelessly to support our student-athletes."
Here's a look at the six SUNYAC championship performances:
Baseball: Ranked third nationally, the College's baseball team marched to its 31st SUNYAC title with three decisive wins, punctuated with a 16-1 rout over Oswego in the conference championship. The Red Dragons earned an automatic berth into the NCAA tournament and will make their 21st consecutive NCAA appearance — the longest active streak nationally in Division III.
Softball: There was no shortage of excitement in the softball team's SUNYAC championship run, highlighted by two extra-inning wins over Plattsburgh — including a 13-inning marathon — and a seemingly improbable seven-run comeback against Geneseo in the title-clinching game. The Red Dragons clinched their fifth SUNYAC championship in seven years and earned an automatic berth into the NCAA Div. III tournament.
Men's Lacrosse: The nationally top-ranked men's lacrosse team posted a pair of decisive SUNYAC tournament victories in running its season record to 17-0, capped by a 9-2 win over Plattsburgh in the championship game. The Red Dragons qualified for the NCAA Div. III tournament while capturing their sixth straight conference crown in the process.
Women's Lacrosse: For the 15th year in a row, Cortland's women's lacrosse team reigned supreme in the SUNYAC. The Red Dragons, now 18-1 on the season, knocked off Brockport, 16-6, then ran past Geneseo, 12-5, to earn the conference's automatic berth in the NCAA Div. III tournament.
Men's Outdoor Track and Field: The men's outdoor track and field delivered when it mattered most, taking the meet's final race, the 4 x 400-meter relay, to earn a second straight conference title. The Red Dragons narrowly edged Oneonta, 200-198, for the team title and will send several athletes to the ECAC Div. III Championships.
Women's Outdoor Track and Field: Several personal-best performances, including three meet records, pushed the women's outdoor track and field team to a convincing win at the conference meet. Cortland's 244 points bested second-place Buffalo State's 129 and earned many athletes a trip to the ECAC Div. III Championships.
For the latest updates on each team's performance at the national level, visit the College's athletics website.
Professional Staff Recognized for Years of Service
The Professional Employee's Recognition Luncheon will be held from 11:30 a.m. to 1 p.m. on Tuesday, May 21, in the Corey Function Room. Reservations were requested by Friday, May 9.
The following employees are slated to receive awards.
40 Years
Richard Peagler
30 Years
William Limer
Howard Lindh
John Shirley
Michael Whitlock
20 Years
Joseph Brown
Francis Elia
Tracy Rammacher
15 Years
Robert Deshaw
Cheryl Hines
Steven Meyer
Michael Urtz
Cynthia Wetmore
Mark Yacavone
10 Years
Jesse Adams
Bradley Bruhn
Carol Costell Corbin
Ute Gomez
Abby Thomas
Brian Tobin
Christopher Tucker
Professionals who have earned permanent appointment status include:
Juanita Larrabee
Paul Leonardi
Joel Pape
Kevin Puukila
John Suarez
Joseph Westbrook
Sandra Wohlleber
For more information, contact the United University Professions Office by email to uup@cortland.edu.
Political Science Honorary Inducts Members
Eighteen students were formally inducted on May 8 into the SUNY Cortland Zeta Delta chapter of Pi Sigma Alpha, the national honors society formed to recognize outstanding achievement in political science.
The inductees were recognized at the chapter's spring seniors/honors luncheon held at the College's Park Center Alumni House. They included: Cody Amengual, Katherine Avery, Anderson Briggs, Andrew Colvil, Jonathan Delmore, Joshua Figura, David Hewitt, Heather Kafarski, Jessica Mauceri, Cassandra Meyers, Michael Myones, Christopher Napolitano, Peter Rakowsky, Collin Reynolds, Kevin Sheehan, Kayla Sheldrick, Justin St. Lewis and Mackenzie Werenczak.
Membership in Pi Sigma Alpha is open to juniors, seniors and graduate students. Undergraduates must be at least juniors who have completed a minimum of 10 credit hours in political science, including at least upper-division coursework, with a B or higher grade point average. They must also have achieved an overall GPA placing them in the top one-third of their junior or senior class. They need not be political science majors to qualify for membership.
Distinguished Service Professor Robert Spitzer, chair of the Political Science Department, advises the Zeta Delta chapter. Formed in 1970, Cortland's chapter was one of the first to be established among political science departments in the SUNY system.
Fall Opening Meeting Set
President Erik J. Bitterbaum has announced that the opening meeting of the Fall 2013 semester is scheduled on Thursday, Aug. 22. The meeting will be held in the Corey Union Function Room.
Detailed information including an agenda and response form will be sent via email by Monday, July 29. All classified, UUP and M/C campus community members are invited to attend.
For more information, refer to the email or call the President's Office at 607-753-2201.

Suggest a feature story
---
Faculty/Staff Activities
Susana Davidenko and Gail Tooker
Susana Davidenko and Gail Tooker, Childhood/Early Childhood Education Department, participated in the XIV International Consortium for Research in Science and Mathematics Education (ICRSME) Consultation from March 12-19 in Granada, Nicaragua. They made presentations to the mathematics and science educators who traveled to the site from abroad and to local elementary and secondary teachers. Also, the Cortland professors offered workshops to these teachers at one of the public elementary schools on topics related to mathematics fluency, outdoor education and environmental science projects.
Bonni C. Hodges, Donna M. Videto and Aimee Greeley
Bonni C. Hodges, Donna M. Videto and Aimee Greeley of the Health Department gave the presentation, "Examining School Health Systems," for the American Association of Health Education as part of the annual conference of the American Alliance of Health, Physical Education, Recreation and Dance. The presentation described part of their work on the School Health Systems Change Project and took place on April 27 in Charlotte, N.C.
Richard Hunter
Richard Hunter, Geography Department, has an article currently in press with The Professional Geographer. The article, "Land Use Change in New Spain: A Three-Dimensional Historical GIS Analysis," offers new insights about the local-scale landscape effects of European colonization of the New World.
Lawrence Klotz
Lawrence Klotz, Biological Sciences Department, recently had his article, "Factors Driving the Metabolism of Two North Temperate Ponds," published in Hydrobiologia: The International Journal of Aquatic Science. The journal's cover image was selected to highlight Klotz's article.
Jennifer Kronenbitter and Hailey Ruoff
Jennifer Kronenbitter, Library, and Hailey Ruoff, Library and Instructional Technologies and Design Services, presented at the Computers in Libraries conference held April 8-10 in Washington D.C. Their presentation focused on the streaming media project that converted the library's video collection into a streaming format. Computers in Libraries is noted as the most comprehensive North American conference and exhibition on all aspects of library and information delivery technology.
Mechthild Nagel
Mechthild Nagel, Philosophy Department and Center for Gender and Intercultural Studies, served as a panelist reviewing Summer Institute/Seminar proposals for the National Endowment for the Humanities, on April 24 in Washington, D.C.
Cory Russell
Cory Russell, a graduate student in the Sport Management Department, presented a program on sport management and related careers to students and parents at the Access to College Education (ACE) Regional Institute held April 20 at Tompkins Cortland Community College (TC3). The ACE program was developed by a consortium from Cornell University, Ithaca College, SUNY Cortland and TC3.
Robert Spitzer
Robert Spitzer, Political Science Department, is the author of a chapter titled, "Hot Button Issues in the Presidential Campaign: 47 Percent Yes, Guns No?" for the book, Winning the Presidency 2012, recently published by Paradigm Publishers.

Submit your faculty/staff activity