SUNY to Honor Physical Education Pioneer
04/16/2013
Judith E. Rink '65, an internationally respected authority on physical education and teacher preparation, will receive an honorary doctoral degree from the State University of New York during SUNY Cortland's Undergraduate Commencement ceremonies.
Rink, who has played a leading role in the development of physical education standards and assessments for schools across the United States, will deliver the Commencement address at both the 9:30 a.m. and 2:30 p.m. ceremonies on Saturday, May 18.
"Her work has positively touched the lives of millions of children and young people," President Erik J. Bitterbaum said. "Few people have done more to help transform the art of teaching physical education into a highly respected and critically important profession."
Since graduating from SUNY Cortland in 1965 with a physical education degree, Rink has taught every age group, from kindergarten pupils to doctoral candidates. She has led cutting-edge research and wrote scores of insightful reports that reflect the academic excellence, healthy decision-making and transformational education valued by SUNY Cortland.
Over the course of a 44-year career, Rink authored 75 academic papers, seven books and numerous professional journal articles in the fields of physical education pedagogy and assessment, teacher accountability and the maintenance of active lifestyles. She earned a Master of Science in Physical Education from the University of North Carolina at Greensboro and a doctorate from Ohio State University. Her work remains widely used in physical education classes nationwide and continues to shape the way teachers work with children.
As a project leader for the National Standards for Physical Education, Rink helped establish goals and standards by which the fitness of American children could be assessed and improved. She directed the South Carolina Education Assessment Program, which created a comprehensive framework for evaluation that New York has used as a model.
Her efforts to align physical education curricula with state and national standards have influenced education programs at the local, state and national levels. She has presented at major professional conferences in Hong Kong, Trinidad and Tobago, United Arab Emirates and throughout the United States.
Rink's professional awards are too numerous to list, but include induction into the National Association for Sport and Physical Education Hall of Fame and the American Academy for Kinesiology and Physical Education.
In 1988 Rink, a former SUNY Cortland gymnast, was inducted into the C-Club Hall of Fame in recognition of her leadership and professional accomplishment. In 2010 the SUNY Cortland Alumni Association recognized her as a Distinguished Alumna, its highest honor.
"Judith Rink exemplifies the College's institutional priorities and serves as a living example of how SUNY Cortland graduates can successfully follow their career dreams and make a lasting difference in the world," Bitterbaum said regarding SUNY's decision to awarded her the honorary degree of Doctor of Humane Letters.
"We are proud to call her one of our own, and honored to have her on campus as we bid farewell to the graduating class of 2013."
Sustainability Week Becomes a Month
04/11/2013
Having taken root on the SUNY Cortland campus, the annual Sustainability Week celebration this year has grown into a month-long series of events that reaches across the local community.
Now named Sustainability Month, the exciting schedule of lectures, tours, presentations and events kicked off April 8 and will run through Sunday, April 28. Organizers plan the creation of a campus community garden near Neubig Hall, tours of an area solar project and an "earthship" home made from recycled material, participation in the annual Cortland Blooms Festival and the launch of a campus tree-labeling project.
"Sustainability is one of SUNY Cortland's primary institutional priorities, so it's fitting that we highlight environmental ideas and innovations for three weeks instead of one," College President Erik J. Bitterbaum said. "As awareness and understanding of our need to think differently about energy, climate and food continues to grow, so does our annual event. Our goal is to make every day a day for appreciating sustainability."
The month-long celebration is sponsored by the College, the Auxiliary Services Corporation and Sustainable Cortland, a community-based environmental organization.
Below is a partial list of Sustainability Month events. All are free and open to the public unless otherwise noted:
Energy Week: April 8-14
Thursday, April 11
Sustainability Lecture: "Wind Energy," by Brice Smith, associate professor of physics, Main Street SUNY Cortland, 9 Main St., Room 202, 7 p.m.
Thursday, April 11
Sustainability Lecture: "Climate Change through a Meteorological Perspective," by Dave Eichorn, Syracuse meteorologist, Sperry Center, Room 204, 7 p.m. Sponsored by the SUNY Cortland Geology Department and the Geology Club.
Saturday, April 13
Sustainability Event: "Home Conservation for Changing Times," about composting, rainwater conservation and programs and services for home energy conservation, New York State Grange, Cortland, 9 a.m.-noon.
Climate Week: April 15-21
Wednesday, April 17
Tour of the Freeville Earthship, Freeville, N.Y., 3:30 p.m. Members of the campus community interested in visiting this truly unique, completely recycled dwelling must register by Friday, April 12. Send email to sustainablecortland@gmail.com or call 607-232-1618.
Thursday, April 18
Sustainability Lecture: Presented by Mark Hertsgaard, an independent environmental journalist and the author of Hot: Living Through the Next Fifty Years on Earth, Brockway Hall Jacobus Lounge, 11:30 a.m.-12:30 p.m.
Friday, April 19
Sustainability Panel Presentation: "Weather or Not? Effects of Changing Weather on Local Agriculture," by Distinguished Teaching Professor R. Lawrence Klotz, Biological Sciences Department at SUNY Cortland; Meteorologist Dave Eichorn, meteorology instructor at SUNY College of Environmental Science and Forestry; and David Wolfe, professor of horticulture at Cornell University; with brief remarks by local farmers. New York State Grange, 122 Clinton Ave., Cortland, 9 a.m.-noon; registration and breakfast from 8-9 a.m.
Sunday, April 21
Cortland Blooms Festival: annual Earth Day Festival at the Cortland Corset Building and at the County Office Building, 11 a.m.-3 p.m. This day of exhibits, music, art, local food, children's activities and environmental education is Cortland's annual Earth Day celebration. The two venues will be connected by an art and bike trail closed to vehicle traffic. For more information, visit the Sustainable Cortland website.
Food Week April 22-28
Monday, April 22 (Earth Day)
Idea Wall: Share your thoughts on how to live more sustainably by posting an idea on the board set up on the second floor of Corey Union.
Monday, April 22
Workshop: Students for Local Food host cooking demonstration and tasting focused on food from the Cortland area. It is the final workshop in the Get Fresh! series. Blue Frog Café, 64 Main St., Cortland, 5-6 p.m.
Tuesday, April 23
Campus Garden Work Day: Learn about raised garden beds and help build the college community garden in front of Neubig Hall, 3-5 p.m. Rain date is Thursday, April 25.
Tuesday, April 23
Sustainability Lecture: "Local Food and Its Impact," by Allan Gandelman of Main Street Farms, which uses aquaponics to raise vegetables and fish in an interconnected system. Brockway Hall Jacobus Lounge, 7 p.m.
Friday, April 26
Arbor Day Celebration: President Bitterbaum will officially launch a campus tree-naming project that will eventually result in trees throughout campus being labeled with QR-code links to online information about each species. The first tree will be one of the campus' impressive elm trees. Outside the Northwest corner of the Miller Building, 10 a.m.
---
Capture the Moment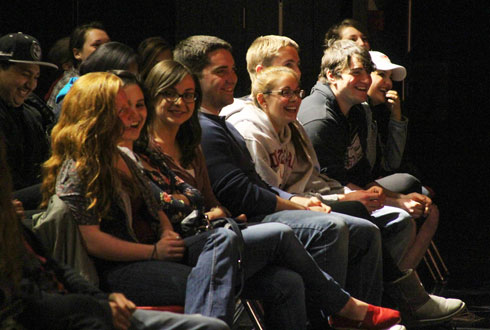 Laughs came easy for students on Sunday night when funny guys Streeter Seidell, Adam Ray and Chris D'Elia brought their acts to the Corey Union Function Room as part of the Comedy Central On Campus Tour. More than 500 people attended the April 14 event, which was presented by the College's Student Activities Board.
---
In Other News
'Transformations' to Showcase Scholarship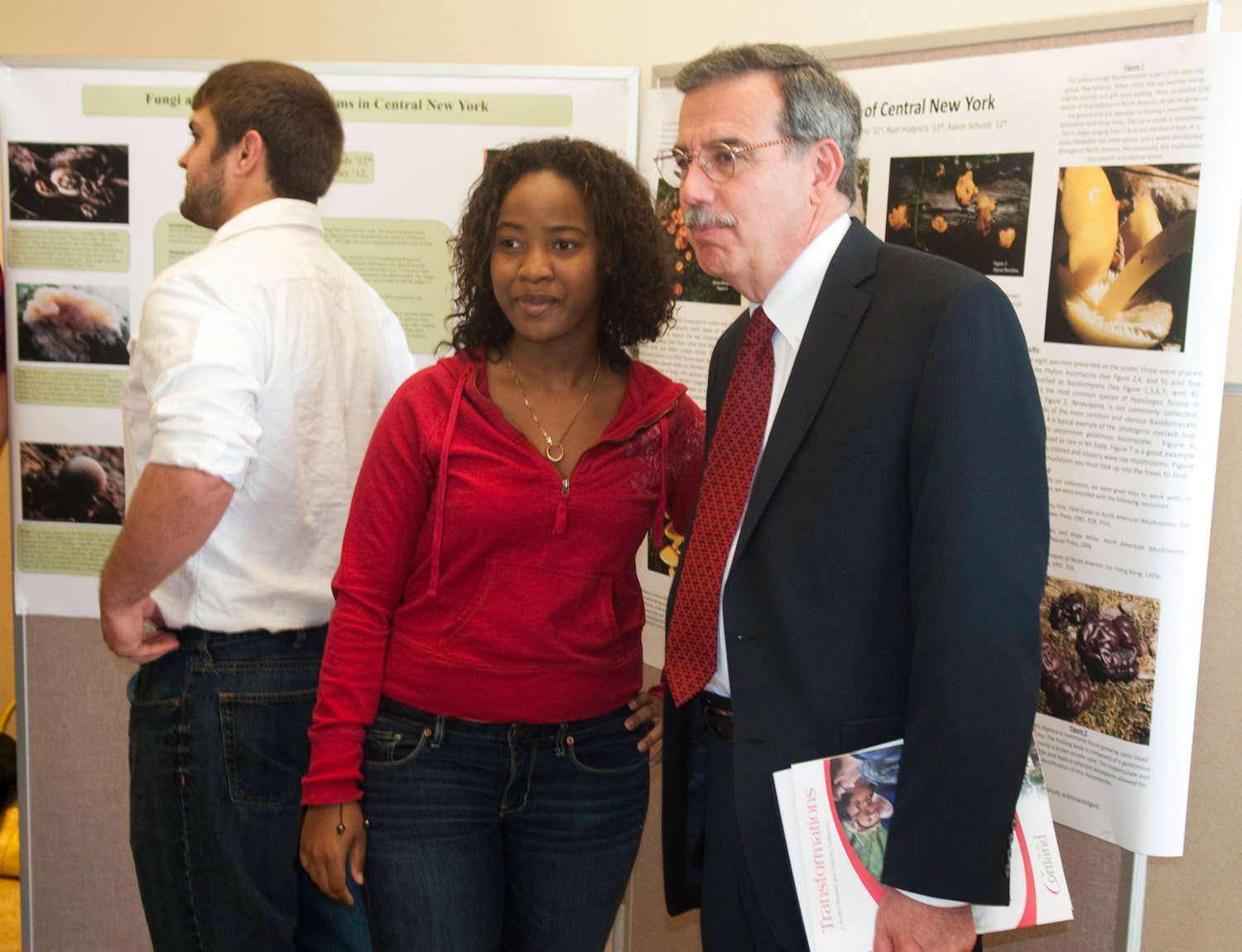 04/18/2013
SUNY Cortland will continue to spotlight student academics with "Transformations: A Student Research and Creativity Conference," featuring dozens of student presentations and a poster session on Friday, April 19.
The 17th annual event takes place from 12:30 p.m. to 6:30 p.m. in Sperry Center. Regular classes across campus will continue during the conference. The event is free and open to the public. Complimentary refreshments will be served from 1:30 to 3 p.m. in the Sperry Center first-floor food service area.
"SUNY Cortland has identified transformational education as a strategic priority," said Bruce Mattingly, dean of arts and sciences and Transformations Committee chair. "This year's event will again highlight students from across the College who have had transformational experiences through their work with faculty on research and creative activity in a variety of settings: the laboratory, the studio, in the field or in the community."
In 2011, a special planning committee re-named and reorganized the then 15-year-old event called Scholars' Day to reflect the College's strategic priorities, which also include academic excellence. As revised, the 17th annual event will focus on student work but also will feature faculty who have worked with students as research mentors. In fact, such partnerships between professors and students majoring in their disciplines are a fairly common practice at the College so a strong faculty presence is certain.
Robert McMurray '67
This year, the conference encompasses 80 different lectures, demonstrations and poster sessions offered by undergraduate and graduate students with their faculty mentors. The subject matter covers a wide array of academic disciplines at SUNY Cortland.
Among the many topics this year are: social media marketing and the Empire State Marathon; the effects of caffeine and creatine on physical and mental performance; the effects of exercise on long-term memory; presentations by the SUNY Cortland writing contest award winners; "The ties that blind": the fog of the American dream; whether women in European politics are just "binders full of women"; a historical construction of Lincoln; anxiety as a factor in academics and quality of life; and, insights into the challenges schools have of teaching the invisible population of migratory students.
Robert G. McMurray '67, an exercise science scholar who is nationally recognized for his research on childhood obesity, will deliver the keynote address at 12:30 p.m. in the Sperry Center, Room 105. McMurray, a professor emeritus in the Exercise and Sport Science Department at the University of North Carolina at Chapel Hill, will discuss "Childhood Obesity: The Curse of Modern Societies."
Childhood obesity is a major public health concern with no easy solutions to date, according to him. For example, school-based programs generally have failed to rescue many children from a lifetime of ill health.
"However, the school can provide a central location for other programs," McMurray said. "To foster activity in youth we also need to look beyond schools for safe places to play: neighborhood play areas, increased walking and bike paths and community programs beyond soccer, baseball and basketball."
Such programs should emphasize activity over winning, he said.
"We must realize that one size does not fit all and special programs targeting the obese are needed. Finally, parental support is extremely important."
Before retiring after 33 years of service, McMurray held the Smith-Gunter Endowed Professor of Exercise and Sport Science and had appointments in the School of Allied Health and the Department of Nutrition.
McMurray has written many refereed articles, research abstracts, book chapters and one book. Part of a research team that obtained $30 million in grant funding, he was recognized by the American College of Sports Medicine, the North Carolina Governor's Council on Health and Fitness and the Southeast Chapter of the American College of Sports Medicine for his research on childhood obesity.
McMurray has participated in post-doctoral research experiences at the Institute of Environmental Stress in Santa Barbara, Calif.; The Metabolic Ward at St. Bartholomew's Hospital, London, England; and the Pediatrics Clinical Research Center at the University of California's Irvine Medical Center.
He received his B.S.E. in physical education from SUNY Cortland, his M.A. in physical education from Ball State University and his Ph.D. in human performance from Indiana University.
Besides Mattingly, the Transformations Committee includes: David Berger, professor of psychology; Phil Buckenmeyer, associate professor and chair of kinesiology; Patricia Conklin, associate professor of biological sciences; Daniel Harms, instructional services librarian at Memorial Library; David Miller, distinguished teaching professor of geography; Lisa Mostert, instructional support assistant with Campus Technology Services; Charlotte Pass, associate professor of literacy; and Kevin Pristash, associate director of college union and conferences.
"Transformations" is supported by the President's Office, the Provost and Vice President for Academic Affairs Office and the Auxiliary Services Corporation. The Student Alumni Association provides volunteers for "Transformations."
For more information, including the complete schedule of events, visit the "Transformations" Web page at cortland.edu/transformations or contact Mattingly at 607-753-4312
David Miller to Address Honors Convocation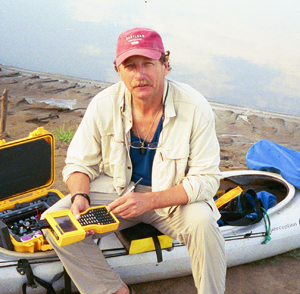 04/11/2013
David Miller, a SUNY Cortland professor of geography and a SUNY Distinguished Teaching Professor, will deliver the keynote address at the institution's annual Honors Convocation on Saturday, April 20.
The College will recognize 486 students for their academic accomplishments at the event, which begins at 7 p.m. in the Park Center Alumni Arena. An academic procession of SUNY Cortland faculty will open the Honors Convocation. A reception for the honorees and guests will follow in the same location.
Students will be acknowledged for a variety of achievements, including ranking among the top five percent in their respective classes and receiving College-wide and departmental awards and scholarships. The Donald Parish Brooks Scholarship Award will be presented to the residence hall having the highest cumulative grade point average.
R. Lawrence Klotz, a SUNY Distinguished Teaching Professor and professor of biological sciences, will hold the mace during the procession. Carrying the ceremonial gonfalons will be Catherine Smith, health educator with the Health Promotion Office and Student Development Center; Steven Broyles, professor of biological sciences; Janet Duncan, associate professor of foundations and social advocacy; and Ben Wodi, professor of health and coordinator of field experiences in health. Marshals will be Mark Dodds, J.D., associate professor of sport management; Ellis McDowell-Loudan, professor and co-coordinator of Native American Studies; Orvil White, assistant professor of childhood/early childhood education; and Jeffrey Walkuski, associate professor of physical education.
The reader for the ceremony will be Walkuski.
Miller, who has served the College for 31 years, will give a slightly tongue-in-cheek address titled "Fishing as the Affirmation of Hope."
A self-described "field guy," Miller for the past 16 years has co-directed the College's Geographic Information Systems Lab, where he teaches Geographic Information Systems, GPS Technology, Physical Geography, and Resource Geography. He is the author of numerous articles published in professional journals.
In Spring 2002, he began the first of three summers kayaking solo down the Missouri River. Articles on his expedition and the technology that he carried have appeared in Pocket PC Magazine, The Professional Surveyor and The Small Craft Advisory.
A member of the Discovery Expedition of St. Charles, he has served as a "forward scout" for the bicentennial re-enactment of the Lewis and Clark Expedition's voyage up the Missouri River. His Missouri River fieldwork was the basis for his book, The Complete Paddler.
Ever ready for adventure coupled with learning, Distinguished Teaching Professor David Miller embarked on three summer solo kayaking trips down the Missouri River in the early 2000s.
Miller also is a member of the National Association for Search and Rescue and has tested equipment for Sierra Designs. He led 10 Earthwatch Expeditions at Punta Allen, Mexico focusing on mapping lobster production and fishermen's territories and the long-term impacts of habitat construction for spiny lobster. Miller teaches a marine biology field course in Belize every other winter. For the past three summers, he has driven around the U.S. in his home-built, mint green 1958 Chevy Hot Rod Pickup, at work on a book about Hot Rodding and Custom Cruising at the end of the fossil fuel era.
He received a prestigious rank promotion to Distinguished Teaching Professor from SUNY in 2004 for having demonstrated consistently superior mastery of teaching, outstanding service to the intellectual growth of students and adherence to rigorous academic standards and requirements. He was honored in 1998 with a SUNY Chancellor's Award for Excellence in Teaching.
Promoted to professor in 2000, Miller has chaired the Geography Department and played an important role in the broader Cortland community.
A native of Rapid City, S.D., Miller earned a bachelor's degree in social sciences in 1970 and a master's degree in personnel and counseling in 1973 from Miami University in Oxford, Ohio. He also received master's and doctoral degrees in geography from University of Wisconsin at Milwaukee.
The Honors Convocation Committee is co-chaired by Joy Mosher, associate professor of childhood/early childhood education; and Philip Buckenmeyer, associate professor and chair of kinesiology.
Committee members include Sila Argyle, supervising janitor for physical plant; Darci Bacigalupi, curriculum specialist, Registrar's Office; Mark Dodds, assistant professor of sport management; Nicole Garifo, student representative; Mary Gfeller, assistant professor of mathematics; Ron Gray, supervising janitor for physical plant; Kimberly Kraebel, associate professor of psychology; Beth Langhans, scholarship coordinator for the Division of Institutional Advancement; Virginia B. Levine, executive assistant to the president; Jerome O'Callaghan, associate dean of arts and sciences; Kevin Pristash '85, M.A. '91, associate director of College Union; Tracy Rammacher, director of publications and electronic media; Lee Scott-Mack, associate registrar; Brad Snyder, associate director of Classroom Media Services; Susan Vleck, interim special events coordinator; Rashad Williams, student representative; and Christopher Xenakis, lecturer in political science.
For more information, contact Vleck at 607-753-5453.
Corporate Challenge Deadline Nears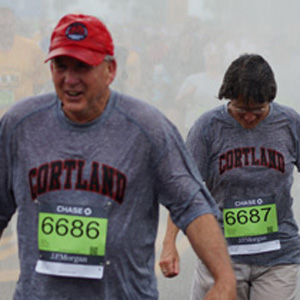 05/16/2013
Time is running out for SUNY Cortland employees to register to top their 2012 J.P. Morgan Chase Corporate Challenge turnout record. The College again will participate in the all-inclusive running and walking event Tuesday, June 18.
Registration for the 3.5-mile road race, which starts at 6:25 p.m. at Onondaga Lake Parkway in Liverpool, N.Y., costs $15 and includes a technical team shirt from Asics, post-race food and drinks, transportation and all event fees.
Registration must be completed online by noon on Friday, May 17, and payment — preferably by check made payable to SUNY Cortland — should be turned in to Chris Tucker or Kerry Mincher in the College's Purchasing Office. Payment can be made after online registration.
According to race rules, only employees can represent a company.
No experience is necessary to participate in Central New York's largest running event, which welcomes more than 6,000 runners and walkers annually. Last year, SUNY Cortland's team featured 121 employees, ranking 10th among 283 Central New York organizations in terms of participation and setting an all-time high for the College despite temperatures that climbed higher than 90 degrees.
The original June event was shortened to two miles due to the warm weather and the College's four-person men's and women's teams won a more competitive do-over in August.
Both of those teams are set to compete in the international championship, which takes place Tuesday, May 21, at the Rochester Institute of Technology in Rochester, N.Y.
For more information on the 2013 event, visit the Syracuse Corporate Challenge website or contact Tucker at 607-753-2488.
Professor Named Fulbright Specialist in Malaysia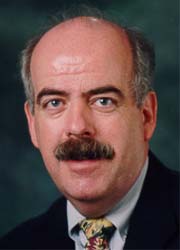 04/16/2013
Edward Caffarella, a SUNY Cortland professor and former dean who specializes in educational leadership and administration, was awarded a Fulbright Specialist grant for a project aimed at raising education standards in Malaysia.
Caffarella will work with education scholars and administrators at the University of Malaya in Kuala Lumpur for a little more than a month, starting on April 24. He'll return to the U.S. on May 26. The visit is intended to foster linkages between the University of Malaya and SUNY Cortland, and Caffarella will continue to serve as a consultant to the university after his return.
"Cumulatively, Professor Edward Caffarella's presence is expected to contribute much toward the faculty development and the university performance," said Suseela Malakolunthu, an associate professor in the University of Malaya's Department of Educational Management. "(He) will assist us in strengthening our educational leadership programs, developing the faculty members' professional capabilities through workshops and seminars, and inspiring our students via talks."
The University of Malaya is working to improve its global academic rankings to become one of the top 100 research universities in the world. Currently, it is ranked 156th by QS World University Rankings.
Malaysia is a multi-cultural federation of states based on the historic Malay Kingdoms that runs along the southern end of the South China Sea.
"Malaysia, a convergence of people from three of the four largest countries including China, India, and Indonesia, provides an amazing microcosm to study the major cultures of the world," said Caffarella, describing his interest in the assignment.
The Fulbright Specialist Program promotes partnerships between U.S. academics and professionals and their counterparts at host institutions overseas. The program is designed to award grants to qualified U.S. faculty and professionals to engage in short-term, collaborative, two- to six -week projects at host institutions in more than 160 countries worldwide.
The program will cover Caffarella's travel expenses and provide a stipend for collaborating with Malaysian scholars and helping the university's departments meet their requirement to assess, evaluate and improve both the quality of their programs and the performance of faculty members, Malakolunthu said.
Caffarella was the first dean of SUNY Cortland's School of Education, and has taught in the Educational Leadership Department since 2007. He is a nationally recognized figure in the field of teacher education and educational technology , and was selected for the prestigious grant by the J. William Fulbright Foreign Scholarship Board, the U.S. Department of State's Bureau of Educational and Cultural Affairs and the Council for International Exchange of Scholars (CIES).
Through the program, Caffarella will become the University of Malaya's long-term consulting expert on department-level programs and courses. He will serve as a reference point for curricular decision-making and a contact for student and faculty exchange programs. The goal is for Caffarella to serve as a catalyst in promoting positive changes at the department and faculty levels and as a source of intellectual inspiration and guidance.
His involvement is expected to foster many institutional links with SUNY Cortland. These might include faculty co-teaching and co-supervision exchanges; study abroad opportunities for students on both campuses; collaborative research and scholarly publication; and shared conferences and seminars.
Caffarella has served on the Board of Examiners for the National Council for Accreditation of Teacher Education. He developed and tested the Institutional Accreditation Readiness Model for the American Association of Colleges for Teacher Education.
Caffarella has amassed more than 100 refereed national presentations, journal articles, books and research proceedings. He has written extensively about the educational technology field and has developed computer software. Caffarella has been involved with nearly 20 funded grant proposals, which have been awarded in excess of $1.5 million from a variety of sources, including the U.S. Department of Education.
Caffarella joined SUNY Cortland in 2003 to help establish a new School of Education as a separate entity from the School of Professional Studies. He served until 2006 as the school's first full-time dean, overseeing four academic departments and four related programs.
Previously, Caffarella was a professor emeritus of educational technology at the University of Northern Colorado and president of the Association for Educational Communications and Technology. A native of Saugus, Mass., he earned a B.S. in Community Leadership and Development from Springfield (Mass.) College, a M.Ed. in Educational Media, Systems and Technology from the University of Massachusetts, and a Ph.D. in Instructional Development and Technology from Michigan State University.
In becoming a Fulbright Specialist, Caffarella joins the ranks of distinguished scholars and professionals worldwide who have been selected as leaders in the educational, political, economic, social and cultural lives of their countries by this international academic exchange program, which was founded in 1946 by the U.S. government. By accepting the grant, he makes a five-year commitment to provide short-term consultations in his field of expertise, if needed.
Filmmaker to Discuss "Drill Baby Drill" April 17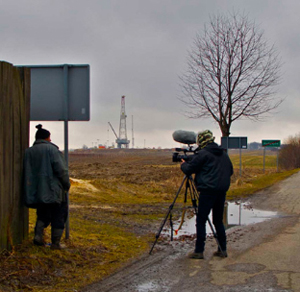 04/12/2013
Filmmaker Lech Kowalski will show and discuss his documentary film that contrasts the effects of the growing shale-based natural gas extraction industry on residents in Pennsylvania with their counterparts halfway around the world, on Wednesday, April 17, at SUNY Cortland.
The Central New York premiere screening of "Drill Baby Drill," and subsequent talk, begins at 7 p.m. on the second floor, Room 202, at Main Street SUNY Cortland, 9 Main Street.
Presented by the Environmental Justice Committee of the Center for Gender and Intercultural Studies and Gas Drilling Awareness for Cortland County, the event is free and open to the public. Donations to help cover the filmmaker's expenses will be accepted at the door.
A native of Utica, N.Y., who lives and works in Paris, France, Kowalski recently presented his 84-minute film in the French Senate and on French and German television, where it received high ratings. The documentary will be shown to the European Parliament on Tuesday, April 23, prior to its theatrical release.
Kowalski has won wide acclaim over more than 35 years as an independent filmmaker. His large body of work has received awards and has been the subject of retrospectives at international film festivals.
Filmed both in Poland and Pennsylvania, "Drill Baby Drill" tells the story of a group of Polish farmers who band together to protect their land when a form of unconventional shale-gas drilling called hydraulic fracturing "fracking" threatens.
Kowalski was there to film the first-ever farmer rebellion against Chevron, the world's fourth largest energy corporation. But energy companies and the Polish government hope to hit a golden shale gas jackpot, and the odds are against the farmers winning.
At first, the people who live in a small village located in eastern Poland near the Ukrainian border, an ecologically pristine agricultural area called the "lungs of Poland," are not against the construction of the shale gas well in their village. But research reveals that having an extraction site so near farms might not be such a good idea. The farmers mobilize, appealing to politicians and government institutions to stop the construction. Their requests are met with silence and, suddenly, Chevron sends bulldozers to start construction.
The documentary, which has a surprise ending, also explores the effects of ongoing drilling on farmers and their communities in Pennsylvania. Industry has called the region the "Saudi Arabia" of North America.
The film's power derives in part from its refusal to provide easy answers to the questions it raises about corporate power and its effect on democracy, and about the tensions between our demand for energy and the necessity of protecting our air, water, farmland and food supply.
According to organizers, the film's subject should be of strong, immediate interest to residents of New York, where energy companies are leasing land with plans to do similar drilling.
For more information, contact Sheila Cohen, associate professor emerita of literacy, at 607-756-8191 or Jim Weiss at 607-849-3687.
Practicality Defines Two New Grad Programs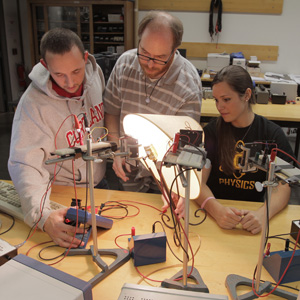 04/16/2013
SUNY Cortland this fall will add two new master's programs — sustainable energy systems and communication sciences and disorders — aimed, in part, at preparing people for local careers and benefitting the community.
Both programs will offer a master of science on a two-year track. College faculty members involved in the process to establish the new graduate degrees designed the curricula to meet the needs of both prospective students and the Central New York community.
"It's this idea of regional economic development meeting a need for people who are going to get a degree and stay in your area," said Brice Smith, chair of the College's Physics Department and the key shaper of the science-based sustainable energy systems curriculum.
Here's a closer look at each of the new graduate programs:
Master of Science in Sustainable Energy Systems
The program will prepare students for a critically important field that impacts engineering firms and building performance companies. It will offer advanced training in the physics of renewable energy, courses geared to build professional skills in areas such as economics and communication, and a culminating internship.
Put simply, the program will support the development of high-paying "green collar" jobs in Central New York while helping to build the sustainable energy infrastructure needed for the 21st century.
"These are jobs that, by their nature, can't be outsourced," said Smith, a former project scientist for the Institute for Energy and Environmental Research whose major areas of interest include renewable and sustainable energy. "You have to be here to install the systems. It's an area that has a lot of upside for graduates."
Smith sees the program pulling from two distinct populations — recent undergraduates with a degree in the sciences or engineering as well as people already working in the field who are looking to find deeper training in the physics and technology that underlie their profession. Although the master of science degree is rooted in physics, its prerequisites are intentionally flexible, so that anyone who has taken introductory level physics and calculus classes could be brought up to speed.
The program has applied for a sought-after professional science master's (PSM) certification, which is awarded to curriculums that integrate science and mathematics studies with training in additional professional areas. SUNY Cortland's master of science in sustainable energy systems will cross disciplines to include courses in accounting, marketing and professional writing beyond the scientific and technical training.
That certification also denotes programs that provide workplace skills valued by employers, which is why the College organized a business advisory board made up of people working in areas such as renewable energy, engineering and economic development to assess the program.
Two grants from the Alfred P. Sloan Foundation, totaling more than $15,000 and received through the SUNY system, helped fund curricular development and a market needs assessment.
"People generally know the technology or they know the business but finding someone who can do both, especially in a small to medium-sized company, is important," Smith said. "This program is meant to address that need that we see in the region."
Master of Science in Communication Sciences and Disorders
SUNY Cortland's Communication Disorders and Sciences Department, which offers increasingly popular undergraduate majors, now will also offer an advanced degree for competitive graduate applicants. After years of planning, the program recently earned candidacy approval from the Council on Academic Accreditation in Audiology and Speech-Language Pathology (CAA), an arm of the American Speech-Language-Hearing Association (ASHA).
That new master's program should add more speech, language and hearing services for the local community.
"To me, it's a win-win situation," said Regina Grantham, chair of the department, which currently enrolls more than 240 undergraduates. "We'll be able to provide even more services for the community and crucial clinical experience for our students."
When the College's Professional Studies Building opened two years ago, a new 8,000-square-foot clinic with an audiology chamber, observation and therapy rooms, a library and a resource area for the Communication Disorders and Sciences Department came with it. Clients, representing a range of disorders and ages, benefit from the services provided there by students, faculty and staff members. The new master's program will allow the department to provide services to an even larger audience and a greater variety of disorders, Grantham said.
A lengthy accreditation process required many levels of approval — from the College, SUNY system, the New York State Department of Education and ASHA's CAA. Grantham credited the department's faculty members and College administrators for working as a team to complete the process.
"We're a master's level profession, which means that to work in any setting — schools, hospitals, rehabilitation centers, nursing homes, private practices — students will need a master's degree," she said. "With technology and other kinds of medical innovation, more people are living longer today and they will need our services, both diagnostic and therapeutic.
"We offer a very attractive and popular major and a very needed one at that."
To learn more about SUNY Cortland's newest graduate programs, contact the College's Graduate Admissions Office at 607-753-4800.
College Awards to Honor Civic Leadership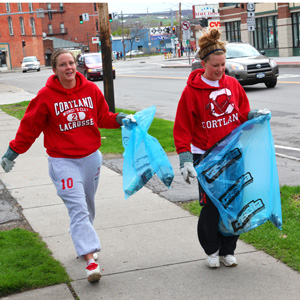 04/16/2013
More than 40 people, including 29 students, will be recognized for their community service at SUNY Cortland's Leadership in Civic Engagement Awards Ceremony Thursday, April 18.
The recognition ceremony, which is free and open to the public, takes place at 4:30 p.m. in Brockway Hall, Jacobus Lounge.
Award recipients include 22 SUNY Cortland students, eight College faculty and staff members, six local residents and three groups. Additionally, six students completing the 2012-13 Judson Taylor Leadership House Living Learning Community Program will be recognized along with eight scholarship winners for their community service.
Student efforts represent a range of activities related to tutoring and mentoring programs, health and wellness services and environmental work. The majority of their community service supports Cortland County residents, local schools and numerous human service organizations.
SUNY Cortland's Leadership in Civic Engagement Awards Ceremony is supported by the College's Institute for Civic Engagement and the divisions of student affairs and institutional advancement.
Individual award winners are listed below.


Students
Michael Adams
Leanne Bryan
Paige Cahill
Taylour Connelly
Michael Giardino
Shannon Grodotzke
Lauren Guardino
Claire Hartl
Marisa Kaplan
Laura Kline
Andrew McConnell
Matthew McNamee
Christine Mosich
Christina Papaleo
Lauren Reed
Sara Rosenberg
Marilyn Scribner
Meghan Stadtlander
Samantha Swift
Ashley Tuminello
Rosemary White
Kevin Yarnell
Jacklyn Zerilli
Judson Taylor Leadership House Living Learning Community Program participants
Courtney Baldwin
Jacqueline Carlson
Juan Galan Sabugo
Samuel Stephans
Taheerah Usher
Shawn Zehnacker
Faculty and staff members
Brooke Burk
Ralph Carrasquillo
Jack Carr
Steven Dangler
Lyndon Huling
Susan Rayl
Henry Steck
Jeremy Zhe-Heimerman
Community members
Amanda Carpenter, NYPIRG coordinator, SUNY Cortland
Erica Danega, youth services coordinator, City of Cortland Youth Bureau
Sara Earl, director, YWCA Bridges for Kids program
Elin Pantas, executive director, Child Development Center
Glen Reisweber, executive director, Lime Hollow Center for Environment and Culture
Sara Watrous, AmeriCorps member, Sustainable Cortland
Groups
Fall 2012 Foundations and Social Advocacy 630: Students with Disability in Context Class
Students for Local Food
SUNY Cortland Sports Club
Award and Scholarship winners
Meaghan Stadtlander, SUNY Cortland Alumni Association Cortland Area Chapter Community Service Award
Cortland Students for Local Food, Don Wilcox Award
Michael Adams, BorgWarner Morse TEC Scholarship
Claire Hartl, Institute for Civic Engagement Scholarship and the Cathleen McDermott Lavelle Scholarship for Student Leaders
Matthew McNamee, Judson Taylor Presidential Scholarship
Laura Kline, Judson Taylor Presidential Scholarship
Taylour Connelly, Judson Taylor Presidential Scholarship
Christine Mosich, Community Scholarship for Interns and Volunteers
Kevin Yarnell, Lambda Phi Delta Scholarship
Gospel Choir to Perform April 21 in Corey Union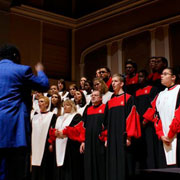 04/16/2013
The SUNY Cortland Gospel Choir, which recently returned from its spring 2013 tour to Washington, D. C., and Maryland, will present a repertoire of contemporary and traditional gospel selections at its annual spring concert on Sunday, April 21.
Some of the group's favorite pieces will be performed, beginning at 4 p.m. in Corey Union Function Room. The venue is wheelchair accessible.
Admission is $3 for students and $5 for the general audience. Families with children are welcome. Complimentary tickets are available on a need basis. The proceeds will go to the Gospel Choir Scholarship and Programming Funds.
Highlighting the event will be pianist Dorothy Thomas '77 of Cortland, student soloists Jason Carriero, Khalia Brown and Deston Hudson, and the Gospel Choir band, Gospel Chocolate.
Thomas will perform a praise medley that includes "How Great Thou Art," from her recently produced CD, "Honor and Praise." The Gospel Choir's first-half selections will include "Press Toward the Mark" and "Battlefield," by Norman Hutchins, with Carriero as soloist; "The Best in Me," by Marvin Sapp, with Hudson as soloist; and "Alpha and Omega," by Israel Houghton. Additional selections for the second half will include "Perfect Praise," by Richard Smallwood, with Brown as soloist; "Melodies from Heaven," by Kirk Franklin; "No Limit," by West Angeles Mass Choir, with Hudson as soloist; and "Just Want to Praise You," by Maurette Brown Clark.
The performance will be directed by Robert Brown, a lecturer in Africana studies at the College. Brown also teaches music in the Syracuse (N.Y.) City School District and is the music director of the New Life Community Church.
Choir musicians are Andy Rudy, Reginal Siegler and Benjamin Terry, all from Syracuse, and Jamie Yaman from Cortland.
Recognition will include the announcement of the Dorothy Shatzky Award winner, to be presented by Joel Shatzky, professor emeritus of English. Other presentations include awarding certificates to graduating seniors and the 2013-14 Gospel Choir Scholarship winners by Seth Asumah, SUNY Distinguished Teaching Professor and chair of the Africana Studies Department.
The program is sponsored by the SUNY Cortland Africana Studies Department, Center for Gender and Intercultural Studies, Alumni Affairs Office, Cortland College Foundation, Division of Student Affairs, President's Office, Provost and Vice President for Academic Affairs' Office, and student activity fee.
For more information, contact Asumah by email or phone at 607-753-2064; or email Hudson, Brown or Deborah Dintino.
Campus Garden Breaks Ground Tuesday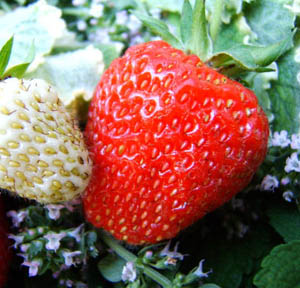 04/16/2013
It's easy for college students to be blissfully vague about where their food comes from, especially in the case of urban youth who have grown up far from fields, pastures and barnyards.
The farm-to-table connection will become much clearer for SUNY Cortland students after Tuesday, April 23. That's when a group of environmentally conscious campus members will gather on the east side of Neubig Hall to turn the shovel on the College's first campus vegetable and herb garden.
Visitors at the 3 p.m. event — the rain date will be at the same time on April 25 — are welcome to watch or even roll up their sleeves and help build the raised-bed garden made of wood donated by Gutchess Lumber. The finished row of giant boxes will be filled with fresh compost presented by a local organic grower, Cobblestone Valley Farm.
The groundbreaking ceremony is free and open to the public.
One of many campus events marking Sustainability Month at SUNY Cortland, the gathering was scheduled by the College's Sustainability Committee of the Division of Student Affairs.
The less formal campus garden committee has been planning to turn the earth on the vegetable patch since last fall and conceived the garden well before that. The campus garden committee is comprised of about 20 interested campus and community members and is chaired by Jeremy Zhe-Heimerman, coordinator of assistive technology and test administration for Student Disability Services.
The campus garden project as yet has no formal name. Successive vegetable and herbal crops cultivated in this small patch of tilled soil will educate students on what goes into producing the food supply.
"We'll be looking at some of the ways other colleges that don't have an agricultural program component manage such gardens," Zhe-Heimerman said.
"We would like to show the campus community that you can create gardens that are all self-sufficient, that produce good foods that are healthy and require minimal input," said Steven Broyles, a professor of biological sciences.
To Broyles, a plant biologist, the tilled boxes could yield a cornucopia of learning.
The planned 45-foot by 12-foot campus garden will be built on the east side of Neubig Hall, as shown in the map above.
"I'm hopeful the garden would allow certain classes to use the garden in an educational context," he said. "They could study a sustainable garden by adopting a small part of the garden and raising their own crops to come to a better understanding of what constitutes a healthy diet."
Children from the SUNY Cortland Child Care Center also may experience Mother Nature's year-round cycle of greenery.
"The children can try to grow some peas and learn that they don't come from the store, they come from the ground," Zhe-Heimerman said.
The 45-foot by 12-foot garden — sandwiched between Neubig and the service road that runs behind it — will not generate enough food to be used by campus dining facilities. Instead the produce, harvested in late summer and again during the fall, will feed the local needy.
Sara Watrous is one local community connection. An AmeriCorps volunteer and the program coordinator of Sustainable Cortland, she is working with the committee as a liaison to area organic farmers to obtain plant stock with which to seed this spring's garden bed. Earlier this semester Watrous created demonstrations of foods produced locally by those growers for SUNY Cortland students to nibble. Her organization has donated several hundred dollars worth of tools and garden supplies to the venture.
The garden is designed for ease of care and access, according to Matthew Brubaker, associate facilities program coordinator with the Facilities Planning, Design and Construction Office.
"The roots of this program, no pun intended, started with the Student Life Center and the desire by the Auxiliary Services Corporation to have some sort of a food-related site at the SLC," said Brubaker, a campus garden committee member. "But the area around the SLC will be torn up until the spring of 2015."
William McNamara, the ASC dining services director, said the garden has no direct connection or support from the ASC, though it will sit outside ASC offices and near a major dining hall at Neubig.
"On campus there's always been talk of composting and gardening," said McNamara, who's also on the campus garden committee. "Last year, I visited UMass, which has a demonstration garden that was recognized by the White House. The students were invited to walk through that garden and pick and eat an apple or a cherry tomato. I thought it would be great to have something like that outside of the Student Life Center, which will have a dining facility that emphasizes sustainability."
Although such a project would be several years down the road, ago McNamara mentioned his idea to Broyles. Soon the campus garden committee was considering alternatives. Most members know what they are getting into because they enjoy their own backyard gardens.
"It picked up a lot of momentum from many different people," McNamara said. Neubig chefs might visit the garden occasionally for herbs, McNamara said. But the beds are far too small to supply a college food service.
Awhile ago, Broyles assigned a student to find out what such a project at Cortland would involve. Shelby Persons, a biological science major who graduated in 2012, visited Colgate University and UMass, where she learned that a community garden requires a lot of sweat equity by a large volunteer workforce and to succeed must be highly visible on campus.
Presently the professor proposes that a volunteer position such an AmeriCorps placement be created have year-round, primary responsibility for the garden including the coordination of student volunteers and the distribution of the plot's yield to area food pantries.
"The plot by Neubig Hall is only for one year," McNamara said. "We need to show the campus that anyone can benefit from it. We need to make sure the garden is tended and looks right. And we must show that we can operate it on a small scale year-round in order for this garden to continue."
For more information, contact Zhe-Heimerman or Broyles.
Four Scholars Honored by SUNY Chancellor

04/05/2013
Three SUNY Cortland seniors and one recent graduate were honored with the top academic prize for SUNY students on April 4 in Albany, N.Y.
The College's recipients of the 2013 State University of New York Chancellor's Awards for Student Excellence were:
• Erik Burrows, a senior political science major from Cicero, N.Y.
• Jessica Evans, a senior physical education major from Hamburg, N.Y.
• Kristen Guercio, a senior adolescence education: mathematics major from Smithtown, N.Y.
• Lima Stafford '12 of Grenada, a December graduate with a Bachelor of Science in Physical Education.
The four recipients balanced their outstanding grade point averages (GPAs) with other accomplishments as campus leaders, such as fostering cultural diversity on the campus, helping those less fortunate in the economy, excelling on a varsity team, sharing camaraderie with a sport club, or promoting healthy lifestyles on campus and in the community.
Including this year's winners, 68 SUNY Cortland students have earned a Chancellor's Award for Student Excellence since the program was created in 1997.
Each year, SUNY campus presidents establish a selection committee to review outstanding graduating seniors. The nominees are forwarded to the Chancellor's Office for a second round of review and a group of finalists is selected. Each honoree received a framed certificate and a medallion to wear during Commencement.
Here's a closer look at each 2013 SUNY Cortland honoree:
Erik Burrows
Erik Burrows
Burrows is living a political science major's dream: traveling to the United Kingdom to learn about the British government first-hand, as an intern in the office of Liberal-Democratic Member of Parliament John Leech.
Only a select few SUNY Cortland students have captured the award enabling his trip, an Atlantis Mobility Fellowship for study of public administration and public policy at Manchester Metropolitan University in the United Kingdom. The grant focuses on student mobility and exchange and was awarded by the Fund for the Improvement of Postsecondary Education (FIPSE) to institutions across the U.S.
Burrows entered SUNY Cortland as a Merit Scholar and his performance has earned him the renewal of this award annually by the College. He maintains a 3.85 GPA and made the Fall 2011 and Spring 2012 President's List of the College's top scholastic achievers. He was among only 10 juniors across disciplines to earn a top scholarship and citizenship award, the Alpha Delta Junior Scholarship.
A leader among his fellow political science majors, Burrows has presented papers at a state conference in his field.
He has served as the president of the Golf Club, which competes against other colleges in the Central New York Club Golf League. Burrows collected substantial food items to feed the Cortland community's poor and volunteered at a homeless shelter in Syracuse.
Jessica Evans
Jessica Evans
It's not enough for competitive swimmer Evans to be an outstanding athlete. She is also a champion scholar.
Evans, a physical education major, made the SUNYAC All-Academic and Commissioner's List in 2010, 2011 and 2012, and has maintained a 3.89 GPA at SUNY Cortland. She has been recognized at Honors Convocation for scoring among the top 5 percent of students at the College.
Evans has made SUNY Cortland's President's List twice and the Dean's List five times. Her Fall 2012 entry in the Seminar for Field Experience Portfolio Showcase was chosen as one of the top portfolios.
In 2012, the NCAA honored her as an Academic All-American for being an outstanding student athlete.
Yes, Evans qualified for and competed in the 2012 NCAA Swimming and Diving Championship. But she also strives every day to influence others to pursue higher levels of academic, physical and civic achievement. She demonstrated this leadership by serving as president of the Student Athlete Advisory Committee from 2012 to 2013 and by twice serving as captain of the women's swimming and diving team.
Kristen Guercio
Kristen Guercio
In 2012, Guercio is only the ninth volleyball player in NCAA Division III history to reach 6,000 assists. In 2010, she broke SUNY Cortland's record for single-season assists with 1,645 logged to her name.
Twice, the American Volleyball Coaches Association (AVCA) honored her as the AVCA Division III National Player of the Week.
But perhaps most impressive of all is the fact that she achieved those milestones while maintaining a 3.68 GPA and serving as captain of the volleyball team.
For her prowess both on and off the volleyball court, the College Sports Information Directors of America named her to its First Team Capital One District Three All-Academic Selection in 2011 and 2012. In 2012, Guercio was recognized for her excellence in academics and athletics with the SUNYAC Chancellor's Scholar-Athlete Award.
Guercio likes to promote community involvement in recreational activities. For three years, she volunteered at "Girls Day Out," the College's annual all-day gathering intended to motivate young girls in the community to explore their interest in various areas of athletics, health and careers.
Lima Stafford
Lima Stafford
Three years after enrolling at SUNY Cortland through the Educational Opportunity Program (EOP), Stafford stood at a podium and shared her experiences with 1,200 first-year students during the Fall 2012 Opening Convocation.
Stafford stands as a beacon to others who may wish to follow in her path and dedicate their college years to self-improvement, whatever their academic or personal interests may be.
Her interests resulted in many awards and accomplishments in the classroom and numerous lives influenced through her involvement in campus activities and leadership within student organizations.
Stafford, a former Brooklyn, N.Y., resident, maintained a 3.2 GPA and frequently made the Dean's List while serving as a resident assistant for three years. Meanwhile, she was the president of the College's Caribbean Student Association and an event coordinator for the Alliance of Physical Education Majors Club. Stafford participated in varsity women's track and field, the swimming club and the women's rugby club.
Based on her academic success, in 2012 she earned the EOP Gold Academic Award from the College's Educational Opportunity Program.
Chi Alpha Epsilon, the national opportunity program honor society, honored Stafford in 2010 for students who have are high academic achievers.
That year, the College recognized her with a Certificate of Academic Achievement for her scholastic excellence and extraordinary dedication to self-improvement.
William Richards '88 Joins Academic Hall of Fame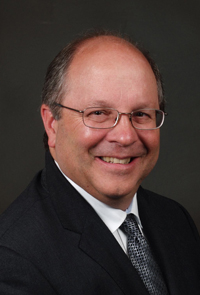 04/19/2013
William "Bill" G. Richards '88, a leading researcher of new therapeutics for diabetes, cardiovascular disease, kidney disease and other illnesses, has been named the 12th inductee into the SUNY Cortland Academic Hall of Fame.
Richards, an executive director of discovery research in the metabolic disorders department at Amgen, Inc., a pioneering biotechnology firm, was recognized April 12 when he addressed the President's List reception in the Corey Union Function Room. The event honors SUNY Cortland students who earned the College's highest grade point averages the previous semester. SUNY Cortland President Erik J. Bitterbaum offered opening remarks at the ceremony.
Richards also conducted the SUNY Cortland Academic Hall of Fame Inductee Seminar, titled "From Dense Bones to the Clinic: The Power of Genetics in Drug Discovery," that day in Sperry Center's Johnson Lecture Hall, Room 106. The talk was free and open to the public.
Created in 2006, the Academic Hall of Fame honors SUNY Cortland alumni who graduated 10 or more years ago with magna cum laude or higher honors, and who have made significant contributions to society through their chosen professions. The Hall of Fame wall is located in the Dorothea "Dottie" Kreig Allen Fowler '52, M '74 Old Main Grand Entrance Hall.
Richards was promoted to his current role with Amgen this year. He had served since 2005 as a director of discovery research in the metabolic disorders department. His nephrology research at Amgen, located in Thousand Oaks, Calif., allowed him to establish a worldwide network of academic partnerships aimed at developing more effective treatments for individuals with kidney disease.
Richards joined Amgen in 1996 as a scientist in the Neurosciences Department. He established a mouse genetics and gene-mapping core and led an effort to identify therapeutic targets for Huntington's disease.
As the company's interest in treating renal illnesses grew, Richards was asked to lead an effort to identify ways to treat polycystic kidney disease. During this time, he also headed several academic and industry partnerships.
Richards currently oversees the Metabolic Target and Drug Discovery Group. The group has 30 members, including 10 Ph.D.-level scientists, and focuses on the discovery of new therapeutics in several areas. In the renal area, his group works primarily on diabetic nephropathy and provides pre-clinical support for Cinacalcet, a drug for advanced-stage dialysis patients. Richards has been involved in reviewing licensing opportunities and acting as the research liaison between scientists and Amgen's clinical development and marketing nephrology groups.
He completed coursework at Morrisville State College before coming to SUNY Cortland, where he graduated summa cum laude with a Bachelor of Science in Biology. The following summer, he studied comparative invertebrate embryology at the University of Washington's Friday Harbor Marine Laboratory. Richards earned a doctorate in genetics from Stony Brook University, where he investigated the function of tissue plasminogen activator in mouse embryos.
From 1993 until he joined Amgen, Richards conducted post-doctoral research as a Eugene P. Wigner Distinguished Fellow at the Oak Ridge National Laboratory in Oak Ridge, Tenn. There, he worked on the characterization of a novel mouse model of polycystic kidney disease, which was generated as part of a large-scale mutagenesis effort.
A native of Cazenovia, N.Y., Richards graduated from Cazenovia High School. He is married to Emily Rinehart Richards '88. They have two children, Maegan, 18, a student at Princeton University, and Conor, 16, a high school student.
Students Plan Rainbow Race for Diversity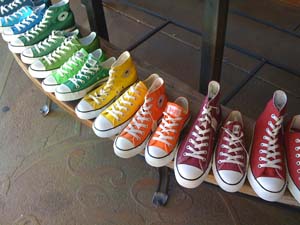 04/08/2013
College students and their friends will have the opportunity to run a five kilometer race while having a rainbow of pigments tossed on their pure white clothing — all to foster support for gender diversity at SUNY Cortland.
Alpha Phi Omega, a co-ed service fraternity at SUNY Cortland, and Spectrum, the College's Gay-Straight Alliance Club, will host the unusually colorful 5K walk/run to support diversity in gender and sexual orientation, on Sunday, April 21.
Organizers of the event, Color Me Cortland, welcome everyone. Participants may choose to walk or run. The competition's biggest rule: don't show up to run in any color outfit but white.
Sunglasses are highly recommended and all products are 100 percent safe and natural.
The online and mail-in registration fee for the walk/run is $12.50 and is available until Sunday, April 14. Early registration for a $10 fee can be made from 11 a.m. to 2 p.m. and from 5 to 7 p.m. on Tuesday, April 9, Wednesday, April 10, Thursday, April 11 and Friday, April 12, in the Corey Union ground floor level across from Dunkin' Donuts. Late registration will be available on site the day of the event for $15. Late registration and check-in begin at 9 a.m. in front of the College's Park Center on Stratton Drive. The walk/run starts from there at 11 a.m.
Participants will take on the 5K — which measure 3.1 miles — through the College campus. At checkpoints throughout the course, those who take part will be splashed with vibrant color made of dye and cornstarch.
"There will be lots of excitement, energy and, of course, color!" revealed Megan Johnson, co-coordinator from Alpha Phi Omega.
After participants cross the finish line, they are encouraged to stay and celebrate.
There are other colored-5K runs such as the Color Run, and Color Me Rad — which visit big cities across the country — and all of them, including Color Me Cortland, choose a charity to donate the proceeds to.
The proceeds from this year's first annual Color Me Cortland will go to The Trevor Project, the leading national organization in providing crisis intervention and suicide prevention to lesbian, gay, bisexual, transgender and questioning youth (LGBTQ).
"We — Alpha Phi Omega and Spectrum — are very passionate about the cause, because we have so many LGBTQ friends, and have been affected by suicides," Johnson commented. "We wanted a fun way to spread the word that there is help out there and that you're not alone.
"The Trevor Project supports the LGBTQ community and we thought it was important to bring awareness to the organization."
The students have been planning and working on this event for about a year. Organizers noted that Color Me Cortland will be less about speed and more about giving back and enjoying the day.
"Everyone working on the project is just so excited to see it succeed," Johnson said. "It is a group effort and the event would not have even gotten its feet off the ground if not for the help of everyone in Alpha Phi Omega and Spectrum."
The groups aim to raise $3,000 from the event.
"So far we have raised over $1,500 with online registration," Johnson said. "We are just over halfway to our goal."
Alpha Phi Omega members hope the walk/run will become the fraternity's signature event.
For more information, visit the event website or contact Alpha Phi Omega members Sarah Turon or Johnson.
Raquette Lake Summer Reservations Open to Staff
The Antlers facility at the Outdoor Education Center at Raquette Lake will be available for use by faculty, staff and their guests including spouses, children and significant others, from Monday, Monday, June 24, through Saturday, June 29.
Reservation information is available at the Center for Environmental and Outdoor Education Office, Miller Building, Room 230. Registration forms can be found on their website under Raquette Lake, upcoming events. A $50 deposit is required with registration. Participants will be acknowledged on a first-come, first-served basis following receipt of reservation and deposit.
Room and board for six days and five nights is $223 per person for adults and $172 per person for children age 12 and under. There is no charge for children under one year of age.
Visitors arrive between 2-4 p.m. on Monday, June 24. An orientation will be held at 5 p.m. with dinner following at 6 p.m. Visitors will depart Saturday, June 29, following breakfast.
Participants will enjoy time to relax, canoe, hike, kayak and visit with others, and planned activities including tours of the Antlers, a national historic landmark, Camp Pine Knot and a sunset cruise.
Antlers is a hotel built in 1886 on the shores of Raquette Lake. Guest rooms are comprised of twin-sized beds, dressers and personal bathrooms complete with showers and tubs. Three meals a day will be served family style throughout the week, beginning with dinner on Monday and ending with breakfast on Saturday.
For more information, contact Rhonda Jacobs by email or by phone at 607-753-5485.
Non-Traditional Students Inducted into Honor Society
Twenty-five non-traditional students at SUNY Cortland have been elected to membership in Alpha Sigma Lambda, an international honor society honoring the academic achievement of undergraduate students over the age of 24.
This is the 13th year the SUNY Cortland chapter, Lambda Omicron, has elected members. The induction ceremony was held April 11 in Brockway Hall Jacobus Lounge. Alpha Sigma Lambda national standards indicate that students elected to membership are in the top 20 percent of all students age 24 or older at SUNY Cortland, and must have completed 24 credits of work at SUNY Cortland with a GPA of 3.2 or better. For the inductees to be in the top 20 percent of students at SUNY Cortland this year, they needed to have a grade point average of 3.59 or higher. The GPA range for this group of students inducted was 3.59 to 4.19.
Provost and Vice President for Academic Affairs Mark Prus offered welcoming remarks to the new members. Orvil White, assistant professor of childhood/early childhood education, was the faculty guest speaker and was inducted as an honorary member. Sherry Howell, an inclusive special education major and vice president of the Non-Traditional Students' Organization, explained the ideals of the honor society.
Students who have been elected to membership are:
Sonny Aedo, Victoria Barrett, Jonothan Bogdan, Elton Closs, Christopher Coles, Lorraine Cornell, Mary DeLorenzo, Rebecca Elliott, Lauren Giannetti, Annika GodinGreen, Valorie Gunther, Rebecca Halladay, Liselotte Hammond, Ramsey Hassen, Matthew Hayes, Anthony Johnston, Christopher Kinney, Matthew McNamee, Olivia Norton, Kathryn Palm, Amanda Pendock, Sheila Shea, Nicole Tabolt, Kathryn Townsend, Tyler Virgoe.
"Our adult student population brings great life experiences to our campus," said Cheryl Hines, coordinator for Non-Traditional Student Support and the National Councilor for the Alpha Sigma Lambda Omicron Chapter. "They earn high GPAs while balancing family responsibilities, jobs and long commutes to campus. For some adult students, the adjustment attending a typically traditional-aged college can be overwhelming and intimidating. I am proud of them and happy that our campus has a chapter of Alpha Sigma Lambda so we are able to honor these amazing students."

Suggest a feature story
---
Faculty/Staff Activities
Seth Asumah, Ibipo Johnston-Anumonwo and Mechthild Nagel
Seth Asumah, Africana Studies and Political Science departments, Ibipo Johnston-Anumonwo, Geography Department, and Mechthild Nagel, Philosophy Department, presented papers at the New York Africana Studies Association (NYASA) annual conference held April 5 and 6 at Binghamton University. SUNY Cortland exchange student Adiam Zersenai, from Fulda, Germany, presented on her internship in Israel. Nagel was elected president of NYASA.
Gretchen Herrmann
Gretchen Herrmann, Library, has had an article accepted for publication by the journal Ethnology. Titled "New Lives from Used Goods: Garage Sales as Rites of Passage," the article treats various types of garage sales as life transitions on the part of sellers, and to a lesser extent shoppers. Moving, combining households, divorcing or downsizing can all signal significant passages in participants' lives and open the potential for new "potential selves."
Peter McGinnis
Peter McGinnis, Kinesiology Department, has announced the recent publication of the third edition of his undergraduate biomechanics textbook, Biomechanics of Sport and Exercise. Published by Human Kinetics, the textbook is used in biomechanics and kinesiology courses in the United States and elsewhere.
Sonia Sharma
Sonia Sharma, Mathematics Department, recently had her article, "Real Operator Algebras and Real Completely Isometric Theory" accepted for publication in the journal Positivity.
Robert Spitzer
Robert Spitzer, Political Science Department, spoke on "The Architecture of the Gun Debate" at Colby College in Maine on April 2. The talk was hosted by Colby's Goldfarb Center for Public Affairs.

Submit your faculty/staff activity