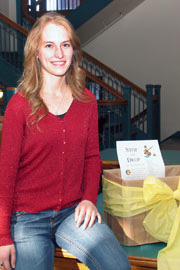 Campus Champion
"Stop and Drop" boxes with yellow ribbons are located around campus as part of a service project coordinated by Tau Sigma, the honor society for transfer students, to collect items for U.S. troops. "Let's care for those who serve," says Tau Sigma Vice President LaJoie Ward. LaJoie is all about serving those in need. Last fall she helped Tau Sigma coordinate Operation Christmas Child, filling shoeboxes with gifts for children overseas, and she is a volunteer with the College's Transfer Buddy Program, reaching out to new transfers at the start of each semester. The senior childhood/English major is a champion for those in need.

Nominate a Campus Champion
---
Wednesday, Feb. 20
Advising Workshop: "Graduation Checklist," Advisement and Transition, Corey Union, Room 209, 11:30 a.m.
---
Wednesday, Feb. 20
Sandwich Seminar: "Katrina and Sandy: Beyond Black and White," Old Main Colloquium, 12:30 p.m.
---
Wednesday, Feb. 20
Lecture: "Global Climate Change: The Good, Bad, and the Ugly," Main Street SUNY Cortland, 9 Main Street, 5:30 p.m.
---
Wednesday, Feb. 20
Performance: "Women Marching: Women's Narratives from the Civil Rights Movement," by storyteller Vanessa Johnson, Sperry Center, Room 105, 7 p.m.
---
Wednesday, Feb. 20
Wellness Wednesday Event: "Getting to the Heart of Hazing," by Mindy Sopher, North Carolina State, Corey Union Function Room, 7:30 p.m.
---
Thursday, Feb. 21
Sandwich Seminar: "The Black Panther Party and Civil Rights," Old Main Colloquium, noon
---
Thursday, Feb. 21
Lecture: "Cryptography: From Enigma to Elliptical Curve Cryptography," Corey Union Function Room, noon-1 p.m.
---
Friday, Feb. 22
Conference: 36th Annual Residence Life Conference, Corey Union and Van Hoesen Hall, continues through Saturday, Feb. 23.
---
Friday, Feb. 22
Workshop: "Quality Circle Review," Corey Union? Exhibition Lounge, noon-2:30 p.m. R.S.V.P. to Research and Sponsored Programs Office at 607-753-2511.
---
Saturday, Feb. 23
Children's Museum Series: "Music and Dance," featuring the Cortland Dance Company, Education Building, Child Care Center, 10 a.m.-1 p.m.
---
Saturday, Feb. 23
Fundraiser: "The Belize Zoo Transformation Project," Blue Frog on Main Street, 7-10 p.m.
---
Sunday, Feb. 24
Gospel Choir Cultural Celebration: Corey Union, Rooms 301-303, 4-8 p.m.
---
Monday, Feb. 25
Body Appreciation Week Event: "Intro to Yoga," Corey Union Function Room, 7 p.m.
---
Tuesday, Feb. 26
Workshop: "Supervisors Guide to the Appropriate Use of Leave," Park Center Hall of Fame Room, 1:30-4 p.m.
---
Tuesday, Feb. 26
Coffeehouse: Dance and music performances, followed by Open Mic Night, Corey Union Exhibition Lounge, 7 p.m.
---
Tuesday, Feb. 26
Book Discussion: "The Immortal Life of Henrietta Lacks," Brockway Hall Jacobus Lounge, 7 p.m.
---
Wednesday, Feb. 27
Red Cross Blood Drive: Interfaith Center, lower level, 11:30 a.m.-5:30 p.m.
---
Wednesday, Feb. 27
Sandwich Seminar: "Disrupting the Cradle of Prisons Pipeline: Understanding Systems and Advocating for Social Change," Brockway Hall Jacobus Lounge, 12:30 p.m.
---
Wednesday, Feb. 27
Opening Reception: Photo exhibit "Visions of Impending Death: Bearing Witness to Executions in the United States," with photographer Scott Langley, Memorial Library, 4:30 p.m.
---
Wednesday, Feb. 27
Wellness Wednesday Event: "Perfectly Imperfect: Eating and Body Image," by Appreciation Week keynote speaker Jenni Schaefer, Corey Union Function Room, 7:30 p.m.
---
Thursday, Feb. 28
Sandwich Seminar: "Milton Gray Campbell: From Unknown Decathlete Athlete of the Century," Brockway Hall Jacobus Lounge, noon.
---
Monday, March 4
Teach-in: "Hope for the Congo," addressing the humanitarian crisis in the Democratic Republic of the Congo, Sperry Center, Room 105, 4:30 p.m.
---
Saturday, March 2
Children's Museum Series: "Paint, Paint, Paint," Education Building, Child Care Center, 10 a.m.-1 p.m.
---
Saturday, March 2
Glow Skate: Park Center Alumni Arena, 9-11 p.m.
---
---
College Lands Kendrick Lamar for Spring Fling
04/26/2013
Up-and-coming West Coast rapper Kendrick Lamar will headline SUNY Cortland's Spring Fling on Saturday, April 27.
The 25-year-old Compton native, , will appear alongside D.J. Steve Aoki at 8 p.m. in the College's Park Center, with doors opening at 7 p.m.
Tickets for the concert are sold out.
Lamar and Aoki join a long list of big-name artists to play SUNY Cortland's Spring Fling. It includes the Black Eyed Peas, O.A.R. and the Fray. Wiz Khalifa, last year's headliner, rocked a sold-out Alumni Arena.
Lamar has two studio albums to his credit, including "good kid, m.A.A.d city," his major label debut released in October. That album peaked at No. 2 on the Billboard 200 chart and has sold nearly 700,000 copies. Music critics from many publications across the U.S., including Rolling Stone, Billboard and The New York Times, rated it among their 10 best albums of 2012, praising it as a for its realistic dose of storytelling.
Popular singles from the Dr. Dre-produced album include "Swimming Pools (Drank)," "Backseat Freestyle," and "Poetic Justice."
In January, Lamar performed on television's and was featured in The Lonely Island's "YOLO" music video parody, alongside Maroon 5 front man Adam Levine.
The 35-year-old Aoki has established himself as a popular D.J. and record producer after founding his own label, Dim Mak Records, in 1996. "Wonderland," his most recent solo album released in 2012, features guest musicians that include LMFAO, Kid Cudi and will.i.am.
His remixes of popular acts such as the Jackson 5, Drake and The Killers also have won him a diverse fan base.
Students Choose "Dragon Hall"
02/19/2013
If you've been wondering what to call the new, 220-bed building rising at the corner of Neubig Road and Broadway Avenue, you can stop searching for adjectives.
The state-of-the art, environmentally friendly residence hall will be officially, though temporarily, known as Dragon Hall.
That's the most-liked suggestion of an online contest run by the Residence Life and Housing Office, which announced the selection today.
"Dragon Hall" will be used to identify the structure until a naming gift gives the building a permanent identity.
SUNY Cortland operates under the first facilities naming program approved by the SUNY Board of Trustees. The program, launched in conjunction with the College's "Educating Champions" $25 million capital campaign, ties campus naming opportunities to specific gift levels. More information is available on the SUNY Cortland website.
Dragon Hall is expected to open for the fall semester.
---
Capture the Moment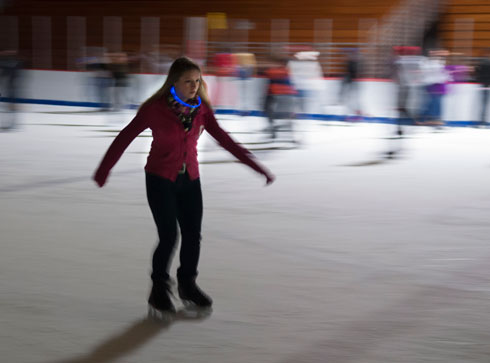 A neon necklace lights the way at Glow Skate, held Feb. 16 at the Park Center Alumni Arena. Offered a few times each semester, skates can be rented for $2 and admission is $1. The last Glow Skate of the season will be held from 9 to 11 p.m. on Saturday, March 2.
---
In Other News
Photojournalist Scott Langley to Visit Feb. 27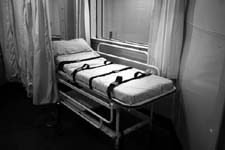 02/19/2013
New York photojournalist Scott Langley's black and white images chronicle the grim sequence of events transpiring in and around the death chamber before and after an execution.
The curtain of secrecy will be pulled back for the campus and community to view just a few of Langley's chilling images during an exhibition and opening reception at 4:30 p.m. on Wednesday, Feb. 27, on the second floor in SUNY Cortland's Memorial Library.
The show, titled "Visions of Impending Death: Bearing Witness to Executions in the United States," is free and open to the public.
Langley will be available to discuss his work with visitors. Five of his pieces will be on display during the presentation only and two additional images from among the collection are being shown from now until Friday, March 15, in a glass case near The Bookmark café. All are owned by the Ithaca chapter of Amnesty International.
"The images depict an insider's hour-by-hour walk-through of what happens on an execution night, taking the viewer from the prison deathwatch cell into the actual lethal injection chamber," Langley said. "Photos from Troy Davis's recent execution in Georgia tell the story of what happens outside a prison in the moments leading up to execution."
The presentation also includes original photos from execution vigils, both for and against the death penalty, marches and rallies. It features portraits of exonerated death row prisoners, candid emotional and prayerful moments, and celebrities who are outspoken on the issue.
The photographs, together with Langley's narratives, uniquely combine art, journalism and education into a poignant and powerful experience.
This image of a crossroads in Terre Haute, Indiana near the federal death row and execution facilities, was captured in 2001 by Scott Langley. Above left is his 2005 photograph of the North Carolina execution gurney.
Executions in the United States are not public events, so the events culminating a death sentence happen off camera, behind closed doors and in the dark of night. Langley's camera captures scenes that very few people see or experience.
"The death penalty photography documentary project began in 1999 as a college class assignment in Texas, artistically capturing what was available to those of us 'on the outside,'" Langley said.
Since then, the project has expanded to include thousands of images, including in-depth coverage of North Carolina, Georgia, and the federal death penalty.
Langley's project is considered to be the most comprehensive collection of original United States death penalty-related photographs available from one source.
His images capture unforgettable moments such as when the Ku Klux Klan rallied in support of a black man's execution in Texas; as well as the vivid scene of a North Carolina death row warden wheeling a gurney into the execution chamber and weeping family members at the moment of a loved one's execution.
His documentary work has been widespread throughout the world in recent years — appearing in newspapers, magazines, books, encyclopedias, theater productions, calendars, films, on television and t-shirts.
A photographer who has been engaged with death penalty issues for decades, Langley has received numerous awards for his work and frequently exhibits for Amnesty International. In 2009, he was honored with the People of Faith Against the Death Penalty's Community Service Award, presented to The Justice Theater Project, featuring the death penalty photo project.
He has been an active grassroots organizer against the death penalty since 1999. Since 2004, Langley has served as an Amnesty International USA state death penalty coordinator, first for North Carolina and Massachusetts, and now New York state.
More of his personal and documentary work can be seen at scottlangleyphoto.com.
Langley's current partnerships in collaboration with the Death Penalty Photo Project are: Abolition Action Committee, Amnesty International Campaign to End the Death Penalty, Connecticut Network to Abolish the Death Penalty, Dead Man Walking School Theater Project, Equal Justice USA, The Justice Theater Project, National Coalition to Abolish the Death Penalty, Moratorium Campaign, Murder Victims' Families for Human Rights, Murder Victim Families for Reconciliation and Shae Foundation.
The exhibition at SUNY Cortland also is supported by the Campus Artist and Lecture Series, Center for Gender and Intercultural Studies, the History Department, and the campus Amnesty International student group.
For more information, contact Ute Ritz-Deutch, lecturer in history and advisor to the campus chapter of Amnesty International, at 607-753-2053. For more information about the campus chapter of Amnesty International, contact student members Michelle Rollenas or Chelsea Lachman.
DragonConnect Improves Job Search Features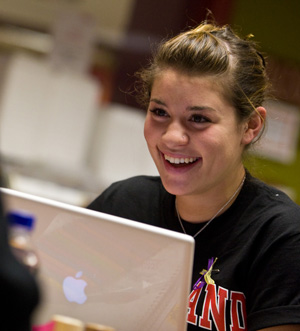 02/13/2013
Red Dragons hunting for jobs or internships have an improved search tool at their disposal in DragonConnect, a free online service designed to help SUNY Cortland students and alumni find work opportunities.
The web-based offering, launched by Career Services in January, replaces JobConnect and takes a giant step forward with its search capabilities, according to Michele Baran, the College's assistant director of career services and online operations specialist.
"The biggest thing is just how much this allows our students and alumni to expand their searches," Baran said, pointing to two key improvements.
The first is a new source to feed job and internship opportunities. The Experience Network, a database connected to more than 100,000 employers, significantly increases the number of search results yielded for a job seeker, especially if the person looking is a recent college graduate.
"Essentially, they're tapping into a much larger network than what was previously available," Baran said.
The second improved feature is the ability to customize both personal information and job searches in more specific ways.
A job seeker's personal profile, for instance, can include all of the vital information contained in a résumé plus unique social features, such as a synced LinkedIn profile. Likewise, the search field can be narrowed beyond industry and location, by customizations such as experience required or essential job function.
"What we've heard from employers is that the more information people fill out in their profiles, the more likely they are to find matches for their dream jobs," Baran said.
DragonConnect currently offers SUNY Cortland students and alumni the ability to search jobs and internships. In the future, the tool could include volunteer opportunities or student employment openings on campus, Baran said.
SUNY Cortland students or alumni who graduated in 2008 or later can use the feature, accessible at cortland.experience.com, by logging in with their myRedDragon credentials. Alumni who graduated before 2008 can contact Career Services at 607-753-4715 for access.
Employers also can post jobs for free.
SUNY Cortland's Career Services offers several other programs to help students in their work-related pursuits, including drop-in résumé and cover letter critiques Mondays and Thursdays from 1:30 to 3:30 p.m. and Tuesdays from 4:30 to 7:00 p.m.
And according to a report released last summer by the National Survey of Student Engagement, the office's work is paying off.
By their senior year, 73 percent of SUNY Cortland students surveyed had participated in a form of hands-on learning, whether it was through an internship, clinical assignment or field experience. By comparison, 50 percent of fourth-year students surveyed at more than 600 other institutions shared a similar hands-on experience.
For more information on the DragonConnect resource, contact Baran at 607-753-4715.
Community to Highlight Local Food Industry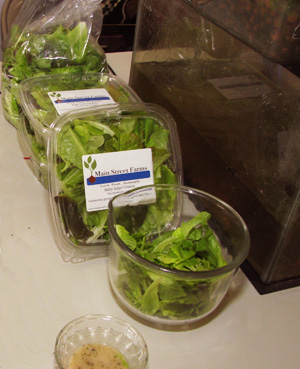 02/19/2013
Two local organizations have teamed up with volunteers from SUNY Cortland to promote wellness, sustainability, local business and community identity — one mouthful at a time.
The resulting movement, called Students for Local Foods, is sponsoring a series of sustainable lunches and promotional workshops, created to give SUNY Cortland students a taste of regionally produced foods and educate them about the importance of eating local.
The events began in early February and will continue through the end of April.
Today, many people who live and work in Cortland County often overlook the wonderful opportunities that lay within its perimeter, according to Gary Smith, director of Moving in Congregations, Acting in Hope (MICAH), and Sara Watrous, program coordinator of Sustainable Cortland.
Smith and Watrous, whose groups are organizing the events, understand how supporting local and regional food industries reduces pollution, improves the local economy and helps foster a deeper sense of community among residents.
"In the late 1970s and into the early '80s, the area lost many industries such as Smith Corona, Rubbermaid, various corset companies, and the notable Wickwire Brother's wire mill," Smith said. "It was the departure of these massive corporations, leaving so many out of work, that caused the area to lose a sense of community."
By supporting local food growers, restaurants, and health food stores involved in the industry, active members are able to feel the community come together once again, he said.
Representatives of MICAH and Sustainable Cortland anticipate that through these events, both students and the community will become active participants in the local and regional food industry.
Throughout the spring semester, Students for Local Foods will feature Sustainable Lunches: an assortment of workshops with cooking demonstrations and food tastings featuring regionally produced edibles.
The first Lunch, held in Neubig Hall on Feb. 7, highlighted beef from Moravia, N.Y., dairy products from Upstate Farms in Rochester, N.Y., baked goods from Auburn, N.Y., and Dryden, N.Y., and more.
The next event from Students for Local Foods will be from 3 to 5 p.m. on Thursday, Feb. 21, at The Blue Burrito, 11 Groton Ave., in Cortland.
The remaining sustainable food events will be March 4 at Neubig, March 26 at Brix Pubaria, April 12 at Neubig and April 22 at the Blue Frog Café. Interested eaters can register through the Sustainable Cortland website.
By eating locally, consumers are able to learn where the food on their plates came from and what conditions it was produced under, according to Smith and Watrous. Eating local lessens concern about unknowing exposure to harmful pesticides, reduces the cost of transportation services, and scales back the amount of pollution emitted from the vehicles that transport produce from all over the world.
The organizers provided one example of a local, sustainable food operation. Main Street Farms in Homer, N.Y., is not the typical run-of-the-mill "farm," but rather, a flood and drain system called an aquaponic or hydroponic farm. Co-owned by Bob "Bobcat" Cat and Allen Gandelman, the greenhouse-style aquaponic farm uses a living filter made of fresh water and live fish in a tank on the bottom. The water is siphoned up by a tube to the top, where lettuce seeds are planted in expanding clay pellets that promote bacteria growth.
The bacteria convert the water into a nitrogen-based fertilizer so that the flourishing plants are constantly receiving nutrient-filled water. The partners practice a complex, yet effective way to naturally grow vegetation.
An old technology, aquaponics is scarcely used today.
There are only about four people in New York who practice this form of agriculture, mainly because there is a large capital investment in starting up an aquaponics farm, Cat said. But the benefits are certainly reaped.
The regional food industry has many other successful businesses that either produce or support local foods. They include: Syracuse Real Food Group in Syracuse, N.Y.; LoFo in Armory Square of Syracuse, N.Y.; Cortland Produce Cash and Carry; Brix Pubaria; Central City Bar and Grill and The Blue Burrito in Cortland, N.Y.; and Oh My Goodness Health Food and Dasher's Corner Pub in Homer, N.Y.
Aside from dining out, Watrous spoke of another way to get students involved in the industry that can be done in their own kitchens. Community Supported Agriculture — better known as CSAs — have recently been offered to the Cortland community and surrounding areas.
After paying a set price, participants are able to pick up a new box per week of locally grown, in-season vegetables.
Sustainable Cortland is looking to work with the suppliers of Central New York CSAs to offer lower-priced and smaller sized boxes for Cortland students, Watrous said. Workshops will be available to teach those students how to cook with what they have received.
Obtaining foods locally does away with the packaging of foods, which in and of itself contributes to health issues, according to Smith.
By supporting the local food industry, people are able to help one another in today's working class, and to lead a healthy lifestyle, he said.
For more information on Students for Local Foods, visit the Sustainable Cortland website and click on the link to Students for Local Foods.
Students, Staff Plan Body Appreciation Week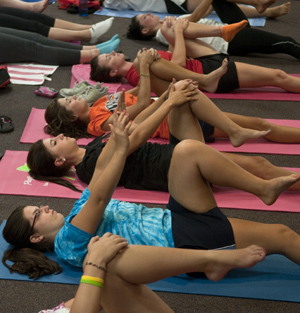 02/18/2013
Intending to bring to light a greater awareness of the value and needs of their own bodies, students and staff at SUNY Cortland have embraced the theme of "The Art of You" with this year's weeklong Body Appreciation Week series.
Events during the 15th annual series, from Sunday, Feb. 25, through Friday, March 1, are free and open to the public, unless noted otherwise. Activities will take place in the Corey Union Function Room.
Body Appreciation Week takes place in conjunction with National Eating Disorders Awareness Week, sponsored by the National Eating Disorder Association (NEDA).
Billie Jean Goff, associate director of the College's Counseling and Student Development Center, explains that Body Appreciation Week helps students and others practice de-focusing on body image, weight, shape and size.
Jenni Schaefer
Keynote Speaker
"Part of the whole 'The Art of You' message is appreciating the traits and qualities of an individual," she said. "What is it about a person that makes them special? Not, 'Who is this body?'"
Throughout the week, exhibits will be on display in the Function Room from 11 a.m. to 7 p.m. on Monday, Feb. 25 through Thursday, Feb. 28. The exhibition encourages everyone to take pride in their uniqueness and welcomes students from all interests to contribute various forms of artwork that express themselves as an individual.
Students representing clubs and organizations with an interest in a healthy body image and self-awareness will contribute to the exhibit and staff an information table as volunteer health advocates. Related literature also is available at any time through the Health Promotion Office.
Jessica Dashnaw, a SUNY Cortland senior who serves as a campus health intern along with Megan Wise, suggests that Body Appreciation Week is about indentifying with one's own self.
"It's important for students to walk around to look at all of the different student clubs and organizations that will be at the exhibit," Dashnaw said. "For example, if someone is confused about their sexuality, Spectrum, the school's Gay-Straight Alliance, will be there for more information. They can be welcomed into the right club and it will help them be comfortable with themselves."
A performance by the SUNY Cortland Gospel Choir will kick off Body Appreciation Week at 4 p.m. on Sunday, Feb. 24. Admission will be $5.
Louise Mahar, the College's assistant director for sports and recreation, will lead an "Intro to Yoga" class at 7 p.m. on Monday, Feb. 25.
A special "Coffeehouse" with performances from Cortland's Kickline, Africana Dance and A Capella, followed by an Open Mic Night will take place at 7 p.m. on Tuesday, Feb. 26.
Colleen Zimmerman will conduct a Zumba dance exercise class from 6:15 to 7 p.m. on Thursday, Feb. 28.
Author, national speaker and singer/songwriter Jenni Schaefer will deliver the keynote speech for Body Appreciation Week at 7:30 p.m. on Wednesday, Feb. 27. Schaefer, who is recovered from an eating disorder, will present "Perfectly Imperfect: Eating and Body Image." Her talk encompasses finding balance with food and exercise as well as overcoming perfectionism in order to achieve a happy, fulfilled-perfectly imperfect-life.
Schaefer's program, which continues the College's semester-long Wellness Wednesday series of programs, will feature a candlelight vigil with Delta Phi Epsilon. Schaefer's books about her own battle with an eating disorder will be available for purchase and signing following the program. For more information, visit Schaefer's website at www.jennischaefer.com.
The "wear-jeans-to-work day" fundraiser continues this year with College faculty and staff encouraged by organizers to pay $1 a day during the week. This year's proceeds will help Superstorm Sandy victims.
Body Appreciation Week is a collaborative effort with SUNY Cortland's Counseling and Student Development Center, Auxiliary Services Corporation, President's Office, Vice President for Student Affairs Office, Residence Life and Housing, Campus Artists and Lecture Series, Health Promotion Office, Student Health Service, Delta Phi Epsilon, Alpha Phi Omega, Eta Sigma Gamma, Campus Activities and Corey Union, Auxiliary Services Corporation Nutrition Services, Student Activities Board, and Recreational Sports.
For more information, contact the Counseling Center at 607-753-4728 or Health Promotions Office at 607-753-2066.
SUNY Cortland Experience Goes to Albany

02/19/2013
SUNY Cortland was a standout exhibitor last week in the State Legislative Office Building during SUNY Day in Albany.
The SUNY Display focused on experiential learning, highlighting the College's involvement with civic engagement, outdoor education and internships with the New York Jets.
Several legislators and state officials stopped to watch a slide presentation that showed how SUNY Cortland students enhance their learning through educational activities outside of the classroom.
You can link to the presentation at: http://www2.cortland.edu/offices/public-relations/SUNYCortlandSUNYDAY1.pdf
'Wellness Wednesday' Series Offered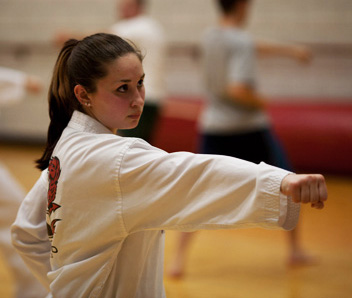 02/07/2013
SUNY Cortland is hosting the Spring 2013 "Wellness Wednesday Series" featuring speakers, exhibits, self-help workshops and other programs intended to encourage campus and community members to learn more about health and wellness.
Programs continue through the spring semester with topics including healthy eating, successful career and life planning, and alternative means of achieving better health including meditation, massage, acupuncture and chiropractic medicine.
Sponsored by the Health Promotion Office and the Student Development Center, the series will take place on Wednesdays at 7 p.m. in Corey Union Exhibition Lounge, unless otherwise noted. The events are free and open to the public.
On Feb. 13, the College will sponsor a faculty discussion of the No. 1 New York Times bestseller by Rebecca Skloot, The Immortal Life of Henrietta Lacks at 4 p.m. in Brockway Hall, Jacobus Lounge. Organized by the Cultural and Intellectual Climate Committee, the program will be moderated by Theresa Curtis, an associate professor of biological sciences at SUNY Cortland. Faculty presenters include Curtis; Elyse Purcell, lecturer in philosophy; and Jill Murphy, associate professor of health. The book focuses on Lacks, a woman whose story illustrates the collision of medical science and racial divisions in this country. Skloot's volume raises questions about our common humanity, and reinforces the theme of civility versus incivility and the importance of community building and civil behavior.
On Feb. 20, national speaker Mindy Sopher will address "Getting to the Heart of Hazing" at 7:30 p.m. in the Corey Union Function Room. Sopher, a communications faculty member at North Carolina State University, will explain "The 3 H's surrounding hazing — heart, harm and help." Sopher takes a nurturing approach to the discussion, helping students understand how preventing hazing speaks to their personal values and ethics. She helps students understand that new, non-hazing traditions can replace the harmful ones if extraordinary student leaders step up and take responsibility for changing their organization culture. Sopher, who also teaches a course in organizational leadership and change, received many awards as a full-time fraternity/sorority advisor at the University of Memphis, Old Dominion, and North Carolina State. The North Carolina State Panhellenic Association named its top award "The Sopher Cup" as a testament to the extraordinary respect the students feel towards her contributions to their community.
The sight of runners is a frequent one on roads and pathways through and around campus. Other college community members have chosen martials arts as a means to fitness and serenity, as shown above left.
On Feb. 27, national speaker Jenni Schaefer will discuss "Perfectly Imperfect: Eating and Body Image," at 7:30 p.m. in the Corey Union Function Room. The singer, songwriter and ambassador for the National Eating Disorder Association will share her insight into finding balance with food and exercise as well as overcoming perfectionism and living a happy, fulfilled-perfectly imperfect life. Recovered from her own eating disorder, Schaefer is the author of "Goodbye Ed, Hello Me — Recover from Your Eating Disorder and Fall in Love with Life."
On March 6, the College's team of health promotion interns will staff "Safe Spring Break" tables from 11 a.m to 2 p.m. on the Corey Union first floor. The students assisting the Health Promotion Office will offer fun activities and helpful hints for a safe and healthy spring break.
On March 20, Andrea Hart, a registered dietician and New York state certified dietician-nurse who is employed with the SUNY Cortland Auxiliary Services Corporation, will present "Eat Right, Your Way, Every Day" from 11 a.m. to 2 p.m. on the Corey Union first floor. Healthful eating is not one-size-fits-all, but needs to be individualized, according to Hart. She encourages everyone to stop by the tables for health information and tips.
On March 27, the College will screen the documentary film "The Dream Share Project," which is geared for those who are thinking about their career, major or post-graduation plans. The film explores how successful people have pursued their dreams and found careers they love. The film follows two recent college graduates, Alexis Irvin and her partner, Chip Hiden, on their road trip across the U.S. They interview successful people — from an Olympic skier to one of the original Latin Kings of Comedy to the CEO of a sustainable flip flop company — who have chased their dreams and learn about discovering one's passion, committing to a dream, dealing with setbacks, and redefining success for the millennial generation. Irvin, one of the project creators, currently is working on a career guide for millennials.
On April 3, Philosophy Department Chair Andrew Fitz-Gibbon will offer insights about why humans feel stress and what they can do about it. His talk, "Got Stress? Try Meditation!" will feature helpful exercises to take home and practice. Fitz-Gibbon, an associate professor, is a fellow of the American Philosophical Practitioners Association, certified in client counseling; abbot of the Lindisfarne Community in Ithaca, N.Y.; and a certified taijiquan instructor holding Chen family lineage, 13th generation.
On April 10, the College will recognize "Sexual Assault Awareness Week" with a speaker who will be announced at a later date.
On April 17, Rhonda Marr, a licensed acupuncturist, and Ayla Fialko, a licensed massage therapist, will share their knowledge on "Alternative Preventive Care: Massage and Acupuncture." Participants can learn ways to enhance and strengthen their health now so they will feel well and remain healthy as they age.
On April 24, Michelle Herczeg, a doctor of chiropractic, will present "Reducing Stress: The Secret to Health & Wellness Naturally!" According to Herczeg, a key factor in sickness and disease is the body's inability to manage stress. Participants will explore how to manage stress more effectively and gain a lifetime of better health.
For more information or accommodation to attend an event, contact Catherine Smith, the College's health educator, in Van Hoesen Hall, Room B-1 or at (607) 753-2066.
Are You Ready for the SUNY Wellness Challenge?

01/22/2013
The Cortland kick-off of the SUNY Wellness Challenge drew more than 150 faculty and staff members to Jacobus Lounge on Valentine's Day to learn about how the motivational fitness program will work, and to get their competitive juices flowing.
A total of 54 teams of four people each have signed up for the eight-week challenge, and several more teams are expected to jump on board before the friendly competition officially begins on Monday, Feb. 25. No new teams will be accepted after that date.
Until then, faculty and staff can sign up online through the SUNY Wellness Challenge website.
During the challenge, the teams will compete for prizes by doing healthy activities like yoga and running. Participants who attended the kick off received free pedometers and Wellness Challenge gym bags. Points will be awarded for losing weight, for eating servings of vegetables, and for doing positive things in the community such as donating blood.
"This was an incredible turnout for our first year," said Carol Van Der Karr, associate provost for academic affairs and a member of the Wellness Challenge Steering Committee. "It was inspiring to see so many people from all areas of the campus start this challenge together."
The program was developed three years ago at Cayuga Community College. It has been so successful at getting teachers, staff and even students involved that organizers this year reached out to other SUNY campuses. SUNY Cortland and Onondaga Community College were invited to participate in what organizers hope will eventually become a SUNY-wide initiative.
Well-being is one of the College's strategic priorities. Given that SUNY Cortland has strong scholars in related fields and outstanding athletic and recreational programs, the challenge seems to be a natural fit with the campus.
During the competition, each participant will use a pedometer to keep track of the steps they walk throughout the day. They also will log their progress in a wide range of exercises, sports and physical activities, each of which is worth a set amount of points.
African Storyteller to Portray Equal Rights Fight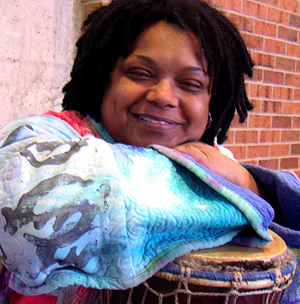 02/15/2013
Vanessa Johnson, a griot or storyteller in the West African tradition, will give voice to the hopes and dreams of young American girls and women, black and white, who fought for equality, on Wednesday, Feb. 20, at SUNY Cortland.
Johnson will sing her original music and portray historical roles during an interactive performance titled "Women Marching: Women's Narratives from the Civil Rights Movement" starting at 7:15 p.m. in Sperry Center, Room 105. Bernie Williford will accompany her on keyboard.
Presented by the College's Education Club, the event is free and open to the public.
Johnson is a writer, playwright, vocalist, fiber artist, teaching artist, historian and community educator.
As an historian, she uses her voice to preserve the history of the past and the stories of the present. A former director of the J.P. Morgan Chase Interactive History Museum, Johnson founded and directed a youth drama group and developed interactive programs to bring historical themes to life.
She also served the Onondaga Historical Society as director of education. In that capacity, Johnson developed and implemented educational programs and curriculums both in the museum and in a new school-based program that reached more than 300 students per week in 25 area schools. She initiated history-themed youth camps.
As a community educator, Johnson uses her years of experience directing social service programs for youth and providing direct service to teachers and future educators to demonstrate — through storytelling — classroom management skill models.
She first began working with children at the Syracuse Model Neighbors Southwest Center as director of youth and teen programming. Johnson captured significant grants for programs to prevent teen pregnancy and to support mentally challenged youth.
She established Mosai Village Enterprises as an important local resource for educational programming and performances for conferences, community celebrations, television and radio.
For more information, contact Education Club advisor Karen Hempson, lecturer in childhood/early childhood education, at 607-753-4209.
'In/Common' Series Looks at Henrietta Lacks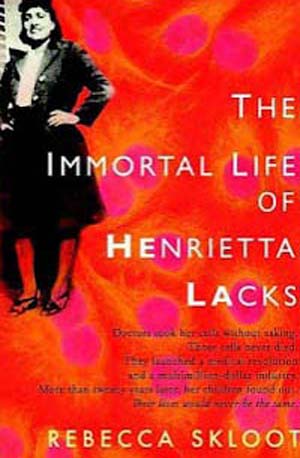 02/12/2013
Several events continue SUNY Cortland's yearlong quest to answer questions about a common humanity — especially the issues that divide it — by considering a non-fiction book concerned with race and medical ethics.
The Immortal Life of Henrietta Lacks, the 2010 book by Rebecca Skloot, provides the spring semester's reading inspiration for the year's "In/Common" series, the eighth of its kind organized by the College's Cultural and Intellectual Climate Committee (CICC).
Like The Kite Runner, the fall semester's featured book, The Immortal Life of Henrietta Lacks looks at the shared nature of human connections amid cultural and socio-economic differences. It tells the story of a poor black tobacco farmer whose cells, taken without her knowledge in 1951, have proven vital in gene mapping, cloning and the development of vaccines, generating millions of dollars never seen by Lacks or her family.
All of the activities related to the book and the "In/Common" Series are free and open to the public.
"The Immortal Life of Henrietta Lacks is an inclusive book that we felt could be read in a variety of disciplines and across the (three) schools on campus," said Lorraine Berry, the project director for the student Web magazine NeoVox who is coordinating CICC events this semester. "The book is as relevant to a biology class as it is to students in the School of Education. Both may wonder why Henrietta Lacks' story is ignored in high school biology classes, where so many questions about the human body were answered by using cells taken from Lacks.
"My class read it during the fall semester and the range of our discussions of the book showed critical intellectual engagement with difficult — yet accessible — arguments."
The semester's events kick off at 4 p.m. Wednesday, Feb. 13, in Brockway Hall Jacobus Lounge with a roundtable discussion that takes on the book from biological, philosophical and public health perspectives. Moderated by Jena Curtis, an assistant professor of health, the discussion panel includes the following SUNY Cortland faculty members: Theresa Curtis, an assistant professor of biological sciences; Jill Murphy, an associate professor of health; and Elyse Purcell, a lecturer of philosophy.
This semester's other "In/Common" events built around The Immortal Life of Henrietta Lacks include:
• A book discussion scheduled for 7 p.m. Tuesday, Feb. 26, in Brockway Hall Jacobus Lounge for students who have read the book or those who are reading the book in their classes. College faculty members are currently teaching the book across many academic departments, including English, geography, history and psychology.
• A film screening of the BBC production The Way of All Flesh begins at 4 p.m. Tuesday, March 5, at the Dowd Gallery, located temporarily on the third floor at Main Street SUNY Cortland, 9 Main St. Andrew Fitz-Gibbon, an associate professor of philosophy, will introduce the documentary, which looks at the story of Henrietta Lacks.
• Not Dead Yet, a national disability rights group that opposes forms of discrimination against old, ill and disabled people such as assisted suicide and euthanasia, is scheduled to offer a 5 p.m. presentation Tuesday, March 26, in Brockway Hall Jacobus Lounge. The talk will consider medical ethics and end-of-life decisions.
• A panel made up of SUNY Cortland students will present on Henrietta Lacks during the Multicultural Life and Diversity Conference, slated for Sunday, April 14.
• That same group of students will present at Transformations, the College's annual celebration of student scholarship, on Friday, April 19.
Two more Henrietta Lacks themed events scheduled for Women's History Month in March are still in the works. They include a discussion of the women's rights issues posed in the book and a talk by Sandra Lane, a professor of public health at Syracuse University, at 7 p.m. on Tuesday, March 19. A location for that talk is still to be determined.
The "In/Common" series is funded by the offices of the President and the Provost and Vice President for Academic Affairs. The College's Black History Month, Women's History Month and NeoVox also help underwrite expenses for different events.
To stay current with announcements regarding the series' events, visit the committee's Facebook page. For more information, contact Berry at 607-279-0271.
Raquette Lake Summer Reservation Forms Available
Raquette Lake Summer Reservation Forms Available
The Antlers facility at the Outdoor Education Center at Raquette Lake will be available for use by faculty, staff and their guests including spouses, children and significant others, from Monday, June 24 through Saturday, June 29.
Reservation information is available at the Center for Environmental and Outdoor Education Office, Miller Building, Room 230. Registration forms can be found on their website cortland.edu/off-campus/outdoor-education-facilities/under Raquette Lake, upcoming events. A $50 deposit is required with registration.
Room and board for six days and five nights is $223 per person for adults and $172 per person for children age 12 and under. There is no charge for children under one year of age.
Visitors arrive between 2-4 p.m. on Monday, June 24. An orientation will be held at 5 p.m. with dinner following at 6 p.m. Visitors will depart Saturday, June 29, following breakfast.
Three different week-long stays are still available at Kirby Camp. Kirby Camp is a rustic log cabin nestled on the southern shores of Raquette Lake in a private setting. There is no electricity. The cabin has a full kitchen, living room and two bedrooms that sleep up to eight people.
Participants will be acknowledged on a first-come, first-served basis following receipt of reservation and deposit.
For more information and registration forms, visit the website at cortland.edu/outdoor or call the center at 607-753-5488.
Student Conduct Office Recruiting Justices
The Student Conduct Office is seeking new faculty, staff and student justices for the 2013-14 academic year.
As voluntary justices, members of the panel sit in on student hearings regarding alleged violations of the College's Code of Student Conduct. Justices review evidence, listen to testimony and ultimately decide whether a student has broken a policy. If the panel finds the student in violation of a policy, the justices decide the educational sanctions to be imposed.
"It's just a way that I can give back to the college community," said Kate Polasek, associate professor of kinesiology. "It's meaningful service to me. I hope the work that I do as a faculty justice will empower students to make smarter decisions."
Initial training begins each fall and justices serve three to four hearings throughout the semester. Students commit to attend mandatory monthly training sessions and may earn one academic credit per semester serving as a justice.
Faculty and staff are encouraged to nominate colleagues or students to become a justice. The nomination, application and recommendation forms are available on the Student Conduct website at cortland.edu/student-conduct by clicking on the leadership opportunities link. Forms also are available in the Student Conduct Office, Corey Union, Room 409-B.
Applications are due Wednesday, March 6. Interviews will be scheduled after the College's spring break. For more information, contact Amanda Anderson by email or at 607-753-4725.
Workshop to Address Employee Use of Leave Time
A workshop titled "Supervisors Guide to the Appropriate Use of Leave," will be offered from 1:30 to 4 p.m. on Tuesday, Feb. 26, in Park Center Hall of Fame Room.
Supervisors can register by contacting Robin Abbott by email or by phone at 607-753-2302.
Human Resources director Gary Evans will facilitate the session, which will address the impact on the workplace of inappropriate use of leave, including missed deadlines, increased error rates, increased personnel costs and moral issues for co-workers.
This session will provide a brief overview of the leave accruals available to employees and the appropriate use and approvals of such leaves. Significant time will be given to reviewing when leave use becomes inappropriate and how to identify, address and monitor potential or real abuse.
Evans has worked in the College's Human Resources Office for more than 10 years. He obtained his B.S. in Business Administration from SUNY Oswego and M.B.A. from Le Moyne College. Evans holds a Professional in Human Resources (PHR) certification, demonstrating competency in the most current principles and core practices of human resources management.

Suggest a feature story
---
Faculty/Staff Activities
Judy Bentley and Janet Duncan
Judy Bentley and Janet Duncan, Foundations and Social Advocacy Department, co-edited chapters in the book, Earth, Animal and Disability Liberation: The Rise of the Eco-Ability Movement, recently published by Peter Lang Press, N.Y. Bentley's chapter discusses toxic environments and transformative technologies, using a Michel Foucault's framework. Duncan's chapter examines the concepts of capability and competence, building on Martha Nussbaum's Capabilities Approach. This edited volume also contains chapters written by Lynn Anderson, Vicki Wilkins and Laurie Penney McGee, faculty from the College's Recreation, Parks and Leisure Studies Department, featuring their work with the Inclusive Recreation Resource Center. Additionally, Amber George from the Philosophy Department has a chapter on the Disney complex. This critically acclaimed book is the first of its kind to examine the intersectionality of disability rights, animal rights and the environment. Anthony Nocella II, visiting professor at Hamline University, is the first author and was instrumental in securing contributions from leading scholars in these areas.
Andrew Fitz-Gibbon
Andrew Fitz-Gibbon, chair of the Philosophy Department, was elected a Fellow of the Royal Society of Arts.
Following a sabbatical during spring 2012, two of his books in the Lindisfarne series were published by Xlibris: An Intentional Life: Reflections of a Secular Monastic and Secular Monasticism: A Journey (with Jane Hall Fitz-Gibbon) and his novel, which he authored under the pen name Jack Andrews, titled The Quest for Paradise: An Owen Breese-Jones Story. A new book in the Value Inquiry Book Series' Ethical Theory and Practice Series, Love as a Guide to Morals, was published by Rodopi. He also had two articles published: "The Reasonableness of Sentimentalism and Violence," in the Oct.-Dec. issue of Peace Review, and "Somaesthetics and Nonviolence," in Vol. 28 of Social Philosophy Today, the North American Society of Social Philosophy publication.
Robert Spitzer
Robert Spitzer, Political Science Department, is the author of an article titled, "Misfire in the 2012 Election," published in the Fall 2012 issue of Presidents and Executive Politics Report. The article analyzes the impact of the gun issue on the 2012 presidential election.

Submit your faculty/staff activity