Campaign Supports Successful Moot Court Team
12/07/2011
SUNY Cortland moot court participants included, from
left, Kyle Martin, Liz Polonski, Donielle Maier and
Patrick Herring.
Donielle Maier, a SUNY Cortland senior and aspiring law school student, understands life as a lawyer involves much more than the dramatic courtroom snippets people see on television.
Her understanding is based on more than her experience working as a paralegal. Maier also competed on one of two SUNY Cortland moot court teams that traveled to the Eastern Regional Undergraduate Moot Court Qualifying Tournament at Fitchburg State University (Mass.) on Nov. 18 and 19.
Moot court, a competitive simulation of courtroom legal trials that give students practical experience with the law, is supported by the Cortland Fund. The Fund is supported by gifts made to the College as part of "Educating Champions, the Campaign for Cortland," the College's ambitious effort to raise $25 million by 2013. To date, the College has raised more than $20 million from friends and alumni. More than $2.9 million that amount came by way of the Cortland Fund.
The experience can help dispel myths created by television courtroom dramas.
"Moot court and law, in general, are not what you see on 'Law & Order,'" said Maier, a sociology major from Sherburne, N.Y. "There's so much more that goes into it."
Both of the two-person teams from SUNY Cortland made it to second day of competition, after the field had been narrowed to 16 competitors, before being eliminated. It was an impressive showing against quality institutions, said Christopher Latimer, the team's advisor and an associate professor of political science at the College.
"The fact that you have to stand up there and answer questions by two or three judges with other people watching obviously can be very nerve-wracking," said Latimer, a lawyer who practiced in Washington, D.C. "(The students) really held their own."
The four SUNY Cortland students who competed included Maier; Patrick Herring, a senior history major from Lynbrook, N.Y.; Kyle Martin, a junior political science major from Fulton, N.Y.; and Liz Polonski, a junior political science major from Westerlo, N.Y.
The moot court teams were presented with a fictional Supreme Court case between a law school professor and the United States of America before the competition. Teams were in charge of preparing arguments for both sides, based on real-life cases cited in the competition brief.
"You're basically in charge of ripping this thing apart, looking at the different cases that are cited and seeing how they fit for both sides of the argument," Maier said. "That's probably the most difficult thing. You have to be able to argue for both the petitioner and for the respondent."
Maier and Herring, her moot court partner, credited Latimer with preparing the moot court participants. In the weeks leading up to the competition, he peppered the four students with tough questions that the competition judges could have asked.
"Most of the questions the judges gave us, (Latimer) asked us beforehand," said Herring, who will work as an intern in Washington, D.C., in the spring. "Nothing surprised us."
That much was evident in Maier and Herring's first sudden elimination match on the second day of the competition. They knocked off a team from Duke University to move on to the round of 16 teams.
Maier said the moot court experience reinforced her passion to become a lawyer. She has worked part-time for the past three years as a paralegal specializing in indigent defense. Indigent defenders help people who are charged with a crime but cannot afford to hire a private attorney.
Maier was quick to point out that moot court is not a group limited only to political science majors or prospective law school students.
"You don't need to be a person who's interested in law," she said. "It probably helps, but this is really about teaching advocacy skills and being able to answer questions on your feet."
Latimer agrees.
"Even though my initial goal is to help students prepare for law school, I think moot court can help any student in any major," he said, noting that the credit-granting experience can improve aspiring teachers' speaking skills or the critical thinking mindset required by any academic program.
Maier said that her hands-on, undergraduate participation in moot court has helped shape her law school applications.
"There are a lot of people I met who want to go to law school because it has this sort of prestige," she said. "Working in the field and participating in moot court, you really get a sense of what it's like."
Philanthropy Class Mixes Academics, Real-World
12/05/2011
Fifteen SUNY Cortland students gathered around a long table in an Old Main seminar room late last month to decide how to divide $10,000 in real money among 19 local non-profit organizations, most all of which made a strong case to receive a sizeable share.
Giving away money may seem like an easy thing to do, but doing it effectively can be very difficult, as many of the students in the Philanthropy and Civic Engagement: Teaching Students How to Give class quickly decided.
Faced with grant applications from so many charitable organizations — and rapidly running out of class time for the semester — five smaller panels of the students cautiously negotiated their final decision. They had finished analyzing the prospective grants. At this point, the classmates were guided only by their two professors, a blackboard featuring a grid of the five panels' very different monetary choices, and each other.
As several students commiserated over whether to pare back one agency's potential award to give another agency a grant amount closer to what had been requested, Christopher Latimer, associate professor of political science, weighed in.
"You have to stick to your guns if you feel you're really right," urged Latimer, who also serves as the College's associate director of the Institute for Civic Engagement. Latimer has taught the class with Distinguished Service Professor Henry Steck.
"We didn't know we couldn't give more money than they requested," explained one student involved in the decision-making. Because the students were discussing real organizations and distributing real money, the names of all students at the table are being withheld at the request of Latimer and Steck.
"If they've requested $900 and you grant them $1,000, you will have to know what that extra $100 is for," Latimer replied.
Accountability is a key aspect of this particular class, in which the students make decisions with real impacts thanks to a grant aimed at developing future talent in the field of philanthropy. Last summer, Latimer and Steck were thrilled to learn that the Learning by Giving Foundation had awarded a $10,000 grant to SUNY Cortland so a class could learn about philanthropy by actually distributing the money to not-for-profit institutions that applied.
The Learning by Giving Foundation was recently spun off from the Sunshine Lady Foundation, which was founded by Doris Buffett, sister of the famous hedge fund manager and philanthropist Warren Buffett. The Learning by Giving Foundation seeks to advance the next generation's understanding of philanthropy by providing the financial, technological and intellectual tools to experience community impact and to make that knowledge widely accessible through an online forum.
The courses are intended to introduce as many students as possible to the power and potential of philanthropy and to encourage those who may not have explored this area in their undergraduate career. To date, only about 20 other colleges or universities have received a Learning-By-Giving grant. The course is sponsored locally by the Political Science Department and the Institute for Civic Engagement. The course designers hope to be able to offer the class again in the future.
Henry Steck, professor of political science, seated, and Christopher Latimer, associate professor of political science, team-taught a class in developing professional skills in the field of philanthropy.
As the semester wound to its end, the students evaluated the proposals from the local non-profit agencies and charities. They devised their own fair and effective selection process to identify the most creative, efficient and beneficial community organizations to support. They determined how large a slice of the grant pie to serve each. From the start, they proceeded with their decision-making knowing they might give all the money to one organization or as many as 19 small grants to 19 entities.
The awards are to be announced during a special Learning by Giving ceremony, to which both the students as well as representatives of all the grant recipients are invited. The students will see their hard philanthropic work come to its fruition at 4:30 p.m. on Thursday, Dec. 8, in Brockway Hall Jacobus Lounge.
After the decision-making was over, senior business economics major Julie Gorman of Waverly, N.Y., described what she learned in the class.
"I thought, someday I want to know about giving money," said Gorman, a non-traditional student who also is pursuing minors in law and justice and social philosophy. "Coming to class and learning all the things you do before doing something like that is really crazy, but cool. You feel like you're kind of on the inside.
"It was quite difficult because we really all have these different interests," Gorman said of the decision-making process. She was satisfied, for the most part, with the class' final allocation of the grant money among seven applicants.
"I'm the kind of person who would rather give less to help out more causes, but I'm OK with it," said Gorman. "My original thought was we would probably give out 10 smaller grants to 10 organizations to make it easier for us, but what I realized was that would actually make it harder for us. We thought, 'What if we don't give an organization enough money for their project? Will they not have enough money to do it, then?' We realized, 'It's a tough economy and maybe they won't be able to fundraise the remaining money.'"
Gorman is considering graduate school programs in law and higher education administration.
"I'm interested in student affairs and in that field you are always looking for money," she said.
In other countries, such as in eastern Europe, the citizens look to their government rather than private charities for assistance, according to two other students in the class, Andreea Denisa Radu and Elena Ceban. Both are visiting scholars from Babes-Bolyai University in Cluj, Romania. They were recruited to study public administration and public policy at the College as Atlantis Scholars supported by the U.S. Department of Education and the Fund for the Improvement of Postsecondary Education (FIPSE).
"I think the idea of philanthropy in Romania is quite different than in America, really different," said Radu, from Slobozia, Romania. "People don't know they can form an organization and apply for a grant from another organization, a funding organization. I think people are not informed enough about this."
For example, a major celebrity or sports figure might give money to a cause, Radu explained. But the gift is given directly; there's no solicitation from many organizations to determine the most worthy use of the funding.
"I didn't even know what philanthropy was, whereas it's part of the culture in America," added Ceban, a dual citizen of Romania and Moldova.
In this particular class, their presence has served to broaden the worldview of all the students.
Christopher Latimer, associate professor of political science, facilitated the class about the decision making process in grant awards selection.

"This is what I like about the American culture, you might give money to a cause you haven't even heard about before," Ceban added. "I think American students are a lot more informed about philanthropy than in Romania. It might be they get this information from their parents. I've noticed in America that students get involved from their first semester in college. I think it's a culture of always being involved, always being involved in a group, doing something for others for your own pleasure."
Before taking the class, Radu thought that philanthropy was simply about rich people giving money.
"Now I can tell the difference between a charity and a philanthropy," Radu said. "A philanthropic cause solves problems in society and a charity gives money away to a specific cause like to help persons who have a disability."
"You read the proposals and you realize that it's real people who wrote them," Ceban said of the class. "I spent about eight hours of reading them and deciding 'why this one' and 'why not the other one' and discussing it with my panel."
"This class helps me decide how to do things in my life," Radu said. "It's a complaint that students have about universities, that they learn stuff in the class they can't use in life. But after this class, I'll go home and I won't look at causes that I used to give to in the same way. This is what makes me feel better. I know more things. I can get more involved."
For more information, contact Latimer at (607) 753-4802 or Steck at (607) 753-4807.
---
Capture the Moment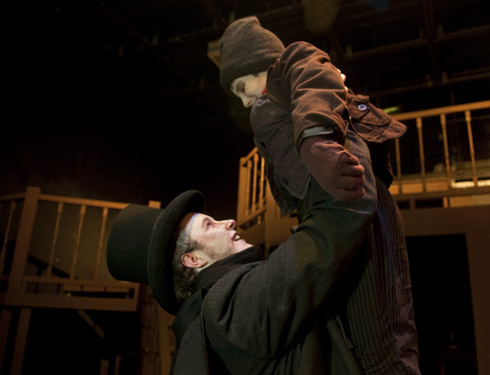 Paul Warren Smith, left, a musical theatre major from Rensselaer, N.Y., stars as Ebenezer Scrooge and Sé Gailor plays Tiny Tim in the Performing Arts Department's production of "A Christmas Carol," which runs from Thursday, Dec. 8, to Sunday, Dec. 11, in Dowd Fine Arts Center's Lab Theatre. Performances are scheduled for 8 p.m. from Thursday to Sunday. A 2 p.m. performance also will take place Saturday and Sunday. Tickets are available at Jodi's Hallmark, at 11 Main St. in Cortland, and cost $14 for general admission; $12 for SUNY Cortland faculty, staff and senior citizens; and $5 for students and children.
---
In Other News
College Adopts 16 Families for the Holidays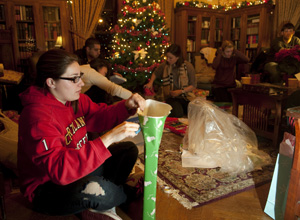 12/06/2011
The assembly line process at SUNY Cortland's Adopt-A-Family holiday gift-wrapping event on Dec. 1 worked to perfection.
Armed with thousands of dollars in gifts and enough wrapping paper to cover several football fields, SUNY Cortland residence hall directors and resident assistants worked methodically to wrap holiday presents for needy families in Cortland County, where more than 18 percent of children live below the poverty line.
For two hours, the first floor of the Lynne Parks '68 SUNY Cortland Alumni House served as an elaborate toy workshop. A residence hall director called out the specific item to be wrapped. One resident assistant folded wrapping paper around it; another one placed masking tape in the necessary spots.
All told, the sixth annual Adopt-A-Family event organized by SUNY Cortland's Residence Life and Housing Office provided $5,700 in wrapped children's gifts to 16 local families. Both the amount of money raised and the number of families helped were records for the event, according to Cynthia Lake, the associate director of residence life and housing.
"Just knowing that we were able to get kids a few things that they wanted but they might not have been able to have means a lot," said Courtney Andros, the residence hall director for Casey Tower.
Each staff member in SUNY Cortland's 16 residence halls was assigned a set of siblings to purchase holiday gifts for. Throughout the semester, the staffs collected funds in every way imaginable.
Andros' 10-person staff in Casey Tower collected redeemable bottles, cans and loose change for several weeks. Resident assistants also asked for $1 from students who were locked out of their rooms. It wasn't a mandatory fee, but many students were happy to pay it, Andros said.
"Some kids actually gave more," Andros said. "They said: 'Well, I have a $5 bill on me. I don't need any change back,' once they found out what it was for."
SUNY Cortland resident assistants work collaboratively
during the Adopt-A-Family gift-wrapping event Dec. 1
at the Lynne Parks '68 SUNY Cortland Alumni House.
The Casey Tower staff collected close to $250 for its assigned family of five children. That money paid for necessities such as jackets and hooded sweatshirts but it also helped buy Legos, a fishing rod and art supplies.
The night, however, wasn't all about the material concerns of the holiday season. Several SUNY Cortland alumni attended the Adopt-A-Family event to trade stories and advice with current students.
"Our job is to talk with students and get them to think about becoming active alumni," said Michael Doughty '69, a former schoolteacher and administrator who still lives in Cortland. "To me, I really enjoy this."
Chris Perry Cecconi '74, a former clinical program director for speech language pathology at Ithaca College, chatted with current students about their teaching portfolios.
"I love working with committed students," said Cecconi, who lives in Homer, N.Y., with her husband, Richard '74. "They're vibrant and just fun to be around."
The entire event — from the gift-wrapping to the socializing — serves as a much-needed step back during a busy holiday season, Lake said.
"We're in the time of year where students are so busy, whether it's with finals or early graduation or student teaching requirements," she said. "This is a time out where they really just get back to basics. They leave the Alumni House happy. It's just a feel-good event for everybody."
Dogs, Massages Offer Break from Finals Week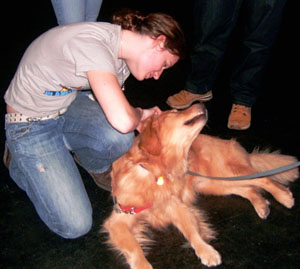 12/06/2011
Wagging tails, wet noses and an array of calming activities again will help SUNY Cortland students escape final exams week stress. Paws for Stress Relief, an event that brings dogs to the College's campus, makes its return Monday, Dec. 12, and Tuesday, Dec. 13, in the Corey Union Function Room from 10 a.m. to 4 p.m.
Twenty-six dogs will entertain students over the course of both days, with up to four dogs on display at a time. Board games and art activities will be provided both days, in addition to free cookies and hot chocolate from Auxiliary Services Corporation (ASC).
Additionally, massage chairs, spinal exercisers and foot massagers will be introduced to the event for the first time from 10 a.m. to 2 p.m. Monday. Yoga instruction also will take place from noon to 1 p.m. both days.
The stress relief event, taking place for the fourth time at SUNY Cortland, is sponsored by Academic Support and Achievement Program (ASAP), ASC, the Campus Activities and Corey Union Office, the Counseling Center, the Health Promotion Office, the President's Office and the Vice President for Student Affairs Office.
Teri Vigars, the assistant director of ASAP and one of the lead organizers of Paws for Stress Relief, said many canine-related student programs usually opt for therapy dogs.
Not in SUNY Cortland's case.
"We use the faculty's dogs because it allows conversations between the students and faculty and it's just great to hear them interacting and getting along," Vigars said. "I've been walking my golden retriever around campus just to generate awareness about the event, and even walking him around will create a conversation between me and the students."
Catherine Smith, the health educator in the Health Promotion Office and another lead organizer of the event, said the program is meant to serve as a study break during final exams week.
"It's just been a wonderful program and the response we get has been so positive," Smith said. "it encourages us to make this bigger and better every year. I don't know if students will ever get excited about finals, but hopefully this gives them something to look forward to during the week."
For more information, contact Smith at (607) 753-2066.
Athletic Training Program Goes Bald for Cancer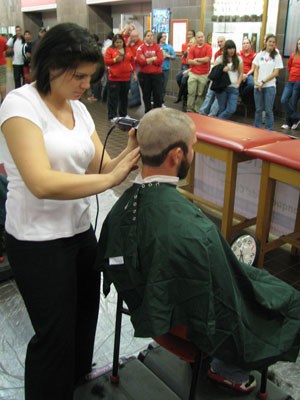 12/06/2011
The 10-minute halftime show during the SUNY Cortland men's basketball team's Dec. 3 win over SUNY Potsdam entertained the Corey Gymnasium crowd just as much as the game's action. And it also shed light on childhood cancer, the number one disease killer of children in the U.S. and Canada.
The top student and staff member fundraisers for SUNY Cortland's first-ever St. Baldrick's Foundation event earned head shavings at center court during the basketball game's intermission. So when Steven Meyer, an athletic trainer in SUNY Cortland's Kinesiology Department, and Lee Stambouli, a senior athletic training major from Wantagh, N.Y., approached the chairs near the Cortland logo at center court, the crowd backed the pair with applause.
The cheers only grew louder when the locks of hair started falling to the ground.
In all, 12 SUNY Cortland students who are majoring in athletic training and six athletic training staff members shaved their heads during the Dec. 3 women's and men's basketball doubleheader. The event, organized by the Cortland College Student Athletic Trainers' Association (CCSATA), raised more than $4,000 for the St. Baldrick's Foundation, a national charity that supports childhood cancer research through head-shaving events.
Meyer had toyed with the idea of shaving his head for a few years. So when CCSATA decided to hold its first-ever head-shaving fundraiser, it made sense for him to participate.
"I used to have an afro and I've lost a lot of hair over the years," said Meyer, who lost his sister to cancer when she was 10 years old. "I never had the guts to shave my head. Then when this came along, I thought: 'There's no better reason to do it.'"
The idea to bring the popular cancer fundraiser to SUNY Cortland came from Patrick Donnelly, an athletic trainer in the Kinesiology Department who organized the event. Donnelly got the idea from a St. Baldrick's event that pulled in $375,000 in Syracuse, N.Y., this spring.
"We wanted something fun and we wanted something light," said Donnelly, who also shaved his head. "But we wanted something where we could try to make an impact. Our program has a bit of a history in terms of giving back to the community."
The Athletic Training Program, which has helped the local Loaves & Fishes food pantry and the Relay for Life all-night cancer awareness event in the past, set an initial fundraising goal of $1,000 for its first St. Baldrick's shaving.
"So many people, at the College and in the community, helped us get things off of the ground," Donnelly said. "The support we received from the Kinesiology Department and John Cottone, the dean of the School of Professional Studies, was huge. Our hair cutters, Debbie Sweet and Danielle Munro, closed down their Hair Improvement salon for the day and volunteered. It just wouldn't have been possible without them."
A week before the St. Baldrick's event, Meyer issued a challenge to the athletic training students. He promised that if they could double the $1,500 already raised, he also would part with his hair.
"I wanted to get to $3,000," said Meyer, who raised close to $700 in the week before the event. "I wanted to help as much as I could."
Meyer and Stambouli both remained committed to earning the free halftime haircuts. Stambouli had been growing his dark brown hair out for months. It flowed over his ears and touched his neck. Still, he had no reservations about giving it up to raise funds and awareness for childhood cancer.
Steven Meyer, left, and Lee Stambouli have their heads shaved during halftime of the Dec. 1 SUNY Cortland men's basketball game in Corey Gymnasium.
"This is for kids and I couldn't come up with a better reason to cut my hair than that," he said.
Members of the basketball crowd, some of them touched personally by childhood cancer, agreed.
"This is something that helps us to help other people not have to face the same thing," said Ellen Rienhardt, a Camillus, N.Y., resident who lost her 16-year-old son, Craig, to stomach cancer in 2011. Rienhardt attended the event with her husband, Mark, and her niece, Rachel Gleason, a senior kinesiology major from Walton, N.Y., who helped promote the cause during the St. Baldrick's festivities.
Meyer praised the students who, along with Donnelly, led the head-shaving fundraiser.
"We're really trying to get the kids comfortable with the giving portion of our lives," he said. "We have to make sure we think about the people who aren't as healthy."
Speaking after the event, he ran his hands across his scalp a few times, still coming to terms with his new buzz cut. In the week leading up to the St. Baldrick's fundraiser, he felt nervous about how he would look bald.
Afterwards, he harbored no regrets.
"Change is good," he said. "And you just have to remember: Change can be healthy."
Secretary Receives Excellence Award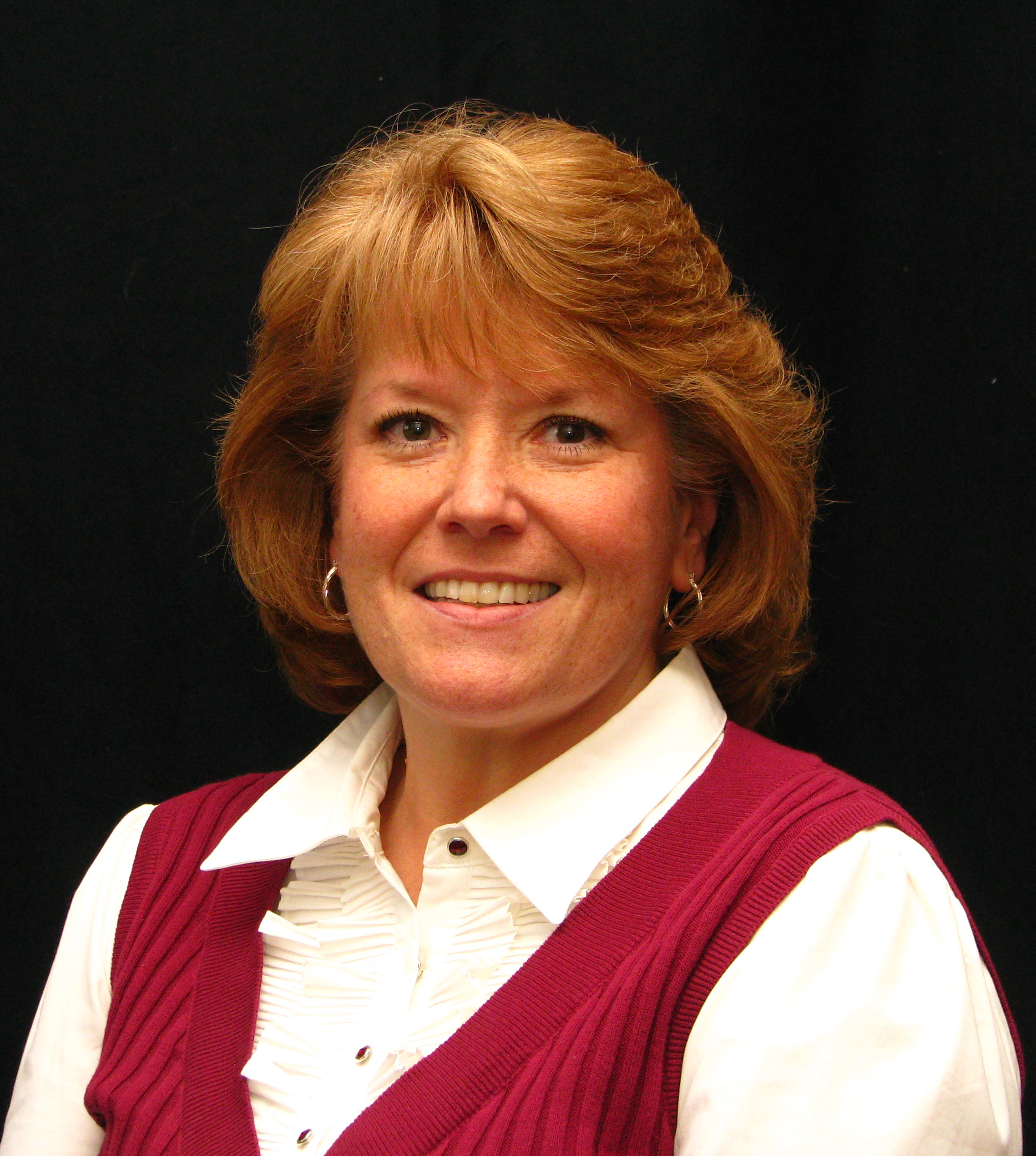 12/02/2011
Rhonda Moulton, the personable and knowledgeable secretary who keeps the dean's office of SUNY Cortland's School of Arts and Sciences running smoothly, was named the recipient of the prestigious 2011 President's Award for Excellence in Classified Service.
SUNY Cortland President Erik J. Bitterbaum presented the award to Moulton, a secretary I in the office since 2003, on Dec. 2 at the 41st annual Service Recognition Ceremony. Sponsored by the College's Human Resources Office, the ceremony was held in the Corey Union Function Room.
"She is always professional, personable, well-informed, helpful, sympathetic, honorable and proactive, with a good sense of humor," said Associate Professor Lori Ellis, chair of the Art and Art History Department and one of the people who nominated Moulton.
"She exemplifies the best balance I have ever encountered ¾ anywhere ¾ between personal and professional," Ellis added. "She really cares about all of us as individuals and understands how to promote harmony while helping us do our jobs efficiently and with a high level of quality."
The award was created in 2002 to annually recognize one individual "for extraordinary achievement and to encourage the continuation of excellence." Nominees must be current SUNY Cortland full-time classified service employees with at least three years of continuous service. Supervisors, co-workers or other College community members nominate the workers considered for this honor.
"Rhonda is unquestionably the most valuable resource on campus for department chairs in need of information and advice," said Professor Peter Ducey, chair of the Biological Sciences Department. "She has a very complete knowledge of College policies and procedures. No department within the School of Arts and Sciences could operate without constant assistance from Rhonda."
In nominating Moulton, supervisors and co-workers noted her encyclopedic knowledge, exceptional organizational skills, promptness, competence and willingness to go above and beyond what many people would do to find solutions to a wide variety of problems.
"Rhonda sees the big picture and does not allow the bureaucracy to cloud that," said Assistant Professor William Skipper, chair of the Sociology/Anthropology Department. "She can find a way, within the rules, to accomplish the goal. She has a wide-ranging intelligence. The result is that she understands the human part of organizations and its importance."
A graduate of Newark Valley High School, Moulton was active in band and field hockey. She worked as a secretary in the Binghamton area for several years and was a teller at National Bank and Trust Company.
Moulton started her career as a New York state employee when she worked for seven years at MacCormack Secure Center, a school for juvenile criminal offenders in Brooktondale, N.Y. From there, she was promoted to the New York State Office of Temporary and Disability Assistance.
She joined SUNY Cortland in 1997 as a secretary I in the Sponsored Programs Office. In 2003, Moulton was promoted to secretary II in the dean's office of the School of Arts and Sciences.
She lives in Berkshire, N.Y., with Mike, her husband of 31 years. Moulton has served as organist and choir director at Berkshire Congregational Church for more than 34 years and as treasurer of the Berkshire Rod and Gun Club.
High-Flying Circus Visits Campus Dec. 7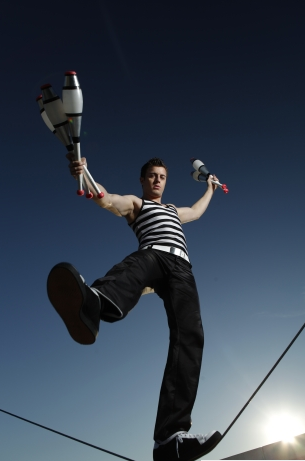 12/06/2011
The circus is coming to SUNY Cortland on Wednesday, Dec. 7. And while students won't be asked to escape from a straitjacket any time soon, the show will serve as a temporary escape from the stress of the upcoming final exams week.
The Solo Circus, an act that features entertainer Michael DuBois, starts at 8 p.m. in the Corey Union Function Room. DuBois' routine is an equal balance of comedy, magic and circus stunts. Its fast pace relies heavily on audience interaction.
This lone performer has been known to escape from a straitjacket while riding a unicycle and juggle knives on a tightrope. He began his act about six years ago. Since then, he has been featured on NBC's "Tonight Show" with Jay Leno and MTV.
The Horseheads, N.Y., native has traveled to more than 300 colleges and universities across the nation.
"I love live performance, and I think my show is geared perfectly to the college age," DuBois said. "Colleges have provided a really great venue for me to build my show and perform it all the time and all over the country."
DuBois got his start in the business when he attended Penn State University as an undergraduate. He made time between his photography and business management studies for activities such as the Juggling Club and the Magic Club.
Wednesday's event, which is free and open to the public, is sponsored by the SUNY Cortland Student Activities Board (SAB). The first 50 people in attendance will receive free SAB T-shirts
For more information, contact Mary Kate Boland, the assistant director of leadership and community development, at (607) 753-2034.
Athletics Moves Up in National Standings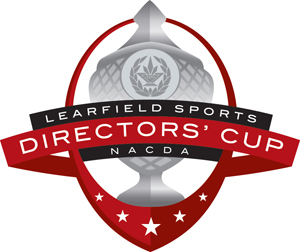 12/23/2011
The SUNY Cortland men's and women's intercollegiate athletic program ranks eighth out of approximately 430 NCAA Division III schools after the fall season in the 2011-12 Learfield Sports Directors' Cup standings.
The competition, which continues through the winter and spring seasons, is organized by the National Association of Collegiate Directors of Athletics (NACDA) to annually recognize the top collegiate athletic programs for overall excellence.
Cortland, the top-ranked New York school, scored 205 points in the fall season. Washington University of Missouri leads the standings with 372 points.
The standings are compiled based on schools' national finishes in different sports. Teams earn points by qualifying for the NCAA postseason and additional points for advancing in the playoffs. The national champion in each sport receives 100 points.
Cortland scored points in four of the seven NCAA championships conducted during the fall. The Red Dragons' women's soccer and women's volleyball teams each tied for fifth nationally after advancing to the national quarterfinals. The field hockey team tied for 17th place and the men's cross country squad finished 20th.
Cortland is one of only five schools nationwide, and the only New York institution, to place in the top 20 every year since the standings were first compiled on the Division III level during the 1995-96 school year.
The Red Dragons have earned eight top-10 finishes, including a tie for second place in 1997-98 and a third-place finish in 2006-07.
View the current rankings.
Midnight Breakfast Offers Fun, Safe Close to Fall Semester Classes
An end-of-semester tradition continues on Friday, Dec. 9, when SUNY Cortland faculty and staff members serve the Midnight Breakfast to students on the last day of classes.
The breakfast, which runs from 11 p.m. to 1 a.m. on Saturday, Dec. 10, in Neubig Hall, is cooked and served by volunteers from across campus. The menu includes eggs, bacon, potato rounds and pancakes, as well as other breakfast staples.
Tickets to the breakfast cost $1 with proceeds from the event being donated to a Student Government Association scholarship in Mike Holland's memory. Holland, who died on Oct. 29, was a longtime supporter of Midnight Breakfast.
"Mike took great joy with not only the student interaction, but also in ensuring that the event itself was a success," said Eamon O'Shea, the security systems coordinator for the University Police Department. "His presence will be missed this year, but the Midnight Breakfast committee is pleased to be able to announce that the proceeds from the event will be donated in Mike's memory."
O'Shea said that the event is usually attended by 800 to 1,000 students and offers a great way for faculty and staff to interact with students in a social setting.
The serving line will feature perennial volunteers including College President Erik J. Bitterbaum and Recreational Sports Director Julian Wright. Chief of Police Steven Dangler and Mike Pitaro, acting director of the Student Conduct Office, will be among those preparing food.
The committee is seeking volunteers to staff the event. Those interested in helping to provide the students with a fun, safe way to unwind from the semester can contact O'Shea by email.
UUP Holiday Membership Event and Musical Spoof Planned
The United University Professions (UUP) Holiday Membership Gathering will be held from 4-7 p.m. on Friday, Dec. 9. All academics and professionals are invited to this free event in the Corey Union Exhibition Lounge.
The event will feature food, drink and fellowship. UUP will recognize retiring colleagues at 5 p.m. Beginning at 5:30 p.m., the new musical fantasy spoof titled "Snow White and the SUNY Dwarfs" will be performed.
The spoof has music written by Frank Churchill and Richard M. and Robert B. Sherman, with book and lyrics by Thomas Hischak, Performing Arts Department, and direction by Christopher Xenakis, Political Science Department. Stephen Wilson, Performing Arts Department, will provide musical accompaniment, and the always-entertaining UUP players will form the cast.
For more information, contact Boodie McGinnis in the UUP Office at (607) 753-5991.
Spring Opening Meeting Date Announced
President Erik J. Bitterbaum has announced that the opening meeting of the Spring 2012 semester is scheduled for Friday, Jan. 13. The meeting will begin with an informal coffee period beginning at 8:30 a.m. in the Corey Union Function Room, followed by remarks at 9 a.m.
A panel discussion focusing on sustainability will follow President Bitterbaum's remarks.
A meeting agenda will be sent via email in January.
For more information, refer to the email or call the President's Office at (607) 753-2201.
CALS Lecture Grant Applications Available
Campus Artist and Lecture Series (CALS) Lecture Grant Applications are now available for the 2011-12 academic year. Applications are eligible for a maximum award of $500 and are open to any club, program or department. These are lecture grants and will not cover performances of any kind.
Applications must be received by Thursday, Jan. 26, in order to be considered for February, March, April and May 2012 lecture programs. Applications received after Jan. 26 may not be eligible for any spring semester funds remaining.
For more information or to request a copy of the CALS Lecture Grant Application, contact Sandra Wohlleber at (607) 753-5574.
ASC Accepting Program Grant Applications for 2012-13
Auxiliary Services Corporation (ASC) is now accepting Program Grant applications online for the 2012-13 academic year.
Application packages may be downloaded at https://www.cortlandasc.com/grant-application.cfm. Applications must be submitted online by midnight on Friday, Feb. 17.
Each year the ASC Board of Directors allocates funds to support grants for a wide range of purposes and projects that enhance the life of the SUNY Cortland community.
Although ASC is willing to consider a wide range of ideas, it seeks to avoid duplicating other funding sources or funding projects more properly supported by state funds. Therefore, applicants should first seek funding from primary funding sources.
ASC grant funds may not be used for salaries, honoraria, travel normally funded by the College's budget, or scholarships for SUNY Cortland faculty, staff or students. Funds may not be used to purchase computers, related hardware or software. In general, Program Grant funds may not be used exclusively for food for SUNY Cortland students, faculty or staff. Funding for food may be considered if the food is deemed integral to the success of the program or event. All food shall be provided by ASC. Other grant guidelines are described in the application package.
For more information, contact Annette O'Hara at (607) 753-4325.
Outstanding Non-Traditional Students Recognized
In honor of Non-Traditional Students' Week, which took place from Nov. 7 to 11, the campus community was asked to recognize students who balance college with family, jobs and other commitments.
Faculty, staff members and students submitted 40 names, with some students receiving nominations by more than one person.
This program is sponsored by Advisement and Transition with assistance from an Auxiliary Services Corporation (ASC) grant.
A certificate of recognition and an Auxiliary Services Corporation gift card will be given to the following students in recognition of their hard work and commitment:
Casee Auby
Barbara Bachmann
Elizabeth Balfour
Marissa Bykowski
Mical Cadden
Amy Chaffee
Catherine Crossway
Heather Dengler
Rebecca Elliott
Sean Every
Adam Graham
Jacqueline Graves
Valorie Gunther
Chris Hagquist
Jenifer Haskins
Sherry Howell
William Jones
Mackenzie Klump
Douglas Langhans
Babbett Lehmer
Zachary Machuga
Kendra Mancuso
Virginia Martelli
Jade Mills
Alfred O'Connor
Tammera Oplinger
Amy Riotto
Jack Short
Erica Thursz
S. Brian Van Gorder
Jan Washington
Heatherlee Wickwire
For more information, contact Cheryl Hines, advisement and transition, at (607) 753-4726.

Suggest a feature story
---
Faculty/Staff Activities
Brian D. Barrett
Brian D. Barrett, Foundations and Social Advocacy Department, had his article titled "Get Real! A Social Realist Approach to Combating Relativism and Promoting Social Justice in the Foundations of Education" published in the current issue of Educational Change. The article can be accessed online. Barrett presented an early version of the paper at the New York State Foundations of Education Association's 2011 Annual Conference in Rochester, N.Y.
Gretchen Herrmann
Gretchen Herrmann, library, presented her paper, "Stuff at High Tide: The Ebb and Flow of Household Clutter Witnessed through the U.S. Garage Sale," at the 110th annual meeting of the American Anthropological Association held Nov. 16-20 in Montreal, Canada. The paper focuses on the over-accumulation of consumer goods in the last 40 years and the ways in which garage sales serve as "release valves" for too much household clutter.
Tom Lickona
Tom Lickona, Center for the 4th and 5th Rs, keynoted a national conference on character education in Jakarta, Indonesia, on Nov. 17. The following week, Lickona conducted "Smart & Good Schools" seminars for teachers and school leaders in Singapore. The week of Dec. 5, he speaks to parents at the Guadalajara campus of Tec de Monterrey, Mexico, on "Raising Children of Character." Lickona's Character Matters book was published last year in Spanish by Producciones Educacion Aplicada.
Joshua Peluso
Joshua Peluso, Systems Administration and Web Services, gave two presentations at the Fall 2011 Wizard Collaborative SUNY Conference held Nov. 15-16 in Syracuse, N.Y. His talks were titled, "Getting Everything in your Campus Portal" and "SUNY Source." Wizard technology conferences promote SUNY-wide technological offerings for all campuses.
Robert Ponterio
Robert Ponterio, Modern Languages Department, with Jean LeLoup, professor emerita of Spanish, U.S. Air Force Academy, and Mark Warford, Buffalo State College, presented a session at the American Council on the Teaching of Foreign Languages (ACTFL) annual convention on Nov. 18 in Denver, Colo. Titled "90% Target Language in the Classroom: Yes We Can!" focused on techniques for teaching in the target language. The session explored research that supports 90-100 percent use of the target language in language classes at all levels as recommended in ACTFL's position paper. It also addressed techniques for implementing the recommendations and for training pre-service and in-service teachers.
Ute Ritz-Deutch
Ute Ritz-Deutch, History Department, recently joined the Northeast Regional Planning Group of Amnesty International (AI) headquartered in Boston, Mass. Currently, she is the coordinator of the Ithaca Chapter of AI and the faculty advisor to the SUNY Cortland AI student group.

Submit your faculty/staff activity