Recreation Expert To Receive Honorary Degree
05/06/2012
Geoffrey C. Godbey '64, a SUNY Cortland distinguished alumnus and one of the world's leading authorities on leisure, recreation, public parks and tourism, will receive an honorary doctoral degree from the State University of New York during SUNY Cortland's Undergraduate Commencement ceremonies on Saturday, May 12.
Godbey, whose research revolutionized the way leisure time is perceived and continues to influence both public policy and private development, will deliver the Commencement address at both the 9:30 a.m. and 2:30 p.m. undergraduate ceremonies.
"When we say SUNY Cortland educates champions, Geoffrey Godbey is the type of insightful and influential professional we have in mind," President Erik J. Bitterbaum said. "His work has helped make the world a healthier and more enjoyable place for millions of people, regardless of age, culture or income level."
Godbey, who earned a degree in recreation from SUNY Cortland, went on to serve in leadership roles at the University of Waterloo in Ontario, Canada, and at Pennsylvania State University, where he earned his doctorate and spent most of his career. Godbey was a founding member and past president of the Academy of Leisure Sciences and a representative to the United Nations' World Leisure Organization.
His research, conducted over a span of more than 40 years, illuminates how people use their time and has added significantly to the academic study of leisure and recreation. He is the author of 10 books and more than 100 articles on issues that include time-use, aging, tourism, health and the future of recreation. Godbey was a co-founder of Venture Publishing, which produces titles related to those topics.
His expertise on wellness, recreation and tourism is valued by the business world. He helped develop LifeTrail, a series of exercise stations for older adults, served as advisor and spokesman for Hampton Inn's tourism promotion and was a member of Hilton Hotel's Leisure Time Advocacy Board.
Godbey's focus on the relationship between leisure activities, health and the barriers faced by individual ethnic or age groups has helped guide policy makers at the local, state and federal level, as well as leaders in China and Brazil.
He has testified before committees of the U.S. Senate and a presidential commission, and given presentations in more than two dozen countries. Godbey served as a consultant for the National Science Foundation, the U.S. Forest Service and the U.S. Department of the Interior. His research clients include the American Association for Retired Persons and the Robert Wood Johnson Foundation.
The SUNY Cortland Alumni Association in 1987 recognized Godbey as a Distinguished Alumnus, its highest honor. He delivered the keynote address at the College's annual Scholars' Day event in 1998 and delivered the prestigious Metcalf Lecture during the 50th annual SUNY Cortland Recreation Conference in 2000.
Most recently, SUNY decided to award him the honorary degree of Doctor of Humane Letters.
"Dr. Godbey exemplifies the College's institutional priorities of academic excellence, transformational education, well-being and sustainable resource use," President Bitterbaum said. "His experience and insight should be very inspirational to SUNY Cortland's 2012 graduating class."
Four Students Earn Chancellor's Distinction
04/05/2012
Four SUNY Cortland seniors were honored with 2012 State University of New York Chancellor's Awards for Student Excellence, the top academic prize for SUNY students, on April 4 in Albany, N.Y.
The College's recipients included:
• Amanda Cheetham, a senior health education major from Cortland, N.Y.
• Jamie Piperato, a senior kinesiology major from Thiells, N.Y.
• Laura Platt, a senior biology major from West Almond, N.Y.
• Michael Tota, senior a business economics major from Penfield, N.Y.
The four recipients backed their impressive grade point averages (GPAs) with their work in student government, athletics, outdoor education and the promotion of healthy lifestyles.
Including this year's winners, 64 SUNY Cortland students have earned a Chancellor's Award for Student Excellence since the program was created in 1997.
Each year, SUNY campus presidents establish a selection committee to review outstanding graduating seniors. The nominees are forwarded to the Chancellor's Office for a second round of review and a group of finalists is selected. Each honoree received a framed certificate and a medallion to wear during Commencement.
Here's a closer look at each 2012 SUNY Cortland honoree:
Amanda Cheetham
SUNY Cortland strives to be one of the healthiest campuses in the nation, and students like Amanda Cheetham help make that a realistic goal. Named Health Education Major of the Year for 2012, Cheetham has worked tirelessly to promote physical and emotional wellbeing at the College.
Amanda Cheetham
She drums up support for campus health initiatives big and small, whether they involve body appreciation or the College's commitment to become tobacco-free in 2013.
For two semesters, Cheetham poured her energy into an internship for SUNY Cortland's Health Promotion Office, where she helped organize Wellness Wednesdays, health education for first-year students and the College's AIDS Memorial Quilt Display.
As a sophomore, she launched a community service project to cut down tobacco use in Cortland County, speaking with local business owners about tobacco-free entrances and writing a letter to the editor of a local newspaper.
During her junior and senior years, her tobacco-free efforts shifted to the SUNY Cortland campus. Cheetham served on the Colleges for Change Student Committee as a junior and participated in the Great American Smokeout, an event that raises awareness of tobacco's damaging effects, as a junior and senior.
And there's more to Cheetham than fitness and healthy lungs. She's been an ambassador for fellow students in her roles as a resident assistant, orientation assistant and transfer student buddy. Cheetham, herself, transferred to SUNY Cortland from Kings College in Wilkes-Barre, Pa.
She was voted Resident Assistant of the Semester during her sophomore year and an Outstanding Student Leader as a sophomore and junior.
A three-time President's List member, Cheetham carries a 4.15 GPA in the classroom and has won several awards and scholarships for her academic achievement. She also has been inducted into two honor societies: Eta Sigma Gamma, a national organization for health educators, and Tau Sigma, a national honor society for transfer students.
Jamie Piperato
Rather than ask her what she's involved in on campus, it might be easier to ask Jamie Piperato what she's not involved in. The president of the College's Student Government Association (SGA) during the 2011-12 academic year estimates that she spends 20 to 30 hours in an average week on student affairs-related work.
Jamie Piperato
With the help of an executive board, Piperato oversees 73 student clubs and sits on several campus committees. That doesn't stop her from actively participating in some of those student groups, which include Spectrum, the College's gay-straight alliance; AIDS Prevention and Awareness Club; Black Student Union; and Women of Color.
For two years, she served as a co-chair of SUNY Cortland's Diversity Conference and as a member of the Residence Life Conference. Other campus committees she has participated in since her junior year include the Auxiliary Services Corporation Board of Directors, Faculty Senate and the Middle States Steering Committee.
A speaker at many events across campus, Piperato has twice been named an Outstanding Student Leader. For her efforts to foster a sense of community at SUNY Cortland, the Multicultural Life and Diversity Office recognized her with its Unity Award in 2011.
Piperato's work in the community is as varied as her busy days in Corey Union. Some of it, such as the downtown Cortland cleanup after the Cortaca Jug football game and relief response for flood victims near Binghamton, N.Y., was visible. Other efforts, such as volunteering at a Valentine's Day dance for community members with disabilities, might have gone unseen but were just as important to her.
During her first two years on campus, Piperato played for the College's women's basketball team. And during her sophomore and junior years, she served as a resident assistant. If a student program exists at SUNY Cortland, chances are that Piperato has touched it.
A six-time Dean's List member, Piperato boasts a 3.64 GPA and membership in the American College Personnel Association, a professional organization devoted to student affairs work.
Laura Platt
Laura Platt grew up as a child of the outdoors, and her SUNY Cortland education only continued that growth.
Laura Platt
She flourished at the College's Outdoor Education Center at Raquette Lake, a unique SUNY Cortland compound located in the Adirondacks that Platt has visited nearly a dozen times for both research and relaxation. She's taken a field biology course there and she's volunteered as a teaching assistant four times, instructing childhood/early childhood education majors about kayaking, snowshoeing and GPS satellites during weekend retreats.
Platt's wilderness experiences in New York state propelled her to a semester abroad in India with the National Outdoor Leadership School. She spent three months of her junior year learning outdoor and leadership skills in the Himalayas, while balancing 16 credit hours.
On the SUNY Cortland campus, her work is just as impressive. She's president of the Water Ski and Wakeboard Club and a member of several other organizations, including the SUNY Cortland Recreation Association, Biology Club, Chemistry Club, Geology Club and Habitat for Humanity.
Platt has served as a senator for SGA and currently sits on the Advisory Council for the Center for Environmental and Outdoor Education.
And then there's her academic track record. A member of the President's List for six semesters, she has a 4.06 GPA. As a sophomore, she was awarded the SUNY Cortland Undergraduate Research Fellowship to study the beaver pond at Hoxie Gorge in Virgil, N.Y.
Platt has received many individual academic awards, including the Irmgard Mechlenburg Taylor Award in 2011 for having the highest grade point average of Phi Kappa Phi members in the School of Arts and Sciences. Her academic honor society memberships include Beta Beta Beta, which recognizes biology majors, and Phi Eta Sigma, which acknowledges first-year students.
Michael Tota
The term scholar-athlete takes on a new meaning in Michael Tota. An All-America member of the men's lacrosse team, Tota is just as serious about his studies.
Michael Tota
In 2011, he was awarded a SUNY Cortland Undergraduate Research Fellowship to research salary compression in higher education across New York state. He examined 11 years worth of salary data, looked at the regional variation in salaries by institution type and studied the union representation for faculty members on the different campuses.
He also presented at Scholars' Day, SUNY Cortland's celebration of undergraduate research, as a sophomore and junior while balancing his midseason lacrosse commitment.
He is also a leader in academics, Aa teaching assistant for the first-year COR 101 course and an academic tutor for finance and introductory macroeconomics, he has held regular office hours and assisted his classmates when he was needed.
He's also rallied around the local community by gathering clothing during the holiday season for a men's lacrosse team charity drive. Tota participated in local Habitat for Humanity and Relay for Life efforts in addition to launching a Mustache Madness event, where members of the College's men's lacrosse team grow out mustaches in November to raise funds and awareness for leukemia and lymphoma.
On the lacrosse field, the attackman made an immediate impact as a freshman. He won two Rookie of the Year awards and helped capture a national championship in his first season. Since that time, he's been named to many different all-academic teams and has picked up several individual awards for his high marks, including the 2011 SUNYAC Scholar-Athlete Award.
A four-time member of the President's List, Tota has achieved a 4.09 GPA. He recently was awarded the 2012 Irmgard Mechlenburg Taylor Award and last year was named the Scholar of the Year for the interdisciplinary honor society Phi Kappa Phi, of which he is a member, as well as Phi Eta Sigma, the academic society for freshmen.
---
Capture the Moment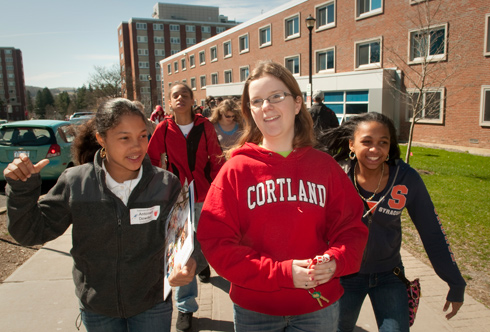 SUNY Cortland junior Samantha Nealon, center, an early childhood education major from Gloversville, N.Y., offered a campus tour to Antoinette Dowdell, left, Shadia Peterson and many of their eighth grade classmates on April 3. Eighth graders from the Syracuse City School District's Expeditionary Learning Middle School and H.W. Smith School tasted student life at SUNY Cortland as part of Eighth Grade College Visit Day.
---
In Other News
College's Relay for Life Refuses to Rest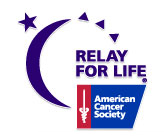 04/10/2012
There was only one thing left to do for SUNY Cortland's Relay for Life organizers after the College's 2011 event raised roughly $45,000 for the American Cancer Society: set their sights on $50,000 in 2012.
Four senior organizers are aiming to set a new College record through the all-night event, which will be held from 6 p.m. on Saturday, April 14, to 6 a.m. on Sunday, April 15, in the Park Center Alumni Arena. Organized by the Colleges Against Cancer student group, there is a $20 registration fee for participants.
"In honor of the American Cancer Society's 50th anniversary, our theme this year is birthday," said Stacey Ulrich, a speech and language disabilities major from Elma, N.Y., and a four-year member of Colleges Against Cancer.
Last year, Colleges Against Cancer met its Relay for Life fundraising goal of $35,000. The event itself pulled in another $10,000.
This year, Ulrich and three of her fellow organizers, Briana Bonn, a childhood education: social studies major from East Aurora, N.Y.; Greta Tomaschke, a childhood education major from Colden, N.Y.; and Alyssa Tyson, a speech and hearing sciences major from North Massapequa, N.Y., are hoping that a venue change creates a buzz among students.
"With a change in venue from Lusk Field House to the Alumni Arena, we are hoping to attract more students with new stage and audio capabilities," said Tomaschke, the president of Colleges Against Cancer.
The 12-hour event will feature performances from the Cortland Dance Company, the Rock and Blues Ensemble and Kickline. There also will be an inflatable television on display, which was purchased by SUNY Cortland's Education Club and the College's Student Activities Board.
"We really want people to stay the entire time," said Bonn, the treasurer of Colleges Against Cancer.
She mentioned activities this year include a pudding eating contest, sumo wrestling, Zumba and the popular "Just Dance" video game.
A week after the event, a survivors brunch will be held Sunday, April 22, from 10 a.m. to noon in the Park Center C-Club Hall of Fame Room to celebrate cancer survivors in the local Cortland community.
To join the College's Relay for Life efforts, or for more information, visit the 2012 SUNY Cortland Relay For Life website.
Campus to Mark Sustainability Week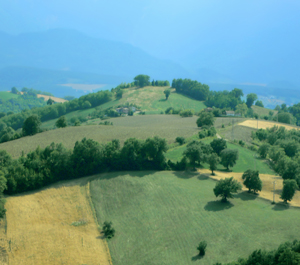 04/10/2012
Steven Leibo, a radio commentator and University of Albany history lecturer who was personally trained by former United States Vice President Al Gore to give presentations about climate change, will discuss the potential destructive effects of a climate shift on Monday, April 16, at SUNY Cortland.
Leibo will present "Saving Civilization: The Global Fight Against Devastating Climate Change," at 7:30 p.m. in Sperry Center, Room 105, kicking off SUNY Cortland's Sustainability Week.
Steven Leibo
Sustainability Week events will run through Sunday, April 22. This year, the activities will include a local Farmer's Market, the annual sustainability luncheon, environment-related sandwich seminars, the screening of an environmental docu-comedy, the Cortland Blooms Festival and much more.
Leibo, a professor in the History and Politics Department at Russell-Sage College, has focused his international affairs broadcasts on WAMC Northeast Public Radio around climate crisis and energy conservation. A frequently cited expert on climate issues in regional television, radio and print media reports, he has given more than 100 formal presentations since he finished his training with Gore and The Climate Project in Nashville, Tenn., in 2007. His training allows him to give updated presentations of Gore's Academy Award-winning documentary, "An Inconvenient Truth."
A scholar in the relationship between Asia and the West, Leibo incorporates climate-change material into a wide range of the courses he teaches and recently joined Brill Publications as the international adviser and co-editor of an upcoming book on Chinese climate research. Leibo is the editor or author of several academic and popular publications. His most recent article, "Asia and the Climate Crisis," appeared in the January 2011 issue of Education about Asia.
A farmer's market will be offered on Wednesday, April 18, to encourage students to buy locally and think globally.
Some, but not nearly all events scheduled for Sustainability Week include:
• "Buy Locally — Think Globally: Cortland's Own Farmers Market" on Wednesday, April 18. Campus groups devoted to purchasing locally grown and produced foods and other healthy and sustainable goods are hosting the market from 11 a.m. to 2 p.m. in Neubig Hall. Area vendors will offer vegetables, aquaponics, baked goods, personal care products, cleaning products and local photography. Purchases will be cash only.
This event is being sponsored by the Student Affairs Sustainability Committee in partnership with Auxiliary Services Corporation. It is also is a part of the College's ongoing Wellness Wednesday series of events.
• YERT (Your Environmental Road Trip), a comedic documentary highlighting sustainability systems and schemes in 50 states, will be screened at a time and place yet to be determined on Tuesday, April 17.
• The 2nd annual Cortland Blooms Festival will wrap up the week's events on Sunday, April 22, from 11 a.m. to 3 p.m. The festival, which will take place in the Cortland County Office Building Gymnasium downtown, is an interactive day of activities aimed at helping the community celebrate Earth Day and Cortland County's sustainability.
Bus shuttles will leave from Corey Union at 11:30 a.m., 12:30 p.m. and 1:30 p.m. to take students to the downtown event. There will be return shuttles. Workshops and demonstrations about gardening, recycling, composting, conservation, wildlife and more will be given as a part of the festival. Other events include an alternative energy vehicle show in the parking lot and an outdoor market.
The festival is sponsored by Sustainable Cortland, the Local Agriculture Promotion Committee and Cortland County Soil and Water Conservation District. For more information on the festival, contact sustainablecortland@gmail.com.
For additional information on Sustainability Week 2012 events, contact Brice Smith, an associate professor and chair of physics, or Nasrin Parvizi, associate vice president for facilities management.
Win Wiz Khalifa Tickets Through Social Media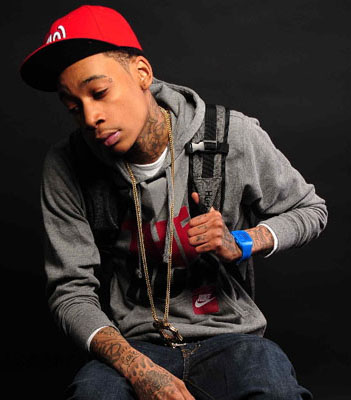 04/10/2012
Interested in free tickets to attend Wiz Khalifa's headlining Spring Fling concert at SUNY Cortland?
You read that right. We said FREE.
The College's social media outlets will offer two pairs of tickets to the popular rapper's April 28 concert through online trivia contests during the week of April 15.
One pair of tickets will be up for grabs on the College's main SUNY Cortland Facebook page. Another will be available through its main Twitter account (@SUNY_Cortland). Only SUNY Cortland students will be eligible to win.
In order to participate in the contests, students must "like" SUNY Cortland's Facebook page and follow its Twitter account. More details and clues will be posted on both social media outlets leading up to the contest. If you don't pay attention, you could lose out.
With less than three weeks until the Grammy-nominated rapper takes the stage at SUNY Cortland's Alumni Arena, fewer than 200 tickets remain. The few remaining tickets cost $30 and can be purchased from 11 a.m. to 3 p.m., Monday through Friday, in Corey Union, Room 406. Only cash will be accepted.
More than 3,300 concert tickets have been sold, which is a new record for the College. On Monday, the SUNY Cortland Student Activities Board announced that popular YouTube personality Dom Mazzetti will visit the Spring Fling carnival that takes place earlier in the day on Saturday, April 28.
Wiz Khalifa joins a long list of big-name artists to play SUNY Cortland's Spring Fling. The list includes the Black Eyed Peas, O.A.R. and the Fray. Kid Cudi, last year's headliner, played to a sold-out arena.
A Pittsburgh-raised rapper, Khalifa has three albums to his credit and his own label, Taylor Gang Records, under parent company Atlantic Records. "Black and Yellow," a song named after the colors associated with professional sports teams in Pittsburgh such as Steelers football and Pirates baseball, established Khalifa's mainstream success.
The track earned him a nomination for Best Rap Song at the 2011 Grammy Awards and spawned several remixes and parodies by other recording artists.
"Rolling Papers," Khalifa's debut album with Atlantic, came out in March and hit No. 2 on the Billboard 200 chart. It features other mainstream hits such as "Roll Up" and "No Sleep."
Student Atheists Make Their Presence Felt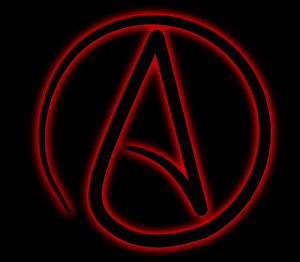 04/10/2012
For one new student group, wearing a scarlet letter is a sign of pride.
The pins emblazoned with a scarlet "A" worn by members of the SUNY Cortland Secular Student Alliance aren't displayed in shame like the famous symbol in Nathaniel Hawthorne's The Scarlet Letter. Group members look at the bright red "A," which stands for atheist, as sign of their "coming out" as religious skeptics.
"Within our group, there are a lot of different people with a lot of different standpoints on, for lack of a better word, their beliefs," said Dustin Taylor, a senior adolescence education: biology major from Pine City, N.Y. "I think the one common thing we have is a general skepticism in all of us."
The Alliance, launched in January, includes about 20 members. Many are atheists — people who do not believe in the existence of a supreme being — while others simply favor belief systems such as humanism or skepticism over organized religion. The group meets once a week to engage in thoughtful discussions. It also holds regular events that involve other faith-based campus groups.
Last month, Taylor and two other SUNY Cortland students attended the first-ever Reason Rally in Washington, D.C., joining more than 20,000 people from across the country to show support for what they believe is a growing secular movement in America. A chilly downpour made the weather conditions miserable for the March 24 event, but the students called it one of the most awe-inspiring weekends of their lives.
"I couldn't believe that there's that many people out there like us," said Erica Deretz, a senior English and political science major from Owego, N.Y., who started the atheist group at SUNY Cortland.
The group of three, which included Nicholas Gardner, a junior mathematics major from Elmira, N.Y., listened to a roster of speakers that featured scientists, comedians and the first openly atheistic member of Congress — Rep. Pete Stark (D-Calif.).
"There were so many intelligent, world-renowned speakers, not just some Tom, Dick or Harry that decided he was going to sign up and give us a speech," Taylor said. "And everyone was just so friendly. It was a community, really."
Religious protesters showed up to the event, but the two sides remained relatively civil, Taylor said. The SUNY Cortland trio even made its way into a story from The Washington Post.
On SUNY Cortland's campus, a core group of about seven Secular Student Alliance members has attempted to start open discussions about belief systems. In February, parishioners from St. Mary's Catholic Church in Cortland and members of the campus community spoke back and forth with the skeptics during a Secular Student Alliance meeting that lasted more than three hours.
"We were in Corey until they had to kick us out," Gardner said. "It was pretty cool because both sides were split pretty evenly."
Deretz said the mood at the meeting was calm for the most part and featured important input from both sides.
"There was a lot of stuff that I didn't know about Catholicism that I found out," said Deretz, who was raised as a Protestant. "And that's what we want to do: get a better understanding of all of our groups."
Marie Agen, SUNY Cortland's Catholic campus minister, also attended the February discussion.
"The meeting that I attended, I thought it featured pleasant discussions related to different points of view," she said.
Several members of the atheist group agreed that their biggest criticisms of organized religion relate to "what it does to people and the effect it has on the lives of everyone else," according to Deretz.
"I'm going to be teaching high schoolers and I'm really going to find a problem when none of my students want to believe me when I'm teaching them evolution because their parents said it's not real," Taylor said.
Most of the outside reaction from campus community members has been constructive, except for some angry emails and the covering up of a few of the group's campus posters, Deretz said.
Still, the Secular Student Alliance will continue to invite everyone, regardless of spiritual backgrounds, to its Tuesday meetings at 7:30 p.m. in Corey Union, Room 305. The group's long-term goals, members said, include shattering harsh stereotypes about atheism and encouraging more closet skeptics to feel comfortable voicing their thoughts, even if it means wearing a scarlet-lettered pin.
"I'm not out to convert people," Taylor said. "I just want to make them aware that not only are we out here, but we're nice people too."
Native American Poet and Singer to Perform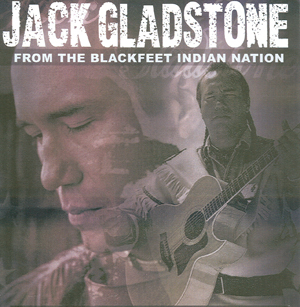 04/19/2012
Jack Gladstone, a Montana Blackfeet poet, singer and songwriter who in 2011 won the highest award possible in the world of Native American music, will perform and discuss his music on Friday, April 20, at SUNY Cortland.
His two-hour program will begin at 7 p.m. in the Corey Union Function Room. The event, which is free and open to the public, is hosted by the Sport Management Club and the Campus Artist and Lecture Series.
Gladstone is regarded as a cultural bridge builder who delivers programs nationally on American Indian mythology and history.
In a career spanning two decades, Gladstone has produced 15 critically acclaimed CDs. He is a 2011 Native American Music Award (NAMMY) winner for "Best Historical Composition." Since 1997, he has collaborated with Lloyd Maines, Grammy winning producer of the Dixie Chicks.
Gladstone has been featured on both the Travel Channel and in USA Today magazine.
Jack Gladstone
In 1985, he co-founded "Native America Speaks," an award-winning lecture series for Glacier National Park. He also was a key tribal voice providing alternate perspectives of the Lewis and Clark expedition during the recent bicentennial events. In 2004, Jack narrated the Telly award winning Lewis and Clark film, "Confluence of Time and Courage."
In 2006, 2007 and 2008, Gladstone headlined programs at the Smithsonian Museum of the American Indians in Washington, D.C. In Fall 2008, he travelled as Montana's spokesperson and troubadour for the U.S. Capitol Christmas tree. As the tree stopped at events across the country as well as for the nationally televised lighting ceremony, he serenaded audiences with his original composition, "Heart of Montana."
Gladstone grew up immersed in the rich oral tradition of the American West. His great, great grandfather Red Crow, legendary chief of the Blood Tribe, was a great warrior and orator. His grandfather, William Gladstone, was a carpenter who helped build Montana's Fort Benton and Alberta's Fort Whoop Up. Born in Seattle, he is the son of a Montana Blackfeet father and a German-American mother.
Many of the stories Gladstone shares were related to him by his Blackfeet grandmother, who recounted the journey of her life and the mythology of the Blackfeet Indian people. From his family's stories, he has discovered both adventure and harmony within Native American and white cultures.
Gladstone earned a football scholarship to the University of Washington and graduated with a degree in speech communications. After college, he moved to the Blackfeet Reservation in northern Montana where he taught public speaking at a community college and deepened his knowledge of American Indian tradition and history.
Event sponsors also include the Center for Gender and Intercultural Studies, Geography Department, President's Office, the Dean of Arts and Sciences and Professional Studies Offices and English Department.
For more information, contact Linda Rosekrans, lecturer in English, or (607) 423-7883.
D-III Athletics: Cultivating Well-Rounded Champions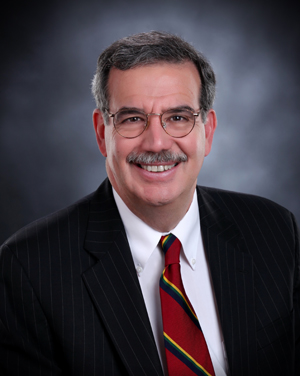 04/10/2012
Lindsay Abbott, a nationally recognized SUNY Cortland lacrosse player from Onondaga Central High School, could probably play just about anywhere she wants; including many Division I schools.
But Lindsay, a three-time All-America player and the College's all-time leader in goals, points and assists, says that she's never thought about transferring from Division III SUNY Cortland.
"People tell me that I could have played Division I lacrosse. But honestly, the experience that I had at Cortland, I wouldn't trade it for anything," Lindsay said. "I wanted to stay at Cortland the entire time."
Those sentiments mean a lot to me, both as president of SUNY Cortland and as a member of the Division III Presidents Council, which I was named to in December. I know that similar feelings are shared by student-athletes among all 442 college and university campuses that host NCAA Division III athletics. It is a division with no scholarships, relatively few headlines and no illusions about professional sports careers. At this level of competitive college athletics, students participate for no reason other than they simply love the game.
At SUNY Cortland, we are very proud of our national reputation for athletic excellence. Our athletic program is one of only five programs in the United States to rank among the top 20 in Division III every year since the Director's Cup standings began in 1996. SUNY Cortland athletics has placed first in the State University of New York Athletic Conference Commissioner's Cup Standings every year except one since 1997.
We are even prouder of the larger role that the College played in shaping the lives of thousands of well-rounded and high-achieving young men and women. In Division III institutions like Cortland, athletics is just one of the many educational activities students are encouraged to experience.
This year, the NCAA's largest, yet least heralded, division is holding its first-ever recognition week. From Monday, April 9, through Sunday, April 15, colleges across the nation will hold events promoting the Division III philosophy of equally valuing academics, athletics and involvement in co-curricular and extracurricular activities.
At SUNY Cortland, each day on our Facebook page we will highlight a different student-athlete who exhibits the type of well-rounded balance and dedication to excellence that Division III sports promote.
We want to show our pride in champions like Alyson Dalton, a two-time All-America cross country runner from Sherrill, N.Y. Alyson knew of Cortland's storied athletic history from her father, Mark, a former Red Dragon swimmer. And she knew that
competing for a Division III school like Cortland would allow her to achieve personal goals that may have been out of reach on the Division II or Division I stage.
"At Cortland, I knew I could run well and be a big fish in a little pond, not the other way around," said Alyson, a senior who has been accepted into the physical therapy program at SUNY Upstate Medical University.
In Division III, students don't limit their goals to the track, swimming pool or playing field.
Michael Tota, captain of SUNY Cortland's undefeated and nationally second-ranked men's lacrosse team, became the eighth player in program history to surpass 200 career points, and he did it while maintaining a 4.06 grade point average. The senior business economics major was also deeply involved in undergraduate research. He recently won both a prestigious SUNY Chancellor's Award for Student Excellence, and distinction for having the highest grade among all Phi Kappa Phi honor society members in SUNY Cortland's School of Arts and Sciences.
"It's all about time management," Tota said. "If you're willing to get ahead, life as a Division III student-athlete should be rewarding and manageable."
Abby Martin, a two-position softball star from Oswego, N.Y., transferred from Division I Monmouth University to be closer to home. At SUNY Cortland, she found a softball team that was both a national championship contender and an enjoyable outlet that let her grow as a person.
"At my old school, it was all business," Martin said. "Here at Cortland, we play because we want to, because we love it and we share a love for the game."
Erik Bitterbaum
President, SUNY Cortland
Board member, NCAA Division III President's Council
Student Scholarship Showcased April 18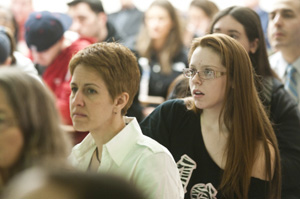 04/17/2012
SUNY Cortland will spotlight student academics on Wednesday, April 18, when it replaces the 15-year tradition of Scholars' Day with the first Transformations: A Student Research and Creativity Conference. Wells College President Lisa Marsh Ryerson M '91, the longest-serving college president in Central New York, will give the inaugural keynote address of the re-imagined event.
Last year, a special planning committee re-named and reorganized the event to reflect the need for a fresh start and to more clearly support the College's strategic priorities, which include "transformational education" and "academic excellence."
Among many other changes, the renamed 16th annual event removes faculty and staff scholarship from the program, unless the research represents faculty mentors and their students working together on a project. In fact, such partnerships between professors and students majoring in their discipline are a fairly common practice at the College so a strong faculty presence is certain. Some other "firsts" this year include:
Lisa Marsh Ryerson M '91
• Regular classes across campus will continue during the conference.
• The event will move from Old Main to Sperry Center and Moffett Center.
• Transformations programs will begin at 12:30 p.m. rather than early morning with a keynote address at 7 p.m. rather than noon.
This year, the conference encompasses 70 different lectures, demonstrations and poster sessions offered by undergraduate and graduate students with their faculty mentors. The subject matter covers a wide array of academic disciplines at SUNY Cortland.
The event is free and open to the public. Area high school juniors and seniors and their instructors again were formally invited to attend this year's event. Complimentary refreshments will be served from 6:30 to 7 p.m. in the Sperry Center second-floor food service area.
"We are very excited about continuing the tradition of our annual student research conference under the new name Transformations," said Bruce Mattingly, dean of arts and sciences and Transformations Committee chair. "There are multiple reasons why this name was selected. First of all, it is through the process of research and creative activity that we make discoveries that produce new knowledge and understandings that transform our disciplines. Secondly, the world around us can be transformed through meaningful applications of this new knowledge. Finally, we know that we can transform students' lives by providing them with opportunities to participate in original research projects."
Among the many topics this year are: understanding perceptions of crime in the Cortland community: a community-based research project with the City of Cortland Police Department; Occupy Wall Street: a civil disobedience conundrum; a Town of Ithaca recreation needs assessment; fungi and fungal-like organisms in Central New York; transforming eighth graders' perceptions of college; using geographic information systems (GIS) to update the New York State Department of Environmental Conservation Herpetology Atlas; salary compression in New York state; wind power: an alternative side to the hydrofracking debate; effects of caffeine consumption on sprint performance in college-age men and women; and the challenges and benefits of interning abroad.
Ryerson will deliver the keynote address on "The Change Imperative in Higher Education" at 7 p.m. in Sperry Center, Room 105.
"As higher education seeks to remain relevant, useful, competitive, engaging and appealing to each generation of students and to address each new generation of emerging — or persistent — social issues, we must continue to evolve and to change," she said. "Likewise, we must teach our students the skills to become agents of change and foster their capacities to fully embrace the changing world they face and the lives of change they will live."
Ryerson is an experienced, innovative leader known for her advocacy of gender equity, the liberal arts and commitment to providing increased access to higher education.
A Jamestown, N.Y., native, she earned a bachelor's degree from Wells College and a Master of Science in Education from SUNY Cortland.
As president since 1995 of Wells College in Aurora, N.Y., Ryerson is the first Wells College alumna to become president of her alma mater. She is the institution's 17th president.
Nationally recognized for her progressive views on higher education and community partnerships, Ryerson speaks and writes about the benefits of inclusive coeducation, gender equality in education and society, women in leadership, and business-education partnerships, among many other topics.
Ryerson led the board of trustees through a planning and decision-making process that included opening the college's doors to matriculated male students for the first time in the college's history, beginning in Fall 2005.
In 2010, Ryerson announced the addition of an innovative business center to Wells' liberal arts offerings.
Ryerson played a key leadership role in economically revitalizing the village of Aurora through the restoration of the college's extensive holdings in the village's commercial district. Additionally, she oversaw the construction of Stratton Hall, the college's state-of-the-art science facility, and the refurbishment of many campus buildings. Under her leadership, Wells completed the largest and most successful fundraising effort in its history, a comprehensive campaign that surpassed its ambitious, $50 million goal.
An active leader in many national, state and local organizations, Ryerson serves as a member of the National Collegiate Athletic Association Division III President's Council; chair of the President's Council of the North Eastern Athletic Conference; a member of the Central New York Advisory Board of HSBC Bank; a trustee of Auburn Community Hospital; a member of the Herbert F. Johnson Museum of Art Community Advisory Committee at Cornell; co-chair of the Southern Cayuga Southern Schools and Wells College Partnership; a member of the Executive Leadership team for the "Go Red for Women Movement" of Syracuse; member of the Leadership Council for the Cayuga Community Fund; and chair of the Advisory Board for the Finger Lakes Museum.
During her presidency, Ryerson has chaired the Commission on Independent Colleges and Universities of New York State, the Executive Board of the Public Leadership Education Network and the Women's College Coalition in Washington, D.C. She was commissioner and executive committee member of the Middle States Commission on Higher Education; a member of the American Council on Education's Commission on Leadership and Institutional Effectiveness; and a board member on the Committee of Accountability for the National Association of Independent Colleges and Universities.
In 2010, Ryerson received an honorary degree of Doctor of Humane Letters from the State University of New York during the SUNY Cortland Undergraduate Commencement.
She has been honored with the Council for Advancement and Support of Education District II Chief Executive Leadership Award; a New York State Senate Woman of Distinction Award; the Girls Inc. of CNY Spirit of American Women National Role Model for Girls Award; the Central New York Chapter of The Public Relations Society of America Communications Advocate Award; a Post-Standard Achievement Award; and a Seven Lakes Girl Scout Council Woman of Distinction Award.
Ryerson resides in Aurora with her husband George E. Farenthold; they have four daughters.
Besides Mattingly, the Transformations Committee includes: Cynthia Benton, professor and interim chair of childhood/early childhood education; David Berger, professor of psychology; Phil Buckenmeyer, associate professor and chair of kinesiology; Patricia Conklin, assistant professor of biological sciences; Daniel Harms, instructional services librarian at Memorial Library; David Miller, distinguished teaching professor of geography; Lisa Mostert, instructional support assistant with Classroom Media Services; Gigi Peterson, assistant professor of history and coordinator of Latino and Latin American studies; and Kevin Pristash, associate director of college union and conferences; and Jonah Reardon, Student Government Association representative.
Transformations is supported by the President's Office, the Provost and Vice President for Academic Affairs Office, The Cortland Fund, the Cortland College Foundation and the Auxiliary Services Corporation. The Student Alumni Association provides volunteers for Transformations.
For more information, including the complete schedule of events, visit the Transformations Web page at www2.cortland.edu/transformations/ or contact Mattingly at (607) 753-4312.
Klezmer Musician Robin Seletsky to Perform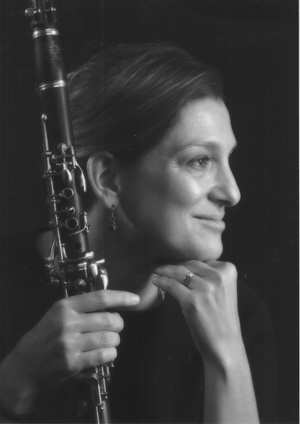 04/11/2012
Classical musician and klezmer specialist Robin Seletsky will present a lecture and performance on music and the Holocaust on Sunday, April 15, at SUNY Cortland.
Seletsky, accompanied by pianist Kim Paterson, will begin at 4 p.m. in the Interfaith Center at 7 Calvert St.
The program, which is an annual event memorializing the tragedy of the Nazi Holocaust, will include excerpts from the children's opera "Brundibar," a work by Czech composer Hans Krasa that was performed at Theresienstadt. Krasa died at the Auschwitz concentration camp in 1944.
Additionally, Yiddish songs, klezmer dances and Yiddish stories will be performed and explained within their historical context, creating a meaningful exploration into the culture that was lost.
Organized by the College's Jewish Studies Committee, the event is free and open to the public. A brief memorial service and a reception will follow.
Seletsky is a classically trained performer who graduated from the New England Conservatory and later attended the Julliard School.
Her interest in klezmer music came from her father, Harold Seletsky, the "Prez of Klez" and leader of the acclaimed West End Klezmorim. Seletsky has attended KlezKamp, where she learned from both an older generation of klezmorim and from leaders in the klezmer revival. She has received grants relating to her work with Jewish folk music, including a project documenting and transcribing music and oral histories of regional Jewish seniors and Holocaust survivors.
The principal clarinetist with the Glimmerglass Opera and the Binghamton Philharmonic, she was cited in 2008 by the New York Times for her work with Glimmerglass Opera.
She has appeared as soloist with the Greenwich Village Orchestra, Catskill Symphony, Utica Symphony, Binghamton University Symphony and the Santa Rosa Youth Orchestra.
In addition to her professional orchestral work, she is instructor of clarinet at Hartwick College and SUNY Oneonta and has given lectures at many colleges and universities. Her professional affiliations include the International Clarinet Association and the Guild of Temple Musicians.
In 1995, Seletsky founded the Catskill Klezmorim, a group of professional musicians that has recorded two CDs and performed scores of concerts around the country.
Her newest ventures include a series of programs for solo klezmer clarinet and symphony orchestra, for which more information is available on her website at robinseletsky.com.
Seletsky also is a member of a new and innovative klezmer ensemble called Big Galut(e), for which more information is available on the Web at biggalute.com.
Paterson serves on the faculty of Hartwick College and SUNY Oneonta and freelances as a pianist, composer and arranger. As a member of the Catskill Klezmorim since 2000, he has acquired a great depth of knowledge of Jewish music. Paterson is a graduate of SUNY Purchase and an alumnus of the Berkshire Music Center at Tanglewood.
The event is sponsored by the Campus Artist and Lecture Series, the Jewish Studies Committee, Hillel and the Center for Gender and Intercultural Studies. For more information, contact Linda Lavine, associate professor of psychology, at (607) 753-2040.
CANCELED: Farmworker Discussion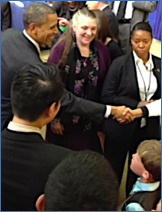 04/23/2012
A discussion about farmworkers in New York state set to take place Monday at SUNY Cortland has been canceled due to inclement weather. The event will be rescheduled for the fall.
Mary Jo Dudley, who was honored as a "Champion of Change" as part of United States President Barack Obama's "Winning the Future" initiative, was set to discuss "Hidden in Our Midst: Strengths and Challenges Facing Farmworkers in New York" at 4:30 p.m. in Brockway Hall Jacobus Lounge.
The event was organized by the College's Philosophy Department and the Center for Ethics, Peace and Social Justice.
As a "Champion of Change," Dudley embodies Cesar Chavez's spirit by dedicating herself to improving the lives of others. The director of the Cornell Farm Worker Program and a faculty member in the Development Sociology Department at Cornell University, she received the award on March 29.
The lives of migrant farm families are of special interest to SUNY Cortland. The College began the Migrant Education Outreach Program (M.E.O.P.) in 1979 as a way to assist migrant workers and their families. M.E.O.P was designed to help school districts in meeting the unmet, unique needs of migrant children. The program provides each child and family with an individualized program.
As one of 11 migrant education programs in New York state, the College's program serves more than 600 migrant children in 56 school districts. The MEOP office is located on the SUNY Cortland campus and is fiscally managed by the College through the School of Education.
Dudley, a member of the New York State Governor's Anti-Human Trafficking Task Force and a founding member of the Tompkins County Immigrants Rights Coalition, currently is researching farm workers' perceptions of their lives in New York state.
Her study examines the factors that motivate farmworkers to leave their home communities, how they view their journey to where they work now, their perspectives on their social and economic contributions and what they envision for their future.
In 2012, Dudley received the James A. Perkins Prize for Interracial Understanding and Harmony and the Kaplan Family Distinguished Faculty Fellow in Service-Learning, both from Cornell University. She also serves as a Faculty Fellow of Cornell's David R. Atkinson Center for a Sustainable Future.
For more information, contact Philosophy Department chair Kathryn Russell at (607) 753-2014.
Honors Convocation Set for April 21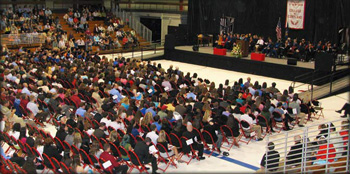 04/10/2012
Donna M. Videto, a SUNY Cortland professor of health who has influenced the national field of health education, will deliver the keynote address at the institution's annual Honors Convocation on Saturday, April 21.
The College will recognize 388 students for their academic accomplishments at the event, which begins at 7 p.m. in the Park Center Alumni Arena. An academic procession of SUNY Cortland faculty will open the Honors Convocation. A reception for the honorees and guests will follow in the same location.
Students will be acknowledged for a variety of achievements, including ranking among the top five percent in their respective classes and receiving College-wide and departmental awards and scholarships. The Donald Parish Brooks Scholarship Award will be presented to the residence hall having the highest cumulative grade point average.
Ralph Dudgeon, professor of performing arts (music), will hold the mace during the procession. Carrying the ceremonial gonfalons will be Seth Asumah, chair of Africana Studies and distinguished teaching professor of political science; Richard Kendrick, professor of sociology and director of the Institute for Civic Engagement; Joseph Rayle, associate professor of foundations and social advocacy; and Bonni Hodges, professor and chair of health. Marshals will be Mark Dodds, J.D., associate professor of sport management; Peter Han, assistant professor of sport management; Kimberly Kraebel, associate professor of psychology; and Jeffrey Walkuski, associate professor of physical education.
The reader for the ceremony will be Robert Spitzer, distinguished service professor and chair of political science.
Videto, who has served the College for 20 years, will give a slightly tongue-in-cheek address titled "The Burden of Being Successful."
Videto has worked in school health education and pedagogy for three decades. Before joining SUNY Cortland in 1992, Videto taught health education in the public schools for six years. She has a doctorate in health education from Pennsylvania State University, and master's and bachelor's degrees in the discipline from Southern Connecticut State University.
Videto has served on the American Association for Health Education (AAHE) board of directors since 2009 and on its executive committee since April 2011. She is a lifetime member of the New York State Association for Health Education, Physical Education, Recreation and Dance.
Donna M. Videto
She has presented at district, state and national level conferences in her field.
Her articles have been published in the American Journal of Health Education, The Health Educator, and the Journal of Health Education. Co-author, with SUNY Cortland colleague Bonni Hodges, of the text Hodges & Videto's Assessment and Planning in Health Education (editions 1 and 2, current edition 2011, Jones and Bartlett), Videto also has written numerous book chapters in many areas of health education.
She serves as an editor and reviewer for national periodicals in her profession.
Since 2009, she has been a co-investigator in partnership with the state Health Education Department, which has funded the School Health Systems Change Project. For 12 years, she has offered her expertise as an instructor in Safe Schools Against Violence in Education (SAVE) to students who seek the state teacher certification requirement.
Honored in 1987 with an Outstanding Young Women of America Award, she was recognized in 1996 by the New York Office of Alcoholism and Substance Abuse Services for college teamwork. In 2007, the American Association for Health Education awarded her its Presidential Citation for her work with the AAHE Health Education and Promotion Network Development Team. The College recognized her with a 2009 SUNY Cortland Excellence in Scholarship Award and a 2005 Faculty Development Excellence In Teaching Award in the area of inclusion of service-learning in teaching.
Videto and her husband, Brian, live in Cortland with their two daughters, Mel, 14, and Ana, 10.
The Honors Convocation Committee is co-chaired by Joy Mosher, associate professor of childhood/early childhood education; and Mary Gfeller, assistant professor of mathematics.
Committee members include Sila Argyle, supervising janitor for physical plant; Kristina Arizmendi, student representative; Darci Bacigalupi, special events coordinator; Leanne Bryan, student representative; Philip Buckenmeyer, associate professor and chair of kinesiology; Mark Dodds, assistant professor of sport management; Ron Gray, supervising janitor for physical plant; R. Lawrence Klotz, SUNY Distinguished Teaching Professor and professor of biological sciences; Kimberly Kraebel, associate professor of psychology; Virginia B. Levine, executive assistant to the president; Jerome O'Callaghan, associate dean of arts and sciences; Kevin Pristash '85, M.A. '91, associate director of College Union; Tracy Rammacher, director of publications and electronic media; Lee Scott-Mack, associate registrar; Brad Snyder, associate director of Classroom Media Services; Stephen Wilson, professor of performing arts; and Christopher Xenakis, lecturer in political science.
For more information, contact Bacigalupi at (607) 753-5453.
Syracuse Eighth Graders Visit Campus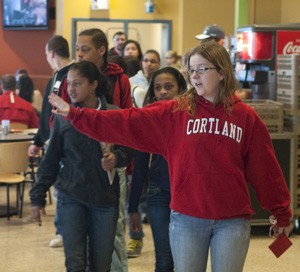 04/10/2012
One-hundred-sixty eager eighth graders from Syracuse, N.Y., filed out of four buses and onto the steps of SUNY Cortland's Corey Union earlier this month, where they mingled with their classmates and looked closely at their surroundings.
"This school has its own Dunkin Donuts?!" exclaimed Najah Acosta, a 13-year-old girl who is enrolled at the Expeditionary Learning Middle School in Syracuse's Valley section.
Although the popular coffee chain could be considered a selling point for some, Acosta was even more interested in learning about academics at SUNY Cortland during her visit to the College.
She and the other students from the Syracuse City School District's Expeditionary Learning Middle School and H.W. Smith School were on campus for their Eighth Grade College Visit Day on April 3.
"I want to know what college life is like and what my schedule would be," said Acosta, an eighth grader who participates in track and field.
"I hope I learn more about what I want to be when I am older," added Jessica Hoddel, a fellow student and friend of Acosta.
The curious students flipped through their folders, which were filled with study-abroad pamphlets, a list of majors and various other fact sheets.
"I want to learn about sport management, recreation and fitness," commented Trevor Stone, 13, a student and athlete at the Expeditionary Learning Middle School.
"I want to play football in college," chimed in William Bayshaw, a classmate of Stone's who plays football and lacrosse.
SUNY Cortland junior Samantha Nealon, center, an early childhood education major from Gloversville, N.Y., offered a campus tour to Antoinette Dowdell, left, Shadia Peterson and many of their eighth grade classmates on April 3. Eighth graders from the Syracuse City School District's Expeditionary Learning Middle School and H.W. Smith School tasted student life at SUNY Cortland as part of Eighth Grade College Visit Day.
As part of its High School Graduation Initiative and in partnership with Say Yes to Education Syracuse, the district seeks to have all of its eighth graders experience a college visit. Say Yes to Education is a national, non-profit foundation committed to dramatically increasing high school and college graduation rates for urban youth. The goal of the local unit's visit is to open the students' eyes to the possibilities of further education and career opportunities.
"We want students to start to make the connection between college and career goals," said Deborah Howe-Tennant '83, M '01, the high school graduation initiative facilitator and Naviance coordinator of the Syracuse City School District.
"It is the first part of transitioning these students to high school," said Howe-Tennant. "They were very excited to visit."
The event included presentations on the college admission process, studying abroad, the Educational Opportunity Program and Say Yes to Education.
Career exploration workshops were presented by faculty, staff and students. The students finished their visit to the College with a guided campus tour.
Eighth Grade College Visit Day was formed as part of the SUNY educational pipeline initiative. The educational pipeline is a development of a comprehensive system of partnerships between SUNY's 64 campuses and Pre-K-12 schools, business leaders and others dedicated to ensuring that more students graduate from college and are prepared to succeed in the workforce.
The event was organized by Howe-Tennant; Kristi Eck, assistant to operating director/higher education program specialist of Say Yes to Education Syracuse; Ashley Hoffman, SUNY Cortland admissions intern and a senior communication studies major; and Karen Seibert, the College's coordinator for field experience and school partnerships.
Anti-Tobacco Logo Contest Winner Named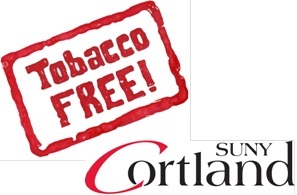 04/10/2012
Members of the SUNY Cortland community will soon begin to see a dramatic, red "Tobacco Free" message stamped above the familiar College logo on public health messages around campus.
The logo became the official symbol of SUNY Cortland's campus-wide anti-tobacco campaign recently, when the College's Tobacco Advisory Committee selected it as the winning design for its logo contest.
Samantha Wong, a junior communication studies major from Massapequa, N.Y., created the logo and won the grand prize of a classic Schwinn bicycle.
"I did the logo for a class assignment," said Wong, who learned about the contest through a class taught by Distinguished Service Professor Sam Kelley. "I sat down one night and I thought it would be really cool to be picked. I thought of it as an opportunity and worked really hard on it."
Wong's winning entry will be used by SUNY Cortland to encourage people to forego cigarettes, cigars and chewing tobacco before Jan. 1, 2013. That's when the entire campus will become tobacco free. That means no tobacco products can be used on campus, and members of the SUNY Cortland community who smoke or chew tobacco will have to do so off the College grounds.
"I personally don't smoke knowing all the health risks associated with using tobacco," Wong said.
All forms of tobacco use pose significant health risks, including chewing tobacco, which can cause throat and mouth cancer, tooth decay, gum disease and nicotine addiction. Evidence assembled by the U.S. Surgeon General, Centers for Disease Control, Environmental Protection Agency, and World Health Organization, which demonstrates that tobacco is a profound agent of deadly diseases, responsible for millions of deaths worldwide each year, both to tobacco users and non-users.
Amanda Cheetham, a senior health education major, and William Parente, a College custodian, tied for second place in the contest. Cheetham created a logo that highlighted the Cortland "C" in the word "community" to focus on how students, faculty and staff were working together to improve health. Parente wrote a series of rhyming slogans about the dangers of tobacco use.
Both second-place winners will receive gift certificates for massages from local therapists.
The College, which aspires to be one of the healthiest campuses in the United States, was one of the first SUNY schools to adopt a "tobacco free" policy.
The American Cancer Society recognized SUNY Cortland as one of its "Partners in Excellence" for the tobacco-free decision in November 2011. In addition to the increased awareness of tobacco's health hazards, SUNY Cortland will offer a variety of tools and programs to help smokers and other tobacco users quit.
Accreditation Team to Visit Campus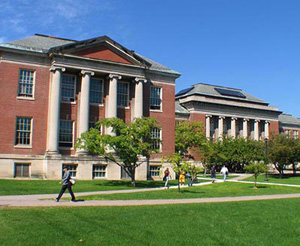 04/10/2012
A team of reviewers from the Middle States Commission on Higher Education will tour campus later this month to verify that SUNY Cortland is meeting the high standards needed for professional accreditation.
Accreditation is an important indication of an institution's quality and has an impact on student financial aid, transfer credits, the value of the College's degree and other areas.
Every 10 years, accredited colleges like SUNY Cortland must complete a detailed self-assessment focused on 14 broad standards set by Middle States. The commission, which is responsible for accrediting colleges in New York, New Jersey, Pennsylvania, Maryland, Delaware, the District of Columbia, Puerto Rico and the Virgin Islands, then sends a team to compare the self-assessment to campus reality.
"We welcome this opportunity to showcase our exciting campus and talk about the many impressive accomplishments of our students, faculty and staff," President Erik Bitterbaum said. "SUNY Cortland offers a world-class educational experience that meets or surpasses l professional standards of excellence."
The team of reviewers will be at SUNY Cortland April 15-18, 2012.
To complete the self-study process, our campus community looked at the 14 standards set by Middle States and determined how well we meet them. The standards focus on SUNY Cortland's mission and goals, planning, resources, governance, administration, integrity, institutional assessment, student admissions, student services, faculty, curriculum, general education, related educational activities like distance learning, and student learning assessment.
Through the self-study process, the College found that it is both meeting the standards and successfully focusing on its four institutional priorities: academic excellence, transformational learning, well being, and maximizing resources, as outlined in our campus' strategic plan.
The study is available for public review.
College-Community Orchestra to Perform April 17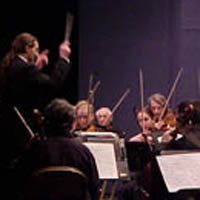 04/10/2012
"Souvenirs!" is the theme of the SUNY Cortland College-Community Orchestra concert set for Tuesday, April 17, in the Dowd Fine Arts Theatre.
Directed by Ubaldo Valli of the Performing Arts Department, the concert will begin at 8 p.m. and is free and open to the public.
The program will feature music by four composers: Wolfgang Amadeus Mozart's overture from "The Abduction from the Seraglio"; Virgil Thomson's "The Plow that Broke the Plains Suite"; Louis Gottschalk's "Souvenir de Porto Rico," and; Pyotr Ilyich Tchaikovsky's "Capriccio Italien."
Thomas Hischak, Performing Arts Department, is the narrator for the Thomson piece.
For more information, visit the Performing Arts Department website at http://www2.cortland.edu/departments/performing-arts/or call the office at (607) 753-2811.
SUNY Cortland to Perform 'Speaking In Tongues'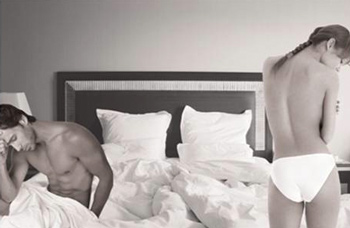 04/10/2012
"It's a puzzle that I think the audience will enjoy solving," said Bob Moss about "Speaking in Tongues," the play he directs and which opens on Thursday, April 12, at SUNY Cortland.
"The play functions like a mystery," said Moss about the Andrew Bovell drama the College's Performing Arts Department will present from April 12 through April 15 in the Dowd Fine Arts Center Lab Theatre.
"But it is about the difficulty of speaking honestly with intimates, and the relative ease of speaking with strangers. Ergo, 'speaking in tongues,'" Moss said.
"Speaking In Tongues" is slated for 8 p.m. on Thursday, April 12, Friday, April 13, and Saturday, April 14, and at 2 p.m. on Sunday, April 15. Admission is $12 for the general public; $10 for senior citizens and SUNY staff; and $5 for all students. Tickets will be on sale at the door prior to each performance. "Speaking In Tongues" is recommended for mature audiences.
"Speaking in Tongues" is about contracts being broken between intimates while deep bonds are forged between strangers.
"Intimacy can be hell," said Moss, the former artistic director of Syracuse Stage and the Hangar Theatre in Ithaca. "The play is also about the power of stories to move us, to change us, to intrigue us. It asks the question, 'Can we ever really know the whole truth about even the simplest thing?'"
Describing the play, Moss said, "There are 11 intimate or semi-intimate relationships in the story, and it ricochets between and among them. We hear about some, we witness some. The fun of this play is in the way the stories come along and we put them together in our own minds. What is really happening to these people and whom can we trust? I find the characters completely engrossing."
The cast features Derek Mellor as Leon; Charles O'Connor as Pete; Katie Quigley as Sonja; Samantha Rey as Jane; Mike Meany as John; Catherine Skojek as Sarah; Kerry Maloney as Valerie; David Newman as Nick; and William Swenson as Neil.
More information about the play and this season's other events can be found on the Performing Arts Department website or by calling (607) 753-2811.
Four Art Students to Exhibit Final Projects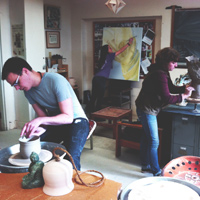 04/10/2012
Four SUNY Cortland art students will exhibit their theses and senior project studies beginning Monday, April 16. Three of the students are fifth-year students in the Art and Art History Department's Bachelor of Fine Arts (BFA) program and the fourth is a studio art major.
An exhibit in Dowd Gallery from Monday, April 16, through Friday, April 20, will feature the work of three of the students. An opening will be held at 4:45 p.m. on Monday, with artist talks starting at 5 p.m. The reception and exhibitions are free and open to the public. Gallery hours are from 10 a.m. to 4 p.m., Monday through Friday.
These students include:
This watercolor painting by BFA
student John Henry Aborn is part of
his "Mindful Attachment" series.
• John Henry Aborn, of Milford, N.Y., a senior BFA student, will present "Mindful Attachment," a series of watercolor paintings offering recognizable sources of suffering exposing its deeper origins paired with participant-generated sound to incite a process of mental and spiritual restoration. He describes his exhibit as "a portal through which the mind can glimpse the origins of our suffering and create a sincere, earnest dialogue about our relationship with personal electronic devices and their subtle but profound spiritual repercussions."
• Senior studio art major Kelsey Cornell from Hadley, N.Y., will offer "Brink," a series of large oil paintings that use fabric imagery to embody a barrier between actuality and a desired emotional state. The variations between the sheer, soft or wrinkled cloth create a calming atmosphere and the threshold to a serene and peaceful place.
• Leah Fries, a BFA major from Red Creek, N.Y., will present her thesis work, "Transitional Emotions." The exhibit will feature ceramic vessels and collage work that are an exploration of layers and transitioning forms from open to close. Fries combines the two mediums to create an environment reflecting the effects that time has on emotion.
Xena Electra Holzapfel of Lake Ronkonkoma, N.Y., will exhibit from Friday, April 20, through Tuesday, April 24, at 73 Main St., Cortland. The BFA major will present her thesis show, titled "Balancing on a Chair," a series of figurative ceramic sculptures blended with parts of a chair to reveal how individuals must bear their burdens. The body language of the organic forms and their contrast with the rigid chair anatomy create a narrative of personal realization, discontent and stability.
Senior studio art major Kelsey
Cornell will present her series of
large oil paintings in her exhibition
titled "Brink."
An opening reception will be held from 6 to 9 p.m. on Friday, April 20, with an artist talk at 6:30 p.m. Viewing hours will be available by appointment Saturday through Monday and the gallery will be open from open 1:30 to 4 p.m. on Tuesday.
All of the exhibits are a culmination of either thesis or senior project studies, a two-semester process. One may notice a common theme of art exploring the emotions, but that was not the assignment and it is purely coincidental, according to one of the artists.
"We have been working continuously to develop our thoughts and ideas for two semesters so that we get our own personal philosophies into our work," said Aborn. "The work will inform you as you produce it, which is its way of paying you back. I started to develop the concept well before I started thesis. Even that work started to inform what I was going to do."
Aborn will graduate in May and was recently accepted to teach English at a school in France, where he looks forward to furthering his art studies.
The BFA is an intensive degree program in studio art, intended for students who plan to pursue a professional career in art or to prepare for specialized graduate study, in particular the Master of Fine Arts (MFA) degree. The culminating experience is the senior year thesis project. A cohesive body of work is developed from concept to exhibition, accompanied by written proposal, summary documentation and oral presentation. Admission to the BFA program is by portfolio review. Entrance into senior thesis is by special permission attained through committee review of work at the end of the junior year.
For more information, contact Art and Art History Department Chair Lori Ellis by email or at (607) 753-4316.
Sculpture Dedication to Recognize Faculty Generosity, Creativity

04/10/2012
SUNY Cortland will dedicate a multimedia sculpture that hangs in Moffett Center at a reception to be held at 4 p.m. on Friday, April 13.
The sculpture, created by Vaughn Randall, an assistant professor of art and art history, and commissioned by Craig Little, a SUNY Distinguished Service Professor of sociology/anthropology, was installed in January in the Moffett Center lobby closest to Sperry Center. Named "Passage," it marks one SUNY Cortland faculty member's artistic ability and another's generosity.
Suspended from the ceiling, the sculpture is made of four different types of wood, fabric and steel. It measures 26 feet long and weighs 125 pounds.
In addition to Little and Randall, SUNY Cortland President Erik J. Bitterbaum, Vice President for Institutional Advancement Raymond D. Franco '72, M '75, and other members of the campus community will attend the dedication ceremony. The event is open to the public and refreshments will be served.
Little, a SUNY Cortland faculty member since 1972, has offered the finished piece as a gift to the Cortland College Foundation.
When Little's department relocated to a newly renovated section of Moffett Center in 2009, he was inspired, with the encouragement of his wife who has an appreciation for art, to enhance the well-traveled passageway. Collaboration with Randall helped put this vision on paper and after a long process, what began as an idea came to fruition in the form of a boat-like hull with paddles and an airplane wing.
Randall believes the boat-like structure suggests a voyage and is a worthy symbol of adventure and creativity, and therefore the pursuit of knowledge.
Student Election Winners Announced; Luncheon Planned
In an effort to connect newly-elected Student Government Association (SGA) representatives with SUNY Cortland faculty and staff members, the College will hold an inaugural "Building a Better Future" SGA President's Luncheon on Sunday, April 22.
The invitation-only event begins at 11 a.m. in the Corey Union Function Room. Newly-elected student representatives include: LeighMarie Weber, a sophomore speech and hearing science major from Williston Park, N.Y., who was elected president; Erin Durgin, a sophomore sociology major from Binghamton, N.Y., who was elected vice president; and Brendan Lowe, a junior exercise science major from Merrick, N.Y., who was elected treasurer.
"It's going to be a swearing-in ceremony, where the recently elected students can be introduced to the people they'll often be working with," said Jamie Piperato, a senior kinesiology major from Thiells, N.Y., and the current SGA president.
A planning team of Leann Farah, a senior sociology major from Lindenhurst, N.Y., and Jonah Reardon, a senior biology major from Fulton, N.Y., put together the event.
"Student government can be a huge time commitment," Piperato said. "In some cases, we can end up spending 20 to 30 hours per week on student affairs work.
"It's important that these new faces get the recognition they deserve, especially early on."

Suggest a feature story
---
Faculty/Staff Activities
Marley Barduhn
Marley Barduhn, Teacher Education Office, participated as a member of the American Council on Education's (ACE) Internationalization Site Visit Team to Richard Stockton College in Galloway, N.J., from March 21-23. The team reviewed the college's internationalization plan as a product of their work in the 2010-11 cohort of ACE's Internationalization Laboratory.
Diane H. Craft
Diane H. Craft, Physical Education Department, along with children's singer/songwriter Vincent, presented the keynote lecture at the Massachusetts Association for the Education of Young Children (MassAEYC) annual statewide conference held March 16-17 in Westford, Mass. Craft also gave two workshops on developmentally appropriate physical activities to the early childhood educators in attendance.
John C. Hartsock
John C. Hartsock, Communications Studies Department, was a speaker at Lorraine University in Nancy, France, on March 8 where he gave a talk on "War, Literary Journalism, and the Aesthetics of Experience" sponsored by the English Department. Afterwards, for professional development, he traveled to Alsace to taste wine, accompanied by the founding president of the International Association for Literary Journalism Studies, Professor John Bak of Lorraine University. On March 12 he discussed his book Seasons of a Finger Lakes Winery before the Ladies Literary Society of Cortland at the Phillips Free Library in Homer. In related news, portions of the book were excerpted in this spring's issue of Life in the Finger Lakes.
Rena Janke, Greg Phelan, Kerri Freese, Dave Dickerson and Mary Gfeller
Rena Janke, Biological Sciences Department, Greg Phelan and Kerri Freese, Chemistry Department, and Dave Dickerson and Mary Gfeller, Mathematics Department, participated in a workshop on campus along with 17 Noyce scholars and 11 local teachers and administrators on March 24. Held in conjunction with the SUNY Cortland Noyce Project and sponsored by the National Science Foundation, the workshop's goal was to support the teaching success and retention of Noyce scholars by addressing issues related to successfully teaching mathematics and science in a high-need environment. The Noyce scholars attended four break-out sessions on the following topics: the summer before your first year teaching; setting the tone for a successful class: classroom management; what to expect and how to handle situations common in high-need schools; and get a job offer you'll love – how to market yourself and find the right fit. The latter was led by Judi Riley, assistant superintendent for Pupil and Personnel Services for the Cortland City School District.
Greg Phelan and Kerri Freese
Greg Phelan and Kerri Freese, Chemistry Department, hosted a booth at the Greater Syracuse Scholastic Science Fair at the Oncenter on March 25 to promote sciences at SUNY Cortland and Noyce scholarships to graduating high school seniors. Kate Boyce, M.A.T. '11, biology, a Noyce Scholar in 2010/11, participated in the event with students from her seventh-grade class from Lincoln Middle School.
Matt Seyfried
Matt Seyfried, Sport Management Department, was selected to receive a Sport Industry Professional Service and Leadership Award from Ithaca College. The award is given in recognition of individuals who have made outstanding contributions to the sports industry and support the mission of the college's Department of Sport Management and Media. Matt will be formally recognized at the annual Sport Management and Media Awards Program which follows the annual Sport Management and Media Hole-in-One Golf Tournament on Saturday, April 28, at the Country Club of Ithaca.

Submit your faculty/staff activity