College Announces Record Number of New Faculty
08/29/2011
SUNY Cortland will begin its 2011-12 academic year with 35 new full-time faculty members, a record number of new professors and lecturers that demonstrate the College's commitment to quality student instruction.
"Obviously, this is very exciting for the College," President Erik J. Bitterbaum said. "It adds new perspectives in the classroom, which we desperately needed. … "It's nice to have new buildings, and you'll notice quite a few of them being renovated and going up in the next few years," he said. "But it really is the people who make a difference for us at this College."
In addition to the 35 new full-time faculty members, the College this year added more than 20 new professional staff members and 43 new classified staff members.
The College administration last year decided to take on new faculty and staff despite years of funding cuts from the state. For several years, hiring was frozen on all but essential personnel creating staff vacancies that were often filled by adjunct professors.
The State University of New York Rational Tuition Policy, which raised SUNY tuition by $300 per student to $5,270 for the academic year, will help SUNY Cortland pay for the positions and maintain its student-first focus.
Several other SUNY schools are likely to increase staffing because of the tuition increase, but SUNY Cortland made this decision early, and is about a year ahead of those institutions.
"When I talked to other presidents about hiring faculty, most of them waited," for the state funding picture to become clearer, he said. "They asked me: 'How can you gamble in this environment?'"
The gamble paid off for SUNY Cortland students, according to the president. The College initially sought to create 15 new tenure-track positions. Instead, it hired 27 new tenure-track faculty, seven new full-time lecturers and one new visiting professor.
The 27 new tenure-track faculty members are:
• Jill Murphy, an associate professor of health.
• Linda Pickett, an associate professor of childhood/early childhood education.
• John Aerni-Flessner, an assistant professor of history.
• Helena Baert, an assistant professor of physical education.
• Genevieve Birren, an assistant professor of sport management.
• Katrina Bratge, an assistant professor of educational leadership.
• Brooke Burk, an assistant professor of recreation, park and leisure studies.
• Christina Caravella, an instructor of literacy.
• Christa Chatfield, an assistant professor of biological sciences.
• Nikki Lyn Curtis, an assistant professor of communication disorders and sciences.
• Flavia Dantas, an assistant professor of economics.
• Natalie Dopso, an assistant professor of foundations and social advocacy.
• Laura Gathagan, an assistant professor of history.
• Guiseppe Getto, an assistant professor of English.
• Sarah Hobson, an assistant professor of English.
• Richard Hunter, an assistant professor of geography.
• Mona Ivey-Soto, an assistant professor of childhood/early childhood education.
• Li Jin, an assistant professor of geology.
• Judith Johns, an assistant professor of health.
• Erik Lind, an assistant professor of kinesiology.
• Cathy MacDonald, an assistant professor of physical education.
• Mary-Jo Morse, an instructor of literacy.
• Dwight Pfennig, an assistant professor of educational leadership.
• Lynn Sebastian Purcell, an assistant professor of philosophy.
• Sonia Sharma, an assistant professor of mathematics.
• Codruta Temple, an assistant professor of mathematics.
• Jeffrey Werner, an assistant professor of chemistry.
The new visiting professor is Erika Fowler-Decatur, an assistant professor of art and art history.
The seven new full-time lecturers are:
• Valerie Behr, of childhood/early childhood education.
• Myriam Benincore, of modern languages.
• Carie George, of biological sciences.
• Thomas Heidt, of mathematics.
• Christine Lemchak, of English.
• Quincy Loney, of mathematics.
• Deborah Rogers, of English.
Inclusive Effort Will Carry President's Challenge
08/29/2011
SUNY Cortland this fall will recruit students and community members from a range of spiritual traditions to establish a mentoring-training program for at-risk or disadvantaged Cortland County youth as part of a national effort that emphasizes interfaith cooperation in community service projects.
The College formally will launch the effort, part of the President's Interfaith and Community Service Campus Challenge, during commemoration ceremonies marking the 10-year anniversary of the Sept. 11, 2001 terrorist attacks. The commemoration will follow a Habitat for Humanity project that serves as a build-up to the formal launch on Saturday, Sept. 10, and Sunday, Sept. 11. Students will have an opportunity to join the College's mentoring-training program throughout the fall semester.
The national challenge, which includes 277 institutions across the country, seeks to encourage people from different religious and non-religious backgrounds to work together to meet community challenges. SUNY Cortland's mentoring-training program will feed volunteers into agencies that have already been established in the community.
"Each institution has developed its own approach to the Interfaith Challenge," said John Suarez, an Interfaith Challenge Planning Committee member and the coordinator of service learning for the College's Institute for Civic Engagement. "We chose mentoring as a way of addressing poverty through improved educational opportunity."
Habitat for Humanity's Faith Build Blitz project will be held at 198 Clinton Ave. in Cortland and it lasts from 8:30 a.m. to 4:30 p.m. Saturday, Sept. 10, and 3:30 p.m. to 7:30 p.m. Sunday, Sept. 11. Lunch will be provided Saturday and volunteers are required to bring a reusable water bottle and closed-toe shoes. A 2 p.m. community worship service, sponsored by the Council of Churches, will be held at the United Presbyterian Church of Cortland at 25 Church St. during Saturday's build. The College's Sept. 11, 2001 commemoration takes place Sunday, Sept. 11, at 9 p.m. in front of Corey Union to formally kick off the challenge.
Challenge organizers hope that the projects bring long-term benefits to Cortland County, where more than 18 percent of the county's children live below the poverty line, and both the percentage of children in foster care and youths in need of court-ordered supervision are more than double the state average.
SUNY Cortland's efforts will be coordinated by Campus Ministries to reinforce the interfaith nature of the projects. Everyone, regardless of spiritual beliefs, is invited to participate. The Interfaith Challenge includes people from diverse religious and nonreligious backgrounds. The proposed mentor program will look to connect faiths, as well as those who consider themselves agnostic or atheist, and it aims to develop individuals' abilities to have positive relationships with people from different backgrounds or worldviews. This program will follow a long-term, sustainable model.
This fall, a committee composed of students and community members from different spiritual traditions will design the training. Once a mentor-training program is established, SUNY Cortland students will be trained to become mentor trainers this spring.
After SUNY Cortland students are recruited and trained on campus, Interfaith Challenge organizers will strive to connect them with high school students as early as the spring semester, when the College's mentor trainers would train the high school students. During the same semester, the college students could also mentor at-risk children who would be identified by community agencies such as YMCA, YWCA, Access to Independence, the Cortland County Youth Bureau, Family Counseling Services and the Cortland Area Communities That Care.
The entire mentorship process will emphasize reflection, a crucial part of the College's commitment to both service-learning and individual and community well being. The ability to understand the faith perspectives and behavior of others requires serious thought and consideration, Suarez said.
"Mentoring isn't just taking a youngster out for ice cream," Suarez said. "It's a heavy responsibility."
On the SUNY Cortland campus, officials also seek to increase in the number of interfaith and cross-cultural student events.
The SUNY Cortland interfaith team plans to track the impact of the challenge through online surveys. In addition to calculating the number of people and the number of hours invested in the projects, the College will look for improvements in children's behavior and class grades. Habitat for Humanity numbers, including the number of structures completed and the number of people who benefitted from the building, also will be calculated.
People interested in joining SUNY Cortland's Interfaith Challenge can contact Rev. Vicki Johnson, the College's Protestant chaplain, at (607) 753-1002, or Marie Agen, the College's Catholic chaplain, at (607) 753-6737.
---
Capture the Moment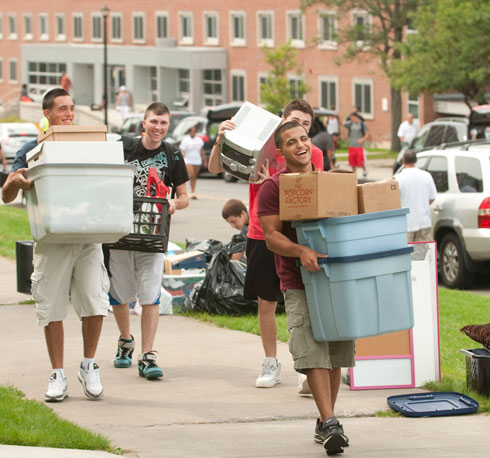 Returning students offered each other help and shared a laugh while they moved their belongings into Glass Tower Hall on Aug. 27. The rain stayed away long enough for thousands of SUNY Cortland students to settle in their campus residence halls this past weekend.
---
In Other News
Exhibit on Illustrator Maurice Sendak Coming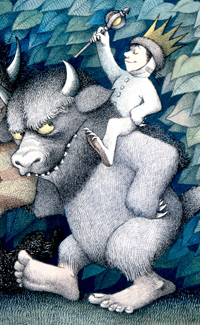 08/15/2011
A national traveling exhibit that explores the influence of Jewish culture in the work of renowned illustrator Maurice Sendak, creator of the children's classic Where the Wild Things Are, will arrive at SUNY Cortland's Memorial Library on Wednesday, Aug. 31.
"In a Nutshell: The Worlds of Maurice Sendak," will be displayed on the library's second floor through Friday, Oct. 14. The exhibit features eight large color reproductions of works by Sendak, who was born in Brooklyn in 1928 to Polish immigrants and became the illustrator of more than 100 picture books, including Where the Wild Things Are and In the Night Kitchen.
The exhibit and related programs are free and open to the public.
Nicola Morris, a SUNY Cortland lecturer in English and Jewish studies scholar, will give a presentation relating to "In a Nutshell" at the exhibition's formal opening reception at 7 p.m. on Wednesday, Sept. 7, nearby the exhibit.
The Memorial Library also will sponsor a second lecture by Morris relating to Maurice Sendak at 7 p.m. on Wednesday, Sept. 21, nearby the exhibit; and other programs relating to the exhibit.
"In a Nutshell" shows how Sendak's artistic journey has led him deeper into his own family's history and his Jewish identity.
Final drawing for Where the Wild Things Are, © 1963 by Maurice Sendak, all rights reserved. Above left is a detail of this illustration by Maurice Sendak.
"We are delighted to have been selected as a site for this exhibition," said Ellen McCabe, senior assistant librarian at Memorial Library. "A study of Sendak's work proves that his illustrations and stories aren't just for children. He explores immigration, urban life, nostalgia, the New World versus the Old World, even the legacy of the Holocaust, weaving these seemingly adult themes into his imaginative and playful illustrations. Our library is thrilled to host this exhibition and present a more thorough look at the life of a talented author and illustrator beloved by fans young and old."
Sendak's childhood was typically American in a number of ways. At the same time, he became fascinated as a child with the worn black-and-white photographs of his European relatives, and the influence of both of these worlds — the threads of Jewish family, geography, and culture — can be seen in his imaginative works.
Illustrations in his works are populated with friends, family and the sights, sounds and smells of New York in the 1930s. But Sendak was also drawn to photos of ancestors and he developed a fascination with the close-knit communities of European Jews.
"In a Nutshell," curated by Patrick Rodgers of the Rosenbach Museum & Library in Philadelphia, was organized by the museum and developed by Nextbook, Inc., a nonprofit organization dedicated to supporting Jewish literature, culture and ideas and by the American Library Association (ALA) Public Programs Office.
It is one of three new small-format traveling exhibitions announced recently by the ALA that focus on Jewish artists who have contributed to the culture of the U.S. and the world. The national tour of the exhibit was made possible by grants from the Charles H. Revson Foundation, the Righteous Persons Foundation, the David Berg Foundation and an anonymous donor, with additional support from Tablet Magazine: A New Read on Jewish Life.
The local exhibition grant partners include the Family Reading Partnership of Cortland County, Temple Brith Sholom, the Seven Valley Reading Council, Office of Multicultural Life and Diversity, the President's Office, the Provost and Vice President for Academic Affairs' Office and the Jewish Studies Committee.
For more information, contact McCabe at (607) 753-4051.
College Offers Opportunities for Civic-Minded Students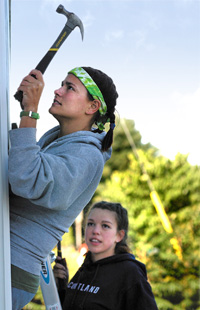 08/29/2011
John McNerney logged countless unpaid hours in the community during his undergraduate years at SUNY Cortland more than two decades ago.
Today, as director of the Cortland City Youth Bureau, he encourages his staff to recruit college students for similar opportunities to invest their time in a worthwhile cause.
"My experiences at SUNY Cortland opened doors for me when I went into the field," said McNerney, who graduated with a bachelor's degree in recreation administration in 1987. "There's no doubt about it."
Today's students are looking for the same results that McNerney found. The civic engagement volunteer opportunities available for SUNY Cortland students have the potential to further career paths or even change them, according to John Suarez, the coordinator of service learning for the College's Institute for Civic Engagement.
"After volunteering, some students have changed their majors," Suarez said.
It is a major reason why the Institute for Civic Engagement and Career Services offer a volunteer fair early in the fall semester. This year's event takes place from 4 to 5 p.m. on Wednesday, Aug. 31, in the Corey Union Exhibition Lounge.
During the fair, students can move around and visit with representatives from a variety of volunteer agencies, in a fashion similar to an academic open house. The Institute for Civic Engagement partners with roughly 30 agencies, and many of them will be present at this year's volunteer fair.
"The student, very importantly, can talk with the representative (of the volunteer organization) to find out what kinds of programs are available, to what extent those programs match the student's interests and to what extent they match career opportunities," Suarez said.
For example, the local YWCA's Bridges for Kids program, which pairs children from stressful home environments with positive role models for a few hours each week, tends to be a popular volunteer program because SUNY Cortland trains many aspiring educators, he said. Family Counseling Services, the Cortland YMCA and the Cortland Youth Bureaus in the city and the county are also hot volunteer destinations.
Andrew Herman, a sophomore and physical education major from Dix Hills, N.Y., coached a soccer team and officiated basketball games for pay at the Cortland City Youth Bureau last year. During that time, he saw the relationships his college friends forged with children who are less fortunate through the Bridges for Kids program.
He will volunteer with the Bridges for Kids group this fall.
"I like giving kids more opportunities than they would normally have," Herman said. "It's not costing me anything just to take them out and do fun things that they wouldn't normally do."
Herman has learned plenty of games to play with children in his physical education classes, he said. Besides keeping his younger companion active with games and activities, Herman plans to take his new friend to SUNY Cortland athletic contests.
McNerney said his job at the Cortland City Youth Bureau is made easier by the preparedness of local college students like Herman. He often hears from other recreation directors in New York state who struggle to find eager helpers.
"They pull their hair out trying to find good, quality volunteers and I've never had that problem," he said.
Many students begin their volunteer experience with one of the Youth Bureau's 125 programs already trained in cardiopulmonary resuscitation and first aid.
The College maintains strong ties with its volunteer partners, in part because many of them employ SUNY Cortland alumni. Besides McNerney leading the Cortland City Youth Bureau, other graduates work at Family Counseling Services, Access to Independence the YWCA, and the YMCA, among other agencies.
Students often find so much satisfaction in their volunteer experiences that they continue volunteering after taking service-learning courses, Suarez said. Service learning, like a volunteer effort or an internship, involves civic engagement with a meaningful community project. But service learning also incorporates a social justice issue, regularly guided reflection and an academic component.
"You've got to be on the front lines," Suarez said. "It's not just observing; it's doing."
During the 2010-11 academic year, nearly 1,500 SUNY Cortland students contributed 24,431 hours through service learning courses. And this past spring, the College was named to the President's Higher Education Community Service Honor Roll with Distinction.
The Aug. 31 volunteer fair will include typical volunteer and service learning opportunities, Suarez said. For more information on the event, contact him at (607) 753-4391.
Wellness Series Spotlights a Campus Priority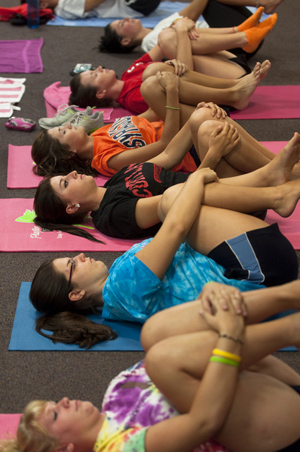 08/23/2011
Well-being is one of SUNY Cortland's four priorities, along with academic excellence, transformational education and maximizing resources.
The campus continues to host a long-lived fall and spring weekly series to encourage the entire campus and community to pursue a lifetime of good health.
Sponsored by the Health Promotion Office and the Student Development Center, the Fall 2011 "Wellness Wednesday" series will take place each Wednesday at 7 p.m. in Corey Union Exhibition Lounge, unless otherwise noted. The events are free and open to the public.
Scheduled events are as follows:
• On Aug. 31, Louise Mahar, the College's assistant director of recreational sports for fitness, will offer "A Non-Threatening Introduction to Yoga." Participants will experience a beginner-level yoga class and should dress in loose, comfortable clothing and bring a towel.
• On Sept. 7, two SUNY Cortland student affairs representatives will discuss "So You're in College: Now What?" Michael Holland, assistant to the vice president for student affairs, and Billie Jean Goff, interim director of counseling and student development, will address issues for first-year and transfer students, such as residence hall living, partying, homesickness, new relationships and peer pressure.
• On Sept. 14, participants can "Walk the Walk of Student Services" at an open house from 5:30 to 7:30 p.m. in Van Hoesen Hall and Corey Union. Visitors will be able to meet the student services staff and view the facilities of the University Police Department, student health services, counseling, student disability services, health promotion, substance abuse prevention and education, career services, residence life and housing, Academic Support and Achievement Program (ASAP), Emergency Squad, Tomik Fitness Facility and recreational sports, as well as Auxiliary Services Corporation and nutritional services. Staff from the Vice President for Student Affairs, Multicultural Life and Campus Activities offices will meet students in the Corey Union lobby. Refreshments will be served and prizes raffled.
• The College will offer a hands-on demonstration of the rape aggression defense (RAD) system on Sept. 21. The workshop, titled "It's Totally RAD!" consists of self-defense techniques designed for awareness, prevention and risk reduction. The trainers will include members of the University Police Department, Cortland Against All Rape (CARR) and the Sexual Assault Prevention and Awareness Committee. Participants should wear workout clothes and sneakers.
• Erica Upshaw, who became a national presenter after losing her brother to an accidental drug and alcohol overdose, will give a talk on "Keep Friendship Alive" at 8 p.m. on Sept. 28 in the Corey Union Function Room. Upshaw will share her first-hand story using videos, interviews, audience interaction and humor to convey the importance of partying smart and keeping friends safe.
• The Southern Tier AIDS Program will offer a presentation titled "Living With HIV" on Oct. 5. An individual who has HIV will offer a personal story on living daily with this disease. Also the AIDS Memorial Quilt will be on display in Corey Union Function Room throughout the week.
• On Oct. 12, a panel of Health Department faculty, students and community members will focus on "Someone You Know is Gay. Does It Really Matter?" The panelists include: Kathryn Coffey, SUNY Cortland assistant professor of health; Aimee Greeley, health lecturer. The discussion is intended to increase an awareness and understanding of how everyone is impacted by diversity in human sexual orientation and gender identity.
• Jena Curtis, associate professor and graduate coordinator in the Health Department, will present "Relationships: Long Distance or Across the Hall — How to Keep it Alive" on Oct. 19. Curtis, who is the faculty advisor for the AIDS Prevention and Awareness Club (APAC), the campus sexual health club, will discuss how students can build and sustain fulfilling intimate relationships.
• Brittany Jarrard, a SUNY Cortland student and Zumba instructor, will lead participants in a workshop called "Zumba!" on Oct. 26. She will share some easy-to-follow moves put to Latin rhythms that can be used to create a one-of-a-kind fitness program. Zumba offers outrageous fun and exercise, too.
• Mary Dykeman, public health educator at the Jacobus Center for Reproductive Health, will give a talk on "Magical Thinking" on Nov. 2. Dykeman, acting the role as "Your Fairy Godmother," will explain how magical thinking prevents students from making safe, healthy decisions when it comes to sex.
• On Nov. 9, a panel of speakers including Noelle Chaddock Paley, the College's director of multicultural life and diversity, will address the topic of "BEing Civil is All About BEing Human: LGBTQ and Communities of Color." Participants are invited to engage in an open dialogue about how the College community can move forward.
• On Nov. 16, the campus and community are invited to take part in the "Great American Smoke Out — Go Cold Turkey" from 11 a.m.-2 p.m. on the first floor of Corey Union. Health promotion interns will be available to help individuals sign the pledge on Wednesday to quit for the day on Thursday. Health Promotion and the Tobacco Advisory Committee are hosting this event.
For more information or accommodation to attend an event, contact Catherine Smith, the College's health educator, in Van Hoesen Hall, Room B-1, or at (607) 753-2066.
College Dedicates Room to Emerita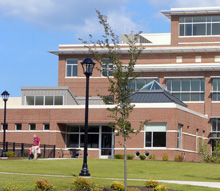 08/26/2011
SUNY Cortland has dedicated the resource room of its Child Care Center to an emerita staff member who served the College for more than 50 years during a ceremony on Friday, Sept. 2.
Angela Priore Thurlow '82, an associate director of admissions emerita and a recipient of the 1994 SUNY Chancellor's Award for Excellence in Professional Service, was recognized for an unparalleled career at the College that spanned from 1955 to 2006, and for her generosity.
The dedication ceremony was held in the Ruth Hart Blanchard '23 Gross Motor Skills Room. A reception followed in the Patricia A. Clark Atrium.
"For more than five decades, Angela offered her wisdom and grace to the College and to the Cortland community," said Peter VanderWoude, the manager of planned gifts for the College. "The naming of the Angela Priore Thurlow '82 Resource Room is a fitting acknowledgement for her brilliant career and her 25 years of service to the Cortland College Day Care Center Committee."
Speakers included SUNY Cortland President Erik J. Bitterbaum, Vice President for Institutional Advancement Raymond D. Franco, College Council Chairman Thomas Gallagher and Patricia A. Clark, the wife of former College President James M. Clark. Members of the campus and community also attended the ceremony.
The resource room that bears Thurlow's name is considered a multipurpose room. It includes a lending library of children's books for teachers and parents, a music system and a large flat-panel television used for training purposes. Children who range in age from six weeks to five years attend the Child Care Center.
Construction of the 31,000-square foot, three-story SUNY Cortland Education Building and Child Care Center was completed in January 2009. The building's front entrance faces Prospect Terrace and its first floor is dominated by the Child Care Center.
Thurlow was instrumental in establishing a series of annual summer receptions hosted by SUNY Cortland alumni for newly accepted students. She chaired the Cortland College Day Care Center Committee for a decade and saw the project become a reality.
"I have always thought of Angela as the go-to person when I wanted perspective on situations related to the Child Care Center," said Johanna Hartnett, the executive director of the SUNY Cortland Child Care Center. "She always offered a thoughtful and reflective outlook to board decisions.
"The Child Care Center staff is a lucky group to have known such a visible and important board member."
Thurlow began her long association with SUNY Cortland in 1955 as an assistant professor of education at the College's Campus School. From 1961 to 1983, she was an assistant professor and later promoted to associate professor with the College's Institute for Experimentation in Teacher Education.
In 1982, the same year she received a certificate of advanced study from SUNY Cortland, she joined the Admissions Office as an admissions counselor. Five years later, she became assistant director of admissions. She was appointed associate director of admissions in 1990.
Thurlow was the senior College staff member at the time of her retirement in 1995. She continued to serve SUNY Cortland on a part-time basis until 2006 as an academic advisor in the Office of Advisement and Transition.
An involved member of the community, Thurlow is a past president of the YWCA Board of Directors and a past recipient of the YWCA Volunteer of the Year Award. She was presented the Zonta Woman of Achievement Award in 1982 and served on the Cortland County Planning Board from 1986 to 1992.
Thurlow, who obtained a bachelor's degree from SUNY Oswego and a master's degree from Syracuse University, taught as an elementary school teacher in Utica, N.Y., between 1951 and 1954 before moving to SUNY Cortland.
Field Placement Office Reorganized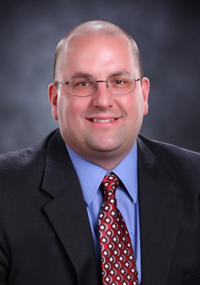 08/25/2011
Douglas Wieczorek, a former K-12 school administrator and teacher at Bishop Grimes Jr. Sr. High School in East Syracuse, N.Y. joined SUNY Cortland on Aug. 1 as the director of the newly configured Field Experience and School Partnerships Office.
The existing Field Placement Office and the separate Center for Educational Exchange (CEE) recently merged to create the new office, which serves both the campus and the College's external school partners. The reorganized operation is housed in the same location as the former Field Placement Office in the Education Building, Room 1105.
Wieczorek is responsible for building, expanding and strengthening school partnerships as they relate to field placements of teacher candidates in schools ranging from pre-kindergarten through senior high. He oversees professional development events involving faculty, supervisors and host teachers in collaboration with school partners.
Additionally, he manages the Regional Professional Development School and provides ongoing leadership for redesign and implementation of field experiences. Wieczorek reports to Marley Barduhn, assistant provost for academic affairs.
Prior to working at Bishop Grimes, Wieczorek was Syracuse University's high school tutoring program coordinator of Say Yes to Education Syracuse. He holds a Bachelor of Arts in History from SUNY Geneseo, a Master of Science in Education from D'Youville College and an Educational Administrator Certificate from the University of Rochester. He is pursuing a doctorate in teaching and curriculum at the Syracuse University School of Education.
Overseeing a staff of seven, Wieczorek has assumed the combined duties of two retired professional staff members.
Kathleen Beney, who directed the Field Placement Office for four years, retired in December but continued to serve part-time until Wieczorek was hired. She recently accepted a newly created, half time position as the coordinator of the Cortland Professional Development School. The school is an ongoing collaboration between the College and the Cortland Enlarged City School district that creates and supports professional development and learning opportunities for teacher candidates, students in kindergarten through grade 12 and faculty at both the school district and SUNY Cortland.
Virginia Marty retired in December after serving the College for more than 11 years as CEE director.
Under the reorganization, Linda Foster, a 23-year SUNY Cortland employee and a field placement coordinator for the last six years, continues as field placement coordinator for professional studies. She supports the early field experience and student teaching placements for teacher candidates in the physical education, health education and communications disorders and sciences teacher education programs.
Field placement coordinators have been hired to serve the other two schools.
Mary Reagan
Mary Reagan of Cortland, N.Y., began on June 1 as the field placement coordinator for the School of Arts and Sciences. She will be directly responsible for supporting all early field experience and student teaching placements for teacher candidates in Adolescence Education Programs. She replaces Melissa Stockholm, who served on an interim basis since 2009.
Reagan most recently served for three years as program coordinator for Adult Literacy and Training Programs at the Onondaga-Cortland-Madison BOCES. She also taught social studies, at both the middle school and high school levels, for 10 years in the McGraw (N.Y.) Central School District. Reagan has a Bachelor of Arts in Secondary Social Studies, a Master of Science in Education and a Certificate of Advanced Study with certification as a school district administrator from SUNY Cortland.
Catherine Sidebottom
Catherine Sidebottom of Cortland, N.Y., was appointed field placement coordinator for the School of Education on May 23. She oversees the support of the early field placements for teacher candidates in the areas of childhood/early childhood education, inclusive special education and literacy.
She earned a bachelor's degree from William Smith College in Geneva, N.Y., and completed a Master of Education in Elementary Education at SUNY Buffalo.
A longtime SUNY Cortland lecturer, she also has served as the local City of Cortland School District coordinator for student teachers in the College's Childhood/Early Childhood Education Department. Sidebottom taught elementary school for 10 years in the Cobleskill-Richmondville (N.Y.) School District and, more recently, at Barry Elementary School in Cortland.
Karen Seibert, who served the CEE as assistant director, fills a similar role as school partnerships coordinator for the Field Experience and School Partnerships Office under the reorganization. Seibert continues to support teacher education programs and conferences, the Community Roundtable series hosted by the President's Office and the annual New York State Association for Comprehensive Education Conference. In addition, she oversees the Child Abuse Recognition and Reporting (CARR) and Safe Schools Against Violence in Education (SAVE) workshops and assists with school district collaborations.
Post Industrial Iron Exhibit at Dowd Gallery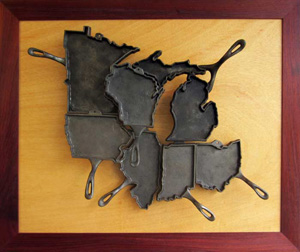 08/28/2011
A cast iron/forged iron exhibition featuring the work of 13 artists will open on Monday, Aug. 29, in Dowd Gallery at SUNY Cortland.
"Post Industrial Iron" explores sculpture using the process of casting iron, a difficult material to work with, as it requires intensive heat, fumes, heavy lifting and potential for personal harm. Juror Vaughn Randall, an assistant professor in the College's Art and Art History Department, selected the show from an open call for submissions.
Also on display is a special iron presentation, "In and Out," by New York state artists Kenyon and Powell. Kenyon's work demonstrates innovation in technological processes used for sculpture-making that often extend beyond traditional gallery settings to performances in public spaces.
An opening reception will take place from 4-7 p.m. on Wednesday, Sept. 7, in Dowd Gallery. Refreshments will be served.
Three additional programs will accompany the exhibit, which runs through Friday, Oct. 14:
• Randall will give a juror's talk at 4:45 p.m. on Wednesday, Sept. 14, in the gallery;
• Kenyon will present "In & Out, Outer Space and the Human Condition" at 4:45 p.m. on Tuesday, Sept. 27, in the gallery. Kenyon's talk will explore aspects of creative process in the context of contemporary culture and the significance of giving back to the community; and
• An Invitational Iron Pour will begin at 5 p.m. on Friday, Sept. 30, in the Studio West Foundry, weather permitting.
All events are free and open to the public.
"The 13 selected works represent a diverse spectrum of approaches to the media, yet are bound by the use of the conceptual value of the material itself," said Randall. "Every sculptor comes at the process with different goals for the end result, but they all have in common a value of the material and a healthy respect for labor."
Artists include: Stephen Coles, Kevin Dartt, Kurt Dyrhaug, James Gallagher, Adam Junior, Jack King, Coral Penelope Lambert, Teresa Lind, Nikki Moser, Wayne E. Potratz, Clifton A. Prokop, Alisa Toninato and M.E. Ware.
For more information, contact Bryan Thomas, interim gallery director, by email or by phone at (607) 753-6216. Gallery hours are from 10 a.m.-4 p.m. Monday-Friday.
Class Will Distribute $10,000 to Charities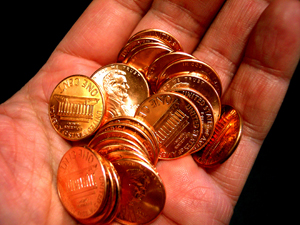 08/15/2011
A class of SUNY Cortland students this fall will give away $10,000 in real money to local charities that they decide are the most deserving.
These future philanthropists, foundation administrators or civic-minded individuals are enrolled in a new course, funded by the sister of billionaire investor Warren Buffett, that allows students to have an immediate and significant impact on the community.
As part of the course, Philanthropy and Civic Engagement: Teaching Students How to Give, students will evaluate proposals from a long list of local, non-profit agencies and charities. The students will then devise a fair and effective selection process to identify the most creative, efficient and beneficial community organizations to support, and determine how large a slice of the grant pie to serve each. They might give all the money to one organization or 20 small grants to 20 entities.
"What this is solely about is giving the students an opportunity to decide how to give the money away," said Christopher Latimer, one of the course's two instructors.
Latimer, who will be promoted to associate professor of political science this fall, had the connections was instrumental in obtaining a highly unusual private donation from The Sunshine Lady Foundation, Inc. which provided the $10,000 as a Learning-by-Giving grant. To date, only about 20 other colleges or universities have received the Learning-by-Giving grants. Only one other SUNY campus, Binghamton University, has received a grant.
The program is the brainchild and gift of Doris Buffett, the sister of famous hedge fund manager and philanthropist Warren Buffett.
Doris Buffett's program focuses on undergraduates. She wants to introduce as many students as possible to the power and potential of philanthropy and to encourage those who may not have explored this area in their undergraduate career.
The philanthropy classes must be full credit courses, as the foundation's vision is that colleges and universities will eventually include the study of philanthropy as a regular offering in the undergraduate curriculum.
The mission of Doris Buffett's 15-year-old Sunshine Lady Foundation, Inc. reflects the mid-western values and no-nonsense approach to decision-making that Doris Buffett grew up with in Omaha, Neb. Each grant is considered an investment, and the decision to grant funds is always based on an expected successful return.
Not one penny of the grant can be spent on administration or, for that matter, any other aspect of offering the course.
"Actually, I find that I agree with how they restricted the grant," Latimer said. "Henry and I have no role in influencing which group in the local community will get the money. So, we don't get money for overhead expenses. We're bringing in speakers and we'll have to come up with another way to fund that.
Latimer, the College's associate director of the Institute for Civic Engagement, will teach the class with Distinguished Service Professor Henry Steck, who brings an international twist to the course.
A professor of political science, Steck directs the Project on Eastern and Central Europe and is busy recruiting foreign exchange students to provide a much-needed international perspective on fund-raising. Three Romanian students coming to campus this fall as part of a federally funded Atlantis exchange scholar program he oversees are already enrolled in the course.
"I think that it's important for our students to learn that it's not just about helping a group here in Cortland or the United States, but to understand how other societies work," Steck said. "Our country and certain western European countries have taken similar turns, We're suffering from national economic downturns. In Great Britain, for example, today's government is trying to push more activities into the philanthropic, not-for-profit sector."
Not-for-profit organizations are what Steck describes as the "third sector" of American society. Compared to the first and second sectors — private industry and government — non-profits are on the rise in terms of employment potential for trained and savvy students.
Not just any group can apply for funding through the Sunshine Lady grant. All Learning by Giving grant funds must go to local organizations with confirmed tax-exempt status as a non-profit or charitable organization.
Steck and Latimer are lining up a series of speakers to visit the classroom. The list already includes:
• Amy Henderson-Harr. The College's assistant vice president for research and sponsored programs, she helped Latimer prepare the grant application to The Sunshine Lady Foundation and is adept at training the College's faculty and staff at submitting successful federal and private grant applications.
• Janet Steck. Director emerita of SUNY Cortland's Dowd Gallery, she is a seasoned fundraiser in the arts.
• Cynthia Eberhart. Currently the federated campaign coordinator for the United Way of Cortland County, she previously has led the Cortland SEFA campaigns.
• Kimberly Nelligan. Nelligan is the chief operating officer for the Low Income Investment Fund, a San Francisco-based organization dedicated to creating pathways of opportunity for low income people and communities.
Latimer and Steck acknowledge that the class didn't fit any existing political science curriculum so they created the new course with the hopes of continuing it even after the money is distributed.
For more information, contact Latimer at (607) 753-4802 or Steck at (607) 753-4807.
College's "No Mow" Zones Promote Sustainability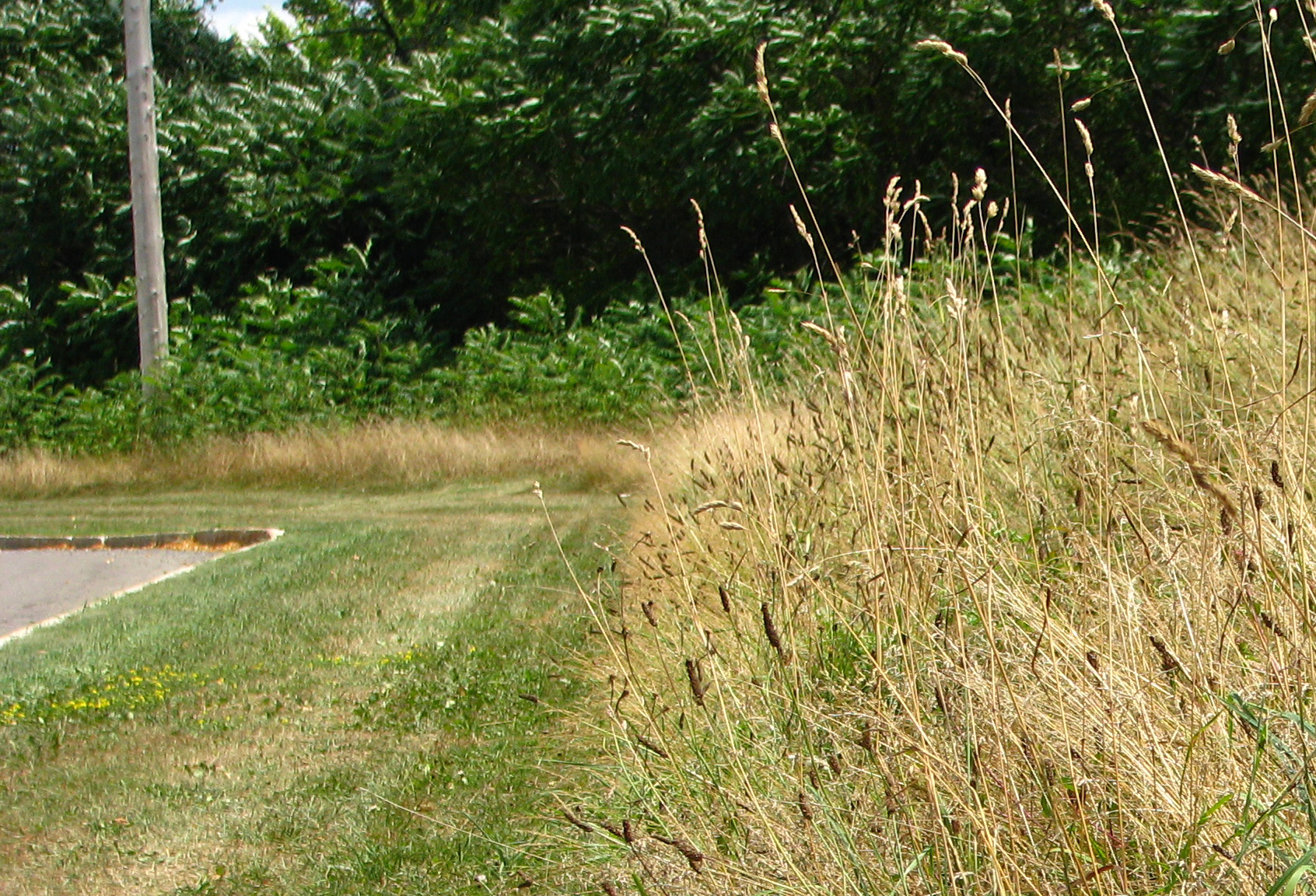 08/03/2011
An acre of turf grass surrounding the SUNY Cortland Service Group complex is not being trimmed to save energy, reduce fuel emissions and encourage natural habitats. The knee-high grass near the athletic fields on the southwest end of the main campus, now known as a "no mow" zone, represents the College's latest sustainability effort.
Don Moody, the grounds supervisor for Physical Plant, said "no mow" zones will eventually cover two or three more acres on campus. A dozen white signs are posted across the SUNY Cortland campus to remind people why some areas are not mowed or manicured.
"No mow" zones include the area behind the Service Group warehouse, the area across from the Service Group compound and parking lot, the wildflower area across from the Park Center loading dock, and the wildflower area across from the Tomik Fitness Facility.
Moody explained that mindful mowing accentuates the look of an ecosystem.
"The wildlife I've seen in the 'no mow' areas has been amazing," he said. He rattled off a list of animals he has encountered in the zones, including turkeys, foxes, deer, woodchucks, squirrels, raccoons and a variety of birds.
The turf grass, which includes a mix of purple, white and yellow wildflowers, will grow one to two feet before it turns to seed. Moody's staff planted the wildflowers and mowed paths surrounding the area. In time, shrubs and trees will fill in to provide plant cover.
Reduced mowing offers economic and environmental benefits in addition to aesthetic, natural beauty. A decline in fuel and equipment usage will reduce carbon dioxide emissions while saving money. And the Physical Plant expects to gain at least ten labor hours each week, which helps the College's ongoing effort to maximize its resources. Birds, butterflies and other animals will find food and habitats while native wildflowers will claim spots to bloom.
Moody said he has not received any negative feedback from the campus community. Although it often takes time for people to adjust to the appearance of unmowed grass, once they see the way "no mow" zones highlight their surroundings, they appreciate natural beauty more, he said.
Moody first considered the idea of reduced mowing in the late 1970s while taking care of his own property in LaFayette. N.Y. He experimented with the strategy during his previous jobs at Onondaga Community College and Syracuse University before he began to employ it at SUNY Cortland in 2010.
College Enters Construction Boom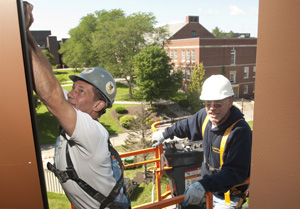 08/24/2011
Construction tape festoons the SUNY Cortland campus. Dump trucks, piles of earth, lifts, ladders and portable toilets have dotted the landscape all summer.
And the familiar sight of construction workers lunching alongside students or walking to their worksites toting hard-hats is not going away any time soon.
The aging of the SUNY Cortland campus, coupled with its overall growth in recent years, has spurred some of the most ambitious facility planning, design, and construction and renovation projects in the College's long history.
The only period of campus construction that comes close to the current volume is the decade after 1948, when the Cortland Normal School, then a small teacher's college, was acquired by New York state for the SUNY system. As students return to campus for the fall semester, approximately $200 million in construction projects have just been completed, are underway or are on the drafting board.
"I wasn't here 40 years ago and I don't know how concentrated construction was when SUNY was building up the system," said Jeffrey Lallas, the College's director of facilities planning, design and construction. "But this is certainly the most construction since then."
New Student Life Center Planned
After decades of little or no new facility construction, the College administration envisions breaking ground on a $56 million student life center, an $18.5 million residence hall, and a $43 million addition and renovation project for Bowers Hall. Architects and contractors for all three efforts will strive for the highest level of green construction, in keeping with SUNY Cortland's commitment to set an example for environmental sustainability.
College officials also are planning a $22 million facelift for Dowd Center's main and second floors and are only somewhat delaying their practice, begun a decade ago, of renovating at least one student residence facility annually. The most recent of these, a $7 million upgrade of Cheney Hall, was completed shortly before students were scheduled to arrive on campus for the fall semester.
The College's commitment to use its resources as effectively as possible and reduce the campus' carbon footprint is also contributing to the boom. Energy-efficient windows were installed in the Miller Administration Building on Graham Avenue this summer, and will be followed by a more effective heating and ventilation system in September. The campus is also planning a $26 million upgrade of its electrical distribution system and replacing its outdated central steam plant with a system of individual, energy-efficient boilers.
Much of the current construction is overdue.
Twenty electricians work diligently in late summer to finish installing new wiring at Cheney Hall.
"Just to maintain the facilities at this point requires major renovations," Lallas explained. "It's not practical to just put on a new roof or just repair an electrical system. It makes sense to aggregate them and handle them as one project.
"What we're doing is we're going through our aging facilities and revitalizing them and repurposing them," he said. "In Bowers Hall, for example, it's not enough to just replace the sheetrock in the building. It's time to meet the new health and safety standards and to accommodate the functional needs of faculty and students."
Many of those needs will be met by the new student life center, which the College hopes to break ground on next year. The state-of-the-art project will create both temporary and permanent jobs. It will not be a mere "workout facility" or "recreation center, " but the new, central hub of student life. Positioned on the former Carl "Chugger" Davis Field, it will transform an under-utilized campus space and enhance environmental safeguards in the area. In this location, the center will act as a bridge linking the upper and lower sections of SUNY Cortland's long, twisting campus while providing healthy recreational opportunities for all students, faculty and staff.
The Student Life Center could become the first gold-certified Leadership in Energy and Environmental Design (LEED) building in Cortland County. As such, the center will be among the most environment-friendly facilities in the region.
New Residence Hall on Drawing Board
The LEED gold standard of sustainable construction will be applied as a minimum to all future new building projects, including a planned new residence hall, scheduled to begin construction late next spring. The $18.5 million facility will use alternative methods of generating energy on site.
"The project will be something of a mirror of what was done at the north end of the residence quad with the Glass Tower Hall," Lallas said. "Contractors will first remove the annexes between Hayes and Hendrick halls and erect a structure somewhat bigger than the Glass Tower Hall — using, by the way, the same architect."
The new residence hall will delay the renovation of DeGroat Hall, the next student residence building on the 10-year renovation list.
"We changed the schedule and decided to build the new residence hall building before renovating DeGroat Hall so the impact on students would be less," Lallas said. "The new residence hall will add 220 beds and help the campus handle the possibility of higher enrollment."
Cheney Hall, a 60-year-old building, began its first major renovation starting in December. An elevator and other amenities were added to the stately brick building adjacent to Brockway Hall. The $7 million project will be finished in time for students to move in this fall semester. The project has opened up the lobby view to the basement lounge area and added 12 beds.
"Because we finished this project much earlier than expected, about 70 rooms around campus won't need to be tripled with students this fall," he noted. As for DeGroat, the College is now scheduled to bid the project in Fall 2013 and begin construction that December.
Bowers Hall to Add Three-story Wing
The $43 million Bowers Hall addition and renovation projects will be going out to bid in late fall with construction to begin in late fall or early winter.
What is commonly known as the museum wing will be taken down. A small new, three-story wing containing a museum level on the first floor will be erected in its place along with new classrooms and laboratories. Meanwhile, the oldest wing it faces will be gutted.
Wesley Waller, right, of West Windsor, N.Y., and Dale White of Syracuse, N.Y., employees of Forno Enterprises, work on a third-floor window of the Miller Building.


"This is a very extensive renovation," Lallas said. "Most of the walls will be moved and all the HVAC, electric and infrastructure will be replaced. We tried to use as much of the shell as possible in order to be as sustainable as possible, to avoid tearing the whole thing down and filling a landfill with the debris. There are a lot of challenges to building within the shell of a 50-year-old building so it's been a difficult project for the designer."
The Dowd Center's lower two floors are under design to receive a $22 million renovation starting next summer. The yearlong construction project aims to finish the work begun years ago when the top floor was completely renovated.
"This will be a complete renovation for art, theater and music," Lallas said. Some of the art studios will gain windows where there were none before.
In the Miller Administration Building, a $1.6 million renovation project will continue through the end of September with the addition of a more effective and energy-efficient heating and ventilation system and new boilers.
Employees, students and the public will be more comfortable and better able to control their space temperature when the project is done while working in a more energy-efficient building.
Electrical System and Boiler Upgrades Slated
In terms of campus-wide improvements, the College is planning the first phase of a $26 million improvement to the electrical distribution system as part of a larger project to completely upgrade the campus infrastructure.
The trappings of construction are reflected in the new, energy saving windows installed in the Miller Building, dwarfing one worker as she applies a fresh coat of paint to the facility's railing.
A new and much more powerful primary electrical substation will be constructed on campus alongside the one it will eventually replace, according to Lallas. Workers will excavate and replace distribution lines and conductors, much of which dates back about half a century. The new wiring will be rerouted in entirely new pathways on campus. The electrical network will increase the reliability and electrical capacity on campus.
Just as invisible to students, but no less important to the College, is the $12 million campus-wide satellite boiler project, which goes out to bid this month. It is scheduled to begin in October and will take approximately two years to complete. The high-efficiency boilers installed in each building will replace the College's aging and less efficient central steam plant. A network of underground gas pipes will replace the outdated steam pipes that currently let much heat go to waste.
"This will tremendously reduce the natural gas energy usage on this campus," Lallas said. "It will save both in cost and in carbon footprint and impacting the environment — a 35 percent savings in utility cost and energy conservation."
"An added benefit will be that we will never again have to dig up and repair the underground steam pipes, an understandable difficulty especially when done in the heating season.
'The Bulletin' Moves to Tuesday Distribution
Beginning with the next issue of The Bulletin, email distribution will take place every other Tuesday morning during the academic year. The deadline for submissions is 5 p.m. on the Tuesday prior to publication for event publicity and two weeks prior for stories that may be eligible for press releases. Campus calendar events will be accepted through Friday prior to publication.
The Bulletin is also available on the Web at www.cortland.edu/bulletin.
Potential news items should be sent by email to bulletin@cortland.edu. Questions about The Bulletin should be directed to the Public Relations Office at (607) 753-2232 or by email to public.relations@cortland.edu.
Campus events may also be submitted to bulletin@cortland.edu to be considered for the SUNY Cortland website homepage "Featured Events" listing and for posting on the electronic message boards located around campus.
Updated Directory of Campus Offices Available as PDF
The Publications and Electronic Media Office has updated the SUNY Cortland Directory of Campus Offices.
A PDF can be downloaded and printed from the directory link on the Faculty/Staff homepage.
The PDF lists emergency information, employee benefits, campus offices and faculty by department along with other information that was previously included in the Campus Information section of the printed directory. It will be updated at the beginning of the fall and spring semesters.
Employees are asked to keep their online directory listing current. Directions on how to make updates are listed on page four of the SUNY Cortland Directory of Campus Offices.
Small Grant Applications Due Sept. 15
The Faculty Development Center is accepting applications for the Cortland College Foundation Small Grants Program. The Small Grants Program provides up to $500 of funding to SUNY Cortland faculty, staff and students.
Application Process: Application forms are available from the Faculty Development Center in Memorial Library or online at www.cortland.edu/fdc/awards_grants.asp. A department chair or supervisor and the appropriate dean or vice president must approve applications before they are submitted for review to the Faculty Development Committee. The President of the College makes a final decision.
Applications for funding are accepted once each semester. Deadlines for applications for the fall semester are Thursday, Sept. 15, and Wednesday, Feb. 15, for the 2012 spring semester.
Completed applications should be submitted to the Faculty Development Center, Memorial Library, Room B-303, or via email at fdc@cortland.edu
Program Guidelines: Applicants are eligible to apply for one small grant per fiscal year (July 1-June 30).
Small grant award activity dates for fall applications are from the first day of the fall semester through Dec. 31. Spring applications award activity dates are from Jan. 1 through the end of the spring semester.
Projects most deserving of small grant support are those that tend to advance the mission of the College by:
• enriching the intellectual or cultural life of the campus
• promoting professional development of faculty and staff
• providing special educational opportunities for students
• improving internal and/or external communication at the College
• enhancing the image of the College
• accommodating unique or unusual contingencies which fit nowhere else.
Successful applications include a rationale for the proposed activity that incorporates the criteria listed above. Grant applications that fulfill more than one of the criteria above are given higher priority.
Small grant support is not available for scholarships, graduate assistantships, intercollegiate athletics or student organizations that are eligible for funding through other campus sources. In addition, small grants may not be used to pay for services rendered by SUNY Cortland faculty and staff.
Budget: The application's budget section should include specific details regarding all other sources of funding for the proposed project, both granted and pending. In addition, applicants also must include sources of funding which were sought, even if the efforts to secure those sources were unsuccessful.
Once approved, original invoices and receipts should be submitted for reimbursement. Failure to provide such documentation will result in denial of payment or reimbursement. Payments can be made payable to Income Fund Reimbursement (IFR) accounts, Auxiliary Services Corporation (ASC) Agency accounts, vendors or individuals.
Final Report: Applicants are required to submit a one-page report following their funded activity to detail the use of foundation funds and the results of the project. The approval of future small grants will be contingent upon completion of the prior final report.
For more information, contact Karla Alwes, English Department, at (607) 753-2085.
CALS Lecture Grant Applications Available
Campus Artist and Lecture Series (CALS) Lecture Grant Applications are now available for the 2011-12 academic year. Applications are eligible for a maximum award of $500 and are open to any club, program or department. These are lecture grants and will not cover performances of any kind.
The fall semester deadline is Thursday, Sept. 8, to be considered for programs taking place in September, October, November and December. Applications received after Sept. 8 may not be eligible for any fall semester funds remaining.
For more information or to request a copy of the CALS Lecture Grant Application, contact Sandra Wohlleber at (607) 753-5574 or via email.

Suggest a feature story
---
People on the Move
Michael Pitaro to Lead Student Conduct Office
08/29/2011
SUNY Cortland has named Michael Pitaro as acting director of the Student Conduct Office, formerly known as the Judicial Affairs Office, effective Sept. 5. He has served since 2007 as the office's assistant director.
The Student Conduct Office was renamed July 1 to more accurately reflect its responsibilities, which go beyond the handling of conduct violations.
The Office is responsible for developing and administering a Code of Student Conduct that supports the College's values, goals and priorities and strives to create an environment that fosters personal integrity and promotes justice, equality and diversity on campus.
Pitaro assumes the responsibilities of Nanette Pasquarello, who has taken a leave of absence from the College.
In his new role, Pitaro directs the office's overall operation. He reviews all incident reports, supervises a three-person staff and trains relevant members of the campus community on the student judicial process.
He will conduct disciplinary conference meetings and supervise the Suspension Review Panel and College Appeals Committee, in addition to serving on student conduct-related campus committees. Pitaro also will maintain all disciplinary files and the college student conduct database program.
As the assistant director of student conduct, he conducted student disciplinary conferences, determined appropriate sanctions and coordinated the recruitment, selection and training for student, faculty and staff justices.
He also coordinated Greek Standards Board training and developed educational programs on alcohol and drug prevention.
Pitaro joined the SUNY Cortland staff in 2006 as the Alger Hall residence hall director and a judicial advisor for the Judicial Affairs Office. As residence hall director, he managed all operations for a 200-bed residence hall and supervised a 21-person staff of resident advisors and night clerks. He enforced residential services policies and handled first-level and first-offense judicial cases.
His duties as a judicial advisor included student and staff justice recruitment, selection and training. He also assisted justices with policy interpretation and assigned appropriate educational sanctions.
A member of the Association for Student Conduct Administration, Pitaro has attended several conferences related to student conduct. In February, he offered two presentations at SUNY Cortland's Residence Life Conference.
He serves on five campus committees, including the bi-annual Alcohol Policy Review Committee and Sexual Assault Prevention and Programming Committee, and he volunteers with the City of Cortland Fire Department.
Pitaro came to SUNY Cortland from SUNY Plattsburgh, where he served as a residence hall director and an administrative assistant in the Residence Life Office from 2003 to 2006. He also held a student affairs internship in the Dean of Students Office in 2006. He attended conferences related to residence life and Greek leadership. The college presented him with its 2006 Student Affairs Vision Award for Communication.
Pitaro earned a bachelor's degree in psychology and a master's degree in college and agency counseling from SUNY Plattsburgh.
He resides in Cortland.
Thomas Hanford Named Interim Registrar
08/23/2011
SUNY Cortland recently appointed Thomas W. Hanford of Endicott, N.Y., to serve as interim registrar. He began working in the post on Tuesday, July 5.
Hanford, who has served as associate registrar since joining the College last Aug. 22, replaced Donna Margine, who left the Registrar's Office to work on special projects for the College. Hanford reports to Carol Van Der Karr, associate provost for academic affairs.
In his new position, Hanford provides supervision and leadership for the Registrar's Office, which maintains historical student records, and oversees the development of tasks associated with academic data in SUNY Cortland's Banner student information system.
The registrar is responsible for a wide range of internal and external reports involving enrollment data and degree certification. He participates in the development of new policies and the integrity of existing academic policies and serves as the Family Educational Rights and Privacy Act (FERPA) officer on campus. Hanford also will serve on College committees and professional organizations relating to his duties.
He has extensive experience with course planning, classroom scheduling and Banner software, having previously served since 2008 as an assistant director in Binghamton University's Enrollment Management Division. Hanford was responsible for identifying effective and efficient ways of managing student data and processes. In that capacity, he oversaw the support of the Banner student information systems and provided advanced assistance for faculty, staff, students and community members using features of the system. Hanford trained staff and developed Banner materials for the university's Information Technology Services and the Technology Training Center.
In 2008, he became assistant director after serving one year as student systems specialist in the Provost's Office at SUNY Binghamton.
From 2005 to 2007, Hanford served as a senior academic advisor in the university's Harpur College of Arts and Sciences.
He began his career in 2002 as operations manager for three years with Ahold USA Tops in Buffalo, N.Y.
Hanford, who has a Ph.D. in sociology from the University at Buffalo, also has taught sociology and criminology courses for SUNY Cortland's Sociology/Anthropology Department as an adjunct instructor since 2006.
A member of the American Sociological Association (ASA), New York State Sociological Association (NYSSA) and the National Academic Advising Association (NACADA), Hanford has presented his research at statewide and national academic conferences.
He served as a course developer and instructor in the Planning for Academic Success course at Binghamton University; adjunct instructor for several courses in his academic discipline at the University at Buffalo and Binghamton University; and instructor at Niagara County Community College in Sanborn, N.Y.
Hanford held a graduate assistantship in the General Education Program and was a graduate web developer in the University Libraries Educational Technology Center at the University at Buffalo. He earned a Bachelor of Arts and Master of Arts in Sociology from SUNY Oswego and University at Buffalo, respectively.
Binghamton University's Professional Employees Council honored Hanford with a Distinguished Service Award in 2007. He served as group organizer of the Juvenile Diabetes Research Foundation "Walk for the Cure" from 2002 to 2005.
He co-chaired SUNY Oswego's Class of 2000 Alumni Fundraising Committee and served on his alma mater's Reunion 2010 Committee.
He is married to Amy Hanford, assistant registrar at Binghamton University. They have an infant son, Michael.
Lewis Rosengarten Directs EOP
08/26/2011
Lewis Rosengarten, the chief administrator of Skidmore College's student opportunity programs, joined SUNY Cortland on Aug. 22 as director of the College's Educational Opportunity Program (EOP).
Rosengarten replaces Keith Smith, who retired on Dec. 30 as director emeritus of the program after leading it for 18 years. He will report to C. Gregory Sharer, vice president for student affairs,
The EOP is a special admissions and support program aimed at students who are economically disadvantaged and do not have acceptable high school performance levels, but show the potential for college success.
Since 1997, New York State's Office of Opportunity Programs (OOP) has awarded 243 special Chancellor's Awards to SUNY Cortland EOP students who achieved a 3.0 cumulative grade point average. Over the years, a number of these students also were honored with a Chancellor's Award for Student Excellence.
SUNY Cortland's EOP has consistently ranked among the top five SUNY comprehensive colleges for its six-year graduation rate of EOP students, and often has achieved the top three ranking.
Despite SUNY funding cuts and subsequent size reductions in recent years, the SUNY Cortland EOP serves many student, including 129 this academic year. Many of them flourished as student leaders and later in educational, health, government and other careers.
Rosengarten served as interim academic and administrative director of Skidmore College's Higher Education Opportunity Program (HEOP) and Academic Opportunity Program (AOP). Prior to that at Skidmore College, he was associate director of HEOP/AOP, director of the summer institute HEOP/AOP, assistant director for HEOP/AOP and a tutor, academic advisor and study skills teacher with HEOP/AOP. He taught courses in Jazz History, Music Theory, American Studies, and the First-Year Seminar Human Dilemmas. He conducted the Skidmore College Chorus.
Rosengarten received a Doctor of Music in Composition from Indiana University in Bloomington, Ind., a Master of Music in Composition from Ithaca College, and a Bachelor of Arts in Music from Colgate University.
A native of New York City, Rosengarten has lived in the Saratoga Springs area for the past 19 years. He is married to Kathy Hemingway Jones, who was associate director of Student Academic Services at Skidmore College, where she also served as the primary designated school official for international students. She taught studio art at both the University of Minnesota and Skidmore College and currently teaches writing at TC3.
David Snyder to Retire from SUNY Cortland
08/23/2011
David Snyder of Homer, N.Y., a professor of sport management who served SUNY Cortland for 11 years, will retire on Aug. 31. He has been designated professor emeritus of sport management.
Snyder joined what was then called the Exercise Science and Sport Studies Department in 2000, making him second among departmental faculty members in terms of length of service. He joined as an associate professor and was promoted to professor in 2007.
In 2006, he was appointed interim chair of the College's newly established Sport Management Department, making him the first person to hold that title in the history of the SUNY system. As interim chair, he played a critical role, along with colleague Ted Fay, professor of sport management, in forming the first graduate program in sport management within SUNY.
Since joining the College, Snyder has served as faculty advisor to the Sport Management Club, which under his guidance emerged as one of the largest and most active student clubs on campus. To recognize student achievement, he established the Sport Management Award Ceremony, which since its inception has featured such high profile keynote speakers as Richard Pound, former head of the World Anti-Doping Agency, and Donna Lopiano, the former director of the Women's Sports Foundation.
Snyder nominated six sport management majors who later were chosen to receive a SUNY Chancellor's Award for Student Excellence.
In 2009-10, he received the Faculty Connections Award, given each year by the College to one faculty member who "goes the extra mile" for the students. In 2005, the students in the major honored Snyder with an Excellence in Teaching Award in Sport Management.
He served a three-year term as a program reviewer for the Sport Management Program Review Council, and on the editorial boards of several professional journals.
A longtime member of many sport law and sport management related organizations, he has been especially involved in the Sports Lawyers Association and the Sport Marketing Association. Snyder produced numerous peer-reviewed publications while at SUNY Cortland, including articles in The DePaul Journal of Sport Law and Contemporary Problems, the Marquette Sports Law Review, Sports Marketing Quarterly, and the Journal of Physical Education, Recreation & Dance.
Prior to serving at SUNY Cortland, he was president of an international sports marketing company headquartered in Tokyo, Japan.
Snyder received his Doctor of Law from the University of Tennessee and has been licensed to practice law in New York state since 1986.
A part-time professor in the sport management program at Tompkins Cortland Community College, he plans to continue teaching there on a part-time basis.
Susan Wilson Named Interim Associate Dean
08/26/2011
SUNY Cortland has appointed Susan Wilson as interim associate dean of the School of Education. She began her duties on Aug. 1.
Wilson will work with faculty and undergraduate and graduate students associated with the four departments within the School of Education: childhood/early childhood education, educational leadership, foundations and social advocacy, and literacy. She will report to Professor Andrea Lachance, interim dean of education.
As interim associate dean, Wilson assists the dean, who is the school's chief academic, fiscal, and administrative officer. She provides support to the chairs and faculty within the school in their efforts to promote student success.
The associate dean also monitors and maintains academic standards for students within the school and interprets academic policies. She reviews curricular changes initiated by the departments and works closely with the associate deans within the College's other two schools to maintain consistency in the interpretation and application of academic policies.
Prior to this appointment, Wilson was an associate professor of recreation, parks and leisure studies. In addition to teaching therapeutic recreation, Wilson most recently served her department as internship coordinator.
In 2000, the National Council for Therapeutic Recreation Certification recognized Wilson and her colleague, Professor Vicki Wilkins, for preparing therapeutic recreation students so well that they scored, on average, higher than the regional and national averages during a three-year period.
Wilson is the author of numerous articles, papers, book chapters and reviews and has presented extensively at state and national conferences in her field.
A past president of the New York State Therapeutic Recreation Association, she has served the organization in many capacities. In 2008, the association presented her with its Kimberly A. Kiernan Outstanding Professional Award. She also is a member of the American Therapeutic Recreation Association, the National Council for Therapeutic Recreation Certification, the National Recreation and Park Association, the National Therapeutic Recreation Society and the Society of Parks and Recreation Educators.
In May, students at SUNY Cortland singled her out from among all the full-time teaching faculty members for a 2011 Student Affairs Connection Award. The selection committee noted her many campus roles, including softball team academic advisor, instructor for the first-year student seminar (COR 101) and a staff justice. The softball team recognized her in April as a person who makes a difference. Women of Color honored her for her service in 2008.
In the community, Wilson served from 2008 to 2011 on various committees of the YWCA Board of Directors and as a Girls Day Out program volunteer.
Wilson undertook a visible volunteer role in the recent, highly successful Faculty and Staff Campaign of The Cortland Fund, working to encourage faculty participation in the College fundraising endeavor.
She joined SUNY Cortland in 1998 as an assistant professor after receiving her Ph.D. in therapeutic recreation from Clemson University. She was promoted to associate professor in 2004.
She also has a bachelor's degree from Western Washington University and a master's degree from Central Michigan University. Wilson is certified as a therapeutic recreation specialist through the National Council on Therapeutic Recreation Certification.
Wisch Retires from Art History Department
08/29/2011
Barbara Wisch, a recognized an authority on Italian art who has served SUNY Cortland for 18 years, will retire on Sept. 1. She has been designated professor emerita of art history.
Wisch was named a recipient of the SUNY Chancellor's Award for Excellence in Teaching in 1998 and spoke at the College's Honors Convocation the following year.
She joined the SUNY Cortland faculty in 1993 and became an associate professor in 1995. She was named a professor in 2000. In addition to teaching courses in the Art and Art History Department, Wisch curated several exhibitions at the Dowd Gallery. They included A Passion for Porcelain: The Crocker Collection of Decorative Arts (2006) and Siting the Millennium: Visions and Revisions (2000).
The winner of several research awards and national fellowships, in 2007 the National Endowment for the Humanities (NEH) awarded her a yearlong fellowship to support the completion of her book, Acting on Faith: The Confraternity of the Gonfalone in Renaissance Rome. She is believed to be the first SUNY Cortland professor to receive this prestigious fellowship.
The Gonfalone, named for the banner it carried in processions, set the standard for confraternal religious, philanthropic and festive performances in the Eternal City. Acting on Faith is an interdisciplinary work and the first devoted to the oldest lay religious brotherhood in Rome. The book, published by St. Joseph's University Press, was collaborated with eminent theater historian Nerida Newbigin, chair of Italian Studies at the University of Sydney, Australia, a major center of confraternity studies. There, Wisch served a three-month appointment as visiting professor of Italian Studies.
Wisch has written numerous articles and book reviews for publications that include Artibus et Historiae, Renaissance Quarterly and Sixteenth Century Journal. Her co-edited book, Confraternities and the Visual Arts in Renaissance Italy: Ritual, Spectacle, Image (2000), was the first collection of essays in any language focusing entirely on Italian confraternal patronage of the arts. Cambridge University Press will reissue the volume in paperback.
Her edited work "All the World's a Stage…" Art and Pageantry in the Renaissance and Baroque was a finalist for the 1991 Barnard Hewitt Award for outstanding research in theatre history. Noted architectural historian Deborah Howard described it as "the most useful recent publication on festive architecture."
A frequent presenter at regional, national and international conferences on Renaissance art and spectacle, she is invited to speak around the world. She contributed to more than a dozen lectures at the College and organized three Scholars' Day art presentations. She served on several campus committees and presided over SUNY Cortland's chapter of the Phi Kappa Phi interdisciplinary honor society from 2009-10.
A native of Hewlett, N.Y., Wisch received a bachelor's degree in history of art from Columbia University in 1970. She earned master's and doctoral degrees in history of art from the University of California at Berkeley in 1975 and 1985, respectively.
Wisch will reside in New York City.
---
Faculty/Staff Activities
Timothy Davis
Timothy Davis, Physical Education Department, has received a partnership agreement in the amount of $15,000, developed with the DeRuyter Central School District and SUNY Cortland, to support a new graduate assistant position from Sept. 1, 2011-June 30, 2012.
David A. Kilpatrick
David A. Kilpatrick, Psychology Department, presented a paper at the Society for the Scientific Study of Reading International Conference held July 13-15 in St. Pete Beach, Fla. The paper was titled "Storage of Rime-Based Sub-Word Orthographic Units in Children and Adults: Evidence from a Pseudo-Rime Task."
Christopher McRoberts
Christopher McRoberts, Geology Department, presented the keynote address on the end-Triassic mass extinction at the Museum of the Earth/Paleontological Research Institution's 2011 Summer Symposium. He also recently published in the Journal of Paleontology a 55-page monograph on the taxonomy and biostratigraphy of Late Triassic bivalve fossils from northeastern British Columbia, Canada.
Jerome O'Callaghan
Jerome O'Callaghan, School of Arts and Sciences, has had his review of James Foster's new volume, BONG HiTS 4 JESUS: A Perfect Constitutional Storm in Alaska's Capital, published in the Law and Politics Book Review (LPBR) volume 21 no. 7. The LPBR is an electronic publication of the American Political Science Association, distributed to 1,300 subscribers in 39 countries. To access reviews, visit www.lpbr.net
Robert Spitzer
Robert Spitzer, Political Science Department, is co-author of a new book, Encyclopedia of Gun Control and Gun Rights. The book is a compendium of information about all aspects of the gun issue in America. Co-authored with Glenn Utter of Lamar University, the book is published by Grey House Publishing.

Submit your faculty/staff activity