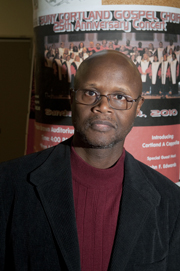 Campus Champion
In March 1985, Sam Kelley helped to organize the first SUNY Cortland Gospel Music Festival as a way of promoting diversity on the campus and in the community. The annual event celebrated its 25th anniversary on Oct. 24 and Kelley, a Distinguished Service Professor of Communication Studies, has planned every one of them. He admittedly enjoys creating opportunities for the Gospel Choir members, who in recent years have performed in Europe and Canada. He gets excited talking about his plans to take the choir to Cuba or Malta in 2012. His enthusiasm is contagious. His passion for making the students' experience a better one is the mark of a champion.

Nominate a Campus Champion
---
Monday, Oct. 25
Speaker: Congressman Michael Arcuri, the incumbent Democratic candidate for Congress, Exhibition Lounge Corey Union, 2-3 p.m.
---
Monday, Oct. 25
Chemistry Lecture Series: "Green Alchemy: a Gold-based Approach to Generating Ethanol," Chad Rezsnyak, Department of Chemistry, University at Buffalo, Sperry Center, Room 106, 3 p.m.; A reception begins at 2:40 p.m. Sperry Center outside Room 106
---
Monday, Oct. 25
EIT Conference: Sponsored by the Center for Educational Exchange, Corey Union, 8:30 a.m.
---
Tuesday, Oct. 26
Leadership Conference: "Fire It Up: Lead the Way to Change," Corey Union, 8:30 a.m.- 2:30 p.m.; Keynote address, "Building Community Leaders," Catherine Bertini, Syracuse University, Corey Union Function Room
---
Tuesday, Oct. 26
Information Security Fair: Corey Union Food Court, 10:30 a.m.-12:30 p.m.
---
Tuesday, Oct. 26
Speaker: "ID Theft: Minimizing Risk," Al Weissmann, Brockway Hall Jacobus Lounge, 12:30 p.m.
---
Tuesday, Oct. 26
$ Interviewing Etiquette Program: Brockway Hall Jacobus Lounge, 6-8 p.m. R.S.V.P. required.
---
Tuesday, Oct. 26
Film: Sorceress of the New Piano: The Artistry of Margaret Leng Tan," Sperry Center, Room 106, 7 p.m.
---
Tuesday, Oct. 26
Native American Film Series: "Reel Injun," Sperry Center, Room 205, 7 p.m.
---
Tuesday, Oct. 26
Lecture: "Plato Not Prozac!" by Author Lou Marinoff, CUNY City College, Sperry Center, Room 204, 7:30 p.m.
---
Tuesday, Oct. 26
Speaker: "Jonestown: The Untold Story," Author Julia Scheeres, sponsored by NeoVox, Old Main Brown Auditorium, 7:30 p.m.
---
Wednesday, Oct. 27
Sandwich Seminar: "The World is Your Classroom," Steven Broyles, Biological Sciences Department, Jeremiah Donovan, Art and Art History Department, Mecke Nagel, Philosophy Department, and Sharon Steadman, Sociology/Anthropology Department, Brockway Hall Jacobus Lounge, 12:30-1:30 p.m.
---
Wednesday, Oct. 27
Wellness Wednesday Series: "Avian Flu, SARS, MRSA, Swine Flu … What's Next? How Do I Keep from Getting It?" College Physician Devin Coppola, Corey Union Exhibition Lounge, 7 p.m.
---
Thursday, Oct. 28
Sandwich Seminar: "What Arab Countries Can Teach Us About Democracy: Lessons About Civic Engagement from Around the Middle East and North Africa," Members of Syracuse University's Civic Education Leadership Fellows Program, Brockway Hall Jacobus Lounge, noon-1 p.m.
---
Friday, Oct. 29
Homecoming Weekend
---
Friday, Oct. 29
$ Musical: "Kiss Me, Kate," Dowd Fine Arts Center Theatre, 8 p.m.
---
Saturday, Oct. 30
Children's Museum Series: "19th Annual Education Club Halloween Celebration," Children's Museum, O'Heron Newman Hall, 8 Calvert St., 10 a.m.-1 p.m.
---
Saturday, Oct. 30
Halloween Bike Ride: Sponsored by Community Bike Project, wear a costume, prizes awarded; ride begins at Community Bike Shop near Lusk Field, 11:30 a.m.
---
Thursday, Nov. 4
Community Roundtable: "Consolidations of Local Governments: Misconceptions and Realities," Mary McGuire, Political Science Department, Fred Forbes, town supervisor, Town of Homer, and Connie Sowards, Village of Seneca Falls, Park Center Hall of Fame Room, 8-9 a.m.
---
Thursday, Nov. 4
Sandwich Seminar: "The U.S. Human Rights Record in the Spotlight: An Overview of the first Universal Periodic Review Submitted to the UN High Commissioner on Human Rights," Ute Ritz-Deutch, History Department, Brockway Hall Jacobus Lounge, noon.
---
Thursday, Nov. 4
International Celebration Open House: J.M. Clark Center for International Education, Brockway Hall Jacobus Lounge, 3:30-5 p.m.
---
Thursday, Nov. 4
Eastern European Film Series: Carla (1965), shown as part of the Intellectual Theme of "Re-education," Sperry Center, Room 305, 7 p.m.
---
Saturday, Nov. 6
Children's Museum Series: "Nature Nook – Insect Circus," explores the habitats and behaviors of insects and bugs with entomology students from Cornell University, Children's Museum, O'Heron Newman Hall, 8 Calvert St., 10 a.m.-1 p.m.
---
Sunday, Nov. 7
$ African American Gospel Music Festival: 25th annual event featuring six choirs, Old Main Brown Auditorium, 4 p.m.
---
Saturday, Oct. 30
$ Musical: "Kiss Me, Kate," Dowd Fine Arts Center Theatre, 8 p.m.
---
Sunday, Oct. 31
$ Musical: "Kiss Me, Kate," Dowd Fine Arts Center Theatre, 2 p.m.
---
Tuesday, Nov. 2
Election Day
---
Tuesday, Nov. 2
Faculty Senate Meeting: Brockway Hall Jacobus Lounge, 1:15 p.m.
---
Tuesday, Nov. 2
International Celebration Event: "Study Abroad: Now and Then," student presentations, Corey Union Exhibition Lounge, 7 p.m.
---
Tuesday, Nov. 2
Native American Film Series: "The Only Good Indian," Sperry Center, Room 205, 7 p.m.
---
Tuesday, Nov. 2
Faculty Recital: Dowd Fine Arts Theatre, 8 p.m.
---
Wednesday, Nov. 3
Sandwich Seminar: "The 2010 Elections: The Day After," members of the Political Science Department will analyze the results of the 2010, Brockway Hall Jacobus Lounge, 12:30 p.m.
---
Wednesday, Nov. 3
High School Leadership Day: Corey Union, 9 a.m.-1:30 p.m.
---
Wednesday, Nov. 3
Wellness Wednesday Series: "The Hidden Addiction," two presenters discuss gambling addiction, Corey Union Exhibition Lounge, 7 p.m.
---
Wednesday, Nov. 3
World Tour in the Residence Halls: International Celebration, residence halls, 7 p.m.
---
Thursday, Nov. 4
SUNY Cortland Recreation Conference: Corey Union Building, 8:30 a.m.-6 p.m. Continues on Friday, Nov. 5.
---
---
Catherine Bertini Addresses Leadership Conference
10/22/2010
Catherine Bertini, the 2003 World Food Prize Laureate, will deliver the keynote speech at the second annual "Fire It Up: Lead the Way to Change" Leadership Conference on Tuesday, Oct. 26, at SUNY Cortland.
Bertini will speak on "Building Community Leaders" at 8:45 a.m. in the Corey Union Function Room.
Presented by the College's Institute for Civic Engagement (ICE), the conference takes place from 8:30 a.m. to 2:30 p.m. in Corey Union. The event is part of a grant-funded initiative, "Building Community Leaders," which provides SUNY Cortland students with opportunities to develop their leadership skills for community involvement and service.
The conference is free of charge to SUNY Cortland students, faculty, staff, AmeriCorps members, and local high school students and their teachers. Advance registration is required. To register online, visit the ICE website at www.cortland.edu/civicengagement and open the Fall 2010 Leadership Conference page.
A professor of public administration at Syracuse University's Maxwell School of Citizenship and Public Affairs, Bertini of Cortland, N.Y., teaches courses in Humanitarian Action and U.N. Management.
Her talk will draw upon her vast experience gained during years of leadership in public sector management, international organizations, humanitarian relief and nutrition policy.
A founding board member of the Global Humanitarian Forum, she serves on the boards of International Food and Agricultural Development and the Stuart Family Foundation. She has been a juror for the Hilton Foundation Humanitarian Prize, a member of the Advisory Council at Rockefeller College on Public Affairs and Policy, and a member of the Advisory Council at William Jefferson Clinton School of Public Service at the University of Arkansas.
Currently, she co-chairs the Initiative on Global Agriculture Development Project for the Chicago Council on Global Affairs.
Bertini served as a Senior Fellow in Agricultural Development at the Bill and Melinda Gates Foundation. There, she advised on the development of the foundation's new agricultural portfolio, which strives to improve the well-being of poor farmers in Africa and South Asia.
A graduate of SUNY Albany, N.Y., Bertini was presented by SUNY with an honorary Doctor of Humane Letters at SUNY Cortland's 1999 Undergraduate Commencement ceremony. She has received nine other honorary degrees from North American and European institutions of higher learning. Bertini was awarded the 2007 Gene White Lifetime Achievement Award for Child Nutrition.
The program features an afternoon plenary session and workshops based on the Social Change Model of Leadership, and intended to develop participants' hands-on leadership skills. Leaders involved in the community at the local level will explain why community service is important, share strategies for getting into the field of community service, offer insights about their own professional paths, and provide tips on developing leadership skills.
In addition to the ICE, the event is sponsored by a congressionally directed grant administered through the Fund for the Improvement of Post-Secondary Education, Leadership Cortland, Cortland County Youth Bureau, SUNY Cortland AmeriCorps, and the Corporation for National and Community Service.
For more information, contact conference coordinator Christopher Latimer, assistant professor of political science, at (607) 753-4802.
C-Club Hall of Fame Adds Six Members
10/21/2010
The SUNY Cortland C-Club will induct six new members into its Hall of Fame during the 42nd Annual Awards Banquet on Saturday, Oct. 30, in the Corey Union Function Room.
This year's honorees are: Alfred Pisano '61, Fred Acee '63, Richard Bianchino '63, John Anselmo '71, Sue Lauder '75 and honorary inductee Joan Sitterly.
Established in 1969, the C-Club Hall of Fame recognizes Cortland alumni who competed as athletes at the College and who have since distinguished themselves in their professions and within their communities. Honorary members are recognized for their long and significant contributions to SUNY Cortland athletics.
New C-Club members have been added annually, and this year's ceremony will bring the Hall of Fame roster to 213 alumni and 24 honorary members.
Alfred F. Pisano, Jr. '61 of Palm Harbor, Fla.
As the Cortland men's lacrosse coach from 1965-69, Al Pisano was the architect of the Red Dragon program's growth into a national powerhouse, while also guiding several student-athletes who would become some of the top lacrosse coaches in the country.
Pisano, who graduated from Mineola (N.Y.) High School, had started all four years as a defenseman on the lacrosse squad at SUNY Cortland, where he majored in physical education. An honorable mention All-American and two-time all-state selection, he captained the team and won the Red Letter as a senior.
The house president of Beta Phi Epsilon fraternity, Pisano won two letters as a football guard and linebacker.
After graduating in 1961, Pisano earned a master's degree in physical education at The Pennsylvania State University, where he coached the freshman lacrosse squad. He returned to Long Island as a lacrosse and football coach at Massapequa High School for two years.
In 1964, Pisano became a physical education instructor, assistant football and head gymnastics and lacrosse coach at SUNY Cortland. Over the next five seasons, he put Cortland lacrosse on the national map. His teams went 45-12-1, including one-loss campaigns in 1967 and 1969, a pair of wins over Syracuse University, and moved from 33rd nationally to eighth in the country at a time when there was only one division.
He coached several All-Americans and participants in the North-South game, in which he was both an assistant and a head coach in 1969 and 1970, respectively.
Pisano launched Cortland's well-deserved reputation as "The Cradle of Lacrosse Coaches." His former Red Dragon charges include: Tony Seaman '65 (Towson, Pennsylvania, Johns Hopkins, C.W. Post), Mike Messere '66 (West Genesee High), Dave Urick '70 (Hobart and Georgetown), Rich O'Leary '70 (Notre Dame), Mike Waldvogel '69 (Yale), Rich Speckmann '67 (Nassau Community College) and the late Paul Rose '67 (Geneseo, Colgate, Morrisville).
Pisano joined the U.S. Military Academy staff in 1970 and directed Army men's lacrosse to a 53-19 record, including an appearance in the first-ever NCAA final four in 1971, over the next seven seasons. Six of his former Cortland and Army players are members of the National Lacrosse Hall of Fame.
From 1976-83, he was physical education director and head football and lacrosse coach at Mercersburg (Pa.) Academy.
Since 1983, Pisano has been at Berkeley Preparatory School in Tampa, Fla. He joined the staff as a physical educator and football coach. His teams went 70-35 between 1983-93 with two undefeated seasons and a district and regional championship. He was the 1985 Florida Athletic Coaches Association District Coach of the Year. Pisano has served as athletic director and, since 1993, has been dean of the students in the upper division.
A 2000 inductee in the Berkeley Hall of Fame, Pisano has received both its Pro-Communicate Award and The Berkeley Shield for contributions to the school community. In 1988, Berkeley renamed its softball field for Pisano and his wife, Marguerite "Peg" Mottola Pisano '66, a teacher and coach there. They have four children, Alfred, Laura, Michael and Ronald.
Fred Acee '63 of Monument, Colo.
Over the past four decades, Fred Acee '63 has impacted collegiate lacrosse as a highly successful coach, role model and one of the founders of the Intercollegiate Men's Lacrosse Coaches Association (IMLCA).
Between 1966-97, Acee guided the Farmingdale Community College men's lacrosse program to an amazing 312-119-1 overall record, 25 final four appearances in the National Junior College Athletic Association (NJCAA) championships, and national championship titles in 1977, 1981 and 1987. He was voted the national junior college Coach of the Year in each of those three seasons.
Acee, who holds a career record of 350-223-1, was the U.S. Air Force Academy head lacrosse coach from 1998-2008. He served in an administrative capacity during his final year with the Falcons before retiring in 2009. He returned as a volunteer assistant in the 2010 season.
In 1994, he was the defensive coach of the USA Lacrosse Team that captured the world championship. Four years later, he served on the executive board for the USA Team. In 2002, he coached the South team in the North-South Division I lacrosse game.
In 2001, the U.S. Intercollegiate Lacrosse Association (USILA) presented Acee with its prestigious Howdy Meyers Man of the Year Award for his extraordinary contributions and unselfish and untiring devotion to the game of lacrosse. He served on the USILA Rules Advisory Committee.
He received the USILA's Joseph R. "Frenchy" Julien Award in 2007 for outstanding and continuous service to the sport. The same year, IMLCA gave Acee its Creators Award. In 1992, he was inducted into the Long Island Metropolitan Lacrosse Sports Hall of Fame. A past president of NJCAA, Acee was inducted into its Hall of Fame in 2005.
Acee serves on the board of directors of the IMLCA, an organization of college coaches devoted to growing the sport, providing coaching development and monitoring the integrity of lacrosse.
A native of Clinton, N.Y., Acee was a standout in football, basketball and baseball at Clinton Central High School, where he is a 2005 Hall of Fame inductee.
Acee majored in physical education at SUNY Cortland, where he played quarterback on the football squad and competed all four years as a midfielder on the lacrosse unit. He earned the Red Letter and was an All-Morrill Division selection as a senior. He was a member of Beta Phi Epsilon fraternity and performed with Bess Koval's Folk Dance group
He graduated from Cortland in 1963 and earned a master's degree from Ithaca College in 1966. He taught physical education and coached boys and girls sports at Leonardsville (N.Y.) Central School from 1963-65 and was an elementary physical education instructor in the Ithaca (N.Y.) City Schools the following year.
At Farmingdale Community College, Acee chaired the Physical Education Department from 1975-97, was head soccer coach from 1966-76, directed intramurals from 1972-76 and was head women's tennis coach from 1992-96.
Acee, who has been active recently with the Starlight Children's Foundation in Colorado Springs, Colo., has three children, Andreana, Michael and Paulette.
Richard L. Bianchino '63 of Anaheim Hills, Calif.
A four-sport athlete at Cortland, Richard Bianchino became a highly decorated Marine Corps officer and pilot whose repeated courage and valor in the face of danger saved lives and earned him a Silver Star, two Purple Hearts, and the Republic of Vietnam Air Cross of Gallantry.
The Albany (N.Y.) High School graduate and exceptional scholastic athlete majored in physical education at Cortland. He played halfback and safety in football, was among the state's fastest track sprinters, competed as a lacrosse midfielder and performed on parallel bars and vault at the NCAA Eastern Regional gymnastics meet.
Bianchino was vice president of his class, active in the Men's Glee Club, Dance Club, Social Activities Council, Beta Phi Epsilon fraternity and was a residence hall counselor.
He graduated from Cortland in 1963 and later earned a master's degree in human resources management from Pepperdine University.
In 1963, he began his long career with the U.S. Marine Corps. Over the next three years, he served in both the U.S. and in Vietnam as an infantry officer with the 3rd Marine Div., and infantry company commander with the 1st Marine Div. Promoted to captain, he was staff platoon commander and instructor at The Basic School in Quantico, Va.
Bianchino became a student at the Naval Air Station in Pensacola, Fla., where Roger Staubach quarterbacked his Navy Goshawks football squad.
In 1969, he returned to Vietnam as a pilot with the Marine Medium Helicopter Squadron 364, the most decorated squadron in Vietnam and the unit with the highest casualty rate. Bianchino suffered severe wounds in April 1969 when his helicopter was shot down attempting to save trapped Marines. He returned to duty as instructor pilot in Florida, where he was promoted to major.
In 1975, as a commanding officer, he helped to design and execute the plan for the safe evacuation of U.S. forces and civilians from the city of Saigon. From 1975-78, he was head of the Marine Corps Sports Unit, served on the U.S. Olympic delegation to Montreal, and mentored fellow U.S. Marines and Olympic boxer Leon Spinks.
In January 1979, he nicknamed his newly activated helicopter squadron the "Red Dragons" in deference to his alma mater. The squadron, still known by the same name, has been honored for its actions in combat situations and worldwide disaster relief operations.
Bianchino served as executive assistant to the chief of staff for the U.S. Pacific Command in Hawaii and was an associate professor and director of the University of Washington Navy ROTC, before retiring in 1987.
He was staff manager of human resources for McDonnell-Douglas Corp. and worked for Interstate Specialty Marketing in California. He now presides over real estate and marketing firms.
Assisting the sick and youth groups for nearly 30 years with the Knights of Columbus, Bianchino has been active with local organizations to provide high school scholarships for budding artists and to paint the homes of elderly and disabled residents.
He and his wife, Brenda, have two daughters, Leah and Nicole.
John Anselmo '71 of Massapequa, N.Y.
Presently the Syracuse University football secondary coach, John Anselmo '71 set the highest standard of excellence at Nassau Community College where his football teams won a staggering 80 percent of their games during his 18 seasons as head coach.
From 1987-94 and 1999-2008, Anselmo guided Nassau to an impressive 152-37 record and 12 Junior College Bowl games. His squads finished undefeated in 1989, 1991 and 1993, capturing the national title in the latter year. Between 1989-94, Nassau won 55 of 58 contests. His teams finished ranked in the nation's top three on five occasions and the top 20 in 15 different seasons.
A five-time Coastal Conference Coach of the Year, Anselmo mentored more than 150 student-athletes who went on to Division I schools and more than 600 student-athletes who advanced to compete at four-year colleges. Of those, more than 300 received scholarships to compete and earn educations at NCAA Div I or Div I-AA institutions. More than 50 of his charges played in the NFL. Overall, 85 percent of all his Nassau football players advanced to four-year institutions.
Anselmo took over as the Georgia Tech secondary coach for Coach George O'Leary between 1995-98, when his players included future NFL competitors Ryan Stewart, Travares Tillman and Jason Bostic. Georgia Tech competed in the 1997 Carquest Bowl.
A Freeport (N.Y.) High graduate, Anselmo excelled in athletics at Cortland. He won the Red Letter and captained the football team as a record-setting and All-ECAC quarterback. He lost just once in two years as a wrestler before an injury sidelined his career in that sport. He became only the second Red Dragon to bat over .300 for three consecutive years. He was an All-State University of New York Athletic Conference outfielder and the league's leading hitter. He was the baseball Red Letter Award winner and team captain as a senior.
Anselmo, a member of Beta Phi Epsilon fraternity, served as vice president of the Interfraternity Council on campus. Active with the Men's Athletic Association, he was listed in the 1971 edition of Who's Who Among Students in American Colleges and Universities. He earned a bachelor's degree in physical education from Cortland in 1971, a master's degree from Syracuse University in 1972 and an School District Administrator certificate from C. W. Post in 1981.
He began his professional career teaching physical education and coaching football, wrestling and baseball at Tappan Zee (N.Y.) High School from 1972-77 and at Freeport High School from 1977-86.
Anselmo was the Nassau football defensive coordinator from 1978-86 for Cortland C-Club Hall of Famer Jim Weinman '60. He joined the Nassau faculty in 1986 as a professor of physical education and remained in that capacity at the college until he left in 2008. In 1993, he received the Distinguished Adjunct Professor of the Year Award.
Within the community, he was active with the Nassau County Heart Association Fundraiser and was a Nassau County Marathon volunteer.
He and his wife, Carol Eichel Anselmo '71, have three children, Alison, Tracy and Peter.
Sue E. Lauder '75 of Worcester, Mass.
A gifted four-sport athlete at Cortland, Sue Lauder '75 has distinguished herself throughout her professional career as a highly successful coach, athletics director, football conference commissioner and member of influential NCAA Div. III national committees.
Since 1996, Lauder has directed and greatly enhanced both the intercollegiate athletics and recreation programs and opportunities at Fitchburg (Mass.) State College. She was a catalyst behind the construction of new facilities and secured one of only nine NCAA/Strategic Alliance grants to help fund Fitchburg athletic initiatives.
Her emphasis on Fitchburg's coaches and student-athletes becoming involved in the community has established a standard of service that has helped Special Olympics, nursing homes, Habitat for Humanity, blood drives and care packages for the troops. The Fitchburg athletics program received an NCAA Div. III Sportsmanship Award at the national convention in 2010.
Lauder has been the commissioner of the 16-member New England Football Conference — the largest in NCAA Div. III — since 2005. The only female to head a collegiate football-only league, she received the All-American Football Foundation's Asa S. Bushnell Outstanding Commissioner Award in 2009.
A past president of the Massachusetts State College Athletic Conference (MASCAC), Lauder currently serves as vice president and on its Executive Committee.
On a national scale, Lauder chaired the NCAA Div. III Women's Basketball Committee from 2000-02 and served on the NCAA Nominating Committee from 2005-09. She assisted with the NCAA Future of Div. III Focus Group in 2003-04 and, from 1993-96, served on NCAA Div. II Women's Basketball Legislative Committee.
A graduate of Fairport (N.Y.) High School, Lauder excelled as a Cortland student-athlete. She competed all four years as a halfback in field hockey and a guard in basketball, serving as team captain in both sports as a senior. She was a softball catcher for a season and sprinted and threw javelin on the track and field squad.
Lauder, a member of Theta Phi sorority, studied in Cologne, Germany, at the Deutsche Sporthochschule as a senior. She earned her bachelor's degree in physical education from Cortland in 1975 and a master's degree from Syracuse University in 1978. She taught and coached at Romulus (N.Y.) High School from 1975-77.
Lauder was director of women's athletics and the women's basketball and tennis coach at Hartwick College from 1978-85. She posted a 103-52 overall record in basketball. She won the New York State AIAW Coach of the Year in 1982-83, when her team was undefeated in the regular season and participated in the first-ever NCAA Div. III Tournament.
She was a consultant in adaptive physical education for The Education Cooperative in 1985-86 and assistant director of athletics and director of intramurals and wellness at Quinsigamond Community College in Worcester, Mass., for a year.
Lauder worked at Assumption College in Worcester from 1987-96 as the assistant director of athletics, head women's basketball coach and the senior women's administrator.
Joan Sitterly (honorary) of Vass, N.C.
One of college's all-time premier volleyball coaches, Joan Sitterly established a dynasty in her 22 years as Cortland's head coach before translating that success into guiding Cortland's elite NCAA Div. intercollegiate athletics program from 2004 until her retirement in 2010.
Sitterly, who joined the Cortland physical education faculty in 1983, coached the women's volleyball program to a phenomenal 816-234 record between 1983 and 2004, when she became only the second coach in Div. III women's volleyball history to reach 800 career wins. Her Cortland teams qualified for the NCAA Div. III Tournament in 18 of her last 20 seasons, while capturing 13 State University of New York Athletic Conference (SUNYAC) titles and the SUNYAC East Division championship every year between 1985-2001.
A seven-time SUNYAC Coach of the Year, Sitterly also was voted the American Volleyball Coaches Association (AVCA) Regional Coach of the Year on seven occasions. Promoted to assistant professor in 1990 and associate professor in 1998, Sitterly was interim athletics director in 2000-01 and in 2003-04 before she was appointed to the full-time position.
As Cortland's athletics director, Sitterly oversaw a 25-sport program that perennially ranked among the most successful in the nation. Under her watch, Cortland remained just one of six colleges among more than 400 in NCAA Div. III to annually finish in the top 20 of the all-sports National Association of Collegiate Directors of Athletics Directors' Cup. Cortland finished third in 2006-07 and fifth in both 2005-06 and 2008-09.
Sitterly, as executive director of the SUNY Cortland C-Club, was a catalyst for the construction of the C-Club Pavilion, refurbishing the C-Club Wall of Fame in the Park Center Hall of Champions and the hosting of the Pre-Title IX Women's Teams Reunion.
The SUNYAC president in 2006-07, Sitterly served on the NCAA's Management Council, Women's Volleyball Rules Committee and Div. III Championships Committee.
A Fairport, N.Y., native, she earned her bachelor's degree in physical education from SUNY Brockport in 1974. She was a standout competitor in basketball, field hockey, lacrosse and tennis at Brockport, where she was inducted into the Hall of Fame in 2007.
Sitterly earned a master's degree in 1979 from the University of Colorado, where she was a member of the 15-2 field hockey team that competed in the national tournament. She received a doctorate in education from Syracuse University in 1995.
From 1974-83, Sitterly taught physical education and was the head volleyball and basketball coach at Newark (N.Y.) High School. Her volleyball teams won five Finger Lakes League (FLL) championships and captured the 1982-83 Western New York championship. She won two FLL titles in basketball and was assistant track coach for the undefeated Newark track and field squad from 1982-84. She coordinated the Finger Lakes Volleyball League and served as chair of Section V Class A Basketball.
A U.S. Lacrosse official for girls and women's lacrosse since 1974, Sitterly and her husband, Gary Miller, reside in North Carolina, where she remains active as a collegiate lacrosse official.
---
Capture the Moment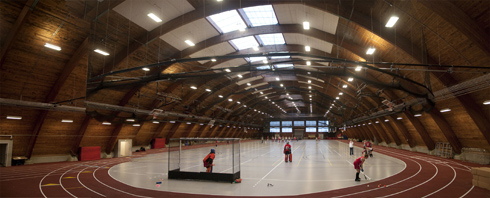 The newly renovated Lusk Field House reopened its doors on Oct. 11 following a $3 million facelift that took six months. The improvements include a new floor, new lights with energy-efficient fixtures, a new heating and ventilation system, additional storage for users, a new vestibule and refurbished and newly painted bathrooms and locker rooms.
---
In Other News
Author Relates Untold Story of Jim Jones Disaster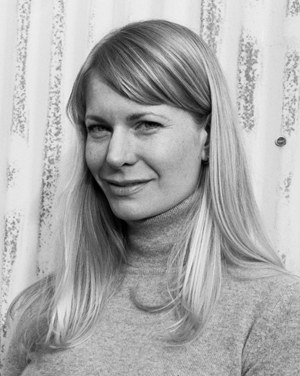 09/29/2010
California author Julia Scheeres will share her unconventional thoughts on a shattering moment in history, the Peoples Temple mass murder-suicides of the late 1970s, during a talk titled, "Jonestown: the Untold Story," on Tuesday, Oct. 26, at SUNY Cortland.
The talk was rescheduled from Monday, Oct. 25.
Scheeres, who is currently writing a book about the Nov. 18, 1978, tragedy involving followers of an American cult led by Jim Jones in northwestern Guyana, will speak at 7:30 p.m. in Old Main Brown Auditorium.
Part of the yearlong series on the theme of "Re-Education" presented by the College's Cultural and Intellectual Climate Committee (CICC), the talk is free and open to the public.
Scheeres, a frequent reviewer for the New York Times Book Review, will discuss her research on the event in which 918 people died, most by apparent cyanide poisoning, in connection with the Peoples Temple Agricultural Project, informally called Jonestown.
She also will play audiotapes of Jones speaking to his "congregants," as well as show home movies that the Jonestown residents made of themselves.
Her forthcoming book is based on the 50,000 pages of documents the FBI collected in Jonestown after the massacre, including diaries, agriculture reports and meeting notes as well as hundreds of tapes Jones recorded of himself addressing the residents.
"The FBI released the documents recently, and I am reconstructing the last year of Jonestown's downward spiral with them, following four people who lived there," Scheeres noted.
She also is the author of the New York Times bestseller Jesus Land, a memoir about her relationship with her adopted black brother, David. The book explores their childhood in a small Indiana town and their stint, as teens, at a Christian reform school in the Dominican Republic. It also examines the themes of race, fundamentalist religion and the sustaining bond of sibling love.
Scheeres lives in Berkeley, Calif., with her husband and two daughters. She works at the San Francisco Writers' Grotto.
Additional support for the "Re-Education" series is provided by the Campus Artist and Lecture Series, the Clark Center for International Education, the Auxiliary Services Corporation and the Cultural and Intellectual Climate Committee.
For more information about the series, contact CICC Chair Scott Moranda, assistant professor of history, at (607) 753-2052. For more information about Scheeres' lecture, contact NeoVox Project Director Lorraine Berry at (607) 200-4122.
Philosophical Practitioner Presents 'Plato, Not Prozac!'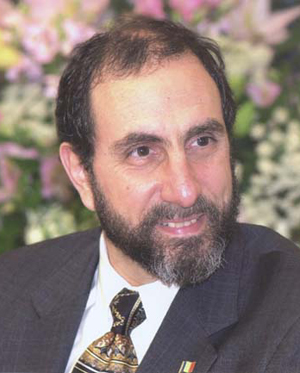 10/19/2010
Lou Marinoff, the international best-selling author of "Plato, Not Prozac!" and "Therapy for the Sane," will lecture on Tuesday, Oct. 26, at SUNY Cortland.
Marinoff will present "Plato, Not Prozac!" at 7:30 p.m. in Sperry Center, Room 204. Sponsored by the Philosophy Department, the talk is free and open to the public.
The president of the American Philosophical Practitioners Association, Marinoff will address the question, "Why are people turning to philosophy to help with life's problems and difficulties?"
A professor who chairs philosophy at City College of New York (CUNY), he will demonstrate how philosophy can be applied in everyday life.
For more information, contact Andrew Fitz-Gibbon, associate professor of philosophy and director of the Center for Ethics, Peace and Social Justice, at (607) 753-2016.
Native American Film Series Opens Oct. 26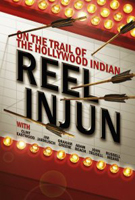 10/20/2010
A documentary that takes a historical look at how Native people have been portrayed in Hollywood will launch SUNY Cortland's Native American Film Series on Tuesday, Oct. 26.
Presented by the College's Native American Studies Program, the cinema series is free and open to the public. "Reel Injun," by Cree filmmaker Neil Diamond, and three additional films, will be shown at 7 p.m. on Tuesdays in Sperry Center, Room 205.
In "Reel Injun," Diamond starts with the silent era and uses dozens of clips to show how the image of Native Americans has been portrayed in film. He works from John Ford and Monument Valley, to the progression of Native people in film to Native American filmmakers producing their own films. "Reel Injun" offers interviews with Robbie Robertson, Adam Beach, Graham Greene and Clint Eastwood.
"The Only Good Indian," inspired by the early history of Haskell Indian Nations University in Lawrence, Kan., will be shown Nov. 2. Directed by University of Kansas film professor Kevin Willmott, the film tells the story of the U.S. government's attempt to assimilate American Indians into white culture. The film stars Wes Studi as a Cherokee bounty hunter chasing a teenage Native American boy named Nachwihiata. As often happened at the time, the boy was kidnapped from his home and thrust into a Christian boarding school.
A "year in the life" documentary, titled "Dancing on Mother Earth," about the life of Joanne Shenandoah will be shown on Nov. 9. The film portrays the singer/songwriter's life as she is nominated for a Native American Music Award, a NAMMY. It also details Shenandoah's background, regional politics and the Haudenosaunee culture. Shenandoah has performed at SUNY Cortland numerous times, most recently in 2009.
"Our Spirits Don't Speak English: Indian Boarding School," a documentary that examines an educational system that was designed to destroy Indian culture and tribal unity, will be shown Nov. 16.
The philosophy of the Indian boarding school system was "to kill the Indian and save the man." This was the mission statement of Captain Richard Henry Pratt, founder and superintendent of Carlisle Indian Industrial School in Carlisle, Pa., until 1904. The battle against and the victory over the boarding school monster is told by educators, former and current students who were interviewed at Carlisle; Sherman Indian High School, Riverside, Calif.; Sequoyah High School, Tahlequah, Okla.; in Anchorage, Alaska, and other locations.
The series is sponsored by Native American Studies, the Center for Gender and Intercultural Studies and Auxiliary Services Corporation.
For more information, contact Native American Studies Program representative Dawn Van Hall at (607) 753-4890.
Chemistry Lecture Series Concludes with Nov. 15 Talk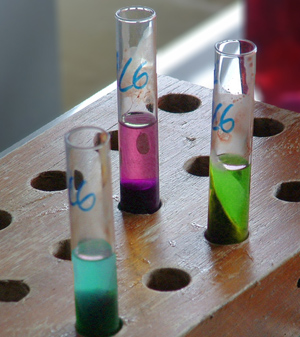 11/05/2010
SUNY Cortland will conclude a series of lectures, geared to pique curiosity about chemistry relating to health, the environment, energy and other hot-button topics, with a presentation on Monday, Nov. 15, by Margaret Logan, an associate professor of chemistry at the College at Brockport.
Logan will present, "Synthetic and Mechanistic Aspects of Palladium-Catalyzed Aryl Chloride Reactions," at 3 p.m. in Sperry Center, Room 106, as part of the series titled, "Current Research in the Chemical Sciences: Stars to Cells to Green Catalysis."
Sponsored by the Chemistry Department, the Chemistry Club and the Campus Artist and Lecture Series, the lecture and post-lecture discussion is free and open to the public. A pre-lecture light reception will be held at 2:40 p.m. in the first floor lobby of Sperry Center outside Room 106. An hour-long post-lecture discussion will begin at 4 p.m. in the Bowers Hall first floor lounge.
"Palladium-catalyzed reactions of aryl chlorides include hydrodehalogenation, and carbon-carbon, carbon-nitrogen, and carbon-oxygen bond-forming reactions," said Logan, who joined the College at Brockport in 2000 and is conducting research on this area of chemistry.
The work she will describe explores synthetic and mechanistic aspects of the hydrodehalogenation reactions of aryl chlorides using palladium catalysts with biphenyl ligands developed by the Buchwald group.
"In this context, studies of both the hydrodehalogenation and amination reactions were performed to provide evidence for the nature of the active catalyst: that is, whether it is homogeneous or exists as nanoparticles," Logan noted. "These studies were performed in both traditional solvents and in phosphonium salt-derived ionic liquids."
Since 2000, in collaboration with summer research students and students doing independent research projects, Logan has studied the synthesis and evaluation of novel diaryl telluride antioxidants and the development of homogeneous catalytic systems for application to remediation of aryl chlorides such as PCBs.
Logan has a doctorate in organic chemistry from the University of Rochester and received her bachelor's degree from Brown University. She previously taught at Hobart and William Smith Colleges, University at Buffalo and the University of Rochester.
Safe Halloween Activities Planned for Children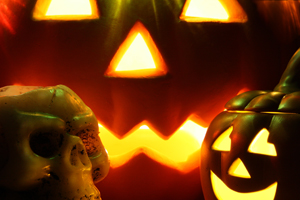 10/22/2010
Area families will once again be offered safe alternatives to trick-or-treating in their neighborhoods through the efforts of SUNY Cortland students, faculty and staff.
The Residence Life and Housing Office and the Residence Hall Association will present "A Safe and Spooktacular Halloween" on Oct. 28 and 29, said James Hendrick, associate director of staff recruitment and external programs. The events are free. Children must be accompanied by a responsible adult for both trick-or-treating experiences.
Residents of the West Campus Apartments, located on Route 281 between Starr Road and Route 13, will open their doors to little goblins from 5-7 p.m. on Thursday, Oct. 28.
From 5-8 p.m. on Friday, Oct. 29, residence halls on the main SUNY Cortland campus will put out the scary pumpkins and cobwebs for the annual holiday. The families may visit the following residence halls: DeGroat, Cheney, Fitzgerald, Randall, Whitaker, Hayes, Alger, Bishop, Glass Tower, Shea, Higgins, Hendrick, Casey Tower and Smith Tower.
For more information, contact residence life and housing at (607) 753-4724.
Halloween Celebration Oct. 30
The 19th annual Education Club Halloween Celebration will take place on Saturday, Oct. 30, at the Children's Museum in O'Heron Newman Hall at 8 Calvert St., nearby the campus. Faculty and students in SUNY Cortland's Childhood/Early Childhood Education Department will continue the tradition of offering fun activities for children such as face painting, games and storytelling from 10 a.m.-1 p.m. Admission is free, but donations are gladly accepted.
To reach the museum entrance, follow O'Heron Newman Hall's driveway. Parking is not permitted in the driveway but is available in the parking lot of the Dowd Fine Arts Center on the corner of Prospect Terrace and Graham Ave.
For additional information, contact Emilie Kudela at (607) 753-5525 or Susan Stratton at (607) 753-2467 or e-mail them at childrensmuseum@cortland.edu.
Faculty Recital Features Trumpet and Piano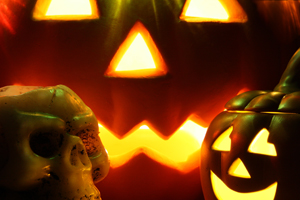 10/19/2010
A recital featuring music associated with the career of the Moscow trumpeter, Timofei Dokshizer, will be performed by SUNY Cortland Performing Arts Department faculty members on Tuesday, Nov. 2.
Ralph Dudgeon will play trumpet and Marina Gorelaya will perform on piano beginning at 8 p.m. in the Dowd Fine Arts Center Theatre. The recital is free and open to the public.
"I first heard Dokshizer's playing on bootleg records that were circulated among trumpeters during the cold war," Dudgeon said. "Later, I heard him live when he toured the United States. I always admired his soulful expressive interpretations and his flawless technical skills. Recently, I learned that we share a few branches of a pedagogical family tree in the so-called Russian school of trumpet playing. My primary trumpet mentor, John Clyman, studied with a Russian emigrant named Vladimir Drucker in Los Angeles. Drucker was an early student of the legendary Mikhail Tabakov who much later was also the teacher of Timofei Dokshizer."
Dudgeon said this musical connection inspired the program in which each selection is either a Dokshizer arrangement or a piece that is associated with his long career as a trumpeter.
The recital will feature works by Nikolay Andreyevich Rimsky-Korsakov, Alexander Kartzev, Rodion Shchedrin, Alexander Arutunian, Oskar Böhme and Alexander Goedicke. The program will also feature several Russian selections for piano solo and a special Dokshizer arrangement of Gershwin's "Rhapsody in Blue" for trumpet and piano.
Dudgeon is a versatile musician/scholar known for historically informed performance on period instruments as well as contemporary repertoire. He received his Ph.D. in musicology from the University of California, San Diego, and earned a Master of Arts in Trumpet Performance and a Bachelor of Arts in Music Education from San Diego State University. Dudgeon has appeared throughout the United States, Europe, Canada, Mexico and China as a trumpet soloist. He teaches music history and trumpet.
Gorelaya was born in Ukraine where she began the study of piano at the age of six. She graduated with a master's degree from the Institute of Arts at Kharkov. She later earned a Ph.D. in music from the Kiev State Tchaikovsky Conservatory. After a career as a concert pianist in her homeland, she came to the U.S. in 1996. She is currently the staff pianist of the drama department at Syracuse University and pianist for the Choral Union at SUNY Cortland.
The recital is partially sponsored by the Cortland College Foundation and the College Fund.
For more information, visit the Performing Arts Department website.
Recreation Conference Planned for Nov. 4-5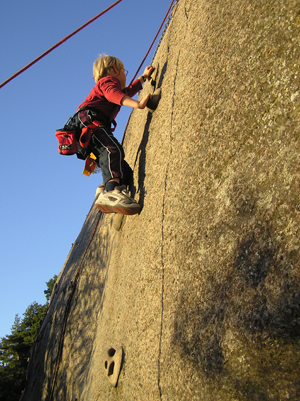 10/22/2010
Benjamin Hunnicutt, who has focused his research and writing on an historical mystery in America, "The End of Shorter Hours," will deliver the prestigious Metcalf Endowment Lecture at this year's 60th annual SUNY Cortland Recreation Conference from Nov. 4-5 at the College.
Hunnicutt, currently a professor in the Department of Leisure Studies at the University of Iowa, Iowa City, will discuss "Time to Live: A Lost Kingdom, a Forgotten American Dream," at 2:45 p.m. on Friday, Nov. 5, in the Corey Union Function Room. The lecture is free and open to the public.
"So Much Recreation, So Little Time" is the theme of the two-day gathering, the nation's oldest continuous collegiate-sponsored recreation education conference. Sponsored by the College's Department of Recreation, Parks and Leisure Studies, the conference receives additional support for its Metcalf Lecture from the Metcalf Endowment. This year, Brix Pubaria is providing special support.
"We choose this theme to represent all the major changes in recreation that have occurred, especially in the last 60 years," said Brittany Neider, the conference's program coordinator. "Since it is also our 60th anniversary, we felt it was necessary to honor such a journey. The entire committee has worked very hard to create an amazing conference and we look forward to seeing you all there."
Benjamin Hunnicutt
Registration takes place at 7 a.m. on Thursday and 7 a.m. on Friday at Corey Union. The fee is $110 for professionals and $50 for SUNY Cortland students to attend both days; and $75 for professionals to attend Thursday or Friday only. The non-SUNY Cortland student group rate is $25 each for 10 or more students. The additional cost to receive Continuing Education Unit (CEU) credits is $8. The registration fee includes meals and entertainment. Additional information may be obtained by calling (607) 753-4939, by e-mailing recconf@cortland.edu or online at www.cortland.edu/recconf, where the brochure and registration form may be viewed or printed.
Approximately 250 recreation professionals and college recreation majors are expected to participate in the conference, which will offer more than 45 educational sessions and practical workshops on recreation management, therapeutic recreation, outdoor recreation, environmental education, and leisure and society. Three pre- or post-conference workshops and a research symposium are planned.
Topics will include sustainable recreation and tourism, conducting adventure-based activities in inpatient settings, surviving the first 30 days on the job in the recreation field, making senior leisure activities more interactive, blending commercial recreation and the great outdoors, therapeutic horsemanship, wilderness therapy and its beneficial outcomes, running a special event, and strategies for funding recreation programs.
Cortland alumni presenting at this year's conference include Thomas Goodale '61, Richard Fabend '65, John Silsby '69, Fred Von Mechow '77, Janet Barry Connolly '84, Edward "Eddie" Hill '86, John La Rue '89, Rickie McClure '90, David Peppel '97 and Scott Catucci '00.
The event is planned and directed by SUNY Cortland recreation and leisure studies majors in the Special Events Planning class taught by conference advisor Edward Hill, assistant professor of recreation, parks and leisure studies. The students and the committees they chair include:
• Neider of Babylon, N.Y., who is also co-chairing volunteer coordinator and special speaker committees;
• Chelsea Smith of Harrison, N.Y., conference chair and social services;
• Wendy Richards of Newark Valley, N.Y., program design, printing, registration and tracking and alumni chair;
• Tim Bennett of Rome, N.Y., public relations and office manager;
• Tom McLaughlin of New Rochelle, N.Y., social services, internship forum, public relations and marketing;
• Roger Ennis of Cortland, N.Y., public relations, exhibits, and special speaker;
• Dan Shearin of Rome, N.Y., marketing, evaluation, registration and tracking, and exhibits;
• Mike Warne of Binghamton, N.Y., program support and volunteer coordinator;
• Sarah Heil of New Hartford, N.Y., volunteer coordinator, registration and tracking and office manager;
• Henry Cevallos of Brooklyn, N.Y., treasurer, office managers, internship forum and evaluation; and,
• Krissy Gauthier of North Syracuse, N.Y., teacher's assistant.
Hunnicutt, who has taught for more than 34 years at The University of Iowa, continues to try to answer the question: "Why did Americans stop reducing their work time, a process they had enthusiastically supported for over a century, and begin desperately creating more work for more people around seventy years ago?"
He is the author of several books, book chapters, and articles, including Kellogg's Six-Hour Day and Work Without End: Abandoning Shorter Hours for the Right to Work. His book, Kellogg's Six-Hour Day, is now published in Norwegian and Korean versions and is listed as primary reading for "Work and Family," by the John F. Kennedy School of Government's Saguaro Seminar for Civic Engagement.
Hunnicutt is currently finishing his next book: Time to Live: A Lost Kingdom and The Forgotten American Dream. A member of the Academy of Leisure Sciences and the National Recreation and Park Association (NRPA), he received his M.A. and Ph.D. in American history from the University of North Carolina, Chapel Hill.
Participants will be entertained by the lyrical, acoustic musical style of Gina Holsopple from 5:15-7 p.m. on Thursday, Nov. 4, in the Corey Union Function Room. Holsopple, who was raised as a Mennonite in the middle of the Kansas prairie, won the 2009 New Song Contest at the Walnut Valley Festival in Winfield, Kan., she was a featured performer in the New Artists' Showcase at the 2000 National Women's Music Festival.
Roundtable Addresses Local Government Consolidation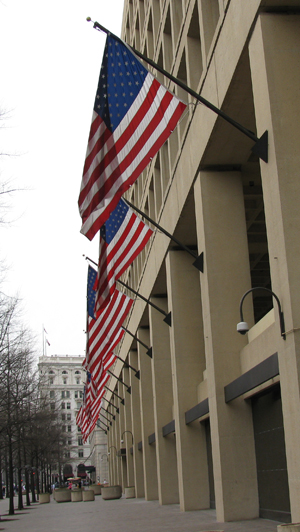 10/22/2010
Local government officials and a political science professor will explore the controversy surrounding the drive to merge municipalities to save taxpayer money, during a Community Roundtable on Thursday, Nov. 4, at SUNY Cortland.
The panelists will include Fred Forbes, the Town of Homer supervisor; Mary McGuire, SUNY Cortland assistant professor of political science; and Connie Sowards, Village of Seneca Falls administrator.
They will discuss "Does Efficiency Trump Tradition? Consolidations of Local Governments: Misconceptions and Realities" from 8-9 a.m. in SUNY Cortland's Park Center Hall of Fame Room. Refreshments will be served at 7:45 a.m. A question-and-answer period will follow.
Sponsored by the President's Office and the College's Center for Educational Exchange (CEE), the Community Roundtable is free and open to the public.
With the dissolution of municipal government made easier by new state legislation adopted on March 21, many villages and towns are struggling to decide if this might be the best option to eliminate duplication of services and lower tax rates.
The current call for consolidation of government services places a high value on efficiency, but there is disagreement over whether the presumed financial benefits will materialize.
Opponents of municipal consolidation argue that where people live becomes part of their identity. Proponents maintain that identity comes at too high a price. The roundtable will consider the issues villages and towns have faced in the decision-making, voting and transition processes.
The Community Roundtable series provides programs on diverse intellectual, regional and cultural topics of interest to College faculty and staff and community members. Each roundtable is held on the first Thursday of the month. Parking in the Park Center lot is open to the public during the roundtables.
For more information, contact the CEE at (607) 753-4214 or visit www2.cortland.edu/centers/cee/community-roundtables/.
African American Gospel Music Festival Celebrates 25 Years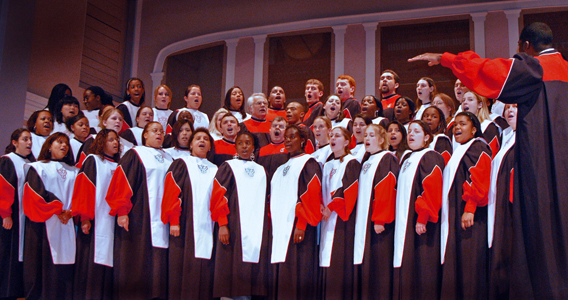 10/20/2010
Six choirs, including the SUNY Cortland Gospel Choir and Cortland A Cappella, will raise their voices in celebration at the 25th SUNY Cortland African American Gospel Music Festival on Sunday, Nov. 7, at the College.
Presented by the College's Africana Studies Department, the festival begins at 4 p.m. in Old Main Brown Auditorium. The event is open to the public. Tickets are $3 for students, $4 for senior citizens and $5 for general admission. Proceeds support the Gospel Choir 2012 international tour.
SUNY Cortland President Erik J. Bitterbaum will extend the welcome on behalf of the College.
Guest choirs are three choirs that participated in the very first festival, Syracuse University Black Celestial Choral Ensemble, Ithaca College Amani Gospel Singers and SUNY Oswego Gospel Choir. Also participating will be SUNY Binghamton Gospel Choir.
Each choir has been asked to present two songs, one gospel and one a cappella. A mass choir, featuring all the choirs together, will serve as the finale.
SUNY Cortland's Gospel Choir selections will include several new songs: "Alpha And Omega," "Storm Is Over," with Jason Carriero and Melody Byron as soloists, and "The Presence," Jason Carriero, soloist. Returning will be the popular "Oh Happy Day," with Khalia Brown as soloist. Cortland A Cappella will present two selections. Noelle Paley, interim director of the Multicultural Life Office and lecturer in the Philosophy and Africana Studies Departments, directs this group.
Directing Cortland's Gospel Choir will be Robert Brown, a SUNY Cortland adjunct instructor in Africana Studies. Brown is also a music teacher at Blodgett Elementary School in Syracuse, N.Y., and serves as music director of the New Life Community Church in Syracuse. Choir musicians are Andy Rudy, keyboard, Benjamin Terry, percussion, and Reginald Siegler, bass guitar, all of Syracuse, and on alto saxophone, Jamie Yaman of Cortland.
Officers for the 2010-11 school year are Farrah Predestin, president, a senior elementary education major from New York City; Brittany Mazurkiewicz, vice president, a sophomore speech and hearing science major from Batavia, N.Y.; Khalia Brown, treasurer, a sophomore speech and hearing science major from Brooklyn, N.Y.; Jason Carriero, secretary, a sophomore English education major from Hartsdale, N.Y.; Jessica Downer, Publicity, a senior English major from Haverstraw, N.Y., and Melody Byron, a sophomore childhood/early childhood education major from Bay Shore, N.Y.; and Dennis Class, tour manager, a senior adolescence education major from Bronx, N.Y. Dot Thomas '77, of Cortland, N.Y., continues to serve as alumni officer.
The SUNY Cortland Gospel Choir, which is comprised of college, high school and community members, has been recognized for its outstanding performances at the National Collegiate Gospel Competition in New York City.
SUNY Cortland's first African American Gospel Music Festival began in 1985 with the Cortland County Council of Churches, the Interfaith Center, and the SUNY Cortland Black Student Union as sponsors. Over the years, students from England, Africa, South America, Germany, Austria and Japan have participated.
Part of the College's Africana Studies Department, the choir is supported by the Center for Gender and Intercultural Studies, the Alumni Affairs Office, the Cortland College Foundation, the Division of Student Affairs, the Offices of the President, Provost and Vice President for Academic Affairs, and the student activity fee.
For more information, contact Distinguished Service Professor Samuel L. Kelley at (607) 753-4104 or Distinguished Teaching Professor Seth Asumah at (607) 753-2064.
Thunderbird American Indian Dancers Perform Nov. 8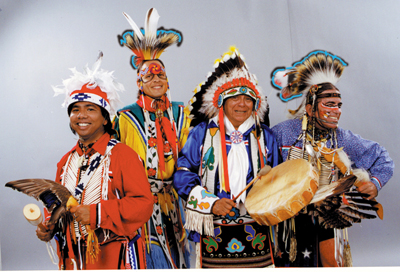 10/20/2010
The Thunderbird American Indian Dancers, who specialize in the songs and dances of the tribes of the Northwest Coast, will perform cultural songs and dances at SUNY Cortland on Monday, Nov. 8.
The performance will start at 7 p.m. in the Dowd Fine Arts Center Theatre. Presented by the Campus Artist and Lecture Series (CALS), admission is $3 for SUNY Cortland students and $5 for the general public. Children 10 and under will be admitted free of charge.
Tickets may be obtained through the Campus Activities and Corey Union Office, Corey Union Room 406, or at the door one hour prior to the performance. For more information on tickets, call (607) 753-5574.
Wide in appeal, the Thunderbird American Indian Dancers has made an enormous contribution to the effort of preserving and perpetuating American Indian culture for more than 25 years. The ensemble's repertoire includes dances of the Woodlands (Iroquois and Winnebago), Plains (Sioux) and the Southwest (Hopi and Santo Domingo). Selections will also include the traditional "Fancy Dance" and "Hoop Dance," as well as a variety of other distinct regional tribal dances.
More information is available at their website.
Campus Promotes Cortaca Climate Challenge
The Cortaca Jug isn't the only competition between SUNY Cortland and Ithaca College this fall. Anyone from the campus community can enter in the Cortaca Climate Challenge, a competition between the two colleges measuring the carbon footprint each has on the environment.
Presented by the Student Affairs Sustainability Committee at SUNY Cortland, the contest will run until the day of the Cortaca Jug football game on Saturday, Nov. 13. Students, faculty and staff can sign up on the Climate Culture website.
The college community that reduces its carbon footprint by the highest percentage will win a tree to be planted on campus. Additionally, all participants from SUNY Cortland will be eligible to receive individual and group prizes, such as an iPOD touch.
"We encourage clubs, sports teams, offices and residence halls to enter in their own SUNY Cortland group," said Jeremy Zhe-Heimerman of Student Disability Services. "They'll compete against each other to win prizes as well as help in the competition against Ithaca."
Once an account is created on the Climate Culture website, participants will be asked a number of questions based on their living environment. That information will provide a rough estimate of their carbon footprint. Members may then choose Reduction Center on the website, where they can pledge to reduce their footprint in various ways, such as washing dishes in cold water, taking shorter showers and turning down the thermostat.
"Although we currently have many more participants in the Challenge than Ithaca College, they have reduced their footprint by a greater percentage," Zhe-Heimerman said. "We can take the lead if participants commit to reduce their footprint in the Reduction Center on the Challenge website."
All pledges made in the Reduction Center will be used to calculate the pounds of C02 each individual will reduce in a year, as well the cost-effectiveness of the action.
"Regardless of who wins the Challenge, we are excited about how many members of the college community are learning about ways we can reduce our carbon footprint," Zhe-Heimerman added.
For more information on the Cortaca Climate challenge, visit their website or contact Zhe-Heimerman at (607) 753-2358.
Student Teachers Attend Oct. 25 Conference
One hundred forty-six education majors, all of whom have completed the first of two student teaching experiences, will participate in the biannual Educators in Training (EIT) Conference on Monday, Oct. 25, in Corey Union.

Sponsored by the Center for Educational Exchange (CEE) with support from Auxiliary Services Corporation, the conference begins at 8:30 a.m.

There is no fee to attend EIT. SUNY faculty members are welcome to attend and are asked to R.S.V.P. to the CEE at (607) 753-4214.

President Erik J. Bitterbaum will welcome the student teachers to the teaching profession.

Students will attend concurrent workshops during three consecutive morning sessions. The workshops and presenters are "An Introduction to RtI: What Teachers Need to Know," Jennifer Dove, director of teaching, learning and technology, Groton Central School District; "Reaching Beyond Running Records," Charlotte Pass, assistant professor, literacy; and "Differentiating Instruction – Planning for and Attending to Student Differences," Kimberly Rombach, assistant professor, childhood/early childhood education.

In addition, students in different majors will attend specialized presentations in the afternoon.
Information Security Fair Planned
One SUNY Cortland student will win a free iPad while everyone from the campus community attending the Information Security Fair on Tuesday, Oct. 26, in Corey Union, will walk away with important protective tips that may be more valuable.

The fair, which runs from 10:30 a.m. until 12:30 p.m. in the Corey Union Food Court area, is free and open to the public.

A series of information tables will be set up. A fun and interactive "phishing" game will offer participants prizes and proactive safety advice, while SUNY Cortland students will be able to register for the iPad drawing.

The University Police Department will demonstrate its Stop Theft Laptop program. Also dispensing important information will be representatives from the campus information security group and the Information Resources Support Center. Blaze, the Red Dragon mascot, will be on hand to assist in the festivities.

At 12:30 p.m. in Brockway Hall Jacobus Lounge, Al Weissmann, a retired postal inspector and a popular speaker on information security, will discuss "ID Theft: Minimizing Risk."

"ID thieves have many avenues of attack at their disposal when searching for their victims," explained Weissmann, who works with the Postal Inspection Service and has provided expert testimony in litigations regarding postal-related matters.

"Preventing ID theft, on or offline, is virtually impossible but there are ways to greatly minimize your risk. The onus is on both consumers and businesses alike to utilize available resources to fight this never-ending crime."

Weissmann will address financial, medical and criminal record theft, as well as the methods used by thieves, various warning signs and prevention techniques.

For more information, contact the Information Resources Office at (607) 753-5942.
Faculty Senate Revises Committee on Teaching Effectiveness
The Faculty Senate approved several changes in the 2009-10 College Handbook to the Committee on Teaching Effectiveness. The amendments aim to make future committees smaller and more active.
Adopted unanimously after much discussion at the Oct. 19 meeting in Brockway Hall Jacobus Lounge, the amendments are to portions of Chapter 105.03 "SUNY Cortland Faculty Bylaws, Article VII: Committees." The changes, which reduced the committee from nine to seven members, must be endorsed by a college-wide referendum before they can become effective.
As background, Faculty Senate Treasurer Kathleen Lawrence, Communication Studies Department, observed that during the last academic year when she was Senate chair, the nine-member committee struggled to bring a quorum together for meetings.
The committee was established in 1982 but with little documentation about the reason for its makeup. Some of its representatives come from five broad disciplinary groups rather than the three schools that have existed only since 2003.
After much discussion, senators approved consolidating three of the committees into one named "School of Arts and Sciences." This replaces members representing mathematics/science, social/behavioral sciences, and fine arts/humanities. Faculty approved retaining one representative from the School of Education, one from the School of Professional Studies, one from the library and two at-large faculty members.
Senator David Berger, Psychology Department, argued against the changes, stating that representation should reflect the actual number of faculty at Cortland. He later conceded that faculty from larger academic areas could seek to represent their constituents as at-large members.
Senator William Buxton, Foundations and Social Advocacy Department, stated his disapproval of the original amendment wording, which included "School of" in connection with the academic areas: e.g., School of Arts and Sciences, School of Professional Studies, and School of Education.
This varies from the descriptions about other committees, Senator Buxton stated.
"There are faculty in education across all three schools," he said. "This is not trusting in the good will of faculty."
Nevertheless, the Senate did not move to change the wording.
Senator Ellen McCabe made a separate motion to add language referring to the "one member representing the library" to include the phrase "one member representing library teaching faculty." She argued that, as stated, any library staff member, including non-academics, could serve inappropriately on this committee.
Other senators noted that this is a non-issue as Human Resources would not accept non-academic nominees for this particular committee. A motion for this change was seconded but in a show of hands the amendment did not pass.
Separately, the senate approved another amendment addressing student representation on this committee. Members noted that language about the committee called for three-year terms of office, something many potential student representatives with the stipulated junior standing and at least one year of full-time attendance at SUNY Cortland cannot fulfill. The line stating that "Terms of office shall be three years and shall be staggered" was reworded to add at the end, "except for students shall be one year."
High School Students Attend Leadership Conference Nov. 3
Approximately 114 students from 10 area high schools who are interested in learning more about leadership skills will attend the 15th annual High School Leadership Day Conference on Wednesday, Nov. 3, at SUNY Cortland.
Sponsored by the Center for Educational Exchange (CEE), the event will take place from 9 a.m.-1:30 p.m. in Corey Union.
The conference is designed for students in grades 9-12, school counselors, club advisors and coaches. Attendees will participate in a variety of interactive workshops, meet students and advisors from other schools and be inspired by leaders from a variety of career and educational backgrounds.
The theme for this year's conference is "Leaders Value Diversity." A variety of activity-based workshops will challenge students to explore inclusion and diversity and leave with plans for creating more inclusive schools and communities. There is also a workshop to address the interests of high school advisors and discuss ways to work together to build more caring school climates.
Presenters include Pam Strausser, president, Cosmos Hill Associates, and senior human resource consultant, Department of Organizational Development, Cornell University, and LEAD! students from Cortland's junior and senior high schools and Homer High School. Also presenting is local public school educator Amanda Verba, director of Youth Development Student Assistance Services at Tompkins-Seneca-Tioga BOCES.
Participating SUNY Cortland staff include Noelle Chaddock Paley, Multicultural Life Office and Philosophy and Africana Studies; Jena Curtis, Health Department and Human Service Studies; Louis Larson, Career Services; Laureen Penney McGee, Recreation, Parks and Leisure Studies and Inclusive Recreation Resource Center; and Vicki Wilkins, Recreation, Parks and Leisure Studies.
SUNY Cortland student presenters include Jill Cole, Amanda Lengauer, Cristina Millan and Elliot Miller.
For more information, contact CEE at (607) 753-4704 or at www2.cortland.edu/cee/.

Suggest a feature story
---
Faculty/Staff Activities
Ute Ritz-Deutch
Ute Ritz-Deutch, History Department, was a commentator at the annual conference of the German Studies Association held Oct. 8 in Oakland, Calif. She commented on the panel "Wishful Brothers: The Invention of Native Americans in German Literature, Media, and Performance."
Kevin Heisey, David Snyder and Taerin Chung
Kevin Heisey and David Snyder, Sport Management Department, and Taerin Chung, M.S. '10, a former graduate student in the Sport Management Program, presented "The Effect of Foreign Players on Attendance in the Korean Professional Baseball League" at the 2nd European Conference in Sports Economics held Oct. 5-6 at the German Sport University Cologne in Cologne, Germany.
Mary Ware
Mary Ware, Foundations and Social Advocacy, co-authored a publication with Mary Stuck of SUNY Oswego titled, "Diversity in Career and Technical Education On-Line Classrooms: Considering Issues of Gender, Race and Age." The publication was published in the International Journal of Adult Vocational Education and Technology, Vol. 1, #3 (July-Sept.) 2010.
Robert Spitzer
Robert Spitzer, Political Science Department, is the author of an article titled, "President Obama: Veto Yes, Pocket Veto No," that was posted on the Huffington Post on Oct. 8. The article takes issue with the manner in which President Obama vetoed a bill on Oct. 7. Spitzer is a regular blogger for Huffington.
Ben E. Wodi
Ben E. Wodi, Health Department, spent the summer as a visiting professor at the University of Port Harcourt, Nigeria. While there, he reviewed the university's Master of Public Health and Master of Science in Public Health degree program proposals. Wodi is currently working with SUNY Albany School of Public Health to enable the University of Port Harcourt to pursue the United States Council on Education for Public Health Accreditation (CEPH) for the proposed degree programs.
Wodi is working with SUNY Cortland administration to explore the possibility of a partnership between University of Port Harcourt and SUNY Cortland. The University of Port Harcourt has expressed interest in student and faculty exchanges involving academic and cross-cultural endeavors.
As a Scholar in Residence, Wodi gave two public lectures. "Carbon Footprints, Climate Change and Public Health in Sub-Saharan Africa" was delivered to the university community. "Optimizing Health-care Delivery in the Rivers State of Nigeria Through Primary Health Care: The Role of Stake Holders," was delivered to the Nigerian Medical Association, Rivers State Branch, at its Aug. 4 annual conference.
In addition, Wodi granted an extensive radio interview on "The Role of Primary Health Care in Nigeria's Health Care Delivery System." He granted a similar interview on "Energy Exploration and Public Health in Nigeria" to the editor-in-chief and chief executive officer of Energy Information Services of Nigeria Wodi was subsequently appointed a columnist for the Nigerian Energy Chronicles, Nigeria's premier energy weekly, which is also published online.
Amanda Mullan
Amanda Mullan, political science student, had her paper, "To Drill or Not to Drill? Policy and Politics of Drilling for Natural Gas in the Marcellus Shale" published in the "New York State Assembly 2010 Distinguished Intern Reports." Her paper was one of 16 nominated for publication from among the 154 intern reports and one of only eight selected.

Submit your faculty/staff activity