SUNY Cortland Receives Record $5.18 Million Gift from Alumnus
01/05/2010
SUNY Cortland alumnus John Fantauzzi '58, a retired social studies teacher now living in Cape Coral, Fla., will bequest $5.18 million — the largest individual gift in the College's 140-year history — to support a scholarship he established in 1990 for children of immigrants and first-generation college students attending SUNY Cortland.
"This is a transformative gift that will forever change the lives of future Cortland students who will have the opportunity to obtain a first-rate education at SUNY Cortland," said SUNY Cortland President Erik J. Bitterbaum.
"John realizes that SUNY Cortland gave him the life skills to become a wonderful teacher and he wants to ensure that extraordinary experience for future first generation students and for those students, like him, whose parents or grandparents came to this country seeking the American dream."
Fantauzzi's generosity to his alma mater began in 1988, when he gave $50,000 to the College to have its recently renovated Old Main auditorium named in honor of his favorite Cortland mentor, the late Distinguished Teaching Professor of History Ralph Adams Brown.
Two years later, Fantauzzi, the son of Italian immigrants and an ardent admirer of the immigrant work ethic, created the John Fantauzzi '58 Scholarship at SUNY Cortland. The award, which soon expanded from a three-year to a four-year full scholarship, was presented to Cortland students who maintained a 2.7 or higher GPA and who were children and/or grandchildren of immigrants to the United States.
"Also at that time, John informed then-President James Clark of his intent to leave his entire estate to the John Fantauzzi '58 Scholarship Fund," explained Doug DeRancy '75, assistant to the vice president for institutional advancement, who has been the College's liaison with Fantauzzi for the past 22 years.
"John is an extremely generous individual," added DeRancy. "He committed in 1990 to make an annual gift to establish an endowment in his lifetime that would support and grow his scholarship. Today, the Fantauzzi Scholarship annually provides 10 students with $3,400 annually for each of the four years they attend SUNY Cortland."
Since its inception in 1990, the scholarship fund had grown to $700,000 as a result of Fantauzzi's philanthropy. With the addition of the endowment, the fund will total nearly $6 million.
To date, more than 50 Cortland students have received a scholarship. The recipients trace their national origins to countries located in Europe, Asia, North and Central America.
" Many of the scholarship winners have written John to express their appreciation and some continue to communicate with him after graduating from Cortland," explained DeRancy. "John has told me that the greatest gift is creating the opportunity for someone to go to college and get an education. In his view, it is a gift that keeps on giving."
"I hope that John's belief in his alma mater will inspire others to invest in the future of this fine institution," added Raymond Franco '72, vice president for institutional advancement at SUNY Cortland.
Born in Syracuse, N.Y., Fantauzzi graduated from Vocational High School. At SUNY Cortland, he was among the first wave of students to earn the new degree in secondary social studies teaching. In addition to Ralph Adams Brown, Fantauzzi considered both Distinguished Professor of English Van Akin Burd and Professor of History Gilbert Cahill to be influential teachers in his chosen professional career.
College Awarded State Grant to Improve Health in Secondary Schools
01/13/2010
The New York State Department of Education (NYSED) recently awarded almost $1 million to health educators at SUNY Cortland to provide school district health offices across the state with the tools and training needed to help their students live healthier lives and enjoy more academic success.
"This partnership provides the opportunity to move New York to the forefront of 21st century school health," said Bonni C. Hodges, professor and chair of the Health Department at SUNY Cortland. "Our aim is to create a school health system for New York that is both efficient and effective and, more importantly, to foster healthy, health-literate and academically successful youth.
"We know that academically successful youth are healthier and that healthy youth are more academically successful," Hodges asserted. "Yet the way that school health is often delivered within school systems doesn't encourage the true partnerships across disciplines and services that could boost both the health and academic outcomes of our youth."
She will direct a five-year project, called Building Capacity for School Health Systems Change, that will design school health system "change demonstration projects" and host a series of professional development institutes to accomplish school health objectives outlined by the NYSED. Hodges, working with NYSED, will name and convene an advisory board of between 6-10 school health system stakeholders in New York.
A second outcome will be a partnership between the College's Health Department and three districts of different sizes to launch a demonstration project. The partnership will target districts that have a youth population at disproportionate risk for health disparities and academic failure. The demonstration project will build the capacity of school districts to use a school health planning process-model that leads to sustainable school health systems changes.
Beginning in the project's second year and subsequent years as long as funding continues, project personnel will develop and deliver one face-to-face, half-day professional development workshop for 25-35 certified health teachers on urgent topics. Several online booster sessions will follow the workshop.
Additionally, the staff will offer workshops to physical educators and elementary educators. The goal is to provide participants with the skills needed to offer effective, engaging instruction in their own classrooms that uses health skill and content areas to further academic achievement and healthy youth outcomes. Districts will be reimbursed for hiring a substitute teacher while a school faculty member is attending a workshop.
Part of the grant will establish a permanent regional technical support network of mentors to repeat best practices and lessons learned from the systems building initiative.
Project personnel will develop, test and disseminate a school improvement-planning model to enrich administrator education programs with leadership, governance and coordination of school health activities.
SUNY Cortland, which is accredited by the National Council for Accreditation in Teacher Education (NCATE), was chosen to host the project based on its long history of training school health educators and leaders in the program. In 2008-09, the College conferred degrees on 20 undergraduate and 59 graduate students in the program.
Hodges and SUNY Health Department Professor Donna Videto will oversee the project while continuing their academic duties at the College. In Fall 2010, a part-time project coordinator will join the undertaking, assisted by two graduate research assistants.
The Centers for Disease Control and Prevention (CDC) and NYSED are currently engaged in determining and delivering programs aimed at improving the health of young people, Hodges explained.
"In New York, cardiovascular disease continues to be the leading killer of adults while diabetes is growing across age groups and obesity among youth has tripled over the past thirty years," Hodges said. "These and the other leading health problems are linked to behaviors that often begin in youth and adolescence and are often reinforced within the environments where we live, work and play."
On the one hand, the partnership seeks to build the capacity of preschool through high school administrators to coordinate their health programs, policies and practices. On the other, they strive to enable school districts to deliver evidence-based health and physical education instruction.
One way to achieve this goal is to create and mobilize partnerships between schools, from the preschool through high-school level, and colleges and universities with teacher-administrator education programs, Hodges observed.
Over five years, SUNY Cortland will use the $986,375 grant to provide the platform for collaboration among the present partners, which are the NYSED and CDC and SUNY Cortland, as well as potential future ones, including the American School Health Association; the American Alliance for Health, Physical Education, Recreation and Dance; the New York State Alliance for Health, Physical Education, Recreation and Dance; and the National Education Association-Health Information Network.
These partners will work with schools to foster and support the achievement of improved health and academic outcomes of youth across New York, with a particular focus on districts that exhibit high health and academic needs, Hodges said. Ultimately, the project goal is to provide a foundation of technical support and expertise for building the capacity of school districts to develop sustainable school health programs to improve student health and academic outcomes.
Their state liaison will be Owen Donovan, an associate in school health with NYSED. A tenured teacher in health, Donovan has both his bachelor's degree in physical education and master's degree in health education from SUNY Cortland. Donovan was recognized in 2000 as a member of the New York State Academy of Teaching and Learning for his innovative work with learning standards and technology.
Hodges, who received her doctorate in health education from the University of Maryland at College Park, has spent the past 20 years working in and teaching about both school and community health. Her most current project is working with the National Education Association-Health Information Network on its health literacy initiative. The co-author of the white paper The Role of 21st Century Schools in Promoting Health Literacy, she served as the health literacy specialist at the Summit for 21st Century Skills held in Washington, D.C., this past June.
Videto, who earned a doctorate in health education from The Pennsylvania State University, has spent the past 20 years in higher education, primarily teaching in school health pre-professional programs. She also taught health for six years in public schools. A current member of the American Association for Health Education (AAHE)'s Board of Directors and a past co-executive director of the New York State Federation of Professional Health Educators, she is considered a key leader in health education by AAHE.


---
Capture the Moment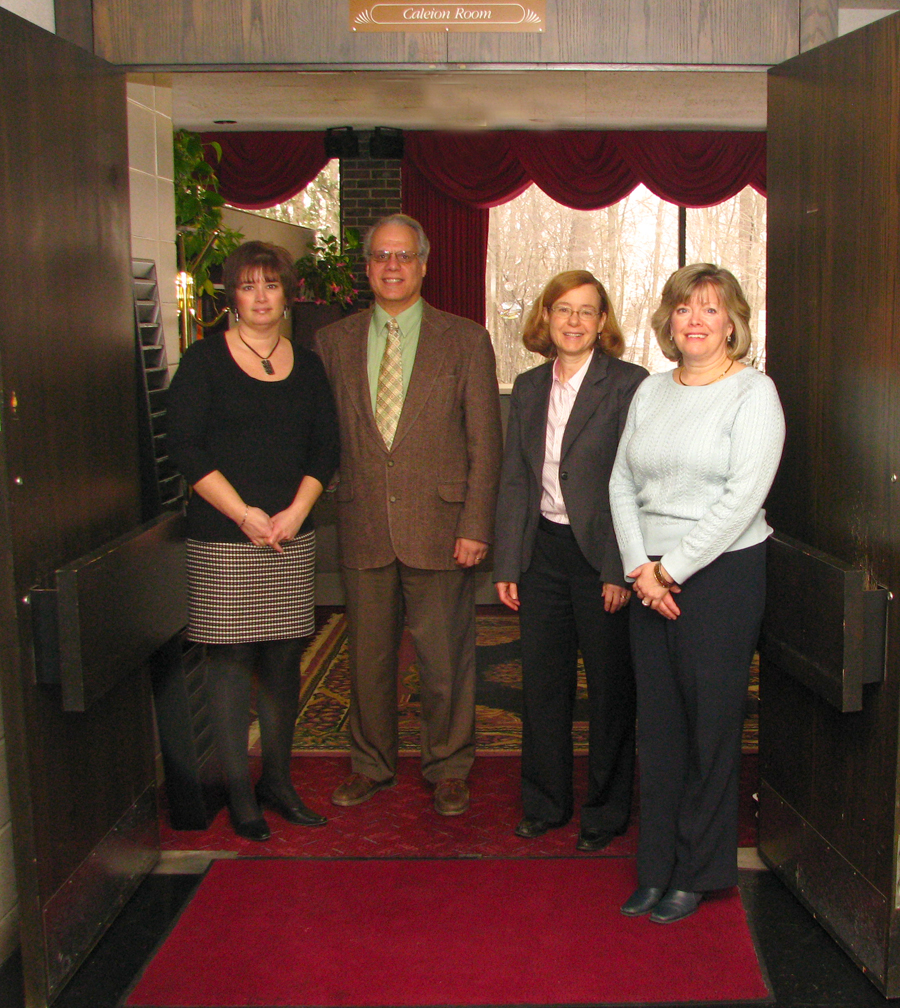 Campus community members looking for a meal at the Caleion Room in Corey Union will be greeted instead by the friendly faces of the School of Professional Studies staff.
Pictured, left to right, are: Lori Porter, secretary II; John Cottone, interim dean of professional studies and education; Eileen Gravani, associate dean; and Teresa Ripley, keyboard specialist I. They were among more than 70 faculty and staff displaced from their Studio West offices by construction and now occupying temporary sites in Old Main, Van Hoesen Hall, Park Center and in downtown Cortland.
---
In Other News
President Unveils College's Web Redesign
01/21/2010
President Erik J. Bitterbaum shared the new look of SUNY Cortland's Web redesign as part of his State of the College address on Jan. 21 in Corey Union Function Room. The revamped Web site is scheduled to launch in March.

"The Web Redesign Team is excited to be so close to revealing the new Web site to the campus and world at large," stated Tracy Rammacher, director of publications and electronic media. "While we have made great strides in creating the site, we want people to know that because of its dynamic nature, the Web always will be a work in progress."

Along with Rammacher, the Web Redesign Team includes: Michelle Cryan, Web communications manager; Gradin Avery, associate provost for enrollment management and marketing; and Loren Leonard, Web development support specialist in the Memorial Library.

The redesign work began in earnest last April after having been stalled for months because of budgetary issues, noted Rammacher. The design concepts were created by Dot CMS of Miami, Fla., the firm that developed the College's content management system.

"Besides having a fresh and current feel, the new Web site is now more user oriented," she said. "In the past, the College's site had been set up to reflect the campus organizational chart. Now, it is geared toward the user experience.

Also, the text, photos and graphics for the site incorporate the College's brand attributes. The home page photo, containing the word 'Momentum,' mirrors the admissions viewbook cover and provides continuity between what prospective students, our primary audience, are seeing both in print and on the Web."


All the pages will use a common template, including a consistent header and footer. The new site will feature links for specific audiences, such as future students, current students, parents, faculty and staff, alumni and the community.

"Quick links will be replaced by a search box for people and the site," said Rammacher. "Also, many new pages, photos and content, as well as faculty, student and alumni profiles, will be revealed in the redesign."

Some of the subject areas for the new Web pages include: community, employment, off-campus locations, teacher education, hands-on learning, quality of student life, athletic excellence, champions, honor societies, faculty excellence, student excellence, on-campus living, off-campus living, visitor's guide, offices A-Z and health and wellness.

"The 'About Us' page will feature brand attributes, while the 'We are Red Dragons' page focuses on campus leadership," explained Rammacher.

She said that future plans involve incorporating the College's athletics site into the new look and also creating a new fund raising site.
Kiplinger's Ranks Cortland Among Nation's Top 100 Colleges for Fourth Straight Year
01/05/2010
For a fourth consecutive year, SUNY Cortland was ranked by Kiplinger's Personal Finance magazine among its 100 Best Values in Public Colleges, a list of national institutions that combine "outstanding economic value with top-notch education."

SUNY Cortland moved up in the rankings to 56th in the nation for out-of-state students and to 75th nationally for in-state students. Last year, SUNY Cortland was ranked 96th and 89th, respectively, in both categories. In all, 10 SUNY institutions appeared in the Top 100 this year, with Cortland among the three that moved up in the rankings.

"I was pleased to learn that Kiplinger's has now recognized SUNY Cortland four years in a row for the exceptional education we offer to students," said SUNY Cortland President Erik J. Bitterbaum. "The individual success of our graduates is the true test of a Cortland education, and I have been impressed with our students' desire to serve their communities and to excel in their chosen professions. We take great pride in being recognized as one of the '100 Best Values in Public Higher Education'."

"Kiplinger's bases its rankings on a combination of academics and affordability," reported the magazine. "We start with data from more than 500 public four-year colleges and universities, provided by Peterson's/Nelnet, then add our own reporting. We narrow the list to about 120 schools based on measures of academic quality, including SAT or ACT scores, admission and retention rates, student-faculty ratios, and four- and six-year graduation rates, which most schools reported for the class entering in 2002.

"We then rank each school based on cost and financial aid. In our scoring system, academic quality carries more weight (almost two-thirds of the total) than costs."
College Council to Meet Jan. 25
01/20/2010
The SUNY Cortland College Council will hold its next regularly scheduled meeting on Monday, Jan. 25, at 4 p.m. in Miller Building, Room 405.

Council members will hear reports by College Council Chair Dorothea Fowler, SUNY Cortland President Erik J. Bitterbaum, Faculty Senate Chair Kathleen Lawrence and Student Government Association President Jesse Campanaro. The Council members will approve the 2008-09 annual report.

Prior to the meeting at 3:15 p.m., Provost and Vice President for Academic Affairs Mark Prus will provide an update of the College's strategic planning process.
Sandwich Seminar Looks at Hydrofracking Jan. 27
01/19/2010
Two speakers will examine the process of natural gas extraction from shale being proposed for this region of the country at a sandwich seminar titled "What You Should Know about Hydrofracking." The talk will be held on Wednesday, Jan. 27, at SUNY Cortland.
Joseph J. Heath, Esq., general counsel for the Onondaga Nation since 1982, and Jeanne Shenandoah, a citizen of the Onondaga Nation Eel Clan, will highlight concerns this process raises for the environment, including water resources required, use of hazardous chemicals, potential well pollution and costs to the community. The talk will be held at 12:30 p.m. in Brockway Hall Jacobus Lounge and is free and open to the public.
Heath has been an attorney since 1975. For the nation, his work centers on environmental protection, particularly under the Clean Water Act. He has expertise in: Onondaga Lake and Onondaga Creek; archeologic site and unmarked burial site protection; Native American Graves Protection and Repatriation Act (NAGPRA) repatriation and litigation; hunting and fishing rights; treaty rights; excise tax issues; and land rights.
He is an active member of Veterans for Peace.
Shenadoah coordinates environmental work for the nation in connection with the Haudenosaunee Environmental Task Force. She also coordinates the Nation's Communication Office. An experienced midwife, has a deep knowledge of native plants and herbs that are used within the traditional Onondaga Nation culture.

The seminar is co-sponsored by Gas Drilling Awareness for Cortland County (GDACC), the Center for Gender and Intercultural Studies, and Native American Studies.
For more information, contact Sheila Cohen, Literacy Department, at (607) 753-2464.
SUNY Cortland Plans Black History Month Celebration During February
01/21/2010
SUNY Cortland will celebrate Black History Month (BHM) throughout February with a series of events including lectures, sandwich seminars, films, musical performances and the annual reception in celebration of diversity.
BHM campus events will be posted in The Bulletin events list and on the Campus Activities calendar.
"Black History Month is a time to honor the culture and history of African Americans, but the celebration should not be restricted because of race or background," said Seth Asumah, Africana Studies Department. "Black history cannot be separate from American history as a whole, so it must be celebrated by all Americans."
In the U.S., Black History Month commenced in 1926 when its founder, Dr. Carter Godwin Woodson, and other African American and white scholars realized the lack of studies and documentation about black history and the apparent disrespect for black culture. Previously called Negro History Week, the commemorative period was renamed Black History Week in 1972 and Black History Month in 1976.
The Africana Studies Department has organized BHM events for the College since the late 1970s. For the last 10 years, the Multicultural Life Office, Black Student Union, Women of Color, Man of Value and Excellence, and Caribbean Student Association have collaborated with Africana Studies to organize the campus BHM events.
"The reason to continue to celebrate Black History Month here at SUNY Cortland, a predominately white institution, is not to dictate the black experience to the campus, nor is it to glorify the spirit of negritude," explains Asumah. "It is to bring the Cortland community together around themes, important developments, scholarly work and culture, and to provide life-affirming information that we as Americans can transcend our historical contradiction in order to reach future possibilities.
"The Black struggles are ongoing and within these struggles victors and victims have emerged," Asumah continued. "Inventors, consumers, martyrs, heroes and, even more recently, a president, have shaped the American national ethos. But, as Dr. Martin Luther King said about the history of a people and what the world would say about Black people, 'there lived a people, a Black people… who had the moral courage to stand up for their rights. And thereby they injected a new meaning into the veins of history and civilization.'"
For more information about Black History Month, contact Asumah at (607) 753-2064, or in Old Main, Room 208B.
Community Roundtable Analyzes Obama Administration Campaign Promises Feb. 4
01/20/2010
Robert Spitzer, a distinguished service professor and chair of the Political Science Department at SUNY Cortland, will review the accomplishments to date of U.S. President Barack Obama, on Thursday, Feb. 4, at SUNY Cortland.
Spitzer, a frequent political commentator and author of books on American politics, will discuss "Obama After One Year: Is the Honeymoon Over?" from 8-9 a.m. in SUNY Cortland's Park Center Hall of Fame Room. Refreshments will be served at 7:45 a.m. A question-and-answer period will follow Spitzer's presentation.
Sponsored by the President's Office and the College's Center for Educational Exchange (CEE), the Community Roundtable is free and open to the public.
"The election of Barack Obama represented the greatest electoral victory for a Democratic president since 1964," said Spitzer. "Yet the realities of governance proved far more difficult than his campaign juggernaut suggested."
Spitzer will address why the president has had so much difficulty in advancing his agenda, especially since his party also controls Congress. He will offer his opinion on Obama's prospects to actually achieve during his term in office what he promised Americans in 2008.
For more information, contact the CEE at (607) 753-4214 or visit www.cortland.edu/cee.


College Offers Spring 'Wellness' Series for Campus, Community
01/21/2010
SUNY Cortland will host the Spring 2010 "Wellness Wednesday Series" featuring speakers, exhibits, self-help workshops and other programs intended to encourage campus and community members to try something new, whether it be yoga, tai chi, energy medicine, massage, Zumba dance-fitness techniques or a new approach to managing one's diet.
Sponsored by the Health Promotion Office and the Student Development Center, the series will take place each Wednesday at 7 p.m. in Corey Union Exhibition Lounge, unless otherwise noted. The events are free and open to the public.
On Jan. 27, Louise Mahar, the College's assistant director, recreational sports for fitness, will offer "A Non-Threatening Introduction to Yoga." Participants will experience a beginner-level yoga class and should dress in loose, comfortable clothing and bring a towel.
On Feb. 3, Charles DeMotte, a beginning instructor in the Taoist Tai Chi Society of the USA, will present "Taoist Tai Chi." Taoist Tai Chi internal arts of health is part of an ancient lineage of Chinese martial arts designed to improve health and well being.
On Feb. 10, Dawn Stranges, who has a doctorate in trans-cultural studies: energy medicine, will discuss "Meditation and Visualization." Stranges will lead participants as they strive to experience several forms of meditation and visualization which can be used to reverse stress, increase performance and gain insight.
On Feb. 17, Stranges will again share her ideas about "energy medicine" in a presentation titled "Mind-Body Medicine." She will demonstrate to participants how to harness the power of the mind to heal one's life and body. She has traveled the world collecting self-healing techniques to help heal the "Stressed West."
National nutrition therapist, author and speaker Evelyn Tribole will share her ideas on "Intuitive Eating: How to Create a Healthy Relationship with Food, Mind and Body" at 7:30 p.m. on Wednesday, Feb. 24, in the Corey Union Function Room. A registered dietician, Tribole says "intuitive eating" teaches individuals how to create a healthy relationship with their food, mind and body, where they ultimately become the expert of their own body. Her talk fittingly takes place during national Body Appreciation Week.
On March 3, Nathan Fanton, a Zumba instructor and Zumba Instructor Network member, will offer "Zumba!" His easy-to-follow moves put to Latin rhythms create a one-of-a-kind fitness program. Fanton's program provides outrageous fun and exercise.
On March 10, health promotion interns will team up with members of Colleges Against Cancer to share information on "Staying Safe on Spring Break." The campus community is encouraged to stop by their tables from 11 a.m.-2 p.m. on the Corey Union first floor for information, activities, cool prizes and free gifts.
Two health education majors at SUNY Cortland, Sara Gleisle and Caitlyn Lawrence, will discuss "Healthy Steps for a Healthier Life" on March 24. Their tips are geared to help participants feel better, reach their goal of daily activity and help the environment, too.
On March 31, the series will host "Giving Blood," an opportunity for students to make a donation that can save lives. Presented by the American Red Cross, the blood drive takes place from noon-5 p.m. in the Corey Union Exhibition Lounge.
On April 7, licensed massage therapist Faith Kessler will demonstrate techniques for reducing stress during her program, "Massage." Kessler, who also is a licensed master social worker, has designed her program to raise awareness and knowledge leading to better self-care.
On April 14, Louise Whittleton, a registered dietician for Auxiliary Services Corporation (ASC), and health promotion interns will share "Healthy Eating Choices" at various tables set up on the first floor of Corey Union from 11 a.m. to 1 p.m. Whittleton and the interns will explain why humans can easily make healthy eating choices every day.
On April 21, campus groups devoted to saving the environment will present "Going Green!" all day on the Corey Union first floor. The Student Affairs Sustainability Committee, resident assistants, green reps and health promotion interns encourage interested individuals to stop by their tables for information and give-aways as the campus community learns sustainable practices.
Richard Peagler, the College's director of counseling and student development at SUNY Cortland, will discuss "Managing Stress and Feeling Better," on April 28. His proven self-help methods are geared to reduce stress and make the individual feel better.
For more information or accommodation to attend an event, contact Catherine Smith, the College's health educator, in Van Hoesen Hall, Room B-1, or at (607) 753-2066.

College Awards 2009-10 Affirmative Action Grants
The 2009-10 Affirmative Action Grants, used to support campus organizations, offices or individuals engaged in activities or programs that advance the spirit of affirmative action, were recently awarded to the following individuals:
Lynn Anderson, Recreation, Parks and Leisure Studies Department/NYS Inclusive Recreation Resource Center, received $500 for "Access for All: Faculty and Staff as Campus Change Agents."
Seth Asumah, Africana Studies Department, received $500 for Black History Month programming including Diane Gooden's visit and presentation on "Schizophrenia: An Equal Opportunity Disorder."
Noelle Chaddock Paley, Multicultural Life Office, and Cheri Skipworth and Steven Canals, Residential Life and Housing Office, received $500 for the 1st Annual SUNY Cortland Student Conference on Diversity, Equity and Social Justice: "Imagining Communities without Walls."
For more information about the Affirmative Action Grant Program, contact Affirmative Action Committee Chair Regina Grantham or Affirmative Action Officer Wendy McAllister.
Nominations for Excellence in Professional Service Awards Due Feb. 15
Nominations are now being accepted for the College's Excellence in Professional Service Awards. Letters of nomination will be accepted from SUNY Cortland students, colleagues or supervisors. Any professional who has completed at least two years of service at SUNY Cortland is eligible for an award.
Nomination materials must be submitted no later than 4 p.m. on Monday, Feb. 15, to Chair, Professional Service Awards Committee, Bursar's Office, Miller Building, Room 323. Nominees will be notified by the Awards Committee of their candidacy after Feb. 15.
Awards will be given for excellence in three categories:
Institutional Service Award
Nominees should be individuals who serve as role models within their area of responsibility, their profession or department. Characteristics such as leadership, organization, problem-solving or decision-making skills should serve as examples of professionalism of the highest caliber. These characteristics may be demonstrated in a number of ways, including but not limited to:
• outstanding performance within the job description
• participation in committees or activities that support the College's Long Range Planning Goals
• participation in professional development and training
Innovation Within Profession Award
Nominees should be individuals who have demonstrated creativity in the development or application of ideas or concepts within a professional operation. Characteristics of innovation may be demonstrated in a number of ways, including but not limited to:
• application of technology within one's field
• redesign of a process or program to improve effectiveness
• maximization of campus resources in operations (e.g. fiscal efficiency)
Service to Students Award
Nominees should be those who have demonstrated leadership in the development or enhancement of programs and services that respond to student needs. Characteristics of excellence in service may include, but will not be limited to:
• demonstration of "going the extra mile" in order to serve students
• development of creative student programming or services
• implementation of programs or processes designed to improve services to students
Typed letters of nomination must be submitted in the following format:
1. name, title, department of nominee
2. name of nominator, relationship to nominee (e.g. colleague, supervisor, student)
3. award category that captures the achievement of the nominee
4. specific information in support of the nomination that answers why the individual's service/innovation/achievement in that category should be recognized
5. up to two letters of support (recommended)
The Awards Committee reserves the right to request additional supporting information as necessary. Nominees must have completed at least two years of service as a professional staff member and must not have been a recipient of an award within the same category within the previous three years. Nominations should be for current service/innovation/achievements and for activities that would either not be considered to be within the normal scope of activities included in the nominee's performance program or should be documented to show how the service/innovation/achievement far exceeded normal expectations.
Recipients will have announcements of the honor sent to The Bulletin and the Cortland Standard. Recipients will receive a certificate of recognition at a small ceremony.
Campus community members are asked to nominate colleagues for their exemplary service.
For more information, contact Professional Service Awards Committee Chair Colleen DeGouff, Student Accounts Office, at (607) 753-2412.
Updates Made to Faculty and Staff Directory
The Publications and Electronic Media Office has updated the campus information pages of the 2009-2010 Faculty and Staff Directory to reflect recent changes. A pdf can be accessed at http://www.cortland.edu/search/email.asp or from the Faculty/Staff Resources link on the SUNY Cortland home page.

Faculty and staff are encouraged to review their online directory entry and make any necessary changes. Directions on how to update information can be found below and on page two of the 2009-2010 Faculty and Staff Directory.

To update your personal information in the online directory, from the Cortland home page,
Go to Faculty/Staff Resource.
Scroll to Faculty and Staff Directory and select Directory Maintenance.
Enter your Cortland ID number and your birth date. Your record will be available for you to edit.
Make the changes and submit. Your online listing will be up-to-date.

To make changes, Research Foundation employees should contact Brent Danega in the Human Resources Office. ASC employees should contact Sue Michales.
ASC Accepting Program Grant Applications for 2009-10
Auxiliary Services Corporation (ASC) is now accepting Program Grant applications for the 2010-11 academic year. Application packages may be downloaded at www.cortlandasc.com/general/forms.cfm, picked up at the Auxiliary Services Office in Winchell Hall or e-mailed by contacting Annette O'Hara at (607) 753-4325.
Applications must be submitted by 4 p.m., Friday, Feb. 19, at the ASC Office.

Each year the ASC Board of Directors allocates funds to support grants for a wide range of purposes and projects that enhance the life of the SUNY Cortland College community.
Although ASC is willing to consider a wide range of ideas, it seeks to avoid duplicating other funding sources or funding projects more properly supported by state funds. Therefore, applicants should first seek funding from primary funding sources. Other grant guidelines are described in the application package.

For more information, contact Jeffrey Johnson, at (607) 753-5668.
Political Science Honorary Inducts New Members
The Cortland Zeta Delta chapter of Pi Sigma Alpha, the national honor society formed to recognize outstanding achievement in political science, formally inducted six students in a Dec. 10 ceremony.
The inductees were Lawrence Chappy, Sarah Godden, William Harklerode, Thomas Irving, Margaret Place and Kathleen Raedy.
Membership in Pi Sigma Alpha is open to juniors, seniors and graduate students enrolled in programs of political science at institutions where chapters are located. Undergraduates must be at least juniors who have completed a minimum of 10 credit hours in political science, including at least one upper-division course, with B or higher average grade. They also must have achieved an overall GPA placing them in the top one-third of their junior or senior class. They need not be political science majors to qualify for membership.
Robert Spitzer advises the Zeta Delta chapter. Formed in 1970, it is one of the first chapters to be established among political science departments in the SUNY system.
Undergrads Allotted Four Guest Tickets for Commencement 2010
Following a recommendation by the Undergraduate Commencement Committee, the President's Cabinet approved a reduction from five to four tickets per student in guest tickets issued to each graduating student for the 2010 Undergraduate Commencement ceremonies. undergraduate.commencement@cortland.edu
The number of graduates this May is expected to exceed the 2009 totals. The recommendation was based upon the significant increase in student participation, the higher graduation numbers and a general concern for the safety of those attending the event.
Overflow seating with live video streaming will be available in three Park Center locations — Room D-305, the Hall of Fame Room and Room E-201 — and will not require a ticket for admission. Commencement tickets for student volunteers who assisted in prior Commencement ceremonies will continue to be honored.

The Commencement Web site is updated for the 2010 ceremonies. In early January, postcards announcing the live site were mailed to the permanent mailing addresses of all potential graduating students, i.e., those with 85 or more credits. This postcard is the only piece of information that will be mailed.

All information pertaining to Commencement is available on the SUNY Cortland Web site. Any questions or concerns may be directed via e-mail to Undergraduate Commencement.



Suggest a feature story
---
People on the Move
R. Bruce Mattingly Named Dean of Arts and Sciences
01/20/2010
R. Bruce Mattingly, who served as interim dean of SUNY Cortland's School of Arts and Sciences since July 2008, was named dean of arts and sciences on Jan. 11, following a national search.
Mattingly served as interim dean after the previous dean, Mark Prus, became the College's provost and vice president for academic affairs.
As the interim dean, Mattingly had broad service experience on many major executive and College committees, including President's Council, Provost's Cabinet, Teacher Education Council, Long Range Planning Committee, National Council for Accreditation of Teacher Education (NCATE) and Middle States Review Committees. He has chaired the Scholars' Day Committee.
While he served in an interim capacity, the school received a number of grants, notably the National Science Foundation's Robert Noyce Teacher Scholarship Program for future math and science teachers. Awarded last summer, the grant for nearly $900,000 will assist up to 50 students over five years. Arts and sciences faculty also recently obtained a $10,000 planning grant from the Sloan Foundation to explore the development of new Professional Science Master's degrees.
Mattingly joined the College in 1999 as associate professor and chair of mathematics and was promoted to professor in 2002. He served as the department's graduate coordinator in Spring 2003, Spring 2004 and the 2006-07 academic year. He taught undergraduate and graduate-level mathematics courses as well as introductory computer programming and online courses.
He participated in two national workshops sponsored by the National Science Foundation on the use of software in teaching linear algebra and wrote articles on mathematics teaching that were published in the Journal of Graduate Teaching Assistant Development and the New York State Mathematics Teachers' Journal.
Mattingly chaired the Quantitative Skills Committee and served on the Teacher Education Council and on the Academic Affairs Council. A Faculty Senate member from 2000-04, he participated in other campus bodies focused on long range planning, faculty development and accreditation.
His research interests include Markov chains, matrix theory and scientific computing. His work has been published in The American Mathematical Monthly and the Operations Research Society of America Journal on Computing.
In recent years, he has presented his research at conferences sponsored by the Society for Industrial and Applied Mathematics, the Center for Discrete Mathematics and Theoretical Computer Science and the Seaway Section of the Mathematical Association of America.
Mattingly directed a number of SUNY Cortland undergraduates and graduate students on research projects using mathematics.
He has served as a referee for the First International Workshop on the Numerical Solution of Markov Chains conference and peer-reviewed journals including Mathematical Programming, the American Mathematical Monthly and Linear Algebra and its Applications. He was an invited participant at a panel discussion on the assessment of mathematics programs at the Joint Mathematics Meetings in 2005.
A native of Louisville, Ky., he earned a Bachelor of Science in Applied Science and a Master of Engineering in Applied Mathematics from the University of Louisville. As an undergraduate, he was inducted into the Tau Beta Pi Engineering Honor Society and served on the Interscholastic Programming Team, which in 1980-81 earned sixth place in a national contest sponsored by the Association for Computing Machinery.
When receiving his master's degree, he was honored as an Outstanding Graduate in Applied Mathematics and Computer Science. In 2002, he was awarded a Professional Award in Computer Engineering and Computer Science from the University of Louisville.
Mattingly received a doctorate in applied mathematics from North Carolina State University. While there, he was captain of the Interscholastic Programming Team, sponsored by the Association for Computing Machinery, which earned third place in an international contest. He received a Summer Research Award from the Department of Mathematics, a Graduate Student Certificate for Outstanding Teaching, a Maltbie Award for Outstanding Graduate Teaching Assistants in Mathematics and the Mathematics Department's Winton Award.
In 1988, Mattingly joined the Mathematics Department faculty at Youngstown State University as an assistant professor and was promoted to associate professor in 1993. From 1995-99, Mattingly served as assistant to the dean in Youngstown's College of Arts and Sciences.
While at Youngstown, he was honored with two research professorships. In 1990, he was awarded associate membership in the Sigma Xi Scientific Research Society. Youngstown's Arts and Sciences Master Teacher Recognition Program acknowledged him as a master teacher from 1995-99.
Mattingly is a member of the Mathematical Association of America and the Pi Mu Epsilon Mathematics Honorary Society.
He lives in Virgil, N.Y., with his wife, Lynne, and their two sons, Peter and Nathan.


Karen Hartnett Gallagher Directs Financial Advisement
01/20/2010
Karen Hartnett Gallagher, who served as interim director of financial advisement at SUNY Cortland since March 2008, was named director of financial advisement on Dec. 16 following a national search.
The director of financial advisement is responsible for the overall fiscal management of the various student aid programs. She will oversee compliance with federal and state regulations and recommend policy in areas of responsibility within the Financial Advisement Office.
Gallagher joined the College in January 1997 as a financial aid advisor. Prior to her interim appointment, she was associate director from 2002-2008, and assistant director from 1998-2002.
Gallagher's extensive work in the field of financial aid began as an admission and financial aid counselor at Syracuse University, where she worked from 1988-1991. In 1996 she joined the Financial Aid Office at SUNY Oneonta where she worked before joining the Cortland staff.
She reports to Associate Provost Gradin Avery, enrollment management and marketing.
"We are fortunate to have Karen's leadership and knowledge of financial aid, particularly during these challenging financial times for students and families," said Avery.
Gallagher graduated from Hartwick College with a B.A. in history.
She is a member of the New York State Financial Aid Administrators Association and the State University of New York Financial Aid Professionals (SUNYFAP, Inc.).
Gallagher lives with her son, Cullen, in Homer, N.Y.
Stephanie Plude Becomes Community Outreach Coordinator
01/07/2010
Stephanie Plude of Cortland, N.Y., has been named Main Street community outreach coordinator. She will assist town-gown partnerships based at Main Street SUNY Cortland at 9 Main St.
Plude's responsibilities include developing, coordinating and implementing a number of the programs for the SUNY Cortland Institute for Civic Engagement (ICE) and the Cortland Downtown Partnership. She will seek new ways to engage the College and the community in joint ventures.
She replaces the ICE's first community outreach coordinator, Timothy Rodriguez '08, who completed his AmeriCorps term of service Dec. 14 and accepted a newly created position with the ICE as the building community leaders coordinator. His term runs through May 2010.
Plude, who started on Dec. 1, reports to Richard Kendrick, director of the College's Institute for Civic Engagement, and Adam Megivern, executive director of the Cortland Downtown Partnership.
"We are very happy to have Stephanie working with us," said Kendrick, who is also a SUNY Cortland professor of sociology/anthropology. "Among her first projects is to continue the work Tim started to celebrate Martin Luther King, Jr. Day on January 18, 2010. She will be working in collaboration with the YWCA and other campus and community groups. She is also working with Adam Megivern, executive director of the Cortland Downtown Partnership, on the upcoming Chill-a-Bration event in February."
"I hope to increase consumer traffic to downtown Cortland and support for local businesses and farms," Plude said. "I will also be encouraging collaboration between SUNY and community organizations to build a sense of community and responsibility. In times of economic hardship, a strong community network and the pooling of resources benefits both individuals and Cortland in the long-run."
Plude is one of 15 AmeriCorps volunteers currently working or in the process of being recruited for agencies in the Cortland community, said Kendrick. He collaborated with the College's Research and Sponsored Programs Office to secure the initial $199,900 in AmeriCorps funding and Educational Benefit Awards for the project. AmeriCorps extended the grant for a second year with $148,489 in funding while federal Recovery Act funds also supported the initiative.
AmeriCorps members are treated as employees by the agencies for which they work. They are paid a small stipend from a federal grant that was awarded to SUNY Cortland and the community in July 2008 from the Corporation for National and Community Service.
A native of New Haven, Conn., Plude graduated from SUNY Binghamton in 2008 with a B.A. in environmental studies: policy and law and a minor in geography. She attended study abroad at Lancaster University in the United Kingdom, and completed three semesters at Eastern Connecticut State University.
Throughout her college years, Plude was involved in the Student Environmental Awareness Club, the Student Action Coalition, the Binghamton Political Initiative, Binghamton Food-Not-Bombs, Binghamton's student-run Food Co-op, and Eastern Connecticut State University's Roots & Shoots. Stephanie interned with ECSU's Institute for Sustainable Energy and Performance System Maintenance, and she was trained in campus organizing by the public interest research group, Arizona.
Kendrick said he was pleased to have Rodriquez continue to work with the ICE.
"In his capacity as our building community leaders coordinator, Tim will help us organize our Fall 2010 'Fire It Up: Lead the Way to Change' conference," Kendrick said. "He will work with the Institute for Civic Engagement and the Division of Student Affairs on our Leadership Living Learning Community. Tim will help develop curricular materials on leadership and civic engagement that will be made available to COR 101 instructors."
Rodriguez will help publicize and coordinate a new program the ICE is introducing of internal grants for departments and other campus programs seeking to institutionalize civic engagement leadership.
A native of Poland, N.Y., Rodriguez earned a Bachelor of Science in Outdoor Recreation from the College in 2008. While at SUNY Cortland, Rodriguez was the Student Government Association Senate representative for the Cortland College Recreation Association (CCRA). He was project leader on the environment with the New York Public Interest Group (NYPIRG), founder and president of the Cortland Running Club and president of Habitat for Humanity.
Each year, AmeriCorps offers 75,000 such opportunities around the nation. AmeriCorps members tutor and mentor disadvantaged youth, fight illiteracy, improve health services, build affordable housing, teach computer skills, clean parks and streams, manage or operate after-school programs and help communities respond to disasters.
---
Faculty/Staff Activities
Marley Barduhn
Marley Barduhn, academic affairs, was recognized on Dec. 1 by the Cortland Rotary Club for her contributions to the community and to international education. Barduhn is one of 20 outstanding community leaders being honored with The Paul Harris Fellow Award during Rotary's 90th anniversary celebration year from July 2009 to June 2010. Barduhn's many contributions noted by the Rotary included her service with the Cortland Caring Hospice, contributions as an EMT in critical incidence stress management and response team training, impact on migrant families through the Migrant Education Outreach Program at SUNY Cortland, which she oversees, and commitment to the importance of study abroad programs and internships.
Catherine Porter Lewis,
Catherine Porter Lewis, professor emerita of French, and president of the Modern Language Association (MLA), participated in the Presidential Theme Sessions at the MLA Conference held Dec. 26-30 in Philadelphia, Pa. The title of the conference was "The Tasks of Translation in the Global Context." Lewis is currently visiting professor at the Society for the Humanities at Cornell University. SUNY Cortland Distinguished Alumna Therese Sullivan Caccavale '75, presided over a special session held on Dec. 30. She is currently the administrator of an elementary-level foreign language immersion program in Holliston, Mass.
Joel Shatzky
Joel Shatzky, professor emeritus of English, had his article, "Educating for Democracy," published in the Winter 2009-2010 issue of Jewish Currents. He was writing a blog for The Examiner since October and now is writing a blog, also called "Educating for Democracy," on The Huffington Post.
Robert Spitzer
Robert Spitzer, Political Science Department, was invited to be a guest blogger for the Web site The Huffington Post. He has since written two articles for The Huffington Post, one on the Senate filibuster and the other on President Obama's misuse of the veto power.

Submit your faculty/staff activity