Stories
Alfred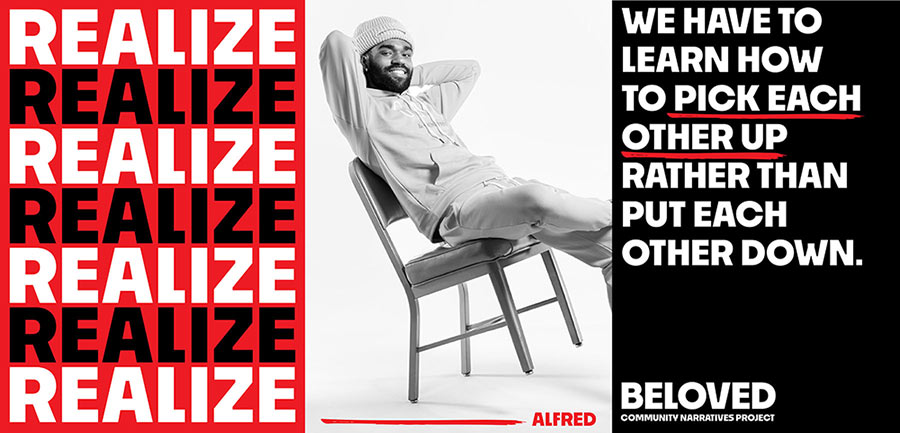 It takes so much more energy to be negative than it does to be positive, and in order for there to be true peace in this world, we have to learn how to pick each other up rather than put each other down with prejudices, stereotypes, or by using people's background to make them feel as if they don't belong.
We all belong.
---
Amura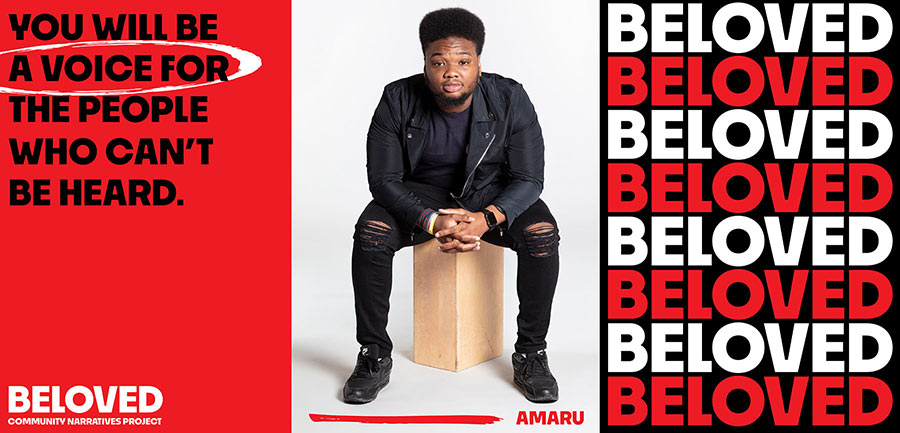 If I could talk to my younger self, I would tell him "You are doing fine, just don't make decisions based off of your emotions and use a clear head to think things through." I would also tell him "Don't rush life, be a kid because you will never get these moments back. Just live, and love life to the fullest. And don't be afraid of making mistakes, mistakes are part of becoming a better person. Without mistakes you won't grow." I would tell him this I know for sure, "You are going to be a great leader in this world. You will be a voice for the people who can't be heard. You will be a leader in your community and change the way your community is seen. The youth will look to your story and use it as encouragement, as an example that even with the odds stacked against them, they can persevere and achieve their goals."

---
Casey
A real portion of my daily energy is dedicated to managing depression and anxiety. For years, I had kept this struggle hidden, internal, because there didn't seem to be constructive ways to share any of it with the people around me. Recently, I made a promise to stop treating mental health like a skeleton in my closet and to be willing to talk openly about it despite any real or perceived stigmas. Since then, SUNY Cortland has communicated loud-and-clear that the mental health and wellness of our community is a priority. This has helped me see that my personal promise can be a part of a larger effort to change how we perceive and react to mental health challenges. It's my hope that being willing to share this honestly and openly will help others reflect on how they internalize their own struggles. Our mental health can shape who we are, it's part of who we are. We shouldn't feel obligated to process it silently or alone.

---
Cesia
I proudly claim myself to be a Guatemalan-American and the daughter of two immigrants who literally walked for a better future. My entire life, I have seen how immigration policy impacts not only my community, but my family as well. To this day, my mother's legal status in the United States is a battle we fight. This obstacle has fueled my motivation to create a more secure future for myself and for those I love. I am blessed with two hardworking parents from a working-class home. Throughout my adolescence, I worked hard to develop a mentality and work ethic that would prove that I was worthy of greater opportunities; but I never envisioned the present I am experiencing. SUNY Cortland and the C.U.R.E. Program welcomed me with open arms and support. It was here that I became the first in my family to attend a four-year academic institution. I am twenty years old, and this spring I will be graduating as the first-generation citizen and college student in my family. I aspire to work with the students and young people of my community because I know what it feels like to be lost and clueless in educational spaces. It wasn't until I arrived at this institution that I began to understand my place and identity in White spaces. I have seen and experienced the polarity of my home life and college. I carry my Latinidad proudly, and it informs the way I view the world and educational environments.

---
Christina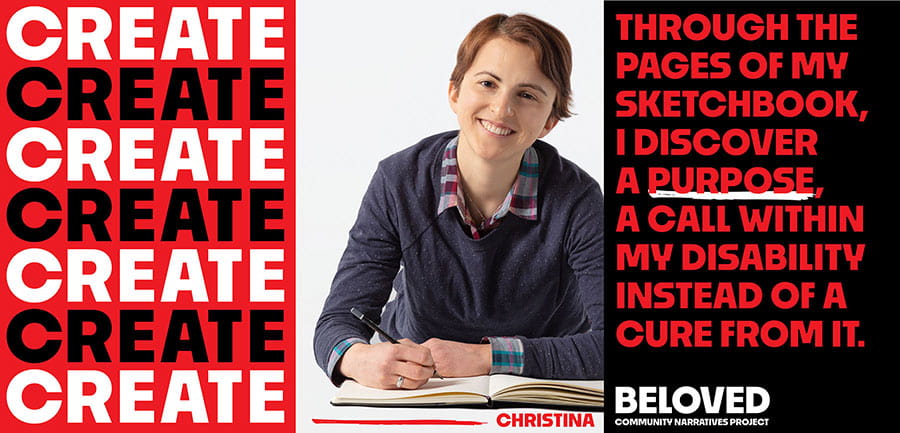 I hid in my sketchbook until I began to share my drawings with others and realized that what society calls undesirable, creativity calls remarkable. My blind side wasn't meant to be a tool of hiding, but a teacher of healing. The places of pain from my past became positions of power for my future. Now the bravest place I stand is in my own weakness. Through the pages of my sketchbook, I discover a purpose, a call within my disability instead of a cure from it. I accept the truth that while I may not be able to see physically out of two eyes, I have dual vision that allows me to engage with the world creatively. Creativity is the healing balm that revives my authentic self. My disabilities are not meant to serve as symbols of tragedy, but stories of transformation. I am a vessel of love, and the cracks that exist within my vessel are pathways to unapologetic expressions of worth and meaningful connection with others. I am not an accident marked defective; I am art that has been resurrected.
---
CK
I want to be a dad. I want my body to match how I feel inside. One day the man I am WILL be visible on the outside. I plan on getting multiple surgeries. One day I will be truly happy. I know I am a genuine, passionate, loving, straight male; that's how I've always seen myself. Until I came to SUNY Cortland, I had not met anyone else like me. I once saw an episode of MTV True Life about living as a trans person; that gave me some hope, but I'd never met another trans individual in person. Meeting another trans student here at school gave me my life back. One thing I know for sure is that I want to be there for kids like me. I want to give others hope. One of my proudest moments was being able to help another trans person, being the first trans person they'd ever met. I was able to help their family to understand what their child was going through. I want to help more transgender individuals. I will help others. I am not living my best life yet, but I am on my way and getting there.
---
Cyrenius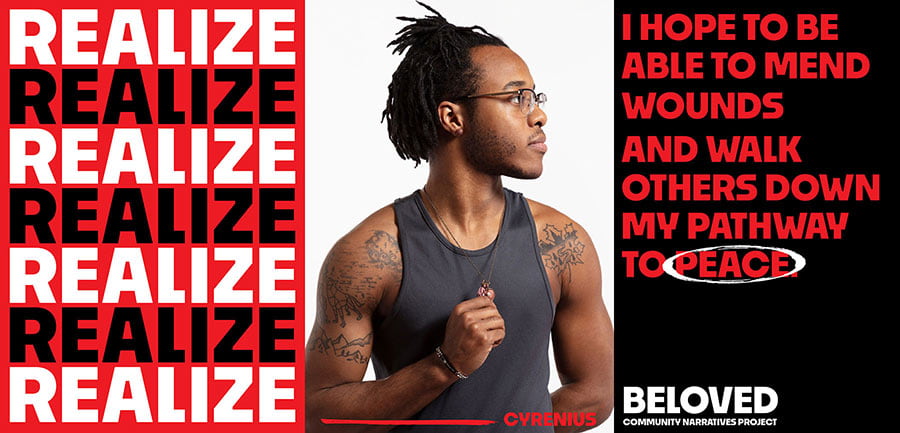 My name has a lot of meaning. Cyrenius Weagba, two unorthodox names that have shaped who I am as an individual -- Cyrenius meaning peaceful, Weagba meaning pathway. For the first five years of my life, I had no idea that Cyrenius was even my name, as my entire family only called me Weagba, my traditional Liberian name. When I discovered that Cyrenius was also my name, this caused quite a crisis for me. I felt torn between two identities. However, because Liberia is a nation scarred by a history of Civil War and unrest, being named peaceful had deep significance and true meaning to me. For as long as I can remember, it has broken my heart to see others suffer and lack the resources to live a healthy life. I don't understand why a world overflowing with resources lets its people suffer and die while others thrive. So, I truly see myself as a pathway to peace, Cyrenius Weagba. And this is how I strive to live my life. I believe the most beautiful and important thing in the world is love; it can heal any wound and lift anyone up. I aim to bridge gaps and bring peace, so that we can all learn to love one another. Being from a family that was split by war and seeing and living with hate firsthand, I understand what it means to be fractured or feel broken. I hope to be able to mend wounds and walk others down my pathway to peace.
---
Eric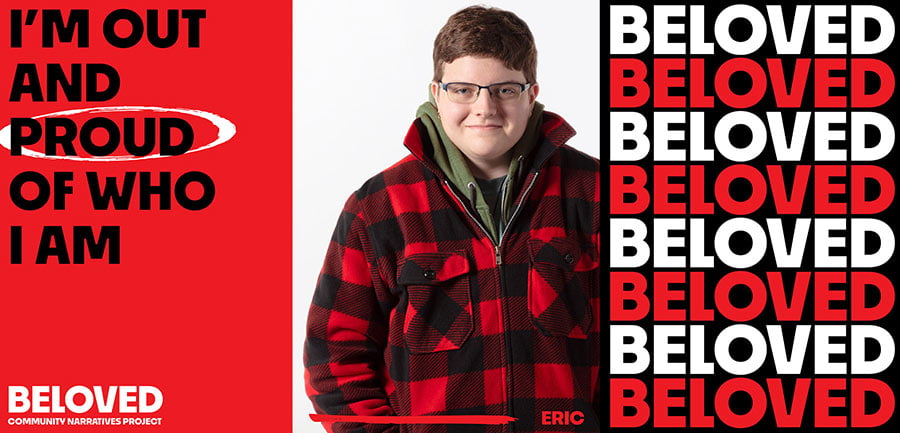 I don't usually tell people that I'm transgender, mostly for my own safety. By coming out when I don't know who's in the room, I might be putting myself in danger. It's scary how fast some people will start being openly homophobic as soon as the gay person leaves the room. I've had people tell homophobic and transphobic jokes right in front of me because they never considered who's listening. I keep a mental list of the people who can never know the truth about me after they've shown their true colors that way. I try to correct people without outing myself, but it's difficult. I'm out and proud of who I am, so eventually people will learn I'm trans and gay. Not coming out every time I meet someone is a form of protection. I've received warnings from friends who warn me to, "Stay away from the guy in the blue coat; he's homophobic; don't tell the girl with the yellow cardigan you're trans." The LGBTQ community keeps our own safe with quiet observations.
---
Esteban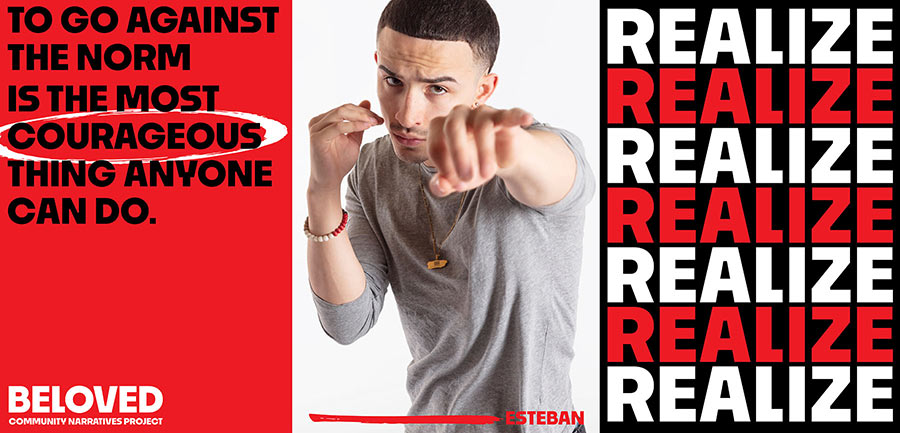 Coming from a Puerto Rican family that experienced nothing but struggles throughout history has given me the strength, tools, and teachings to set me up for success. My mother raised me to be strong and to never back down. She taught me to always be ten steps ahead of everyone else and to remain confident in who I am and where I'm from. But growing up I was bullied because of my race and my differences, which made me realize that, more than anything, I needed to learn to be in tune with myself. If I accept myself, I can find other genuine people who accept themselves too. This truth, along with the teachings my mother instilled in me and the disciplines I learned in boxing, have made me an open-minded human being. To go against the norm is the most courageous thing anyone can do. Once you go against the norm, people begin to look at you differently. And when that happens you begin to realize you just might be doing something right. It is so important to be in tune with yourself because at the end of the day, that's all you have. I want to be a man that fights against homophobia, sexism, toxic masculinity, racism, and domestic violence.
---
Flossie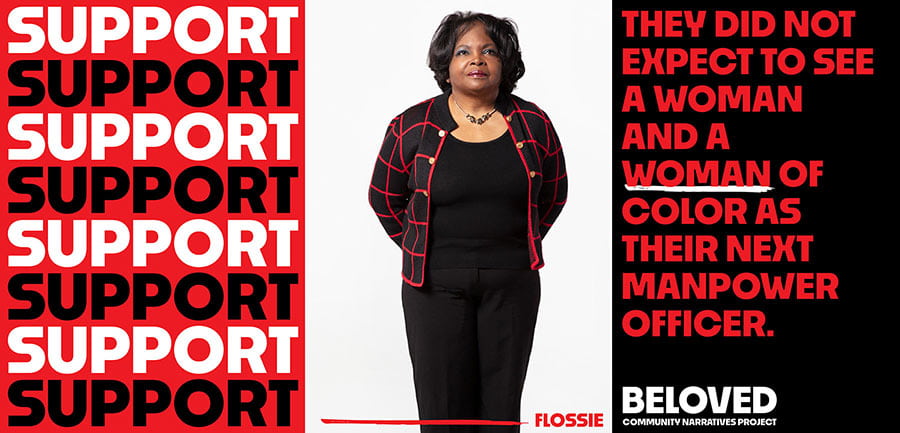 Looking back, I have to say that many of the most significant experiences and influences in my life came from the period of time that I served in the Army. I have been connected to the military for over 30 years. It was in the Army that I fell in love and had my son and daughter, the loves of my life. Sadly, as a member of the Army, I was subjected to sexist remarks that were deeply embarrassing. I am African American, and during that period I was physically endowed in some areas. Sadly, I experienced both sexism and racism during my time in the service. Through a blind selection process, I was assigned to be the first Black manpower officer for the Coalition Forces during Operations OIF, OEF, and HOA. My welcome was not as warm as previous counterparts. I believe it's because they did not expect to see a woman and a woman of color as their next manpower officer. It would be the first time many of the coalition leaders would work so closely with a woman and an African American. They were hard to accept my position at first, but by the end of the rotation, I had proven to be as equally competent as my counterparts and was well respected. All of these events have shaped me into the individual, the woman, mother, leader, and Christian I am today.
---
Gia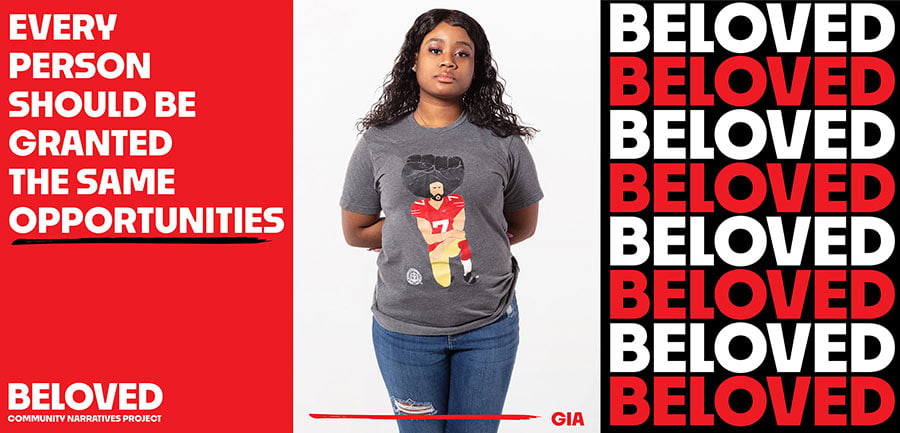 I grew up in a predominantly African American neighborhood in Hollis, Queens. When I became active in my community chapter of the NAACP at 13, my worldview changed. I knew about slavery, but I didn't know that I was always going to be seen as Black first. Before my intelligence or my talents, I was always going to be Black. That was a very hard pill to swallow. I didn't understand why people didn't believe what I knew to be true: that no matter the color of your skin EVERY person should be granted the same opportunities. I realized if I wanted a seat at the table, I would have to make one for myself. When I graduated high school, I promised myself I would create a seat at the table for me and my people. During my first semester at SUNY Cortland I founded the SUNY Cortland NAACP. I knew this campus needed the baddest, boldest, oldest civil rights organization in America. I am for ALL people. I will ensure that we all have meaningful space at the table, space we deserve. And you will hear us roar! Our chapter was officially inducted into the NAACP on February 16th, 2019. That's one year of fighting for social justice and equality. And we don't ever plan to stop.
---
Greg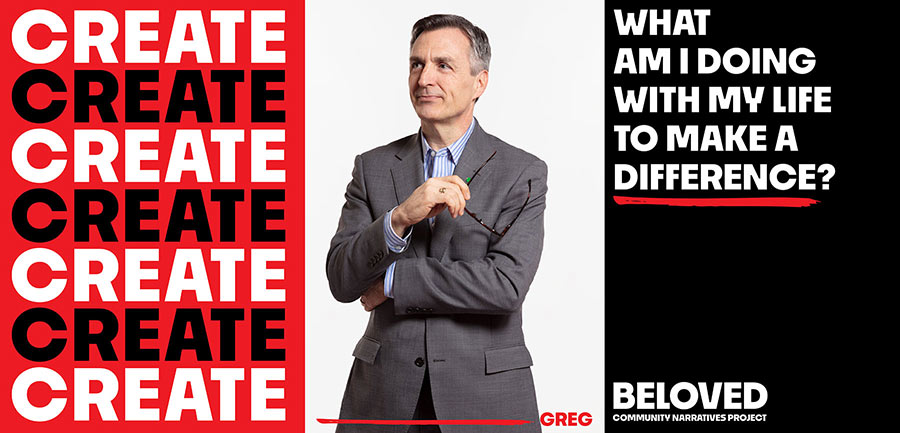 Though many people have affected my life, my father's death when I was in my early 30's had the most dramatic effect on my life. It forced me to ask the question, "What am I doing with my life to make a difference?" My father was a high school Spanish teacher who grew up in a very poor family. He worked hard to provide. I respected him but never truly thought of him as my role model or "hero." Looking back, I see how much he impacted who I am. What struck me upon his death was the number of people he had touched in his life. He was a teacher, musician, EMT, father, and son. He spent his life looking after others, especially his family. We didn't have a lot growing up, but he worked hard to provide all he could. Following his death, I recommitted myself to my family, my health, and my career. I went to law school to challenge and improve myself and even completed a marathon. I also visited Bluefields, Nicaragua, where my father first taught. It gave me a greater understanding of him and pride in being his son.
---
Jade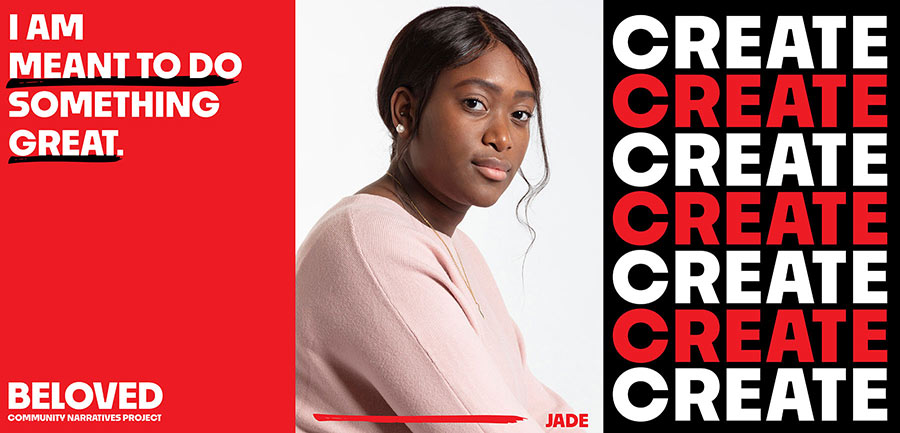 As a proud immigrant from Haiti, I can see that there are so many opportunities in this country. I can pursue anything I want, and the possibilities are truly endless with hard work. I always make friends and love hearing stories from people from different countries and cultures. There's always a great story behind how they got here and why. One stereotype I want to dispel is that immigrants are uneducated and don't become successful. I've seen so many hardworking, educated immigrants break new boundaries in this country. We come here because of all the opportunities and hopes this country can offer. One thing I know for sure is that I am meant to do something great. I will be a successful, prosperous woman and have a great impact on others. I want to be that person that young women can look up to and inspire others in any way I can. I want to be that representation for young women like me, that I did not really see growing up. I am working hard at everything I do to make sure this vision comes to life.
---
Jamie
We are taught to hide our imperfect selves. We are taught that vulnerability is weakness. We are taught that only some are born with worth, while others have to work for it. We are taught hate. We are taught by people who were taught these same injustices, which has led us to believe we are less than worthy of love and justice.
But they are wrong.
We are love. We are brilliant. We are resilient.
When your soul is tired, I want you to remember…
You are kind. You are beautiful. You are valued. You are worthy.
---
Jessica
What you can't tell by looking at me is that I have a chronic illness. They call it an invisible illness because I appear normal to others, but internally I'm fighting a battle every day. Having Crohn's Disease has molded me into who I am and who I am meant to become. I've often thought of this disease as a curse, like chains constantly weighing me down, preventing me from reaching my full potential. But it has also been a blessing. It's taught me how to be patient with myself and others, how to reduce stress, and most of all, to see the world in a different light. Crohn's has taught me how to be happy, and when I can't, how to change my perspective. I've learned how to find internal peace with my situation and within myself. I don't let small things get to me anymore and I know my worth. I've become stronger and tougher because of what I've had to deal with my entire college career because I've had to accept the reality I've been given. I deal with every issue as it comes with a smile, even if I'm smiling through pain.
---
Kathleen
We are the most vibrant, strong, intelligent, kind, hardworking, motivated, confident leaders and independent people that you'll ever meet. ¡Somos Latinos! We are not the ignorant and misinformed stereotypes that society, the media and the president wrongly portray. My parents came to America as immigrants seeking a better future. I am the first of my family to attend a four-year college. My parents taught my siblings and me to always stand our ground and to motivate ourselves to be better people. The most important lesson I have been taught is to always be proud of where I come from. I'm not ashamed of my roots; they are my identity. I am proud to be a Latina who has dreams. I will teach my own children to be unafraid and to stand up for what's right. At the end of the day, sabemos quienes somos y eso nunca cambiará.
---
Lauren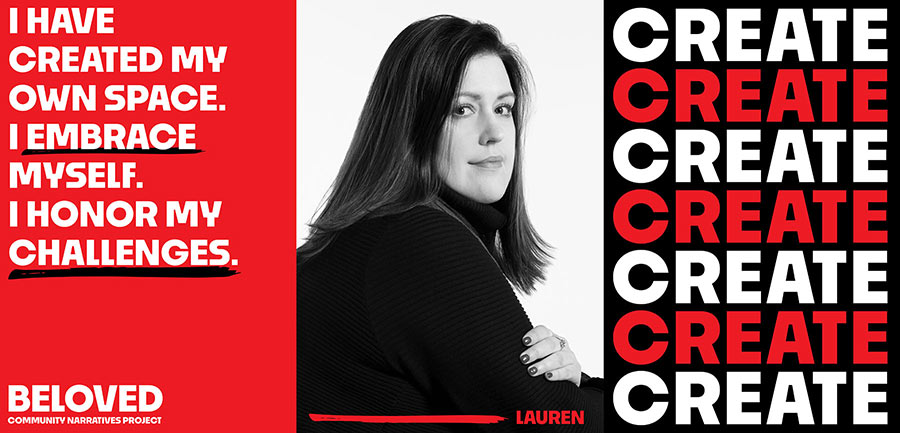 We are all unique, connected by the inevitability that everyone struggles. I used to view the world with angry eyes, never understanding why I felt different, as though I never quite fit. I shoved bitterness to the far corners of my insides loathe that anyone might see the solitary madness I felt. But I have discovered that I am not crazy and I am not alone. Embracing my whole self, Bipolar, ADHD, and lesbian, was the first step in healing the scars no one would ever see. I spent too many years searching for a place to fit in, not just blend in, a place where I felt embraced for who I am. I have finally realized I had both all along. Each piece of me that is different blends together to form my values of compassion, education, and acceptance. Now, I have created my own space. I embrace myself. I honor my challenges. Bipolar Disorder is not a commercial. ADHD is not an annoying condition that only boys have, and being a lesbian is not a cause or a place to channel anger. They are each a piece of me, not my definition. I am passionate. I am driven. I am unique. I am resilient.
---
Lima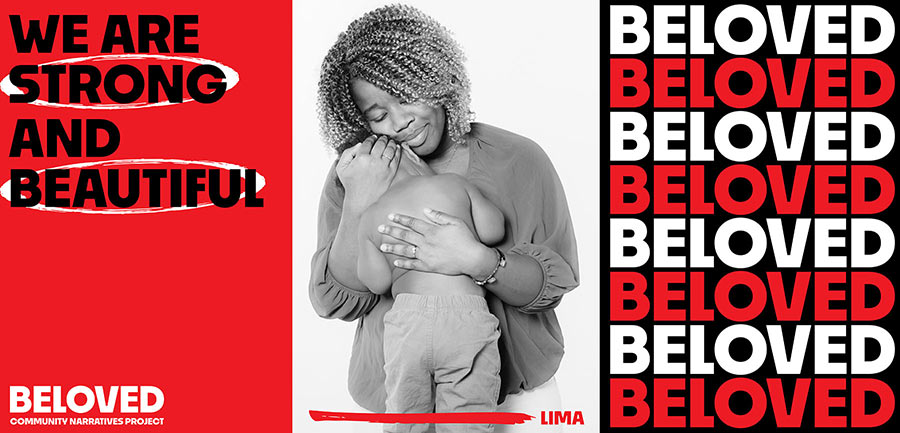 I believe in and stand for women's empowerment and the idea of never giving up. Empowerment is about embodying authority and actualizing it. Empowerment is about becoming stronger and more confident. Empowerment means becoming aware of one's rights and privileges. Empowerment also means having the ability to control one's life in a meaningful and fulfilling way. "Never giving up," is an idea I've grown up with that helps me to be successful. It encourages me to consider the positive things in my life instead of focusing on the negatives. It guides me to explore the unknown and to stay positive through everything I do. I am learning to never give up through tough times and struggles. The beginning is always the hardest part, and if we don't struggle at some point in our lives, we may never overcome the obstacles ahead of us. I love encouraging women to be positive and to share their experiences with each other so that we remember that we are not alone. We are strong and beautiful, and God loves us. I love this acronym for women; it's a great reminder for me: Wonderful Organized Marvelous Empowered Necessary
---
Marjorie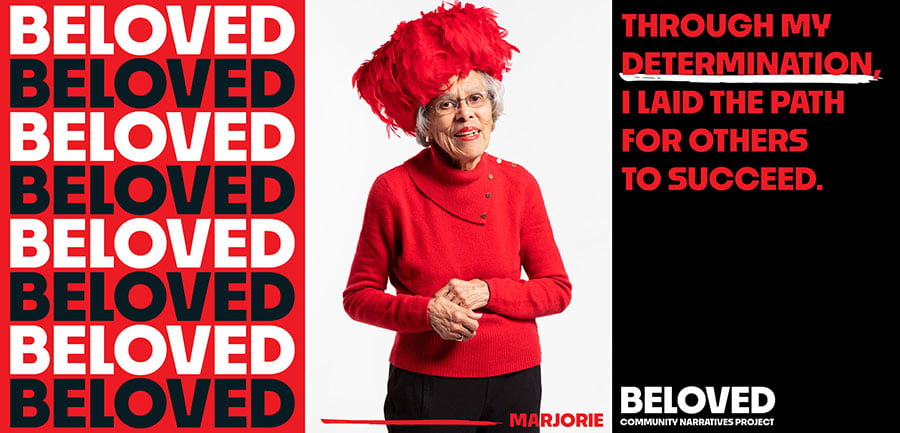 My determination to get an education and to be a teacher has been a common thread throughout my life. Many people have said that I've helped them open doors and see possibilities because of the goals I've achieved. I was the first African American teacher in the city of Syracuse and also the first Black President of the Syracuse Teachers Association, the only one thus far. Knowing that I was able to teach kids and that they are doing something with that education makes me feel very proud. Realizing my dream to go to college and be an educator has expanded in many directions. Several years ago, the superintendent of Syracuse said she wouldn't have achieved her position if I hadn't achieved what I had. She said that I served as an example for her. I've received a note from a former first-grader who said I gave her a great foundation, and dissertations from former students who have gone into teaching at the university level. Through my determination, I laid the path for others to succeed. It all started at Cortland really, because no one here stopped me.
---
Michael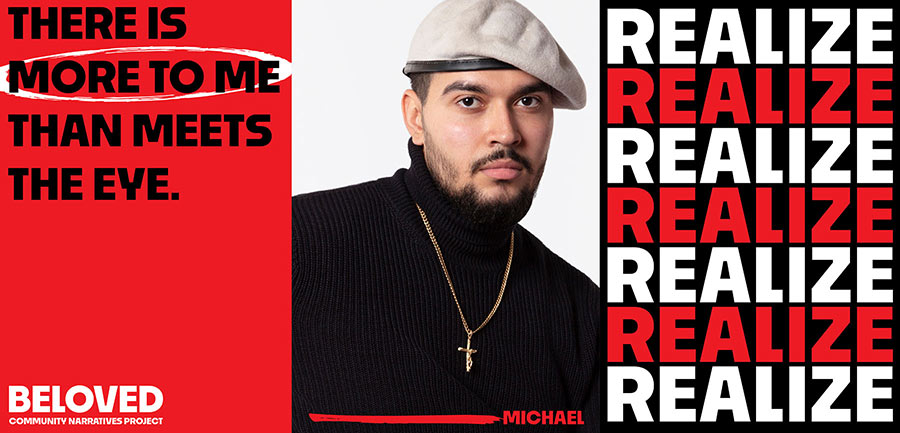 I am a Puerto Rican man who grew up in Brooklyn, New York. The thing is that my skin is pretty light, so sometimes it won't come off that I am a man of color until people see my name or hear how I speak. My ethnicity carries stigmas and stereotypes I've had to dispel. Ideas like: "I shouldn't have finished high school, I shouldn't have gotten into college, I should've been in a gang, and I should've gone to jail." I hate that I've had to continually deal with these. But at the same time, they have caused me to carry myself in a certain way, hold myself to a higher standard and prove to people that I am more than those stereotypical ideas; there is more to me than meets the eye. These factors have made me the person I am today. Because I am a man of color, the harsh reality is that some people won't want me to succeed, especially in certain areas, and they will hurt or provoke me in any way they can. But this is the life I've got to live, and I am grateful every day for how I carry myself and how my parents raised me.
---
Mikaela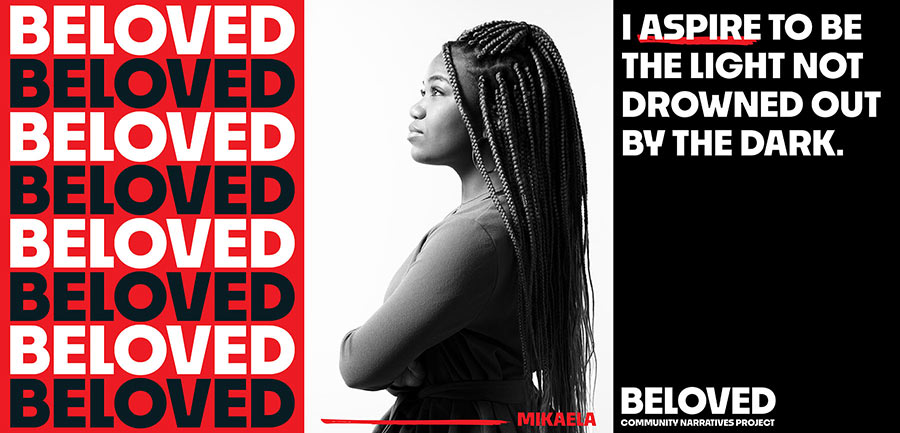 I was a witness to horrors growing up for the first four years of my life: substance abuse, alcoholism, poverty, violence, horrors that all still haunt me to this day. PTSD, along with nightmares and depression, have affected me mentally and physically throughout my growing up. My family has tried to be there for me every step of the way. I am forever grateful for them and for God. I grew up with my grandma, who raised me to be the strong woman I am today. My mom was never a constant in my life; still she was someone so dear to me. She ended up passing away the summer before high school, on the first day of summer. Together she and I went through what felt like hell, but she came out of hard times stronger than anyone I have ever seen. In the last three years of her life, my mom got right with herself and my family. When every factor seemed to knock her chance of having a stable life again, she found peace. She is my inspiration that change can happen and that change is good. I want to inspire love in the world. I aspire to be the light not drowned out by the dark. I am a strong, Christian, Afro-Latina female. I was affected by obstacles, overcame each one, and can tackle the next.
---
Nakeesta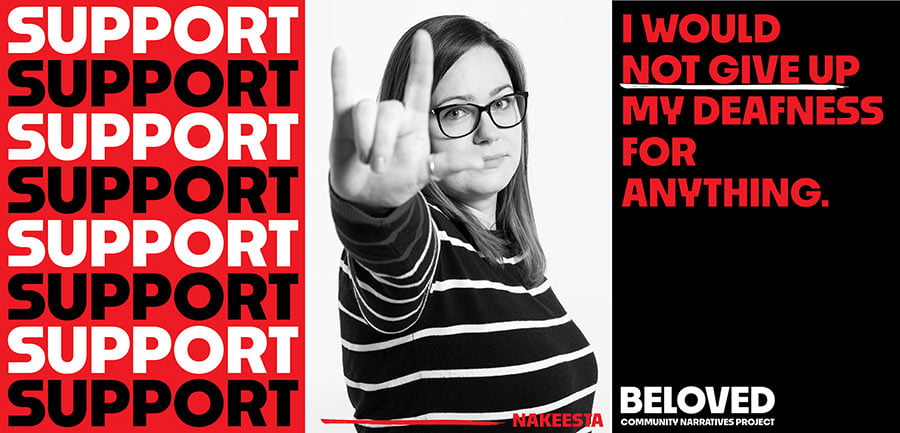 Sometimes the treatment I experience due to being a hard of hearing person makes me really angry. When I am in a situation and I can't hear because of interfering noise, a few things happen. At times a helpful individual will speak louder and check back to find out if I'm able to hear better. Often, however, I'm met by people who don't know how to approach a hard of hearing person and either continue what they are doing, yell at me, or leave me out of the conversation all together. It's exhausting to explain myself every time, often with the same outcome: I still can't hear, and I am excluded. At times, I receive complaints from classmates who call out my name from across the walkway and feel hurt when I walk away from them. They imagine I'm ignoring them rather than that I simply can't hear them. It's even more difficult to tell my child that I can't hear their soft delicate voice from the back seat and that they'll have to wait until we're out of the car for me to hear them. With all that said, I would not give up my deafness for anything. Through it, I have found a community of loving people who support and assist each other. It is one of the many parts of me that I love, and I'm not ashamed of it.
---
Raquel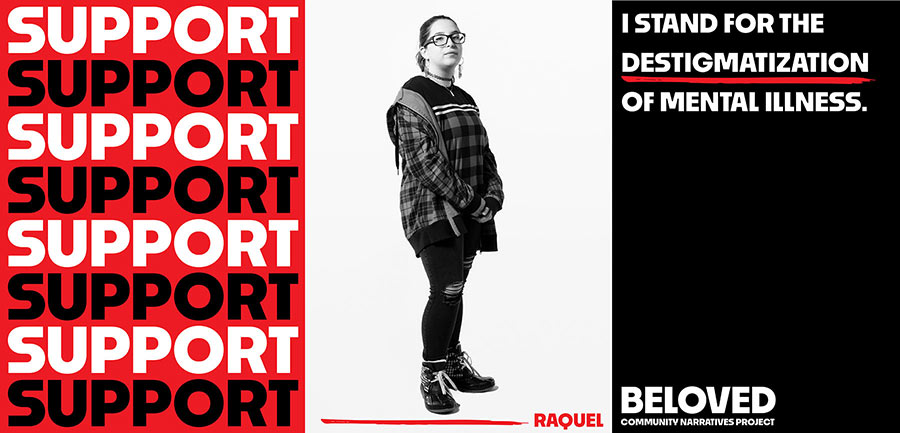 I stand for the destigmatization of mental illness. Mental health is just as important as physical health and should be treated as such. Unfortunately, there are many stigmas around mental illness and sometimes mental health is considered too taboo or difficult to talk about. I say this as someone with experience in having mental illnesses. Whether you experience panic attacks or states of depression that are temporary, it is important to know that there are people who understand what you're going through. Also, you don't have to have mental illnesses in order to be an advocate. Knowing you're not alone really helps.
---
Regina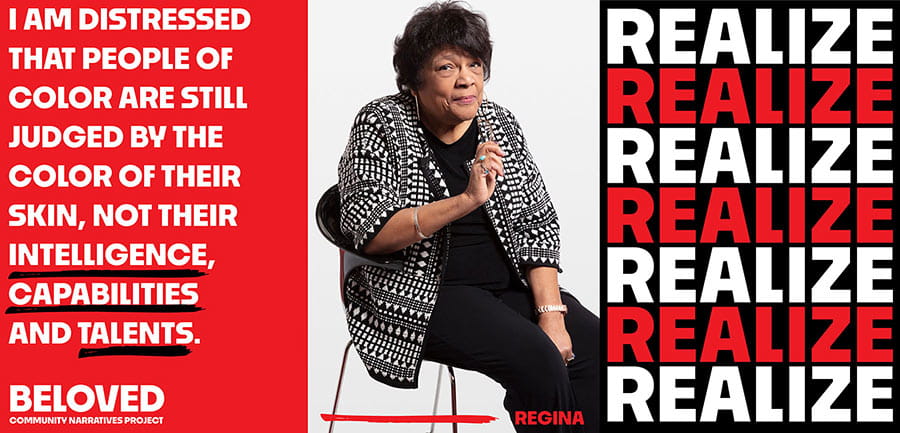 What part of me do I keep hidden? I keep my disappointment, my concern, and my anger hidden. I am distressed that people of color are still judged by the color of their skin, not their intelligence, capabilities and talents. I am angry that so many people, many who were my friends, lost their lives trying to make this world a better place for people of color, actually for all people. I am disappointed that we seem to take two steps forward and one step back in the struggle to be treated as human beings. Yet, I must not give up. I must put on a happy face, think creative thoughts, positive thoughts, and go forward trying to make a difference, a positive difference, in the lives of many regardless of who they are.
---
Vierne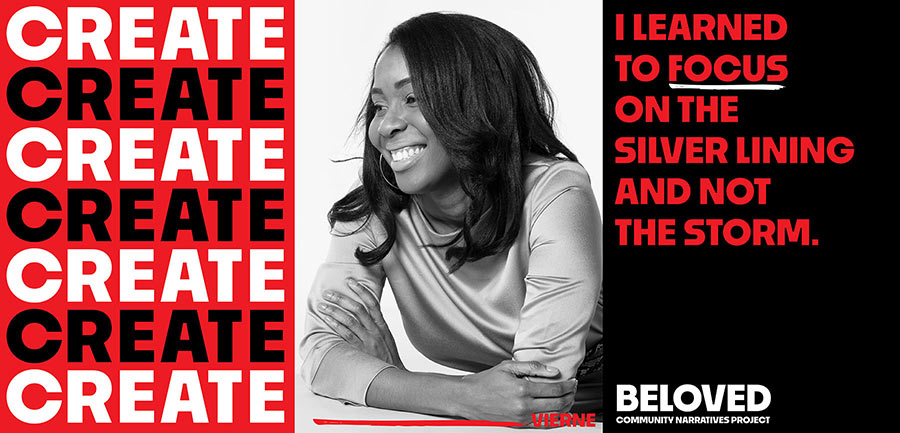 Back home in Montserrat, I was taught resilience at an early age after my island experienced devastation due to multiple natural disasters. Through those disasters, I learned to focus on the silver lining and not the storm. Faith and family are my two cornerstones. They are the unwavering constants that impact my life experiences. My parents instilled the love for faith and family in me at an early age; they are reflected in my humility, determination, and genuine spirit to fulfill my purpose on this journey of life. In my current role as an Assistant Professor, it is important for me to share my experiences, discuss topics that seem taboo, and be a positive influence for first-generation students and those from underrepresented backgrounds.