These stories highlight the generosity of individuals who have found unique ways to honor the causes, people and parts of SUNY Cortland that mean the most to them.
Michael Bond '75, M.D.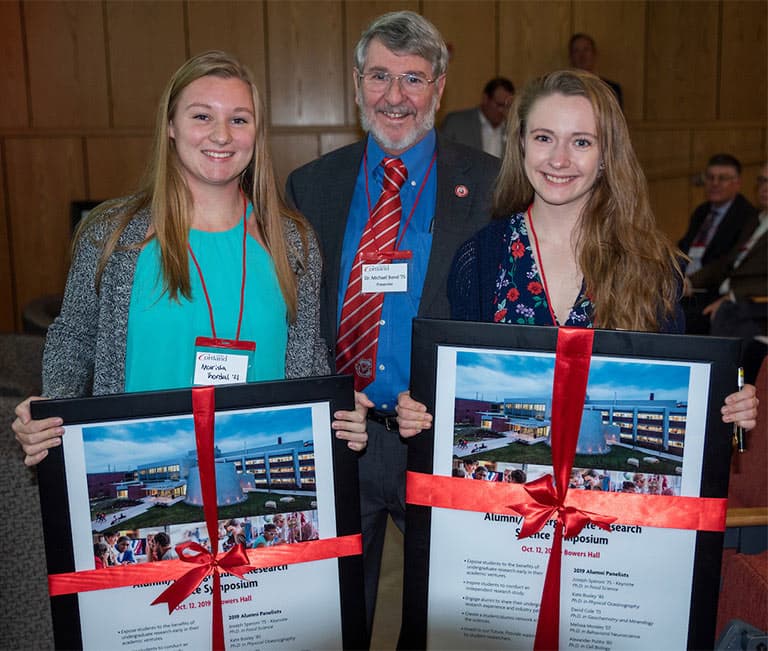 Bond with biology major Marissa Kordal, and biology and anthropology double major Kiley Stoj.
Michael Bond '75, M.D., is quick to credit independent undergraduate research as the key to his success.
"It gives you a confidence and a euphoria for learning," said Bond, retired medical director of Advanced Dermatology and Cosmetic Surgery in Orlando, Fla.
Bond, who was inducted into the SUNY Cortland Academic Hall of Fame in 2016, said the research skills he learned at SUNY Cortland still motivate him today to learn, explore and innovate.
As the second SUNY Cortland alumnus to be directly accepted into medical school, Bond said his hands-on research opportunities set him apart from the field.
Bond and a former classmate, Wayne Marley '75, M.D., have made a major gift to the university, establishing the David F. Berger Summer Research Fellowship in honor of a professor who inspired his own research. The award supports Cortland's top undergraduate pursuing independent research in biology, chemistry or psychology.
In addition to the fellowship, Bond has given greatly of his time to return to campus and encourage today's students to pursue all of the opportunities available to them. Recently he made a planned gift commitment to endow the annual on-campus science conference that will now carry his name, the Dr. Michael J. Bond '75 Alumni/Undergraduate Research Science Symposium.
"It's the responsibility of my era to make sure there are as many opportunities as possible for them to take advantage of," he said. "We can't do the work, but we can work hard to get them what they need to do it. I am euphoric about all this. All I see is the tremendous upside that this thing can have through the years as we rotate speakers and change the subjects and get in more and more."
The Pittorino Family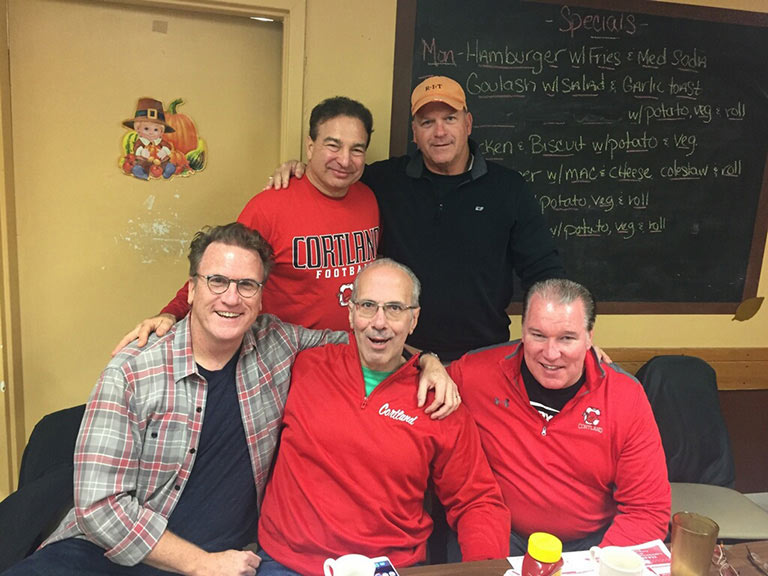 When Bill Pittorino '85 (center) was diagnosed with pancreatic cancer, his Cortland buddies made sure he wouldn't face it alone. On either side are Scott Williams '82 and Jim Mackin '82. Pete Shaw '81 and Joseph "Jeff" McGuigan '82 are in the back row.
The late Bill Pittorino '85 was a larger-than-life figure on the SUNY Cortland campus.
He was a physical education major, a key member of the football team in the early 1980s and was active with Beta Phi Epsilon (1927-1995), making bonds with classmates that lasted for decades. Pittorino's relentless energy kept those friends in contact despite the years and the miles. They enjoyed each other's company at Cortaca Jug games and Alumni Reunion weekends.
When Pittorino passed away in April 2018 after a four-year battle with pancreatic cancer, his widow, Deborah Rivera Pittorino, wanted to create something to pay tribute to her husband's legacy. The William F. Pittorino '85 Humanitarian Memorial Scholarship will provide financial support and it will also lean on his giant circle of friends to deliver mentorship to Cortland students who embody his generosity and toughness.
"My husband was a real humanitarian," Deborah Pittorino said. "Let's find someone who might not have a great GPA or might not have come from the easiest circumstance and let's give that person some help. We will form a board that's going to help kids find a job in the summertime or help them buy their first car or help apply for jobs or give advice."
Julie Gentner Murphy '03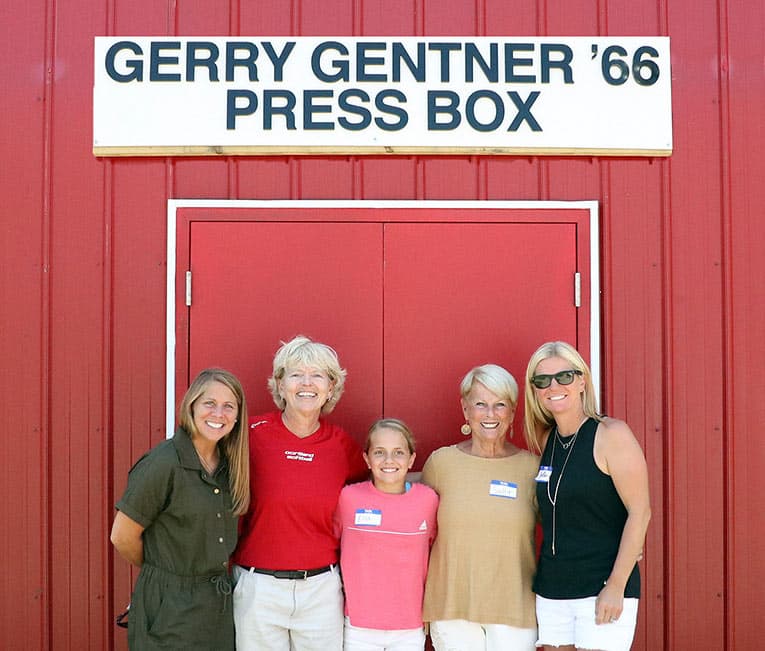 Left to right: Courtney Wormuth, Associate Director of Athletics; Julie Lenhart, Former Head Coach, Softball; Ella, Gentner's granddaughter; Sally Gentner, Gentner's wife; and Julie Gentner Murphy '03.
As a child, Julie Gentner Murphy '03 followed her father to the softball diamond. As a teenager, she decided to attend his alma mater for college. As a professional, she works at the financial consulting firm he partnered for nearly 40 years. She even coaches varsity softball at Williamsville South High School, where she worked alongside her father — a former standout athlete at Cortland.
So when Gerald "Gerry" Gentner '66 passed away after a four-year battle with cancer in 2012, Murphy considered ways to keep her father's memory alive.
One was the SUNY Cortland Alumni Association's Western New York Golf Tournament. For the first time in 2013, the tournament was known as the Gerry Gentner '66 Memorial Western New York Golf Tournament, named after a man who showed unwavering support for his alma mater and those associated with it.
Another took place during Alumni Reunion 2019. Murphy, a member of the SUNY Cortland C-Club Hall of Fame for her accomplishments in softball and field hockey, named the softball press box in memory of her father.
"People always say that they're trying to live their life more like Gerry," Murphy said. "He was always so positive and so willing to give back."
Janet Richards Whitaker '65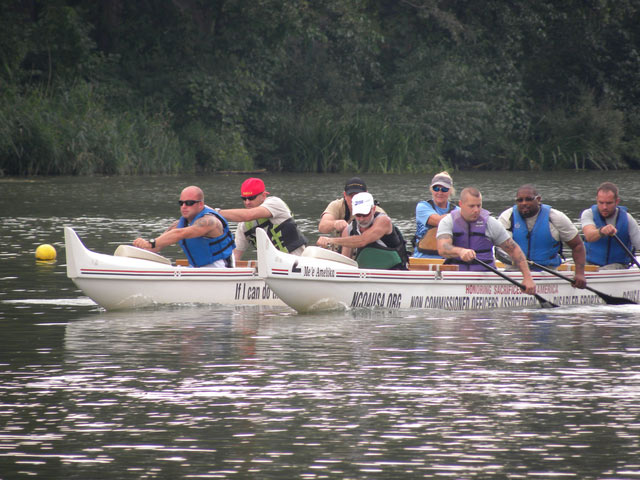 Whitaker (shown in the stern, wearing a blue shirt and sunglasses) practicing with the 2012 Wounded Warrior Team. The double-hulled crafts are the same type she gave to the university.
Janet Richards Whitaker '65 is one of the country's foremost marathon canoeists, winning more than 30 United States Canoe Association national championships and earning induction into the Canoeing Hall of Fame.
She got her start at the William H. Parks Family Center for Environmental and Outdoor Education at Raquette Lake, where she first learned to canoe.
Whitaker is giving a number of gifts to the college as a way to pay tribute to the skills she gained and to support Cortland's commitment to outdoor and recreation education.
She donated a double-hulled outrigger canoe that will accommodate paddlers with or without physical or intellectual disabilities.
A Lofty Elm estate commitment has allowed Whitaker to name both the renovated dock at Huntington Memorial Camp and an accessible lean-to planned to be built between the shore and the ropes course.
The dock will be named "Aloha" as a welcoming gesture to those embarking on exciting outdoor adventures. The lean-to will be called "Sisu," a Finnish word that translates as "Tenacity, unwavering determination, a quality that everyone needs when faced with challenges on a pathway to a goal," Whitaker said.