Distinguished and Honorary Alumni Named
04/29/2013
Mary Joy Greene Sherlach '78, a school psychologist killed in the Newtown, Conn., elementary school shootings last year, will be posthumously recognized as a SUNY Cortland Distinguished Alumna during Alumni Reunion 2013.
Sherlach, pictured at left, will be this year's recipient of the Distinguished Alumni Award, the SUNY Cortland Alumni Association's highest honor, at the Alumni Luncheon at noon on Saturday, July 13, in the Corey Union Function Room.
"Mary's heroism and dedication to the children at Sandy Hook Elementary School have earned her a special place in all of our hearts," Alumni Association President Peter Kanakaris '70 said. "The board was unanimous in agreeing that her memory would best be served by making her the sole recipient of this year's Distinguished Alumni Award."
Sarah Child '07, a scientist who studies Antarctic glaciers, will be named this year's Distinguished Young Alumna at the Reunion luncheon.
Louise Conley, retiring chair of the Cortland College Foundation Board of Directors, will be named an Honorary Alumna of SUNY Cortland at the event.
Mary Joy Greene Sherlach '78
Sherlach, a school psychologist since 1994, was one of six adults and 20 first-grade children killed Dec. 14 during a shooting spree that shocked the world and ignited national debates about gun control, mental health care and school safety.
When gunman Adam Lanza first broke into the school, Sherlach was one of the school officials who ran toward him in an effort to protect Sandy Hook's children. She became one of the massacre's first casualties.
"Mary's actions exemplified courage, compassion and dedication," College President Erik J. Bitterbaum said. "We are proud to call her one of our own."
Mary met her husband, Bill Sherlach '80, at the College, graduated cum laude with a degree in psychology and was an active member of SUNY Cortland's alumni family. She and her husband frequently visited campus and returned annually for Cortaca Jug football games. The couple's most recent visit was less than a month before the attack and this summer would have marked her 35th College reunion.
Earlier this year, the College held two well-attended public "teach-ins" on gun control and mental health issues in Sherlach's memory. The Student Government Association last week formally announced they would re-name their annual children's festival in Sherlach's memory. This fall, a scholarship in her name will be offered to a deserving psychology major.
Sarah Child '07
Child
Where most people see giant masses of ice, Child sees a lifetime's worth of work in the more than 130,000 glaciers across the globe. The second-year doctoral student of glaciology at the University of Kansas already has traveled to East Antarctica multiple times to study the Byrd Glacier, one of the continent's largest and least-studied glaciers, and its potential contributions to a rising sea level.
The former geographic information systems (GIS) major developed her passion for research at SUNY Cortland, where she pursued several independent studies projects under Associate Professor Scott Anderson and Distinguished Teaching Professor David Miller from the College's Geography Department.
Child, a native of Cooperstown, N.Y., also excelled for four years as a member of SUNY Cortland's field hockey team.
Twice her research has brought her to Antarctica to use a network of global positioning units to track Byrd Glacier's ice speed and surface elevation changes from tidal fluctuations. Those observations, in turn, improve current ice flow models and predictions related to the behavior of the East Antarctic Ice Sheet.
Child takes what she learns and shares in unique ways; this summer, for instance, she will discuss the importance of glacial research at the 2013 Association of American Women in University Tech Trek Camp, a weeklong experience for 12-year-old girls to gain hands-on experience in the fields of science, technology, engineering and mathematics at the University of California in San Diego.
"My hope is to inspire these young girls to grow up to become scientists," said Child, who has presented her research in locations ranging from the United Kingdom to Alaska.
Prior to pursuing her Ph.D. at the University of Kansas, Child earned a master's in geographic information science from the University of Edinburgh in the United Kingdom. She performed GIS work during that time for scientists and contractors in Greenland and Alaska, locating roughly 78 percent of the U.S. Geologic Survey's Antarctic aerial imagery collection, which equates to approximately 280,000 photos.
Child plans to teach undergraduate GIS skills and continue her glaciological research with her doctorate, which she is anticipated to earn in 2015.
"With over 130,000 glaciers in the world, they will provide a lifetime of research, which I love and find hugely fascinating and important," she said.
Louise Conley
Conley
Louise M. Conley, Ph.D., the chair of the Cortland College Foundation Board of Directors, did not graduate from the College. Her Cortland roots, however, run deep.
Conley, a licensed psychologist from Princeton, N.J., is the granddaughter of Francis J. Cheney, the second principal of the Cortland Normal School. Her mother, Clara Cheney '17, and her father, Rollin McCarthy '16, also both graduated from Cortland Normal School.
In the mid-1990s, Conley reconnected with the College and in the time since has blended her rich family history with a personal belief in philanthropy. She became the first person who did not graduate from SUNY Cortland to offer the institution a million-dollar gift when she endowed the Louise M. Conley Chair in Educational Leadership in 2011.
The first endowed chair naming in the College's history, Conley's transformational gift allows funding for a faculty member in the Educational Leadership Department to support research and teaching. The department is one of four within SUNY Cortland's School of Education and prepares educational leaders by integrating theory and practice — a skill the Cheney family clearly holds in high regard.
Conley created and co-sponsored the Francis J. Cheney Educational Issues Conference at SUNY Cortland in the late 1990s, named after her grandfather, the Cortland Normal School principal from 1891 until his death in 1912. The conference, held annually, brings influential leaders in education to the SUNY Cortland campus to share their strategies for improving teacher education programs and the education of students from kindergarten through college. Conley regularly attends.
Another initiative funded by Conley, the Francis J. Cheney Scholarship, provides $1,000 annually up to four years to admitted first-year students who are majoring in the area of education and who demonstrate the highest academic achievement and greatest financial need.
She also supported the Lynne Parks '68 SUNY Cortland Alumni House when the Alumni Association purchased it in 2004 and funded the Louise McCarthy Conley Room, which encompasses the mansion's master bedroom.
Conley continues to run a private psychology practice in Princeton, N.J., two days each week while commuting to Cortland regularly, keeping her family's longtime commitment to the College strong.
"Lofty Elm" Highlights Arbor Day Event
04/24/2013
The lyrics of SUNY Cortland's alma mater begin with the phrase, "By lofty elm trees shaded round."
So it was fitting that College President Erik J. Bitterbaum and other campus community members gathered Friday beneath the limbs of a "lofty elm" near the Miller Building - a Scot's elm (Ulmus glabra) to be exact - to launch both an ambitious campus tree-naming program and an annual Arbor Day celebration.
A nameplate identifying the species of the tree and providing a QR code linking to additional information was the first of dozens of identifying labels that the College hopes to post on different trees during the 2013-14 academic year.
Together, the labeled trees will make up a new "Campus Tree Walk" that inquisitive strollers can explore with a smartphone, iPad or other device able to read QR codes. In all, SUNY Cortland's sprawling campus includes about 1,500 trees, according to Professor Steven Broyles, chair of the Biological Sciences Department and a member of the campus Tree Advisory Committee.
"We want to demonstrate that we understand and value the importance of trees in providing a healthy and sustainable environment," Bitterbaum said. "Starting this year, we will formally recognize Arbor Day on campus. Eventually, we hope to be designated as a "Tree Campus USA."
Ninety college campuses across the country are currently designated as a "Tree Campus" by the national Arbor Day Foundation. In the State University of New York system, only the SUNY College of Environmental Science and Forestry in Syracuse has that honor, which indicates a campus' trees are effectively managed and its students both understand the value of trees and are engaged in their support.
"The campus recognizes that trees are an economic, as well as an aesthetic, asset," said Broyles, noting that the towering elm on which he and President Bitterbaum screwed a temporary version of the sign pulls about 2,000 pounds of carbon dioxide from the atmosphere every year. "The trees reduce heating costs, they serve as wind blocks, they filter pollution and they help control storm water. They perform lots of interesting environmental services. We want to protect that and improve our urban forest."
One of the elements of SUNY Cortland's application for the designation is an annual campus recognition of Arbor Day. On Friday, at 10 a.m., President Bitterbaum began a new tradition, formally proclaiming an impressive elm tree on the north side of Miller as "The President's Tree" and pledging to celebrate on campus the importance of trees to the environment every Arbor Day.
Arbor Day comes at the end of Sustainability Month at SUNY Cortland. Sustainability month features a range of campus and community activities aimed at raising awareness of environmental, energy and agricultural issues.
Permanent signage with working QR codes will eventually be affixed to most campus trees with special spring-loaded screws that allow the tree to grow. Signage for large trees, like the Arbor Day elm, will be 4-by-6 inches. Plaques on smaller trees will be 3-by-5 inches.
Each sign will include some basic information about the tree, as well as a QR code that can take viewers with devices capable of reading the code to a web page providing additional details about each particular species.
The project grew out of the work of the tree advisory committee, which was charged with reviewing the care of existing campus trees and oversight of plans to plant new trees. Committee members include Broyles; Amy Shellman, assistant professor in the Department of Recreation Parks and Leisure Studies; Adam Levine, campus data systems administrator; Claire Hartl, a conservation biology major; Michael Ullbwerg, a geography major; Paul Paradine, forester and lead analyst for vegetation management at NYSEG; Matthew Swayze, forester with the state Department of Environmental Conservation; David Horrocks, assistant director for buildings and grounds services; Donald Moody, supervisor of grounds; and Nasrin Parvizi, vice president of Facilities Management
---
Capture the Moment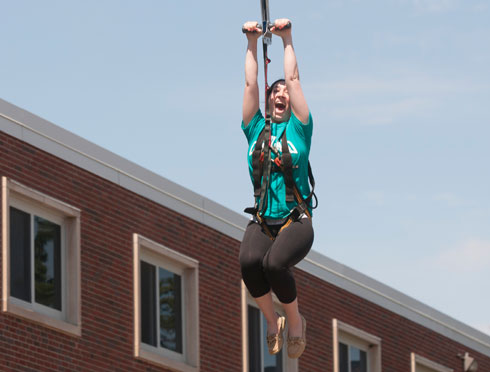 Michelle LoPiccolo, an adolescence education: biology major, glides on the zipline set up outside of Fitzgerald Hall during the Spring Fling Carnival on April 27. Perfect weather accompanied the barbecue and activities that the College's Student Activities Board offered along Neubig Road, which drew hundreds of students throughout the day.
---
In Other News
Graduate Commencement Planned for May 17
04/30/2013
The SUNY Cortland Commencement ceremony for students earning master's degrees and certificates of advanced study is scheduled for 7 p.m. on Friday, May 17, in Bessie L. Park Class of 1901 Physical Education and Recreation Center Alumni Arena.
The College will award 129 master's degrees and 20 Certificates of advanced study also will be presented. After the ceremony, a reception for the graduates and their guests will take place in the Corey Gymnasium.
An academic procession will open the Commencement. The Faculty Senate Chair Joy Hendrick, a SUNY Distinguished Service Professor and professor of kinesiology will be the macebearer.
Faculty members will carry the four multi-colored gonfalons representing the College, School of Education, School of Professional Studies, and School of Arts and Sciences, respectively. The gonfaloniers are: Peter McGinnis, chair of the Graduate Faculty Executive Committee and professor of kinesiology; Susan Wilson, associate dean of professional studies; Eileen Gravani, associate dean of professional studies; and Jerome O'Callaghan, associate dean of arts and sciences.
Marina Gorelaya will perform the processional and recessional music. Senior musical theatre major Lauren Collins of Westbury, N.Y., will sing the national anthem and the Alma Mater.
Provost and Vice President for Academic Affairs Mark Prus will offer a welcome, and Melissa Da Costa of Centereach, N.Y., a candidate for Master of Arts in Literacy Education, will provide remarks on behalf of the graduates. Prus will deliver the charge to the graduates. Presenting the degrees and certificates to the graduates will be R. Bruce Mattingly, dean of arts and sciences; John Cottone, dean of professional studies; and Andrea Lachance, dean of education.
Peter Kanakaris '70, president of the SUNY Cortland Alumni Association Board of Directors, will welcome these newest graduates into the ranks of the College's alumni, who live in all 50 U.S. states and more than 40 countries. In its 145-year history, SUNY Cortland has graduated more than 69,000 alumni.
A family embraces following the 2012 Graduate Commencement Ceremony in Alumni Arena.
Commencement marshals will be Mark Dodds, associate professor of sport management; Michele Gonzalez, associate professor of literacy; Beth Klein, professor and interim chair of childhood/early childhood education; Susan Rayl, associate professor of kinesiology; Hailey Ruoff '98, assistant director, instructional technologies and design services; Mary Schlarb, director of the International Programs Office; Jeffrey Walkuski, associate professor of physical education; and Carol Van Der Karr, associate provost, academic affairs.
The Graduate Commencement Committee is co-chaired by Virginia B. Levine, executive assistant to the president, and Ruoff.
Committee members include: Sila Argyle, supervising janitor; Marley Sweet Barduhn '76, assistant provost for teacher education; Mary Kate Boland, assistant director of leadership and community development, campus activities; Terence Cahill, college store director; Mark DePaull, university police assistant chief; Tracy Frenyea, academic advisor and coordinator of graduate student support; Michele Irvin Gonzalez, associate professor of literacy; Ron Gray, supervising janitor; Minnie Lauzon, student representative; Peter McGinnis, professor of kinesiology; Joy Mosher, associate professor of childhood/early childhood education; Mary E. Murphy '87, university police lieutenant; Bradford Snyder, associate director of classroom media services; and Susan Vleck, interim special events coordinator.
Undergraduates to Walk on May 18
04/30/2013
SUNY Cortland will conduct two undergraduate Commencement ceremonies — one at 9:30 a.m. and the other at 2:30 p.m. — on Saturday, May 18, in the Park Center Alumni Arena.
An estimated 1,204 seniors will receive bachelor's degrees during Commencement exercises, which will be presided over by SUNY Cortland Provost and Vice President for Academic Affairs Mark Prus.
Judith E. Rink '65, an internationally respected authority on physical education and teacher preparation, will address the graduates during both ceremonies. Rink will receive an honorary degree of Doctor of Humane Letters by the State University of New York during the ceremony. Conferring the degree will be SUNY Board of Trustees members Stephen Hunt '72 and Ronald Ehrenberg, at the morning and afternoon ceremonies, respectively.
The prelude andprocessional and recessional music will be provided by the Cortland Brass Ensemble.
Provost Prus will deliver the charge to graduates.
During the morning ceremony, David Berger, professor of psychology, will carry the mace, a ceremonial staff used as a symbol of institutional authority at the College's Commencement and academic convocations. Four multi-colored gonfalons, representing the College, its School of Arts and Sciences, School of Education and School of Professional Studies, will be carried, respectively, by Amy Henderson-Harr, assistant vice president for research and sponsored programs; Kathleen Burke, professor of economics; David Smukler, associate professor and chair of foundations and social advocacy; and Shirley Cahill, lecturer in physical education.
Annali Alexander Fuchs of Freeville, N.Y., and Timothy Alexander Fuchs of Freeville, N.Y., both senior musical theatre majors, will sing the national anthem and the Alma Mater, respectively, for the morning ceremony.
During the afternoon commencement, Marley Sweet Barduhn '76, assistant provost for teacher education, will carry the mace. Gonfaloniers will be: Craig Little, Distinguished Service Professor and professor of sociology and anthropology; Mechthild Nagel, professor of philosophy and director of the Center for Gender and Intercultural Studies; Charlotte Pass, associate professor of literacy; and K. Michael Kniffin, associate professor of physical education.
Khalia Brown, a senior communication studies major from Brooklyn, N.Y., and Carly Merrill, a senior musical theatre major from Queensbury, N.Y., will sing the national anthem and the Alma Mater, respectively, for the afternoon ceremony.
Provost Prus will welcome the graduates at both ceremonies and will recognize the honor graduates. The 2012-13 Student Government Association (SGA) President LeighMarie Weber, a senior speech and hearing sciences major from Williston Park, N.Y., will deliver remarks. Joining Provost Prus in conferring the degrees will be R. Bruce Mattingly, dean of arts and sciences; John Cottone, dean of professional studies; and Andrea Lachance, dean of education.
A total of 133 students are scheduled to graduate summa cum laude — the highest academic honor — with grade point averages of at least 3.75 on a scale of 4.00.
Graduates enjoy the pomp and ceremony of 2012 Undergraduate Commencement in the Park Center Alumni Arena.
The largest number of majors set to graduate in each of the three schools are: 184 physical education majors in the School of Professional Studies, 120 childhood education majors in the School of Education, and 84 communication studies majors in the School of Arts and Sciences.
Peter Kanakaris '70, the SUNY Cortland Alumni Association president, officially will welcome the graduates into the ranks of the College's alumni residing in all 50 U.S. states and more than 40 countries. In its 145-year history, SUNY Cortland has graduated more than 69,000 alumni.
The Undergraduate Commencement Committee is co-chaired by Barduhn; Virginia B. Levine, executive assistant to the president; and Lee Scott-Mack M '01, associate director, Registrar's Office.
Other committee members include: Sila Argyle, supervising janitor of Park Center; Seth Asumah, professor of political science; Laurie Barton, assistant to the president; Mary Kate Boland, assistant director of leadership and community development, campus activities; senior Khalia Brown, student representative; Terence Cahill, college store director; Mark DePaull, university police assistant chief; junior Erin Durgin, student representative; Ron Gray, supervising janitor, custodial services; David Horrocks, assistant director of buildings and grounds services; Cheryl Jewell, assistant manager of sports facilities and manger of the Alumni Arena; Ingrid Jordak M.S.Ed. '93, Emilie Kudela, associate professor of childhood/early childhood education; Eric Malmberg, professor of physical education; William McNamara, director of dining services; Mary E. Murphy '87, university police lieutenant; Susan Rayl, associate professor of kinesiology; Hailey Ruoff '98, assistant director of instructional technologies and design services, Memorial Library; Timothy Slack, director of physical plant; Brad Snyder, associate director of classroom media services; Susan Vleck, interim special events coordinator; and junior Rashad Williams, student representative.
Under a tradition inaugurated at the 2004 ceremony by President Erik J. Bitterbaum, undergraduates may honor a special person who has helped them achieve their academic pursuit or goals. The respective name of the honoree will be read along with each graduate.
This year, both undergraduate Commencement ceremonies will be broadcast live on Time Warner Cable access Channel 17 to viewers in the Cortland area. The ceremonies also can be viewed on campus in any classroom equipped with a television, on channels 2 and 17. Additionally, there will be link on the College's Commencement website for the live stream.
Philanthropy Course Again Awards $10,000
04/30/2013
SUNY Cortland political science major Matthew D'Alesio is quick to point out the key quality that distinguishes POL 129, a special topics course offered at the College, from any other one that most students have sat through.
"No class I've ever taken has given us $10,000," said D'Alesio, of Yorktown Heights, N.Y.
The large cash sum is not D'Alesio's to spend on himself or his friends. It is, however, competitive funding from the Learning by Giving Foundation that he and 15 other SUNY Cortland students soon will award to deserving community not-for-profit groups as part of the College's Philanthropy and Civic Engagement: Teaching Students How to Give course.
SUNY Distinguished
Service Professor
Henry Steck
The class, led by SUNY Distinguished Service Professor Henry Steck, will announce four local agencies — out of 16 that applied — to receive at least $2,000 each during a special awards reception Tuesday, May 7. The ceremony begins at 4:30 p.m. in Brockway Hall Jacobus Lounge.
"In other classes, we talk about what we would do or what we might do," said Louisa Frick, an international studies major from Red Hook, N.Y. "In this class, we actually get to do something — something that's really important."
SUNY Cortland joins a 32-member group of colleges and universities to earn the $10,000 in funds from the Learning by Giving Foundation, which aims to promote the study of philanthropy at the undergraduate level. The select class also includes institutions such as the University of California at Berkeley, Columbia University and Stanford University.
"I personally feel really proud for the College and for (the State University of New York)," said Steck, a professor of political science. "I'm proud for our students too because this demonstrates that we're on the cutting edge of doing things."
The course, which is backed by the competitive funding for the second year in a row, also receives support from the College's Political Science Department and Institute for Civic Engagement. None of the money from the Learning by Giving Foundation could be used on course-related expenses; all of it will split among the four community agencies.
Sixteen students, coming from nine different majors that included business economics, professional writing, and exercise science, learned quickly that awarding grants would not prove as easy as handing out someone else's money.
International studies major
Louisa Frick and political
science major Matthew
D'Alesio.
"I was expecting it to be hard, but I didn't realize it was going to be so hard choosing between different organizations," said Lizaury Rodriguez-Marin, a political science major from Freeport, N.Y., noting that many of the not-for-profit agencies showed similar needs.
Guest lecturers in the class spoke to the importance of prioritizing specific needs. Among the many transferable skills students learned, they were trained in real-world ways to debate effectively, work collaboratively and write efficiently to a request for proposal.
"We also learned how stressful it is for the organizations on the other side just to get money for their programs," said Katherine Wick, a sociology major from Lockport, N.Y. "They're constantly looking for money, constantly applying for grants."
D'Alesio, a student who aspires to a career in politics, said that the course introduced him to the community's specific needs and that he's more likely to give to not-for-profit organizations in the future.
"The proposals we saw all showed a lot of need," he said. "They definitely made me want to spread the wealth through philanthropy."
To learn more about the course's awards reception, contact the Political Science Department at 607-753-4105.
New Students to Orient at Raquette Lake
04/25/2013
Starting their first semester at college has always been exciting for SUNY Cortland freshmen.
A pair of SUNY Cortland students learn about trust and the power of teamwork on the ropes course at Huntington Camp.
But this fall, several dozen incoming students will begin their college careers with a real adventure.
Up to 40 students will have an opportunity to experience a weeklong orientation in the pristine Adirondack wilderness surrounding SUNY Cortland's Center for Outdoor and Environmental Education at Raquette Lake.
The new Adirondack Trail Blazers program is part of the College's ongoing effort to open the unique wilderness experience offered through Huntington Memorial Camp and Antlers to greater numbers of SUNY Cortland students, alumni and other members of the College community.
Traditionally, students with majors in the departments of art and art history, biological sciences, childhood/early childhood education, geology, history, physical education and recreation, parks and leisure studies have had an opportunity to learn-by-living at the rustic Adirondack complex.
With support from the College's endowment fund, greater numbers of students from those fields ¾ and many others ¾ will have an opportunity to participate.
The inaugural Trail Blazers program kicks off near the end of this summer, when as many as 40 accepted newcomers who have completed orientation on the main campus will add a week-long visit to Huntington Camp.
"The overall goal is to help them make that transition from a relatively structured, home-based high school experience to a more independent lifestyle and the challenges of attending college," said Robert Rubendall, who directs the College's Environmental and Outdoor Education Center, which has facilities near Albany and at Hoxie Gorge in addition to Raquette Lake.
During the program, the participants will drink in the sights and sounds of nature. They'll swim or paddle in the brisk lake waters, pitch tents for three nights on unspoiled shores and climb a high ropes course at Camp Huntington, the only nationally designated Historic Landmark in the SUNY system.
"They are learning self-discipline, making choices on their own, learning to stick to a schedule and basically connecting with other students coming in as well as faculty and upper class-members," Rubendall said.
Afterward, the group will return to the main campus to share weekend activities with their new classmates before the start of fall semester classes. The initiative is modeled on a wilderness immersion program started by Dartmouth College in the 1960s and adopted by many colleges.
"They have become more and more popular over the years as children become more and more dependent upon their parents," Rubendall said. "There is a better success rate for the students, a better student retention rate by the colleges. They immediately have a peer group. They have friends, they know more of what's expected of them on a college campus. We hope to involve them more quickly in the resources and networks that are available to them on campus."
The program is open to all new students, regardless of major or economic background. It involves a fee, but the College will find resources to send young scholars on the trip, even if they cannot afford the cost, Rubendall said.
Widening student access to this experience, which generations of alumni recall as having a transformational impact on their personal, academic or professional lives, is the driving motivation behind the College's Campaign for Raquette Lake, an effort to raise $1.5 million for the Raquette Lake Endowment Fund.
"The endowment will provide all interested SUNY Cortland students with the opportunity to experience Raquette Lake," said Kimberly Pietro, the College's vice president for institutional advancement. "This fund will help us expand our utilization of the facility and provide students with a unique experience to explore, discover and transform their lives through outdoor education in a way that would not otherwise be possible."
As of mid-February, the Raquette Lake campaign had raised nearly $600,000 dollars for the Raquette Lake endowment fund.
The fundraising initiative is part of Educating Champions: The Campaign for Cortland. The campaign to support the College's major priorities was launched in Fall 2011 and has made steady and significant progress in raising over $24.5 million towards a total of $25 million goal.
For more information, email cortlandcollegefoundation@cortland.edu; or visit the website www.cortland.edu/campaign.
Far from home and all things familiar, a class learns to navigate around each other in a flotilla of canoes on the breezy waters of Raquette Lake.
Three Professionals Selected for Service Awards
04/30/2013
SUNY Cortland will honor the outstanding performances of three professional staff members with the institution's highest level of recognition, the 2012-13 Excellence in Professional Service Awards.
These non-faculty employees join 34 others recognized since the award was first presented in 2003. The trio will be honored formally at the Faculty and Professional Staff Awards Ceremony on Wednesday, May 8, in the Corey Union Function Room.
The new honorees are:
• John Suarez, service-learning coordinator, Institute for Civic Engagement, for Excellence in Service to Students;
• Mark DePaull, assistant chief of police, University Police, for Excellence in Institutional Service; and,
• Dawn Van Hall, the digital-imaging specialist, Memorial Library, and co-coordinator of Native American Studies, for Excellence in Innovation within Profession.
Any professional who has completed at least two years of service at SUNY Cortland is eligible for these awards. Nominated by their colleagues, the honorees stand out as role models within their area of responsibility, profession or department. They have demonstrated characteristics such as leadership, organization, problem-solving or decision-making skills that serve as examples of professionalism of the highest caliber.
Over and over again, the three employees have displayed a penchant for "going the extra mile" in order to serve students and the College. They have shown creativity in designing and implementing effective programs and services.
John Suarez
Suarez, a former English Department lecturer who has served as a professional staff member since 2007, each semester teaches an English composition course with a service-learning component that he designed some years ago.
He met the award criteria by demonstrating leadership in the development and enhancement of programs and services that respond to student needs.
John
"There is no one at SUNY Cortland with a bigger heart than (Suarez's) when it comes to serving our students," a colleague wrote about Suarez in the nomination form for Excellence in Student Service.
The unusually formatted classes are intended to motivate students' interest in writing by providing them with real-world subjects. Because Suarez could not find materials suited to the way in which he teaches service-learning English composition, he created his own manual, which he is working now to publish.
Suarez devotes many hours outside the classroom holding tutorials for students to help improve their writing skills, the colleague wrote.
Suarez's outreach to youth doesn't end on the college campus. He and his wife have hosted about a dozen exchange students over the years.
"His relationship with these young people is so profound that they return to Cortland again and again," the nominator wrote. "One of his exchange students from China enrolled at SUNY Cortland for the fall semester last year, and another of his students, a German doctoral candidate, visited Cortland in the spring of last year and made a number of presentations on campus pertaining to civic engagement in Germany."
Mark DePaull
DePaull, who has served his department for 22 years, was appointed assistant chief in 2006.
He has earned this accolade by being a role model within his area of responsibility, profession and department.
"He consistently gets positive comments from all areas of campus: 'Great job!' 'Good person to work with!' and always gets high performance evaluations," his nominator wrote. "He is well respected within the department and throughout the campus community."
Mark DePaull
Acknowledged for successfully managing all aspects of the department's state accreditation process, DePaull also volunteered with the New York State Division of Criminal Justice Services Accreditation Program to review other programs on its behalf. The New York State Division of Criminal Justice presented him with its John Kimball Award for his leadership.
DePaull launched the department's bicycle-patrol program as the first policing agency in Cortland County to embrace this community policing initiative.
DePaull developed and implemented Incident Action Plans (IAPs) for major campus events, including the annual Cortaca Jug football game, New York Jets Training Camp, Spring Fling and graduation. The IAPs follow the National Incident Management System's systematic approach to preventing, protecting from, responding to, recovering from, mitigating or managing emergencies as they arise.
He also initiated the Sexual Assault Awareness and Programming Committee.
One nominator listed DePaull's strengths in the areas of problem solving and decision-making. The person noted DePaull's outstanding performance in maintaining public safety at major campus events and his involvement on many campus committees and with professional service organizations. In support of the College's goals, DePaulll leads many campus-safety-training programs and is active with student recruitment and orientation programs.
The SUNY Police Chiefs Association twice awarded him a certificate of honor for excellence in the profession of law enforcement. The SUNY Cortland Emergency Squad named him an honorary member.
Dawn Van Hall
Honorees must demonstrate creativity in the development or application of ideas of concepts within a professional operation. Van Hall demonstrates innovation within a profession for her approximately two decades designing a creative program in film production.
"With very little money, Dawn has put an impressive film collection together, stored at the library," wrote one of several nominators. "Her leadership is exemplary, as the students will benefit from her film collection long after Dawn retires."
Dawn Van Hall
A long-time member of the College's Center for Gender and Intercultural Studies (CGIS), Van Hall organizes and presents a Native American History Month film series in November on behalf of the center. Over the years, the digital-film acquisitions have formed the basis of a very complete collection representing the diverse lives of American Indians as well as Canadian First Peoples and Maori people.
The annual screenings, often accompanied by discussions with visiting filmmakers or cultural presenters, are awaited eagerly by a loyal following of students, staff and visitors.
"I don't know (Van Hall's) secret ingenuity of pulling together an impressive program and asking for only nominal support from CGIS," the nominator wrote. "I can only imagine that she is well-known for her efforts, and that filmmakers happily comply with her request and give us an opportunity to ask about the making of the film, the cultural settings, etc."
The Professional Service Awards Committee is considering candidates for next year's awards. For more information, visit the website or contact committee chair Colleen DeGouff at 607-753-2313.
Freshman Earns Air Force ROTC Scholarship
04/25/2013
Freshman Stephen Best's tuition and many expenses will be covered for the remainder of his SUNY Cortland education after receiving a coveted Air Force Reserve Officer Training Corps (ROTC) Commander's In-College Scholarship.
Best, a political science major from Southold, N.Y., last fall joined Cornell University's Air Force ROTC, which accepts qualified SUNY Cortland students. The cadet was presented with the scholarship certificate during a March 20 ceremony in the SUNY Cortland President's Office in the Miller Building.
SUNY Cortland President Erik J. Bitterbaum and Provost and Vice President for Academic Affairs Mark Prus congratulated Best on winning the scholarship based on his freshman year performance at the College.
Representing the Air Force in awarding Best with the full-tuition scholarship was the USAF Detachment Commander Lt. Col. William E. Sitzabee and USAF Operations Officer/Recruiting Flight Commander Lt. Col. Ryan P. O'Dowd.
The Commander's In-College Scholarship recognizes college academic performance as well as physical fitness and demonstrated leadership capabilities. Best has a 3.7 overall grade point average. College students need a 2.5 GPA to be considered for the honor.
Gathered in the President's Office for the scholarship presentation, from the left, were Erik J. Bitterbaum, Lt. Col. William E. Sitzabee, Stephen Best, Lt. Col. Ryan P. O'Dowd and Mark Prus.
"We like to say it's for the 'whole-person-leadership aptitude,'" Lt. Col. Sitzabee said.
Best's commanding officers were unaware of any previous SUNY Cortland student receiving this scholarship.
This year Best is the only cadet in the command's eight-college territory to receive the scholarship.
Approximately a quarter of Air Force cadets who earn four-year scholarships receive the level of benefits that Best will enjoy. The award also covers, from this semester through graduation, a book allowance and a monthly stipend starting at $250 and increasing in size each year.
Currently, Best commutes to the Cornell campus with his fellow cadets for ROTC courses and physical training as a cadet, but is not enlisted in the military.
"Any student can register for the classes without joining the ROTC," Lt. Col. O'Dowd explained. "However, joining the ROTC means that they are committed to pursuing a commission."
As a sophomore or upon successful graduation, Best becomes a candidate for an officer's commission as a second lieutenant with the U.S. Air Force.
"I did Navy Junior ROTC for four years," Best said, explaining his ongoing interest in the military.
Before enrolling at SUNY Cortland, Best was also interested in science and history. The latter pursuit led him to his current focus on political science.
"One day I hope to go to law school," Best said.
Best will pursue his leadership goals for 10 weeks this summer in Morocco in Project GO (Global Officers), a scholarship program open to college students, mainly those participating in ROTC programs with the Army, Air Force, Navy or Marines. This collaborative initiative promotes critical language education, study abroad and intercultural dialogue opportunities for ROTC students. Project GO programs focus exclusively on the languages and countries of the Middle East, Asia, Central Asia and Africa.
American Cancer Society Recognizes College
04/30/2013
SUNY Cortland recently was named a national and New York state leader in the promotion of healthy campus lifestyles by the American Cancer Society for successfully implementing a 100-percent tobacco-free policy.
The College was among only 48 campuses to earn an "A" grade in a recent society report on the national trend of creating tobacco-free environments at colleges and universities.
SUNY Cortland became a tobacco-free campus on Jan. 1, amid outreach efforts that included education campaigns, tobacco cessation programs and a volunteer cigarette-butt cleanup in neighborhoods surrounding campus.
The College will hold a second tobacco-litter cleanup from 3 to 4:30 p.m. on Wednesday, May 1. Volunteers will meet on the steps of Corey Union to pick up supplies and then fan out to the neighborhoods on the campus perimeter.
Volunteer students, faculty and staff earlier this spring filled this 20 gallon tank with cigarette waste in the campus vicinity as a community service.
"Most tobacco users have been compliant with our tobacco-free policy," said Catherine Smith, the College's health educator. "Unfortunately, it has been reported that some smokers have congregated by family homes near campus and have discarded their tobacco litter on those properties."
Earlier this spring, students, faculty and staff nearly filled a 20-gallon fish tank with used cigarette butts and related tobacco throwaways during a volunteer cleanup. The scope of Wednesday's litter pickup will be expanded to include more neighborhoods surrounding west campus, Smith said.
Wellness and community engagement are both hallmarks of a SUNY Cortland education, College President Erik J. Bitterbaum said.
"Leadership on health and wellness issues ¾ whether it's tobacco-use, obesity, mental health or anything else related to personal or community well-being ¾ is a natural role for SUNY Cortland," Bitterbaum said. "We are honored to have been identified by the American Cancer Society as a campus that has made significant progress in this area."
According to the recently released society report titled "Tobacco-Free U:2013 New York State Dean's List," New York has more tobacco-free campuses than any other state, with 48 of the 608 tobacco-free campuses identified across the nation.
SUNY Cortland was the second SUNY campus to announce a tobacco-free policy. Since that announcement the SUNY system administration has stated its goal is for all of its 64 campuses to become smoke free by 2014.
Phi Kappa Phi Lists 2013 Academic Aces
04/30/2013
Six exceptional members of SUNY Cortland's chapter of Phi Kappa Phi, the honor society for all academic disciplines, have set high standards for future student scholars through excellence in discipline, dedication and time management.
Sarah Koppenhaver
Suzanne Leslie
Bridgette Metzinger
Aimee Ris
Chelsea Tollner
Tara Vasilakopoulos
The students, named "Scholars of the Year" by the Cortland chapter, were recognized April 20 in the Corey Union Function Room.
The scholars also each received $50 and were acknowledged later that same day during SUNY Cortland's annual Honors Convocation ceremony in the Park Center Alumni Arena.
The accolades were based on academic accomplishments as well as leadership and volunteer involvement at the College and in the community.
Founded in 1897 at the University of Maine, Phi Kappa Phi annually initiates about 30,000 new members from nearly 300 campuses in the U.S., Puerto Rico and the Philippines.
Here's a closer look at each Phi Kappa Phi scholar:
Sara Koppenhaver
A senior physical education major, Sara Koppenhaver of Kenmore, N.Y., is a very active member of the Residence Hall Association.
The daughter of Lesa Fichte and Thomas Koppenhaver, she has participated in several national residence life conferences and served as the National Residence Hall honorary president.
She also has maintained a 3.90 GPA.
Koppenhaver is a champion of volunteerism and charity work within the Cortland community. In addition to student teaching in Syracuse, the honors student manages the Judson H. Taylor Leadership House.
"Challenging myself has always been something I have worked towards, and as a professional I will make it a goal to continue learning and developing," Koppenhaver said. "I want to incorporate the experiences I had as a resident assistant into my physical education curriculum."
Suzanne Leslie
The daughter of John and Sharon Leslie of Ossining, N.Y., Suzanne Leslie is a senior physical education major with a concentration in adapted physical education. With her 3.87 GPA, she ranks among the top 5 percent in her class and has been named to the Dean's List every semester.
"I have learned if I wanted to have a great grade point average, I needed to work hard for it and earn it on my own," Leslie said.
She stays busy with activities such as the SUNY Cortland Club Softball Team, Alliance of Physical Education Majors, and Ossining Volunteer Fire Department.
Leslie was honored with excellent professional dispositions letters, was a candidate for the National Association for Sport and Physical Education Major of the Year and was accepted into the New York State Alliance for Health, Physical Education, Recreation and Dance (NYSAPHERD).
"I know that in my educational career at Cortland the professors who shared with me their knowledge and experiences were able to inspire me," she said. "I hope to encourage future Cortland students to become physically educated people, and to have them keep this great profession growing strong in the years to come."
Bridgette Metzinger
As one of the first in her family to attend college, Bridgette Metzinger from Kenoza Lake, N.Y., has maintained a 3.89 GPA, high enough for her to be inducted into three honor societies.
The senior adolescence education: English major has received various awards, including the Sigma Delta Phi Scholarship and Father Edward J. O'Heron Scholarship. She also is involved with the Academic Support and Achievement Program (ASAP) as a tutor.
"I care about my education and want to improve myself," Metzinger said. "I have reached out to my resources, taken on big responsibilities, and faced many challenges that have allowed me to test myself and grow as an individual."
A member of the National Council of Teachers of English (NCTE) and English Club, she aspires to teach the language to high school students.
"As an educator, my overall goal is to give students the skills and knowledge they need to not only thrive, but become leaders in the world in which they live," said Metzinger, the daughter of August and Faith Metzinger.
Aimee Ris
A senior early childhood/childhood education major with a concentration in environmental studies from Farmingville, N.Y., Aimee Ris is a recipient of the Overseas Academic Programs Scholarship. This summer she will student teach in Australia.
"Australian schools are much more actively involved in the environment," said Ris. "I hope to bring back many techniques and strategies from Australia to use in my classroom."
The daughter of Gary and Faye, Ris has made the Dean's and President's lists consistently and maintains a 3.80 GPA. She currently is president of the Kappa Delta Pi National Honor Society, one of the three academic societies to which she belongs.
In addition to developing a program with the local library to help children explore the beauty of nature in their own backyard, she coordinated a trip as a volunteer teacher to children in Costa Rica.
"After teaching abroad, I want to complete my graduate degree in early childhood special education," said Ris.
Chelsea Tollner
A senior community health major and native of Cortland, N.Y., Chelsea Tollner maintains the perfect balance between academics and extracurricular activities.
The daughter of Wes Tollner and Margaret Sweeney, she actively was involved with promoting well-being on campus as a member and vice president of the Eta Sigma Gamma Honor Society.
"I want to help improve the health and welfare of individuals within various community settings," Tollner said.
Tollner maintained a 3.83 overall grade point average (GPA) and was consistently named to the Dean's List and President's List during her time at Cortland — all while working five part-time jobs.
"Learning to balance all of the areas in my life has made me a person that I am proud to be," said Tollner. "Within the past four years, I have become stronger, more responsible, and attentive to the needs of myself and those around me."
Tara Vasilakopoulos
A senior dual major in adolescence education: social studies and history, Tara Vasilakopoulos spent her time at Cortland by staying involved in affairs on campus as well as in the community.
A former vice president of the Student Government Association (SGA), Vasilakopoulos has held other leadership positions with campus organizations and routinely participates in community service projects, including Relay for Life and SGA's annual Toy Drive.
The aspiring social studies teacher strives to one day tell stories relating to history in ways that are memorable and captivating in order to keep students on the edge of their seats.
"Sharing my passion for history with others through tales and events, then observing how they relate, is fascinating," said Vasilakopoulos, the daughter of Bill and Patricia Vasilakopoulos.
A SUNY Cortland Past President's Scholarship and the SUNY Cortland Outstanding Student Leader Award are among her accolades.
"Every day I strive to actively pursue my special interest in history, and continue to cultivate my unique story-telling talents and natural leadership," said Vasilakopoulos. "I hope to use these talents to be inventive and innovative in my methods, fearless in the work that is awaiting me, and determined in the career I chose to pursue."
Roundtable to Address Worker Income Gap
04/26/2013
The gap between the wealthiest Americans and the vast majority of U.S. citizens is larger than most people think, according to Craig Little, a Distinguished Service Professor and professor of sociology at SUNY Cortland.
"It is much, much greater than what people believe," he stated.
Little will address the extent of American social and economic disparity in a Community Roundtable presentation titled "Inequality in America: Where in the World Are We?" Thursday, May 2.
The event, sponsored by the President's Office, takes place from 8 to 9 a.m. in the Park Center Hall of Fame Room. The roundtable is free and open to the public. Refreshments will precede the lecture at 7:45 a.m.
In his presentation, Little will share evidence of disturbing economic trends. His talk will raise awareness about the implications of the growing inequality in the U.S. and throughout the world. He will contribute his own knowledge of the true distribution of wealth, including its relation to the current economic crisis in the United States.
"Not that I have the actual truth, because no one really does," Little commented. "But I am a sociologist and I have a perspective on the world and this issue, which is what I wish to bring to the discussion."
Craig Little
From the country's founding until the 1970s, the wealth-distribution profile of the U.S. was similar to most industrialized democracies, Little noted. However, this wealth gap between the few at the top and the mass of average Americans has widened dramatically with American inequality beginning to resemble that of the world's most economically and politically dysfunctional societies.
Today, the wealth gap between the top one percent and the mass of the average Americans has dramatically widened much more than most people are aware of, Little said.
"Many people may think that there is a lot of inequality in America," he said. "But I think after the discussion, they will come away saying, 'I didn't think it was as great as it is.'"
According to the Federal Reserve Bank of Minneapolis, the bottom 40 percent of U.S. households have about one percent of all of the wealth, while the top one percent of all households have nearly 30 percent.
However, Little believes that there's increasing concern that appears to be reflected in the recent Occupy Wall Street movement.
"More and more people are realizing, 'We are the 99 percent, and the top one percent is soaking up the disproportionate amount of wealth and income,'" he remarked.
"I think that realization became the mantra of Occupy Wall Street."
Not only does the public have an economic concern regarding the increasing gap in wealth inequality, but they increasingly express distress within other, related topics such as health, education, social well-being and politics.
"About six years ago, I was on sabbatical leave, and my proposal was to reorient my curriculum around the growing inequality, which I believe is at the root of many sociological and criminal problems," Little said.
"So, part of what I will be talking about is incorporated in many of my classes."
Since Little's leave, certain courses he has taught have explored the theme of inequality. This semester, that course is White Collar Crime.
For more information contact Karen Seibert, special events assistant for the President's Office, at 607-753-2377.
Teacher of the Year to Address Educators
04/24/2013
SUNY Cortland continues to support excellence in teaching by hosting Katie Ferguson, the 2012 New York State Teacher of the Year from Schenectady, N.Y., as keynote speaker for "Celebration of Teaching and Learning," Tuesday, April 30.
Ferguson's keynote address, "Excellence in Education: Advice from Teacher of the Year," starts at 4:15 p.m. in Sperry Center, Room 105.
Afterward, she will present "Be the Spark! The Importance of Belief in Education," during the Teacher Recognition Dinner at 5:30 p.m. in Brockway Hall Jacobus Lounge.
This year's two-part celebration recognizes the exemplary accomplishments of educators and school administrators from across the region. Recent recipients of National Board Certification will be honored at the dinner.
Both events are free and open to the public. Professional development credit is available for eligible in-service teachers. Due to limited seating, registration is required.
To register or for more information, contact Alexis Abramo in the College's Childhood/Early Childhood Education Department at 607-753-4352.
Individualized instruction is a major component of the day-to-day lessons Ferguson teaches to her second graders at Jessie T. Zoller Elementary School in Schenectady, N.Y.
The New York state ambassador to education presents educational material in a variety of ways and a number of times in order to give students the opportunity to hear, see and experience topics in a way that is understandable to them.
Throughout her career, Ferguson has served on an array of committees and participating in, often as a leader, a long list of professional development programs and workshops.
"It is my hope that I can continue to represent what I see all around me every day: hard-working, knowledgeable, generous, professional educators dedicated to their students," Ferguson said.
"Celebration of Teaching and Learning" is sponsored by the College's School of Education, Tompkins-Seneca-Tioga Board of Cooperative Educational Services and the Teacher Professional Development Network.
Atlantis Scholars Forge Political Ties Abroad
04/29/2013
Even when it comes to food, college life in England proved to be different to Erik Burrows, a SUNY Cortland senior political science major who spent his spring semester at the Manchester Metropolitan University (MMU) in England.
As an aspiring politician Burrows, of Syracuse, N.Y., is a keen observer of local and international customs.
"I was able to venture out to find a place to shop for food, no meal plan," Burrows remarked. "(I) had it pretty good at Cortland. Coincidentally I wound up at Asda, which is owned by Walmart. I cannot get away!"
As a little taste of home, U.S. students can buy the American staple: Twinkies, which cost two pounds — the equivalent of $3.20 apiece.
"So they exist abroad," Burrows continued. "Only nuclear war can destroy them and, well, some hungry people."
Burrows and fellow senior political science classmate Blaithin Loughran of Pearl River, N.Y., along with three international students enrolled at MMU — Redji Kercyku, Victoria Nevin and Paulina Lupa — received competitive Atlantis Program scholarships, funded through the United States and the European Union, for the 2012-13 academic year.
The Atlantis Program, created primarily to reflect the cooperation between the U.S. government and the European Union, offers an international hands-on learning experience for students who plan to pursue a career in government or public service.
The program, granted to select universities, awards each recipient $5,000 — or the equivalent amount in somewhat more valuable Euros — to defray living and travel expenses.
The students travel abroad to take classes, receive experience as an Atlantis Scholar group through leadership training and internships, and are provided with the opportunity to interact with public administrators — all while earning full academic credit.
Two political science majors are shown canvassing a community in Great Britain this semester to build support for the Member of Parliament John Leech. They are Erik Burrows, shown in the back row on the far left, and Blaithin Loughran, in the center foreground, with Leech standing to her right.
For the past four years, students have participated from SUNY Cortland, MMU, University at Buffalo and Babes-Bolyai University in Cluj, Romania.
Both Cortland seniors spent their spring semester attending class at MMU and interning for British Liberal-Democrat John Leech, a Member of Parliament for Manchester Withington since 2005.
"Our job was to assist with building a volunteer and apprentice network to raise more money and support for the election in 2015," Burrows said.
While exploring the ins and outs of the Parliamentary system, Burrows and Loughran also experienced new customs and education methods.
"I have learned about the English culture," said Burrows, who updated a weekly blog about his time spent abroad. "It is not all that different from ours besides some phrases and a less formal classroom environment."
"I've also found it to be quite informal," agreed Loughran. "The students call all of their professors by their first names and have a pretty friend-like relationship with all of them. Erik and I even went to dinner with three of our professors last week and had a great time.
"I really do love the city of Manchester," she said. "It is incredibly easy to get around, and the people are really nice.
"But I do of course miss Cortland very much and am looking forward to getting back and seeing my friends and all of the faculty that helped me get over here."
Along with gaining new experience in international politics, Loughran left her mark on Manchester in other ways. An accomplished musician specializing in traditional Irish music, she was featured on a Manchester radio station while abroad. At home, she is part of a traveling and recording musical group.
While in Europe, the American students explored London and Paris and traveled through France and Norway.
"We got on the Eurostar train to Paris, which took almost three hours, where we passed under the English Channel," said Burrows, describing his trip in his blog. "Cross that off my bucket list and one of the seven modern wonders of the world!"
Redji Kercyku, of the United Kingdom, said he celebrated his 21st birthday while attending SUNY Cortland. That night, he ran into a German exchange student who ironically happened to share the same milestone birthday.
The three MMU students spent their fall semester at the College, and are currently interning at the New York State Assembly in Albany. Presently, Kercyku is an intern to New York State Assemblyman David Gantt.
Distinguished Service Professor Henry Steck, the SUNY Cortland chair of the Atlantis Program and a political science professor, said he is pursuing at least another year's extension of the College's four-year program grant, which runs out this year.
"I anticipate that the many students who have been involved in this unique opportunity will one day help strengthen the bond between U.S.-EU political affairs," Steck said.
For more information, contact Steck at 607-753-4807.
Musical Masterpiece 'Verdi Requiem' to Be Performed
04/30/2013
SUNY Cortland's Performing Arts Department, The Arts at Grace and the McNeil Development Company present the "Verdi Requiem," one of the great works for chorus and orchestra, on Friday, May 3 and Sunday, May 5.
Friday's concert will begin at 8 p.m. and Sunday's performance is at 3 p.m. in the former United Community Church at 19 Church St. in Cortland. The concert is free and open to the public. Donations are welcome.
Stephen B. Wilson, performing arts professor (music) will conduct. The beauty of the "Requiem" drew him into a career in conducting when he first sang the work as a freshman at the University of California at Santa Barbara.
Renowned Verdi scholar David Rosen, professor emeritus of musicology (opera) at Cornell University, will present a pre-concert talk at 1:30 p.m. Sunday. The Sunday concert also will be followed by an informal reception at 19 Church St. where audience members can meet and talk with the musicians.
Composed by Giuseppe Verdi in 1873, the work has long been recognized as one of the most remarkable musical works ever composed. The "Verdi Requiem" is highly dramatic and challenging to perform, requiring a chorus of about 100 singers, a full professional orchestra of more than 40 members and four soloists.
Though the text of the "Requiem" is by definition a somber one, the breadth of the musical invention in this work is astonishing, from the dramatic trumpet call from the balcony of the "Tuba Mirum" and the terrifying sounds of the "Dies irae," to the very personal plea for salvation by the soloists. Written to honor the memory of Verdi's close friend, the great Italian writer Alessandro Manzoni, the piece is at once both monumental and deeply personal.
The chorus for this concert is made up of members of SUNY Cortland's College Singers and the Choral Union. The College Singers is an all-student ensemble at SUNY Cortland, while the Choral Union is made up of members from the College and the community.
Singers, orchestra members and soloists represent surrounding areas that include Binghamton, N.Y., Ithaca, N.Y., and Syracuse, N.Y.
Soprano Tamara Acosta, of Ithaca, is a highly experienced soloist who has sung with many opera companies including Lyric Opera of Chicago and the Santa Fe Opera.
Mezzo-soprano Ivy Walz, also from Ithaca, has performed with the Des Moines Metro and Cincinnati Operas and the Spoleto Festival, USA. She is on the voice faculty at Ithaca College.
Tenor Jonathan Howells, of Syracuse, most recently sang in Syracuse Opera's production of "Sweeney Todd." He has appeared in a number of venues nationally from Syracuse to Texas.
Bass-baritone David Neal, chair of the Performing Arts Department at SUNY Cortland and artistic director of The Arts at Grace, has performed regionally, nationally and internationally in operas and concerts.
The Arts at Grace is a community outreach of Grace and Holy Spirit Church. The series offers all of its concerts free of charge. Generous contributors making the Verdi Requiem possible include regional businesses and individuals. Major financial supporters include CNY Arts/NYSCA, Cortland Community Foundation, Wilkins Foundation, First Niagara Foundation, Tompkins Trust Company, McNeil Development Company and St. Mary's Roman Catholic Church.
For more information, contact the Grace and Holy Spirit Church at 607-753-3073.
College Recognizes Student Leaders
SUNY Cortland honored 55 students who have played integral leadership roles on campus at the 28th annual Student Leadership Recognition Banquet held April 18.
Following are the students recognized for their contributions to the College throughout 2012-13.
Outstanding Student Leaders
Michael Adams
Kate Boehler
Khalia Brown
Justin Carlson
Taylor Casciano
Davon Clarke
Brian Cook
Boyan Cox
Dean Damore
Jessica Dashnaw
Andrea De Caires
Kerri Dinsmore
Kenneth Dolan
Erin Durgin
Miguel Espaillat
Carrie Fagan
Joshua Figura
Shelby Fisher
Mairead Fogarty
Leah Gelblat
Dylan Gioia
Sarah Goldstein
Erin Harrington
Lynne Harris
Harrison Hefele
Marion Huntley
Delvin Johnson
Devon Keir
Katherine Kellas
Mitchell Kenigsberg
Francesca Lansburg
Sarah Laurenza
Brendan Lowe
Ngozichukwu Mafiana
Kathleen McCabe
Yashema McGregor
Blaire Mershon
Rachel Moccaldi
Jessica Murphy
Sarah Powers
Ariel Puukila
Katherine Quiroz
Jonah Reardon
Caitlin Schweigler
Maria Sullivan
Sarah Turon
Julia Tuttle
Esperanza Viera
Katharine Warszycki
LeighMarie Weber
Ian White
Megan Wise
Excellence in Leadership
Delvin Johnson
Devon Keir
Jonah Reardon
Sarah Turon
LeighMarie Weber
Outstanding Senior
Khalia Brown
Vice President for Student Affairs Merit Award
Boyan Cox
Student Government Association Awards
Outstanding Staff Member – Mary Kate Boland, Campus Activities
Steven J. Barnes Outstanding Faculty Member – Jena Curtis, Health Department
Outstanding Club Member – Michael Adams, Non Traditional Student Club
Outstanding Club/Organization – Spectrum
Outstanding Senator – Pahola Bautista
Michael C. Holland Memorial Scholarship – Deston Hudson
Greek Awards
Chapter Leadership Awards
Kelly Taveras of Alpha Sigma Alpha
Allison Sussman of Nu Sigma Chi
Sarah Turon of Alpha Phi Omega
Greek Advisor Special Recognition Award – Kathleen McCabe

Suggest a feature story
---
Faculty/Staff Activities
Mark Dodds
Mark Dodds, Sport Management Department, recently co-authored an article, "Inherent Risk or Risky Decision? Coach's Failure to Use Safety Device an Assumed Risk," published in the April 2013 issue of The Journal of Physical Education, Recreation and Dance.
Thomas Hischak
Thomas Hischak, Performing Arts Department, has received a SUNY Global Grant to partially finance his trip to Anadolu University in Eskisehir, Turkey. Hischak will be in Turkey for three weeks in May to teach and run workshops about American theatre and film.
Denise D. Knight
Denise D. Knight, English Department, has had her essay, "Assessing Class Participation: One Useful Strategy," included in a new e-book titled Grading Strategies for the College Classroom: a Collection of Articles for Faculty, from Magna Publications. The book is available on Amazon.com.
Kathryn Kramer
Kathryn Kramer, Art and Art History Department, presented "Flanerie's Art and Measure of the Globalizing City" at the College Art Association (CAA) conference in February. In March, she presented an expanded version of the CAA lecture for Shanghai Flaneur, a cultural think tank in Shanghai, China. In addition, her review of the Shanghai Biennale will appear in the Sept./Oct. 2013 issue of Afterimage: The Journal of Media Art and Cultural Criticism.
Gregory D. Phelan
Gregory D. Phelan, Chemistry Department, presented results of his research at the American Chemical Society's 245th National Meeting held in April in New Orleans, La. The presentation was titled "Plasticizers, Supersurfactants, and Cosmeceutical Additives Produced from Derivatives of Acetone" and was presented during a session of the Industrial and Engineering Chemistry Division.
Susan J. Rayl
Susan J. Rayl, Kinesiology Department, presented a paper titled "Student-Athletes as Agents of Social Change" at the inaugural "Athletes and Social Change" forum, held March 28-30 at the Muhammad Ali Center in Louisville, Ky.
Ute Ritz-Deutch
Ute Ritz-Deutch, History Department, recently had two chapters published, one each in very different books. Both will be available this summer. "German Colonists in Southern Brazil: Navigating Multiple Identities on the Brazilian Frontier" will be published in Tales of Transit: Narrative Migrant Spaces in Atlantic Perspective 1850-1950 by Amsterdam University Press, 2013. "Imprisoning Foreign Nationals" will appear in The End of Prisons by Value Inquiry Books, 2013.
John Suarez
John Suarez, Service-Learning, learned that his book chapter, "Empathy, Action, and Intercultural Competence: A Neurological Rationale for Simulation's Effectiveness in Developing Intercultural Competence," was accepted for publication in The Intercultural Horizons Proceedings. The book is a collection of peer-reviewed presentations from the Second Annual Horizons Conference, held in October 2012, at SUNY Global Center in New York City. The conference theme was "Intercultural Strategies in Civic Engagement."
Deborah Wilson and Mary Emm
Deborah Wilson and Mary Emm, Communication Disorders and Sciences Department, had their article, "Opportunity for Effective Feedback: A Supervision Tool," published in the March 2013 journal of Perspectives on Administration and Supervision.

Submit your faculty/staff activity