Campus Adopts Single-Stream Waste Recycling
01/29/2013
Life just got simpler for everyone on campus with respect to trash and recycling.
Sorting reusable refuse is out at SUNY Cortland.
Single stream is in. The policy was adopted by Cortland County on Jan. 1. The campus received its specialized dumpsters on Jan. 28 and began the transition immediately.
Students, faculty and staff will see fewer large, green bins in hallways and outside buildings and the instructions are easier to follow:
If it looks like garbage — for example, it's uneaten food — throw it in the trash can.
If it looks like it can be recycled, in most cases everything belongs in the former paper recycling bin, located close at hand under most work stations.
"So now I can put everything into this container right under my desk, my glass bottles, my plastic bottles, my cans as well as my paper and cardboard," said Phil Connery, assistant project coordinator for the Physical Plant Department, who is spearheading the College's transition to single stream recycling.
"It makes recycling more convenient," Connery said. "And there's less thought in it now; you don't have to think any more about what you can and can't combine. Leave the work of separation to the recyclers to handle."
Single stream recycling is actually cheaper and the initiative enlists the campus community to do its part in supporting the College's commitment to environmental sustainability, he noted.
Banished are the paper-only totes. From now on, most recycle streams can be mixed together, or "co-mingled" in recycle-speak, into one container. That's right. Office paper and cardboard no longer have their own container and all can nestle together with glass, plastic, tin, aluminum and steel in the same basket.
Conscientious recyclers don't need to gather giant bottle collections in preparation for that long walk to the building's shared large bottle tote, Connery said, referring to one such personal stash he had seen recently.
"People are still being asked to empty their own full recycle bin in the central tote," while custodians continue to handle the trash, Connery said. "Students in the residence halls will continue to handle both their own trash and recycling."
Outside the buildings, custodians will bring the building's accumulated reusables to new, single stream green recycling dumpsters.
Connery urges less fussiness: that vacant cardboard pizza box can find a new use, even if stained with pizza sauce and cheese, as long as no leftover slices linger. Put it in the bin for co-mingles. Ditto the glass or plastic drink and other food containers that are empty, even if they aren't washed first before combining with paper items.
"If it's a very small percent of liquid still in the container, it doesn't matter," Connery said. "But if it's half a container, go to the bathroom or drinking fountain and dump it first and then put the container in the recycling bin. They don't have to be rinsed. It's the same thing with the yogurt container. They don't have to be rinsed or licked clean.
"If people think they have to run and rinse it out, they are less likely to recycle it," Connery said. "We want them to empty it and put it in the recycling container."
There is no need to peel paper labels off containers before tossing them in the basket. Office receptacles will remain in their places but it's a good idea to peel off and dispose in the trash the outdated "recyclable paper" label from the recycling bin to prevent confusion over the new policy.
Waste Management, the campus' trash and recycling contractor, collects several times per week and takes garbage to the County Landfill for disposal at $60 per ton. The hauler drops off the recyclables at the Cortland County Recycling Center.
Casella Waste Systems, which operates the county's recycling center as a transfer station, will take the mixed, reusable waste to a facility near Geneva, N.Y., where a complicated human and mechanical sorting system will separate the paper, plastic, metal and glass stream into piles of profit.
"It's all handled at a very large sorting and recycling facility and is very interesting to watch," Connery said. "It involves a system of conveyor belts, magnets, vibration machines and also hand sorting."
Waste Management charges the College for transporting the recyclables but not a cent for the disposal.
"Environmentally it's more practical, but it saves money too," Connery said.
A slight cost reduction of roughly $2,000 per year results from the reduced carbon footprint of having fewer kinds of trucks coming to campus. A specialized truck for sortables is no longer needed.
The single stream recycling effort continues a campus-wide initiative launched in 2007 by SUNY Cortland President Erik J. Bitterbaum when he became a charter signatory to the American College and University Presidents' Climate Commitment.
Moreover in 2010, the College vowed as an institution to embrace the principle of "maximizing resources" as one of four overall commitments to excellence, along with "academic excellence," "transformational education" and "well-being."
College physical plant managers believe the move to single stream recycling will save lots of money, which then can be put to better use, such as for academic and student life programs, maintaining campus facilities and supporting student scholarships.
But the College only can stop throwing money away on landfill tipping fees if campus community members succeed in increasing the amount of recyclables diverted from the dump.
"The critical component in this endeavor seems to be educating the entire campus community about this important change in our sustainability efforts," Connery said. "Through emails, newsletters, publications, posters, flyers, seminars and other means, we hope initially to reach everyone and continue to remind them of the importance of single stream recycling and the importance of getting it right."
The acceptable materials that can be recycled include: newspapers; magazines; catalogs; telephone directories; soft-covered books; direct mail and envelopes of all types; all office paper; cardboard boxes; pizza boxes; brown paper bags; paperboard including cereal boxes, pasta boxes, shoe boxes, egg cartons; milk and juice cartons, both paper and plastic; aseptic packaging including waxed cardboard and foil-lined juice boxes; aerosol cans; plastic bottles; and plastic containers labeled for recycling from 1 to 7; milk jugs and soda, juice and water bottles of glass or plastic with caps; bleach, detergent and shampoo bottles; flexible mixed plastic containers such as for cottage cheese, margarine or yogurt; glass bottles and jars of all colors; empty aluminum cans and containers including pie plates and trays; aluminum foil; metal cans of tin or steel with lids; and unmarked rigid plastics such as buckets, laundry baskets, chairs and toys.
Most items that aren't acceptable for reuse should be discarded in the trash.
Unacceptable as recyclables are: plastic bags; food liners; window or auto glass; mirrors; light bulbs; dishes; Pyrex ware; ceramics; hard cover books; foam plastic (Styrofoam); hazardous material; universal waste, which includes mercury containing devices such as thermostats, batteries, electronic items, paints; recyclables containing significant food waste; paint; chemicals or oils; coat hangers; microwave trays; plastic film or shrink wrap; anti-freeze containers; small appliances such as toasters; and cookware such as pots and pans.
Composting and special recyclables: The College's Auxiliary Services Corporation (ASC) is working on a system of composting the biodegradable dinnerware items dispensed exclusively at Hilltop. ASC separates recyclables at Neubig Hall but counts on campus consumers to properly dispose of items taken from the dining areas.
The College, through its Property Control Office and Service Group, continues to collect specific recyclables separately, including batteries, certain electronics, printers and cameras.
More information about what college campuses can do to reduce the carbon footprint can be found at Waste Management's website. For more information, contact Connery at 607-753-2101.
Physicist Finds Clues About Genetic Blindness
02/05/2013
Aphrodite Ahmadi sees the laws of physics demonstrated in some unusual places, including in a baby frog's eye.
An assistant professor of physics at SUNY Cortland, she recently examined microscopic slides of sectioned tadpole eyes to study the mechanics of a human genetic weakness that leads to a rare form of blindness.
Retinitis pigmentosa is as mysterious in its development as it is devastating in its effect on the person who slowly loses his or her sight from it at a relatively young age. It can erase vision from the center of a person's line of sight to the periphery, from the periphery to the inside, or in an irregular pattern.
Presently, this form of blindness has no cure.
Ahmadi and colleagues at Upstate Medical University's Neuroscience and Physiology Department and its Ophthalmology Department recently described clues about the disease's progression.
The findings by Ahmadi and her co-researchers — Mohammad Haeri and Barry Knox — were published Jan. 22 in an article in Biophysical Journal titled "Modeling the Flexural Rigidity of Rod Photoreceptors."
"Light-sensing cells in the eye rely on their outer segment to convert light into neural signals that allow us to see," said Ahmadi, the study's senior author, giving a physicist's perspective. "But because of its unique cylindrical shape, the outer segment is prone to breakage, which can cause blindness in humans."
The team's new experimental and theoretical findings help to explain the mechanical properties that cause the outer segment to snap under pressure. The researchers are convinced that their findings point to the origin of some severe eye diseases and could lead to new ways of preventing blindness.
Aphrodite Ahmadi
"To our knowledge, this is the first theory that explains how the structural rigidity of the outer segment can make it prone to damage," Ahmadi said. "Our theory represents a significant advance in our understanding of retinal degenerative diseases."
The outer segment of photoreceptors consists of hundreds of discs packed with a light-sensitive protein called rhodopsin, she explained. The discs produced by the body at nighttime are different from those produced during the day, generating a banding pattern that was first observed in frogs but is common across species. Mutations that affect photoreceptors often destabilize the outer segment and may damage its discs, leading to cell death, retinal degeneration, and blindness in humans.
"But until now, it was unclear which structural properties of the outer segment determine its susceptibility to damage," Ahmadi said.
To address this question, Ahmadi and her team examined tadpole photoreceptors under the microscope while subjecting them to fluid forces. They found that high-density bands packed with a high concentration of rhodopsin were very rigid, which made them more susceptible to breakage than low-density bands consisting of less rhodopsin. Their model confirmed their experimental results and revealed factors that determine the critical force needed to break the outer segment.
SUNY Cortland Assistant Professor of Physics Aphrodite Ahmadi's study encompassed the basics of eye rod flexibility. This genetically fragile rod is shown bending as it begins to fail. The above left image, which details the rods bending, appeared in the Biophysical Journal and is reproduced here with the journal's permission.
When looked at under a microscope, the rod photoreceptor cells in a tadpole eye appeared to gradually bend into a crook like a boomerang and break. Eventually, the rods no longer will transfer visual information to the brain.
"The findings support the idea that mutations causing rhodopsin to aggregate can destabilize the outer segment, eventually causing blindness," she said. "Further refinement of the model could lead to novel ways to stabilize the outer segment and could delay the onset of blindness."
Although her knowledge is central to the study, she started the collaboration almost by accident. Three years ago, soon after joining SUNY Cortland with a recent doctorate in physics from Syracuse University, she helped a fellow graduate student by proofreading his thesis. That collaborator was Haeri, currently a post-doctoral fellow in Upstate Medical University's Neuroscience and Physiology Department.
"I was correcting spelling and such when I found out about these rods and photoreceptors," Ahmadi said. "He was studying something different than this study: the biochemistry part about the gene mutation that leads to blindness. I looked at the rod structure and saw that some of them looked bent.
"As a physicist, I became interested in this phenomenon and started looking for a mechanical explanation," she said.
Their research associate, Knox, is a professor and chair of neuroscience and physiology at Upstate.
"Haeri got approval from Dr. Knox to gather more images and for me to study the images — almost 300 of them — to figure out how they could bend and come up with a physical explanation for it.
"It was an interesting structure for me. The rods are supposed to be straight. Why should they break? They are like straightened fingers, with no place to jiggle around."
Ahmadi has developed a model for the phenomenon she has observed but still is unclear on what added force generally breaks down retinas prone to this disability. However, she thinks that both internal and external forces could cause the eye structure's collapse.
"As far as we know, there are some forces in the eye chamber," she said. "Anything that can apply force can break it down. Any pressure to the eye can become a force."
They chose to study Xenopus frogs that make one of a wide variety of genetic anomalies leading to this particular disease.
"We did this study to see how this bending and breakage depends on the concentration of rhodopsin along the cell," she said. "In regions with higher concentration of rhodopsin the rod becomes less flexible and will break under pressure."
In true physicist fashion, the paper features graphs to measure the rate of rod bending — or deflection — over time, depending on the level of rhodopsin density.
"Some graphs compare high density versus low density bends," Ahmadi said. "The normal cell recovers its structure, but in a high density band it keeps bending and bending because it has lost its internal structure."
Ahmadi's study expenses were offset by $3,000 in SUNY Cortland faculty research grant funding, while the National Institutes of Health supported her colleagues for their laboratory work.
Ahmadi hopes to move closer to finding the origin of the forces responsible for the breakage of the rod cells in further investigations.
"For now, the model sounds pretty good and the results agree perfectly with what we see," she said. "In the next step, we want to apply controlled forces to the rods and find the experimental value needed to break the rods. The magnitude of the forces can give us hints on what their origin might be."
A cure is not on the immediate horizon, but at least humans are beginning to understand the disorder.
"This is actually the first study that I'm aware of that has been done on the mechanical cause of this blindness," she said. "There is still a long way to go."
---
Capture the Moment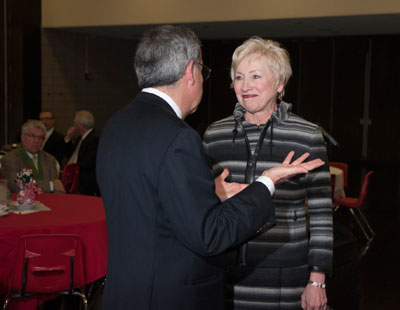 State University of New York Chancellor Nancy L. Zimpher chats with President Erik J. Bitterbaum during her Jan. 30 visit to campus for the first in a series of regional discussions highlighting successful shared services initiatives across the university system's 64 campuses. "Collaborating and sharing services is not just about saving money," President Bitterbaum said. "It's about enabling SUNY campuses to improve students' educational experiences and better prepare them for successful careers."
---
In Other News
'Teach-In' to Honor Sandy Hook Shooting Victim
02/05/2013
Deadly school shootings like the Dec. 14 massacre at Sandy Hook Elementary School don't just create innocent victims.
Sometimes, they also create heroes.
School psychologist Mary Joy Greene Sherlach '78, who was killed while racing toward the shooter soon after he broke into the school, epitomizes the selflessness that teachers and school staff often demonstrate during these unthinkable events. She will be among the teachers remembered tonight during a SUNY Cortland "teach-in" about the threat posed by guns in American schools.
The event will feature Distinguished Service Professor Robert Spitzer, an internationally respected gun-law expert, as well as elementary school administrators, police representatives, teachers and teaching students. It will take place from 7 to 9 p.m. today, Feb. 5, in Sperry Center, Room 205.
The panelists will discuss whether there is any kind of role for guns in schools, including armed police officers or teachers as some gun-rights advocacy groups have suggested. Michelle Kelly, associate professor in the School of Education's Foundations and Social Advocacy Department, also will speak, sharing how teachers have made schools safe without guns, often by taking heroic action.
Sherlach, a former SUNY Cortland psychology major, will be a big part of Kelly's presentation. When gunman Adam Lanza first shattered a school window to get inside her building, Sherlach and the school principal immediately raced toward him in an effort to protect the 700 children in the school.
They became the first two people killed.
Before Lanza finally turned one of his guns on himself, he managed to kill 27 people, including 20 first-grade children. His rampage was the second-deadliest school shooting in United States history. It led to the quick passage of new gun-control legislation in New York state and sparked national debates on the availability of firearms and the nation's mental health system. .
"Mary's actions were heroic, and exemplified courage, compassion and dedication," SUNY Cortland President Erik J. Bitterbaum said. "We are proud to call her one of our own."
The "teach-in" is part of a broader initiative taken by the College to help honor Sherlach's memory.
SUNY Cortland will sponsor a scholarship in her name next fall, and has begun accepting donations. The fund will be used to offset tuition and other costs for a deserving student who is studying psychology. Sherlach graduated cum laude from Cortland with a psychology degree. She had been school psychologist at Sandy Hook since 1994.
The College also will make special recognition of Sherlach during Alumni Reunion 2013 this summer, when her graduating class of 1978 will be one of the featured reunions. Details of that recognition are not yet complete.
Tonight's "teach-in" will bring together one of the nation's top experts in firearm legislation with experienced educators. Spitzer's expertise on gun issues has been in high demand since the shooting in Sandy Hook. During the last month, he has appeared on "ABC Nightly News" and shared his analysis of the situation on National Public Radio and the British Broadcasting System. Spitzer has been quoted in The Washington Post, the New York Daily News, Bloomberg News, The Pittsburgh Post-Gazette, The Hill and The Independent in Great Britain.
The event is being organized by Andrea Lachance, dean of the School of Education; Lorraine Berry, project director for NeoVox; Stephen Dangler, chief of the University Police Department, Kelly and Spitzer.
Events Commemorate Black History Month
02/05/2013
SUNY Cortland will celebrate Black History Month (BHM) through the end of February with a series of events including lectures, sandwich seminars, book chats, Africana dance, the annual Black Student Union Conference and dinner, and a performance by a storyteller in the West African tradition.
"Events outside and within this country — about people of color and whites — are acute reminders that we still have a long road to travel and hard work to do on the history and 'herstory' of Selma, Seneca Falls and Stonewall, as President Obama challenged us to do," said series organizer Seth Asumah, a SUNY Distinguished Teaching Professor and chair of the Africana Studies Department.
"We at SUNY Cortland are doing our best to celebrate the achievements of sung and unsung heroes and 'sheroes' who worked hard and spilled their blood so that we can be at the crossroads of freedom and equality today."
BHM campus events will be posted online in the College's home page calendar and on the Africana Studies Department and the Multicultural Life and Diversity Office websites. Events are open to the public and free unless otherwise noted.
Events continue as follows:
• Mecke Nagel will lead a sandwich seminar titled "Diversity Studies in the Global University" at 12:30 p.m. on Wednesday, Feb. 13, in Brockway Hall Jacobus Lounge. A SUNY Cortland philosophy professor, Nagel chairs the College's Center for Gender and Intercultural Studies (CGIS).
• The Cultural and Intellectual Climate Committee will sponsor a faculty discussion of Henrietta Lacks at 4 p.m. on Wednesday, Feb. 13, in Jacobus Lounge. The program will be moderated by Theresa Curtis, an associate professor of biological sciences at SUNY Cortland. Faculty presenters include Curtis; Elyse Purcell, lecturer in philosophy; and Jill Murphy, associate professor of health. Lacks is a woman who became the subject of a book that investigates the collision of medical science and racial divisions in this country, The Immortal Life of Henrietta Lacks. The volume by Rebecca Skloot raises questions about our common humanity and therefore the committee chose to focus on it this spring as part of the year-long intellectual discussion theme of In/Common. The book also reinforces last year's discussion of civility versus incivility and the importance of community building and civil behavior.
• Lyndon Huling, the College's assistant director of Multicultural Life and Diversity, will present a sandwich seminar titled "Tokenism: Myths and Realities in the Academy." The presentation will begin at noon on Thursday, Feb. 14, in Jacobus Lounge.
• The Black Student Union (BSU) will host the annual Kings and Queens conference and dinner/ball on Saturday, Feb. 16. Planned as both an educational and unforgettable experience in celebrating the Civil Rights Movement, the conference will take place from 11 a.m. until 4 p.m. in the Corey Union Exhibition Lounge and three workshop locations in the building. In collaboration with the conference, BSU will be hosting a dinner and ball titled, "A Night in Kemet" at the Ramada Inn. Dinner begins at 9 p.m. and the dance lasts from 10 p.m. until 3 a.m. Limousine pickups and drop-offs will be provided. The cost to attend the conference and ball is $10 for SUNY Cortland students, $12 for non-SUNY Cortland students and $15 for faculty and staff; to attend the conference only or ball only is $8 and $5 for SUNY Cortland students; and $10 and $7 for non-SUNY Cortland students. Faculty and staff may attend the ball only for $10.
• Kassim Kone, professor of anthropology and linguistics, will present "The Tuareg Rebellions in the Sahel: The Race Hypothesis in Black and White Africa" on Tuesday, Feb. 19. The talk begins at 4:30 p.m. in Sperry Center, Room 205.
• Peggy Murphy, a SUNY Cortland political science lecturer, will present "Natural Disasters: Beyond Race, Gender and Class" on Wednesday, Feb. 20. The sandwich seminar starts at 12:30 p.m. in the Old Main Colloquium Room.
• Vanessa Johnson, a griot or storyteller in the West African tradition, will present "Women's Narratives in the Civil Rights Movement" at 7 p.m. on Wednesday, Feb. 20, in Sperry Center, Room 105.
• Brendan Dunn, a SUNY Cortland graduate student in history, will present a sandwich seminar titled "The Black Panther Party and Civil Rights" on Thursday, Feb. 21. The event begins at noon in the Old Main Colloquium Room.
• Mona-Ivy Soto, assistant professor of childhood/early childhood education, will address "Disrupting the Cradle of Prisons Pipeline: Understanding Systems and Advocating for Social Change" on Wednesday, Feb. 27. The sandwich seminar starts at 12:30 p.m. in Brockway Hall Jacobus Lounge.
• Susan Rayl, an associate professor of kinesiology, will discuss "Milton Gray Campbell: From Unknown to Decathlete Athlete of the Century," on Thursday, Feb. 28. The sandwich seminar will be held at noon in Brockway Hall Jacobus Lounge.
In the U.S., Black History Month commenced in 1926 when its founder, Carter Godwin Woodson, and other African American and white scholars realized the lack of studies and documentation about black history and the apparent disrespect for black culture. Previously called Negro History Week, the commemorative period was renamed Black History Week in 1972 and Black History Month in 1976. The Africana Studies Department has organized BHM events for the College since the late 1970s, working in recent years with other campus organizations. This year's key collaborators with Africana Studies include NeoVox, the CICC, Center for Gender and Intercultural Studies (CGIS), PASA and the BSU.
Black History Month event sponsors include the Provost and Vice President for Academic Affairs Office, President's Office, Dean of Arts and Sciences Office, Multicultural Life and Diversity Office, BSU, Political Science Department, the Africana Studies Department, CGIS, CICC and NeoVox.
For more information about Black History Month, contact Asumah at 607-753-2064, or in Old Main, Room 208-B.
Chancellor Highlights Shared Services
01/30/2013
State University of New York Chancellor Nancy L. Zimpher traveled to SUNY Cortland on Jan. 30 to open the first in a series of regional discussions highlighting successful shared services initiatives across the university system's 64 campuses.
The chancellor's "Systemness" summits give SUNY campuses forum to share best practices, explore new opportunities and taking advantage of economies of scale.
"By sharing services with other campuses in the region over the past year, every SUNY college and university in New York has put itself in a better position to do more for its students," Chancellor Zimpher said. "From sharing online tutoring programs and clinical training facilities to collaborating on purchases and course offerings, SUNY campuses in Central New York have embraced this initiative with commendable action."
To view a video of the event, click on this link: Harnessing Systemness: Regional Discussions on Efficiency and Effectiveness
Since launching its shared services initiative in August 2011, SUNY campuses have partnered to generate a net savings of more than $20 million. Those savings are being reinvested to expand academic and student services such as increased course offerings, the hiring of more full-time faculty, and strengthened academic support.
"Collaborating and sharing services is not just about saving money, it's about enabling SUNY campuses to improve students' educational experiences and better prepare them for successful careers," SUNY Cortland President Erik J. Bitterbaum said.
Examples of shared service initiatives highlighted at the summit include:
STAR-NY, an online tutoring program coordinated by SUNY Cortland, links the College with SUNY Delhi, University of Buffalo, Tompkins-Cortland Community College, Alfred State, SUNY Oswego, and SUNY Ulster, enabling students to have access to tutors at any of those campuses.
A pilot program between SUNY Cortland and Upstate Medical University in which the observation rooms and program SUNY Upstate uses to train prospective doctors in communicating with patients are made available to SUNY Cortland for training prospective teachers on how to deal with difficult interactions with parents or struggling students.
A joint offering of foreign language courses between SUNY Cortland and TC3. Piloted last fall with Arabic 101, the campuses split the cost of one instructor and offer the course to students at both campuses via video conferencing.
The expansion of The SUNY Wellness Challenge, a uniquely engaging faculty and staff wellness program created by Cayuga Community College, to SUNY Cortland and Onondaga Community College.
SUNY Cortland, Binghamton University, SUNY Delhi, and SUNY Morrisville have developed a shared collection agency contract.
SUNY Oneonta and SUNY Cobleskill have collaborated on a pilot project to reduce reliance on external printing vendors. SUNY Cobleskill has begun submitting selected print orders to SUNY Oneonta's print shop, increasing the work volume there, while lowering the cost of production.
Broome and Cayuga Community Colleges have convened SUNY Engine (Education Network to Grown Innovation and Entrepreneurship), a group of 11 SUNY colleges and other partners to pool resources and share best practices to support campus entrepreneurs.
SUNY Delhi and TC3 have launched a partnership to facilitate baccalaureate degree attainment, using a combination of face-to-face and distance learning courses.
Onondaga and Broome Community Colleges developed a partnership to jointly provide the required coursework to train Clinical Laboratory Technicians and Histological Technicians. Onondaga students now take their required liberal arts courses at Onondaga and the discipline-specific courses online with Broome, for example.
A memorandum of understanding between SUNY Oswego and SUNY ESF articulating a process for facilitating admission of ESF undergraduates into graduate-level initial teacher certification programs in biology and chemistry at Oswego.
Binghamton University is leading an effort in cooperation with System Administration that will increase the efficiency of the SUNY Business Intelligence (BI) system.
The Binghamton Advantage Program is a unique joint admissions program between Broome Community College and Binghamton University in which Broome students can live on the BU campus, participate in student life, involvement, and other campus activities while taking courses at Broome for one or two years.
Today's event included representatives from Binghamton University, Broome Community College Cayuga Community College, SUNY Cortland, SUNY College of Environmental Science and Forestry, Onondaga Community College, SUNY Oneonta, SUNY Oswego, Tompkins-Cortland Community College, and Upstate Medical University.
Campus Events Illuminate Violence in Congo
01/22/2013
A refugee from the war-torn and impoverished Democratic Republic of the Congo will share his people's tragic story with the Cortland community later this month during a campus screening of a unique theatrical production he helped create with fellow refugees.
"Cry for Peace: Voices from the Congo," will be screened at 7 p.m. on Thursday, Jan. 31 in Sperry Center, Room 105. Cyprien Mihigo, a leader in the Central New York Congolese refugee community and an actor and writer of the reality-based play, will answer questions at the screening.
In the play, which debuted last year at Syracuse Stage in Syracuse, N.Y., Mihigo and four other refugees recount their first-hand experiences of survival in the beleaguered nation, which continues to be wracked by violence despite the signing of a 2003 peace accord to end a devastating civil war.
The screening will be the first of two SUNY Cortland campus events aimed at raising awareness of the ongoing humanitarian crisis in the Congo. A teach-in about the Congo, a Central African country roughly the size of Western Europe that neighboring nations continue to use as a battlefield, will be held at 4:30 p.m. on Monday, March 4, in Sperry Center, Room 105.
Fueling the conflict in Congo is the country's vast mineral wealth; especially coltan, a mineral critical to the manufacture of cell phones, laptop computers and other electronic devices. Although the country has more abundant natural resources than almost any nation in the world, its population remains among the poorest, largely as a consequence of the violence, which has killed an estimated 6 million people over the last two decades.
"The play is powerful and wrenching," said Lorraine Berry, project director for NeoVox, the student-created, online international magazine. "We believe one of our missions is to bring attention to issues outside of students' ordinary academic lives. We believe that a chance to see art that is this provocative and moving will widen their perspective about a country many have never heard of, which is part of a continent that many do not know much about."
The two SUNY Cortland events are sponsored by NeoVox, the Center for Gender and Intercultural Studies and the Africana Studies Department and the TransAfrica Project.
"Cry for Peace: Voices from the Congo," was a collaboration between Mihigo and the Syracuse-area Congolese refugee community and Syracuse University, Syracuse Stage and Ping Chong & Company, a New York City-based theatrical company that develops projects dealing with important cultural or civic issues.
Reorganization to Aid Enrollment
02/06/2013
SUNY Cortland is restructuring its communications and admissions operations behind a focused effort to maintain strong, high-quality student enrollment in the face of statewide demographic and economic challenges.
The re-organization, accomplished by redirecting existing resources and personnel, will unify the College's diverse communications functions to better serve the public, SUNY Cortland alumni and the campus community. It will enhance the College's ability to market itself as an engaging campus dedicated to academic excellence, transformational education and physical, mental and community well being.
Gradin Avery, former associate provost for enrollment management and marketing, has joined the College's Division of Institutional Advancement with the new title of associate vice president for communications. Mark Yacavone '94, former director of admissions, was named to the new position of assistant vice president for enrollment management.
Both changes were effective Feb. 1.
Neither administrator's current positions will be filled, enabling the College to improve the effectiveness of its operations with little additional cost. As part of the restructuring, the College's marketing function will be separated from enrollment management and the Division of Academic Affairs. It will be joined, under Avery, with SUNY Cortland's public relations, sports information, publications and electronic media functions in Institutional Advancement.
"This restructuring will enable the College to coordinate the growing number of ways it communicates with potential students, the general public and the SUNY Cortland community," SUNY Cortland President Erik J. Bitterbaum said. "It will help us tell the exciting and constantly evolving story of the College in more engaging and effective ways."
In his new role, Avery oversees the Public Relations Office, the Publications and Electronic Media Office and the College's various marketing efforts. He reports to Vice President for Institutional Advancement Kimberly Pietro, and will be a member of her cabinet. Previously, he reported to Provost and Vice President for Academic Affairs Mark Prus.
"Gradin will help guide our campus-wide communication and publication strategies as we look to enhance our marketing efforts," Pietro said. "His leadership will assist the Division of Institutional Advancement as we look to connect with our colleagues across campus and throughout the SUNY system, engage current and future students, and deepen our relationship with alumni."
Yacavone, in his new role, has responsibility for both admissions and student financial aid. He now sits as a member of the Provost's Cabinet, where he will maintain the collaborative planning process needed to meet student enrollment needs.
Although SUNY Cortland's enrollment remains strong, competition among colleges is growing as the number of high school graduates in New York State continues to decline. In addition, all traditional colleges now face challenges from the growth of online universities, changing student demographic profiles, evolving workforce needs and changes in the way many families, businesses and professions view the value of higher education.
Avery, an 18-year College employee, served as associate provost for enrollment management since 2005 and added marketing to his title in 2009. As head of the enrollment management operation, he was responsible for graduate and undergraduate admissions, financial aid and marketing. He served as interim associate provost for enrollment management from 2004 to 2005 before his formal appointment to the job following a national search.
Avery joined SUNY Cortland in 1995 as admissions director. A native of Little Falls, N.Y., Avery earned an associate's degree in behavioral sciences from Herkimer County Community College, a bachelor's degree in psychology from SUNY Albany and a master's degree in counseling services from SUNY Oswego. He began his professional career as a New York State Division for Youth recreation program leader at a secure youth facility in Harlem Valley, N.Y.
Yacavone, a 16-year College employee, had directed admissions since 2005. A Homer, N.Y., native, he earned an associate's degree in general studies from Onondaga Community College and a bachelor's degree in health science from SUNY Cortland. He has a master's degree in education from Alfred University, and was a health educator for the SUNY College of Technology at Alfred for more than three years.
Are You Ready for the SUNY Wellness Challenge?
01/22/2013
The Cortland kick-off of the SUNY Wellness Challenge drew more than 150 faculty and staff members to Jacobus Lounge on Valentine's Day to learn about how the motivational fitness program will work, and to get their competitive juices flowing.
A total of 54 teams of four people each have signed up for the eight-week challenge, and several more teams are expected to jump on board before the friendly competition officially begins on Monday, Feb. 25. No new teams will be accepted after that date.
Until then, faculty and staff can sign up online through the SUNY Wellness Challenge website.
During the challenge, the teams will compete for prizes by doing healthy activities like yoga and running. Participants who attended the kick off received free pedometers and Wellness Challenge gym bags. Points will be awarded for losing weight, for eating servings of vegetables, and for doing positive things in the community such as donating blood.
"This was an incredible turnout for our first year," said Carol Van Der Karr, associate provost for academic affairs and a member of the Wellness Challenge Steering Committee. "It was inspiring to see so many people from all areas of the campus start this challenge together."
The program was developed three years ago at Cayuga Community College. It has been so successful at getting teachers, staff and even students involved that organizers this year reached out to other SUNY campuses. SUNY Cortland and Onondaga Community College were invited to participate in what organizers hope will eventually become a SUNY-wide initiative.
Well-being is one of the College's strategic priorities. Given that SUNY Cortland has strong scholars in related fields and outstanding athletic and recreational programs, the challenge seems to be a natural fit with the campus.
During the competition, each participant will use a pedometer to keep track of the steps they walk throughout the day. They also will log their progress in a wide range of exercises, sports and physical activities, each of which is worth a set amount of points.
Institute Seeks Nominations for Awards
02/05/2013
SUNY Cortland's Institute for Civic Engagement is accepting nominations for its 2013 leadership awards as well as applications for six scholarships tied to community service.
College students, faculty and staff members, and community residents can submit nominations for the 2013 Leadership in Civic Engagement Awards by completing the form under the "community partners" heading on the Institute for Civic Engagement Web page.
Nominations, which will be reviewed by a committee made up of SUNY Cortland students, faculty and staff members, and community residents, will be accepted until Friday, March 15.
Additionally, applications for six civic engagement scholarships totaling between $1,000 and $2,000 are being accepted online.
The application deadline for those awards, which can be found by searching "community service" on the scholarship Web page, is Saturday, March 2. Students should pay close attention to scholarship requirements, such as minimum grade point average.
Both the recipients of the 2013 Leadership in Civic Engagement Awards and the scholarship winners will be recognized at the Leadership in Civic Engagement reception, scheduled for 4 p.m. on Thursday, April 18, in Brockway Hall Jacobus Lounge.
Since 2005, SUNY Cortland has recognized students, faculty and staff members, and community residents for their contributions to the local quality of life. Last year, 25 students, five faculty and staff members, three community members and two student groups received Leadership in Civic Engagement Awards.
For more information, contact Matthew Whitman, the College's AmeriCorps outreach coordinator, at 607-753-2298.
Conference Takes New Approach to Writing
02/05/2013
The best way to support learning may be to get teachers out of the classroom — and into interactive writing workshops.
Writing Matters, a two-day conference that offers innovative strategies for teaching writing at all grade levels, takes place Friday, March 8, and Saturday, March 9, in SUNY Cortland's Corey Union. At the conference, educators from kindergarten to college will rub elbows and share ideas on integrating writing and learning.
Friday's session, which features free writing workshop options for teachers and a cash bar, takes place from 5 to 8 p.m., with an open mic session at 7 p.m.
Saturday's sessions start at 8:30 a.m. and end at 3 p.m., offering four writing workshop sessions and a keynote talk titled "Writing and the Health of a Classroom" from Jill Murphy, an associate professor of health at SUNY Cortland and a faculty member in the Department of Public Health and Preventative Medicine at SUNY Upstate Medical University.
The cost for both days is $30 and the fee includes refreshments, lunch and conference materials. SUNY Cortland students will be admitted free, although registration is requested.
Participants can register and interested presenters can submit proposals for the conference on its Web page. Accepted presenters also are eligible to receive a stipend.
"Most teachers are daily writers," said David Franke, the director of the Seven Valleys Writing Project and a professor of English at SUNY Cortland. "They compose comments on papers and write a huge number of lesson plans and reports.
"This conference gives teachers time to use writing for their own ends, to research their classrooms, reflect on their practice, and of course teach writing more effectively in their classroom."
Teachers from all content areas are invited to attend. The conference's teachings will take into account Common Core State Standard Initiatives, Franke noted.
"Innovative writing approaches can help teachers meet state standards and their personal classroom goals, even when the two do not dovetail," Franke said.
The Friday session will allow teachers to discuss creative teaching methods and take a spot at the open mic. The Saturday session is more traditional, with a keynote talk from Murphy and four, one-hour workshops.
Murphy has co-authored several manuscripts. She earned master's and doctoral degrees in epidemiology from the University at Buffalo and conducted her dissertation work based at the Department of Cancer Prevention and Population Sciences at the Roswell Park Cancer Institute.
In some workshops, presenters will speak as writers on their own research or creative projects. In others, presenters will offer interactive sessions that demonstrate how writing can be used to move learning forward.
Writing Matters is sponsored by the National Writing Project, SUNY Cortland, the Dryden Teachers Center, the Cortland Teachers Center, Tompkins-Seneca-Tioga BOCES, the Seven Valleys Writing Project and the Empire State Writing Project Network.
For more information, visit the conference's website at writingmattersconference.com or contact Danielle Sullivan, an associate director of the Seven Valleys Writing Project.
Phys Ed Student Teachers Commended
02/27/2013
Sixteen senior physical education majors were recently honored by SUNY Cortland with Lenore K. Alway/Anthony P. Tesori Awards for their exceptional work in student teaching in New York state schools during the Fall 2012 semester.
Faculty members of the Physical Education Department selected seven women and nine men for the recognition and the students received certificates.
The Alway award, given to women, acknowledges the late Lenore K. Alway, the pioneering head of women's physical education at the College from 1941 to 1965. The men's award honors Anthony P. Tesori, a 1939 graduate who earned the College's C-Club Hall of Fame Award for his achievements before and after graduation and gave the College many years of leadership in athletics and administration.
The Alway Award honorees and the schools or school districts where they completed their teaching for Fall 2012 are:
• Amy Chaffee of Watkins Glen, N.Y., at Northside Blodgett Middle School in Corning, N.Y., and Newfield (N.Y.) Elementary School.
• Megan Milhaven of Cortland, at McGraw (N.Y.) Junior Senior High School and Newark Valley (N.Y.) Middle School.
• Jamie Boldish of Cortland, in the Albany City School District in Albany, N.Y., and Shenendehowa Central School District in Clifton Park, N.Y.
• Tracy McClure of Palmyra, N.Y., at the Early Childhood Education Center in Victor, N.Y., and Palmyra-Macedon High School in Palmyra, N.Y.
• Daniela Denis of Ossining, N.Y., at Walter Panas High School in Cortlandt Manor, N.Y., and Washington Irving Interim School in Tarrytown, N.Y.
• Michelle Krisa of Yorktown Heights, N.Y., at Mahopac High School in Mahopac, N.Y., and Buchanen-Verplanck Elementary School in the Hendrick-Hudson City School District in Montrose, N.Y.
• Erin Kollar of East Islip, N.Y., at Hemlock Park Elementary School in Bay Shore, N.Y., and Seneca Middle School in Holbrook, N.Y.
The Tesori Award honorees and the schools or school districts where they completed their teaching for Fall 2012 are:
• Justen Mills of Liberty, N.Y., at Sullivan West Elementary School in Jeffersonville, N.Y., and Sullivan West Secondary School in Lake Huntington, N.Y.
• J. Trenton Jones of Clifton Springs, N.Y., at Victor Junior High School in Victor, N.Y., and North Street Elementary School in Geneva, N.Y.
• Mark Arcara of Harrison, N.Y., at Pleasantville High School in Pleasantville, N.Y., and Traphagen Elementary School in Mount Vernon, N.Y.
• Albert Mercado of Wappingers Falls, N.Y., at Sargent Elementary School in Beacon, N.Y., and Dover High School in Dover Plains, N.Y.
• Sam Sotsky of Scarsdale, N.Y., at Traphagen Elementary School in Mount Vernon, N.Y., and Ardsley Middle School in Ardsley, N.Y.
• Ryan Spillane of North Salem, N.Y., at John Jay High School in Salem, N.Y., and Oakside High School in Peekskill, N.Y.
• Andrew Barbano of Oneida, NY at Rome Free Academy in Rome, N.Y., and Harts Hill School in Whitesboro, N.Y.
• Michael Blair of Sherrill, N.Y., at Otto L Shortell Middle School in Wampsville, N.Y., and North Broad Street School in Oneida, N.Y.
• Anthony DiRienzo of Lancaster, N.Y., at PS 80 Highgate Heights Elementary School in the Buffalo City School District, and Clarence Middle School in Clarence, N.Y.
For more information, contact the Physical Education Department at 607-753-5577.
Red Cross Praises Blood Drive Efforts
02/05/2013
Representatives from the American Red Cross visited SUNY Cortland Monday to deliver "a long overdue thank-you" for two decades of successful blood drives resulting in enough donations to affect more than 15,000 lives.
"Our records only go back 20 years to 1993," said Gary Colvin, the regional life share manager for the New York-Penn Blood Services Region. "But in that time, we can say that SUNY Cortland has donated more than 5,000 units, which is just an outstanding number.
"Needless to say, we owe (SUNY Cortland) a long overdue thank-you."
From left: College President Erik Bitterbaum;
sophomore Cristina Braun; Kay Schwartz, from
the American Red Cross; Mavis Lafever, from
campus activities and Corey Union; and Vice
President for Student Affairs C. Gregory Sharer
One unit of blood can save up to three lives, based on Red Cross estimates. That led Colvin to suggest that more than 15,000 lives could have been positively impacted because of SUNY Cortland's efforts.
The organization also honored Mavis Lefever, a secretary I in campus activities and Corey Union, with a certificate of appreciation for many years of blood drive contributions.
College President Erik J. Bitterbaum and sophomore Cristina Braun, a community health major from Floral Park, N.Y., who is active in campus blood drives, accepted the recognition plaque on behalf of SUNY Cortland.
They also joined a small group conversation on how to build on campus blood drive success, especially through the annual Cortaca Blood Drive Challenge.
In 2012, SUNY Cortland amassed 65 units of blood through the early November event, collecting enough donations to save nearly 200 lives.
Children's Museum Launches Saturday Series on Feb. 9
02/04/2013
Children's educational programs on the Chinese New Year, dancing, active play and trains will be highlighted during the Spring 2013 Children's Museum season that begins on Saturday, Feb. 9.
The Children's Museum offers interactive, hands-on educational experiences in a environment where Cortland community parents, grandparents, caregivers, teachers, college students, youth and young children can be inspired to play and learn together.
Presented by faculty and students in SUNY Cortland's Childhood/Early Childhood Education Department, the programs run on selected Saturdays from 10 a.m. until 1 p.m., unless otherwise noted, and are open to community families and their children. With the exception of the Week of the Young Child Kidsville event, all programs will take place at the Child Care Center on the ground floor of the Education Building, located on Prospect Terrace. Admission is free but donations are gladly accepted.
On Feb. 9, associate professor Lin Lin, with a colleague and students, will host a Chinese New Year celebration as the first event in 2013, the year of the snake. Participants will learn to make origami fish, listen to stories related to Spring Festival celebrations and make and taste dumplings. THIS EVENT WAS CANCELLED DUE TO WEATHER AND WILL NOT BE RESCHEDULED.
The Cortland Dance Company will get kids moving, shaking, and singing along in an interactive day of physical activity and creativity on Feb. 23. Children will have the opportunity to create musical instruments of their very own and use them as they move their bodies to the music.
On March 2, Lecturer Judith Schillo will offer "Paint, Paint, Paint." Participants will explore the different painting styles of famous illustrators of children's books. They will play with paint to create their own masterpieces. Children and adults can make and take samples of their favorite styles.
Several presenters will involve everyone in games that are both fun and healthy on March 23. Professor Diane Craft and Craig Smith, authors of the book Active Play, will lead parents and preschoolers in physical activities using inexpensive equipment that can be enjoyed at home. Megan Rice, a teaching candidate in the graduate childhood education program, will present games from the "Healthy Highways Program."
All aboard for train adventures on April 13. Associate Professor and Early Childhood Coordinator Emilie Kudela will present fun train facts and activities. Children will decorate their own boxcar and take it on a pretend trip around the center.
On April 20, instructor Christine Widdall will host an interactive activity at the Cortland County Office Building Gymnasium, 60 Central Ave., as part of Kidsville, Cortland's free children's fair, which celebrates the National Week of the Young Child. With the help of her students she will share iPad technology with grandparents, parents and children of all ages. Participants can experiment with iPads and explore a variety of different applications for all age levels.
Assistant Professor Orvil White will build Hoop Glider Straw Rockets and Plate Gliders with April 27 participants, who will then fly them across the room. These are safe for children of all ages.
For more information, contact Kudela at (607) 753-5525 or by e-mail to childrensmuseum@cortland.edu or visit www.cortland.edu/childrens-museum/
ASC Program Grant Applications Due Feb. 15
Auxiliary Services Corporation (ASC) is now accepting Program Grant applications online for the 2013-14 academic year.
Applications can be submitted by online and must be submitted by midnight on Friday, Feb. 15.
Each year the ASC Board of Directors allocates funds to support grants for a wide range of purposes and projects that enhance the life of the SUNY Cortland community.
Although ASC is willing to consider a wide range of ideas, it seeks to avoid duplicating other funding sources or funding projects more properly supported by state funds. Therefore, applicants should first seek funding from primary funding sources.
ASC grant funds may not be used for salaries, honoraria, travel normally funded by the College's budget, or scholarships for SUNY Cortland faculty, staff or students. Funds may not be used to purchase computers, related hardware or software. All purchases will be processed in accordance to ASC's financial and related GAAP policies. In general, Program Grant funds may not be used exclusively for food for SUNY Cortland students, faculty or staff. Funding for food may be considered if the food is deemed integral to the success of the program or event. All food shall be provided by ASC. Other grant guidelines are described in the application package and online.
For more information, contact Annette O'Hara at 607-753-4325.

Suggest a feature story
---
People on the Move
Michael Sgro to Direct Alumni Affairs
02/01/2013
Michael D. Sgro, the director of alumni and parent relations at SUNY Oswego, will join SUNY Cortland as executive director of alumni affairs on Monday, Feb. 18.
In his new role, Sgro will provide leadership and direction for the College's Alumni Affairs Office and the Cortland College Alumni Association, Inc. Erin Boylan, who returns to her role as associate director of alumni affairs, directed the department on an interim basis since June.
"I'm excited to join a campus community with real momentum," Sgro said. "I can see the enthusiasm in the faces of the alumni that I have met and realize that anything is possible.
"I'm eager to work with the Alumni Association and staff to develop 21st century engagement practices while embracing the strong traditions of the SUNY Cortland campus. My true hope is that all alumni can continue a relationship with their alma mater regardless of distance or time."
For more than 15 years Sgro, a Syracuse, N.Y., native, has ascended the ranks of higher education at several institutions in New York state, earning a stellar reputation for his work with student and alumni programming, career networking and social media.
"Mike understands alumni affairs as an industry and has a real passion for alumni engagement," said Kimberly Pietro, the College's vice president for institutional advancement and Sgro's supervisor. "His leadership on a national level and knowledge of the field will position Cortland as a model among our peers.
"I know Mike and the entire alumni affairs staff look forward to a successful year of interacting, communicating and meeting with our graduates so that they can continue to connect with their alma mater, its faculty and its students."
Sgro has led alumni and parent-relations projects for the Oswego Alumni Association for the past year, overseeing all programs, staff and initiatives dealing with the school's graduates. Those efforts include reunions, regional events, social media and student-focused programs such as the Future Alumni Network, an undergraduate group he advised.
A graduate of Le Moyne College in Syracuse, Sgro developed much of his expertise in alumni-related work at his alma mater, serving as assistant director of alumni and parent programs from 2006 to 2010. There, he launched many different programs for alumni and parents and introduced family-focused services such as the college's Day at the Zoo and its Dolphin Kids website. He also created the school's Non-Profit Network, which offers service opportunities to alumni nationwide, and directed all of his department's web and social media efforts.
He co-chaired the college's administrative forum from 2007 to 2009 and served as the staff advisor to the Creating Awareness, Reaching Equality student group.
Sgro spent five years at New York University's Leonard N. Stern School of Business before serving at Le Moyne. At Stern, he worked as the associate director of student activities for master's of business administration (M.B.A.) students before getting a taste of graduate-focused work as the senior associate director of alumni affairs.
During his tenure as associate director of M.B.A. student activities from 2001 to 2005, he oversaw the events, staff and services related to 40 clubs. Sgro managed relationships with student leaders, university administration and corporate clients while overseeing many other student-focused daily duties.
As the university's senior associate director of alumni affairs, Sgro developed regional and corporate events built on relationships with active alumni volunteers. In that role, with the help of university faculty members, he developed the Life Long Learning workshop series.
In between his stints at Le Moyne and Oswego, Sgro worked for CampusGroups, an online community management company based in New York City, where he served as its marketing and communications manager. He oversaw all of the company's public relations duties while creating web content and managing projects to grow the brand's reach.
Sgro began his career in higher education at Fordham University as a residence hall director from 1997 to 2001, working with students and creating programs for them at both the undergraduate and graduate levels.
He holds a bachelor's degree in psychology from Le Moyne and a certificate in project management from the American Management Association in New York City.
Sgro plans to live in Cortland.
---
Faculty/Staff Activities
Mark Dodds
Mark Dodds, Sport Management Department, edited the Encyclopedia of Sports Management and Marketing, which was chosen by the American Library Association RUSA BRASS Committee for Business Reference Sources as an Outstanding Business Reference source. This encyclopedia contained submissions from Sport Management Department chair Jordan Kobritz, faculty members Peter Han, Genevieve Birren and Ted Fay, and several graduate students.
Robert Spitzer
Robert Spitzer, Political Science Department, presented a talk titled "Gun Legislation and Obstacles to Effective Gun Control" before the Metropolitan Black Bar Association at the New York City Bar Association in New York on Nov. 29.

Submit your faculty/staff activity