Famous Astronaut Visits College on Sept. 17
09/16/2011
After six trips to outer space and 25 million miles of travel, former NASA astronaut Story Musgrave says he has accumulated enough frequent flyer miles to earn him a one-way ticket to the sun.
Musgrave, who is also a trauma surgeon, mathematician, chemist, biophysicist, palm farmer, skydiver, physiologist, computer scientist, landscape architect, military jet pilot, artist and author, will headline SUNY Cortland's Family Weekend. Musgrave will address students and their guests at 8 p.m. on Saturday, Sept. 17, in Old Main Brown Auditorium.
The event, which kicks off the 2011-12 Campus Artist and Lecture Series (CALS), costs $5 for general admission and is free for all students and preschool children. College students must bring their ID. Tickets can be purchased in Corey Union, Room 406, or at Brown Auditorium beginning one hour prior to the performance.
"You look at his résumé and it looks like a work of fiction," said SUNY Cortland President Erik J. Bitterbaum. "You see six graduate degrees and a long list of professions related to the arts and sciences. In every way imaginable, Story Musgrave is a champion. He personifies the aggressive curiosity, goal-oriented involvement and well-rounded lifestyle that SUNY Cortland seeks to nurture in its students."
A NASA astronaut for more than 30 years, Musgrave performed the initial shuttle spacewalk of Challenger's first flight and served as lead spacewalker on the Hubble Space Telescope repair mission. He helped design the spacesuit used on shuttle flights, then tested it himself on a space walk. He is the only NASA astronaut to have flown missions in all five space shuttles.
"There are forks in the road and you get ready to embark on something else," Musgrave said, when asked why he pursued six advanced degrees and at least that many various careers. "That's just how education unfolds."
Musgrave has delivered more than 3,000 talks at universities, corporations and conferences on various topics. He is usually the first to arrive at his presentations and the last to leave. He can speak on a variety of subjects — everything from motivation to innovation — but said he has not settled on a topic for his presentation at SUNY Cortland.
"It doesn't matter where I speak," Musgrave said. "The lesson is the same."
The lesson is maintaining a "one step at a time" approach to life, he said. Musgrave has employed that plan of action in his own life, from his days as a farm child in Stockbridge, Mass., to his time as an undergraduate student at Syracuse University, to his current role as a professor at Art Center College of Design in Pasadena, Calif.
"You end up some place you never planned to," Musgrave said. "There was no space program early (in my life). Sputnik went up at the end of my Syracuse career. I didn't know what that meant to me and no one else did either."
Musgrave spent his early career working with computers. After he obtained a master's degree in operations analysis and computer programming from University of California, Los Angeles in 1959, he returned to Syracuse for pre-medical work. From Syracuse, he moved to Columbia University where he studied surgery and physiology of the brain.
"Then space happened," he said.
Musgrave saw that NASA and the National Academy of Science started to pursue a flying program for people with a doctorate degree.
"I saw that and said: My (gosh), that's me," Musgrave remembered. "I told myself: I'm ready for that job. I'm a fit."
Between his earlier service in the U.S. Marines and his astronaut career with NASA, Musgrave accumulated 18,000 hours — more than two years worth of time — in flight. He conducted two classified Department of Defense missions and operated an electronic chip-manufacturing satellite on the shuttle Columbia. He also communicated in mission control for 25 space shuttle launches.
But Musgrave does not point to space or science for his crowning achievement. The man who has been awarded 20 honorary doctorates said he is most proud of his "farm kid" past. He roamed forests and built homemade rafts as a youngster. By his teenage years, he repaired trucks and tractors in remote fields.
"That set the stage for everything else because I was an intuitive, brilliant mechanic," Musgrave said. "I took up the piano at five, not 50. Everything else I did in life comes back to that, whether it's my being a trauma surgeon or fixing people or fixing Hubble or fixing airplanes in the Marines or the landscape company that I run today."
Musgrave, who resides in Orlando, Fla., took time out of a recent California vacation to answer questions about his upcoming presentation in Cortland. When asked what his vacation entailed, the 76-year-old replied that he was trying to develop an artificial blood substitute.
"It's massively important and it's a very simple problem with a very difficult solution," said Musgrave, who works part-time as an innovator for Applied Minds, Inc., a California-based consulting company.
The man who pursues his passions wherever they fall will soon speak in Central New York. And he will bring with him the arsenal of stories and life lessons he has picked up during millions of miles of space travel.
"I've only done one percent of what there is to do," Musgrave said modestly. "I'm still working at it."
For ticket information or questions regarding CALS events, please contact the Campus Activities and Corey Union Office at (607) 753-5574. Musgrave appears by arrangement with The Bazel Group, Inc.
Classes to be Held on Scholars' Day
09/13/2011
Classes will not be cancelled this year for Scholars' Day as part of an effort to re-focus and re-vitalize an annual academic tradition that many students have come to view as simply a day off from schoolwork.
That was among the recommendations of a special Scholars' Day Committee that found only a fraction of the student population participates in Scholars' Day academic events. The number of reported student conduct incidents, meanwhile, more than doubles during the days surrounding the event, the committee found.
The committee's set of proposals, which also would shift the day's events to the afternoon and evening of the Wednesday before Honors Convocation on April 18, has the support of SUNY Cortland President Erik J. Bitterbaum and his cabinet.
The plans, and the rationale behind them, were the subject of two open meeting discussions in Old Main's Brown Auditorium last week and the Faculty Senate session held on Sept. 20. The Joint Chairs' Council will take up the measures on Monday, Oct. 3.
Scholars' Day was created to demonstrate, promote and encourage scholarship among SUNY Cortland students. It traditionally includes a daylong schedule of presentations followed by a keynote address featuring a noted scholar. Traditionally, classes are cancelled on the day of the event to maximize student participation.
Fewer than 10 percent of all SUNY Cortland students, however, are now estimated to participate in Scholars' Day events, either as presenters or as attendees, according to R. Bruce Mattingly, dean of the School of Arts and Sciences and chair of the Scholar's Day Committee.
Total attendance at Scholars' Day events fell from 1,523 in 2006 to 910 in 2010. The number of Scholars' Day presentations dropped from 100 to 67 during that same time period, according to the committee.
Information on discipline-related incidents reported to the Student Conduct Office, meanwhile, showed an annual average of 39 incidents occurring during the five-day period surrounding Scholars' Day. A similar time period just a week before Scholars' Day, however, showed an annual average of only 16 incidents.
Numerous off-campus student parties are typically held on Scholars' Day, resulting in community disturbances, disorderly conduct and excessive drinking. Some local bars hold special events beginning the evening before Scholars' Day, according to the committee's report.
"The committee believes that the cancellation of all classes can no longer be justified," Mattingly said. "The campus hosts a number of conferences while classes are in session in which students participate, and we suggest that Scholars' Day adopt that approach as well. "
Other recommendations made by the committee include
· Shifting Scholars' Day to Wednesday instead of Friday, so it no longer is linked to a weekend.
· Moving the Scholars' Day schedule of events to begin later in the day. Instead of starting in the morning, concurrent sessions of scholarly presentations would begin at 1:45 p.m. and run through 6:30 p.m. The poster session would be held from 6:30 to 7:30 p.m. and the keynote presentation would begin at 7:30 p.m.
· Refocusing the event on student research and creativity. The Scholars' Day Committee would review proposals more carefully for appropriateness. Although joint student and faculty presentations would continue to be allowed, faculty work would be de-emphasized in favor of student efforts.
· Renaming the event. The committee felt that over the last 15 years, the term "Scholars' Day" has come to mean a day off from school and partying in the minds of many students. The changes in the event, therefore, should be accompanied by a new name to help emphasize the intended purpose of the event. The committee welcomes suggestions.
· The recommendations should be re-visited and reviewed after three years to determine if they have been effective in preserving the academic benefits of the day while increasing participation and reducing the problems that have come to be associated with Scholars' Day.
---
Capture the Moment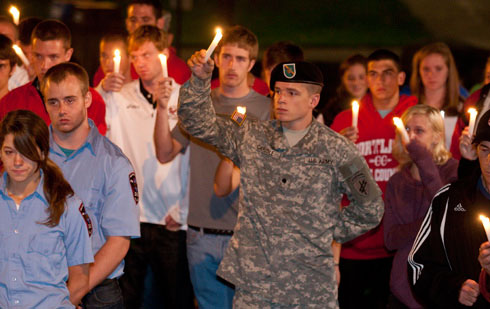 John Carlisle, a junior history major and a member of SUNY Cortland's ROTC program, raises a candle during Sunday's remembrance of the people killed in the Sept. 11, 2001 terrorist attacks, including seven SUNY Cortland alumni. An estimated 200 students attended the hour-long ceremony held on the steps outside of Corey Union.
---
In Other News
Campus Rescue Aids Binghamton Flood Victims
09/13/2011
Six student members of SUNY Cortland's Emergency Medical Services jumped into action early Saturday morning in the wake of a devastating flood that destroyed hundreds of homes and displaced thousands of people in and around Binghamton, N.Y. They worked for 30 consecutive hours at the Binghamton University Events Center, where a makeshift hospital was set up for more than 800 critical patients.
The students, who departed for Binghamton at 4:30 a.m. Saturday, included Austin Glickman, of Long Beach, N.Y.; Matthew Green, of Commack, N.Y.; Sean Jolliff, of Copenhagen, N.Y.; Rebecca Schwartzman, of Katonah, N.Y.; Katharine Warszycki, of Huntington, N.Y.; and Alexander Watkins, of East Syracuse, N.Y. They helped rescue crews from the American Red Cross, the National Guard and other SUNY institutions look after more than 2,000 evacuees.
Glickman, a campus emergency medical technician for close to three years, said the group transported critical patients from local hospitals to the Events Center, aided sick or wounded evacuees and tended to emergencies that occurred on Binghamton University's campus Saturday night.
By Sunday evening, 600 evacuees remained in the Events Center.
From a podium outside of Corey Union at SUNY Cortland's remembrance of the Sept 11, 2001 terrorist attacks on Sunday night, Glickman thanked campus rescue members who worked through the weekend on the College's campus.
"None of this could have been possible if it wasn't for the dedication of other campus rescue members who vowed to stay on our own SUNY Cortland campus the entire weekend, to respond to our own emergency calls and cover multiple standby sporting events," Glickman said. "Some of us have yet to sleep in the past 48 hours."
SUNY Cortland's Emergency Medical Services is a non-transporting agency, meaning that it does not provide transportation to hospitals, and is staffed by student volunteers 24 hours a day, seven days a week while classes are in session. Its student volunteers are highly qualified in basic life support skills and there is at least one certified New York state emergency medical technician with each crew at all times.
Glickman said it was not a coincidence that the College's campus rescue crew answered a call for service near the 10th anniversary of the terrorist attacks. He grew up 30 miles away from where the World Trade Center once stood and has served as a volunteer firefighter for four years.
"As Sunday morning rolled around, knowing it was Sept. 11, it felt right knowing that we were helping others," he said.
He praised all emergency services personnel for deeds big and small, whether they involve life-saving rescues or disaster relief. And he noted the connection many emergency personnel feel with the first responders who perished in the World Trade Center in the wake of the attacks.
"That could be us someday, running into a burning building or treating wounded people without even thinking twice about our own safety," he said. "We do it because we love to help others."
Event Series Will Focus on Civility Theme
09/12/2011
SUNY Cortland will consider what it means to be a citizen of the College campus and the global community this fall with an event and film series that focuses on the theme of civility.
The series, titled "In/Civility," starts Sunday, Sept. 18 and features a dramatic reading, two roundtable discussions and five film screenings. All events are free and open to the public.
"In choosing the title, we meant to direct campus attention to the fine line that exists between civility and incivility," said Scott Moranda, an associate professor of history and the chair of the College's Cultural and Intellectual Climate Committee (CICC), which organized the series.
"Without civility, no conversation, no discussion, no agreement is possible," Moranda said. "We seek to raise questions about the benefits and the threats of both. The discussion hopefully will provide insight in how to better live in a state of civility."
"In/Civility" is the seventh event series organized around a single theme at SUNY Cortland.
Howard Lindh, a lecturer in SUNY Cortland's Performing Arts Department, will kick off the series' events when he delivers a dramatic reading on Henry David Thoreau's history of civil disobedience. The performance takes place at 3 p.m. on Sunday, Sept. 18, in the Dowd Fine Arts Lab Theatre.
Other events in the "In/Civility" series include:
• A discussion titled "The Uses and Abuses of Civility: A Roundtable" will feature a three-person panel at 6 p.m. on Tuesday, Sept. 20, in Old Main Brown Auditorium. Panelists include Richard Kendrick, the director of SUNY Cortland's Institute for Civic Engagement; Tina Nabatchi, an assistant professor of public administration at Syracuse University; and Grant Reeher, the director of Syracuse University's Alan K. Campbell Institute for Public Affairs.
Kendrick oversees an institute that connects SUNY Cortland students, faculty and staff with meaningful civic action. Nabatchi and Reeher both serve as the co-directors of CNYSpeaks, a project that seeks to engage Central New York residents in important civic discussions. Nabatchi's research interests include citizen participation in politics and conflict resolution, while Reeher teaches democratic theory and practice. The panel will look at issues related to civility, civic engagement and civil behavior and will invite audience participation.
• Four members of the College's Philosophy Department will offer "The Limits of Civil Discourse: Four Philosophers Discuss Civility" as a roundtable discussion at 7 p.m. on Wednesday, Oct. 26, in Old Main, Room 209. The group will use philosopher David Hume's essay "Of the Rise and Progress of the Arts and Sciences" as a starting point for its talk. The four SUNY Cortland faculty members, all members of its Philosophy Department, include Lawrence Ashley, professor emeritus; Andrew Fitz-Gibbon, associate professor and director of the Center for Ethics, Peace and Social Justice; Mechthild Nagel, professor and director of the Center for Gender and Intercultural Studies; and Kathryn Russell, professor and chair of the Philosophy Department.
• A film series will be screened throughout the fall semester, and a discussion about civility will follow each screening. All five films in the series will be presented in Sperry Center, Room 105. The films and their show times include: Freedom Riders on Wednesday, Sept. 28, at 4 p.m.; Gran Torino on Sunday, Oct. 2, at 8 p.m.; Fab Five on Sunday, Oct. 9, at 8 p.m.; The Laramie Project on Sunday, Oct. 23 at 8 p.m.; and a film to be determined, which will screen on Sunday, Nov. 6, at 8 p.m.
The In/Civility series is funded by the offices of the President and the Provost and Vice President for Academic Affairs. The Sept. 20 roundtable also is sponsored by the Campus Artist and Lecture Series.
To stay current with announcements regarding the series' events, visit its Facebook page. For more information, contact Moranda at (607) 753-2052.
Louise Conley Helps Create Cortland's First Endowed Chair
09/13/2011
Louise M. Conley, Ph.D., a member of the Cortland College Foundation Board of Directors, was recognized on Saturday, Sept. 24, for bequeathing $1 million to create SUNY Cortland's very first endowed academic chair.
Conley was also honored on Friday, Sept. 23, at the grand reopening ceremony of Cheney Hall, the residence hall that bears her late grandfather's name.
Conley, of Princeton, N.J., is the granddaughter of Francis J. Cheney, the second principal of the Cortland Normal School. The Louise M. Conley Chair in Educational Leadership will provide additional funds for a faculty member in the Educational Leadership Department to support his or her research and teaching. Dwight Pfennig, an assistant professor and former school district superintendent, is the first recipient of the endowed chair.
Although the full bequest will eventually go to the College as part of her estate, Conley, a licensed psychologist, agreed to advance $100,000 of the bequest earlier this year. That allowed the College to fill the endowed chair this semester. The endowed chair will generate between $40,000 and $50,000 annually for its recipient. Its funds can be used for research, teaching, student assistants or departmental needs, but they cannot be used for salaries.
"Louise M. Conley is a champion of public education," said Douglas DeRancy '75, M.S.Ed. '85, assistant to the vice president for institutional advancement. "She never lost her connection to the College or its mission to provide a unique and affordable education."
Before she is honored for creating the College's first endowed academic chair, Conley will offer remarks at the ribbon cutting ceremony for Cheney Hall at 4:30 p.m. on Friday, Sept. 23. She joins President Erik J. Bitterbaum, Vice President for Student Affairs C. Gregory Sharer and Director of Facilities Planning, Design and Construction Jeffrey Lallas as speakers for the event, which will recognize the $7 million renovation of the residence hall that was completed this summer. The event is open to the public, refreshments will be served and tours of the residence hall will follow the ceremony.
In addition to the $1 million bequest announced in 2010, Conley has financially supported the College in a variety of ways, donating more than $150,000 since the late 1990s, when she created and co-sponsored the biennial Francis J. Cheney Educational Issues Conference at SUNY Cortland. She named it after her grandfather, who was the Cortland Normal School principal from 1891 until his death in 1912.
The conference, held annually, brings influential and effective leaders in education to the campus to share their strategies for improving teacher education programs and the education of students from kindergarten through college.
Another initiative funded by Conley, the Francis J. Cheney Scholarship, provides $1,000 annually up to four years to admitted first-year students who are majoring in the area of education and who demonstrate the highest academic achievement and greatest financial need.
In 2004, she supported the College's new Alumni House and funded the Louise McCarthy Conley Room, which encompasses the master bedroom as well as two adjoining rooms with a full-sized walk-in closet and a bathroom.
With her most recent gift, Conley will become the College's first million-dollar donor who did not graduate from the institution. Her Cortland roots, however, run deep.
Her mother, Clara Cheney '17, and her father, Rollin McCarthy '16, both graduated from Cortland Normal School. They reunited a few years later while pursuing master's degrees at Cornell University and were married in 1925. Her parents and both sets of grandparents are buried in Cortland cemetery next to the College.
Conley reconnected with the College in the 1990s when she read correspondence her father received from the Alumni Affairs Office regarding the reopening of Old Main. She attended events associated with the gala and savored the special place her grandfather occupies in SUNY Cortland's history.
His leadership skills prompted Conley to designate her endowed chair to support SUNY Cortland's Educational Leadership Department, one of four academic departments within the College's School of Education. The department prepares educational leaders by effectively integrating theory and practice to develop schools and other learning communities.
The Educational Leadership program of study at SUNY Cortland is designed to satisfy the requirements of the Certificate of Advanced Study in Educational Administration (CAS). By completing the program and passing the required New York State assessments, graduates are recommended by SUNY Cortland to the New York State Education Department for various educational leadership certifications.
Panel Series to Focus on 'Education Reform'
09/13/2011
SUNY Cortland and the Central New York Teacher Professional Development Network will present a series of panel discussions and film screenings on the topic of "Education 'Reform': Impacts on Us All" starting with a Tuesday, Sept. 27, panel discussion.
The series, which is free and open to the public, will focus on the recent reforms in education, which are having a dramatic impact on learners, educators, schools, communities and taxpayers. The programs, which will feature two events in the fall and two in the spring, will explore topics in education reform and the controversies surrounding them. Faculty members are encouraged to invite their students to participate in these stimulating discussions.
The Fall 2011 events are as follows:
Four educators and education advocates will present a "Series Kickoff Panel Discussion" from 7 to 8:30 p.m. on Tuesday, Sept. 27, in Brockway Hall, Jacobus Lounge.
The panel will provide an overview of recent education policies and their implications for teachers, students and the school community.
Panelists will include:
• Heather Sheridan-Thomas, assistant superintendent of Tompkins-Seneca-Tioga Board of Cooperative Educational Services;
• Dan Kinley, director of policy and program development with the New York State United Teachers;
• Fred Farah, an instructor at Tompkins Cortland Community College and a former principal of Homer (N.Y.) High School;
• Anne Burns Thomas, assistant professor in SUNY Cortland's Foundations and Social Advocacy Department at SUNY Cortland; and,
• Bill Buxton, associate professor in the College's Literacy Department.
The second panel discussion, called "Waiting for Superman ... Or Not: Documentaries and Discussion about School Choice," will take place from 7 to 9 p.m. on Wednesday, Nov. 9, in Brockway Hall, Jacobus Lounge.
The 2010 documentary "Waiting For Superman" follows several New York City families as they enter a lottery and attempt to enroll their children in charter schools to save them from their "failing" local schools. "The Inconvenient Truth Behind 'Waiting for Superman'" is a 2011 documentary created by a group of New York City public school teachers and parents in response to the original film, which some contend is a misleading critique that blames teachers and oversimplifies the answer to public school failures.
The panelists will discuss the films and explore both the impact of charter schools and the challenges facing public schools. The presenters will include:
• Yolanda Sealey-Ruiz, an assistant professor of English Education at Columbia Teacher's College;
• Sandra Vergari, an associate professor of educational administration and policy studies at
SUNY Albany; and,
• a representative of the Grassroots Education Movement (GEM), makers of "The Inconvenient Truth Behind 'Waiting for Superman.'"
Copies of the films will be available for faculty to borrow for classroom screenings. Reserve copies will be held in the library for students to borrow. Campus screenings in Sperry Center, Room 205, are scheduled as follows:
• "Waiting for Superman" on Thursday, Oct. 27, from 5:30 to 7:30 p.m.; on Wednesday, Nov. 2, from 4:15 to 6:15 p.m.; on Monday, Nov. 7, from 5:30 to 7:30 p.m.; and on Wednesday, Nov. 9, from 4:15 to 6:15 p.m.
• "The Inconvenient Truth Behind 'Waiting for Superman'" on Thursday, Oct. 27 from 4:15 to 5:30 p.m.; on Wednesday, Nov. 2 from 6:15 to 7:30 p.m. and on Monday, Nov. 7, from 4:15 to 5:30 p.m.
Co-sponsoring the series within the College are the President's Office, Academic Affairs, Assistant Provost for Teacher Education, the dean's offices in arts and science, education and professional studies, and the Center for Gender and Intercultural Studies.
For more information, contact Alexis Abramo, who is employed in the College's Childhood/Early Childhood Education Department as the teacher/leader quality partnerships project manager for the Teacher Professional Development Network of Central New York. She can be reached at (607) 753-4352 or by email.
College Honors Mary Hobson '61
09/16/2011
The late SUNY Cortland graduate, Mary L. Dobenecker Hobson '61, revered education and had recalled to her family with great fondness the campus where she earned her bachelor's degree in elementary education.
The campus community formally dedicated the Mary L. Hobson '61 Lecture Hall in Sperry Center on Sept 19.
"She would be pleased that a lecture hall is named after her and that there will be many students there learning," said her husband, Robert Hobson. "It was an honor for the Hobson family to do this for Mary.
"Mary loved teaching and she loved going to school," Hobson said. "She loved kids, all kids."
Mary Hobson died on July 27, 2010. The naming ceremony, held on what would have been her 72nd birthday, took place in the Sperry Center main floor lobby, outside the large lecture hall formerly known as Sperry Center, Room 104.
Her husband, who presented the College with a memorial gift on behalf of the Hobson family, spoke at the event, and SUNY Cortland President Erik J. Bitterbaum offered remarks on the occasion.
The recognition reflects the alumna's lasting affection for her alma mater and the College's gratitude for receiving a gift in her name.
"We are very grateful to the Hobson family for making this gift to the College," said Michael Katz, the manager of leadership gifts. "When President Bitterbaum and I visited Mary out in California, she said that she was so looking forward to coming back to Cortland for her 50th reunion. It's sad that she missed the reunion, but very fitting that her family is coming to Cortland to dedicate this lecture hall in her memory on her birthday."
Follow Mary Hobson's lead by supporting The Cortland Fund. You can designate a gift for a program with personal significance. Or you can support the College's mission to offer a transformational education for every student. Student callers have started making phone calls to explain how your gift can improve campus life. Make your gift today.
The Mary L. Hobson '61 Lecture Hall is one of the building's five jumbo lecture halls that together seat 900 students. In 2007, as the College's primary large-classroom style lecture facility turned 40, Sperry Center reopened following a complete inside renovation. Currently the Hobson Lecture Hall features state-of-the-art sound and projection technology in a setting that was refurbished with acoustic panels using environmentally sustainable materials.
Mary Hobson grew up in Jamaica, N.Y., and graduated in 1957 from Sewanhaka High School in Floral Park, N.Y.
Some years ago, in a written recollection for the SUNY Cortland Alumni Association, she had described the Cortland of her memory as a small town with lovely homes near the college where she had a wonderful undergraduate experience. Her reminisces included "green hills in the spring, snow and cold knees in the winter, Sigma Rho Sigma, demonstrating against tuition (in-state tuition was zero while she was a student), friends, some professors, walking up and down the hill, and Johnny Mathis tunes."
Students attend a class in one of Sperry Center's five giant lecture rooms.

"Mary had a most enjoyable time while she was there at Cortland," noted Robert Hobson, who once visited the campus with his wife around 1964. "Mary was at one time president of her sorority, Sigma Rho Sigma. Her cousin (Joan White Pascarella '59) was with the sorority a couple years ahead of her."
Upon graduation from SUNY Cortland, she taught on Long Island for one year, then moved to San Francisco, Calif., where she met Robert. They were married in 1963.
Mary Hobson taught elementary school in Pacifica for several years before moving to Lafayette, Calif. She raised the couple's two children, Steven and Michael, and received a master's degree in counseling from California State University at Hayward. She then returned to elementary education as a counselor in the Pittsburg (Calif.) School District.
Hobson retired in 2000 to pursue her loves of gardening, bridge, painting, traveling, reading, her church and family.
College's Social Media Platforms Invite Followers
09/12/2011
SUNY Cortland students, faculty and staff are encouraged to follow the College's official social media platforms to stay current on campus news, whether it involves a popular guest speaker or a weather-related emergency.
The College saw a major climb in its Facebook and Twitter followings during the 2010-11 academic year and representatives hope that the trend continues.
"Overall, we saw more of a buzz on our social media sites this past year, particularly on Facebook," said Michelle Cryan, the College's web communications manager.
Participation on SUNY Cortland's main Facebook page wasn't limited to prospective and current students, Cryan said. The conversation included alumni and local community members, too.
"When someone wants information, whether they're a student or an alumnus, they're going to look for it in a way that's convenient for them," Cryan said. "For a lot of people, social media is the most convenient way."
Jillian Tucker, a senior admissions officer at SUNY Cortland, frequently contributes to the College's Facebook page when students pose questions related to admissions. She likes to see different students join the conversation and attempt to answer the questions of their peers.
"I have found that sometimes it's best to wait a little before responding because other current or even prospective students tend to chime in with the answers," Tucker said. "I monitor the page and respond where needed, but oftentimes the students kind of take it and run with it."
In addition to answering questions promptly and accurately on Facebook and Twitter, College staff published more news items, photography, and video content on both platforms. The numbers show that people were paying attention.
The number of weekly active users of the College's main Facebook page — people who interacted with or viewed it at least once a week — jumped from 272 in July 2010 to 1,854 by the end of June 2011. That means the number of weekly active users was nearly seven times greater than it had been the previous year.
"We always want our Facebook page to be a fun way for people who are interested in the College to connect," Cryan said. "We want it to be cool and we want it to be engaging."
On the College's main Facebook page, a story from August about the $7 million renovation of the Cheney Hall student residence building generated plenty of "likes" and a number of comments about campus living decades ago.
"You see this really large yet close-knit family," Cryan said. "You love to see people reflect on their time at SUNY Cortland, especially when it involves alumni connecting with prospective or current students."
Feedback, which includes the number of "likes" and comments related to Facebook news stories, more than doubled in 2010-11 from the previous academic year. The increased feedback is an indication that College-related news is catching the attention of SUNY Cortland Facebook fans.
"It's exciting to see the growth in social media," Cryan said. "We've done well so far, but it's a matter of keeping the SUNY Cortland conversation going."
2011-12 Brooks Lecture Series Unveiled
09/09/2011
The 2011-12 Rozanne M. Brooks Lecture Series at SUNY Cortland will encompass the theme of "Culture and the Written Word."
The series, which is free and open to the public, features a reception and two guest speakers during the fall semester and two guest speakers and a poster session during the spring semester.
The events all take place on Wednesdays and begin at 4:30 p.m. in Moffett Center, Room 2125, unless otherwise noted. A reception to welcome each speaker starts at 4 p.m. at the Rozanne M. Brooks Museum in Moffett Center, Room 2126.
The following guests will speak during the fall semester:
• Jennifer C. Ross, an associate professor in the Art Department at Hood College in Frederick, Md., will discuss "Cultural Transformation in Mesopotamia: The Invention of Writing and Writers" on Sept. 21. The invention of cuneiform in Mesopotamia — the ancient name for Iraq — produced the earliest writing system in the world around 3,500 B.C. As such, it has had a profound effect on communication throughout the millennia that have followed. This lecture will explore the reasons for writing's invention, the people behind its creation and its impact on Mesopotamian society.
• Gouri Bhat of Austin, Texas, will present "We the People: The Constitution and the Culture of Civil Rights" on Oct. 12. Due to interest in this 4:30 p.m. lecture, the event location has been moved to Sperry Center, Room 105. The reception remains at 4 p.m. in the Brooks Museum, Moffett Center, Room 2126. Bhat, the sister of SUNY Cortland Associate Professor of History Girish Bhat, left private practice in 2004 to become a national public interest lawyer at the American Civil Liberties Union (ACLU) in Washington, D.C. From then until 2008, she served as a staff attorney at the ACLU National Prison Project, where she worked extensively on litigation related to prison and immigration detention conditions around the country, focusing on issues such as inadequate medical and mental health care, overcrowding, punitive isolation, excessive force and sexual assault. From 2009 until she joined Berk Law earlier this year, she served as a senior staff attorney with the ACLU of Texas in Austin. She developed and litigated racial justice cases as well as systemic challenges to government practices that disproportionately impact minority communities.
The spring semester will feature the following events:
• SUNY Cortland students will present a poster session on "Books That Changed the World" during a reception from 3:30 to 4:30 p.m. on Feb. 15 in Room 2126. At 4:30 p.m., SUNY Cortland students will present a Poetry Slam in Room 2125.
• Victoria Boynton, a SUNY Cortland associate professor of English, will discuss "Does a Text Have a Sex?" on March 14.
"We have Chick Flicks, Chick Lit, Gender Benders and Sexting," Boynton said. "Is writing gendered? You bet."
Students and faculty members peruse a glass display case full of anthropological artifacts at the Rozanne M. Brooks Museum in Moffett Center, Room 2126.
Boynton, who received the College's 2005 Rozanne Brooks Dedicated Teacher Award and the 2004 Cortland Faculty Development Committee Excellence in Teaching Award for Incorporation of Multicultural and Diversity Perspectives in Teaching, will explore a spectrum of gender-inscription in writing and discuss this array of "writerly" identities.
• Emil Homerin, a professor of religion in the University of Rochester's Department of Religion and Classics will address "The Word of Islam: Language, Religion and Culture in the Muslim World" on April 11.
Homerin, a specialist in Arabic literature and Islam who has lived and worked in Egypt and Turkey for a number of years, will highlight the importance of language and writing in Islam. His talk will feature the Qur'an, the prophetic traditions of the prophet Muhammad, legal edicts and poetry. He also will focus on the power of words in both classical and recent times, and their impact of life and culture. Homerin was awarded grants from the Mrs. Giles Whiting Foundation, the Fulbright Foundation, the American Research Center in Egypt and the National Endowment for the Humanities.
The lecture series honors the late Rozanne Marie Brooks, a SUNY Distinguished Teaching Professor and SUNY Cortland professor emerita of sociology and anthropology. A SUNY Cortland faculty member for 36 years, Brooks died in 1997.
The 2011-12 Brooks Lecture Series is sponsored by a grant from Auxiliary Services Corporation (ASC) and the Cortland College Foundation. For more information, contact the lecture series organizer and Brooks Museum director, Sharon R. Steadman at (607) 753-2308.
Family Weekend Set for Sept. 16-18
09/09/2011
SUNY Cortland's Family Weekend 2011, which will run from Friday, Sept. 16, through Sunday, Sept. 18, will be headlined with a talk by Story Musgrave, one of NASA's most colorful, dedicated and passionate astronauts.
Musgrave, the only astronaut to have flown on all five space shuttles, will speak at 8 p.m. on Saturday, Sept. 17, in Old Main Brown Auditorium. Other Family Weekend events include informational talks, athletic competitions, a trip to Beak & Skiff Apple Farm, an open house at the Lynne Parks '68 SUNY Cortland Alumni House for families of current students, and educational and recreational activities for the entire family.
Highlights of the event schedule are as follows:
Friday, Sept. 16
• Families who want to work out together will have access to the Tomik Fitness Center in Van Hoesen Hall from 6 a.m. until 10 p.m. A towel and identification is required.
• An art exhibition titled "Iron Sculpture" will be displayed from 10 a.m. to 4 p.m. in Dowd Gallery.
• Family Shabbat Dinner and Student Lead Service will be held at 6 p.m. at the Temple Brith Sholom on 117 Madison St. For transportation to the temple, meet at 5:45 p.m. outside the Corey Union Voice Office. Services will begin following dinner.
• At 8 p.m., SUNY Cortland students can sign up in the Recreational Sports Office to join in a recreational sport volleyball tournament in Lusk Field House. Families are welcome to come and watch.
Saturday, Sept. 17
• Family access to Tomik Fitness Center in Van Hoesen Hall will be offered from 8 a.m. to 10 p.m.
• An Alumni Affairs Open House at the Lynne Parks '68 SUNY Cortland Alumni House at 29 Tompkins St. will provide an opportunity for all parents to socialize with their children from 9 a.m. to 5 p.m. Coffee and cookies will be served. Alumni who are parents of students will receive a special gift.
• College administrators and staff will present "How is Your Student Doing in College?" at 10 a.m. in the Corey Union Exhibition Lounge. The vice president for student affairs and representatives from Residence Life and Housing, Dining Services, Academic Affairs, the Multicultural Life and Diversity Office, and Counseling Center will be available to answer questions and discuss student life over coffee and tea.
• The annual President's Brunch, hosted by SUNY Cortland President Erik J. Bitterbaum, will welcome parents and students at 11:30 a.m. in the Corey Union Function Room.
• The SUNY Cortland football team plays against Kean College at 1 p.m. the Stadium Complex.
• Also at 1 p.m., the SUNY Cortland women's tennis team will take on RIT at the campus tennis courts and the SUNY Cortland men's rugby club will play on the rugby pitch near the Route 281 parking lot.
• A bus trip to Beak & Skiff Apple Farm will depart from Corey Student Union at 2:30 p.m.
• Astronaut and world traveler Story Musgrave, whose 30-year career spans from the Apollo era of the 1960s to the Space Shuttle program of the 1990s, will speak at 8 p.m. A pilot, surgeon, mechanic, poet and philosopher, he will share an unforgettable evening of space stories. The lecture is presented by the Campus Artists and Lecture Series.
• Families can play indoor blacklight Mini Golf at Shipwreck Mini Golf from 9 to 11 p.m. Bus transportation will be provided.
Sunday, Sept. 18
• A women's club soccer tournament is scheduled for 10 a.m. in the Stadium Complex.
A fee is charged for many Family Weekend sporting events, the Family Shabbat Dinner, the Presidents' Brunch, the Story Musgrave talk and the family indoor mini golf events. Tickets may be purchased during registration in the Corey Union lobby from 4 to 8 p.m. on Friday, Sept. 16, and from 9 to 11 a.m. on Saturday, Sept. 17. Story Musgrave tickets may be obtained through the Campus Activities and Corey Union Office, Corey Union, Room 406, or at the door one hour prior to the performance.
For a registration form or more information about Family Weekend, stop by Corey Union, Room 406, or visit the Family Weekend website at www2.cortland.edu/events/family-weekend/index.dot.
Cheryl Hines Recognized for Work with Non-Traditional Students
09/13/2011
SUNY Cortland employee Cheryl Hines was recognized by the Alpha Sigma Lambda National Honor Society with the William C. Hine Distinguished Service Award for her work with non-traditional students.
An academic advisor and coordinator of non-traditional student support in Advisement and Transition, Hines has served as the SUNY Cortland chapter councilor for the honor society for five years. A 2005 SUNY Cortland graduate who is also a non-traditional student, Hines earned her degree in psychology.
"I enjoy working with Alpha Sigma Lambda in supporting our non-traditional students," Hines said. "These students often balance college with other commitments like family, jobs and long commutes. They continue to amaze me in all that they juggle while making their education a priority."
As a recipient of the award, Hines is invited to serve a one-year term on the national Alpha Sigma Lambda Board of Directors and attend the organization's two meetings with all expenses covered.
Hines will attend the board meeting, held in conjunction with the Association for Continuing Higher Education (ACHE), from Tuesday, Oct. 11 to Thursday, Oct. 13 in Orlando, Fla. She will attend the ACHE conference that same week.
Hines also may attend the board meeting to be held March 28-30 in Portland, Ore.
In addition to the two trips, Hines receives:
• A $250 contribution to the William C. Hine Student Scholarship Fund in her name.
• Ex-officio status on the ASL board for one year.
• A letter to SUNY Cortland President Erik J. Bitterbaum, and Director of Advisement and Transition Abby Thomas, her immediate supervisor, recognizing her achievement as the award recipient.
"Cheryl is a resource and advocate for the non-traditional students at SUNY Cortland," Thomas said. "This award is a well-deserved honor, recognizing the care and time Cheryl puts into helping non-traditional students succeed and reach their goals."
Hines, a Cortland native and current resident of Marathon, N.Y., has worked at SUNY Cortland since 1998, first in the Registrar's Office until 2006 and then in the Advisement and Transition Office.
She received associate's degrees from Tompkins Cortland Community College (TC3) in liberal arts/social sciences in 1988 and in Information/Word Processing in 1990. She is currently enrolled in a community health graduate program.
Hines and her husband Christopher reside in Marathon, N.Y. Her daughter, Kaitlin, is a high school senior.
Timely Return of Winter Session Contracts Requested
Winter Session contracts will be distributed to faculty by campus mail during the week of Sept. 12. One signed copy of the contract should be returned to Mary Cervoni, Miller Building, Room 223, within 10 days of the contract date.
Timely return of the contract assists the office with preparation of the Winter Session payroll so individuals may be paid on time. In addition, courses will be listed on the Web in October based on the receipt of a signed contract.
Those with questions about their contract, or those not receiving a contract but expecting one, should contact Cervoni at (607) 753-4207.
Brooks Award Nominations Due Sept. 27
The Rozanne Brooks Dedicated Teacher's Award Committee is seeking nominations by Tuesday, Sept. 27, for the Brooks Award for the academic year 2011-12.
The Brooks Award recognizes a faculty member who devotes a major portion of his/her time to teaching as well as a significant amount of time with students outside the classroom. Involvement in campus life, such as attendance at cultural events, lectures, athletic events and committee work, enhances the candidates' application. Publication and research are not an emphasis of the award. The award recipient will receive $5,000 to enhance his or her teaching.
The Brooks Award is open to teaching faculty members who possess continuing appointment and have been employed at SUNY Cortland for a minimum of five years. Candidates must be teaching a full-time course load as defined by their department for the fall and spring semesters. Nominators should pay particular attention to this requirement.
The criteria, process, deadlines and call for nominations are available online at www2.cortland.edu/offices/fdc. Click on Awards and Guidelines, then Rozanne Brooks Award and Nomination Form. Nominations must be submitted by 3 p.m. on Tuesday, Sept. 27, to the Division of Institutional Advancement, Brockway Hall, Room 312. For more information, contact Melony Warwick at (607) 753-2518.
With the exception of publication, the committee will use the same criteria used to identify nominees for the Distinguished Teaching Award and the Chancellor's Award for Excellence in Teaching. Nominees will be expected to provide the committee with a variety of materials in support of their nomination; e.g., CTEs grade distribution, a current resume, letters from colleagues and former students, course materials, and statements of teaching and grading philosophy.
Committee members will visit candidates' classes unannounced during the fall and spring semesters to observe and evaluate them in a number of different teaching situations.
The Brooks Teaching Award Committee will consider the names of individuals suggested by faculty or professional staff. Faculty and staff may nominate only one person.
Self-recommendations will not be accepted. Faculty may win the award one time only. Those nominated but not winning the award must wait three years before being nominated again.
Brooks, a Distinguished Teaching Professor and founding chair of the Sociology Department, was a dynamic force on the SUNY Cortland campus for many years.
"This award is for people who are outstanding teachers in the classroom, who spend considerable time with students and are very student oriented, who go to all the events on campus, who do committee work, who are really a force on the faculty, and within the academic community," wrote Brooks. "These are often the people who are not rewarded enough. It is my intention with this award to do something about that."
Members of the committee include Mary Lee Martens, foundations and social advocacy emerita, and Timothy Baroni, distinguished professor of biological sciences.

Suggest a feature story
---
People on the Move
Courtney Wormuth Hired as Assistant Athletic Director
09/09/2011
Courtney Wormuth has been named the assistant director of athletics for event management, marketing and promotions at SUNY Cortland, according to Director of Athletics Mike Urtz.
Wormuth will oversee Cortland's game-day athletic operations and serve as a department contact for corporate sponsorships and event promotions, among other duties. In addition, a portion of Wormuth's position is in Cortland's Sport Management Department, where she will serve as a lecturer.
Wormuth replaces Tracy Granozio, who left after four years to pursue a doctoral degree at Springfield College in Massachusetts.
Wormuth most recently served as the athletics facilities manager at Tompkins Cortland Community College (TC3) in Dryden, N.Y., since August 2007. She supervised day-to-day operations of the athletic facilities, marketed them to outside groups and organized and directed the school's summer sports camps, among other duties.
In addition, Wormuth was the school's women's basketball head coach from 2007-10 and served as an adjunct professor for the health and fitness department. She coached the Panthers to a pair of playoff appearances and a Region III Final Four appearance.
Prior to her work at TC3, Wormuth was an operations assistant and an athletics/fitness center monitor at Cornell University in the 2006-07 school year and an assistant women's basketball coach at Hamilton College in the 2004-05 season.
A native of Johnstown, N.Y., Wormuth earned a bachelor's degree in exercise science from North Carolina Wesleyan College in 2003. She graduated magna cum laude and earned the school's Exercise Science Department Award as a senior. In addition, she played basketball and softball for the Battling Bishops.
Wormuth earned a master's degree in exercise and sport sciences from Ithaca College in 2004. While studying at Ithaca, she worked as a wellness clinic fitness specialist.
---
Faculty/Staff Activities
Seth N. Asumah
Seth N. Asumah, Political Science and Africana Studies departments, was appointed to the International Advisory Board of Culture and Development International and the International Conference on Africana Culture and Development (ICACD), Accra, Ghana.
T. D. Fitzgerald
T. D. Fitzgerald, Biological Sciences Department, is a co-author with Alfonso Pescador of the University of Colima, Mexico, of a paper titled "Trail Marking and Abandonment of Depleted Feeding Sites by the Caterpillars of Eutachyptera psidii (Lepidoptera: Lasiocampidae)." The paper appears in the journal Insect Science. The insect is a nest-building social caterpillar that feeds on a variety of native and introduced tree species that occur in the seasonal dry forests of Mexico. The paper reports that the caterpillars employ an efficient system of chemical communication that enables colonies, consisting of 300 or more individuals, to make nocturnal, en mass forays between their nests and distant feeding sites.
Richard Hunter
Richard Hunter, Geography Department, and Andrew Sluyter, Department of Geography and Anthropology at Louisiana State University, had their article published in the latest issue of Journal of Historical Geography. The article, "How Incipient Colonies Create Territory: The Textual Surveys of New Spain, 1520s-1620s," explores the practices of early colonial land surveying to reveal how territory was created through negotiations among local actors, centralized state power and specific landscapes.
Kathleen Lawrence
Kathleen Lawrence, Communication Studies Department, had her paper, "A World without Limits: Living in a Barbie Reality as Pop Culture Ambassador" competitively selected for presentation in San Jose, Costa Rica, on July 26 at the International Popular Culture Association annual conference. The theme of the conference was global issues related to popular culture. Lawrence's paper discussed how Mattel, one of the world's largest toy companies, has promised generations of children and their parents that girls should boldly "dream, discover and explore their world" through Barbie. Lawrence explored this pack-and-go approach to international relations in the doll world. A rhetorical analysis of the "cultural" narratives, "authentic" artifacts, and "ethnic" costumes provided for each doll in the "Barbie Dolls of the World" series was included along with illustrations.
Syed Pasha and Ralph Dudgeon
Syed Pasha, Communication Studies Department, and Ralph Dudgeon, Performing Arts Department, will team teach a new two-week class in India called "World Cultures and Communication" as part of SUNY Cortland's Study Abroad Program. Students selected to be part of the class will travel to India for two weeks.
Gregory D. Phelan
Gregory D. Phelan, Chemistry Department, recently presented at the Board on Research Data and Information of the National Academies. The public symposium included speakers from Columbia University, Stanford University and the National Oceanic and Atmospheric Administration. His talk on the use of digital media in scientific research is currently being prepared for publication.
Susan Rayl
Susan Rayl, Kinesiology Department, organized a three-article forum on basketball, "Excellence in Basketball On and Off the Court," for the Spring 2011 issue of The Journal of Sport History, a peer-reviewed journal. Her article, "'Holding Court': The Real Renaissance Contribution of John Isaacs" was the first of the three articles. The two other articles provided poignant biographies of Holcombe Rucker and Charlotte Lewis. Rayl also wrote the introduction to the forum, "Three People, Three Journeys, Three Legacies."
Robert Spitzer
Robert Spitzer, Political Science Department, presented a paper at the annual meeting of the American Political Science Association, held Sept. 1-4 in Seattle, Wa. His paper was titled "Growing Executive Power: The Strange Case of the 'Protective Return' Pocket Veto" for a roundtable panel on "In Defense of the Constitution."

Submit your faculty/staff activity