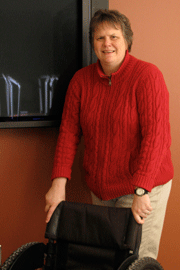 Campus Champion
Susan Wilson champions student growth and well-being, whether she's helping recreation majors in her adapted recreation classes, supporting softball team members who strive to balance athletic competition with academic success, or guiding students whose unwise choices land them in the College's judicial system, her colleagues say. She devotes hours to sharing her scholarly discipline, cheering on the softball team and counseling those at risk of leaving the College. Her quiet service is rewarded with an extended "softball family" of graduates.

Nominate a Campus Champion
---
Monday, Feb. 21
'You're Amazing' Coffeehouse: Corey Union Function Room, 7 p.m.
---
Tuesday, Feb. 22
Discussion: "Plagiarism: Is It a Professional or Moral Infraction?" as part of the "Plagiarism and Its Just Desserts" series, Brockway Hall Jacobus Lounge, 4:30-6 p.m.
---
Tuesday, Feb. 22
Black History Month Presentation: "Retirement Blues," a play reading by Sam Kelley, Communication Studies and Africana Studies Departments, Brockway Hall Jacobus Lounge, 7:30 p.m.
---
Tuesday, Feb. 22
Speaker: "Hazing: The Fallout," Travis Apgar, Cornell University, Corey Union Function Room, 7:30 p.m.
---
Tuesday, Feb. 22
Coffeehouse: Corey Union Exhibition Lounge, 8 p.m.
---
Wednesday, Feb. 23
UUP Luncheon Meeting: Corey Union Function Room, noon-1 p.m. Buffet opens at 11:45 a.m.
---
Wednesday, Feb. 23
Black History Month Sandwich Seminar: "Art and Classical Music of African American Composers," Edward Moore and Lois Pfister, Performing Arts Department, and Anne Shelly, Onondaga Community College, Brockway Hall Jacobus Lounge, 12:30 p.m.
---
Wednesday, Feb. 23
Women's Worlds Redux Lecture Series: "Do Women Work Close to Home? Gender, Race and the Journey to Work in the U.S.," Ibipo Johnston-Anumonwo, Geography and Africana Studies Departments, Moffett Center, Room 2125, 4:30 p.m. A reception will begin at 4 p.m. in the Brooks Museum, Moffett Center, Room 2126.
---
Wednesday, Feb. 23
Wellness Wednesday: "Goodbye Ed, Hello Me – Recover from Your Eating Disorder and Fall in Love with Life," Jenni Schaefer, author, speaker and ambassador for the National Eating Disorder Association, Corey Union Function Room, 7:30 p.m.
---
Wednesday, Feb. 23
Re-education Series Lecture: "(Re)imagining and (Re)thinking Education," David Stovall, University of Illinois at Chicago, as part of the Cultural and Intellectual Climate Committee Lecture Series, Old Main Brown Auditorium, 7:30 p.m.
---
Thursday, Feb. 24
Black History Month Sandwich Seminar: "The Mighty Burner: The Life and Legacy of G. Larry James," Susan Rayl, Kinesiology and Africana Studies Departments, Brockway Hall Jacobus Lounge, 12:30 p.m.
---
Friday, Feb. 25
Registration Deadline: Red Dragons Escape to Vegas alumni event planned for March 11-13. Register and information at www.cortland.edu/alumni/vegas
---
Sunday, Feb. 27
Performance: Cultural Celebration featuring SUNY Cortland Gospel Choir, A Capella and guest choirs, Old Main Brown Auditorium, 4 p.m.
---
Monday, Feb. 28
Opening Reception: African mudcloth exhibit titled "Bògòlanfini, Patterns of Bamana Culture," Dowd Gallery, 5 p.m. A dance performance by Africana Dance Ensemble and refreshments will be served.
---
Monday, Feb. 28
Black History Month Talk: "Barack Obama and 21st Century Politics: Revolution and Counter Revolution in the United States," Horace Campbell, African American Studies and Political Science Departments at Syracuse University, Corey Union Fireplace Lounge, 7 p.m.
---
Tuesday, March 1
Faculty Senate Meeting: Park Center Hall of Fame Room, 1:15 p.m.
---
Wednesday, March 2
Wellness Wednesday: "Enhancing your Life with Zumba," Brittany Jarrard, SUNY Cortland student and Zumba instructor, Corey Union Exhibition Lounge, 7 p.m.
---
Thursday, March 3
Community Roundtable: "Health Literacy: A Key Asset for the 21st Century," panel discussion, Park Center Hall of Fame Room, 8-9 a.m. Refreshments will be served at 7:45 a.m.
---
Thursday, March 3
Discussion: "Cultural Perspectives on Plagiarism," as part of the "Plagiarism and Its Just Desserts" series, Brockway Hall Jacobus Lounge, 4:30-6 p.m.
---
Thursday, March 3
Concert: Storioni Trio, Dowd Fine Arts Center Theatre, 7 p.m.
---
---
National Speaker to Discuss Eating Disorders
02/15/2011
Jenni Schaefer, author, singer and songwriter and ambassador for the National Eating Disorder Association, will share her struggle with anorexia and bulimia on Wednesday, Feb. 23.
Schaefer's speech is the keynote address for Body Appreciation Week at the College, which runs from Feb. 21-25.
Titled "Goodbye Ed, Hello Me® — Recover From Your Eating Disorder and Fall in Love with Life," the presentation will take place at 7:30 p.m. in the Corey Union Function Room.
Schaefer's talk is part of the Spring 2011 semester "Wellness Wednesday Series" featuring speakers, exhibits, self-help workshops and other programs intended to encourage campus and community members to explore new topics around the theme "Wellness for Life." Topics range from opening a dialogue on building a multicultural community and recovering from struggles with food and body image to enhancing life with Zumba and exploring spirituality.
Sponsored by the Health Promotion Office and the Student Development Center, the series will take place each Wednesday at 7 p.m. in Corey Union Exhibition Lounge, unless otherwise noted. The events are free and open to the public.
Also during Body Appreciation Week, with the president's approval the campus will once again sponsor the "Love Your Genes" initiative for faculty and staff. By donating $1 per day next week in collection envelopes placed in offices by health promotion interns, College employees will be entitled to don buttons and stickers while wearing jeans and dress down. All proceeds will support the Body Appreciation Week Programs.
Schaefer's presentation will use poetry and humor, from intimate thoughts in her personal journals about her eating disorder to the ultimate freedom she experiences today.
"Find the hope, inspiration and belief that you and your loved ones can recover from struggles with food and body image and move on to live life to the fullest," Schaefer said.
With her latest book, Goodbye Ed, Hello Me: Recover from Your Eating Disorder and Fall in Love with Life (McGraw-Hill), Schaefer takes readers a giant step further on her journey and theirs, outlining the path from recovery to liberation.
"It's not just about food and weight," she says. "I'm here to help people to fall in love with life."
Born in Texas, she recalls feeling she wasn't thin enough at the age of 4, when she began to study dance. To this day, she carries her dance costume to some speaking engagements. As she grew up, she says, "I fought for a long time not to look like a woman," restricting food as a teenager in order to keep "a little girl's body."
Her unrelenting perfectionism made college a particularly rough time. Although she graduated summa cum laude from Texas A & M University with a B.S. in biochemistry, she took a year off after being accepted into medical school, realizing that because of her eating behaviors she would not be able to take on its challenges.
She moved to Nashville, where the isolation enabled her illness to progress to "a new level. I hid it from everybody until one day I told my boyfriend and got help." That began a long, slow recovery that changed her life.
Living in Austin, Texas, Schaefer is a contributing editor to self-help/recovery publications nationwide including Recovery Today, The Phoenix and Steps for Recovery.
Her 2004 book, Life Without ED: How One Woman Declared Independence from Her Eating Disorder and How You Can Too, garnered national attention. That led to an opportunity to be a contributing author to Chicken Soup for the Recovering Soul (2005) and Chicken Soup for the Recovering Soul: Daily Inspirations (2006).
Schaefer has appeared on radio and national television programs, including "Dr. Phil" and "Entertainment Tonight." Her work has been published in the Chicago Tribune, Cosmopolitan, The Washington Times, The Washington Post, Woman's World, CosmoGIRL! and Publisher's Weekly.
For more information about the talk, visit Schaefer's website at www.jennischaefer.com.
For more information about Body Appreciation Week, Wellness Wednesdays, or accommodation to attend an event, contact Catherine Smith, the College's health educator, in the Health Promotion Office, Van Hoesen Hall, Room B-1, or at (607) 753-2066.
Cultural Celebration Will Present Array of Musical Performances
02/16/2011
The 2011 SUNY Cortland Gospel Choir Cultural Celebration on Sunday, Feb. 27, will feature a variety of musical performances by members of the campus, local and regional communities.
The event begins at 4 p.m. in Old Main Brown Auditorium. Tickets are $3 for students, $4 for seniors, and $5 for all others. Tickets may be purchased through Gospel Choir members, at the door or reserved in advance. Ticket reservations may be made by calling (607) 753-4104 or e-mailing Distinguished Service Professor Samuel L. Kelley or Distinguished Teaching Professor Seth N. Asumah. Reserved tickets may be picked up at the door. Individuals who cannot attend but wish to make a donation are encouraged to do so. There will be a reception following the concert.
During the concert, the SUNY Cortland Gospel Choir will offer the popular "Let's Dance" by John P. Kee, "Presence" by Youthful Praise with Jason Carriero as soloist, "Alpha And Omega" by Israel and the New Breed, and "Perfect Praise" by Brenda Moore, with Melody Byron as soloist. The second set for the choir will include "Faithful Is Our God" by Hezekiah Walker, "I Just Want to Praise You," "Ride On King Jesus," and "Oh Happy Day" with Khalia Brown as soloist.
Brown also will sing the classic spiritual, "Sometimes I Feel Like A Motherless Child."
SUNY Cortland alumna Dorothy Thomas '77 will present a piano performance of "Colors of the Wind" from the musical "Pocahontas."
Cortland A Cappella, directed by Noelle Paley, Multicultural Life Office and adjunct professor of Africana studies and philosophy, will feature SUNY Cortland students in several pieces, including "Amazing Grace" and "Hallelujah" by Jeff Buckley.
The SUNY Cortland Africana Dance Troupe, under the direction of Yomee Lee, assistant professor of kinesiology, will present a West African dance called "Sunu" and "Samba Reggae."
Salsa performer Nikolay Karkov, adjunct professor of Africana studies and philosophy, will offer selections with dance partner Xhercis Mendez.
A jazz set by the Gospel Choir musicians will round out the performance. The musicians are saxophonist Jamie Yaman of Cortland, N.Y.; and keyboardist Andy Rudy, bass guitarist Reggie Siegler, percussionist Benjamin Terry and Robert Brown on trombone, all of Syracuse, N.Y.
Co-sponsoring the celebration with the choir are the Africana Studies Department, the Black Student Union and the Caribbean Student Association. The event is supported by the student activity fee.
The celebration continues the College's Black History Month, which is co-sponsored by the President's Office; the Provost and Vice President for Academic Affairs Office; the Center for Gender and Intercultural Studies; the Vice President for Student Affairs Office; the Multicultural Life Office; the Dean of Arts and Sciences Office; the Political Science Department; the Affirmative Action Committee; the Communication Studies Department; the Africana Studies Department; the Black Student Union; and the Caribbean Student Association.
For more information, contact Kelley at (607) 753-4104.
---
Capture the Moment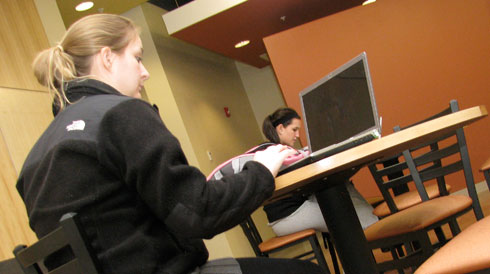 Two students catch up on their coursework between classes in a lounge area of the newly renovated Professional Studies Building off Folmer Drive.
---
In Other News
Travis Apgar to Discuss Hazing on Feb. 22
02/17/2011
Travis Apgar, an associate dean of students at Cornell University who as a college student experienced the trauma of hazing first-hand, will offer a fresh look at the banned practice from the perspective of a victim, on Tuesday, Feb. 22, at SUNY Cortland.
Titled "Hazing: The Fallout," his talk begins at 7:30 p.m. in the Corey Union Function Room.
Presented by Campus Activities and Greek Affairs, the discussion is free and open to the public.
Apgar, who holds advanced degrees in psychology and education administration and has worked in higher education for almost 10 years, will discuss hazing from the perspective of a victim with a background that contributed to the severity of the impact.
Travis's emotional and powerful story aims to give students a wake-up call about the hidden dangers of hazing. Drawing from his personal and professional experience, he seeks to help students recognize that human lives and well-being come first and that the actions of hazing are not only illegal and wrong, but they go against everything upon which extracurricular groups were founded.
"Most students have some idea of what hazing may be, but many do not fully understand what constitutes hazing," said Apgar, whose positions in higher education have encompassed residence life, student activities, first-year student programs, Greek life and judicial affairs.
"By not knowing, they may agree to be involved in a hazing activity that they may not have if they better understood the definition and policies. I also strongly believe people should be aware of all policies, rules and expectations, so they are free to make educated decisions about their behaviors."
As a first generation college student, student-athlete and prospective fraternity member, Apgar did not know what to expect when he walked on campus. He anticipated being challenged to work at fitting in and to struggle in some ways. He certainly never looked for the intense hazing he endured during his first year on campus to challenge his physical and mental well-being. His tormentors had no idea of the "hidden harm" they were worsening with their seemingly harmless fun.
Whether it is a fraternity, student band, religious organization, rugby club or intercollegiate sport team, these groups were created out of a desire to enhance an individual's life, not to hurt or destroy it, Apgar asserts.
"I believe I have a responsibility to get involved in the fight against hazing, and it is my goal to help provide resources to professionals and students that can help get the job done," he said.
The event is sponsored by the Auxiliary Services Corporation, Campus Activities and Corey Union, Campus Artist and Lecture Series, InterGreek Council, Judicial Affairs Office, Panhellenic Council, President's Office, Recreational Sports Department and the University Police Department.
For more information, contact Sandra Wohlleber, campus activities and Greek affairs, at (607) 753-5769.
Re-educating Educators is Feb. 23 Topic
02/16/2011
A Chicago scholar who studies the influence of race in urban education, community development and housing will lecture on educational justice Wednesday, Feb. 23, at SUNY Cortland.
David Omotoso Stovall, an associate professor of educational policy studies at the University of Illinois at Chicago, will present "(Re)imagining and (Re)thinking Education: Strategies and Steps Towards Educational Justice" at 7:30 p.m. in Old Main Brown Auditorium.
The presentation continues the College's yearlong series on the theme of "Re-Education," organized by the College's Cultural and Intellectual Climate Committee (CICC).
Co-sponsored by the CICC and Cortland's Urban Recruitment of Educators (C.U.R.E.) program and the Campus Artists and Lecture Series (CALS), the lecture and other events of the series are free and open to the public.
"Dr. Stovall's work investigates the relationship between race and the quality of schools and teaching in communities that are changing both racially and economically," observed the lecture organizer Brian Barrett, a CICC member and SUNY Cortland assistant professor of foundations and social advocacy.
"From a practical and theoretical perspective, his research draws from Critical Race Theory, educational policy analysis, sociology, urban planning, political science, community organizing, and youth culture," Barrett continued. "Most recently, he has co-authored — with William Ayers, Kevin Kumashiro, Erica Meiners and Therese Quinn — Teaching toward Democracy: Educators as Agents of Change and co-edited — with William Ayers and Therese Quinn — the Handbook of Social Justice in Education.
"Stovall's work will be appreciated by all faculty and students involved in teacher education on campus as well as anyone with an interest in social justice," Barrett said. "Faculty are encouraged to incorporate the talk into their courses."
Additionally this spring, the committee is co-sponsoring several other events:
• The Feb. 28-April 15 Dowd Gallery exhibit, "Bogolanfini, Patterns of Bamana Culture, The Mudcloth Collection of Kassim Kone."
• The April 9 Student Conference on Diversity, Equity and Social Justice, "Building a Multicultural Community One Word at a Time," featuring keynote speaker Ramon Maisonet, an author, playwright and Beth Israel Medical Center crisis intervention counselor. Sponsored by the Multicultural Life Office, the student-organized conference runs from 9 a.m.-4 p.m. in Corey Union.
"All of these events are connected to this year's intellectual theme of Re-Education," noted CICC Committee chair Scott Moranda, SUNY Cortland assistant professor of history. "Whether it's re-writing history or scientific theory or re-educating children who don't conform to their parents' belief systems, the concept of (re) education invites examination in many academic fields across campus.
"Re-education asks us to consider how our society constantly re-works and re-formulates our vision of ourselves and the world," Moranda said.
"Historical narratives or scientific theories, to name two examples, are never set in stone, but instead are challenged by different social groups who hope to re-educate their fellow citizens," Moranda observed. "These 're-education' projects almost always hope to transform society or, sometimes, to prevent social or political change. Given this institution's focus on education, it is important to consider how schools are often battlegrounds for different political and economic worldviews. At the same time, the theme allows us to consider how education can be reformed to better serve students from all backgrounds."
For more information about Stovall's lecture, contact Barrett at (607) 753-2330. For more information about the art exhibition, contact Jenn McNamara, art and art history, at 607) 753-4411. For more information about the conference, contact Noelle Paley, multicultural life, at (607) 753-2336. For more information about the "Re-Education" series, contact Moranda at (607) 753-2052.
Panelists to Address Health Literacy
02/17/2011
What constitutes "health literacy" and how it affects people's health status and health behaviors will be discussed during a Community Roundtable on Thursday, March 3, at SUNY Cortland.
Three women, each involved in health education, will discuss exactly what it means to be a health literate person in the 21st century from 8-9 a.m. in the Park Center Hall of Fame Room. Refreshments will be served at 7:45 a.m. A question and answer period will follow.
The three speakers will contribute their ideas on how schools, community agencies and health care institutions need to work together to build a "health literate" population.
Sponsored by the President's Office and the College's Center for Educational Exchange (CEE), the Community Roundtable is free and open to the public.
Speakers will include Bonni Hodges, professor and chair of health at SUNY Cortland, Christella Yonta, project coordinator of Seven Valleys Health Coalition and Donna M. Videto, health professor at SUNY Cortland.
The Center for Health Care Strategies (CHCS) defines health literacy as the ability to read, understand and act on health care information.
According to the Partnership for Clear Health Communication, health literacy is one of the least recognized yet most widespread challenges to achieving better health outcomes and lowering health costs in the U.S.
The panel will address the social and economic consequences of low health literacy levels for individuals and communities.
The Community Roundtable series provides programs on diverse intellectual, regional and cultural topics of interest to College faculty and staff and community members. Each roundtable is held on the first Thursday of the month. Parking in the Park Center lot is open to the public during the roundtables.
For more information contact the CEE at (607) 753-4214 or visit www2.cortland.edu/centers/cee/community-roundtables/.
Storioni Trio to Perform March 3
02/17/2011
The Storioni Trio, a group of classical and contemporary musicians who provide artistic direction to one of the most well-known music festivals in Europe, the Storioni Festival, will perform on Thursday, March 3, at SUNY Cortland.
The Dutch ensemble will begin their concert at 7 p.m. in the Dowd Fine Arts Center Theatre.
The event is being presented by the Campus Artists and Lecture Series (CALS). Ticket prices are $3 for SUNY Cortland students and $5 for general admission. Children ages 10 and under are admitted free. Tickets are available in the Campus Activities and Corey Union Office, Corey Union, Room 406, or at the door one hour prior to the performance. For more information, call (607) 753-2322.
"The Storioni Trio is the flagship of Dutch culture," said a reviewer for NRC Handelsblad (NRC), a daily evening newspaper published in the Netherlands by NRC Media.
The trio has established itself as one of the leading Dutch chamber music ensembles, with concerts in Carnegie Hall, Concertgebouw Amsterdam and Wigmore Hall.
The trio offers an expansive repertoire ranging from Haydn and Mozart via Beethoven, Schubert, Brahms, Ravel and Shostakovich, to stimulating works by contemporary composers.
Composed of pianist Bart van de Roer, violinist Wouter Vossen and cellist Marc Vossen, the trio has developed over the years by working with many musicians, including Isaac Stern and Ralph Kirshbaum as well as members of the Emerson Quartet and the Vermeer Quartet. They also have performed chamber music with various artists, such as Gidon Kremer, Dimitri Sitkovetsky, Nobuko Imai and Emma Johnson.
Additionally, they also were invited to play as soloists with the Munchner Kammerorchester, the RTE Orchestra Irland, Musikkolegium Winterthur, Orchestre de Chambre de Wallonie and the Royal Flemish Philharmonic Orchestra.
As artistic director of the annual Storioni Festival in Eindhoven, Netherlands, the Storioni Trio annually brings together renowned musicians from all over the world performing unique chamber music programs of the highest caliber.
More information about the Storioni Trio can be found on their website at http://www.storionitrio.com/en/.
Mudcloth Collection Opens at Dowd Gallery
02/20/2011
An exhibition of the African artistic abilities that transform natural materials such as cloth and clay into spectacular artifacts will open on Monday, Feb. 28, in Dowd Gallery at SUNY Cortland.
"Bògòlanfini, Patterns of Bamana Culture," an exhibit that explores authentic mudcloth methods practiced by people belonging to Bamana Culture in Mali, Africa, is from the personal collection of Kassim Kone, professor of anthropology and linguistics at SUNY Cortland.
An opening reception will take place the same day beginning at 5 p.m. at Dowd Gallery. The event, which is free and open to the public, will be enhanced by a dance performance by the Africana Dance Ensemble. Refreshments will be served.
Three lectures will accompany the exhibit, which runs through Monday, April 18:
• Barbara Hoffman, associate professor in the Anthropology Department at Cleveland State University, Cleveland, Ohio, will speak beginning at 5 p.m. on Tuesday, March 8;
• Tavy Aherne, visiting professor and art historian from DePauw University in Greencastle, Ind., will present at 5 p.m. on Thursday, March 31; and
• Kone will discuss his collection at 4:30 p.m. on Wednesday, April 6.
All lectures will be in the Dowd Gallery and are free and open to the public.
The project represents a collaboration between Kone and Dowd Gallery Guest Curator Jenn McNamara, assistant professor of fibers in the College's Art and Art History Department.
"In Bamanakan, bogo means clay or mud, lan by the means of, and fini or finis means cloth," explained McNamara. "Choosing the work for this show was rather difficult given so many beautiful examples. In the end, the exhibit is arranged so the viewer may see the wide variety of functions the mudcloth serves: initiation ceremonies, hunting garb, symbology and storytelling as well as the appearance of global influences on the cloth. Each symbol incorporated in the design has a specific meaning and importance."
Many local women have studied this technique, dedicating their lives to introducing the craft to the world beyond African borders.
"The renowned artist Nakunte Jara, whose work has been on permanent display at the Smithsonian, created many of the mudcloths in Kassim's collection that are included in the exhibition," McNamara said.
"The mud dyeing technique not only reflects a long history and cultural integrity but has also become a tool to propel Mali's cultural future and its place in the contemporary world," McNamara explained.
The most recent high profile use of mudcloth was its inclusion in the RED product line launched by U2's Bono and Bobby Shriver in 2006 when Converse chose to make Chuck Taylor shoes from mudcloth. This highly publicized event began in Davos, Switzerland, at the World Economic Forum and culminated at the Oprah Winfrey and Larry King Shows in the U.S. Kone was the anthropologist hired to purchase the mudcloth for Bono's RED-Converse mudcloth Chuck Taylor shoe project.
Kone grew up in the Beledugu region, believed to be the heart of Mali's mudcloth art.
"Bògòlan is a very important component of Bamana culture as this cloth is an essential part of most Bamana initiation and ritual events," Kone said. "I began to research bògòlan at a very early age when I worked as a research assistant to many American doctoral students. I began to collect mudcloth when I was in college. No two pieces are the same, even when dyed by the same artist. This explains why over the course of many years I have amassed a significant collection of mudcloths."
Cast Announced for Musical 'The Drowsy Chaperone'
02/17/2011
The Performing Arts Department has announced the cast for its spring production of the musical comedy spoof "The Drowsy Chaperone," which will be performed March 25 through April 3 in the Dowd Fine Arts Center Theatre. Tickets go on sale at Jodi's Hallmark & Trends, 11 Main St., Cortland, on March 1 and will be available at the door before each performance.
Douglas Robbins will play the Man in Chair who hosts and narrates the musical as it comes to life in his apartment. Katie Quigley portrays Janet Van de Graaff, the starlet who is leaving show business to wed matinee idol Robert Martin, played by Tim Fuchs. The title character, Janet's tipsy chaperone, is played by Nicole Herlihy. Other characters include: the dashing ladies' man, Aldolpho played by Rasheem Ford; the hassled Broadway producer, Feldzieg played by Joey Gugliemelli; the ditzy hostess, Mrs. Tottendale, portrayed by Sara Laursen; the two gangsters disguised as pastry chefs played by Richard Wehthen and Derek Mellor; the savvy butler, Underling, portrayed by Paul Warren Smith; the dim-witted actress, Kitty portrayed by Amy Lamberti; the best man, George played by Charles O'Connor; and the aviatrix, Trix played by Angelia Golden.
Completing the cast are Samantha Rey, Annali Fuchs, Carly Merrill, Grace McGeoch, Lauren Collins, Cat Pluta, Lisa Reid, Kelsey Reed, Alexa DeFina, Kerry Maloney, Jacqui Fisher, Keith Golden, Mike Meany and Rashad Williams.
"The Drowsy Chaperone" is directed and choreographed by Kevin Halpin, with musical direction by Corinne Aquilina, scenery by Howard Lindh, costumes by Mark Reynolds, sound and lights by Joel Pape, and technical direction by Preston Maryre.
Performances are Friday, March 25 to Sunday, March 27, and Friday, April 1 to Sunday, April 3.
College-Community Appreciation Award Nominees Sought
The College Council is seeking nominations for its 2011 College-Community Appreciation Award, which will be presented in Fall 2011.
The College-Community Appreciation Award formally recognizes local residents who have significantly assisted SUNY Cortland. Previous winners have included educators, merchants, elected officials, public servants, longtime volunteers, clergy and media representatives who were chosen for making a positive difference in the life of the College.
Nominations must be received by Wednesday, March 16. To nominate a worthy candidate, submit a letter of recommendation to Linda Armstrong, College-Community Appreciation Award Committee, in care of President's Office, Miller Building, Room 408.
Timely Return of Summer Session Contracts Requested
Summer Session contracts will be distributed on Monday, Feb. 21, to faculty either by campus mail or directly to their home addresses. One signed copy of the contract should be returned to Mary Cervoni, Miller Building, Room 223, within 10 days of the contract date.
The office must receive a signed contract before a class will be listed in the course schedule on the Web. Any course that does not have a signed contract returned by the time the schedule is posted on the Web in early March will be made inactive and not available for registration until the contract is received.
Those with questions or concerns about contracts, or those not receiving a contract but expecting one, should contact Cervoni at (607) 753-4207.
Survey Assesses Teaching and Learning
The Institute for Civic Engagement is currently serving as a demonstration site for the "Bringing Theory to Practice Project," which aims to assess the effects of different forms of teaching and learning.
During the fall semester more than 400 SUNY Cortland students participated in a survey designed to measure these effects. One lucky participant was randomly selected to win an iPod touch. Senior Aileen Sloan was the winner.
Judicial Affairs Seeks Justices
The Judicial Affairs Office is seeking faculty, staff and students to serve as Judicial Review Board or College Hearing Panel members in judicial cases pertaining to violations of the College's Code of Student Conduct for the 2011-12 academic year.
Applications are due no later than 4 p.m. on Wednesday, March 9. Interviews will be scheduled following Spring Break. Nomination, application and recommendation forms are available on the Judicial Affairs website at www.cortland.edu/judaffairs at the leadership opportunities link or in the Judicial Affairs Office, Corey Union, Room 409-B.
The campus judicial system depends on the dedication and volunteer service of its justices.
As justices, members of the panel listen to respondent and witness testimonies, review evidence provided to the hearing board and ultimately decide whether or not a student is in violation of school policy. Justices hear cases dealing with all aspects of the Code of Student Conduct, from alcohol and drug policy to physical assault. If a student is found in violation, the justices decide what educational sanctions will be imposed to ensure the safety of the campus community.
A typical commitment includes initial training each fall and serving on three-to-four hearings per semester. Students are required to attend monthly training sessions and they may earn one credit hour per semester. Faculty and staff members who wish to nominate colleagues or students are encouraged to do so.
For more information, contact Michael Pitaro by e-mail or at (607) 753-4725.
Faculty Senate Recommends on Promoting Associate Professors
The Faculty Senate approved changing College policy on considering promotions of associate professors to full professors who don't meet all of the College's three-pronged measure of acceptable performance: scholarship, instructional quality and service.
Departments will be tasked to develop firm and discipline-specific guidelines that candidates can use to meet performance standards and that departments can use to fairly assess them, the Senate decided by a narrow 9-7 vote at its Feb. 15 meeting in Park Center Hall of Fame Room.
The Academic Faculty Affairs Committee had drafted the proposed policy relating to Chapter 230 of the College Handbook: "That departments be asked to look at their personnel policies specifically to address this issue of the meaning of "satisfactory" in the exceptional circumstances of two areas of exceptional quality and one area of satisfactory quality for promotion from associate to full professor."
At present, the policy asks department personnel committees to find two of the three "exceptional" areas of strength in a candidate for full professor, with the third area rated "satisfactory."
In its discussion surrounding the recommendation, the committee expressed the wish for departments to make this "two-out-of-three" approach to rating candidates more workable with language that is crafted to each discipline.
"It is each department's prerogative to set scholarly standards for their members based on the internalized standards of their profession," the committee noted.
The committee argues that the more obscure department personnel policies are, the more power departments cede to the administration.
If some departments are proactive in developing such policies, then other departments can follow by adopting language to guide their own personnel committee practices, observed Faculty Senate Chair David Miller, geography.
Those who disagreed with the committee's proposal appeared to be mainly concerned that the revisions individual departments developed might not be as strong as one issued by the administration or that some departments would not bother to make any changes.
Several senators criticized the proposal presented by Committee Chair Andrew Fitz-Gibbon, philosophy, mainly for allowing departments to treat promotions differently.
Although the hard work of the committee is appreciated, clearly this is an area where the College needs to have a well-defined policy in place, asserted Senator Judith Ouellette, psychology.
"I do not trust all of the departments to act in the best interests of the individual," she said, among other criticisms.
Senator Richard Kendrick, sociology/anthropology, questioned the choice of vague words "satisfactory" and "exceptional" used in the proposal (and lifted from the College Handbook) and asked for clarity.
Regarding the concern that departments may treat promotion candidates capriciously, Provost Mark Prus, ex-officio member, noted that his office has copies of each department's policy statements should a case require review against negative reviews.
President Erik J. Bitterbaum, ex-officio member, said when promotion is recommended or denied his office makes the final decision.

"I do review thoroughly the complete portfolio and have overruled on rare occasions decisions in the past," he said.
After the departments have drafted policies, these will be returned to the Academic Affairs Committee for consideration.
Due to lack of time, two other proposals under "Old Business" that the committee had wanted to bring before the Senate were tabled until the next meeting.

Suggest a feature story
---
Faculty/Staff Activities
Timothy J. Baroni
Timothy J. Baroni, Biological Sciences Department, was a keynote speaker at the 34th Annual Foray of the Northeast Mycological Federation held Sept. 23-26, 2010, in Kerhonkson, N.Y. He presented "Macrofungi in Tropical America, Some New — Some Not So New — What it Tells Us."
Baroni was a co-author of an article titled "Aurantiopileus mayanensis a new genus and species of polypore (Polyporales, Basidiomycota) from Belize with connections to existing Asian species," that ran in the Nov. 19, 2010, issue of North American Fungi, volume 5. Co-authors were mycologists from Canada; the USDA-Forest Service, Madison, Wis.; and University of Oslo, Norway. The new genus and species of polypore is from a collection that Baroni made during a 12-scientist, helicopter-assisted, two-week expedition to Doyle's Delight in the Maya Mountains of Belize in August of 2007 and was partially funded by a National Geographic Society research grant he received earlier that year.
Van A. Burd
Van A. Burd, professor emeritus of English, had his writings titled, "Young John Ruskin, His Tutor in Mathematics, John Rowbotham and the Geometric Impossible," published in the Autumn 2010 issue of The Ruskin Review and Bulletin. It was published at the University of Lancaster in England.
Edward P. Caffarella
Edward P. Caffarella, Educational Leadership Department, presented "Leadership in Education: Moving Beyond Administration and Management" on Dec. 2 as part of the Intellectual Discourse Series at the Universiti Putra Malaysia.
Beth Shiner Klein
Beth Shiner Klein, Childhood/Early Childhood Education Department, received the New York State Outdoor Education Association Leadership Award at their awards banquet held Feb. 5 at the Ashokan Center in Olivebridge, N.Y. This award is presented to candidates who are responsible for the growth of professionals in the field, who created innovative programs and provided the management support that expanded outdoor education at the local, state and national levels.
Mechthild Nagel
Mechthild Nagel, Philosophy Department and Center for Gender and Intercultural Studies (CGIS), gave an invited talk for a seminar addressing Ph.D. candidates in the humanities on Feb. 16 at Syracuse University. The talk, titled "Unlocking Open Access: Shifting Paradigms in Academic Publication," discussed the success of Wagadu: A Journal of Transnational Women's and Gender Studies, which is supported by SUNY Cortland and housed in CGIS.
Robert Spitzer
Robert Spitzer, Political Science Department, presented "The Law and Politics of Gun Control after Tucson" at the 6th Annual Harry Frank Guggenheim Symposium on Crime in America on "Law and Disorder: Facing the Legal and Economic Challenges to American Criminal Justice." It was held Jan. 31-Feb. 1 at the John Jay College of Criminal Justice, CUNY, New York City.
Jason Tucker
Jason Tucker, English Department, served on the panel "Balancing Professional Writing with Your Creative Side," at The Association of Writers and Writing Program's 2011 AWP Conference on Feb. 4 in Washington D.C.
Barbara Wisch
Barbara Wisch, Art and Art History Department, had an article accepted by the Memoirs of the American Academy in Rome. The article, titled "The Matrix: Le sette chiese di Roma of 1575 and the Image of Pilgrimage," will appear in issue 56, 2011.
Tiantian Zheng
Tiantian Zheng, Sociology/Anthropology Department, was invited to deliver a book talk and present a graduate seminar Feb. 22-24 at University of California at Berkeley.

Submit your faculty/staff activity