Alum to lead SUNY police statewide
06/08/2021
SUNY's new statewide police commissioner knows the system well.
She got her start as an officer at SUNY Purchase before moving to SUNY New Paltz and climbing the ranks from officer to investigator and then chief.
Mary Sullivan Ritayik '97 knows what it's like to be a SUNY student, too, having majored in sociology at SUNY Cortland.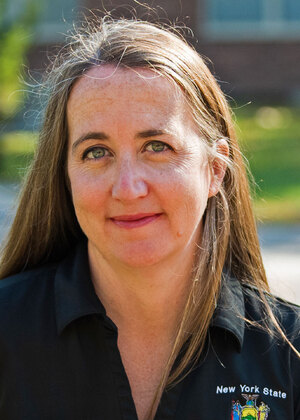 She will be the first female to hold the title of statewide commissioner and is the first to rise through the ranks of officer, investigator, chief and commissioner within the SUNY system.
Having been a SUNY Cortland student has shaped how she's chosen to serve other students through her multiple roles in the University Police.
"I loved my college experience. It was the best four years of my life," Ritayik said. "It was just a great period of my life and working in UPD allowed me to still stay connected to students who are going through that same thing.
"It's about making it a good experience for students. I liked the environment and I liked the purpose and the foundation underneath it. You're not just there to enforce the law, you're there to be a role model."
Ritayik, who starts in her role as part of the chancellor's leadership team on July 6, was drawn to an academic interest in sociology early in her college career. She recalls classes with Professor Herbert Haines and the late Frank Hearn as being engaging and challenging. Cortland's Sociology/Anthropology Department has since created a baccalaureate degree in criminology track for others aspiring to a career in law enforcement. The major is among the university's most popular.
A minor in history and an internship with Big Brothers Big Sisters of America gave Ritayik a well-rounded experience.
"You were on your own and you determined your fate with getting to class and passing and getting through your classes," she said. "I really learned my work ethic there. You'll see the results if you work hard, so I really pushed through."
After graduating, Ritayik attended the Westchester County Police Academy. Scoring well on civil service exams, she attempted to join the New York State Police at first but failed the push-up portion of the physical ability test. Ritayik soon found another opportunity as an officer with SUNY Purchase in 1998.
The state police's loss was SUNY's gain.
She transferred to SUNY New Paltz in 2000, was promoted to police investigator in 2003 and became deputy chief in 2013. On January 1, 2019, she was appointed chief of university police at New Paltz.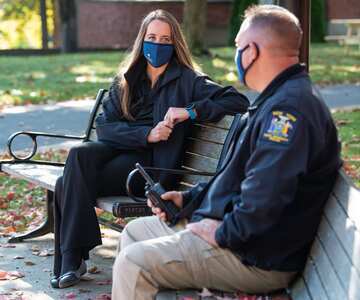 Ritayik has created a number of initiatives related to her strong belief in community policing and strengthening ties between officers, the campus community and the greater New Paltz area.
Last year she formed the University Police Department Advisory Committee, which sought insight from students, faculty, staff and alumni about how New Paltz's UPD could improve its interactions with underrepresented people following George Floyd's murder in Minneapolis.
"Commissioner Ritayik has demonstrated throughout her career a commitment to forging a strong relationship between university police and the college community," said SUNY Chancellor Jim Malatras. "She has proven to be a tremendous asset to SUNY New Paltz, building trust within the community by engaging students, faculty and staff regularly on issues that matter most. Mary is also a trailblazer for women in law enforcement, and well respected by colleagues and the community. We are excited to have her join our team as we continue to meet the expectations of our students for a safe environment on our campuses."
She hopes to continue expanding opportunities throughout the SUNY system in her role as statewide commissioner, as well as addressing issues such as diversity and retention among the police departments on SUNY campuses.
Most of all, her goal is to continue to foster a safe and welcoming environment in which students can learn.
"Underneath it all, students are trying to forward their education and the faculty are teaching it," she said. "It's a unique environment to be a police officer. These are all young adults who are trying to learn and navigate the world. I like that connection and I've never left.
"Even though now I'm a little older than the students," she laughed.
As an officer, Ritayik always strove to be a role model for her coworkers and students alike. She's hoping that her promotion to commissioner inspires young women to push for leadership roles, whether it be in policing or other lines of work.
"It's a great feeling when you can break a glass ceiling and be recognized by your fellow officers and chiefs based on merit," she said. "Yes, I am female, but I'm a chief first. I just happen to be female. I'm the commissioner now and I happen to be female.
"It's about showing other people, other females and other diverse people, that you can do it. It hasn't hit me yet. It's an honor to be the first female commissioner. I'm glad to see women out there breaking glass ceilings and pulling up the women behind them because we can do this job. We may do it a little differently, but everybody has their own way of doing things."
When Ritayik first arrived in Cortland as a first-year student in the fall of 1993, she could never have imagined where she'd wind up. Now, she's leading 500 officers across SUNY's state-operated campuses.
It makes her think back to her time as a student and as a young officer. Ritayik knows what it's like to be a student on a SUNY campus and she knows what it takes to serve and protect a SUNY campus as well.
"I'm really sensitive to officer's situations," she said. "I would want anybody who's going to be my boss or be in charge of something to know what it's like on the midnight shift. I've worked the midnight shift. I worked Christmas Day. I worked New Year's Eve on Y2K at Purchase. It was the biggest New Year's Eve you could ever have in your lifetime and I worked it because I was the low person on the totem pole. I think it's really important to never forget where you came from."
University to co-host first Juneteenth event
06/08/2021
SUNY Cortland and Tompkins Cortland Community College are joining the City of Cortland to launch what organizers hope will become Cortland County's annual Juneteenth Celebration on Saturday, June 19.
The Cortland County Community of Color (C4) network, a collaborative initiative between the two SUNY campuses, will host the official recognition of Black American emancipation from 6 to 8 p.m. in Courthouse Park, Cortland.
Juneteenth, which combines the word "June" with "nineteenth," was declared an official holiday in many states, including New York last year, to mark June 19, 1865.
For many African Americans, the historic day fell more than two years after Abraham Lincoln had decreed that all Americans are free through his Emancipation Proclamation.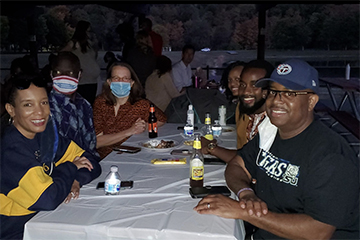 "Also known as Freedom Day, Jubilee Day, Liberation Day and Emancipation Day, Juneteenth celebrates the end of slavery in the U.S.," said Lopez-Janove, SUNY Cortland's chief diversity officer.
"It took a full two-and-a-half years for the enslaved people in Galveston, Texas, to learn they were freed by the signing of the Emancipation Proclamation," she said.
The free event will feature music, giveaways and refreshments. The celebration will take place rain or shine. In addition to presentations by the co-sponsoring colleges and the city, the gathering will feature entertainment provided by FunFlicks Indoor & Outdoor Movies, owned by SUNY Cortland alumnus Timothy Bennett '07.
Speakers will include:
the presidents of both SUNY Cortland and Tompkins Cortland Community College (TC3), Erik J. Bitterbaum and Orinthia Montague, respectively;
the chief diversity officers at Cortland and TC3, Lopez-Janove and Seth Thompson, respectively;
City of Cortland mayor Mayor Brian Tobin, who's also head coach of swimming and diving at SUNY Cortland;
Regina Grantham, SUNY Cortland associate professor of communication disorders and sciences, offering a closing benediction; and,
Lima Stafford, SUNY Cortland assistant director of multicultural life and diversity, emceeing the event.
Stafford, who serves on the C4 committee, said the group has discussed holding this event for the past two years.
"We did have a Virtual Juneteenth event last year, but we wanted to have something annually in person," she said. "We are excited to host this event as C4 and get support from the City of Cortland."
C4's goal is to spread more awareness about the meaning of Juneteenth, Stafford said.
"We realize that many do not know the history and we want to continue to educate the community and celebrate freedom together," she said. "Everyone is welcome to come check out our event."
Actually, Juneteenth isn't New York state's first formal celebration of the abolition of slavery.
"Jarvis Givens, an historian and faculty at the Harvard Graduate School of Education, has researched that New York state announced a formal Freedom Day celebration on July 4, 1827," Bitterbaum said. "This became a celebration that Black people engaged in. However, they celebrated it on the 5th so that it might have its own day and serve as a critique of July 4th."
"It makes me proud that SUNY Cortland is taking the initiative to make this event happen," Lopez-Janove said.
---
Capture the Moment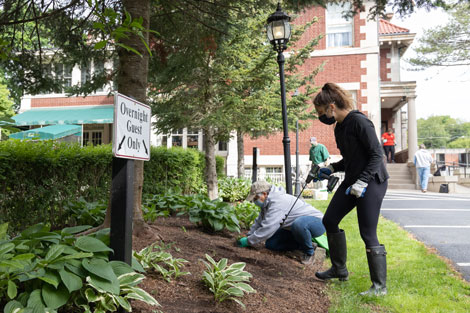 Patricia Karam, right, interim Lodging and Events Coordinator for the Lynne Parks '68 SUNY Cortland Alumni House, helped lead a planting day on Thursday, May 27. Christine Perry Cecconi '74, kneeling, was among the many volunteers who came out to help. Learn more about the Parks Alumni House online.
---
In Other News
Diversity Institute marks milestones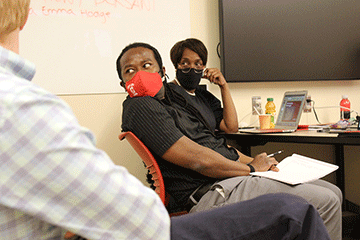 06/01/2021
More than 25 years ago, when SUNY Cortland enrolled students of color numbering in the low single digits, a small cohort of faculty undertook to prepare the rest of the faculty and professional staff for a very different future.
Today approximately a quarter of the student body self-identifies as other than white/non-Latinx and over the course of some 20 years about 200 colleagues have prepared themselves for that future which is now here, through the Summer Institute for Diversity, Equity, Inclusion and Social Justice.
This year's summer institute, which teaches strategies and techniques for developing an anti-racist and inclusive campus, offered this small and very personalized training program to about two dozen faculty, professional staff and administrators in person June 1 to 3 at Moffett Center.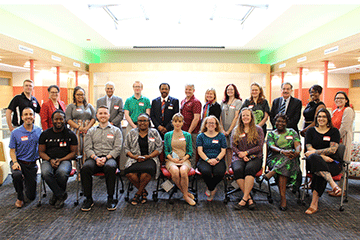 The three-day institute was facilitated by Seth N. Asumah, SUNY Distinguished Teaching Professor and chair of the Africana Studies Department, Mecke Nagel, professor of philosophy and chair of the university's Center for Peace, Ethics and Social Justice, and Lorraine Lopez-Janove, chief diversity, equity and inclusion officer.
The institute is presented annually by the Africana Studies Department and the Institutional Equity and Inclusion Office, in partnership with the Anti-Racism Educational Taskforce Subcommittee.
"The Summer Institute for Diversity, Equity and Inclusion was birthed in 1995 after four faculty members, myself included, received faculty development training for multiculturalism, now called diversity, at Williams College in Massachusetts," said Asumah, who also serves as a Carnegie-University of Ghana Diaspora Fellow.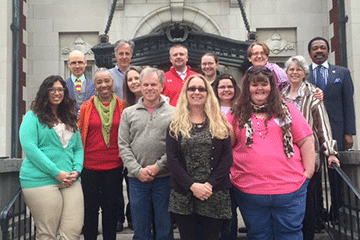 After the Williams College experience, Kathryn Russell, professor of philosophy emerita, Larry Ashley, the late professor of philosophy, and Mary Kennedy, SUNY Distinguished Teaching Professor of English, emerita, developed several GE 11, Prejudice and Discrimination and diversity-related courses for SUNY Cortland.
This pivotal training was organized by the Association of American Colleges and Universities in a project titled "American Commitments: Diversity, Democracy and Liberal Learning," Asumah explained.
Then SUNY Cortland President Judson H. Taylor supported the early campus diversity efforts upon the arrival of then Provost and Vice President for Academic Affairs Elizabeth Davis-Russell, who would go on to become president of Tubman University in Liberia, Africa.
Asumah and Davis-Russell proceeded to found the Summer Institute, which continues to be endorsed by current President Erik J. Bitterbaum and Provost and Vice President for Academic Affairs Mark Prus.
The Provost's Office supported the institute from its founding until the past three years, when the Institutional Equity and Inclusion Office formed a partnership with the Africana Studies Department for this faculty development program, first under the former chief diversity officer, James Felton, and currently under Lopez-Janove.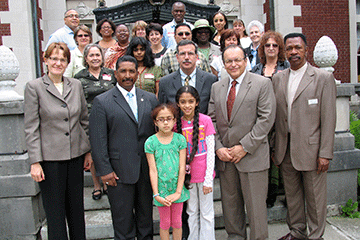 In the years since the Williams College diversity facilitator training, Asumah has participated in more training institutes to solidify Cortland's diversity, equity and inclusion projects, including at University of Michigan at Ann Arbor, Massachusetts Institute of Technology and the University of Oklahoma. Nagel, his colleague and fellow key institute organizer and co-facilitator since 2004, who formerly chaired the university's Center for Gender and Intercultural Studies, participated with him in the National Diversity Institute in Washington, D.C.
Highlights of the Summer Institute over the years have included:
Circa 2007, SUNY Cortland launched its first Ethics Institute, modeled after the Diversity Institute as a three-day event, later reduced to two-day.
In 2009, SUNY Cortland hosted the Summer Institute for Training the Trainers. SUNY Oneonta and SUNY New Paltz were on campus with their diversity teams. Carlos Medina, a 1978 SUNY Cortland graduate who became associate provost and founding chief diversity officer at SUNY, participated.
The Train The Trainer programming bringing together three campuses — Cortland, Oneonta and New Paltz — completed a subsequent, three-year cycle that was funded jointly with $50,000 through a SUNY Joint Labor/Management grant and the Office of Diversity, Equity and Inclusion. Cortland served as consultants in the two subsequent years.
Nagel leveraged her close ties to the institution in Germany, Fulda University, around 2012, when she and Asumah consulted with Fulda's dean of social/cultural studies on a blackface controversy on their campus. At an anti-racism conference held the following year, Nagel gave the keynote speech.
Institute organizers published a chapter in the Fulda University conference volume featuring the Diversity Institute genesis and general diversity efforts at SUNY Cortland.

Professor Seth Asumah presents a session at the 2021 Summer Institute for Diversity, Equity, Inclusion and Social Justice.


In 2014, organizers published the anthology, Diversity, Social Justice and Inclusive Excellence: Transdisciplinary and Global Perspectives, published by SUNY Press, which included entries by prior participants. That year's institute included guests from Fulda University.
Asumah and Nagel shared their successful diversity institute formula with Arlington (N.Y.) High School in 2018, training approximately 1,000 staff members there during a one-day event.
Back at Cortland, in 2018 the institute hosted Fulda University dean of social work Martina Ritter to lecture on "German University Structures 101." One Arlington High School teacher who serves on the SUNY Cortland Alumni Board joined that year's institute bringing with them another colleague. The event also hosted a chief diversity officer from Hudson Valley Community College.
Also in 2018, SUNY Cortland was recognized for Its diversity endeavors and Asumah was honored as a National Role Model for Diversity and Inclusion by Minority Access Incorporated in Baltimore, Maryland. Bitterbaum and Felton attended the award ceremony.
In 2019, Asumah co-led with Felton the last institute before the COVID-19 pandemic prevented a 2020 gathering.
For more information, contact Asumah or Nagel.
Model EU's 2021 pandemic edition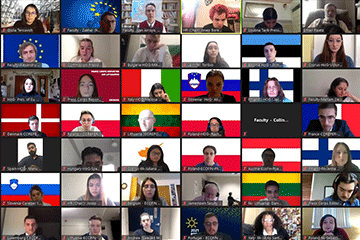 06/03/2021
If you're waiting to hear SUNY Cortland senior international studies major Melissa Alvisi complain that she lost her plum spring 2021 internship with Italy's Department of State at the U.S. Embassy due to COVID-19 safety restrictions, keep waiting.
And, if you're on hold to hear the dual American-Italian citizen gripe that her second year participating for Cortland in the SUNY 2021 Model European Union (MEU) in April had gone virtual — compared with her 2020 MEU experience that had involved an all-expense-paid trip to Brussels, Belgium — wait a minute.
Because, when it comes to big setbacks, Alvisi of Cortland, N.Y., thinks alike with Alexandru Balas, the SUNY Cortland associate professor of international studies who co-directed the recent Zoom platform MEU experience with four SUNY colleagues.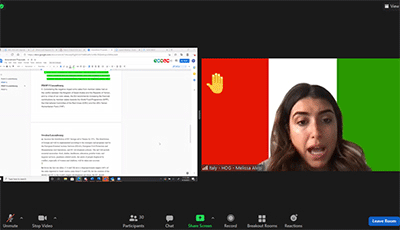 "I think it's because we're both European," said Alvisi, who served in the role as president of Italy and at the simulation's conclusion won the program's "Most Likely to Become a Diplomat" award.
"We are definitely more pragmatic about the European kind of things, although Dr. Balas is way more laid-back than I am," Alvisi said.
"So last fall, when my internship was cancelled, Dr. Balas said, 'I think it's a sign you're going to be here for the MEU.' And he told me, 'You can also look into more graduate schools.'
"That's definitely the European way of looking at things," said Alvisi, who is concentrating in global economic systems.
Many of this year's participants had also experienced last year's successful trip to Brussels in January 2020, well before the international travel restrictions the pandemic imposed.
This year, instead of exploring New York City by day and night, the eight-member SUNY Cortland team met in virtual chat rooms with their fictitious international counterparts portrayed by college students from universities in the U.S. and around the world. Their simulation took place on two consecutive weekends toward the end of the semester, April 9 to 10 and April 17 to 18. Most Cortland team members represented Italy.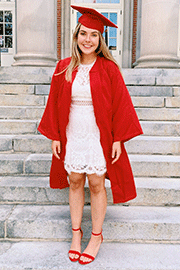 It has richly rewarded those who participated.
"It was a big switch up this year, as it was virtual, but I was so impressed with how Alexandru Balas and his colleagues set up the experience for students," said new graduate Naomi Higgins '21 of Yonkers, N.Y., an international studies major who was participating in her second MEU, this time simulating the European Union Commission president.
"The students were all used to Zoom, and it was very easy for them to navigate this platform with its breakout rooms for the four councils they negotiated in: European Council, Council of Foreign Affairs, Economic and Financial Affairs Council, and Committee of Permanent Representatives Council," Balas explained. He also directs SUNY Cortland's Clark Center for Global Engagement and coordinates the university's International Studies Program.
While the Model MEU is a joint course and project of the university's Political Science and International Studies departments, over the years students have participated from other departments and majors, including History, Economics, Modern Languages, adolescence education: social studies, and social psychology.
Even before the European Union was founded in 1993, SUNY Cortland introduced its students to European politics. The university served as one of the six founding members of the SUNY system's Model European Union Conference more than 30 years ago.
Higgins said as EUC president she managed fellow student "staff" responsible for maintaining order in the virtual chat breakout rooms where the alternatives were discussed and ensured the ideals of the European Union were promoted alongside those of the individual member states.
"Having the opportunity to experience the highs and lows of a virtual conference will no doubt come in handy in the future, as I am sure we still have a bit of time before we are all back to face-to-face interactions," said Higgins, who also valued this year's simulation compared with 2020 in Brussels.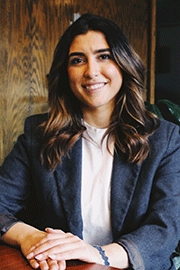 "As Professor Balas has always said to his students, these experiences are just further skills to add to your resume 'toolbox,'" said Higgins, who this fall leaves for Ireland to pursue a master's degree in conflict resolution and reconciliation at the Graduate School at Trinity College Dublin.
The MEU generally involves an intensive, three-day event full of in-person meetings. For highly motivated students, the two-week interval that organizers had designed into this year's MEU left plenty of time for participants to reach out to one another so the second round of meetings could be very productive, Alvisi added.
"With Zoom, there's no chance to mess up the seating," added Alvisi, noting how last year she found herself representing Romania but initially having nothing relevant to say to representatives of other countries on either side of the long oval table.
"Last year, I didn't speak that much until the end of the agenda," Alvisi said. "But this year, as president of Italy, I spoke right away. I gave an opening speech which I believe is important. From the beginning, I had people message me on Zoom private chat, saying, 'I agree with you,' and 'Hi, Italy, I thought your speech was good.'"
The daughter of one-time Cortland resident Alba Panzanella '86, Alvisi recently accepted an internship as economic development specialist, international intern and international development specialist with the Research Foundation of SUNY while she considers graduate school programs for international relations/international business.
Jennifer Toribio, a senior international studies and political science major from Freeport, N.Y., said that when she began to prepare for this year's conference, she was nervous about the obstacles that she would encounter.
"However, quickly as the conference began, I realized many benefits the virtual platform provided us with," said Toribio, whose three-year, veteran status with MEU had prepared her to serve as the prime minister of Latvia and advise a novice team from Canada attending New York University.
"The extended period to negotiate allowed students to build more connections and comfort with each other," she said. "They provided me with new friendships and helped me grow my knowledge as well. The Model European Union over the past years has prepared me for a future in diplomacy."
Toribio looks forward to January 2022 when MEU returns to in-person meetings in Brussels.
"I still believe it is important to have an in-person interaction, but I was shocked at how well everyone managed to have successful negotiations," Toribio said.
Balas, who was tasked with recruiting new universities to take part in MEU, noted how he made the most for the program despite the pandemic's foreign travel restrictions.
"Going global with this conference allowed us to bring into this group of universities — for the first time — new colleagues from Brazil, Morocco, Georgia, India, Indonesia, Canada but also nearby universities like Le Moyne College and Wilkes University (in Pennsylvania)," explained Balas.
"For the first time we had universities from Africa and Asia bringing teams to the Global SUNY Model European Union Conference," said Balas, who worked Juan Arroyo and Zakhar Berkovich, his counterparts from other universities, since summer 2020 to plan this year's MEU. In early February, Michelle Benson-Saxton and Giulia Tercovich joined the organizing team. Arroyo teaches on Ithaca College's political science faculty. Berkovich directs Undergraduate Student Services at the University at Albany's Rockefeller College of Public Affairs and Policy. Benson-Saxton is an associate professor and director of Graduate Studies at University at Buffalo's Department of Political Science, College of Arts and Sciences. Tercovich serves as assistant director at the Centre for Security, Diplomacy and Strategy at the Brussels School of Governance (formerly Vesalius College) in Belgium.
"I hope this cooperation will increase international ties between our universities beyond the conference," he said.
Students, alumni thrive at Blackbird Film Festival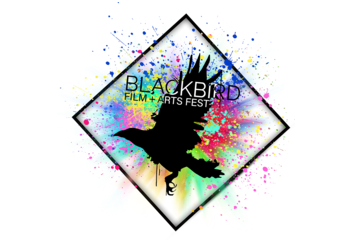 06/08/2021
There will be something for everybody at the 2021 Blackbird Film Festival, which will be held from Thursday, June 17 to Sunday, June 20 at Greek Peak Mountain Resort.
That goes for festival attendees as well as the students and young alumni who are gaining valuable experience doing the behind-the-scenes work that makes this annual festival possible.
Recent graduates Cloe King '20 and Alyssa Marley '18, as well as current senior Shannon Delaney, are among the team assisting the festival's executive and artistic director, Sam Avery, an associate professor in SUNY Cortland's Communication and Media Studies Department.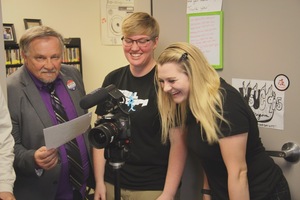 King, who was the first student to graduate in the media production major, has been working with and showing films in the festival since she was a student. She was an intern, the assistant director of viral communications and is currently the social media director.
"I came to Cortland to learn about production," King said. "I want to be involved in production for film and TV. I've found out that I excel at the areas of producing and casting and that's definitely what I want to get into."
The hands-on experiences King has had, both as a Cortland student and through Blackbird, have given her a deep appreciation for the process of making and sharing films. Her documentary on the 2019 Cortaca Jug game at MetLife Stadium, "Cortaca: The Road to MetLife," was screened at the 2020 festival.
King, now the digital marketing manager for the restaurants at Greek Peak Mountain Resort, also had impactful encounters at previous Blackbird festivals, getting to meet and chat with other filmmakers and make important connections.
"I would say that the professors at Cortland, the classes, the equipment, the hands-on opportunities and the experiences to actually get our hands dirty and make films, that what sets it apart," King said. "And that's what has helped me now. I have more experience under my belt than most people my age do.
"Most schools don't have that high-caliber film festival experience, so it's all helped me as a working adult now with my resume. I've gotten praise from everywhere I've applied to about my experience and I think my time at Cortland will help me with my next steps in life."
Marley got her start with Blackbird in 2017 as event coordinator before serving as assistant director of digital content and marketing during her senior year in 2018. Those experiences, as well as her time as president of CSTV, led to an internship with "Bridge Street" on NewsChannel 9 WSYR.
Now, Marley is working full-time as a producer for "Bridge Street," a daily lifestyle show.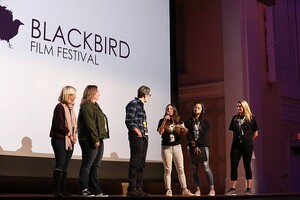 While the Blackbird Film Festival is ostensibly an opportunity for filmmakers to share their work and filmgoers to sit back and enjoy the show, it's also become an important networking tool for SUNY Cortland students and alumni.
"This is one of those places where you can make connections and get a job," Marley said. "The big appeal is that there are so many valuable people who come every year. In 2017, we had people from different continents, from Europe and Australia."
Working at "Bridge Street" with graduates from Ithaca College and Syracuse University, Marley has had many opportunities to share college stories with her coworkers. The one thing that always stands out to her is talking about previous Blackbird festivals and how much that added to her learning in the classroom and through organizations such as CSTV.
She'll be volunteering throughout the 2021 festival as well, which has become a can't-miss event for many young alumni from the Communication and Media Studies Department.
"It's almost like our Cortaca," Marley said. "It's a pivotal way for alumni to come back. It's like a reunion. To see the other interns and students I've worked with is very nice. I've kept in touch with Sam and it's nice to touch base at Blackbird."
Current students are involved in this year's festival, including senior Shannon Delaney, a dual major in communication studies and graphic design and digital media, who is working as Blackbird's social media coordinator.
Delaney had tried pursuing screenwriting earlier in her time at Cortland but really uncovered her passion during her sophomore year when she created social media posts for the festival.
"An important lesson Blackbird gave me, and it was not intentional obviously, but I kind of figured out I liked working with social media posts and graphic design and event planning more than I was interested in than the films," she said.
"I knew I liked advertising and marketing, which is why I initially came into Blackbird through other friends who told me about it. It helped me narrow down what I really enjoy so I can find that in a career. I'm not just going into something I can do but something I want to do."
Delaney is looking forward to the films at this year's festival and she's also excited for all of the other activities planned beyond the screenings.
"Compared to other, larger, film festivals, I think Blackbird is different in that we really try to bridge the gap between the filmmaker and the audience," she said. "Having question-and-answer sessions after the films, I think that's a really unique experience. The set-up for Blackbird 2021 is something I've never heard of, where it's an arts fair too and there's always something to do. There's no waiting between films. When something isn't going on, something else is going on."
The festival will include:
The screening of 104 films placed in 16 thematic screening blocks. Most films will screen twice, once in a daytime tented screening and again at an evening drive-in. All screenings are free and open to the public. A schedule is available online.
An artisan craft fair will be held from 10 a.m. to 5 p.m. on June 19 and June 20. Items available include artwork, jewelry, leatherwork and pottery. Craft beer and wine will be available to attendees age 21 and up from 12 p.m. to 6 p.m. during the craft fair.
A number of family fun events, including a kickoff part at TRAX Pub & Grill on June 18, bonfires and s'mores, painting and a Blackbird egghunt will take place throughout the weekend. A schedule is online.
A total of 12 live music acts will play at various points throughout the day on June 18, 19 and 20. A lineup of those performances is available online.
A Father's Day brisket and chicken barbecue will run from noon to 5 p.m. on Sunday, June 20 in the concessions tent in the arts village. Side dishes include smoked gouda macaroni and cheese, cole slaw, corn bread and watermelon. A platter costs $18.95.
For more information, visit BlackbirdFilmFest.com or follow the festival on Instagram, Facebook or Twitter.
College Archives updates on time capsule, graffiti boards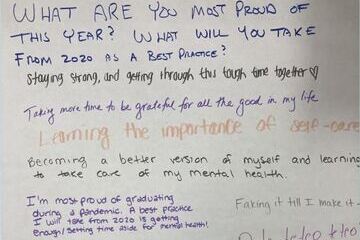 06/08/2021
During the spring semester, Memorial Library and the College Archives invited the campus community to donate materials for a time capsule project about COVID-19 that will be opened during SUNY Cortland's bicentennial in 2068. To date, the College Archives has received various donations, including masks, letters, face shields, signs and personal reflections. Members of the campus community may continue to donate using an online form or by contacting the College Archives.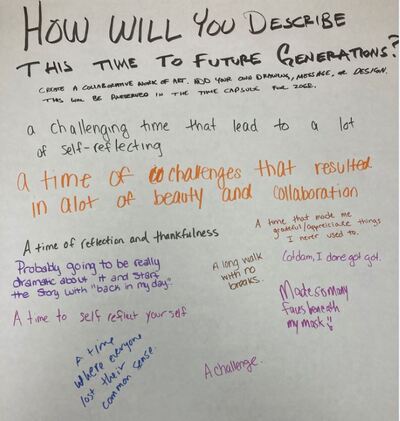 "On behalf of the College Archives, we want to say thank you to students, faculty, and staff for donating materials for the time capsule," said Jeremy Pekarek, archivist and instructional services librarian. "Each donation we receive for this project sheds light on how the Red Dragon community experienced this difficult year and tells us something about their perseverance and strength."
Students, faculty, and staff also contributed to graffiti boards in Memorial Library during the last two weeks of classes. The boards, which were located in the library lobby, asked specific questions about life at SUNY Cortland this year in order to capture personal experiences. The graffiti boards will be preserved within the time capsule to give future Red Dragons insight into the challenges of the pandemic and the accomplishments of the campus community during this historic year.
"The inspiration for the Graffiti boards was to provide a fun interactive way for the campus to express how they were feeling during this experience," said Jennifer Kronenbitter, director of libraries. "It was interesting to check each day to see how this shared writing space grew."
Items for inclusion in the time capsule include, but are not limited to:
Photographs and video
Student and faculty projects and research related to COVID-19
Personal statements or recollections of this period in written or audio formats
Physical artifacts, i.e., masks, posters, etc.
Messages from today's students addressed to the students of 2068
Additional information about the time capsule project is available online.
Alumni connect virtually during pandemic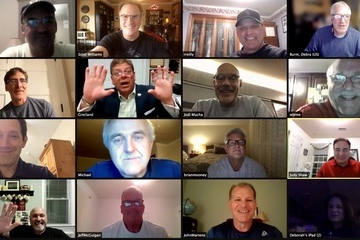 06/08/2021
It's Saturday, April 4, 2020.
Just before 7:30 p.m. that night, Greg Vairo '84 and Scott Williams '82 started texting a small group of friends. They wanted to raise a toast to their beloved friend, the late Billy Pittorino '85, on the two-year anniversary of his death.
That's when Williams' daughter Grace mentioned the videochat app Houseparty as an alternative to texting.
Within minutes, 10 SUNY Cortland alumni were sharing laughs, telling stories and reminiscing about Pittorino — and seeing each other's reactions the whole time. The group loved the experience so much they didn't stop.
For 60 consecutive Saturdays, former SUNY Cortland football players, brothers of the Beta Phi Epsilon (1927-1995) fraternity, friends, guests and Pittorino's widow, Deborah, have joined together online to share memories. The weekly meetings routinely draw about a dozen members and a total of 35 in the rotating crew have joined in since the first meeting.
It's become something more than a tribute to Pittorino as well. Early on in the COVID-19 pandemic, it helped those quarantined at home stay connected with friends from around the country. The group meetings added deeply personal meaning to friendships that has already lasted four decades.
"It did reach a point after a few months of cracking the same jokes and telling the same stories where one of the guys came up with an idea to actually catch up with how we got where we got from Cortland to the present," Williams said. "Every week one guy tells his story from graduation on."
"It became a group therapy session," Vairo said. "All of a sudden, something rings a bell with people and everybody starts opening up. I'll be honest, I couldn't believe some of the stuff I learned about these guys. It was a real metamorphosis. These are guys who we went to college with but never really knew. Everybody got really comfortable sharing things, even if it was dark."
Pittorino, Vairo and Williams all knew each other as Beta brothers. Pittorino and Viaro had played football together and Williams was involved as public address announcer for games.
They regularly stayed in touch and met at Cortaca Jug games after graduation. When Pittorino was diagnosed with pancreatic cancer in 2014, Vairo and Williams helped orchestrate hospital visits from teammates and fraternity brothers from around the country.
Those bonds grew stronger after Pittorino passed away.
"His funeral was something to behold," Vairo said. "Everybody came in from everywhere, guys came that we hadn't seen for years. Everyone showed up. Toward the end of the funeral, we sang our fraternity song in front of his casket. People had never seen things like that. That reconnected us like never before."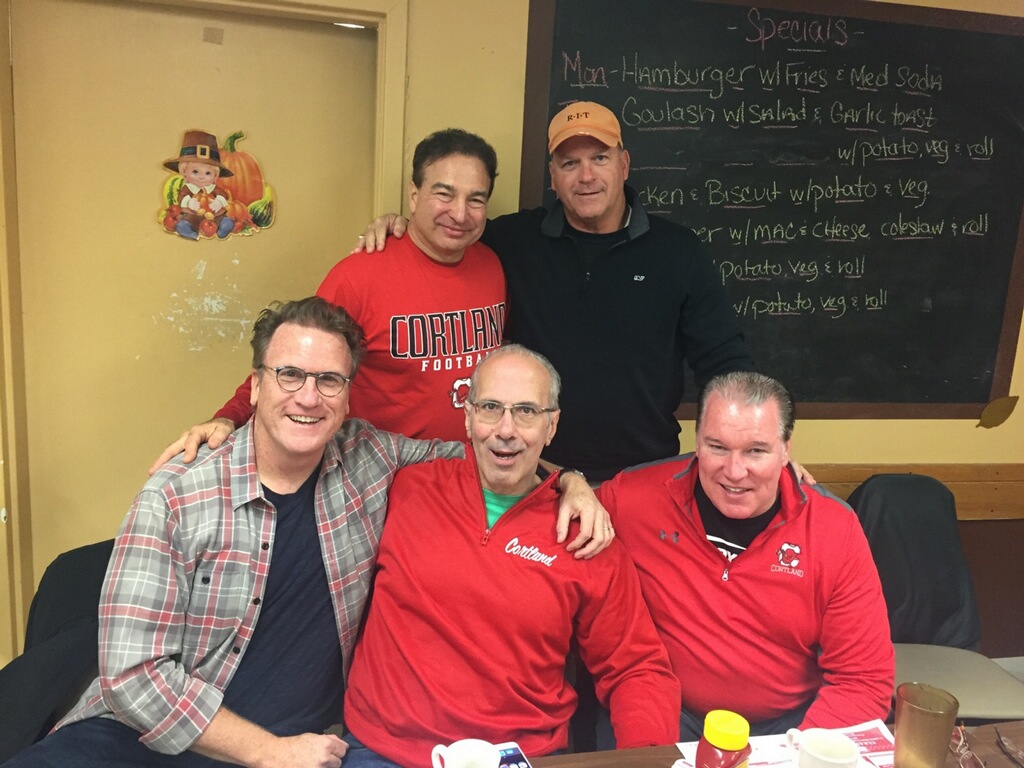 Deborah Pittorino has created the Bill Pittorino '85 Humanitarian Scholarship to honor his memory by providing support, both financially and through mentorship from his friends, to SUNY Cortland students who embody his generosity and toughness.
Vairo and Williams have kept his memory and his spirit alive during the weekly sessions.
The group meetings finally took a pause on the Saturday before Memorial Day 2021. Many, however, couldn't resist a text or two.
"Everybody kept on texting each other because they didn't know what to do with themselves," Vairo laughed. "What are you doing today?"
The meetings, which ultimately shifted to Zoom after the crowd grew too big for Houseparty, will continue on the first Saturday of each month for the time being as life starts to return to normal after COVID-19.
But this group of friends does have a big weekend planned for this fall, when they'll come back and watch the Red Dragons play Utica College on Oct. 23.
Williams' wife, Catherine Curry-Williams, has noted how her friends are amazed by how dedicated her husband has been to these Saturday sessions. A writer and executive producer for "NCIS," Williams lives in Los Angeles, making his start time at 4 p.m. Pacific a bit more challenging. So far, he's missed just one for his daughter's birthday.
"Everybody says to me, 'Wow, you are so lucky that your husband has such good friends,'" Curry-Williams said. "Men don't have close groups of friends. I'm very grateful that he does. It's wonderful to see. I'm part of a lot of women's groups and that they have this is rare.
"It's really moving. It's so authentic that they're having these conversations with each other. It's really special. That's why it's nothing I can complain about. Saturday night? No, he couldn't be doing anything better than bonding with his friends."
Vairo, a certified health coach and personal trainer, has had similar experiences in his conversations with clients. He urges other Cortland alumni to start their own regular virtual meetings and reconnect with old college friends.
"People should just do it," he said. "Somebody has to make a move. Most people are hesitant to do something like this but it's just a matter of taking that first step.
"I talk to people and they ask, 'You're still doing that Zoom? For a year, really?' Then they became in awe of it. They're jealous of this. They can't believe it. I can't believe it either. Something as simple as a toast on an anniversary turned into this."
When Williams addressed the Class of 2017 at Commencement as an honorary degree recipient, he told the graduates that there's nothing like old friends. He meant it. He put it into practice. And during a turbulent year, a group of old friends were lucky to have had each other to lean on.
"Work Zooms might be a drag, but I don't know anybody who has come out of a Zoom with friends going, 'That sucked,' Williams said. "Everybody comes out of these Zooms feeling that it was fun. You're seeing guys you haven't seen in a million years."
Auxiliary Services Lists 2021-22 Grant Recipients
Each year, the SUNY Cortland Auxiliary Services' board of directors allocates funds to support grants for a wide range of purposes and projects that enhance the life of the SUNY Cortland community.
The board of directors approved the Fiscal Year 2021-22 Program Grant allocations.
Following is a list of grants funded by SUNY Cortland Auxiliary Services that includes the project name and amount received:
11th Annual Student Conference on Diversity, Equity, Inclusion and Social Justice, $2,000
2022 Blackbird Film Festival, $8,500
Athletic Leadership Speaker Series, $500
Body Appreciation Week 2022, $1,500
Brooks Museum Lecture Series, $5,000
CALS Broadway/Local Trips, $1,500
CALS Lecture Grant Program, $8,500
CALS Performing Arts Series, $8,500
COR 101 TA Recognition and Poster Symposium, $400
Cortland Bike Project, $2,000
Cortland Nites, $15,000
Distinguished Voices in Literature (3-6 events over the academic year), $2,000
Education Panel and Networking Event (formerly Interviewing for Educators), $1,000
EOP Awards dinner, $2,000
EOP Chi Alpha Ceremony, $1,000
EOP Summer Institute, $5,000
Family Weekend 2021, $2,000
Greek Life, $500
Leadership Programs, $2,200
Literacy as a Change Agent for Equitable Education (formerly Informed Literacy Strategy Instruction), $2,000
Making History: Orienting History Majors to the Discipline and Department at Camp Huntington, $1,750
Metcalf Endowment Offset Costs of RPLS Van, $2,000
MLDO Peer2Peer Mentor Program Retreat, $1,500
National Transfer Student Week - Transfer Recognition and Appreciation, $1,000
Non-Traditional Student Support and Awareness, $1,000
Opening Weekend Sexual Assault Prevention Speaker, $1,500
PAWS for Stress Relief, $1,500
Promoting Personal Growth and Global Awareness for SUNY Cortland Students, $10,000
SUNY Cortland Entrepreneurship Center, $3,000
The Virginia Levine Second Language Educators' Conference: A Conference for Second Language Teachers and Teachers in Training, $1,600
TransAction - Louis Larson Lecture Series, $2,500
Encountering Ancient Literacy Artifacts, $1,000
Artist Talks: "Severance"/ Sam Van Aken and Jack Elliott, $550

Suggest a feature story
---
Faculty/Staff Activities
Kati Ahern
Kati Ahern, English Department in Professional Writing and Rhetoric, had her book chapter, "Soundscapes: Rhetorical Entwinements for Composing Sound in Four Dimensions," published by Intermezzo in an ebook called Tuning in to Soundwriting.
Lisa Czirr, Jeremy Pekarek and Hilary Wong
Lisa Czirr, Jeremy Pekarek and Hilary Wong of Memorial Library presented virtually at Eastern New York Association of College and Research Libraries on Wednesday, May 19. The title of the presentation was "New Visions for Old Tools: Reinventing Libguides for Online Instruction during COVID."
Eric Edlund
Eric Edlund, Physics Department, learned that his most recent article, "Interception and rendezvous: An intuition-building approach to orbital dynamics," was published in May in the American Journal of Physics.
Jeremy Jiménez
Jeremy Jiménez, Foundations and Social Advocacy, coauthored a book chapter titled "Portrayal of Religion Against the Backdrop of Progress and Modernity in the US and Canadian Social Science Textbooks from 1850 to 2010," published in Comparative Perspectives on School Textbooks: Analyzing Shifting Discourses on Nationhood, Citizenship, Gender, and Religion.
Janet Ochs, Jeremy Pekarek, Rod Koch and Chris Badurek
Janet Ochs, Jeremy Pekarek and Rod Koch, all from Memorial Library, and Chris Badurek, Geography Department, presented virtually at the SUNY Conference on Instruction and Technology on Thursday, May 27. The title of the presentation was "Tired of video conferencing fatigue? Explore tools to increase learner engagement and energize the class."
Jeremy Pekarek
Jeremy Pekarek, Memorial Library, on behalf of the College Archives was fully awarded $7,565.87 in grant funds from the South-Central Regional Library Council to finish digitizing the Cortland Normal News historical student newspaper. This project is outsourced to Hudson Archival and will be available on NYS Historic Newspapers. This is the third grant on behalf of the archives and will complete the digitization of student newspapers ranging from 1879 to 2017.

Submit your faculty/staff activity