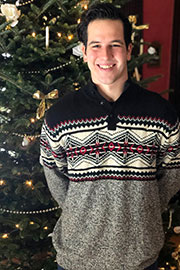 Campus Champion
Resident Assistant Matthew McNally spends a great deal of his time helping other students who live on campus. But he wanted to do more to give back to the local community as well. Matt is the student coordinator for SUNY Cortland's 13th annual Adopt-A-Family holiday drive sponsored by the Residence Life and Housing Office. He'll join friends at the Parks Alumni House on Wednesday, Dec. 5, to wrap gifts for children from more than 20 local families who would have otherwise gone without this holiday. A senior adolescence education: social studies major, Matt will be student teaching on Long Island next semester.

Nominate a Campus Champion
---
Tuesday, Dec. 4
Dowd Gallery Lecture: "J.J. Audubon," by Andrew Saluti from Syracuse University, Dowd Fine Arts Center critique area, 5 to 6:30 p.m.
Open Mic Night: Corey Union Function Room, 7 to 9 p.m.
SUNY Cortland College Community Orchestra Concert: "Unfinished Schubert – Music of Schubert, Sullivan and Schickele," Ubaldo Valli, conductor, Rose Hall at 19 Church, downtown Cortland, 8 p.m., free admission and free parking.
Wednesday, Dec. 5
18th Annual COR 101 Teaching Assistant Poster Symposium: Sponsored by Advisement and Transition, Memorial Library, 11:30 a.m. to 4:30 p.m.
Workshop: "Understanding and Advocating for Racial Justice," presented by Multicultural Life and Diversity Office, Corey Union Fireplace Lounge, 3 to 6 p.m.
Panel Discussion: "Innovations in English Language Arts Teaching and Learning," Old Main Colloquium, 4:15 to 6 p.m.
Movie: "The Hate U Give," sponsored by SUNY Cortland NAACP, Sperry Center, Room 106, 5:30 p.m.
SUNY Cortland Gospel Choir Holiday Concert: God's Lighthouse of Praise, 98 Portwatson Ave., Cortland, 7:15 p.m. Bus shuttles will leave Corey Union steps at 6:45 and 7 p.m.
Thursday, Dec. 6
Sandwich Seminar: "Cortland Campus Pride Index," presented by Erin Morris, Sport Management Department, Brockway Hall Jacobus Lounge, noon to 1 p.m.
Friday, Dec. 7
Fall semester classes end
UUP Holiday Membership Gathering: Brockway Hall Jacobus Lounge, 4 to 7 p.m.
Saturday, Dec. 8
Study Day
Performance: "The Nutcracker," presented by the Cortland Performing Arts Institute, Dowd Fine Arts Center Theatre, 1 and 6 p.m. Tickets available online at tutuTix.com. For more information, visit cortlandperformingarts.com
Sunday, Dec. 9
Study Day
Performance: "The Nutcracker," presented by the Cortland Performing Arts Institute, Dowd Fine Arts Center Theatre, noon and 4 p.m. Tickets available online at tutuTix.com. For more information, visit cortlandperformingarts.com

Monday, Dec. 10
PAWS for Stress Relief: Relax with dogs, free massages, arts and crafts and refreshments, Corey Union Function Room, 10 a.m. to 4 p.m.
Midnight Breakfast: Volunteers are needed to cook, serve food and service the dining areas. Neubig Dining Hall, 10 p.m. to midnight. To volunteer, email Eamon O'Shea or Christopher Kuretich by Thursday, Dec. 6.
Monday, Dec. 10
Final examination period. Continues through Friday, Dec. 14
Tuesday, Dec. 11
PAWS for Stress Relief: Relax with dogs, free massages, arts and crafts and refreshments, Corey Union Function Room, 10 a.m. to 4 p.m.
Thursday, Jan. 24
President's State of the College Address and Faculty Meetings
Monday, Jan. 28
Spring semester classes begin
---
This is the last issue of The Bulletin for the fall semester. The next issue of The Bulletin will be published on Tuesday, Jan 29.
Spring 2019 Publication Dates
Bulletin #9 Tuesday, Jan. 29
Bulletin #10 Tuesday, Feb. 12
Bulletin #11 Tuesday, Feb. 26
Bulletin #12 Tuesday, March 12
Bulletin #13 Tuesday, March 26
Bulletin #14 Tuesday, April 9
Bulletin #15 Tuesday, April 23
Bulletin #16 Tuesday, April 30
---
---
Ticket Sales Soaring for 2019 Cortaca Jug Game at MetLife Stadium
12/04/2018
One week after tickets went on sale for Cortaca Jug 2019 in MetLife Stadium, SUNY Cortland and Ithaca College are already more than halfway toward setting a new national attendance record for a Division III football game.
The New York City Chapter of the National Football Foundation and College Football Hall of Fame (NYC/NFF) reported that In the first full week of ticket sales from Nov. 27-Dec. 3 almost 20,000 tickets were purchased through Ticketmaster.
This number does not include the 5,000 tickets that are being held back for each school to sell on campus to students, faculty and staff next fall. Those tickets are for $15 seats located in the end zone sections designated for each school.
This puts the current anticipated ticket sale figure at nearly 30,000, which would make it easily the second-highest attended Division III football game in NCAA history and a serious threat to break the all-time Division III attendance record of 37,355.
Fans can still purchase tickets to the history-making Nov. 16, 2019 game at MetLife Stadium in New York City. They are available online now through CortacaJug.com. Tickets are priced at $35, $25 and $15.
"We are thrilled to see such a strong start to ticket sales for the 2019 Cortaca Jug game," said Marc Hudak, Chairman of the NYC Chapter of the National Football Foundation, the organization sponsoring the re-located game as part of the 150th Anniversary Celebration of College Football.
"It speaks to the intensity of this rivalry and the great football tradition at each school. Our organization as well as Ithaca College and SUNY Cortland are committed to making next year's Cortaca Jug an event that should not be missed. When all of the planning is complete, and the details are released, I am confident that there will be something for everyone to enjoy at next year's game."
Hudak is an alumnus of Ithaca College, which — as home team for the 2019 contest — would normally host the game in Ithaca at Butterfield Stadium. That stadium hosted the largest crowd to ever witness a Cortaca Jug game, 12,620 fans, in 2001.
The Top 5 most-attended games in the history of Division III football were:
37,355: St. Thomas vs. St. John's (at Target Field), Sept. 23, 2017
17,535: UW-Oshkosh at UW-Whitewater, Oct. 8, 2016
17,327: St. Thomas at St. John's, Sept. 26, 2015
16,922: St. Thomas at St. John's, Oct. 13, 2018
16,514: St. Thomas at St. John's, Sept. 24, 2016
Founded in 1947, the National Football Foundation is a nonprofit educational organization that runs programs designed to use the power of amateur football in developing scholarship, citizenship and athletic achievement in young people. College Football 150th Anniversary is a nonprofit corporation formed to plan and administer a national celebration of 150 seasons of collegiate football in 2019.
The commemoration will showcase the rich history and traditions of the sport and its contribution to American society and culture. It will also promote the opportunity football continues to provide to thousands of student-athletes across all levels. The NYC Chapter of the National Football Foundation exists to support the mission of the National Football Foundation and College Football Hall of Fame in the five boroughs of New York City.
SUNY Cortland Ranked Best in State for Health and Wellness Majors
12/04/2018
SUNY Cortland is the best college for health and wellness majors in New York State, according to a new ranking by a company created to help college students find and pursue careers.
Zippia.com this week recognized the College's excellence in preparing students for careers in health-related fields by naming it the top New York school in that category. In addition to the popular majors offered through SUNY Cortland's Health Department, the College offers degrees in exercise science, athletic training, therapeutic recreation, fitness development, speech and hearing science and physical education.
Cortland's 2018 graduating class included 265 health and wellness majors, according to Zippia, which also looked at factors such as career results, admissions rates, graduation rates and the average cost of attendance.
"SUNY Cortland has long had a reputation as a campus that encourages fitness and heathy living," President Erik J. Bitterbaum said. "But that focus runs much deeper; shaping our mission and influencing how we prepare students to go out and make a difference in the world. Every year, a large number of our new alumni dedicate themselves to pursuing careers that help the world become a healthier place.
SUNY Cortland is one of several dozen colleges in the United States committed to the ambitious guidelines of Partnership for a Healthier America's (PHA) Healthier Campus Initiative, which looks at how colleges offer their students healthy opportunities in the areas of food and nutrition, physical activity and wellness programming. Much of that programming is rooted in the Health Department.
The department offers four majors - Community Health, Health Education, Healthcare Management and Human Service Studies - as well as two graduate programs in Community Health and Health Education. All students complete an internship in their area of interest, which gives them hands-on learning opportunities and prepares them for their next step.
"Our job placement is doing really well these days and it's because we require an internship," said Distinguished Service Professor and department chair Bonni Hodges. "That just gives them so much good, practical experience and application of what they've learned."
SUNY Cortland's Health Promotion Office gives students experience in the field by planning and implementing events on campus that highlight the College's commitment to health and wellness. The office offered 95 unique programs during the 2017-18 academic year that reached about 12,000 people. Those events include Wellness Wednesdays, Open Mic Night, Green Dot Bystander Trainings and Body Appreciation Week.
That hands-on experience helps many SUNY Cortland graduates find work in the varied fields of public health, including clinical, educational and management sectors.
Recent Community Health majors are employed in administration at Memorial Sloan Kettering Cancer Center, as a healthcare educator at Mount Sinai Health System and as a nutrition counselor for the Broome County Health Department, to give just a few examples. Others are continuing their education at SUNY Cortland and other colleges and universities across the country.
"We also get feedback from our graduates in many cases that the internship is what gets them in the door with their first job," Hodges said.
Approximately 50 percent of SUNY Cortland health graduates immediately enter the workforce and the other half pursue graduate education.
Hodges also lauded the department's professors for their dedication to staying up-to-date on the biggest issues in the field.
"We have fantastic faculty," she said. "They're not only fantastic in what they teach, but they're out there in the real world, consulting, helping people, doing service and sitting on boards. We know what is current. We're not just basing everything on what we learned when we were in graduate school."
The department added the healthcare management major, one of the first of its kind in the State University of New York system, at the start of the 2018-19 academic year. It will provide training for roles that include finance, human resources or business management across various settings, including hospitals, nursing homes and larger healthcare systems.
---
Capture the Moment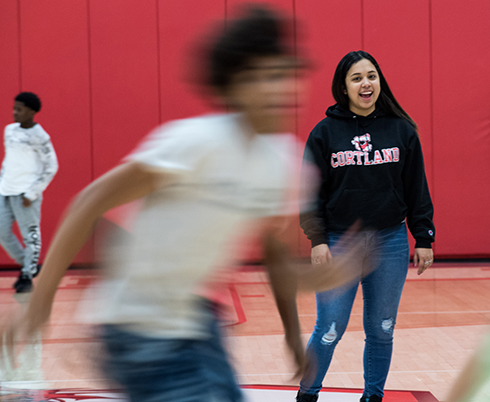 Evelyn Escobar, a junior early childhood education major, referees 3-on-3 basketball games in the Park Center gymnasium being played by visitors from the Syracuse City School District's Building Men Program, Inc. The grassroots afterschool program for disadvantaged youth of middle- and high-school age was founded by SUNY Cortland alumnus Joe Horan '88, M '93. Evelyn is a student in the Cortland Urban Recruitment of Educators (C.U.R.E.) program and helped with the visit on Nov. 30, which included a campus tour, lunch and activities in the Park Center Corey Gymnasium.
---
In Other News
SUNY Cortland Supports CROP Hunger Walk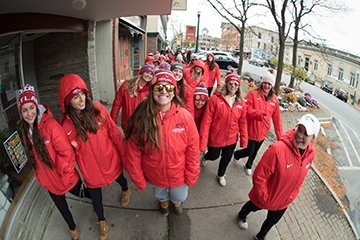 12/04/2018
Nine out of every 10 people participating in October's Cortland-area CROP Hunger Walk was from SUNY Cortland, giving members of the College community a leading role in this year's $12,700 fundraising effort against hunger.
Of the 411 people who walked in the 24th annual event, 374 — 91 percent — were students, faculty or staff from SUNY Cortland. The amount of money raised this year marked a nearly 43 percent increase from the $8,900 generated by last year's CROP Hunger Walk.
People connected with the College raised 53 percent of that money, which will go to fight world hunger and support local food pantries. Churches in the Cortland and Homer area raised the remainder of the funds.
Cortland-area food pantries and feeding programs will receive 25 percent of the funds raised by the event, with the rest going to anti-hunger programs around the world. Church World Service sponsored 900 walks and raised $9 million from 107,000 participants in 2017.
The event is supported by a number of campus organizations, with donations coming from SUNY Cortland's athletic teams, fraternities and sororities, clubs, residence halls and COR 101, the semester-long orientation class taken by all first-year students.
Several campus groups will receive plaques for their contributions. The softball team was the athletic leader for a fourth consecutive year, raising $2,250. Delta Phi Epsilon sorority raised $458 to lead all Greek organizations and Alpha Phi Omega, a co-ed national service fraternity, raised $470 to place first among clubs and other organizations. Clark Hall gave $530 to lead the residence halls. A total of $1,205 was donated from unaffiliated College sources.
The 2018 Hunger Walk surpassed the 2017 event in both donations and participants. Last year, the event attracted a total of 350 walkers.
College-Community Orchestra to Perform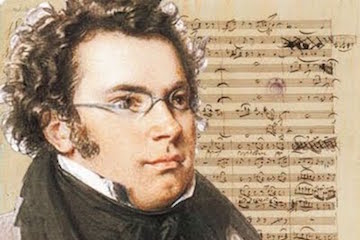 11/19/2018
SUNY Cortland's College-Community Orchestra, a 70-year-old collaboration between the school and music lovers in Cortland County, will perform "Unfinished Schubert" at 8 p.m. on Tuesday, Dec. 4 in Rose Hall at 19 Court, a former church that has renovated into an arts center by the Dan & Rose McNeil Foundation.
The concert is free and open to the public.
"We are fortunate to be able to offer live classical symphonic music to the community, and are grateful to the McNeil Foundation's commitment to support the arts in Cortland County," said Ubaldo Valli, music director of the orchestra.
"Unfinished Symphony" offers selections from diverse genres of the classical music repertoire. The major work on the program is Symphony No. 8, "The Unfinished," composed by Franz Schubert. Started in 1822, it remained incomplete when Schubert died six years later at the age of 31.
"This symphony is a pillar of the classical era and a precursor of the romantic era," Valli said. "It is astonishing that such a forward-looking work was composed before Beethoven composed his Symphony No. 9."
The concert also includes pieces by Peter Schickele (a serious work from a satirical composer better known by his pen name PDQ Bach) and Arthur Sullivan. Sullivan, of Gilbert and Sullivan fame, was deeply influenced by Schubert's music and discovered many works by Schubert that would otherwise have been lost.
Classical music concerts by the College-Community Orchestra include informal comments by Valli before each piece, highlighting details of interest for the audience and creating a more intimate atmosphere.
"Ubaldo has been a great conductor to work with," said Jim Weiss, principal cellist and orchestra member since 1982. "One can always count on him to bring out the best of each member of the orchestra technical and musical expression, blended with his unique sense of humor."
Library's 'Food for Fines' Will Help College Food Pantry
Memorial Library is offering a unique way for students to pay their overdue library fines while helping people in need.
The Food for Fines program runs from Monday, Nov. 26 through Friday, Dec. 14. Students may pay their fines by donating non-perishable, unopened, unexpired food in cans, boxes and plastic jars. Those who do not have fines are welcome to donate food.
Students will receive $1 off their overdue fine balance for each item of food donated. Replacement costs for lost or damaged books are excluded from this program.
Donations will be accepted during business hours at The Help Center in Memorial Library. The food will be donated to the SUNY Cortland Cupboard, located at the Interfaith Center.
For more information or to donate, stop by The Help Center in Memorial Library, call them at 607-753-2500, or email thc@cortland.edu.
Outstanding Non-Traditional Students Recognized
Forty students who balance family, jobs and other commitments were recognized for their hard work during Non-Traditional Students Week Nov. 5 to Nov. 9.
The campus community was asked to recognize students who balance college with family, jobs, and other commitments. Faculty, staff and students submitted 44 names. Some students were recognized by more than one person. A certificate of recognition and a small gift was given to the following students:
Wasan Bahr Al Uloom
Robert Bergman
Phillip Blough
Kristen Bockus
Dominica Boston
Alexandra Brown
Darcel Carver
Kathleen Collins
Nicholas Compoli
Jessica Ellis
Tara Fort
Elizabeth Foster
Jordan Franz
Melissa Garrett
Joshua Hagadorn
Laura Herrling
Ryan Hawthorne
Laura Heslin
Ashley Kress
Kyle Lamb
Allegra Lambert
Holly McMahon
Lauren Minholz
Cory Moser
Josh Moshier
Julie Noe
Trever O'Gorman
Jonathan Peck
Jesika Perkins
Kristina Petrella
Thomas Ritchie
Sara Sampson
Peter Sarkodie
Jessica Smith
Michelle Smith
Joshua Stocking
Pamela Stone
LaAsia Swift
Zachary Zupan
Meaghan Zurenda
The Celebrate a Non-Trad campaign is co-sponsored by Advisement and Transition and the Non-Traditional Student Organization. For more information, contact Coordinator of Student Non-traditional Student Support Cheryl Hines, , advisement and transition, at 607-753-4726.
ASC Online Program Grant Applications Due Feb. 15
Auxiliary Services Corporation (ASC) Program Grant applications for the 2019-20 academic year must be sent by midnight on Friday, Feb. 15.
Applications are submitted online and applicants are asked to read the grant guidelines carefully before submitting an application.
Each year the ASC Board of Directors allocates funds to support grants for a wide range of purposes and projects that enhance the life of the SUNY Cortland community.
Although ASC is willing to consider a wide range of ideas, it seeks to avoid duplicating other funding sources or funding projects more properly supported by state funds. Therefore, applicants should first seek funding from primary funding sources.
ASC grant funds may not be used for salaries, honoraria, travel normally funded by the College's budget, or scholarships for SUNY Cortland faculty, staff or students. Funds may not be used to purchase computers, related hardware or software. All purchases will be processed in accordance to ASC's financial and related GAAP policies.
In general, Program Grant funds may not be used exclusively for food for SUNY Cortland students, faculty or staff. Funding for food may be considered if the food is deemed integral to the success of the program or event. All food shall be provided by ASC. Other grant guidelines are described in the application package and online.
For more information or assistance, contact Judy Standish by email or at 607-753-4325.

Suggest a feature story
---
Faculty/Staff Activities
Seth N. Asumah
Seth N. Asumah, Africana Studies and Political Science departments, recently was nominated and approved by the National Association for the Advancement of Colored People (NAACP) New York State Conference as a founding chapter faculty advisor for the newly formed SUNY Cortland NAACP. Founding President Gia Greenidge, a psychology major, and 28 SUNY Cortland students worked with Asumah through the rigorous process of establishing the SUNY Cortland branch of the NAACP. SUNY Cortland's Student Government Association (SGA) approved the SUNY Cortland NAACP Club on Tuesday, Oct. 30, 2018.
The NAACP, the oldest and largest civil rights organization, was established in New York on Feb. 12, 1909 by black and white U.S. citizens who were committed to civil rights and social justice. Among the founders were W.E.B. Dubois, Henry Moscowitz, Mary White Ovington, Oswald Garrison Villiard, William English Walling and Ida Wells-Barnett. In 1936, the Youth and College Division of the NAACP was created by student activists. There are 2,200 NAACP affiliates in the United States, Japan and Germany.
The mission of the NAACP is to "ensure the political, educational, social and economic equality" of minoritized groups and to fight for civil rights, social justice and inclusion. SUNY Cortland joins five other SUNY campuses with NAACP branches— the University at Albany, Binghamton University, the University at Buffalo, SUNY Stony Brook and Buffalo State University.
Ann Blanton
Ann Blanton, Communication Disorders and Sciences Department, presented a research poster with colleagues Heather Thompson, Rachel Stark, and Nicole Albert titled "NF1, NF2, Schwannomatosis, and Dysphagia: A Systematic Review of the Literature" at the Joint Global Neurofibromatosis Conference held Nov. 2 to 6 in la Maison de la Chimie, Paris, France. The poster presented a seminal report about the lack of information on dysphagia in the populations with Neurofibromatosis 1, Neurofibromatosis 2, and Schwannomatosis who present with non-malignant and malignant tumors of the head and neck. The conference was attended by medical professionals and patients with NF1, NF2, and Schannomatosis and their families from around the world.
Eileen Gilroy and Jill Toftegaard
Eileen Gilroy and Jill Toftegaard, Communication Disorders and Sciences Department, presented a poster co-authored by Timothy Davis and Catherine MacDonald, Physical Education Department, at the annual American Speech-Language-Hearing Association (ASHA) Convention on Nov. 16 in Boston, Mass. The poster, "Interprofessional Education (IPE) in Clinical Training," highlighted the ongoing collaboration between graduate speech pathology clinicians and undergraduate adapted physical education students.
In 2015, ASHA established a strategic objective to advance IPE within the professions of speech-language pathology and audiology. With these changes, IPE is being incorporated not only into clinical practice and continuing education programs, but into student curriculum and training as well. The presentation was well attended and inspired other clinical training programs to talk about developing similar programs.
Kathleen A. Lawrence
Kathleen A. Lawrence, Communication and Media Studies Department, received word that four of her poems were published in Altered Reality Magazine. They include "The Conjunction: Jupiter Pursues Venus," "Things That Go Bump & Smile In The Night," "Brunch, Spaceship Side" and "Atopic Catastrophi." In addition, her poem "Once Upon a Time" will be in the upcoming issue of The Poet's Haven Digest in the edition themed "It Was a Dark and Stormy Night..." It will be published on Dec. 15.
Lin Lin
Lin Lin, Childhood/Early Childhood Education Department, presented "No Excuse to Live in a Bubble: How Do Children in Your Classroom Stay Connected to the World?" at the National Council for the Social Studies Annual Conference on Nov. 30 in Chicago. She also served as discussion facilitator for the international assembly at this conference.
Chris Manaseri
Chris Manaseri, Foundations and Social Advocacy Department, co-presented on Partnerships in Support of the Principal Pipeline at the Commonwealth Council of Educational Administration and Management (CCEAM) Conference, held Nov. 13 to 16 in the Republic of Malta. Manaseri presented with his wife, former SUNY Cortland Associate Professor Holly Manaseri, now associate director of the Educational Leadership Certification Program at the University of Rochester. Their presentation featured the partnerships they created with Onondaga-Cortland-Madison BOCES leadership to promote the professional development of future and current school leaders.
Henry Steck and Craig Little
Henry Steck, professor emeritus of political science, and Craig Little, professor emeritus of sociology, participated in a series of academic gatherings from Nov. 9 to 15 in Romania at the Polytechnic University of Timisoara, the Babeș-Bolyai University in Cluj-Napoca, and the Ratiu Center for Democracy in Turda. The subject of their presentations covered higher education in illiberal times, America in decline in the time of Trump, and the need for civic engagement as the prerequisite for a robust democratic society.

Submit your faculty/staff activity