"Annie Get Your Gun" Continues for Second Weekend
09/25/2018
Opening night of SUNY Cortland's production of "Annie Get Your Gun" was a new experience for student actors.
They hoped the circus atmosphere of the College's 150th birthday party celebration on Moffett Center Lawn followed them inside for the show.
Starting at 6 p.m. on Friday, Oct. 5, the College celebrated its Sesquicentennial with remarks from President Erik J. Bitterbaum, a video presentation and fireworks. Complimentary birthday cake was available for all. The cast of "Annie Get Your Gun" joined the festivities to sing Happy Birthday at approximately 7 p.m.
The show continues for a second weekend October 11 through 13.
Senior musical theatre major Liz Earle of Merrick, N.Y., who plays Annie Oakley, was glad to get out of the dressing room in the hours leading up to opening night. As an actor, she's always trying to connect with the audience and this will be a novel way to build that relationship before a show.
"It's going to take some of the nerves out of it," she said. "You're seeing your audience before they're seeing you. I think that if we're having fun beforehand, that'll just make them more excited to be there when the show is going on. The audience plays such a big part of how a show runs on any given night. An excited and happy and intrigued audience is so amazing to perform for."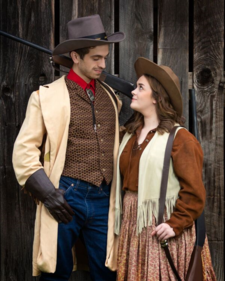 "Annie Get Your Gun" is based on the 1946 classic by Irving Berlin and the book by Dorothy Fields and Herbert Fields. It tells a fictionalized version of the life of Oakley (1860-1926) and her love interest, Frank Butler, who toured the world as sharpshooters in Buffalo Bill's Wild West. Iconic songs including "There's No Business Like Show Business" and "Anything You Can Do" make this production a familiar and family-friendly event for audiences of all ages.
Wild West variety shows of the sort depicted in "Annie Get Your Gun" were extremely popular forms of entertainment in the time when SUNY Cortland was founded as the Cortland Normal School in 1868.
Senior musical theatre major Matt Henningsen of East Northport, N.Y., plays Butler. Part of his challenge as an actor has been incorporating Butler's Western dialect and cowboy persona into his performance. Most of all, Butler (1847-1926) was one of the era's preeminent showmen, so trying to reel in prospective theatre-goers among SUNY Cortland students, faculty and staff before the show fits in with what Butler did during his life.
"It all comes together nicely because of the 150th anniversary and the time period of the show and the fact that right outside of the theatre we're having this giant extravaganza with fireworks and all this crazy stuff going on," Henningsen said. "We get to sing there and then lead back into here, when hopefully the crowd follows us in here and they'll come back into our world and our show."
For Earle, playing Oakley is about capturing the spirit of a woman who is excelling in a field dominated by men.
"She's so cool and she's so empowering," Earle said.
As legend has it, the diminutive teenager challenged Butler to a shooting contest when Butler's traveling show arrived in Cincinnati, near Oakley's Ohio home. Oakley won, the two fell in love and married and spent the next four decades showcasing their marksmanship skills across the globe.
The musical fictionalizes their relationship, primarily the battle of egos as Oakley continues to best Butler professionally. Issues raised in the musical remain relevant to women in the workplace today.
"She's not normal and I think she knows that," Earle said. "I think she's not afraid of it. Especially the dynamic between her and Frank. He has more problems with her being better than him than she does. She just accepts it and knows that it's fact, that she's the best."
"Annie Get Your Gun" will be performed at 7:30 p.m. on Saturday, Oct. 6, Thursday, Oct. 11 and Friday, Oct. 12. Matinee shows at 2 p.m. will take place on Sunday, Oct. 7 and Saturday, Oct. 13. Tickets are $19 for adults, $16 for senior citizens and SUNY Cortland faculty and staff, $14 for SUNY Cortland alumni and $10 for current students. A subscription option of $56 is available for those looking to buy tickets to all four SUNY Cortland productions for the 2018-19 academic year. Tickets and more information are available at Cortland.edu/boxoffice.
For more information on SUNY Cortland's Sesquicentennial, visit Cortland.edu/150.
Astronaut Presents "To the Stars and Beyond"
09/25/2018
Winston E. Scott is the very definition of a renaissance man.
Overcoming a childhood spent in the segregated schools of the South, Scott — remembered as the most talented musician in his high school band — graduated from Florida State University with a degree in music in 1972. He went onto become a United States Naval Aviator and test pilot, an aerospace engineer and electrical engineering professor, an author, a second-degree black belt in Shotokan karate and a senior administrator at two Florida universities.
And that's just what he's done on Earth.
Scott was recruited by NASA in 1992 and served as a mission specialist on Space Shuttle missions onboard Endeavour and Columbia in 1996 and 1997, respectively. He logged three spacewalks totaling 19 hours and 26 minutes outside the shuttles.
Scott will share his inspiring story, "To The Stars and Beyond: Reaching Your Dreams," as part of SUNY Cortland's 150th Birthday Party celebration on Saturday, Oct. 6. His talk begins at 7 p.m. in Old Main Brown Auditorium and is open to the public. Tickets are $10 for general admission, $8 for senior citizens, and free for students and Pre-K children, although tickets are required. To purchase tickets, visit the Campus Activities and Corey Union Office in Corey Union, Room 406, weekdays from 8:30 a.m. to 4 p.m. or by calling 607-753-5574. Tickets will be available at the door.
"Winston Scott exemplifies the type of well-rounded education that SUNY Cortland has offered for 150 years," President Erik Bitterbaum said. "Although he was never a Cortland Student, his broad curiosity and fearless focus on achieving big dreams is reflected in the lives and careers of our students and alumni."
Scott's presentation will include footage from space as well as his memories of NASA, the Navy, academics and music.
Attending largely segregated schools in Miami, Fla., Scott's education provided little access to resources. His determination combined with the dedication of his teachers set him on the path to achievement.
After graduating from Florida State, Scott entered Naval Aviation Officer Candidate School and served a four-year tour of duty at the Naval Air Station in North Island, Calif. He then attended the Naval Postgraduate School in Monterey, Calif., earning a master's in aeronautical engineering and went on to become a production test pilot for the Navy in Jacksonville, Fla.
He also has taught electrical engineering at Florida A&M University and Florida Community College at Jacksonville and served as vice president for student affairs at Florida State. Scott is currently the senior vice president for external relations and economic development at the Florida Institute of Technology.
Scott continues to pursue his musical passions as well as a member of the Winston Scott Cosmic Jazz Ensemble and director of a faculty band at the Florida Institute of Technology.
The event is presented by the Campus Artist and Lecture Series (CALS). The full CALS schedule for the 2018-19 academic year is available online.
---
Capture the Moment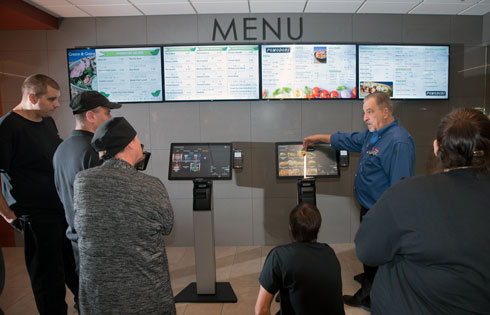 Bob Facciponte, Auxiliary Services Corporation's assistant dining manager, demonstrates ordering kiosks to ASC employees before the opening of new dining facilities on the first floor of Corey Union. The grand opening celebration for Pomodori, Greens & Grains and Union Station will be held from 11 a.m. to 1 p.m. on Wednesday, Oct. 10, with a ribbon cutting ceremony at 12:30 p.m. Refreshments and food samples will be served, and attendees can enter for a chance to win prizes and dining gift certificates. The event will mark the end of a yearlong construction project at Corey Union.
---
In Other News
Relationship Violence Intervention Week Planned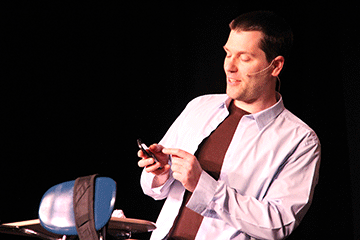 09/25/2018
The nationally recognized actor, writer and solo artist Tim Collins will return to SUNY Cortland on Wednesday, Oct. 3, as the highlight of a weeklong series of events from Oct. 1 to 5 focusing on the serious issues of relationship violence and bystander intervention.
Collins will perform "Mend," a one-man show that will address those topics as well as gender roles and masculinity, at 7 p.m. in the Corey Union Function Room.
"We're looking for as many creative ways to reach out to students to get them thinking about these issues, so if they are in a situation to interrupt harm before it happens, they have some practical skills," said SUNY Cortland's Title IX coordinator Nan Pasquarello.
Collins' talk, which is free and open to the campus community, is part of an ongoing series of programs to prevent sexual and intimate partner violence. Collins' performance is presented by SUNY Cortland's Title IX office, the It's On Us Action Team and Auxiliary Services Corporation. The event is part of the College's Wellness Wednesday series, a continuing initiative to promote lifelong well-being.
Meanwhile, the student club Students Active for Ending Rape (SAFER) worked closely with the campus committee It's On Us Action Team to develop the rest of the week's programs.
"Mend" will be a new performance for Collins, who has been a playwright and performer since 2001, and has appeared on ABC News, Spectrum News and NPR.
Collins, who has visited the campus twice before to address sexual assault, strives to relate to students in a unique and creative way so they will learn more about the issue and understand how they can be a part of the solution.
"Tim created the 'Mend' program because he recognized that dating violence is a very important issue," Pasquarello said. "And he's trying to expand his educational framework to go beyond just talking about bystander intervention around sexual assaults to include bystander intervention around toxic relationships and dating violence. He recognizes these are interrelated problems of intimate partner violence."
Collins has taken his educational one-man show across the country in a variety of venues.
"Tim is a master at taking on different personas and they are very, very convincing," Pasquarello said. "He does a lot to promote healthy masculinity and helps people help friends who might be in difficult situations in relationships. He will look at harmful attitudes that are prevalent in society and might be perpetuated in the media and films. He breaks down myths and helps people think critically."
A recipient of the Wallis Foundation Grant, Collins was a featured performer at the 24th national "Sharing the Fire" National Storytelling Conference and was nominated for a Kevin Kline Award. He was honored as "Best Solo Performance" in the second annual Dialogue ONE Solo Theater Festival in 2012 and, the following year, as "Best Educational Show" in the United Solo Theater Festival. For more information on Collins, visit his website.
The week also includes the following events.
Workshop: On Monday, Oct. 1, SAFER will present a One Love Foundation "Escalation Workshop" from 7 to 8:30 p.m. in Sperry Center, Room 105.
Speaker/workshop: Special guest speaker Tim Collins will present a professional development program for faculty and staff on Tuesday, Oct. 2., in Corey Union Function Room. The program, which takes place from 2 to 4 p.m., will focus on intimate partner violence and bystander intervention. Collins will perform a portion of his new one-man show, 'Mend.'"
Panel Presentation: The topic of "The Cycle of Trauma" will be discussed from 7 to 8 p.m. Tuesday, Oct. 2, in Corey Union, Rooms 204-205. The panel will feature representatives with SAFER and the Know Your Roots club.
Panel Presentation: On Thursday, Oct. 4, a panel will address "The Truth About Domestic Violence" from 5:30 to 7 p.m. in Corey Union, Room 208. Presenters will include members of SAFER and the Greek service organization Sigma Alpha Iota.
Film Screening: The 2015 Truevision/Netflix drama, "Behind Closed Doors," will be shown from 3 to 4:30 p.m. on Friday, Oct. 5, in Sperry Center, Room 105. The event is a collaboration by SAFER and YWCA Cortland's Aid to Victims of Violence.
Also during October:
Faculty/Staff: A Green Dot faculty/staff informational overview will take place on Friday, Oct. 19, in Corey Union Exhibition Lounge. The event will take place from noon to 1:30 p.m. Green Dot is a national bystander education approach that aims to prevent violence with the help of bystanders.
Community Event: Aid to Victims of Violence with the YWCA Cortland will hold a community event called "Chefs Take a Stand: Men Against Domestic Violence" to mark Domestic Violence Awareness Month on Friday, Oct. 26. The event, which features 20 local chefs preparing tastings that are sprinkled with remarks regarding domestic violence awareness, will be from 6 to 8 p.m. at the YWCA at 14 Clayton Ave. The cost is $25 per ticket.
For more information on SAFER events, contact SAFER president Andreanna Whittaker. For more information on AVV events, contact AVV Enough is Enough Prevention Educator Eric Schisler. For Green Dot programs, contact SUNY Cortland health educator, Lauren Scagnelli, or associate director of residence life and housing staff development and programming, Cynthia Lake. For more information about Title IX or the It's On Us Action Team, contact action team co-chair Pasquarello at 607-753-4550 or action team co-chair Lt. Mary Murphy of the University Police Department.
One in five women and one in 16 men will be victims of attempted sexual assault during their college careers.
That's why since 2015, SUNY Cortland has been part of It's On Us, a national awareness program aimed at ending sexual assaults on college campuses. The "It's On Us" campaign asks men and women across the United States to make a personal commitment to step off the sidelines and become part of the solution to stop campus sexual assault.
SUNY Cortland's It's On Us Action Team is comprised of students, faculty and staff who work to help students understand the notion of sexual violence as well as domestic violence and stalking.
"The campus It's On Us action team meets bi-weekly," Pasquarello said. "We're a clearinghouse composed of many people, because to develop successful prevention programming it has to be done broadly to reach as many as possible."
In the last decade, the College has ramped up its efforts to prevent sexual assault, interpersonal violence, stalking, dating violence and sexual harassment.
"We have vastly increased our programming to our students," Pasquarello said. "We've engaged many more people because more people have realized the scope of the problem and we want to have all hands on deck.
"I think there's been greater recognition, on campus and nationwide, of problems that have always been there," she said.
Join the Celebration at SUNY Cortland's 150th Birthday Party, Oct. 5-6!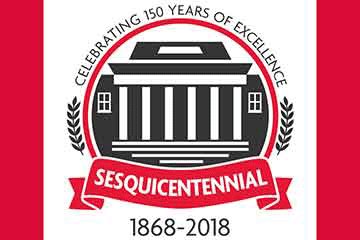 09/14/2018
Don't miss a chance to be a part of a once-in-a-century-and-a-half celebration! Make plans to enjoy the 150th Birthday Party Celebration on the SUNY Cortland campus Oct. 5 and 6. Students, faculty, staff, parents, alumni and community members — in short, everyone — are invited to celebrate the College's milestone event.
The weekend begins with an actual birthday party featuring cake, music, fireworks and more. It will be followed by a morning panel discussion about Cortland's legendary campus concerts (Billy Joel, The Eagles, James Taylor, the Beach Boys and lots of others), a Sesquicentennial carnival, the homecoming football game, an historic musical theater production and the 50th anniversary C-Club Hall of Fame induction ceremony.
"We are celebrating a special milestone for a very special college and we want the entire SUNY Cortland community — students, parents, faculty, staff, alumni and our Cortland and Central New York neighbors — to join the party," President Erik J. Bitterbaum said.
Here's what's happening:
Friday, Oct. 5,
6 p.m. — 150th Birthday Party Celebration, Moffett Center Lawn.
What would a birthday be without cake? President Bitterbaum will share remarks and performing arts students will lead the campus in singing "Happy Birthday
' prior to complimentary birthday cake being served. SUNY Cortland's Rock 'N Blues Ensemble will perform, along with several student groups. The evening concludes with a light show and fireworks. It's all free and open to all!
8:30 p.m. — "Annie Get Your Gun," Dowd Fine Arts Center, Main Stage
Help SUNY Cortland's performing arts program launch its 20th anniversary year by enjoying "Annie Get Your Gun," set in the time of SUNY Cortland's founding. This Irving Berlin musical features the story of sharpshooter Annie Oakley, a star of Buffalo Bill's Wild West Show in the latter half of the 19th century. Tickets are available through the Performing Arts box office.
Saturday, Oct. 6
10 a.m. — "Dream On," a panel discussion of the College's golden concert era and the evolution of the music business, by Union Station coffee shop in Corey Union.
Musicians, agents and promotors involved with a campus music scene that included Billy Joel, The Grateful Dead, The Eagles and many other legends, will share stories from this era (1960-90) and talk about survival and adaptation in the music industry. It's a "must-see" for anyone interested in the entertainment business or who remembers when students brought rock superstars to Cortland.
11 a.m. to 3 p.m. — 150th Birthday Party Carnival, Stadium Complex

The fun continues with carnival games and inflatables that's free and open to all. Get your Red on by visiting the Spirit Station before posing for a Birthday Party photo.
Noon — Football Game, Stadium Complex
Cheer on the Red Dragons as they take on SUNY Morrisville. Football tickets will be available for purchase at the gate; free to students, faculty and staff.
5:30 p.m. — 50th Anniversary C-Club Hall of Fame Induction Dinner, Corey Union Function Room
Eight new members of the C-Club Hall of fame will be inducted at the annual dinner in the 50th ceremony recognizing recognizes former Red Dragon athletes who have since distinguished themselves in their professions and within their communities. Those interested in attending Saturday's induction dinner can register online at www.reddragonnetwork.org (under "Events") or may contact SUNY Cortland Alumni Engagement at 607-753-2516 or alumni@cortland.edu. Deadline for registration is September 21.
7:30 p.m. — "Annie Get Your Gun," Dowd Fine Arts Center, Main Stage
ADDITIONAL WEEKEND ACTIVITIES
The 150th Birthday Party Celebration is held in conjunction with other events, including SUNY Cortland Family Weekend and the Great Cortland Pumpkinfest.
SESQUICENTENNIAL
Learn more about our historic year, take a tour of our College timeline and purchase a College history book at cortland.edu/150.
NSF Grant Supports Undergraduate Research in Biology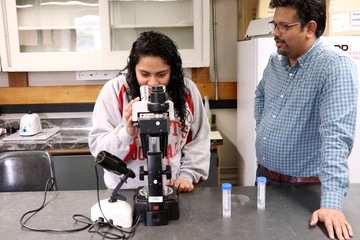 09/25/2018
Neurons along with muscles constitute the circuity that allows us to accomplish everything we do: think, speak and move.
But how do these neural circuits form in the first place?
That question is the foundation of the research being conducted by Santanu Banerjee, assistant professor in the Biological Sciences Department, and SUNY Cortland undergraduate students, who will spend the next three years investigating that question thanks to a $137,000 grant from the National Science Foundation.
To carry out their project, "Specification of Excitatory Fates in the Spinal Cord," Banerjee and his students will use spinal cord neurons from zebrafish embryos to study how specific genes influence neuron development. Zebrafish, a member of the minnow family, were chosen because they are genetically very similar to us. Their transparent embryos naturally grow outside the mother's body, allowing researchers to study development with a microscope readily available in undergraduate laboratories.
The application of such research may ultimately have significant medical benefits for humans suffering from neurodegenerative disease or brain, spinal cord injury. Since the majority of neural connections are established before birth and during early life for most animals, learning more about how these connections are first formed may allow medical professionals to develop solutions for those suffering from neurodegenerative problems in the future.
Neurons communicate with one another through two parts: dendrites and axons. Axons release neurotransmitters, or chemical messages, that are received by receptors in dendrites. Each neuron generally makes one type of neurotransmitter, which when released sends either "go" or "stop" messages to the target cell. These messages are referred to as excitatory or inhibitory, respectively.
For example, when one touches a hot stove, neurons communicate with muscle cells by releasing neurotransmitters in order to move the hand away from the dangerous surface. If the neuron makes and releases an incorrect neurotransmitter, the individual may not be able to immediately remove their hand from the stove.
Much more complicated but similar processes happen to individuals suffering from neurodegenerative diseases such as Alzheimer's, Huntington's and Parkinson's, which affect those who have lost the structure or function of neurons.
By removing portions of genetic material from spinal cord neuron cells in zebrafish embryos — a process known as making a mutant gene — Banerjee is hoping his students will learn more about how specific genes influence the development of neurons and the neurotransmitters they make and release.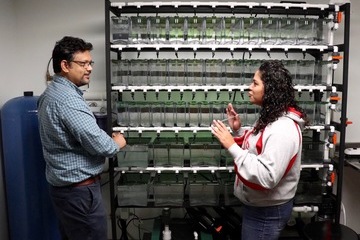 "In absence of a specific gene, what happens to a very specific neurotransmitter phenotype?" he said. "The neurotransmitter we are looking at is called glutamate, a major neurotransmitter even in the human brain and spinal cord. We want to understand how specific spinal cord neurons make glutamate.
"Our hypothesis is that when we take out some of the suspected candidate genes from these neurons, at least in some of the cases, if not all of the cases, the glutamate synthesis in those neurons will be affected. They will probably stop making glutamate. And if the cells stop making glutamate, do they just die or do they remain alive and decide to make another type of neurotransmitter? That neurotransmitter may not serve the right purpose of these neurons."
Over the next three years, undergraduate students working with Banerjee will travel to Katherine Lewis' lab at Syracuse University during the summer months. Banerjee previously worked as a research assistant professor with Lewis, a professor of biology there, and he hopes his students will benefit from working with other senior scientists with similar interests and diverse expertise.
"They will collaborate with other scientists to not only conduct their own research, but also to get a bigger picture of how biology research is done at major research institutions," Banerjee said.
The NSF grant also will support an outreach program for Banerjee and his students to connect with local middle and high school students who have a passion for biology.
"If they are interested in seeing how biology happens in real life, this may be valuable experience for them in choosing not only biology but science as a future career," Banerjee said.
SUNY Cortland undergraduates who work with Banerjee over the next three years may find themselves in a wide variety of careers after college. Some will pursue more research experience as they pursue a master's or Ph.D. and others will venture into the medicine or the emerging bioindustry field. The independent-thinking and problem-solving skills they'll develop as part of this project will last a lifetime.
"I think doing undergraduate research is the best form of active learning, where students can apply their classroom knowledge," Banerjee said.
"This research will not only train them in modern cell-molecular biological techniques, but also make them able to think critically and independently as they design experiments and analyze results. These skills will be assets no matter what they want to do in future."
Heather Ramsdale '97 at Dowd Gallery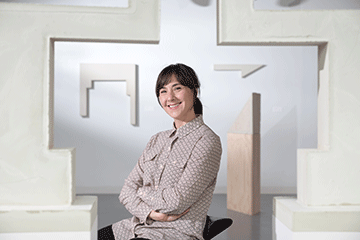 09/25/2018
They say that an effective work of art talks to people.
And sometimes, as Philadelphia sculptor and installation artist Heather Ramsdale '97 learned, it just makes strange chewing sounds.
"I think there's a noise coming from one of your sculptures," a Lycoming College art gallery staff member had told Ramsdale in a phone call about a piece in her solo exhibition there a few years ago. The artist recently shared her story about the work — a melding of very stylized Target store clearance items with sections of bark-coated tree stumps — during her first professional solo exhibit at her alma mater.
Ramsdale had carefully sanded and colored the eclectic pillar into a slow fade of subtle shades at her studio which was in rural Maine at the time, and she knew that she hadn't hidden any kind of audio device in it. Moreover, student workers complained of having to continuously sweep up a growing ring of sawdust around the creation's base. Chagrined, Ramsdale returned the termite-riddled gallery piece to her studio.
"As we took it away, I could hear a woodpecker sound coming from it," said Ramsdale, whose current solo exhibit "Form & Forever" is on display at SUNY Cortland's Dowd Gallery through Friday, Oct. 5. It's her first exhibit on campus since her Student Select contributions as a senior.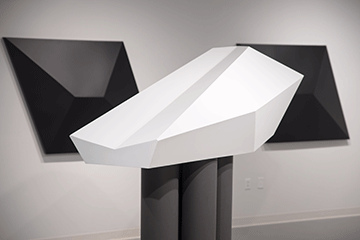 Ramsdale, who also studied at Goldsmiths College in London, was nominated for a Terra Foundation for American Art Award and an Outstanding Student Achievement in Contemporary Sculpture Award from the International Sculpture Center. Subsequently, she received two Pollock-Krasner Foundation fellowships for residencies in Upstate New York.
Recent shows include a group exhibition at Savery Gallery in Philadelphia and a solo exhibition at The Gallery at Delaware County Community College. Ramsdale recently completed a residency at Joya: arte + ecologia, an arts-led field research center, in Andalucia, Spain.
Some people in the art world compare Ramsdale's sculpture to the famous Romanian sculptor Constantin Brancusi, a pioneer of modern sculpture.
Ramsdale's objects invite viewers to engage both their curiosity and intellect, noted Dowd Gallery's interim director Jaroslava Prihodova.
On the whole, Ramsdale is ever changing and evolving and is comfortable with unexpected reactions to her sculpture and art installations as well as nature's interventions.
"I really struggled with having a lack of control," at the mainly outdoor studio in Maine, Ramsdale said. "I had to deal with things like rain and fog and humidity. There were days I spent just staring out at them waiting for the rain to pass and wondering if I would make my deadline. What I was trying to achieve was to get a really perfect fade line. But the wind would pick up and mess up my fade line."
Ramsdale explains that the process by which she constructs these sculptures allows the form to reveal something that is not entirely intended, perpetuating a dance between authority and a lack of control over the object.
The former studio art major's artistic direction was strongly influenced by SUNY Cortland Emeritus Professor of Art and Art History Alan Mooney, but she is always open to an interpretation she didn't expect.
"Like this family of trees for example," Ramsdale said as she showed a slide of her past work to a standing room-only crowd for her recent SUNY Cortland artist's talk in the Dowd Center critique space. Ramsdale's slide showed a grouping of three tri-forked tree limbs embellished with clearly man-made flourishes.
"This work was actually in response to a kind of traumatic event in my life and the sentiment was intended to be quite serious," Ramsdale said.
"But one of the things I realized was that a lot of my peers at school actually saw a lot of humor in the work. That's something that I've had to get over and deal with, that not everything that you put out there in the environment is going to be received in the way that we think it is going to be.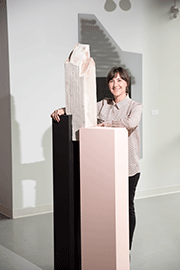 "I think it's funny when we make something and then stand back and it's kind of laughing in your face."
She advised the prospective artists listening to her talk to allow themselves to experiment with art and be open to how it will be received.
Ramsdale originally pursued graduate work with the intent to become an architect. That has heavily influenced her interest in mastering new areas of traditional craftsmanship while using readily available building materials. "Form & Forever" represents her experimentation with carefully molded concrete. In the course of the work, Ramsdale admits she became fascinated with the shapes of her constructed scaffolding and eventually some of that was incorporated into the Dowd Gallery exhibit as well.
"I began this research on cars by dissecting the anatomy of a car and I stumbled upon these really incredible stock car chassis or race car chassis," Ramsdale said. "I fell in love with them. I thought they were really beautiful, three dimensional drawings in space. For me they read as sculptures in and of themselves. I loved the line quality, the structure of them and the fact they were often powder-coated really wild colors.
"All of this mashup of interest in movement-interior-furnished space kind of culminated in machines that transport, machines that move," Ramsdale said, describing her artistic journey. "I think cars equates anything that kind of relocates us from one location to another. Then later on, what could possibly move us metaphysically from one place to another?"
In order for her to pretend that these machine-like objects could actually do something, it was important to Ramsdale that they seem viable, so during one phase she added light back into her sculpture.
"I was adamant about not plugging it into an outlet because the minute I did, it would seem like an oversized toy. So, I figured out how to run the fluorescent lights off a car battery which was hidden in the back of the sculpture. So, one could circumnavigate the work and it was kind of self-sustaining."
Eventually the Philadelphia-based artist was invited to have her first exhibition at nearby Delaware County Community College.
"I knew I wanted to make a new and fresh body of work," she said. "I knew that I wanted to make a series of sculptures that were confronting but suggestive of speed and time. My exhibition "Seven" was born out of that and there's four sculptures in the show here. My former painting professor, (the late) George Dugan, in an email described her display as 'Not minimal but subtle, architectonic but with a Zen simplicity.'
"I couldn't have said it better," Ramsdale said, noting that Dugan had continued to guide her post-graduation artistic journey until the end of his life.
Ramsdale wasn't always going to become an artist. After graduating from Cortland, she was renovating an old house with her father in Upstate New York, learning how to use the machinery along the way, when she took a Harvard University summer class to prepare a portfolio to get into architectural school.
"It was there that I actually realized I did not want to be an architect, in that my interest really aligned with raw materials and the materials that were used to build buildings and space, rather than the design of the spaces themselves," she said. Ramsdale set a goal to become a better fabricator, object maker, sculptor and builder.
"I really wanted to figure out how to build these complex angles with minimal equipment: a chop saw, a circular saw," she said.
More recently in her career, just when it seemed like she had mastered working with many different kinds of construction materials, she took a step back.
"I decided to apply to a residency in southern Spain, in the mountains, completely off the grid," Ramsdale said, referring to her Joya: arte + ecologia experience. "It was absolutely not for me and that was why I applied to do it."
The studio was at an old almond tree farm. Ramsdale brought with her a duffle bag with a very large roll of black paper and white paper, some tape and scissors. She looked over her studio.
"It was really just a beautiful room and that was it," she said. "But if you stay with it, and I did, things began to percolate. It was different than things I was used to but it touched on some of the darker things I had been working on."
Ramsdale created a series of large, puffy rock- or mountain-like objects mounted between a floor and one wall of a gallery. These are among her most striking pieces. These works explore whether art needs to build on an underlying structure.
"It's just paper, crumpled paper," she explained to the gallery talk gathering.
"It was, in the end, a really incredible and liberating experience," Ramsdale said. "Knowing that I could still achieve a body of work and still touch upon some of the subject matter that I had carried with me when I had all the facilities. It built some confidence."
Some of her earliest memories of being thoughtful of time and space dates back to her teenage years of playing Atari in her finished basement, Ramsdale said.
"What I really loved about these … games was that it seemed to me like I could move through almost infinite portals of space. This was just you moving through a quiet space and almost meditating on a blinking cursor or blinking square. And that was really appealing to me."
Ramsdale, who returned to Cortland the week after her gallery talk to offer a workshop on installation art in the critique space of Dowd Fine Arts Center, advised the budding studio artists not to become discouraged when they see someone succeeding with art resembling their own.
"I've made something and then found something like it in a gallery," Ramsdale said. "And I say, 'I guess we share a brain.' Those galleries will want to show you as well."
You will brush up against other artists for a time and often it lasts just a few minutes but make the most of getting to know that artist, she advised.
"There's a tribe of people who go in a pack," she said. "It's about finding who your tribe is and follow them. Don't give up on your work because you think it's not original. Stay with it and eventually it will become your own."
Presented by Dowd Gallery and the Art and Art History Department, the exhibition is co-sponsored by the Sesquicentennial Committee, which has included the event among an ongoing series of intellectual and cultural events during the 2018-19 academic year to celebrate the College's rich 150-year history.
Gallery exhibitions and all programs are free and open to the public. Gallery hours are 10 a.m. to 4 p.m. Monday through Friday and by appointment. Contact Prihodova at 607-753-4216 for more information or regarding group tours.
Brooks Series to Explore Fear of Death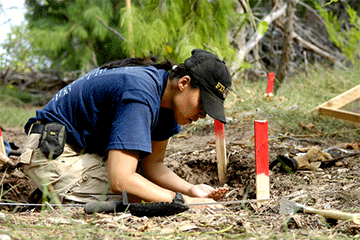 09/25/2018
Death comes to everyone, and many cultures view the end of life as the doorway to another, sometimes better, existence.
In the West however, death is viewed more often as something to be feared and avoided as long as possible.
At SUNY Cortland, the 2018-19 Rozanne M. Brooks Lecture Series will take on the theme of "The Culture of Death." The six-part series will explore the anxieties felt in some cultures, contextualizing them in the 21st century Western experience.
"Death is certainly inevitable and therefore of interest to all humans," said Brooks Museum director Sharon Steadman, a SUNY Cortland professor of sociology/anthropology, who organized the lecture series.
Talk topics will include the worldwide use of forensics in analyzing death, revealing statistics on firearm mass murder, the emerging trend embracing capital punishment, interpreting college students' deathly fear of the wilderness, intentional self-injury as a mode of suicidal expression, and the role of zombies and gothic ideas in modern Latin American filmmaking.
The series will offer a student-run poster session and two guest speakers during the fall semester. Three guest-speakers will lecture during the spring semester.
The talks all take place on Wednesdays and begin at 4:30 p.m. in Moffett Center, Room 2125. Before each lecture except the student panel presentation, a reception to welcome the speaker will start at 4 p.m. in the Rozanne M. Brooks Museum, Moffett Center, Room 2126.
The Brooks lectures and receptions are free and open to the public.
The series opens on Oct. 3 with a presentation by a student panel titled "Speaking for the Dead: Forensic Anthropology across the Globe." It will address the modern human drive to pursue emotional closure through learning much more about death's particulars.
Moderated by anthropologist Kent Johnson, SUNY Cortland assistant professor of sociology/anthropology, the students will profile major contributions from the field of forensic anthropology, which has been instrumental in bringing justice to thousands of people whose family and friends were victims of mass killings and vicious crimes.
Johnson, who earned his doctorate in anthropology from Arizona State University, will offer an introduction to the field of forensic anthropology and summarize the material presented by the students.
Refreshments will be served in lieu of the reception.
On Oct. 17, Joel Capellán, a legal scholar who focuses on statistics and spatial analysis, will share data as he attempts to shed light on crucial unanswered aspects of the phenomenon of mass murder by firearms in light of the inability for institutions to arrive at consensus on the cause.
"When it comes to mass public shootings, the United States is, tragically, in a class on its own," said Capellán, an assistant professor of law and justice studies at Rowan University.
He will present "Making Sense of the Senseless: Patterns, Motivations and the Etiology of Mass Public Shootings in America."
"There are more of these attacks in the U.S. than in any other developed country in the world, and the rate of incidence has been accelerating over time," Capellán said. "Given the devastating and recurring nature of these events, it is surprising that criminologists have devoted very little attention to these massacres."
According to Capellán, the gap in knowledge has been filled primarily by the media organizations, allowing the media to shape the social construction of mass murder by selecting which events become landmark narratives and therefore "typical" examples.
"The media focus on the most extreme and atypical cases has created a plethora of myths and misconceptions about who, where, how and why mass public shootings occur," he said.
Capellán has constructed a database of mass public shootings in the United States from 1960 to 2014. This database, created from open-source materials, contains demographic information on offenders and victims, as well as incident-level data on preparation, execution and legal aftermath of the attacks.
During the talk, he will delve into the emerging empirical literature on mass public shootings. He'll give particular attention to definitional issues, patterns, motivations and the social and psychological processes behind these attacks. Current debates on policy and strategies aimed at preventing and mitigating the lethality of mass public shootings also will be discussed.
Capellán, who earned his Ph.D. in criminal justice from the CUNY Graduate Center in 2016, has an M.A. in social science research from the University of Chicago and a B.A. from Buffalo State College.
America's abiding thirst to mete out death to those considered to be the worst criminals comes into play in the next talk.
On Nov. 7, sociologist Herbert Haines will give a talk on the potential for the 70-year long, world-wide trend away from executing criminals to take a sudden U-turn.
A professor in SUNY Cortland's Sociology/Anthropology Department, Haines will present "Capital Punishment and the Rise of Right-Wing Nationalism."
Haines, who has a doctorate in sociology from University of Kansas, Lawrence, asserts that, since the middle of the 20th century, capital punishment has experienced a broad decline throughout most of the world. This has left the U.S. isolated among Western democratic states in its continued use of the death penalty and has exposed it to pressure and ostracism.
"But the recent rise of right-wing ethno-nationalist parties, particularly in Western Europe, threatens to reduce that pressure and even to reverse the 70-year global trend away from judicial executions," Haines said.
Three Brooks speakers will present in Spring 2019.
Today's world has many more Little Red Riding Hoods, or so it seems.
Sharon Todd, a SUNY Cortland professor of recreation, parks, and leisure studies, plans to explore how current generations, who seem to be spending less and less of their childhood outside, perceive wilderness environments, during a lecture on Feb. 27.
Titled "Scared to Death? Changes in College Students' Fear and Anxiety in Wilderness Environments Over Time," Todd's talk will explore changes over roughly the last 20 years in college students' fears of the outdoors.
Her talk encompasses research in 1989 and in 2018, when participants' levels of social and physical anxieties were measured before, during and after a two-week outdoor education practicum in the Adirondack Park.
Historically, wilderness symbolized "wild" places to be feared or conquered, but eventually became associated with beautiful, pristine, cherished areas, according to Todd.
Now the outdoors to many college students represents a scary, unknown realm.
"How do their levels of perceived fear compare?" said Todd, who earned a Ph.D. in leisure studies from The Pennsylvania State University. "What insights can we gain to better facilitate college students' wilderness experiences?"
Janis Whitlock, associate director of Cornell University's Bronfenbreanner Center for Translational Research, will address how current youth use self-injury to speak and how it serves as a cultural emblem of the age.
"For many contemporary youth, the body serves as a canvas for self-expression," said Whitlock, whose March 13 discussion is titled "My Blood in Between Heaven and Earth: Self-injury and the Embodied Language of Pain, Power and Vulnerability."
"It can speak what the voice cannot," Whitlock said. "It can remind the wearer of their connection to both the ethereal and the embodied, of their resistance and their hope."
Whitlock's research indicates that self-inflicted injury, or intentionally hurting the body, can be used to sustain life or to end life, to represent hope or hopelessness.
Whitlock, also serves as lecturer in Cornell's Department of Human Development & Cornell Institute of Public Affairs, has a doctorate in human development from Cornell University.
On April 3, a Spanish language and culture specialist from University at Albany will give a talk on "Newfangled Vampires and Zombies in Latin American Literature and Film."
On the lighter side about death in modern culture, Carmen Serrano, an assistant professor of Spanish, has studied how vampire and zombie figures have inspired Latin American films since the 1950s.
Following this popular cinematic trend offers an intriguing look at how people view death.
She received a Ph.D., in Spanish from University of California, Irvine, with a dissertation titled, "Monsters, Vampires and Doppelgängers: Innovation and Transformation of Gothic Forms in Latin American Narratives."
Her presentation will illustrate how filmmakers create character vampires and zombies that can appeal to national sensibilities. Serrano also will profile how more recent film representations of vampire attacks, spreading contagion, have become more aggressive, violent and zombie-like.
According to her, 21st century representations in films and television programs go beyond previous examples of contagion propagated through a few monstrous bodies within nation's borders. Now vampires are represented as belonging to a more complicated dark web, thus expediting complete global and social collapse.
"These entities virtually dismantle national institutions such as the army, the secret service, the police and other organizations important to maintaining a civil society," Serrano said.
"These themes underscore how profit-driven national institutions and governments, beholden to ominous masters in a more global and interrelated economy, have also placed the nation and its citizens on a fast-track toward destruction."
The 2018-19 Brooks Lecture Series is sponsored by a grant from Auxiliary Services Corporation (ASC) and the Cortland College Foundation. For more information, contact Steadman at 607-753-2308.
Experts to Discuss Cortland Concert History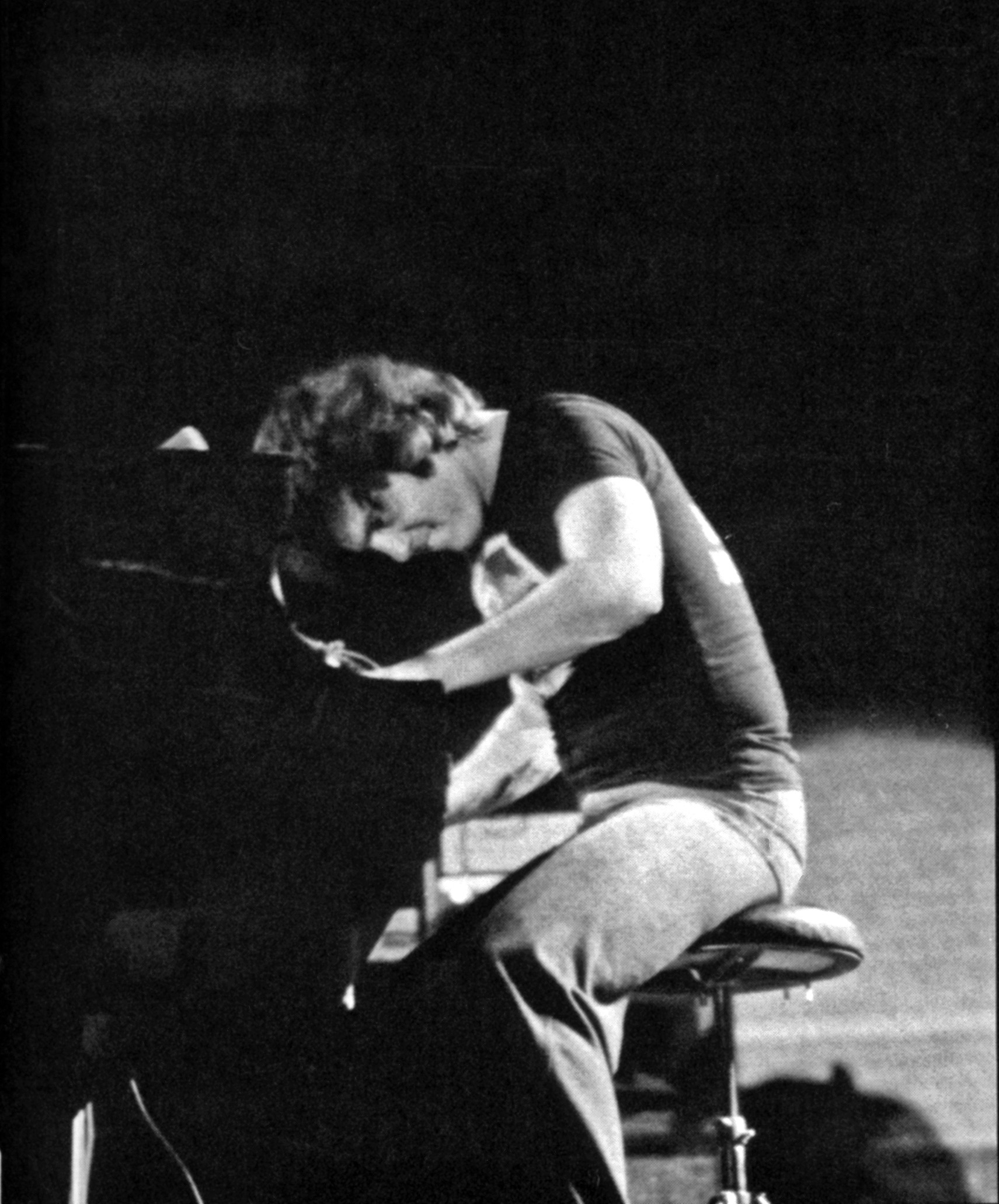 09/11/2018
Over the course of SUNY Cortland's 150-year history, the college helped launch more than 80,000 careers.
Pop music icon Billy Joel may not be an alum, but you can include him on that list. And Linda Ronstadt. And Neil Diamond, the Eagles and the Grateful Dead. All of them – and many more — honed their skill and built their fan base playing at SUNY Cortland before becoming household names.
From roughly 1960 through 1990, college campuses played an important role in making or breaking a music artist's career, and few Upstate New York campuses played as active a part as SUNY Cortland.
To commemorate this special time and review lessons relevant to the music industry today, people involved with the local concert scene during that era will hold a panel discussion Saturday, Oct. 6, as part of the College's 150th Birthday Celebration.
"Dream On, Dream Until Your Dreams Come True: How Musicians Like Billy Joel and The Grateful Dead Helped SUNY Cortland Become an Upstate New York Hub for Music Entrepreneurship" will take place at 10 a.m. in the new lounge area near the Union Station coffee shop in the basement of Corey Union.
The panel is just one of the events scheduled for that weekend that celebrates the SUNY Cortland Sesquicentennial. The centerpiece is the public birthday party scheduled for the night before on the Moffett Center lawn. Performances by campus groups, a giant birthday cake, fireworks and a slide projection on the front of Moffett are planned. Students, faculty, staff and members of the community are all invited to the 6 p.m. event.
That's the same "everybody's welcome!" invitation policy for the following day's panel discussion, which will touch on issues relevant for students interested in business, history, music and communications as well as alumni, community members and parents visiting students for "Family Weekend" who will remember the era and might have attended one of the concerts themselves.
"The music industry has gone through several turbulent upheavals over the last 50 years," explained Jack Samuels '73, a professor of recreation, tourism, events and sports management at Montclair State University who — as a Cortland student — was instrumental in bringing acts like the Beach Boys, Billy Joel and the Grateful Dead to campus.
"Those artists and entrepreneurs who survived learned to navigate major technological and business challenges that might seem counterintuitive, and that's part of what we want to share with students, Samuels said. "We're going to look back at SUNY Cortland's storied musical past and its role in launching legendary entertainment careers – many of which are still touring to sold-out crowds. We'll talk about entrepreneurial survival through passion and staying relevant. Students and community members will discover what success looks like for musicians and artist managers today and how they can benefit from their wisdom."
Joining Samuels on the panel will be local musicians and music business veterans, including:
Todd Hobin, a legendary Central New York singer, songwriter and leader of a wildly popular regional band that opened for chart-topping artists such as the Beach Boys, Allman Brothers, and the Kinks and performed at SUNY Cortland several times. Hobin's career has since expanded to include music producer, studio musician, musical director of children's television, movie scores ("King Kong"), audio books and writing and producing commercials for clients such as Coca Cola, ABC Television and Tri-Star Pictures. In addition to continuing to tour with his band, he is an Adjunct Professor at Le Moyne College's Department of Music.
Dave Rezak, founder of DMR Artist Booking Agency and founding director of Syracuse University's Bandier Program in the College of Visual and Performing Arts, the first academic program of its kind to focus on the business of music. In 2015 he won both Variety magazine's Media Mentor Award and the SAMMY (Syracuse Area Music Award) for Music Educator of the Year. He worked with Cortland students to book performers on campus.
David "Rock" Feinstein, former bandmate (and cousin) of Cortland's legendary heavy metal singer Ronnie James Dio, who replaced Ozzy Osborne in Black Sabbath, founded Dio and is credited with creating the iconic, heavy metal "devil horns" hand symbol. David was a 2011 SAMMY Hall of Fame inductee and guitarist of the bands Ronnie Dio and The Prophets, The Electric Elves, Elf and The Rods. Feinstein wrote Ronnie James Dio's last recorded song, "Metal Will Never Die" and has been part of the Upstate New York music scene since the 1960s. In addition to playing music, Feinstein owns Cortland's fabled Hollywood restaurant.
Jim Pantas, Ronnie James Dio's manager until 1972 and an artist manager and booking agent until 1975. In the latter role, he helped students bring notable acts to campus.
The panel discussion will be moderated by Dave Frisina '77, program director and afternoon drive DJ of Syracuse classic rock station 105.9, The Rebel. Frisina, who has long promoted Central New York musicians through his "Soundcheck" radio show, was a Billboard magazine nominee for Personality of the Year, Music Director of the Year and Program Director of the Year and received a SAMMY for Lifetime Achievement in 2018. He started his career at Cortland with the campus radio station and was a founding member of WSUC-FM.
The panel is one of several initiatives by SUNY Cortland's alumni Concert Commemoration Committee, which is dedicated to preserving the College's concert history and helping students succeed in the fields of communications, business, entrepreneurism, music, event management and history.
Ultimately, the group — which Samuels co-chairs — hopes to raise funds for a commemorative sculpture installation in the Corey Union lounge where the panel discussion is scheduled to take place.
For more information on SUNY Cortland's Sesquicentennial, visit Cortland.edu/150.
College to Embrace 'Healthy Campus' Sept. 26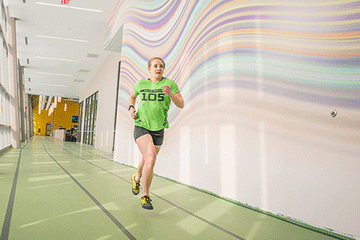 09/11/2018
SUNY Cortland will toast "Wellness Day: 150 Years of Healthy Red Dragons" on Wednesday, Sept. 26, with free historical displays, health-related activities and prizes in the Student Life Center lobby.
From noon to 3 p.m. that day, students can help advance the campus community toward an ultimate wellness milestone while reflecting on a timeline created to mark the many related accomplishments College has achieved since its founding in 1868.
The inaugural event takes place during Healthy Campus Week, celebrated this year from Sept. 24-28 by the national organization Partnership for a Healthier America (PHA).
This year, the Washington, D.C.-based PHA launched its fourth annual Healthy Campus Week as part of its Healthier Campus Initiative (HCI), a national effort to ensure college students have access to healthier environments during a time of profound change in their lives — a time when new habits are formed.
Research shows that overweight and obesity rates increase by more than 15 percent for first-year college students. According to a study published in 2014 in the journal Preventive Medicine, 95 percent fail to eat the recommended amount of fruits and vegetables and more than 60 percent report not getting enough physical activity.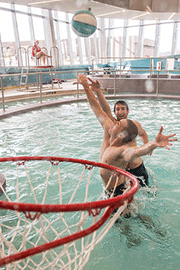 SUNY Cortland is bucking the trend. An average of 2,000 people, approximately one-third of the student body, use the Student Life Center every day to lift weights, run on the elevated track, play basketball or engage in activities such as yoga and meditation, group exercise classes, swimming or another fitness or recreational activity. Julian Wright, the College's director of recreational sports, estimates that the one millionth user will enter the three-year-old Student Life Center by the early part of fall semester. Approximately 500,000 additional people have toured the facility since it opened.
During SUNY Cortland's event, students, faculty and staff can walk around with a cardstock booklet "passport" to stations where they can check off health-related actions they have just completed such as having their overall calorie needs assessed, sampling healthy snacks, getting their blood pressure taken, performing an exercise test, checking their resting heart rate and undergoing a stress test. At one station, the participants might have their daily caloric needs calculated by College nutritionist Andrea Hart, for example. Interns with the College's Health Promotion Office will staff some stations.
"We're asking students to assess their wellness currently so they can compare their own health-related specific information in the future," said the College's health educator, Lauren Scagnelli '12, M '14.
"We have marked Healthy Campus Week for the last two years but we haven't promoted it this way," Scagnelli said. "In the past two years, we asked students to take pictures of themselves eating a healthy meal, using a stress ball, etc., and posted them on Twitter using the hashtags #HealthyCampus and #RedDragonStrong."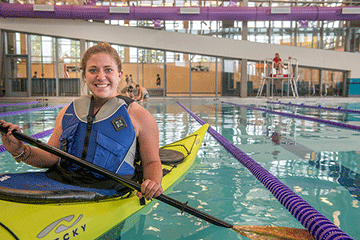 This year, participants who visit all six information stations will receive a free water bottle both as a prize and a reminder to always stay hydrated when exercising.
Additionally, those who complete even one station are entered into a drawing to win a session of Bod Pod body composition analysis, valued at $20, or a one-hour massage. A 50 minute, sport or relaxation massage costs $50 for students and $60 for faculty. Individuals who fill out the whole "passport" are entered in the competition six times over.
"We want to encourage any participation, so we offer everyone at least one chance to win," said Scagnelli, who served on a committee to organize the day's events. Committee members include Theresa Baker, CAN'T FIND HER IN DIRECTORY; John Cottone, dean of professionals studies; Hart; Bonni Hodges, Health Department professor and chair; Eve Mascoli, assistant director of recreation sports for facilities and aquatics; Fred Pierce, the College communications director; and Deborah Van Langen, associate professor of kinesiology. Van Langen and her students also will assist during the event.
Another table at the healthy campus event will feature a timeline of health-related milestones in SUNY Cortland history over the course of 150 years, created by Health Promotion interns.
Hodges and students enrolled in her classes will staff a separate table that will feature highlights of the Health Department's history.
The timeline will note, for example, that in 2013 the College campus became tobacco-free.
Another big milestone in nutrition, physical activity and programming appears to be coming up, according to Scagnelli.
SUNY Cortland has completed 19 of the 23 requirements in nutrition, exercise or programming to be officially named one of the nation's healthiest colleges through the PHA's Healthier America's Healthier Campus Initiatives. The College was given three years to reach the goal, until 2019. PHA developed these guidelines in collaboration with some of the nation's leading nutrition, physical activity and campus wellness experts.
This initiative was first introduced by SUNY Cortland President Erik J. Bitterbaum, Scagnelli said.
"The year 2016 was our first year and we are pretty confident we are within reach of having all 23 areas identified," she said. "Looking into the future, we hope to mark in 2019 that we've achieved the PHA's Healthier Campus Initiative."
To date, more than 50 colleges and universities across 29 states and the District of Columbia are participating in the Healthy Campus Initiative, impacting more than 1.3 million students, faculty and staff. The partnership also works to encourage for-profit businesses to produce healthier products.
The event also occurs on "Wellness Wednesday," the week day that SUNY Cortland campus traditionally sets aside all semester long to offer a different well-being initiative, for example, mental health outreach.
"Knowing that health is related to all different aspect of wellness, we make sure that that last aspect is included, too," Scagnelli said. The College has long conducted an annual Body Appreciation Week to encourage another major area of wellness.
For more information, contact Scagnelli in the Health Promotionoffice in Van Hoesen Hall, Room B-38 or 607-753-2066. Follow PHA on Twitter @PHAnews.
President's Cabinet Approves New College Video Policy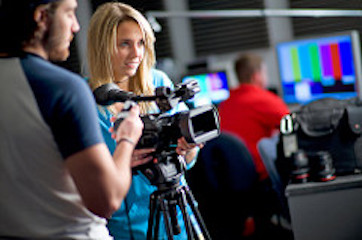 09/25/2018
A new policy for official video has been approved by the President's Cabinet.
It can be referenced in the videography section of the Communication Guide.
This policy is intended to ensure that video production efforts:
coordinate with College-wide marketing and communications efforts.

contribute positively to the SUNY Cortland brand.

prevent redundant promotional efforts.

meet SUNY Cortland's standards for production quality.

adhere to accessibility guidelines and requirements.
All faculty and staff are expected to follow this policy, as well as students who are creating content on behalf of a department or office.
Exceptions:
Content produced by student(s) for a class, club or personal use.

Content used by or produced for faculty for classroom use.

Content that is neither produced by or for SUNY Cortland
Faculty and staff tasked with planning or producing a video project are encouraged to schedule a training session to review the procedures and best practices for audio/video content. Individuals who have not received training will need to submit content for review before it can be published through any public SUNY Cortland channel.
Please direct questions or concerns about the new policy to Casey Hickey, web and digital marketing specialist, at ext. 2533.
Exercise Teaches History of Native and U.S. Relationships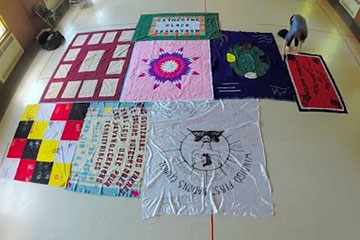 09/25/2018
An interactive group exercise to raise awareness of the history of the relationship between indigenous and non-indigenous peoples will be held Thursday, Oct. 4, on campus.
The event, titled "Witness to Injustice: Unraveling Historic Native and U.S. Relations," will be led by Neighbors of the Onondaga Nation (NOON) at 4:30 p.m. in Corey Union Function Room.
Sponsored by the Native American Studies program, the event is free and open to the public.
NOON member Cindy Squillace, her husband Jack Manno and several Ongwehonwe members adapted the Blanket Exercise to include Haudenosaunee history, including the Sullivan-Clinton Campaign of 1779. Squillace is a co-facilitator of the adapted Blanket Exercise for audiences in this region.
They will impart the Blanket Exercise, a one-and-one-half-hour teaching tool that uses participatory education to raise awareness of the history of the relationship between indigenous and non-indigenous peoples in the part of the world now known as the United States. Through the use of meaningful quotes and blankets that represent part of Turtle Island (the Western Hemisphere), they explore this shared history that most people rarely learn in traditional settings. The group engages in a conversation about the European colonization of Turtle Island in order to deepen our understanding of the denial of indigenous peoples' nationhood throughout U.S. history.
The Blanket Exercise was developed by the KAIROS Organization in Canada in response to the Royal Commission on Aboriginal Peoples report in 1996 that sought to foster justice and peace between indigenous and non-indigenous peoples of Canada. Through reports, community visits and testimony, the Canadian government placed itself among the colonizing governments that had done wrong to indigenous people.
This program is also sponsored by the Center for Gender and Intercultural Studies and the Provost and Vice President for Academic Affairs Office.

Suggest a feature story
---
People on the Move
Bob O'Malley Named SUNY Cortland Head Athletic Trainer
09/25/2018
Bob O'Malley has been named SUNY Cortland's new head athletic trainer, according to director of athletics Mike Urtz. O'Malley takes over the position from Sonya Comins, who has been on the Cortland athletic training staff since 1998 and head athletic trainer since 2004. Comins will continue to serve on the athletic training staff and as a faculty member on the SUNY Cortland CAATE Athletic Training Program.
"We're excited about our new addition to Cortland Athletics in the area of Athletic Training and student athlete safety and well-being," said Urtz. "It has never been more paramount for universities to continue to enhance these areas. Bob brings vast experience in this area, which will only improve our top-level program of athletic training. Bob's addition to an already elite group will put us among the best.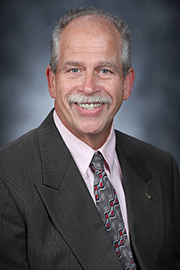 "We also want to thank Sonya for her 14 years of outstanding service as head athletic trainer for us. Fortunately for us, she plans to remain on staff as one of our full-time certified athletic trainers along with her continued responsibilities for the program in the classroom."

O'Malley most recently worked since 2009 as an athletic trainer for Excelsior Orthopedics and Sports Medicine in Amherst, N.Y. He served as Coordinator of Community Outreach, and from 2015-17 was Coordinator of Sports Medicine Services for the WNY Flash Women's Soccer Team, the 11 Day Power Play Foundation (an annual marathon hockey game to raise money to fight cancer), and the Buffalo Marathon Stretch Zone, among other groups.

No stranger to intercollegiate athletics, O'Malley served as head athletic trainer and assistant director of athletics at Philadelphia University from 1993-2006. He administered the overall athletic training/sports medicine program for the university and supervised a staff that included an assistant athletic trainer, 10 student trainers, two PA/ATC graduate students, and Temple University CAAHEP Athletic Training Education Program students. He also was an assistant athletic trainer at Marist College from 1988-90, and from 1993-2006 was an approved clinical instructor at Temple University, where he supervised and evaluated undergraduate students in the Athletic Training Education Program.

O'Malley graduated from American International College in Springfield, Mass., in 1979 with a bachelor's degree in pre-law/history and a minor in biology. He was a graduate student at Concordia University in Montreal, Quebec, in 1981, and he earned a master's degree in athletic training/sports medicine from Temple University in 1993.

---
Faculty/Staff Activities
Anne Adams
Anne Adams, Africana Studies Department, chaired a panel and presented a paper at the annual conference of the Caribbean Studies Association in June in Havana, Cuba. Her paper, comparing folkloric and performance characteristics in African American and Caribbean literature, was titled "Pan-African Literature as Performance: Signifiyin' Tricksters from Zora Neale Hurston and Marlon James."
Seth N. Asumah
Seth N. Asumah, Africana Studies and Political Science departments, was a keynote speaker and plenary panelist during Africa Day in May in Lisbon, Portugal, and in June in Hamburg, Germany. Asumah's papers were on "African Migration, Immigration and Remittances" in Portugal and "Germany's Compact with Africa" in Hamburg, Germany. As a frequent keynote speaker during Africa Day in Germany, Asumah was featured in a special publication, Africa Day Magazine, May 2018, of the Intercultural, Migration, and Integration Center (IMIC) of Germany. The Africa Day Business Session focused on public/private partnerships (PPP) and a panel discussion by African Union (AU) and European Union (EU) finance ministers. Asumah and academics from the University of Hamburg were participants in this plenary panel discussion.
Mary Schlarb and Shufang Strause
Mary Schlarb, International Programs, Shufang Strause, Childhood/Early Childhood Education Department, and Dennis Weng, former Political Science Department faculty member, contributed a chapter titled "The New Normal: Student and Faculty Mobility Programs between Public Teacher Education Institutions in China and the U.S." to The Rise of China-U.S. International Cooperation in Higher Education (Spotlight on China), Christopher Johnstone and Li Li Ji, editors.
Katie Silvestri
Katie Silvestri, Literacy Department, co-authored an article about Twitter as a kind of digital literacy that was recently published in School-University Partnerships. Co-authors are Jevon Hunter of Buffalo State College and Madison Ackerman of Niagara County Community College. The article shares the qualitative research findings of an emerging professional development schools partnership that investigated the way Twitter, as a type of digital literacy, mediated literature discussions of Lois Lowry's "The Giver" between urban high school students and master's degree literacy specialist candidates. The findings were organized into three themes that indicated Twitter's productive use for literacy engagement among participants: (a) extending time-on-task engagement by encouraging text-specific discussions; (b) organizing cognitive engagement through questions to enhance text comprehension; and (c) facilitating affective engagement by generating enthusiasm and a desire to be part of a broader, more authentic literacy community. Collectively, these findings have implications for designing socially mediated digital literacy activities that lead to theorizing about the potential of adolescent online literacies in classrooms, leveraging 21st century literacy-based technologies for academic learning, and expanding the literacy pedagogy of preservice teachers.
Robert Spitzer
Robert Spitzer, Political Science Department, is the author of an article titled, "What's Behind NRA TV's Grotesque Take on 'Thomas & Friends'," posted Sept. 14 on the CNN.com website. The article examines the political agenda and tactics behind NRA TV's depiction of a cartoon character in Ku Klux Klan garb.
Brian Williams
Brian Williams, Political Science Department, had an article accepted for publication in Representation: Journal of Representative Democracy. His article, 'Private Member Bills and Electoral Connection in Wales' finds evidence of an electoral connection between members of the National Assembly for Wales and their constituencies.

Submit your faculty/staff activity