New Class Takes Break in Cuba
04/23/2019
A fair number of American college students travel to a Caribbean island over spring break. But not many of those include the Communist-controlled island nation of Cuba on their itinerary.
This spring, four SUNY Cortland students and their counterparts from San Geronimo University in Havana spent their break participating in a first-of-its-kind cross-cultural course on Cuban art and culture.
They explored bullet-riddled walls and rusting military mementos from the 1953-59 Cuban Revolution and visited a farm field to savor the aroma of tobacco used in famous Cuban cigars. They examined the artifacts of indigenous Taino peoples as well as the signs of the bloody legacy of the 16th century Spanish conquest. And they talked politics with English-speaking Cuban nationals in hip urban art galleries, engaging on topics the student had assumed were off limits.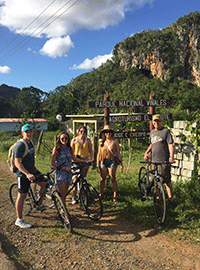 "It was really interesting to hear from their perspective stuff that we've been hearing growing up and how those views might be different from their perspective than from ours," said Olivia Antonecchia, a senior speech and hearing science major from Yonkers, N.Y., who graduates next fall. "There's such a long history, back and forth, love and hate relationship, between America and Cuba."
The trip to the three uniquely different Cuban cities of Havana, Trinidad and Vinales was led by Jeremiah Donovan, a SUNY Cortland professor of art, whose focus is ceramics, including the reconstruction of archaic pottery production methods. In the past, Donovan has arranged for classes to study historical, cultural and creative perspectives in China as well as Belize.
But even for Donovan, the March 15 to March 25 study abroad experience felt different. For one thing, they had no language interpreters, and neither he nor the students were fluent in Spanish. Previous excursions to China had involved an interpreter but trips to Belize, largely an English-speaking country, had not. In Cuba, Donovan admits that everyone sort of winged it.
"Mime works very well," he said.
"This trip was truly a pilot program," said Donovan, who visited Cuba four previous times to establish the class and itinerary. When students finally took the course, sometimes they ate or stayed at a place nobody from SUNY Cortland had visited before.
"These students agreed to live in a land of uncertainty," Donovan said. "Of course, they knew me from traveling or (prior) classwork. But it truly felt like a brave new world."
For 10 days, the students focused on the exploration of historical and archaeological sites and made field excursions to rural communities while they attempted to develop an understanding of Cuban culture, the effects of the Spanish conquest of the 16th century on the indigenous Taino population, and Cuba's place in modern society.
The students got a hands-on understanding and working knowledge of traditional domestic practices such as pottery making, tobacco farming and food preparation in a country that grows or raises nearly all its own food. They were introduced to archaeological findings through lectures and field studies. They spent two nights in Trinidad, a Spanish colonial settlement that now is a UNESCO Heritage Site.
After completing assigned readings of historical and contemporary issues in the Cuban culture, the class members must write descriptive and analytical papers to help Donovan decide how well they grasped the traditional and modern practices and ways of life. Each student will give an oral presentation to the class describing the history and significant highlights of one of the historical sites visited in Cuba.
One thing that won't show up in the grading book are the students' favorite memories from the trip.
"I enjoyed going to the Fabrica de Arte Cubano in Havana," said Kelly Brown of Cortland, a senior studio art major who has a concentration in ceramics. "It's like this big gallery that used to be a peanut oil factory. It has bars in it and had this nightlife feel to it, totally different than any gallery I've been to."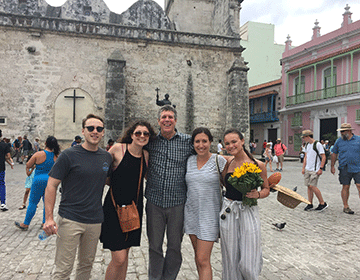 Some artists dealt with sexual themes beyond what Cuba seems to allow.
"So much of the art was about gender and about sexuality but the government still doesn't have homosexuality and gay marriage legal," Kelly said. "I was asking the students about how safe it was to be queer and out."
The class took guided historical walking tours of Old Havana and Trinidad to gain an understanding of significant changes to the culture brought on by the Cuban Revolution of 1953-59.
"Going to the Museo de la Revolucion (Museum of the Revolution) was by far the best thing I did," said Andrew James, a senior criminology major from Sag Harbor, N.Y. "There was so much history there of Fidel, Che, Raul and all the revolutionaries. It was in (Fulgencio) Batista's former palace (the U.S.-backed authoritarian ruler from 1952 to 1959). You can see where the assassination attempt was made against him. Outside, you could see all the revolutionary vehicles, the Soviet tanks, the boat Fidel (Castro) came across from Mexico in during the revolution to overthrow the Batista regime."
One day the group met other university students in Havana, said Connor Vick, a senior political science major from Rochester, N.Y.
"They definitely have a lot of love for their country but it was interesting to see what they would want to improve on," said Vick, who will complete a student internship in Washington, D.C., before she graduates next fall.
"They knew a lot about American politics as well and we got to hear their viewpoint about, say, our President Donald Trump and Obama before him. I think they are interested in the capitalistic viewpoint but I see that they still enjoy some of the socialism aspects such as free healthcare and education."
Consumer products were hard to find and expensive, the students noted.
"It wasn't like just you couldn't get Colgate toothpaste," Kelly said. "It's like you have to go to this certain place and have your ration cards and get your toothpaste when you are not at work. And then your housing is impacted by (the economy) also, which impacts your relationships and your job. It was just all-encompassing."
Antonecchia and three other students who had also taken Donovan's prior Belize Art and Culture course compared the trips.
"The Belize experience, I felt, was more grounded in archeology and looking more at a past, historical experience, whereas the Cuba trip was grounded in the present and looking at how it is right now and our relations with them," Antonecchia said. "But in a way it's kind of like looking at the past with the cars, and the way businesses are and way the government is. It's almost like very ancient."
The two countries differ greatly in terms of infrastructure, James noted.
"Cuba had such a great infrastructure compared to Belize," he said. "There was a lot of development along the coastal areas. Everything is expanding. A lot of that can be attributed to how Cuba had trading partners with the Soviet Union in the past and today with Venezuela. When I was in Belize, I didn't really see a main trading partner."


Bazzi to Headline SUNY Cortland's Spring Fling
04/17/2019
Bazzi, a pop music singer, songwriter and rapper who boasts 18,800,000 monthly Spotify listeners, will headline this year's Spring Fling concert alongside Brooklyn rapper Young M.A on Saturday, April 27.
The Spring Fling picnic and carnival will be held from noon to 3 p.m. in front of Corey Union. Neubig Road will be closed to traffic to create more space. Activities will include lawn games, inflatables, airbrush tattoos, a photo booth and a live band to keep the fun going. Popcorn, snow cones and cotton candy will be available along with a full barbeque catered by Auxiliary Services Corporation. Burgers, hot dogs, veggie burgers, salad, chicken, potatoes, pasta salad, watermelon and lemonade are on the menu. T-shirts, lanyards, water bottles and sunglasses will be given away.
In the event of rain, the carnival and picnic will be held in Corey Union.
The concert will take place in Park Center Alumni Area. Doors open at 7 p.m. and the show begins at 8 p.m.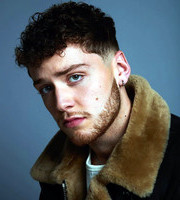 Tickets are on sale to SUNY Cortland students for $25, cash only, from Monday, April 22 to Tuesday, April 23 between 9 a.m. and noon and from 4 to 8 p.m. at the Corey Union information desk. Ticket sales will be opened to the general public from Wednesday, April 24 to Friday, April 26 between 9 a.m. and noon and from 4 to 8 p.m. Tickets for the general public are $30. SUNY Cortland students may still purchase their one ticket for $25 after April 23.
Students buying tickets must have their SUNY Cortland ID at the time of purchase. Those purchasing general public tickets can buy as many as they want and must pay in cash as well. Tickets will not be sold at the door.
Concert attendees must be at least 18 years old.
Michigan-born Andrew Bazzi began his music career as a young child and eventually gained popularity through the social media app Vine in 2015. Since then, he has released singles "Beautiful," "Got Friends" and "Alone." In October 2017, he released his breakthrough single "Mine," which soon became an internet meme on popular social media sites, which spiked his popularity. The song landed on the Billboard Hot 100 charts at No. 11.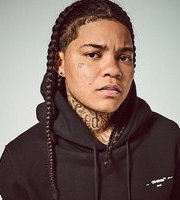 He joined Camilla Cabello and Justin Timberlake tours as an opening act and headlined 2019 spring concerts at Harvard University and Iowa State University. Bazzi is currently working on a collaboration with Marshmello and released his newest song "Paradise," earlier this month.
Young M.A broke through into the rap world with her hit single "Ooouuu" in 2016, which has 7,000,000 plays on Spotify. She has also started the Kweens Foundation, a charity designed to support mothers through tragedies brought on by street and gun violence.
Prepared by Communications Office writing intern Skyeler Paparteys
---
Capture the Moment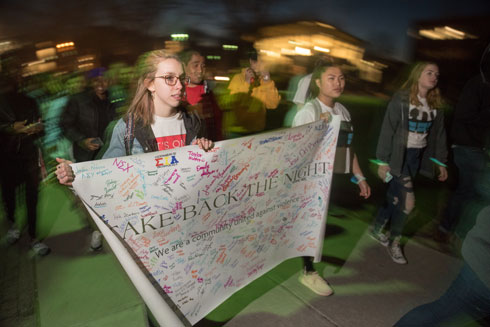 SUNY Cortland students Grace Sander-Effron, left, and Carolanne Clark carry the banner leading the Take Back the Night March on campus April 17. The march is sponsored each semester by the student club SAFER (Students Active for Ending Rape), whose main mission is to educate and raise awareness about sexual assault. New members are welcome and news and events are promoted on SUNY Cortland's It's On Us social media accounts on Facebook, Instagram and Twitter.
---
In Other News
Spanish Club Writes to Border Detainees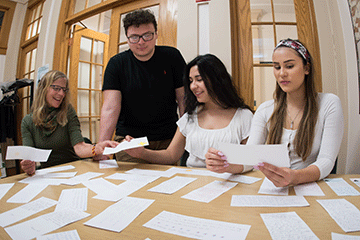 04/23/2019
Students in SUNY Cortland's Spanish Club are writing letters of support and encouragement to undocumented Latin American workers and families being detained after entering the country at the U.S.-Mexican border seeking asylum.
For some of the letter writers, their own family or immigrant roots has made the unusual project personal.
"As a graduation present my father plans to take me to our home country, which is El Salvador, to see my family for the first time," said Spanish Club president Michelle Hernandez of Rocky Point, N.Y., a junior special education major with a minor in teaching secondary languages.
"That's something that's very important for me to see. My grandmother lives in complete and utter poverty where she has a water person come by daily and give her a bucket of water. It's in San Miguel, the rough neighborhood she lives in with a lot of the MS-13 gang around. We are so privileged to live in this country and we take a lot of things for granted."
The club has about 20 members, including many international students from non-Spanish speaking countries.
The students' 40 colorfully decorated and heartfelt letters, written in Spanish, will be delivered to incarcerated non-citizens who arrived recently on U.S. soil after fleeing extreme poverty and violence.
The letters will reach the hands of the people who need the emotional support, thanks to Detainee Allies, said Spanish Club advisor and associate professor of Spanish Colleen Kattau. The activist organization tracks the location of the Latin American natives held at detention centers pending court hearings on their asylum cases. Each letter will receive the proper postage to reach its intended recipient.
"These are letters to people waiting for a hearing, possibly on deportation," said Kattau, who has made trips detention centers in Fort Benning, Ga., and Tucson, Ariz., to check out the situation for residents there.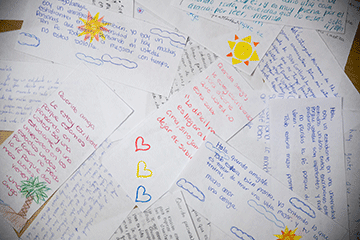 "They are often held for a long period of time and the people don't know where they are going," Kattau said.
So what do Spanish-speaking SUNY Cortland students have to say to detainees?
"I'm an immigrant from Costa Rica," wrote one SUNY Cortland student in a hand-written missive, giving only her first name. "I have 10 years in the U.S. You have a right to be here."
"I think you can find help here," another wrote. "Please know there are people on your side."
"The famous Yankees are playing in my neighborhood of New York," yet another penned. "I hope you can visit someday."
Kattau and several Spanish Club members met recently at Kattau's office in Old Main to place the letters in a large manila envelope to be mailed to Detainee Allies, which communicates directly with detained refugees at the Otay Mesa Detention Center in San Diego, Calif.
Skye Feinman, a senior selected studies major from New York City, said the detainees' plight struck an emotional chord with her, igniting memories of an independent trip she took to Central America last year.
"In 2018 I traveled to Costa Rica where I saw under the bridges there was a lot of poverty," Feinman said. "People live in shacks that are very colorful but so poor. I had to just stop and cry."
Another student, Camilo Fredes, a senior Spanish and communication and media studies major from Bayville, N.Y., was asked to write the club's reflection message to accompany the letters.
"I grew up in Chile until 11 years ago and so I'm fluent in Spanish and Chilean slang," said Fredes, an aspiring journalist. "At my home in Chile, whenever it rained, the whole house flooded. It was pretty bad for my family."
In the U.S., Fredes said he has worked hard since age 13, not only to help the family, but to excel in sports and studies to win a shot at college.
"That's why a lot of people come here, too," Fredes said. "They want to have a better life for their children or grandchildren. In Central America, there are a lot of gangs and the U.S. has caused a lot of civil wars."
For the parents and grandparents of many of the Cortland letter writers, the journey to the U.S. was a difficult one. They arrived in the worst of circumstances.
Feinman said that her grandparents fled Cuba by boat, but were turned back the first time. Her grandfather did not survive the second boat attempt, but her grandmother succeeded.
"A majority of people who come here want to become American citizens," Hernandez said. "They would want to have papers to come here if they could. They would not want to have to come here like this."
Kattau mentioned that it's primarily people of color who are fleeing their countries.
In addition to the letters, the Spanish Club raised $300 for the Detainee Allies organization to offset expenses and $350 for the Workers Center in Syracuse, N.Y., which advocates for undocumented workers, Kattau said. The club received one major gift from local attorney Joe Heath, who returned the honorarium for his February talk on Attica to help a student organization try advocacy work.
Club members plan to tell their immigration stories to the campus community at the Nuestras Américas conference celebration this October 11-12 during Latinx American History Month.
Film Festival Lets Students Hone Talents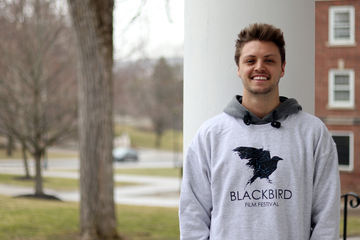 04/19/2019
John Swedin came to SUNY Cortland planning to major in biology with hopes of someday becoming a dentist.
He'll graduate this spring as a writer, director and actor.
Swedin's film "Soup" will be among the seven SUNY Cortland student films screened as part of the 83 short movies scheduled to be shown during the Blackbird Film Festival held on campus April 26 to 28.
"Soup" tells the story of a nervous college student trying to impress his girlfriend through cooking with some hilariously unexpected — and disgusting — results.
Swedin, a senior from Ringwood, N.J., is among the many students who came to Cortland with a specific career goal in mind, only to learn that there are other careers they would rather pursue. With 67 majors, Cortland gives students an opportunity to find the field of their dreams without changing schools.
Swedin changed his major to communication studies and wrote and directed "Soup" as part of an advanced filmmaking course he took during the fall semester.
After writing a script, casting actors and setting up lighting in his apartment's kitchen, the "Soup" shoot required two six-hour blocks of filming split over two days. Swedin spent weeks editing the film and audio. He used a number of Foley techniques — a sound-editing trick that uses everyday objects to produce an intended effect on screen, such as using cocnut halves to mimic the clop of horse hoofs or crinkling cellophane to create the sound of crackling flames.
"I love sound effects," Swedin said. "Foleying and how you make sound effects from other things, that's so interesting. A shovel could be like a slap in the face. It's not the same thing but it sounds exactly like it. In my film I used a lot of different things to make those noises."
Swedin wanted to create a sense of foreboding as ingredients are added to the soup in his film. He realized that the thin, watery mixture depicted didn't quite have enough texture for the sound he wanted to capture, so he experimented offscreen with a concoction of macaroni and cheese and mashed potatoes. He recorded the sound made by that gloppy mess and added that to the final edit.
Swedin said the experience will help him in his next step as he pursues a career in film or the music industry.
The screening of "Soup" won't be the only time Swedin is showcased in a Blackbird student film. Swedin is an actor in Alexandra Olney's "How Long Has It Been?" and Cloe King's "Boy Crazy."
He also serves as the festival's assistant director of media production and event coverage and was an event coordinator intern at the 2018 festival. Getting an opportunity to see his film screened alongside those of directors from around the world will be a dream come true for Swedin.
"I'm really excited because I've seen all of these films and met the directors and they're the real deal," he said. "To have mine intertwined with them, I'm excited to see how it goes and see what they say and see what happens."
The networking connections that happen between students, filmmakers and fans at Blackbird have already paid off for Swedin, who has kept in touch with directors he met a year ago.
"If this is what you want to do, this is definitely the festival you want to go to," he said. "Last year I went and you meet so many people. At the start of this semester, one of the directors I had become close with messaged me and said, 'I'm doing a film in Vermont and I want you on my crew or to be in it.'"
"Soup" will be screened as part of the "Dating, Diddles and Dung" block starting at 3:30 p.m. on Saturday, April 27, in Old Main Brown Auditorium. This group of films tells bizarre, disgusting stories of failed attempts at finding that special someone.
A full schedule of films is available at blackbirdfilmfest.com/blocks2019.
Admittance to film screenings, the filmmaking roundtable and the Seed & Spark workshop is free. A VIP pass that includes access to all special events is available for $20. Purchase tickets at BlackbirdFilmFest.com/tickets.
SUNY Cortland Celebrates Earth Week and Arbor Day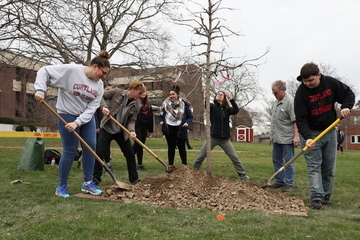 04/23/2019
Spring is in the air, which means it's time to celebrate Earth Week and Arbor Day.
SUNY Cortland students, faculty and staff will hold a series of events including a tree scavenger hunt, a tree planting and a guided campus tree walk.
And don't forget about a lifesize cardboard cutout of President Erik J. Bitterbaum, which will also be posed next to trees for selfie opportunities.
Students will offer information, giveaways and raffles on behalf of the Cortland Speaks for the Trees initiative in Neubig Hall from 11 a.m. to 1 p.m. and from 6 to 7 p.m. on Wednesday, April 24. The volunteers also will be available at tables in the Student Life Center from 4:30 to 6 p.m. on Tuesday, April 23, and Thursday, April 25.
A tree scavenger hunt will allow students an opportunity to win prizes while learning about the wide variety of trees on campus. To participate, follow Cortland Speaks for the Trees on Facebook, Instagram and Twitter.
Roving student interpreters will be present on campus throughout the week to talk about the Cortland Speaks for the Trees initiative.
A campus tree planting will take place at noon on Friday, April 26, near Bowers Hall. Student, faculty and staff volunteers are welcome to assist in the planting.
Steve Broyles, professor and chair of the Biological Sciences Department, will lead a campus tree walk starting at 2 p.m. on Friday from the Outdoor Pursuits office in the Student Life Center.
The SUNY Cortland Tree Walk website maps out the College's urban forest and provides detailed information on each tree species. The forest contains more than 35 different species, each tagged with QR codes that may be scanned with a smartphone to access more information.
The College first earned Tree Campus USA status in 2014 and has maintained its membership through meeting the organization's five standards. Tree Campus USA recognizes campuses that effectively manage campus trees, develop connectivity with the community beyond campus borders to foster healthy urban forests and strive to engage their student population using service learning opportunities centered on campus and community forestry efforts.
Local Filmmaker Showcases Talent at Blackbird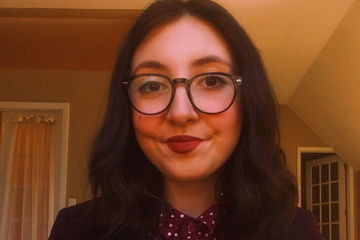 04/23/2019
Amelia Ponirakis is not your average, 18-year-old high school senior. She's also a respected filmmaker with eight years of experience, having started at the age of 10 by making stop motion shorts with her Pokémon toys and American Girl dolls.
Later this month, one of her movies will be shown on the big screen at SUNY Cortland's Blackbird Film Festival for the third year in a row. This year's festival will screen 83 independent films from a wide range of genres. It will be held from April 26 to 28 in SUNY Cortland's Brown Auditorium
Ponirakis' young age isn't the only thing that sets the Homer High School student apart from other Blackbird artists. Her filming technique is unconventional. Instead of a digital camera she uses vintage Bolex and Super 8 film cameras to create her projects.
"It's a little more work you have to put into it," Ponirakis said. "I like that challenge about those cameras because it makes it fun."
Ponirakis, the daughter of Caroline Kaltefleiter, a professor of communication studies at SUNY Cortland, was 15 when she received her first camera for Christmas, which enabled her to focus more on her craft.
In February 2017, she won a Gold Key from the Scholastic Art & Writing Awards, the largest annual art competition in the nation, for her first film, "Solitude." It was screened at the 2017 Blackbird Film Festival where she won a Special Jury Award.
"It was the last day of fall before the winter came, so I just played around with the camera and got a feel for it," Ponirakis said about her first film.
In the summer of 2017, she attended New York State's Summer School of the Arts program for media arts where she was introduced to Bolex and Super 8 cameras. She also learned about film history and found her admiration for experimental filmmakers like Maya Deren and George and Mike Kuchar.
Being a participant in the Blackbird Film Festival for so long, Ponirakis has been inspired by many of those she has met, including the older generations looking out for the youth entering the film world.
She recalled a conversation she had with the festival's executive/artistic director and lead festival programmer, Samuel Avery, an assistant professor in the Communication and Media Studies Department. He expressed empathy for young filmmakers like Ponirakis and said he was reminded of his own youth as an up-and-coming creator and the difficulties that come with trying to enter film festivals.
"I remember him saying that when he was a kid, when he was 13, he was trying to send his work off to festivals," she said. "So he says he kind of sees a little bit of him in me and I thought that was really sweet that he gave me the opportunity to do that at such a young age in high school, where it's kind of hard to have your voice heard."
This year at Blackbird, Ponirakis will show her newest film, "Pesky Landline." The film was inspired by 1960s commercials about women and how they should dress and act.
"I decided to poke fun at that and smash the patriarchy," Ponirakis said. "Because women should just be who they want to be and don't have to fit into the cookie cutter mold of the perfect woman."
She will also be participating in the Silents Roar! Film Festival at the Wharton Studio Museum in Ithaca, N.Y., where she will screen her 2018 film, "Farm Sanctuary."
Ponirakis' interests in the cinema world don't stop at directing. She is also very intrigued by sound design, editing and cinematography. After high school, she will study filmmaking at SUNY Purchase, where she hopes to explore and learn about the different paths she can take.
"Pesky Landline" will be screened as part of the "Albany to Buffalo" block of the Blackbird Film Festival, a celebration of local filmmakers from upstate New York. The block begins at 7 p.m. on Saturday, April 27.
Admittance to film screenings, the filmmaking roundtable and the Seed & Spark workshop is free. A VIP pass that includes access to all screening blocks and special events is available for $20.
Visit BlackbirdFilmFest.com/tickets to purchase tickets.
Prepared by Communications Office writing intern Skyeler Paparteys
Speaker Embraces His Own Individuality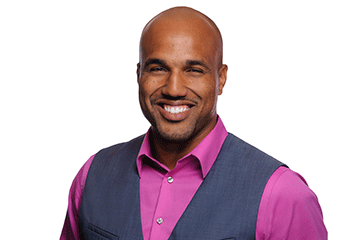 04/17/2019
Inc. Magazine called Arel Moodie a "high-energy motivator" and named him to its 2011 "30 Under 30 list" of top entrepreneurs, joining people like Facebook founder Mark Zuckerberg.
Essence Magazine said of the best-selling author, "He should be the poster boy for rags-to-riches stories ... he is America's Top Young Speaker."
Moodie, a featured speaker at the White House who was acknowledged by former President Barack Obama, will speak on Tuesday, April 23, at SUNY Cortland.
He will discuss "How to Create an Identity for Success" at 7:30 p.m. in Sperry Center, Room 105. The event is free and open to the public.
The presentation is geared to all who want to become more confident with themselves and learn how to be at peace with who they are on the inside, regardless of what stresses happen to occur on the outside. The talk will explore what the journey to self-acceptance is about and how one undertakes learning who one really is.
"The hardest yet easiest journey we all have to take is accepting ourselves for who we are," Moodie said. "Creating pride in our identity regardless of who we are is the key to having an identity for success."
A Jew of color, Moodie grew up on welfare in the projects of Brooklyn, N.Y., where he witnessed those around him being murdered and imprisoned.
Today he has delivered professional speeches to more than 400,000 people in 48 states and five countries. Moodie is married to a half-Korean woman. For fun, he likes to dance. Moodie has performed at Madison Square Garden and has two viral videos that have millions of views. One of them was even featured on "The Ellen DeGeneres Show."
Moodie decided early in life that college was his way out. By the time he finish high school, he had exceled his way to being named the most outstanding graduating senior.
Moodie joined a Latino Fraternity in college. After graduation from Binghamton University and while still in his 20s, he built a million-dollar event production and education company.
By using his story of growing up Jewish but not looking Jewish by many social standards, Moodie had to not only face the challenges of accepting himself within the Jewish community while also creating a sense of pride to be Jewish in any community.
"In my presentation, students will walk away discovering what are the key questions and actions to take to start discovering who they really are right now," Moodie said.
"They will also understand what keeps them from accepting themselves and the reality of the social pressures that are real and are the barrier to an identity of confidence which leads to success."
Moodie's lecture is sponsored by Hillel, Jewish Studies, the President's Fund, the Campus Artist and Lecture Series, the Center for Gender and Intercultural Studies, Africana Studies Department and Multicultural Life and Diversity Office.
For more information, contact Nance Wilson, professor and chair of the Literacy Department and coordinator of Jewish Studies, at 607-753-4375.
Book Explores Untold Civil Rights Movement Story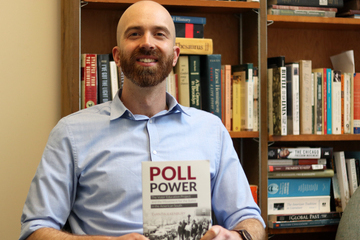 04/22/2019
The American Civil Rights movement of the 1950s and 1960s has been well-documented by historians.
SUNY Cortland's Evan Faulkenbury, an assistant professor in the History Department, has found a story that had gone largely untold; a secret effort that helped hundreds of thousands of illegally disenfranchised black voters cast ballots in southern elections. He shares that tale it in his forthcoming book, Poll Power: The Voter Education Project and the Movement for the Ballot in the American South.
Prior to the Voting Rights Act of 1965, African Americans and racial minorities were systematically denied the right to vote, through Jim Crow laws at the state and local levels, despite those rights being protected by the Fourteenth and Fifteenth Amendments.
A number of civil rights activists convinced nonprofit and philanthropic foundations to donate money toward voter education and registration efforts. With the support of activists, financial donors and the Department of Justice, under attorney general Robert F. Kennedy, the Voter Education Project (VEP) was launched in March 1962.
From that time through October 1964, the VEP registered approximately 688,000 black southerners by spending $855,836 on 129 projects throughout the 11 states that had made up the Confederacy in the Civil War. The money, which came largely from liberal, white northerners, paid for fuel, food for volunteers and for people to canvass neighborhoods and bring people to their local courthouse to register to vote.
"All of that was necessary because at that point in time, black Americans had very few protections for voting," Faulkenbury said. "To organize a campaign like that cost money. The VEP provided that kind of backing and funding and resources that made the Civil Rights movement happen, in a sense."
The reason the VEP has been mostly left out of the history of the Civil Rights movement was the secrecy with which it operated.
"It was unique because they had to be super careful," Faulkenbury said. "That's why no one has ever heard about the VEP. They were intentionally behind the scenes and clandestine because they got this special tax exemption from the IRS. They were worried that once conservatives sniffed this out, they were going to kill it and eventually they did. It lasted after that, but they hurt it pretty bad in 1969."
Although the Tax Reform Act of 1969 intentionally undercut the VEP's funding, the organization continued doing voter education and registration work until it closed in 1992.
One of the VEP's leaders in the 1970s was U.S. Rep. John Lewis (D-Ga.), a major figure in Civil Rights activism in the 1960s. Lewis, chairman of the Student Nonviolent Coordinating Committee (SNCC) from 1963 to 1966, spoke at the March on Washington and was beaten by police before a planned march from Selma to Montgomery, Ala. in 1965. He is currently chair of the House Subcommittee on Oversight, a member of the House Ways and Means Committee and the senior chief deputy whip for House Democrats.
"I was able to interview him about it and it was really cool," Faulkenbury said. "Most people just want to talk to him about the things he's already talked about a million times, but I think I was one of the first to ask him about the VEP."
Faulkenbury has also included his students in his research on this topic. Steven Lawson, professor emeritus of History at Rutgers University, gave Faulkenbury a briefcase full of VEP documents that had been sitting in his attic for years. SUNY Cortland students are working to digitize this information and make it freely accessible online to help preserve the role of the VEP in the Civil Rights movement.
A digital map of the VEP's voting registration efforts is available on Faulkenbury's website.
Poll Power will be published by the University of North Carolina Press in May. It is available for preorder at UNCPress.org and Amazon.com.
Television News Leader Returns to Campus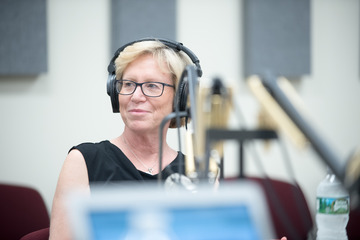 04/23/2019
Candy Altman-Bergantino '77 recalls walking into the campus radio studio on her second day at SUNY Cortland.
It was a decision that shaped the rest of her life.
Altman-Bergantino recently retired after a 40-year career in television journalism that spanned roles as an award-winning producer to the vice president of news at Hearst Television, where she shaped political coverage for its 34 affiliate stations around the country.
Altman-Bergantino, one of the original founders of WSUC, returned to the College this week as an Executive-in-Residence to share her expertise in journalism with Communication and Media Studies students.
During a visit to Professor Caroline Kaltefleiter's New Communication Media class, the alumna gave a presentation on ethical decision-making in journalism and media literacy. She shared stories from her career, including how Hearst Television covered the Boston Marathon bombing in 2013 and tried to protect its viewers from a deluge of incorrect information that was flooding social media.
She implored today's students to strive for truth and accuracy in their work, whether they find careers in journalism, public relations, advertising or any other field.
"Speculation is your enemy when you're talking about breaking news and honestly, when you're talking about pretty much anything," Altman-Bergantino said. "If you're having a discussion in whatever part of the profession you choose to go into and you're trying to decide how to make a decision, speculating on someone's motives or what someone was thinking will always lead you down a bad path. Always deal in facts and be the person in the room who says, 'What do we know to be true?'"
During her time on campus, Altman-Bergantino visited a variety of classes, including Reporting the World, Political Communication, Trends in Popular Culture and Introduction to Media Writing. She also met with faculty from the Communication and Media Studies Department and talked to student reporters from WSUC-FM, campus television station CSTV-20 and The Dragon Chronicle student newspaper.
Altman-Bergantino saw firsthand the transition of the campus radio station from an AM station (WCSU) to an FM station (WSUC) that has become an important part of the Cortland County community. She served as WSUC-FM's first news director. After graduation, she went on to earn a master's in journalism from the University of Missouri in 1978.
She was a producer and news director at WCVB-TV in Boston, Mass. before becoming vice president for news for Hearst in 2001. Altman-Bergantino was the recipient of a Peabody Award for the network's coverage of the 2008 elections and won nine consecutive USC Annenberg Walter Cronkite Awards.
Altman-Bergantino encouraged students to make use of all the opportunities they have at SUNY Cortland. Her passion for news, combined with the hands-on experience she received at the campus radio station, helped propel her into a successful and rewarding career.
"My one piece of advice would be to take advantage of all of that," she said. "Take advantage of the fact that your class sizes are relatively small. You have professors who really know what they're talking about and really care about what happens to you."
Blackbird Film Festival Returns, April 26 to 28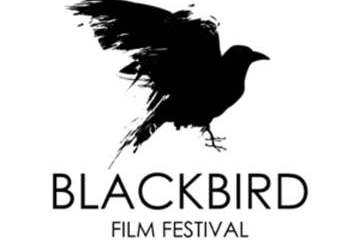 04/04/2019
The Blackbird Film Festival returns to SUNY Cortland April 26 to 28, shining a spotlight on independent filmmakers from across campus and around the globe.
A total of 83 films will be screened over the three days, including a majority from female filmmakers. The 12 screening blocks will touch on topics including "Bullies Beware," "Motherhood" and "Albany to Buffalo," which features films from upstate New York natives.
The full schedule of films is available at BlackbirdFilmFest.com.
Other blocks will focus on themes such as "Growing Up," "Love and Heartache" and "Life, Death and Family," as well as classic movie genres such as horror, action and science fiction.
Films will be screened in Old Main Brown Auditorium.
The Blackbird Film Festival also will include a number of informational and social events for filmmakers and attendees.
A filmmaking roundtable will begin at 3:30 p.m. on Friday, April 26, in the Old Main Colloquium, featuring members of the New York State Governor's Office of Motion Picture and Television Development. Filmmakers will have an opportunity to learn about tax credits, location scouting and finding stages and crew in New York.
On Friday night, BRU64 on Main Street in Cortland will host a kickoff party with music, food and drinks following the opening blocks of films.
At noon on Sunday, a Seed&Spark workshop will be held in the Old Main Colloquium. Seed&Spark is a crowdfunding platform for creators who can use the site to raise money for their projects and gain exposure to a wider audience.
These three events are free and open to the public. A number of other events are limited to those who hold filmmaker and VIP badges. A complete list of special events is available at BlackbirdFilmFest.com/2019events.
For the second consecutive year, a group of female filmmakers and Blackbird student interns will meet with local participants in the YWCA's Girls: Empowered, Motivated and Successful (GEMS) program to talk about careers in technology and media. GEMS works with teenage girls to foster leadership and smart life choices.
This marks the fourth consecutive year the Blackbird Film Festival has been hosted at SUNY Cortland. The festival had 1,801 films submitted for consideration and only 4.61 percent were selected.
The International Programs Office has helped expand the scope of the festival by awarding attendance grants to filmmakers from around the world. Last year's festival attracted creators from as far away as Australia.
Admittance to all film screenings, the filmmaking roundtable and the Seed & Spark workshop is free. A VIP pass that includes access to all screening blocks and special events is available for $20 at BlackbirdFilmFest.com/tickets.
Teachers Writing Conference Set for May 4 at SUNY Cortland
04/23/2019
Writing is often used to test student knowledge, but it can also help students to inquire about the real world and school subjects from literacy to science, art and more, and at all levels from kindergarten through college.
The Seven Valleys Writing Project (7VWP), a National Writing Project site at SUNY Cortland, hopes to drive home this message with its upcoming conference, Writing Matters VI: Making Room for Wonder.
"Writing doesn't always have to serve as the final word on a subject," said David Franke, professor of English and professional writing at SUNY Cortland and director of the 7VWP. "It can be a place to start asking questions, to wonder aloud, to connect with others in and outside the classroom."
The Writing Matters conference will take place from 8 a.m. to 4 p.m. Saturday, May 4 in Corey Union Exhibition Lounge.
Christine Dawson, professor at SUNY Albany and former secondary English teacher, will deliver a keynote speech titled "Creating and Inhabiting Spaces as Teacher-Writers." She will discuss ways that writing is a tool for both students and teachers. Her recent book The Teacher-Writer will be on sale at the conference.
Franke will present at Writing Matters along with regional teachers and SUNY Cortland faculty.
During the Writing Matters conference, educators present their original proposals for teaching strategies, emphasizing how writing can be utilized in the classroom for all academic subjects and grade levels. These proposals were submitted to the 7VWP in March and are selected for inclusion based upon criteria such as creativity, originality, incorporation of new media, scale and collaboration between content areas. SUNY Cortland faculty and graduate students may register to attend the conference on the Writing Matters website.
"The best writing teachers are teachers who write," Franke said. "Most teachers are way too busy to write a novel, but they can get firsthand experience as writers that will give them insight into what their students go through."
7VWP workshops introduce teaching strategies designed to bring writing into the classroom across all disciplines. During these workshops, teachers educate each other on the writing process, revision and creating writing prompts and lesson plans. At Writing Matters VI, Franke will explore ways to use writing to wonder about situated experience.
"Teacher-writers always give very practical lessons that any instructor can use in the classroom Monday morning," Franke said.
Writing Matters is just one of the many programs administered by the 7VWP in their mission to bring writing education to Seven Valleys region schools, at all grade levels and across all fields of study. The Seven Valleys region includes school districts as far north as Lake Ontario and as far south as Horseheads.
Based at SUNY Cortland, the 7VWP is one of about 200 National Writing Project sites at universities across the U.S. that provide writing conferences and workshops for educators, both on the College's campus and in regional schools.
According to Franke, the most significant of the 7VWP's offerings are the Summer Writing Institute programs, held at SUNY Cortland for two weeks every July. The series of workshops are led by and for teachers, introducing groundbreaking ways of using writing in the classroom. Over 100 graduates of 7VWP teach in regional schools.
"You can always pick out a teacher who's been through the Summer Institute," Franke said. "You can pick them out just by walking past the door, because they will be writing along with their students."
Franke sees writing as an educational tool and a community venture. He is a proponent of using writing to strengthen the relationship between student, family and instructor.
"The one thing that we are most allergic to in the whole world is busy work," Franke said. "Writing should be authentic, it should be used for learning, and it should help teachers reach their goals."
For more information, contact the Seven Valleys Writing Project at 607-753-5945.
Joe Brown to Manage USA Baseball/Major League Baseball PDP League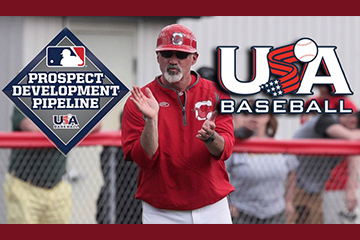 04/23/2019
SUNY Cortland head baseball coach Joe Brown has been selected as one of four managers for the inaugural season of the USA Baseball/Major League Baseball Prospect Development Pipeline (PDP) League, which will take place June 13 through July 4 at IMG Academy in Bradenton, Fla.
Eighty of the top 2020 MLB Draft eligible high school prospects from around the United States have been invited to participate in the inaugural season of the PDP League. Former New York Yankees third baseman and Linfield College head coach Scott Brosius will serve as field coordinator for the league, and the prospects will be divided among four teams named after the league's four captains - former MLB All-Stars and USA Baseball alumni Derek Jeter, Ryan Howard, Chipper Jones and Barry Larkin.
Brown will manage one of the teams. The other managers are Geoff Loomis (University of Portland head coach), Casey Powell (former Whitman College head coach and Seattle University and Linfield College assistant coach) and Willie Romay (Boston Red Sox amateur scout and former USA Baseball Coach). The league will also feature four former MLB players as pitching coaches – Andy Pettitte, Alan Embree, Scott Radinsky and Garvin Alston.
The PDP League serves as a primary identification opportunity for the USA Baseball 18U National Team, slated to compete in the World Baseball Softball Confederation (WBSC) U-18 Baseball World Cup in Busan, South Korea in early September. Additionally, the league will serve as a feeder for a new MLB All-Star High School Prospect Game for the best high school baseball players, taking place in Cleveland as part of MLB's All-Star Week festivities in July.
The PDP League provides participating athletes with an unprecedented experience, including weekly practices and competitive gameplay, individualized instruction from MLB Club representatives serving as on-field coaches, evaluations using modern technologies tailoring individualized development curriculums for each player, as well as off-field leadership, skill-building, and educational seminars. Athletes will also have access to the Gatorade Sports Science Institute, located on the campus of IMG Academy and one of only three such facilities in the world.
Brown entered the 2019 season with a combined record of 714-185-3 (.793) in his first 19 seasons as Cortland's head coach. He's led the Red Dragons to 19 NCAA Division III tournament appearances, including 10 World Series, and 15 State University of New York Athletic Conference (SUNYAC) titles. Cortland won the NCAA Division III title in 2015 and finished as national runner-up in 2005 and 2010. Brown's .793 winning percentage is the best of any active NCAA coach, at any level, with at least 10 years experience. In 2018, Brown became the second-fastest coach in Division III history to reach the 700-win mark.
Official Release from USA Baseball
Library's 'Food for Fines' Will Help SUNY Cortland Cupboard
Memorial Library is offering a unique way for students to pay overdue fines while helping the SUNY Cortland Cupboard.
The Food for Fines program runs from Monday, April 29 through Friday, May 17. Students may pay their fines by donating non-perishable, unopened, unexpired food in cans, boxes and plastic jars.
Students will receive $1 off their overdue fine balance for each item of food donated. Replacement costs for lost or damaged books are excluded from this program. Those who do not have fines but wish to donate food may do so as well.
Donations will be accepted during business hours at The Help Center in Memorial Library. The food will be delivered to the SUNY Cortland Cupboard, which is filled with shelves of non-perishable food items and essentials that SUNY Cortland students living off-campus often cannot afford.
For more information on how to donate, visit The Help Center, call 607-753-2500 or email library@cortland.edu.
Students Inducted into Psychology Honorary
Ten students were inducted into Psi Chi, the international honorary in psychology, on April 15.
The initiates are Jordynn Aiello, Mollie Doran, Olyvia Harrian, Lauren Roberts, Andrew Silipo, Elizabeth Slusarz, Mackenzie Spross, Joseph Stewart, Lexa Sudora and Bobbie Jo Weaver.
Psychology Professor Judith Ouellette is the faculty advisor to the local chapter.

Suggest a feature story
---
Faculty/Staff Activities
Alexandru Balas
Alexandru Balas, International Studies Department and Clark Center for Global Engagement, presented a paper titled "Creating Global Synergies: Inter-Organizational Cooperation in Peace Operations" at the 60th International Studies Association Annual Convention, held March 27-30 in Toronto, Canada.
Tyler Bradway
Tyler Bradway, English Department, was invited to give a lecture at West Chester University of Pennsylvania on April 11. His talk was titled "Queer Experimental Literature and the Narration of Kinship." Also, he guest taught a seminar on experimental short fiction.
Thomas Hischak
Thomas Hischak, professor emeritus of theatre, has had the third edition of his textbook Theatre as Human Action: An Introduction to Theatre Arts published by Rowman & Littlefield.
Jeremy Jiménez
Jeremy Jiménez, Foundations and Social Advocacy Department, recently gave a presentation about his published findings surveying sustainable development goals and content in approximately 1,000 social science textbooks worldwide. He presented at the Comparative and International Education Society Conference held April 14 to 18 in San Francisco, Calif.
Li Jin
Li Jin, Geology Department, co-authored a paper that was recently accepted for publication in Science of the Total Environment. The paper is titled "Water Quality Modelling of the Mekong River Basin: Climate Change and Socioeconomics Drive Flow and Nutrient Flux Changes to the Mekong Delta."
Szilvia Kadas
Szilvia Kadas, Art and Art History Department, recently presented "Evoking Empathy through Graphic Design" at the Popular Culture Association - American Culture Association Conference on April 18 in Washington D.C.
Mechthild Nagel
Mechthild Nagel, Philosophy Department and Center for Gender and Intercultural Studies (CGIS), had her chapter, "Black Athena and the Play of the Imagination," published in Transnational Trills in the Africana World. The book was edited by Cheryl Sterling and published by Cambridge Scholars Press.
Kristine Newhall
Kristine Newhall, Kinesiology Department, contributed a chapter titled "Sports Administration: Heteronormative Presents, Queer Futures" in the recent collection Sex, Gender, and Sexuality in Sport: Queer Inquiries, published by Routledge. The chapter uses queer theory and cultural studies to explore the current climate of athletics departments and imagine future, more inclusive environments for sports administrators. The chapter was co-written with Dr. Nefertiti Walker of the University of Massachusetts Amherst.
Susan J. Rayl
Susan J. Rayl, Kinesiology Department, presented a paper titled "Schizophrenia and Elite Athletes: The Struggles of Kamara James" at the Center for Sociocultural Sport and Olympic Research (CSSOR) Second Annual Conference held March 15-16 at California State University, Fullerton. Kamara James was a competitor, who suffered from schizophrenia, in the Women's Epee event in Fencing at the 2004 Athens Olympic Games. A new international conference, CSSOR attracted participants from several countries, including Germany, Brazil, France, China, Canada, Australia and the United States.
Kevin B. Sheets
Kevin B. Sheets, History Department, was recently elected to the North American board of the International Society for the Scholarship of Teaching and Learning in History. Also, he was appointed to a three-year term to the Organization of American Historians' Committee on Teaching, which works to improve the teaching of history in K-12 and college settings.
Tadayuki Suzuki
Tadayuki Suzuki, Literacy Department, was nominated as a board member for the Lesbian, Gay, Bisexual, Transgender, and Queer (LGBTQ) Advisory Committee of the National Council of Teachers of English (NCTE).
Maria Timberlake
Maria Timberlake, Foundations and Social Advocacy Department, presented "Invisible at Work: A Conversation," on March 29 as part of Cornell University's Many Voices, One College monthly diversity and inclusion dialogue series.
James Webb
James Webb, Auxiliary Services Corporation and executive chef at The Bistro Off Broadway, received the 2019 Chef Professionalism Award from the Syracuse chapter of the American Culinary Federation on March 25. Presented at The Oncenter in Syracuse, N.Y., the award recognizes chefs who exemplify the highest standard of professionalism through certification, continuing education and training, culinary competitions and community involvement. It honors culinarians who help elevate the status of chefs and cooks.
Student Achievements
Matthew Norris, a senior exercise science major from Homer, N.Y., was nominated by SUNY Cortland faculty members for a Phi Kappa Phi honor society national fellowship. Norris will pursue a doctorate in physical therapy at SUNY Upstate Medical University in Syracuse, N.Y. this fall.
Norris is accomplished academically and has made significant contributions to campus through his involvement in bringing Around the World for Yeardley program and developing the Mental Health Mondays for student athletes. Also, he is a member of the Empire Collegiate Wrestling Conference All-Academic Team among many other activities on campus and in the community.

Submit your faculty/staff activity