SUNY Cortland Near Top of Money's National 'Best College' Ranking
08/22/2018
For a second consecutive year, SUNY Cortland was ranked in the top 5 percent of all four-year colleges in the United States as a "Best College for Your Money."
Money magazine analyzed graduation rates, tuition, average student debt and career earnings — as well as 22 other factors — to measure three primary criteria: quality of education, affordability and outcomes.
SUNY Cortland was ranked No. 117 in the nation out of 2,400 colleges and universities, highest among SUNY's comprehensive colleges. Affordable tuition, low student debt and successful early career earnings give SUNY Cortland students a strong return on their investment.
"This recognition is gratifying because it confirms SUNY Cortland's historic dedication to providing our students with a high-quality, transformative education at an affordable price," SUNY Cortland President Erik J. Bitterbaum said. "We are a campus of engaged and ambitious students who use their Cortland education to succeed in teaching, athletics, health care, business, communications, and a wide variety of other fields."
The College has earned similar recognition from numerous national publications and organizations over the last year:
CollegeChoice.net named SUNY Cortland's Kinesiology Department the No. 10 program in the nation in 2017.
The College's School of Education was lauded by BestValueSchools.com as one of the top 25 best values for teaching degrees in the U.S.
To build this year's ranking, Money trimmed the nation's approximately 2,400 colleges to a list of 727 top-value institutions by looking at four criteria:
Have at least 500 students.
Have sufficient, reliable data to be analyzed.
Have a stable budget and not be in financial distress.
Have a graduation rate at or above the median for its institutional category (public, private, historically black college or university).
Colleges were then ranked according to 26 points of data that were sorted into three categories. The quality of education category considered graduation rate, instructor quality and each school's financial stability. Affordability was calculated based on the net price of a degree, debt default risk and the cost of education for low-income students. Outcomes were measured by looking at graduate earnings at multiple points post-graduation.
President Highlights Faculty Engagement in Opening Remarks
08/23/2018
SUNY Cortland President Erik J. Bitterbaum welcomed faculty and staff back to campus Thursday in an opening address that praised the faculty's dedication to their students and highlighted recent achievements in academics, student engagement, community well-being and physical campus improvements.
The College has bucked a national trend of declining enrollment, receiving a record of more than 13,000 applications for the Fall 2018 semester. Bitterbaum cited SUNY Cortland's graduation rate — third-highest in the 64-campus SUNY system — as well as the professional success of graduates as reasons why the College remains so attractive to prospective students. Within 12 months of Commencement, 98 percent of SUNY Cortland graduates are employed or pursuing further higher education.
Affordable tuition and low student debt are among other reasons why the College is thriving. For the second consecutive year, Money magazine recognized SUNY Cortland as being in the top 5 percent of all U.S. colleges and universities on its annual "Best Colleges for Your Money 2018" ranking.
New and expanding College programs will further enhance the institution's reputation, add to the academic experiences of SUNY Cortland students and ultimately benefit the surrounding community.
For example, the SUNY Cortland Institute of Applied Geospatial and Drone Technology will be created out of a $100,000 Downtown Revitalization Initiative award presented to the City of Cortland in July. The Institute will be led by members of the College's Geography Department and serve as a resource for entrepreneurs and start-up companies involved with geographic information systems (GIS) technology.
"We hope to do more with the city," Bitterbaum said. "If we have a successful city, we'll have a successful college."
Several College initiatives will reach well beyond the immediate community. The School of Education, for example, is in the process of organizing the Institute for College Teaching, which will allow faculty to share their teaching expertise and innovation with peers across the SUNY system.
Bitterbaum noted a number of recent grants and awards received by faculty, including:
$610,210 to Angela Pagano, associate professor of biological sciences and Dominick Fantacone, coordinator of the Master Teacher Program, from the Office of Naval Research for "Engaging the Next Generation STEM Naval Workforce: Using Communities of Practice to Build Capacity."
$165,198 to Kevin Sheets, associate professor of history and Randi Storch, professor and department chair of history, from the National Endowment for the Humanities for "Forever Wild: The Adirondacks in the Gilded Age and Progressive Era." It is the fifth time this program, which has become an annual professional development event for teachers throughout the United States, has received NEH funding.
$290,796 to Katherine Hicks, assistant professor of chemistry, from the National Science Foundation for "Enzymology of Bacterial Nicotinic Acid Catabolism."
$137,000 to Santanu Banerjee, assistant professor of biological sciences, from the National Science Foundation for "Specification of Excitatory Fates in the Spinal Cord."
$3,311,360 to Claire Soules, project administrative officer for the Migrant Education Tutorial and Support Service Program, from the New York state Department of Education for "Migrant Education and Tutorial Services."
SUNY Cortland's commitment to international education is providing life-changing opportunities to both students and faculty. Of the College's May 2018 graduates, nearly one out of five (18 percent) studied abroad at some point, Bitterbaum said. SUNY Cortland sponsored 106 international students during the 2017-18 academic year. Faculty exchange programs also have a significant impact, as the College sent 13 faculty members abroad and hosted five visiting scholars between 2016-17.
"Students who go abroad and come back are changed," Bitterbaum said. "it's one of the highlights of their academic careers."
Many SUNY Cortland students also have transformational experiences in applied learning, which includes student research, service learning, volunteerism and field study. A total of 2,549 students — approximately one third of the student body — generated 155,519 hours of applied learning activity during the 2017-18 academic year. These students learn skills they can take into the real world. They become more engaged academically and in their communities because of their participation in applied learning activities.
Construction projects around campus are making SUNY Cortland a friendly, safer and more attractive place as well. Sidewalks were rebuilt between Old Main and the Miller Building this summer. A similar project is underway between Memorial Library and Cornish Hall and is expected to be completed in September. The exterior of Park Center will be renovated in a multi-year project that began recently.
Corey Union will soon open three new campus eateries under the management of Auxiliary Services Corporation (ASC), including Union Station, a coffee shop, Grains & Greens, which will feature salads, sandwiches and vegetarian fare and Pomodori, an Italian and pizza-focused eatery. This area of Corey Union will also include a new seating area that will become a place for students, faculty and staff to connect and relax.
These projects are part of $300 million in new construction and renovations on campus since 2003. Future updates are planned in Moffett Center, Memorial Library and Van Hoesen and Bowers halls.
Bitterbaum encouraged faculty and staff to join students at SUNY Cortland's Sesquicentennial birthday weekend, Friday and Saturday, Oct. 5 and 6. It will be one of many ways the College celebrates 150 years of excellence during the 2018-19 academic year.
One SUNY Cortland student and one recent graduate were highlighted by Bitterbaum as profiles in courage.
Senior Kyle Richard was presented with the Biden Courage Award for Bystander Intervention earlier this year after he was shot once in each leg saving a young woman from a sexual assault at a Long Island party in 2017. Richard, a linebacker and team captain on SUNY Cortland's football team, has been invited to represent the SUNY student body as a speaker at Chancellor Kristina Johnson's inauguration ceremony in New York City on Sept. 14, 2018.
Kaley Clavell '18 underwent a major surgery to remove a tumor in her jaw between her freshman and sophomore years. Musical therapy she received from the staff at Mount Sinai Beth Israel Hospital kept her in high spirits and she was recognized by the Louis Armstrong Center for Music and Medicine as a patient who embodied the positive effects of music therapy. Clavell also became a champion for the Head and Neck Cancer Foundation's "Faces of Courage" campaign, a SUNY Chancellor's student excellence award winner and last spring was among a handful of Cortland students who presented at a national teacher education conference.
Bitterbaum recently received a thank you note from Clavell, a childhood education and early childhood education dual major from Suffern, N.Y. who accepted a full-time teaching position this summer. She received a tremendous amount of support and encouragement from faculty in the School of Education when she was forced to miss time after the surgery.
She wrote, "I owe all of my success to the education program, especially C.U.R.E. (Cortland Urban Recruitment of Educators), and the amazing teachers I met in my journey at Cortland. A thank you to these professors and to Cortland I can assure you is not merely enough. I am so grateful for everything the College has done for me."
"That's who Cortland is," Bitterbaum said. "She is proud and I am proud of our faculty and what you have done."
Bitterbaum urged faculty to continue to work closely with students such as Clavell, as even small gestures may have a massive impact in their lives.
"I think what makes this College great is obviously you," Bitterbaum told faculty. "The stories I hear are extraordinary. The reason our students are successful is because you are successful."
---
Capture the Moment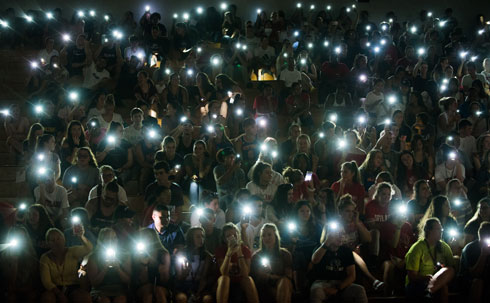 The incoming class of freshmen answered questions using the flashlight on their cell phones during a speech at Academic Convocation on Aug. 26. The lights shined bright when assistant professor of health Alexis Blavos asked, "Who is a little nervous?" They shined even brighter when Blavos asked how many were excited to be Red Dragons. More than 1,250 new first-year students and nearly 700 transfers are settling in during this Welcome Week at SUNY Cortland.
---
In Other News
SUNY Cortland Recognized Nationally for Sustainability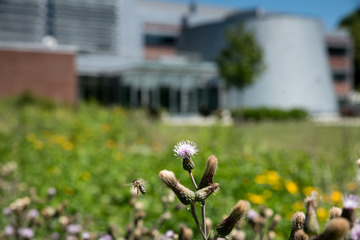 08/27/2018
The late summer weather may be hot and sticky in Central New York, but SUNY Cortland has again been identified as one of the coolest campuses in the United States.
The Sierra Club recently named the College to its annual "Cool Schools" list of the nation's most environmentally friendly schools for the third consecutive year.
SUNY Cortland was ranked No. 76 in the environmental organization's report, which assesses two-year and four-year degree-granting institutions in the U.S. and Canada based on their efforts to combat the climate crisis. The College was the highest-ranked SUNY comprehensive college on the list.
"Sustainability is a top priority for the College," President Erik J. Bitterbaum said. "As an institution devoted to preparing students for the future, we owe it to them, to our community and to the world our graduating students will inherit, to use all of our resources wisely and creatively."
This was one of three recent awards SUNY Cortland earned for its sustainability efforts.
The Sierra Club separately named SUNY Cortland one of its "14 Pollinator-Friendly Colleges That Have Us Buzzing," for the steps the College has taken to include more than 50 native plants in gardens and the bioswale located on campus. The College also was lauded as being pollinator-friendly thanks to the William H. Parks Family Center for Environmental and Outdoor Education, which promotes environmental outdoor education at Raquette Lake, Hoxie Gorge and the Brauer Field Station.
SUNY Cortland also was recognized by the Association for the Advancement of Sustainability in Higher Education (AASHE) for excellence in maintaining the campus grounds.
The College was ranked No. 8 in the grounds category of AASHE's 2018 Sustainable Campus Index, which graded 477 institutions in 11 countries. AASHE considered factors such as minimizing the use of toxic chemicals, protecting wildlife habitat and biodiversity and conserving resources when ranking campuses for this subcategory.
SUNY Cortland was the highest-rated campus in New York state and placed sixth in the grounds category among U.S. colleges. The American College of Greece in Athens, Greece and the Universite de Montreal, Canada were tied for second place.
Sustainability, particularly in areas of maintenance of college grounds, has been one of SUNY Cortland's key initiatives for many years. The College was designated a Tree Campus USA by the Arbor Day Foundation and has created the SUNY Cortland tree walk to digitally map the campus' urban forest. The 35 species of trees have been tagged with QR codes that may be scanned with smartphones to access more information.
Efforts on the Cortland campus have been spurred by the College's long history of conservation rooted in the W.H. Parks Family Outdoor Center at Raquette Lake. The 407 acres of property on Raquette Lake have been the foundation of the College's outdoor education program and have enhanced the educational experience at SUNY Cortland since 1949.
Bee City USA, a national organization dedicated to raising awareness about natural pollinators, such as bees, renewed the College's Bee Campus USA standing in March. Members of the grounds service crews have worked to plant local pollinator-friendly species and use a least-toxic integrated pest management plan. Native plant fairs, workshops on caterpillar gardening and talks on milkweed pollination have added to awareness among students, faculty and staff. SUNY Cortland, along with Vassar College in Poughkeepsie, are the only two Bee Campuses in the state.
A bioswale, which is a landscaped area designed to remove debris and pollution from surface runoff water, was constructed next to Bowers Hall during renovations to the building in 2013. Mike Hough, a lecturer in the Biological Sciences Department, has worked to decide which plant species will work best to create a pollinator habitat for birds and bees as well as butterflies.
"Many native bees and butterflies have been spotted since the plants were installed," Hough said. "There are several species of milkweed and monarch caterpillars have been observed on most of them. Monarch adults are now a regular occurrence on campus. I have also seen several skippers, swallowtails, and duskywings."
Seeds were locally collected and others were donated by Cornell University's Botanic Gardens. Biological Sciences students have helped grow seedlings in the College's greenhouses and pull weeds from the bioswale since it was created.
The College's future plans include planting an apple orchard on the lower campus and setting a minimum number of new trees planted on campus each year.
BestColleges.com named SUNY Cortland one of the greenest campuses in the country in 2015, lauding the College's efforts to become the first SUNY campus to fill its electrical needs with renewable sources such as wind and solar. The college continues this commitment with the recent installation of two smaller solar array installations at the W.H. Parks Family Outdoor Center and at the Cortland campus on top of Whitaker Hall.
Students and faculty are regularly engaged in conversations about sustainability through Green Days events such as the Greenflix film series, which screened four documentaries related to the environment during the spring 2018 semester.
Other categories used by AASHE to measure sustainability include curriculum, public engagement, energy, transportation and water, among others. The full Sustainable Campus Index is available online.
The Sierra Club uses data from AASHE to build its "Cool School" rankings, weighting more heavily on its priorities of air and climate, energy, transportation and water.
For more information on ways SUNY Cortland is working to make the campus green, visit the Sustainability Office online.
College Launches Sesquicentennial Events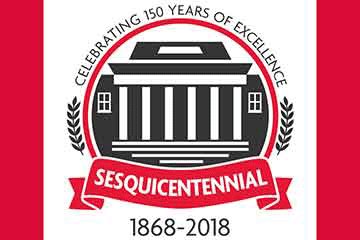 08/28/2018
It's hard to pinpoint the exact moment on July 14 when SUNY Cortland's yearlong celebration of its 150th anniversary officially began, but the Alumni Reunion 2018 barbecue behind the Lynne Parks '68 SUNY Cortland Alumni House is probably one of the top contenders.
That's when Robert Channing, a world-famous mentalist, speed painter and fan favorite on "America's Got Talent," danced with Blaze, the College's mascot, while dabbing a clear substance onto a black canvas with a paintbrush. When he was done, he stepped back and tossed two big handfuls of gold glitter at the seemingly empty surface.
Channing had invisibly painted an image in clear glue and, as the glitter settled, there was SUNY Cortland's Red Dragon athletics logo, sparkling in gold. The 200 or so alumni gathered under the tent burst into applause.
"Personally, I think Reunion kicked off our 150th year in a dazzling fashion," said Reunion 2018 organizer Taylor Lynch '17, interim assistant director of alumni engagement. "Our alumni let us know over and over again that they absolutely loved Robert's performance, especially the custom painting of Blaze, our own logo. It was special for everyone involved."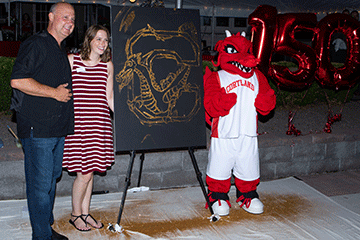 The good news for the thousands of campus and Cortland community members who missed that particular event is that they will have plenty of opportunities during the rest of this year to continue the SUNY Cortland Sesquicentennial celebration.
Quite a lot has happened since SUNY Cortland was founded as the Cortland Normal School in 1868. To celebrate all of the progress and accomplishment, a 21-member sesquicentennial planning committee began organizing a year-long series of events during the spring, after SUNY Cortland President Erik J. Bitterbaum announced the festivities at the start of the spring semester.
"We see this as a celebration for everyone: for the community, for alumni, for students, faculty, staff and administrators," said Mary Kate Boland '06, associate director of leadership and community development. Boland co-chairs the sesquicentennial planning committee with Erin Boylan, executive director of alumni engagement.
"We want this to be an inclusive event celebrating our strong history," Boland said.
Many of the College's big anniversaries align this year. These include the celebration of the 70th anniversary of the William H. Parks Family Center for Environmental and Outdoor Education at Camp Huntington, the 60th anniversary of Cortaca Jug, "America's best little football game," between Cortland and Ithaca College, and the 50th anniversary of the C-Club Hall of Fame.
This coming year, a number of College anchor events will be flavored with reminders of the College's 150th birthday, including Orientation, Academic Convocation, Welcome Week, Homecoming, President's Circle Dinner, C-Club Hall of Fame, Family Weekend and Cortaca Jug. In 2019, the anniversary will link to Transformations, Spring Fling, Honors Convocation, Commencement, and Alumni Reunion 2019.
The main celebration will be a "birthday party" series of events to take place during the C-Club Hall of Fame 50th Anniversary Weekend/Family Weekend, Oct. 5 to 6 on campus.
The weekend will add the following to the traditional Hall of Fame schedule of events:
a birthday party featuring music, student performances, fireworks and much more at 6 p.m. on Friday, Oct. 5, on Moffett Lawn
Friday and Saturday performances, at 8:30 p.m. and 7:30 p.m. respectively, of the College's production of "Annie Get Your Gun" in the Dowd Fine Arts Center
a Birthday Party Carnival with games and inflatables from 11 a.m. to 3 p.m. on Saturday in the SUNY Cortland Stadium Complex
a football game against SUNY Morrisville at the Stadium Complex at noon on Saturday
Members of the community are invited to all four of those events. For details, visit the 150th Birthday Party Celebration website at Cortland.edu/150. Register online or call Alumni Engagement at 607-753-2516.
"We're really exciting about the birthday celebration on October fifth and sixth," Boland said. "The party will feature a birthday a cake and students from 'Annie Get your Gun' to lead the gathering in song. Some special guests will be present. Campus Technology Services will create a light display on the Moffett Center building. The evening will end with fireworks on Moffett Lawn.
"If you're going to make any one thing in the year, I think Oct. 5 is the weekend to come and celebrate," Boland said.
Everyone in the campus community was invited to apply for a share of approximately $20,000 in funding that was set aside to support creative ways to mark the Sesquicentennial. The resulting proposals for lectures, workshops, cultural events, concerts, theatre productions, academic activities, sporting events, receptions or other activities to coincide with the Sesquicentennial were reviewed by a subcommittee of faculty, staff and students.
"We had 20 applications for grants and most of the folks who applied for grants were given funding," Boland said of the full committee, which made the final decision. "And so, we're happy to extend the celebration all year. These grants are really helping us all year long to have smaller celebrations in a variety of ways."
Details for most of these grant-funded events will be announced during the coming year. They include:
During the year, the History Department in collaboration with Memorial Library Archives will complete an oral history project that involves recording the stories of historical occurrences by living people who have experienced important milestones in the College's history.
The library will host a guest speaker, SUNY Cortland alumnus Richard Schieffelin '75. Schieffelin, an historian, lecturer and biographer on Henry S. Randall, the founding president of the Cortland Normal School, will give a talk supported by photos and illustrations.
Laura Davies, an associate professor of English, who directs the College's writing program, will conduct a "My Cortland" writing contest from now until January 2019 that will bring together the voices and perspectives from many different constituencies both on and off campus to reflect what Cortland means to them. Contest winners will appear in a keepsake booklet. Winners will read their works at an award ceremony next April.
Howard Lindh, instructional support technician emeritus of performing arts, plans to display key historical photographs around campus, working closely with Dowd Gallery and the History Department. These might include, for example, an image hung in the lobby of Old Main showing what the quad outside that building looked like during the May 1970 student uprising in response to the shooting at Kent State University.
The United University Professions (UUP) Cortland chapter will contribute an historical exhibit, "We Are UUP: The University's Union," opening on Friday, Aug. 31, in the Student Life Center. The display aims to show how organized labor has shaped New York state's university system and the Cortland campus community over the past 45 years.
The campus energy manager, Matt Brubaker, is using a grant to issue students a Sesquicentennial commemorative reusable bag that also encourages sustainable practices aimed at keeping the College going for another 150 years.
The Art and Art History Department will mount a solo art exhibit by SUNY Cortland alumna Heather Ramsdale '97, an award-winning artist of sculptural objects and large-scale installations from Aug. 27 to Sept. 28 in Dowd Gallery. Ramsdale is a current assistant professor at Kutztown University in Pennsylvania. Her video debut will be part of the display. The grant will support a presentation series at Corey Union and other locations promoting and leading up to the unveiling.
A group of alumni will be offering historical presentations and raising private funds to build a sculpture for the campus to commemorate the A-list musical artists and bands the campus succeeded in luring to perform between the 1950s and the 1990s. The goal is to unveil the new sculpture by Alumni Reunion 2019.
In each new edition this coming year, SUNY Cortland's student newspaper the Dragon Chroniclewill reprint a single page devoted to art and articles from its archives and those of former campus publications.
The campus will display articles, photographs, books and magazines illustrating the history of the former Transitionswriting workshop and magazine. The literary magazine existed from 1954 to 2010 and hosted diverse literary figures including Allen Ginsberg, Nikki Giovanni and Gwendolyn Brooks.
The Sesquicentennial Planning Committee put a lot of thought into the year's celebrations.
Randi Storch, the History Department chair and an early co-chair of the sesquicentennial planning committee, worked with students to select and research 150 moments from the College's history that are included on a digital timeline. The timeline is part of a permanent, interactive website that allows visitors to access detailed information, images and more for each event. Storch and Web Operations Specialist Loren Leonard designed the project.
Boylan noted the sesquicentennial programming will follow three goals the committee established early.
"First, we wanted to celebrate the long history, current accomplishments and expected future growth of SUNY Cortland," Boylan said. "The second is to create or deepen relationships with alumni, parents, students and community members to encourage and support the College in its mission through gifts of time, talent and treasure. And finally, we want to use it to strengthen the College's brand and reputation."
To learn more about the College's historic year, take a tour of the College timeline and purchase a College history book at cortland.edu/150.
Alumni should check for email from the alumni association or visit RedDragonNetwork at RedDragonNetwork.org for updates about planned events.
'Forever Wild' History Program Earns New Round of NEH Funding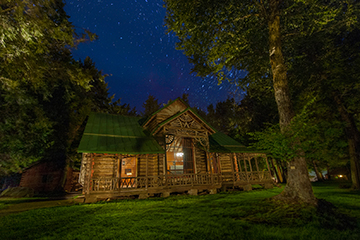 08/28/2018
For people who wonder what it's like to vacation as a billionaire, a nationally-recognized SUNY Cortland history program can help.
"Forever Wild," a weeklong immersive experience for K-12 educators, reveals the historical importance of the Adirondack wilderness during the Gilded Age and Progressive Era, including how the wealthiest Americans from bustling cities made use of the natural landscape during the late 19th and early 20th centuries.
The program recently earned a new round of funding from the National Endowment for the Humanities (NEH) as one of the organization's Landmarks of American History and Culture Workshops. It will continue to rely on the College's William H. Parks Family Center for Environmental and Outdoor Education in Raquette Lake, N.Y., as a central teaching tool.
"This is a great honor for the College," said Professor Randi Storch, a project director along with Associate Professor Kevin Sheets. "We've noticed that these programs have grown a lot more competitive for funding, so this just shows that our institution is out there doing interesting work, connecting to teachers and our larger community."
The project extends an impressive stretch between SUNY Cortland's History Department and the NEH. Since 2012, variations of the "Forever Wild" program have earned more than $900,000 from five NEH grants. An award of $165,198 will fund two weeks of the program in summer 2019.
Full- and part-time teachers in the humanities, as well as librarians, are encouraged to apply for the program, which takes place from mid to late July. Two groups of 36 high-achieving teachers will be selected, and each will spend a day in Cortland before traveling to the Adirondacks for a weeklong stay. Participants receive a $1,200 stipend to help pay for their travel to Cortland and modest lodging expenses during the week.
More information can be found online.
The goal is to introduce teachers to the fascinating relationship between the urban and wilderness environments during the Gilded Age and Progressive Era, periods that cover the 1870s to the early 1920s. In many social studies classrooms, lessons on those years mostly concern the rise of the industrial city. But the importance of the wilderness, especially the Adirondacks, to business, cultural expression and leisure should not be overlooked.
"You need the wilderness to have the idea of the urban, and you need the urban to have the idea of the wilderness, especially when we're talking about cultural constructs," Storch said. "The two are very much interconnected and codependent."
The "Forever Wild" experience was transformative in several ways for Caitlin Goodwin '11, M.S.Ed. '16, a middle-school social studies teacher in the McGraw (N.Y.) Central School District. She joined the inaugural cohort of teachers in 2013, early in her teaching career.
Prior to the trip, classroom discussions about the Adirondack wilderness were limited to former President Theodore Roosevelt and his preservation efforts. But after "Forever Wild," Goodwin said she reworked her narrative, teaching students that the city of Cortland existed as a microcosm of the Gilded Age.
"As a local teacher, the program helped me make a deeper connection with my students," said Goodwin, noting that the Wickwire Brothers' wire drawing mill, immigration patterns and the importance of the railroad are topics that often come up.
The "Forever Wild" program's first day takes place in Cortland so that participants can set the scene from a local urban perspective. Then, the group travels three hours north and stays at SUNY Cortland's Camp Huntington, which was built by William West Durant as Camp Pine Knot — the first Great Camp of the Adirondacks — and later sold to railroad magnate Collis P. Huntington.
During their wilderness retreat, participants examine primary source documents at the Adirondack Experience on Blue Mountain Lake, which Storch describes as a world-class museum. Educators also learn from guest lecturers representing different academic interests related to the time period. Additions in 2019 will include a pedagogy specialist to discuss historical thinking skills as well as a scholar to explain the Native American experience in the Adirondacks during the Gilded Age and Progressive Era.
Participants even enjoy a seaplane ride to help visualize the vast extent of the Adirondacks.
"All NEH programs do a great job, but none are as unique as staying at Raquette Lake," Goodwin said. "Many times, you're in a hotel. (Camp Huntington) lends itself perfectly to the study of place."
"Forever Wild" was Goodwin's first taste of professional development through the NEH, and she has participated in six seminars since then, learning more about Benjamin Franklin in Philadelphia, the Transcontinental Railroad in Sacramento and Abraham Lincoln at Ford's Theatre in Washington, D.C.
"Getting involved with that first program afforded me an incredible amount of opportunity," said Goodwin, who went on to become a National Oratory Fellow at Ford's Theatre thanks to her NEH ties.
In many ways, the "Forever Wild" program represents a larger effort across SUNY Cortland's History Department to convey the historical importance of the College's outdoor education facilities to students, alumni and the public at large. History majors, for instance, can take a one-credit experiential learning course that involves a weekend retreat to the Adirondacks, where they learn about the importance of Camp Huntington, historical thinking skills and elements of place-based learning.
"We use Raquette Lake as a place where our students can think about public history as a potential career path," Storch said. "All of it is very much connected to the work we do with 'Forever Wild' and the NEH."
Red Dragons Draw Tourists to Cortland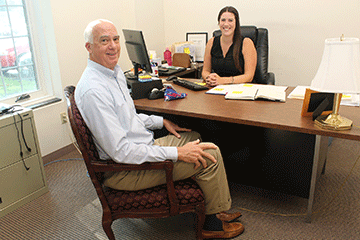 08/28/2018
Why do tourists visit Cortland?
For some it's the skiing. For others, it's the scenic hills rolling into the Finger Lakes. Still others come for festivals, athletic contests, celebrations, historical sites, agritourism, dining, entertainment or shopping.
And, although most of them don't realize it, they come because of Red Dragons.
Twenty-seven years ago, James M. Dempsey M '88 was named executive director of the Cortland County Convention and Visitors Bureau (CVB), the independent, non-profit tourism promotion agency for Cortland County.
Dempsey retired July 16, the same day another SUNY Cortland alumna, Meghan Nulty Lawton '07, arrived to take the tourism baton.
"She was the first applicant," the former executive director, Dempsey, recalls. "Then 25 others applied, but we hired her. That makes it extra special, I guess."
Coming to Cortland is not like coming home, it ishome, Lawton observed. The Cortland native began her college career at SUNY Oswego in communication studies before switching gears and transferring to SUNY Cortland as a junior.
"Growing up in Cortland I always felt a connection," said Lawton, who graduated from Homer High School. "I enjoyed my time up there in Oswego but it always felt like I should be a Red Dragon."
She kept her major, however.
"I loved the Communication Studies Department, and by my junior year pretty much all my courses were in communications," Lawton said.
She concentrated in advertising and public relations. After graduation, she promoted tourism first in the City of Rochester and then as vice president of marketing in Wyoming County through its Chamber of Commerce, which encompasses Letchworth State Park. Until this move, for two years she was vice president of marketing and public relations for Campground Owners of New York, an agency that promotes campgrounds as a place to stay in conjunction with the I Love NY campaign in New York state.
"She's more than qualified for the position," Dempsey said.
The CVB operates at 37 Church St. in Cortland and gets it support from the local hotel occupancy tax and state matching funds.
"I'm coming back to Cortland with this new mindset: the potential traveler," Lawton said. "The thing I love about the tourism industry is you're always dealing with people on vacation, and who doesn't love vacations? The job allows me to do that on a daily basis in a concentrated way.
"I'm a big history buff," she said. "And I love the four seasons. It's what I like about New York state in particular. Coming back to Cortland with this new mindset is so much fun. We have so much to offer here."
Dempsey had a bachelor's degree in English from SUNY Fredonia when he came back to upstate New York from Las Vegas, Nev., in the late 1980s to refocus his career on the recreation field as a student at SUNY Cortland.
"I couldn't say enough good about the program," said Dempsey, who learned under such Recreation, Parks and Leisure Studies Department legends as Andy Young, Charles Yaple, Marcia Carlson, Wayne Storman and LaRayne Hesse. He also served two years as a teaching assistant. After graduation with a degree in recreation, he worked at the Syracuse YMCA for four years, continuing to reside in Cortland with his wife, Jan, and their sons, Tom and Andrew. Fate then intervened in the form of his basketball buddy, John Merriman, a CVB board member.
"(Merriman) said, 'We'll take a chance on you,'" Dempsey recalled in his understated way. "I think it turned out O.K.," he said.
After he was hired, Dempsey first worked tirelessly to promote existing attractions: four area ski resorts, numerous golf courses, a plethora of fine dining establishments, many agricultural and cultural fairs and festivals, and an ever-growing number of hotels.
On Dempsey's watch, the destination potential of Cortland County, a small gem among the wider Finger Lakes region in terms of tourism, has expanded by leaps and bounds. Attractions now include the 1890s House Museum, the Cortland Repertory Theater (CRT), the Lime Hollow Center for the Environment and Culture, the Homer Center for the Arts, the Homeville Museum/CNY Living History Center and the J.M. McDonald Sports Complex. Along the way, the CRT expanded from a summer theater venue to a year-round performing arts operation with two locations and the nearest downhill ski operation grew into a year-round adventure and destination complete with its own hotel and restaurant, Greek Peak and Hope Lake Lodge.
SUNY Cortland's many cultural and athletic attractions kept Dempsey busy as well, especially during the five years when the New York Jets summer training camp on campus, starting in 2009.
"We worked closely with the Chamber of Commerce to offer visitors' services to people who would come from out of town just to see the Jets," Dempsey recalled.
Cortland residents will never see most of the CVB's ads that draw visitors to the region.
"All of our marketing is external, that is, outside the local area: in adjacent counties and states and up into parts of Canada," he said. "Based on our research of what kind of experience people might be looking for, we might advertise ourselves to an area, say for example, our skiing attractions, to the metropolitan Philadelphia, D.C., New York, and Baltimore areas."
Lawton views out-of-town students as potential clients.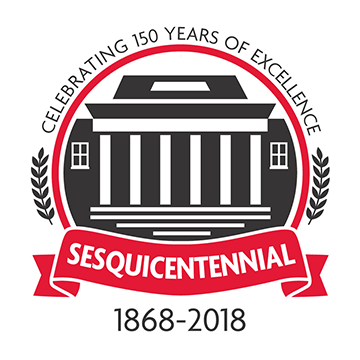 "Even a college is a tourist destination," she said. "They're in school but they do things while they are here such as ski trips, shopping and visiting restaurants. They're like tourists who stay here for eight months rather than eight days. You get to tie into all these different arenas and avenues rather than if you look at traditional tourism. But they all tie together.
"That's one of my goals, to really connect with the campus and encourage those students and visiting faculty, everyone, to really explore what makes Cortland great above and beyond the College itself."
As for Dempsey, he said Cortland was once a great place to raise their two sons, and is now a fine place to spend in retirement.
"There is so much to see and do here," he said. "We'll live here full-time and go away for a month in the winter. It's been great fun. I've been truly blessed."
Throughout SUNY Cortland's Sesquicentennial, the College is profiling alumni who have made significant and positive impacts on the local community. For more information on 150 years of SUNY Cortland history, visit cortland.edu/150.
SUNY Cortland Students Serve Puerto Rico Recovery Initiative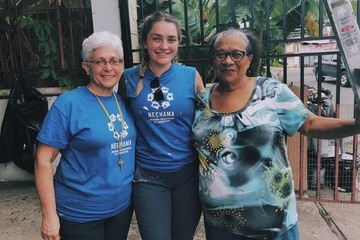 08/10/2018
SUNY Cortland sophomore Isabella Danisi had been to Puerto Rico before to visit family members and relax.
She didn't have a chance to do either of those things during her most recent visit this June.
Danisi, a communication studies major from Bedford Hills, N.Y., was one of six SUNY Cortland students who volunteered parts of their summer to help with the NY Stands with Puerto Rico Recovery and Rebuilding Initiative.
The people of Puerto Rico are still dealing with the aftermath of Hurricane Maria, which caused more than $90 billion in damage when it crossed the island in September 2017. Nearly a year later, blackouts and brownouts are still common, vast stretches of the Island remain in disrepair and Puerto Rico's finances are in tatters.
"Just having a Puerto Rican background made it obviously 1,000 times more meaningful," Danisi said. "My whole family was so proud and my family in Puerto Rico knew I was there. They loved that I came there and was able to do something."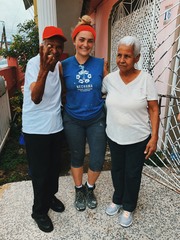 Working with Taryn Grimes '18 and a group of students largely from SUNY Oswego, Danisi spent nine hours each day on rooftops in Guaynabo, a municipality located just west of San Juan. They repaired holes and cracks that had allowed rain to seep into people's homes since the hurricane.
"My group was able to go back to the first house we completed on the last day," Danisi said. "It had been pouring that day and she told us that no water had come into her house for the first time. That's when we knew what we were doing was working and it was so worth it. She was ready to cook us food when we got there."
Senior biology major Janiellee Alvarez, from Norwich, Conn., will travel to Puerto Rico later this month. She was born in San Juan and later moved to New England with her family.
Alvarez was in Cortland last year when Hurricane Maria hit and was following family members on social media for updates.
"I remember being in class and my uncle posting a live video on Facebook of all of the rain and wind," Alvarez said. "The hard part about the storm was when we lost contact. We had to wait almost a week to hear back from some of our family members."
Alvarez plans to become a doctor after her time at SUNY Cortland, with an emphasis on bettering the quality of life for her patients. She hopes that she'll gain related experience working with those in need in the areas around San Juan.
"Having the opportunity to go to Puerto Rico to help with the relief effort for me feels like a privilege and an honor," she said. "After the hurricanes, we sent as many supplies as we could. Actually going there and being able to pick up the fallen pieces will feel so much more rewarding.
"I hope that during the trip, students who are not very familiar with Puerto Rico will come to see that it is much more than a vacation place. It's a country rich with deep-rooted culture, amazing food and even more amazing native people." Puerto Rico is an unincorporated territory of the United States, and its residents are U.S. citizens.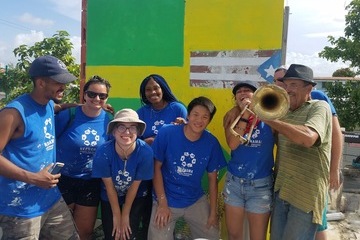 Senior Alexandra Cicero, a dual international studies and communication and media studies major from Leicester, N.Y., went to Puerto Rico with students from SUNY New Paltz from July 15 to 28. Cicero had prior experience abroad, having studied in Cluj-Napoca, Romania as a Newman Civic Fellow during her sophomore year.
The opportunity to travel to another part of the world was part of the appeal for Cicero. She also is committed to providing aid to those in need, as she served as student coordinator for the SUNY Cortland Cupboard, a food bank for food-insecure students that was founded in 2017.
"I really wanted to continue to get out and see more places and meet people and experience different things and cultures," she said. "I took six years of Spanish in school and I've used it very little so this was a chance to practice my Spanish. I knew that people needed help. People were experiencing power outages and flooding and they didn't have proper housing to live in and nothing was being done about it."
Cicero, who traveled with senior Stephanie Gentile, a communication and media studies major from South Hempstead, N.Y., worked primarily in the Vietnam neighborhood of Guaynabo, repairing damaged homes. Like Danisi, she felt the incredible gratitude from the people she helped. A pair of neighbors prepared daily feasts of rice, vegetables, duck and chicken to fuel their efforts.
"I tried to talk to them to the best of my ability, even if it was pretty rusty," Cicero said. "But even if it was just little conversations, introducing yourself or talking about the area, they were so kind to you."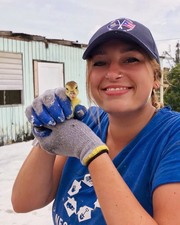 While her experiences were limited mostly to assisting individual homeowners, Cicero did gain a deeper understanding of how non-profit and non-governmental organizations interact with government in disaster relief situations, a career path that may be in her future.
"It confirms and steers me in the right direction," she said. "I just like helping people and seeing places. Even if you can't be reaching out to people halfway across the world, helping people wherever you can is important."
UNICEF USA contributed $500,000 to Gov. Andrew Cuomo's Puerto Rico Recovery and Rebuilding Initiative. The approximately 500 SUNY and CUNY students who traveled to Puerto Rico this summer also worked with NECHAMA — Jewish Response to Disaster, a Minnesota-based volunteer organization that is focused on low-attention events and at-risk communities. "Nechama" means "to comfort" in Hebrew.
Students stayed in dormitories at Universidad del Sagrado Corazón in San Juan and had opportunities to visit cultural sites in the area in their downtime. Danisi made quick friends with members of her group from SUNY Oswego and said they are making plans to get together at some point during the fall semester. She said she is also investigating how to create a UNICEF club at SUNY Cortland during the 2018-19 school year.
Kaitlyn Almonte-Hernandez, a sophomore political science major, went with a group from SUNY Geneseo from July 1 to 14.
For Alvarez, supporting the recovery and rebuilding initiative is personal. That's why she can't wait to get back to Puerto Rico.
"The most fulfilling part of this is that these people are not complete strangers," she said. "They are my aunts, uncles, brothers and neighbors. I get to give back to the country that has given so much to me."
Tai Chi Master to Offer Demo and Workshop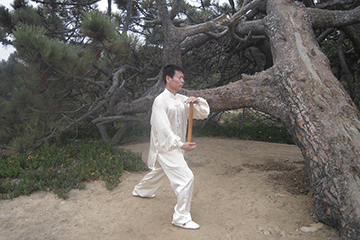 08/28/2018
More than 400 students and more than 80 faculty and staff members at SUNY Cortland have embraced the ancient Chinese martial art of Tai Chi in the past eight years as a means to achieve overall wellness.
In the case of the students, they are engaging in this relaxing, slow motion form of exercise to also hone their philosophical credentials.
"It's a form of exercise that's not damaging to your body — there's no impact," said Andrew Fitz-Gibbon, a tai chi instructor who is a professor and chair of the College's Philosophy Department. "It can be a lifelong process to learn the depths of this Chinese art. It's also good for self-defense."
Fitz-Gibbon, certified to instruct in the martial art since 2010, always teaches two classes that get students to try out tai chi movement for themselves: Asian Philosophy and Philosophies of Non-violence.
For a third time, Fitz-Gibbon has invited the West Coast-based tai chi master Jesse Tsao to campus to share his knowledge and techniques in a two-day series of talks, demonstrations and workshops from Sept. 7 to 8.
"He's always been very well received by faculty and staff and members of the community who attend his workshop," Fitz-Gibbon said. "And the students always love him. He's a world-renowned practitioner."
Tsao will lead a public lecture and demonstration from 7 to 9 p.m. on Friday, Sept. 7, in Brockway Hall Jacobus Lounge. He will present a workshop with morning and afternoon sessions in the same location on Saturday, Sept. 8. The morning session will take place from 9 a.m. to noon. Afterward, a light lunch will be provided. The afternoon session will run from 1 to 4 p.m.
The lecture and six-hour workshop are free and open to the campus community and public. For more information about the program, contact Fitz-Gibbon at 607-279-6584. Workshop parking is available in the College lots off Graham Avenue.
Fitz-Gibbon practices an hour of Tai Chi each day and teaches three classes a week during school semesters: Mondays from 4:30 to 5:30 p.m. for beginners; Wednesdays from 4:30 to 5:30 p.m. for intermediate practitioners. Students enrolled in the Philosophical Meditations or Philosophies of Nonviolence courses receive the martial arts training woven right into their curriculum.
Tai chi is offered out of the Philosophy Department and not the College's Recreation program, said Fitz-Gibbon, who was certified in 2010 to instruct in tai chi.
"The notion of wellness is not really a modern idea," he said. "One of my areas of expertise is somaesthetics, which is body consciousness in relation to mind and body.
This Eastern martial arts form is gaining acceptance in the mainstream of western medicine, according to Fitz-Gibbon. For example, there's now the Harvard Medical School Guide on the Chinese Art of Tai Chi, he said, showing his copy.
"We like to keep tai chi as part of the Philosophy Program because wellness is actually a part of philosophy, which goes all the way back to Aristotle and the concept of wellbeing in the West and the Daoist philosophers in the East," Fitz-Gibbon said.
The speaker has attracted a large following in Cortland on his previous visits.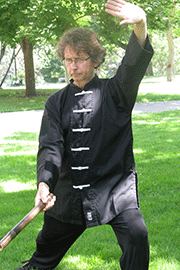 Born and trained in China, Tsao has been practicing tai chi for more than 40 years, including 10 years of intensive study with world-renowned Grandmaster Li Deyin in Beijing. His family's lineage in Chen style tai chi goes back 12 generations. He now lives in San Diego and since 1995 has served as a tai chi master for Cigna HealthCare of Arizona.
Tsao was the gold medalist in the 1980 Beijing Collegiate Wushu Competition. He earned a Ph.D. in traditional Chinese sport from Shanghai Sport University. He also has B.S. and M.S. degrees in economics from Renmin University in Beijing, China, and University of Arizona, respectively.
An internationally known tai chi master, Qigong therapist, and alternative medicine and wellness consultant, since 2005, Tsao has made regular teaching tours to Germany, France, England, Ireland, the Netherlands, Spain, Belgium, Italy, Russia and Greece. He founded Tai Chi Healthways and specializes in the areas of self-healing, preventive therapies, stress management and mind-body wellness.
He is the author of two books, Tai Chi Bang: Eight Immortal Flute(NB Publishing, South Carolina, 2012) and Compact Tai Chi — in Limited Space(Hall Samuel Weiser, Inc., Maine, 2000).
The programs are co-sponsored by the Philosophy Department, the President's Office, the Center for Ethics, Peace and Social Justice, the Modern Languages Department, the James M. Clark Center for Global Engagement, the Center for Gender and Intercultural Studies, the Campus Artist and Lecture Series, the Auxiliary Services Corporation and a Faculty Development Small Grant.
SUNY Cortland 2018-19 Theatre Schedule Announced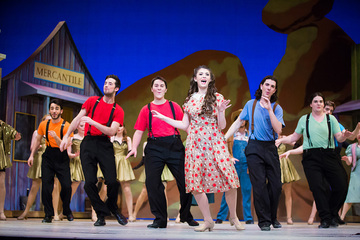 08/28/2018
SUNY Cortland's 2018-19 theatre season opens with a musical that will take audiences back in time to the era when the College was founded.
"Annie Get Your Gun" will premiere on Friday, Oct. 5, the night of SUNY Cortland's 150th birthday party. The family-friendly musical tells the tale of Annie Oakley, a sharpshooter who caught the attention of the nation in Buffalo Bill's Wild West touring circus, in the decades following the establishment of the Cortland Normal School in 1868.
Peter Stone's revised version of Irving Berlin's classic includes famous showstoppers such as "Anything You Can Do (I Can Do Better)" and "There's No Business Like Show Business." The show runs through Saturday, Oct. 13, in the Dowd Fine Arts Center Theatre.
"Dangerous Liaisons," a play written by Christopher Hampton and adapted from the 1782 novel Les Liaisons Dangereuses by Pierre Choderlos de Laclos, will be performed in the Dowd Fine Arts Center Lab Theatre from Thursday, Nov. 15, to Sunday, Nov. 18. Rivals Marquise de Merteuil and Vicomte de Valmont compete in high stakes games of sexual conquest, seduction and manipulation.
The spring schedule will be led by "The Children's Hour," which will run March 1-3 in Dowd Fine Arts Center Theatre. The groundbreaking 1934 Lillian Hellman play focuses on Mary Tilford, a student in a small-town boarding school who refuses to accept the consequences of her perpetual disobedience. Tilford, in an effort to escape punishment, casts corrosive lies on the personal lives of her teachers.
"The 25th Annual Putnam County Spelling Bee," a crowd-pleasing musical comedy, will be performed from April 5-14 in the Dowd Fine Arts Center Lab Theatre. This unique show chronicles the passion and awkwardness of six middle schoolers and their devotion to mastery of the dictionary as well as the quirky adults running the show. Audiences will find themselves compelled to root for their favorite speller from the opening number to the final showdown.
Due to the intimate nature of the Lab Theatre, this musical is expected to sell out. Audience members are encouraged to purchase tickets in advance and arrive early when attending the show.
Tickets and show times for SUNY Cortland musical theatre performances are available at Cortland.edu/boxoffice.
New for the 2018-19 season is a subscription option for those looking to buy tickets to all four shows at once for a discount rate of $56. Individual show tickets are $19 for adults, $16 for senior citizens and SUNY Cortland faculty and staff, $14 for SUNY Cortland alumni and $10 for current students. Tickets will go on sale when the box office opens in September.
For more information on SUNY Cortland's Sesquicentennial, visit Cortland.edu/150.
School Leadership Grads Form Association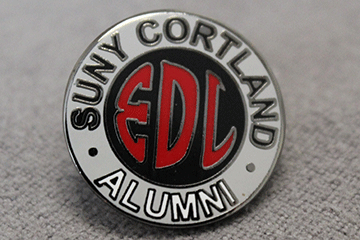 08/09/2018
SUNY Cortland alumni who earned their Certificate of Advanced Studies (C.A.S.) experience many of the same things during their Cortland career.
These school principals and superintendents who earned their credential from the School of Education's Educational Administration or Education Leadership programs have formed strong bonds and memories, perhaps about car-pooling together through blizzards in some instances to attend classes on the main campus. Or completing their administrative internship in the same district. Or juggling academic challenges with teaching responsibilities and raising a family.
But typically for these post-graduate scholars, those common threads happen away from one another and largely off the main campus.
But now everyone who graduated with the C.A.S. credential can connect socially and professionally through a newly created association.
The Educational Leadership Alumni Association (EDL) was chartered and officers appointed during the recent Alumni Reunion 2018 weekend, July 12-15, by a dedicated group of graduates currently working as school administrators.
"What I'm so excited about is the prospective networking: 'Yeah, I know that person'," said Steve Zielinski M '99, C.A.S. '07, to the committee members present at the meeting in Park Center Alumni Arena. Zielinski, the superintendent at the South Seneca (N.Y.) district, was voted in as president of the new organization.
"We're already at this table meeting some new people and that will continue," he said. "I'm very excited about forming this and seeing what kind of network we can build. Many of us are already doing the work in this state and influencing thousands of students."
Eligibility for membership in the organization is automatic upon conferral of the credential.
Alumni who earned their C.A.S. may log into the SUNY Cortland Alumni Association's Red Dragon Network and update their personal information to join their cohort. Once signed in, members will receive text and email messages about upcoming events and news announcements.
The group has its own EDL alumni lapel pin so members can pick one another out of the crowd at future alumni association events or interscholastic professional meetings. These will be distributed at alumni gatherings.
In one sense the timing for creating this new networking group couldn't be better. For 150 years, SUNY Cortland has been educating the state's — and the nation's — teachers, and this year's Alumni Reunion 2018 also served to kick off the College's sesquicentennial.
The sesquicentennial also marks smaller milestones, such as this year's 45-year anniversary of the College preparing secondary educational administrators. The latter group now has representatives in leadership roles in many districts and is more than ready to proudly stand out among their educational peers.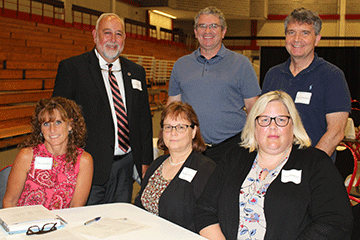 The association's newly-formed committee will meet regularly this entire Sesquicentennial year to plan events in concert with the College's Sesquicentennial Committee. Meetings will be coordinated through the SUNY Cortland Alumni Engagement Office, whose executive director, Erin Boylan, co-chairs the Sesquicentennial Committee with Mary Kate Boland '06, associate director of campus activities for leadership and community.
Fittingly, the secondary school chiefs met to charter the association followed the conclusion of the College's 10th annual Francis J. Cheney Educational Leadership Institute on July 13, an event designed to foster leadership skills that annually attracts approximately 125 school administrators from Central New York. The conference is named after Francis J. Cheney, who served as Cortland Normal School principal from 1891 until his death in 1912.
Chris Manaseri C.A.S. '90, assistant professor in the College's Foundations and Social Advocacy Department, arranged the Cheney Conference to feature the initial Educational Leadership Committee organizational meeting where its charter was passed. Six C.A.S. alumni attended the meeting. Officers were voted in along with vice presidents to represent superintendents, school business officials, high school, middle school and elementary principals, special education directors, athletics directors and retirees.
"The group does not yet have a plan for moving forward other than establishing a network of EDL alumni to promote new graduates' mentoring and job opportunities," said Manaseri, who will represent the alumni who are retired administrators.
"We do anticipate that there will be social gatherings of (Cortland) EDL alumni at various state-wide conferences for superintendents, principals, CSE Chairs, ADs, etc.," Manaseri said. "SUNY Cortland is proud to play host to school leaders from across Central New York and the Mohawk Valley, a number of whom are graduates who earned the Educational Leadership Program's C.A.S."
Committee members expressed a strong need for the kinds of high level networking planned by the EDL Association to help each other grow as professionals.
Zielinski noted how a past chair of the program, Kevin Mack, had offered the C.A.S. candidates very similar advice to what the Cheney Conference 2018 keynote speaker, international education guru George Couros, had had to say earlier that day.
"He recommended that we take a video of our (internship placement) classes, and you had to watch excerpts from the video," Zielinski said. "(Mack) said, 'You might think you might not be able to do that, what you see on the video. But if you can't figure it out, maybe administration is not right for you.'"
Zielinski added that in order to succeed, alumni had to shift their mindsets from when they were teachers because the buck stops at the school administrator's desk.
"We are the ones doing the work, and we have to be proactive and do our own work," he said.
"I am honored to serve on this valuable committee, as I feel it is a wonderful way to stay connected, build alliances, and give back to a program that has afforded me endless opportunities," said the committee's new secretary-treasurer Tracy Durkee '90, M '95, C.A.S. '17, the principal at Morrisville-Eaton (N.Y.) High School, after the July 13 meeting.
Committee members also will include:
Jarett Powers M '06, C.A.S. '09 and '13, superintendent of Union Springs District, as vice president for superintendents
Todd Griffin C.A.S. '03, assistant superintendent of Sherburne-Earlville District, as vice president for business officials
Jeff Kuhn C.A.S. '99, principal of Whitesboro High School, as vice president for high schools
Bruce MacBain C.A.S. '01, principal of Moravia Middle School, as vice president for middle schools
Lisa Putnam C.A.S. '99, principal of Hart's Hill Elementary School, as vice president for elementary schools
Tina Pawloski C.A.S. '09, Whitesboro District Office, as vice president for special programs; and
Samantha Little C.A.S. '09, athletic director of Ithaca High School, as vice president for athletic directors.
Heather Ramsdale '97 Exhibits at Dowd Gallery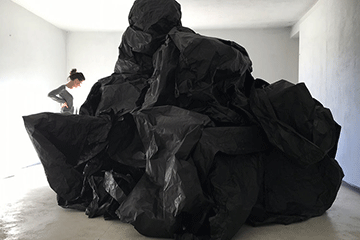 08/28/2018
The collection of carefully fabricated free-standing objects and sculptural wall pieces created by sculptor Heather Ramsdale '97 reveal spaces beyond familiar notions of sculpture.
"The subject of 'forever' raises questions about beyond now, beyond origin, beyond the object, beyond the form," Ramsdale said. "Several objects in this exhibition present the opposite of, the reflection of, or the negative of the intended form."
Her work in past exhibitions has resembled nothing so much as small but heavy looking asteroids that have crash-landed in the gallery, or furniture with irregular dimensions that play games with the observer's sense of conventional man-made forms and their intended uses.
Ramsdale, who currently teaches sculpture at Kutztown University and lives in Philadelphia, where her studio is also located, will open a solo exhibition, "Form & Forever," at the Dowd Gallery on the SUNY Cortland campus, Monday, Aug. 27.
"Form & Forever," Heather Ramsdale's first exhibition at the Dowd Gallery since she received her Bachelor of Fine Arts from SUNY Cortland in 1997, will run through Friday, Oct. 5.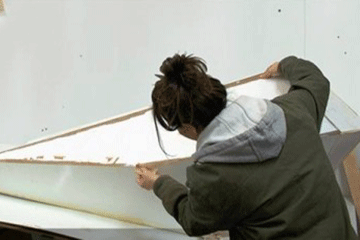 Presented by Dowd Gallery and the Art and Art History Department, the event is co-sponsored by the Sesquicentennial Committee, which has included the exhibition among an ongoing series of intellectual and cultural events during the 2018-19 academic year to celebrate the College's rich 150-year history.
Gallery exhibitions and all programs are free and open to the public. Gallery hours are 10 a.m. to 4 p.m. Monday through Friday and by appointment. Contact interim gallery director Jaroslava Prihodova at 607-753-4216 or jaroslava.prihodova@cortland.edu for more information or regarding group tours.
The gallery will host an opening reception for Ramsdale from 4:30 to 6 p.m. on Thursday, Aug. 30, in the gallery located inside the Dowd Fine Arts Center on the corner of Prospect Terrace and Graham Avenue in Cortland, N.Y.
Additional related events will include:
An artist's talk at 5 p.m. on Wednesday, Sept. 12, in Dowd Gallery.
An artist workshop from 12:30 p.m. to 3:30 p.m. Thursday, Sept. 20, in the Dowd Fine Arts Center critique space
A documentary screening titled "Louise Bourgeois: The Spider, the Mistress and the Tangerine" at 5 p.m. on Tuesday, Oct. 2, in the Dowd Fine Arts Center critique space
Ramsdale obtained a master's degree in fine arts from the University of Pennsylvania and also studied at Goldsmiths College in London.
She was nominated for a Terra Foundation for American Art Award and an Outstanding Student Achievement in Contemporary Sculpture Award from the International Sculpture Center. Subsequently, she received two Pollock-Krasner Foundation fellowships for residencies in upstate New York.
Recent shows include a group exhibition at Savery Gallery in Philadelphia and a solo exhibition at The Gallery at Delaware County Community College. Ramsdale recently completed a residency at Joya: arte + ecologia, an arts-led field research center, in Andalucia, Spain.
Ramsdale's objects invite viewers to engage both their curiosity and intellect, noted Prihodova.
Ramsdale explains that the process by which she constructs these sculptures allows the form to reveal something that is not entirely in her control and perpetuates a dance between authority and a lack thereof over the object.
"For me, there is inherent truth revealed when a lack of control is present," she said. "This body of work exerts a reference to previous projects that investigate concepts of transit, time and place, and how we situate ourselves within each."
Her aesthetic leans towards minimalism but often breaks the mold by incorporating found objects and unconventional materials into otherwise austere pieces. This method provides not only tension between used materials but also offers viewers a recognizable space enhanced by poetic sense of humor.
"When symbolism, that appears both familiar and new, presents itself through the process of making these sculptures, I like to believe the revelation offers insight into an existence beyond the here and now — perhaps a code, map, or hieroglyphic," Ramsdale said. "I delight in the theatrics and humor of these forms, which help balance the darker nature of my queries. The forms suggest, for me personally, imaginable answers about the unknown."
During her recent residency at Joya: arte + ecología in southern Spain, Ramsdale primarily worked with large rolls of black and white paper.
"Paper can be manipulated to identify the moments in which the fragility of form can become heavy in gesture," she explained. "Some of the large sculptures recall the landscape but without duplication, bringing into question the outside versus the inside, and trying to locate myself in both. Paper is not necessarily synthetic, unless you measure it against a demanding landscape in the quietest of places. No matter the material I work in, a balance in dichotomies emerges and signifies completion."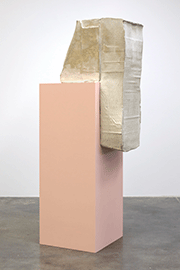 Ramsdale's planned workshop will involve participants a hands-on process of making a site -pecific, large-scale installation made from paper. This exploration in illusion, weight and permanence of a non-traditional material, will result in a temporal work that will remain on view for the duration of the exhibition.
Her visual approach, in part, was formulated during her undergraduate studies at the Art and Art History Department at SUNY Cortland under the guidance of several faculty members such was the late Jim Thorpe, Charles Heasley and Libby Kowalski. The late George Dugan continued to be a mentor to Ramsdale until his passing. Perhaps the biggest influence on Ramsdale's development as sculptor was professor Allen Mooney, instructor of sculpture.
"The process of creating an idea in theory, and bringing into existence a three-dimensional version of that idea, or in other words, to make something imaginary become real, was my personal version of magic," she said. "Allen taught me that conceptual ideas were the output of placement, balance, color, and many other formal decisions. It was a very Bauhausian experience, with a strong underpinning of formal design, and discovery through process. It was not about making work that focused on personal emotions per se, but recognizing that formal decisions influenced the way in which the objects offered meaning and were experienced by the viewer."
NASA Scientist Featured at SUNY Cortland Master Teacher Conference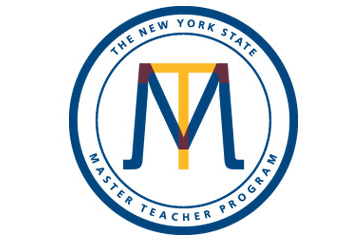 08/20/2018
More than 300 teachers from across New York State gathered at SUNY Cortland April 20-21 to learn that teaching young people really is rocket science.
And math. And computer science, animal behavior and the entire spectrum of diverse STEM-related fields.
"Convergence: Crossing Disciplinary Boundaries to meet 21st Century Challenges," was the theme of SUNY Cortland's fifth annual Master Teacher Program conference, which featured presentations by a NASA scientist, an applied mathematician and New York state education commissioner MaryEllen Elia.
The event drew more than a third of the 900 educators who have participated in the state's Master Teacher program since it was launched at SUNY Cortland in 2013.
One of the main threads in this year's discussion of collaboration and idea sharing across many different areas of expertise was how to increase opportunities for girls in science, technology, engineering and math (STEM).
"Girls in STEM has become very popular in many regions of the state," said Dominick Fantacone, regional director of the Master Teacher Program and an adjunct lecturer in SUNY Cortland's School of Education. "Several regions are offering girls-in STEM workshops so the conference was a chance for many of those groups to come together and share notes on what they've done with their particular workshops."
The Master Teacher Program was created as a partnership between SUNY and Math for America in order to strengthen K-12 STEM education in New York's classrooms. As a network of more than 900 public school teachers, the Master Teacher Program gives high-achieving teachers professional development opportunities to better their teaching of STEM topics to today's students, and to pass those lessons on to their fellow educators.
As home to New York's largest teacher education program and one of the nation's most-respected schools for teacher preparation, SUNY Cortland was selected as the site of the first master teacher hub, and remains a pillar of the program. This year, SUNY Cortland marks its 150th year of educating students for the teaching profession.
"The program has expanded every year for the five years we've been running it," Fantacone said "Most recently, we've expanded to include K-5 teachers as well. This fall we'll be welcoming in a cohort of teachers representing K-5."
Since the program's inception, more than 100 teachers have become Master Teachers Emeritus after four years of service. Emeriti remain actively involved in the professional development network, sharing to STEM initiatives locally and statewide.
Alex Young, associate director for science in the heliophysics division at NASA's Goddard Space Flight Center in Greenbelt, Md., presented about NASA's Parker Solar Probe in the Corey Union Function Room. Young has studied the high-energy astrophysics of cosmic gamma-ray bursts and gamma-ray solar flares.
Steven Strogatz, the Jacob Gould Schurman professor of applied mathematics and a Stephen H. Weiss presidential fellow at Cornell University, also addressed conference attendees. Strogatz is an applied mathematician who studies nonlinear dynamics and complex systems. He is the author of numerous books, including The Joy of x: A Guided Tour of Math, from One to Infinity and Sync: How Order Emerges from Chaos in the Universe, Nature and Daily Life.
Other presenters included Leigh Ann DeLyser, an advocate for computer science education and the co-founder and managing partner of Computer Science for All (CSforALL), and Lon Knappenberger, Master Teacher Emeritus and biology teacher at Westfield (N.Y.) Academy and Central School. Knappenberger spent six years researching primate behavior before entering the teaching field.
Master Teachers from around the state presented updates on their efforts to improve STEM education. Topics include "Yes We Code: Closing the Gender Gap with Girls Who Code," "Let Students Ask the Questions!" and "How Do Birds Fly?" among many others.
"This was an opportunity for Master Teachers from across the state to come together and celebrate the work each of them is doing within the program and to dive deeper into these STEM topics in a collaborative manner," Fantacone said.
For more information on the Master Teacher program, visit suny.edu/masterteacher.
SUNY Cortland Summer Construction Progresses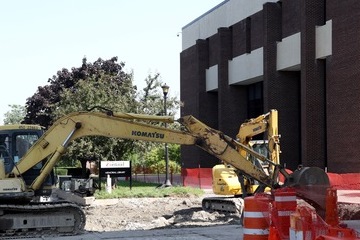 08/24/2018
SUNY Cortland students returning to campus after summer break are finding that things look a little bit different than they did this spring, thanks to a number of construction projects.
Ongoing improvements include new dining options nearing an opening date in Corey Union, a more accessible sidewalk in front of Memorial Library and an extensive makeover to the exterior of Park Center. The work is part of more than $300 million in renovation and construction projects that have been transforming the physical campus since 2003.
Rob Shutts, director of the Facilities Planning, Design and Construction Office, highlighted the following changes:
Sidewalks in the area between Old Main and the Miller Building were replaced and pavers were added to the ground around the flagpole.
Auxiliary Services Corporation (ASC) will open three new restaurants in Corey Union in September. Union Station, a coffee shop, is expected to open on Monday, Aug. 27. Grains & Greens, which will feature salads, sandwiches and vegetarian and vegan options, and Pomodori, an Italian and pizza-focused eatery, will open next month.
Work is ongoing in the area between Memorial Library and Cornish Hall to replace stairs and regrade a new, more accessible sidewalk. That project is scheduled to be completed by the end of September.
A new skin will be added to the exterior of Park Center, replacing its current brick façade and giving the 50-year-old facility a fresh look. The new skin will be far more insulated and environmentally sustainable than the current façade. This project will be ongoing throughout the 2018-19 academic year.
Other less noticeable — but important — improvements to campus included elevator replacements in Higgins Hall and Clark Hall, renovations of the Service Group building and updates to offices and classrooms across campus.
Liz Ingalls: Goalie, Globetrotter, Earthworm Entrepreneur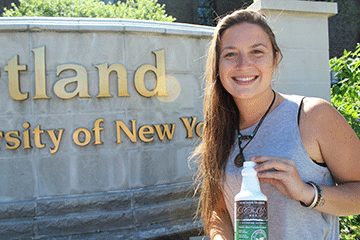 08/06/2018
As a student, Liz Ingalls '16 had her eyes on the heady world of corporate finance.
Ingalls, who grew up in Centerport, N.Y., had worked summers on Long Island as an administrative assistant for a major investment company. Upon graduation, she was poised to stride in suit and heels into her first real job at the same corporation.
But first, the former business economics major took what was supposed to be a quick trip to New Zealand to indulge an interest in agriculture that had simmered since childhood, when she would help in the family garden. Ingalls' experience on organic farms, as a traveler through the international WWOOF (Worldwide Opportunities in Organic Farming) program, ended up changing the course of her life.
She now goes to work in shorts and Teva sandals as an organic entrepreneur determined to change the world — and make a decent living — through earthworms.
Earthworm poop, to be exact.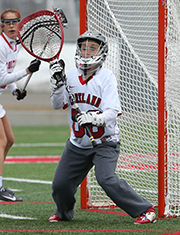 Ingalls is the creator, CEO and workforce behind Growers LLC, a company that raises the creatures in the phylum Annelida on Long Island in order to make and market earth-friendly fertilizer made out of worm excrement — known as "castings" to the polite and squeamish.
"This was for kicks," Ingalls said of her career-altering journey. "I wanted to learn something to just kind of get in touch with my roots a bit, see how New Zealand did things. Then I went full-blown hippie.
"I really enjoyed the farming side of things. I came across an earthworm farm and I was very intrigued.
"I learned how farming with worm fertilizer could be profitable for myself and profitable for the world," she said. "The farmer had a huge glasshouse that had tomatoes that were the best in the world, bigger than anything I had ever seen."
Ingalls, who as a student was perhaps best known for her four seasons of standout women's lacrosse goalie work, never had a problem shoving her hands into the soil, whatever it might conceal.
Ingalls started Growers, currently housed on a friend-of-a-friend's patch of ground near her current home in Huntington, N.Y., in May 2017. She cleared the overgrown plot by herself. By November it was a limited liability corporation.
"If people know what I'm doing and are interested in learning, I'm going to be offering a course," Ingalls said, handing out a business card that shows her company's name spelled out in squiggly nightcrawlers lying on a bed of soil.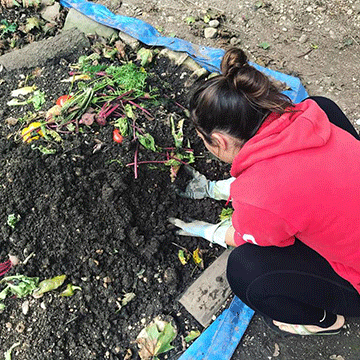 A year into her New Zealand adventure, Ingalls relocated to Malaysia and continued her extended travels abroad by volunteering to work with a man who made liquid earthworm fertilizer for the government. He became her organic farming mentor.
"When I came home, if I ever had questions I could call him or send him a message on Facebook," she said. "One thing about these countries is that no knowledge is knowledge for themselves, it's to be shared."
In Malaysia, Ingalls paid her bills by teaching English to children living in The Rainforest Treehouse, a school that taught sustainable living lessons such as how to live in tree forts made of living materials, cook in cast iron pots over wood fires and walk barefoot in the woods listening to nature.
"I've taken the formula I learned in Malaysia and enhanced it to work well in this area," she said of her particular recipe for fertilizer. Ingalls' process of making the fertilizer involves adding water and minerals to the worm castings in a barrel. The mixture then is allowed to ferment and is then bottled. Before it is sold, a company in Ithaca tests the fertilizer to ensure the product is consistent.
Ingalls' finished product concentrates the liquid black gold in a 16-ounce bottle that she sells as "premium liquid worm casting fertilizer, environmentally and consciously produced with diligence." The result can be used on both indoor and outdoor plants. It will take roughly five gallons of Growers liquid fertilizer to cover one acre. So a 10,000 square foot lawn will need approximately 1.25 gallons of the product.
In her planned in-person classes on how to set up one's own worm farm, she plans to share her innovative approach to separating the slithery, writhing creatures from their castings.
"If it catches enough attention I will set up virtual lessons," she said.
Ingalls said she works with European giant crawlers that produce exponentially more and much bigger larvae, rather than the indigenous North American species she calls "red wigglers." If you tried to dig them out of the ground to start your own business, you'll never get enough of them, she advised. Buy in quantity instead and breed your own.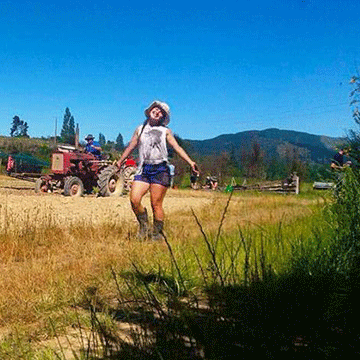 "Once you buy five hundred to a thousand, they reproduce themselves," she said. "You start them in your house and move them outside."
Raising the earthworms can be done in a garden bed dug up about two feet deep and roughly the size of a small garage. Hers now contains an estimated 80,000 nightcrawlers.
"You don't need many worms to produce castings," she said. "You don't need a lot of room. You need to be feeding them the correct things and giving them the correct environment."
She's developed her own process of luring the worms to higher ground to excrete their waste and, when they've returned to their feeding area, letting natural rainwater push the castings together where they can be collected.
Taking up much more space than her worm bed are side-by-side demonstration gardens, one sowed with produce grown with a non-organic fertilizer and the other with the Growers LLC formula.
Ingalls said she started the business with just $30 in her bank account.
"A lot of people that liked my idea let me use their recycled goods," she said. "It's just me doing everything right now."
Ingalls is not afraid of the daunting effort needed to build a business, having labored and saved every chance she had since age 14.
"When I got to college, I was working 10-15 hours a week on top of lacrosse," she said. "I've always wanted to run my own business. I want to run a nonprofit some day and this is just the first step."
The Long Islander's embrace of sustainable agriculture seems unlikely in light of the suburban world in which she was raised.
"We all have common roots as people," Ingalls explained. "I've actually realized recently what got me interested in farming was that, growing up on Long Island, my grandparents had a horse. And I remember being so excited when I would wake up in the morning and my grandfather and I would go out and feed the horse."
Ingalls' interest in gardening also goes way back.
"When I was in second grade, after school I used to go garden with the secretary of our school," she said. "She was a very good gardener."
Ingalls later helped in her own family's small backyard and also lent a hand on the home turf of their neighbor, Billy Joel's mom, Roz.
"She was a very particular woman, Roz, but she was great. Her backyard was huge, absolutely filled with flowers."
Ingalls is glad to be turning her former interest in horticulture into a career that could help save humanity.
"It really can change the country. The main idea is there's an increasing population rate and people cannot keep up with the demand for food. We can stop relying on imports for food if we can be self-sustainable for the country. We need to think about the fossil fuels we are putting into the earth. We need to think about the bigger picture and this is just the beginning."
Cortland Athletics to Begin Leadership Program This Fall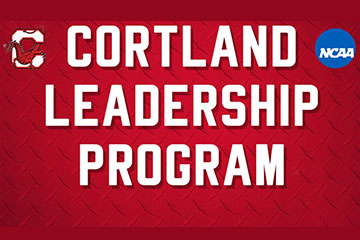 08/17/2018
The SUNY Cortland Athletic Department is proud to announce the launch this fall of the Cortland Athletics Leadership Program.
"The program's mission is to provide an ongoing an integrated approach to leadership development for our student-athletes that will be applicable to their athletic careers at Cortland and also will serve them in professional and personal endeavors after college," according to Director of Athletics Mike Urtz '94 M '00.
The program is designed to enhance the student-athletes experiences and maximize their potential to be successful academically, athletically and personally in the campus community.
The program will be headed by Molly O'Donnell M '16, Cortland's softball associate head coach. O'Donnell was responsible for a similar endeavor with the Columbia University softball team the past two years. She returned to Cortland this summer; she was previously a softball assistant coach during the 2015 and 2016 seasons. Other program committee members include Associate Athletic Director Courtney Wormuth, Assistant Athletic Director Jaclyn Lawrence '12 M '14, Softball Head Coach Julie Lenhart and Men's Soccer Head Coach Steve Axtell '08 M '14.
The four-phase program is not mandatory for student-athletes, but they are strongly encouraged to participate. Phase One focuses on all incoming freshmen and transfers, and will begin on Sunday, Sept. 2. The program will feature one meeting per month from September to December and from February to May. The topics covered include: "One Team, One Family;" Failure Recovery & Ownership; Personal Mastery; Personal Brand; Characteristic Assessment; Community; Communication & Conflict; and Transition to Leading Individuals.
Phase One will be held during the 2018-19 school year. In 2019-20, some of those who completed Phase One will move to Phase Two, and Phase One will be held again for newcomers.
The Four Phases of the Cortland Athletics Leadership Program
Phase One: Lead Yourself (Freshmen/Transfers)
* Assist student-athletes in obtaining the basic skills necessary to transition from high school to college.
* Develop personal mastery by exploring personality traits, purpose, and values.
* Encourage continual learning and development of personal brand and embody characteristics of effective leaders.
Phase Two: Lead Individuals (Sophomores) (Beginning in 2019)
* Develop effective communication skills and conflict resolution techniques.
* Focus on accountability and persuasion of teammates.
* Learn to lead by example.
Phase Three: Lead Groups (Juniors) (Beginning in 2020)
* Build effective leaders through developing interpersonal relationships.
* Explore motivational styles and goal setting.
* Examine Stages of Team Development and assist student-athletes in embracing their role and creating a vision.
Phase Four: Lead Team (Seniors) (Beginning in 2021)
* Focus on loyalty, character building, trust and developing a positive team culture.
* Examining their impact on underclassmen and how to foster future leaders.
* Further enhance leadership skills which will transition into their careers and personal endeavors.
* Assist student-athletes in obtaining the skills necessary to transition from college into their careers.
College Offers Fall 'Wellness' Series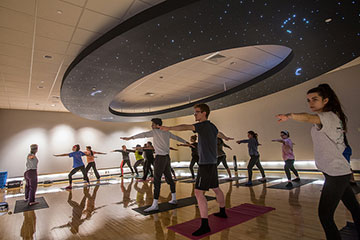 08/28/2018
Students can stay informed on current health and wellness issues through SUNY Cortland's weekly "Wellness Wednesday Series," which will include speakers, discussions and exhibits intended to help students adjust to college life.
Sponsored by the Health Promotion Office and the Student Development Center, the series will take place on Wednesdays at various campus locations. The events are free and open to the public.
On Aug. 29, students are invited to try "Relaxation Yoga." Two classes are being offered at 6 and 7 p.m. at the Student Life Center Mind Body Room. Attendees are asked to wear loose and comfortable clothing and yoga mats are provided. Attendance is first come, first served and open to the first 40 people who show up.
Explore Lime Hollow Nature Center on Sept. 5 when Outdoor Pursuits trip leaders Jeff Sladewski and Reanna Zappavigna lead a "Mindfulness Hike." The trip, including travel, will be approximately one hour. Students are asked to wear comfortable athletic clothing and sneakers, bring water and meet the shuttle service at either 5 p.m. or 6:30 p.m. at Outdoor Pursuits.
A "Farmers Market" will be held from noon to 3 p.m. on Sept. 12 outside Memorial Library. Student Affairs Sustainability Committee and Health Promotion interns will share information about Cortland's local sustainable business and locally produced products will be on sale.
Also on Sept. 12, magician Brian Miller will present "Magically Connect with Anyone" at 7 p.m. in Corey Union Function Room. Miller's talk centers on understanding and appreciating the views of others. He discusses "perspective taking," how to approach and engage others and he provides some very concise suggestions for anyone hoping to be a more effective communicator. The lecture is punctuated by Miller's integration of magic to illustrate major points.
"Real Talk and the Right Mix: Alcohol and Drugs" will begin at 7 p.m. on Sept. 19 in Corey Union Function Room. College alcohol and drug abuse is a real issue, and national presenter Bobby Gordon will challenge perceptions and clarify myths and facts surrounding drugs beyond alcohol including opioids, cocaine, marijuana, ecstasy/molly, predatory drugs and prescription drug abuse. Gordon incorporates real-world scenarios, facts and culturally relevant media to help students challenge their perceptions and make informed decisions.
The College will celebrate "Wellness Day: Celebrating 150 Years of Healthy Red Dragons" on Sept. 26 with a variety of activities from noon to 3 p.m. in the Student Life Center lobby. This event is led by health promotion interns, the Healthy Campus Initiative, EAP and Counseling and Wellness Services. Free water bottles will be given to those who complete the stations.
"Mend That: A One Man Show on Relationship Violence and More" will be presented by actor, writer and solo performer Tim Collins on Oct. 3. Collins will address relationship violence, bystander intervention, gender roles and masculinity, beginning at 7 p.m. in Corey Union Function Room.
On Oct. 10, "Voices from the Margins" will feature a panel of students, faculty and staff beginning at 7 p.m. in Corey Union Exhibition Lounge. An intersectional approach demands that we recognize the different types of discrimination as points of overlap or as coming together at a point of intersection. Panel members will share their intersectional voices within LGBTQIAP through their identities, how they intersect, what that intersection looks and feels like, and how their experiences relate to each other.
Failing an assignment, failing a course, failing a semester – these are all associated risks of being a college student, especially if they lead to despair, self-doubt or surrender. On Oct. 24, "Reframing Failure: An Opportunity for Inspiration" will offer a conversation about turning setbacks into strengths beginning at 6 p.m. in Corey Union Exhibition Lounge.
On Oct. 31, "Don't Let the Consequences Haunt You" will provide information that can help you stay safe later that night by learning the dangers of misuse and abuse of alcohol and prescription pills. Health Promotion interns and Substance Abuse and Prevention Education representatives will be available from noon to 3 p.m. in the Student Life Center lobby.
From noon to 3 p.m. on Nov. 7, students can review their responsibilities and rights around alcohol, drugs and sex at "Party Smart with Us Before Cortaca" information tables, in the Student Life Center lobby.
Nov. 14 is the "Great American SmokeOut." Health Promotion interns will be on hand to assist those who want to quit and to recruit volunteers for the campus clean-up. Visit tables from noon to 3 p.m. in the Student Life Center lobby.
For more information or accommodation to attend an event, contact Lauren Scagnelli, the College's health educator, in Van Hoesen Hall, Room B-1 or at 607-753-2066.
Union History Exhibit Opening August 31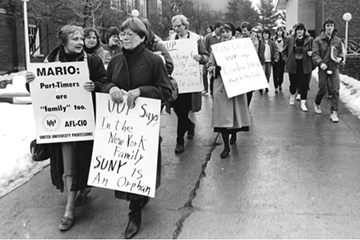 08/28/2018
As SUNY Cortland celebrates its sesquicentennial, the labor union for faculty and professional staff will mark its own 45-year milestone with an historic exhibition to show how organized labor has shaped the state university system and the campus community.
The Cortland chapter of United University Professions (UUP) will display union documents, images and artifacts that chronicle the chapter's history from 1973 to the present in the exhibition "We Are UUP: The University's Union," starting on Friday, Aug. 31.
These include a large ring of members circling the courtyard between Old Main and Miller Building in 1976 to protest stalled contract negotiations, images of the union picketing in Albany to "Save SUNY" during the severe budget cuts of the 1990s, and volunteer union members helping register students as new voters in the early 2000s.
The exhibition, in the lobby of the Student Life Center at 8 Pashley Drive, runs until Friday, Sept. 21. Beginning Sunday, Aug. 26, the Student Life Center will be open weekdays from 6 a.m. to midnight and weekends from 7 a.m. to midnight.
Supported by the local chapter, the statewide UUP and a grant from the SUNY Cortland Sesquicentennial Committee, the exhibition is free and open to the public.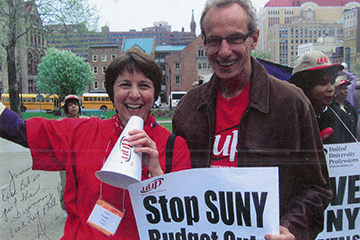 In conjunction with the exhibit opening on Aug. 31, the UUP Cortland Chapter will conduct its annual Welcome Back Members Gathering for its 900 members from 3 to 6 p.m. on the lawn between the Student Life Center and Lusk Field House.
"The exhibit is intended to strengthen the social and political bonds that unite the campus community, to promote coalitions that take positive initiatives in our community, and to raise awareness of the larger contributions made by the labor movement as a whole," said chapter President Joe Westbrook.
The UUP bargaining unit represents over 37,000 SUNY academic faculty and professional staff, Westbrook noted.
Many Cortland chapter activists have served important roles in UUP governance, including statewide officer positions, he said. Some have been elected or appointed to offices in the state affiliate, New York State United Teachers (NYSUT) with 600,000 members. Others are active with the national affiliates, the American Federation of Teachers (AFT) with 1.75 million members, and National Education Association (NEA) with 3 million members.
"We are pleased to be able to share some of our union's proud history," Westbrook said. "Many members of the Cortland community are simply not aware of what UUP has achieved, not only for SUNY employees, but also for all New Yorkers through its support for measures that ensure SUNY remains affordable and accessible for all students."
For more information, contact Westbrook at 607-753-5517 or joe.westbrook@cortland.edu.
Study Abroad and International Student Welcome Party Planned
Students are invited to celebrate the international heritage and culture that is alive on the SUNY Cortland campus at a Study Abroad and International Student Welcome Party on Friday, Aug. 31.
Open to all students, the event offers an opportunity for students to meet new international students from 20 countries, talk with returned study abroad students and engage with internationally-minded clubs. It will be held from noon to 1:30 p.m. on the Corey Union steps.
A study abroad video booth and international music will be featured, along with food, games and activities, and chances to learn about study abroad and internationalization at SUNY Cortland.
For more information, call 607-753-2209 or visit Old Main, Room 219.
Classified Staff Recognized for Years of Services
The 2018 Annual Service Awards Ceremony recognizing classified staff will be held on Friday, Dec. 7, in the Corey Union Function Room.
The following employees are slated to receive awards. To note a correction or addition to the list, please contact Michelle Congdon in the Human Resources Office by email or phone at 607-753-2302.
2018 SERVICE AWARDS AWARDEES
35 YEARS
Lori Crandall, Childhood/Early Childhood Education Department
30 YEARS
Claire Payne, Psychology Department
25 YEARS
Barbara Conrad, Office Assistant 1 (Keyboarding), Childhood/Early Childhood Education Department
Kathleen Gross, Senior Administrative Assistant, Liberty Partnerships Program (Research Foundation)
20 YEARS
*Christopher Amedeo, Maintenance
Jennifer Baker, Student Health Services
Darwin Bartholomew, Custodial Services
April Calale, Program Aide, Financial Aid
George Cole, Janitor, Custodial Services
Melinda Ferguson, Facilities Operations and Services
*Benjamin Finton, Central Warehouse/Mail Services
*Deborah Lewis, Residence Life and Housing
Valerie McConnell, Custodial Services
*Denise Morse, Custodial Services
Debra O'Mara, Custodial Services
Laura Slater, Memorial Library
Kathleen Stockton, Custodial Services
Colleen Trinkle, Custodial Services
*Robin Wheeler, Alumni (Research Foundation)
Joyce Willis, University Police
Gary Withers, Custodial Services
15 YEARS
Stacey Buckley, Modern Languages Department
*Kathleen Card, Custodial Services
David Coakley, University Police Department
Judy Daniels, Custodial Services
Carol Freeman, Custodial Services
Katherine Gustafson, Institutional Research and Analysis Office
Nabila Khazzaka, Alumni Engagement (Research Foundation)
*Gary Lansdowne, Maintenance
Kevin Markowski, Maintenance
Anne McLorn, Art and Art History Department
Tracey Messinger, Migrant Education Tutorial and Support Services Program (Research Foundation)
Steven Rolfe, University Police Department
10 YEARS
Scott Chierchio, Maintenance
Patty Fisk, Custodial Services
Burton Fritts, Custodial Services
Lisa Hand, Registrar's
Corrina Harvey, History Department
Andrew Keegan, Maintenance
Linda Nelson, Custodial Services
Marie Nelson, Human Resources
Julie Randall, Athletics
Sheryl Robertson, Custodial Services
Jamie Scott, Facilities Operations and Services
Lawrence Smith, Transportation
Oscar Walters, Grounds
Haley Zurell, Geology and Physics Department
*Retired in 2018
Student Employment and Volunteer Fair Set for Aug. 29
Students are invited to participate in the Student Employment and Volunteer Fair set for 3 to 5 p.m. on Wednesday, Aug. 29, in Corey Union Function Room.
Students will have the opportunity to meet with hiring managers to discuss part-time positions and complete applications. Local organizations will be available to present opportunities to gain valuable experience through volunteer work.
For more information, contact Career Services by email or at 607-753-4715
Following are organizations and companies that will be represented at the fair:
Access to Independence of Cortland County
American Red Cross of Western and Central New York
Catholic Charities of Cortland County
City of Cortland Fire Department
College Suites at Cortland
Cortland County Area Agency on Aging
Cortland County Mental Health
Cortland Prevention Resources
Cortland Regional Medical Center
Cortland YMCA
Girl Scouts of NYPENN Pathways, Inc.
Greek Peak Mountain Resort
Hampton Inn
New York Army National Guard
Peace Corps
Tenney For Congress
The 1890 House Museum
The Arc of Madison Cortland
The Salvation Army CNY Region
Walmart
YWCA
The William George Agency for Children's Services
CALS Lecture Grant Applications Available
Campus Artist and Lecture Series (CALS) Lecture Grant Applications are now available for the 2018-19 academic year. Applications are eligible for a maximum of $500 and are open to any club, program or department. These lecture grants will not cover performances of any kind.
Applications must be received by Tuesday, Feb. 5, in order to be considered for February, March, April and May 2019 lecture programs. Applications received after this date may not be eligible for any spring semester funds remaining.
For more information and to download the application, visit the CALS website, email Sandra Wohlleber or call 607-753-5769.

Suggest a feature story
---
People on the Move
Addonisio Named VP of Finance and Management
08/28/2018
Anna Addonisio, vice president for finance and management, joined the College Aug. 6, 2018, bringing a broad range of corporate and higher education leadership experience that spans nearly 30 years.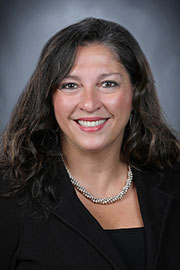 As the College's chief financial officer, Addonisio ensures financial solvency through development, oversight, planning and implementation of fiscal policies. She provides leadership, vision and direction for the Business Office, Facilities Management and Human Resources and is campus liaison to the Auxiliary Services Corporation and the SUNY Cortland Child Care Center.
For the past 18 years, Addonisio served Binghamton University, most recently as the associate provost for administration and strategic planning. In that role, she provided administrative leadership across units in enrollment management and undergraduate education. Together with the vice provost for undergraduate education and enrollment, she was instrumental in developing a strategic enrollment management infrastructure and planning process for the university.
Addonisio previously had worked as senior associate dean for finance and operations at Binghamton's Harpur College of Arts and Sciences, where she directed and oversaw fiscal, human resources and operational functions for a college of more than 10,000 students, 26 departments and 14 programs.
A certified public accountant, she began her career in private industry first as a senior accountant with Piaker & Lyons, P.C., in Vestal, N.Y., and then as a corporate controller with The Matco Group, Inc., also in Vestal.
Addonisio earned both her bachelor's degree in accounting and her M.B.A. from Binghamton University. She has participated in the Harvard Graduate School of Education's Institute for Management and Leadership in Education. During the 2015-16 academic year, Addonisio was a fellow with the American Council on Education, further developing her leadership skills at the University of Massachusetts at Amherst.
She lives in Endwell, N.Y., with her two sons, Patrick and Michael.
Day Promoted to Women's Gymnastics Interim Head Coach
08/28/2018
Sierra Day has been promoted to interim head coach of the SUNY Cortland women's gymnastics program for the 2018-19 season, according to director of athletics Mike Urtz. Day was previously an assistant coach for the Red Dragons last winter and was named the 2018 NACGC/W Division III East Region Co-Assistant Coach of the Year in her first season with the team.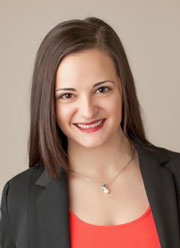 As an assistant coach, Day served as the team's main balance beam and floor exercise coach. She also choreographed more than half the competitive floor exercise routines. The Red Dragons broke the school floor exercise team record with a 48.75, while two individuals - Emma Schulz and Bailey Gildemeyer - tied the school record on balance beam with scores of 9.825.

Day helped lead the team to second place at the NCGA East Regionals to qualify for the Division III National Championships. At the championships, three Red Dragons brought home All-America honors, including a bronze medal from Schulz.

Day brought 10 years of prior coaching experience to Cortland. In the 2016-17 season she served as the volunteer assistant women's gymnastics coach at the United States Air Force Academy as well as an event management specialist within its athletic department. On top of her work at Air Force, she was a team gymnastics coach and director of cheer and tumbling at the SunDance Studio, head cheerleading coach at Air Academy High School, and lead instructor at Pure Barre in Colorado Springs, Colo.

Day earned a bachelor's degree in psychology with an emphasis in Sports Psychology from the University of Colorado at Boulder in May 2014. She was the co-founder and team captain of the women's club gymnastics team run out of Cats Gymnastics, where she coached for four years. Additionally, Day was a three-year member and team captain of the coed cheerleading squad and nominated as one of 40 student athletes to take part in the CU Student-Athlete Leadership Council.

Day competed in gymnastics, cheerleading, diving, and pole vaulting for Liberty High School in Colorado Springs, earning all-state honors in gymnastics, cheerleading, and diving.

Currently, Day is working towards her master's degree in sport management at Cortland. She is also an event consultant for Basketball Ireland, helping run FIBA European Championships during the summer months in Dublin and Cork, Ireland.

---
Faculty/Staff Activities
Kati Ahern
Kati Ahern, English Department, co-authored an article titled "Listening for Genre Multiplicity in Classroom Soundscapes." It was published in the July issue of the journal enculturation.
Alexis Blavos
Alexis Blavos, Health Department, recently was elected deputy coordinator for the Coalition of National Health Education Organizations for a term that extends to 2021.
Kevin Dames
Kevin Dames, Kinesiology Department, recently attended the American Society of Biomechanics Annual Meeting in Rochester, Minn. He collaborated on a poster and a rapid podium presentation. The poster, titled "Comparison of subjective electromyographic onset determination to objective techniques during running," compares alternative methods for identifying when lower extremity muscles are active during running. In the rapid podium presentation, titled "An exploration of muscle activity in young and older runners and the relationships with running economy," they demonstrated that younger runners present different muscle activation patterns than older runners. Specifically, more economical young runners activate biarticular lower extremity muscles for a greater percent of stance phase, while more economical older runners activate these muscles for a lower percent of stance.
David Dickerson and John Suarez
David Dickerson, Mathematics Department, and John Suarez, Institute for Civic Engagement, had their article, "The imperative of definition," accepted for the September 2018 issue of MathAMATYC Educator Journal.
Dickerson and Suarez explore the kinds and uses of definitions in natural language, compare and contrast these with the kinds and uses of definitions in mathematics, then suggest a revised language and a vocabulary reserved specifically for definitions in mathematics classrooms.
Dan Harms
Dan Harms, Library, had his chapter, "Hell and Fairy: The Differentiation of Fairies and Demons within British Ritual Magic of the Early Modern Period," published in the edited collection Knowing Demons, Knowing Spirits in the Early Modern Period from Palgrave Macmillan.
Kathleen A. Lawrence
Kathleen A. Lawrence, Communication and Media Studies Department, recently had her poem, "Three's a Crowd," placed with 19 other selected poems in an exhibit titled "Hay(na)ku: A 21st-Century Diasporic Poetry Form" in the San Francisco Public Library. Also, she wrote a haiga, a Japanese form which is typically a haiku with illustration, accepted for publication in New Verse News. This poem called "Amiss" was written as a tribute (elegy) to Aretha Franklin on her passing. Her poem "Head Over Heels," written for a fantastical theme in the haiku form, was accepted for publication in the last week of August by the Colorado Boulevard.net. Also, Lawrence received notice that her speculative poem titled "Not Tonight" will soon appear in Star*Line, the print journal of the Science Fiction and Fantasy Poetry Association (SFPA).
Rhiannon Maton
Rhiannon Maton, Foundations and Social Advocacy Department, recently had her co-authored article, "Mobilizing Public Alternative Schools for Post-neoliberal Futures: Legacies of Critical Hope in Philadelphia and Toronto" published in a special issue of Policy Futures in Education journal. Maton's article discusses how alternative school structures offer hopeful possibilities for reimagining and redefining public schools in the future.
Kristine Newhall
Kristine Newhall, Kinesiology Department, had her commentary titled "Marchand's 'Kissing' and the NHL's Hypocrisy" published on Engaging Sports, a blog devoted to the critical analysis of sports cultures. The piece, published in June after the NHL playoffs, offers an intersectional critique of the NHL's culture of violence.
Robert Spitzer
Robert Spitzer, Political Science Department, has been appointed to a three-year term to serve on the SUNY Research Council. The council is a 15-member body that serves in an advisory capacity to the SUNY Board of Trustees, the SUNY Chancellor and the Research Foundation. Its purpose is to advise and make recommendations on research, innovation, and education for the SUNY system and the state. The board members consist of scholars of many disciplines from around the country.
John Suarez
John Suarez, Institute for Civic Engagement, participated in a planning meeting on Aug. 2 of the newly-formed "Campus Compact of New York and Pennsylvania." Participants identified priorities and resources that the new organization can help them with as they work on projects such as data collection and assessment.
Also, Suarez's article on the Institute's Action Team was published in the August 2018 issue of Umbrella, the SUNY System's Applied Learning newsletter. The article describes ways in which the Action Team's interns built the Institute's capacity through their entrepreneurial spirit.

Submit your faculty/staff activity