Dan Dryja '04 Honored for Outstanding Service
12/02/2016
Although he is demanding of his staff, SUNY Cortland's head grounds supervisor Daniel Patrick Dryja '04 never asks them to do anything he isn't willing to do himself.
"Think for a moment about how tiring it is to shovel snow at your own home for 30 minutes or so," said Dryja's supervisor, David Horrocks, assistant director, Buildings and Grounds Services. "Now, consider that beyond the tractors and plow trucks, Dan and his staff will shovel and salt stairwells and walkways continuously, all day, sometimes for more than 12 hours at a time. In these exhausting activities Dan is often seen working right alongside his staff, while simultaneously directing the efforts of a dozen grounds staff all over campus."
| | |
| --- | --- |
| | |
| | Daniel Dryja '04 |
Dryja's ability to skillfully balance his time "in the trenches" with administrative duties and leadership has earned him the respect and loyalty of those he supervises in the Grounds department of Facilities Operations and Services.
"He leads by example while always stepping back enough to see and respond to the big picture," said SUNY Cortland President Erik J. Bitterbaum.
Dryja also commands admiration by the campus community for his outstanding job at overseeing a crew in beautifying the campus, maintaining its grounds and athletic fields to exceptionally high standards, and keeping wintry weather at bay around entrances and walkways.
Dryja was honored with the prestigious 2016 President's Award for Excellence in Classified Service. Bitterbaum presented the award on Dec. 2 at the 47th annual Service Awards Ceremony. Sponsored by the College's Human Resources Office, the ceremony was held in the Corey Union Function Room.
The award was created in 2002 to annually recognize one SUNY Cortland full-time classified service employee "for extraordinary achievement and to encourage the continuation of excellence." Nominees must have at least three years of continuous service. Supervisors, co-workers or other College community members nominate the workers considered for this honor.
A number of Dryja's coworkers nominated him for the prestigious award.
Just a few months after Dryja became SUNY Cortland's head grounds supervisor in 2014, one of his staff — commenting on their appreciation of his knowledge, dedication and fairness — said with considerable emotion, "I love the guy. I'd take a bullet for that man."
In the relatively short time Dryja has been the campus grounds supervisor, he and his intrepid grounds crew have made their mark on the campus landscape, Horrocks said.
"Each summer for the past two years, amidst the daily demands of routine summer grounds maintenance work, Dan has spear-headed extensive refurbishment of multiple campus landscape installations," Horrocks said. "From initial concept and detailed design, from budgeting to demolition, and selection of new plant matter and final installation, Dan and his hard working staff have made major improvements to the campus landscape."
This past summer, Dryja and his staff made major overhauls of the tired and dated landscaping in the front of Moffett and Miller and along the newly re-surfaced fire lane between Old Main and Moffett.
"This was particularly challenging as Dan was short about a third of his staff most of the summer," Horrocks noted.
In the winter months, Dryja lives and breathes the local and regional weather forecasts and skillfully deploys the grounds crew in three shifts from 4 a.m. past midnight, and sometimes into the following morning.
"As Dan's wife can attest only too well, Dan spends many sleep-interrupted and sleepless nights watching for overnight weather developments that might interrupt the movement of staff and students on campus. His late nights are sometimes spent on the phone with the University Police Department's dispatcher, and early mornings briefing the associate vice president for facilities management on the readiness of the campus following major snow "events," according to Horrocks.
Dryja spends much time and thought refining the campus snow and ice removal procedures, from staff assignments to strategic equipment deployment, in order to ensure maximum safety for faculty, staff and students.
"The commitment of Dan and his crew is extraordinary in what can be brutal and demanding work," Horrocks said.
Dryja first began tending grounds at the College while earning his degree in exercise science. Starting as a temporary employee in 2003, he received permanent appointment as a grounds worker in 2004.
Eager to learn new skills and advance in his new field while working fulltime with Grounds, he earned an associates degree in horticultural and landscape design from Morrisville State College. Dryja also left his department for 10 months to take advantage of an opportunity to work for the New York State Department of Transportation, where he learned about road maintenance and related activities.
For five years, as a general mechanic in the General Maintenance Unit of the College's Physical Plant, he was the College's resident expert tasked with maintaining the artificial turf fields at the Stadium Complex as well as a dozen natural grass athletic fields, including the highly groomed baseball and softball game diamonds. In 2014, he accepted the promotion to head grounds supervisor.
During the years of New York Jets Training Camp, Dryja was responsible for grooming and maintaining the quarter-million dollar NFL grade turf fields installed by the New York Jets.
"He won over the very demanding Jets field staff by his diligence and attention to detail," Horrocks recalled. "Across the years, Dan has raised the bar on the quality of all of our natural grass athletic fields, and visiting coaches and officials frequently note their appreciation for the high quality of our game and practice fields."
Dryja and his wife, Elizabeth, have two sons, Cayden, 9, and Landon, 4. Dryja is a dedicated dad and an accomplished carpenter and woodworker, having remodeled nearly all of his own home. He enjoys preparing savory treats for others on his barbecue smoker as well as fishing and outdoor sports with his family.
Employees Honored for Years of Service
Also during the ceremony, 44 classified employees were recognized for their years of service. They included:
40 YEARS
| | |
| --- | --- |
| | |
| | Wendy Fairchild |
Wendy Fairchild, Secretary 2, Information Resources
35 YEARS
Mavis Lefever, Secretary 1, Campus Activities and Corey Union Office
Sharon Tucker, Secretary I, Mathematics Department
30 YEARS
Mary Cervoni, Agency Program Aide, Registrar's Office
Bonnie Eldred-Kress, Office Assistant 2, Athletics Department
Brenda Gorman, Secretary 1, Student Health Services
Theresa Peebles, Administrative Aide, Student Conduct Office
Darleen Richardson, Office Assistant 2, Business Office
| | |
| --- | --- |
| | |
| | Bonnie Eldred-Kress |
25 YEARS
Leslee Anne Bellardini, Secretary I, Library
Brenda Hammond, Secretary 1, University Police Department
Elaine Lund, Nurse Practitioner, Student Health Services
Steven Phillips, General Mechanic, Maintenance
Ronald Riccardi, Plumber and Steamfitter, Maintenance
Pamela Schroeder, Secretary 2, Academic Affairs
Cheryl St. Peter, Supervising Janitor, Custodial Services
20 YEARS
| | |
| --- | --- |
| | |
| | Brenda Gorman |
Doris Albro, Senior Computer Operator, Administrative Computing Services
Franklin Dalton, University Police Officer 1, University Police Department
Kathleen Gauthier, Office Assistant 2, Mail Services/Central Warehouse
15 YEARS
Patricia Alter, Secretary 1, Literacy Department
Dale Argyle, General Mechanic, Maintenance
Renato Brevetti, Mason and Plasterer, Maintenance
Lori Burns, Nurse 1, Student Health Services
Kathy Coggi, Office Assistant 2, Financial Aid Office
Michele Cornelius, Janitor, Custodial Services
| | |
| --- | --- |
| | |
| | Theresa Peebles |
Timothy Gowe, Motor Equipment Maintenance Supervisor 1, Motor Pool
Carol Gridley, Secretary 1, Advisement and Transition
David Haggerty, Janitor, Custodial Services
Dawn Harvey, Janitor, Custodial Services
Chad Matijas, Plumber and Steamfitter, Maintenance
Richard Nauseef, Plant Utilities Engineer 1, Heating Plant
Connie Parmiter, Secretary 1, Sport Management
Ruth Partigianoni, Cleaner, Custodial Services
Gregory Peters, Janitor, Custodial Services
Patricia Randolph, Office Assistant 1, Field Experience and School Partnerships
Shirley Randolph, Office Assistant 1, Student Accounts Office
Rosemary Root, Cleaner, Custodial Services
Athena Vunk, Administrative Aide, Extended Learning Office
Nancy White, Janitor, Custodial Services
10 YEARS
Michael Beaumont, Transportation Supervisor 1, Transportation Services
Ronald Benda, Cleaner, Custodial Services
Dana Bush, Laborer, Grounds, Stadium Complex
Roger Cornelius, Janitor, Custodial Services
Daron Foster, Refrigeration Mechanic, Heating Plant
Debora Howe, Janitor, Custodial Services
Sandra Kline, Office Assistant 1, Admissions Office
Melissa Lang, Janitor, Custodial Services
Michele Lella, Secretary I, School of Arts and Sciences
Marcia O'Loughlin, Secretary 2, School of Professional Studies
Edith Pennell, Secretary I, Business Office
Eric Rawson, Janitor, Custodial Services
Carlton Rodman, Janitor, Custodial Services
Donna Sickmon, Office Assistant 2, Accounts Payable
Casey Thomas, Locksmith, Maintenance
Barbara Toomey, Office Assistant 2, Residence Life and Housing Office
Student Lawyers Set New Precedent in Moot Court Competition
12/06/2016
You don't have to be wearing an athletic jersey to bring home a trophy for SUNY Cortland. Political science majors Matthew Mavrogian and Michael Braun recently did it while wearing jackets and ties.
The pair made up SUNY Cortland's most successful moot court team at the American Collegiate Moot Court Competition regional tournament in Fitchburg, Mass., on Nov. 18 and 19, reaching a new milestone under third-year faculty advisor Timothy Delaune.
| | |
| --- | --- |
| | |
| | Practicing on Friday morning ahead of the moot court competition, from the left, were Tyler Savino, Kayla Ernisse, Matt Mavrogian their coach and professor, Timothy Delaune. |
Mavrogian, a junior from Huntington, N.Y., and Braun, a senior from Elmont, N.Y., who also is president of the Student Government Association, made it to the Saturday, Nov. 19, elimination rounds and won their first round of that competition before being eliminated, said Delaune, assistant professor of political science and the College's pre-law advisor.
"They consequently received trophies, the first time that any SUNY Cortland team has advanced this far since the reboot of the program in 2014," Delaune said.
Moot Court simulates oral arguments before the U.S. Supreme Court. Two-person legal teams spend the semester working through a hypothetical lower-court case raising substantial constitutional issues, and argue those issues — supported by legal precedent — in competition with students from schools around the country.
"It taught us all what it would actually be like to be a lawyer, or at least the closest thing to it," said Mavrogian. "This is a great program that holds students to a higher level of problem solving, complex text analysis and is an interesting and fun way to learn the law."
"Being able to prevail and move on to the next round was truly a feeling of accomplishment," Braun said. Moot Court was an extraordinary experience."
Moot court actually is a political science course, POL 489, offered at SUNY Cortland in the fall semester for three credit hours and is open to students in any major of at least junior status. The course gives students a chance to hone their public speaking and analytical skills while arguing a case that has, or could have, appeared before the U.S. Supreme Court. They are in charge of preparing arguments for both sides, based on real-life cases cited in the competition brief.
"I am not set on being a lawyer, but this class definitely gave me a good understanding of the amount of work a lawyer puts into a case," Mavrogian said. "I would highly recommend it to any student who is serious about going to law school because this class will give you the best undergrad experience in law-related topics."
Mavrogian appreciated the real-life perspective the competition brings to an otherwise classroom experience.
"My favorite aspect of the course was public speaking," he said. "We can all read and write. However, it was a challenge to then stand in front of judges and articulate what we have learned while getting questions thrown at us left and right. A lot of the judges' questions forced us to think on our feet, and Professor Delaune did a great job preparing us for it."
A second SUNY Cortland moot court team of political science majors, junior Kayla Ernisse of Rochester, N.Y., and senior Tyler Savino of Holtsville, N.Y., gave consistently strong performances in the preliminary rounds on Friday but did not compete on Saturday.
"They performed admirably in the opening rounds of 42 teams, but regrettably did not make the cut to the single-elimination rounds," Delaune said.
"Matt, Kayla, Tyler and I worked extremely hard to prepare for the competition," Braun said. "Professor Delaune made sure to properly prepare us for what was to come. We were lucky to have such a dedicated professor on our side."
Delaune became the course's new instructor after a two-year hiatus during which the elective wasn't offered. That first year, he took a team to the regional tournament in Massachusetts. Four SUNY Cortland teams competed, but none progressed to the second-day single elimination round. In Fall 2015, one team advanced to the single-elimination round on Saturday. Unfortunately, the pair was eliminated in the day's first round on a split decision and the win was awarded to the higher-seeded team.
Everything about the class leads up to that final day in court, making it a valuable experience for SUNY Cortland students who aspire to become attorneys or go into another field that uses strong reasoning and oral presentation skills.
"I am especially pleased that in an important and contentious election year, in which voting rights were very much at issue, our moot court students have gained vital knowledge regarding those rights and their constitutional underpinnings," Delaune said.
The team's trip was supported by The President's Fund and the Dean of Arts and Sciences Office.
"I liked that we could meet students from all over the East coast and compete against them," Mavrogian said. "It really gave us a sense of pride to be able to represent SUNY Cortland."
"Although I am unsure if I would like to go to law school, moot court has showed me that I would be able to do it if I tried," Braun said. "Moot court truly gave me optimism in the possibility of having a future in law."
---
Capture the Moment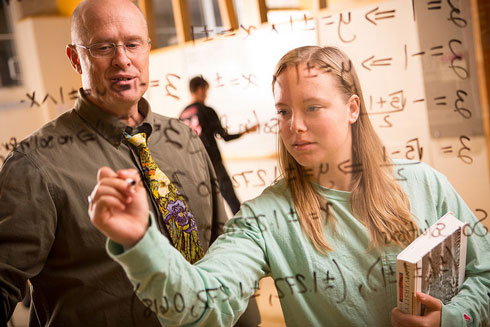 Junior Hannah Laper works through a math problem with associate professor of mathematics David Dickerson. Fall semester classes are coming to an end Friday, and students will plunge into study days over the weekend. It all leads to the final examination period, which begins Monday, Dec. 12.
---
In Other News
Winter Session Registration Continues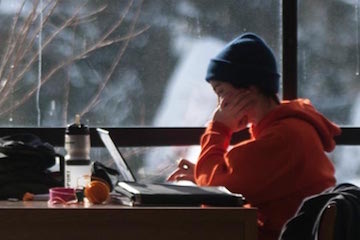 12/06/2016
Winter break is right around the corner, and SUNY Cortland students are looking forward to spending time with family, sleeping late and binging on Netflix without worrying about papers or tests.
At least for the first two weeks.
During that long, dreary stretch in January before the spring semester begins, SUNY Cortland students have an opportunity to do a lot more with their break by participating in Winter Session.
With classes offered both online and on campus, ambitious students can earn up to five credits in just two weeks.
Courses offered include both introductory-level and advanced classes. Topics range from medical anthropology and modern art to finance and fantasy sports. A full list of courses is available online.
Registration is now open and students are urged to sign up soon before popular programs fill up. Interested students should visit the Winter Session webpage for more information.
Winter Session 2017 Dates
Registration period: Now through Jan. 4
First day of classes: Wednesday, Jan. 4
Last day of classes: Wednesday, Jan. 18
Interactive Media Class to Share Art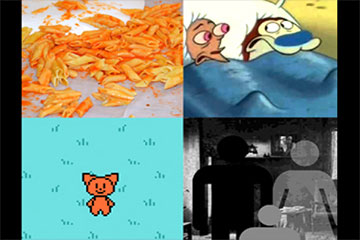 12/06/2016
You may be touched by some of the student creations featured in an upcoming exhibit at the Dowd Fine Arts Center.
But not before the artwork is touched by you.
"LOSS: an Interactive Installation" was created by students in Associate Professor Martine Barnaby's interactive media class. It will be open for audience exploration from Thursday, Dec. 8, to Wednesday, Dec. 14 in the East Wing off the main exhibition space of Dowd Gallery.
"The artwork is engaged through motion sensors and touch, and viewers are encouraged to assimilate the connections of memory, innocence and loss as they explore the space," said Matthew Oswald, teaching assistant for Art Studio 344. "In other words, 'Please Do Touch.'"
The interactive exhibit features work by Oswald and student artists Ashleigh Cerrato, Carly Gialanella, Melissa Sprole and David Weaver. The students had been intrigued by the way bachelor of fine art (BFA) student Jerome Tiunayan's upcoming Dowd Gallery thesis exhibition, "Warts and All," shares some his most private childhood fears.
So they created a complimentary installation to bounce their own creative reflections off Tiunayan's work. The class exhibition will be shown simultaneously with Tiunayan's BFA thesis display and that of fellow BFA candidate Josephine Cook, according to Barnaby, associate professor of art and art history.
The gallery is open from 10 a.m. to 4 p.m. Monday through Friday and by appointment. Cook will show installations relating to her Native American heritage in the Critique Space on the ground floor of the Dowd Fine Arts Center at SUNY Cortland. The viewing hours there are from 7:30 a.m. to 9:30 p.m. weekdays.
An opening reception and events are planned for the two BFA students and the interactive media class members. Admission and events are free and open to the public.
"Our objective was to build an installation working with interactive technology, and we created a space as a response to Tiunayan's concurrent BFA exhibition," Oswald said.
"As we discussed his work, the group began to collaborate on ideas about memory-making — and particularly on the feeling of the loss of innocence through memory — a main focus," Oswald said.
"The finalized space is a collection of our individual experiences from childhood in a family home setting that features a living room, dining room and work area," he said. "Memories are presented in various types of digital media."
For more information about the exhibitions or Dowd Gallery, contact the gallery at 607-753-4216.
BFA Thesis Exhibitions Set to Open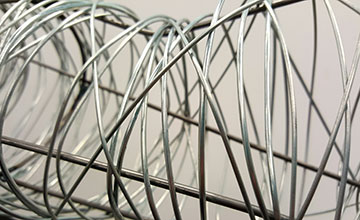 12/06/2016
Jerome Tiunayan's paintings explore the lingering effects of childhood sexual repression. By likening the condition to a contagious illness, the award-winning work by this SUNY Cortland student from Brooklyn, N.Y., illustrates growth and metamorphosis of an internal conflict as an outward bodily manifestation.
Art and Art History Department classmate Josephine Cook lives on the Onondaga Nation Territory south of Syracuse, N.Y. Her work — depicting traditional oral stories of the Haudenosaunee Native American Confederacy — already has earned her commissions and honors.
Both seniors hope to receive their Bachelor of Fine Arts (BFA) in December. Each plans a showing next month to fulfill their BFA thesis exhibition requirement.
| | |
| --- | --- |
| | |
| | Jerome Tiunayan's 2016 acrylic-on-canvas painting is titled "I should have stretched first!" |
Their artwork will be displayed in Dowd Fine Arts Center from Thursday, Dec. 8, to Wednesday, Dec. 14.
Tiunayan's exhibition, titled "Warts and All," may be viewed in the building's Dowd Gallery, where the open hours are 10 a.m. to 4 p.m. Monday through Friday and by appointment.
Cook's installations will be displayed in the Critique Space on the ground floor of the Dowd Fine Arts Center at SUNY Cortland. The viewing hours are from 7:30 a.m. to 9:30 p.m. weekdays.
Opening receptions for both artists and students in a related interactive exhibition will be held concurrently from 4:30 to 6 p.m. on Friday, Dec. 9.
Tiunayan and Cook will each give a brief artist's talk at around 5:30 p.m.
Students in Martine Barnaby's Interactive Media class have installed their collaborative works relating to Tiunayan's exhibition in the East Wing off the main gallery. Their display, running concurrently with the BFA exhibitions, is titled "LOSS: an Interactive Installation."
The exhibitions and related events are free and open to the public.
Jerome Tiunayan
Tiunayan has majored in studio art with a concentration in painting. His work has been exhibited in the Best of SUNY Student Art Exhibition 2016 at the New York State Museum in Albany, N.Y. He was awarded third place in SUNY Cortland's Student Select 2015. Last year, the College presented him with a Norma Smocynski Schlager '62 Scholarship for the Arts.
"Warts and All" will combine influences ranging from grotesque 19th-century medical illustrations to underground commix, which Tiunayan uses to weave several narratives revolving around a singular character.
| | |
| --- | --- |
| | |
| | Jerome Tiunayan's 2016 in-on-paper piece is called "Patient Zero." |
"This exhibition is a way of answering a question that has plagued me for years: 'What if the parts of me I tried to hide were the first things people saw?'" Tiunayan said.
"Consequently, upon seeing the work, the viewer is placed in a position to cast judgment, deciding if the character should be empathized with or shunned."
Josephine Cook
Cook's work consistently has been included in the juried Art Exhibition Association Student Select Shows. Her pieces also were exhibited at Memorial Library in the College's Best of Student Select in Spring 2015 and 2016.
In Fall 2012, she designed selections chosen by the Syracuse Cultural Workers to create their "How to be an Ally" series in collaboration with Neighbors of the Onondaga Nation. The following summer, Cook was commissioned to create a tile mosaic replica of the George Washington Belt for the Onondaga Nation Human Resources office.
Her exhibition will consist of a mixed-media installation that merges woven fiber pieces with welded sculptural forms.
Cook said she takes on the role of the storyteller by exhibiting a physical representation of the origin of the Haudenosaunee. "Origin" depicts the creation story of her people beginning with the tale of Sky Woman.
| | |
| --- | --- |
| | |
| | Josephine Cook shared this details of two installation pieces she made this year, "Water fiber weaving" and, above left, "Welded goose sculpture." |
"My hope is to prevent the traditional stories from vanishing from my people while educating all who view the work of their traditions," Cook said.
For more information about the BFA Thesis exhibitions or Dowd Gallery, contact the gallery at 607-753-4216.
Interactive Media Class
Martine Barnaby's Interactive Media students designed "LOSS: an Interactive Installation" to bounce their own creative reflections off Tiunayan's current exhibition.
The work is by student artists Ashleigh Cerrato, Carly Gialanella, Melissa Sprole, David Weaver and their teaching assistant, Matthew Oswald, according to Barnaby, associate professor of art and art history.
| | |
| --- | --- |
| | |
| | The Interactive Media class will share their installation work relating to Jerome Tiunayan's BFA exhibition also in the gallery. |
Holiday Poetry Reading Planned Dec. 8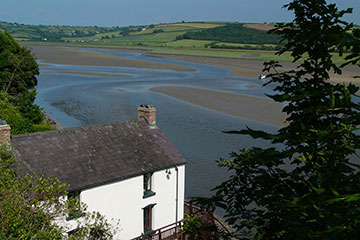 12/02/2016
Gregg Weatherby, a lecturer in SUNY Cortland's English Department, will read from Dylan Thomas' "A Child's Christmas in Wales" and portray the poet and famous figure in literature on Thursday, Dec. 8, at the College.
Owen Thomas, who appeared in the children's ensemble for the College's 2013 production of the Charles Dickens' "A Christmas Carol — The Musical," will perform as the young Dylan Thomas.
| | |
| --- | --- |
| | |
| | Dylan Thomas is shown in the 1950s. Above left is The Boat House at Laugharne, the Thomas family home from 1949. |
Weatherby also will read from other works by the Welsh poet as well as selections from Irish poet W.B. Yeats and English poet W.H. Auden.
Originally scheduled for Dec. 1, the presentation will take place at 5 p.m. in Brockway Hall Jacobus Lounge.
The program continues the Cultural and Intellectual Climate Committee's (CICC) yearlong series focused on the essential nature of art and imagination in society, titled "Art and Everything." All events are free and open to the public.
The event also is produced by the Ad Hoc Theatre Collective, a local theatre group that first developed the "A Child's Christmas in Wales" program. Weatherby has performed with the group.
The reading is dedicated to the memory of Robert Rhodes '53, SUNY Cortland professor emeritus of Anglo-Irish literature.
Thomas was well-known for his dramatic readings during his lifetime, both on tour and on the radio. He is famous for poems like "Do Not Go Gentle Into That Goodnight," "In My Craft or Sullen Art," "Fern Hill" and "Death Shall Have No Dominion."
Weatherby has written three volumes of poetry, Under Orion, Bone Island and Approaching Home.
His recent acting credits also include performances with the Ithaca Shakespeare Company.
"Art and Everything" is intended to examine the power and purpose of art across the disciplines.
The theme will facilitate and drive a wide ranging discourse that questions the function of art in our culture and examines the many ways art confronts current concerns of that culture, such as Black Lives Matter, gender inequity, climate change, gun violence, or growing economic inequality.
Spring activities for "Art and Everything" will be announced at a later date.
By holding an annual series on a different intellectual theme, the CICC committee aims to generate common topics of discussion and to establish traditions of intellectual discourse on SUNY Cortland's campus. The series encourages faculty and staff to infuse the theme into their course curricula, engage in classroom discussions and debates around the theme, and propose campus events or speakers on related topics.
For more information, contact CICC co-chairs Scott Moranda, associate professor of history, at 607-753-2052 or Howard Lindh, scenic designer in the College's Performing Arts Department, at 607-753-4101. The campus community is invited to visit @SUNYCortCICC to share their Twitter feedback on "Art and Everything."
Outstanding Non-Traditional Students Recognized
Fifty-seven students who who balance family, jobs and other commitments were recognized for their hard work and commitment during Non-Traditional Students' Week Nov. 11 to Nov. 18.
The College defines its non-traditional undergraduate students as those who are at least 24 years old or have had an interruption or delay in their education since high school. Also, they might have dependent children, regardless of their ages.
Faculty, staff and students submitted 72 names, an increase from 50 names in 2016, with some students being recognized by more than one person, to the "Celebrate a Non-Trad" campaign. A certificate of recognition and a small gift were given to the following non-traditional students:
Nicholas Andreassi
Brian Anson
Joseph Barbaro
Caitlin Barnes
Robert Bergman
Jose Blanca
Jason Blayda
Karen Bobbett
Zachary Bolton
Jessica Briggs
Jade Case
Matthew Chase
Lei Chen
Zachary Cole
Teresa Contessa
Andrew DellaVilla
Allen Emm
Elizah Feathers
Brandohn Gabbert
Heather Garr
Bridget Hall
Kaitlyn Harman
Johanna Hernandez
Sheryl Holbrook
Allie Holleran
Thomas T.J. Keegan
Kaitlyn Kellam
Anna Klatt
Jocelyn Lake
Jared Leseman
Alan McCormick
Jamie-Lee Minkley
Emily Morley
Breanna Murray
Caitlin Niederhofter
Mac Osei
Matthew Perry
Jennifer Pietricola
Richard Piotti
Beth Poulos
Mathew Raymond
Alexander Rundle
Sara Sampson
Andrew Santos
Sikanda Saysanavong
Amanda Sharpsteen
Jessica Smith
Pamela Stone
Brianna Sullivan
Amber Swavola
Stephanie Syrup
Allison Teachout
Lauren Welch
Marc Wiesenfeld
Cathy Wilcox
Brian Zoll
Jose Zambrano
The Celebrate a Non-Trad campaign is sponsored by Advisement and Transition and the Non-Traditional Student Organization. For more information, contact Cheryl Hines, coordinator of student outreach and non-traditional student support, advisement and transition, at 607-753-4726.
Nominations for Excellence in Professional Service Awards Due Jan. 31
Nominations are now being accepted for the College's Excellence in Professional Service Awards. Letters of nomination will be accepted from SUNY Cortland students, colleagues or supervisors. Any professional who has completed at least two years of service at SUNY Cortland is eligible for the award. One award will be given annually.
Nomination materials must be submitted by Tuesday, Jan. 31, to Jeff Denmon, College and Student Accounting Services, Miller Administration Building, Room 323A.
Among the criteria used to judge nominees are institutional service, innovation within the profession and service to students, or a combination thereof. The final review will be administered by the Excellence in Professional Service Awards Committee. Guidelines are posted at this link.
The award winner will receive a one-time award of $1,000. Announcements of the honor will be sent to The Bulletin and the Cortland Standard. Recipients will receive a certificate of recognition at the annual Service Awards ceremony.
ASC Program Grant Applications due Feb. 17
Auxiliary Services Corporation (ASC) is now accepting Program Grant applications online for the 2017-18 academic year.
Applications are submitted online and must be sent by midnight on Friday, Feb. 17. Applicants are asked to read the grant guidelines carefully before submitting an application.
Each year the ASC Board of Directors allocates funds to support grants for a wide range of purposes and projects that enhance the life of the SUNY Cortland community.
Although ASC is willing to consider a wide range of ideas, it seeks to avoid duplicating other funding sources or funding projects more properly supported by state funds. Therefore, applicants should first seek funding from primary funding sources.
ASC grant funds may not be used for salaries, honoraria, travel normally funded by the College's budget, or scholarships for SUNY Cortland faculty, staff or students. Funds may not be used to purchase computers, related hardware or software. All purchases will be processed in accordance to ASC's financial and related GAAP policies. In general, Program Grant funds may not be used exclusively for food for SUNY Cortland students, faculty or staff. Funding for food may be considered if the food is deemed integral to the success of the program or event. All food shall be provided by ASC. Other grant guidelines are described in the application package and online.
For more information, contact Judy Standish by email or at 607-753-4325.

Suggest a feature story
---
Faculty/Staff Activities
Seth N. Asumah, Mechthild Nagel and Ibipo Johnston-Anumonwo
Seth N. Asumah, Political Science and Africana Studies departments, and Mechthild Nagel, Philosophy and Africana Studies departments and the Center for Gender and Intercultural Studies, presented a workshop titled "Diversity Leadership, Inclusive Excellence and the Emerging Roles of Chief Diversity Officers and Faculty Engagement" at the November SUNY Diversity Conference in Albany, N.Y. Ibipo Johnston-Anumonwo, Geography and Africana Studies departments, gave a workshop on "Visualizing Diverse Worlds: Film and Social Media in the Social Science Classroom." Both Asumah and Nagel served on the SUNY-wide diversity conference organizing committee and also chaired sessions at the conference.
Simon Brandon-Lai
Simon Brandon-Lai, Sport Management Department, co-authored an article, "Organizational Impression Congruence: A Conceptual Model of Multi-level Impression Management Operation in Sport Service Organizations," that was published in Sport Management Review. In the paper, the authors addressed ways in which images projected by actors at different organizational levels combine to produce in/coherent consumer impressions. Conceptual links between these impressions and related outcomes (e.g., consumer trust, psychological connection, and re-patronage intentions) are discussed.
Mark Dodds
Mark Dodds, Sport Management Department, made two presentations at the Sport Marketing Association Conference held Nov. 2-4 in Indianapolis, Ind. Also, he co-presented "Corruption's impact on sport marketing: The case of EA Sports and Ticketmaster's powerplay against Stubhub."
Regina B. Grantham
Regina B. Grantham, Communication Disorders and Sciences Department, attended the American Speech-Language-Hearing Association (ASHA) Convention, the premier annual educational event for the profession, in November in Philadelphia, Pa. She attended several councils as a member of the association's board of ethics. Also, she co-presented with the board in an oral seminar, "Workplace Ethics: Challenges and Solutions" and poster session, "Suspect Ethical Misconduct? The Code of Ethics (2016) Is a Path to Resolution."
Thomas Hischak
Thomas Hischak, professor emeritus of theatre, had his non-fiction book, Musicals in Film: A Guide to the Genre, published by ABC-CLIO, Santa Barbara, Calif.
Deborah Matheron
Deborah Matheron, Communication Disorders and Sciences Department, presented "Respiratory and Laryngeal Interactions During Speech: Speakers with Multiple Sclerosis and Their Healthy Peers" at the American Speech-Language-Hearing Association National Convention on Nov. 18 in Philadelphia, Pa.
Varya McCaslin-Doyle and Krista Natale
Varya McCaslin-Doyle and Krista Natale, The Help Center, presented at the SUNY Wizard Conference held in Syracuse on Nov. 16 and 17. They prepared a panel discussion to talk about the challenges of training a successful student workforce in the continuously changing world of information technology.
Mary McGuire and John Suarez
Mary McGuire, Institute for Civic Engagement, and John Suarez, Office of Service-Learning, conducted a Deliberative Dialog on Oct. 12, as part of the Institute for Civic Engagement's "Economic Inequality Initiative." Thirty-three people – 20 students, 10 community leaders and 3 faculty and staff members – explored long-term solutions to some of Cortland County's socio-economic challenges. Key to this dialog's success was the participation of people who represent differing economic and political points of view. Initiative members are now taking steps to develop some of the solutions.
Irena Vincent and Mary Emm
Irena Vincent and Mary Emm, Communication Disorders and Sciences Department, presented "Above the Roar of the Crowd: Athletic Coaches and Their Voice" at the American Speech-Language-Hearing Association national convention in Philadelphia, Pa.
Ryan Vooris
Ryan Vooris, Sport Management Department, was a finalist for Best Paper at the 2016 Sport Marketing Association Conference, held Nov. 2-4 in Indianapolis, Ind. The paper is titled "Development of a Motivational Scale for Sport Twitter Consumption."

Submit your faculty/staff activity