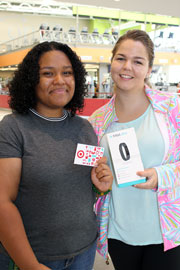 Campus Champion
Genny Alexis, a senior criminology major from Rockland County, N.Y., left, and Ali Konnerth, a junior health education major from East Islip, N.Y., were the SUNY Cortland Healthier Campus Initiative winners of a Fitbit and a $100 Target gift card. They tweeted the most photos of themselves exercising, eating healthy and doing other activities, all in the name of health and fitness for the Healthier Campus Challenge. The busy health promotion interns sharpen their health-promoting skills by volunteering with the weekly Wellness Wednesday series, which leads campus conversations about wellness, sexuality, alcohol, drugs, relationships, eating disorders, sexual assault, grief, stress management and more.

Nominate a Campus Champion
---
Tuesday, Oct. 11
Film Screening: "Under The Gun," as part of the Cultural and Intellectual Climate Committee series, Sperry Center, Room 105, 7 p.m.
Alumni Speaker Series: Careers in Psychology, Oct. 11, 7 p.m., Corey Union Exhibition Lounge.
Wednesday, Oct. 12
Sandwich Seminar: "Confucius and the Aztecs on Ethics," by Sebastian Purcell, assistant professor of philosophy, Brockway Hall Jacobus Lounge, 12:30-1:30 p.m.
Distinguished Voices in Literature Lecture: "Poetry Reading with Camille Rankine," author of Incorrect Merciful Impulses, Brockway Hall Jacobus Lounge, 5 p.m.
Reading and Discussion: "At Risk Learning in the Schools," by Ginnah Howard, author of I'm Sick of this Already, I'm Sick of This Already: At-Risk Learning in a High School Class, Sperry Center, Room 105, 7 p.m.
Film and Discussion: "Tested," with question-and-answer with Director Curtis Chin, Sperry Center, Room 205, 7 p.m.
Wellness Wednesday: "And Then I Met…" Giving allies a voice panel of students, staff and alumni, Corey Union Exhibition Lounge, 7 p.m.
Thursday, Oct. 13
DeGroat Hall Re-Opening Ceremony: DeGroat Hall Main Lobby, 10 - 11:30 a.m. RSVP was required.
Thursday, Oct. 13 Lecture: "Guernica," by Kathryn Kramer, Art and Art History Department, Dowd Fine Arts, Room 0010, 5-6 p.m.
Friday, Oct. 14
Workshop: "Using Advising Tools to Empower your Advisees," by Advisement and Transition, Cornish Hall, Room 1304, 12:30-1:30 p.m.
Monday, Oct. 17
Fall Break Begins: 8 a.m. Continues through Tuesday, Oct. 18.
Wednesday, Oct. 19
Classes Resume: 8 a.m.
Faculty/Staff/Alumni SafeZone Training: Corey Union Fireplace Lounge, 4-7 p.m.
EAP Parenting Series: "Talking to Your Kids about Sexual Health," presented by Mary Dykeman, Prevention Specialist, Cortland Prevention Resources, a division of Family Counseling Services, EAP Office, Van Hoesen Hall, Room 119C, noon. Attendees are welcome to bring lunch. Feel free to bring your lunch to enjoy during the presentation.
Lecture: "The Art and Science of Maya Ceramics," by Jeremiah Donovan, Art and Art History Department, and Robert Darling, Geology Department, as part of the exhibition "Future of the Past," Sperry Center, Room 106, 5 p.m.
Wellness Wednesday: "Healthy Relationships," tips and tools for building healthy relationships, with Carolyn Bershad, director of Counseling and Student Development, Corey Union Exhibition Lounge, 6 p.m.
Thursday, Oct. 20
New York Campus Crunch: Sponsored by Auxiliary Services Corporation (ASC), the SUNY Cortland community will confirm its commitment to local food and healthy living by crunching into New York state apples at noon to set a record for participation.
Opening Reception: "Future of the Past - Revitalizing Ancient Maya Tradition in a Modern Maya Community," Dowd Fine Arts Center, Room 106, 5-6:30 p.m.
Performance: "Laramie Project," a play by Moisés Kaufman, Performing Arts Department, Dowd Fine Arts Theatre, 8 p.m.
Friday, Oct. 21
Performance: "Laramie Project," a play by Moisés Kaufman, Performing Arts Department, Dowd Fine Arts Theatre, 8 p.m. There will be an audience talk-back following this performance.
Saturday, Oct. 22
Performance: "Laramie Project," a play by Moisés Kaufman, Performing Arts Department, Dowd Fine Arts Theatre, 8 p.m. There will be an audience talk-back following this performance.
Performance: Seraph Brass Quintet, featuring top female brass players, sponsored by Campus Artist and Lecture Series, Old Main Brown Auditorium, 7-8:30 p.m.
Sunday, Oct. 23
Performance: "Laramie Project," a play by Moisés Kaufman, Performing Arts Department, Dowd Fine Arts Theatre, 2 p.m.
---
---
Student Talent Takes Center Stage at Performing Arts Open House
09/22/2016
When Sean Noonan visited SUNY Cortland for the first time, it was by coincidence that his campus tour aligned with dress rehearsals for the College's major spring musical.
"You get a good feel for the major and the environment just by watching the shows," said Noonan, a senior musical theatre major from Water Mill, N.Y. "I was blown away, and I knew Cortland was the place."
Seeing the talent in person sealed Noonan's college decision, and current high school students with similar stage aspirations soon will have the same opportunity.
The College's current crop of student talent will take center stage as part of an Open House for prospective musical theatre majors on Friday, Oct. 21 — an event that offers a more intimate campus visit experience for students interested in SUNY Cortland's Performing Arts Department. Prospective students can learn more about life in the classroom during the day, then at night attend SUNY Cortland's production of "The Laramie Project," a play about the reaction to the 1998 murder of a gay college student in Laramie, Wyo.
Online registration for prospective students and their guests is now open.
"We're a more intimate program, which means
we get a lot more one-on-one training," said
Sean Noonan, a musical theatre major. "In a
bigger department, you lose that. Here, instead
of just being a face, you're able to connect with
professors and get the feedback you need."
Noonan will play a lead role as Stephen Belber, a member of the theatre company studying the murder for a series of short skits. By the time he graduates, Noonan will have appeared in more than 10 major productions at the College. The opportunity to be seen is one of the Performing Arts Department's major benefits, he said.
"We're a more intimate program, which means we get a lot more one-on-one training," Noonan said. "In a bigger department, you lose that. Here, instead of just being a face, you're able to connect with professors and get the feedback you need."
Emily Woods will play fellow theatre company member Kelli Simpkins in "The Laramie Project," the fourth time she's been cast in a campus production. When she auditioned at SUNY Cortland, she sensed authentic enthusiasm among current students for both their major and the College.
"You could tell that it wasn't scripted," said Woods, a junior musical theatre major from Staten Island, N.Y.
Visitors will hear from faculty members and current students like Noonan and Woods at the Performing Arts Open House event. They can tour the College's Dowd Fine Arts Center, which received a $22 million renovation in 2014 that brought major upgrades to the 477-seat Dowd Fine Arts Center Theatre in addition to a renovated recital hall, dance studio and rehearsal rooms. The cast of "The Laramie Project" also will perform selections from the play during the afternoon.
Prospective students will learn about the many opportunities to shine in musicals, classic and contemporary plays and student-directed works. Those opportunities have propelled musical theatre alumni to roles in national tours and on Broadway.
Both Noonan and Woods have goals of performing in a big city. This past summer, Noonan earned a contract to work at Tibbits Opera House in Coldwater, Mich., where he was cast in "Oklahoma!" and "The Addams Family." His paid experience there served as proof that his talent and skills have grown exponentially since his high school days.
"Coming to Cortland, I got that artistic gratification of being in so many shows in one year," he said. "Learning about music and theatre and dance together without being restricted … that's been one of the best parts."
Woods credited a well-rounded experience.
"You get the musical theatre major feel but on a real college campus," she said. "To me, Cortland was more than just an arts school."
DeGroat Hall to Celebrate Grand Reopening
10/11/2016
A completely renovated DeGroat Hall opened its doors with 146 beds for students this fall, marking the first major overhaul for SUNY Cortland's four-story brick Georgian-style residential facility since it was built 65 years ago.
The recent update, costing $7 million, brings DeGroat Hall, named after Harry De Witt DeGroat, the Cortland Normal School's third principal, into the 21st century while maintaining distinct touches from the past.
"From new floors and energy efficient lighting and heaters to bath, bed and laundry room upgrades, this work exemplifies the Dormitory Authority of the State of New York's commitment to providing quality living environments for SUNY students," said Gerrard P. Bushell, DASNY president and CEO. "These sustainable and safe spaces will help ensure SUNY Cortland will continue to attract the best and brightest."
Yet for the students who desire it, living in DeGroat also gives them a more refined and classic collegiate
| | |
| --- | --- |
| | |
| | A renovated lounge in DeGroat Hall echoes the sophisticated Georgian style of the building's exterior. |
atmosphere.
"The color palette that was used in the design and some of the other choices are really kind of timeless," said Katie Ingraham, the College's assistant director for operations in residence life and housing, of the new interior, which is notable for its muted colors of white, black, gray and brown.
"DeGroat is an older building," Ingraham said. "There is something to keeping some of the history and old feel to the building, that Georgian feel. We think it's really going to stand the test of time on how it's viewed."
Members of the campus community will celebrate the completion of the major renovations with a grand reopening ceremony and open house on Thursday, Oct. 13.
The event begins at 10 a.m. in the building lobby and will feature guest speakers for the ribbon-cutting ceremony followed by a reception and building tours until 11:30 a.m. The event is open to those who sent in their RSVP to attend.
The student residence was part of a trio of companion buildings that were designed by Cortland architect Carl W. Clark and constructed in 1951 on Graham Avenue during the administration of president Donnal V. Smith, who served from 1943 to 1959.
DeGroat served from 1912 to 1943. During his long tenure, he instituted many school traditions including the Alma Mater, and Moving Up Rock.
Money was tight during these post-World War II years, but all New York state teacher's schools were allotted funds to build residence halls. Back then, the New York State Dormitory Authority provided $865,000 in funds for Cheney and DeGroat. George Brockway, retired president of Brockway Motors, had donated the money to build Brockway Hall, the student dining and social center, to which DeGroat is connected by a basement corridor. Cheney Hall balances the north side of Brockway Hall. The completed buildings were dedicated in 1961.
DeGroat Hall

before

DeGroat Hall

after
Flash forward to December 2015. Following the semester's end, students moved out of DeGroat Hall and an accelerated schedule of construction began, according to Rob Shutts, the College's director of facilities planning, design and construction. Fahs Construction of Binghamton, N.Y., was general contractor for the project and King & King Architects of Syracuse, N.Y., designed the revamped student residence. The goal, met one month early, was to open the building to house students for the Fall 2016 semester.
"DeGroat had not received any appreciable improvement before the renovation," Shutts said. "It was one of the last residence halls to be updated as part of the campus master plan."
With the completion of the partially renovated Casey and Smith Halls complex at the base of Neubig Road in the near future, every single dormitory-style residence on campus will have received major renovations in recent years. All were finished under the administrations of either President Emeritus Judson H. Taylor of the current President Erik J. Bitterbaum.
DeGroat features a new service elevator attached externally by glass corridors to the south side of the building. The improvement makes the second and third floors available to residents and guests with disabilities, in compliance with federal regulations of the Americans with Disabilities Act (ADA).
The architects preferred the design advantages of building an external elevator rather than having an elevator added through the building's core. That's what was done with Cheney Hall.
"There's that open area feel when you walk right into the lobby," Ingraham said. "You definitely wouldn't have that feel if we put the elevator there."
The contractor added kitchens to all the DeGroat Hall lounges. Previously, it had been the only residence hall that had lacked them.
"We find the students do want that kitchen space and do use them a lot," Ingraham said.
Most of the third-floor rooms have slanted ceilings, so the majority of them were converted from doubles to singles.
"It's the only building on campus where we have such a large concentration of singles," Ingraham said. "I believe all but three rooms on that third floor are singles."
The move gives more choices to an increasing number of students who wish to accommodate all genders in shared living space, Ingraham noted.
Toward that end, the traditional large, hallway style bathroom facilities on both the first and third floors were replaced with a series of smaller, single-use bathroom spaces. Each looks like a community washroom area flanked by several doors leading into private rooms, each featuring a sink, toilet and shower stall.
"This really allows that opportunity for that all-gender housing that we have a demand for," Ingraham noted.
The third-floor lounges contain thoughtful details, including padded window seats where students can relax and read. Throughout the building are modernized Georgian features that the original DeGroat Hall never had, including large decorative ceiling medallions, crown molding and wainscoting constructed to look like painted, hand-carved wood. Indeed, much of the elegance looks like it was made using expensive and rare materials. For example, the flooring is made of porcelain tile that imitates white and silver marble, saving both on fiscal and natural resources.
As with all other student residences renovated since 2005, DeGroat has many features that contribute to the campus' goal of sustainability, such as energy efficient lighting, exterior building envelope enhancements, and numerous sustainable construction and design elements. The reconstruction project used wood from sustainable forests, low-volatile organic chemical (VOC) products and materials containing recycled content.
Although no new residence halls are planned, the College at times will find the need to triple the number of students living in rooms designed for two.
"As long as Cortland stays a popular choice for incoming freshmen, we will always have some tripling," Ingraham said. "It makes the campus healthy, because ultimately it allows for us to operate in such a way that we don't feel the budget pinch as much as other campuses."
For more information, contact Special Events Coordinator Samantha Howell at 607-753-5453.
---
Capture the Moment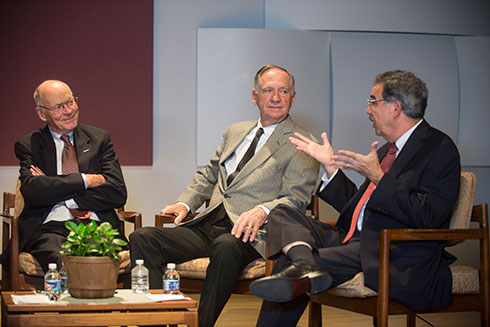 Former SUNY Cortland Presidents James Clark, 1979-1995, at left, and Judson Taylor, 1995-2003, center, listen as President Erik J. Bitterbaum, 2003-present, responds to a question during the taping of an interview on campus Oct. 5. The interview will be part of a book titled Our Common Ground: An Illustrated History of SUNY Cortland, 1990-2017. Chapter one is titled "Building a Community: Profiles of Three Presidential Administrations" and features the three men who presided over the last 30 years at SUNY Cortland.
---
In Other News
Memoir Talk to Address At-Risk Learning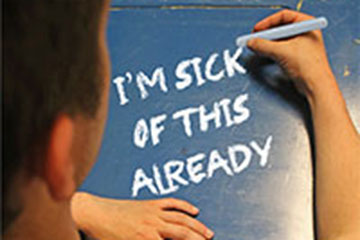 10/11/2016
Ginnah Howard, a successful novelist who has turned to memoir, will read from her recent teacher-narrative work on Wednesday, Oct. 12, at SUNY Cortland.
Howard will share from and discuss I'm Sick of This Already: At-Risk Learning in a High School Class (Illume, October 2015) during an event titled "At-Risk Leaning in the Schools," which begins at 7 p.m. in Sperry Center, Room 105.
The education-related activity was organized by Janet Duncan, professor of foundations and social advocacy, and sponsored by the School of Education.
I'm Sick of This Already documents a year Howard spent working with a challenging group of students on improving their language skills.
Using classroom scenes, Howard strives to help the reader come to know each of these students.
One reviewer, Ralph Fletcher, author of Walking Trees: Portraits of Teachers and Children in the Cultures of Schools, commented, "I found the book engrossing, with sharply drawn portraits of students who stayed on my mind."
Howard also wrote a novel trilogy about two troubled Upstate New York families that spans the years from 1946 to 2003. Each novel stands alone. In book one, Rope & Bone: A Novel in Stories (Illume Publications, July 2014), all the Merricks and Morlettis have a chance to give their "take" on their formative years.
Book two, Night Navigation (Houghton Mifflin Harcourt, 2009), focuses on the Merrick family. This novel was a New York Times Book Review Editors' Choice. Book three, Doing Time Outside (Standing Stone Books, 2013), gives the Morlettis' side of the story.
The National Alliance on Mental Illness of New York State gave Howard its Media Award for work on behalf of those with mental illness and their families.
For more information about Howard's work, visit www.GinnahHoward.com.
For information about the visit, contact Victoria Boynton, professor of English, at 607-753-2082 or Duncan at 607-753-2447.
Cortland Collaborates in Collective Campus Crunch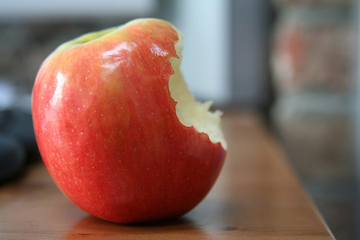 10/11/2016
Do you know what healthy sounds like? At noon on Thursday, Oct. 20, listen closely.
You might just hear the refreshing crunch of a million pairs of teeth sinking into fresh, New York apples.
Of course, it helps if you're one of the people taking a chomp.
SUNY Cortland is one of 18 schools throughout the state committed to crunching into New York State apples that day to affirm their commitment to local food and healthy living.
The third annual New York Campus Crunch asks participants to bite into an apple at noon and help set a record for the "Most Participants in an Apple-Crunching Event" by encouraging more than a million crunches. The main collective crunch is scheduled for lunchtime, but late crunches are welcomed.
Anyone — student, employee, community member or friend — may participate simply by taking a bite out of an apple, snapping a selfie and posting it on social media with the hashtag #NYCampusCrunch.
To encourage participation, ASC will sponsor a special apple photo booth at both the Bistro and Neubig Hall, giving healthy eaters an opportunity to mug for selfies with their friends.
SUNY Cortland will host crunching events in all its dining areas, including Neubig, Bistro and the Hilltop food court. The activities will offer a variety of apples donated by apple-inspired culinary fare as giveaways and, at Hilltop, contest prizes.
All locations are featuring apple entrées, sides and dessert options this day. Planned menu items include apple dessert pops and cider at Hilltop, and apple-cheddar pizza, apple grilled-cheese sandwich, Pork loin with apple stuffing and a nutty apple salad at the Bistro. At Neubig, they'll serve roasted apple slices, ribs with apple barbecue sauce, apple pie pizza, apple potato and onion au gratin and a candy apple dessert bar.
Red Jacket Orchards in Geneva, N.Y. is donating complementary apples and fresh cider for the event in an effort to celebrate both the state's local agriculture and healthy eating.
New York is the second-largest apple-producing state, averaging 29.5 million bushels of production annually. Because apples are grown locally, they help the College reduce its carbon footprint by avoiding lengthy, CO2-producing shipping and transportation.
They are also guaranteed fresh, flavorful and very healthy. Promoting local apple consumption is just one of the things ASC is doing to entice SUNY Cortland students to eat healthier. Their continued efforts helped make the College eligible for the national Healthier Campus Initiative, putting it on a course to become one of the healthiest campuses in the United States.
The Oct. 20 event is part of the Big Apple Crunch, a New York City-based initiative hosted by GrowNYC, Food Day, the New York City Office of Food Policy and the American Farmland Trust.
Since the Crunch began in 2012, hundreds of thousands of people in New York participate. The record was set in 2013 when approximately one million people crunched apples for the cause.
College Launches 2016-17 SEFA Appeal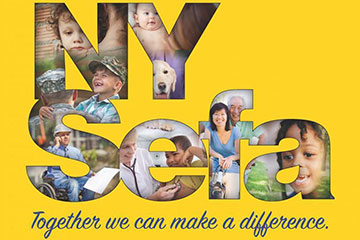 10/11/2016
SUNY Cortland will kick off its 2016-2017 State Employees Federated Appeal (SEFA) campaign on Tuesday, Oct. 18, with an 11:30 a.m. luncheon for volunteers in Brockway Hall, Jacobus Lounge.
The campaign, which relies on state employee volunteers to canvas co-workers for donations, will formally begin on Wednesday, Oct. 19, and run through Wednesday, Nov. 2.
The only authorized fundraising campaign among New York state workers, SEFA is directed by the United Way of Cortland County and brings together fundraising efforts for a broad group of agencies under one common umbrella.
"Last year, the campus raised $40,833 in SEFA campaign donations from a total of 315 SUNY Cortland employees," said Heather Drew, who with Pam Schroeder will co-chair this year's SEFA campaign on campus.
"While last year's contributions were down from the previous year we are hopeful that this year the campus community will rally to support the meaningful endeavors of this campaign," Drew said. "The help and support provided through the campaign to those in need is enormous."
According to Abigail Oaks, campaign associate for the United Way for Cortland County, last year's United Way donations were allocated to more than 16 health and human service programs at 10 United Way community partner agencies. Donations helped provide aid to victims of violence, support to parenting or pregnancy risk teens, literacy education for adult learners, scholarships to working parents for quality childcare, and many other essential services here in Cortland County.
The College will offer incentives for employees who donate to the 2016-17 campaign. At the campaign's end, a drawing for five prizes will be conducted. First prize is a reserved campus parking space located in the lot closest to the winner's building. To be eligible, an employee must pledge at least $104. Everyone who donates a minimum of $25 will be eligible to win one of three $25 Auxiliary Services Corporation (ASC) gift cards. Civil Service Employees Association (CSEA) members who donate at least $25 will be eligible for a $50 gift certificate to a local restaurant.
In New York SEFA campaigns also are conducted at the State Department of Labor, the Department of Environmental Conservation, the Department of Transportation, the Office of Court Administration and the State Police. Decisions are made locally about which agencies are included and how funds are distributed. The community-based SEFA committee is composed of representatives from state agencies and managers of human service agencies. Pledging takes place once a year.
Participants can choose to have their gifts shared among different organizations within Cortland County, used in another county of their choice or designated for individual local, state, independent or international organizations. Examples of local agencies include the United Way for Cortland County, Madison-Cortland New York State ARC, American Red Cross, Boy Scouts, Girl Scouts, Catholic Charities, Cortland Area Child Care Council, Cortland County Child Development Center, Family Counseling Services, Lime Hollow Center for Environment and Culture, Salvation Army, Franziska Racker Centers (special needs children's center), United Service Organization, J. M. McDonald Sports Complex, YMCA and YWCA.
Local members of the Cortland County SEFA Committee and the employee group represented include: Kathleen Burke, SUNY Cortland United University Professions (UUP) employees; Christella Yonta, federated campaign coordinator for the United Way for Cortland County; Gary Evans, SUNY Cortland management/confidential employees; Laurie Klotz, SUNY Cortland UUP employees; Lois Marshall, NYSDOT, CSEA employees; Donna Raymond, NYSEC, CSEA employees; Antoinette Tiburzi, SUNY Cortland professor emerita, Cortland County SEFA chair; and Lori Porter SUNY Cortland, management/confidential employees.
For more information about SEFA in New York State, visit the website www.sefanys.org.
Students Will Walk to End Hunger on Oct. 23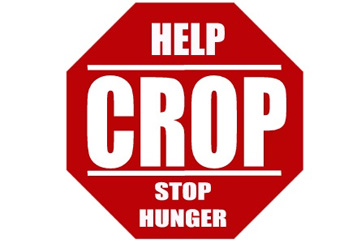 10/11/2016
The number of SUNY Cortland students who participate in the CROP Hunger Walk has grown in recent years, but so has the need in light of the recent Hurricane Matthew, making this year's event on Sunday, Oct. 23, important for global and local hunger relief.
This year's event begins with registration at 1 p.m. and the walk starting at 1:30 p.m. at United Presbyterian Church, 25 Church St. in Cortland, rain or shine. A local band, Rock and Blues Ensemble, will provide music during the registration period. Walkers may choose a one- or three-mile route, having solicited pledges of financial support from friends, family and classmates. It takes place rain or shine. There will be a table at the Water Works which will provide bottles of water and apples to walkers.
Theta Chi will staff sign-up tables in the Student Life Center daily through Friday, Oct. 21. Sponsor forms, posters and informational pieces are available from Jim Miller a lecturer in the College's History Department and a lead organizer of local CROP Hunger Walk efforts. Community groups in need of materials and information are invited to email Susan Wilson, associate professor in the Recreation, Parks and Leisure Studies Department.
The Cortland Area CROP Hunger Walk is part of a larger national initiative that seeks to increase knowledge of hunger causes and to raise funds to feed those in need. The sponsoring agency, Church World Service, is working in Haiti, Cuba and throughout the east coast states assessing needs and providing tents, water, building materials and other immediate shortages from Hurricane Matthew.
The SUNY Cortland community is always a major supporter of this event. In 2015, 89 percent of the walkers in the Cortland fundraiser were students and they raised more than 65 percent of the more than $13,000 raised locally.
Several SUNY Cortland student groups, Greek organizations and sport teams played key roles in last year's efforts. The College's softball team raised $1,435 and earned the Gold Cleat Award as the top fundraising sports team. Theta Chi fraternity raised $1,100, the highest total among Greek organizations.
Twenty-five percent of the funds raised in the county are returned to support local food pantries and feeding programs. Funds raised this year will be given to the City of Cortland to feed those in need and assist organizations such as Catholic Charities, the Salvation Army and Loaves and Fishes. The Cortland CROP Hunger Walk is one of about 200 CROP Hunger Walks taking place in New York state communities and one of a few thousand nationwide. Donations will be accepted at the event or in advance through the local CROP Hunger Walk's website, which offers online event registration.
CROP Hunger Walks, the first such event for fundraising purposes, have been around for 50 years, according to the CROP Hunger Walk website. These walkathons raise around $20 million annually for global and local hunger.
Native American Storyteller to Visit Oct. 25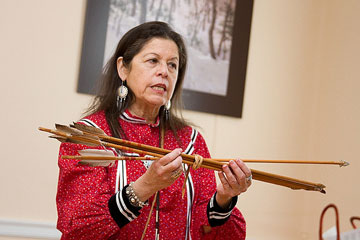 10/11/2016
The important tradition of storytelling in the Native American culture will be shared by Mohawk Nation educator and storyteller Kay Olan when she visits SUNY Cortland on Tuesday, Oct. 25.
Olan, who taught elementary school in New York state for more than 33 years and now shares the culture and stories of the Haudenosaunee (Iroquois), will present at 4 p.m. on Tuesday, Oct. 25, in Corey Union's Fireplace Lounge. The event, which is free and open to the public, will include a time for questions and answers.
As a teacher, Olan was often asked to tell the stories that were passed down through the oral tradition of her people and to give cultural presentations about the Haudenosaunee to various community, school and college groups. Upon retiring from teaching, she moved to Kanatsiohareke, a traditional Mohawk community located about 100 miles east of Cortland, N.Y.
Olan authored articles about the Haudenosaunee for various publications including Indian Time and Indian Country Today. She recorded two CDs — "Mohawk Stories" and "…And That's How That Story Goes: Stories from the Haudenosaunee." She appeared in the Global Spirit documentary called "Stories to Remember" and in the documentary "Harvest."
Olan will provide an overview of why the storytelling tradition is important, the various types of stories and the storytelling protocol. She will share samples of various kinds of stories, including historical, funny, thought provoking, old and new.
For more information, contact Dawn VanHall, technology support specialist emerita.
The talk is sponsored by a Campus Artists and Lecture Series grant, Native American Studies, the Education Club, the Seven Valley Reading Council and the Center for Gender and Intercultural Studies.
Classified Staff Recognized for Years of Services
The 2016 Annual Service Awards Ceremony recognizing classified staff will be held on Friday, Dec. 2, in the Corey Union Function Room.
The following employees are slated to receive awards. To note a correction or addition to the list, contact the Human Resources Office by email or phone at 607-753-2302.
40 Years
Wendy Fairchild, Information Resources
35 Years
Mavis Lefever, Campus Activities and Corey Union Office
Sharon Tucker, Mathematics Department
30 Years
Mary Cervoni, Registrar's Office
Bonnie Eldred-Kress, Athletics Department
Brenda Gorman, Student Health Services
Theresa Peebles, Student Conduct Office
Darleen Richardson, Business Office
25 Years
Leslee Bellardini, Library
Brenda Hammond, University Police Department
Elaine Lund, Student Health Services
Steven Phillips, Maintenance
Ronald Riccardi, Maintenance
Pamela Schroeder, Academic Affairs
Cheryl St. Peter, Custodial Services
20 Years
Doris Albro, Administrative Computing Services
Franklin Dalton, University Police Department
Kathleen Gauthier, Mail Services/Central Warehouse
15 Years
Patricia Alter, Literacy Department
Dale Argyle, Maintenance
Renato Brevetti, Maintenance
Lori Burns, Student Health Services
Kathy Coggi, Financial Aid Office
Michele Cornelius, Custodial Services
Timothy Gowe, Motor Pool
Carol Gridley, Advisement and Transition
David Haggerty, Custodial Services
Dawn Harvey, Custodial Services
Chad Matijas, Maintenance
Richard Nauseef, Heating Plant
Connie Parmiter, Sport Management
Ruth Partigianoni, Custodial Services
Gregory Peters, Custodial Services
Patricia Randolph, Field Experience and School Partnerships
Shirley Randolph, Student Accounts Office
Rosemary Root, Custodial Services
Athena Vunk-Moynihan, Extended Learning Office
Nancy White, Custodial Services
10 Years
Michael Beaumont, Transportation Services
Ronald Benda, Custodial Services
Dana Bush, Grounds, Stadium Complex
Roger Cornelius, Custodial Services
Daron Foster, Heating Plant
Debora Howe, Custodial Services
Sandra Kline, Admissions Office
Melissa Lang, Custodial Services
Michele Lella, School of Arts and Sciences
Marcia O'Loughlin, School of Professional Studies
Edith Pennell, Business Office
Eric Rawson, Custodial Services
Carlton Rodman, Custodial Services
Donna Sickmon, Accounts Payable
Casey Thomas, Maintenance
Barbara Toomey, Residence Life and Housing Office

Suggest a feature story
---
Faculty/Staff Activities
Timothy J. Baroni
Timothy J. Baroni, Biological Sciences Department, had three peer-reviewed papers published recently. The first, titled "Towards a better understanding of Tetrapyrgos (Basidiomycota, Agaricales: New species, type studies, and phylogenetic inferences)" was published in late 2015 in Phytotaxa. It was co-authored by Amy Honan and Dennis Desjardin of San Francisco State University, and Brian Perry, California State University East Bay. One of the new species came from Baroni's National Science Foundation (NSF) funded biodiversity work in the Greater Antilles, from the island of Puerto Rico. Two more recent papers came out in mid 2016, one with co-authors Juan Luis Mata, University of South Alabama, Clark Ovrebo, University of Central Oklahoma, and Karen Hughes, University of Tennessee. "New Species of Neotropical Rhodocollybia" was published in Mycotaxon. The new species were discovered during Baroni's NSF-funded work in the Dominican Republic. The article "Rhodocybe tugrulii (Agaricales, Entolomataceae), a New Species from Turkey and Estonia Based on Morphological and Molecular Data, and a New Combination in Clitocella (Entolomataceae)" was published in Phytotaxa. It was co-authored with Alfredo Vizzini, University of Turin, Italy, Ertugrul Sesli, Karadeniz Technical University, Turkey, Vladimír Antonín, Moravian Museum, Czech Republic, and Irja Saar, University of Tartu, Estonia. Baroni was invited to contribute to the research on this new taxon because of his numerous publications on Rhodocybe globally and because he was a co-author of the newly erected genus Clitocella, now being recognized by fungal systematists.
Thomas Hischak
Thomas Hischak, professor of theatre emeritus, was one of seven playwrights nationwide to have a play selected by the American Association of Community Theatres (AACT) for its 2016 New Play Fest. Hischak's play "The Emperor of North America" was produced in September by the Silver Spring Stage in Silver Spring, Md., and the script is to be published by the Dramatic Publishing Company. Hischak is currently an adjunct professor at Flagler College in St. Augustine, Fla.
Richard Hunter
Richard Hunter, Geography Department, has an article titled "Grammatical subjects, 'Hell is other people', and irreprehensible nature" in the current issue of Cultural Geographies.
Moyi Jia
Moyi Jia, Communication Studies Department, co-authored an article titled "The Expanding Territory of Organizational Communication in China," which was published this summer in the Chinese Journal of Communication.
Kathleen Lawrence
Kathleen Lawrence, Communication Studies Department, had her poem "Trump's Tip" appear in the Oct. 9 issue of Rattle magazine's weekly Poets Respond feature about recent events in the news. She has 25 poems published or forthcoming this year, to date. Her poem "Even Happy Ghosts Can Be Scary Ghosts When You're 7" won third place in the Science Fiction Poetry Association's (SFPA) international 2016 contest and was published on the SFPA website in September. In October, her poem "Detecting Nancy Drew" appeared in in Silver Birch Press's Nancy Drew Anthology. Nine clerihews (humorous short poems) appeared in The Muses' Gallery of Highland Park Poetry, in September. Lawrence's clerihews lampooned George W. Bush, Caitlyn Jenner, Ryan Lochte, Michelle Obama, Bernie Sanders, O.J. Simpson, Ringo Starr and Anthony Weiner. Five of Lawrence's poems, "High Tea," "The Infected," "Howl E'en," "Schoolyard Games" and "A Congress of Ghosts" were accepted for publication in the anthology Lupine Lunes by Popcorn Press, to be published on Halloween.
Julie Lenhart
Julie Lenhart, Athletics Department, had her chapter titled "Establishing a Strong Work Ethic" published as the first chapter in the book Practice Perfect Softball. The book contains 14 chapters, each written by aa different coach, and Lenhart is the only Division III coach to contribute. The book is endorsed by the National Fastpitch Coaches Association and published by Human Kinetics.
Mechthild Nagel
Mechthild Nagel, Philosophy and Africana Studies departments and the Center for Gender and Intercultural Studies, has been invited to update the entry "Feminist Perspectives on Class and Work" with the Stanford Encyclopedia of Philosophy, a common reference source for philosophy students and scholars. Her updated entry, which was recently accepted, can be found on this link.
Robert Spitzer
Robert Spitzer, Political Science Department, has had his 2015 book, Guns across America, reviewed in the New York Review of Books, along with a letter exchange with the reviewer in a subsequent issue. The review is available at http://www.nybooks.com/articles/2016/07/14/terror-of-our-guns/ and http://www.nybooks.com/articles/2016/08/18/stand-your-ground/
Benjamin C. Wilson
Benjamin C. Wilson, Economics Department, presented with co-authors their paper titled "Spatial Analysis in Pursuit of Equity for Future Generations" at the 13th International Post Keynesian Conference held Sept. 15 in Kansas City, Mo. The conference was hosted by the University of Missouri-Kansas City and the Binzagr Institute for Sustainable Prosperity.
Tiantian Zheng
Tiantian Zheng, Sociology/Anthropology Department, will present her paper, "Violence, Deviance and Punishment," at the Annual Conference of the Association of Chinese Professors of Social Sciences in the U.S., set for Oct. 14-16 in Denver, Co.

Submit your faculty/staff activity