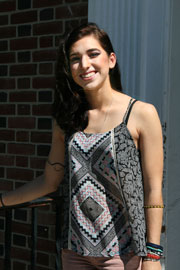 Campus Champion
Salome Clarke earned highest ranking female in her flight at this summer's ROTC training camp, positioning her to become an outstanding U.S. Air Force officer when she is commissioned in Spring 2018. Meanwhile, the junior with a dual major in French and communication studies has other big goals. The squadron commander, who also serves as resident advisor at Cheney Hall, embraces her leadership roles and the ability to influence and build trust with others. Finding her way to the ROTC program during her second semester, she says, "was like finding the puzzle piece that makes everything just fit together."

Nominate a Campus Champion
---
Tuesday, Sept. 13
Wendy Thibeault Memorial Food and Supply Drive: As part of the United Way for Cortland County Annual Day of Caring, SUNY Cortland is participating in the county-wide drive to collect non-perishable food items and personal supplies to help restock Cortland County food pantries. Drop boxes at over a dozen campus locations through Tuesday, Sept. 27.
Wednesday, Sept. 14
Study Abroad Fair: Corey Union lobby, 11 a.m.-2 p.m.
Faculty Advising Workshop: The PASS: Promoting Academic Student Success, Memorial Library, Room B-111, 11:30 a.m.-12:30 p.m.
Wellness Wednesday: "Simple Steps to Strong: A Physical and Educational Workout," Corey Union Exhibition Lounge, 7 p.m.
Thursday, Sept. 15
Sandwich Seminar: "How To Talk About Religion (and How Not To)," presented by Benjamin de Lee, assistant professor of history, Brockway Hall Jacobus Lounge, noon-1 p.m.
Friday, Sept. 16
Constitution Day Lecture: "The Constituting Constitution and its Limitations," by Tim Delaune, Political Science Department, Brockway Hall Jacobus Lounge, 1 p.m.
Homecoming Pep Rally: Corey Union steps, 7:30 p.m.
Saturday, Sept. 17
Homecoming Event: Hypnotist Dan Lornitis, Old Main Brown Auditorium, 9-11 p.m.
Tuesday, Sept. 20
SafeZone Training: For faculty and staff members and alumni, hosted by Multicultural Life and Diversity, Corey Union Fireplace Lounge, 1-4 p.m.
Alumni Speaker Series: Careers in Sociology and Criminology: Old Main Colloquium, 6:30-8:30 p.m.
Take Back the Night March: Corey Union steps, 7 p.m.
Open Mic Night: Corey Union Exhibition Lounge, 7 p.m.
Wednesday, Sept. 21
Sandwich Seminar: Panel Discussion on Turkey, "Turkey at the Crossroads of a Coup D'Etat," panel discussion, Brockway Hall Jacobus Lounge, 12:30-1:30 p.m.
Saturday, Sept. 24
Performance: "A Taste of Broadway" by musical theatre majors in SUNY Cortland's Performing Arts Department. In addition, the Syracuse chapter of the American Culinary Federation will have guest professional chefs prepare a four-course meal of primarily locally sourced food, Center for the Arts in Homer, N.Y., 7 p.m. A cocktail hour will precede the performance at 6 p.m. Event details.

Monday, Sept. 26
International Lecture: "Study Abroad in Transylvania," and "Teach/Conduct Research in Transylvania," Moffett Center, Room 2127, 4:30 p.m.
---
---
Try Something New During Healthy Campus Week
09/13/2016
Health-conscious SUNY Cortland students can compete to win prizes this week simply by Tweeting photos of themselves doing Yoga, lifting weights or eating salad.
As one of only 38 colleges nationwide committed to Partnership for a Healthier America's Healthier Campus Initiative, SUNY Cortland will highlight healthy campus activities all next week. The goal is to prove SUNY Cortland is one of the healthiest campuses in the United States.
Students can help with that effort while becoming eligible to win a Fitbit or $100 Target gift card. All they need to do is Tweet photos of themselves exercising, eating healthy foods, walking up stairs or demonstrating other healthy behaviors using the hashtags #HealthyCampus and #Reddragonstrong.
The students who share the greatest number of healthy selfies showing different types of fitness, wellness or related activities between Monday, Sept. 19 and midnight Friday, Sept. 23, win the first-place Fitbit and the second-place gift card.
A similar effort will be happening simultaneously at all 38 Healthier Campuses. SUNY Cortland organizers would like to see the Twitter hashtag dominated by posts from Red Dragons. To help students find all of the opportunities SUNY Cortland offers for a healthy lifestyle, the College will be highlighting a series of relevant activities and events throughout the week. A sampling includes:
Healthy Food. ASC's nutritionist will offer information – as well as tasty samples – of healthy vegetarian meals at the Bistro on Wednesday. That same day, Neubig Dining will host its "Farmhouse Fresh" event during lunch and dinner, offering a special menu of fresh food from Main Street Farms, a local farm based in Homer.
Healthy activities: In addition to all of the regular workout activities available at the Student Life Center daily, there are free clinics in sea kayaking (6 p.m. Monday in the SLC pool); lead rock climbing (6 p.m. Monday at the SLC climbing wall); and belay rock climbing (7 p.m. Tuesday and Thursday at the climbing wall). Also at the SLC, students can participate in group exercise, mind body, martial arts or cross training classes offered next week. Students can also get involved in a spike ball tournament at 6 p.m. Tuesday or a volleyball tournament at 8 p.m. Friday.
Healthy relationships. The annual Take Back the Night March against sexual violence starts at 7 p.m. Tuesday on the steps of Corey Union. A safe sex fair will be held from noon to 3 p.m. Wednesday in the lobby of the Student Life Center.
A full list of opportunities will be sent to all students later in the week.
As a member of the Healthier Campus Initiative, SUNY Cortland pledged to provide a long list of specific, year-round opportunities in the areas of food and nutrition, physical activity and health-focused programming. In many ways, it was a promise to continue doing what the College has always done.
"Our participation in this important initiative reaffirms what many know to be true: SUNY Cortland stands out as one of the healthiest campuses in the nation," said College President Erik J. Bitterbaum. "One of our institutional priorities is the well-being of all campus community members. I'm very proud that we meet or exceeded many of the partnership's requirements."
Campus Seeks Big Student Voter Turnout
09/06/2016
Most SUNY Cortland students have an opinion about this year's historic presidential election. Turning those opinions into actual votes that could help determine the leader of the world's most powerful nation, however, is often a challenge.
That's why SUNY Cortland recently joined the ALL IN Campus Democracy Challenge, a nationwide non-partisan competition that will pit the College against 145 other accredited institutions of higher education nationwide to see which campus has the largest percentage of students actively engaged in American democracy.
In addition to strengthening voter registration and participation efforts for the Nov. 8 election, the campus committee created as part of the ALL IN initiative will coordinate a range of student activities intended to educate first-time voters on the issues and on the importance of lifelong voter participation in a democracy.
| | |
| --- | --- |
| | |
| | Volunteers help SUNY Cortland students register to vote in a previous U.S. presidential election year. |
"We joined not only for the sake of getting out the vote in the next election but to develop habits for a lifetime of civic involvement," said Mary McGuire, an associate professor of political science at SUNY Cortland who directs the College's Institute for Civic Engagement.
"We want students to think of themselves as voters: as part of the democracy in that way," she said. "This generation is very active, very engaged in their community. They do a lot of volunteer work. But they don't seem to make that connection that this is their chance to have a voice in public policy."
Oct. 14 — the voter registration deadline — is a crucial date for organizers. But it's not as important as Election Day.
During the last presidential election, a respectable 69 percent of all SUNY Cortland students were registered to vote. Only 49 percent of those registered students, however, actually cast ballots. That works out to only 34 percent of the total student population voted, which is considerably lower than the national average.
ALL IN campus organizers think SUNY Cortland is poised to turn that around this year. Generally speaking, SUNY Cortland, a campus where students regularly volunteer more than 200,000 hours of volunteer work, meets a high standard for community involvement. It has earned a place for eight consecutive years on the U.S. President's Higher Education Community Service Honor Roll and was recertified by the Carnegie Foundation as one of fewer than 400 campuses nationwide with a community engagement classification.
"They're already an active, concerned campus in terms of community involvement and volunteering," McGuire said. "Now we need to become more politically engaged."
By committing to the ALL IN challenge, SUNY Cortland agreed to create a campus-wide committee and embrace a specific set of actions. So far, six other SUNY colleges and universities have done the same. They will compete with schools across the country for the honor of being the most politically engaged campus in the nation.
In addition to the top honor, many bronze, silver, gold and platinum designations will be awarded to the campuses that meet certain participation benchmarks (gold for 70 to 79 percent, for example) or are the most politically engaged in certain categories.
Members of the campus ALL IN Challenge committee have organized or are still planning a number of challenge events and activities aimed at improving student election participation. The committee includes McGuire as well as John Suarez, service learning coordinator with the Institute for Civic Engagement; Michael Braun, president of the Student Government Association; Lauren Hermann, health educator with Health Promotion; and Skylin Baestlein, representative of the New York Public Interest Research Group.
Upcoming SUNY Cortland ALL IN initiatives include:
"Why Students Vote," a conversation about why and how voting is important to young people, will be held at 7 p.m., Sept. 27, in Brockway Hall, Jacobus lounge. The Institute and NYPIRG organized the event and are seeking t-shirt design ideas by students to create a giveaway shirt for the event.
A website containing student-focused voting information, including the locations of this year's election polling places, will be launched.
Faculty are being encouraged to hold classroom discussions on public policy issues in their field that students can help influence by participating in elections. The goal is to reach future chemists whose careers might hinge on the availability of federal funding or future teachers concerned with education or labor policy.
The committee will work closely with the local non-partisan League of Women Voters to encourage student attendance at a planned series of information forums in downtown Cortland about candidates for key local races. Those races include Cortland County district attorney where an incumbent seeking re-election and a U.S. congressional seat in New York's 22nd District that is up for grabs because the incumbent is not running.
Other activities will aim to help students become familiar with the process of absentee balloting and to learn how to find out what the issues are before they enter the voting booth.
Suarez noted the ALL IN Challenge campaign dovetails nicely with the College's long-term effort to involve students more in community decision-making. This could include helping to choose the composition of non-profit agency boards and participating in data collection relating to issues that are current and local. Examples include the discussion over a new Cortland County jail and decisions over whether gas stations can be built over the local source of drinkable well water.
"Students could help us in generating the data for making the decisions and in presenting the results to the county legislature, the Cortlandville board and planning commission," Suarez said. "These are absolutely fantastic experiences. They are developing relationships in the community and also the knowledge and the dispositions to become informed, effective members of our community and a democratic republic.
"If students do that here, they are more prepared and apt to do so later on once they get into their careers," Suarez said.
The ALL IN Challenge is a non-partisan Civic Nation Initiative, which fosters the idea that participation of informed citizens is of the utmost importance and encourages individuals to play an active role in the U.S. democratic endeavors.
The ALL IN concept was designed by the ideas42, a nonprofit behavioral design lab, and launched in mid-July after vetting by the American Democracy Project, The Democracy Commitment, and Student Affairs Administrators in Higher Education (NASPA).
The College was charged with convening a campus-wide committee, setting goals and developing an action plan. This course of action required being enrolled in the National Study of Learning, Voting, and Engagement (NSLVE). The NSLVE serves colleges and universities interested in learning about their students' voting habits as well as tapping into a national database for research on college student voting and, more broadly, political learning and engagement in democracy.
"You can argue that your vote doesn't matter all that much, unless you're in a swing state or really tight election," McGuire said. "But if your cohort doesn't vote, nobody really cares about your issue. So you don't want to be in the age group that doesn't vote. You don't want to be in a profession that doesn't vote. You don't want to be in a socio-economic group that doesn't vote. The one thing you can do as an individual is up the number of voters in your group."
---
Capture the Moment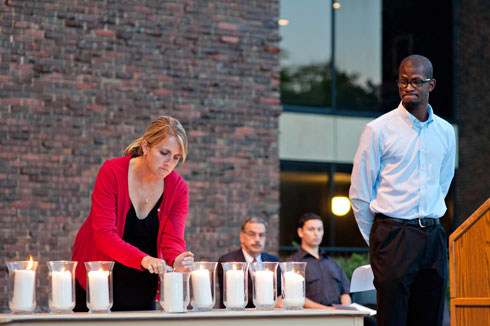 Erin Boylan, associate director of alumni engagement, lights a candle during Sunday's 9/11 Memorial Service on the steps of Corey Union. Timothy Bennett '07 stands at her side. Seven of the eight candles represented alumni lost 15 years ago during the worst terrorist attack ever on American soil. The eighth candle, which she is lighting, represents all of the nearly 3,000 lives lost that day.
---
In Other News
Brooks Lecture Series Concludes with Maya Culture Talk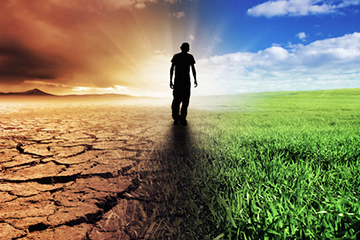 04/04/2017
The story of how a small group of women set about preserving traditional and long lost Maya practices in pottery will be shared April 5 by Jeremiah Donovan, a professor of ceramics in SUNY Cortland's Department of Art and Art History.
Donovan will discuss how the San Antonio Women's Cooperative was initiated in 2008 and has focused on pottery making as its highest-potential business opportunity in his talk, titled "The Future of the Past: Revitalizing Ancient Maya Cultural Traditions in Modern Maya Communities." The cooperative's goal is to create traditional, authentic Maya polychrome pottery, inspired by the ceramics discovered in archeological sites surrounding San Ignacio Belize. Compositional analysis of the pottery from these sites has provided guidance in developing clay mixtures and painting pigments from locally sourced oxides.
This presentation highlights the work of Donovan and his students in a project to assist this community in revitalizing an ancient cultural tradition.
This year's Brooks lecture series theme reflects the changing nature of the world around us, especially the destruction of cities, societies, and environment, that we are faced with on a daily basis, according to Sharon R. Steadman, a SUNY Cortland professor of sociology/anthropology who is the lecture series organizer and Rozanne M. Brooks Museum director.
Donovan's talk will begin at 4:30 p.m. in Moffett Center, Room 2125. Before his lecture a reception to welcome the speaker starts at 4 p.m. in the Rozanne M. Brooks Museum, Moffett Center, Room 2126. The talk and the reception are free and open to the public.
The 2016-17 Brooks Lecture Series is sponsored by a grant from Auxiliary Services Corporation (ASC) and the Cortland College Foundation. For more information, contact Steadman at sharon.steadman@cortland.edu or 607-753-2308.
College Honors Harry Bellardini '56, M '64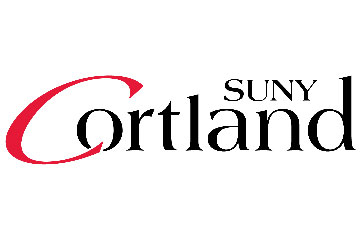 09/10/2016
It's widely acknowledged that the dedicated efforts of Harry Bellardini '56, M '64 have placed the Lynne Parks '68 SUNY Cortland Alumni House at the center of alumni life at the College.
Bellardini, a graduate of the school who is known as a man who can get things done whether in business, politics or community service, was recognized on Sept. 9 as SUNY Cortland's 2016 College-Community Appreciation Award recipient. He was honored during a dinner event in the College's Corey Union Function Room.
A retired account executive with the Great New York State Fair, Bellardini's tireless and generous contributions of time, effort and business savvy played a pivotal role in pulling the massive project together.
| | |
| --- | --- |
| | |
| | Harry Bellardini '56, M '64 |
Bellardini also had taught physical education for many years in the former SUNY Cortland Campus School. He served as administrative assistant to the former 33rd District U.S. Congressman Gary Lee and for 10 years was regional advocate for the Small Business Administration. He chaired the Cortland County Republican Party.
A Homer, N.Y., resident, Bellardini has served on the Alumni Association Board of Directors for more than 50 years in many different roles. In 2004, after first taking possession of the historic former Wickwire mansion, built in 1912 by Pierce & Bickford of Elmira, N.Y., the Alumni Association chose him to serve as a liaison to the College on the alumni house development.
During the next four years, Bellardini rallied willing helpers and volunteered countless hours as well as his finely honed business acumen to convert the private residence into a fully operational events center — hosting everything from small gatherings to mid-sized weddings — that also serves as a bed and breakfast.
Bellardini visited some of the nation's premier alumni houses to get a sense of the depth of their operation and how they served their alumni. He applied his sharp business skills to the job of fine-tuning what the staff had to work with in the daily operational side of the house, such as the furnishings, decorations and supplies.
| | |
| --- | --- |
| | |
| | Harry Bellardini, center, holds his College Community Appreciation Award plaque while College Council Chair Thomas Gallagher, left, and SUNY Cortland President Erik J. Bitterbaum, right, look on. |
He proposed dividing the rooms in the house as well as the large garden into sections so donors could name them in honor of their gifts to the house endowment fund. Bellardini negotiated with the owners of furniture manufacturer Audi & Company on the purchase of many Stickley pieces for the house at a reasonable price.
He managed the facelift given to the house and gardens so successfully that he was honored in 2005-06 as the SUNY Cortland Alumni Volunteer of the Year. In appreciation, Bellardini's former student Julia "Judy" Wright Levine '64 — who with her late husband Max worked with him to furnish the gorgeous Georgian-style brick mansion on 29 Tompkins St. with their donations — in 2015 honored him with a Parks Alumni House permanent preservation gift in his name, placing him among the Parks Alumni House trustees.
The College-Community Appreciation Award is sponsored by the College Council. It was created in 1985 as a means of thanking persons who have assisted SUNY Cortland in a significant manner. Bellardini is the 32nd citizen to receive the honor.
Faculty and Staff: Act Now to Receive Emergency Texts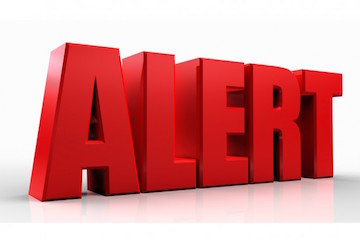 09/13/2016
Starting Sept. 7, SUNY Cortland began automatically enrolling the college email addresses of all employees in New York Alert, the system the college uses to notify its students and employees of emergency situations and weather delays.
To accomplish this, the College is using the database information maintained in the HR Self-Service portal. This will ensure that all faculty and staff get at least an immediate email notification of an emergency.
However, faculty and staff will not automatically receive emergency text messages from New York Alert.
To receive those critical texts requires action from all employees, even from those who currently receive them.
To receive text alerts or voice phone calls from NY Alert, you must log into the HR Self-Service portal and add your phone information. Because the old NY-Alert database was erased and replaced by this new sign-up method on Sept. 7, you must add your telephone information to the HR Self-Service portal if you want to continue to receive text or voice alerts, even if you previously signed up for NY-Alert.
Step-by-step instructions are below:
Log into myRedDragon
Select the "Faculty/Staff" tab at the top of the page.
In the "Important Links" box at the top right of the page, look under "SUNY Resources" and select "HR Services/TAS."
In the "Self Service" box to the left, select" SUNY HR Self Service." It's the farthest right of three icons in the box.
Enter your birthdate for verification.
You should now see your Human Resource Record. Select the "Phone" option at the top of the page.
The numbers you see are the numbers that will be sent to SUNY NY-Alert. To update a phone record, select the phone you wish to update. Then, look immediately below that and select "Add" to put that device in your Human Resources record.
Under "Phone Details," enter the number you are adding or updating, if this is a cell phone, make sure "Is this a Cell Phone" is marked "Yes."
NOTE: Marking "Yes" for a cell phone means you will get a text message warning or emergency instructions through that device. Voice recording is only used when text messaging is not available.
If you need help, please contact The Help Center at 607-753-2500 or thc@cortland.edu.
Cortland Honored in National "Cool Schools" Ranking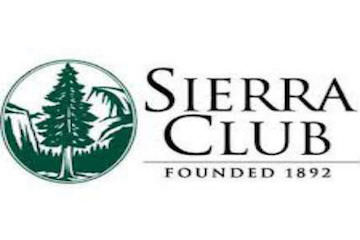 09/08/2016
SUNY Cortland is one of the most environmentally sustainable colleges in the nation, according to a new Sierra Club ranking of "Cool Schools" that evaluates how well colleges have integrated green practices in areas ranging from energy to campus food.
Cortland was ranked 54th among the more than two hundred colleges on the Sierra Club's "Cool Schools" list, released Wednesday. In all, there are more than 2,000 four-year colleges in the United States.
"Our school colors are red and white, but our campus culture is green," SUNY Cortland President Erik J. Bitterbaum said. "This recognition by the nation's largest and most influential environmental organization is deeply gratifying and a tribute to all of the dedicated faculty, staff, students and alumni of SUNY Cortland."
Among institutions in the State University of New York system, only the SUNY College of Environmental Science and Forestry in Syracuse ranked higher on the Sierra Club's "Cool Schools" list, taking second place behind the College of the Atlantic in Maine.
"The State University of New York strives to be one of the most energy-smart and environmentally friendly university systems in the world, and SUNY Cortland's contributions toward this goal are highly commendable," said SUNY Chancellor Nancy L. Zimpher. "Congratulations to President Bitterbaum and the entire campus community on this much-deserved national recognition."
The Sierra Club announcement follows last week's recognition by the nation's largest public utility of SUNY Cortland as a leader in New York Gov. Andrew Cuomo's Reforming the Energy Vision (REV) campus challenge. The New York Power Authority, along with the New York State Energy Research and Development Authority, named Cortland as a leader in adopting clean energy, reducing greenhouse gas emissions, integrating sustainability into its curriculum and engaging its community.
These green honors are only the most recent earned by SUNY Cortland, one of only a few dozen colleges across the country to earn a "gold" rating from the Association for the Advancement of Sustainability in Higher Education (AASHE). Cortland was the first SUNY campus to reach that milestone. Only one school in the United States — Colorado State — has done better by achieving a platinum designation.
In 2015, SUNY Cortland was named one of the greenest campuses in the country by BestColleges.com. The College was the first SUNY campus to fill all of its electrical needs with renewable sources like wind and solar, build a residence hall with the highest possible certification under the national Leadership in Energy and Environmental Design (LEED) certification system, and earn membership into the federal Environmental Protection Agency's Green Power Leadership Club. Two years ago, SUNY Cortland threw the switch on 3,600 new solar panels. It was the first school in the nation to offer a professional master's degree in sustainable energy systems.
National organizations have recognized that the SUNY Cortland campus is also literally green. Its well-tended, 50-species urban forest earned the College designation as a Tree Campus USA by the Arbor Day Foundation and its integration of natural habitats into the campus landscape helped SUNY Cortland become the only New York college identified as a "pollinator friendly" Bee Campus USA.
"With all that our students, staff, and faculty do to make Cortland a more sustainable campus, it is great to see we are being recognized as the 'cool' school that we are," said Beth Klein, SUNY Cortland's sustainability coordinator and a professor in the Childhood/Early Childhood Education Department.
The Sierra Club based its ranking on an assessment of 64 different factors that included energy and water consumption, waste reduction, green educational initiatives and local food sourcing.
Musical Theatre Students Take Broadway to Homer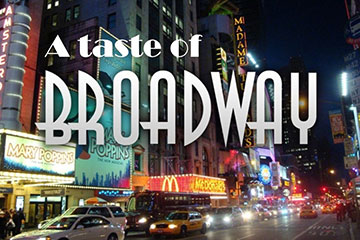 09/13/2016
Musical theatre majors in SUNY Cortland's Performing Arts Department are quite comfortable singing well-known selections from a Broadway musical repertoire to the willing ears of campus and community at College gala events.
Their performance on Saturday, Sept. 24, will have a new component — a gourmet dinner prepared by the Syracuse chapter of the American Culinary Federation — when they perform "A Taste of Broadway" for the Center for the Arts in Homer, N.Y.
The soon-to-be professionals will have an opportunity to test their talent in a community setting during the dinner and musical revue at 7 p.m. A cocktail hour will precede the performance at 6 p.m.
During the evening, guest professional chefs will prepare a four-course meal of primarily locally sourced food.
By joining the venture sponsored by Hage Real Estate, the students are trying something new in terms of civic engagement, said Jeffrey Whetstone, the Performing Arts Department's new production manager and publicity coordinator.
"The community will hear our seasoned veteran performers as well as our young, rising stars," Whetstone noted. "I'm sure they'll deliver a very entertaining evening."
For details or to obtain tickets, visit the center's webpage.
Study Abroad Fair Set for Sept. 14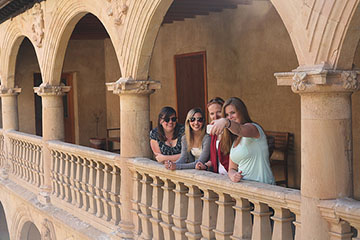 08/23/2016
SUNY Cortland's international school partners including Belize, Costa Rica, France, Mexico, Spain and the United Kingdom will showcase their programs during a Study Abroad Fair on Wednesday, Sept. 14.
The event will be held from 11 a.m. to 2 p.m. in the Corey Union Main Lobby. The fair is free and open to the campus community. Information on funding and scholarships will be available.
"Students who visit the Study Abroad Fair will learn of the more than 900 options in the SUNY system where they can study abroad in winter, spring, summer or fall," said Hugh Anderson, a study abroad advisor in the College's International Programs Office, which is hosting the fair.
| | |
| --- | --- |
| | |
| | Students had the opportunity to visit the African continent as part of a course recently. |
"There is a program for every field of study — some for the same cost as studying here at SUNY Cortland or even less," he said.
At the fair, students who have studied abroad already, as well as international visitors on campus and representatives from other SUNY campuses, will be on hand to describe their life-changing experiences and give their classmates a taste of what awaits them as scholars in a different land.
Participants may enter a raffle for a chance to win one of two $500 travel awards that can be used in the future towards any SUNY study abroad program.
At SUNY Cortland, students may choose from a wide array of SUNY-sponsored destinations, virtually anywhere in the world, in a range of disciplines. Study abroad participants may choose options that include attending a college or university, participating in an internship, student teaching, volunteering their talents, engaging in a faculty-led program or joining a short-term specialized program.
| | |
| --- | --- |
| | |
| | SUNY Cortland has many close ties in Belize to give students a rich experience. |
"Study Abroad 101," an information session on how to get started with the study abroad process, will be offered throughout the semester. Individuals only need to attend one session. These will be offered every Tuesday at 4:30 p.m. and every Friday at 3 p.m. in Old Main Colloquium.
Surveys exploring the long-term impact on a student's personal, professional and academic life show that the experience of immersing one's self in another culture positively influences the individual's career paths, world-view and self-confidence.
For more information on the fair, contact studyabroad@cortland.edu or 607-753-2209 or visit the International Programs Office in Old Main, Room 219 or online at cortland.edu/studyabroad.

Suggest a feature story
---
Faculty/Staff Activities
Janet Duncan
Janet Duncan, Foundations and Social Advocacy, recently gave the keynote address for the Inclusive Education Summer Institute at Acadia University in Wolfville, Nova Scotia. The title of the keynote was "International Perspectives on Human Rights for Persons with Disabilities." While at Acadia she taught a graduate course in Foundations of Inclusive Education.
Melissa Morris
Melissa Morris, Physics Department, and coauthors presented their work, "Radiative Cooling Rates in Planetesimal Impact Ejecta," at the 79th annual meeting of The Meteoritical Society, held Aug. 7-12 in Berlin, Germany.
Gregory D. Phelan
Gregory D. Phelan, Chemistry Department, had a new patent issue on Aug. 30. The patent, titled "Methods for making biocompatible polymerizable acrylate products," deals with creating biodegradable materials containing carbohydrates that can be used in tissue engineering. Details on the patent can be found at the following link: http://bit.ly/2bGvLZn. This is Phelan's seventh patent to issue in 2016.
Also, on July 20, Phelan presented a summary of SUNY Cortland's Noyce Project Phase II at the 2016 annual Noyce Scholarship National Conference held in Washington, D.C.
Susan Rayl
Susan Rayl, Kinesiology Department, has had three book reviews published. Her review of Racism and the Olympics, by Robert G. Weisbord, was published this summer in the Journal of Sport History, a peer-reviewed journal. The Sport Literature Association published her reviews online of Greatness in the Shadows: Larry Doby and the Integration of the American League, by Douglas M. Branson, on July 17, and Wartime Basketball: The Emergence of a National Sport During World War II, by Douglas Stark, on Sept. 6.
Carrie E. Rood
Carrie E. Rood, Foundations and Social Advocacy, recently co-authored an article titled "Promoting Access Through Segregation: The Emergence of the "Prioritized Curriculum" Class" that was published in Teachers College Record, Volume 118, Issue 14.
Claus Schubert
Claus Schubert, Mathematics Department, recently was informed that his paper, "Intersections of Maximal Subspaces of Zeros of Two Quadratic Forms," was accepted for publication in the journal Annals of Combinatorics. This is a joint paper with David Leep, University of Kentucky, and is based on research they performed while Schubert visited the University Kentucky in the fall of 2015, during his sabbatical.
Robert Spitzer
Robert Spitzer, Political Science Department, served as a discussant on a panel titled, "Presidents, the Courts, and the Law" at the recent annual meeting of the American Political Science Association, held in Philadelphia from Sept. 1 to 4. Also, he attended the executive council meeting of Pi Sigma Alpha, the national political science honors society, on which he is serving a four-year term.
Dennis L.C. Weng
Dennis L.C. Weng, Political Science Department, co-authored a paper, "Personality Traits and Voter Turnout in South Korea: The Mediation Argument," that was accepted for publication in early 2017 in the Japanese Journal of Political Science. Also, Weng was an invited discussant and presented his paper titled, "Personality Traits and Individual Feeling of National Pride in South Korea," at the American Political Science Association annual meeting in Philadelphia from Sept. 1 to 4. Also, Weng has received $2,500 from The Taiwan and Asia Program at Wake Forest University to host a guest speaker event this semester.

Submit your faculty/staff activity