Graduate Students Learn Through Mannequin Classmate
06/06/2017
SUNY Cortland speech and hearing science graduate students in Eileen Gilroy's Instrumentation course recently met their new classmate, Seymour Bolus.
Bolus is quiet. He's patient. He's a big, inanimate hunk of plastic and rubber.
He was also the star of the show.
Gilroy's students came up with the nickname for their new mannequin head that has helped them learn how to practice passing an endoscope trans-nasally. The endoscope has a camera at the end connected to a monitor that shows a live video feed of a patient's vocal chords, which is useful for health professionals looking to identify speech or swallowing problems.
The nickname is a play on words. Bolus is the technical term for the ball-like mixture of food and saliva formed during chewing. And Seymour? Well, you get the rest.
Previously, students in SHS 643 had practiced passing an endoscope through perfectly straight pool noodles. Gilroy had used a hot glue gun to affix marbles and other small objects along the path, simulating parts of the body the students would expect to see. Surprisingly, that's not an unusual approach.
The use of a mannequin head for training in the classroom isn't something most graduate programs offer. That type of hands-on practice typically happens in a hospital or doctor's office.
"We can't scope real people because we're training and there are all sorts of things that can go wrong," Gilroy said. "We want to use this equipment to help our grad students when they go to their medical placements to work with hospital speech-language pathologists and be able to set this up and know what it is and to know how hard and challenging it is."
Much of the equipment used by students in the Communications Disorders and Sciences Department is thanks to a gift from alumna Patricia A. Boscamp-Cluss '79. A swallowing lab in the Professional Studies Building is named after Boscamp-Cluss.
Communications Disorders and Sciences Department first-year graduate student Ashley Chanatry, who earned a bachelor's degree in speech-language pathology and audiology from Ithaca College in 2015, practiced passing the endoscope through the mannequin's nose. Her classmates looked on — and cheered on — with their eyes glued to a monitor that showed Chanatry's progress inserting the endoscope through the nasal passage.
"You can do it. You can do this!" one of them yelled.
"You sit there in class and you learn about it and you watch the videos and you talk about how your professors are trained, but to actually do it, you understand how difficult it really is and the different aspects of it," Chanatry said. "It's nice to get the practice of it and it's fun to learn."
Gilroy, right, instructs students during class.
Chanatry may not have to use an endoscope once she enters the working world as her career goals are in a different field. Still, she was glad to get this experience as a graduate student.
"I want to work with kids and specifically kids with autism," she said. "A lot of people are really interested in the medical field and this is beneficial."
Gilroy is able to dial up different settings on the training system to simulate different scenarios. That gives the students even more opportunities to learn.
"It's rare that a graduate program has this piece of equipment," Gilroy said. "It has all types of functions. It has a function you can put on a little bulb and measure the strength of the tongue. It has an EMG (electromyography) component where you can measure muscle tension."
As student after student took turns trying to locate the vocal folds on the mannequin for the first time, Gilroy shared plenty of tips and information. She mentioned the correct posture to hold the endoscope, the importance of sterilization techniques and situations in which local anesthetic may or may not be used.
The latest in endoscope technology is a good thing for both patients and medical professionals. The ability to get exact measurements and observations is significant for patients suffering from speech or swallowing problems. This way, their progress may be measured over time.
"It takes the art of what we do and it makes it a science," Gilroy said. "It gives us numbers and it gives us values and it gives the patient or the client numbers and values to shoot for. It objectifies everything. It's not just that you're saying it sounds like you have less tension or you're swallowing great, you can actually say you're doing that the right way or you're doing exactly what we want you to do."
Alumni Reunion 2017 Highlights Athletics
06/06/2017
This year marks the 145th anniversary of the SUNY Cortland Alumni Association.
As part of the celebration, Alumni Reunion 2017 will have more of a sports focus than previously, with a special outreach to graduates who participated on varsity volleyball and women's and men's soccer teams.
A series of games and activities are planned because athletics has proven to be a big draw for the annual gathering of graduates.
| | |
| --- | --- |
| | |
| | Today's women's varsity soccer team carries on a long tradition of competitive excellence. |
"I keep in touch with some 50 to 60 former volleyball team members," noted Joan Sitterly, emerita director of athletics, who during her 28-year Cortland career also coached women's volleyball to a phenomenal 816-234 record between 1983 and 2004.
"Lots of former athletes are teachers and their down time is the summer, so I really hope they will come back and join in the Reunion," said Sitterly, who plans to attend and hopes that many players from all eras will return to campus.
"I have such rewarding memories," said Sitterly. "I'm really excited about this because I want to listen to (alumnae) players reminisce about their volleyball experience."
As Cortland's athletics director, Sitterly oversaw a 25-sport program that perennially ranked among the most successful in the nation.
"With Title IX we began to see a lot more recruitment of women here for sports rather than simply a choice of academic discipline, said Sitterly, a 2010 C-Club Hall of Fame honoree who in December was named to the American Volleyball Coaches Association (AVCA) Hall of Fame.
"But at the Division III level they didn't get the pressure to compete for scholarships," she said. "Their reason for joining sports teams? It's called 'the love of the game.'"
Men and women athletes vying at Division III level also were able to enjoy a life off the court or field, pursuing their academic dream or social affinity, and creating a unique connection among the former varsity team members, Sitterly added.
"How I judged that is if they still coached or officiated after graduation," she said. "Many Cortland alumni are still very, very involved in their sport."
"We have always enjoyed having clubs and Greek life featured during Reunion and we are so glad that many athletic teams are encouraging their alumni to participate," said Erin Boylan, associate director of alumni engagement. "Athletics has such a long, strong history at the College and we are sure our partnership with the department will only enhance the weekend for all involved."
On Friday, the SUNY Cortland Alumni Association and Athletics Department have combined talents to create the Red and White Golf Classic. The enhanced golf tournament will be held at the Cortland Country Club and will serve as a fundraiser for both organizations.
Saturday will really be athletics' time to shine, with three games planned and a special showing of a documentary on the women's soccer team's historic journey to the national championship 37 years ago. For the games, all former team members are invited to play by just showing up.
At 9 a.m., a Women's Soccer Alumnae Game will take place on Holloway Field. At 1 p.m., the Men's Soccer Alumni Game starts at the SUNY Cortland Stadium Complex. At 3 p.m., a Women's Volleyball Alumni Game will begin inside Lusk Field House.
| | |
| --- | --- |
| | |
| | Women athletes gather round to celebrate their latest victory. |
At 3 p.m., the documentary "Cortland to Colorado: The First Women's Soccer National Championship" will premiere in Sperry Center, Room 105.
The story is SUNY Cortland legend: Crammed into two school vans, the Cortland women's soccer team traveled for 40 hours straight — 1,700 miles — from Cortland, N.Y. to Colorado Springs, Colorado in November 1980. The long voyage was a historic one for both the Red Dragons and United States women's collegiate soccer. Enjoy the premiere of the documentary, that chronicles Cortland's road to become the first national champions in women's soccer. All alumni are welcome to attend. Please watch the trailer.
Of course, the weekend's events are geared to appeal to former athletes and non-athletes alike.
Hundreds of alumni and friends will enjoy class get-togethers, parties and other activities on campus and at the Lynne Parks '68 SUNY Cortland Alumni House from Thursday, July 6, through Sunday, July 9.
To celebrate the 145th Anniversary of the SUNY Cortland Alumni Association, the weekend will offer additional enhancements.
As always, all alumni are welcome at Reunion, regardless of class year. Featured groups include the Half Century Club, comprised of alumni who graduated more than 50 years ago; the Classes of 1952, 1957, 1962, 1967, 1972 and 1992; sisters of Alpha Kappa Phi/Agonian, Sigma Sigma Sigma, Sigma Rho Sigma sorority, brothers of Gamma fraternity, Educational Opportunity Program (EOP) alumni and Women's Volleyball. The Classes of 1986, 1987 and 1988 will return as the 30th Cluster Reunion.
Reunion opens Thursday with the Class of 1967 50th Welcome Party, which takes place at the Lynne Parks '65 SUNY Cortland Alumni House Kappa (1925-1991) Alumni Lawn, and the Class of 1957 60th Welcome Party at the Parks Alumni House Dunlavey Pub.
On Friday, the Class of 1967 will depart for the Seneca Lake Wine Tour and the Class of 1957 will enjoy a wine tour and dinner at Belhurst Castle.
That afternoon, the Cortland College Foundation and President Erik J. Bitterbaum will host a special reception at the Parks Alumni House to welcome all Red Dragons and to thank the Reunion Committee members. A Red Dragon Trivia Night will take place in the Parks Alumni House Dunlavey Pub and the Class of 1967 will celebrate their 50th Reunion with a dinner in the beautiful gardens at the Parks Alumni House. The Half Century Club will again enjoy their dinner in Corey Union Caleion Room, and a musical, "La Cage Aux Folles," at Cortland Repertory Theatre (tables will be reserved for Classes of 1952 and 1962). Also Friday, reunion featured groups will host various welcome parties on campus and around town.
Saturday's events include classes offered by graduates for alumni, guided tours of the campus as well as the Parks Alumni House, the Student Life Center and a Hoxie Gorge Natural History hike.
The SUNY Cortland Alumni Association will present its highest honor, the Distinguished Alumni Award, to three graduates; its Distinguished Young Alumni Award to one graduate; and its Distinguished Volunteer Award to one individual during the Alumni Reunion 2017 luncheon. The luncheon begins Saturday at noon in the Corey Union Function Room and honors reunion classes and the award recipients, including:
Peter Kachris '56, who transformed his difficult boyhood through a SUNY Cortland education, subsequently became a master at turning failure into success at schools and school districts around New York state and later in Missouri.
Carlos N. Medina '78, a prolific and transformational leader with a growing national and international reputation in the fields of executive leadership, higher education administration and diversity management, currently is vice chancellor and chief diversity officer for the State University of New York.
Ret. Lt. Colonel Flossie Bell-Lomax '86, M '94, C.A.S. '96, an almost 30-year Army veteran, was honored for her administrative prowess both during Operation Iraqi Freedom and Operation Enduring Freedom.
The 2017 Distinguished Young Alumnus Award recipient is:
Jude Anasta '09, an innovative digital technology entrepreneur, has founded a number of companies, including the creative social media application Madhat, Inc.
The 2017 Outstanding Alumni Volunteer Award recipient is:
Carl Gambitta '63, M '66, C.A.S. '73, has served on the Alumni Association Board for more than 40 years and has been a tireless behind-the-scenes advocate for SUNY Cortland's graduates.
Immediately following the luncheon, the fun shifts downtown. For the eighth time, alumni can participate in Cortland Downtown Partnership's Taste of Downtown and Sidewalk Festival. Participants will enjoy food and beverage samples from numerous city eateries. The Nu Sigma Chi Legacy Fund will again underwrite an All-Greek Reception at the Parks Alumni House. The Half Century Club President's Reception will be hosted by Erik J. Bitterbaum in the Dowd Fine Arts Gallery.
Saturday evening all reunion attendees are invited to the Parks Alumni House for Brews and Barbecue. Brews and Barbecue will offer a selection of barbecue fare, a DJ playing tunes from all eras and a photo booth featuring decades props.
A series of Young Alumni Reunion Day (YARD) events — geared for recent graduates from the past 10 years — are scheduled for that day. Activities will include an Ignite breakfast, recreation time at the Student Life Center, complimentary beverage at the Cortland Beer Company and an invitation to join all classes for Brews and Barbecue.
On Sunday, a farewell breakfast for all classes is scheduled for 9 to 10:30 a.m. in the back gardens at the Parks Alumni House.
The campus community is encouraged to attend Alumni Reunion 2017. For more information, contact Alumni Engagement at 607-753-2516 or visit the website at RedDragonNetwork.org/reunion.
---
Capture the Moment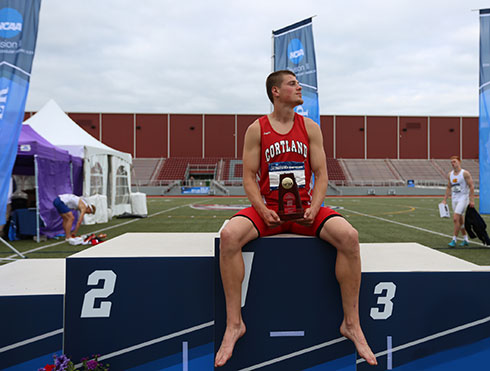 Senior Jack Flood relaxes on the podium after winning the national title in the decathlon at the 2017 NCAA Division III Men's Outdoor Track and Field Championships on May 26 in Geneva, Ohio. The decathlon combines 10 running, jumping and throwing events in a grueling test of an athlete's abilities. The physical education major also won the national title in the heptathlon during the indoor season, making this Cortland's 16th men's national track and field individual championship. Read more about how the Cortland men tied for fifth nationally in the final team standings.
---
In Other News
Student Recognized for State Assembly Research Project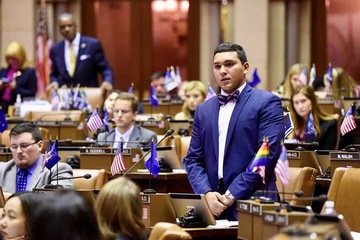 06/05/2017
David Boodram was headed to the annual New York State Assembly intern award ceremony this spring with one thought in mind.
The mantra of frustrated actors at the Academy Awards.
It's an honor just to be nominated.
Boodram was one of 150 student interns in Albany this past semester. All of them researched and wrote a detailed policy and political analysis of a bill introduced during the session, and his entry was one of a handful nominated for an award.
During the ceremony, he learned his paper was one of eight selected as winners. His work will be published in the annual Distinguished Intern Report and he received a certificate of achievement for his work.
"When I got the call that I was nominated, I was really surprised," Boodram said. "I went to the awards ceremony thinking I was happy I was nominated. Sure enough, they called my name and it was a really pleasant surprise. It was awesome."
Boodram, a Clifton Park, N.Y. native and a political science major, recently finished his junior year at SUNY Cortland. He is the third SUNY Cortland student in the past 17 years to have his work published in the Distinguished Intern Report.
"He is very good at looking at both sides of an argument," said Mary McGuire, associate professor of political science. "He's very good at dealing with an argument with pressure, when someone is pushing back on his point of view. He's a very polite and kind person who works very well when you divide students up into groups. I admire him a lot. He's a very impressive young man."
Boodram served as an intern this spring for state Assemblyman David DiPietro, R-East Aurora, District 147. In addition to the practical legislative portion part of Boodram's internship, Boodram analyzed Assembly Bill 3243, which would ban fracking for natural gas. He explored its pros and cons in a paper entitled "Hydraulic Fracturing in New York State."
David Boodram holds his certificate of acheivement
Assembly Bill 3243 remains in the committee stage. The bill proposes a ban on the Department of Environmental Conservation (DEC) from issuing any permits that would allow hydraulic fracturing. The technique, also known as hyrdofracking, or simply, fracking, involves pumping water and chemicals into a drilled well to extract natural gas.
Gov. Andrew Cuomo, at the recommendation of the DEC, banned fracking in the state for environmental reasons in 2014. New York's Southern Tier is particularly rich in underground natural gas deposits, as is neighboring Pennsylvania.
Bill 3243, sponsored by William Colton, D-Brooklyn, would make the ban permanent and prevent future governors from lifting it without another legislative change.
The bill, however, is likely to languish in the committee phase, according to Boodram. A similar bill sponsored by Steve Englebright, D-East Setauket, has a more significant chance to pass as Englebright is the chair of the Assembly's Committee on Environmental Conservation.
"As far as the ban on fracking in the state, I believe that's something we will see in the foreseeable future," Boodram said. "We already have Governor Cuomo instituting a temporary ban on it indefinitely. I know a ban on it would pass the Assembly. A ban on it wouldn't pass the Senate right now, but the Senate is always up for grabs. If the Democrats took control of the Senate, we would have a ban on fracking in the state.
"I don't see hydraulic fracturing having a future in New York state whatsoever. It's a little unfortunate. There are two sides to it. You have the environmental risks but you can't ignore that out of all the states that are banning it, New York state has the most natural gas deposits. We're missing out on the most resources. Pennsylvania is in an economic boom because of it. Pennsylvania and New York have the most to offer when it comes to fracking for natural gas."
As far as his own political future, Boodram isn't so sure. He's confident he has the skills to be an effective chief of staff or advisor in Albany. Yet he's also seen up close the hours and commitment it takes to be a behind-the-scenes staffer for a state legislator.
"I have a lot of avenues that seem to be opening up," Boodram said. "I just have to get through this last year of school."
College Expanding Arabic Language Studies in Oman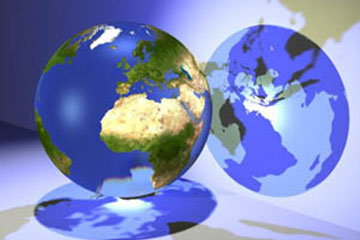 06/05/2017
For many years, SUNY Cortland students interested in studying abroad to learn Arabic were directed to American University in Cairo, Egypt.
The Arab Spring of 2011, which resulted in a revolution and an overthrow of the government, changed the College's approach. For safety reasons, many colleges and universities, including SUNY Cortland, have not sent students to Cairo since.
But the student desire for Arab language immersion never went away.
Mary Schlarb, SUNY Cortland's director of international programs, and her colleagues have heard from students looking for advice on where they could study Arabic overseas. While waiting for the situation in Cairo to stabilize, they have sought additional options.
That may change soon. Schlarb returned from a week-long trip to Oman in May. Through the Center for International Learning in Muscat, Oman, SUNY Cortland hopes to offer an immersive study abroad experience for students interested in learning the Arabic language, absorbing the Omani culture and meeting other students from around the world.
"They provide courses and transcripts and evaluations as well as housing, orientation and excursions," Schlarb said. "They took me around to a lot of the places where they take students. It's not just formal courses. There is also a peer system where three afternoons a week they meet with a peer who is more or less in the same age range as some of them. It's a one-to-one time for conversation in Arabic so they show them around and invite them into their homes.
"That's what really impressed me with the school is the cultural component," Schlarb continued. "The students are living together and they're not all Americans. They are from all over Europe, mostly. They really have a model."
Rachel Miller '15 and Frederik Tremblay '17 studied at the Center for International Learning during the summer of 2014 through the College's Overseas Academic Program. After learning that Miller and Tremblay had enjoyed their experiences in Oman, Schlarb realized that she might have found the solution for a foreign Arabic language program.
Oman, a nation of 4.5 million people on the eastern end of the Arabian Peninsula, is often rated as one of the safest nations in the Middle East. Muscat, the capital, is a popular tourist destination for Europeans.
Schlarb met with members of the Center for International Learning staff as well as some of the students during her recent trip. The State Department also sends members of its Foreign Service Institute to Oman for Arabic language studies.
Mary Schlarb
Developing a "toolbox" of how to adapt to life in foreign countries is one of Schlarb's biggest pieces of advice for students studying abroad. Schlarb's visit allowed her to experience Oman from a first-person perspective. She can share her tips on how to navigate the visa process in the airport, how to buy food and how to get the most out of the immersive one-on-one learning experiences outside the classroom.
"One, I went to make sure it's a good facility and that the conditions are good. Safety is No. 1," Schlarb said. "Second is the academic piece."
Schlarb foresees SUNY Cortland sending a handful of students to Oman each semester and for summer sessions in the years to come. If interest grows, it's possible for a professor to take a group of students to Oman using the Center for International Learning as a home base.
Students who study Arabic may find career opportunities in politics or for humanitarian causes as a translator. Others have combined studies in Arabic and geology to find work in the oil and energy fields.
Even if studying abroad in Oman doesn't directly lead to a job, Schlarb feels the experience can be unforgettable for SUNY Cortland students. Not only would they learn a language and see a new place, they have a chance to connect with other young people from Oman and the rest of the world.
"Knowing a foreign language is going to help most people have a leg up in whatever career they choose," Schlarb said. "Having that immersive language experience is really helpful, not just in fluency but also in dialects. For our students going, I think that's what they're looking for. They're interested in the language. It's not your typical student who wants to go to Oman. I think they're interested in the language and the culture and talking to some of the students there. They see the critical importance of building bridges around the world during this difficult time."
Alumni Association to Honor Five Graduates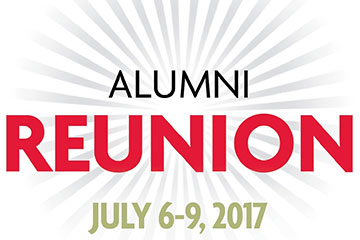 05/30/2017
The SUNY Cortland Alumni Association will present its most prestigious honors to five graduates during the Alumni Reunion 2017 luncheon in Corey Union on Saturday, July 8.
The 2017 Distinguished Alumni Award recipients are:
Peter Kachris '56, who transformed his difficult boyhood through a SUNY Cortland education, subsequently became a master at turning failure into success at schools and school districts around New York state and later in Missouri.
Carlos N. Medina '78, a prolific and transformational leader with a growing national and international reputation in the fields of executive leadership, higher education administration and diversity management, currently is vice chancellor and chief diversity officer for the State University of New York.
Ret. Lt. Colonel Flossie Bell-Lomax '86, M '94, C.A.S. '96, an almost 30-year Army veteran, was honored for her administrative prowess both during Operation Iraqi Freedom and Operation Enduring Freedom.
The 2017 Distinguished Young Alumnus Award recipient is:
Jude Anasta '09, an innovative digital technology entrepreneur, has founded a number of companies, including the creative social media application Madhat, Inc.
The 2017 Outstanding Alumni Volunteer Award recipient is:
Carl Gambitta '63, M '66, C.A.S. '73, has served on the Alumni Association Board for more than 40 years and has been a tireless behind-the-scenes advocate for SUNY Cortland's graduates.
Since 1968, 126 SUNY Cortland graduates, including this year's honorees, have received the Distinguished Alumni Award for their career accomplishments and outstanding service to their community and alma mater. In addition, 24 alumni have been recognized with Distinguished Young Alumni awards, reserved for alumni who are younger than 35 years old and have graduated in the last 10 years. Since 1999, 15 alumni have been honored with Outstanding Alumni Volunteer awards.
Here's a closer look at the five graduates:
Peter Kachris '56
Kachris throughout his life has embodied the Cortland motto "Let each become what he is capable of being." Shuffled between foster homes after losing his father at 9, the son of Greek immigrants enrolled in Cortland at 16.
| | |
| --- | --- |
| | |
| | Peter Kachris '56 |
The many leadership opportunities he experienced at his alma mater, especially as a proud Beta Phi Epsilon (1927-1995) fraternity brother, helped the history major focus on creating opportunities for children like those that had fostered his own successful career.
With a master's degree from SUNY Albany and Doctorate in Education from Syracuse University, he rose to superintendent of the Auburn (N.Y.) Enlarged City School District. Kachris then oversaw the Orleans-Niagara Board of Cooperative Educational Services in Medina, N.Y., managing a budget of $65 million and 565 employees. In 2000, he took over as superintendent of the Special School District of St. Louis County, St. Louis, Missouri's largest district.
Armed with his knowledge of the American education system, Kachris was asked to review and help with the reorganization of the school district in Okinawa, Japan, as a Fulbright scholar.
Kachris never flinches from making big changes that ultimately serve children better. Though retired, he is called upon time and again to fix failing secondary institutions and continues to aid Missouri's school system.
Carlos Medina '78
Medina has worked to promote and advance underrepresented students, faculty and administrators as SUNY's vice chancellor and chief diversity officer.
| | |
| --- | --- |
| | |
| | Carlos Medina '78 |
Since Medina became SUNY's first CDO in 2014, the state university system has begun to add a diversity officer on each of its 64 campuses. Medina has assisted in that initiative and has made a system-wide push to align campuses with local school communities to help underrepresented students graduate from high school, provide access to h higher educational opportunities and assist them in having a successful college experience.
Medina served as co-chair of the 2015 SUNY Diversity Task Force, providing a framework for finding ways in which SUNY's diversity can be increased to better reflect the student demographics of New York state. This resulted in a policy adopted by the SUNY Board of Trustees on Diversity, Equity and Inclusion.
A physical education major at SUNY Cortland, Media worked as a senior youth counselor for a decade after graduation. He earned a master's degree in human services administration at Cornell University and later a doctorate in executive leadership from St. John Fisher College. Medina worked for the state education department for seven years before taking a position as the director of SUNY's Bridge Program, a Welfare-to-Work Initiative, in 1998.
Medina was recognized with the Individual Leadership Award from the National Association of Diversity Officers in Higher Education in 2016, the Legislative Recognition Award from the Somos el Futuro Hispanic Legislative Conference in 2015 and the Diversity Visionary Award from Insight Into Diversity Magazine in 2014.
Flossie Bell-Lomax '86, M '94, C.A.S. '96
A retired Lt. colonel in the U.S. Army, Bell-Lomax served with honors in various operations in the Middle East, Horn of Africa and Guantanamo Bay, Cuba.
| | |
| --- | --- |
| | |
| | Flossie Bell-Lomax '86, M '94, C.A.S. '96 |
Right after the horrific events of Sept. 11, 2001, she was mobilized and served as the base adjutant at a major Army installation in Virginia. Notably, Bell-Lomax was the first black officer to handle personnel sourcing for the coalition forces, which involved more than 50 countries. She oversaw programs to expand training of large populations, interpret regulations and assist leaders working through complex issues, and prepare troops as needed to deploy.
As a teacher and later as assistant principal of middle and high schools, she was acknowledged for working relentlessly to help students prepare for success after high school.
Bell-Lomax has leveraged her military experience and three SUNY Cortland degrees into her current career as an equal opportunity generalist in the Department of Homeland Security/TSA in Washington, D.C.
She volunteers her expertise to veteran's, civic, social and religious organizations:
"I grew up in poverty," she said. "And there were so many neighborhood programs and public school teachers who were encouraging and successful in helping to mold me into the person I have become."
Jude Anasta '09
Anasta's interest in technology blossomed when he created websites in his free time while studying international business and French at SUNY Cortland. Less than a decade after graduating, Anasta has founded four separate companies.
| | |
| --- | --- |
| | |
| | Jude Anasta '09 |
In 2010, Anasta founded L'Express Media, a search engine marketing company that aimed to help other businesses grow their presence online. One year later, Anasta started Mobileikon, which helped businesses create mobile-friendly websites and applications to better serve customers.
Along with co-founder Corey Burr, Anasta began working on the Madhat app in 2015. Madhat allows users to add doodles and animate a photo or video in the camera library on their phone. The resulting short video may then be shared via any popular social media channel. Madhat's slogan — "Everyone's a Creative" — inspires its users to add a flourish to their own photos and videos.
Anasta has most recently served as CEO of Cash-Only, a mobile application that supports the needs of cash-only businesses to accept digital payments.
During his time on campus, Anasta served as the treasurer for the Caribbean Student Association, participated in the Economics Club and Habitat for Humanity and played intramural soccer.
Carl Gambitta '63, M '66, C.A.S. '73
Carl Gambitta is dedicated to the College's alumni, having served on the SUNY Cortland Alumni Association board of directors since 1996.
| | |
| --- | --- |
| | |
| | Carl Gambitta '63, M '66, C.A.S. '73 |
As the association's president, he spearheaded early efforts to acquire an alumni house and later, as member and chair of the Alumni House Committee, his work advanced the ultimate purchase of the Lynne Parks '68 SUNY Cortland Alumni House.
He works tirelessly behind the scenes organizing and promoting the annual Reunion, which draws hundreds of former students back to campus year after year.
Retired from teaching at Groton Central Schools in 2013 after 50 years, he supports his alma mater by attending many social and cultural events and is "always rolling up his sleeves" to get things done. He has often participated in the yearly interview etiquette dinners, formerly called Goofs and Goblets. Before class registration went online, he provided students with coffee and doughnuts as they waited in line during the drop-add period.
In 2013, in the aftermath of the destructive celebration that broke out in Cortland after Cortaca Jug, Gambitta joined a special panel of College and community leaders charged with investigating the incident and developing a plan to prevent its reoccurrence. The resulting recommendations have kept Cortaca safe and positive for three years.
Gambitta inspired the decision to use SUNY Cortland's dragon logo on the water towers and bus stops around campus.
Calm in the Midst of Terror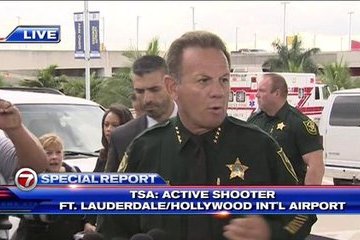 06/05/2017
In the immediate aftermath of January's mass shooting at Fort Lauderdale-Hollywood International Airport, news sites around the world featured the calm and confident words of a leader whose widely respected law enforcement career was launched from SUNY Cortland.
Scott Israel '77, the sheriff of Broward County, Fla., oversaw the law enforcement reaction to the Jan. 6 shooting at the airport that left five people dead, injured 40 others, stranded thousands of terrified travelers and shut down one of the nation's busiest airports. With more than 30 years of police experience, Israel's measured response to the tragic event – the suspect surrendered without Israel's deputies firing a shot – kept the public informed and bystanders safe.
Israel helped coordinate a chaotic scene as multiple agencies responded, traffic tangled and people around the globe waited for answers.
"Beyond the tragedy and the loss of five lives and the devastation to the county and to the families, there were some amazing things that came out of that," Israel said. "First and foremost, I've never seen so many first responders from the FBI, the Florida Department of Law Enforcement, from our agency, and so many people were so cohesive and worked together. There were no egos. There was a seamless transition of incident command when it was necessary and I was so proud to be part of law enforcement."
Good leaders develop over time. Israel said he first started to learn about leadership as a quarterback fighting for playing time on SUNY Cortland's football field.
"The four years I spent in Cortland were amazing years," said Israel, a political science major from Long Island. "I got to play a little football and I started one year on JV and played a few games. I was a member of the varsity football team when Roger Robinson was the coach there. I didn't play a whole heck of a lot. I was a quarterback and it was a very talent-packed position. But it was my first time ever away from home. You learn a lot of things about being self-reliant."
Israel joined the Fort Lauderdale police department in 1979. He rose to the rank of captain and also served as SWAT team commander. Israel was hired as North Bay Village (Fla.) chief of police in 2004. He unsuccessfully ran for Broward County sheriff in 2008 but ran again in 2012 and won office.
Those public votes of confidence put him in charge of a $700 million agency that employs 6,000 people – roughly equal to the entire undergraduate population of SUNY Cortland. Israel's agency operates the 12th largest local jail system in the nation and provides law enforcement for seven cities and an international airport.
Israel's leadership appears to have made a difference. The crime rate in Broward County was at an historic low two years into Israel's first term. By 2016, violent crime rates had dropped 18.4 percent and burglaries were down 42.3 percent.
Scott Israel '77 issues a statement following the shooting
Israel, a Democrat, won reelection with 72 percent of the vote in November, aided by an endorsement from basketball Hall of Famer Shaquille O'Neal, who has been active in law enforcement projects following his playing career.
Israel's success in law enforcement is thanks in part to his progressive methods. He created a squad called VIPER (Violence Intervention Proactive Enforcement) that focused on a small subset of criminals who are empirically more likely to commit violent crimes. Israel has also worked with juvenile offenders to offer counseling and support before arresting them for misdemeanor offenses. The recidivism rate for those youths is five percent, which Israel considers a major accomplishment.
"A lot of people need to be in jail but a lot of people don't, especially with kids," he said. "The one thing I'm most proud about and what I hope is my legacy in the county is that we've kept kids out of jail like never before through a civil citation program."
Broward County deputies are starting to wear body cameras after Israel pushed for greater transparency in the department. He is also a proponent of stricter gun control laws, which he hopes will make Broward County safer.
Involved in coaching football at the youth and high school levels, he was named the Brian Piccolo Coach of the Year in 2008 for his decades of coaching service.
Whether it's on the football field or responding to a crisis, Israel knows that leadership matters.
"Anybody can win the election for the sheriff of Broward County or any county, but to be successful you have to work hard at leadership," Israel said. "There is no such thing as a born leader. You have to study leadership."
Residence Hall Projects Receive State Financing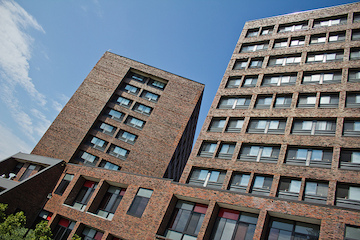 06/06/2017
Preliminary work on SUNY Cortland's planned renovation to Smith Tower got a boost last month through $1.4 million in low-interest borrowing made available to the College by the Dormitory Authority of the State of New York.
Approximately $600,000 of the financing will be applied to the initial stages of the $12 million renovation of the 10-story residence hall, which was built in 1972.
The remainder represents the final financing segment for the already-completed renovation of DeGroat Hall. DeGroat, built in 1952, reopened for students last fall after an $8 million renovation, its first major overhaul in 65 years.
"We are extremely grateful for the assistance DASNY provides for these and many other SUNY Cortland projects," President Erik J. Bitterbaum said. "Their support has helped us transform the campus visually and enhance the safety and high quality of life enjoyed by SUNY Cortland students."
SUNY Cortland's $1.4 million in financing was part of $150 million in tax-exempt, low-interest bonds issued by the authority to support residence hall projects at SUNY campuses across New York. It represents the bulk of a total of $2 million issued for projects in Central New York.
The remaining $600,000 will pay for a master planning initiative at SUNY Morrisville and parking facility enhancements at SUNY Upstate Medical University.
Athletics Program Ranked in Directors' Cup Top 25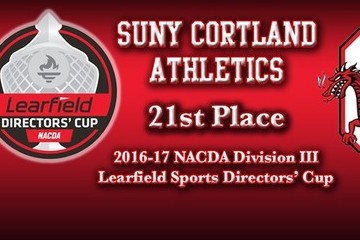 06/06/2017
The SUNY Cortland men's and women's intercollegiate athletic program finished in 21st place in the 2016-17 Learfield Sports Directors' Cup competition among the approximately 450 eligible NCAA Division III programs competing nationally for the prestigious honor. The National Association of Collegiate Directors of Athletics (NACDA), Learfield Sports and USA Today present the award annually to recognize overall excellence among collegiate athletic programs.
Cortland is one of only five schools nationwide, and the only New York institution, to place in the top 25 each of the 22 years the standings have been compiled on the Division III level. The other schools that hold that distinction are: Williams College (Mass.); Amherst College (Mass.); Middlebury College (Vt.); and Emory University (Ga.).
The Red Dragons finished with a score of 530.25 points. Williams won its 20th Directors' Cup with 1,335.25 points, followed by Washington-St. Louis (1,227), Tufts (Mass.) (926.75), Claremont-Mudd-Scripps (Calif.) (895), and Johns Hopkins (Md.) (864.50).
Cortland had eight teams finish in the top 20 in 2016-17 NCAA postseason competitions, including seven top-10 finishes. The men's lacrosse and men's outdoor track and field teams each tied for fifth nationally. The wrestling team finished seventh and the men's indoor track and field team placed ninth, while the men's soccer, baseball and softball squads each tied for ninth place. In addition, the women's lacrosse team tied for 17th place.
The standings are compiled based on schools' national finishes in different sports. Teams earn points by qualifying for the NCAA postseason and additional points for advancing in the playoffs. The national champion in each sport earns 100 points.
There are four Directors' Cup Awards, one to honor overall champions in each of the NCAA's Divisions (I, II and III) and the NAIA. It is the first-ever cross-sectional all-sports national recognition award for both men and women. NACDA, which is now in its 52nd year, is the professional and educational association for more than 12,500 college athletics directors, associates, assistants and conference commissioners, along with affiliate individuals or corporations. More than 1,600 institutions throughout the United States, Mexico and Canada are represented in NACDA's membership.
2016-17 Learfield Sports Directors' Cup school rankings, points and additional statistics available on our Athletics website.
Summer Sports Camps Start Soon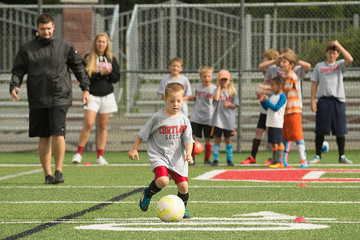 05/30/2017
SUNY Cortland's Summer Sports Camps begin on June 25 and will run through August 10, offering young athletes a chance to learn from college coaches and players in a variety of sports.
Camps for baseball, basketball, field hockey, football kicking, gymnastics, lacrosse, soccer, soccer goalkeeping, softball, swimming and diving, tennis and volleyball are among the offerings. New this year will be a Leadership Development Seminar and a Summer Blast Day Camp in which participants compete as teams in a variety of fun activities.
Ages and grades vary by sport.
For more information, including dates, fees and details on how to register, visit cortlandreddragons.com/summercamps.
Softball catchers at Summer Sports Camp.
The Summer Blast Day Camp will run from July 31-August 3. Campers between the ages of 7 and 13 will be split into two teams, red and white, and will compete in a week-long series of challenges to earn points. Some of the activities will include basketball, flag football, a scavenger hunt, whiffle ball derby and a three-legged race, among many others. The athletic challenges and logic games will stress sportsmanship, camaraderie and fun.
Men's soccer coach Steve Axtell will host the Leadership Development Seminar for athletes in grades 9-12 on July 22. The seminar will help high school-age athletes create a culture among their peers, focus on goal-setting and how to build bridges between coaches and teammates.
The camps are guided by SUNY Cortland's coaches and student athletes on the College's 51 acres of state-of-the-art facilities.
For questions, please contact the Summer Camps office at 607-753-2739 or email summersportscamps@cortland.edu.

Suggest a feature story
---
Faculty/Staff Activities
Susan Barnett
Susan Barnett, Recreation, Parks and Leisure Studies Department, was featured in WalletHub's May 31 article "2017's Best & Worst Cities for Staycations." Barnett was one 13 educators on the panel of experts who helped determine the best staycation spots by comparing the 150 most populated U.S. cities across three key dimensions: 1) recreation, 2) food and entertainment and 3) rest and relaxation.
Carolyn Bershad
Carolyn Bershad, Counseling and Student Development, has been informed that the Counseling Center has met the criteria for full re-accreditation by the International Association of Counseling Services (IACS), the only association that accredits counseling services on university and college campuses. Accreditation by IACS is dependent upon evidence of continuing professional development as well as demonstration of excellence in counseling performance. The Counseling Center offers individual and group counseling for students, as well as consultation and outreach to the campus community and beyond.
Diane Craft
Diane Craft, Physical Education Department, continues to share ideas for promoting physical activity among toddlers and preschoolers throughout the nation. Since March 2017 she has presented keynotes and sessions at state conferences in Wisconsin and North Dakota, and conducted state-wide train-the-trainer workshops in Mississippi, New York, Wyoming, North Carolina and California. Also, she has given presentations at the National Child and Adult Care Food Program (CACFP) Sponsors Association Conference and the 9th Biannual Childhood Obesity Conference, both held in California.
Janet Duncan
Janet Duncan, Foundations and Social Advocacy Department, recently attended Babes-Bolyai University in Cluj-Napoca, Romania as an Erasmus Plus Scholar for the Public Administration Department and the Social Work Department. During her week-long appointment in May she gave two graduate lectures on Human Rights for Persons with Disabilities and met with three leaders of national non-governmental organizations (NGOs) for Romania. The Erasmus Plus Project is funded through the European Union.
John C. Hartsock
John C. Hartsock, Communication Studies Department, has had one of his award-winning books accepted for publication in Chinese by Fudan University Press in China. A History of American Literary Journalism: The Emergence of a Modern Narrative Form, is expected to be published in Mandarin later this year. Translated by Li Mei, professor of journalism at South China University of Technology in Guangzhou (Canton), the book was the recipient of the two leading American awards for the history of journalism and mass communication from the Association for Education in Journalism and Mass Communication, and the American Journalism Historians Association. The book was originally published by the University of Massachusetts Press in 2000. It is the first history of the journalistic genre of literary journalism in the United States, and has also been published in Romanian. Fudan University Press is widely regarded as one of the leading academic presses in China. Fudan University is located in Shanghai.
In other news, Hartsock was the subject of a question-and-answer article in the May issue of the journal Mass Communication Historiography. The journal is publishing interviews in each issue of recipients of major awards in the field of journalism and mass communication history. The interviews focus on historical methodologies used by the recipients.
Also, Hartsock participated in an interview in April with Polina Popova, a graduate student in journalism at St. Petersburg State University in St. Petersburg, Russia. The interview focused on Russian analogues to American literary journalism. Hartsock lectured on American literary journalism at St. Petersburg State University last November.
Mary McGuire
Mary McGuire, Political Science Department, gave two presentations on New York State Constitution Convention processes and history. She provided background for the November vote on whether or not New York should hold a convention to amend the state constitution for the Cortland County Republican Women's Spring Luncheon and at the New York State Rural Democratic Conference.
Maaike Oldemans and Jennifer Kronenbitter
Maaike Oldemans and Jennifer Kronenbitter, Memorial Library, presented at the Ohio Valley Group of Technical Services Librarians Conference 2017 in May at Xavier University, Cincinnati, Ohio. They presented "Technical Metamorphosis by Design."
Larissa True
Larissa True, Kinesiology Department, had her manuscript "Relationships Among Product- and Process-Oriented Measures of Motor Competence and Perceived Competence" published in the Journal of Motor Learning and Development.

Submit your faculty/staff activity