Student Awarded Fulbright Assistantship
05/12/2017
In the summer of 2016, Gabrielle Laruccia fell in love when she studied abroad in Fulda, Germany. She did not fall in love with a person, however, but with the language, the culture and the people.
Laruccia, a senior international studies major from Brooklyn, N.Y., has since received a prestigious Fulbright English Teaching Assistantship (ETA) in Germany for the 2017-18 academic year.
"Being in a different country you learn how different people are, and yet, the same," said Laruccia of her one-month Germany experience of travel and classes with 40 other students, hosted by SUNY Cortland. "I want to learn more about the German culture because the textbook and a professor in a classroom can only teach you so much."
Laruccia is one of approximately 140 selected recipients for the Fulbright ETAs in Germany, out of roughly 377 original applicants, said Jerome O'Callaghan, associate dean of the College's School of Arts and Sciences.
"Gabrielle has a knack for telling short, often amusing, stories to illustrate a concept or point," said O'Callaghan, who shepherds SUNY Cortland's Fulbright applicants through the process. "Her vocabulary is extensive and she will be very successful in communicating effective English speaking skills to her students."
Established in 1946 by the U.S. Congress, the Fulbright Program offers international scholarships to foster leadership, learning and empathy between cultures. Named for the late Senator J. William Fulbright, it is sponsored by the U.S. Department of State. The program's website, us.Fulbrightonline.org, explains that it is the largest U.S. international exchange offering opportunities for students, scholars and professionals to undertake graduate study, advanced research, university teaching and teaching in elementary and secondary schools worldwide.
In general, ETAs are assigned activities designed to improve the host country students' language abilities and knowledge of the U.S. Additionally, the program's English teaching assistants become fully integrated into the host community, increasing their own language skills and knowledge of the host country.
"There is nothing more exhilarating than learning and talking about other languages and cultures," said Laruccia. "Fulbright will enable me to establish intercultural connections with students and colleagues, just like the ones I have after Fulda."
Laruccia is one of only three SUNY Cortland students to receive a Fulbright Award since 2010. The recipients include Peter Rakowsky in 2014, for studies in Ukraine, and Chelsea Dixon in 2010, for an ETA in Spain.
Laruccia began studying Italian at age 14. She is presently in her third semester of German language classes and received good grades in her first two. She earned high marks in a tutoring course at the College and presently is a tutor for the college-level Italian courses and introductory German language courses.
"The German language is beautiful and intricate, like a composition by Amadeus Mozart," Laruccia said. "No, it does not roll off the tongue like the romantic languages Spanish, Italian and French. No, it is not simple. Like every language, German is an artwork, a science, and a puzzle all at once."
Aside from her experience of German life in Fulda, Laruccia keeps up with German news via the BBC network and Der Spiegel newspaper, O'Callaghan noted.
"She can speak knowledgeably about the current political concerns surrounding Germany's refugee policy and also has an understanding of Germany's educational system structure," O'Callaghan said. "Gabrielle is interested in the theory that the German desire to create and observe order is part of a search for national unity."
After her previous time abroad, Laruccia is eager to work with children. She may spend up to 12 hours per week at the school she is assigned.
"I'll see the culture really actualized in children through their actions, rather than adults who will more or less just tell me and explain to me because I am a foreigner," Laruccia said.
Although she is nervous about spending nearly a year abroad and the budgeting that it will require, Laruccia's biggest challenge comes before she even lands in Germany. She must find an apartment.
"That's going to be daunting," said Laruccia. "The program will help me with the costs, but it's up to me to find my own living arrangements. I plan on relying on friends that I made in the program who are currently in Europe, and also speaking with my professors."
While she's not entirely sure of her career plans, Laruccia hopes to find a job that allows for travel or that would promote intercultural and international exchanges.
"I feel it's really important for people to be interacting with people from different countries, from different cultures, different languages," said Laruccia. "Even in the way a language is structured, they tell you what's important, what's highly valued in that society and what constitutes being a person."
Prepared by Communications Office writing intern Jamie Winsper
Immigrant Overcomes Obstacles to Earn Degree
05/10/2017
SUNY Cortland senior Michelle Candelo completed high school while living in a New York City homeless shelter after immigrating from Colombia at age 16. She was the first in her close-knit family to graduate high school and the first to earn an associate's degree.
And on Saturday, May 13, she was the first to receive a four-year degree, a bachelor's in community health from SUNY Cortland.
Against steep odds, and with the help of faculty and friends at College, her father, mother, brother and sister were all there to witness this historic family moment.
"I'm going to be on my knees crying," said Candelo, 23. "I never thought I'd get to this point through all of these struggles. It's significant for me to have my parents be there for that moment."
The moment was so important to the Candelo family that her parents carefully put money aside for months, saving to hire a driver to take them from New York to Cortland, with a detour to pick up her younger brother at SUNY Delhi.
Then, just weeks before Michelle Candelo was scheduled to walk across the stage at Commencement, the family received stunning news.
Bayron Candelo, 22, who was due to get his associate's degree from SUNY Delhi later this month, was diagnosed with lymphoma and needed surgery to remove a tumor. The money the family had been saving for their Cortland trip went instead toward the brother's medical expenses.
Jena Nicols Curtis, associate professor of health, learned about the situation at the end of a casual conversation with Michelle Candelo, a normally cheerful and constantly smiling student worker in the College Health Department.
Candelo had stopped by to thank Curtis for setting up a tutor for one of her most challenging courses. At the end of that conversation Curtis asked, "How is everything else going?"
Candelo's smile quickly faded. The tears began to flow.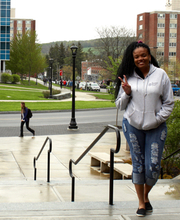 And over the next few minutes, Candelo's life story spilled out in conversation with Curtis.
Soon after, Curtis arranged for her husband, Todd Curtis '11, to pick up the Candelo family in New York on his way back to Cortland from a work assignment in the Washington, D.C. area. Gonda Gebhardt, SUNY Cortland's associate director of international programs, will host the family overnight.
Some SUNY Cortland friends have started a GoFundMe page to raise the roughly $300 needed to rent a van to take the Candelo family back home. The important thing, however, is that they will all be there together.
Family means a lot to Michelle Candelo. At age 16, she legally immigrated to New York City with her mother and younger siblings, Bayron and Eilyn, then 15 and 12, respectively. Her father had traveled back and forth between the United States and Colombia for years, supporting the family financially. Now they had an opportunity to start a new life together.
Not speaking a word of English, Michelle Candelo was enrolled as a freshman at The International High School at the Lafayette Educational Complex in Brooklyn. She taught herself the language through dedication in the classroom and lots of popular music and television shows.
Yet by 2012, two years after the family first came together in New York, Candelo's father had an illness that forced him to miss work. He lost his job. Candelo returned home from school one day to find the family's mattresses and television laid out on the sidewalk. They had been evicted.
The Candelo family found refuge in a homeless shelter after three days on the streets. The Candelos would live there for the next eight months before getting back on their feet. Candelo journeyed two hours each way each day from the shelter in the Bronx to her school in Brooklyn.
With no computer or internet connection at the shelter, Candelo would stay after school to do her homework and then stick around for basketball practice. She had to navigate her way back to the Bronx on buses and trains before the 10 p.m. curfew or else she'd be locked out for the night.
Although Michelle Candelo studied with other Spanish-speakers from around the world at International High, she was the only Colombian in her class. After a decade of attending the same Catholic schools together, her brother and sister were enrolled at middle schools in other parts of New York.
In a city of eight million people, Candelo felt all alone.
"It was all new for us," she said. "My mom was crying because my brother and sister were in different schools. Taking the trains so difficult, going up and down. We didn't have trains in Colombia. We got lost so many times."
At 6-foot-3, Candelo found solace and built confidence on the basketball court. Lafayette girls' basketball head coach Kareem Benson recruited her for the team because of her height. Benson also inspired Candelo to work hard in the classroom, telling her that her mix of smarts and athletic ability would help her earn a college acceptance letter.
Candelo graduated from high school and studied at SUNY Sullivan for two years, playing basketball there for one, and earned an associate's degree. Family is everything for Candelo.
College education for Michelle Candelo and her siblings wasn't part of the plan for the Candelo family when they immigrated to New York. A lack of jobs and opportunity in Colombia was the driving force behind the move. Michelle Candelo remains in touch electronically with her friends from Colombia and she says many of them are hoping to follow in her footsteps.
"So many people wish to be in my situation and I feel lucky that I'm here and I'm trying to get an education and do the right thing," Michelle Candelo said. "This is something big and I'm making history. Neither of my parents graduated from high school. I graduated from high school, I went to get my associate's degree and now I'm almost close to getting my bachelor's. I never thought I'd get this far in my life with all of the struggles I went through when we became homeless back in 2012. I never expected that. I came here and I wanted to achieve my dreams but once you leave your country, you just don't know."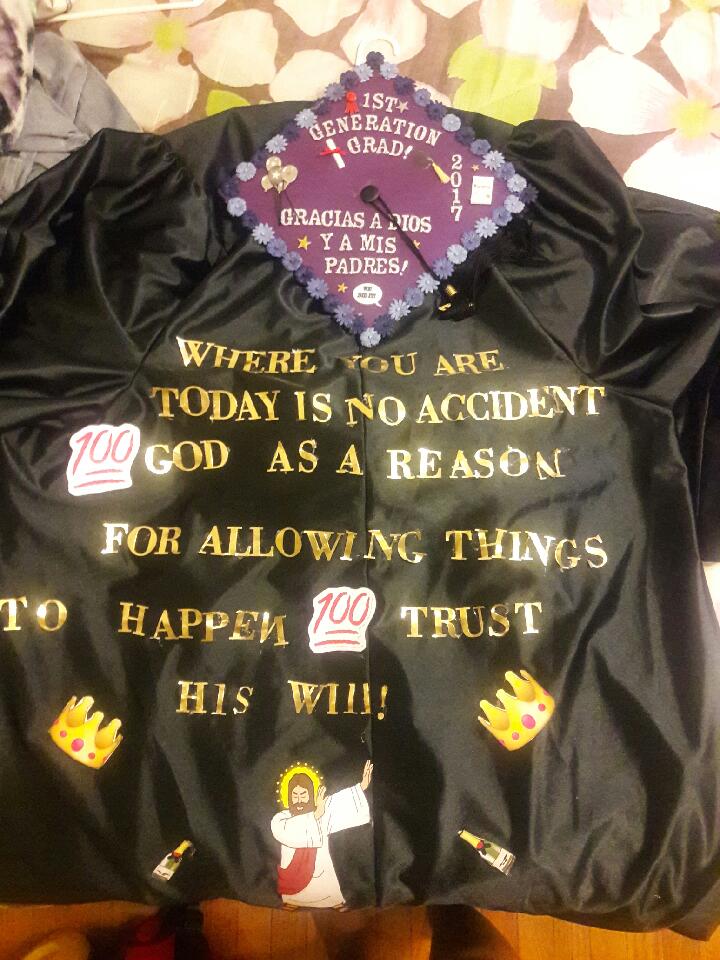 Michelle Candelo plans to work in youth counseling, helping teenagers who are marginalized because of ethnicity or language or family finances.
"I want to be able to help teenagers," Michelle Candelo said. "I know what it's like to be an immigrant. I know what it's like to be a Latina. I know what it's like to struggle with language barriers. I know what it's like to be homeless. I know what it's like to be the first person in your family to graduate from high school and community college."
First, she'll complete her studies in a health internship in London, England this fall, an opportunity arranged through Gebhardt and the international programs office.
Jena Curtis marvels at Michelle Candelo's persistence. She's also amazed at her humility. For all of the challenges thrown Candelo's way, Michelle Candelo has triumphed. And yet she still goes out of her way to thank all of those who have done things on her behalf as she's navigated toward a college degree.
"Michelle's perception of her life is that she's been blessed with so many good people who have helped her do this," Jena Curtis said. "Her story, when she tells it, is all about this wonderful coach who saw her and saw potential and said hey, "You're smart enough to go to college." He told her that if she didn't keep her grades up, she couldn't stay on the basketball team.
"Her perception is that people have done amazing things for her," Jena Curtis continued. "She wants very much to work with inner-city youth who are at-risk because they don't have the best home lives or family lives and she wants to help those young people make good decisions. Her sense is that she had people do that for her. She was so lucky to have those people and she wants to be that person for other kids."
Eight years ago, Michelle Candelo was a scared high school freshman in a new country, trying to learn the language and the culture. Now, thanks to those who helped prepare her for college, and those who helped her succeed in college, Candelo picked up her diploma with her parents on hand as witnesses.
"I'm so grateful that I met people who were willing to help me," Michelle Candelo said. "They knew that I wanted to work so hard to make my goals possible. Because they saw that in me, they were willing to help me out. I want to be able to pay them back. I want to show them that anything is possible as long as you work hard for yourself and you have discipline and you stay humble and you know what you want. That's going to take you far."
---
Capture the Moment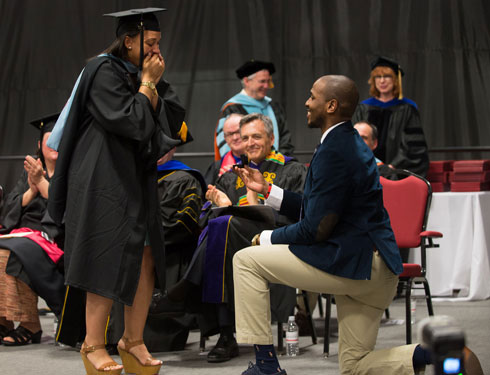 Moments after receiving her master's degree at Graduate Commencement on Friday night, Lindsey Minor '15, M.S.Ed '17 received a marriage proposal to go along with it! Congratulations to Lindsey and Maurice Kearney '14 on their engagement, and to SUNY Cortland's 2017 graduates on their accomplishments. Minor and Kearney both played basketball at SUNY Cortland and are assistant coaches for the women's and men's teams, respectively. Some scenes from the College's four graduation ceremonies on May 12 and 13 can be viewed on this gallery.
---
In Other News
Seward Honored by SUNY Cortland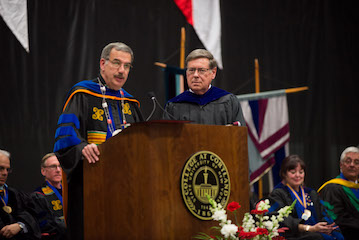 05/15/2017
New York State Sen. James L. Seward, a tireless champion for SUNY Cortland during more than three decades in state government, received the College's Presidential Champion of Excellence Award during SUNY Cortland's undergraduate Commencement ceremonies on May 13.
Seward, who has supported key policy initiatives important to the College and secured tens of millions of dollars in funding for campus projects, was only the third person ever to receive this honor.
The award is given at the discretion of President Erik J. Bitterbaum to recognize individuals who have made significant contributions to the pursuit of excellence at SUNY Cortland. The medal, which expresses the College's admiration and appreciation for extraordinary service and leadership, was given to Brian G. Murphy '83 in 2012 and Louise M. Conley in 2016. Both Murphy and Conley are former chairs of the Cortland College Foundation.
Seward's contributions to SUNY Cortland have been transformational. His influence has played a role in nearly all of the College's capital improvements in recent memory.
His support for the construction and marketing of the 8,000-seat SUNY Cortland Stadium Complex, for example, changed the landscape of the campus. Since opening in 2002, it has become a nationally recognized landmark representing the College and its stellar athletic programs.
The new complex also was an important factor in attracting the New York Jets summer training camp to Cortland, as were the improvements Seward helped fund to make the camp possible, including an access road and renovations to Corey Union. The Jets training camp generated nearly $24 million in economic activity for Cortland County during its five-year run on campus.
Seward's support for the 150,000-square-foot Student Life Center similarly changed the College landscape and revolutionized campus life. Since its opening in 2015, the one-of-a-kind facility has become a symbol for the high-quality, active student life available at SUNY Cortland, enhancing the institution's recruitment and retention efforts.
The senator's assistance also has been instrumental to the continued excellence and growth of the College's diverse academic programs.
Academic capital projects he was involved with include the renovation and expansion of Bowers Hall into a state-of-the-art hub for scientific research and hands-on-instruction. Since its opening in 2014, it has helped lead to renewed interest and focus on science at SUNY Cortland.
Seward's involvement in other academic projects included funding for the College's three-story School of Education Building and child-care center, which opened in 2009. A transitional administrative building called Studio West was transformed into the Professional Studies Building, an academic complex that opened in 2011. At Memorial Library, a Learning Commons was created to offer a variety of academic services.
Most recently, he supported SUNY Cortland's massive effort to replace and upgrade the College's aging electrical infrastructure and secured funding for the $2 million reconstruction of the tennis courts.
A strong legislative advocate for higher education, Seward backed proposals such as the Rational Tuition Program, which were critical to SUNY Cortland's continued financial health. He also supported a ground-breaking financing approach that allowed the College to establish 3,600 solar panels on campus, creating a model for other public campuses.
As the long-serving representative of the State Senate's 51st District, Seward represents several communities with higher-education institutions as their hub. That has given him a comprehensive understanding of both the needs of Upstate New York colleges and their neighboring communities.
SUNY Cortland first honored this understanding and commitment in 2004 when the College Council recognized Seward with its College-Community Appreciation Award.
Student Earns Presidential Designation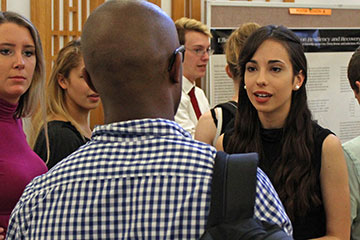 05/16/2017
Not many graduating college seniors can say that in school they both excelled in undergraduate research and managed $1.4 million in student activity funds for their college.
Stefania Buta '17 can.
As a junior, the former SUNY Cortland psychology major honed grant management skills as treasurer of the Student Government Association (SGA). That involved working directly with officers of more than 70 organizations on how they could spend their allocated monies responsibly within College and SUNY guidelines.
"The student government work was my focus for a really long while because I believe in being active," said Buta, who earned a bachelor of science at Commencement on May 13. "You have to put yourself out there and be involved in your community."
| | |
| --- | --- |
| | |
| | Stefania Buta '17 leads a "Transformations" seminar about her work on April 28. Above left, she speaks with students during the "Transformations" poster session. |
Yet she shifted her focus to academics as a senior. Buta spent last summer in Cortland conducting neurological studies on an electroencephalogram (EEG) machine at the College's McDonald Building.
"Although I loved community service, last year I realized that if I wanted to get into a Ph.D. program in psychology, I had to narrow my focus and spend my year consumed in my research," Buta explained.
"This is actually my passion," Buta said.
Buta's unusual personal dichotomy between academics and civic-mindedness recently earned her one of the College's most prestigious honors.
She received the 2017 President's Recognition for Engaged Learning and Leadership Designation in Undergraduate Research. The honor is conferred upon students who have achieved exceptionally high level of engaged learning and are student leaders.
Currently there are two designations for the recognition, one for civic engagement and one for undergraduate research. Buta's award, along with its accompanying transcript notation, provides formal institutional recognition of a student's high-level achievements and participation in independent research or creative activities.
Buta is only the third student to receive an undergraduate research designation on her diploma.
"When I realized that I really liked psychology there were always other parts of me that were interested in other things," Buta said. "I think that's normal. That's part of appreciating intellect and appreciating other fields, too."
Buta will continue to work in the Psychology Department laboratory of Leslie Eaton, associate professor of psychology. She also was a research assistant in the Cortland Attention Laboratory of Raymond Collings, SUNY Cortland associate professor of psychology. She served both faculty members as a teaching assistant and also tutored students participating in the Educational Opportunity Program.
Buta's current research involves the recording of brain activity using EEG technology upon eliciting an emotional response from participants who watched a slide show of photographs.
Her investigations, conducted on a prestigious SUNY Cortland Summer Research Fellowship, enabled Buta to present her findings over spring break at the Eastern Psychological Association conference in Boston. A substantial scholarly manuscript naming her as first author is being considered by the peer-reviewed professional journal Current Directions in Psychological Science. She was a presenter and co-presenter of several talks at this year's "Transformations," the College's student research and creativity conference.
Buta also received the Senior Major Achievement Award for Psychology at this year's Honors Convocation. Her citizenship on campus earned her a Student Government Leadership Scholarship, a Leadership in Civic Engagement Award, and a Judson H. Taylor Presidential Scholarship. A participant in SUNY Cortland's Honors Program who completed an honors thesis as part of her commitment, she received an Honors College Merit Scholarship for several years.
Buta has always strived for excellence in response to supportive teachers, beginning at Catskill (N.Y.) High School. She relished her first college psychology course while also serving as president of the student council and co-president of Interact, a community service-based club. A National Honor Society student who participated in the Odyssey of the Mind program, she played volleyball and danced in a school musical.
| | |
| --- | --- |
| | |
| | Stefania Buta '17, right, adjusts the cap of a volunteer psychology study subject who shortly will be analyzed on an EEG machine. |
"There was a lot of caring from the teachers there," she said. "They were always helping build you up, showing you how to be a leader and the meaning of service."
On the academic side, Buta was among the top 10 students in her high school of 500 scholars.
"I had always been drawn to neuroscience and the stigma that's on mental health," she noted. "I would really like to do work that will contribute to improving mental health."
While the EEG tests she performs on student subjects in the McDonald Building are considered pure rather than clinical science, they could ultimately serve humankind.
For one thing, the Cortland researchers noticed that people who are considered emotionally healthy rebound more quickly from viewing negative images. The question Buta asks is why.
Using harmonic analysis — essentially a mathematical formula — Buta and a number of other faculty and student researchers have begun to interpret the rapid-fire EEG readings of human brain activity while the subjects watch both emotionally gripping and neutral visual images flashed in quick succession on a video screen.
The EEG tracks electrical beats — a bit like heartbearts — given off by the brain, Buta explained. The readings, which look like long graphs of zigzagging lines, feature unique and different bandwidths that if not a "fingerprint" of each individual's brain at least indicate a range of different personality types and whether the study subject is relaxed or tense.
Although it's not the primary focus of her original research, Buta is keenly interested in the lab's research into the way human personalities match up with the EEG readings and what that has to say about managing one's mood.
"If you were to track your emotions for two weeks, your positive and negative emotions and mapped it out onto an harmonic model, I could tell you that every three or four days you are going to have a bad day," Buta said. "No one has really looked at analyzing experimental EEG data epochs like that before.
"It's not that on every fourth day a bad thing is going to happen but internally you are not going to feel as great because that is your pattern," Buta said. "So what do you do to set yourself up? There's this assumption that emotions are linear but really we are on this cycle: 'I had a bad day today because this happened.' We place it to external events but really it's an internal event, related to the situations you choose to enter on day four."
With awareness of these patterns, maybe people can make different choices about the people, places and things they choose to have in their life.
"We also looked at people who were most resilient," Buta said.
These are the people who always try new foods and take new routes to reach destinations.
"This trait, which psychologists call 'openness to experience,' means they are doing things that make themselves resilient."
Buta will apply this fall to social personality doctoral programs at universities across the country with a goal to begin working alongside her chosen research mentor by Fall 2018. In this most competitive field, the task of earning admission will be slow and difficult and the outcome uncertain despite her stellar work and enhanced transcript.
"You apply to a faculty member to work in their lab and to determine that you have matching research interests," Buta said. "There's a four percent acceptance rate nationally. So you apply to 10 schools and hope that you get into more than one and see where you match up best."
Meanwhile Buta will continue to perform the extremely technically and professionally demanding EEG trials in Cortland with her mentor Eaton.
"I am taking this gap year to hopefully do some things: write more scholarly papers, collect more data, read more, do more hobbies, travel and service work," she said.
Buta thinks her student government experience will help her handle money if she ultimately lands a career as a groundbreaking academic researcher, but that wasn't her goal at SUNY Cortland.
"Everybody says that being SGA treasurer is about the money and it is about finance," Buta said. "But for me, it's really about people. I take a lot of pride in my interpersonal skills. You constantly have to work with 70 club treasurers to maintain those relationships with people."
"She was collecting data the entire year she was the SGA treasurer (last academic year)," Eaton noted.
Buta also was SGA vice treasurer her sophomore year. She volunteered as a case advocate intern with the Cortland YWCA's Aid to Victims of Violence and the Cortland office of the New York Public Interest Research Group.
"I could not begin to list everything she has done," Eaton said. "She is clearly a student who took advantage of what college has to offer."
Hodges Named Distinguished Service Professor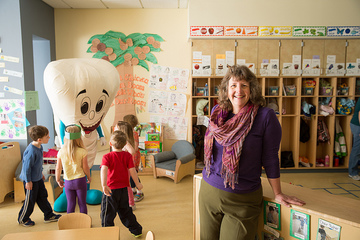 05/15/2017
The SUNY Board of Trustees recently promoted Bonni C. Hodges, a SUNY Cortland professor of health, to the rank of Distinguished Service Professor.
The Distinguished Service rank may only be conferred by the SUNY Board of Trustees on the recommendation of the campus, System Administration and SUNY chancellor and constitutes a promotion above that of full professor.
Hodges was recognized during SUNY Cortland's undergraduate Commencement ceremonies at the Bessie L. Park 1901 Physical Education and Recreation Center Alumni Arena on Saturday, May 13.
An expert in school and community health, Hodges has tirelessly served SUNY Cortland's Health Department, countless College committees and the greater Cortland community.
"Dr. Hodges has given more of her time and expertise to service than anyone I have personally known in higher education," said Donna Videto, a professor of health at SUNY Cortland. "Dr. Hodges has devoted herself to the campus and surrounding community since coming to SUNY Cortland and has never cut back on these efforts. Rather than shift her activities away from working with others, Dr. Hodges has extended her service reach to the national and international health area as an additional way of 'giving back' and supporting our professional goals."
Hodges is widely respected for her scholarly work. She is the co-author of a book, Assessment and Planning in Health Programs, which is in its second edition, and has written 16 peer-reviewed articles in journals such as American Journal of Health Education, Journal of Health Education and the Journal of School Health. Hodges has authored or co-authored more than 70 peer-reviewed presentations at conferences at the local, regional and national levels, including the American School Health Association, Society for Public Health Education, and the American Public Health Association. She is also an accomplished reviewer, and serves on the editorial board of the Journal of School Health. Hodges also has reviewed manuscripts for the Journal of Health Education Teaching and the Journal of Health Education, among others.
A successful grant writer, Hodges was principal investigator or co-principal investigator on nine external grants that won total funding of more than $1 million. She is one of only four recipients of the SUNY Cortland President's Award for Funded Research.
Bonni Hodges
Recognized for her scholarship and service to the profession on multiple occasions, she was honored with the SUNY Chancellor's Research and Scholarship Recognition Award in 2005 and received a SUNY Chancellor's Award for Excellence in Faculty Service in 2009. Hodges is a six-time recipient of the SUNY Cortland Excellence in Research and Scholarship Award (2006, 2009, 2010, 2011, 2013 and 2014) and was honored with SUNY Cortland's Outstanding Achievement in Research Award in 2014.
Since arriving at SUNY Cortland in 1992, Hodges has dedicated herself to leading the College's Health Department, serving as its chair for the last 14 years. Hodges guides a department that offers three undergraduate degrees with seven concentrations as well as three graduate degrees. She has chaired a number of department committees, including the Poskanzer Lecture Committee, the Human Services Studies Four-Year Program Development Committee, the School Health Update Committee and the Health Department Curriculum Committee, among others. Hodges served as faculty advisor to Eta Sigma Gamma, Kappa Chapter of SUNY Cortland, the national health education honorary society, for six years.
Hodges contributed to SUNY Cortland's School of Professional Studies by creating and implementing the "Rockin' the Research" series, which provides faculty members the opportunity to present their findings to other interested faculty. The "Rockin' the Research" series is credited with having done a great service for junior, non-tenured faculty by offering a local venue with friendly colleagues. The series has promoted research and discussion between colleagues in different disciplines in the School of Professional Studies and given junior faculty an opportunity to receive peer reviews.
In service to the College, Hodges has participated on many search committees for incoming provosts, deans, directors and vice presidents. She has also served continuously for more than a decade on the College Research Committee, including one year as committee chair. Hodges has chaired the Graduate Faculty Executive Committee, the Teaching Awards Committee and served on a variety of college-wide committees and task forces.
Hodges has advocated for expansions of SUNY Cortland's study abroad offerings. In 2015, she visited University College-Cork in Ireland and Anglia Ruskin University in Cambridge, England. More recently, she visited sites in northern Cuba in preparation for the College's first study abroad program there in June 2017. Hodges has explored student and faculty exchanges and opportunities for collaborative scholarly work.
A regular presence at college-wide lectures and talks, Hodges has used these events to help spread her knowledge and expertise. She has presented at "Internal Grants for Teaching, Research and Scholarship Workshops," the Phi Kappa Phi annual lecture, the SUNY Cortland Faculty Development Series for First-Year Faculty and has delivered three Sandwich Seminars.
Hodges has given generously of her time and expertise in the greater Cortland Community. From 2009-2015, she served on the Board of Directors of the Seven Valleys Health Coalition, which promotes effective, efficient and accessible health and human services for its constituents. Hodges has served on the Board of Directors of the YWCA of Cortland and served on its Annual Fund Committee and Advocacy Committee.
For six years, Hodges was a member of the Responsive/Health School Team at Cortland's Parker Elementary School. She has provided technical assistance for the Cortland Enlarged School District's healthy heart mini-grant activities and has taught health-related units at Parker Elementary School. Hodges was an elected member of the Cortland School Board from 2006-09.
"Dr. Hodges has extended support to our district for more than a decade," said Judy Riley, assistant superintendent for pupil and personnel services for the Cortland Enlarged School District. "She generously gives of her time, shares her knowledge and expertise and works side by side with teachers and administrators in an effort educate students and families."
Since 2013, Hodges has been an advisory board member for the Cortland Crush, a member of the New York Collegiate Baseball League. She is responsible for its internship program, fan club development and marketing and has infused health education by coordinating a "Health Promotion at the Ballpark" campaign.
"I am certain that every health and human services agency in Cortland County knows Dr. Hodges or knows of her due to her vast involvement in and devotion to the health and well-being of our community," said Jackie Leaf, executive director of the Seven Valleys Health Coalition.
Hodges has served many organizations at the state and national level. She is a member of the Executive Board for the New York State Federation of Professional Health Educators and was appointed to the Public Health Educator Continuing Education Committee by the New York State Department of Health. Nationally, Hodges has been active with the Society for Public Health Education, including its joint Community College Health Education Task Force, in conjunction with the Association of Schools and Programs of Public Health. She has worked with the American Association for Health Education as a National Council for Accreditation of Teacher Education folio reviewer since 2009 and has served on the American School Health Association Research and Publications Committee since 2013.
"Dr. Hodges is clearly a distinguished, national leader in health education," said Dr. David Birch, president of the Society for Public Health Education. "Through her diverse service and scholarship, she has provided professional development to practitioners, leadership in current issues and initiatives, important service to professional organizations and direction and vision to the profession of health education."
Hodges received her Bachelor of Science in Physical Education from Ithaca College. She earned a Master of Science in Exercise Science from Northeastern University. Hodges holds a Ph.D. in health education, with concentrations in research and evaluation and adolescent health from the University of Maryland-College Park.
After joining SUNY Cortland as an assistant professor of health, she was promoted to associate professor in 1996 and rose to the rank of professor in 2005. Hodges served as graduate coordinator for the Health Department from 1997-2003 and has been the department chair since 2003.
Former Educator Pledges Major Gift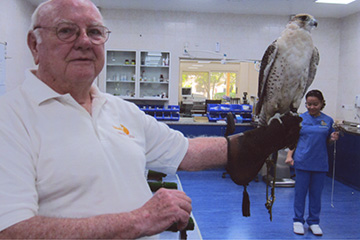 05/16/2017
Thomas Shea '58 still is not finished with his education.
On a recent tour of the Middle East, he attended the largest falcon hospital in the United Arab Emirates, where he observed an avian endoscopy, a tail feather replacement and a talon pedicure.
"It's all part of experiencing life," said Shea, a former native of Queens in New York City and a six-continent globetrotter.
"I'm one of these guys that think that all of life is an education and learning is lifelong," said Shea, a former teacher and college dean. "College is part of your education but learning never stops."
The College experience that Shea most credits for launching his life of endless curiosity and adventure was being a part of the social Greek organization Delta Kappa Beta (1953-1991).
So when he decided to pledge a bequest of approximately $1 million dollars to help future students build an educational foundation at Cortland, he committed it to endow the Delta Kappa Beta (1925-1991) Leadership Scholarship fund at SUNY Cortland.
| | |
| --- | --- |
| | |
| | Thomas Shea '58 stands in front of the Taj Mahal in 2015. Above left, the world traveler makes friends with a falcon at an avian hospital in the United Arab Emirates. |
He intends for the scholarship to reward full-time College seniors with good grades who model the values of Delta Kappa Beta (1953-1991). Candidates must demonstrate their ability to balance academics with student leadership activities such as service to the Student Government Association, participation in interscholastic sports or a student publication.
But Shea didn't want deserving students to have to wait until he passed away to begin their educational journeys. That's why Shea is making additional, large cash gifts to jump start the program and offer the first $5,000 Delta Kappa Beta Leadership (1925-1991) scholarship in the 2017-2018 academic year.
"Being in a fraternity was about getting along with all kinds of people from all kinds of backgrounds," Shea recalled. "It was a learning experience, learning how to grow up."
His fraternity boasted many student athletes, members of student government and leaders in a wide variety of campus activities, Shea said. He pledged in spring 1955 and served as corresponding secretary.
As a student, Shea joined the swim team as a freshman and served on the College's House of Delegates, today's Student Senate; and its Board of Governors, today's Student Activities Board. He helped arrange a performance by the late, legendary jazz great Louis Armstrong in Moffett Center gymnasium.
"Kappa was the organization that brought it about, Armstrong's performance," Shea said. "It was a first for SUNY Cortland. People from the city of Cortland and surrounding communities came out."
After Cortland, Shea pursued a graduate degree at St. Johns University and variously worked as a teacher, a guidance counselor, a college dean of students and management trainee. In 1970, he returned to teaching fourth, fifth and sixth grades. Shea retired after 22 years from Jericho Union Free School District in 1992.
The former educator now lives in the hamlet of Water Mill in Southampton, Long Island. There, he has served on various town committees and the Transportation Commission and launched numerous vacation expeditions to far-flung locales.
One of his travels took him to Cortland during Alumni Reunion 2014 for the first official College gathering of Kappa brothers since the fraternity ceased being active on campus in the early 1990s.
Shea said the outstanding quality of graduates fostered by the brotherhood over many generations was evident at that event, which welcomed Kappa brothers from classes 1991 and earlier.
"There were over 100 brothers at the reunion," said Shea, noting that a brother he had never met, Gordon Brown '62, spearheaded that memorable first reunion of brothers since the organization disbanded. Sadly, Brown did not live to attend the event, but Shea found common ground with those he met there.
"I realized that we had the experience of doing the same things although we were often graduates from many decades apart," said Shea. "There was a unity, despite the age gap."
After the reunion, Shea prepared a brief chronology of the SUNY Cortland Beta chapter, founded in 1925 for the Alumni Association. The fraternity had originated as the men's education fraternal organization Kappa Kappa Kappa, founded in 1920 at the New York State Normal School at Buffalo. In 1936, prior to the state ban of national Greek organizations at all of its installations, the organization changed its name to Delta Kappa/Delta Kappa Beta chapter, later to be known as Delta Kappa Beta.
The campus was tiny in the 1950s with only five buildings including two residence halls when no male residence halls were available at the College, Shea recalled.
When Shea was a student, Kappa played an important role by opening the doors of its house at 50 Tompkins St. to non-members so they could share a collegiate living experience.
As the first Greek house on campus not linked to a particular academic discipline, Kappa also led the campus community by hosting social activities like spaghetti dinner fundraisers, creating snow sculptures and building floats for homecoming, Shea noted.
"Kappa was just a place where guys from different backgrounds got together — guys from all different ethnic, religious and racial backgrounds — and in unity performed services and programs."
Anyone can support the Delta Kappa Beta (1925-1991) Leadership Scholarship. Donations will be applied to the current use scholarship that Thomas Shea '58 supports annually. Individuals can give by calling the Cortland College Foundation at 607-753-5744 or by sending a check made out to the Cortland College Foundation, Inc., with a note directing the gift to the Delta Kappa Beta Leadership Scholarship. Mail payment to the Cortland College Foundation, P.O. Box 2000, Cortland, NY 13045.
Twin Sisters Compare Brain Activity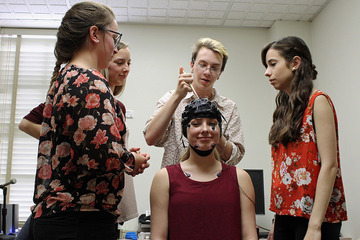 05/11/2017
Sisters Alexis and Alyssa Cino aren't sure whether they are identical or fraternal twins.
The SUNY Cortland seniors, who both received degrees at Commencement on May 13, have plenty in common. They have the same taste in movies and share similar personalities. At a glance, it is hard to tell the two apart. Just ask their freshman-year roommate, who took months to learn how to spot the differences between the Cino sisters.
The twins, however, recently had an opportunity to apply science to see whether their similarities extend to the working of their brains.
Alyssa Cino, a psychology major and a social philosophy minor, has done significant research in the Psychology Department's electroencephalography (EEG) lab. An EEG test uses a cap with electrodes placed on the scalp to measure electrical activity in the brain.
Alyssa Cino, along with fellow senior psychology major Christy Brewer, had researched what this activity can tell us about how individuals perceive others' personalities. The pair presented "Electroencephalography During Behavioral Observation as a Predicator of Accuracy in Personality Judgment" at the Eastern Psychological Association's annual meeting in Boston in March. Associate professors of psychology Leslie Eaton and Raymond Collings were the faculty advisors to the research.
Subjects in the study watched a video of two people talking and were asked to focus on one of them and respond to their personality. Brewer and Alyssa Cino hypothesized that the subjects' attention, as measured by a ratio of theta and beta brain waves, is associated with accurate judgments of personality. Alyssa Cino presented the same research at SUNY Cortland's annual "Transformations: A Student Research and Creativity Conference."
With the semester winding down, Alyssa Cino decided to do a bit of personal research. She asked Alexis Cino, a criminology major and political science minor, to come in for an EEG test of her own and compare results.
On a recent afternoon, Alexis Cino came into the psychology EEG lab and sat down as her twin sister, Brewer, senior psychology major Stefania Buta and freshman conservation biology major Jeremy Collings prepared her for the test. They combed her hair, placed the EEG cap on her head and prepared each of the 64 electrodes. Alexis Cino then headed into a soundproof booth and responded via a keyboard to a series of images and prompts as her brain activity was recorded.
Senior twin sisters Alyssa (left) and Alexis (center) Cino prepare for an EEG test.
"I know she's a researcher and she's trying to use brain activity," Alexis Cino said of her sister. "I've never actually been in this lab. I've been here when she's been coding in other areas. I've met her research friends and Dr. Eaton and she spends so many hours here doing it. This was totally new to me and alien and robotic getting that strapped on me. It was still a little nerve-wracking because I want to be like her brain-wise."
Twin EEG studies have shown that identical twins often share similar alpha wave patterns when awake and relaxed. Fraternal twins tend to show far less similarity.
The Cino sisters know that this exercise won't prove whether they are identical or fraternal, but they remain enthusiastic about delving into the data nonetheless. Eaton and the twins planned to meet to discuss their findings on May 11.
"I'm very excited about it," Alyssa Cino said. "I'd like to compare our results. I think we judge things the same way, simple things like movies and people. It'll be interesting to see our responses if they're similar or not based on the pictures that are shown, the faces and the scenarios and comparing our brains during that specific moment."
From Grand Island, N.Y., the Cino twins have followed in the footsteps of their parents, Thomas and Carrie Cino, in their career choices. Thomas Cino is a police officer, hence Alexis Cino's interest in criminology. She is the president of SUNY Cortland's criminology club, has interned with a defense attorney in Buffalo and plans on attending law school. Carrie Cino is a teacher in the Niagara Falls School District and Alyssa Cino is considering a career as a school psychologist.
"Recently I got a sudden interest in school psychology and school counseling," Alyssa Cino said. "Over winter break I shadowed a couple of school counselors. I was in two different schools and I enjoyed it, so I'm going to try to explore options in that field."
During their four years at SUNY Cortland, the Cino sisters experienced many cases of mistaken identity. Perfect strangers wave and say hello as they make their way across campus. "I think you're looking for my sister" is a popular refrain for both of the twins.
The twins swear that they've rarely tried to deceive anyone. Besides a few pranks on boyfriends, the only tale of a switch the Cinos are willing to tell happened when Alyssa Cino was to accept her Girl Scout Gold Star award. Alyssa Cino had a work conflict that night, so she asked Alexis Cino whether she'd rather work her shift or pick up her Gold Star. Alexis Cino, of course, opted for the award ceremony. The local newspaper ran a photograph of Alexis Cino accepting her twin sisters' award.
The Cino sisters laugh about that story now. They were, however, seriously looking forward to sharing a ceremony together at SUNY Cortland Commencement.
"I've always loved Cortland and I wouldn't change my decision to come here for anything," Alyssa Cino said. "Alexis and I have great memories. We had the same interest in everything so we were both equally excited about the school and it was at the top of our lists. When we were looking for schools, we were trying to find schools that had majors in both criminology and psychology. Cortland had both so we checked out the campus and we loved it.
"I'm doing research and she's the president of the criminology club. We've been involved. We've done a couple of club sports like gymnastics, intramural broom ball and soccer. We've had our fair share of fun here. We're definitely going to miss it. We've made a lot of friends and made the most of it."
"This was everything to us," Alexis Cino said. "It was the best decision. We loved all four years. When people say the cliché that it's the best four years of your life, we really believe it. Our friendships, our memories. We grew up here. It was our first experience being an adult without supervision and learning how to handle life, the ups and the downs."
Raquette Lake Camp Receives Solar Panels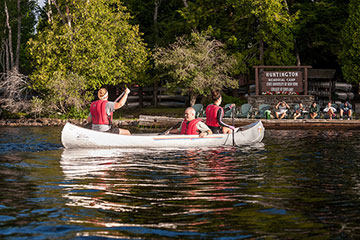 05/16/2017
As part of SUNY Cortland's climate action plan to reduce carbon emissions 80-85 percent by 2050, a new solar panel array is being installed at the College's Raquette Lake facilities.
The panels will both promote interest in sustainability for visitors as well as provide clean energy for the Huntington Memorial Camp at William H. Parks Family Center for Environmental and Outdoor Education.
The Parks Family Education Center at Camp Huntington is located in the heart of the Adirondack Mountains. The facilities allow students, faculty and alumni to learn about and enjoy the great outdoors.
By July, the 72 solar panels should be in place on the roof of the camp's wastewater treatment plant.
When the camp is in use, the panels will produce approximately 10 percent of its total energy, generating even higher numbers when the facility is not in use, said SUNY Cortland Energy Manager Matthew Brubaker.
The panels are similar in size and structure to the large installation on the College's main campus near Route 281.
"The panels will generate approximately 24,000 kilowatts per year, which would power nearly four typical residential homes in New York state," Brubaker said, "it is equivalent to the amount of carbon dioxide sequestered by 16.2 acres of forest each year."
Over the life of the system, this will offset approximately 502 metric tons of carbon dioxide (CO2) equivalent, or approximately 17 metric tons CO2 equivalent per year, Brubaker said. Carbon dioxide is a key greenhouse gas, which is a major contributor to global climate change.
The electricity-conserving improvement, which cost an estimated $80,000, is set to pay for itself in saved utility expense by 2029.
The project was made possible by a $20,000 gift from SUNY Cortland alumna Janice Tesoriero Pauly ' 71 of Ridgefield, Conn.
Pauly, who graduated with a degree in physical education after being able to attend the College almost for free, decided to pay it forward. She was most inspired to support an initiative at the Raquette Lake camps, where she attended a required P.E. camp in both her sophomore and junior years.
"I believe the solar panels benefit the school, set an example as well as teach students about the importance of renewable energy," Pauly said.
The solar panel location looks like a regular, low-slung roof, according to Rhonda Jacobs Pitoniak '01, M '16, interim center director.
That's good, because visitors can walk right up and look at what's happening there.
"We will be able to see exactly what the input and output is on any given day," she said. "So we can tell how much it is being offset by the system. The electrical benefit may seem small, but it is of great educational value.
"We're excited to bring another educational opportunity to the students and guests that come to Camp Huntington," Pitoniak said.
| | |
| --- | --- |
| | |
| | The image shows different views of a wastewater treatment plant at the Parks Family Outdoor Center, the site of a future solar panel installation. |
Prepared by Communications Office writing intern Charlie Beeler
Political Science Honorary Inducts New Members
Fifteen students were formally inducted on May 8 into the SUNY Cortland Zeta Delta chapter of Pi Sigma Alpha, the national honors society formed to recognize outstanding achievement in political science.
The inductees were recognized at the chapter's spring seniors/honors luncheon held at the Lynne Parks '68 SUNY Cortland Alumni House. They included: Aristotle Z. Arkayasa, Gabrielle N. Bruno, Cassidy R. Carlen, Alexis C. Cino, Ian K. Duquette, Vincent L. Greco, Al Guidone, Marissa Manno, Jessica A. Miranda, Adam M. Palmer, Andrea Paul, Allison R. Phillips, Erika L. Stremick, Alexandra R. Turpin, and Dean R. Wilson.
Membership in Pi Sigma Alpha is open to juniors, seniors and graduate students. Undergraduates must be at least juniors who have completed a minimum of 10 credit hours in political science, including upper-division coursework, with a B or higher grade point average. They must also have achieved an overall GPA placing them in the top one-third of their junior or senior class. They need not be political science majors to qualify for membership.
Distinguished Service Professor Robert Spitzer, chair of the Political Science Department, advises the Zeta Delta chapter. Formed in 1970, Cortland's chapter was the third to be established among political science departments in the SUNY system.

Suggest a feature story
---
Faculty/Staff Activities
Tyler Bradway
Tyler Bradway, English Department, authored a book titled Queer Experimental Literature: The Affective Politics of Bad Reading, which was recently published in Palgrave Macmillan's Studies in Affect Theory and Literary Criticism series.
Dan Harms
Dan Harms, Library, had his chapter, "Reviving Dead Names: Strategies of Legitimization in the Necronomicon of Simon and the Dark Aesthetic," published in Magic in the Modern World: Strategies of Repression and Legitimization from Pennsylvania State University Press.
Kathleen A. Lawrence
Kathleen A. Lawrence, Communication Studies Department, had her poem "Afternoon Dance" published in haikuniverse on May 4. This micro-poem was selected to be the featured haiku of the day and reflects the social life of residents of a spring garden.
Melissa Morris
Melissa Morris, Physics Department, was a coauthor on a paper published in Icarus titled "Sedimentary laminations in the Isheyevo (CH/CBb) carbonaceous chondrite formed by gentle impact-plume sweep-up." Also, Morris presented an invited talk at the Chondrules as Astrophysical Objects conference in Vancouver, BC, Canada. As a member of the Science Organizing Committee, she also helped organize the conference over the last year.
Mecke Nagel
Mecke Nagel, Philosophy and Africana Studies departments and the Center for Gender and Intercultural Studies, gave a keynote at the recent Philosophy at Play Conference held April 11 and 12 at the University of Gloucestershire in Cheltenham, England. She presented "Peacemaking through Ludic Ubuntu."
Jennifer Wilson
Jennifer Wilson, Communications Office, received an "Award of Merit" for outstanding achievement in the category of "Best Original Photo" on May 5 at the United University Profession's Spring Delegate Assembly in Albany, N.Y. The image, taken during the 2016 "SUNY Cortland Works!" labor-management walk and celebration, was published in the SUNY Cortland/The Cortland Cause newsletter.

Submit your faculty/staff activity