Six Faculty and Staff Members Earn Chancellor's Awards
05/11/2016
Six SUNY Cortland faculty and staff members received the prestigious State University of New York Chancellor's Award for Excellence during the 2016 Undergraduate Commencement ceremonies.
The honorees are:
Andrea Harbin, associate professor of English — Chancellor's Award for Excellence in Teaching;
Amy Henderson-Harr '83, assistant vice president of research and sponsored programs — Chancellor's Award for Excellence in Professional Service;
Beth Shiner Klein, professor of childhood/early childhood education — Chancellor's Award for Excellence in Faculty Service;
Mechthild Nagel, professor of philosophy and director of the Center for Gender and Intercultural Studies (CGIS) — Chancellor's Award for Excellence in Scholarship and Creative Activities;
Pamela Schroeder, secretary II for the associate provost for academic affairs — Chancellor's Award for Excellence in Classified Service; and
Bradford Snyder, associate director of campus technology services — Chancellor's Award for Excellence in Professional Service.
The Chancellor's Awards provide system-wide recognition for consistently superior professional achievement and encourage the pursuit of excellence at all 64 SUNY campuses. Each campus president submits nominations, which are reviewed by the SUNY Committee on Awards.
This year's award winners are profiled below:
Andrea Harbin
Harbin, who joined the College's faculty in 2008, specializes in 14th and 15th century medieval literature as well as digital humanities pedagogy. She has taught 13 different courses at both the undergraduate and graduate levels, on authors from Shakespeare to Chaucer and on topics from the history of the English language to the Bible as literature. Harbin's teaching has been characterized as exemplary for the comprehensive approach she takes to clarifying historical context. This often involves explaining politics of the time, local connections to world events and essentials of the early English language in innovative and engaging ways.
| | |
| --- | --- |
| | |
| | Andrea Harbin |
Memorization of text proves crucial to understanding medieval literature, so Harbin elects to incorporate technology as one of her main teaching tools — displaying digital artifacts and integrating student podcasts to perform the works being discussed. Course teacher evaluations commend Harbin's enthusiasm and the student engagement in her classroom, suggesting that her mixed media techniques stimulate interest and understanding. "Shakespeare is a hard subject to get into, but her love and appreciation for his work makes things more enjoyable," one student commented. "I hope to emulate (her) style when I become a teacher," wrote another. Likewise, colleague evaluations noted students' understanding of different literary approaches and the substance of classroom discussions.
In fall 2011, Harbin took both undergraduate and graduate students to observe and perform at the Southeastern Medieval Association Conference in Decatur, Ga. Additionally, along with Professor of English David Franke, she has accompanied students on a popular New York City trip that provides a hands-on demonstration of the evolution of writing. One of Harbin's most recent classroom innovations unites written text with digital elements. In a Middle English course, for example, students receive the traditional text along with a new augmented reality text, which includes audible passages read in Middle English, translations of passages into modern English and, eventually, three-dimensional rendering of buildings such as cathedrals and cottages to offer a virtual tour. The result is a resource that pairs technology with teaching and learning, a tool that brings many far-reaching applications that cross disciplines.
Harbin in 2013 received a SUNY Cortland Excellence in Teaching Award for tenure-track faculty members — another indicator of her classroom effectiveness. She is the 50th SUNY Cortland faculty member to earn the system-wide teaching honor.
Amy Henderson-Harr
Nominated by 12 faculty scholars from all three colleges on campus for her success at motivating faculty and staff in the area of grant writing, Henderson-Harr is credited with being unwavering in her passion for what she does. The 28th College professional to receive this award, she has devoted more than 25 years of service to SUNY Cortland, including since her promotion in 2006.
| | |
| --- | --- |
| | |
| | Amy Henderson-Harr |
"Few are given the privilege to work in an office where its purpose is to provide a space for the imagination," Henderson-Harr has noted about her work. Described as being always open to thinking outside of the box, she has directed discipline-specific and interdisciplinary grant preparation in the sciences, teacher education, international education, civic engagement and the fine arts. "She vastly improved the ability of the Research and Sponsored Programs Office to provide critical resources to faculty and staff engaged in research and scholarly activity at a teaching-focused institution," nominators observed.
Henderson-Harr employs innovative approaches to increasing grant award numbers across campus. She won institutional praise for providing all Cortland faculty members with the opportunity to improve their grantsmanship skills and knowledge of the proposal development process, critique and revision of proposals to create successful applications. Moreover, she has elevated her office into a campus-wide service that has altered the paradigm of grant acquisition. Under Henderson-Harr's leadership, grant proposal submission numbers tripled and research and development expenditures more than doubled.
She played key roles in major successful grant applications including the AASCU American Democracy Project grant, the Main Street SUNY Cortland Initiative, the Carnegie Foundation for the Advancement of Teaching initiative, and Live from the Heart of New York, a New York State Music Grant.
Henderson-Harr regularly serves as a mentor to student interns, instructing them in grant writing activities and their very successful community improvement projects. A research compliance officer, Henderson-Harr has shared her knowledge about effective grant writing, fund seeking funding, leadership and goal development and developing community networks with many outside groups.
Henderson-Harr has been honored multiple times by student groups for her leadership, community service and positive influence on their lives. She is the deputy operations manager for SUNY Research Foundation, responsible for maintaining an "ethical environment and culture of compliance" for all the foundation's pre- and post-award and human resource functions. Henderson-Harr has been an active and dedicated leader within the city of Cortland, receiving the 2003 YWCA Volunteer of the Year Award and recognition for her extensive interactions with the Appalachian Regional Commission, the Cortland and New York State Youth Bureaus and AmeriCorps.
Beth Shiner Klein
Klein's service extends across several key areas, most notably environmental education at the College and within the local community. A SUNY Cortland faculty member since 1999, she has proven to be a leader of sustainable initiatives on the College's Climate Action Committee and beyond. Klein chairs the group's sustainability curriculum subcommittee and she remains active in planning SUNY Cortland's "Green Days" events every year. Klein also was crucial to the efforts that earned SUNY Cortland a gold rating from the Association for the Advancement of Sustainability in Higher Education in 2015.
| | |
| --- | --- |
| | |
| | Beth Shiner Klein |
"Dr. Klein models for her colleagues and her students how one person can make an impact in a profound and substantial way towards addressing the challenges that communities face, even when some of those challenges, like climate change, can seem insurmountable," said Andrea Lachance, dean of SUNY Cortland's School of Education. "Her investment in addressing issues at the local and global levels gives those of us around her hope that we too can make a difference in the many worlds which we all inhabit."
Klein's commitment to sustainable living has provided a natural entry to her community leadership and service to students. A hands-on approach to preservice teacher preparation has resulted in applied learning experiences such as science days, math nights and field trips to Lime Hollow Nature Center in Cortland and the College's William H. Parks Family Center for Environmental and Outdoor Education at Raquette Lake. In the community, she serves as a member of the Cortland County Local Agricultural Promotions Subcommittee and currently leads Sustainable Cortland, a regional group tackling key topics such as the production of local foods, composting and solar energy.
Klein also has distinguished herself among her professional peers as a leader in science teacher education. She has worked on the board of directors for the Association for Science Teacher Education (ASTE), served on the advisory board for Teacher Environmental Education Preparation in New York State, and made contributions to groups such as New York Presidents for Climate Action and the North American Association for Environmental Education. Klein also co-founded the ASTE Environmental Education Forum, and actively participated in another ASTE forum, Women in Science Education (WISE), to promote women working in science, technology, engineering and mathematics (STEM) fields. This effort has earned praise from colleagues across the nation.
A prolific researcher, Klein is the author of an assortment of published books, book chapters and articles on topics from environmental education to teacher professional development. Her work has been supported by 14 major funding awards, including a Teacher/Leader Quality Partnership Grant supported continuously by the New York State Education Department.
She is the 13th SUNY Cortland faculty member to earn the system-wide faculty service honor.
Mechthild Nagel
Nagel's areas of scholarly interest are diverse, and they include subjects such as criminal justice ethics, feminist philosophy, diversity studies, critical race theory and social ethics. A SUNY Cortland faculty member since 1999, she has earned an international reputation for her expertise, offering more than 130 presentations, workshops and talks across the globe in countries that include Germany, Greece, Iceland and Poland. Nagel's published work spans 21 articles, 28 book chapters, six co-edited anthologies and one monograph, Masking the Abject: A Genealogy of Play. She also has served as the editor of several journals, including Wagadu: A Journal of Transnational Women's and Gender Studies, the unique publication she founded at the College in 2002. Wagadu has earned international acclaim in emphasizing women's rights, interdisciplinary feminist scholarship and equity in Africa and elsewhere.
Mechthild Nagel
Nagel's academic work on criminal justice ethics and prison reform also has garnered international recognition for her position as a prison abolitionist. She has published many pieces on the topic, including the 2013 book, The End of Prisons: Voices from De-institutionalization Movement. Her reputation among colleagues across the globe also stands out. "At conferences, her reputation is one of high-level collaboration and strong initiative for new insights and directions of research and teaching," wrote Cynthia Willett, a professor of philosophy at Emory University. As president of the New York African Studies Association, Nagel in 2014 brought together scholars from 22 institutions to a statewide conference at SUNY Cortland.
The awards and honors for her scholarly work are numerous. They include an invitation from the National Endowment for the Humanities to serve on a 15-member panel in 2007 themed around "Philosophical Perspectives on Democracy, Law and Human Rights," visiting scholar roles at Cornell University and Hochschule Fulda in Germany, and an Outstanding Achievement in Research Award from SUNY Cortland in 2009. In terms of service, Nagel works on several editorial review boards and also mentors many fellow philosophy scholars — from young doctoral candidates to other senior faculty members in the discipline.
Nagel is SUNY Cortland's 13th recipient of the system-wide award honoring scholarship and creative activities. Nearly two dozen of her peers wrote letters of recommendation in support, one of them crediting her as a philosopher "with ultimate purposes of humanity in view — not a mere artist of reason, but a genuine sage."
Pamela Schroeder
Pamela Schroeder, whose responsiveness, patience and excellent communication skills make her a welcome sight in the Associate Provost and Vice President for Academic Affairs Office, becomes the eighth SUNY Cortland recipient of the classified service honor.
The award was created by SUNY in 2009 and presented in recognition of outstanding job performance, flexibility, creativity and exemplary customer service.
| | |
| --- | --- |
| | |
| | Pamela Schroeder |
Schroeder is accessible and responsive in dealing with a busy campus community. "Ms. Schroeder is well known for her commitment to faculty and students alike," said SUNY Cortland President Erik J. Bitterbaum. "Recognized for her extraordinary skills as an excellent listener and a superb problem solver, she is a team player with an invaluable institutional memory, particularly with regard to College policies and campus governance.
"Ms. Schroeder's demeanor is always friendly, approachable and helpful," Bitterbaum said. "She is a consummate professional and a role model for the campus."
Schroeder is credited with being a hard-working and helpful colleague who embraces new tasks with a leader's zeal, consistently going well above and beyond what is expected of her. Many of her accomplishments happen behind the scenes as she provides critical support to the college curriculum committees, search committees and graduate students.
She is highly respected for her communication efforts, including the development of Curriculog, an online curriculum submission system that has substantially expedited curricular decisions on campus. She also has presented at professional conferences, including at the Digital Architecture Conference.
"She understands the importance of professional development and is constantly striving to update her skills," Bitterbaum said.
Moreover, she has enriched the campus and community through leadership roles in the State Employees Federated Appeal campaign, the Auxiliary Services Corporation Finance Committee as its chair and the SUNY Wellness Challenge steering committee. She was the first elected classified representative to the Faculty Senate and served for eight years. Schroeder's accomplishments previously earned her the College's 2014 President's Award for Excellence in Classified Service.
A 32-year state employee, Schroeder joined SUNY Cortland in 1991 as a secretary I and in 2010 was promoted to secretary II in the division where she works today.
Bradford C. Snyder
Snyder, the 29th SUNY Cortland recipient of this award, has earned a reputation as a problem solver with an exceptional work ethic during his more than 25 years with Instructional Technology and Information Resources. He takes a lead role on many campus technology projects and installations including audio-visual builds and equipment replacement; installations of campus signage, projection and video systems, technology-ready classrooms and conference rooms; and overseeing a 54-speaker system that is integrated with the campus emergency broadcast system.
| | |
| --- | --- |
| | |
| | Bradford Snyder |
"Brad's attention to detail and in-depth knowledge have been instrumental in planning technologies for classrooms, conference rooms, auditoriums and large venues," said Amy Berg, associate provost for information resources. "He takes his job very seriously, and spends many hours working with his colleagues as well as faculty and staff to make sure that all parties are satisfied with the media technologies he oversees."
Snyder's service in the area of special events support has been far-reaching. He plays a critical behind-the-scenes role in assisting major campus events such as facility dedications, ribbon cutting ceremonies and openings. Additionally, he led creation of a video for the State University of New York's Power of SUNY, "We're on to Something Big!" as well as for the SUNY Business Officers Association and most recently led his team in video streaming a SUNY Cortland Active Shooter Webinar, now archived and available to all campus members.
He was responsible for providing technology on the SUNY Cortland campus for the Chancellor's Launch of the Center for the Preparation of 21st Century Teachers, in 2014, as well as the Conference on Shared Services, "Harnessing Systemness: Discussions of Efficiency and Effectiveness, and the SUNY Business Officers Association (SUBOA) Annual Conference "Shared Services," hosted on the SUNY Cortland campus in 2013 and 2011 respectively. Earlier in his career, he provided extensive technology support for Silda Spitzer's "I Live NY" Summit, hosted on our campus.
His additional service to the SUNY system includes membership on the Faculty Advisory Council on Teaching and Technology (FACT2). Other leadership roles are as secretary of the Education Technology Officers Association (EdTOA), co-chair of the Learning Environments Task Group and chair of the Bylaws Revision Subcommittee. Snyder also serves on the College's Undergraduate and Graduate Commencement committees, the Honors Convocation Committee and the Academic Convocation Committee. He has been deeply involved in the audio-visual aspects of each ceremony.
A recipient of numerous local and statewide professional honors for his extraordinary service and dedication to technology innovation on college campuses, Snyder's recognitions include the EdTOA Outstanding Service Award in 2010 and 2012.
Nation's Top Health Agency Taps Professor as Expert
05/17/2016
When the nation's top public health agency needed a go-to expert on physical activity for young children, it turned to a renowned SUNY Cortland professor of physical education.
Diane Craft '72 has served since last spring as the subject matter expert on early childhood physical activity for the Centers for Disease Control and Prevention (CDC). It's a temporary intergovernmental personnel agreement (IPA) appointment that involves providing advice and training to individual state departments of health. And based on the interest from those departments, Craft's work has been beneficial, leading the CDC to recently reenlist her services for a second year.
"This is basically an invitation to states to promote early childhood physical activity," said Craft, a national expert in developing inclusive physical activities for toddlers and preschool-aged children. "We talk about what they're doing now, we ask different questions, and we consider what they might look to do in the future."
So far, Craft has consulted with more than 30 states through conference calls and has travelled to 15 of them — from Maine to California — for on-site visits. The work was necessitated by State Public Health Actions 1305, a source of federal funding that requires state health departments to create policies and programs promoting early childhood physical activity along with several other disease prevention efforts.
Diane Craft
"The CDC felt that if it's adding this requirement for the 1305 grant, there should be assistance available when states contact them," said Craft, who has co-authored four books on physical activity for preschool students.
Some states opt only for a technical assistance conference call or webinar while others request a visit from Craft for a more personal consultation. This meeting can take several different forms, although it most commonly includes a meeting of statewide stakeholders whose work impacts the early childhood population — that is to say, pre-kindergarten age children from birth to five years old.
"Unlike schools where the organizational structure is pretty straightforward, there are a plethora of agencies and organizations that impact early childhood, making it the Wild West in a way," said Craft, noting that on-site visits usually include a "train the trainer" workshop for groups that work with childcare providers or a less-common workshop for childcare providers themselves.
When it comes to making physical activity recommendations for individual states, she often shares "best practice" examples from across the country. Craft said Colorado has the lowest obesity rate of any state. Among their many efforts are new unified public messages developed by the state health department based on input from various agencies. North Carolina is unique in that it operates a sustainable infrastructure supporting early childhood physical activity. The state's "Be Active Kids" program, funded by the BlueCross BlueShield of North Carolina Foundation, provides ongoing training and a physical activity curriculum for trainers to share with childcare providers in the field.
Providing ample "Tummy time" — the amount of time an infant spends awake and alert on his or her stomach — is essential, Craft said. With toddlers, the recommendation is at least 60 to 90 minutes of moderate to vigorous physical activity each day, according to the third edition of Caring for Children, standards endorsed by the CDC.
"I really push for the quality of movement as well as the quantity," said Craft, who started collaborating with New York State Department of Health officials a decade before her recent appointment with the CDC began. "Children need to develop fundamental motor skills … They need to become more proficient movers if they're going to continue to be active throughout their lifetime."
After working through a sabbatical leave this past year, Craft will begin phased retirement at SUNY Cortland in the fall — teaching half-time and working for the CDC quarter-time during the upcoming academic year. Her association with the College goes back over 45 years, and she returned to Cortland to teach in the mid 1980s after earning a doctoral degree in adapted physical education from New York University.
She credits the innovative adapted physical education work at the College with informing her recommendations for early childhood physical activity.
"It's so important that we in physical education — especially elementary physical education — give children lots of practice to develop those mature fundamental movement skills that will set them up for a lifetime of enjoyable physical activity," she said. "My conviction is only strengthened by seeing what's going on across the country."
---
Capture the Moment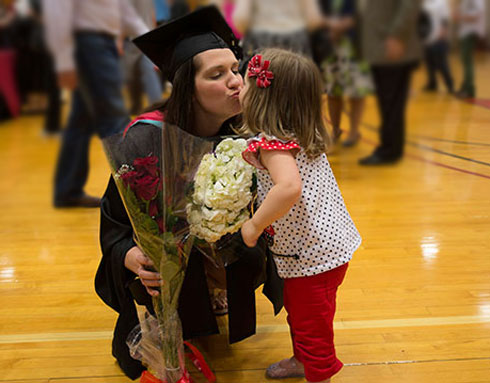 Joyce Sears of Homer, N.Y., receives a kiss from her daughter Emily, 2, following graduate commencement ceremonies on May 13. Joyce received her master of science in education, literacy, and was one of 276 people awarded master's degrees. An estimated total of 1,368 seniors — one of the largest graduating classes ever —received bachelor's degrees on Saturday.
---
In Other News
Fraternity's Giant Baby Bottle Effort Promotes Change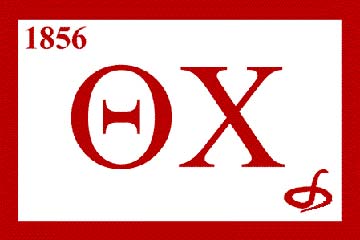 05/17/2016
Big change starts small.
That's the lesson to be taken from a coin-collection project led by members of a SUNY Cortland fraternity, an effort that raised hundreds of dollars for childhood hunger prevention during the spring semester.
The College's chapter of Theta Chi collected $312.78 — nearly all of it loose change — in a 12-foot, clear cylinder that symbolizes a giant baby bottle in Corey Union. The money will support Doctors Without Borders, an international medical humanitarian organization that delivers emergency aid to people excluded from healthcare.
The final tally included 5,253 coins plus $16 in paper bills.
SUNY Cortland students (from left) Joseph Spencer, Corey Maiale and Jacob
Reich pose next to the coin-collection cylinder located in Corey Union.
Since it was installed in 2006, the cylinder has brought in $1,112.91 for Doctors Without Borders through various service-learning focused courses and other volunteer efforts. The charity earned a Nobel Peace Prize in 1999 and an A rating from several major philanthropy agencies for its work in aiding people affected by armed conflict, illness and natural disasters.
Theta Chi, a social fraternity that took shape at SUNY Cortland in 2013, is founded on the principle of friendship through the mutual assistance of every member. The Greek organization is a major contributor to the annual CROP Hunger Walk each fall. The brothers plan to continue the baby bottle project next spring.
Ceremony to Honor Late Veteran William Phelps '69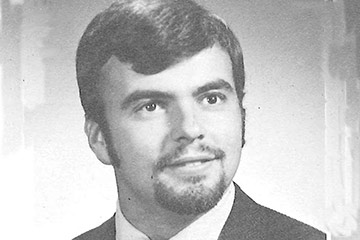 05/17/2016
The graduation photo of William Phelps '69 looks so youthful in SUNY Cortland's 1969 student yearbook, Didascaleion.
On the same page, artist and poet Kahlil Gibran is quoted: "Shall the day of parting be the day of gathering. And shall it be said that my eve was in truth my dawn?"
Phelps' celebrating classmates couldn't forsee the parting his family would endure two years later when the former physics major and his crew disappeared along with their F4 Phantom jet during the Vietnam War.
Nor could they have predicted this terrible loss would — 45 years later — yield a gathering and a measure of dawn for Phelps' remaining family members and admirers who will finally, formally acknowledge his loss.
Friends and remaining relatives have worked diligently with veterans groups to finally honor Phelps' memory and say a last goodbye. A dedication/memorial service is planned at 1 p.m. Saturday, May 21 — which is Armed Forces Day — at St. Mary's Cemetery in Cortland. All are welcome to attend, including alumni and members of the campus community.
After graduation, Phelps joined the Air Force and was serving as a weapons and systems operator on the jet flying night missions over Laos. On Nov. 23, 1971, his plane was shot down. Phelps' remains and those of the pilot, Capt. Robert Altus, never were found.
For seven years, Phelps was listed as missing in action (MIA). When military officials declared Phelps killed in action (KIA) Aug. 16, 1978, in the absence of any remains his family could not accept his death. Having lost their only son, Phelps' parents were devastated and never held a funeral or memorial service.
Both parents are now deceased. Phelps' father endowed a Cortland College Foundation scholarship named in memory of his son. Over the years, the award has helped offset the cost of graduate school for generations of matriculated SUNY Cortland physics students or those who earned degrees in chemistry, biological sciences and geology.
An Air Force color guard will march at the ceremony and a musician will play taps. A priest will officiate. Mementos of the soldier will be on hand, including his memorial plaque, his medals encased in a shadow box, his military picture and an image of the kind of aircraft on which he flew.
In addition Phelps' extended family members, the local veteran's organization Warriors of the Cross spearheaded the effort to have the official military plaque made and placed at the family cemetery plot.
Dedicated College Supporter Receives President's Medal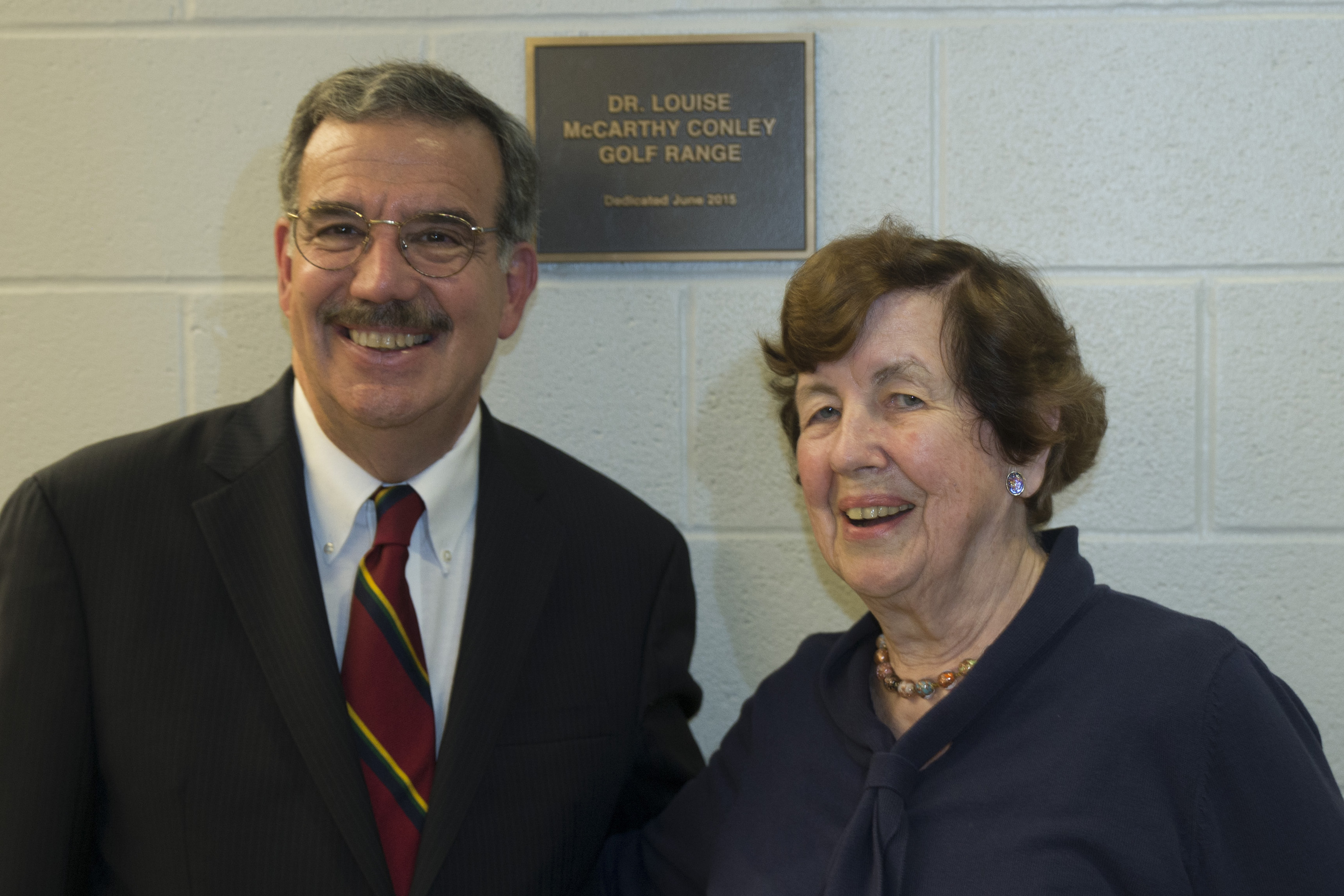 05/11/2016
Louise M. Conley, chair of the Cortland College Foundation and one of the College's most actively engaged supporters, received SUNY Cortland's Presidential Champion of Excellence Award during the College's Undergraduate Commencement ceremonies on May 14.
Conley, a licensed psychologist from Princeton, N.J., and the granddaughter of Francis J. Cheney, the second principal of the Cortland Normal School, is only the second person to ever receive the medal.
The award is given at the discretion of President Erik J. Bitterbaum to recognize individuals who have made significant contributions to the pursuit of excellence at SUNY Cortland. The medal, which expresses the College's admiration and appreciation for extraordinary service and leadership, was first given to Brian G. Murphy '83, the former chair of the foundation, in 2012.
Conley's contributions have been transformative for SUNY Cortland. They include the College's first endowed chair, an annual education conference, a scholarship fund, a golf simulator and support for the Lynne Parks '68 SUNY Cortland Alumni House, to name just a few.
Perhaps even more important to the College than her philanthropy is the active leadership role she has played. Conley will step down as chair in July after leading the foundation board for four years.
The roots of Conley's commitment to the College run deep. Not only did her grandfather serve as Cortland Normal School's second principal from 1891 to 1912, but both her mother, Clara Cheney '17, and her father, Rollin McCarthy '16, both graduated from the school. Her parents and both sets of grandparents are buried in Cortland cemetery next to the College.
Conley grew up hearing stories about Cortland Normal School, but didn't set foot on the SUNY Cortland campus until the 1990s when she attended the reopening celebration for Old Main. The enthusiasm she felt among students, faculty and staff inspired her to donate her time, expertise and financial support to the College.
Her contributions include:
The Francis J. Cheney Educational Issues Conference at SUNY Cortland. This free conference, named after her grandfather and held annually, brings influential leaders in education to the SUNY Cortland campus to share their strategies for improving teacher education programs and the education of students from kindergarten through college. Conley regularly attends.
The Louise M. Conley Chair in Educational Leadership. Endowed by one of the college's first individual $1 million gifts, this initiative provides a SUNY Cortland faculty member in the Education Leadership Department with additional funds to support his or her research, teaching, student assistants or help in fulfilling departmental initiatives.
The Francis J. Cheney Scholarship. Conley's generosity provides $1,000 annually for up to four years to admitted freshmen majoring in education and who demonstrate the highest academic achievement and greatest financial need.
Louise McCarthy Conley Room. Conley supported the purchase of the Lynne Parks '68 SUNY Cortland Alumni House by the Alumni Association in 2004 and funded the Louise McCarthy Conley Room, which encompasses the mansion's master bedroom.
Dr. Louise McCarthy Conley Golf Range. Comprised of two golf simulators in SUNY Cortland's massive Student Life Center, it was funded by a $30,000 gift from Conley. An avid golfer who didn't take up the sport until she was in her 60s, Conley wanted students to be able to practice this lifetime sport during Cortland's cold winter months.
24-hour giving challenge. Conley unhesitatingly provided a $10,000 matching gift to incentivize SUNY Cortland's first 24-hour annual fund challenge. The unprecedented effort ended up raising nearly $103,000 in a single day.
"Louise helped set the bar for others to follow," Bitterbaum explained. "She is self-effacing, humble and passionate about this institution."
Baseball's National Title Defense Emphasizes 'Fun on the Field'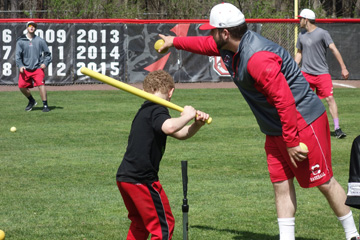 05/17/2016
SUNY Cortland's nationally top-ranked baseball team enters this week's NCAA Division III playoffs on the strength of a 16-game winning streak — the result of timely hitting, gritty individual pitching performances and a winning culture that has established the highest of expectations within the program.
And still, although the defending national champion Red Dragons bring a disciplined, workmanlike approach each and every time they take the field, the squad understands the importance of "doing well by doing good" off of it.
That's why the team's players led the inaugural "Fun on the Field" event for 28 local boys on April 30. The special two-hour clinic, which was supported by the YWCA's Bridges for Kids and Cortland Prevention Resources Compass mentoring programs, involved student-athletes teaching the fundamentals of their sport while also leading other fun activities.
In a larger sense, the event was intended to address a local need for male mentors in the lives of young boys.
"Helping the boys gain confidence in their skills was great, but seeing them smile and have fun was even better," said Austin Clock, a senior captain who helped organize the event with classmate and fellow captain Keith Andrews. "We really wanted to do something to help out the mentoring program, but we never anticipated we'd have such a great time ourselves."
Of course, it also proved to be a memorable day for the young participants themselves, who ranged in grade level from kindergarten to 8th grade. The College supplied bus transportation from the YWCA, and even that short trip proved to be an experience in itself.
Before the College's baseball took on St. Lawrence
University, it hosted 28 local boys at the inaugural "Fun
on the Field" event April 30 at Wallace Field.
"They loved the red dragon on the bus and thought it was quite the privilege to be riding it," said Sara Earl, director of the YWCA's Bridges for Kids program. "So many families do not have yards and the fact that the boys could run and be active was so important. More crucial than the physical activity, however, was the opportunity for the young boys to interact with positive male role models."
The "Fun on the Field" event took place just a few hours before the College's baseball team knocked off St. Lawrence University at Wallace Field. Since that time, the Red Dragons captured both the regular season and postseason State University of New York Athletic Conference (SUNYAC) titles.
The team now hosts a six-team regional at Falcon Park in Auburn, N.Y., starting Wednesday, May 18 — the next step in its national title defense.
"Many of the young boys had never held a baseball bat before," Earl said, speaking to the significance of learning from some of the best players in the nation. "Watching these college males take the time to patiently hold the bat with the boys and teach them to swing, and then to see the big grin on the boys' faces … you just had to smile and say, 'Wow, this is life changing.'"
Corporate Challenge Registration Due Thursday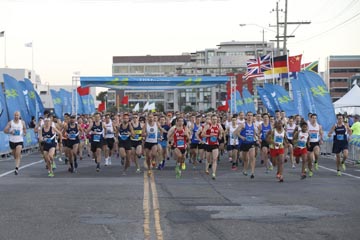 05/17/2016
All runners, joggers and walkers from the College are encouraged to come together for a night of fun and fitness at the annual J.P. Morgan Chase Corporate Challenge in June, but they're encouraged to sign up by noon on Thursday, May 19.
The 3.5-mile run/walk takes off at 6:25 p.m. Tuesday, June 7, at Onondaga Lake Parkway in Liverpool, N.Y., and employees can register for the event online.
Registration costs $15 and includes a team shirt, post-race food and drinks, transportation and all event fees. Payment — preferably by check made payable to SUNY Cortland — should be turned in to Chris Tucker or Kerry Mincher in the College's Purchasing Office.
Participants are free to run or walk the event, and no previous experience is necessary. According to race rules, only employees can represent a company. This is the ninth year SUNY Cortland has participated in the Corporate Challenge. In 2014, the College's four-person men's team finished with the fastest overall time, earning a trip to the 2015 international championship held in San Francisco.
"It's a great opportunity for all of our employees," Tucker said. "The best corporate runners in Central New York compete at the front of the pack, joggers and walkers settle in for a comfortable night of exercise, and then everyone celebrates their achievement at a massive post-race party, featuring hundreds of company tents and unmatched camaraderie."
For more information on the event, visit the Syracuse Corporate Challenge website or contact Tucker by email or 607-753-2488.
ASC Themed Dinners Earn National Recognition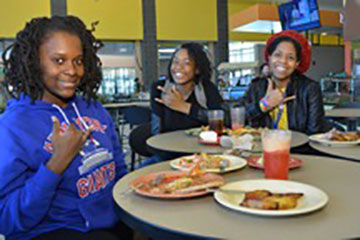 05/17/2016
Three national prizes recognizing quality and creativity in food presentation were awarded to Auxiliary Services Corporation (ASC), SUNY Cortland's campus-based, not-for-profit dining service provider.
The silver, bronze and honorable mention bring to 13 the total number of medals ASC has won since 2006.
Three special dinners that were served during the 2015-16 academic year — "President's Circle Dinner," "Luau" and "Wild West" — won praise in the 2016 National Association of College and University Food Services (NACFUS) Loyal E. Horton Dining Awards Contest. The quality and creativity of the food presentation won ASC's Campus Catering a silver medal for the Sept. 18, 2015, "President's Circle Dinner" event. Neubig Dining was recognized with a bronze medal for the March 8, 2016, "Wild West" event and The Bistro earned an honorable mention for the Oct. 8, 2015, "Luau."
"I'm proud of the dining management team for working together and with the campus community to put on these first-rate events every year," said Pierre Gagnon, executive director of ASC. "Our dining, catering and marketing team skills never cease to amaze me."
Since 2006, Dining Services has won 13 Loyal E. Horton awards, including three gold medals for residential dining events.
The silver medal-winning "President's Circle Dinner" event highlighted food and beverages from America, Italy, Africa and Asia. ASC focused on preparing culturally accurate food for each area and spotlighted its distinctive culinary style.
The bronze medal-winning "Wild West" event showcased western inspired food. Students enjoyed a western style breakfast followed by an all-day menu featuring healthy foods straight from the chuck wagon with a modern cooking twist.
"Luau" featured recipes from ASC employee Marsha Miner's Hawaiian family. Their deep-rooted Hawaiian traditions were key to The Bistro making each recipe authentic.
Marsha Miner is an ASC employee who inspired the Luau theme, which received an honorable mention from NACFUS Loyal E. Horton Dining Awards Contest.
"All of the events had a lot of different menu options and the campus had a fun time," Gagnon said. "Having Marsha help with the Luau recipes made it even more special."
ASC submitted digital scrapbooks for the NACUFS competition. Judging was based on several criteria, including menu selection, theme development, marketing of the event and overall impression. Scrapbooks and event pictures are posted here.
Founded more than 50 years ago, ASC also provides vending, campus stores, student ID cards and other essential services to the campus community.
The NACUFS has more than 1,000 institutional and industry members. Based in Okemos, Mich., the national association is dedicated to promoting the highest quality of food service on college and university campuses.
Two Earn SUNY Chancellor's Scholar-Athlete Awards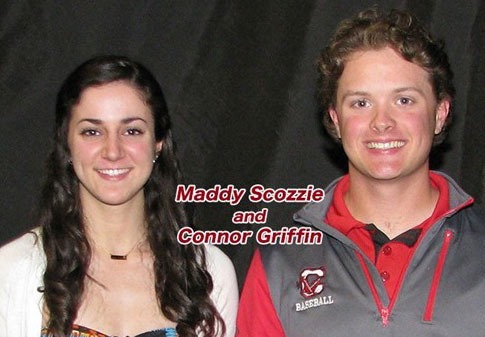 05/17/2016
SUNY Cortland senior women's gymnast Maddy Scozzie and senior baseball player Connor Griffin have been named the State University of New York (SUNY) Chancellor's Scholar-Athlete Award winners in their respective sports for the 2015-16 school year.
They are among the 78 recipients of the awards within the SUNY system at the Division I, Division III, and junior college levels announced by SUNY Chancellor Nancy L. Zimpher. The Chancellor's Scholar-Athlete Award recognizes a combination of academic excellence and outstanding athletic achievement.

"Recipients of this award are honored for high achievement in and out of the classroom, accomplishment marked by hard work, dedication, and discipline," said Zimpher. "Congratulations to each of this year's SUNY scholar athletes, and thank you to the many faculty, coaches, and staff across SUNY who mentor and support them."

To be eligible for the award, a student-athlete must be a first or second-team all-conference athlete with a minimum of a 3.3 grade point average for at least three semesters. A student-athlete is only permitted to win the award once. For spring sports winners, all-conference accolades from the 2015 season were used since this spring's honors were not released at the time those awards were determined.

Scozzie earned four All-America awards during her gymnastics career, highlighted by the uneven bars national title as a junior at the 2015 National Collegiate Gymnastics Association (NCGA) Championships. She was also an All-American on bars as a senior, as well as in the all-around in both 2014 and 2015.

Griffin is the starting second baseman on Cortland's baseball squad that is currently 37-5 and ranked first nationally in Division III. He's batting .308 with 19 RBI in 37 contests. Last season Griffin earned first team All-State University of New York Athletic Conference (SUNYAC) honors after hitting .409 in 29 contests.

And Mother Made Two at Commencement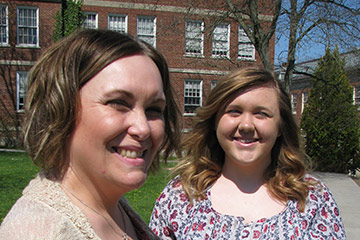 05/12/2016
College students carry all sorts of things to campus with them: laptops, sports equipment and maybe even that favorite childhood teddy bear.
Brianna McAdams brought along her mother.
Sort of.
"She actually talked me into going back to school," said McAdams' mom, Pamela Overbaugh of Cortland, N.Y. "I was really reluctant but she supported me."
On Saturday, May 14, during the afternoon Commencement ceremony in the Park Center Alumni Arena, McAdams' and Overbaugh's journey together culminated in a double celebration. Both accepted their bachelor's degrees — McAdams' in geographic information systems with a minor in geology, her mother's in psychology.
McAdams is bound for Binghamton University next to pursue a master's degree in geography in environmental management. Ultimately, her goal is to earn a doctorate in her field. Overbaugh aspires to a career in social work, focusing on families and teens. Her ultimate academic goal is a master's degree in social work.
Their unusual SUNY Cortland partnership makes sense. Although they did it at different times, both parent and child attended elementary school in Dryden, N.Y., graduated from Cortland High School and attended the same community college.
| | |
| --- | --- |
| | |
| | Brianna McAdams, left, stands a step below her fellow graduating senior and mother, Pamela Overbaugh, outside Brockway Hall. |
"It is a great school that offers my major close to home," said McAdams, a track and tennis athlete and National Honor Society student in high school. Both a resident assistant and teaching assistant during her two-and-a-half years at Cortland, McAdams received an Outstanding Leader Award, made the President's and Dean's lists, served as president of the co-educational service fraternity Alpha Phi Omega and participated in Geology Club.
Meanwhile, Overbaugh's graduation milestone bridged what for her was a scary, 20-year gap stretching back to when she received an associate's degree in human services from Tompkins Cortland Community College (TC3). She halted her education to work and raise children. Her youngest daughter will graduate from high school later this year.
In Spring 2013, McAdams, having taken mainly liberal arts and sciences courses at TC3, enrolled at SUNY Cortland. Her mother accepted the challenge the following fall.
They even studied introductory biology and western civilization together.
"That was interesting," her mother said. "We were lab partners and Brianna showed me how to use a microscope. That was helpful."
Because the pair had different curriculums, most of the campus community was unaware of their family connection.
"The lab instructor, (biological sciences lecturer) Noelle Relles, found out and thought it was funny," McAdams said. "She asked if we competed."
For Overbaugh, technology was by far the biggest challenge she faced in pursuing her education in classes filled with 20-something students.
"I don't know how to type and I had to learn how to use a computer fluently," Overbaugh said.
She credits a psychology associate professor, Melvyn King, with smoothing her path to completing the necessary introductory computer course for the field. And, like many people who are occasionally puzzled by today's technology, she asked her daughter for help.
"Brianna's better than me in math and computers," Overbaugh said. "It's a great skill to have."
Brianna wanted a real college experience, so she lived in an off-campus apartment for a few years.
"I'd give her a ride and then we'll walk up the hill together," Overbaugh said of her daughter.
Although the College enrolls many non-traditional undergraduates — defined as students who are at least 24 years old or who have experienced a break in their education since high school — everyone looked quite young to Overbaugh. She did her best to keep up with a younger class cohort, pulling her share of near all-nighters to finish her classwork.
"My husband, Harold, picked up the slack," Overbaugh said. "He does the shopping, picks up the kids.
"I believe if you work hard enough you can accomplish going back to college," she said. "But it is a true commitment, I will say."
Emergency Drill Set for Lusk Field House
SUNY Cortland and Barry Elementary School will be running a practice emergency drill at Lusk Field House tomorrow morning, Wednesday, May 18.
The drill is the result of a new agreement between the College and the nearby Raymond Avenue school that allows Barry officials to evacuate their pupils to Lusk in the event of an emergency.
School personnel will walk the students to Lusk Field House some time between 8:30 a.m. and noon. They will return to their building by bus.
Raquette Lake Summer Reservations Open to Staff
The Antlers facility at the William H. Parks Family Center for Environmental and Outdoor Education at Raquette Lake will be available for use by Auxiliary Services Corporation employees, faculty, staff and their guests including spouses, children and significant others, from Thursday, June 23 through Sunday, June 26 and Monday, June 27 through Saturday, July 2.
Reservation information is available at cortland.edu/rl-events or at the Parks Family Outdoor Center Office, Miller Building, Room 230. A $50 deposit is required with registration.
The all-inclusive rate for the four-day session is $161 per adult and $128 for children age 12 and under. Room and board for six-day session is $247 per person for adults and $196 per person for children age 12 and under. There is no charge for children under one year of age.
Visitors arrive between 2-4 p.m. on the scheduled day of arrival and depart following breakfast on the last day.
Botanical Shades Workshop
Tuesday, Sept. 13-Friday, Sept. 16
Join master shade artist Theresa Breuer of Northeast Living Lights to make two of your own lampshades and two night lights. The class portion of your stay is two half days allowing time to relax and enjoy the beautiful colors of fall that Raquette Lake and the surrounding areas have to offer. Spouses or friends may attend the week with you, without taking the course. Rates for workshop attendees will be $290 and non-workshop attendees will be $165. Rates include room, board, workshop and use of other Center equipment.
Kirby Camp Opportunities
Kirby Camp is open to alumni, faculty, and staff of the College on a weekly basis beginning in June. The sessions run from Monday-Sunday and rent for $675 per week. A small outboard motorboat may be rented for an additional $125.
Kirby Camp is a four-room secluded cabin along the southern shores of Long Point. The rustic cabin sleeps eight people. It has two bedrooms, one with a queen-sized bed and one with two sets of bunk beds. Two roll-away beds are also on site if needed. The building also has a living room and kitchen. All cookware, plates and utensils are supplied. Renters are responsible for their own food.
Weeks Available
June 20-26
Aug. 22-28
Participants for all sessions will be acknowledged on a first-come, first-served basis following the receipt of reservation and deposit. Registration forms can be found on the College's website at cortland.edu/rl-events. For more information, call the center at 607-753-5488.
Camp Marion
Two lean-tos or open camps are available for use by reservation. The lean-tos are accessible by water only, in the warmer months, and are approximately a two-mile paddle from Antlers. Canoes may be rented from Antlers with prior notice. There are no provisions at Camp Marion for motorized boats.
Reservations must be made a minimum of one week prior to intended stay. Requests may be obtained by completing the online reservation form, email outdoor.edinfo@cortland.edu, or phone, 607-753-5488. Those camping without a reservation will be asked to leave.
You must be affiliated with SUNY Cortland to reserve a lean-to. No person under 18 years of age can reserve a lean-to. The person who made the reservation is responsible for the conduct of all persons in the party and is liable for any violations of rules or regulations committed.
ASC Lists 2016-17 Grant Recipients
Each year, the Auxiliary Services Corporation (ASC) Board of Directors allocates funds to support grants for a wide range of purposes and projects that enhance the life of the SUNY Cortland community.
In April, the ASC Board of Directors approved the Fiscal Year 2016-17 Program Grant allocations.
Following is a list of grants funded by ASC that includes the project name, organization or person, and amount received:
Mayan Cultural Heritage Workshops and Exhibition, Jeremiah Donovan and Thomas Pasquarello, $250
Making History: Orienting History Majors to the Discipline and Department at Camp Huntington, History Department, $2,500
Cortland giveaways for New Student Orientation, Marinda Souva, $1,000
Multicultural Life and Diversity Office Student Conference on Diversity, Equity, Inclusion and Social Justice, Multicultural Life and Diversity Office Chief Diversity Officer, $2,500
Jullien Gordon – The Other 4.0 That Matters, Lori Schlicht, $2,000
International Dialogue and Connecting Cultures: Cultivating Global Citizenship and The Challenge of Teaching in the Era of International Education, Political Science Department/Lu-Chung Weng, $1,000
Encountering Africa in Central and Eastern Europe, Project for East and Central Europe, $1,000
Louie Larson Lecture Series, LGBT Faculty/Staff Committee, $1,000
Three Programs of Public Forum, A Taste of Asia, and Asian Reception Staged by the Asian/Middle Eastern Studies Committee, Asian and Middle Eastern Studies Program, $2,064
Alcohol-Free "Connections Coffee-Houses", Health Promotion, $10,000
Midnight Breakfast, Marie Blanden for Eamon O'Shea, $600
Non-Traditional Student Support and Awareness, Advisement and Transition, $1,400
SUNY Cortland Community Bike Project, Julian Wright, $3,000
Multicultural Life and Diversity Student Leadership Retreat, Multicultural Life and Diversity Office, $2,500
2016 EOP Summer Institute, Lewis Rosengarten, $10,000
49th Annual Awards Dinner 2017, Lewis Rosengarten, $3,000
Chi Alpha, Lewis Rosengarten, $1,000
Family Times – Cortland Children's Museum, Susan Stratton, $350
Second Language Educators Conference, Patricia Martinez de la Vega Mansilla, $1,400
New Student Orientation, Marinda Souva, $7,000
World First Learning Community Exploration of International Culture, Girish Bhat, $950
Athletics Leadership Retreat, Athletics, $500
Native American Events, Dawn Van Hall, $1,000
College-Community Orchestra Receptions, College-Community Orchestra, $700
Body Appreciation Week 2017, Lauren Herman, $3,000
PAWS for Stress Relief, Health Promotion, $2,588
Transfer Student Services and Support Programming, Emily Quinlan, $1,400
Sexual Assault Awareness Opening, Sexual Assault Awareness and Programming Committee, $1,500
Child Care Training, Stephanie Fritz, $600
Promoting Personal Growth and Global Awareness for SUNY Cortland Students, International Programs Office, $12,077
Cortland Nites, Campus Activities, $15,850
CGIS Grant, CGIS, $1,200
Greek Life, Sandra Wohlleber, $1,000
CALS Lecture Grant Program, Campus Artist and Lecture Series, $15,500
CALS Broadway Trips, Campus Artist and Lecture Series, $1,500
Interviewing Etiquette Dinner for Educators (Guess Who's Coming To Dinner), Michelina Gibbons, $1,200
Interviewing Etiquette Networking Event and Panel, Michelina Gibbons, $750
Leadership Programs, Campus Activities, $5,176
Family Weekend, Campus Activities, $2,000
Homecoming, Campus Activities, $1,500
Welcome Week, Campus Activities, $3,000
CALS Performing Arts Series, Campus Artist and Lecture Series, $16,500
Dowd Gallery Speakers Series, Dowd Gallery, $1,000
Brooks Museum Lecture Series, Sharon Steadman, $3,500
COR 101 Teaching Assistant Appreciation Day and Poster Symposium, Susan Stiner, $405
Performance Anxiety workshop with Noa Kageyama, David Neal, $1,000

Suggest a feature story
---
Faculty/Staff Activities
Laura Davies
Laura Davies, English Department, had her essay, "Popcorn and Peter Elbow: Ways to Help Your Kids with Their Writing," published by NCTE's Commission for Writing Teacher Education's blog, viewable on this link.
Li Jin
Li Jin, Geology Department, co-authored a paper titled "Chloride sources in urban and rural headwater catchments, central New York" with Kristina Gutchess '13, lead author, who is now a Ph.D. student at Syracuse University. The article will appear in the journal Science of the Total Environment.
Mechthild Nagel
Mechthild Nagel, Philosophy Department and the Center for Gender and Intercultural Studies (CGIS), delivered a keynote on gender and the law at The Gender Construction of Society Conference held in April at Cantemir University, Bucharest, Romania. It will be published in a special issue of Journal of Research in Gender Studies in 2017.
John Suarez
John Suarez, Institute for Civic Engagement's Office of Service-Learning, has been invited to conduct a Reflective Listening Workshop in January 2017 for employees of the MacCormick Secure Center in Brooktondale, N.Y. The Center is part of the Division of Juvenile Justice and Opportunities for Youth, of the New York State Office of Children and Family Services.
Tadayuki Suzuki
Tadayuki Suzuki, Literacy Department, had his article, "Wandering the Web - Exploring Information of Japanese Americans' Experiences in Internment Camps During World War II," published in the journal Against the Grain, 28.
Nance S. Wilson
Nance S. Wilson, Literacy Department, co-authored two articles published recently in publications about children's literature. "Beyond The Lorax: Examining Children's Books on Climate Change" was published in The Reading Teacher, 69. "The Who I Was, Who I Am, and Who I Want to Be Cycle" was published in Frontiers in American Children's Literature, edited by D.G. Clark and L. Salem.

Submit your faculty/staff activity