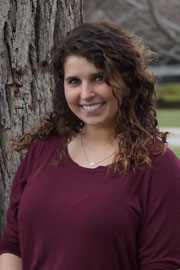 Campus Champion
Senior Alli Garver says transferring to SUNY Cortland was the best decision she's ever made. Both the College and the local community have seen the benefits too, with the most recent example being her involvement with the second annual Big Event, a one-day burst of service scheduled for Sunday, April 24. The exercise science major from Shortsville, N.Y., heads a team of event organizers that has recruited more than 500 volunteers to assist those who need work done outdoors. She also works two part-time jobs on campus and one at the Cortland Youth Bureau. "I love it here," she says. "I really feel like Cortland is my home."

Nominate a Campus Champion
---
Tuesday, April 19
Green Days Event: "Caterpillar Gardening: The Plants that Butterflies and Moths Need to Complete their Life Cycles," by Colleen Wolpert, Sperry Center, Room 204, 7 p.m.
Louis Larson Lecture and Performance Series: A screening of the film "Milk," followed by a talk, Sperry Center, Room 205, 7 p.m.
Open Mic Night: Corey Union Exhibition Lounge, 7-9:30 p.m.
Wednesday, April 20
Green Days Plant Fair: Sponsored by the Student Affairs Sustainability Committee and Campus Garden Committee, in front of Memorial Library beginning at 11 a.m.
Sandwich Seminar: "Remembering Japanese-American Internment," by Sam Mihara, visiting speaker, Brockway Hall Jacobus Lounge, 12:30-1:30 p.m. Also, he will present a talk aimed at middle and high school students from 9:30-11:30 a.m. in Old Main Brown Auditorium and a third talk open to the public will be held from 7-8 p.m. at McGraw Junior-Senior High School.
Portfolio Development Workshop: Sponsored by the Faculty Development Center, Corey Union Caleion Room, 1-3 p.m.
Thursday, April 21
Sandwich Seminar: "Challenging Students to Be Engaged in the Lives of Our Communities: Identifying Needs and Creating Solutions," by Shena Driscoll Salvato, Modern Languages Department, Brockway Hall Jacobus Lounge, noon-1 p.m.
EAP Sandwich Seminar: "Affordable Asset Protection," Corey Union Fireplace Lounge, noon-1 p.m.
Leadership in Civic Engagement Awards and Scholarships Reception: Sponsored by the Institute for Civic Engagement, Brockway Hall Jacobus Lounge, 4:30 p.m.-5:30 p.m
Friday, April 22
SUNY Cortland Sports Medicine Symposium: Corey Union Function Room, 9 a.m.-2:30 p.m.
Blackbird Film Festival: Showcasing over 70 films from around the world, Sperry Center, 6 p.m. Continues through Sunday, April 24
Saturday, April 23
SUNY Cortland Gospel Choir Spring Concert: Old Main Brown Auditorium, 3 p.m.
Relay for Life: To benefit the American Cancer Society, Park Center Alumni Arena, 5 p.m. Continues to 5 a.m. Sunday. relayforlife.org/sunycortlandny
Sunday, April 24

The Big Event: SUNY Cortland students and community members volunteer to give back to the community with clean-up, gardening and improvement projects. Sponsored by the Student Government Association (SGA) and its club Actively Involved in the Community (AIC)
College Singers Concert: Performing music from theatrical "gems," Dowd Fine Arts Theatre, 3 p.m.
Monday, April 25
Film Screening: "I Learn America," about five resilient immigrant teenagers in New York City, as part of the "Where Are We?" Cultural and Intellectual Climate Committee Series, Sperry Center, Room 104, 4:30 p.m.
Film Screening: "Where to Invade Next," Sperry Center, Room 105, 7-9 p.m.
Tuesday, April 26
Red Cross Blood Drive: Corey Union Exhibition Lounge, noon-6 p.m.
Sandwich Seminar: "Community Innovations Lab Presents," Brockway Hall Jacobus Lounge, 12-1:30 p.m.
Performance: "Welcoming The Stranger," by Dylan Fresco, a 30-minute solo performance that weaves together true stories of refugees, family and faith, as part of the "Where Are We?" Cultural and Intellectual Climate Committee Series, Brockway Hall Jacobus Lounge, 7 p.m.
Wednesday, April 27
Red Cross Blood Drive: Corey Union Exhibition Lounge, noon-6 p.m.
Workshop on Arts in the Classroom: Presented by Dylan Fresco, as part of the Cultural and Intellectual Climate Committee series, Old Main Colloquium, 2-4 p.m.
Wellness Wednesday: "Taste of the Outdoors," Corey Union Function Room, 7 p.m.
Thursday, April 28
Caribbean Baseball Initiative Symposium: U.S. Defense Secretary and Senator William S. Cohen will lead a symposium of experts in a discussion on diplomacy to bridge differences between Cuba and the United States, Sperry Center, Room 105, 9 a.m.- 5 p.m.
Sandwich Seminar: "PBL – Project-Based Learning: The Faculty Perspective," by Beth Klein and Valerie Widdall, Childhood/Early Childhood Education Department, Old Main Colloquium, noon-1 p.m.
Lecture: "The Doctrine of Discovery and the U.S. Culture of Conquest," by Roxanne Dunbar-Ortiz, Sperry Center, Room 105, 6-8 p.m.
Theatrical Performance: "The Holocaust and Me," presented by Dylan Fresco, on Holocause Remembrance Day, as part of the Cultural and Intellectual Climate Committee series, Old Main Colloquium, 7-9 p.m.
Saturday, April 30
Workshop: "Practical Treatment Strategies for School-age Children Who Stutter," Sperry Center, Room 105, 8 a.m.-3:30 p.m. Breakfast and lunch will be provided. For more information, contact Michael Pitcher
Green Days Family Literacy Activities: "Celebrating Our Earth" event includes projects, books and songs for children ages 2-8 years, Memorial Library Teaching Materials Center, 10 a.m.-12:30 p.m.
Spring Fling: Sponsored by Campus Activities and Corey Union, Moffett Center Lawn, noon-4 p.m.
---
---
First Annual Film Festival Flies into Cortland
04/19/2016
Cannes and Sundance, move over. A new international film festival — the 2016 Blackbird Film Festival — lands this year in Cortland, N.Y., from Friday, April 22, to Sunday, April 24.
SUNY Cortland will host the inaugural series of professional and amateur films – which is organized and run by students – in the large-screen lecture rooms of Sperry Center, giving both students and Central New York cinephiles an opportunity to absorb as many of the 97 films as they can in a single weekend.
"The festival covers the whole breadth of anything you could want to see. There are some really beautiful cinematic pieces and some thoughtful documentaries," said Samuel Avery, assistant professor of communication studies and creator of the Blackbird Film Festival.
Film viewings are free and open to the public. Selections from around the world feature genres ranging from social justice documentaries, entertaining animated shorts, heartfelt narratives, Upstate New York creations and ten films from SUNY Cortland students.
Filmmakers, cast and crew of the nominated films were invited to participate in the festival and some will attend to talk about their work.
"Blackbird's mission is simple — bring great films to good people," Avery said.
SUNY Cortland is known for its active student body, and the Blackbird Festival will offer plenty of related activities for film fans. Students who attend the festival, for example, will have the opportunity to win prizes over the weekend in several different raffles.
To qualify, film views can pick up festival passports at the event. They can also pick them up in the Student Life Center on Tuesday, from 11 a.m. to 2 p.m.; Wednesday, from 3 to 6 p.m. and Thursday, from 4 to 8 p.m. Festival volunteers will stamp the passports of movie-goers at the end of each movie. Each stamp will qualify as a chance to enter the raffle at the end of the weekend.
Prior to the upcoming weekend, students can enter a "selfie" contest by posting a photo of themselves with one of the Blackbird Film Festival posters around campus to the festival Facebook page. The selfie can also be tweeted @BlackbirdFest. Contestants will be entered in the chance to win a small cash prize and t-shirt.
For festival specifics, visit www.blackbirdfilmfest.com.
Communication studies students organized the free festival. They selected the weekend's offerings from among more than 1,000 entries submitted to the competition from around the world.
Avery worked with 13 student event coordinator interns who recruited sponsors and spent the semester organizing the festival, the first event of its kind at SUNY Cortland. They will run many aspects of the actual festival.
A separate group of 30 festival judges, 12 of which are students, reviewed and ranked the official selections and nominations from among the hundreds of entries. Avery's video production students are finalizing a variety of video projects to include in the festival alongside the official selections.
"If you think about it, people this day in age spend a lot of time watching films anyway through YouTube and Netflix. I find that my students really enjoyed watching these films," Avery said.
The festival begins Friday with a 6 p.m. welcome ceremony in Sperry Center, Room 106, and a two-hour block of film shorts. At 9 p.m. festival goers will head downtown to the official kickoff party featuring the band Big Foot at BRU 64, located at 64 Main St. Partygoers with Blackbird tickets will get a 10 percent discount on food and refreshments.
Starting at 9 a.m. Saturday, the Community Restaurant at 10 Main St. will offer a festival breakfast buffet to moviegoers for $7 per person.
From 11 a.m. until late in the day, participants can choose from among a variety of American and international short films, feature length films and educational workshops.
At 3 p.m., Caley MacLennan will screen "Noon Gun", a film on police brutality of African American men, and conduct a workshop on how to use social media to promote your film. Avery's class has already taken note, and leading up to the festival they heavily promoted the Blackbird Festival.
On Sunday, moviegoers can enjoy features from 10 a.m. until the 4 p.m. screening of "Feeling Wanted" that includes a workshop by its creator, Yasmin Mistry, on getting started on one's first documentary film.
The weekend will be capped with a 6 p.m. award ceremony in Sperry Center, Room 106. Winning filmmakers in different categories will be announced. Two winners will be picked from the selfie contest, one will be chosen randomly and another will be selected as the best Blackbird selfie of the festival. Additionally, winners that participated in the festival passports stamp exchange raffle will be randomly drawn at this time.
The 2016 Blackbird Film Festival brings together a selection of engaging films that tell a variety of stories and address important issues in today's ever changing world, Avery noted.
Highlights include:
Films like Caley MacLennan's "Noon Gun" which confronts the biased treatment of African American men by police in America.
Documentary filmmaker Yasmin Mistry presents "My Identity" — the story of a young Native American woman who converts to Islam in hopes of finding some structure in a life where she has none.
Other films include the comedic tale of a man who travels back in time to figure out where his life went wrong in Josh Hope's "The Life and Death of an Unhappily Married Man."
Chris Foito's environmental documentary, "The Hemlock Woolly Adelgid," focuses on the devastating effects of an invasive species and the loss of an ecosystem.
Suez Taylor's documentary, "Food + Water | Earth" follows Winona LaDuke as she defends her community from a series of oil pipelines threatening their native food supply.
In the narrative short category, Jonathan Chekroune shares "Sasha," a beautiful film that tells the story of a Russian woman with an expired visa who struggles with deportation.
Nada Stjepanovic's film, "Katcha's Unexpectedly Long Journey to the Beach," presents a similar story of immigration from the opposite perspective.
Other films in the narrative short category include Don Downie's "Pepper and The Salt Sea," which reminds us to hold onto our dreams at all costs, Max Machado's "Switch," in which we discover an alternative way to travel through space, Bradly Silvius' "Pride & Poo," in which small problems escalate very quickly for one guy having a seemingly good day.
Those looking for humor should catch Katie Maguire's webseries, "LI Divas," Andrew Rein's "The Small Time," and Elisabeth Ness' "Redheads Anonymous."
Blackbird will offer a selection of remarkable upstate local films such as Joe Bellavia's short comedy, "Long John," Charles Fasano's intriguing animation, "Teddy's Bowling Alley," John Hanley's "A Feudal Debate," and Thunnyahnondha Kaewbaidhoon's "Matchless."
For more information, contact Avery at samuel.avery@cortland.edu or 607-753-4099. Visit blackbirdfilmfest.com for more background on the event.
Prepared by public relations intern Bethany Lunden
Honorary Degrees Recognize Two Careers that Changed Lives
04/19/2016
Two alumni whose advocacy and activism has improved the health and well-being of thousands – if not millions – of people will receive honorary doctoral degrees from the State University of New York during SUNY Cortland's Undergraduate Commencement ceremonies on Saturday, May 14.
Karen Collier Flewelling '64, a retired educator whose hands-on activism has brought clean water to impoverished communities throughout the developing world, will be awarded the honorary degree of Doctor of Humane Letters.
Richard J. Pollack '77, president and chief executive officer of the American Hospital Association, one of the nation's most influential health advocacy groups, also will be awarded the honorary degree of Doctor of Humane Letters.
"Both Karen and Richard are leaders whose work reflects SUNY Cortland's core values and illustrates how our alumni make a significant and positive difference in the world," President Erik J. Bitterbaum said. "We, as an institution, are incredibly proud of the role each continues to play in making the world a safer and healthier place."
Flewelling and Pollack will attend all three of SUNY Cortland's 2016 undergraduate ceremonies.
Karen Collier Flewelling '64
Flewelling '64 has spent her adult life as a force for positive transformation, changing lives through education, philanthropy and international volunteer work. Her efforts have brought clean water to dozens of impoverished communities across the globe.
Karen Collier Flewelling '64
After graduating from SUNY Cortland, she helped guide thousands of young lives as a physical education teacher and field hockey coach at Shaker High School in Latham, N.Y., over the course of a 36-year career. Flewelling was inducted into the athletic halls of fame of both the North Colonie School District and Shaker High.
In retirement, she became an enthusiastic volunteer with the Earthwatch Institute, championing the cause of environmental conservation and traveling to save endangered species around the globe. Those trips sensitized her to the plight of families in the underdeveloped world. She then dedicated herself to transforming the lives of those families, mainly by providing remote, rural communities with dependable sources of clean, fresh water.
Since 2005, Flewelling has made two dozen trips to 14 countries to personally work on water projects that have resulted in the drilling or repair of 40 community wells. Sales of a book she wrote about her quest, Drilling for Hope, along with a website of the same name, have helped raise thousands of dollars. In addition to wells, filters and cisterns, the funds have paid for dozens of life-changing surgeries and helped strengthen community sustainability by providing livestock, medical equipment and school supplies.
Richard J. Pollack '77
Pollack '77, is president and chief executive officer of the country's most influential advocacy group for hospitals, rehabilitation centers and related institutions. In that role, he has championed the right of all Americans to quality health care. He helped shape national health care policies for the elderly, children, low-income families, veterans and residents of underserved rural and urban areas. Pollack successfully battled large insurance and pharmaceutical companies to promote the interests of hospitals and patients, and influenced passage of the historic Affordable Care Act.
Richard J. Pollack '77
Modern Healthcare magazine regularly names Pollack in its annual list of the "100 Most Influential People in Healthcare," an honor he shares with President Barack Obama and the leaders of some of the world's largest corporations.
Pollack graduated from SUNY Cortland in 1977 with a major in political science and a minor in speech communications. He then went to work as legislative assistant to former U.S. Rep. David Obey of Wisconsin. After earning a master's degree in public administration from American University, he became a lobbyist for the American Nurses Association, representing all registered nurses in the United States.
In 1982, Pollack was hired as associate director of legislative affairs for the American Hospital Association, which represents nearly 5,000 institutions. During his 34–year career with the organization, he established himself as the primary voice of the association before Congress, executive branch agencies and the news media.
---
Capture the Moment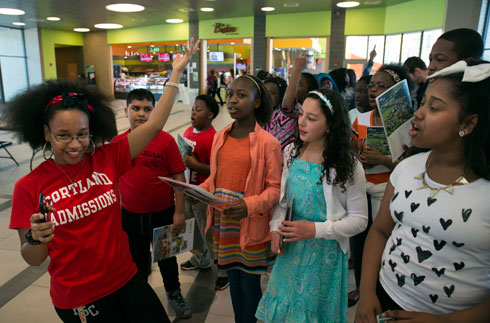 Admissions tour guide Dru Dickson, a senior athletic training major from Copiague, N.Y., leads a group of visiting sixth graders from H.W. Smith Elementary School in Syracuse through the Student Life Center on Monday. During the tour, Dickson frequently asked the students if they remembered what her name was, and they responded in unison. The visitors were hosted on campus by Cortland's Urban Recruitment of Educators (C.U.R.E.) program. Later in the day, H.W. Smith students — many of them refugees — shared their stories during the "Through My Eyes" café night in Brockway Hall, Jacobus Lounge. For many, the visit was their first experience on the campus of an American college.
---
In Other News
Two Seniors First to Earn Service Distinction on Diploma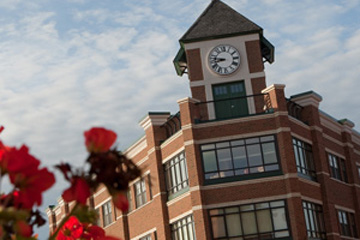 04/19/2016
Do good. Learn well.
That's the unofficial motto SUNY Cortland seniors Crissana Christie and Regina Gianfreda followed during college. And when they graduate in May, they'll be the first two students to earn special recognition on their diplomas for meaningful civic engagement.
Officially, their distinction will be known as the President's Recognition for Engaged Learning and Leadership in Service-Learning. It's a long title, but another way of saying that both Christie and Gianfreda applied their classroom training to outside service, then reflected on the lessons they learned.
"It's about more than just community service," said Christie, a biomedical sciences major from Brooklyn, N.Y. "With service-learning, you're gaining something too … You learn more about yourself and the community around you."
The designation was created by the College to recognize students who are willing to take on a sequence of complex community projects that emphasize civic values. All students, regardless of their major, can apply for the distinction.
"It involved a lot of preparation and a lot of hours, but it was so worthwhile," said Gianfreda, an inclusive special education major from Ramsey, N.J. "Any time I have an opportunity to encourage people to go out and volunteer to gain an outside perspective — as opposed to just sitting in a classroom observing — I'm all for it."
In order to earn the distinction, which is administered by the Office of Service-Learning within SUNY Cortland's Institute for Civic Engagement, students must meet three general criteria. It requires 12 credit hours of progressive service-learning courses, 120 hours of service over at least four semesters, and participation in at least four service-related events during the first year in the program.
Crissana Christie
Regina Gianfreda
Christie and Gianfreda both tutored their fellow students and served as interns for the Office of Service-Learning, leading campus workshops and presentations on topics such as professionalism and cross-cultural understanding. They also teamed up to present in Philadelphia at a conference hosted by Campus Compact, an organization that promotes community service in higher education.
Their presentation noted the many ways SUNY Cortland weaves service-learning into its curriculum and encouraged other campuses to do the same. These service experiences could include mentoring, tutoring, care-giving, data collection or political and environmental-themed activities.
Even though SUNY Cortland's first two recipients of the designation represent different academic majors, both Christie and Gianfreda greatly valued their experiences working in local classrooms. Gianfreda said her passion is working with children, which could lead her to become a teacher or reading specialist. Christie aspires to be a pediatrician. A volunteer experience at Randall Elementary School in Cortland helped confirm her ambition.
"Being able to work with those kids gave perspective on what I really want to do in life," she said. "It was a great experience because I learned how to deal with different types of children and understand them."
Gianfreda said the fall semester of her junior year, when she was juggling the field experience requirements of her major with tutoring and service-learning internship commitments, emphasized the benefits of the recognition program.
"It was a lot on my plate but at the end of the day, it helped me grow so much more as a professional," she said. "I felt like I was learning more than I would have it I was only going to class … I was experiencing so much."
For more information, or to apply for the the President's Recognition for Engaged Learning and Leadership in Service-Learning, contact John Suarez, the service-learning coordinator for the College's Institute for Civic Engagement, at john.suarez@cortland.edu or 607-753-4391.
WW II Japanese-American Victim to Speak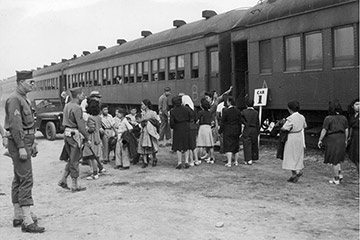 04/11/2016
During World War II, 9-year-old Sam Mihara and his family were forced to leave their home in San Francisco and were imprisoned in an internment camp in Wyoming for the duration of the war.
Mihara will discuss his life before and after the Japanese attack on Pearl Harbor and the government's treatment of more than 120,000 Japanese-Americans during this tumultuous time, on Wednesday, April 20, during three presentations on the SUNY Cortland campus and in the community.
| | |
| --- | --- |
| | |
| | The child Sam Mihara |
| | |
| | Sam Mihara today |
Presented by the Teacher Professional Development Network housed within the College's School of Education and the McGraw Central School District, his talks, titled "Memories of Heart Mountain," all are free and open to the public.
The first talk, from 9:30 to 11:30 a.m. in Old Main Brown Auditorium, is aimed at middle and high school students but campus and community members are welcome.
The second, from 12:30 to 1:30 p.m. in Brockway Hall Jacobus Lounge, targets members of the campus and community.
The third, which begins at 7 p.m. at McGraw Junior-Senior High School, is open to anyone. Bus service from campus will be available for students to attend the talk. The bus will depart from the stop in front of Moffett Center at 6:15 p.m. and will return to campus at approximately 9 p.m.
For information about lectures, contact Alexis Abramo, grants project manager for SUNY Cortland's School of Education, at alexis.abramo@cortland.edu.
This event also is co-sponsored by the College's School of Education, History Department, Political Science Department, Center for Gender and Intercultural Studies, Asian and Middle Eastern Studies Program, Philosophy Department and President's Office.
All-Star Cuba Symposium Open to Students, Faculty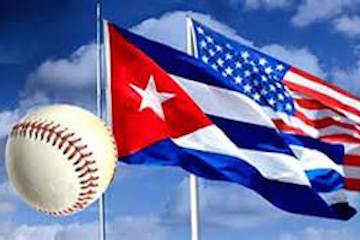 04/05/2016
Former U.S. Defense Secretary and Senator William S. Cohen will headline a symposium of diplomats, business people, academic experts and baseball executives in discussing how various forms of diplomacy can be used to bridge the differences between Cuba and the United States.
The symposium, a first-of-its-kind gathering, will be held on the SUNY Cortland campus in Cortland, N.Y., on April 28, from 9 a.m. until 5 p.m.
All interested students, faculty, staff, alumni and members of the community are invited to attend the event, either for the full day or for one or more of the panel discussions.
To register for the free symposium, please sign up here.
An up-to-date schedule of the day's events can be found here.
In addition to Secretary Cohen, moderators and panelists will include two former U.S. ambassadors as well as Cuban and American academics, business executives, government officials and baseball representatives. The highly respected panelists will explore business and academic opportunities created by the recent opening of relations between the former Cold War rivals and discuss how the two nations' shared passion for the game of baseball can facilitate this effort.
The symposium is co-sponsored by SUNY Cortland and the Caribbean Baseball Initiative (CBI), an organization seeking to promote goodwill and understanding between the U.S. and its Caribbean neighbors through a shared passion for the sport of baseball. Founded by managing general partner Lou Schwechheimer, a current minor-league baseball executive and owner, CBI has engaged with Cuban counterparts for more than a decade in an effort to build a baseball bridge between Cuba and the U.S.
The unique inclusion of baseball will bring an exciting energy to the symposium as the sport has been a cultural force in both nations since the late 19th century. Just last month, the eyes of the world turned to a Havana baseball diamond as Major League Baseball's Tampa Bay Rays played against the Cuban National Team during President Barack Obama's historic trip to Cuba.
"Our reengagement with Cuba has been closely watched over the past 16 months and through this we have been able to observe the many forms that diplomacy can take," Secretary Cohen said. "I am excited to join this event and continue the conversation."
Secretary Cohen, a former member of both the U.S. House of Representatives and the Senate and Secretary of Defense under President Bill Clinton, will deliver the symposium's keynote address. He is currently the Chairman and CEO of The Cohen Group, an international strategic advisory firm located in Washington, D.C. Secretary Cohen will be joined by two colleagues from The Cohen Group, who are also two of the U.S.'s most highly distinguished diplomats: Ambassador Marc Grossman and Ambassador Jeffrey Davidow, who will moderate panel discussions on business environment and the bilateral relationship, respectively.
Ambassador Grossman, currently a vice chairman at The Cohen Group, served as the Under Secretary of State for Political Affairs – the State Department's third-ranking official. He also held the positions of U.S. Special Representative for Afghanistan and Pakistan and U.S. Ambassador to Turkey.
Ambassador Davidow, currently a senior counselor at The Cohen Group, headed the State Department's efforts in Latin America, as Assistant Secretary of State for Western Hemisphere Affairs, and also served as U.S. Ambassador to Mexico, Venezuela and Zambia. Both former diplomats retired with the rank of career ambassador.
"SUNY Cortland is honored to host this unique and important event; a early step in what we believe will be a long and productive relationship between Cuba and the United States," said College President Erik J. Bitterbaum, who will deliver the symposium's opening remarks. "The best way to understand and bridge the differences between people and countries is through dialogue, which is what this symposium is designed to do."
SUNY Chancellor Nancy Zimpher will present remarks on behalf of the SUNY system, which is engaged in its own academic Caribbean Initiative.
SUNY Cortland is a public, comprehensive college of approximately 7,000 students in Central New York. It is a Division III athletic powerhouse whose baseball and women's lacrosse teams won national championships in 2015. SUNY Cortland has extensive international study partnerships in dozens of countries and is home to a highly respected sport management program.
For general information contact:
Frederic Pierce
Public Relations Director
SUNY Cortland
O – 607-753-2420
C – 607-345-4609
For baseball-related information contact:
Jordan Kobritz
Chair, Sports Management Department
O – 607-753-2196
C – 928-925-1114
Students Find Purpose in Relay for Life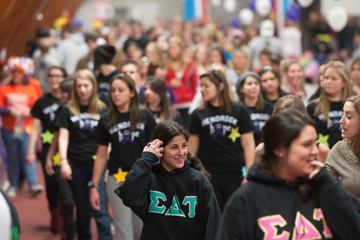 04/12/2016
When SUNY Cortland's Relay for Life takes place Saturday, April 23, it will bring a bittersweet finish line for senior Marisa Kaplan.
The community health major has worked on the all-night event benefitting the American Cancer Society since 2010, ascending to its committee chair role this year. She has witnessed Relay's emotional capacity six times in person and credits Colleges Against Cancer, the student group that organizes the night's activities, with turning the most difficult experience of her life into something far more positive.
"Most of us in the club and most of the people who attend the event share some sort of connection to cancer," said Kaplan, whose mother died of breast cancer a year before she arrived at the College. "It's been a long journey for me personally and Relay has helped so much."
She hopes this year's event, which takes place from 5 p.m. Saturday to 5 a.m. Sunday in Park Center Alumni Arena, will do the same for others. The registration fee is $15 per person in advance and $20 at the door. Faculty and staff members as well as community members are invited to attend.
"I still remember the first time I shared my story in front of such a large crowd," said Kaplan, who came to Cortland from Pawling, N.Y., a small town in Dutchess County. "It was difficult but rewarding at the same time."
Relay for Life has become one of SUNY Cortland's most popular spring semester events, drawing upwards of 600 participants and raising thousands of dollars to support people fighting cancer and their families. Last year's campus event brought in roughly $17,000.
Illuminated bags spelled out the word "hope" on the bleachers during a Relay for Life event
in Park Center Alumni Arena.
"Every dollar helps," Kaplan said. "Collectively, it goes a long way. But it's not just about the money; it's the entire experience."
Plans for this year follow a superhero theme and they include games and raffles, commemorative t-shirts and even a cape decorating station. Traditional Relay for Life staples also will take place, such as a walking lap led by survivors, a "Why I Relay" forum for those who wish to share their personal connection to cancer, and the event's powerful Luminaria ceremony, which features illuminated bags to honor those who have been diagnosed with the disease.
As a junior, Kaplan shared the emotional details of her mother's battle with a large crowd in the College's hockey arena. She described how difficult it was to celebrate a 16th birthday party that her mother could not attend and to be fitted for a prom dress that her mother never saw.
At SUNY Cortland, however, Kaplan said she eventually discovered a coping mechanism.
She remembers seeking out a service-related activity as a first-year student and finding it in an email that included a long list of campus clubs. Colleges Against Cancer caught Kaplan's attention. Ultimately, the student group would reshape her path in college. She changed majors to community health because she found meaning in the efforts that assist people with cancer and their families.
Kaplan also realized that she wasn't alone in her past experience.
"One of my favorite things about Colleges Against Cancer and Relay is that we're basically one giant support group," she said, noting that there are approximately 20 students in the club. "We're really there for each other because pretty much everyone's been touched by cancer in some way."
For group members like Kaplan, the support can't be quantified.
"Just thinking about when I started college and where I am now … Relay marks such major accomplishment for me," she said.
Visit SUNY Cortland's Relay for Life webpage to register for the event or to make a donation online. Stay current with updates on the event's Facebook page.
Graduate Expanding Literacy in Africa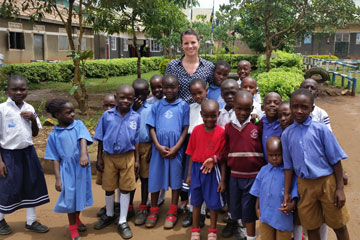 04/19/2016
Elementary school teacher Danielle Sweetman M '15 is changing the lives of Ugandan children one book at a time.
Sweetman, who earned a SUNY Cortland master's degree in literacy, was recruited to help The Literate Earth Project (LEP), a Philadelphia-based, non-profit organization that works with primary and secondary schools in Uganda to build libraries from the ground up.
Overall, LEP has benefitted 4,659 students with 28,000 books valued at $308,000.
Although she works full-time teaching fifth grade in Augusta, Ga., Sweetman has volunteered as an LEP board member since 2013 and currently serves as director of literacy.
That probably won't come as a surprise for those who knew her at SUNY Cortland, where she served as lead toddler teacher at the College's Child Care Center.
Prior to LEP and before enrolling at SUNY Cortland, Sweetman worked as a founding kindergarten teacher at Lanning Square Primary in Camden, N.J.
In Georgia, where she lives with her husband and stepdaughter, Sweetman aspires to move her teaching career into literacy coaching or literacy intervention.
In Africa, where she traveled in 2015 to help make some of LEP's Uganda libraries more effective, she experienced new literacy challenges. Working with the children in those communities was a transformational experience, Sweetman said.
"All the schools, children, teachers and the community in Uganda are the happiest, joyful, most kind people I've ever met," said Sweetman. "People have this pre-conceived notion that they're different from us, and they're not."
To succeed, however, these wonderful youngsters must overcome an almost non-existent educational system.
In the vast majority of schools in Uganda, students learn from composition notebooks. Their schools have just one or two copies of each textbook needed for dozens of students. Those books get copied, by hand, into those notebooks. If students want to learn about anything beyond what is in their class and textbook, there is no resource for them. Without access to computers or additional books, they reach a wall whenever their interests are piqued in a new area. LEP aims to eliminate that barrier.
In 2013, the organization built its first library, but disappointingly saw limited success and use by those in the community. That's when founder and CEO Jeff Fonda called on Sweetman, his former undergraduate classmate at SUNY New Paltz.
For six months she pored over training and evaluation documents from organizations such as the United Nations, Room to Read, and from dozens of local, regional and international stakeholders within the education community.
"Danielle pulled out the really valuable stuff from dozens of organizations and created a comprehensive and concise document, but it was more than that," Fonda said. "You can't just drop a 50-page packet in front of someone who has never run a library and expect it to operate properly. She had a huge part in turning our organization around."
Sweetman traveled to Uganda in April 2015 to work with Ugandan librarians one-on-one and make sure the library system was running efficiently.
"We learned that getting the community involved in the library was the key to our success," Sweetman said. "I realized that the LEP system didn't give our partners on the ground the tools they needed to engage the local population and ensure the library was used."
Since then, the organization has successfully opened nine libraries. LEP brings in 3,000 leisure books, furniture and Ugandan syllabus books once each library is prepared to open. Sweetman maintains that communication between libraries and the two project managers who oversee their Ugandan staff is essential to ensure that they are fulfilling their operating duties. It also helps ensure the books are treated properly.
This July, the Coram, N.Y., native will return to Uganda to train project managers for a two-year data collection survey. The survey will be administered in schools near the libraries to get community feedback about the libraries. She plans to tweak USAID's literacy evaluation program to track LEP's literacy progress.
"While we have anecdotal evidence that our libraries are having an impact, both from what we've seen and been told by teachers, by 2017 we will be able to prove it with hard data," Sweetman said.
Within the next year, Sweetman hopes to organize a conference in Uganda to allow librarians to share ideas and processes with each other.
Eventually, the LEP team plans to expand its impact to neighboring countries, including Ethiopia.
For more information on LEP and Sweetman's work, visit the theliterateearthproject.org.
Prepared by public relations intern Bethany Lunden
Future Sports Medicine Professionals Learn from the Best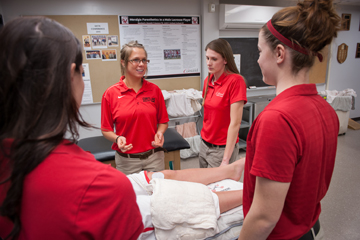 04/14/2016
SUNY Cortland's aspiring athletic trainers, exercise scientists and medical professionals will learn from some of the best minds in their respective fields at the College's Sports Medicine Symposium on Friday, April 22.
The one-day conference will dive into current topics and medical issues that today's athletes face such as concussions, anterior cruciate ligament (ACL) tears and other common injuries. The event features four expert presentations and includes a keynote talk by Dr. Jocelyn Wittstein, an accomplished orthopedic surgeon who specializes in sport-related injuries.
"This symposium offers a unique experience that considers various current aspects of sports medicine for both professionals and students," said Phil Buckenmeyer, associate professor and chair of the College's Kinesiology Department. "We are most thankful to Dr. Bert Mandelbaum for his endowment that makes all of this possible."
The event takes place from 9 a.m. to 2:30 p.m. and offers a discounted $10 registration fee in advance for students. Wittstein's 1 p.m. keynote talk on ACL tears and shoulder and elbow injuries in the throwing athlete is free and open to the public.
The 2016 symposium's highlights will include:
"Simplifying Complex Concepts of the Shoulder from a Clinical and Performance Perspective," a talk by B.J. Baker '86, a graduate of the College's athletic training program and the head athletic trainer at Pure Performance Training in Needham, Mass. Baker will discuss shoulder injuries and proper rehabilitation techniques.
"Current Concepts and Controversies in Concussion Management," presented by Brian Rieger, chief psychologist, assistant professor and director of SUNY Upstate Concussion Center. He will discuss concussion management as well as chronic traumatic encephalopathy (CTE), a progressive disease of the brain caused by head trauma and found in athletes.
"When the Ball Meets the Eye: Ocular Trauma in Sports" will consider the assessment and treatment of common competition-related eye injuries. Dr. Brian Sirgany, an optometrist and owner of Sirgany Eye Care in Cortland, will speak.
Wittstein's keynote talk will address different ACL reconstruction techniques, the outcomes of ACL reconstruction and important considerations for throwing athletes with shoulder and elbow injuries. She currently serves as the attending orthopedic surgeon at Bassett Healthcare Network in Cooperstown, N.Y., as well as director of research at Bassett Shoulder and Sports Medicine Research Institute, director of orthopedic education at Columbia-Bassett Medical School and assistant professor at Columbia University Medical Center.
Support for SUNY Cortland's Sports Medicine Symposium is provided by the College's Athletic Training Program, its Kinesiology Department, the Dr. Bert R. Mandelbaum '75 Sports Medicine Lecture Grant and a Campus Artist and Lecture Series Grant. A medical officer with U.S. Soccer and former team physician for the U.S. World Cup team, Mandelbaum went on to become a renowned orthopedic surgeon after graduating from SUNY Cortland.
For more information, contact Buckenmeyer.
Non-Traditional Students Named to Honorary
Twenty-five SUNY Cortland students have been elected to membership in Alpha Sigma Lambda, an international honor society recognizing the academic achievement of undergraduate students age 24 and older.
This is the 17th year the SUNY Cortland chapter, Lambda Omicron, has elected members. The induction ceremony and dinner was held April 14 in Brockway Hall Jacobus Lounge. Alpha Sigma Lambda national standards indicate that students elected to membership are in the top 20 percent of all students at SUNY Cortland age 24 or older who have completed 24 credits of work at SUNY Cortland with a GPA of 3.2 or better. The GPA range for this group of students inducted was 3.72 to 4.18.
President Erik J. Bitterbaum offered welcoming remarks to the new members. Steven Broyles, Biological Sciences Department, was the faculty guest speaker. He reflected on how these students are trendsetters and gave examples of other trendsetters who did not let their age or experiences slow them down.
Tammy Anderson, a senior community health major and member of Alpha Sigma Lambda, explained the ideals of the honor society. Elizah Feathers, a junior exercise science major and vice president of the Non-Traditional Students' Organization, assisted in the administration the pledge of membership to the inductees.
"I believe in the mission of Alpha Sigma Lambda and am fortunate to be able to induct our new members into this honor society and celebrate their hard work and successes," said Cheryl Smith Hines '05, Advisement and Transition Office, coordinator for non-traditional student support and the national councilor for the Alpha Sigma Lambda Omicron Chapter. "It is very impressive that, each year new member GPAs seem to increase while these young adults balance long commutes, full-time employment and family responsibilities. They are great role models for our campus."
Vice President of Finance and Management David Duryea, a retired rear admiral in the U.S. Navy, presented a military medallion to Corrine Edick, a biological sciences major, as a thank you for her military service with the U.S. Navy.
Students who have been elected to membership are:
Amanda Aguilar, Joseph Caponi, Lei Chen, Lisa Dent, Corrine Edick, Robert Fredericks, Andrew Haaland, Logan Hudson, Kevin Ivory, Heather Jones, Aaron Klein, Jared Leseman, Kyle McConnell, Hosna Mehrmohammadi, Alexander Mondo, Joanna Nassimos, Molly Oates, Amanda Park, Jaqueline Petrie, Richard Piotti, Tamara Shannon, Brittani Smith, Elizabeth Toal and Lindsey Valencia.
Broyles was inducted as an honorary member.
More information is posted on the Alpha Sigma Lambda website.
Conference to Focus on Stuttering Treatments
The SUNY Cortland Chapter of the National Student Speech Language Hearing Association (NSSLHA) will present a workshop for speech language pathologists on campus Saturday, April 30.
"Practical Treatment Strategies for School-age Children Who Stutter" will be presented by J. Scott Yaruss, a speech language pathologist and stuttering expert who is a member of the faculty at the University of Pittsburgh. Also, he is coordinator of Clinical Research of Audiology and Speech Language Pathology at Children's Hospital of Pittsburgh and director of the Stuttering Center of Western Pennsylvania. Yaruss has been practicing speech language pathology for more than 20 years, has authored over 150 publications, and is an American Speech Language Hearing Association (ASHA) Fellow. His biographical information is extensive and posted on his website.
The full-day workshop will be held in Sperry Center, Room 105, from 8 a.m.-3:30 p.m. A breakfast selection and lunch will be provided. It is co-sponsored by the Ithaca College NSSLHA Chapter and the Central New York Speech Language Hearing Association (CNYSLHA). For more information contact Michael Pitcher by email or at 607-756-5423.
The purpose of this conference is to delve into the broad disorder of stuttering and provide detailed information on diagnostic tools, Individualized Education Plan (IEP) goals and treatment strategies. The Individuals with Disabilities Education Act (IDEA) and eligibility criteria for children who stutter will be discussed in detail, along with writing goals and benchmarks. In addition, therapeutic techniques focusing on improving fluency and bettering a child's personal emotional and cognitive reactions will be explored.
Yaruss will concentrate on the child's environment and ways to reduce teasing and bullying, involve parents and teachers and the benefits of stuttering support groups. This introductory level conference will be of particular interest to working speech language pathologists and communication disorders and sciences students and faculty. Participants should gain confidence in their ability to help children who stutter, and will be taught skills to be better equipped to face the difficulties of stuttering therapy in schools and a variety of other settings.

Suggest a feature story
---
Faculty/Staff Activities
Seth N. Asumah
Seth N. Asumah, Africana Studies and Political Science departments, recently was appointed by the Association of African Universities and the Carnegie Diaspora Linkage Fellowship Program as an international invigilator and examiner for doctoral programs in Africa. Asumah will be travelling to the University of Ghana, Legon Ghana and the University of Ibadan, Nigeria, as an international examiner for doctoral dissertation defenses from April 22-30.
Carolyn Bershad
Carolyn Bershad, Counseling and Student Development, has been informed that the Counseling Center has met the criteria for full re-accreditation by the International Association of Counseling Services (IACS), the only association that accredits counseling services on university and college campuses. Accreditation by IACS is dependent upon evidence of continuing professional development as well as demonstration of excellence in counseling performance. The office offers individual and group counseling for students, as well as consultation and outreach to the campus community.
Christa Chatfield
Christa Chatfield, Biological Sciences Department, recently was profiled by a blog titled "Women of STEM." The series highlights women in science, technology, engineering and math (STEM), and can be viewed on this link: http://womenofstem.com/2016/04/06/christa-chatfield-assistant-professor-of-biology/
Jena Nicols Curtis and Susie Burnett
Jena Nicols Curtis and Susie Burnett, Health Department, delivered a research presentation on "College Men's Perceptions of Affirmative Consent, Coercion and Sexual Violence: Research Findings and Implications for Policy and Practice" at the Ending Violence Against Women International's annual conference on Sexual Assault, Domestic Violence and Engaging Men and Boys, held from March 22-24 in Washington, D.C. The conference was attended by more than 2,000 law enforcement personnel, criminal justice and victims' advocates, medical providers and campus health and safety professionals from a dozen countries around the world.
Christopher D. Gascón
Christopher D. Gascón, Modern Languages Department, presented a paper titled "Music and Metamorphosis in Repertorio Español's 2015 production of Calderón's El laurel de Apolo" at the annual symposium of the Association for Hispanic Classical Theater in El Paso, Texas. As secretary of the association, he also helped to organize the conference and support the concurrent Spanish Golden Age Play Festival at the Chamizal National Memorial Theater.
Eileen Gilroy and Nicole Scalera
Eileen Gilroy, Communication Disorders and Sciences Department, and Nicole Scalera, a second-year graduate student in the department, presented a poster at the New York State Speech, Language and Hearing Association Convention on April 8 in Saratoga Springs, N.Y. The poster is titled, "The Use of Surface Electromyography as a Component of Speech Pathology Intervention for Paradoxical Vocal Fold Motion: A Case Study."
Philip M. Gipson
Philip M. Gipson, Mathematics Department, had his article "Invariant Basis Number for C*-Algebras" published in the Illinois Journal of Mathematics.
David Kilpatrick
David Kilpatrick, Psychology Department, made an all-day presentation to 180 school psychologists and teachers at the New Hampshire Association of School Psychologists Conference on March 25. His topic was effective approaches to preventing and correcting reading problems.
Mary McGuire and John Suarez
Mary McGuire and John Suarez, Institute for Civic Engagement, conducted an "ignite" event, titled "'Hire' Education, Public Purpose, and Student Employers" at Campus Compact's 30th Anniversary Conference, held March 21-23 in Boston, Mass. This session used a "What If" approach to role-play in which the audience explored benefits of, and challenges to, a SUNY system that serves as a brokerage agency for college students. Examples included: Imagine a SUNY that refers students to professionals in their disciplines; students choose and hire professionals to be mentors; and students work with those mentors in applied-learning situations for the majority of their college educations.
Scott Moranda
Scott Moranda, History Department, is listed in the credits of a PBS documentary on Carl Schenck, one of America's first foresters, which showed on WSKG Binghamton and WCNY Syracuse from April 15-18. Moranda was asked to review "America's First Forest: Carl Schenck and the Asheville Experiment" and summarize Schenck's life in relation to his return to Germany where he lived during the Nazi period. The documentary shows German contributions to American forestry in its earliest days.
Melissa Morris
Melissa Morris, Physics Department, and her postdoctoral consultants presented the latest results of their research on chondrule formation in impact plumes at the 47th Lunar and Planetary Science conference held March 20-25 at The Woodlands, Texas. Morris's undergraduate research assistant, Anthony Terzolo, gave a poster presentation on the current results of his research on April 6 at the University of Rochester for the Rochester Symposium for Physics (Astronomy and Optics) Students, as well as at the SUNY Undergraduate Research Conference held Friday, April 15, at SUNY Cobleskill. Also, Terzolo gave an oral presentation at SUNY Cortland's Transformations on April 8.
Mechthild Nagel, Seth N. Asumah and Lewis Rosengarten
Mechthild Nagel, Philosophy and Africana Studies departments and Center for Gender and Intercultural Studies, Seth N. Asumah, Africana Studies and Political Science departments, and Lewis Rosengarten, Educational Opportunity Program and Africana Studies Department, presented papers at the recent New York African Studies Association at CUNY and Columbia University. Students Deidre Kirkem and Adesola Belo also presented their papers. Asumah and Nagel's book, Diversity, Social Justice, and Inclusive Excellence, published in 2014 by SUNY Press, won the New York African Studies Book Award.
Susan J. Rayl
Susan J. Rayl, Kinesiology Department, presented "The Right to Pursue Arete'" at 4th Annual Athletes and Social Change Forum, April 8-9. Regularly held at the Muhammad Ali Center in Louisville, Ky., the forum was conducted online in order to accommodate the schedules of the participants. Participants discussed topics directly and indirectly related to an International Bill of Rights for Athletes.
Robert Spitzer
Robert Spitzer, Political Science Department, presented a paper titled, "Gun Law History in the U.S. and Second Amendment Rights," at a conference on The Second Amendment: Legal and Policy Issues, held at the New York University Law School on April 8 in New York City. The conference was co-sponsored by the Brennan Center for Justice.
Tadayuki Suzuki
Tadayuki Suzuki, Literacy Department, had his article, "Taking a Closer Look: LGBTQ Characters in Books for Intermediate-grade Children," published in Children and Libraries: The Journal of the Association for Library Service to Children.
Sharon L. Todd
Sharon L. Todd, Recreation, Parks and Leisure Studies Department, and undergraduate student Ashlee Boughton, delivered a research presentation titled "Nature Relatedness, Sense of Place, and Well-being in Outdoor Pursuits Trip Groups" at the 28th Annual Northeastern Recreation Research Symposium on April 4 in Annapolis, Md. Ashlee, a senior majoring in therapeutic recreation, has been working all year with Todd on a longitudinal research project through the Undergraduate Research Assistant Program.
Dennis L.C. Weng
Dennis L.C. Weng, Political Science Department, presented three papers at the Midwest Political Science Association (MPSA) annual meeting in Chicago from April 7-10. Also, his paper "Investigating The Changing Citizens in Southeast Asia: An Empirical Analysis of Political Participation and Democratization in Southeast Asia," has been accepted for publication in April in the Journal of Southeast Asian Studies.

Submit your faculty/staff activity