Consumers Digest Lists Cortland as National "Best Value" College
06/30/2015
Consumers Digest has named SUNY Cortland as one of the nation's 50 "best values" among public colleges and universities, recognizing the institution as a leader in providing affordable, high-quality education.
SUNY Cortland ranked 41 among the 50 top-value public higher education institutions throughout the United States listed in the magazine's June edition.
The list was part of a special report, "The Price of Admission: How to Make a College Education More Affordable," that balanced the total annual cost of attending hundreds of different public schools with the quality of the education students received at each. Consumers Digest determined quality through a formula that included graduation and retention rates, student/faculty ratio and the high school grades of first-year students.
"Excellence and access are among SUNY Cortland's most important priorities," College President Erik J. Bitterbaum said. "It is truly gratifying to be included in a national ranking focused on the value that institutions provide for what hard-working families are asked to pay.
"For nearly a century and a half, Cortland educators have been changing the lives of smart, ambitious students of modest means. We've been able to accomplish that by using our resources wisely and putting our students at the center of all that we do."
And SUNY Cortland may be even a better deal than the Consumers Digest survey suggests.
Consumers Digest, which has been evaluating products and services for more than half a century, used out-of-state-resident tuition rates – which are higher than the tuition rates SUNY asks New York state residents to pay – in its cost comparison.
That is a very conservative estimate of SUNY Cortland's cost since the vast majority of SUNY Cortland students pay the lower, in-state tuition rate. Out-of-state residents, meanwhile, are eligible for SUNY Cortland's unique Future New Yorker Grant, in which the College makes up most of the difference in tuition cost.
"We have taken innovative steps to make a high-quality SUNY Cortland education affordable to students from all 50 states and beyond," Bitterbaum said.
Association to Honor Six Graduates During Reunion
06/30/2015
The SUNY Cortland Alumni Association will present its most prestigious honors to six graduates during the 2015 Alumni Reunion Weekend luncheon in Corey Union on Saturday, July 11.
The 2015 Distinguished Alumni Award recipients are:
Patricia A. Sullivan '69, a longtime George Washington University faculty member and former women's volleyball coach who excelled in fields that include physical education, exercise science and coaching education.
Ronald H. Case '74, M.S.Ed. '79, director of athletics at Gloucester County College in Sewell, N.J., one of the nation's most successful junior college athletic programs.
Diane C. Vecchio '81, a professor of history at Furman University in Greenville, S.C., and a nationally respected scholar on the experiences of Italian immigrants in America.
The 2015 Distinguished Young Alumnus Award recipient is:
Jarett S. Powers MS.Ed. '06, C.A.S. '09, C.A.S. '13, who in 2014, at age 32, became one of the youngest school superintendents in New York state.
The 2015 Outstanding Alumni Volunteer Award recipients are:
Joan Lombardi Peck '56, a retired physical education teacher and cheerleading coach from Rye, N.Y., who sets the bar very high for volunteering her talents to the Alumni Association for Reunion and other events.
John Silsby '69, M.S.Ed. '70, the retired Town of Groton (Conn.) Parks and Recreation Department director, whose tireless College and alumni service has enriched the Recreation, Parks and Leisure Studies Department as well as generations of student protégés.
Since 1968, 120 SUNY Cortland graduates, including this year's honorees, have received the Distinguished Alumni Award for their career accomplishments and outstanding service to their community and alma mater. In addition, 22 alumni have been recognized with Distinguished Young Alumni awards, reserved for alumni who are younger than 35 years old and have graduated in the last 10 years. Since 1999, 11 alumni have been honored with Outstanding Alumni Volunteer awards.
Here's a closer look at the six graduates:
2015 Distinguished Alumni Award recipients
Patricia A. Sullivan '69
As a professor, higher education administrator and coach, Sullivan has excelled in multiple roles during a distinguished career stretching more than 40 years. The longtime George Washington University faculty member and former women's volleyball coach has taught and published in fields that include physical education, exercise science and most recently coaching education. She continues to serve on the faculty at Massachusetts College of Liberal Arts (MCLA) in the departments of education and psychology.
"From my first teaching job through the present, my primary professional goal has been to instill in others the educational foundation, the professional pride and the confidence to lead that I gained under the guidance of Cortland faculty members and mentors," said Sullivan, a former physical education major and 2001 SUNY Cortland C-Club Hall of Fame inductee. She went on to earn a master's degree from Smith College and a doctorate from George Washington University.
She amassed more than 400 career women's volleyball wins between stints at the University of Nebraska and George Washington University. In 1987, Sullivan made the move from the court to the classroom and went on to spend the majority of her teaching career in the Exercise Science Department at George Washington. She served many roles, from coordinator of the basic activity program to supervisor of graduate teaching assistants to department chair, and was named professor emerita in 2007.
Sullivan proved vital in the establishment of the National Council for Accreditation of Coaching Education in the late 1990s and served as the organization's president when it granted accreditation for the first time. She developed an undergraduate coaching minor at MCLA after her retirement from George Washington and also has designed a coaching content area that is part of the institution's master's program in education.
Ronald H. Case '74, M.S.Ed. '79
For 25 years, Case has presided over one of the nation's most successful junior college athletic programs as director of athletics at Gloucester County College (GCC) in Sewell, N.J. The success is evidenced both by national titles won on the field and the personal awards recognizing Case's leadership. On four separate occasions, the National Association of Collegiate Directors of Athletics (NACDA) has named him athletic director of the year for two-year colleges, making Case the first four-time recipient of the award at any collegiate level.
"During my entire career it has been my goal to become the type of professional that would have made all of my past instructors and mentors at Cortland proud of me as one of their former students," said Case, who also serves as dean of health, physical education and recreation at GCC.
GCC was recognized as the top National Junior College Athletic Association (NJCAA) non-scholarship athletic program in the country every year from 2010 to 2013, winning four National Alliance of Two-Year College Athletic Administrators (NATYCAA) Cup Awards. In 2012-13, GCC captured its first-ever Learfield Sports Directors' Cup as the top overall two-year athletic program in the country. The Roadrunners also have earned 28 NJCAA Division III team national titles, 87 individual national championships and more than 200 All-American and 100-plus Academic All-American honors during Case's tenure.
Several larger organizations have depended on Case's leadership, including the executive committees for NACDA, NATYCAA and Collegiate Athletic Administrators of New Jersey (CAANJ). Past awards include the CAANJ's Garden State Award, the NATYCAA's William Miller Award and GCC's Medallion Award for Service to the College and Community. Prior to arriving at GCC in 1991, Case coached women's soccer and softball at Colgate University from 1987 to 1991. From 1979 to 1987, he held several positions at Penn State's Delaware County campus, including men's basketball coach, men's soccer coach and athletic director.
Diane C. Vecchio '81
Long before she was an authoritative history professor with more than a dozen book chapters and scholarly articles to her credit, Vecchio was a non-traditional undergraduate student pursuing grant-funded research under legendary faculty members at SUNY Cortland. Back then, a National Endowment for the Arts grant supported work with Frank Burdick, professor emeritus of history, examining her native Cortland's immigrant community. Today, Vecchio is a professor and chair of the History Department at Furman University in Greenville, S.C., as well as a nationally respected voice on several topics, specifically the experiences of Italian immigrants in America.
"Since the day I began to teach, I molded myself after the excellent professors that I had at Cortland," said Vecchio, SUNY Cortland's 2006 Scholars' Day keynote speaker.
In 2006, she also released her book Merchants, Midwives and Laboring Women: Migrant Italians in Urban America. Her other major research interests include Southern Jewish history revealed through the experiences of Jewish peddlers and merchants and African American history evidenced by the Reconstruction experience in Spartanburg, S.C. Prior to arriving at Furman in 1996, Vecchio taught at Marquette University, University of Wisconsin-Milwaukee, University of Wisconsin-Parkside and University of Wisconsin-Whitewater. She earned both a master's degree and Ph.D. from Syracuse University.
Vecchio also ascended the ranks within the Educational Testing Service Advanced Placement (AP) program between 1995 and 2005, eventually earning the title of chief reader for the AP U.S. History exam. In that role, she trained more than 1,100 historians reading tests of students seeking high school credit. To young minds across the country, especially those who sit in on her history classes, she has cultivated a scholarly interest in the past.
2015 Distinguished Young Alumnus Award recipient
Jarett S. Powers M.S.Ed. '06, C.A.S. '09, C.A.S. '13
Powers, of Ithaca, N.Y., currently heads the Union Springs Central School District. Born in West Islip, N.Y., Powers overcame early family hardship to earn a Bachelor of Arts in Social Studies Education from Ithaca College.
"School saved my life," he said. "My life experiences made me believe in school as the great equalizer."
At SUNY Cortland, he received a Master of Science in Education in 2006 as well as two Certificates of Advanced Studies (CAS), in educational leadership in 2009 and another in school business leadership in 2013.
"By furthering my study in educational leadership at SUNY Cortland, I was able to leverage my professional practice to help students in circumstances similar to my own achieve their dreams by having schools that truly work to support them."
Already at Union Springs, he has led his district to implement a one-to-one ratio teacher-laptop program to allow for improved classroom instruction and fostered a successful vote to establish a Capital Reserve Fund.
As principal at Ithaca High School from 2011 to 2014, he cut student disciplinary referrals by more than half and, with attendance up by 18 percent, increased the student achievement level, leading to the school's removal from "School in Need of Improvement" status. Powers encouraged peer observations to be completed by classroom teachers on a large scale to help teachers get to know each other and their teaching practices.
As a social studies teacher and associate principal in the Ithaca district for the previous seven years, he created the Advanced Placement Human Geography program and actively recruited non-traditional students — including individuals needing special education, academic intervention services or ones performing at the Regents level.
2015 Outstanding Alumni Volunteer Award recipients
Joan Lombardi Peck '56
It's hard to find another person who takes the giant task of organizing her classmates to have a wonderful Alumni Reunion as seriously as Peck. It's more like a calling than a job to her.
For many years, she has been actively involved in many facets of the College's Alumni Association, including organizing Class of 1956 reunions, fundraising campaigns and various other alumni events.
Peck has co-chaired her 50th, 55th and soon-to-be 60th reunions. She never shirks the detailed, hard work behind a successful gathering. For example, Peck designed the logo for her class, arranged for shirts, hats and tote bags to be printed with it, took orders and received payment from classmates and then distributed the memorabilia.
She also once wrote the lyrics to a class song, to be sung at the Reunion luncheon. On the Alumni Activities Committee, Peck and Gordon Valentine '68 together developed the popular "Cortaca in a Crate" kit complete with the football rivalry's history and party staples for those desiring to host a get-together.
If she can't reach a former classmate by telephone, she will gladly pen a personal letter. And her class committee members who help make those personal calls and write those friendly missives receive from Peck an allotment of carefully prepared contact lists organized by locale, fraternal organizations, education major, sport team participation and so on.
"Volunteering has provided me with an opportunity to express my gratitude to Cortland for an outstanding education, lifelong friendships and a livelihood bar none," Peck declared. "It also keeps me abreast of the newest innovations and has allowed me to witness (the College's) growth since the 1950s era."
Peck is married to Alexander Peck '57. The couple has four sons.
John Silsby '69, M.S.Ed. '70
Silsby has enjoyed an amazing run as a professional in the field of parks and recreation, but according to two classmates who are his professional peers, it's his devotion to his alma mater that really calls for recognition.
During his more than 41-year professional career, he also headed the Town of Tonawanda and City of North Tonawanda recreation departments.
He has attended more than 45 recreation conferences at SUNY Cortland as a student, professional or retiree. For 22 years, Silsby was chairperson and member of an alumni advisory committee to the College's Recreation, Parks and Leisure Studies Department.
As a 28-year member of the SUNY Cortland Metcalf Foundation Board of Directors, he has served as the group's guiding light. Walking in the footsteps of his revered mentor the late Professor Harlan "Gold" Metcalf, Silsby spearheaded the creation of a currently $150,000 endowment fund that supports student programming both on campus and at the William H. Parks Family Center for Environmental and Outdoor Education in the Adirondacks. One such program that Silsby initiated is the annual Hearts of Gold Reunion at the College's facilities on Raquette Lake, which brings together students with alumni as professional mentors.
Silsby has annually contributed to the Metcalf Endowment as well as The Cortland Fund and twice volunteered on Class of 1969 reunion committees.
Over the years, students have experienced hands-on learning out in the community as interns under Silsby's guidance. His leadership and accomplishments inspire those who are privileged to meet him through the civic educational opportunities or his campus involvement.
A former two-term president of the New York State Recreation and parks Society and one-term president of the Connecticut Recreation and Parks Association, Silsby has received many awards for his dedicated service to the profession.
---
Capture the Moment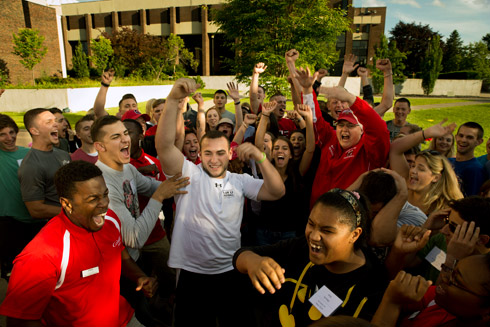 Orientation Assistant Chris Gutierrez, left front, leads his group of incoming first-year students in a game called Odds and Evens during Monday's Orientation session. Coordinated by Advisement and Transition, the sessions run from mid-June through mid-July. They are designed to introduce new students and their families to educational opportunities and responsibilities in and outside of the classroom and to services and programs vital to their successful transition to the Cortland community.
---
In Other News
Hoxie Gorge Reaches 50th Anniversary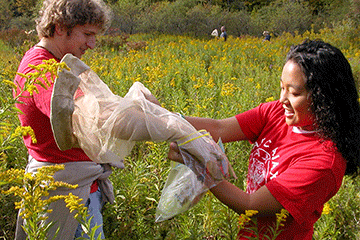 06/30/2015
Roughly 1,000 SUNY Cortland students a year visit Hoxie Gorge, with its rushing waters and its interesting mix of flora, fauna and geology.
"There have been about 41 academic journal publications, books or master's theses done from studies there and $1.16 million in research has been conducted in whole or part at Hoxie Gorge," said R. Lawrence Klotz, distinguished teaching professor of biological sciences, who has managed the facility for 25 years as chair of the College's Hoxie Gorge Committee.
In fact, 50 classes of Red Dragons have experienced hands-on learning opportunities at the outdoor campus, which today is an integral part of the William H. Parks Family Center for Environmental and Outdoor Education.
Half a century ago, SUNY Cortland acquired the large tract of rolling woodlands and meadows about seven miles south of the main campus.
The College will invite alumni, faculty, staff and representatives of the SUNY Cortland Auxiliary Services Corporation (ASC) — which facilitated the acquisition — to celebrate the milestone on Saturday, July 11.
The Hoxie Gorge jubilee will be included in the SUNY Cortland Alumni Reunion 2015 festivities as an enhancement to an educational hike that has been offered in recent years to Reunion guests by faculty in the College's Biological Sciences and Geology departments. The ceremony takes place at the George McDermott trailhead at 11 a.m. Buses will depart from the Lynne Parks '68 SUNY Cortland Alumni House at 9 a.m. and return at noon.
The faculty members who worked hard to acquire and develop programming at Hoxie Gorge will be honored at the ceremony with the unveiling of a plaque that will stand at the entrance to a planned arboretum. These were George L. McDermott, distinguished service professor emeritus of geography; John A. Gustafson and Eugene Waldbauer, both emeritii biological sciences professors; and Harlan "Gold" Metcalf, the late professor of recreation and leisure studies.
Details for the event can be checked at cortland.edu/rl-events.
Professors Worked to Find New Fieldwork Site
Located in Cortland County, the W.H. Parks Family Outdoor Center, Hoxie Gorge is situated in the southern New York section of the Appalachian Plateau province. The gorge itself is a tributary to the Tioughnioga River. It contains a venerable stand of old growth Hemlock trees.
The site was well suited for SUNY Cortland's course fieldwork in a variety of disciplines. Moreover, it met the College's need to expand and enrich academic programs for students enrolled in what was then a rapidly growing institution.
| | |
| --- | --- |
| | |
| | Alumni have experienced the wonders of the W.H. Parks Family Outdoor Center, Hoxie Gorge, during past alumni reunion weekends. |
The main campus had eaten up all the surrounding woodlands where professors formerly had taken their students for field studies, Klotz said.
"Fifty years ago, a lot of classes had just walked out the back door and behind Old Main through nature on the hill," Klotz said. "But the expansion removed all the areas we could get to through the main campus."
In 1964, McDermott, Gustafson, Waldbauer and Metcalf formed a committee that spent the late spring of that year surveying, mapping and studying tax records of suitable land in the immediate area around the College campus.
"The purpose was to create an outdoor area for interdisciplinary use by many departments," said Robert Rubendall, current director of the W.H. Parks Family Outdoor Center.
"They were looking for land that met three specific conditions," he said. "That it be within a half hour of campus; that it include over one hundred acres and preferably between two and three hundred acres; and that it have a specific variety of natural areas that the professors wanted to use for the classes they would be teaching."
The committee identified an ideal 169 acres and convinced three separate landowners to sell their adjacent former farmlands to the Student Faculty Association in the early fall. One of its members, McDermott, managed the property for the first 25 years.
"It's easy to get to, you can go out for a couple of hours," Rubendall said.
Graduates recall with great fondness their time spent at this outdoor classroom. For some, it was their first close encounter with wilderness.
The site has only an outhouse and a lean-to, but it sees heavy yearly classroom traffic. In addition, faculty members and students use it frequently for research purposes, Klotz said.
Klotz this year turned over chairmanship of the committee to Steven Broyles, professor and chair of biological sciences, and David Barclay, associate professor and chair of geology.
Klotz will help organize the planned anniversary festivities for the Hoxie Gorge facility.
Later in the summer, SUNY Cortland also plans to celebrate 1965 as a special, vintage year for the acquisition of another College property, the W.H. Parks Family Outdoor Center, Antlers, located on Raquette Lake. On Saturday, Aug. 22, the campus community will gather in the Adirondacks to celebrate the golden anniversary milestone.
The ceremony will begin at the amphitheater alongside the Casino building. Refreshments will be served. Depending on how many people attend, the event will move to the grassy lawn behind the Casino. A bus will depart from and return to the SUNY Cortland campus to transport faculty and staff guests.
Alumni Reunion 2015 Underway July 9 to 12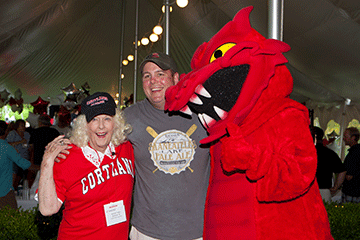 06/30/2015
More than 500 alumni and friends will enjoy class get-togethers, parties and other activities on campus and at the Lynne Parks '68 SUNY Cortland Alumni House from Thursday, July 9, through Sunday, July 12, during Alumni Reunion 2015.
"Reunion is one of our most favorite times of the year," said Erin Boylan, associate director of alumni engagement. "It is great to show off the new improvements on campus, highlight the accomplishments of the recent year and see that Red Dragon comradery stands the test of time."
As always, all alumni are welcome at Reunion, regardless of class year. Featured groups include the Half Century Club, comprised of alumni who graduated more than 50 years ago; the Classes of 1950, 1955, 1960, 1965, 1970 and 1990; sisters of Arethusa and Theta Phi, and the Student Government Association/House of Delegates. The Classes of 1974, 1975 and 1976 will return as the 40th Cluster Reunion.
Reunion opens Thursday with the Class of 1965 50th Reunion Dinner, which takes place at the Lynne Parks '65 SUNY Cortland Alumni House.
On Friday, two sets of golfers will tee off for the Theta Phi Golf Outing at Elm Tree Golf Course and the Alumni Association Golf Tournament at the Cortland Country Club. The Classes of 1955, 1965 and sisters of Theta Phi will set out for a boat cruise on one of the Finger Lakes.
That afternoon, the Cortland College Foundation and President Erik J. Bitterbaum will host a special reception at the Parks Alumni House to welcome all Red Dragons and to thank the Reunion Committee members. Later, members of the Half Century Club will dine at the Community Restaurant then board a bus to Little York Lake to see the Cortland Repertory Theater's production of the new musical "The Addams Family." Arethusa sorority will host its dinner in the elegant gardens of the Parks Alumni House. Also Friday, reunion featured groups will host various welcome parties on campus and around town.
| | |
| --- | --- |
| | |
| | Members of the Class of 1964, including the late Robert "Sparky" Wallace, center, enjoyed seeing each other again during Alumni Reunion 2014. |
Saturday's events include classes offered by graduates and faculty/staff for alumni, guided tours of the campus as well as the Parks Alumni House and the new Student Life Center. This year, an annual morning natural history hike of Hoxie Gorge will culminate with a 50th anniversary celebration of the College's outdoor campus, hosted by the staff of the William H. Parks Family Center for Environmental and Outdoor Education.
The SUNY Cortland Alumni Association will present its highest honor, the Distinguished Alumni Award, to three graduates, its Distinguished Young Alumni Award to one graduate, and its Distinguished Volunteer Award to two individuals during the Alumni Reunion 2015 luncheon. The luncheon begins Saturday at noon in the Corey Union Function Room and honors reunion classes and the award recipients.
The 2015 Distinguished Alumni Award recipients are Patricia A. Sullivan '69, a longtime George Washington University faculty member and former women's volleyball coach; Ronald H. Case '74, M.S.Ed. '79, director of athletics at Gloucester County College in Sewell, N.J.; and Diane C. Vecchio '81, a professor of history and nationally respected scholar on the experiences of Italian immigrants in America.
The 2015 Distinguished Young Alumnus Award recipient is Jarett S. Powers MS.Ed. '06, C.A.S. '09, C.A.S. '13, who in 2014, at age 32, became one of the youngest school superintendents in New York state.
The 2015 Outstanding Alumni Volunteer Award recipients are Joan Lombardi Peck '56, a retired physical education teacher and cheerleading coach from Rye, N.Y., who has volunteered her talents to the Alumni Association for Reunion and other events; and John Silsby '69, M.S.Ed. '70, the retired Town of Groton (Conn.) Parks and Recreation Department director, whose tireless College and alumni service has enriched the Recreation, Parks and Leisure Studies Department as well as generations of student protégés.
| | |
| --- | --- |
| | |
| | This elaborately signed, ceremonial pledge paddle still meant a lot to this pair of fraternity brothers meeting again at Reunion 2014. |
Immediately following the luncheon, the fun shifts downtown. For the sixth time, alumni can participate in Cortland Downtown Partnership's Taste of Downtown and Sidewalk Festival. Participants will enjoy food and beverage samples from numerous city eateries. The Nu Sigma Chi Legacy Fund will again underwrite an All-Greek Reception at the Parks Alumni House. The inaugural Half Century Club President's Reception will be hosted by Erik J. Bitterbaum in the Dowd Fine Arts Gallery.
Saturday evening the Theta Phi sisters will provide an entertaining program in Corey Union while all reunion attendees are invited to the Parks Alumni House for Brews and Barbecue. Brews and Barbecue will offer a selection of barbecue fare, NYS craft beer tastings, a DJ playing tunes from all eras and a photo booth featuring decades props.
A series of Young Alumni Reunion Day (YARD) events — geared for recent graduates from the past 10 years — are scheduled for that day. Activities will include a breakfast, softball game and complimentary beverage at the Cortland Brewing Company and an invitation to join all classes for Brews and Barbecue.
On Sunday, a farewell breakfast for all classes is scheduled for 9 to 11 a.m. in the back gardens at the Parks Alumni House. Arethusa sorority will have a farewell breakfast on the Kappa (1925-1991) Alumni Lawn of the Parks Alumni House. A workshop on using the online networking tool LinkedIn will take place that morning in the Parks Alumni House Dunlavey Pub. The Theta Phi sisters will enjoy a farewell breakfast in Brockway Hall Jacobus Lounge. Before departing, Arethusa and Theta Phi will tour their former Greek houses, at 64 Tompkins St. and 21 W. Court St., respectively.
The campus community is encouraged to attend Alumni Reunion 2015. For more information, contact Alumni Engagement at 607-753-2516 or visit the website at RedDragonNetwork.org/reunion.
Indoor Golf Range Named for Longtime Supporter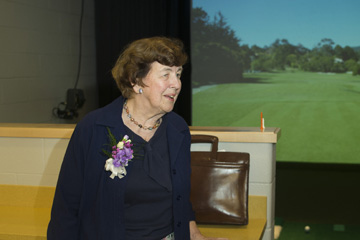 06/30/2015
A few weeks before her 80th birthday, Louise Conley warned the crowd surrounding the first tee at the Champion course at PGA National Resort that she hadn't played 18 holes in two years.
Then she swung her No. 3 wood and sent the ball an estimated 165 yards into the blue Florida sky and down the fairway.
Everyone knew exactly how far the ball went because the distance, ball speed and other diagnostic data suddenly appeared above the manicured fairway.
Conley, who has played the championship Palm Beach Gardens, Fla., course many times, wasn't actually in sunny Florida. She was in Cortland, on a dark day filled with storm clouds, testing her skill on a new Student Life Center golf simulator that bears her name.
"I came to the game late in life," explained Conley, who was in her 60s when she decided to take up the sport. "I wanted to find a place where I could learn golf, so I began to hit golf balls in a cage. After I hit 25,000 golf balls, I decided to try it on a real course."
Conley, chair of the Cortland College Foundation, found that her practice served her well. Coached by her husband, she soon became good enough to enter – and win – tournaments, always against much younger players.
"I was able to play in a Pro-Am tournament that teamed you with the players you see on TV," she said, describing the impact the sport has had on her life. "They give you a handicap so you can hold your own out there alongside a pro. You can't do that in football."
Conley's desire to expose students to a sport with lifelong benefits inspired her to become the first SUNY Cortland supporter to put her name on a feature of the College's Student Life Center, a striking, glass-walled structure housing more than three and a half acres of recreation and fitness opportunities. Since it opened it February, an average of 2,500 students, faculty and staff use the building every day.
The golf simulator allows users to play virtual replicas of some of the most famous golf courses on the planet by driving balls into a sensor-filled backdrop that displays courses so realistic that Conley was able to point out the porch of the condominium where she often stayed.
SUNY Cortland President Erik J. Bitterbaum unveiled a plaque identifying the Dr. Louise McCarthy Conley Golf Range during a June 12 dedication ceremony at the center. Conley's $30,000 naming gift was just the most recent example of her strong support of the College's educational mission.
She is the granddaughter of Francis J. Cheney, the second principal of the Cortland Normal School, and the daughter of two graduates, Rollin McCarthy '16 and Clara Cheney '17. A licensed psychologist from Princeton, N.J., Conley has offered countless hours of her time to SUNY Cortland and a transformational amount of financial support, including a million-dollar gift to endow the Louise M. Conley Chair in Educational Leadership.
"Louise helped set the bar for others to follow," Bitterbaum said. "She is self-effacing, humble and passionate about this institution."
To learn more about SUNY Cortland's naming program, contact the Institutional Advancement Office at 607-753-2518, or visit the program's web page.
Lecture Hall Naming to Mark Graduate's Legacy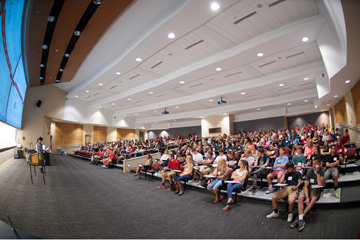 06/17/2015
Accomplished businessman David J. Vittor '67 traces much of his success in the alcoholic beverage distribution industry to a college environment that helped shape him. It's the main reason his generosity has taken the form of scholarship dollars for SUNY Cortland students with financial need.
"Students don't get lost at a place like Cortland," said Vittor, the retired president and chief executive officer of Major Brands, Inc. "It's a special place that prepares young people to succeed."
Vittor, a Long Island native who today resides in Mission Hills, Kansas, marked his latest gift to SUNY Cortland on June 19 at a naming ceremony on campus. Sperry Center, Room 105, one of the largest and most utilized lecture halls at the College, officially was named the David J. Vittor '67 Lecture Hall.
The former education major's lifetime giving to SUNY Cortland exceeds $500,000 — more than half earmarked for the David J. Vittor '67 Scholarship, which assists deserving sophomores, juniors or seniors with financial need. Vittor recalled his own experience coming to Cortland in 1963 from a middle-class upbringing in Levittown, N.Y.
"I don't mean to sound like an old man, but from 1963 to 1967, there were no cell phones, no email, no Instagram," he said. "You actually had to talk to people, and Cortland was an ideal place to do that."
The College's manageable size allowed Vittor to develop interpersonal skills, he said. He studied to become a high school history teacher and joined the Gamma fraternity, which produced friendships that still continue today.
"Gamma was quite a fraternity … it had a lot of diversity," he said. "That was special to me."
Following his college graduation, Vittor returned to Long Island, teaching history and coaching junior varsity lacrosse for a year at Elmont Junior-Senior High School under future hall of famer Richie Moran, who went on to win three national titles at Cornell University.
Vittor's business sense pulled him to a job with Joseph E. Seagram and Sons in New York City in 1968, then to a job in the Midwest with Major Brands by 1972. He spent 40 years with the company based in Kansas City, Mo., working his way up to president, chief executive officer and partner before he retired in 2012.
Under Vittor's leadership, Major Brands grew to be the 10th largest alcohol distributor in the U.S. and the largest in the state of Missouri with more than 650 employees. And through all of his success building an extensive portfolio of brands and a strong reputation for service, Vittor said he continued to tap his SUNY Cortland education.
"My teaching skills were invaluable," he said. "They helped with giving presentations, coaching colleagues … you name it."
Vittor, who has three adult children with his wife Ellice, currently serves as president and chief operating officer of DBV Holdings, through which he established a charitable foundation. He said his favorite causes remain those that benefit children and young adults, and that his alma mater has received his largest gift to date.
"Cortland was a magical place for me and my four years there were important … very important," he said. "I'm fortunate that I did well, and I'm thrilled I can give back."
Seven Physical Education Student Teachers Honored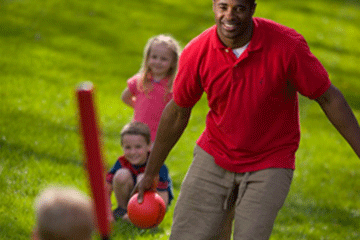 06/30/2015
Seven senior physical education majors were recently honored by SUNY Cortland with the Lenore K. Alway and the Anthony P. Tesori Awards for their outstanding work during their student teaching placements in New York state schools throughout the spring 2015 semester.
Faculty members of the Physical Education Department selected four men and three women for the recognition, and the students received certificates.
The men's award honors the late Anthony P. Tesori, a 1939 graduate who earned the College's C-Club Hall of Fame Award for his achievements before and after graduation and gave the College many years of leadership in athletics and administration. The Alway Award, given to women, pays tribute to the late Lenore K. Alway, the pioneer head of women's physical education at the College from 1941 to 1965.
The Tesori Award honorees and the schools where they completed their teaching for spring 2015 are:
Anthony Piscitello of Hauppauge, N.Y., at Pashley Elementary School in the Burnt Hills-Ballston Lake Central School District and Johnstown (N.Y.) High School.
Jason Felice of Endicott, N.Y., at Wheeler Elementary School in Onondaga, N.Y., and Moravia (N.Y.) High School.
Ross Halpern of Clifton Park, N.Y., at Belle Sherman Elementary School in Ithaca, N.Y., and Homer (N.Y.) Senior High School.
Malcolm Wright of Yonkers, N.Y., at Gorton High School in Yonkers, N.Y., and Traphagen Elementary School in Mount Vernon, N.Y.
The Alway Award honorees and the schools where they completed their teaching for spring 2015 are:
Kathryn Molyneaux of Vestal, N.Y., at Vestal Hills Elementary School and Jennie F. Snapp Middle School in the Union-Endicott Central School District.
Brianna Musselman of Bethlehem, Pa., at Fall Creek Elementary School in Ithaca, NY., and Cortland Junior Senior High School.
Amanda Perricone of Bedminster, Pa., at Beverley J. Martin Elementary School in Ithaca, N.Y., and Tully (N.Y.) Junior Senior High School.
For more information, contact the Physical Education Department at 607-753-5577.
Women's Soccer Success Starts in Cortland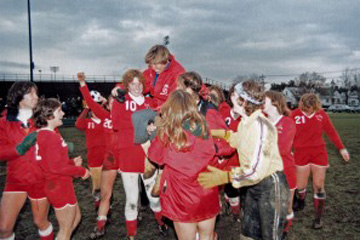 06/26/2015
Long before Alex Morgan and Abby Wambach were household names, there was the 1980 Cortland State women's soccer team — a squad that captured the first-ever collegiate national title in the sport.
The Red Dragons' championship journey reads something like a movie script: an underdog group from upstate New York drives a pair of school vans non-stop across the country to Colorado to play for the first national title in collegiate women's soccer. Once there, the team from the little-known public college takes down powerhouses that include Harvard and UCLA to win it all.
And now, as the former teammates cheer on the U.S. Women's National Team's current quest for a World Cup title, the historic Cortland team is nearing completion of an independent film that explains the importance of the championship run 35 years ago.
Read all about the journey at tworedcortlandstatevans.com
"It's been a journey because originally we thought we'd only tell our story," said Leslie Archer Kassel '81, a former fullback on the team who jumpstarted work on the film. "But the story turned into one about the entire sport … something much bigger than us."
The College, which fielded a women's soccer team for the first time in the 1920s and elevated the sport to varsity status in 1978, tied Harvard for the Eastern Association for Intercollegiate Athletics for Women (EAIAW) title in 1979. The EAIAW governed women's athletics before that role was assumed by the NCAA.
A year later, the Cortland team claimed the EAIAW trophy outright. It wasn't until after that victory that the players learned a national collegiate tournament – a first for women's soccer – was in the works.
Funding issues nearly prevented head coach Anna Rush's Red Dragons from making the trip to Colorado. But the long trip proved to be more challenging than the tournament itself, with Cortland plowing through Colorado State and Harvard before taking down UCLA, 5-1, in the Association for Intercollegiate Athletics for Women (AIAW) title game.
Archer Kassel, who went on to coach soccer and teach physical education and health in the North Colonie Central School District near Albany, N.Y., recently chatted about the team's historic season and plans for the film, which includes interviews with Abby Wambach and legendary University of North Carolina coach Anson Dorrance.
When did you know it was time to tell the story of the 1980 team?
"We've been talking about it for a long time because we never recorded the history of what we accomplished. We'd have our alumni game every so often and there was a pretty regular crew coming back … Every time we got together, we'd say, 'We've got to tell our story.' But we were all so busy coaching and raising our kids. Life just took over …
"In the fall of 2013, I was forced to take a medical leave from school and I had this time where I wasn't allowed to do much. I thought, 'This is our time.' … I ended up finding the time to put enough together to get everyone excited …
"Then last July, we got our crew together and made it down to the (C-Club) Hall of Fame Room. The Athletics Department was really good about allowing us the space to film. Joe Caldarone, who's pretty well known around here (in New York state's Capital Region), has his own company, InIt II WinIt Productions, and he's our film guy …
"So each girl sat down for an interview and had the opportunity to tell her story. And that was the beginning. It was really cool, and it got better with time."
So did you enter the season with high expectations? Did you know there was a chance to compete for a national title?
"There was no talk of a national title. Walking off the pitch after winning the EAIAW title, after beating UConn, 5-1, we went home thinking we were done. Then (head coach) Anna Rush and (assistant coach) Ron Hansen called us back in. They said, 'We've got good news and we've got bad news.' They said, 'The good news is we've been invited to play for the first-ever women's championship; the bad news is that we've got no money.' That was the first time we had ever talked about it. Then two days later … we're riding the excitement and headed to Colorado."
And what was that trip like?
"It was 40 hours and we drove through the night. I think it took us two days. We can't remember sleeping anywhere; we just remember taking night shifts. It was crazy. We had an envelope of cash, a CB radio … You just can't make this stuff up …
"And we couldn't cash the check that gave us funds for the trip, so Anna Rush's husband, who had a carpet business at the time, had to give us cash upfront to take with us … He also gave us carpet tiles because the floors of the vans were metal and there was no heat. We had to lay them on the floor so we could sleep on them on the way to Colorado. A lot of funny little things like that happened along the way."
Luckily, you made it to the tournament and then dominated it, correct?
"We ended up playing three games pretty immediately after we got out there … There ended up being seven teams, with UCLA getting a bye in the first round. I think we pulled in late Thursday night and then played at 12:30 in the afternoon the next day. We beat Colorado State and Harvard, our nemesis, each 3-0. Then we got into the finals and beat UCLA, 5-1 … It was insane."
Did you know at that moment how big it was?
"Absolutely not. You don't know the impact on the game until years later. We showered, changed and got right in the van to come back to school. We ordered pizza and drove all the way back to Cortland. And it's funny … We ended up getting pulled over on (Interstate 81) during a snowstorm … It actually turned out to be a police escort back to campus arranged by the town. There was a big band at Park Center. We had a reception. It was just a lot of fun."
Something else that's truly impressive: the magnitude of some of the names you've interviewed. Where did the Abby Wambach connection come from?
"The sports world is a small one … Joanie Schockow, who was our four-time All-American and now coaches at Brockport, coached Abby during her (Olympic Development Program) years in Rochester. She'll tell you how difficult it was to coach Abby because she was so good and maintained such a presence on the field …
"Anyway, the weekend we filmed at Cortland, Joanie ended up going back to Rochester to grab a meal with friends. Abby's team had just finished playing a friendly in Rochester and they ran into each other that afternoon. Joanie asked her to be in the documentary and she agreed without hesitation. It was really fun."
So where does the documentary stand now?
"We really want this to be a good product, so we're aiming for an hour-long documentary. We're not quite sure how we're going to release it …
"But it's been great because we've been able to interview people like Abby, (Harvard Athletic Director) Bob Scalise and (University of North Carolina head coach) Anson Dorrance … We got Anson Dorrance at a hotel when his team was in town for a game against Syracuse. He was the one who said it's the women's collegiate game that has changed the face of women's soccer in the world …
"So with the documentary, we have all the pieces — hours and hours of film … We're just re-writing a little bit to re-work it into our story. Unfortunately, we have no footage from those days. Who would've filmed it? But we do have a lot of great pictures and scrapbooks, so that's good …
"How do you know the impact of something when it's the first thing? In our minds, it was just exciting knowing we were the best in the country."
Adventurous Young Grad STOKED to Help Teens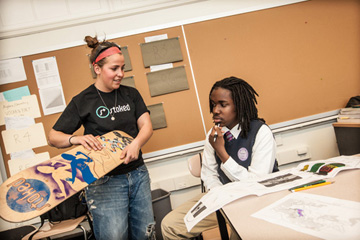 06/29/2015
Growing up in Fredonia, N.Y., Molly Fogarty '11 learned the secret to never being bored: Spell it b-o-a-r-d.
That's "board" as in skateboarding in the summer, snowboarding in the winter or surfboarding during family vacations to Florida or California.
"I would go to the ski club with my friends," Fogarty recalled. "All of my girlfriends would be skiing but I was the only girl who was snowboarding.
"The culture that surrounds action sports is something I've always felt connected to. I've always felt like 'myself.'"
Four years after graduation, the former sport management major and communication studies minor has turned her love of that culture into a career. Fogarty is program manager with STOKED, a small New York and Los Angeles based non-profit that sends inner city youth to the slopes, the surf and the skate park in order to build their confidence, capability and college potential.
Stoked is a combination of afterschool programs, weekend sports mentoring and professional college and career guidance for high school students. Now living in Astoria, Queens, N.Y., Fogarty manages the organization's contractual programs with schools in Bronx and Brooklyn. As part of her job, Fogarty leads the teenagers on weekend trips to a community skate park, to Belleayre Mountain ski resort about two-and-a-half hours north of the city, or to Rockaway Beach on the south shore of Long Island.
"Stoked" isn't just youthful slang for intense enthusiasm. It's also an acronym standing for success, teamwork, openness, kudos, energy and determination. The agency was founded by Steve Larosiliere, a former recruitment manager for Mentoring USA who was tired of the traditional mentoring programs for underprivileged children, which seemed to primarily involve eating pizza, going to the movies and helping with homework.
Instead, he wanted to share the actual life lessons he learned as a snowboarder, such as goal setting, overcoming obstacles, and how to think and dream big for one's future.
"It's our 10th anniversary," Fogarty said of STOKED. "We promote college and career readiness through the discipline and morals of action sports. We are only working in underserved populations."
Stoked depends as much on volunteer mentors as it does on raising money and contracting with schools.
"A lot of people who grew up with these sports feel like giving back," Fogarty said.
"We have a lot of friends who give their time and equipment. We also get a lot of donations for gear. People have loaned us a shack out in the Rockaways to store our surfboards and a place for our snowboards up in the Belleayre Mountains. They have been really giving, really generous with their time, energy and money to this."
The kids, for their part, design and build their own skateboards and are responsible for getting to and from the beach or park — on time — by public transit.
The young men and women come to appreciate the adventure outings, she said. For example, many teens have been transformed by the Rockaways, a beach in a non-affluent part of Queens that was especially hard hit by Hurricane Sandy.
"It's a great place to learn, a really nice surfing community," she said. "The kids meet us out there, it's great. They take the train or subway there just like we do. It teaches them real interpersonal skills that are crucial to success in any angle of the next step in their lives."
In her free time, the four-year SUNY Cortland rugby team member plays on a New York City women's team with the Village Lions Rugby Football Club Team.
"Rugby was this awesome sport for me because it brought a community of really laid-back and down-to-earth people into my life," she said. "Rugby was a huge part of my social life in College. I'm still really close to a lot of the people I met, and rugby has become a lifelong sport for me to play and watch."
Fogarty has retained ties to her alma mater. She attended a rugby-themed reunion and, after enjoying one Cortaca gathering three years ago at Manny's in Manhattan, she asked a New York City chapter organizer she met there, Robert Vinal '71, about helping out the next year.
"Bob was the official organizer," Fogarty said. "I was on the New York City chapter committee to make sure it was filled and everyone was happy."
By enlisting her friends and spreading the word via social media, Fogarty helped pack Manny's for the 2013 Cortaca event. She also helped organize the 2014 event, during which an even larger group of around 500 graduates flocked to a bigger tavern, Stout, to watch the game live via streaming video.
"It's nice to meet up with other New York City alumni because it's such a thriving community of alumni," Fogarty said. "I like to see what they are doing with their lives and catch up with them."
At the event, Fogarty met Erin Boylan, associate director of alumni engagement at SUNY Cortland. Fogarty now looks forward to helping Alumni Engagement increase turnout for the first New York City satellite reunion event, to be held the same weekend as Alumni Reunion 2015.
Fogarty could tell her classmates an inspiring story about making it in the Big Apple. After walking at graduation, she still needed an internship experience to complete the requirements for a degree in sport management. So she moved to New York City for a post with the United States Tennis Association's U.S. Open, which took place from June to September in Flushing, N.Y. As an intern, Fogarty joined 10 people working to correctly identify and credential all employees of the U.S. Open.
Once that ended, to remain in New York she took an entry level job with an information technology company to pay the rent but began to volunteer with STOKED.
"I knew I wanted to give back and give kids what I grew up with," she said.
She accepted what was then available at STOKED, a part-time job working 10 hours a week with youth. She quit her full-time job.
"Then I wedged my way into STOKED. I did marketing, then worked on the Website and was asked by my boss to be the official planner for an event, The STOKED Awards. It took three months to plan and I formed a great relationship with the team."
She continued as a marketing and outreach coordinator until last August, when she was promoted to her current job as program manager.
"It's perfect for me, it caters to my niche, sport management, and my background in marketing, business management and accounting. My role is to oversee a lot of what goes on and so I've had to revert back to a lot of what I learned in college.
"I never imagined I would get to work at what I really wanted to, but I did. I'm really happy … STOKED if I must make a corny pun."
It's Been a Marvelous 99 Years for Malvie Cook '38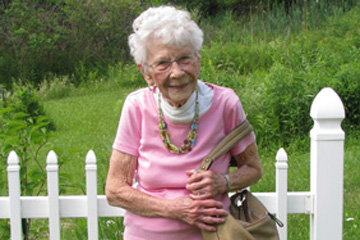 06/29/2015
Not many retired teachers can boast that they have a former pupil who is 87 years old.
But for Malvina "Malvie" Cook Hunt '38, who will be handed a bouquet as the "Most Mature" attendee during Alumni Reunion 2015, seeing one-time students as elderly adults is just another part of what will soon be a century of experience.
Malvie, who was born before women could vote, supermarkets were invented or America had fought a world war, will turn 100 on Oct. 5.
Until then, she considers herself 99 years young.
After a fulfilling, 37-year teaching career, three successful marriages and two children, Malvie still mows the lawn and grows vegetables and flowers at her home in rural Scipio Center, N.Y.
She also holds down a job.
To earn a little extra money she visits the King Ferry Winery a few miles down the road to prepare boxes of wine for shipment or serve as a greeter. The winery has issued Malvie her very own quality stamp.
"It's good for me," she said of the work. "I do it for an hour or two at a time.
"I have to ask even 30-year-olds their age before I can let them sample the wine, because they all look so young to me."
On a beautiful recent summer's day, winery staff made a fuss over their employee. An open house organized by one of her daughters, Miriam "Boo" Knapp, is planned to help her celebrate her centennial birthday. The party is on Saturday, Oct. 3, from 1 to 4 p.m. and anyone can attend.
Malvie said the event would give the grandchildren of her former students a chance to meet the teacher they've heard so much about.
"I think I'm pretty lucky," she said.
On any given day, she bakes pies for her church or serves an elaborate lunch that her former Theta Phi sisters would be proud of in her roomy kitchen of her small house. The house stands on the same country road where she grew up as the daughter of a farmer.
As a child, Malvie and her siblings traveled that road daily in a horse-drawn wagon to get to their one-room schoolhouse.
"One really terrible and slushy winter's day, we started out early for school in the wagon and the horse really struggled" to the school a few miles away, she said. "It was 11 o'clock by the time we got to school. The teacher put the poor horse in the barn and sent us on our way back home again in the early afternoon. We didn't get home that day until after dark. That was what it was like before school buses."
Like the children of most farm families at the time, she had been born at home and survival was far from guaranteed.
"I think I was five pounds. And I just couldn't seem to gain weight. We were weighed out in the barn in those days; so only in the summertime did you get weighed.
"It was rather nip and tuck for a few years but, whatever it was, now I'm an unusually healthy old lady."
She described how her father sold one lamb a year for each of his children and banked the proceeds so they could attend college.
"When I was only three, I heard that my lamb had died and I was afraid I would not be able to go to college after all," she said. "I didn't understand what college was, but anything with the word 'go' in it was something I wanted to do."
As a teen, she began working in a private Cortland home for room and board so she could attend the normal school. At that time, the entire campus consisted of a single academic hall, Old Main.
Malvie admired several late, widely revered faculty members, including Ralph Adams Brown in history, and Ben A. Sueltz in mathematics and administration. She also once stood up to the school principal, Harry DeGroat, when he confused Malvina's grade records with those of a student who flunked out.
She eventually joined the Theta Phi sorority in its house, located as she recalls on the corner of Lincoln Street. It was there that this girl from the country learned the fine table etiquette she displays to this day.
As a sophomore, Malvie fell very ill from what today might be called Guillain-Barré syndrome, and lost the rest of her year. Her family sent her to recover at Boston's Massachusetts General Hospital because she had a relative there.
When Malvie returned to finish her studies, much had changed. She learned the Cortland Normal School would become the New York State Teachers College at Cortland, which it did in 1942. Her three-year certificate program had become a four-year college degree track.
"So I graduated from college, but it took me five summers to make up for the work. But when I graduated I was allowed to teach as had been promised. They gave extended time because of the war effort. There weren't enough teachers."
She worked during the year and took summer courses, mostly at Cortland. While in class, her daughter, Miriam, often was learning her letters at the campus nursery school.
Malvie started her career in 1938, by teaching for two years in a nearby one-room schoolhouse. There, she taught all grades and ages, from preschoolers to teenagers.
"One afternoon we heard crying and scratching at the door and when we opened it standing there was a little toddler who followed her brothers and sisters to school." The mother was soon found, but after that the tyke wanted to come to school.
"After that, my kids took care of her," Malvie said. "We pulled the map down and soon she knew where Greece and Texas and Florida and all the other countries were. She knew all her numbers. In the afternoon, somebody read her a story and put her to sleep."
Then World War II intervened. Malvie became a welder to help with the war effort.
"When they found out I had a college education they wouldn't let me be," she said. "I was having an awful lot of fun being an ordinary welder and all that. Then I had to go to tech school. They told me, 'You have to be an inspector.'"
Malvie met her first husband, Bob Morsack, when she literally fell into his arms from the wing of a plane that she was checking at Bell Aircraft near Buffalo.
"I started slipping on the airplane wing because I didn't get the rubber-soled shoes I should. I started screaming of course, and this man appeared from under the wing and caught me."
They married in 1943. They lived in Niagara Falls, N.Y., during their first two years together, setting up housekeeping in a brand new neighborhood called Love Canal. They soon had to vacate their beautiful new house, which had been built on what later was revealed as a toxic waste dump.
The couple moved back to Scipio Center when Malvie's father suffered a heart attack. They lived with her parents for the rest of their lives. In the case of her mother, Alice Cook, that was almost two months past the age of 99.
Malvie taught for 32 years with the Southern Cayuga Central School District, then volunteered an additional 12 years. She and Bob were married for 34 years until his death.
In 1980, she married Fred Rafferty and they enjoyed a life together until his passing in 1988. In 1990, she exchanged wedding vows with Bob Hunt and would share the next decade with him. Malvie has two daughters, "Boo" and Mia Sohn.
She said she can't wait until Alumni Reunion 2015, when she can meet her Theta Phi sisters.The sorority continues as a foundation supporting the college, student scholarships and social activities, but she was unaware the group still existed until not long ago.
"I kept asking," she said. "I wanted to find our about Theta Phi for so long. Last year, it was a very nice young man who called me and asked, 'Do you want to divide this (donation) to go to Theta Phi or for it all to go to Cortland?' I was so excited. I divided my donation and then material came to me from Theta Phi. Then we got to writing back and forth."
And so Malvie keeps herself young by nurturing her many past-times, loved ones and friends.
CALS Lecture Grant Applications Available
Campus Artist and Lecture Series (CALS) Lecture Grant Applications are now available for the 2015-2016 academic year. Applications are eligible for a maximum of $500 and are open to any club, program or department. These lecture grants will not cover performances of any kind.
Applications must be received by Thursday, Sept. 3, in order to be considered for September, October, November and/or December 2015 lecture programs. Applications received after this date may not be eligible for any fall semester funds remaining.
For more information or to request a hard copy of the CALS Lecture Grant Application, contact Sandra Wohlleber at 607-753-5574 or via e-mail at sandra.wohlleber@cortland.edu.
Classified Staff Recognized for Years of Service
The 2015 Annual Service Awards Ceremony recognizing classified staff will be held on Friday, Dec. 4, in the Corey Union Function Room.
The following employees are slated to receive awards. To note a correction or addition to the list, contact the Human Resources Office by email or phone at 607-753-5751.
35 Years
Julie LaPlant, Kinesiology Department
Denise Riley, Economics Department
30 Years
John Young, Maintenance
25 Years
Walter Anderson, Mail Services/Central Warehouse
Susan Bush, School of Professional Studies
Judah Currie, Maintenance
Carol Kanellis, Academic Support and Achievement Program
Mary E .Murphy, University Police Department
Mark Taylor, Custodial Services
Michael Zhe, Motor Pool
20 Years
Dawn Bulmer, Payroll Office
Vicki Clark, Custodial Services
Diana McGee, Student Disability Services
15 Years
Gregory Bliss, University Police Department
Connal Carr, Maintenance
Wayne Carroll, Grounds
Janice Eaton, Foundations and Social Advocacy
Bradley Holl, Mail Services/Central Warehouse
Nancy Kuklis, Admissions
Kathy McCracken, Custodial Services
Richard Metcalf, Maintenance
Phillip Miller, Grounds
Kerry Mincher, Division of Finance and Management
Anthony Petrella, Custodial Services
Joel Rice, Grounds
Russell Scott, Duplicating Center
Shirley Shepard, Custodial Services
Nadia Snell, Students Accounts Office
JoAnna Tobias, Geography and Philosophy
Debra Whitney, Library
Richard Zurell, Transportation Services
10 Years
Mary Guido, Custodial Services
Nancy Hartford, Custodial Services
Colleen Martin, Advisement and Transition
Greg McCartney, Maintenance
Patricia Ondrako, Biological Sciences
Eric Rabusin, University Police Department
Jeremiah Rawson, Maintenance
Michelle Ryan, Custodial Services
Dale Searls, Custodial Services
Julie Taibi, Residence Life and Housing
Marthajane Warren, Student Health Services
Anna Wilcox, Registrar's Office

Suggest a feature story
---
People on the Move
Jaclyn Lawrence Named Assistant Director of Athletics
06/30/2015
Jaclyn Lawrence has been appointed Assistant Director of Athletics for Events, Marketing and Development at SUNY Cortland, according to Director of Athletics Mike Urtz. Lawrence served as Cortland's interim Assistant AD for Internal Operations during the 2014-15 school year.

Lawrence earned a bachelor's degree in physical education from Cortland in 2012 and a master's degree in sport management in 2014. She worked during the 2013-14 school year as an athletic operations intern at Cornell University, where she managed home competitions and scheduled facilities, event staff and officials. In addition, she served as a volunteer assistant coach with Cortland's women's volleyball team in 2013-14 and completed an independent work study position in the State University of New York Athletic Conference (SUNYAC) office in the spring of 2013.

From 2008-11, Lawrence was a member of Cortland's volleyball squad that posted a combined 131-33 record and won two SUNYAC titles. As a captain in her senior year she led the Red Dragons in digs as the team advanced to the NCAA Div. III quarterfinals.

The Marilla, N.Y., native was a modified boys' volleyball coach in the Eden (N.Y.) School District in the fall of 2012 and an assistant varsity girls' lacrosse coach in the Lancaster (N.Y.) School District in the spring of 2012.
---
Faculty/Staff Activities
Mark Dodds
Mark Dodds, Sport Management Department, recently was interviewed by the radio show "ESPN The Classroom" about the legal issues surrounding the FIFA corruption story. FIFA is the international federation for association football (soccer).
Karen Downey and Matthew Ellis
Karen Downey, Chemistry Department, and senior student researcher Matthew Ellis, presented their work, "Density Functional Theory Modeling for Design of Group 10-based Metallo-organic Catalysts," at the Northeast Regional Meeting of the American Chemical Society on June 10 in Ithaca, N.Y.
Fran Elia
Fran Elia, sports information director, was presented the 2015 College Sports Information Directors of America (CoSIDA) Warren Berg Award at the CoSIDA Convention on June 17 in Orlando, Fla. The award is presented annually by the 3,000-member organization to a CoSIDA College Division member who has made outstanding contributions to the field of sports information, and who, by his or her activities, has brought dignity and prestige to the profession.
In February, the Metropolitan New York Football Writers and USA College Football presented Elia with the Bob Kenworthy Div. III Football Communications Award at the Eastern College Football Awards Banquet held at MetLife Stadium in East Rutherford, N.J.
Sports information director since 1992, Elia received the Fraser Stokes Award for dedication to Cortland athletics in 1996, the Eastern College Athletic Conference – Sports Information Directors Association's Irving T. Marsh Service Bureau Award for excellence in the profession in 2009 and induction into the Cortland C-Club Hall of Fame as an honorary member in 2012.
Mechthild Nagel,
Mechthild Nagel, Philosophy Department and the Center for Gender and Intercultural Studies (CGIS), presented on Ubuntu Philosophy at a forum sponsored by the Critical Jurist Association of Frankfurt University, on June 11 in Frankfurt, Germany.
Tadayuki Suzuki
Tadayuki Suzuki, Literacy Department, will present "Promoting Social Justice and Reading Skills with Multicultural Informational Picture Books" at the International Literacy Association annual convention in July in St. Louis, Mo.

Submit your faculty/staff activity