Four Ceremonies Planned for 2015 Commencement
05/05/2015
SUNY Cortland's continued success in educating historically high numbers of students means Commencement 2015 will be held in four separate, indoor ceremonies on Friday, May 15 and Saturday, May 16.
The first undergraduate Commencement ceremony will be at 6:30 p.m. on Friday. The second and third undergraduate ceremonies are scheduled for 9:30 a.m. and 2:30 p.m. on Saturday. The graduate ceremony will take place at 6:30 p.m. Saturday.
All Commencement ceremonies will be held in the Bessie L. Park 1901 Physical Education and Recreation Center Alumni Arena.
The College expanded the number of ceremonies due to the size of its graduating classes, which have grown in recent years.
An estimated total of 1,333 seniors will receive bachelor's degrees during the three undergraduate ceremonies. Last year, 1,477 seniors walked at the undergraduate commencement held outdoors in the Stadium Complex, and was the largest crowd of family and friends ever admitted to the events.
The largest number of majors set to graduate in each of the three schools are: 123 exercise science majors in the School of Professional Studies, 107 childhood education majors in the School of Education, and 104 business economics majors in the School of Arts and Sciences.
A total of 119 students are scheduled to graduate summa cum laude — the highest academic honor — with grade point averages of at least 3.75 on a scale of 4.00.
The College will award 196 master's degrees and 27 Certificates of Advanced Study.
"All of our students have worked hard to achieve this goal and we are incredibly proud of them," said SUNY Cortland President Erik J. Bitterbaum, who will preside over Commencement exercises. "We know they will build on the foundation they created at SUNY Cortland and will go on to accomplish great things in their lives."
SUNY Cortland Political Science Professor Henry Steck will address the graduates at Friday's ceremony. Steck, a SUNY Distinguished Service Professor who has taught at Cortland for 52 years, is currently the longest-serving educator in the 64-campus SUNY system,
Helen F. Giles-Gee, a former academic dean at SUNY Cortland who went on to serve as president of both Keene State College in New Hampshire and the University of the Sciences in Philadelphia, will deliver the commencement address during the Saturday morning ceremony.
John P. Allegrante '74, a SUNY Cortland graduate and world-renowned health researcher, educator and administrator whose work has improved the well-being of people around the globe, will address graduates during the afternoon ceremony. Both Giles-Gee and Allegrante will be awarded the honorary degree of Doctor of Humane Letters by the State University of New York during the ceremony.
A graduate student traditionally delivers the commencement address during the graduate ceremonies. Patti Sue Kruppo, who will earn a Master of Science in Education from SUNY Cortland, will speak to classmates Saturday evening.
The graduates were allowed to invite up to four guests to help them mark this important milestone in their lives. An estimated 7,108 people — roughly 1,400 more than the usual number of guests — are expected to attend.
Gary DeBolt '73, president of the SUNY Cortland Alumni Association Board of Directors, will welcome these newest graduates into the ranks of the College's alumni, who live in all 50 U.S. states and 45 countries. In its 147-year history, SUNY Cortland has graduated more than 73,000 alumni.
The Undergraduate and Graduate Commencement ceremonies can be viewed on television in the immediate Cortland vicinity where there is Time Warner Cable access. This includes televisions in private homes, hotels, motels and on the SUNY Cortland campus. Time Warner will broadcast the ceremonies on Channel 17. Televisions on the SUNY Cortland campus will feature the ceremonies on Channels 2 and 17.
For additional information, visit the Overflow Locations and Webcast pages.
Undergraduate commencement receptions will be held from 8 to 9:30 p.m. Friday, May 15, in Park Center Corey Gymnasium; and from 11:30 a.m. to 1:30 p.m. Saturday, May 16, in Lusk Field House. The graduate commencement reception will take place immediately after the ceremony in Park Center Corey Gymnasium. All students, guests, faculty and staff are invited to attend the receptions. Refreshments will be served.
Additional details about Commencement 2015 will be released on the Commencement website.
Specific questions can be directed to the College's Special Events Office.
Chancellor's Awards Honor Four Faculty and Staff Members
05/05/2015
Four SUNY Cortland faculty and staff members will receive the prestigious State University of New York Chancellor's Award for Excellence during the 2015 Undergraduate Commencement ceremonies on Friday, May 15, and Saturday, May 16, at Park Center Alumni Arena.
The honorees are:
Ralph Carrasquillo, director of residence life and housing — Chancellor's Award for Excellence in Professional Service;
Julie Lenhart, head coach of the College's softball team — Chancellor's Award for Excellence in Professional Service;
Rhonda Moulton, secretary II for the Dean of Arts and Sciences — Chancellor's Award for Excellence in Classified Service; and
Susan Wilson, an associate professor in the Recreation, Parks and Leisure Studies Department — Chancellor's Award for Excellence in Faculty Service.
The Chancellor's Awards provide system-wide recognition for consistently superior professional achievement and encourage the pursuit of excellence at all 64 SUNY campuses. Each campus president submits nominations, which are reviewed by the SUNY Committee on Awards.
This year's award winners are profiled below:
Ralph Carrasquillo
Ralph Carrasquillo
Carrasquillo, the College's 26th recipient of the Chancellor's Award for Excellence in Professional Service, has made significant contributions to the quality of student life on the SUNY Cortland campus as director of residence life and housing for the past seven years.
He has 26 years of experience directing residence life and housing on college campuses, including 22 years on SUNY campuses including SUNY Cortland, SUNY Geneseo and SUNY Oneonta.
"Ralph is unwavering in his effort to make SUNY Cortland a student-centered community," wrote C. Gregory Sharer, vice president for student affairs, in a letter supporting the nomination. "Because of his approach, he has received recognition for his work in civic engagement, support of the Educational Opportunity Program, of the LGBTQI community and for the campus' child care center."
A staunch advocate of diversity, inclusion and equity, Carrasquillo in Fall 2014 developed and piloted the College's gender inclusive housing community. He established the Judson H. Taylor Leadership House learning community, a living and learning leadership experience for students. Under his leadership, the highly successful Green Rep program, a student-centered sustainability program, was implemented in all residence halls and he launched a unique housing program for visiting international scholars.
Carrasquillo instructs the Cortland Experience, designed to help incoming freshmen adjust to campus life, and has served on numerous campus committees, including those supporting a tobacco-free campus, environmental sustainability, behavioral assessment and providing child care on campus.
Students both at SUNY Cortland and SUNY Oneonta presented him with many awards recognizing his superlative ability to connect with them.
Carrasquillo shares his expertise on campus safety standards and student behavior assessment with SUNY system administration. He frequently presents at conferences for student personnel and diversity professionals.
Carrasquillo has a Bachelor of Arts in Psychology/Educational Psychology and a Master of Science in Counseling/Higher Education from SUNY Oneonta.
Julie Lenhart
Julie Lenhart
The 27th SUNY Cortland staff member to be recognized with a Chancellor's Award for Excellence in Professional Service also will go down as one of the most successful coaches in the College's storied athletics tradition. Earlier this year, Lenhart became the eighth softball head coach in Division III history to win 800 games. In 2014, she was inducted into the National Fastpitch Coaches Association (NFCA) Hall of Fame.
During her 21 years at SUNY Cortland, Lenhart's players have earned 24 all-America honors, six academic all-America awards and nearly 100 all-conference selections in the State University of New York Athletic Conference (SUNYAC).
"There are many that are very good at their craft, but some that are beyond good, beyond great even," wrote SUNY Cortland Director of Athletics Mike Urtz '94. "They are true difference makers in their sport and in the lives of those around them. One of those truly special difference makers is Julie Lenhart."
SUNY Cortland's softball team has punched a ticket to the eight-team Division III World Series seven times under Lenhart, finishing as national runner-up in 2013. Her coaching staff has been honored seven times as the NFCA Northeast Region Coaching Staff of the Year and three times as the SUNYAC Coaching Staff of the Year.
Beyond the softball diamond, Lenhart earned a reputation as a respected teacher, mentor and student advisor. She has contributed to campus-wide committees on gender equity and affirmative action. She has assisted celebrations that include the Cortland YWCA's Girls Day Out National Girls and Women in Sports Day in the community. She also served as the College's NCAA senior woman administrator from 2002 to 2004.
Lenhart earned a bachelor's degree in physical education and health from Ohio Northern University and a master's in counselor education from University of Wisconsin-Platteville.
Rhonda Moulton
Rhonda Moulton
Moulton, the longtime secretary II for the Dean of Arts and Sciences, becomes the seventh SUNY Cortland recipient of the classified service honor, created by SUNY in 2009 and presented in recognition of outstanding job performance, flexibility, creativity and exemplary customer service.
Moulton has devoted the past 12 years to serving the needs of all 18 academic departments within the School of Arts and Sciences.
She is recognized for her extraordinary skills as a listener and an efficient problem solver. She brings to projects the cohesiveness of a team player and an invaluable institutional memory.
"Ms. Moulton is well known for her commitment to assisting faculty, students and their families," wrote SUNY Cortland President Erik J. Bitterbaum. "She is highly respected for her communication efforts, including the impeccable organization of the annual Transformations event, a full-day of concurrent workshops, poster sessions and keynote presentations devoted to undergraduate research."
Moulton also plays a significant role in organizing the annual Academic Hall of Fame celebration.
She demonstrates great resourcefulness, assisting in the oversight of budgeting, faculty travel funding and academic scheduling.
"She is generous of her time and addresses the needs of each individual, providing superior customer service," Bitterbaum wrote.
Understanding the importance of professional development, Moulton constantly strives to update her skills, especially in the area of technology. A consummate professional and a role model for the campus, Moulton's demeanor is always friendly, approachable and helpful.
"She is widely respected within the campus community," Bitterbaum wrote. "She is genuinely committed to SUNY Cortland and its students, faculty and staff."
Moulton joined the College in 1997 as secretary I in the Research and Sponsored Programs Office and was was promoted to her current position in 2003.
Susan Wilson
Susan Wilson
Wilson's service takes on many forms that stretch beyond the therapeutic recreation discipline. Sought-after campus committee member, tireless community volunteer and devoted faculty advisor for the College's softball team describe just a few of her most prominent roles. The associate professor of recreation, parks and leisure studies is the College's 12th recipient of the Faculty Service Award. She has earned a reputation as an exceptional advocate for students since joining the SUNY Cortland faculty in 1998.
Students across campus — from the School of Professional Studies to the School of Education — depend on Wilson's unique teaching and advising abilities. Her attention to student needs underscores a major reason she received the Student Affairs Faculty Connections Award in 2010-11. Nowhere is her commitment more evident than the softball diamond, where she has devoted countless hours of her time to one of the most successful teams on campus — both in the classroom and in competition.
Wilson also stands out as a member of several campus-wide committees devoted to crucial topics such as curriculum, faculty development and the implementation of Title IX. A Faculty Senate member and past department chair, she served as the interim associate dean of the School of Education in 2011.
"Dr. Wilson seeks out opportunities to be involved and provides service to the campus beyond what is expected," wrote Abby Thomas, the director of Advisement and Transition. "The work she chooses to take part in holds great meaning."
In the community, Wilson is a strong supporter of the Cortland YWCA, the Council of Churches and an often-tapped expert on therapeutic recreation for the aging. Several state and national organizations in the discipline also benefit from her knowledge. In 2008, she received the Kimberly A. Kiernan Outstanding Professional Award from the New York State Therapeutic Recreation Association.
Wilson earned a bachelor's degree in recreation, parks and leisure studies from Western Washington University, a master's degree from Central Michigan University and a Ph.D. from Clemson University.
---
Capture the Moment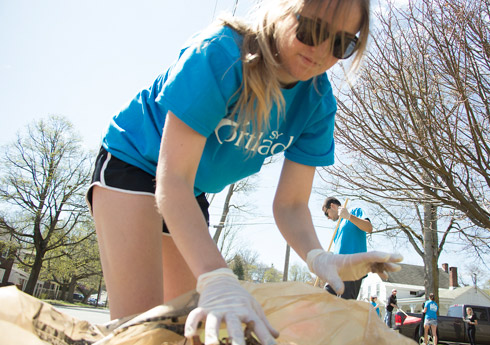 Hundreds of student volunteers, many of them dressed in distinctive blue shirts, poured into the community Saturday to help make SUNY Cortland's first-ever Big Event a giant success. Their work included painting, trash and brush haul, mulching and gardening, hedge trimming and raking at dozens of local job sites.
---
In Other News
Geologist Christopher McRoberts Gains a Fossil Namesake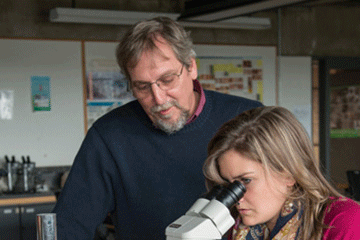 05/05/2015
To his list of professional milestones, SUNY Distinguished Professor of Geology Christopher McRoberts can add another notable accomplishment: namesake of a newly discovered species of prehistoric, eel-like animal.
The recently named Quadralella mcrobertsi is a conodont: a tiny, extinct aquatic creature that might be related to the ancestors of early fish.
An artist has rendered what some scientists think a conodont might have looked like.
Michael J. Orchard, a research scientist with the Geological Society of Canada, mentioned the species among a number of other newly identified conodont and aquatic flora species in an article that appeared in last fall's Bulletin of the New Mexico Museum of Natural History and Science.
"I was quite honored to be recognized by Orchard with a new species," McRoberts said. "I first learned about it when I received an early draft of his manuscript to review.
Orchard's article is titled "Conodonts from the Carnian-Norian boundary (Upper Triassic) of Black Bear Ridge, Northeastern British Columbia, Canada."
"To my knowledge, this is the first species to be named after me," McRoberts said. "Orchard, a specialist in Triassic Conodonts, is a long-time collaborator of mine and we have conducted field work together in British Columbia, Alaska and Nevada."
Pictured are pieces of the extinct species of newly identified conodont Quadralella mcrobertsi.
Both have found significant specimens on Williston Lake, in the Peace River Foothills of British Columbia.
The Quadralella mcrobertsi fossil found there appears to be older than 220 million years, placing it in what geologists describe as the Upper Triassic period.
Over the years, McRoberts and Orchard have compared Triassic-era fossils of the clam-like bivalve mollusks that McRoberts studies with the conodonts that Orchard's research focuses on.
Conodonts were soft-bodied, fish-like creatures that left very small microfossils — typically sized 0.2 millimeters long — of tooth-like mouth parts used for processing food, McRoberts noted.
Named after the Greek words for "cone" and "tooth," the body of the animal itself might have resembled a tiny eel — just a few centimeters long — based on some very rare fossil records of the soft flesh that hosted the fossil mouths. For some scientists, the conodonts ¾ with their tooth-like structures of calcium phosphate ¾ seem to answer the question of which came first in the evolution of vertebrates: the skeleton or the teeth?
But for McRoberts and Orchard, the reason the two collaborators compare notes is to study the Earth's age.
"A good part of my research involves using the distribution of fossil bivalve species in sedimentary rocks to delineate intervals of geologic time," McRoberts said. "This is called biostratigraphy or biochronology."
An accurate and precise geologic time scale permits recognition of biologic, environmental, climatic or other geologic events such as mass extinction events, evolutionary change, ancient climate change and other geologic phenomena — or their rates or global scale, according to McRoberts.
The fossil species also can be used to work out the ancient positions of the continents, he said.
McRoberts has conducted fieldwork across the globe in countries that include China, Italy, Canada, Austria and Hungary. Many scientific journals have published his work, including Science, Journal of Paleontology, Geology and Palaeogeography, Palaeoclimatology, Palaeoecology.
"I have named a few (new species) after people who have made a significant contribution to the discipline," said McRoberts, who in 2011 received the SUNY Chancellor's Award for Excellence in Scholarship and Creative Activities.
In the future, a group of McRoberts' newly discovered bivalve mollusks will either be named after early pioneers in the science or more recent contributors to research on the Triassic Period or the species.
"With the material I am currently working on, I have one that will be named after Michael Orchard," McRoberts said.
Christopher McRoberts, left, combs a beach in British Columbia with other geological scientists to find fossils that will add to knowledge about the Earth.
Student to Publish Children's Book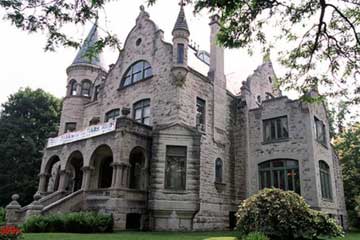 05/05/2015
Children's books typically revolve around cute talking animals or magical kingdoms, not historical landmarks. But Denise Seidler, a senior art history major at SUNY Cortland, has created a tale that weaves the two together perfectly.
Seidler's book about a search for a missing parrot inside the historic, castle-like mansion of one of Cortland, N.Y.'s most prominent families began during her internship at The 1890 House Museum on Tompkins Street.
Seidler, a featured artist in Gandy Dancer, a SUNY-wide literary magazine, recently finished the book, Where's Jac? and will print the work through The WordPro in Ithaca, N.Y.
Last fall semester, while the native of Manorville, N.Y., was completing her internship at the former home of the Wickwire family, one of Cortland's most prominent industrialist families, James Miller, a SUNY Cortland lecturer in history, suggested the idea of creating a book.
"I was approached by Professor Miller about my interest in writing a children's book, or doing something that might help promote local history and increase the involvement of children at the museum," said Seidler, who quickly took on the project.
With the support of both Miller and Megan Eves, director of The 1890 House Museum, Seidler began creating the tale, loosely based on history. The story follows young Frederic Wickwire as he looks for his pet, Jac the parrot, with his brother Charles. While hunting for the bird the two search through the historic house, exploring different areas and pointing out artifacts that they would have come in contact with daily that are still present in the home today.
Although the story is fictional, the characters of both boys are based on two young brothers of the same family name who lived in the house during the Victorian era when the narrative is set.
Seidler researched several historical sources from the Victorian era to get a sense of what the daily lives of children were like, including what they did for amusement.
"It was a lot of fun to write," Seidler said. "I have always been a writer but have never pursued it in any serious sense until now."
Denise Seidler
Seidler continued to work on the children's book this spring semester, illustrating the entire book with photographs she had taken at The 1890 House.
With the book completed, she hopes to promote local history and bring new visitors to The 1890 House museum, especially youngsters.
"I hope that the book will help engage young students' interest in Victorian life as well as their interest in museums," Seidler said.
Seidler intends for the book to be self-published and funded by crowd sourcing. For more information about the book or to support the project, visit the book's GoFundMe page.
Prepared by public relations intern Kate Monno
Students Win SUNY Study Abroad Awards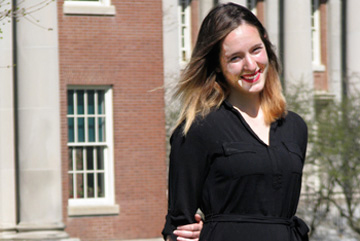 05/05/2015
Two SUNY Cortland students are among the early recipients of a new state scholarship that supports diversity in study abroad.
Senior international studies major David Paulino of the Bronx, N.Y., and junior English adolescence education major Iva Markicevic of Cortland, N.Y., both earned Diversity Abroad Honors Scholarships from the SUNY Office of Diversity, Equity and Inclusion.
Paulino, the first SUNY Cortland student to receive this award in the scholarship's inaugural round, this spring semester used his $1,000 award for studies at Universidad de Granada in Spain. Markicevic more recently was awarded $1,000 to travel to Cuzco, Peru, for six weeks this summer to participate in a SUNY Geneseo program called "Discovering the Andean World."
"We congratulate David and Iva for their achievements and we are proud for them to be ambassadors for SUNY Cortland abroad." said Mary Schlarb, director of international programs at SUNY Cortland.
Established by Carlos N. Medina '78, SUNY's chief diversity officer and a SUNY Cortland alumnus, the Diversity Abroad Honors Scholarship supports students from a broad range of backgrounds who will contribute to the diversity of the student body on their campus or in their academic program. The scholarships range up to $1,000.
"I was beyond happy and surprised," said Paulino, who is completing minors in anthropology, Latino and Latin American Studies and Asian/Middle Eastern Studies.
"These scholarships have helped me with reaching my goals of not only studying abroad in Spain but allowing me the opportunity to visit other countries like Switzerland, France and Morocco," he said.
Markicevic was awarded the Diversity Abroad Honors Scholarship in the second round of review.
"I was very excited because I want to be a teacher, and I think that in that career, there is a great need for diversity appreciation and cultural knowledge," Markicevic said.
"Being able to go to a country where I am unfamiliar with the culture and am not used to speaking the language daily will go a long way in helping me cultivate these important attributes," said Markicevic, who is minoring in Spanish.
"The SUNY Diversity Abroad Honors Scholarship program shows the strong commitment of SUNY, and particularly the Office of Diversity, Equity and Inclusion, to expanding access to transformative education abroad experiences," Schlarb said.
David Paulino, left and Connor Brenner, a fellow study abroad student from the University of New Mexico, right, take in the Alcazaba in Malaga, Spain. Above left, Markicevic is pauses for a moment near Old Main.
Paulino for the spring semester also was awarded the College's Willi Uschald Scholarship, worth $950. Created in 1991, the award is named for Willi A. Uschald, a SUNY Cortland professor emeritus of foreign languages and director emeritus of international programs. Uschald Scholarships are awarded to students accepted to a study abroad program who are U.S. citizens.
Diversity Abroad Honors Scholarships are available to students for a variety of programs worldwide, including semester-long study, shorter-term faculty-led courses, internships and student teaching. Recipients were selected based on criteria that included high academic achievement, financial need, involvement in extracurricular activities, a personal essay and letters of recommendation. In order for the students to receive the scholarship, SUNY Cortland was required to match each awardee's overseas scholarship.
For more information, visit the scholarship website.
Prepared by public relations intern Kate Monno.
Students to Award Local Grants Worth $10,000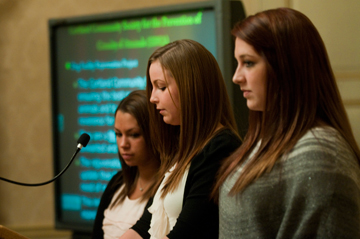 05/07/2015
SUNY Cortland students will award $10,000 to local non-profit organizations during a ceremony Thursday, May 7, as part of a political science course devoted to philanthropy and civic engagement.
The hour-long awards presentation takes place at 4:30 p.m. in Old Main Colloquium. It is open to the public and refreshments will be served.
Using funds from the Learning by Giving Foundation, students in the Philanthropy and Civic Engagement: Learning by Giving course will distribute four grants to Cortland County applicants. The students' grant decisions this year are focused on human services with an emphasis on families and children in need.
"In my experience, the students grow up quickly when they learn how difficult it is to distribute scarce resources and how painful it is to deny support to many worthy community groups," said SUNY Distinguished Service Professor Henry Steck, a professor of political science. "Overnight, these students become thoughtful, serious, careful and mature."
Steck taught the course this year with Barbara Barton, an assistant professor in the College's Health Department and a specialist in community health.
Local organizations submitted applications earlier in the spring semester. Final grant decisions were made by the 19 students enrolled in the course and will be announced during the event.
In addition to application review and discussion, students read about foundations and non-governmental organizations, visited application sites and wrote several reflection papers during the course.
SUNY Cortland is one of 40 colleges and universities nationwide to receive the Learning by Giving Foundation's funding. The course also receives support from the College's Political Science Department and Institute for Civic Engagement. None of the money from the Learning by Giving Foundation can be used on course-related expenses.
Based on requirements set by the Learning by Giving Foundation, all awards must be $2,000 or greater. In the past three years, three sections of the course have awarded $30,000 to local non-profit organizations at awards ceremonies in the spring.
For more information on the course, contact Steck at 607-753-4807.
EPA Names Cortland SUNY Conference's Green Power Champion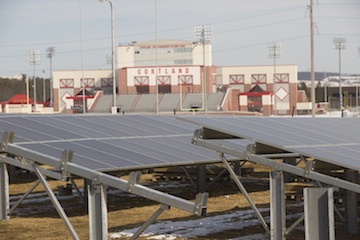 05/01/2015
SUNY Cortland isn't just dominating the State University of New York Athletic Conference (SUNYAC) in sports.
The federal Environmental Protection Agency (EPA) this week named Cortland the SUNYAC's green power champion, recognizing the College's commitment to using and promoting renewable energy.
SUNY Cortland was named the 2014-15 conference leader in the EPA's College and University Green Power Challenge for using more renewable energy than any of the 10 schools in the SUNYAC.
"EPA applauds SUNY Cortland's accomplishment as the SUNY Athletic Conference's largest green power user in the College and University Green Power Challenge," said James Critchfield, program director of EPA's Green Power Partnership. "By choosing to use green power, SUNY Cortland is cutting its carbon footprint and setting an example for others to follow."
SUNY Cortland was the first school in the 64-campus SUNY system to get all of its electricity — 100 percent — from renewable sources such as solar, geothermal, wind and hydropower. Its 3,600-panel solar energy project, the first of its kind on any public college campus in New York, is considered a model for other state institutions.
Dragon Hall, the campus' newest residence building, was the first structure of its kind in New York state to receive the highest possible rating for sustainability by the U.S. Green Building Council.
"Our College is deeply committed to reducing the use of fossil fuels and playing a leadership role in the green economy of the future," SUNY Cortland President Erik J. Bitterbaum said. "We are grateful for this recognition of our efforts by the nation's top environmental agency."
Since 2006, EPA's Green Power Partnership has tracked and recognized the collegiate athletic conferences with the highest combined green power use in the nation. The Individual Conference Champion Award recognizes the school that has the largest individual use of green power within a qualifying conference.
Green power is zero-emissions electricity that is generated from environmentally preferable renewable resources such as wind, solar, geothermal, biomass and low-impact hydro. Using green power helps accelerate the development of new renewable energy capacity nationwide and helps users reduce an institution's carbon footprint.
The Green Power Partnership is a voluntary program that encourages organizations to use green power as a way to curtail the environmental impacts associated with electricity use. The partnership currently has nearly 1,300 partner organizations voluntarily using billions of kilowatt-hours of green power annually. Partners include a wide variety of leading organizations such as Fortune 500 companies, small and medium sized businesses, local, state and federal governments, and colleges and universities.
SUNY Cortland was the first SUNY campus to join the partnership.
Women's Lacrosse Captures First-Ever NCAA Crown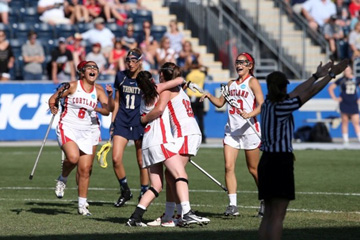 05/24/2015
The SUNY Cortland women's lacrosse team capped a storybook season with the program's first-ever NCAA title, knocking off previously top-ranked Trinity College, 17-6, in the Division III national championship game at PPL Park in Chester, Pa.
The Red Dragons, playing in their first-ever NCAA title game, had lost to the Bantams in national semifinal games in each of the past three seasons. Led by first-year head coach Kelly Lickert-Orr, SUNY Cortland finished the 2015 campaign 22-1 and tied the school record for wins in a season.
The College ran out to an 8-2 halftime lead in the championship and never trailed in the game.
Sophomore Kristen Ohberg and freshman Hannah Elmer each notched four goals and an assist to lead the Red Dragons in the scoring column. Junior Tara Monaghan netted three goals and senior Emma Hayes-Hurley '15, who was named the Final Four's Most Outstanding Player, recorded two goals and two assists. Senior Marilyn Farrell '15 tallied two goals and an assist and junior Nicole Bello also scored twice.
Sophomore goalie Jaclyn Beshlian stopped eight shots in between the pipes. She was joined on the Final Four All-Tournament Team by Elmer, Hayes-Hurley, Monaghan and Ohberg.
The win marked SUNY Cortland's 19th in a row and punctuated an impressive NCAA Tournament run that saw the team win four of five games by at least seven goals. After falling behind 4-0 to Middlebury College in the national semifinals, the Red Dragons came storming back for a 19-12 win.
The 2015 campaign also saw the women's lacrosse team win its 17th straight State University of New York Athletic Conference (SUNYAC) title and push its home winning streak to 67 games. The program previously played in the 1984 United States Women's Lacrosse Association (USWLA) national title game in 1984.
The national championship is the College's first team title since the men's lacrosse squad won an NCAA crown in 2009. The SUNY Cortland Athletics Department now boasts 24 national team titles in its history, including 18 NCAA championships.
Corporate Challenge Registration Due Wednesday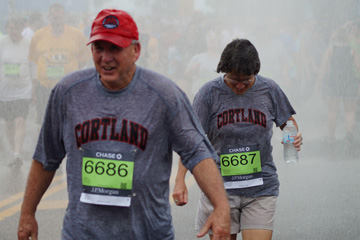 05/19/2015
SUNY Cortland employees don't have to run fast to be a part of the College's J.P. Morgan Chase Corporate Challenge team. But they do need to act fast if they want to attend the annual evening run/walk promoting health and fitness.
Registration must be completed online by noon on Wednesday, May 20.
The College again will participate in the J.P. Morgan Chase Corporate Challenge on Tuesday, June 9. The 3.5-mile run/walk starts at 6:25 p.m. at Onondaga Lake Parkway in Liverpool, N.Y. Registration costs $15 and includes a team shirt, post-race food and drinks, transportation and all event fees. Payment — preferably by check made payable to SUNY Cortland — should be turned in to Chris Tucker or Kerry Mincher in the College's Purchasing Office.
Participants are free to run or walk the event, and no previous experience is necessary. According to race rules, only employees can represent a company.
Last year, more than 8,500 people participated in Central New York's largest annual running event. SUNY Cortland sent a team for the eighth consecutive year and its four-person men's team finished with the fastest overall time, earning a trip to the 2015 international championship to be held in San Francisco in September.
For more information on the event, visit the Syracuse Corporate Challenge website or contact Tucker by email or 607-753-2488.
College Posts Sexual Assault Message in Bathrooms
"It's On Us" may be on your bathroom stall door.
College workers last month began installing permanent informational stickers to the backs of toilet stall doors in men's and women's restrooms throughout campus.
The stickers provide resource information about sexual assault, relationship violence, stalking and sexual harassment.
Based on similar programs at other colleges, the stickers are considered an effective way to provide this critical information to people who may need it in a private way, according to Nan Pasquarello, the College's interim Title IX director.
The program is part of SUNY Cortland's ongoing "It's On Us" initiative to educate students about sexual assault. Students always are encouraged to intervene in situations in which non-consensual sex seems likely to occur, reinforce that sexual assault is unacceptable and support victims.
Sexual contact is considered to be consensual only when both parties have clearly and unambiguously indicated they want it to happen. Anything short of that is considered to be sexual assault.
The installation of stickers will continue in residence halls throughout the summer and into next fall.
Professional Staff Learn to Lead with Impact
Twenty-one SUNY Cortland campus leaders recently took part in an intensive five-day leadership development program titled "Leading With Impact: Your Ripple Effect."
The program, facilitated by Lisa Kahle, Campus Technology Services, and John Shirley, Career Services, focused on personal, interpersonal, team, cultural and systems development and growth. The final day of the program included a speech from SUNY Cortland President Erik J. Bitterbaum.
The following people received certificates for participation:
Jean Brown, Noelle Chaddock, Janet Duncan, Jose Feliciano, Melissa Fox, Gonda Gebhardt, Jim Hendrick, Adam Levine, Louse Mahar, Zach Newswanger, Dawn Norcross, Charlotte Pass, Mike Pitaro, Mary Reagan, Lori Schlicht, Brad Snyder, Claire Soules, Kara St. John, Sherry Tacktill, Abby Thomas and Chris Tucker.
Those interested in participating in the Leading With Impact program should contact Brent Danega in Human Resources by email or at 607-753-2302.

Suggest a feature story
---
Faculty/Staff Activities
Lorraine Berry
Lorraine Berry, NeoVox project director, had her article, "Keurig and Me: A Coffee Lover's Confession," published in the April issue of Dame Magazine. It is a humorous essay, but pointed critique, about the invasion of coffee drinking by little plastic cups that cannot be recycled.
Also, Berry had her article, "Show Me a Feminist," accepted for publication in Chicago Literati as part of its April 22 feminist issue.
Tyler Bradway
Tyler Bradway, English Department, had his article, "Queer Exuberance: The Politics of Affect in Jeanette Winterson's Visceral Fiction," published in the March issue of Mosaic: A Journal for the Interdisciplinary Study of Literature. Also, he had an essay titled "Critical Immodesty and Other Grammars for Aesthetic Agency," published in Stanford University's digital salon Arcade: Literature, Humanities, and the World. Bradway presented a paper, "Reading in Crisis: Queer Hermeneutics in Samuel Delany's Para-Academic AIDS Fiction" at the 2015 American Comparative Literature Association Conference held March 26-29 in Seattle, Wash. In January, Bradway presented his paper, "Trigger Warning: Kathy Acker's Visceral Pedagogy," at the 2015 Modern Language Association Conference in Vancouver, Canada.
Thomas S. Hischak
Thomas S. Hischak, Performing Arts Department, has signed a contract with Rowman & Littlefield to publish his book, The 100 Greatest American Plays. Rowman recently released Hischak's The Encyclopedia of Film Composers, the first comprehensive guide to the life and work of 252 international movie soundtrack composers.
Jeanine Rose
Jeanine Rose, Academic Support and Achievement Program, presented at the 2015 New York College Learning Skills Association Symposium held April 19-20 in Briarcliff Manor, N.Y. The title of her presentation was "The 'Formula' for Success: Putting Algebra to Work."
Robert Spitzer
Robert Spitzer, Political Science Department, continued to play a leading role in the national debate on gun violence with an Op-Ed article titled "Stand Your Ground Makes No Sense," published on May 4 in the New York Times.
Gregg Weatherby
Gregg Weatherby, English Department, will appear as Bardolph and the Archbishop of York in Ithaca Shakespeare Company's production of "Henry IV" (Parts 1 and 2). Performances will be held July 9-26 outside at Cornell Plantations, alternating performances with "A Midsummer Night's Dream."
Tiantian Zheng
Tiantian Zheng, Sociology/Anthropology Department, was invited by Columbia University to give a campus-wide talk on April 23. Her talk was titled "Gender Politics in Current Regime in China."

Submit your faculty/staff activity