President's Opening Talk Offers Encouragement, Updates
01/21/2014
SUNY Cortland President Erik J. Bitterbaum covered plenty of ground during his Spring Opening of School Meeting Tuesday, updating faculty and staff members on key campus issues while providing encouragement for the future.
In front of a large crowd in the Corey Union Function Room, the president spoke about six major topics during his 50-minute talk: high-impact learning; SUNY Cortland's budget; its admissions outlook; the College's continued response to the 2013 Cortaca Jug celebration; big-picture SUNY and state initiatives; and fall semester highlights, which he dubbed "points of pride."
President Bitterbaum led off his talk by explaining the importance of high-impact practices that are often attributed to student success. These include experiences such as volunteering, participating in hands-on undergraduate research and studying abroad. He praised the work of the College's Institute for Civic Engagement and listed several documented benefits that come with high-impact work — immediate gains such as higher grade point averages and higher student retention rates along with long-term payoffs that include problem-solving skills and a more loyal alumni base.
"We're not just training (students) for their first job," Bitterbaum said. "It turns out these practices have a tremendous impact on who they become as people."
While detailing the emotional and spiritual benefits students often discover through service learning, he repeated a thoughtful line once shared with him by a student.
"Service is the rent we pay for being human," Bitterbaum said.
That message of optimism and encouragement gave way to a brief discussion of the College's budget, which continues to be influenced by factors such as enrollment, stock market performance and statewide mandates. The president was honest in his overview of the national conversations being shared about higher education, mentioning concerns such as student indebtedness and financial instability at some institutions.
"The message here is that even though it looks like we're coming out of the great recession, in New York, it's still a very tight budget and we have to be cautious with what we do," Bitterbaum said.
Undergraduate admissions efforts will be especially crucial over the next several years as the number of graduating high school students in the Northeast continues to level off, he said. Still, an image in the president's slideshow revealed SUNY's price tag for full-time tuition and fees in 2014 compares very favorably to other public systems and some private institutions within New York state.
"Obviously, we have a really great product," he said.
An update of the College's response to the 2013 Cortaca Jug celebration mentioned that the 19-member joint commission made up of College officials and community residents has met three times so far, with eight public meetings scheduled.
"We have really great people who are doing this and we will find solutions," Bitterbaum said.
His response to statewide and system-wide initiatives such as Open SUNY, which seeks to maximize online learning opportunities, suggested much of the same.
"We ourselves are very creative with what we're doing," the president said, mentioning the College's Collaborative Online International Learning (COIL) plans as well as its hybrid programs that involve both a classroom and online component.
Many highlights from recent months punctuated the president's address, especially unique programs that take place away from the SUNY Cortland campus. They included the College's work at the Belize Zoo; a new student teaching experience in Thailand; and projects that brought groups to the Outdoor Education Center at Raquette Lake, such as the Adirondack Trail Blazers program for first-year students and the grant-funded "Forever Wild: The Adirondacks in the Gilded Age and Progressive Era" program for teachers.
Additionally, President Bitterbaum called attention to good news from campus — an increase in the number of study abroad participants, a move to completely renewable electrical energy, and the publication of the Wagadu and NeoVox online journals — as well as a handful of notable grant awards received by faculty members in recent months:
• Lynn Anderson, a distinguished service professor of recreation, parks and leisure studies, received $165,436 from the Adirondack North Country Association through the New York State Department of Transportation;
• Anderson collaborated with Vicki Wilkins, a professor of recreation, parks and leisure studies, for a $230,000 award from the New York State Developmental Disabilities Planning Council;
• Andrea Lachance, the dean of the College's School of Education, and Dennis Farnsworth, a coordinator for teacher education, earned $40,000 from the SUNY Teacher and Leader Education Network;
• Lachance; Valerie Behr, a lecturer of childhood/early childhood education; and Richard Kendrick, the director of the College's Institute for Civic Engagement and a professor of sociology/anthropology, teamed up on a $10,000 Bringing Theory to Practice award;
• Gregory Phelan, an associate professor of chemistry, and Kerri Freese, the College's Noyce Program coordinator, were awarded $715,398 from the National Science Foundation (NSF) for the Robert Noyce Teacher Scholarship Conference;
• A team of chemists and biologists received $270,807 from NSF. Members included Jeffrey Werner, an assistant professor of chemistry; Christa Chatfield, an assistant professor of biological sciences; Patricia Conklin, an associate professor of biological sciences; Terrence Fitzgerald, a distinguished professor of biological sciences; and Frank Rossi, an associate professor of chemistry;
• Werner won a $114,197 award from NSF.
During his final remarks to faculty and staff members, the president reflected on a common theme that came up in the stories he shared with alumni during the College's "Educating Champions, the Campaign for Cortland" fundraising effort.
"During the five-year campaign, it came up over and over again," Bitterbaum said. "Who do they remember most? It's the faculty and staff."
Emergency Response Website Unveiled
01/21/2014
SUNY Cortland wants all of its faculty, staff and students to start thinking about the unthinkable.
Faculty and staff today were given a brief overview of the College's recently updated emergency response plan after President Erik J. Bitterbaum's spring opening address.
The overview included an explanation of campus roles and responsibilities during unexpected emergencies such as a building fire, a devastating storm or an armed attacker. It also included a sneak peek at a new emergency response website intended to give members of the campus community the information they need to react effectively during a crisis.
The website should go live within the next two weeks. All students, faculty and staff members will be sent information on how to access the site.
"SUNY Cortland is a very safe campus, but disaster can strike anywhere, at any time," Bitterbaum said. "It is important that all of us know how to respond. Although we may be caught by surprise, we want to make sure we aren't caught unprepared."
A video of the president's speech -- and the emergency response presentation that followed it -- is available online at http://www2.cortland.edu/video.
A more detailed explanation of both the plan and the website will be presented during a sandwich seminar scheduled for noon on Thursday, Jan. 30, in Brockway Hall Jacobus Lounge.
The new website evolved as part of the updating process for the plan. An emergency response committee appointed by Bitterbaum re-wrote the lengthy document, much of which will be made available to the public.
The committee includes: University Police Chief Steven Dangler, Associate Vice President for Facilities Management Nasrin Parvizi, Associate Vice President for Communications Gradin Avery, Associate Provost for Information Systems Amy Berg, Assistant Vice President for Student Affairs Christopher Kuretich, Environmental Health and Safety Director Glenn Wright and Public Relations Director Frederic Pierce.
The plan sets up a communications hierarchy to evaluate all incidents and quickly notify all appropriate individuals. It works essentially like this:
University Police are the first responders to any incident on campus. They immediately determine whether to activate the New York Alert system and decide whether the crisis communications team is needed.
That team, which mirrors the makeup of the emergency response committee created by the president, quickly crafts the appropriate messages needed to keep the campus safe and begins communicating through a wide range of media. The crisis communications team then notifies the President's Cabinet and other key players. That larger group of people, which changes depending on the needs of the incident, is called the Emergency Response Resource Group.
This group addresses the emergency situation and notifies all affected building administrators, who are charged with notifying students, faculty, staff, visitors and anyone else in campus facilities. Ideally, most of those people will already be aware of the emergency through New York Alert notifications and the efforts of the Crisis Communications Team.
All members of the SUNY Cortland community are urged to update their information with SUNY Cortland Alert to make sure they receive the most recent information on fast-moving, potentially dangerous situations. They can do so through through the Campus Emergency Notification Page of SUNY Cortland's emergency website.
---
Capture the Moment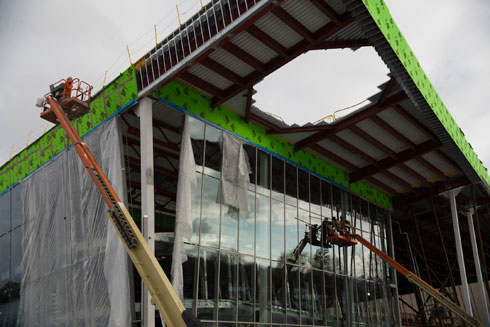 Winter Break was not on the agenda for more than 300 contractors busy on campus completing three large projects, including the Student Life Center, pictured above. Nearly 150 workers have moved indoors at Bowers Hall, where they are wrapping up construction and testing building systems, and at Dowd Fine Arts Center, where they're making finishing touches while faculty and staff begin moving in. As the weather improves and temporary enclosures allow for some heat, the number of contractors will swell at the Student Life Center, where there is plenty to do before its year-end opening.
---
In Other News
Sustainability Month Becomes Green Days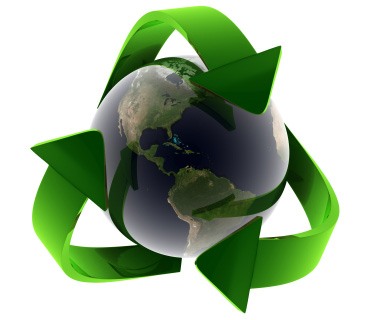 01/21/2014
SUNY Cortland is looking for individuals and groups across campus to participate in a three-week event aimed at showing the world that Cortland has one of the most environmentally conscious campuses in the nation.
The event, formerly known as Sustainability Month, has been renamed "Green Days" in hopes of conveying a sense of fun and celebration aimed at engaging all segments of the Cortland community.
This year, SUNY Cortland's annual celebration of renewable energy, recycling, environmental stewardship and all kinds of sustainable practices, will be held Monday, April 7, to Friday, April 25.
"Sustainability month has been a very successful event, but we want to expand involvement throughout the campus and into the community," said Katherine Ingraham, chair of the group's organizing committee and an assistant director of operations in Residence Life and Housing. "We're dealing with very serious issues, but we believe working together to find solutions should be a lot of fun."
Ingraham's committee is looking for creative and exciting events, presentations and activities. Anything from recycling competitions to scientific lectures will be considered. Organizers are creating a webpage to help coordinate Green Days ideas.
Any student, student organization, faculty member, community activist — anyone — with an idea for Green Days should contact Ingraham at katherine.ingraham@cortland.edu.
Eateries Add Nutrition, Allergan Information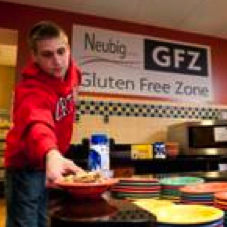 01/21/2014
The College's Dining Services has listened to students' requests and followed national trends by posting real-time nutrition and allergen information on its website and digital signage at campus eateries.
The information is "in your face," just as students had requested.
Nutritional information on the digital signs and website includes: serving size, calories per serving, fat, sodium, carbohydrates, fiber and protein. Identified allergens include eggs, milk, soy and gluten. Symbols on the digital signs alert students to healthy food choices and gluten-friendly products.
The symbol for a healthy food choice is a white "H" with a red circle behind it.
Across campus, Dining Services has added nutritional information such as gluten free and healthy options to the digital menus on display in the food service areas.
Dining Services rolled out the nutrition and allergen program in August 2013 on its website and in Neubig Dining, the residential facility. It plans to bring the program to the retail facilities — all dining facilities except for Neubig — as the semester opens. A new residential facility, The Bistro, to be located inside the new Student Life Center currently under construction, will feature the enhancements in January 2015.
Dining Services, a unit of the SUNY Cortland Auxiliary Services Corporation, began work on the program when both the 2011 and 2012 National Association of College and University Food Services (NACUFS) surveys showed nutritional content and variety of healthy menu choices increasing in importance to students.
"Dining Services offers a large variety of healthy foods," says Bill McNamara, director of dining services. "But we do find that what students define and choose as healthy and what is actually healthy is not necessarily the same thing."
As delighted as most were at seeing the nutritional information available on the digital signs, for some it turned to shock as they didn't know how unhealthy their choices were, says McNamara.
"Having the nutritional and allergen information on the digital signs and on the website is not only helping to educate students and keep them safe from an allergic reaction, but it's helping us create more nutritional menus," he said.
Andrea Hart, ASC's registered nutritionist and dietician, spells out what is necessary for a food item to qualify as a healthy choice.
"A serving must contain less than or equal to 15 percent of the daily value for calories, total fat, saturated fat and sodium and greater than or equal to 10 percent of the daily value for at least one of the following: dietary fiber, protein, vitamin A, vitamin C, calcium and iron," Hart said.
The symbol for gluten-friendly products is a white "GF." Following a recent FDA ruling on what it means for labeling a food product as "gluten-free," Dining Services renamed Neubig Dining's Gluten Free Zone to Gluten Friendly Zone. While inputs of food products do not contain gluten, they are processed in a kitchen that is not gluten free and cannot use the title of gluten free.
The Gluten Friendly Zone helps students with celiac disease and gluten sensitivity make better food choices by stocking gluten-friendly foods (GF) such as cereal, bread, cookies, pasta, entrees, crackers and other products. A cupboard, refrigerator, toaster, and microwave are provided for the sole use of GF diners. Retail dining units also provide gluten-friendly foods.
"This is very novel on campus," McNamara said. "Most campuses don't post nutrition information and in retail restaurants they aren't posting this information up with the food."
But that appears to be changing. SUNY Cortland's effort appears to go further than that of other campuses, but more and more colleges are recognizing the importance of educating students about their food choices.
"It appears to be a trend now," said Shannon Richard, executive director of campus operations at SUNY Morrisville's auxiliary corporation and outgoing president of the SUNY Auxiliary Services Association. "Ours is listed online and is attached to each of our menu items online" but not posted on the menu message boards.
The University at Buffalo currently features nutritional information on the website along with allergen information at the point of sale, according to Raymond Kohl, marketing director for UB Campus Dining and Shops.
Oneonta posts detailed menus online and on the digital signs in each dining site, and is currently upgrading the website with further improvements, according to Nikki S. Brown, who represents the campus food service operator, Sodexo, as marketing coordinator and district safety coordinator.
Cornell University hasn't made the change yet, although the information is very important to the campus community, according to Michele Lefebvre, Cornell Dining's director of nutrition management.
Grant to Benefit Future Teachers, Local District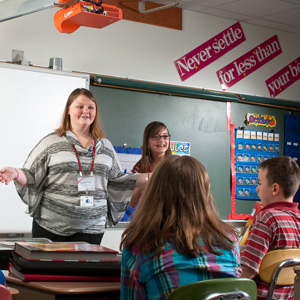 01/03/2014
A competitive national grant awarded to a pioneering SUNY Cortland teacher preparation program means several benefits are coming for the Cortland Enlarged City School District and student teachers from the College.
"Flourishing Teachers, Flourishing Students," a new project that aims to boost afterschool mentoring and tutoring experiences in local schools, recently won a Bringing Theory to Practice award worth $10,000. SUNY Cortland will match it with in-kind funding totaling $10,000.
The effort is a joint collaboration between the College's School of Education, its Institute for Civic Engagement and the Cortland Enlarged City School District.
"While we already place our junior and senior education majors in practicum placements in the schools, those placements generally have to be during the school day in a formal classroom," said Andrea Lachance, the dean of the College's School of Education. "The schools are looking for our students to do more work with children beyond the typical school day — so this program will meet that need.
"This will allow our freshmen to get some early experience working with children while also helping the schools support the learning of children outside of normal school hours."
SUNY Cortland plans to create a learning community for first-year childhood/early childhood education majors who, under the supervision of the school district's teachers and staff, will work with children requiring afterschool help with their studies. In a learning community, a group of college students takes the same courses together and instructors integrate coursework for an interdisciplinary experience.
Starting this summer, when the project officially kicks off, the College also plans to train its faculty members along with local teachers and administrators to work as a single Professional Learning Team.
"What is really exciting is the opportunity for our faculty to work together with the school's teachers to best prepare our freshmen for their work as tutors," Lachance said. "Not only will this joint planning help build stronger relationships with our colleagues in the district, but it will provide a more enriched and enhanced learning experience for students on campus and in the schools."
Bringing Theory to Practice grants, sponsored by the Association of American Colleges and Universities, reward colleges for extending learning outside of the classroom and advancing education as a public service that fosters civic engagement. SUNY Cortland has received funding for different projects every year since 2009.
The most recent pilot program centers on the concept of "engaged service-learning," where students take a thoughtful and reflective approach to a hands-on way of learning. Several campus offices and departments outside of the School of Education are involved, including Advisement and Transition and the College's Institute for Civic Engagement.
"It is clear that schools in our county need additional support," SUNY Cortland's project team wrote in a grant application, noting that New York state standards characterize most schools in the Cortland Enlarged City School District as having high student needs in relation to district resources.
"Our college is uniquely positioned to provide that support to our area's schools," project leaders wrote, pointing out that SUNY Cortland offers 49 different teacher preparation programs as the state's second largest preparer of teachers. "We take pride in our institution's commitment to teacher education."
Both well-being surveys and focus group responses from SUNY Cortland students and school district staff members will be used to help determine the project's effectiveness. Successful results could shape SUNY Cortland's teacher preparation programs in the future, with the goal of including 80 percent of first-year childhood/early childhood education in learning communities.
"Our teacher candidates will be learning the techniques of engaged learning by participating in learning communities and service-learning," SUNY Cortland's project team wrote. "They will be able to apply and integrate these techniques in their own teaching."
Spring 'Wellness' Series Offered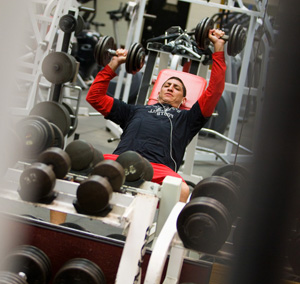 01/21/2014
In keeping with a College priority of wellbeing, each semester SUNY Cortland offers weekly encouragement to the campus and community to pursue a lifetime of good health.
The Spring 2014 "Wellness Wednesday Series" will feature speakers and panels, informational fairs, self-help workshops, demonstrations and other programs intended to encourage campus and community members to learn more about health and wellness.
Programs continue through the spring semester with topics including yoga for beginners; fitness approaches for individuals of all sizes and physical conditions; hazing and how to avoid it in the college experience; avenues to healthy relationships; careers in the health professions; using social media to improve, not harm, one's future professional reputation; and alternative means of achieving better health, including tai chi.
Primarily sponsored by the Health Promotion Office and the Student Development Center, the series will take place on Wednesdays at 7 p.m. in Corey Union Exhibition Lounge, unless otherwise noted. The events are free and open to the public.
SUNY Cortland students relax in the gym during a break in the game.
On Jan. 29 Louise Mahar, the College's assistant director of recreational sports for fitness, will offer "An Intro to Yoga." Participants will experience a beginner-level yoga class and should dress in loose, comfortable clothing and bring a towel.
LeAlan Jones, a national speaker, journalist and 2010 Green Party candidate for the U.S. Senate, will address "What Will the Collective Voice of a Generation Have To Say?" on Feb. 5 in the Corey Union Function Room. Jones is the lead author of Our America: Life And Death On The South Side Of Chicago, one of the College's two common-reads for the 2013-14 academic year. "Inter/Action," the common read theme for 2013-14, starts from the premise that not all Americans are always given an equal opportunity to speak their piece. However, as Jones and co-author Lloyd Newman state in Our America, "You must learn Our America as we must learn Your America, so that maybe, someday, we can become one." Jones' talk is co-sponsored by the Cultural and Intellectual Climate Committee (CICC), which organized the common read program.
On Feb. 12, the College's Multicultural Life and Diversity Office will present "Speak Up/Speak Out: Inclusive Language — Saving Lives and Building Communities."
National speaker Tracy Maxwell will offer real stories of hazing, its harms and the impact on both hazers and their victims, at 7: 30 p.m. on Feb. 19, in the Function Room. Maxwell's talk, "A Conversation About Hazing," is intended to help students realize how hazing is the complete antithesis of all they proclaim themselves to be. The event is co-sponsored by Campus Activities and Greek Affairs.
National presenter Ragen Chastain will present options for health, happiness and high self-esteem for individuals of all sizes and fitness levels at 7:30 p.m. on Feb. 26 in the Function Room. Chastain will combine humor with hard facts in her talk, "The Positive Body." She will share a depth of knowledge of weight- and health-related issues, coupled with her personal story of overcoming an eating disorder to become an elite, plus-sized athlete.
On March 5, the College's team of health promotion interns will staff "Safe Spring Break" tables from 11 a.m. to 2 p.m. on the Corey Union first floor. The students assisting the Health Promotion Office will offer fun activities and helpful hints for a safe and healthy spring break.
SUNY Cortland graduates who have embarked on careers in the health professions will return to speak with students on campus March 19. Part of the Alumni Speaker Series that is co-sponsored by Career Services and Alumni Affairs, "Health Professions Panel" participants will share how they got from SUNY Cortland to where they are today. Students will be offered insight into the health professions and gain valuable advice directly from working professionals.
On March 26 Michele Baran, the College's assistant director of career services and online operations specialist, will offer pointers on how to maximize a positive professional brand and minimize online regrets. Her presentation, "Like a Tattoo: Digital Dirt, Social Media and Your Personal Brand," shares ideas about what smart students want to put on their social media site and what they would be well advised to remove.
Recreation on the high ropes course at Camp Huntington in Raquette Lake is one of many ways SUNY Cortland students work out, relax and unwind. In this picture, one student helps another with her helmet strap.
Don McPherson, a 2008 NCAA College Football Hall of Fame inductee and former Syracuse University quarterback, will demonstrate how to challenge the narrow expectations of masculinity, nurture positive language and understand masculine identity on April 2 in the Function Room. His talk, "You Throw Like a Girl," focuses on nurturing positive language and understanding of masculine identity. With testimony before the U.S. Congress, appearances on national news and the Oprah Winfrey show, and lectures across North America, the former Philadelphia Eagles quarterback who finished second in voting for the 1987 Heisman Trophy has reached more than 1 million people with messages that address complex social issues. The event is co-sponsored by Students Active For Ending Rape (SAFER).
Members of the Ithaca Branch of the Taoist Tai Chi Society of the USA will offer a Taoist Tai Chi demonstration on April 9. The event will serve as an introduction to an ancient Chinese lineage of body movements designed to improve health and well-being.
A panel of students and faith leaders will describe their journey in faith, from childhood to adulthood, on April 16. The "Transitions in Faith: Becoming an Adult" panel will include campus ministers Shawn Allen and Rev. Vicki Johnson. The seminar encompasses the rituals some individuals have followed and considers the questions with which they have wrestled. The session includes those who have chosen a different religion from their parents or rejected formal religion, redefining themselves as "spiritual but not religious," secularist humanist or atheist.
On April 23, a College team of student affairs sustainability committee and health promotion interns will staff a "Green Days Fair" from 11 a.m. to 2 p.m. on the Corey Union first floor. The students assisting the Residential Life and Housing Office and the Health Promotion Office will offer fun activities and helpful hints for being green.
For more information or accommodation to attend an event, contact Catherine Smith, the College's health educator, in Van Hoesen Hall, Room B-1, or at 607-753-2066.
Study Abroad Scholarships Announced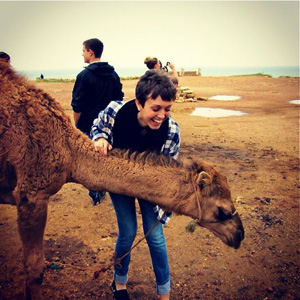 01/21/2014
SUNY Cortland recently awarded approximately $39,000 in scholarships and exchange awards to help 58 of its students expand their educational horizons through study in Cape Town, South Africa, Nagasaki, Japan and Cologne, Germany and other countries.
The College, through its International Programs Office (IPO), will provide $29,800 in scholarships so 54 students can study abroad during the 2014 winter session or spring semester. Additionally, through the IPO's many exchange agreements with international universities, four SUNY Cortland students will receive tuition waivers and grants totaling $9,345 in exchange value to help pay for their international study.
Along with an almost 26 percent increase in direct scholarship funding since last year, the College is giving scholarships to a growing number of students asking for them.
"These scholarships recognize students' achievements, while expanding access to transformational international experiences that broaden their perspectives, enhance their skills and enrich their academic programs," said Mary Schlarb, director of international programs.
"Through the generous support of alumni, faculty and friends, the College removes financial barriers to participation in overseas programs," she said. "Eligible students also can access financial aid and we offer several programs that are equivalent in cost to a semester on campus."
Recipients were selected based on criteria that included high academic achievement, financial need, involvement in extracurricular activities, a personal essay and letters of recommendation. A description of the scholarships and the award recipients appears below:
Overseas Academic Program (OAP) Award
Overseas Academic Program (OAP) scholarships are awarded to students accepted in a study abroad program. The scholarship is for amounts between $200 and $400 for winter recipients and between $300 and $800 for spring recipients.
Seven winter 2014 OAP scholarship recipients completed a Projects Abroad service learning assignment in Costa Rica:
Amanda Candelaria, a junior childhood/early childhood education major from Farmingville, N.Y.;
Caitlyn-Marie Clarke, a junior childhood/early childhood education major from Bellmore, N.Y.;
Rachel Kolod, a senior childhood/early childhood education major from East Syracuse, N.Y.;
Nicole Krause, a senior childhood/early childhood education major from Bohemia, N.Y.;
Christina Lopilato, a junior childhood/early childhood education major from Farmingdale, N.Y.;
Ashley Mannina, a senior childhood/early childhood education major from Otego, N.Y.; and,
Alexandria Olsen, a senior childhood/early childhood education major from Patchogue, N.Y.
Six winter 2014 OAP recipients traveled for fieldwork related to a course in Belize History, Arts and Culture:
Robyn Dutkowsky, a senior art and art history major from Vestal, N.Y.;
Kaila Fineman, a senior international studies major from New Rochelle, N.Y.;
Rachel Miller, a senior international studies major from Hamburg, N.Y.;
Valerie Rodriquez, a junior history major from Staten Island, N.Y.;
Marie Sullivan, a sophomore therapeutic recreation major from Saratoga Springs, N.Y.; and,
Colleen Zimmerman, a junior fitness development major from Wawarsing, N.Y.
Four winter 2014 OAP awardees will study at the Spanish Language Institute, Mexico:
Joshua Head, a senior English as a second language major from Trumansburg, N.Y.;
Casey Knutson, a senior international studies major from Bayville, N.Y.;
Alyson Prunier, a senior biology major from Cortland, N.Y.; and,
Amanda Sibbitts, sophomore biomedical science major from Homer, N.Y.
Three winter 2014 OAP scholars pursued academic work in London, England through Cayuga Community College:
Courtney DeLia, a senior political science major from McGraw, N.Y.;
Caitlin McDonagh, a senior speech and hearing science major from Pearl River, N.Y.; and,
Meaghan McElroy, a senior speech and language disabilities major from Carmel, N.Y.
Student Kaila Fineman took this photo, "Locos," last spring while studying at University of Barcelona, Spain. The image won an Honorable Mention in SUNY Cortland's annual study abroad photo contest, as did Gabrielle D'Imperio's "Y.O.C.O. (You Only Camel Once)," shown above left, which she captured last spring while pursuing academics at University of Salamanca, Spain.
Three winter 2014 OAP awardees studied in Rome, Italy, through Stony Brook University's program:
Kathryn Delaney, a junior sport management major from Rochester, N.Y.;
Mary McGovern, a junior international studies major from Wappingers Falls, N.Y.; and,
Taylor Tirellil, a junior childhood/early childhood education major from South Setauket, N.Y.
Two winter 2014 OAP travelers completed internships in Belize. They were:
Samantha DeCarlo, a junior psychology major from Canastota, N.Y.; and,
Megan Ferguson, a senior geology major from Forestville, N.Y.
The remaining winter 2014 OAP winners used their scholarship as follows:
Lauren Judge, a senior speech and language disabilities major from Poughkeepsie, N.Y., for summer scholarship in Australia through Stony Brook University;
Jessica Mauceri, a senior criminology major from Staten Island, N.Y., for studies in Greece and Italy through SUNY Brockport.
Three spring 2014 OAP winters used their award for scholarship at University of Salamanca, Spain:
Julia Cereghino, a sophomore inclusive special education major from Floral Park, N.Y.;
Tess Delaney, a junior sociology major from Bedford Hills, N.Y.; and,
Thomas Lee, a sophomore economics major from West Islip, N.Y.
Two spring 2014 OAP students used their scholarship for studies at University College Cork, National University of Ireland:
Chelsea Clark, a sophomore speech and language disabilities major from Baldwin, N.Y.; and,
Shannon Grodotzke, a junior business economics major from Rocky Point, N.Y.
Two spring 2014 OAP students used their award for academic work in Florence, Italy through Stony Brook University:
Jessica Duncan, a junior communication studies major from Seaford, N.Y.; and,
Sarah Reilly, a junior Spanish major from Hauppauge, N.Y.
The remaining spring 2014 OAP winners used their scholarship as follows:
Rachelle Abelson, a senior adolescence education: mathematics major from Amherst, N.Y., to complete the semester of student teaching requirement in Australia;
Gregory Baron, a junior sport management major from New City, N.Y., for scholarship at Griffith University in Australia;
Dana Korman, a sophomore communication studies major from Millwood, N.Y., to attend London Metropolitan University; and,
Matthew Petrick, a junior psychology major from Camillus, N.Y., for a service learning opportunity in Tanzania through University at Albany.
Charles A. Gibson Study Abroad Scholarship
The Charles A. Gibson Scholarship, which was created in 1998, awards students participating in a study abroad program outside the Western Hemisphere who demonstrate high academic achievement and financial need. Two scholarships were awarded for $1,250 each in spring 2014 to:
Lauryn Lucero, a senior communication studies major from Canandaigua, N.Y., to complete a Projects Abroad mission in Cape Town, South Africa; and,
Kyle Shea, a senior physical education major from Wallkill, N.Y., to complete his student teaching requirement in Australia.
Kevin A. Rowell '83 Award
SUNY Cortland graduate Kevin A. Rowell '83 created the award in 1998 to support the overseas studies of a student who has participated in club sports, student government and volunteer work. The spring 2014 recipient of this $1,500 award is:
David Boyle, a sophomore history major from Clifton Park, N.Y., for academic work at Universidad Veritas, Costa Rica.
Marcia Spaeth McDermott Scholarship
The Marcia Spaeth McDermott Professional Study Abroad Scholarship was created in 2009 by the late, former acting dean of the School of Professional Studies, to support the overseas studies of a SUNY Cortland student majoring in a school program. The recipient of the $1,500 scholarship for spring 2014 is:
John Battista, a freshman physical education major from Yorktown, N.Y., for studies in Florence, Italy through Stony Brook University.
Willi Uschald Scholarship
Created in 1991, the Uschald Study Abroad Scholarship is named for Willi A. Uschald, professor emeritus of foreign languages and director emeritus of international programs at SUNY Cortland. Uschald Scholarships are open to students accepted to a study abroad program who are U.S. citizens. The spring 2014 recipients of between $500 and $900 are:
Three students received the scholarships to attend the University of Salamanca, Spain:
Dorissell Abreu, a sophomore communication studies major from Freeport, N.Y.;
Melissa Driscoll, a junior sociology major from New Hyde Park, N.Y.; and,
Joshua Yellen, a sophomore international studies major from Schuylerville, N.Y.
Two students received the scholarships for academic work in Barcelona, Spain through SUNY Oswego:
Taylor Backhaus, a junior international studies major from East Aurora, N.Y.; and,
Leeanne Bryan, a senior communication studies major from Saratoga Springs, N.Y.
Two awardees will study in Dublin, Ireland through SUNY Geneseo:
Tara Coogan, a sophomore childhood/early childhood education major from Shenorock, N.Y.; and,
Margaret Glenn, a sophomore speech and language disabilities major from Lockport, N.Y.
Two recipients will attend Universidad Veritas, Costa Rica:
Erin Kovel, a junior communication studies major from Lido Beach, N.Y.; and,
Molly Krug, a sophomore adolescence education: Spanish major from Buffalo, N.Y.
Additional spring 2014 Uschald Scholarship winners include:
Stephen Carr, a sophomore physical education major from Northport, N.Y., for studies at Deutsche Sporthochschule in Cologne, Germany.
Corey Morris, a sophomore international studies major from Henderson, N.Y., for academic work at Fulda University, Germany;
Sean Muldoon, a senior political science major from Vestal, N.Y., for academic work in Nagasaki, Japan through SUNY New Paltz;
Michael Pallissino, a senior history major from Cortland, N.Y., for scholarship at University of La Rochelle, France;
Lizaury Rodriquez-Marine, a sophomore political science major from Freeport, N.Y., to participate in SUNY Cortland's Atlantis Scholar Program to Romania; and,
Yevgenia Yegorova, a junior sociology major from Farmingdale, N.Y., to complete an internship in Belize.
Gregory R. Huether '10 Scholarship
A scholarship created in 2010 by Ronald and Marguerite Huether and family honors the memory of their son, Gregory R. Huether '10. The Gregory R. Huether '10 European Sport Study Seminar Memorial Scholarship will offer the College's sport management majors $2,500 for Spring 2014. The recipient is:
Brendan McInerney, a sophomore sport management major from Norwich, N.Y., for academic work at the University of the Sunshine Coast in Queensland, Australia.
Exchange Awards
The College presented four SUNY Cortland students with exchange awards resulting from agreements with some of the College's 25 international partner universities, saving the selected students a total of more than $9,000. The partner universities have agreed to waive tuition for students involved in the exchange so that an award recipient pays only the SUNY tuition for the study abroad opportunity.
Two recipients will study at University of Salamanca, Spain:
Lyndsey Dolan-King, a junior international studies major from Bay Shore, N.Y.; and,
Sarah Kelly, a junior Spanish major from Watervliet, N.Y.
Two others will attend Griffith University in Australia:
Siobhan O'Donnell, a sophomore exercise science major from Massapequa Park, N.Y.; and,
Brandon Surita, a junior sport management major from New York City, N.Y.
For more information on the scholarships, contact the International Programs Office at 607-753-2209.
Training Camp Brings $3.68 Million in Green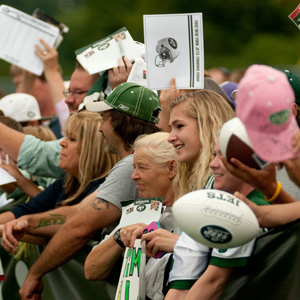 12/11/2013
The New York Jets 2013 Training Camp brought $3.68 million in economic activity to Cortland County this past summer, according to a study led by three SUNY Cortland faculty members.
Roughly 21,000 visitors from 34 states and five countries spent more than $1.6 million locally, creating an impact of nearly $3 million. That means four New York Jets training camps hosted at SUNY Cortland since 2009 have created $19.24 million in economic impact for Cortland County.
"These are dollars that would not have been spent in our community otherwise," said College President Erik J. Bitterbaum. "This report proves what many people already know to be true: the local economic impact of New York Jets training camp is just tremendous."
In 2012, when the number of public training camp practices was cut in half, high-profile players such as Tim Tebow and extensive coverage from national media outlets such as ESPN made up for an anticipated drop-off in economic impact and attendance. Those factors contributed to a $5.5 million economic impact and 35,634 visitors in 2012.
The 2013 report, prepared by SUNY Cortland Professor of Economics Kathleen Burke, Assistant Professor of Geography Wendy Miller and Associate Professor of Economics Timothy Phillips, showed an expected decrease in both of those numbers. But the overall economic significance for Cortland County still was undeniable.
Some of the 2013 report's highlights include:
• The $3.68 million in economic activity was the result of more than $2 million in direct spending by training camp spectators (more than $1.6 million), the College ($385,000) and local government (approximately $7,000).
• Training camp visitors created most— roughly 81 percent — of the impact in Cortland County. All but four of New York state's 62 counties were represented in the training camp's attendance figures.
• More than half of the training camp's spectators attended a practice in Cortland for the first time. Approximately 18 percent of all attendees came from outside New York state.
• Central New Yorkers in Cortland County and adjacent counties contributed 42 percent of the direct spending (more than $684,000) while other counties in New York state accounted for 37 percent (approximately $600,000). Visitors from outside the state added 21 percent ($344,000).
• Although local hotel revenue and occupancy decreased slightly from 2012, both increased from 2011 when training camp was held in Florham Park, N.J., due to the NFL lockout. Hotel revenue increased 9.1 percent and occupancy went up 6.2 percent in 2013 compared to 2011.
Survey data is based on responses from 7,293 people. The final report also highlighted some of the unquantifiable value that comes with training camp.
"The benefits that SUNY Cortland derived from all the media exposure on a state and national level are immeasurable," the report reads, mentioning coverage by well-known news entities such as ESPN, The New York Times and Newsday.
The benefits that the College receives as the official university partner of the New York Jets also were noted. Those include more than 50 student internships as well as two open houses for prospective students and high school guidance counselors held at the team's facilities in New Jersey.
The SUNY Cortland logo also is featured on the 360-degree LED signage at MetLife Stadium during the team's preseason and regular season home games. The College also receives four Jets season tickets and two Super Bowl tickets, which it raffles to support student scholarships and alumni programming efforts.
The survey's authors expressed their gratitude to several individuals who supported or contributed to the report, including Bitterbaum; Mark Prus, the College's provost and vice president for academic affairs; William Shaut, the vice president for finance and management; Michael Whitlock, the director of campus activities and Corey Union; Kevin Pristash, the associate director of campus activities and Corey Union; Mary K. Murphy, the associate vice president of finance; Jim Dempsey, the executive director of the Cortland County Convention and Visitors Bureau; Adam Megivern, the executive director of the Cortland Downtown Partnership; Nicole LaFreniere, a business economics major and AmeriCorps volunteer at the Cortland Downtown Partnership; and a student intern team that collected and analyzed data. That group included business economics majors Keenan Brathwaite, Adam Dimino, Joseph Osuna and Valerie Turner.
Gallery Exhibition Curator to Speak Feb. 18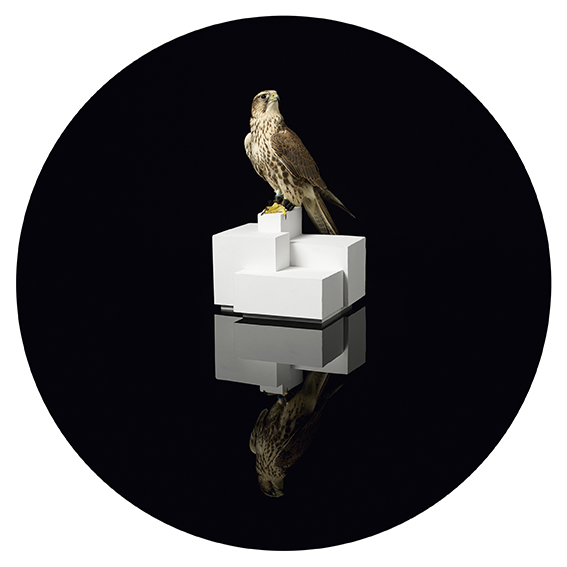 02/17/2014
A New York City art gallery owner will deliver the curator's talk for the latest exhibition at SUNY Cortland's Dowd Gallery Tuesday, Feb. 18.
Bart Keijsers Koning, who curated "Anomie: Fractured Art Norms," will speak at 5 p.m. His talk is free and open to the public.
The Dowd Gallery remains housed temporarily on the third floor of Main Street SUNY Cortland, 9 Main St. The current exhibition runs through Friday, March 7.
Normal gallery hours are 10 a.m. to 6 p.m. Tuesday through Friday and 10 a.m. to 2 p.m. on Saturday. The gallery is closed Sunday and Monday.
Keijsers Koning is the curator and co-owner of the LMAKprojects gallery in New York City. The gallery space, located on the Lower East Side, presents works in all media, ranging from drawing, painting, photography, video/film, and sculpture by artists from all over the world. It has been reviewed by publications such as The New York Times, Art in America and The Village Voice.
Prior to joining LMAKprojects in 2009, Keijsers Koning curated in the Netherlands and the U.S. He graduated from School of Visual Arts in 2000 and specialized in painting.
The SUNY Cortland exhibition he curated includes paintings, drawings, sculpture and video art from six contemporary artists. Featured artists, inspired by art movements mostly prior to the late 20th century, include Martin Basher of New Zealand; George Bolster of Ireland; Jasmina Cibic of Slovenia; and Jeff Grant, Russell Nachman and Carlos Rigau, all of New York City. Each one pieces together fragmented practices from the past to create new artistic insight.
The noun "anomie" refers to a breakdown of social bonds between individuals and their communities, making the title fitting for the exhibition.
Each artist lends a different perspective:
• Basher is a sculptor and painter whose work frequently deals with consumer culture. With references to minimalism, design and retail display, his sculptures feature formal, yet subtly uneasy, arrangements of consumer goods.
• Bolster often examines belief systems with his drawings and sculptures. His work reveals personal political and religious skepticisms, looking at "the propaganda and power of visual culture continually employed … by a variety of organizations." His recent series of drawings and sculptures merges the evolution of the human species with body dysmorphia and plastic surgery.
• Cibic investigates objects and the status attached to them. Her work, which is presented through photography, performance, installation and video, is "an elaborate and humorous investigation into the preservation of culture and its objectification." Her 2010 print "Perch for Falco-cherrug" is pictured above.
• Grant works across a variety of media, including sculpture, video, installation and drawing, and deals with the transcendence of an artist's mark, or the placement of material in a new identity. He "exposes the inherent restrictions in a wide variety of materials and alters their identities by imposing new constraints on them."
• Nachman, known for his use of watercolor on paper, uses allegory to take a critical look at his own cultural roots and culture at large. He relies on black metal music culture to portray a harlequin, or jester, for current times. These modern day jesters "become the unwitting relaters of an unspoken truth — the folly behind all of our own masks."
• Rigau relies on artifice, display and perception, using plastic imitations of natural materials in his installations and two-dimensional works. His practices reflect a combination of his Cuban heritage and his investigation of the American notion of aspiration.
The Dowd Gallery remains housed temporarily on the third floor of Main Street SUNY Cortland, 9 Main St., through the end of the academic year while the Dowd Fine Arts Center prepares to re-open after renovations. The gallery will return to the Dowd Fine Arts Center in August.
For more information, images of exhibition works or to schedule a group tour, contact Gallery Director Erika Fowler-Decatur at 607-753-4216.
Meola Earns Top Scholar-Athlete Award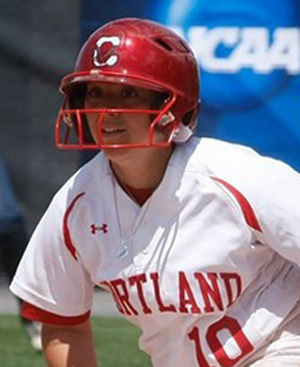 12/16/2013
SUNY Cortland's Lucia Meola '13 has been chosen as the State University of New York Athletic Conference's (SUNYAC) 2012-13 Dr. Dolores Bogard Award winner, as voted upon by the league's athletic directors. The honor is presented by the SUNYAC annually to a junior or senior female athlete with the best combination of academic and athletic ability.
The recipient has to have earned above a 3.3 grade point average and have received at least one varsity letter. Bogard was an administrator and coach at SUNY Cortland for more than 20 years and served as SUNYAC President during the 1987-88 school year.
Meola, from Liverpool, N.Y., played softball at Cortland for four seasons and graduated magna cum laude this past May with a bachelor's degree in physical education. She is currently enrolled in Cortland's sport management graduate program and is an assistant softball coach for the Red Dragons.
Meola started all 52 games at second base last spring and batted a team-high .440 with 16 doubles, three homers, 33 RBI, 42 runs scored and 31 walks. She also recorded a .969 fielding percentage with just seven errors in 228 total chances. Meola set a school single-season record with her 31 walks, her 70 hits are fourth-best in school history and her 16 doubles are tied for fourth.
In her four-year career with the Red Dragons, Meola played in 196 games, 194 as a starter. She batted .385 with 46 doubles, six triples, eight homers, 121 RBI, 155 runs scored and 82 walks. Meola is Cortland's career leader in walks, ranks second in hits (230), doubles and runs, is tied for second in games played and ranks fourth in RBI.
Meola was a three-time All-American and All-Northeast Region selection and a four-time first-team All-SUNYAC honoree. She was named both ECAC Upstate New York and SUNYAC Player of the Year and was a Capital One Academic All-District award winner as a senior. She helped lead the Red Dragons to three SUNYAC titles and four NCAA tournament appearances. Cortland advanced to the NCAA Div. III World Series twice in that span, placing second nationally in 2013 and fourth in 2011.
"Lucia is one of the best hitters in Cortland softball history," said head softball coach Julie Lenhart. "She is a fierce competitor and a difference maker. She is a committed and dedicated student-athlete who isn't satisfied with status quo and does whatever it takes to be the best."
Meola is Cortland's sixth SUNYAC Women's Scholar-Athlete award winner since the award was first given out in 1983-84 and the first since gymnast Lindsey Marranca shared the honor in the 2004-05 school year.
Marie Blanden Honored for Classified Service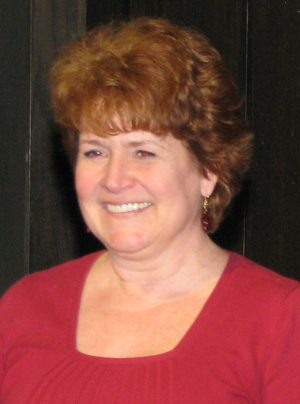 12/06/2013
Marie Blanden is the warm and reassuring voice on the phone for many an anxious parent, but she's much more than that to four colleagues who nominated her for the prestigious 2013 President's Award for Excellence in Classified Service.
SUNY Cortland President Erik J. Bitterbaum presented the award to Blanden, a secretary II in the Student Affairs Office, on Dec. 6 at the 44th annual Service Awards Ceremony.
Sponsored by the College's Human Resources Office, the ceremony was held in the Corey Union Function Room.
"Marie has never wavered in her belief in the student affairs mission and the idea that we are here for our students," Bitterbaum said. "Her passion and support for our students is a model for the rest of us."
The award was created in 2002 to annually recognize one individual "for extraordinary achievement and to encourage the continuation of excellence." Nominees must be current SUNY Cortland full-time classified service employees with at least three years of continuous service. Supervisors, co-workers or other College community members nominate the workers considered for this honor.
Blanden joined SUNY Cortland in 1983 as a stenographer in the Financial Aid Office. Two years later, she moved over to the Student Affairs Office and was promoted to senior stenographer. In 1989, she was reclassified to secretary I and in 1991 was promoted to her current position.
The 31-year College employee has been a driving force in many programs that enriched the college life experience of countless students. Just a few of the activities are Family Weekend, the Tobacco Advisory Committee, the "Paws for Stress Relief" program and the Communities That Care College Connections group.
"Marie is always willing to attend Family Weekend programs and speak to parents not only as a SUNY Cortland staff member but also as the parent of a college student," said Christopher Kuretich, the assistant vice president for student affairs.
"Marie is a member of the Tobacco Advisory Committee who graciously shares her experience as an individual who was successful at quitting smoking," noted Louise Mahar, assistant director for fitness within the Division of Student Affairs. "She worked very hard designing a PowerPoint presentation for the smoking cessation program … and helped organize and administer the FreshStart tobacco cessation classes on campus. She regularly takes time out of her busy schedule to meet with individuals committed to quit using tobacco."
SUNY Cortland President Erik J. Bitterbaum, right, shares testimonials from the colleagues of Marie Blanden before presenting her with the 2013 President's Award for Excellence in Classified Service.
Blanden works with Devin Coppola, the College physician, and Louis Gatto, professor of biological sciences, to offer those support groups.
An invaluable member of the campus Paws for Stress Relief committee, she helped develop many of the projects, crafts and activities around this pet therapy opportunity for students during exam week, according to Catherine Smith, the College's health educator. In fact, Blanden has presented about this very popular program twice, during the New York State College Health Association Annual Meeting and at SUNY Cortland's 63rd annual Recreation Conference.
She is given much credit for keeping the division office functioning smoothly, even in the midst of many recent retirements and the introduction of new colleagues.
"Marie is a source of historical knowledge about policies and the College in general to all the campus," said C. Gregory Sharer, vice president for student affairs. "She has been a wonderful resource for me, and many others, as she is able to provide context to the creation and evolution of many of our policies and practices."
"I have never felt more welcomed into an environment than I did when I started in Student Affairs here," Kuretich commented. "She transformed from being the secretary for an office of one VP to working seamlessly with both Greg and I. She has continued the excellence that has been the norm here for many years."
"She is an outstanding problem solver," Sharer said. "If she doesn't have the answer, she persists until she does."
Sharer also credits Blanden for fearlessly using technology to make the division more efficient in communicating its programs.
"She spearheaded several ad-hoc committees to stay ahead of the changing technology curve, as was the case in her coordination of the Campus Life tab/office channels on myRedDragon," he said.
"Marie is a 'multi-tasker extraordinaire,'" Smith observed. "She is able to work with many offices, departments, divisions and organizations. She works with faculty, staff, students, parents and community members. She is a model of organization."
Blanden lives in Truxton, N.Y., with her husband, Walter ("Wally"). She has two sons, Adam, who is married and earning a medical degree at SUNY Upstate Medical University, and Zachary, who plays baseball for Binghamton University where he is enrolled a student.
She enjoys road trips to follow Zach's baseball games, cooking and trying new things. She rescues dogs and has adopted four canines.
Campus SEFA Raises $47,543 for United Way

12/10/2013
SUNY Cortland's 2013-14 State Employees Federated Appeal (SEFA) campaign raised $47,543 this year, an extraordinary amount given there were fewer donors and the challenging economic climate.
The total amount of gifts pledged decreased by $4,309, reported SEFA Campaign Co-Chair Lori Porter, secretary II in the School of Professional Studies' dean's office. She co-chaired the campaign with Mavis Lefever, secretary I in Campus Activities and Corey Union.
"Despite the challenges many have encountered during these tough economic times, I'm encouraged by the number of employees across campus that gave to the SEFA campaign this year," said Porter. "Although the total amount raised this year was slightly less than last year, the generosity of our employees will once again allow the United Way to help more than 32,000 county residents."
The campaign, which relies upon state employee volunteers to canvas co-workers for donations, kicked off on Oct. 21 and continued until Nov. 4. The only authorized fund-raising campaign among state workers, SEFA is directed by United Way of Cortland County and unites fundraising efforts for a group of agencies under a common umbrella.
Local Teacher Showcased at Governor's Address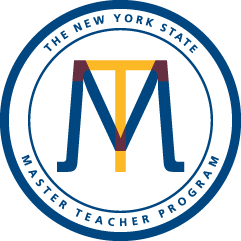 01/08/2014
A spotlight shone on SUNY Cortland graduate Abbey Albright '02 in New York state's capital on Jan. 8 as the Cortland middle school teacher spoke on behalf of the new Master Teacher program during Gov. Andrew Cuomo's 2014 State of the State Address.
Albright, one of 35 participants in SUNY Cortland's new Master Teacher program, was invited by the governor to offer remarks at the address on behalf of the 104 other Master Teacher program participants throughout the state.
"It was quite an honor… to be invited to be an opening speaker," Albright said by telephone after the address concluded. "I talked about the importance of educators in New York state and how the Master Teacher program could open up the future for our students to a better education.
"I told them how I am a mother to three boys who will be growing up in the New York state education system and they deserve top rated schools and first-rate teachers."
Abbey Hadzicki Albright '02
An image of herself with her family was shown in the broadcast during the address. The governor also acknowledged Albright when he came on to address the public and mentioned her again later during his speech.
WCNY Public TV will shortly offer access to see the taped broadcast of the address on its website.
Albright has been a Cortland Junior Senior High School eighth grade mathematics and algebra Regents teacher since graduating from SUNY Cortland's School of Education in 2002. She and the other teachers joined this prestigious, four-year pilot project in October. SUNY Cortland boasts the largest group of master teachers, followed by Buffalo State, SUNY Plattsburgh and SUNY New Paltz. This past fall, Gov. Cuomo announced the expansion of the project to SUNY Geneseo, SUNY Oneonta, Binghamton University, Stony Brook University and the University at Albany.
The program, announced by Gov. Cuomo in spring 2013, provides each participant with a $60,000 stipend in exchange for a four-year commitment to mentor other secondary school teachers and help both prospective educators and new teachers. Teachers also engage in peer mentoring and intensive content-oriented professional development opportunities throughout the academic year.
The idea is to give outstanding teachers in math and science an incentive to continue teaching in New York while sharing their methods, experience and insight with fellow teachers.
Albright has earned the respect of colleagues and peers in the field of education.
"She's a young and very bright individual, just full of energy," said Dominick Fantacone, master teacher program coordinator for SUNY Cortland. "She's always willing to help in any way she can with the program and she's just so on top of everything.
"And I think it's important to note the three key areas of emphasis in the Master Teacher program, which are content, pedagogy and knowledge of students," Fantacone said. "She demonstrates strength in all three of those areas."
"We're obviously very proud of Abbey and her accomplishments, as well as those of all four of our master teachers in the district," said Michael Hoose, the Cortland district superintendent. "This can only benefit the staff and students."
Albright has helped many of her students master mathematics and inspired a few to pursue the field of math education. Her students were regional math scoring leaders in 2012 and 2013. In her 11 years with the Cortland Enlarged City School District, she has invited into her classroom six college students completing their required semester of student teaching and 20 others gaining practicum experience. Albright earned a bachelor's degree in elementary education at SUNY Cortland and is dual certified to teach at the elementary level as well as grades 7-12 mathematics.
Since 2011, Albright also has served as a mentor to students enrolled in SUNY Cortland's Robert Noyce Teacher Scholarship program. The Noyce project encourages talented science, technology, engineering and mathematics (STEM) majors and professionals to become K-12 mathematics and science educators. The project is funded by a $900,000 five-year grant that the National Science Foundation awarded to the College in 2009-10.
Albright is one of 10 local educators in high-needs schools who participate in Noyce Workshops and are always available to the scholars if they have questions regarding content, pedagogy or career advancement, said Kerri Freese, the Noyce Project coordinator at SUNY Cortland.
"She was selected … for being a highly qualified middle school math teacher who has had success with SUNY Cortland's student teachers," Freese said. "She actually taught (middle school) math to two of our Noyce Scholars."
Since 2011, Albright has helped plan and present a series of Noyce workshops for the scholars on a wide range of topics, with a special focus on serving classrooms with children from disadvantaged backgrounds, Freese said.
"She looks for ways to treat all students equally and with respect," Fantacone noted of her Noyce mentorship.
Since 2006, Albright has coached her school's girls' varsity soccer team to numerous individual New York state scholar athlete awards, several sectional and regional championships, a 2008 statewide final four playoff, a coaching award in the Onondaga High School League and several honors for sportsmanship. She also has coached girls' modified basketball since 2012 and previously coached girls' junior varsity basketball and boys' and girls' modified track. Albright has been a Cortland County Youth Soccer Association coach since 2011 and Cortland County Youth Soccer Association age group coordinator since last spring. She has facilitated the Cortland County Select Soccer Camp since summer 2005.
The former Abbey Hadzicki, Albright is married to another SUNY Cortland graduate, Ben Albright '03, who teaches and coaches in the same district. Their three sons are Caden, a first grader; Calin, a toddler; and Camden, an infant.
ASC Program Grant Applications Due Feb. 21
Auxiliary Services Corporation (ASC) is now accepting Program Grant applications online for the 2014-15 academic year.
Applications are submitted online and must be sent by midnight on Friday, Feb. 21. Applicants are asked to read the grant guidelines carefully before submitting an application.
Each year the ASC Board of Directors allocates funds to support grants for a wide range of purposes and projects that enhance the life of the SUNY Cortland community.
Although ASC is willing to consider a wide range of ideas, it seeks to avoid duplicating other funding sources or funding projects more properly supported by state funds. Therefore, applicants should first seek funding from primary funding sources.
ASC grant funds may not be used for salaries, honoraria, travel normally funded by the College's budget, or scholarships for SUNY Cortland faculty, staff or students. Funds may not be used to purchase computers, related hardware or software. All purchases will be processed in accordance to ASC's financial and related GAAP policies. In general, Program Grant funds may not be used exclusively for food for SUNY Cortland students, faculty or staff. Funding for food may be considered if the food is deemed integral to the success of the program or event. All food shall be provided by ASC. Other grant guidelines are described in the application package and online.
For more information, contact Tina Russell at 607-753-4628.
Hockey Team Raises $5,578 for Autism Awareness
The SUNY Cortland men's ice hockey team raised $5,578 for the Central New York Chapter of the Autism Society of America (CNY ASA) during its "Autism Awareness Night" on Dec. 7 when the Red Dragons hosted SUNY Potsdam.
The Red Dragons wore unique, custom-made "puzzle piece" jerseys during the game to represent the CNY ASA's "one piece at a time" theme. An online auction of the jerseys the week following the game raised more than $3,800.
The team also raised $880 from donations and raffles at the game, plus an additional $650 in donations from local businesses prior to the contest. In addition, the Dark Horse Tavern in Cortland pledged $5 for every save Cortland goalies made in the game and donated $220.
Athletic Training Club Exceeds St. Baldrick's Fundraiser Goal
The SUNY Cortland Athletic Training Club raised $9,055 for the St. Baldrick's Foundation during its head-shaving event on Dec. 7 in the Park Center. The club easily exceeded its goal of $2,000 as a total of 24 people had their heads shaved for the charity.
The shavees included 18 athletic training students, three athletic training staff members, one graduate assistant, one parent of an athletic training student and one general student.
The St. Baldrick's Foundation is a volunteer driven charity committed to funding childhood cancer research. For more information on the organization, visit to the St. Baldrick's web site at www.stbaldricks.org.
CALS Lecture Grant Applications Due Jan. 30
Campus Artist and Lecture Series (CALS) Lecture Grant Applications are now available for the 2013-14 academic year. Applications are eligible for a maximum award of $500 and are open to any club, program or department. These lecture grants will not cover performances of any kind.
The spring semester deadline is Thursday, Jan. 30, to be considered for funding for programs taking place in February, March, April and May 2014. Applications received after Jan. 30 may not be eligible for any spring semester funds remaining.
For more information or to request a hard copy of the CALS Lecture Grant Application, contact Sandra Wohlleber by email or at 607-753-5574.
College Council to Meet Jan. 27
The SUNY Cortland College Council will hold its next regularly scheduled meeting on Monday, Jan. 27, at 4 p.m. in Miller Building, Room 405.
Council members will hear reports by SUNY Cortland President Erik J. Bitterbaum, College Council Chair Thomas Gallagher, Faculty Senate Chair Jeffrey Walkuski and Student Government Association President LeighMarie Weber.
Prior to the meeting at 3:15 p.m., a presentation titled, "The New Normal: Who's Coming to College Now," will be presented by Carolyn Bershad, director, counseling and student development, and Christopher Kuretich, assistant vice president, student affairs.

Suggest a feature story
---
Faculty/Staff Activities
John C. Hartsock
John C. Hartsock, Communication Studies Department, has been invited to lecture for two weeks at South China University of Technology in Guang Zhou, China, in the fall of 2014. The invitation is part of the university's "Attracting Intelligence" program. Hartsock will give graduate lectures on American and global literary journalism, investigative journalism and American media law. Guang Zhou, perhaps better known to Westerners as Canton, is China's third largest city, 75 miles north of Hong Kong. The university has an enrollment of more than 100,000.
In other news, Hartsock learned recently that a scholarly article of his was republished in the August issue of the Chinese journal Journalism Bimonthly, which is published by Fudan University in Shanghai. The article, "'Literary Reportage': The 'Other' Literary Journalism," was originally published in Genre: Forms of Discourse and Culture, vol. XLII (2009). The Chinese version was translated by Li Mei, associate professor in the School of Journalism and Communication at South China University of Technology.
Thomas Hischak
Thomas Hischak, Performing Arts Department, has written a chapter on the "American Musical Theatre" for The Oxford Handbook of American Drama, published by Oxford University Press in December 2013.
Richard Kendrick
Richard Kendrick, Institute for Civic Engagement and Sociology/Anthropology Department, contributed the lead story that will appear on the front page of the Bringing Theory to Practice Winter 2014 Newsletter, a national publication mailed to more than 40,000 subscribers. His article spotlights SUNY Cortland's ability to create a campus culture of engaged learning with Bringing Theory to Practice grants.
Yomee Lee and Sam L. Kelley
Yomee Lee, Kinesiology and Africana Studies departments, and Sam L. Kelley, Communication Studies and Africana Studies departments, presented on "Racism & White Privilege" at the Stony Point Conference Center on Oct. 18, 2013. Lee addressed the stereotypes of Asians as depicted in popular culture, with an emphasis on film and advertising and how the depictions influence perceptions about Asians. Kelley presented on racial profiling against the backdrop of the civil rights movement and the impact since 9/11. The event was organized by the Public Policy Advocacy Network of the Synod of the Northeast New York.
Mecke Nagel
Mecke Nagel, Philosophy and Africana Studies departments and the Center for Gender and Intercultural Studies, learned that her Wagadu article, "OAJ and Wagadu: Towards a Diamond Model of Feminist, Postcolonial Publishing," was published in the journal TripleC - Communication, Capitalism & Critique: Open Access Journal for a Global Sustainable Information Society, available at www.triple-c.at/index.php/tripleC/article/view/527.
Robert Spitzer
Robert Spitzer, Political Science Department, is the author of an article titled "Separating Truth and Myth in the American Gun Debate," published in the Fall 2013 issue of The Islamic Monthly.
Sharon L. Todd
Sharon L. Todd, Recreation, Parks and Leisure Studies Department, was inducted into the South Central Chapter of the Pennsylvania Sports Hall of Fame on Nov. 16. Part of Todd's athletic career involved serving as assistant coach of SUNY Cortland's field hockey team for 12 years, while also serving as a faculty member.

Submit your faculty/staff activity