Football Team to Join New Conference
01/31/2014
SUNY Cortland becomes part of Empire 8 football starting in 2015 as an affiliate member.

The Red Dragons will join The College at Brockport, Buffalo State College, Frostburg State University and Salisbury University as affiliate football members. Full football-playing members of the conference are Ithaca College, St. John Fisher College, Alfred University, Utica College and Hartwick College.
Cortland has been a football-only member of the New Jersey Athletic Conference (NJAC) since 2000 and will play its final season in the conference this fall.
"Cortland is a strong academic institution with a rich football history with many of the Empire 8 institutions," said Empire 8 Commissioner Chuck Mitrano. "They are a perfect fit and further enhance the competitive level of what is already the toughest conference in Division III."
Cortland has finished at least tied for first in the NJAC six of the last nine years (2005-08, 2010, 2012). The Red Dragons were outright league champions in 2008 and 2012 and won a tiebreaker to earn the league's NCAA automatic bid in 2010.
"It's an exciting time for Cortland football as we embrace change," said Cortland football head coach Dan MacNeill, who completed his 17th season with the Red Dragons in 2013. "This change comes with many expressions of gratitude. First, to the New Jersey Athletic Conference for their welcome embrace many years ago, allowing us to be their first affiliate member, giving us a conference to call home, and honoring us with a storied existence for the last 14 years. We look forward to a year of goodbyes with this 'attitude of gratitude,' humbled and appreciative to be part of this great conference and tradition.
"And thanks to the Empire 8 for accepting Cortland Football into their prestigious conference, where we look to build stronger relationships with familiar competitors and establish new regional rivalries."
In all, Cortland has qualified for the NCAA playoffs eight times – three straight years from 1988-90, along with appearances in 1997, 2005, 2008, 2010 and 2012. The Red Dragons advanced to the national quarterfinals in 1988 and 2008. Cortland has also been selected to compete in ECAC bowl games 11 times.
"Cortland is excited to have the opportunity to play football in the Empire 8 conference," said SUNY Cortland President Erik J. Bitterbaum. "The schools in this conference are outstanding both athletically and academically, and we look forward to this new beginning for Red Dragon football."
"We look forward to meeting new challenges in the Empire 8 and to creating new relationships with some of these institutions that are so close to us geographically but that we haven't had the opportunity to compete against on a regular basis in years past," said the College; Director of Athletics Mike Urtz '94. "We hope we can bring added value to an already great and highly competitive conference."
Cortland was the first non-New Jersey school to join the NJAC for football and was later joined as affiliate members by Western Connecticut State, Buffalo State, Brockport and Morrisville. Buffalo State, however, joined the Empire 8 in 2012 and Brockport will play its first season in the Empire 8 this fall. Western Connecticut joined the newly-formed Massachusetts State Collegiate Athletic Conference football league in 2013.
Empire 8 football teams finished 21-10 in non-conference play in 2013 and have a mark of 259-122 against non-conference Division III opponents since 2002 for a .680 winning percentage. There have been 33 postseason victories in the last 12 seasons with reigning conference champion Ithaca advancing to the second round and at-large selection St. John Fisher advancing to the national quarterfinals in 2013.
A member conference of the NCAA's Division III, the Empire 8 has nine full members and sponsors championships in 23 sports. The member institutions of the league place the highest priority on the overall quality of the educational experience and on the successful completion of its student-athletes' academic programs. The membership seeks to distinguish itself among its peer group for its quality institutions, spirited and sportsmanlike competition, outstanding services and highly ethical policies and practices. Its commitment to serve the educational needs of its student-athletes is the hallmark of the Empire 8.
The Empire 8 can trace its beginnings back to 1964 with the founding of the Independent College Athletic Conference (ICAC). In 1991, the ICAC regrouped to become the Empire Athletic Association (EAA) and in 1999 the EAA became the Empire 8 Athletic Conference.
A public, four-year college of arts and sciences, SUNY Cortland is dedicated to giving all qualified students access to a world-class education. The College offers 64 undergraduate majors, 38 graduate degrees and a commitment to diverse educational experiences marked by outstanding teaching, quality scholarship and meaningful community engagement.
"I am very pleased that Cortland has been approved for football membership in the Empire 8," said Daan Braveman, president of Nazareth College and chair of the E8 Presidents Council. "Cortland's affiliation with the E8 will further engage alumni and the campus community at all member institutions."
Graduate Students Staff School Hearing Clinic
02/05/2014
Since October, 12 SUNY Cortland graduate students have made short work of what is usually a semester-long chore for Cortland Enlarged City School District school nurses: screening every child in kindergarten, first, third and fifth grades for hearing difficulties, fulfilling New York state guidelines on behalf of the elementary schools.
The graduate students screened approximately 800 kids. It marked a major milestone for the campus because it was the first time SUNY Cortland students have conducted hearing screenings for all the district's young schoolchildren.
The volunteer audiology screeners, who started this past fall, comprise SUNY Cortland's first class of master of science in communication sciences and disorders candidates. The graduate students looked upon this time-consuming, but necessary, service as a terrific hands-on learning opportunity.
The clinics are a natural outgrowth of the College's Center for Speech, Language and Hearing Disorders, which is located in the Professional Studies Building on campus and offers services to the Cortland community such as speech-language and hearing evaluations and speech and language therapy.
Instead of having their field experience take place on campus, the graduate students entered the schools, where they set up their audiology equipment in an empty classroom on either a Wednesday or Friday. Next, a stream of youngsters walked by the four students who were conducting the faculty-supervised screenings.
"We got our clinical hours and experience," said Jenna Vinditti '12 of Pougquag, N.Y., about her and her classmates' experience. "All those students got their hearing screened and we helped the school nurse."
Vinditti and a number of her classmates also completed their undergraduate degrees in speech and hearing science at SUNY Cortland, and many during their four years gained practical experience with clientele in Cortland County. Now, as they enter the graduate studies phase, the class gets additional experience working one-on-one with the youngsters in a clinical setting.
"It's something you really need to understand," said one graduate student, Michelle Fraser '13 of Scotia-Glennville, N.Y., about her week of time among the tots. "Even just communicating with children and getting to know how to work with children and making it enjoyable, too, is really important to know how to do."
The clinics demonstrated just how much communities need the profession to which the students aspire.
"We are helping someone to communicate, and communication is so essential to life," said graduate student Kelli Carsten of Syracuse, N.Y. "This field brings us so many areas of interest to work with: biological, medical and helping people communicate. If someone has a physical loss, they still can communicate, but if someone can't communicate, for whatever reason, it's horrible. It affects your quality of life so much."
The students looked to Michael Pitcher, a SUNY Cortland lecturer in communication sciences and disorders, to mentor them in this hands-on learning experience.
"It's a win-win type of situation," said Pitcher, who also supervises students enrolled in related majors in their audiology clinical fieldwork. "Historically the school nurses have done all the hearing screening and when there's only one nurse to do all the screening for 180 to 200 students, it takes up a significant chunk of their time. We can pretty much go in and take care of it in about a week. It frees up their school nurses and at the same time provides valuable clinical time for our students."
The College piloted the program for the last three years with the Cortland District's Barry Elementary School before addressing the needs of schoolchildren for the whole district, he said.
"We wanted to get our feet wet and see if we could work in the elementary grades first," Pitcher said.
Michael Pitcher, above right, does a "high five" with Groton Elmentary School first grader Judson Holl as SUNY Cortland senior speech and hearing science major Meaghan McElroy of Carmel N.Y., watches. In the above left image, Jill Greinert, a SUNY Cortland senior from Niagara Falls, N.Y., also "high fives" with Groton first grader Imari Mickensi People, to signal that a testing tone was heard.
"This past fall's screenings were in fulfillment of the New York state guidelines for elementary schools," he said. "Also required are the seventh and tenth grades, but that's for the future, I guess."
This spring, the hearing screenings were restarted with undergraduate students in a Tompkins County elementary school.
"I am grateful Mike is able to bring students to Groton for the screenings," said registered nurse Juliana Cobb, who works at Groton (N.Y.) Elementary, where the newest hearing screenings are taking place for kindergarten, first, third and fifth grade children. "Not only does it save me time, his experience is very helpful. I always seek his opinion on any kid whom we wonder about or who has known speech issues. It's always wonderful to have the students here as well."
Evaluating that many children requires a set routine.
"They were all so great: just in and out," Vinditti noted about the actual screening experience of a steady stream of little clients. "We screened about 200 students in a few hours, just the four or us (at a time) and Mr. Pitcher, who's always ready to lend his expertise."
After their professor had checked the children's ears, the four graduate students would check their hearing with an audiometer, a common medical device used to evaluate hearing loss. Pitcher checked their work in case a youngster needed to be rescreened, and performed a tympanogram as needed. That procedure assesses the mobility of the eardrum and middle ear pressure, which affects how sound is conducted.
"We were looking to expand our opportunities for graduate students," Pitcher said, explaining how the mass screenings came about. "For our inaugural class this fall, I had been trying to think of ways to provide opportunities for them to get some diagnostic hours as far as hearing goes. Hearing screening is within the scope of practice for speech-language pathology."
Working with Cortland Enlarged City School District Assistant Superintendent Judi Riley, Pitcher developed a field placement agreement between the district and the SUNY Cortland School of Professional Studies, which contains the Communications Disorders and Sciences Department. The College agreed to serve all the schools this way and the pact may foster future collaborations with the district, such as informational outreach to young schoolchildren.
The students joined forces to rise to the challenges of this and future assignments.
"There are only 12 of us in the (graduate) class and we really have formed a tightknit group," Fraser said. "We help each other. I feel really fortunate to have been accepted into the program."
---
Capture the Moment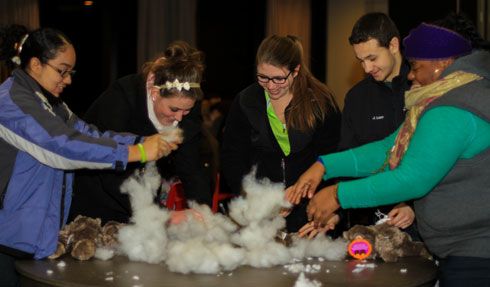 Within minutes of opening, the Cortland Nites Build-A-Bear event on Jan. 24 ran out of 240 loveable polar bears, poodles, unicorns, hippos and bears, leaving the rest of the more than 300 participants to take part in cupcake decorating. Cortland Nites is free and open to SUNY Cortland students. Stay tuned for more entertainment as activities for February and March include glow-in-the-dark ice skating, bowling, a carnival and a world sports tournament.
---
In Other News
Black History Month Takes Shape at College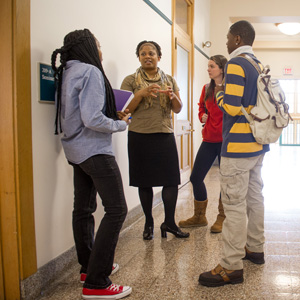 02/03/2014
SUNY Cortland will celebrate Black History Month (BHM) throughout February with events around campus including lectures, workshops, readings and information sessions.
"The national annual celebration of achievements of Black Americans has become globalized by not just festivities but also taking stock of projects and aspirations of Black America, the African Diaspora and global Africa," said series organizer Seth Asumah, a SUNY Distinguished Teaching Professor of Political Science and chair of the Africana Studies Department.
"We have made a lot of progress in the United States, but there are still more to be done to bring those who are marginalized and disenfranchised to participate in the American dream and the ideals of the founding fathers — life, liberty, justice, pursuit of happiness and freedom for all."
BHM campus events will be posted online in the College's home page calendar and on the Africana Studies Department and the Multicultural Life and Diversity Office websites. Events are open to the public and free unless otherwise noted.
Events include:
Wednesday, Feb. 5: "What is EOP (Educational Opportunity Program) and How Do Students Qualify?" a talk presented by Lewis Rosengarten, the College's director of EOP; Claudia Clark, the director of EOP at SUNY Broome; William Horning, the director of EOP at Cornell University; and Elyzabeth Wengert the director of EOP at SUNY Oswego, takes place at 12:30 p.m. in Brockway Hall Jacobus Lounge.
Wednesday, Feb. 5: Award-winning author LeAlan Jones, who as a teenager helped bring to light the harsh realities of Chicago's housing projects with a radio documentary, offers a talk titled "What Will The Collective Voice of a Generation Have To Say?" at 7 p.m. in the Corey Union Function Room. Jones' book Our America: Life and Death on the South Side of Chicago is one of the academic year's two common-reads for the College's Cultural and Intellectual Climate Committee (CICC) series.
Thursday, Feb. 6: John Aerni-Flessner, a SUNY Cortland assistant professor of history and Africana studies, presents "Mandela's Legacy in the 21st Century: Historical Mythology or Useful Example?" at noon in Brockway Hall Jacobus Lounge.
Wednesday, Feb. 12: "Speak Up/Speak Out: Inclusive Language — Saving Lives and Building Communities," a talk led by Noelle Chaddock Paley, takes place at 7 p.m. in the Corey Union Exhibition Lounge. Paley, pictured above, directs SUNY Cortland's Multicultural Life and Diversity Office (MLDO).
Thursday, Feb. 13: Tamara Taylor, the assistant director of MLDO, hosts "Pioneering a Future: More Than a Teen Mom, Slang-Speaking, Black Girl" at noon in Brockway Hall Jacobus Lounge.
Wednesday, Feb. 19: Professor of Philosophy Kathryn Russell leads a workshop titled "Race, Class, Gender and Climate Change" at 12:30 p.m. in the Old Main Colloquium.
Thursday, Feb. 20: Jermaine Soto, a doctoral student in Syracuse University's School of Education, presents "Engaging Race within the Dialogic Space: Emotional Labor (not) Lost" at noon in the Corey Union Exhibition Lounge.
Monday, Feb. 24: A poetry slam hosted by SUNY Cortland students Jason Carriero and Sierra Degale-Rodgers takes place at 7 p.m. in Sperry Center, Room 205.
Wednesday, Feb. 26: Rachelann Copland, a SUNY Cortland graduate student pursuing a master's degree in English, leads a talk titled "The Epistolary Journal in the Postcolonial Light: How Mariama Ba and Ernest Gaines Obscure the Limits of the Public and Private Spheres of Experience and Genre" at 12:30 p.m. in Brockway Hall Jacobus Lounge.
Thursday, Feb. 27: Michael Goldman, a graduate student pursuing a master's degree in recreation, offers "The Peace Corps and Me: One Man's Adventure in Senegal" at noon in Brockway Hall Jacobus Lounge.
Friday, Feb. 28: The Renegade's Experience," hosted by music producer Ryan Leslie, takes place at 4 p.m. in Sperry Center, Room 205. Leslie, of Washington, D.C., saw his work "Transition" nominated as the best contemporary R&B album at the 2011 Grammy Awards.
BHM event sponsors include the President's Office, Provost and Vice President for Academic Affairs Office, Dean of Arts and Sciences Office, the Africana Studies and Political Science departments, Center for Gender and Intercultural Studies, EOP, Multicultural Life and Diversity Office, CICC and Black Student Union.
For more information, contact Asumah at 607-753-2064.
Student Snaps Official Super Bowl Images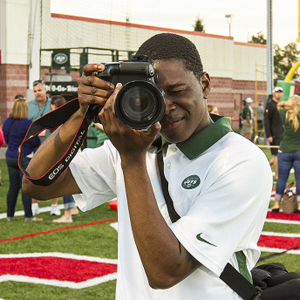 02/04/2014
Some people may be surprised to learn that 20-year-old SUNY Cortland communication studies major Brandon Todd was flown out to New York City last week to work as a professional photographer for NFL Super Bowl events.
But his presence in connection with the world's biggest sports event was really just his next logical step.
Todd, of West Hempstead, N.Y., not only was among the official photographers chosen to capture the Super Bowl's greatest moments, but also has been a member of the New York Jets football operations team since he was in 10th grade of high school.
"I decided to attend SUNY Cortland because my father told me about their excellent sport management program and I felt as if that would potentially help me secure a job with the New York Jets or any other professional organization," said Todd, a sport management minor.
For three of the five days he worked at the 50 Yard Lounge Event, which took place at the One Penn Plaza in New York City. Starting Wednesday and lasting all the way until the day of the big game, the 50 Yard Lounge Event was a once-in-a-lifetime experience that provided guests with a blend of food, football and music. Celebrity chefs and football legends were present.
"I was the only photographer at the 50 Yard Lounge Event so it was a huge responsibility," Todd said. "I had to make sure that I was catching priceless, candid moments of the 200-plus guests that were in attendance."
On Thursday, "Mike & Mike," the hosts of ESPN's popular sports-talk radio show, recorded a live show at the 50 Yard Lounge Event. And on Sunday, ESPN radio personalities Michael Kay, Don Lagreca and Ryan Ruocco spoke on a live show before leaving for the game, Todd said.
Todd also worked the Jets House, which was next door to the 50 Yard Lounge Event. The Jets House, located on 33rd Street in New York City, was filled with famous celebrities, NFL players and dedicated fans who kept the Super Bowl festivities going early into Monday morning.
"When I went over to the Jets House there were two or three other photographers present but we were all there to achieve the same goal, which was to capture the best moments of the night," said Todd.
Beginning as only a hobby in 10th grade, Todd grew a strong passion for photography but did not consider it a serious profession until he was a senior in high school.
Aside from capturing images of the New York Jets, Todd considers himself a freelance photographer who will shoot pictures of just about anything, from music concerts to fashion to young children.
"What I love about photography most is that I have the opportunity to show life through my own eyes," said Todd.
"I really feel art is the one aspect of life that helps connect the world," Todd said. "A life without art is a life without meaning."
Todd was grateful for this past weekend's opportunities and only hopes that his artistic ability will be published for the world to see.
"All in all, it was a great weekend. I got to take pictures, enjoy good food and music and reconnect with my New York Jets family," Todd said. "Everyone in the organization is amazing and they truly look out for me. I appreciate each and every one of them."
Visit his official website at Branndannart.com.
Vocalist Carl Dylan to Perform Feb. 4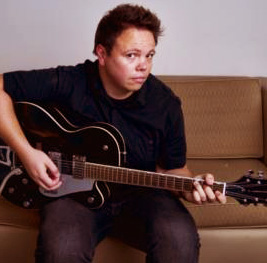 01/31/2014
South African-born singer-songwriter Carl Dylan will entertain SUNY Cortland students and the community with his rich voice and original tunes at a coffeehouse-style concert on Tuesday, Feb. 4.
Dylan, whose performance is sponsored by the Campus Artist and Lecture Series (CALS) along with the College's Open Mic Nights, will begin at 7 p.m. in the Corey Union Function Room.
Students are encouraged to participate in the open mic night immediately following the concert.
Dylan, whose vocals have been compared to songwriters such as Dave Matthews, John Mayer and Jason Mraz, has opened for the likes of Dave Barnes, Scotty McCreary and The Beach Boys. He has played to audiences of 55,000.
Tickets for the event are $3 for general admission. The concert is free for SUNY Cortland students with College ID and children age 10 and under.
Tickets can be purchased from 8:30 a.m. to 4 p.m. weekdays in Corey Union, Room 406; by calling 607-753-5574; or at the door the evening of the show.
College Emergency Website Goes Live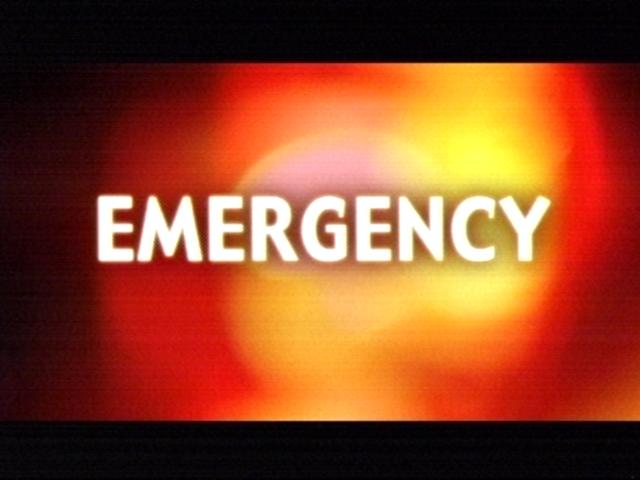 02/04/2014
SUNY Cortland's new emergency website is now accessible to all students, parents, faculty, staff and community members at emergency.cortland.edu.
The website is designed as both a user-friendly resource for campus emergency procedures and as the College's primary communication mechanism during a crisis.
It includes general information about signing up for SUNY Cortland Alert -- a system of text messages delivered to mobile devices shortly after an incident occurs -- as well as basic preparation information for students, parents and the media. All members of the SUNY Cortland community are urged to update their information in SUNY Cortland Alert and add their cell phone number to make sure they receive the most recent information on fast-moving, potentially dangerous situations. They can sign up through the new emergency website.
The new website's primary feature, however, is a series of emergency icons that offer quick, user-oriented instructions about what to do in a variety of crisis situations. They range from severe weather emergencies to bomb threats and active shooters on campus. All members of the campus community are encouraged to explore the new site and familiarize themselves with the different situations and recommended responses.
The website is housed on a remotely located server, so it will remain available even if the main College website goes down. It also is built to be responsive to changing screen sizes so it can be easily used from hand-held devices as well as computer screens.
During situations where a crisis is life-threatening or requires immediate action on the part of students, faculty, staff and visitors, the new emergency website will transform into an emergency blog. In this mode, the page will take over the entire SUNY Cortland website, so no visitor to the site will be able to click on a different College Web page.
The blog will provide accurate, official information on the emergency event as soon as College officials receive it. All students, faculty, staff, parents and news media are urged to use this page as their definitive source of information. In times of crisis, misinformation or rumor can often cause people to respond inappropriately or even dangerously. Because of that, the College's crisis communications team is committed to updating the blog as accurately and rapidly as possible. Those blog posts will be used as the basis for official SUNY Cortland messages sent through Facebook or Twitter.
"SUNY Cortland is a very safe campus, but disaster can strike anywhere, at any time," said College President Erik J. Bitterbaum. "It is important that all of us know how to respond. Although we may be caught by surprise, we want to make sure we aren't caught unprepared."
The new website evolved as part of the updating process for the plan. An emergency response committee appointed by Bitterbaum re-wrote the lengthy document. The committee includes: University Police Chief Steven Dangler, Associate Vice President for Facilities Management Nasrin Parvizi, Associate Vice President for Communications Gradin Avery, Associate Provost for Information Systems Amy Berg, Assistant Vice President for Student Affairs Christopher Kuretich, Environmental Health and Safety Director Glenn Wright and Public Relations Director Frederic Pierce.
The plan sets up a communications hierarchy to evaluate all incidents and quickly notify all appropriate individuals. It works essentially like this:
University Police are the first responders to any incident on campus. They immediately determine whether to activate the New York Alert system and decide whether the crisis communications team is needed.
That team, which mirrors the makeup of the emergency response committee created by the president, quickly crafts the appropriate messages needed to keep the campus safe and begins communicating through a wide range of media. The crisis communications team then notifies the President's Cabinet and other key players. That larger group of people, which changes depending on the needs of the incident, is called the Emergency Response Resource Group.
This group addresses the emergency situation and notifies all affected building administrators, who are charged with notifying students, faculty, staff, visitors and anyone else in campus facilities. Ideally, most of those people will already be aware of the emergency through New York Alert notifications and the efforts of the crisis communications team.
Comic Andrew Schulz Delivers Edgy Humor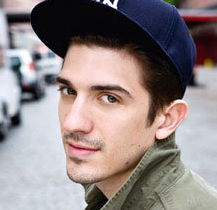 02/04/2014
He is not a "snake milker," a "super car test driver" or an "airplane re-possessor," but comedian Andrew Schulz will visit SUNY Cortland Sunday, Feb. 9, to share the funny perspective that has him hosting an upcoming new MTV show about "dream jobs."
Schulz will share his straightforward and street-smart humor at 7 p.m. in the Corey Union Function Room.
Presented by the College's Student Activities Board (SAB), the event is free and open to the public.
Schulz, best known for his roles on MTV's "Guy Code," "Girl Code," "Guy Court" and MTV's most recent project, "The Hook-Up," has established himself as a well-proclaimed stand-up comic.
"My stand-up shows consist of talking to women about what it is like to be a man or what it is like to be the guy in a relationship," said Schulz. "I am in a relationship so I focus my jokes around gender dynamics."
MTV's fifth installment for Schulz will be a show titled, "Jobs That Don't Suck," which is expected to premiere this upcoming April. Acting as the antithesis of Mike Rowe's series "Dirty Jobs," "Jobs That Don't Suck" focuses on people who have landed their dream jobs, such as the "professional pick up artist."
Schulz will accompany people on their dream jobs and will show audiences that anyone can do what they do.
"If you love to do it, then it is an awesome job," Schulz said.
With more than 67,000 Twitter followers, Schulz has been named "one of the top five up-and-coming artists on Twitter," according to his website, and has taken the social media world by storm. Despite his busy schedule, it is not difficult for fans to keep up with his every move.
To find out more about Andrew Schulz, visit his official website at www.theandrewschulz.com.
Panel Talk to Consider Sochi Games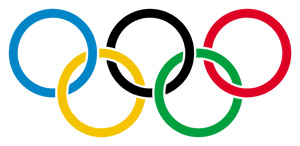 02/04/2014
SUNY Cortland's Clark Center for International Education will shed light on the implications of this year's Winter Olympic Games by leading a panel discussion Monday, Feb. 10, on Vladimir Putin's Russia.
"Putin's Games: Sport, Society, Politics and Economy" takes place at 3 p.m. in the Corey Union Fireplace Lounge. The event is free and open to the public.
Faculty members from SUNY Cortland's kinesiology and sport management departments and Southwest University in China will explain what the Games mean for many involved — the people of Sochi, the volatile Northern Caucasus region and consumers around the world, among others. The scholars also will discuss the history of the Winter Olympic Games and China's role in them.
Panelists for the discussion and their areas of interest include:
Ted Fay, a SUNY Cortland professor of sport management, who will break down the political implications of the Olympics;
Jin Huang, an associate professor of physical education from Southwest University in China, who will explain China's participation in the Winter Olympic Games;
Yomee Lee, a SUNY Cortland associate professor of kinesiology, who will discuss the socio-economic implications of the Olympics; and
Susan Rayl, a SUNY Cortland associate professor of kinesiology, who will speak on the history of the Winter Olympic Games.
Alexandru Balas, the director of the Clark Center for International Education, will serve as a moderator for the discussion.
For more information on the panel talk, contact Balas at 607-753-4823.
Civic Engagement Survey Open Through Friday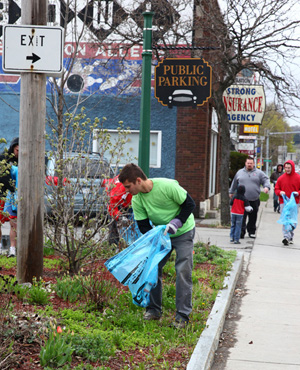 02/20/2014
SUNY Cortland campus community members are encouraged to make a strong final push in completing an important survey that measures the civic engagement of the College's undergraduate students.
The web-based National Assessment of Service and Community Engagement (NASCE) will be available for SUNY Cortland undergraduates to complete through Friday, Feb. 21. Just for taking the survey, students are eligible to win an Auxiliary Services Corporation (ASC) gift card worth at least $25.

Led by Siena College's Research Institute, the survey measures an institution's overall community impact and evaluates the rate, frequency and depth of civic-minded student activities.

Take the survey.

Twenty ASC gift cards worth $25 will be awarded randomly to students who complete the survey in addition to one grand prize gift card worth $500. All faculty and staff members, regardless of academic department or office, are asked to encourage students to complete the survey.
SUNY Cortland has been named to the U.S. President's Higher Education Community Service Honor Roll for seven consecutive years, receiving the list's "with distinction" designation each of the past three years.
The College's 2013 honor roll application reported nearly 3,000 students offered 185,772 community service hours during the 2011-12 academic year. The latest NASCE data will strengthen future applications and identify potential areas for improvement.
Contact Richard Kendrick, the director of the College's Institute for Civic Engagement and a professor of sociology/anthropology, at 607-753-2481 with questions about the survey.
LeAlan Jones Talk to Take Place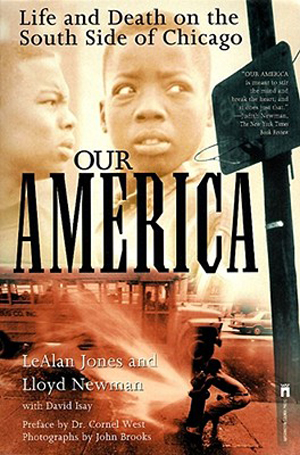 02/05/2014
Update: Despite the cancellation of evening classes Wednesday, Feb. 5, a talk by author LeAlan Jones will take place as scheduled.

An award-winning author who as a teenager helped bring the harsh realities of Chicago's housing projects to light will speak at SUNY Cortland on Wednesday, Feb. 5, continuing the College's "Inter/Action" series on inequality.
LeAlan Jones, a journalist and former Green Party candidate for the U.S. Senate, will offer a talk titled "What Will the Collective Voice of a Generation Have To Say?" at 7 p.m. in the Corey Union Function Room.
His talk is part of SUNY Cortland's Cultural and Intellectual Climate Committee (CICC) series, which this year focuses on "Inter/Action" and the inequalities some Americans routinely face.
Jones also authored Our America: Life and Death on the South Side of Chicago, one of the academic year's two common-reads for the CICC series. As he and co-author Lloyd Newman state in Our America: "You must learn our America as we must learn your America, so that maybe, someday, we can become one."
In 1993, when he was just 13 years old, Jones was a reporter for National Public Radio (NPR). He helped produce "Ghetto Life 101," a documentary that detailed his and Newman's experiences growing up in Chicago's Ida B. Wells housing project, namely the obstacles they faced. It received some of the most prestigious awards in national and international journalism, including the Corporation for Public Broadcasting Award for Excellence in Documentary Radio and Special Achievement in Radio Programming.
A year later, Jones and Newman produced a second documentary, "The 14 Stories of Eric Morse," which told the story of a young boy thrown from a fourteenth-story window in Chicago's housing projects by two other youths. That documentary won a Peabody Award and the Robert F. Kennedy Journalism Award.
Our America was published in 1997 and offers first-hand accounts from Jones and Newman, chronicling the differences in their experiences with those of "other" Americans. The story earned praise for dealing with race, class, power and privilege in honest ways.
Likewise, the book invites SUNY Cortland students and faculty members to ask broad questions about accessibility to the rights that many Americans take for granted: the right to an education, the right to safety and the right to have a voice in the political process.
Prior to Jones' talk, people can listen to "Ghetto Life 101" online.
Sponsors for the event include the Education Club; School of Education; Black Student Union, Cortland's Urban Recruitment of Educators (C.U.R.E.) Program; the Africana Studies and Foundations and Social Advocacy departments; the Center for Gender and Intercultural Studies (CGIS); the College's Wellness Wednesday series and Black History Month at SUNY Cortland.
Other upcoming CICC events for this semester include:
• Readings from "The Vagina Monologues" at 4:30 p.m. on Friday, Feb. 14, in Brockway Hall Jacobus Lounge. The episodic play written by Eve Ensler is made up of varying monologues dealing with issues such as sex, love, birth and female empowerment.
• A film screening of "Girl Rising" at 7 p.m. Thursday, Feb. 20, in Sperry Center, Room 105. The film based on the stories of nine girls around the world, their experiences with education and the strength of their spirits.
• A documentary screening of "The House I Live In" at 7 p.m. Tuesday, March 18, in Sperry Center, Room 105. The 2012 documentary directed by Eugene Jarecki deals with the war on drugs in America.
• A panel discussion on the U.S. prison system at 7 p.m. Thursday, March 20, in Brockway Hall Jacobus Lounge.
• A reading by Joe Bruchac at 4:30 p.m. Monday, April 14, in Brockway Hall Jacobus Lounge. Bruhac is an author and storyteller with more than 120 books for children and adults. His Keepers series continues to receive critical acclaim for its combination of science and folklore.
• A film adaptation of Lorraine Hansberry's play "A Raisin In The Sun" at 7 p.m. Tuesday, April 15, in Sperry Center, Room 105. The story is based on a black family's experiences in a predominantly white neighborhood in Chicago.
• A reading of the play "Clybourne Park" at 7 p.m. Thursday, April 17, in Brockway Hall Jacobus Lounge. Written by Bruce Norris in response to Hansberry's "A Raisin In The Sun," the play takes place before and after Hansberry's original play and is loosely based on actual events in Chicago.
For more information on the series, contact CICC co-chairs Brian Barrett or Howard Lindh.
Gallery Exhibition Curator to Speak Feb. 18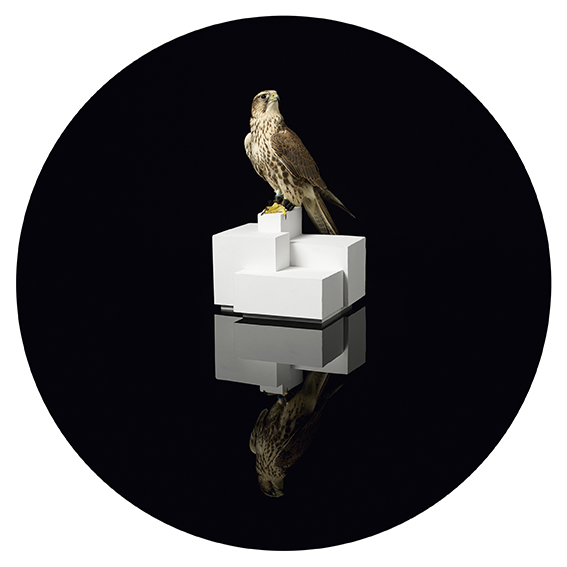 02/17/2014
A New York City art gallery owner will deliver the curator's talk for the latest exhibition at SUNY Cortland's Dowd Gallery Tuesday, Feb. 18.
Bart Keijsers Koning, who curated "Anomie: Fractured Art Norms," will speak at 5 p.m. His talk is free and open to the public.
The Dowd Gallery remains housed temporarily on the third floor of Main Street SUNY Cortland, 9 Main St. The current exhibition runs through Friday, March 7.
Normal gallery hours are 10 a.m. to 6 p.m. Tuesday through Friday and 10 a.m. to 2 p.m. on Saturday. The gallery is closed Sunday and Monday.
Keijsers Koning is the curator and co-owner of the LMAKprojects gallery in New York City. The gallery space, located on the Lower East Side, presents works in all media, ranging from drawing, painting, photography, video/film, and sculpture by artists from all over the world. It has been reviewed by publications such as The New York Times, Art in America and The Village Voice.
Prior to joining LMAKprojects in 2009, Keijsers Koning curated in the Netherlands and the U.S. He graduated from School of Visual Arts in 2000 and specialized in painting.
The SUNY Cortland exhibition he curated includes paintings, drawings, sculpture and video art from six contemporary artists. Featured artists, inspired by art movements mostly prior to the late 20th century, include Martin Basher of New Zealand; George Bolster of Ireland; Jasmina Cibic of Slovenia; and Jeff Grant, Russell Nachman and Carlos Rigau, all of New York City. Each one pieces together fragmented practices from the past to create new artistic insight.
The noun "anomie" refers to a breakdown of social bonds between individuals and their communities, making the title fitting for the exhibition.
Each artist lends a different perspective:
• Basher is a sculptor and painter whose work frequently deals with consumer culture. With references to minimalism, design and retail display, his sculptures feature formal, yet subtly uneasy, arrangements of consumer goods.
• Bolster often examines belief systems with his drawings and sculptures. His work reveals personal political and religious skepticisms, looking at "the propaganda and power of visual culture continually employed … by a variety of organizations." His recent series of drawings and sculptures merges the evolution of the human species with body dysmorphia and plastic surgery.
• Cibic investigates objects and the status attached to them. Her work, which is presented through photography, performance, installation and video, is "an elaborate and humorous investigation into the preservation of culture and its objectification." Her 2010 print "Perch for Falco-cherrug" is pictured above.
• Grant works across a variety of media, including sculpture, video, installation and drawing, and deals with the transcendence of an artist's mark, or the placement of material in a new identity. He "exposes the inherent restrictions in a wide variety of materials and alters their identities by imposing new constraints on them."
• Nachman, known for his use of watercolor on paper, uses allegory to take a critical look at his own cultural roots and culture at large. He relies on black metal music culture to portray a harlequin, or jester, for current times. These modern day jesters "become the unwitting relaters of an unspoken truth — the folly behind all of our own masks."
• Rigau relies on artifice, display and perception, using plastic imitations of natural materials in his installations and two-dimensional works. His practices reflect a combination of his Cuban heritage and his investigation of the American notion of aspiration.
The Dowd Gallery remains housed temporarily on the third floor of Main Street SUNY Cortland, 9 Main St., through the end of the academic year while the Dowd Fine Arts Center prepares to re-open after renovations. The gallery will return to the Dowd Fine Arts Center in August.
For more information, images of exhibition works or to schedule a group tour, contact Gallery Director Erika Fowler-Decatur at 607-753-4216.
Children's Museum Offers Spring Series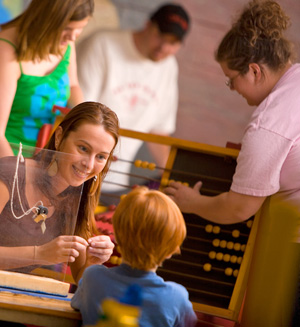 02/03/2014
Children's educational programs on the Chinese New Year, dancing, active play, art, literacy and science will behighlighted during the Spring 2014 Children's Museum: Family Times season that begins Saturday, Feb. 8.
Children's Museum: Family Times offers interactive, hands-on educational experiences in a environment where the Cortland community — parents, grandparents, caregivers, teachers, college students, teenagers and young children — can be inspired to play and learn together.
Organizers have added "Family Times" to the museum's name to more closely represent what the program involves: children, families and other adults learning and playing together.
Presented by faculty in SUNY Cortland's Childhood/Early Childhood Education Department and students who are teacher candidates, the programs run on selected Saturdays from 10 a.m. until 1 p.m., unless otherwise noted. The activities are open to community families and their children. With the exception of the "Week of the Young Child: Kidsville" event and the Cortland Blooms Festival, all programs will take place at the Child Care Center on the ground floor of the Education Building, located on Prospect Terrace. Admission is free but donations are gladly accepted.
On Feb. 8, Hai Ying Wang, lecturer in SUNY Cortland's Modern Languages Department, will celebrate the Chinese New Year with participants as the first event in 2014, the year of the horse. The families will do Chinese New Year activities, listen to stories related to spring festival celebrations and make and taste dumplings.
Susan Stratton, an associate professor of childhood/early childhood education, will offer "The Incredible Journey of Water" on Feb. 22. Children will roll large, paper dice and learn where they — as a water molecule — might go next, whether they rise into a cloud, fall as rain into the ocean or become a drink of water lapped up by a jaguar. Other movement-oriented water activities such as "creating a thunderstorm" and "water visualization" will be shared during this presentation. The Cortland Dance Company, a student dance ensemble, will join the gathering at 11 a.m. to encourage participants to dance and move their bodies to music.
On March 1 Orvil White, an associate professor of childhood/early childhood education, will host "Dinosaurs Galore!" The youngsters and families can make their very own dinosaur hand puppets, finger puppets or shadow puppets, which they will be encouraged to take home and use to tell stories and entertain family and friends. They also will explore dinosaur eggs.
Andrea Hart, SUNY Cortland's registered dietitian nutritionist and New York State certified dietitian, and Aaron Hart, programs development director for SPARK, will host "Staying Healthy and Being Active" on March 22. SPARK is a research-based, public health organization dedicated to creating, implementing and evaluating programs that promote lifelong wellness. The children will learn about the different food groups, various healthy choices and different ways to make healthy nutritious snacks at home. The families will have an opportunity take part in creating a healthy snack. Children also will participate in physical educational games and activities that are centered on staying active and healthy.
Elaine Sturges, an early childhood professional and the "Project Wild" facilitator, will present "Beautiful Butterflies" on March 29. Children and adults will explore butterflies and discover their life cycle from egg to caterpillar to chrysalis to butterfly. Activities will include song and movement, butterfly stories, art projects and a variety of hands-on butterfly materials.
Judith Schillo, a lecturer in childhood/early childhood education, will present "Painting from Books" on April 5. Participants will explore the different painting styles of famous children's book illustrators. They will play with paint to create their own masterpieces that are easy and fun. Children and adults can make and take samples of their favorite styles.
On April 12, celebrating the national "Week of the Young Child," the program moves to the Cortland Country Office Building Gymnasium on 60 Central Ave. There the youngsters and their families will join "Kidsville," the City of Cortland children's Fair, where SUNY Cortland childhood/early childhood education majors will provide interactive children's activities.
Additionally, the museum's dedicated volunteers will be present at the Cortland Blooms Festival from 11 a.m. to 3 p.m. on Sunday, April 27. Patricia Roiger, a lecturer in childhood/early childhood education, will host the event, which is part of the College's "Green Days" celebration formerly called "Sustainability Month." Activities related to the festival's theme will take place at the Cortland Country Office Building Gymnasium.
For more information, contact Emilie Kudela at 607-753-5525 or email childrensmuseum@cortland.edu or visit www2.cortland.edu/childrens-museum.
ASC Program Grant Applications Due Feb. 21
Auxiliary Services Corporation (ASC) is now accepting Program Grant applications online for the 2014-15 academic year.
Applications are submitted online and must be submitted by midnight on Friday, Feb. 21. Applicants are asked to read the grant guidelines carefully before submitting an application.
Each year the ASC Board of Directors allocates funds to support grants for a wide range of purposes and projects that enhance the life of the SUNY Cortland community.
Although ASC is willing to consider a wide range of ideas, it seeks to avoid duplicating other funding sources or funding projects more properly supported by state funds. Therefore, applicants should first seek funding from primary funding sources.
ASC grant funds may not be used for salaries, honoraria, travel normally funded by the College's budget, or scholarships for SUNY Cortland faculty, staff or students. Funds may not be used to purchase computers, related hardware or software. All purchases will be processed in accordance to ASC's financial and related GAAP policies. In general, Program Grant funds may not be used exclusively for food for SUNY Cortland students, faculty or staff. Funding for food may be considered if the food is deemed integral to the success of the program or event. All food shall be provided by ASC. Other grant guidelines are described in the application package and online.
For more information, contact Tina Russell at 607-753-4628.

Suggest a feature story
---
Faculty/Staff Activities
Seth N. Asumah
Seth N. Asumah, Africana Studies and Political Science departments, is a contributor to a new volume, The Social Contract in Africa, (The African Institute of South Africa, Pretoria, South Africa, 2014), edited by Sanya Osha. Asumah's chapter is titled "African Relational Democracy: Reframing Diversity, Economic Development and Society-Centered Governance for the Twenty-First Century." Worldwide orders can be secured through African Books Collectives, Oxford, England.
Gretchen Herrmann
Gretchen Herrmann, Library, has just published her article "Machiavelli Meets Christmas: The White Elephant Gift Exchange and the Holiday Spirit" in the December issue of the Journal of Popular Culture. The article analyzes the popular holiday game that involves stealing gifts as an inversion of the values and practices of giving that are highlighted in the holiday season.
Richard Hunter
Richard Hunter, Geography Department, presented his paper, "Historical Land use Change in Central Mexico: Another Potential Contributor to the Little Ice Age," at the meeting of the Conference of Latin Americanist Geographers in Panama City, Panama, on Jan. 7. This paper explores how the extensive conversion of agricultural semi-terraces to pastoralism in the 16th century may have increased central Mexico's carbon sequestration rate and thereby potentially contributed to climatic cooling.
Nancy Kane
Nancy Kane, Performing Arts Department, wrote an op-ed that appeared on the back cover of the National Education Association's January 2014 newsletter, NEA Higher Education Advocate. The piece is titled "In Defense of Dance" and is an edited version of her essay on dance as a liberal art.
Beth Klein
Beth Klein, Childhood/Early Childhood Education Department, was recently named SUNY Cortland's part-time sustainability coordinator. She has a longstanding record of advocacy for the preservation of the environment and is involved in many sustainability initiatives both on and off campus. These include local food groups, Sustainable Cortland, campus-wide sustainability curriculum projects and energy saving activities, and the Cortland Green Days project. Klein regularly hosts students and area science teachers at Raquette Lake and is a prominent member of the President's Climate Action Planning Committee.
Jordan Kobritz
Jordan Kobritz, Sport Management Department, and Jeffrey Levine, University of Louisville, had their article "The Show Cause Penalty and the NCAA Scope of Power" published in the Fall 2013 issue of Arizona State University Sports and Entertainment Law Journal.
Jean W. LeLoup
Jean W. LeLoup, Professor Emerita (Spanish), International Communications and Culture, and the U.S. Air Force Academy, along with USAFA colleagues Dan Uribe and Terrence Haverluk, has published "Assessing Intercultural Competence Growth using Direct and Indirect Measures" in the January issue of The NECTFL Review, 73. This article reports the findings of a study conducted at USAFA to explore and assess the intercultural competence of cadets using a variety of instruments.
Ute Ritz-Deutch
Ute Ritz-Deutch, History Department, has received a research grant from the Ibero-American Institute to continue her archival research on German scientists in Brazil. Her work is part of the Institute's current research theme on "Cultural Transfer and Academic Exchange between Europe and Latin America." She will be working in the archives during June and July 2014.
Sonia Sharma
Sonia Sharma, Mathematics Department, presented at the American Mathematical Society (AMS) Contributed Session on "C*-algebras and Analysis" at the annual Joint Mathematical Meeting held in January in Baltimore, Md.

Submit your faculty/staff activity