National Report Demonstrates College's Value
12/03/2012
SUNY Cortland spends more per student on actual instruction than a national sampling of similar public colleges and produces significantly better graduation and retention rates, according to a recent U.S. Department of Education report.
And it accomplishes that while charging tuition that is lower than most of its comparable institutions, where tuition costs are growing at a much faster rate.
The recently released 2012 Integrated Postsecondary Education Data System Data Feedback Report found that SUNY Cortland stacks up very favorably against 34 public colleges with similar degree programs and student enrollment. The annual survey collects information from roughly 7,500 U.S. colleges and universities and compares institutions across a variety of categories.
"When I look at the report, I'm impressed by many of the figures," College President Erik J. Bitterbaum said. "But what stands out the most to me is how much SUNY Cortland invests per student on instruction and academic support."
In 2011, SUNY Cortland spent 22 percent more per full-time student on instruction and academic support than the median amount spent by members of its comparison group, according to the survey. The College that fiscal year invested $11,380 per student on faculty, instructional materials and other items directly related to academic learning. That is $2,068 more than the median $9,312 spent per student on those items by its counterparts.
SUNY Cortland dedicated nearly 70 percent of the $16,823 it spent per student in 2011 to instruction and academic support. The other comparable institutions in the report spent a median of 61 percent of their budgets directly on education. Non-instructional costs included research, student services, institutional support and other core expenses.
"This clearly demonstrates our commitment to academic excellence and to ensuring that all of our students learn to the best of their ability and are challenged by rigorous courses taught by top-notch faculty," Bitterbaum said. "Our students have wonderful amenities and a truly incredible range of recreational activities, but our No. 1 priority is the quality and effectiveness of the education we provide."
SUNY Cortland's graduation and retention rates also compared favorably. The report looked at what happened to a cohort of first-time students who began their college careers in 2005, and found that 67 percent of the SUNY Cortland students graduated by 2011, compared to 42 percent for the other institutions.
Researchers also looked at how students who first enrolled in the fall of 2011 had fared by the fall of 2012. SUNY Cortland retained 100 percent of its part-time students and 85 percent of its full-time students. The College's comparison group, meanwhile, claimed medians of 44 percent and 71 percent, respectively.
Regarding tuition cost and required fees for full-time undergraduates during the 2011-12 academic year, SUNY Cortland offered an education slightly less expensive than the median of its counterparts, at $6,574 compared to $6,682.
However, the College's tuition has increased by only $752, a rise of less than 13 percent, since the 2008-09 academic year. The median tuition of its comparison group, meanwhile, jumped more than 23 percent during the same time period.
In 2011, the State University of New York adopted a "rational tuition" policy designed to raise much-needed revenues in a way that would allow families to better plan college financing and avoid surprise tuition hikes. That policy calls for a modest, $300 annual bump in tuition for New York state resident undergraduate students over five years.
"The report shows that SUNY Cortland education is a great value," Bitterbaum said. "We make the most of our resources and make educating students our top priority."
Future Teachers Sample Elementary Classroom
12/04/2012
You can't learn how to swim by dipping your toes in the water. The same idea holds true for teaching.
Recently however, SUNY Cortland juniors Ashley Whitney and Kelly Rambo — both aspiring elementary education teachers — had an opportunity to dive headfirst into the deep end of their chosen profession during a unique, two-week immersion in a Groton (N.Y.) Elementary School classroom.
"We got to see the different personalities of the students as they go through the day," said Whitney, a childhood education major from Rochester, N.Y. "We also saw each aspect of being a teacher and what they go through on a daily basis."
A new partnership between the College and Groton School District involves two weeks of hands-on classroom experience in which aspiring educators forego their regular, on-campus classes and follow the course of the entire Groton school day. The education students are there from the time the children arrive until they depart and are involved in every other aspect of a first- through sixth-grader's busy school day.
Kelly Rambo, a junior childhood education major from Riverhead, N.Y., worked with first graders on a Bingo game dealing with spelling.
Whitney, Rambo and the 13 other SUNY Cortland students involved in the pilot program didn't lead the classes, but they helped the Groton teachers with classroom activities such as using iPads and reading with children while they observed the rhythms of a real classroom.
"It's not until you're in the classroom that you learn how to teach," said Rambo, a childhood education major from Riverhead, N.Y. This was her first field classroom experience at college. "It's the interactions between you and the children that show you the best possible ways to reach the desired outcomes as a teacher."
The field experience took place from Nov. 2 through 16 and both College faculty and elementary school teachers pronounced it a success.
"The students really feel like they're welcomed in the school, like they are a partner in the school," said Beth Klein, a professor and interim chair of SUNY Cortland's Childhood/Early Childhood Education Department.
"On the other side, they're exhausted. They are not used to being in a school setting all day long and then having to go home and do their work. So they're getting a taste of real life. That's been good for them as well."
For most of the education students, the foray to the rural school district was an early hands-on experience occurring well before their senior year, when they are required to spend a semester student teaching. For some, it's an opportunity to either validate, or re-evaluate, their career choice.
"It's really exhausting being a teacher," Rambo said. "There was one student who just did not want to do his work. He complained about math. But the iPads clicked with him and he did not want to give it back to me. He absolutely loved it. The iPads introduced math in a new way to him. So the next day, when I saw him working on his worksheet, he did not hesitate because he realized he knew math and enjoyed it."
"This little girl was working on addition using a number line and she really didn't get it," Whitney recalled. "So I sat down with her one-on-one and physically moved her hand and helped her. Within a few minutes of doing that, she really got it. This moment was really inspiring to me, because this is the feeling that teachers get that's so rewarding to them and makes it all worth it in the end."
The program is part of SUNY Cortland's ongoing effort to become more of a true partner with surrounding school districts; focusing on ways they can work together to improve both teacher education and the education children receive in the classroom.
Groton teachers and administrators have been very open to the idea, Klein said. That's partly because many of them have been in the SUNY Cortland students' shoes.
"This way (the practicum students) get to see the flow of the entire day," said SUNY Cortland graduate Keith Goodwin '92, M.S.Ed. '99, a fifth grade teacher at Groton Elementary School. "Which I think is a huge benefit for them. They get to think about if this were their classroom, what would they change, what would they leave the same? So I think as they approach student teaching this is going to pay huge dividends for them."
Renee Schram Potter '91, M.S.Ed. '97, teaches the junior-level course to which the field experience is tied, coordinates student teaching for childhood/early childhood education majors and serves as the point person for this project.
"When our students are only going in there once a week for a few hours, and going into different schools over the whole semester, they're missing a huge component of the children's education, which is the connection," Potter explained.
Immersing the junior-level college students in a full-day field experience is a break with tradition for SUNY Cortland's Childhood/Early Childhood Education Department, Klein noted.
"Normally, the students find hours around their classes and go into the schools for a couple of hours," Klein said. "That scattershot approach doesn't provide them with a very good picture of what happens in a classroom all day long and from day to day. So we wanted to see if there was some way we could arrange to do that. And the Groton District opened its doors to us.
"Groton is the first school where we're doing this kind of project," Klein said. "We do have other districts where we're doing other kinds of partnerships."
Ashley Whitney, a junior childhood education major from Rochester, N.Y., worked with first graders on a Bingo game dealing with spelling.
To redesign this aspect of the College's education program, Cortland faculty and Groton school staff met over the spring and summer to plan the practicum experience. Although all Childhood Block I students have been required to spend 50 hours in an elementary classroom, they had to work around their own class schedule to fit in the Childhood Block I practicum. This fall, College School of Education administrators tweaked the junior year curriculum to free up two weeks from classroom attendance so students could have an uninterrupted experience.
Ultimately SUNY Cortland is moving toward a "co-teaching" model in its approach to practicum and student teacher experiences, rather than the traditional approach of having the student teacher gradually take over teaching the class, Klein noted.
But for now, its teacher candidates in the schools provide another set of willing hands.
"It's nice for my students to have an extra person to ask questions of or to read with them one on one, which the practicum student does quite frequently in my room," said Goodwin. "So it's beneficial for them as well."
Meeting Groton Elementary School Principal Timothy Heller for a two-hour school and community orientation was a valuable experience for the college students.
"When the principal spoke with them, within the first 15 minutes you could just see huge smiles on the students' faces," Potter said. "Generally when you ask a practicum student how much time they spent with a principal, they will say it's only about five minutes. Heller toured them through the building, he told them about the population of the school and the needs of the children, and what was each person's responsibility. Then we took a bus tour of the community showing where the students were coming from."
The novel practicum format at times placed SUNY Cortland faculty who teach elementary-level specialties such as science, mathematics or technology inside the elementary school, observing, advising and critiquing the students enrolled in their concentration.
Liz Lenzi, a senior childhood education major from Saratoga, N.Y., worked with first graders Alyssa Slater and Dakodah Mayhew. In the top left image, she celebrated a successful spelling while working with first grader Dorian Young.
"I think the other really great thing for the classroom and the teachers is that the faculty listened to what the teachers have said and really started thinking about the relevance of our class assignments," Potter said. "Not only how the assignments will help our students become better teachers but how they will impact the children in the classrooms at Groton."
The Groton teachers were especially pleased to have 15 volunteers in their classrooms showing the children how to use digital communication equipment such as iPads.
"What's happening is that our students have been bringing technology into the classroom," said Potter.
The model will continue to be refined.
"Renee will offer a workshop for the Groton teachers on how to work with students as co-teachers," Klein noted. "It may include some of these same students. Some of the teachers have asked if they could have the students as co-teachers because they have developed such a good relationship with them."
The College also will take a look at ways to expand on the model with its Childhood Block II curriculum, which currently looks the way ChildhoodBlock I did before this year.
Goodwin, the Groton Elementary teacher, supports this evolution, which should help future educators succeed in a regulatory environment that seeks to foster early real-life learning opportunities.
"There are changes being made at the state level to the teacher certification requirement so anything we can do to give these young professionals a leg up in their job is going to help tremendously," Goodwin said.
Rambo, the SUNY Cortland junior, agreed.
"Some people go into this experience and realize they don't want to be a teacher anymore, but it showed me that this is what I want to do," Rambo said.
---
Capture the Moment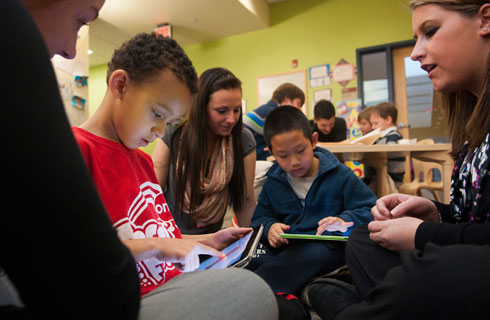 Paul Hansen, 7, and Daniel Zhang, 8, get help using iPads from early childhood education majors, from left, Tara Johnson, a senior from Buffalo, N.Y., Cassandra Pasciucco a senior from Putnam Valley, N.Y., and Danielle Bishop, a senior from Homer, N.Y. They were attending the Children's Museum series event titled "Technology."
---
In Other News
Holiday Greetings from President Bitterbaum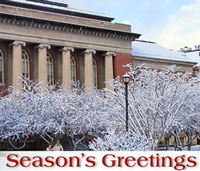 12/04/2012
Holiday Greetings from President Bitterbaum
This holiday video features SUNY Cortland scenes that will be familiar to most members of the College community. It was created by Ryan Walker, a junior physical education major who worked as a video intern this fall.
SUNY Cortland Becomes Tobacco Free
01/02/2013
SUNY Cortland is now a tobacco-free campus.
No cigarettes. No cigars. No chewing tobacco.
The new policy means less secondhand smoke, fewer unexpected pools of tobacco drool and a stronger claim to being one of the healthiest campuses in the nation.
SUNY Cortland officials are aware that, for some, this change will be difficult. To help the campus community manage this transition, SUNY Cortland recently launched a website to provide information and explanations.
The site outlines the new policy, provides information on the dangers of tobacco, suggests ways to ask people to stop using tobacco and offers resources for people who would like to quit.
Creating a tobacco-free campus requires education and cooperation. We encourage all members of the campus community to work together toward a healthier campus environment.
Teaching Character Across the Globe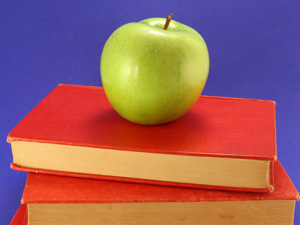 12/04/2012
The basic character education lessons of SUNY Cortland's Center for the 4th and 5th Rs (Respect and Responsibility) translate well regardless of the language.
And it seems foreign countries are interested in the message.
That was the case in early November when Huey Tsyr Liou, a Taiwanese professor of early childhood education, and two of her graduate students from National Hsinchu University of Education in Taiwan visited the College. The trio was especially drawn to the Smart & Good High Schools report, a 2005 study compiled by the Center for the 4th and 5th Rs and the Character Education Partnership that looks at 24 character-rich high schools.
Liou recently led a team of seven translators working to prepare that publication in complex Chinese.
"(Asian cultures) are seeing some of the same trends that Western nations have faced for many years," said Thomas Lickona, the director of the Center for the 4th and 5th Rs and a SUNY Cortland professor emeritus of childhood/early childhood education.
Those trends include increases in cheating and bullying during the high school years as well as family breakdown and divorce, he said.
Lickona, who in July will serve as keynote speaker at a national character education conference in Taiwan to help launch the Chinese translation of the publication, said the general teachings of the SUNY Cortland center remain the same, regardless of language or culture.
Since it was founded in 1994, the center has trained more than 5,000 educators from 40 states and 20 countries. Lickona lectured in the Philippines in September and in Mexico in October. In January, he will lead seminars in Singapore.
His publications also have seen recent translations in Japanese and Indonesian.
A major reason for the center's international success, in addition to more than $2 million in grants and an "unsung hero" in office manager Marthe Seales, is a single guiding principle, Lickona said.
"The basic notion is that to be a person of character is to be the best human being you can be," he said. "It's really to develop your full potential as a person."
Still, the general decline in moral values, the weakening of the family and the influence of media-driven pop culture aren't just Western concerns, Lickona said.
Enter the international need for SUNY Cortland's lessons in character education.
Visiting the Center for the 4th & 5th Rs were, from the left, Sunny Cheu, a graudate student in education at National Hsinchu University of Education (NHUE) in Taiwan; Huey Tsyr Liou, a professor of childhood education at NHUE; center director Thomas Lickona; and Marthe Seales, center office manager

.
"Asian cultures, historically, have been other-oriented: the needs of the group are very important," Lickona said. "You grow up in a large family, you learn to serve others, you learn to share with your siblings and you enter society not thinking about me first but thinking about the needs of others."
That's changed slightly, Lickona said, because families are shrinking and sharing at a young age has become less common.
Across the globe, high school students also seem to face similar pressures related to grades and cheating. That has made the Smart & Good High Schools report — the first in-depth look at character education in secondary schools — a well-received publication in other countries.
"One (American) high school student said: 'Athletes cheat, businessmen cheat politicians cheat. Why not students?'" Lickona said. "They get this idea that it's OK to cheat to make your path to success."
That way of thinking is the exact type of misconception that SUNY Cortland's Center for the 4th and 5th Rs hopes to dispel, whether it's in the U.S. or abroad.
"Our goal is to turn out not just people who are smart and can make a good living," Lickona said. "But people who will be good citizens, people who will be good mothers and fathers, people who will be responsible and contribute to the common good, not just look out for No. 1."
'Sit Fit' Talk to Address Office Inertia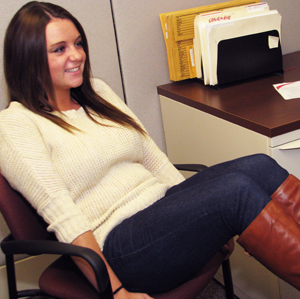 11/30/2012
A team of kinesiology students at SUNY Cortland refuses to take an anticipated lifetime of desk work sitting down.
Or, when they do sit down, they'll remain active with an eye on a future blessed with well-being.
The students are ready to share their office exercise tips with faculty, staff and students at a sandwich seminar sponsored by Women's Initiatives at 12:30 p.m. on Wednesday, Dec. 5, in the Corey Union Exhibition Lounge.
Titled "Sit Fit: Exercises You Can Do at Your Desk," the seminar aims to create a fun and informative experience to work one's muscles while behind a desk.
"It's going to be fully interactive," said senior Colin Wilson, one of the kinesiology students who's organizing the program.
The session will feature four personal trainers as well as Louise Mahar, the College's assistant director of recreational sports for fitness. She enlisted the team of demonstrators.
"We're all going to be working hands on with individuals and giving out exercise resistant bands," Wilson said. "It's just a great environment for people to come ask questions and learn. We're going to be putting together a brochure so people have them easily accessible when they're at their desk."
Wilson said the students gave each of the exercises being demonstrated a fun and creative name.
"I Don't Know" is one of the exercises, a movement similar to when young children raise their shoulders to their ears.
"We tried to come up with fun names so that people would remember them," Wilson said.
The premise for the program sounds silly but the ill health resulting from a lifetime spent as a desk potato is no joke.
CBS News recently reported that the effects of spending too much time in a chair are manifold: electrical activity in leg muscles shuts down; the body effectively stops burning calories; enzymes that break down fat drop by 90 percent; HDL cholesterol production drops by 20 percent; and the risk of diabetes increases 24 percent.
Wilson believes the seminar is essential to anyone, whether students or faculty and staff members.
"I think it's important for people to know these things," he said. "Whether you are injury free at the moment or currently suffering from chronic posture-related issues, this seminar can really help you. You can use it as a 'prehab' to prevent injury or a rehab to heal previous injury. Whatever your current level is, there is something to offer for everyone."
Slime Mold Inspires Senior's Art Exhibition
11/30/2012
For SUNY Cortland Bachelor of Fine Arts (B.F.A.) major Danielle Jordan, a leisurely summer walk near the Six Mile Creek in Ithaca sparked the intrigue behind her senior thesis show.
"Metamorphosis of Chance," a ceramic installation exhibition inspired by slime molds and fungi, will be displayed from Friday, Dec. 7, to Friday, Jan. 11, at the Beard Gallery, located downtown in Main Street SUNY Cortland at 9 Main St.
Admission to the gallery is free and the exhibit is open to the public. Jordan's artwork will be displayed Monday through Friday from 10 a.m. to 3 p.m.
An opening reception takes place from 5 to 7 p.m. Friday, Dec. 7, and features an artist talk at 5:45 p.m.
"A lot of my artwork has been drawn from the natural world," said Jordan, of Elmira, N.Y. "I stumbled upon these slime molds (in Ithaca) growing out of the logs that I had never seen before in my entire life.
"I thought it was crazy that they had existed longer than I have and I had never noticed them before."
She became fascinated with cellular growth patterns and used them as the inspiration for her thesis project. The exhibition falls into the installation genre, which means it will utilize the architecture of the Beard Gallery in its display, she said.
Jordan created her artwork by successive layering, pouring and dripping liquid porcelain slip over graduating forms. Multiple firing processes including raku, saggar and atmospheric high fire made for a transitional earth tone palette. And because installation art involves a process of random selection, her exhibition suggests that chance and spontaneity are integral to the order of life, she said.
"It's sort of like stumbling upon a new discovery and learning about it and always being surprised," Jordan said. "I feel like that's what life should be about.
"You never want to stop learning or growing as an individual."
Winter, Spring Study Abroad Awards Presented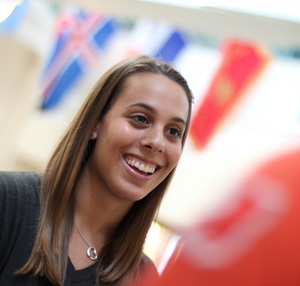 12/04/2012
SUNY Cortland recently awarded approximately $65,550 in scholarships and exchange awards to help 44 of its students expand their educational horizons through study in Morocco, Germany, Belize or other countries.
The College will provide $21,300 in scholarships so 36 students can study abroad during the 2013 winter session or spring semester and $7,250 to underwrite the scholarship of international students at SUNY Cortland during the spring semester. Additionally, the College, through its many exchange agreements with international universities, presented eight SUNY Cortland students with almost $37,000 in tuition waivers and grants to help pay for their international study during Spring 2013.
Six different SUNY Cortland scholarships, ranging in size from $250 to $2,500, were awarded. They are managed, along with the exchange awards, through the College's International Programs Office.
"These scholarships and awards reflect the robust commitment of the College and its alumni to making international study and internships affordable for our students," said Mary Schlarb, director of international programs. "The number of Cortland students studying, interning and student teaching abroad has been rising steadily, which we can attribute, in part, to greater student access to funding and the active promotion of international programs by faculty, staff and returned participants."
In addition, most undergraduate and graduate students from other countries now receive an International Award of $2,125 per semester through a SUNY Cortland program that parallels the Future New Yorkers award for out-of-state students, Schlarb said. International students, like those living outside of New York State, pay a higher tuition than in-state students.
Scholarship support has played a large role in the steady growth in the number of Cortland students studying, interning and student teaching abroad.
This year, two new scholarships, the Study Abroad Scholarship and the Five Continent Scholarship, advance the College's goal of diversifying the type of SUNY Cortland students who go abroad and its desire to increase the variety of students' global destinations, she said.
"The Study Abroad Scholarship provides access to students from groups underrepresented in study abroad," she said. "The Five Continent Scholarship is awarded to one student per year to study in a non-traditional study abroad destination where English is not a commonly spoken language."
Recipients for the scholarships and exchange awards were selected based on criteria that included high academic achievement, financial need, involvement in extracurricular activities, a personal essay and letters of recommendation. A description of the scholarships and the award recipients appears below:
Overseas Academic Program (OAP) Award
Overseas Academic Program (OAP) scholarships are awarded to students accepted in a study abroad program. The scholarship is $300 for winter recipients and $250 or $500 for spring recipients.
The OAP Award recipients for Winter 2013 are:
• Asantewa Feaster, a first-year international studies major from Staten Island, N.Y., for studies at Spanish Language Institute, Mexico;
• Adam Miner, a senior criminology major from Newfield, N.Y., for scholarship at Spanish Language Institute, Mexico;
• Victoria Tracy, a junior psychology major from Skaneateles, N.Y., for academic work in London, United Kingdom, through Cayuga Community College; and,
• Joshua Yellen, a first-year international studies major from Schuylerville, N.Y., for studies at Spanish Language Institute, Mexico.
The OAP Award recipients for Spring 2013 are:
• Kathryn Barbagallo, a senior adolescence education: chemistry major from North Syracuse, N.Y., to experience a semester of student teaching in Australia;
• Michael Belen, a senior international studies major from Bronx, N.Y., for studies at Universidad Veritas, Costa Rica;
• Allison Belfer, a sophomore adolescence education: social studies major from Whitestone, N.Y., for scholarship at London Metropolitan University, United Kingdom;
• Susan Caccavale, a sophomore adolescence education: French and Spanish major from Schenectady, N.Y., for academic work at Universidad Veritas, Costa Rica;
• Alexa Capozzi, a junior exercise science major from Manlius, N.Y., for studies at London Metropolitan University, United Kingdom;
• Marwan Circelli, a sophomore Spanish major from Auburn, N.Y., for studies at University of Salamanca, Spain;
• Emily Cottone, a junior childhood/early childhood education major from West Sayville, N.Y., for scholarship in Siena, Italy, through Buffalo State College;
• Michael Durfee, a junior business economics major from Webster, N.Y., for scholarship at Umbra Institute, Italy, through SUNY Fredonia;
• Julia Engels, a junior communication studies major from Baldwinsville, N.Y., for academic work at Scuola Lorenzo de Medici, Italy, through Broome Community College;
• Aryona Goodell, a junior community health major from Elmira, N.Y., for studies at Belize Internships, Belize;
• Mary Grant, a senior childhood education major from Hobart, N.Y., to experience a semester of student teaching in Australia;
• Amanda Hoctor, a sophomore sociology major from Buffalo, N.Y., for academic work at Fulda University, Germany;
• Katelyn Hodges, a senior criminology major from Comstock, N.Y., for studies at Projects Abroad, Morocco;
• Kaitlin Irvine, a junior childhood/early childhood education major from Saint James, N.Y., for scholarship at University of Salamanca, Spain;
• Melissa May, a junior adolescence education: mathematics major from East Meadow, N.Y., for scholarship at University of Salamanca, Spain;
• Michael Pallassino, a junior adolescence education: social academic work major from Cortland, N.Y., for studies in Montpellier, France through the University at Albany;
• Rebecca Piduch, a junior communication studies major from Buffalo, N.Y., for scholarship at University of Salamanca, Spain;
• Kristin Quigley, a junior adolescence education: Spanish major from Wallkill, N.Y., for academic work at Universidad Veritas, Costa Rica;
• Aimee Ris, a senior childhood and early childhood education major from Farmingville, N.Y., to experience a semester of student teaching in Australia;
• Tricia Silliman, a senior childhood education major from East Aurora, N.Y., to experience a semester of student teaching in Australia;
• Alanna Stark, a junior inclusive special education major from Great Neck, N.Y., for academic work at University of York in the United Kingdom, through SUNY Brockport;
• Melissa Tierney, a sophomore from Irvington, N.Y., for studies at University of Salamanca, Spain;
• Ashley Vogler, a sophomore psychology major from Jamesville, N.Y., for studies at University of Glasgow in the United Kingdom, through SUNY Albany;
• Mary Wilcox, a sophomore adolescence education: social studies major from Brockport, N.Y., for scholarship at London Metropolitan University, United Kingdom; and,
• Juliette Wurm, a junior history major from Landenberg, N.Y., for scholarship at London Metropolitan University, United Kingdom.
Clark Center Five Continent Scholarship
Created in September by the James M. Clark Center for International Education, the scholarship was developed by Sharon Steadman, the center interim director, with funds from the Rozanne M. Brooks Foundation, established with a gift from Brooks, the late sociology/anthropology professor. The award supports a student who has demonstrated superior academic aptitude for study in a non-English-speaking country, with the exception of African countries in which English is listed as a national language. Preference will be given to students planning to study in Africa, Asia, the Middle East, Latin America or Central/Eastern Europe/Eurasia.
A growing number of scholarships are offered to support once-in-a-lifetime international experiences, such as this sweeping mountainous vista enjoyed by a SUNY Cortland student.
The recipient of the $600 award for Spring 2013 is:
• Laura Brennan, a sophomore criminology major from Congers, N.Y., for academic work at Universidad Veritas, Costa Rica.
Kevin A. Rowell '83 Award
SUNY Cortland graduate Kevin A. Rowell '83 created the award in 1998 to support the overseas studies of a student who has participated in club sports, student government and volunteer work. The recipient of this $1,500 award for Spring 2013 is:
• Kayla Douglas, a sophomore international studies major from Wilson, N.Y., for scholarship at University of La Rochelle, France.
Marcia Spaeth McDermott Scholarship
The Marcia Spaeth McDermott Professional Study Abroad Scholarship was created in 2009 by the late Professor Emerita Marcia Spaeth McDermott, former acting dean of the School of Professional Studies, to support the overseas studies of a SUNY Cortland student majoring in a School of Professional Studies program. The recipient of the $1,500 scholarship for Spring 2013 is:
• Danielle Gebhardt, a junior physical education major from Dix Hills, N.Y., for scholarship in Florence, Italy through SUNY Stony Brook.
Willi Uschald Scholarship
Created in 1991, the Uschald Study Abroad Scholarship is named for Willi A. Uschald, professor emeritus of foreign languages and director emeritus of international programs at SUNY Cortland. Uschald Scholarships are open to students accepted to a study abroad program who are U.S. citizens.
The Spring 2013 Uschald Award recipients of $750 are:
• Genevieve Montreuil, a sophomore international studies major from Stewart Manor, N.Y., for studies in La Rochelle, France; and,
• Caitlin Stroke, a junior communication studies major from Lawrence, N.Y., for scholarship at Scuola Lorenzo de Medici, Italy, through Broome Community College.
Gregory R. Huether '10 Scholarship
A scholarship created in 2010 by Ronald and Marguerite Huether and family honors the memory of their son, Gregory R. Huether '10, and the wonderful international education experience he had at SUNY Cortland. The Gregory R. Huether '10 European Sport Study Seminar Memorial Scholarship offers the College's sport management majors a study abroad opportunity. Scholarships of $2,500 for Spring 2013 were awarded to:
• Rebecca Studin, a junior sport management major from Ithaca, N.Y., for academic work at Universidad Veritas, Costa Rica; and,
• David Willmott, a sophomore sport management major from Hampton Bays, N.Y., for studies at Deutsche Sporthochshule in Cologne, Germany.
Chin Memorial Scholarship
The Yuki and Wah Chip Chin Memorial Scholarship supports exchange students at SUNY Cortland from Capital Normal University in Beijing, other Mainland China universities and other Asian countries. It also supports SUNY Cortland students wishing to study in Asia. The scholarship was created by Chinese native Wah Chip Chin and his Japanese-born wife, Yuki. During their lives, the local Cortland couple opened their hearts and home to visiting Chinese students. Wah Chip survived his wife, expanding the scholarship in his estate in 2003. The Spring 2013 recipient of the $3,000 scholarship is:
• International graduate student Yang Yang of China, who continues for a second semester as a graduate exchange student from the College's partner institution, Capital Normal University, in Beijing.
Fulda Grant
SUNY Cortland established in April 2011 a student and faculty exchange partnership in Germany with Fulda University of Applied Sciences (Hochschule Fulda). SUNY Cortland Philosophy Professor Mecke Nagel, a Fulda native, former Fulda faculty member and recent teacher there under a Fulbright grant, facilitated the partnership. Since 2011, several SUNY Cortland students have received the grant offered by Fulda's president, Professor Karim Khakzar. For Spring 2013, SUNY Cortland President Erik J. Bitterbaum has presented special awards of $2,125 apiece to two German students from Fulda University. They are:
• Adiam Zerisenai (originally from Eritrea); and,
• Christian Diegelmann.
Exchange Awards
The College presented eight SUNY Cortland students with exchange awards resulting from agreements it has with some of the College's 25 international partner universities, saving the selected students a total of almost $37,000. The partner universities involved on both sides have agreed to waive tuition for students involved in the exchange so that, for example, an award recipient pays only the SUNY tuition for the duration of the study abroad opportunity.
Recipients of exchange awards for Spring 2013 are:
• Jenifer Aberle, a junior physical education major from Middle Island, N.Y., for scholarship at The University of Ballarat, Australia;
• Paloma Bido, a junior communication studies major from Bronx, N.Y., for studies at Cumbria University, United Kingdom;
• Allison Campbell, a sophomore childhood education major from Eden, N.Y., for scholarship at Griffith University, Australia;
• Kelly Caulfield, a junior adolescence education: Spanish major from Smithtown, N.Y., for academic work at University of Salamanca, Spain;
• Lesley Harlem, a junior business economics major from Oneonta, N.Y., for studies at Griffith University or University of Ballarat, Australia;
• Brian Landin, a junior adolescence education: Mathematics major from Great Neck, N.Y., for academic work at Griffith University, Australia;
• Lydia Rosario, a junior psychology major from Bronx, N.Y., for scholarship at University of Salamanca, Spain; and,
• Courtney Zirkel, a junior geographic information systems major from Lynbrook, N.Y., for studies at Griffith University, Australia.
For more information on the scholarships, contact the International Programs Office at (607) 753-5989.
College Writing Contest Offers $100 Cash Prize
12/04/2012
A polished piece of writing could score SUNY Cortland students a $100 cash prize in the College Writing Contest.
The annual call for written works is open to students in all majors and at any level of study. Entries, which must have been written in 2012, may be submitted by students or faculty members.
The deadline to submit is Friday, Dec. 21.
The College Writing Committee this year will present awards for outstanding undergraduate and graduate student writing in several categories.
First-place winners in each category will receive a $100 cash prize in addition to having their work published and the opportunity to present at Transformations: A Student Research and Creativity Conference.
Preference will be given to student writing composed for a SUNY Cortland course and students can enter multiple submissions in multiple categories.
The writing categories include:
Academic Writing (papers based on sources or other data, both original research projects and short class assignments)
Academic Writing from Composition Courses
Fiction (short stories or scripts)
Poetry
Creative Nonfiction (memoirs, personal essays or travel writing)
Media (websites, blogs or videos)
Writing about The Kite Runner
Writing for Teacher Research
Personal (Non-assigned) Writing
Participants are asked to submit only electronic entries by following these guidelines:
Type the entry in a Microsoft Word document.
Type your Cortland ID number on the paper but do not put your name on the paper itself.
Attach the entry to an email message. In the subject line, identify the category of the submission. An example would include: "Academic Writing for College Writing Contest 2012"
In the body of the email, list your name, Cortland ID number, the title of the submission, the category of the writing, the course for which the paper was submitted and the name of the course professor if it is applicable.
Send the email and the attachment to Priscilla Harvey, keyboard specialist I for the English Department, at priscilla.harvey@cortland.edu
Students are allowed to enter multiple submissions in one or more genres. However, each submission should receive its own email.
For more information, contact Professor David Franke by email or at (607) 753-5945 or Distinguished Teaching Professor Mary Lynch Kennedy.
The Nutcracker Ballet to Showcase Local Dancers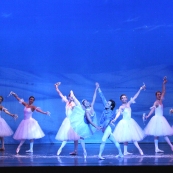 12/04/2012
Three different casts, each with more than 100 dancers, will be featured in three performances of the Christmas classic and perennial favorite, "The Nutcracker Ballet."
The show will be presented at 6 p.m. on Friday, Dec. 7, and at 1 and 6 p.m. on Saturday, Dec. 8, in the Bonne Auditorium at Homer Intermediate School.
Directed and choreographed by Kevin and Cindy Halpin, faculty members in SUNY Cortland's Performing Arts Department, the College's production will showcase dancers from its Performing Arts Department and local dance students from the Cortland Performing Arts Institute (PAI).
Tickets will be available at the door, and are $10 for children and students, $14 for seniors, and $17 for general admission.
The ballet premiered in Russia in 1892 and is based on the story "The Nutcracker and the King of Mice," written by E.T.A. Hoffman and revised by Alexander Dumas, with a score by Pyotr Illyich Tchaikovsky. It gained popularity in the U.S. during the 1960s, and has become a staple of many ballet companies, especially during the Christmas season. The performances at Bonne Auditorium will mark the fourth season that the ballet has been presented locally under the artistic guidance of the Halpins.
Previously, the Nutcracker has been staged at Dowd Fine Arts Center Theatre on the SUNY Cortland campus. That facility is currently unavailable due to renovations, and Bonne Auditorium was selected as the alternate venue.
According to Kevin Halpin, associate professor of performing arts, changing locations has offered new opportunities in ways to present the ballet.
"We have kept as much of our traditional staging as possible," Halpin said. "We added one new variation, and re-choreographed some of the other pieces to highlight the particular talents of this cast."
The husband-and-wife team has developed specific choreography for each scene, with either Kevin or Cindy taking the lead while the other one works out the partnering or develops particular steps or combinations. The Party Scene is a good example of how the two of them divide their duties to manage as many as 50 people on stage at the same time. In that scene, young PAI dancers perform as children and as some of the magic dolls, and college students fill the roles of the adult characters. Kevin Halpin explained how he and Cindy collaborated on the choreography.
"I took charge of the over-arching staging of the Party Scene, the dances for the adults and the mysterious Drosselmeyer, and the dances that include both adults and children," he said. "Cindy staged the dances for the children, and we worked together on the dances for the magic dolls."
While it is easy to see the on-stage results of talented, well-rehearsed performers, the Halpins are quick to praise the unseen backstage staff members who help secure and manage the cast, as well as the technical staff that create and run the technical aspects of the show. Each production also requires a great deal of planning, fine-tuning of schedules and communicating with parents and students. It takes a tremendous commitment by everyone involved, and, year after year, the cast, crew, and audience discover that "The Nutcracker" is definitely worth the effort.
"Our "Nutcracker" is a wonderful opportunity for the College and community to interact," Kevin Halpin said. "The energy and passion shared by performers from SUNY Cortland and the Performing Arts Institute make the experience unforgettable for all the dancers."
SUNY Cortland Raises $52,028 for SEFA
SUNY Cortland's 2012-13 State Employees Federated Appeal (SEFA) campaign raised $52,028 this year, an extraordinary amount given there were fewer donors and the challenging economic climate.
The total amount of gifts pledged increased by $298, reported SEFA Campaign Co-Chair Lori Porter, secretary II in the School of Professional Studies' dean's office. She co-chaired the campaign with Mavis Lefever, secretary I in Campus Activities and Corey Union.
"It impresses me to know that so many employees across campus were willing to contribute to the SEFA campaign this year," said Porter. "Last year's contributions, coupled with funds raised through other United Way campaigns, allowed the United Way to help more than 32,000 county residents. I'm confident that with the additional funds raised this year, even more people will be able to benefit from our employees' generosity."
The campaign, which relies upon state employee volunteers to canvas co-workers for donations, kicked off on Oct. 11 and continued until Oct. 26. The only authorized fund-raising campaign among state workers, SEFA is directed by United Way of Cortland County and unites fundraising efforts for a group of agencies under a common umbrella.
New Style for Phone Numbers, Web Addresses Starts Jan. 1
Effective Jan. 1, SUNY Cortland is implementing changes to the way phone numbers and College Web addresses are written.
In keeping with Associated Press style, a dash will replace the parentheses around the area code in telephone numbers, for example: 607-753-2011.
When writing URLs for SUNY Cortland Web pages, we will no longer include www or www2.
This change does not apply to URLs or Web addresses belonging to other organizations or websites.
Examples:
cortland.edu for the home page
cortland.edu/admissions for the Admissions Office Web page
cortland.edu/art for the Art and Art History Department Web page
The Communication Guide and the Writing Style Guide offer additional guidance and examples.
Please consult these guides regularly for up-to-date-information on all College communication style matters.
Questions or concerns should be directed to the Publications and Electronic Media Office, publications@cortland.edu or 607-753-2519.
Outstanding Non-Traditional Students Recognized
In honor of Non-Traditional Students' Week, which took place from Nov. 4 to 10, the campus community was asked to recognize students who balance college with family, jobs and other commitments.
Faculty, staff members and students submitted 45 names, with some students receiving nominations by more than one person.
A certificate of recognition and a SUNY Cortland pen was given to the following students in recognition of their hard work and commitment:
Michael Adams
John Carlisle
Thomas Chrysler
Lisa Clark
Christopher Coles
Eric Conklin
Lorraine Cornell
William Creedon
Roxanne Crumb
Kristin Dodds
Michael Doyle
Krista Fizette
Natascha Franco St. Clair
Carol Lee Fritz
Matthew Gallets
Gonda Gebhardt
Amy Glann
Julie Gorman
Emilee Gottlieb
Adam Graham
Valorie Gunther
Liselotte Hammond
Matthew Hayes
Sheryl Holbrook
Christopher Kinney
Douglas LaFave
Kierstin Luschwitz
Kendra Mancuso
Elizabeth McEver
Kevin Morris
Farrah Predestin
Tracey Prokop
Nicole Roulstin
Adam Rusiewicz
Sheila Shea
Heather Thomas Champion
John Triana
Rosie White
April Williamson
This program is sponsored by the Advisement and Transition office. For more information, contact Cheryl Hines, advisement and transition, at (607) 753-4726.

Suggest a feature story
---
Faculty/Staff Activities
Gretchen Herrmann
Gretchen Herrmann, Library, presented a paper titled "Valuing Affect: The Centrality of Emotion, Memory and Identity in Garage Sale Exchange" at the 111th annual meetings of the American Anthropological Association Nov. 14-18 in San Francisco, Calif. The paper deals with affective elements of the exchange, including particular stories and memories that are passed along and with the transformative potential for participants in exchanging evocative aspects of their lives.
Cheryl Hines
Cheryl Hines '05, Advisement and Transition, was recently elected secretary of the National Alpha Sigma Lambda board of directors and will be serving January 2013 through December 2014. An academic advisor and coordinator of non-traditional student support in Advisement and Transition, Hines has served as the SUNY Cortland chapter councilor for the honor society for six years.
Sam Kelley
Sam Kelley, Communication Studies Department, has announced that his play, "Thruway Diaries," is now being published as a book and has been adopted by Syracuse University's African American Studies Department for use during the 2012-13 academic year. "Thruway Diaries" had a workshop production at SUNY Cortland under the title "Driving While Black." It was also the topic of a workshop at the Juneteenth Theatre Festival at the University of Louisville and the Juneteenth Legacy Theatre in Louisville, Ky. It made its professional debut at the Jubilee Theatre in Fort Worth, Texas, in June 2005, and later at the Paul Robeson Performing Arts Company in Syracuse, N.Y. The book is available through xlibris.com, Amazon.com and Barnes & Noble. This is one of four of Kelley's plays that will be published by the end of this year. Kelley is currently on sabbatical and working on a play about African women suffragists and voting rights in Florida.
Claus Schubert
Claus Schubert, Mathematics Department, was informed that his paper was accepted for publication in the Israel Journal of Mathematics. "Semiorderings and Stability Index Under Field Extensions" was co-authored with Karim Becher, Universiteit Antwerpen, Belgium, and David Leep, University of Kentucky.
Donna M. Videto and Aimee Greeley
Donna M. Videto and Aimee Greeley, Health Department and School Health Systems Change Project, presented two sessions at the New York State Alliance of Health, Physical Education, Recreation and Dance (NYSAHPERD) 75th Annual Conference held Nov. 15-17 at Turning Stone Resort in Oneida, N.Y. The sessions were titled: "Following Footprints: An Ecological Scan of School Health and Wellness" and "Overcoming Barriers to Developing Effective School Health Systems." In addition, Videto was awarded the NYSAHPERD Amazing People Award in the Health Education Section for outstanding contributions and commitment to professional excellence.
Gregg Weatherby
Gregg Weatherby, English Department, has had some of his poetry nominated for a Pushcart Award. The poems were nominated by Coco Harris, editor of IMPACT: An anthology of short memoirs. The poems are also in his upcoming book Approaching Home, from Finishing Line Press.

Submit your faculty/staff activity