College Celebrates 40 Years of Title IX
11/20/2012
SUNY Cortland hopes to celebrate the 40th anniversary of Title IX, the landmark legislation that ended discrimination in athletics, by making some history of its own.
On Tuesday, Nov. 27, the SUNY Cortland's women's basketball team will play Ithaca College in a game that the College hopes will fill the bleachers at Park Center with more fans than has ever attended a female athletic event in College history.
The 6 p.m. game is the highlight of "Thirty-Seven Words that Ignited Change," that will include video and photo displays as well as a memorabilia exhibit and a demonstration of how women's basketball was played in its early days.
The game will also feature a halftime address by Azure Davey, commissioner of the State University of New York Athletic Conference, which is now headquartered at SUNY Cortland. Davey, who is in her first year as commissioner, is a former SUNY Cortland assistant athletic director.
Tickets for the game cost $4 for adults and $3 for senior citizens, non-Cortland college students and those between ages 13 and 18. SUNY Cortland students, faculty and staff members with a valid College ID and children 12 and younger receive free admission. The first 350 fans in attendance will receive a free rally towel.
During halftime of the contest against Ithaca, a SUNY Cortland physical education class will reenact a game of women's basketball according to its early rules. That variation featured three guards and three forwards on the floor for each team. Guards and forwards were not allowed to cross half court. Only guards could play defense and only forwards were allowed to shoot.
"The goal for the entire celebration is to get people to stop and think: 'Wow, this is how far we've come,'" said Ashley Whiting, SUNY Cortland's interim assistant director of athletics. "Title IX was trailblazing with regards to both education and athletics and that much is clear when you look at the College's history."
Title IX of the Education Amendments took effect in 1972 and prohibited gender discrimination in educational programs and activities. More specifically, it included these 37 words: "No person in the United States shall, on the basis of sex, be excluded from participation in, be denied the benefits of, or be subjected to discrimination under any education program or activity receiving federal financial assistance."
Those 37 words inspired four decades of excellence in women's athletics at SUNY Cortland and they'll provide a framework for the College's celebration of Title IX, Whiting said.
Among the artifacts that will be on display are the blue tunics and white sneakers worn by female physical education majors in an era before the groundbreaking legislation. In 2006, the College honored pre-Title IX female athletes at its C-Club Hall of Fame Classic Team Reunion.
SUNY Cortland has produced 14 national championship teams in women's sports and has celebrated 54 individual national championship performances. The College currently fields 13 varsity women's teams and its C-Club Hall of Fame boasts 62 members who are women, including Gen. Ann Dunwoody '75, the first female four-star general in the U.S. Army, and Andrea "Andi" Seger '71, a former Division I athletic director at Ball State University and a member of the National Association of Collegiate Directors of Athletics Hall of Fame.
"This is a way for us to celebrate the past," Whiting said. "But just as important, it's a way for us to educate the students who will move us forward in the future."
Jets Camp Brings $5.5 Million Impact to Cortland
11/20/2012
The New York Jets 2012 Summer Training Camp generated more than $5.5 million in economic activity for Cortland County, according to an economic impact study released this week by three SUNY Cortland faculty members.
That's only slightly lower than the $5.8 million estimated impact of the 2010 camp, despite the fact that fewer than half as many public practices were held this summer. Those practices attracted 35,634 visitors to the SUNY Cortland campus over a three-week span, according to "Jets Training Camp 2012: The Economic Impact on the Cortland Community."
The report, prepared by SUNY Cortland Professor of Economics Kathleen Burke, Assistant Professor of Geography Wendy Miller and Associate Professor of Economics Timothy Phillips, involved surveys of training camp visitors as well as local business owners affected by the camp, which took place from July 28 to Aug. 15.
"We are extremely pleased that our partnership with the New York Jets continues to have a profound economic impact in the Cortland community and in the region," SUNY Cortland President Erik J. Bitterbaum said. "We look forward to hosting them again in 2013."
The number of public practices was reduced this year from 2009 and 2010, due to the NFL's new collective bargaining agreement. Negotiations related to that agreement forced the Jets to cancel the team's Cortland camp in 2011.
Some of the 2012 report's highlights include:
• The $5.5 million in economic activity in the Cortland community was the result of more than $3 million in direct spending by local officials ($9,000), the College ($342,000) and the camp's spectators ($2.6 million).
• Much of the impact in the community — 89 percent of it — stems from visitors that came to Cortland to see the Jets. They spent $2.6 million in the community that would not have been received otherwise.
• The training camp attracted visitors from 36 different U.S. states and two Canadian provinces.
• New York residents from 57 of the state's 62 counties visited SUNY Cortland and 83 percent of the camp's attendees came from New York state.
• Cortland County residents made up 14 percent of the visitors from camp while spectators from adjacent counties — Broome, Cayuga, Chenango, Madison, Onondaga, Tioga and Tompkins — contributed 37 percent of the camp's total attendance.
• Fourteen percent of the visitors reported that they stayed in a local hotel for at least one night. Revenue for local hotels increased 11 percent, and room occupancy received a 9.2 percent boost compared to the same time period in 2011.
• Adjacent counties contributed $1.19 million (44 percent) of the direct spending, while other counties in New York state spent $1.03 million (37 percent). Out-of-state visitors accounted for $525,000 or 19 percent of total spending.
The survey data came from 9,334 people who attended the camp. The majority of them — 63 percent — reported that the 2012 training camp was their first.
The report also highlighted the intangible benefits to SUNY Cortland and the community that resulted from the training camp, specifically the "unprecedented media coverage."
"The intense coverage, by all types of media, of every aspect of the Jets' team during August 2012, placed SUNY Cortland in the headlines almost daily," the report read.
The Jets and SUNY Cortland were featured in pieces by several news organizations outside of the region, including ESPN, The New York Times and The Daily News.
Tangible business and marketing benefits to SUNY Cortland, "the official university partner of the New York Jets," included more than 50 student internships and practicum opportunities at the 2012 camp.
The College is featured on the 360-degree LED signage at MetLife Stadium during all 2012 Jets pre-season and regular season games. It also receives four season tickets, two Super Bowl tickets and autographed merchandise, which it raffles off to help fund student scholarships.
The SUNY Cortland Alumni Association also receives support for its Jets-related events, including a reception with head coach Rex Ryan and general manager Mike Tannenbaum at the Lynne Parks '68 SUNY Cortland Alumni House. Additionally, two recruitment receptions will be held at the Atlantic Health Jets Training Center in Florham Park, N.J. this spring.
The survey's authors expressed their gratitude to several individuals who supported or contributed to the report, including Bitterbaum; Mark Prus, the College's provost and vice president for academic affairs; William Shaut, the vice president for finance and management; Michael Whitlock, the director of campus activities and Corey Union; Kevin Pristash, the associate director of campus activities and Corey Union; Mary K. Murphy, the associate vice president of finance; Machell Phelps, the president of the Cortland Regional Sports Council; Adam Megivern, the executive director of the Cortland Downtown Partnership; Jim Dempsey, the executive director of the Cortland County Convention and Visitors Bureau; and the student intern team that collected and analyzed data. That team included Franco Giordano, Jacqueline Normoyle, Christina Powers, Ericka Sterns and Alyssa Timmons.
---
Capture the Moment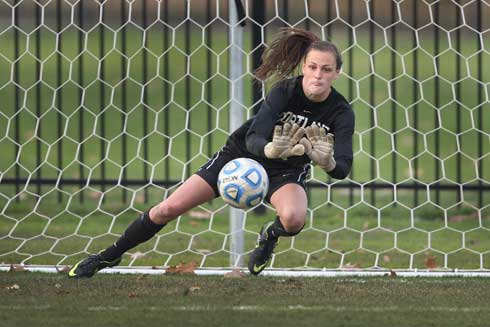 After 110 minutes of scoreless soccer, sophomore goalkeeper Taylor Hudson makes a save during the penalty-kick shootout versus nationally eighth-ranked William Smith on Nov. 11. The Red Dragons won the shootout, 5-4, advancing to the third round of the NCAA Div. III Women's Soccer Tournament for the second straight season. The Red Dragons finished their season on Saturday, tied for ninth nationally in Div. III. Photo by Kevin Colton, Hobart and William Smith Colleges.
---
In Other News
Belize: A Popular Student Destination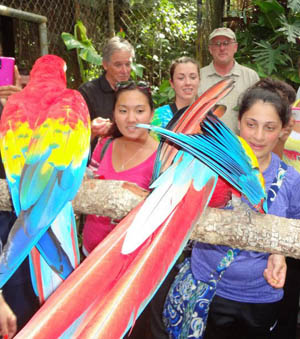 11/20/2012
Belize, a small Central American country with a scattered population roughly the size of Buffalo, N.Y., lately has become a magnet for SUNY Cortland students.
The College will send about 50 students to the country in the time-span between this past summer and the Spring 2013 semester.
Thomas Pasquarello, a SUNY Cortland political science professor and the College's unofficial ambassador to Belize, said there's good reason for Belize's popularity as a study abroad destination.
"It's relatively close for an international location; it takes five hours to get there by airplane," Pasquarello said of the country formerly known as British Honduras. The 350,000 citizens reside on about 8,860 square miles in the northeast coast of Central America, bordered by Mexico to the north and Guatemala to the south and west.
"It's a tourist destination so it's relatively easy to get there. It's reasonably safe. It's English speaking; education and business are conducted in English. Yet culturally it's amazingly diverse. That makes it an ideal place for international programs."
Pasquarello has long championed the College's unique relationship with the Belize Zoo. He operates a blog about the educational and recreational destination at tbzblog.blogspot.com. He continues to share information about zoo fundraising and friend-raising in the Cortland community. This past summer he became a co-director of the annual summer Teacher Institute in Belize.
"I would describe it as a partnership. It's longstanding, multifaceted, it includes a lot of different programs and different people," Pasquarello said. "On the Belize side, the Belize Zoo and the Ministry of Education have been partners.… I believe both sides benefit tremendously."
Gonda Gebhardt, the College's assistant director of international programs, praised the personalities of this country's populace.
During this past summer's Belize Teacher Institute, Belizean and U.S. teachers explored the Xunantunich Maya ruins together. In the image on the upper left, Jennifer Chan, shown center foreground, and Lorraine Campanaro, right foreground, feed the scarlet macaws at the Belize Zoo while classmates and faculty look on.
"The Belizean people are really nice, laid-back people that welcome our students," she said. "They are easy to develop relationships with. The students who go and work there really can feel that they can make that difference because the country is so small and in Belize, they have a need for interns to come with the skills they have."
Here are some of the newest initiatives regarding SUNY Cortland students and the tiny Central American country:
• Recreation, Parks and Leisure Studies Department faculty members Lynn Anderson and Vicki Wilkins expect to lead a team of 10 or more students in March to the Belize Zoo, where they will roll up their sleeves to assess and help implement physical access for individuals with disabilities. The Belize Zoo Transformation Project will build on the successful New York State Inclusive Recreation Resource Center that Anderson and Wilkins operate at SUNY Cortland to make parks and recreational areas across New York state available to all.
• Next spring, Professor of Art and Art History Jeremiah Donovan will launch a pilot program to accomplish in Belize what he did in China with past classes. The six to eight students enrolled in his Belize Winter Study: History, Culture, and the Arts course will work to identify, recreate and preserve for posterity the country's traditional styles of pottery making. The study of ceramic artifacts is expected to reveal more about the great Mayan civilization that existed there some thousand years ago. The class will collaborate with University of Montana students and Jaime Awe, a leading archeologist from San Ignacio, Belize.
Students continue to participate in other projects, including:
• Brian Rivest, a professor of biological sciences, this winter will once again bring his marine biology class to explore the world's largest still-living barrier reef off the east coast of Belize in the Caribbean Sea. His biennial class is an extended, four-credit course in which the students learn the science and the snorkeling in Cortland, then travel to Belize in early January and literally jump right in to the first-hand experience. For 11 days, the 24 students dive twice daily from an island on the barrier reef. They also briefly visit a tropical ecosystem in southern Belize.
• Through the College's International Programs, individual students can arrange internships in human services, business, recreation, health, environmental preservation, archaeology, special education, wildlife preservation or other areas. Seven took the plunge between summer this past summer and next spring. Two students will be there in the spring. A business economics major will intern at Cotton Tree Lodge, a unique eco-lodge hidden in the jungles of southern Belize. Meanwhile, a community health major will experience hands-on learning at Cornerstone Foundation, a local agency that helps the community.
• At the summer Teachers Institute in Belize, three SUNY Cortland undergraduates and two graduate students joined three working teachers from around New York state to spend a week with resident educators sharing ideas and observing cultural differences. The program has evolved as an opportunity for Belizean educators to train themselves as master teachers. The Cortland participants earn course credit while immersing themselves in another country's educational system and culture.
During the Summer Institute for Teachers, Jennifer Chan and Lorraine Campanaro used their free day to ride horseback through the jungle. The two senior childhood education majors said their first international learning experience placed them inside a tropical ecosystem where they spied many Mayan ruins draped in the undergrowth. Exploring the human, cultural differences was even more rewarding.
"I thought that (the Belize teachers) really used the resources around them," said Campanaro, of Mohegan Lake, N.Y. "They don't have a lot of technology and they are great with recycling and conservation. I was in awe of them, because unlike here in the U.S., they don't have much to fall back on."
Chan relished watching the way Belizeans mingle English with several other working languages in Belize, including phrases in Kriol, Garinagu, Mayan and Spanish.
"What I got out of it most was just the cultural aspect of living there and seeing what they go through every day," she said. "I never thought in five days you could become so close to these amazing people, but at the end of it, we ended up crying to leave people we barely knew. Relationship building is really important."
"I would definitely recommend Belize because I'm going into student teaching soon and this was all about building myself up as a professional," said Campanaro, who now volunteers with International Programs to share her summer experience with others. "I came back ready to jump into the classroom and spread my ideas."
"We do meet with all students individually to talk about Belize before they go," said Gebhardt, who has worn both hats as a study abroad administrator and as a graduate student in the most recent summer Teachers Institute in Belize. "Everyone thinks of it as a beautiful semi-tropical paradise, it's still very much a developing country. There are chamber of commerce brochures that give the country an idealistic look. But you need to be ready to see the poverty and the trash alongside the road.
"Particularly with the internship program, the students need to be self-starters," Gebhardt said. "They need to realize a lot of time it's up to them to figure out what the agency really needs help with and then to do it. And the workspace sometimes is very humbling, maybe one desk and an antiquated computer."
"Many of them have never been overseas and some of them have not flown," said Rivest. The biologist has taken his students to Belize instead of Jamaica since 1994 because of the pristine state of the barrier reefs.
"They get off the bus surrounded by Mayan children who are begging, pleading, for the opportunity to carry our bags up a quarter mile path to the camp we stay in."
The group soon relocates to its astonishingly remote diving location.
"I deliver the academic program, lecturing on Turtle Grass (Thalassia testudinum) beds, and then we go snorkeling in the Turtle Grass beds on the barrier reefs."
Two SUNY Cortland students plan to intern in Belize next spring and five other participants hailing from other SUNY campuses also will benefit from the College's program.
"Belize Zoo placements are quite competitive and only will accept students for about four weeks," Gebhardt said. "We have one student who's interested in a Belize Zoo internship and when she's completed that in the spring she's going to the Bacab Eco Park (a nature-oriented family resort). She's an outdoor recreation major, and she's going to work there for 12 weeks through the end of the semester."
The Belize internship program recently gained a coordinator, Nancy Adamson. A U.S. citizen, the retired academic uses her many connections there to help the College set up internships. Adamson assists the students with academic advisement in some disciplines, transportation from the airport, orientation and placement with host families.
In a survey of last year's internship participants, the students reported gains in practical on-the-job experience, interpersonal skills and adaptability. Some noted they have adopted a different perspective on American culture and that their internship enhanced their employability.
Belize offers an emotional experience that imprints itself permanently into many participants' minds, Rivest said.
"I've heard from students who took the class years ago and it's described as the most memorable experience from their education here at Cortland," Rivest said. "I have the advantage, of course, of taking them to a tropical island where the water is warm and clear. We're watching the sunrise over the mainland from 13 miles away every day. Aesthetically it's beautiful, but it's also a full immersion experience and the students remember things from this class in a way that's difficult to replicate on campus: to talk about a species of coral and then go out and look at it in your hand."
First-Year Student Launches Triathlon Club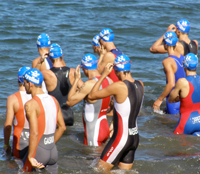 11/20/2012
Within her first few weeks at SUNY Cortland, first-year physical education major Brianna Phillips recognized the importance of seizing opportunities. She competed in her first triathlon, the Cortland Tri for the United Way, in September. By October, she had established a club at the College devoted to the sport that consists of swimming, biking and running.
"I was inspired," said Phillips, of Schenectady, N.Y. "I started thinking about how great it would be to find out if other students are also interested in this up-and-coming sport like I am."
Triathlon Club is the newest in SUNY Cortland's 34 club sport programs. It's open to students, faculty and staff members of all abilities at the College.
Members need not have completed a 140.6-mile Ironman triathlon to join, Phillips joked. The club invites people who are new to the sport of triathlon or those who are interested in learning more about it.
"You put in what you want to get out," she said.
Triathlon Club participants pay a $20 fee to join, which goes to club apparel and fees for a goal race. The group will train for a sprint triathlon that takes place in the spring. The sprint distance consists of a .47-mile swim, a 12-mile bike ride and a 3.1-mile run.
John Foley, a professor of physical education with an extensive racing background, is the club's advisor. Phillips said his past experiences and training advice will be invaluable.
Three hour-long, voluntary practices are held each week — two on weekdays and one on the weekend. During the winter, one swimming practice and two running practices will take place weekly. The running location will depend on the weather, Phillips said.
Triathlon Club is still accepting new members. For more information or to join, contact Phillips.
Education Students Star in Teaching Simulations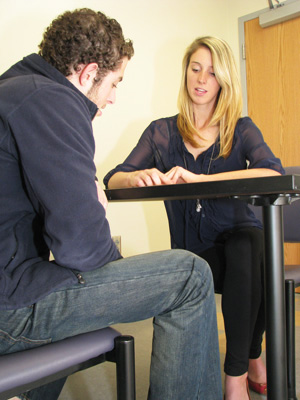 11/19/2012
Mary Theresa Muldoon wants to be a teacher, not a movie or television star.
Just the same, Muldoon and four other aspiring science educators pursuing master's degrees at SUNY Cortland recently went on camera, opposite trained actors, to do some improv.
The aspiring teachers weren't auditioning for a film role. They were each the star of a videotaped, simulated scenario featuring the routine challenges secondary schoolteachers face when teenage students need extra help.
"This gives them a chance to begin synthesizing that they've learned and begin putting it into play right then and there," said Benjamin Dotger, an associate professor of teaching and leadership at Syracuse University who has adapted the videotaped role playing used by medical students for use by aspiring teachers. "The real world of working in a classroom is very fast. Kids ask questions. You get interrupted. Content must be delivered. Parents make phone calls. Teachers will tell you they don't have much opportunity to sit down and plan how they will respond to this question or this worry."
Future doctors and other health care professionals have participated in such simulated "patient" meetings since the mid-1960s, Dotger said. Through a partnership with SUNY Upstate Medical University in Syracuse, N.Y., he developed the School Leader Communication Model, a tool that extends the use of simulations to help prepare future teachers through simulated "student" and "parent" meetings.
This semester, five SUNY Cortland education master's candidates participated in Dotger's teacher simulations inside Setnor Hall on the SUNY Upstate Medical University campus. In these pilot clinical simulations, an actor portrayed a "standardized" student who responded to the future educators' explanations of course material in ways that prompted them to explain the lesson over again in several different ways. The simulated "student" followed a tightly controlled script, but each "teacher" was free to respond as he or she felt best.
Mary Theresa Muldoon, left, who hopes to teach biology in middle or high school one day, recently took part in a meeting with an actor pretending to be a high school student struggling with a graph interpretation of plant succession.
Each session was captured on dual video cameras for live viewing, either from a nearby computer lab screen or before a group of analysts in an adjacent conference room.
After the simulated meetings inside the lab booths, Muldoon and the other students met in an adjacent conference room with the simulation managers. They each took turns with confidential critiques on how they had handled their faux "client," actually a local college student trained to offer variations on the glassy-eyed "I just don't get it" responses of a struggling young scholar.
"Once I was into it, this wasn't like I was talking to an actor at all," said Muldoon, a graduate student in adolescence education: biology, from Endicott, N.Y. "I just got into the moment."
Muldoon's simulation required her to help the confused "student" understand a graph showing plant succession after a sudden clearing of foliage.
She and a classmate had done their best to analyze the graph in preparation for the interview, during the shuttle drive from Cortland to Syracuse.
"I was excited and happy to be able to take part in the simulation because it's the beginning of a new chapter in teacher education," said the classmate, Jennifer Sadallah, a graduate student in adolescence education: biology from New Hartford, N.Y.
"I had a good experience in a simulated discussion on topics that are tricky, controversial and difficult to teach," Sadallah said. "We did a previous simulation on a controversial topic, evolution. We later talked about it and I was provided feedback.
"It made me think, 'Was I going enough into depth?'" she said.
Patient simulations were created to give physicians an opportunity to practice the knowledge and skills learned in traditional medical-school classrooms in real-life situations without harming patients, Dotger explained.
"The idea of a clinical simulation in medicine as well as other settings is to take what the student knows and actually put it to work," Dotger said. "For teachers, it's helping to bridge them away from the traditional ways that they have been taught and toward the daily practices they will engage in. It's engaging with students and parents and principals and colleagues on a daily basis."
Dotger is credited with implementing the Standardized Parent Conferencing Model, a teacher development tool that uses role-playing parents and students to recreate interactions a teacher may encounter in the classroom.
"I insist they take part in at least two simulations," Dotger said. By the third or fourth or fifth simulation, we can usually see a marked improvement in their performance. They forget the camera and the fact they're in the clinic and they really focus on the fact that 'Here's a real student sitting across from me who's asking questions about math or science or who has a real concern about their struggles at home ...'
"It gives the participants a shared, common experience," Dotger said. "They all engaged with the same student who is struggling to interpret a graph. They all had chances to practice working with that student based on their own teacher skills."
The exercise gives students and observes a good idea of what where the participant is strong and where there's need for improvement. finds that participants are sometimes forced to face their own misconceptions.
Beyond the five aspiring science students, Dotger hopes to involve more SUNY Cortland students — and faculty members as observers — in his science, technology, engineering and math trial simulations.
Angela Pagano, an associate professor of biological sciences and SUNY Cortland's co-coordinator of Adolescence Education: Science Program, presented her class with the option to attend their weekly class or make the two necessary field trips to Syracuse to participate in Dotger's pilot study of the school preparation clinical simulation.
"I just threw it out there to my students," said Pagano, a Biological Department faculty member in the College's School of Arts and Sciences. "It was an opportunity to have a hands-on experience." Creating real-life learning opportunities is a primary educational objective at SUNY Cortland.
Five hands went up. Joining Muldoon and Sadallah for the field trip were two other adolescence education: biology majors and one adolescence education: earth science major.
"We're like the pioneering students," said Muldoon, enthusiastically striking a George Washington-gazing-across-the-Delaware River pose.
"No one's getting hurt; no one's being taught the wrong thing," Pagano said, stating one benefit of performing such a meeting before a future educator becomes a teacher and does the real thing.
The education students also appreciated having kind but discerning peers review their individual actions. Some even identified their own shortcomings to the group. A few observed that the second time around, they had corrected a problem that was noticed in the first; for example, the tendency to frequently interrupt the actor.
As the second field trip wrapped up, Dotger met in a small room with the five participants from SUNY Cortland and other area universities. Their critique will serve to refine future simulations.
Dotger, whose work is currently supported by the National Science Foundation and the Arthur Vining Davis Foundations, has twice visited SUNY Cortland to discuss his work with the campus community, most recently on Oct. 30.
His pilot study involving SUNY Cortland students will be repeated next spring.
"I want the number of SUNY Cortland participants to grow, but I want them to engage as they feel comfortable," Dotger said. "There's a lot of work out there and I hope that others can join in."
It's not out of the question for SUNY Cortland faculty and staff to adopt his final teacher-student conference simulation model for future replication on the College's own campus.
"My job is to make sure the simulation documents and simulation procedures are up and running and work well so SUNY Cortland doesn't have to reproduce the simulations themselves," Dotger said. "I can help support them."
Tobacco-Free Website Launched
SUNY Cortland recently launched a website to help prepare the College community for Jan. 1, 2013, when the campus will officially become tobacco free.
The site, located at http://www2.cortland.edu/information/tobacco-free, explains the new policy, provides information on the dangers of tobacco and offers resources for people who would like to quit.
During the Great American Smoke Out on Nov. 15, a total of 21 members of the SUNY Cortland community pledged to try to stop using tobacco. We wish them well and will support them in whatever way we can.
The College has also begun a daily countdown to Jan. 1 on the video message screens scattered throughout campus. Tobacco users should use it as a reminder of the time they have remaining to prepare for life on a tobacco-free campus.
UUP Holiday Party Planned for Dec. 7
The United University Professions (UUP) Holiday Party will be held from 4-7 p.m. on Friday, Dec. 7, in the Corey Union Function Room. The party, open to all UUP bargaining unit members, will feature food, drink and fellowship. UUP will recognize retiring colleagues at 5:30 p.m.
The UUP Players will provide entertainment in the form of a skit. "Three by Bob and Ray and Tom" is a trio of comic sketches written by radio comics Bob and Ray as adapted for SUNY Cortland by Tom Hischak, a professor of performing arts who specializes in theatre.
The cast faculty and staff members Girish Bhat, Mark Cerosaletti, Robert Spitzer, Judy Van Buskirk, Chris Xenakis and Karen Zimmerman.
For more information, contact the UUP Office at (607) 753-5991.

Suggest a feature story
---
Faculty/Staff Activities
Seth N. Asumah
Seth N. Asumah, Africana Studies and Political Science departments, was appointed by the Eastern College Athletics Conference (ECAC) as a referee and officiated the National Junior Colleges Athletics Association (NJCAA) women's national soccer championship held Nov. 8 at Tompkins Cortland Community College (TC3). He refereed a game between Ann Arundel Community College, Arnold, Md., and Richland College, Dallas, Texas. Asumah has officiated numerous soccer championship matches at the international, professional, NCAA and NJCAA levels in the past 25 years.
Carolyn Bershad
Carolyn Bershad, Counseling and Student Development centers, has learned that the office was awarded full re-accreditation this fall semester by the International Association of Counseling Services (IACS). Accreditation by IACS is a voluntary evaluative process involving a written self-study and the adherence to established standards of practice. These standards are articulated by the IACS Board of Accreditation, the members of which are directors of counseling services located throughout the United States and internationally. IACS is the only accreditation association that accredits counseling services on university and college campuses.
Jeremiah Donovan
Jeremiah Donovan, Art and Art History Department, had his recent ceramic work selected by jury for inclusion in the National Juried Small Works Show at the Windsor Whip Works Art Center in Windsor, N.Y. This exhibition will open Saturday, Dec. 1, and continues through Saturday, Jan. 12. In August, Donovan and former B.F.A. student Xena Holzapfel were selected to exhibit their ceramic art work at the Elmira Arnot Art Museum Biennial Gallery Gala, an invitational exhibition of artists from throughout the Northeast.
Casey Hickey, Jennifer Kronenbitter and Hailey Ruoff
Casey Hickey, Campus Technology Services; Jennifer Kronenbitter, Library; and Hailey Ruoff, Library, Instructional Technologies and Design Services; presented at the Wizard 2012 held Nov. 13 in Syracuse, N.Y. Their presentation focused on the streaming media project that converted the library's video collection into a streaming format. Wizard conferences are geared toward the SUNY technical community in order to address current information technology-related issues important to SUNY. The attendees represent the full range of SUNY campuses and university-wide programs that include IT professionals at every level.
Bonni C. Hodges
Bonni C. Hodges, Health Department, has been appointed to a three-year term on the American School Health Association Editorial Board and its peer reviewed publication, the Journal of School Health.
Nancy Kane
Nancy Kane, Performing Arts Department, choreographed the musical, "1776," performed Nov. 2-6 in Ithaca, N.Y., under the direction of John Hertzler.
Gregory D. Phelan and Kerri Freese
Gregory D. Phelan, Chemistry Department, and Kerri Freese, Noyce Program coordinator, along with co-professional investigators from Drexel University and University of Massachusetts, Boston, (UMass Boston) planned and executed the Second Annual Noyce Northeast Conference in Cambridge, Mass. Highlights of the two-day conference included 15 breakout sessions and a keynote from the 2012 MacArthur Fellows or Genius Grant recipient and Harvard University economist Raj Chetty. Other keynote speakers included physics professor Arthur Eisenkraft, UMass Boston; author Penny Noyce, daughter of Robert Noyce, the microchip inventor and founder of Intel; and chemistry teacher Rebecca Grella, who inspired homeless student Samantha Garvey to conduct research that led her to the Intel national science fair. A National Science Foundation grant written by Phelan, Sheila Vaidya of Drexel University and Lisa Gonsalves of UMass Boston funded the conference and participants' attendance.
Claus Schubert, Gregory D. Phelan and Kerri Freese
Claus Schubert, Mathematics Department, Gregory D. Phelan, Chemistry Department, Kerri Freese, Noyce Program coordinator and six Noyce Scholars attended the second annual Noyce Northeast Conference Oct. 11-13 in Cambridge, Mass. The Noyce scholars included: Eric Reisweber, adolescence education: earth science; Lauren Pizzolla, Robin Tobin and Christopher Lambert, adolescence education: mathematics; Matthew Henderson adolescence education: biological sciences; and Katie Barbagallo, adolescence education: chemistry. More than 200 faculty and pre-in-service teachers attended the two-day event with the theme "Learning from Each Other for Excellent STEM Teaching."
Robert Spitzer
Robert Spitzer, Political Science Department, presented a paper titled, "Hot Button Issues in the 2012 Presidential Campaign: 47% Yes, Guns No?" for a conference on the 2012 presidential elections held at Hiram College in Ohio on November 16-17.

Submit your faculty/staff activity