Chancellor to Address Faculty as School Starts
07/17/2012
Students begin returning to SUNY Cortland on Friday, Aug. 24, in a whirlwind week that will be highlighted by a visit from State University of New York Chancellor Nancy L. Zimpher.
The SUNY chancellor will make a notable third visit to the campus to address the College community during SUNY Cortland President Erik J. Bitterbaum's annual opening address, on Thursday, Aug. 23. Bitterbaum will speak to the College's faculty and staff at 8 a.m. in the Corey Union Function Room. Later, senior administrators will introduce new faculty and staff members and report on their respective areas. Zimpher is slated to speak at 11 a.m.
On Thursday, Aug. 23, the campus will open its 16 residence halls and the West Campus Apartments to approximately 100 new residential students who did not attend the summer orientation program. The majority of new residential students will move in the following day. Returning residential students will occupy their rooms Saturday, Aug. 25, through Sunday, Aug. 26.
In all, College officials expect approximately 7,250 students to be enrolled for the fall semester. Classes begin on Monday, Aug. 27.
Between Friday and Sunday, access will be limited on Prospect Terrace and from Graham Avenue to Neubig Road, which winds past the SUNY Cortland residence halls to the Broadway intersection. Traffic will proceed one-way, in a westerly, downhill direction from 8:30 a.m. to 5 p.m. during this time. On Friday, university police will limit traffic solely to first-year or transfer students moving into the residences. Neubig Road will be closed to traffic from 5 a.m. to 8:30 a.m. during all three move-in days.
Parents or guardians who are helping their new or returning student move into a residence hall should approach from Graham Avenue, quickly unload their vehicle, and proceed immediately to the Park Center and Professional Studies Building parking lots. Bus service will be available between the parking lots, Corey Union and the residence halls. Faculty, staff and others with business on the campus are encouraged to park at Park Center and the Professional Studies Building and use the bus service.
Faculty and staff are invited to join the Welcome Team that helps new students move into the residence halls from 8 a.m. to 4 p.m. on Friday and Saturday. There are two shifts each day: 8 a.m. to noon and noon to 4 p.m. Volunteers can choose to sign up for one or two shifts. To sign up today, faculty and staff may log in to their online myRedDragon account, select the Faculty/Staff tab and look for the Welcoming Team Signup link on the lower left. Volunteers will receive a "Dragon Haller" t-shirt for making the move-in process welcoming and easy.
Marking the start of another academic year, the Fall 2012 Academic Convocation begins at 4 p.m. on Sunday, Aug. 26, in the Park Center Alumni Arena. The hour-long ceremony is designed for all first-year and new transfer students. All SUNY Cortland faculty and professional staff are encouraged to attend.
Welcome Week will offer a number of events geared to help new students connect with the campus community and assist them in their transition and adjustment to college life, from Friday, Aug. 24, through Wednesday, Sept. 5.
For more information about Welcome Week events, contact Campus Activities and Corey Union at (607) 753-5574.
On campus, a truly unprecedented level of facility changes will be apparent, noted Jeff Lallas, director of facilities planning, design and construction.
A measure of patience and sense of adventure will be required for the coming year or two until the campus is updated with many new or upgraded facilities, according to Lallas. In one sign of the times, portable trailers are presently dotting the campus in various locations. These will provide the campus community with temporary faculty and staff office and classroom space.
At the Bowers Hall site, a new addition is rising out of the ground where the old main entrance and museum wing were demolished over the summer as the College's primary science facility undergoes expansion and renovation of the Bowers I wing.
At semester's end, faculty and staff moved out of the Dowd Fine Arts Center as the academic building undergoes an anticipated year-and-a-half internal renovation. The classes, concerts and gallery exhibitions that normally occur within will go on elsewhere on campus, or, in the case of Dowd Gallery programs and exhibitions, off campus at the Main Street SUNY Cortland facility.
Two utility projects are underway in more out-of-the-way locations. A substation near the Route 281 entrance is being upgraded this fall and winter while a two-year project to install individual boilers in each building and remove the less energy efficient, central steam plant reaches its mid-point.
Contractors broke ground on the College's newest, 228-bed residence hall at the end of last semester and the steel structure is taking shape at the end of Hayes and Hendrick halls facing Casey and Smith Towers. When ready for Fall 2013 semester occupancy, the domicile will resemble inside the six-year-old Glass Tower Hall at the opposite end of the quad. The domicile's façade will be different but the residence will offer many of the same student amenities while demonstrating environmental sustainability, with the expectation of an even higher, Leadership in Energy and Environmental Design Gold rating.
Work begins this fall on the crown jewel of the planned campus construction, the new $56 million Student Life Center. Planned on the site of the former Carl "Chugger" Davis Field near the heart of campus, this multi-purpose building will greatly expand student recreational, club and social life opportunities when it is finished as expected by December 2014.
SUNY Cortland EMS Wins Top State Honor
07/12/2012
SUNY Cortland's Emergency Medical Services (EMS) has come a long way from its modest beginnings in a residence hall storage room — so far, in fact, that the student volunteer group has been named the New York State EMS Council's 2012 Agency of the Year.
"This award really goes to generations of SUNY Cortland EMS volunteers," said council director Lee Burns. "Every good thing that's ever happened to them has been to their credit."
There are 18 regional councils across the state and each one is eligible to nominate its local winner for the state's top prize. The Central New York Regional EMS Council named SUNY Cortland EMS its Agency of the Year in May.
A campus volunteer agency taking home the award is rare, Burns said.
"I know very well that SUNY Cortland has come a long way," Burns said of the student group that was founded in 1976. "So this isn't specific solely to individuals currently on the squad. It goes to years of Cortland students."
Susan Barg '85, who today lives in Ballston Spa, N.Y., was a first-year student in 1981, the year EMS began responding to emergency calls on campus. Up to that point, the student group had held regular first aid courses for students, without a major response role on campus.
SUNY Cortland EMS was "primitive" in its early years, Barg said. The only way for the group to communicate with public safety — now known as the University Police Department — was by telephone. A first-floor storage room in Winchell Hall was converted into a command post with bunks, a television and a few furnishings. And student volunteers responded to all campus medical emergencies by foot, without the luxury of a response vehicle.
"We called ourselves the sneaker patrol," said Barg, who has worked for the New York State Health Department for the past 26 years. "We used to comment on how many pairs of sneakers we went through in any given semester."
The group's budget grew as time went on. EMS members eventually were able to purchase two-way radios to communicate with each other and with public safety. By 1984, two rooms in the former Van Hoesen Hall television studio had morphed into the group's campus home.
Today, the EMS headquarters in Van Hoesen include "everything a member could need," according to recently graduated chief Matthew Green '12. There's a lounge for its student volunteers, a large equipment room, a patient care room, a kitchen, a bunk room, shower and laundry room. There's also an ambulance, which serves as a mobile command center, and a first responder truck that EMS uses.
Although many things have changed since the EMS crew's early days, including a participation boom that has produced an all-time high in membership, a few of the group's qualities have stayed the same.
"These students were always caring," said Marley Barduhn, the College's assistant provost for teacher education and a member of the EMS advisory committee since 1979. "That's never changed."
Strong leadership has been a trademark of the most dedicated EMS staffs, she said.
"As four years roll by and an entire group leaves, we're back to square one," Barduhn said. "Things are always evolving and you see a legacy of achievement, along with a rising level of expectations, passed along."
Each year, EMS officers call on alumni members when they're in the process of making important decisions, Green said. This year, for instance, EMS drafted a mutual aid policy with the Cortland City Fire Department, which says that if the department requires additional medical assistance for its firefighters while they're battling a fire in the community, SUNY Cortland EMS could be called in to assist.
Green discovered that past members of the College's squad had developed a similar mutual aid policy several years ago.
"It's so much better when you're thinking of a new concept to go to an alumni member and say: 'Hey, have you guys tried to do this in the past?'" Green said. "With the mutual aid contract, it just made life so much easier."
Other SUNY Cortland EMS highlights from the past year included its relief efforts with flood victims in the Binghamton, N.Y., area, new programming related to underage drinking on campus and in the community, and responding to hundreds of emergency calls on campus without dropping a single one.
"How many students have thousands of people per week that they're responsible for?" Barduhn asked. "These are student professionals who have a legal obligation to respond and they have a medical obligation to treat. And they do a great job."
Barg, the alumna who enjoyed a four-year EMS experience and now works in the healthcare field, praised the "life skills" she developed volunteering. And Green, who is currently working for a private ambulance company near his Commack, N.Y., home, already is aware of them, just two months removed from his SUNY Cortland experience.
"Everyone who joins SUNY Cortland EMS, they become part of this awesome came-from-nothing story," Green said. "It teaches you important rules to live by in life and in EMS.
"Just keep reaching and keep growing, step by step."
---
Capture the Moment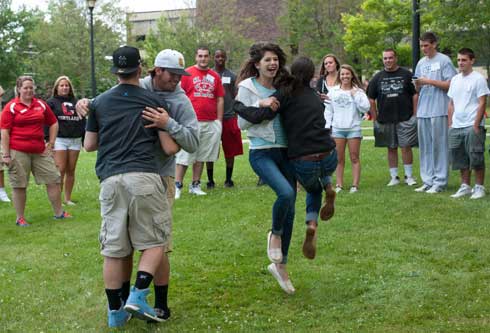 Small group activities were one way to get new students comfortable with each other and with college life during SUNY Cortland's first-year orientation sessions, held between the last week of June and mid-July. About 1,100 first-year students attended the two-day sessions, where they met other new students, faculty and staff members, registered for fall classes and learned about campus life and college resources.
---
In Other News
Employee Fall Festival Approaches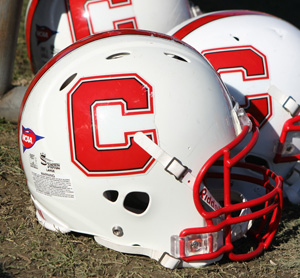 07/17/2012
It's hard to believe now, but a scorching sun and the rumblings of New York Jets training camp eventually will give way to cooler temperatures and the start of fall semester classes.
And when that happens, SUNY Cortland wants to say welcome to its new employees and thanks to current ones with a Homecoming weekend event open to all faculty and staff members.
Fall Festival, a day of free food and entertainment, takes place Saturday, Sept. 15, from 11 a.m. to 3 p.m. It's a way to catch up with familiar friends and possibly meet new ones.
Employees are invited to bring their families and guests. The event is free for everyone and it's simply a small way to say thanks for the tireless work that keeps the College operating throughout the year.
Catered food will follow a barbecue theme and entertainment will be supplied with all ages in mind. The Wild Hunt will perform live music and a disc jockey also will be in attendance. Bounce houses, face painting, a photo booth and an appearance from Crossroads the Clown are just a few of the other activities in store.
Attendees will receive free entry to the SUNY Cortland football team's Homecoming game, which kicks off at 1 p.m. against Western Connecticut State. Free entry also will be provided to the Cortland women's soccer game when the team hosts Farmingdale at 1 p.m. There's no obligation to attend either game.
The barbecue food will be served from noon to 2 p.m. and the menu will include hamburgers, hot dogs, barbecue chicken, assorted salads, salt potatoes, cupcakes, cookies, brownies, lemonade, iced tea and water. Special dietary needs or requests may be noted in your R.S.V.P.
Watch for R.S.V.P. information, which will be distributed through email and a campus mailing in August.
Student Health Educators Place Third Nationally

07/10/2012
Charged with devising a plan to curb underage drinking, three SUNY Cortland seniors responded in a big way by placing third this spring in a national case study competition in Boston.
The American Association for Health Education event, held in March, required students to role-play as Boston health educators working in the city's public schools. Their task was to analyze a case study and develop an effective health campaign targeting underage drinking.
Eastern Illinois University took home top honors in the competition, which was delayed until later in the spring due to a power outage in Boston. Truman State University and the University of Florida tied for second place.
"Only a limited number of teams are selected for the case study competition every year, so just to be selected to compete at the national competition was an honor," said Bonni Hodges, chair of SUNY Cortland's Health Department and one of two faculty advisors for the group. Nine teams were eligible to submit their case study presentations for consideration. "To finish in the top three really speaks to the hard work of our wonderful student representatives."
The students included Amanda Cheetham '12, a health education major from Cortland, N.Y.; Kenneth Dean '12, a community health major from Auburn, N.Y.; and Lauren Shirley '12, a community health major from Homer, N.Y. All three agreed that the experience tapped the lessons learned in their SUNY Cortland health courses.
"It was a real-world scenario where we applied the methods and techniques we learned in our classes," said Cheetham, the winner of a prestigious SUNY Chancellor's Award for Student Excellence in 2012 and a New York State College Health Association Certificate of Recognition.
Hodges and Alan Sofalvi, an assistant professor of health and the team's other faculty advisor, met three times with the students prior to the release of the case. They discussed how to prepare a thorough case and suggested resources to use in the process.
The work, however, was up to the College's students after that. Once the underage drinking case was released, no assistance from faculty advisors or classmates was permitted by competition organizers.
"We did a lot of work preparing," said Dean, who will pursue a 16-credit internship in the fall with the Occupational Health and Safety Office at Cornell University as he finishes up his coursework at SUNY Cortland. "And that preparation really paid off."
In the case study materials, students were provided the demographic breakdown of the city of Boston as well as the health issue at hand. Four in 10 Boston public high school students reported drinking alcohol within the past month and one in five students reported binge drinking within that same time, according to statistics provided in the case study.
Additionally, the case study pointed out that alcohol is the most commonly used and abused drug among youth in the U.S., even more than tobacco and drugs.
Judging criteria for the case study competition graded each health campaign's ability to increase awareness and knowledge, increase preventive behaviors and reduce the prevalence of underage drinking in Boston.
"Our program really targeted both the students and the parents," Dean said.
The SUNY Cortland students developed an advocacy program and marketing campaign with unique components, such as a daycare provider at educational sessions for parents and a translator for people who do not speak English. The Cortland students also sought to have input on high school health curriculums and incorporate contests and weekend activities in their health education program.
"Based on the material, we decided the scare tactic approach might not be the best way to approach underage drinking in this case," said Shirley, who will enter the Doctor of Physical Therapy program at SUNY Upstate Medical University in June. "So we suggested sessions where students could teach their parents how to party, without using alcohol."
The trio of students devised its action plan mostly in the evening, after full days of work. Cheetham was fulfilling her student teaching obligations, Shirley was completing full-time fieldwork and Dean was busy with a full load of courses.
They were fully prepared to present when they arrived in Boston but soon were left in the dark, almost literally. Two electrical transformers had blown, which cut off power to a portion of the city. The group's hotel and the Hynes Convention Center, the site of the case study competition, were without electricity.
All but one day of the conference was canceled and each group received instructions to create a video of its health study plan. So the student group returned to Cortland, filmed its presentation and submitted the eventual third-place winner.
"While we were getting ready for the competition, even before we knew what the case was about, Dr. Sofalvi told us always to have a plan B," Shirley said. "Those words came true in Boston and, luckily, we were prepared."
Career Services Offers Online Makeovers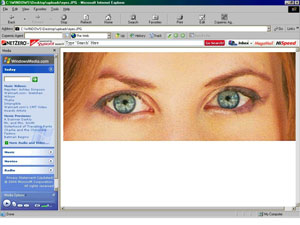 07/17/2012
In the iconic comedy film "Ghostbusters," a fictional spirit-control squad constantly evades being "slimed" by their otherworldly foes.
SUNY Cortland students, like many collegians nationwide, daily risk a similar, digital fate by carelessly sharing or allowing unflattering information and images about themselves to be posted on the Internet.
So, who they gonna call?
Michele Baran and Calvin Ruthven, two of the College's Career Services office professionals, to whom a number of students have voluntarily opened their social media portals to friendly outside scrutiny.
Together, they developed and launched an award-winning career planning program to help students deal with "Digital Dirt and the Job Search." For two days, April 18 and April 19, the volunteer students accepted a challenge to have their every tweet and wall post closely scrutinized.
Armed with information on hiring trends and statistics rather than particle-accelerating, proton-shooting backpacks, Baran, a career counselor and online operations specialist, and Ruthven, coordinator of student employment services, performed the "social media spot checks," on campus or by appointment. Posing as potential employers of the 59 willing students and three College employees, they conducted the checks using laptops and iPads at a table in the College's Corey Union ground floor lobby.
"I don't believe our Cortland students were finding that employers had looked at their social sites but we were hearing about this problem a lot in the news media," Ruthven said. "Some of our students were taking down their social media sites because of it. Once they finished school, they would simply take it down."
Baran and Ruthven do not think that social life should end with graduation.
Following the team's online perusal, the students knew exactly what to remove, and what to leave off in the future, from their blog or social network page, in case potential employers demand access to their social media sites.
On May 31, the creative outreach effort by Baran and Ruthven was recognized by the State University of New York Career Development Organization (SUNYCDO), the career services professional association of the SUNY campuses. Baran and Ruthven were honored with an Excellence in Programming Award in the category of "Career Planning Program – Four-Year Schools."
The initiative was honored during the association's annual conference in Port Jefferson, N.Y.
SUNY Cortland was among only five proposals the Awards Committee chose this year for recognition, wrote Wren Fritsky of Binghamton University, the Awards Committee chair, in a letter announcing the award to C. Gregory Sharer, SUNY Cortland's vice president for student affairs.
"Representing one of those five, SUNY Cortland's Career Services office is a model in programming for our entire organization," she wrote.
The clever idea struck pay dirt with their career service colleagues in part because every college campus wrestles with the problem.
Although it is considered unethical for employers to demand social media login credentials of job candidates during an interview, such Web monitoring happens anyway, Baran and Ruthven noted in their award proposal. A recent Reppler poll indicated that 91 percent of employers use social networking sites to screen prospective employees and 68 percent will were inclined to hire a candidate due to a positive online image.
The 69 percent of bosses who said they have rejected a candidate based on a negative Web profile turned their thumbs down for a variety of negative postings: lies about qualifications, inappropriate photos or comments, content about drinking or using drugs, negative comments or confidential information about a prior employer, or discriminatory comments.
"The program was conceived and implemented as a public campaign with the support of private individual counseling sessions for those with major concerns about their online profile," Baran said.
"During the initial stages of program planning we discussed ideas with a few students, and, on a general level, they assumed their social media settings were effective and sufficiently locked down," she said. "However, when we looked individually, we discovered questionable photos and open settings. This helped us determine to continue with program development."
To encourage students to use the service, Baran and Ruthven launched a unified print and digital advertising campaign of emails, posters and tweets focusing on "digital dirt," a provocative phrase that intrigued students and staff. The Twitter hashtag campaign was carried out under #digitaldirt sharing links, resources and updates on the "Digital Dirt Challenge."
Baran and Ruthven also met with the entire Residence Life and Housing professional staff to spread the message. In fact, RAs and student residence hall staff members were among the first to show up at the spot check sessions.
Individual students received up to five minutes of the specialized career counseling.
"We would discuss how different behaviors and online images are more appropriate for some fields than others, and that some industries are more likely to dig deeper into Internet history than others," Baran said. "We focused on basic name Google searches, added hometown and college town details, and dug heavily into social media settings: primarily Facebook, but also Twitter, Tumblr, and MySpace among others. We also shared data mining sites, especially Spokeo and PeekYou."
Clients also were advised on how to maximize the positive content available online while minimizing the negative. Adding the business-oriented LinkedIn networking site would be considered by career counselors to improve an online profile.
"They were all positive, very receptive and sometimes a little skeptical," Ruthven said of the participants. "They came for their spot checks in twos. One student would have to talk the other into it."
Before their blogs were checked and their names Googled, the students were asked to assess how they thought they would be viewed as job candidates, based solely on their online profiles. Overall, 11 percent of them had profiles that were worse than anticipated, 31 percent were the same and 58 percent had scores higher than anticipated.
The award criteria also considered the efficiency of the service offered. While providing a highly valued service — 100 percent of respondents to a follow-up survey indicated they were "very likely" to recommend the activity to classmates — the "Digital Dirt Spot Check" program was virtually cost-free to run, outside minor print expenses and approximately 12 hours of staff time.
The career advisors will repeat the service next fall at more locations around campus and with the addition of a Thursday drop-in opportunity.
Legislator Honored by SUNY Union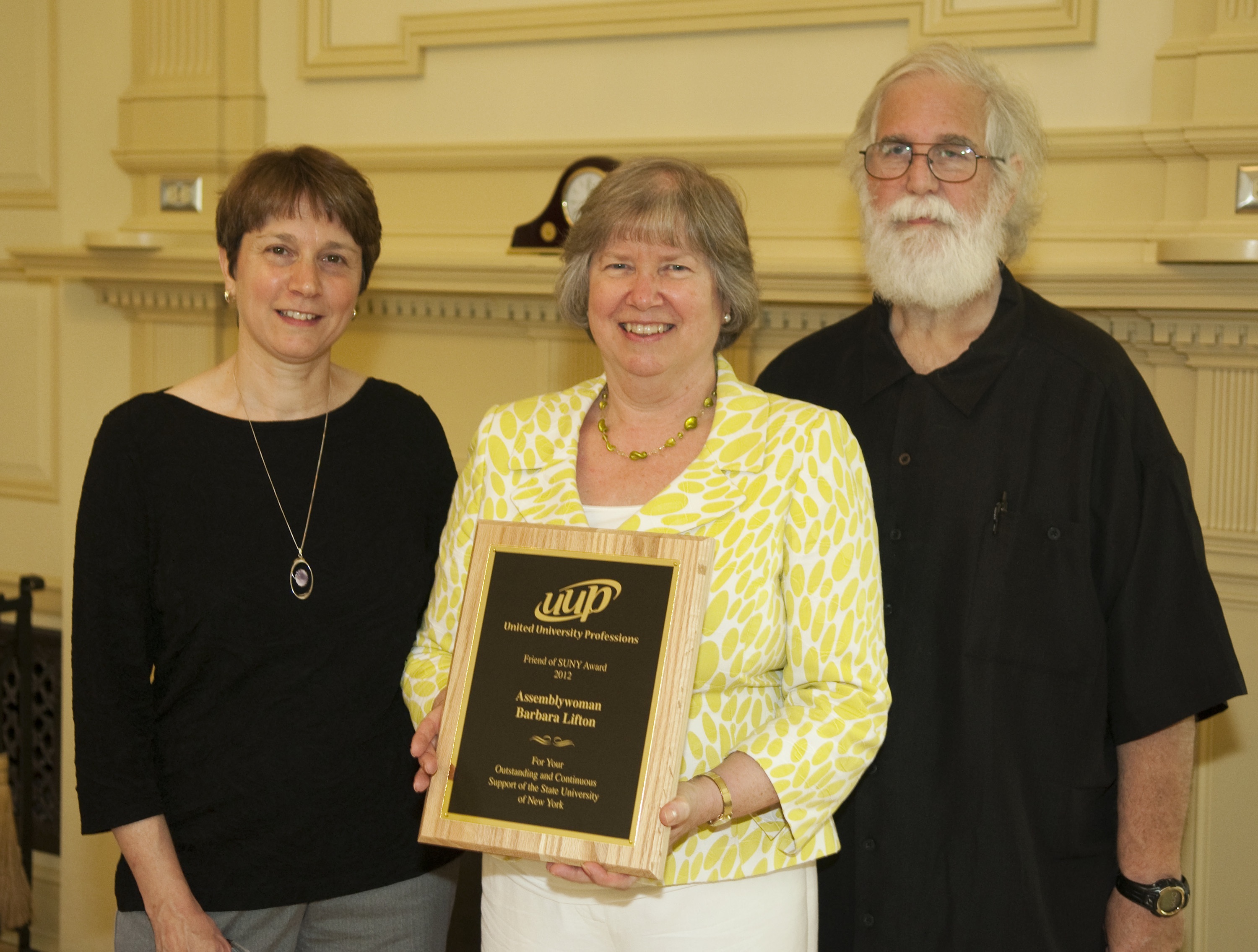 07/10/2012
Assemblywoman Barbara Lifton, D-Ithaca, visited SUNY Cortland Tuesday and received the annual "Friend of SUNY Award" from United University Professions (UUP), the largest union in the state university system.
Lifton called the award a tribute to her father, a former SUNY Geneseo professor and a founder of that college's UUP chapter, in an emotional acceptance following a morning of discussions about teacher education issues in New York state.
"He valued teaching and he valued teachers," Lifton said of her father, a retired English professor who died in 1987. "In honor of my father, I want to thank all of the people who do this work, not only unheralded, but under attack."
Lifton spent the morning meeting with members of SUNY Cortland's faculty and staff to discuss changes in the way New York state trains and evaluates teachers and the impact of new state education mandates on student teacher placements.
Cortland has the largest teacher education program in New York state and could be significantly affected by the changes. A strong supporter of both UUP concerns and the College, Lifton was the 2008 recipient of SUNY Cortland's College-Community Appreciation Award.
A member of the Assembly's Higher Education Committee, her support was again recognized Tuesday by the campus community at a luncheon hosted by College President Erik J. Bitterbaum.
"She has been very generous to SUNY Cortland, and we are very appreciative," said Bitterbaum, noting that her support was key in securing funding for the College's new $56 million Student Life Center, scheduled to break ground this fall.
Lifton also played a major role in obtaining a $300,000 grant for SUNY Cortland's College-Community Downtown Partnership, said Jamie Dangler, UUP's vice president for academics. A SUNY Cortland sociology professor and former president of Cortland's UUP chapter, Dangler is on leave from the College to work for the union in Albany.
"Barbara Lifton believes in public education and has done much to remind her colleagues of the value of SUNY for New York state citizens and the communities we live in," Dangler said. "She has introduced, advanced and supported legislation favorable to SUNY, its students and employees."
John Driscoll, the current chapter president for Cortland UUP, presented Lifton with a plaque Tuesday in a ceremony in Brockway Hall Jacobus Lounge.
Alumnae Women's Soccer Teams to Be Honored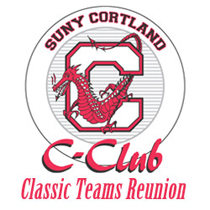 07/17/2012
SUNY Cortland's women's soccer teams from the 1980s and 1990s, including a pair of national championship squads, will be honored during the annual C-Club Classic Teams Reunion on Friday, Oct. 19, in the C-Club Hall of Fame Room in the Park Center.
The C-Club Classic Teams Reunion honors noteworthy teams or groups representing SUNY Cortland's rich history of athletics. Previous honorees have included national title-winning squads as well as combinations of teams coached by legendary Cortland coaches.
Cortland's women's soccer teams were among the nation's best during the decades of the 1980s and 1990s. The Red Dragons won the first-ever collegiate women's soccer national championship in 1980 with a victory over UCLA and captured the 1992 NCAA Division III title. Cortland also finished second nationally in 1990 and advanced to national semifinals in 1986. In all, Cortland played in 15 national tournaments from 1980-99, including four NCAA Division I playoffs from 1982-85.
Anna Boserup Rush Zado '57 coached Cortland's 1980 championship team and Ron Hansen '78 coached the team in 1981. Chris Malone was the Red Dragons' head coach from 1982-94 and led the program to 13 straight NCAA tournaments. Janine Caruso Corning '93 served as head coach from 1995 through 2001 and was also a three-time All-American for the Red Dragons in 1989, 1991 and 1992.
The Classic Teams Reunion is part of the C-Club Hall of Fame Weekend. The C-Club Hall of Fame will induct seven new members on Saturday, Oct. 20.
Previous C-Club Classic Teams Reunions
2011 – Robert H. "Sparky" Wallace '53 Teams (Baseball, Football, Softball)
2010 – Joan Sitterly Women's Volleyball Teams (1983-2004)
2009 – Women's Cross Country NCAA Championship Teams (1989, 1991-95, 1997)
2008 – 1988 Football Team (10-0 during regular season)
2007 – No event (new C-Club Hall of Fame Wall unveiled)
2006 – "Blue Tunics and White Sneakers" (celebration of Cortland's Pre-Title IX female athletes)
2005 – No event
2004 – Field Hockey 1993 and 1994 NCAA Div. III Championship Teams
2003 – Eric Malmberg Men's Gymnastics Teams (including 1986-87-89-90 USGF National Champs)
2002 – Sally Yaeger Wallace '53 Teams (Softball, Women's Golf, Women's Basketball)
2001 – Whitney T. "Pete" Corey '43 Men's Basketball Teams (1950-63)
2000 – Women's Soccer 1980 National Championship Team and Men's Soccer 1960 NCAA Team

1999 - Men's Lacrosse 1973 (USILA) and 1975 (NCAA Div. II) Championship Teams
Professional Salary Increases Recipients Announced
The Human Resources Office has announced recipients of professional promotions and salary increases effective in July.
Professional promotion recipients include:
Vicki Hess, Campus Technology Services, promoted to Associate Director of Academic Technology Services
Gerry Hill, Campus Technology Services, promoted to Instructional Support Specialist
Jennifer Kronenbitter, Library, promoted to Assistant Director of Libraries
Professional Staff Salary Increases have been approved for the following employees:
Robert Davenport, Facilities
Tracy Frenyea, Advisement and Transition
Gonda Gebhardt, International Programs
Michael Johnson, Admissions
Juanita Larrabee, Facilities
For more information, contact the Human Resources Office at (607) 753-2302.
Fall Opening Meeting Set
President Erik J. Bitterbaum has announced that the opening meeting of the Fall 2012 semester is scheduled for Thursday, Aug. 23. The meeting will begin with light refreshments at 8 a.m. in the Corey Union Function Room.
President Bitterbaum will give his State of the College address beginning at 8:30 a.m. At 11 a.m., SUNY Chancellor Nancy L. Zimpher is slated to provide updates on, "The Power of SUNY." A light luncheon will follow.
Detailed information including an agenda and response form will be sent via email by Wednesday, July 25.
All classified, UUP and M/C campus community members are invited to attend.
For more information, refer to the email or call the President's Office at (607) 753-2201.
CALS Lecture Grant Applications Available
Campus Artist and Lecture Series (CALS) Lecture Grant Applications are now available for the 2012-13 academic year. Applications are eligible for a maximum award of $500 and are open to any club, program or department. These lecture grants will not cover performances of any kind.
The fall semester deadline is Thursday, Sept. 6, to receive funding for lecture programs taking place in September, October, November and December 2012. Applications received after Sept. 6 may not be eligible for any fall semester funds remaining.
For more information or to request a copy of the CALS Lecture Grant Application, email Sandra Wohlleber or call her at (607) 753-5574.

Suggest a feature story
---
People on the Move
Erika Fowler-Decatur Directs Dowd Gallery
07/12/2012
Erika Fowler-Decatur of Ithaca, N.Y., a versatile visual arts professional in the private, non-profit, academic and government sectors, recently was appointed as director of Dowd Gallery at SUNY Cortland.
She replaces Bryan Thomas, an Art and Art History Department faculty member who has overseen the gallery on a part-time, interim basis since December 2010. She has been working since mid-June although her official start date is Aug. 1.
Fowler-Decatur has 14 years of experience directing art organizations. She also has an extensive background in planning and curating exhibitions; managing staff, interns and volunteers; grant writing and fundraising; connecting artists with art collectors; designing and implementing museum education programs; and teaching at college, K-12 and pre-school levels.
"I'm looking forward to furthering the multi-layered mission of the Dowd Gallery to serve not only the students of the Art and Art History Department, but also the entire campus and the Cortland community at large," Fowler-Decatur said.
Her immediate task is overseeing the movement of all Dowd Gallery exhibitions and programs to the third floor of Main Street SUNY Cortland while the Dowd Fine Arts Center undergoes a major renovation during the next couple years.
"The new space is beautiful, and the location at 9 Main Street offers us a remarkable opportunity to connect the campus and Cortland communities," she said.
Fowler-Decatur previously taught ancient and Early Renaissance art history courses at SUNY Cortland as an assistant visiting faculty member from Fall 2011 to Spring 2012. While on the College's Art and Art History Department faculty, she served on the Dowd Gallery, Beard Gallery, and Bachelor of Fine Arts committees and was a faculty advisor for undergraduates.
From August 2010 until May 2011, Fowler-Decatur ran Ithaca College's Handwerker Gallery while its director was on leave. She curated exhibitions, oversaw installations and developed and presented special events such as the Tuesday Salon and Thursdays at the Handwerker series. She also organized receptions, artist talks and a symposium.
Fowler-Decatur was the founder and executive director from 2002 until 2010 of the Art Bar Project - Ithaca Fine Chocolates. The organization had a mission to promote contemporary artists, educate the public about contemporary art and provide an alternative channel of funding for art education. She did this through the sale of organic and fair trade certified chocolate bars that featured an art reproduction on a collectible card inside the wrapper. The Art Bars drew national media attention. Fowler-Decatur planned, curated and installed exhibitions featuring the works of 168 emerging and internationally renowned contemporary artists.
From 1999 to 2001, she was executive director of Visual Aid in San Francisco, which helps artists living with life-threatening illnesses continue their creative work through exhibitions, an art materials voucher program and other career development services.
From 1996 to 1999, Fowler-Decatur served as executive director of San Francisco's Museo ItaloAmericano, a museum dedicated to the exhibition, preservation and collection of Italian and Italian-American art and the promotion of Italian art and culture. She oversaw the planning of exhibitions, fundraisers and all other museum events. Fowler-Decatur also coordinated adult education programs, including lectures, symposia and Italian language and culture classes.
Additionally, she has experience as an instructor with the Bay Area Discovery Museum and as an education department volunteer with the M.H. de Young Museum, both in San Francisco. Prior to that, she was an education department assistant with the Roberson Museum, Binghamton, N.Y.; a bid and vendor settlement departments assistant with Christie's in New York City; a restoration assistant of 12th century fortress ramparts at Concordia in St. Sorlin, France; a program assistant with the National Endowment for the Arts, a volunteer with the Fillmore Arts Center and an intern with the Institute for International Education, all in Washington, D.C. As if that wasn't enough, she also worked as a paralegal and as a secondary schoolteacher of the Italian language.
Fowler-Decatur earned a B.A. in art history from Hamilton College in Clinton, N.Y. As an undergraduate, she studied Italian language, culture, history and art in Rome, Italy, through the Temple University Abroad program. She has an M.A. in art history from Binghamton University.
College Names Assistant VP for Student Affairs
07/17/2012
Christopher A. Kuretich of Newark, N.J., joined SUNY Cortland on July 16 as assistant vice president for student affairs, a senior-level role that will make him second in charge in the College's Division of Student Affairs.
Kuretich, who most recently has served as the associate dean of students at Seton Hall University, brings 12 years of higher education-related experience to SUNY Cortland. Reporting to C. Gregory Sharer, the vice president for student affairs, he will assume a leadership role in developing policies and procedures for areas related to student affairs and outreach between the College and the Cortland community.
Areas that Kuretich will supervise include: the SUNY Cortland Counseling Center, which houses student disability services, health promotion and alcohol and drug prevention education; Student Health Service; and the Academic Support and Achievement Program.
He also will advise the College's Student Government Association, serve as a review officer for student conduct cases and coordinate any communication with parents and families from the Division of Student Affairs while overseeing the division's assessment efforts and managing the budgets for different student development areas.
Kuretich comes to Cortland after six years at Seton Hall, where he served as associate dean of students since 2008.
In that role, he oversaw key areas that included student conduct, student activities, university center operations, scheduling and events, Greek fraternities and sororities and new student orientation. Kuretich served as his division's ambassador to several campus offices while supervising a staff of seven people and managing an operating budget of more than $1 million. He also spearheaded a comprehensive assessment plan for the Division of Student Services.
Kuretich maintained a wide range of campus involvement at Seton Hall, chairing the planning committee for the university's Sexual Assault Response Team and serving as an academic coach for students with academic difficulties. Other committees and groups he collaborated with included the university's Student Life Strategic Planning Committee, the Behavioral Intervention Team and Rape Aggression Defense.
He also worked to verify that the work of Seton Hall's Division of Student Services was compliant with federal regulations such as the Family Educational Rights and Privacy Act, the Campus Security Act, the Drug-Free Schools Act and Title IX.
Kuretich joined the Seton Hall staff in 2006 as its director for community standards, providing oversight for the university's student conduct process and managing its discipline records database. He was promoted to assistant dean of students in 2007 and assumed supervision of the coordinator of prevention initiatives, a position responsible for health education programming related to alcohol, drugs and mental wellness. In that role, he also took on the duties of coordinating student orientations and assisting a 45-student peer advisor program.
Kuretich launched his student affairs career in the residence life and housing sector. He worked at Montclair State University, first as a community director and later as an apartment complex director, from 2001 to 2006. He also taught a first-year student seminar there from 2001 to 2003.
He holds a bachelor's degree in communication and rhetoric and a master's degree in educational administration and policy studies, both from the University at Albany.
---
Faculty/Staff Activities
Carol Costell Corbin
Carol Costell Corbin, Advisement and Transition, was elected to the board of the New York State Transfer and Articulation Association (NYSTAA) as a four-year public school representative. Elections were held at the annual conference in Albany in May.
Robert Darling
Robert Darling, Geology Department, presented a paper titled "Zircon-adhering, Crystallized Melt Inclusions in Peritectic Garnet from the Western Adirondacks, New York State, USA" at the 23rd V. M. Goldschmidt Conference held in June in Montreal.
Emily Quinlan
Emily Quinlan, Advisement and Transition, was awarded for her blog, "Transfer Student Blog" at the New York State Transfer and Articulation Association (NYSTAA) conference in Albany in May. She received the NYSTAA STEP (Successful Transfer Enhancement Programs) Award.

Submit your faculty/staff activity