Multicultural Council Aligns with Campus Priorities
12/02/2010
As it moves forward with initiatives to improve the campus climate of diversity, the Multicultural Council now seeks volunteers to serve on committees.
"The Multicultural Council has been active in reviewing its mission, goals and structure over the last year to align with the College's new Strategic Plan," said Council Co-chair Mark Prus, provost and vice president for academic affairs.
The council, like the Middle States Self Study Committee, has adopted four major focus areas that are aligned with the College's Strategic Plan, which in turn models itself after "The Power of SUNY: Strategic Plan 2010 and Beyond." The SUNY plan embraces diversity as a core value and emphasizes it under every major area of opportunity and challenge.
"I expect that the Multicultural Council will continue to serve to coordinate the College's efforts to promote and pursue inclusive excellence spanning the entire campus," Prus continued.
The council features broad membership that includes representation from Academic Affairs, Student Affairs, Finance and Management, Institutional Advancement, the President's Office, other offices on an ad hoc basis, the student body and community members.
"The broad membership and committee structure was very intentional," said Council Co-chair Gregory Sharer, vice president for student affairs. "It mirrors the College's strategic priorities so that diversity is incorporated into all of our efforts, not seen as a peripheral concern. The council supports the College by infusing diversity and multiculturalism into all aspects of the College."
Two SUNY Cortland students unwind with their skateboards on a sunny fall afternoon.
The council has begun recruiting committee membership from across the entire campus and local Cortland community to address a number of specific areas:
Academic Excellence
This committee considers issues involving curriculum, faculty and staff development, student recruitment and retention, and student achievement, scholarships, awards and recognition.
Transformational Education
This committee focuses on community service and residential living both on- and off-campus, clubs and organizations, athletics, study abroad and civic engagement, service learning and volunteerism.
Well-being
Under the umbrella of this committee, topics to be addressed include student support services, community relations, faculty and staff recruitment and retention, and activities, programming and events.
Maximize Resources
Areas of consideration for this committee include institutional funding and support, grant writing, and committees.
The council recently completed its organizational tasks, having seen its mission statement, vision statement and goals endorsed by the President's Cabinet last spring, and on Nov. 2 approved its final committee structure, composition and numerical membership.
The council adopted the mission statement as follows: "The Multicultural Council promotes and sustains inclusive excellence by creating an environment where all are valued, and encouraged to develop their full potential and contribute to the success of the campus and community."
The council's vision statement is "to be recognized for educational leadership, service and citizenship by infusing justice, equity, diversity and respect throughout the campus."
Its goals, modeled after the American Association of Colleges and Universities, are as follows:
• To promote inclusiveness through academic excellence across the campus community.
• To improve the multicultural climate at SUNY Cortland and the Cortland community.
• To coordinate and collaborate on policies for diversity-related activities across campus.
• To ensure all forms of professional development are consistent with the mission of the council.
• To review, support and advocate for access to grievance structures related to the unfair and/or biased treatment based on, but not limited to, race, religion, ethnicity, gender, sexual orientation or disability.
At SUNY Cortland Commencement, wearing the Kente cloth is based on an African tradtion but honors the academic endeavors of all cultures.
• To provide leadership for an ongoing dialogue which values and acknowledges that learners have multiple identities where race and ethnicity intersect with gender, class, sexual orientation, national/regional origin, ability and religion.
The council was conceived in 2006 by Elizabeth Davis-Russell, the previous provost and vice president for academic affairs, and Raymond Franco, the previous vice president for student affairs. They elicited a consensus that the College's efforts toward diversity were diluted and ineffective as carried out by existing entities. Prus and Sharer later re-convened the council to further refine its goals and mission statement, council makeup and committee structure.
Members of the campus community are invited to join a Multicultural Council committee of their choosing. They can do so by contacting Academic Affairs at (607) 753-2207 or Student Affairs at (607) 753-2336.
College Among SUNY Leaders for Graduation Outcomes
01/31/2010
SUNY Cortland has emerged as a leader among its sister institutions for the rate by which its incoming freshmen earn a bachelor's degree.
Nearly seventy-seven percent of the students who entered in 2003 as freshmen earned their degree by Fall 2009. The 76.6 completion percentage ranks SUNY Cortland third among all SUNY campuses, trailing only SUNY Geneseo and Binghamton University, according to a Nov. 19 report shared recently by SUNY's Office of Institutional Research and Analysis.
"This important educational outcome reinforces that SUNY Cortland is on the right track," said Gradin Avery, the College's associate provost for enrollment management and marketing. "We realize that the percentage of students getting their degree and the success of students graduating are critical components of our mission."
Each campus' chief academic officer was presented with the findings in a report titled "Successful Educational Outcomes of First-time, Full-time Students." The report identifies the number of students who entered as first-time, full-time freshmen and remained enrolled until their degree was earned.
"Beyond the actual attainment of the degree, SUNY measured a variety of other factors," Avery said. "There are students from the 2003 entering class who remain enrolled at Cortland because they changed their status from fulltime to part-time or had to leave their studies for a period of time. SUNY refers to these students as persisters. Others have transferred to another SUNY or non-SUNY college to obtain their degree. SUNY refers to this overall continuation of the degree as the success rate."
The success rate of the students who entered SUNY Cortland as full-time students in Fall 2003 is 94.7 percent.
"In this category, no one in SUNY ranks higher than SUNY Cortland," Avery asserted. "These students either are working to obtain their degree elsewhere or are still working on their degree at SUNY Cortland."
Avery gives students credit for much of their own success rate.
"We're fortunate to be a very popular college," he said. "We attract successful students, which contributes to our high retention and completion rates, which then attracts more outstanding students. It's a wonderful cycle."
The College stabilized its enrollment in recent years, accepting 4,674 first-year students in 2005 and only slightly more, 5,151, in 2010. During the same timeframe, applications from prospective freshmen increased 25 percent, from 9,784 to 12,309.
The College's approach to improving graduation outcomes has included the following:
• Tracking and improving the availability of key courses necessary to complete graduation.
• Ensuring that financial resources are in place to keep students in college long enough to graduate, whether through private dollars for scholarships or financial aid planning.
• Planning for an adequate number of faculty members to teach the courses students will need to graduate.
• Scheduling the sequence of major course work so that enrolled students can remain on track.
• Coordinating with local and statewide school districts for students in the College's large teacher education population to have sufficient classroom experience in order to complete their teacher certification process.
---
Capture the Moment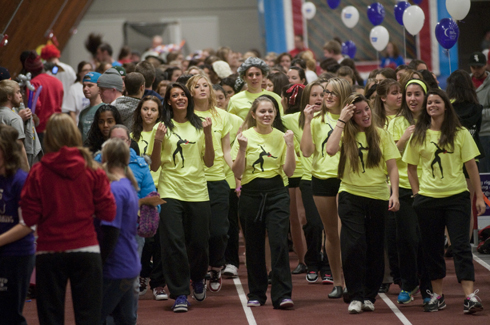 Participants walk the track during the Relay For Life event held Saturday night through Sunday morning at Lusk Field House. The relay attracted 76 teams who walked for 12 hours to raise money for cancer research, education and services. This is the sixth year SUNY Cortland has hosted the event.
---
In Other News
Lori Crandall Honored for Classified Service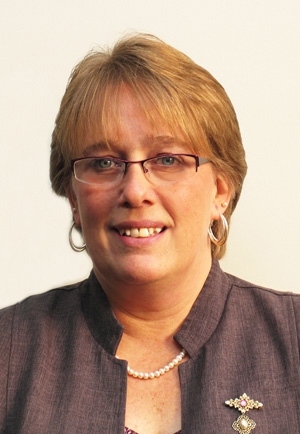 12/02/2010
Lori Crandall, the Secretary I for the Childhood/Early Childhood Education Department since 2002 and an effective and highly respected School of Education cornerstone for the past quarter-century, was named the recipient of the prestigious 2010 President's Award for Excellence in Classified Service.
SUNY Cortland President Erik J. Bitterbaum presented Crandall with the award on Dec. 3 at the 41st Annual Service Recognition Ceremony, sponsored by the SUNY Cortland Human Resources Office, in the Corey Union Function Room.
The award was created in 2002 to annually recognize one individual "for extraordinary achievement and to encourage the continuation of excellence." Nominees must be current SUNY Cortland full-time classified service employees with at least three years of continuous service. A supervisor, co-worker or other college community member may make nominations.
"Lori is simply outstanding at her job," wrote Associate Professor Andrea Lachance, citing the unanimous support for Crandall's nomination from the 17 full-time and 40 part-time members whom she serves of the Childhood/Early Childhood Education Department, the largest on campus with more than 1,000 majors.
"She does nearly every administrative task in our large department flawlessly — from building the course schedule to assisting faculty with book orders and reminding them to post grades, to helping prepare annual reports to advising students. Lori does it all and does it with professionalism, grace and compassion."
"She is the heart and personality of the Childhood/Early Childhood Education Department," added another faculty member, who compared Crandall to the character of Radar O'Reilly on TV's long-running series "M*A*S*H." "She has the uncanny ability to anticipate not only what needs to be done to accomplish cyclical duties to keep the largest department on campus running, but she also intuits the individual needs of every person in the department."
"She is there for all of us — faculty, student and support staff alike," added another faculty member. "She is the duct tape when we need patching, the Gorilla glue when we need to stick together and the inspiration when we need to be reminded tomorrow will be another day."
"Having worked in the department for over 25 years, Lori is both the department historian and archivist," added Lachance. "We rely on her to 'remember' what our policies are and how we did things previously. She knows our bylaws better than any of us, and she can put her hands on documents that most of us forgot ever existed.
"Lori is there to help solve problems — and she does so without judgment or complaint. As one longtime adjunct instructor says, 'She can be asked the same question over and over and she never makes you feel like you are an incompetent.'"
One of the veteran department members noted, "Lori is magically able to make you think that she has no other work to do than to help you. She always has time to thoroughly assist in whatever is needed and gives you her full attention. Never have I seen her act as though whatever is requested is a big strain on her already overcrowded agenda. I know that she stays extra so that all work can be done efficiently and on time, but that allows her to be of service to our department in that calm, sweet Lori way."
Growing up in East Homer, N.Y., Crandall attended Truxton School until it merged with the Homer School District. She graduated from Homer High School and attended Mohawk Valley Community College. She worked at A&W and as a secretary at Homer High School before joining SUNY Cortland as a typist in the Physical Plant on Nov. 21, 1983.
Crandall came to the Education Department as a stenographer in October 1984. In June 1987, she was promoted to senior stenographer and in November 1989 reclassified as a Secretary I. When the Education Department was divided into four separate departments in 2002, she took over her current position as the Childhood/Early Childhood Education Department secretary.
She and her husband, Louis, who retired from the College in 2001, reside in Freeville, N.Y. They enjoy camping and NASCAR racing.
"What makes Lori so effective is her devotion to the department and her caring for others," concluded one faculty member. "She once told me that she is constantly on her computer at home because she does not want to keep anyone waiting for an answer, especially if it's urgent. She rises above office politics and treats everyone as though they are deserving of the department's time. She 'walks the walk' with her belief that we are all in this together."
Students Earn Math and Science Scholarships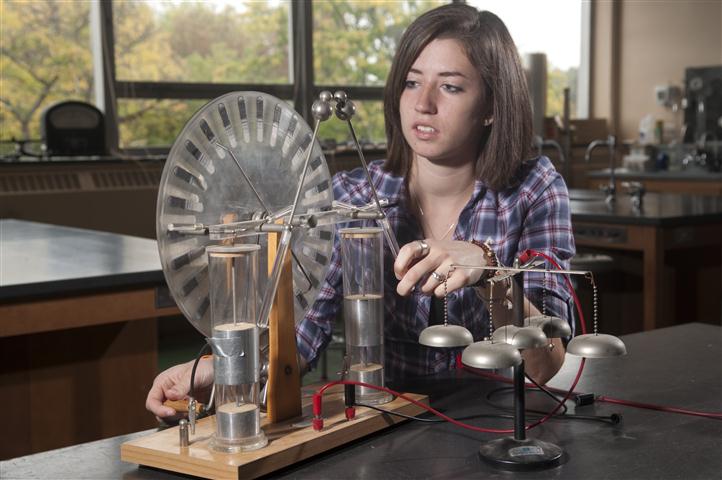 12/03/2010
When SUNY Cortland junior Margaret Murphy thinks about the scholarship that supports her and 16 other promising future math and science teachers who are mastering their skills, she recalls the high school science teacher who inspired her.
"I can remember this one experiment," said Murphy, an adolescence education: physics major from Oriskany, N.Y. "My teacher, Mrs. Mann, laid her body across a full bed of nails as another teacher placed a cement block on her stomach and then proceeded to hit it with a sledgehammer. My class sat there in awe; the concrete broke but my teacher didn't get hurt."
Murphy is a recipient of the Robert Noyce Teacher Scholarship, which encourages talented science, technology, engineering and mathematics (STEM) majors and professionals to become K-12 mathematics and science educators. The SUNY Cortland Noyce Scholarship Project is funded by a $900,000 five-year grant that the National Science Foundation awarded to the College in 2009-10.
The program will assist up to 50 students interested in teaching. The juniors and seniors who receive $12,500 and graduate students who receive $15,000 agree to teach for at least two years at a high-needs school. Three of the students were recipients of the prestigious scholarship last year as well, and therefore will accept an additional two-year commitment.
"Many of the high schools in my area are considered underprivileged because of the income of the area," said Murphy (shown in the photo on the upper left) who holds a 4.03 grade point average and is president of the Physics Club. "Now I'll be able to give back to a school like my own that taught me so much."
"The scholarship program responds to the critical need for highly qualified science and math educators with strong content knowledge," said Kerri Freese, the Noyce project coordinator at SUNY Cortland. "The money can help pay for any college-related expenses."
The grant's principal investigator is Gregory D. Phelan, associate professor and chair of the SUNY Cortland Chemistry Department.
Morgan Barnett, one of 17 Noyce Scholars announced this year, demonstrates a mathematics problem in the Moffett Center Mathematics Lab.
The scholarship allowed Morgan Barnett, a senior adolescence education: mathematics major from Endicott, N.Y., (shown on the right) to scale back her work shifts at Neubig Hall for the Auxiliary Services Corporation and off-campus at Friendly's.
"I'm still working but not nearly as much," said Barnett, who hopes to teach in an inner-city school. "I joined Math Club and my grades are better because I've had a lot of time to focus on my classes. The scholarship has made a big difference to me."
Beyond the financial incentive, SUNY Cortland's Noyce Steering Committee is developing a mentor program to connect outstanding teachers in high-need districts with Noyce Scholars. Funds are available to join professional societies and attend conferences and online resources are provided, such as the Noyce Scholars Facebook page, where scholars from around the country can interact.
This year's undergraduate recipients also include:
Carolyn Furlong of Binghamton N.Y., a junior majoring in adolescence education: earth science. She is the treasurer of the Geology Club and was awarded the W. Graham Heaslip Award, which is presented to the junior with the highest grade point average in the Geology Department as well as the James M. Clark Study Abroad Scholarship for studying abroad over summer 2010 in Shanghai, China.
Joseph Grace of Freeville, N.Y., a senior majoring in mathematics. He transferred to Cortland from SUNY Buffalo, where he received a B.A in classics and wants to pursue a career teaching high school math while coaching wrestling.
Jason Miedema of Port Jervis, N.Y., a junior majoring in adolescence education: mathematics. He transferred to SUNY Cortland from SUNY Orange, where he received an A.S in science. He is pursing a career teaching high school math.
Marjorie Pulver of Chittenango, N.Y., a senior majoring in biology. A member of the interdisciplinary honor society Phi Kappa Phi and the biology honor society Beta Beta Beta who has made the President's and Dean's Lists, Pulver is pursing a career in elementary education.
Alaina Repetto of Hopewell, N.Y., a junior majoring in adolescence education: earth science. She is president of Colleges Against Cancer, chair of the sixth annual Relay for Life and has made Dean's List.
Amy Sundheim of Hudson, N.Y., a senior majoring in adolescence education: biology. Sundheim transferred to SUNY Cortland from Columbia-Greene Community College where she received an associate's degree in adolescence education: biology.
Danielle Tutino of Pleasant Valley, N.Y., a senior majoring in adolescence education: biology. She is part of the Tau National Honor Society and has made the Dean's List. Tutino participates in intramural softball and volleyball.
Tonya Wilson of Jamesville, N.Y., a senior and non-traditional student who is majoring in adolescence education: mathematics. Wilson is minoring in Spanish and is pursuing a career teaching math in a junior or senior high school.
Four graduate recipients include:
Kathleen Boyce of Syracuse, N.Y., who is pursuing a master's degree in adolescence education: biology. She received a B.S in environmental and forest biology from the SUNY College of Environmental Science and Forestry. Boyce returns to school after five years working with the Wildlife Conservation Society at the Bronx and Brooklyn zoos as an animal keeper, training both sea lions and monkeys.
Morgan Nuessell of Gouverneur, N.Y., who is seeking a master's degree in adolescence education: biology. Nuessell currently holds a full-time teaching position. As part of a plant genome research project funded by the National Science Foundation, she presented research in the 2008 summer student symposium. She is part of the Tau Sigma Honor Society and the biology honor society Beta Beta Beta.
Robert Emery of Cortland, N.Y., who is pursuing a master's degree in adolescence education: mathematics. He has a B.A in mathematics from Bates College. After three years of taking at-risk youth on extended wilderness trips with Adirondack Leadership Expeditions, Emery returned to college to pursue a career working with adolescents in high need or adverse environments.
Gauri Kolhatker of Pune, India, currently residing in Ithaca, N.Y., who is pursuing a master's degree in adolescence education: mathematics. She holds a master's degree in mechanical engineering from Cornell University and returned to college after teaching English in Japan and working as a teaching assistant in the Ithaca School District.
Second year recipients are:
Sean Nolan of Brookhaven, N.Y., a senior majoring in adolescence education: mathematics and physics.
Karalyn Schoepfer of Bellmore, N.Y., a senior majoring in adolescence education: biology.
Jennifer Traxel of Clark Mills, N.Y., a graduate student pursuing a master's degree in adolescence education: chemistry. She was a senior adolescence education: chemistry major when she received her first Noyce scholarship.
The scholarship is named after the late Robert Noyce, the co-inventor of the integrated circuit or microchip, who co-founded Fairchild Semiconductor in 1957 and Intel in 1968.
For more information about the Noyce Scholarship, visit the website at www.cortland.edu/noyce or contact Freese at (607) 753-2913 or by e-mail at noyce@cortland.edu.
Relay For Life Raises $45,000 for Cancer Society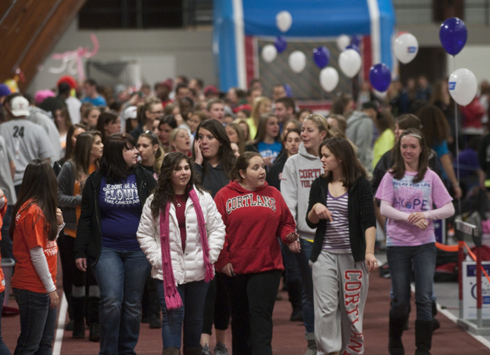 12/05/2010
About 1,000 students, faculty and staff members raised more than $45,000 for the American Cancer Society in the sixth annual SUNY Cortland Relay For Life on Saturday, Dec. 4, at the College's Lusk Field House.

This year's relay attracted 76 teams who walked laps for 12 hours in the field house located off Pashley Drive.

"Relay For Life was such a huge success," said event chair Alaina Repetto, a junior adolescence education: earth science major from Hopewell Junction, N.Y. "We met our goal of $35,000 the morning before the event and raised over $10,000 at the event, making our grand total more than $45,000. I'm so proud of my committee for all their hard work and dedication and the relayers for all their energy and heart at the event."
Building on the work of the past five events, a 23-member student committee and campus advisor Nanette Pasquarello, Judicial Affairs Office, began planning the relay in September.
"This event is another reminder of how talented SUNY Cortland students are," said Pasquarello. "The students from Colleges Against Cancer organized a very successful event that takes something as devastating as cancer and turns it into a life-affirming celebration to remember those who have lost the battle, support those undergoing treatment, and raise awareness. They are also demonstrating philanthropy on campus and in the broader community. I couldn't be prouder of a group of students."
The relay featured a variety of entertainment, including a touching performance by Cortland Dance Company during the Luminaria Ceremony, a pep rally by student dance groups and a performance by the Rock and Blues Ensemble. On-site fundraisers included a pie-in-the-face toss aimed at a clown, face painting, wheelchair races, a scavenger hunt, Zumba group exercise, cookie decorating and Mario Kart competitions. Also, teams sold items, snacks and beverages.
Relays For Life are held on college campuses nationwide to raise money for cancer research, education and services. Donations may still be made to SUNY Cortland's Relay For Life until Wednesday, Aug. 31, through its website at www.relayforlife.org/sunycortland or by mailing donations to the American Cancer Society, 13 Beech Street, Johnson City, N.Y. 13790, Attn: SUNY Cortland RFL.
For more information about the Relay For Life, contact Cathy Smith in the Health Promotion Office at (607) 753-2066.
Campus Wins Cortaca Climate Challenge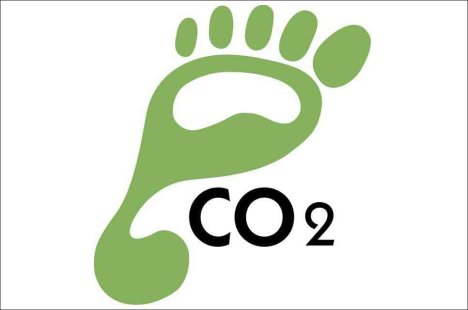 12/03/2010
Members of the SUNY Cortland and Ithaca College campus communities used Cortaca Jug, the 52-year legendary football competition between the two colleges, to compare the environmental impact of both campuses in a contest called the Cortaca Climate Challenge.
By the time the Red Dragons and the Bombers had finished their game on Nov. 13 at Cortland's Stadium Complex, 333 SUNY Cortland students, faculty, staff and community members who were recruited since the start of the semester had participated in the educational exercise of measuring their overconsumption of the earths resources.
The Ithaca College community encountered difficulty with its web signup process and graciously conceded the victory to Cortland on game day. Yet participants from both campuses gained a lesson from the friendly, online competition involving individual pledges to reduce one's carbon footprint.
"These outstanding results demonstrate our campus community's commitment to sustainability," said Jeremy Zhe-Heimerman, a Student Disability Services staff member.
The SUNY Cortland community agreed to reduce its carbon footprint by a collective 1.2 percent or more, saving 244,415 pounds of CO2, he said.
"Not only was this enough to win the Challenge, but it would have placed SUNY Cortland in the top 10 of last year's America's Greenest Campus Contest," Zhe-Heimerman stated.
In honor of SUNY Cortland's victory, a native hardwood tree is being donated to the campus by RPM Ecosystems of Dryden, N.Y.
Shea and Higgins ranked as top residence halls. The Environmental Science Club was named the top Student Government Association (SGA) club. The Residence Life and Housing Office was awarded coffee and donuts as the top college office. Nina Tice, a sophomore majoring in psychology, was selected at random among all participants to win an iPod Touch.
At SUNY Cortland, the Student Affairs Sustainability Committee presented the contest. Students serving as campus Green Reps organized the greatest number of students to join the challenge. Other major contributors included the Student Affairs Sustainability Committee, Physical Plant, SGA, Environmental Science Club, Residence Life and Housing Office and New York Public Interest Research Group.
For more information, visit www2.cortland.edu/about/sustainability/ccc/ or contact Zhe-Heimerman at (607) 753-2358.
Connecting Rural Schools Topic of Dec. 10 Conference
Eighty teachers and administrators from 16 rural schools and College faculty are invited to participate in an interactive conference about 21st century skills on Friday, Dec. 10.
Participants will learn about and discuss the unique challenges that rural schools face in the current fast-changing environment from 8:30 a.m.-3:15 p.m. in Corey Union. It is sponsored by the Cortland Regional Professional Development School, Onondaga-Cortland-Madison BOCES and Tompkins-Seneca-Tioga BOCES.
Concurrent, interactive breakout sessions will address a variety of topics and innovative teaching/learning methods and resources available to educators in order to better prepare secondary students for college, careers and citizenship in the 21st century.
Building connections among attendees and sustaining them through social media is a major focus of the conference. Participants will have the opportunity to network with other rural school administrators, technology teachers and classroom teachers from multiple disciplines. SUNY Cortland teacher education students will showcase Web 2.0 exhibits during the lunch hour.
Presenters and workshop facilitators are from Onondaga-Cortland-Madison BOCES, the Rural Schools Association, SUNY Cortland and the following school districts: Dryden, Groton, Homer, Lafayette, South Seneca and Tully.
For more information, contact Karen Seibert in the Center for Educational Exchange.
Moot Court Competition Draws Ten from SUNY Cortland
Ten students represented SUNY Cortland at the Eastern Regional Moot Court competition held Nov. 19-20 at Fitchburg State University in Massachusetts. Two of the College's two-person teams made it to the round of 16 people before being eliminated.
A total of 40 teams responded to questions concerning the commerce clause and a federal law requiring an individual mandate for health insurance and the constitutionality of a state law banning same-sex marriage under the Fourteenth Amendment Equal Protection and Due Process Clauses.
"Our teams performed well at the competition and we improved on our standings from last year," said team advisor Christopher Latimer, an assistant professor of political science and pre-law advisor and the associate director of the Institute for Civic Engagement.
Three of the five teams made it through to the second day of competition. Senior Danielle Singer received a special award for being the sixth best individual competitor at the event. In addition, the teams of Singer and Shea Tilton and Trevor Curry and Michelle Schnirel earned enough points to be considered for a wild card to the moot court nationals, which will be held in Louisiana in January.
Latimer instructed the moot court class that was offered during the fall semester. The class will be offered each fall and is open to any major at SUNY Cortland.
Cortland sent five teams including: Singer and Tilton; Curry and Schnirel; Grace Mellen and Kyle Martin; Michelle Witowski and Sandra Erickson; and Liz Polonski and Tricia Collado.
The competition included teams of two from SUNY Albany, Syracuse University, the College of the Holy Cross, Merrimack College, Fitchburg State University, Patrick Henry College, Princeton University, Bridgewater State University, Bentley College and College of New Jersey.
SUNY Cortland teams received financial support from: the President's Office; Nanette Pasquarello, director of judicial affairs; Bruce Mattingly, dean of arts and sciences; Amy Henderson-Harr, assistant vice president of research and sponsored programs; the Political Science Department; the Political Science Association; and a grant from the Faculty Development Committee.
Faculty and Staff A-Z Directory List Available on Website
The Directory Search page on the College website now includes a Faculty and Staff A-Z List in addition to the Campus Directory PDF.

Now faculty and staff can be looked up alphabetically. A PDF of each A-Z page also can be saved for future reference.

Each employee is asked to review their directory information to ensure that it is correct. The directory includes name, title, department, phone number, office location and e-mail address.

Please note that the phone number chosen for the directory listing will be accessible by the public on www.cortland.edu. Home addresses and/or telephone numbers are not listed in the online directory.

State employees should check and update their information as follows:
Log in to myRedDragon
Select the Faculty/Staff tab
In the Important Links box, select My Directory Information
Review and update, if needed, the information shown

Problems accessing directory information or myRedDragon should be reported to The Help Center by e-mail or by phone at (607) 753-2500.

Research Foundation employees should submit changes to Brent Danega in the Human Resources Office by e-mail or by phone at (607) 753-2414.

ASC employees should submit directory changes to ASC Human Resources Specialist Sue Michales by e-mail or by phone at (607) 753-4751.
UUP Musical Spoofs 'Star Wars'
The United University Professions (UUP) Holiday Party will be held from 4-7 p.m. on Friday, Dec. 10, in the Corey Union Function Room. The party, open to all UUP bargaining unit members, will feature food, drink and fellowship. UUP will recognize retiring colleagues at 5 p.m.
Beginning at 5:30 p.m., the annual musical spoof titled "SUNY WARS (Episode 29) The Empire State Strikes Back," will be performed. The "intergalactic operetta" is inspired by the popular "Star Wars" films. The script and lyrics are by Thomas Hischak, Performing Arts Department, and his son Mark. Featuring music by Victor Herbert, Sigmund Romberg and Rudolf Friml, musical direction is provided by Donna Anderson, professor emeritus of performing arts.
This year's cast includes faculty/staff members Judy Van Buskirk, Girish Bhat, William Sharp, Jeffrey Walkuski, Karen Zimmerman, Robert Spitzer, Sharon Steadman, Colleen Buchanan, Nancy Kane, Mark Cerosaletti, Donna Margine, Dawn Van Hall, Cindy Benton, Chris Xenakis, and Jo Schaffer.
For more information, contact the UUP Office at (607) 753-5991.
Faculty Offered Globally Networked Learning Grant Opportunity
Faculty interested in developing an online international component in their courses, or an entire online course in collaboration with an international colleague, can apply for funding through Monday, Jan. 11.
The Center of Collaborative Online International Learning (COIL) at the SUNY Global Center in New York City is offering grants to encourage internationalization of the curriculum, support exciting approaches to teaching, and expand students' global perspectives through innovative faculty initiatives.
In addition to the grant stipend, recipients can receive support to develop their collaborative online international learning project from the COIL Center.
The application is brief. For more information and to receive an application, contact SUNY Cortland's COIL liaison Craig Little, Sociology/Anthropology Department.
ASC Program Grant Applications Due Feb. 18
Auxiliary Services Corporation (ASC) is now accepting Program Grant applications for the 2011-12 academic year. Application packages may be downloaded at www.cortlandasc.com/general/forms.cfm, may be picked up at the Auxiliary Services Office in Winchell Hall or e-mailed by contacting Annette O'Hara at (607) 753-4325.
Applications must be submitted by 4 p.m., Friday, Feb. 18, at the ASC Office.
Each year the ASC Board of Directors allocates funds to support grants for a wide range of purposes and projects that enhance the life of the SUNY Cortland College community.
Although ASC is willing to consider a wide range of ideas, it seeks to avoid duplicating other funding sources or funding projects more properly supported by state funds. Therefore, applicants should first seek funding from primary funding sources. Other grant guidelines are described in the application package.
For more information about the application process, contact Jeffrey Johnson, at (607) 753-5668.

Suggest a feature story
---
People on the Move
Ellen Jampole Retires from Literacy Department
12/01/2010
Ellen S. Jampole of Cortland, N.Y., who has served SUNY Cortland for 20 years, will retire on Dec. 31. She has been designated professor emerita of literacy.
Jampole, who received the State University of New York Chancellor's Award for Excellence in Faculty Service in 2008, joined the College faculty as an assistant professor in 1990. In 1996, she was promoted to associate professor and, in 2002, to professor.
She served as assistant chair for the Education Department from 2001-02, assistant director or interim director of graduate studies from 2002-04 and acting Literacy Department chair during the Spring 2007 semester.
Jampole played an integral role as a member of SUNY Cortland's National Council for Accreditation of Teacher Education (NCATE) Executive Board during the three years preceding the last major accreditation review. She has been a member of the Teacher Education Committee since its inception in the late 1990s. A past member of the Faculty Senate, Jampole co-chaired the Senate's Committee on Committees. In addition, she has served on and chaired the Graduate Faculty Executive Committee, the School of Education Personnel Committee, as well as many other committees.
Jampole has presented at the International Conference on Education as well as the International World Congress and the Conference on the Book. Throughout her professional career, she has been an active member of professional organizations, including the International Reading Association, National Council of Teachers of English and the Foxfire National Organization.
A strong advocate of international education, Jampole also was active on several international committees at SUNY Cortland, and has served as the international coordinator for her department. She taught at the University of Ballarat, in Ballarat, Australia, on sabbatical during the Spring 2008 semester.
She has written 44 peer-reviewed articles and editorial essays appearing in publications including the Journal of Creative Behavior, Reading News — CRA and Journal of Reading Education.
Jampole earned the Chancellor's Award for providing outstanding leadership and service to SUNY Cortland as well as to the field of literacy education. In 2010, she received the Albert J. Mazurkiewicz ALER Special Services Award from the Association of Literacy Educators and Researchers, formerly the College Reading Association, an international organization founded by and for literacy experts in 1958. Jampole joined their Board of Directors in 1992. She chaired the CRA's 50th annual meeting in 2005 and was president in 2006. She currently fulfills the duties of the organization's historian.
She was editor of the newsletter Literacy News (formerly Reading News) for nine years, and serves as a program reviewer and is on the editorial board for the College Reading Association Yearbook as well as the journal Literacy and Research Instruction.
Jampole also currently serves on the International Reading Association's Intellectual Freedom Committee. For two years, she was co-editor of the Language and Literacy Spectrum, the journal of the New York State Reading Association.
Jampole earned a B.S. in English/secondary education and an M.A. in reading from Appalachian State University. She received a Ph.D. in curriculum and instruction with a focus on reading from Louisiana State University.
She and her husband, Dan, will move to Myrtle Beach, S.C. They have two grown children, Katherine Jampole and Michael Jampole.
Peter Koryzno Retires After 29 Years of Service
12/02/2010
Peter D. Koryzno, director of public relations, will officially retire from SUNY Cortland on Dec. 31, after 29 years of service to the College. He will earn the designation of public relations director emeritus.
The Muskegon, Mich., native earned a bachelor's degree in journalism from Marquette University, studied at the Loyola (Ill.) Rome Center in Italy, and did graduate work in journalism at Louisiana State University as the recipient of the Walter Hitesman Scholarship and the John F. Kierzkowski Scholarship.
He began his career in 1979 as editor of the Ticonderoga (N.Y.) Sentinel, the then-largest weekly newspaper in northern New York, and covered the 1980 Winter Olympics in Lake Placid.
Koryzno joined SUNY Cortland in 1981 as sports information director in charge of publicizing its 28 men's and women's intercollegiate teams. He helped to organize a number of NCAA Division III Championships on campus, including the first offered in women's soccer in 1986.
In 1983, he created and coordinated the Upstate New York Weekly Div. III Football Poll and Statistical Report that continued for two decades. In 1990, he helped to design a comprehensive NCAA Div. III Football All-America Team selection format and then served as the East Region chair on the national selection committee for many years.
The State University of New York Athletic Conference (SUNYAC) publicist from 1987-89, Koryzno was a 29-year member of the College Sports Information Directors of America (CoSIDA), serving on its inaugural Computer Committee in the 1980s and on its Special Awards Committee for more than a decade.
He worked in the Empire State Games media center from 1985-94 and was on the organizing committee for the New York State Senior Games in 1983.
Koryzno became the news services director at SUNY Cortland in 1992 before assuming the duties of the public relations director in 1998, while continuing to supervise the sports information operation. He concurrently handled the duties of the College's records access officer and government relations liaison, while also serving on the College's crisis management, marketing and Web advisory teams. Over the years, he served on more than 30 College and community committees and various boards, including the Cortland County Chamber of Commerce.
As a C-Club Committee member, he produced all 30 Hall of Fame Banquet programs and wrote the nearly 200 C-Club Hall of Fame biographies since 1981. He created the C-Club Hall of Fame Room timeline and assisted in planning the C-Club 25th Anniversary in 1993.
Koryzno has played a part in all the significant campus events during his tenure, including the SUNY Cortland 125th Anniversary in 1993-94, the Outdoor Education Center 50th Anniversary in 1997-98, and every facility groundbreaking and dedication. He wrote a history of Cortland football for its centennial celebration in 1993. Since 1996, he has served on the College-Community Appreciation Award Committee and has coordinated the annual banquet for the honorees. He was part of the SUNY Cortland Stadium Complex Organizing Committee and assisted in the press box design planning.
Koryzno chaired the SUNY Cortland Organizing Committee for the 25th Empire State Games, co-hosted in 2002 by Cortland and Syracuse. The successful town-gown event led to the formation of the Cortland Regional Sports Council, which he helped to create and then served as its vice chair. The council has brought millions of sports-related and tourism dollars into Cortland County since its inception.
As a member of the O'Heron Newman Foundation, Koryzno created and coordinated the annual O'Heron Invitational Basketball Tournament, which brought local high school boys' and girls' basketball teams and their fans into Corey Gymnasium every Thanksgiving weekend between 2000-09. The popular event raised nearly $20,000 for a scholarship in Rev. Edward J. O'Heron's name that is presented annually to a SUNY Cortland English major active in the community.
Since 1988, Koryzno has provided the institutional voice to the College's 60,000 graduates living worldwide as editor of Columns, the College's alumni publication. He also edited Moments, the SUNY Cortland alumni electronic newsletter launched in 2009. Since the mid-1990s, he has edited both the Annual Report of the President and the Annual Report of the College Foundation. In 2009, he assumed oversight of the Bulletin, the College's internal communications vehicle, when the publication changed to an online format.
Koryzno oversaw the production of several SUNY Cortland films, including the 1998 admissions video, the 2001 capital campaign video and a 2002 video that celebrated the life of legendary coach Carl "Chugger" Davis.
He served on the State University of New York Council for University Advancement (SUNYCUAD) Board of Directors and presided over its two largest-attended annual educational conferences. In 2002, he created and organized the SUNYCUAD Hall of Fame to celebrate the group's 50th anniversary, during which 50 inaugural inductees were recognized at a gala event in Saratoga Springs attended by the SUNY chancellor.
A recipient of the 2003 SUNY Chancellor's Award for Excellence in Professional Service, Koryzno was inducted into the Hall of Fame for both the SUNY Cortland C-Club in 1996 and SUNYCUAD in 2007. He received the Irving T. Marsh Award for excellence in the field of sports information from the Eastern Collegiate Athletic Conference Sports Information Directors Association (ECAC-SIDA) in 1996. Koryzno was the first recipient of the Fraser Stokes Award "for outstanding service to SUNY Cortland athletics" in 1988.
He will reside in Muskegon, Mich.
Professor of History William Sharp Retires
12/01/2010
William Sharp, who served SUNY Cortland for 16 years as a senior administrator and teacher, will retire on Dec. 31, 2010. He has been designated professor emeritus of history.
Sharp joined the College in 1994 as a professor of history and provost and vice president for academic affairs. He served for seven years before returning to the classroom in the College's History Department.
As provost, he oversaw all academic programs and faculty personnel matters. He played a key role as the College underwent its 10-year review by the Middle States Commission on Higher Education. During his term as second-in-command, he was instrumental in capturing a $1.75 million, five-year grant from the U.S. Department of Education for the project aimed at strengthening the School of Arts and Sciences programs. He shepherded through to approval many new and revised degree programs.
Prior to joining Cortland, Sharp was dean of Temple University's Japan Campus in Tokyo, with its 2,250 students and 160 faculty members from 1988-94. He opened the campus and served as its first director from 1982-85. Between those two appointments, he directed Temple's Institute for Languages and International Studies in Philadelphia and also served as associate dean in the College of Arts and Sciences.
Sharp joined Temple's History Department faculty in 1969, teaching courses in Latin American history and helped develop curricula in Latin American Studies, Black History, and Asian Studies. Sharp also directed the Honors Program for the College of Arts and Sciences.
Before joining Temple, he was a visiting associate professor of history at Bryn Mawr College in Pennsylvania, and was an instructor of English as a Foreign Language at Centro Colombo/Americano in Bogota, Columbia.
A native of Minneapolis, Minn., Sharp earned a bachelor's degree in American history from Stanford University and served two years in Colombia with the Peace Corps.
He received master's and doctoral degrees in Latin American history from the University of North Carolina at Chapel Hill. While studying for a doctorate, he minored in American history and political science.
A past president of the Northeast Region National Collegiate Honors Council, he was chair of the American Association of Colleges and Universities in Japan for many years, often representing American universities in Japan's educational, business and governmental circles. He was a past president of the Temple University Chapter of the American Association of University Professors.
A past member of Rotary International, Sharp served on the boards of Cortland Repertory Theater and the Cortland Country Club as vice president and, until recently, as chair of the Cortland/Tompkins County Habitat for Humanity.
He and his wife, Elizabeth Sharp, live in Cortland and plan to remain actively involved in the local community, where Liz served as president of the YWCA Board of Directors and on the board of the Lime Hollow Center for Environment and Culture. They have three grown children, Michael Sharp, Christopher Sharp and Heather Sharp; and four grandchildren.
---
Faculty/Staff Activities
Marley Barduhn
Marley Barduhn, Academic Affairs, has received $219,372 from the New York State Education Department for her project titled "Liberty Partnerships Program 2010-2011" for the period Sept. 1, 2010 through Aug. 31, 2011.
Andrea M. Lachance
Andrea M. Lachance, Childhood/Early Childhood Education Department, has received $188,863 from the New York State Education Department for her project titled "Teacher/Leader Quality Partnerships Program" for the period Sept. 1, 2010 through Aug. 31, 2011.
Christopher Latimer and Richard Kendrick
Christopher Latimer, Institute for Civic Engagement and Political Science Department, and Richard Kendrick, Institute for Civic Engagement and Sociology/Anthropology Department, had a book chapter accepted for publication in E-Governance and Civic Engagement: Factors and Determinants of E-Democracy. The chapter is titled "How Young People Are Using Communication Technologies as Platforms and Pathways to Engagement: What the Research Tells Us?"
Jean LeLoup
Jean LeLoup, professor emerita of Spanish, presented in a session titled "Gateways to Jobs in Higher Education" at the American Council on the Teaching of Foreign Languages annual convention held Nov. 19-20 in Boston, Mass.
Catherine Porter Lewis
Catherine Porter Lewis, professor emerita of French, recently had her translation of Avital Ronell's "Fighting Theory: In Conversation with Anne Dufourmantelle," published by Illinois University Press. Her 2009 Presidential Address, "English Is Not Enough," appeared in Publications of the Modern Language Association (PMLA), volume 125.3. Her translation of an article by Abdelkebir Khatibi, "The Language of the Other: Testimonial Exercises," was included in PMLA, volume 125.4. Her article "Translation as Scholarship" was published in the Association of Departments of Foreign Language Bulletin, volume 41.2.
Porter Lewis has also presented several papers in recent months: "Translation in the Curriculum," at the Association of Departments of English (ADE) Seminar West held June 23 at Pomona College in Claremont, Calif.; "A Translator's Statement," at the Shifting Paradigms colloquium held Oct. 24 at the University of Illinois in Urbana-Champaign; "High School-College Collaborations: The SUNY Cortland Model," at a Modern Language Association (MLA) session at the American Council on the Teaching of Foreign Languages (ACTFL) annual convention held Nov. 19 in Boston, Mass.; "Forging Alliances," the keynote address at the National Network for Early Language Learning session keynote address at the Nov. 20 ACTFL convention; and "Translation in the Modern Language Curriculum," at another MLA session at the Nov. 20 ACTFL convention.
Robert Ponterio
Robert Ponterio, Modern Languages Department, was invited to present a 90-minute immersion workshop, "Cinéma et Vidéo: Langue et Culture Authentiques en Classe," at the Central New York chapter of the American Association of Teachers of French meeting held at LeMoyne College on Oct. 30. The workshop focused on methods of using French cinema and various sources of online video, such as news reports, in the French classroom for teaching language and culture. Features of new tools for downloading and playing video were also demonstrated.
Susan Rayl
Susan Rayl, Kinesiology Department, participated on a panel discussing the early history of African American involvement in basketball at "The Emergence and Legacy of Black Basketball" national conference. The event was jointly hosted Nov. 12-13 by the Smithsonian Museum of American History and Howard University in Washington, D.C.

Submit your faculty/staff activity