Association Names Distinguished Alumni
06/07/2011
The SUNY Cortland Alumni Association will present its most prestigious honor, the Distinguished Alumni Award, to two graduates and an honorary recipient on Saturday, July 16, during the Alumni Reunion Weekend luncheon in Corey Union.
The 2011 Distinguished Alumni Award recipients are Gilbert Brown '51, who served as president of the Association for the Advancement of International Education (AAIE) and the Association of American Schools in South America (AASSA), and Robert Wallace '53, the former baseball coach at SUNY Cortland after whom the College's baseball field is named.
The Honorary Alumnus Award will recognize Peter Koryzno, public relations director emeritus and 29-year employee of the College.
Since 1968, 111 SUNY Cortland graduates, including this year's honorees, have received the Distinguished Alumni Award for their career accomplishments and outstanding service to their community and alma mater. In addition, 19 alumni have been recognized with Distinguished Young Alumni awards and seven, including Koryzno, have been named Honorary Alumni.
Gilbert Brown '51
To say Gilbert Brown left his mark on students and educators around the world would be an understatement.
The Long Island native, shown upper left, spent a majority of his career in Brazil, where he served as headmaster of the American School of Rio de Janeiro from 1963 to 1987. He also led the Lincoln School in San Jose, Costa Rica as director general from 1989 to 1993.
All told, he spent 48 years in overseas education.
"Gilbert Brown is the consummate educator," wrote John Ketterer, associate professor in the College of Education at Jacksonville State University. "In his unique career, he has integrated the qualities of a productive scholar with those of a highly skilled school administrator."
Brown, who received his bachelor's degree in education from SUNY Cortland, earned his master's degree and doctorate in educational administration from Columbia University.
He taught in New York and served as an assistant principal in Connecticut before his service in South America.
"The schools in Rio and Costa Rica served as showplaces for educators in local schools of all that was admirable and achievable in the values and philosophy of American public education," Brown wrote.
After his retirement in 1993, Brown consulted with more than 90 developing international school boards in Africa, Asia, Europe and South America. He worked with the U.S. Department of State as a consultant from 2005 to 2008.
"I dedicated myself to help international school boards and those of international service organizations to become more effective and focused on their obligations to exemplify democratic values in their schools and organizational programs," Brown wrote.
In addition to dozens of journal articles, Brown has authored seven books related to professional education, most recently the 2006 book, Crucibles of Democracy: The American International Schools and the Globalization of Democratic Values (Bloomington, Ind.: Phi Delta Kappa International).
From 2003 to 2010, he was editor of InterED, the journal of the AAIE. He currently serves as the journal's editor emeritus and frequently contributes articles related to international education.
Brown taught in higher education at the Foreign Service Institute in Brazil, Western Michigan University, the University of Florida and Memphis State University.
"My community has been the world," Brown wrote.
The State Assembly named him Honorary Citizen of the State of Rio de Janeiro in 1983 and the Association of American Schools in South America awarded him Educator of the Year in 2008.
Geri de Souza, a high school English teacher who worked under Brown at the American School of Rio de Janeiro, called Brown's leadership "life-changing."
"He was highly respected by his staff and knew each and every one of us not only by name but by background as well," Souza wrote. "He fostered this closeness to staff so that our school was a close-knit family."
Brown's wife, Shirley Haft Brown '51, submitted his nomination for the award. The couple, married for 62 years, will celebrate the class' 60th reunion at SUNY Cortland this summer.
"We, all of us, alumni and students, owe the College more than can be repaid," Gilbert Brown wrote. "What it has done for me, and for Shirley, is far beyond our reach to compensate in either word or deed."
Robert Wallace '53
Robert Wallace has more than a baseball field in his honor. The former SUNY Cortland faculty member and coach has hundreds of former students scattered across the country that he reaches regularly through email.
"I feel like I am one of Bob's children, even though he and his wife, Sally, didn't have any of their own," wrote James Sellars '59. "I am sure if you were to poll his ex-players, they would agree with me. He, to this day, is in contact with us all."
| | |
| --- | --- |
| | |
| Robert Wallace '53 | |
Wallace initiated the Baseball Alumni Weekend during his tenure as the College's baseball coach, a highly anticipated tradition that returns for its 36th edition this year. Former players come from as far away as California to attend the annual get-together.
"His email list, his annual Baseball Alumni Weekend reunion and his attendance at alumni functions around the country have enabled graduates to keep their Cortland memories alive," wrote the anonymous person who nominated Wallace for the Distinguished Alumni Award.
Prior to attending SUNY Cortland, Wallace resided in Syracuse and served in the U.S. Navy in 1945 and 1946. He taught physical education and coached four sports at Painted Post High School from 1953 until 1956.
He came to SUNY Cortland in 1956 and served as a member of the Physical Education Department faculty until his retirement in 1985, when he was designated assistant professor emeritus of physical education.
"The College provided me with the skills, both academic and athletic, to enjoy what is considered to be a very successful career in teaching and coaching," Wallace wrote. "I can truthfully say that I have enjoyed every day of this association."
Wallace coached four sports during his SUNY Cortland tenure: baseball for 25 years; football for 19 years; basketball for three years; and softball for two years.
A four-time SUNYAC Baseball Coach of the Year, his teams won 10 SUNY Athletic Conference Championships and two Eastern Collegiate Athletic Conference Championships in baseball. He won the New York State Tournament and advanced to the Division III College Softball World Series in his second year as softball coach.
Perhaps the greatest statistic tied to Wallace's career is the graduation rate of his baseball players.
"In 25 years, we didn't have one baseball player who flunked out of school," he said. "Not too many schools can make such a claim."
Wallace was inducted into the C-Club Hall of Fame in 1979 for his contributions to SUNY Cortland athletics. In 1996, with the approval of the SUNY Board of Trustees, the College held a ceremony to name its baseball field in Wallace's honor.
"I probably played for dozens of coaches during my baseball career but I never had one I liked and respected as I did Bob Wallace," wrote James Spadinger '63. "He was a fierce competitor and we fielded superior teams during all of my years there, but he also loved the game, treated us respectfully and fostered the same kind of respect for opponents, officials and the game itself."
In 2003, the SUNY Cortland Alumni Association acknowledged his many contributions to alumni and the College with an "Outstanding Volunteer of the Year Award."
Following his retirement, Wallace and his late wife, Sally Yaeger Wallace '53, traveled across the country as alumni ambassadors for the College.
"Bob Wallace brought so much more to the table than athletic or coaching ability," wrote Spadinger. "He seemed to be the essence of the family spirit that made Cortland so special."
Peter Koryzno
The Awards Committee unanimously selected Peter Koryzno to receive an Honorary Alumnus Award, recognizing him for the volume and quality of the articles his department produced and for "always highlighting SUNY Cortland alumni in the best light."
Highly regarded as the College's institutional voice during his tenure, Koryzno oversaw a transformative era of communication at SUNY Cortland.
| | |
| --- | --- |
| | |
| Peter Koryzno | |
The former director of public relations retired Dec. 31.
Since 1988, Koryzno edited Columns, the College's award-winning alumni publication available to the more than 62,000 graduates living worldwide.
As public relations director, he guided four other publications: the Annual Report of the President and the Annual Report of the College Foundation since the mid-1990s; Moments, the SUNY Cortland alumni electronic newsletter launched in 2009; and the Bulletin, the College's internal communications vehicle that switched to an online format in 2009.
Koryzno arrived at SUNY Cortland in 1981 as sports information director in charge of publicizing its 28 men's and women's intercollegiate teams. The 29-year member of the College Sports Information Directors of America (CoSIDA) proved vital to the development of the C-Club Hall of Fame, producing all 30 banquet programs and writing nearly 200 biographies since 1981.
He became the news services director at SUNY Cortland in 1992 before taking over as public relations director in 1998, while continuing to oversee the Sports Information Office.
He concurrently handled the duties of the College's records access officer and government relations liaison while serving on the College's crisis management, marketing and Web advisory teams.
Over the years, Koryzno was on more than 30 College and community committees and various boards, including the Cortland County Chamber of Commerce.
Koryzno contributed to all of the significant campus events during his tenure, including the SUNY Cortland 125th Anniversary in 1993-94, the Outdoor Education Center 50th Anniversary in 1997-98 and every facility groundbreaking and dedication. He was part of the SUNY Cortland Stadium Complex Organizing Committee and assisted in the press box design planning.
As a member of the O'Heron Newman Foundation, Koryzno created and coordinated the annual O'Heron Invitational Basketball Tournament, which brought local high school teams and their fans into Corey Gymnasium every Thanksgiving weekend between 2000-08. The popular event raised nearly $20,000 for a scholarship in Rev. Edward J. O'Heron's name.
Koryzno served on the State University of New York Council for University Advancement (SUNYCUAD) Board of Directors and presided over its two largest-attended annual educational conferences. In 2002, he created and organized the SUNYCUAD Hall of Fame to celebrate the group's 50th anniversary.
A recipient of the 2003 SUNY Chancellor's Award for Excellence in Professional Service, Koryzno was inducted into the Hall of Fame for both the SUNY Cortland C-Club in 1996 and SUNYCUAD in 2007.
He received the Irving T. Marsh Award for excellence in the field of sports information from the Eastern Collegiate Athletic Conference Sports Information Directors Association (ECAC-SIDA) in 1996. Koryzno was the first recipient of the Fraser Stokes Award "for outstanding service to SUNY Cortland athletics" in 1988.
Alumni Reunion 2011 Set for July 14-17
06/13/2011
Nearly 600 alumni and friends are expected to enjoy class get-togethers, parties and other activities on campus July 14-17 during Alumni Reunion 2011.
"We are excited to offer new activities," said Erin Boylan, associate director of alumni affairs. "Several alumni have stepped forward to offer classes on Saturday morning and the YMCA has graciously allowed us to participate in their 5K run. In addition, we have revamped the traditional Alumni Association Fundraiser Golf Tournament to include more prizes, team photos, side games and more sponsorship opportunities."
Reunion opens Thursday, July 14, for the Class of 1956 with a pizza party at the Lynne Parks '68 SUNY Cortland Alumni House. The other reunion classes will begin gathering on Friday, July 16, starting with a golf tournament held at Walden Oaks Country Club Golf Course. The featured sorority, Alpha Kappa Phi/Agonian, Sigma Sigma Sigma, Sigma Rho Sigma, and the Classes of 1951, 1956 and 1961 can enjoy a boat cruise on one of the Finger Lakes.
Also on Friday afternoon, the SUNY Cortland Alumni Association, the Cortland College Foundation and President Erik J. Bitterbaum will host a special reception for the Reunion Committee members at Main Street SUNY Cortland. The Class of 1961 will celebrate their 50th reunion with a dinner held at the Alumni House. The featured fraternity, Lambda Phi Delta, and featured affinity, College Singers led by Dr. Guy Webb, will begin their weekend with welcome parties. Friday's activities culminate with a reunion party at the Alumni House.
Saturday's events include campus tours, a hike of Hoxie Gorge, classes offered by alumni for alumni, tours of the Alumni House and photographs. Participants include the Half Century Club, comprised of everyone who graduated more than 50 years ago; the Classes of 1946, 1951, 1956, 1961, 1966, 1971, 1976, 1981 and 1986; sisters of Alpha Kappa Phi/Agonian, Sigma Sigma Sigma, Sigma Rho Sigma sorority, Lambda Phi Delta fraternity and College Singers led by Guy Webb. Members of Nu Sigma Chi sorority will sponsor an alumnae tea from 11 a.m.-1 p.m. at their house on 52 Prospect Terrace.
The SUNY Cortland Alumni Association will present its highest honor, the Distinguished Alumna/Alumnus Award, to two graduates during the Alumni Reunion 2011 luncheon. Two alumni will be honored with an Outstanding Alumni Volunteer award and an emeritus will be lauded with as an Honorary Alumnus. The luncheon begins Saturday at noon in the Corey Union Function Room and honors reunion classes and award recipients.
Immediately following the luncheon, many events will happen downtown. For the second time, the Alumni Association is partnering with the Cortland Downtown Partnership to allow alumni to participate in the "Taste of Downtown." Participants will enjoy food and beverage samples from more than 20 city eateries, be given a commemorative wine glass and enjoy musical performances. The Nu Sigma Chi Legacy Fund will again underwrite an All Greek Reception at the Alumni House. Sheila Kaplan Bernard '61 will offer a photography exhibit at Main Street SUNY Cortland.
Individual class dinners will be held Saturday evening at various campus and downtown locations. Alpha Kappa Phi/Agonian, Sigma Sigma Sigma, Sigma Rho Sigma sorority and Lambda Phi Delta fraternity will celebrate their reunions with dinners planned by reunion committees at the Alumni House.
On Sunday, a farewell breakfast is scheduled for 9-11 a.m. at the Alumni House. Alpha Kappa Phi/Agonian, Sigma Sigma Sigma, Sigma Rho Sigma sorority will enjoy breakfast in Corey Union. Reunion attendees may also participate in the YMCA Cortland Chiro 5K run.
The campus community is encouraged to attend Alumni Reunion 2011. For more information or to register for the weekend, contact the Alumni Affairs Office at (607) 753-2516 or visit the website at www.cortland.edu/reunion.
---
Capture the Moment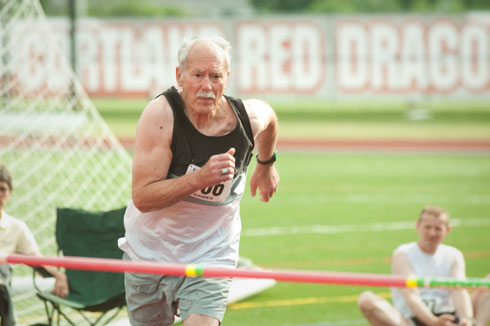 Don Lehrman approaches the bar during the high jump competition at the 2011 Empire State Senior Games track and field event. The games, which drew more than 1,100 participants and their friends and families, were held June 7-12 at SUNY Cortland and other locations in the Cortland area. See the story below.
---
In Other News
Empire State Senior Games Re-energized City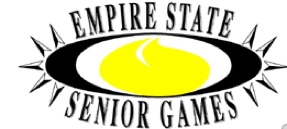 06/07/2011
The SUNY Cortland campus and community were flush with physically fit, older citizens recently, as older athletes traveled from throughout the state to compete in the 2011 Empire State Senior Games.
Approximately 1,100 registered participants were swinging golf clubs, playing bridge, aiming bowling balls at rows of pins, drawing a bow on the archery range or doing whatever one does with a pickleball on the College's grounds from June 7 through June 12. With 24 different competitions offered, there was a leisure activity to suit almost every interest.
Events also took place elsewhere in Cortland, at the Walden Oaks Country Club, Cort-Lanes Bowling Alley and the Groton Horseshoe Club.
"I started when I was 58 and I've competed in softball, volleyball and pickleball," said Gene Signor, director emeritus of academic computing services at SUNY Cortland, before the games began. This year, the 71-year-old Cortland resident planned to compete only in pickleball, a game that's a bit like tennis played with a perforated ball — like a whiffleball — on a badminton-sized court. "I refer to it as a sport with a funny name but it's a lot of fun."
He and his wife, Sharon, vied against others in their five-year age group as a mixed doubles team. Signor also competed in men's doubles.
One participant in the Empire State Senior games hoists a javelin as her competitors look on.
"It's really helped prolong our youth and vitality," said Signor, who also had served since January on the all-volunteer organizing committee. "It helps us sustain a quality of life. It also lets us see friends whom we don't usually deal with."
This year, the Empire State Senior Games were held with little help from the Empire State. The state government cancelled the games and its role in them because of budget concerns. Traditionally, the games were administered by the New York State Office of Parks, Recreation and Historic Preservation and were sponsored by the New York State Lottery.
The 2011 games, a program of organized sports and leisure program for seniors from New York state, instead was facilitated through a joint effort between the Cortland Regional Sports Council and the Cortland County Convention and Visitors Bureau.
After the state cut its funding, individuals advocated to save the event, geared for New York state's seniors 50 years and older. Officials of the College offered the campus to serve as the host site. The Cortland Regional Sports Council and the Cortland County Convention and Visitor's Bureau stepped up to sponsor the games. Organizers expect to recoup the $160,000 in costs from registration fees.
"At the time when we found out the state was disbanding the games, we felt we had no choice but to step to the plate and do what we could to put them together ourselves," explained Machell Phelps, executive director of the Cortland Regional Sports Council.
Tourism and economic development officials wanted to keep the games going in Cortland, as they always have filled local hotel rooms, kept restaurants hopping and provided a steady flow of business to other merchants during what is normally a quiet time of year when most college students are away on summer break.
Some of the many out-of-town senior athletes stayed in residence halls. The majority chose to spend their nights in a local hotel or motel.
James Dempsey, who directs the Cortland County Convention and Visitor's Bureau, said that local hotels booked 2,500 room nights, which brought them an estimated $200,000 in business. The businesses also lined county coffers with approximately $17,000 in sales tax revenue and $10,000 in occupancy taxes.
"This is a really good thing for us," Dempsey noted. "There were other cities that have offered to take it over if we didn't want to have the games here.
"Doing business within our community to support the games was one of the first decisions we made as a committee," said Dempsey. "That philosophy will continue as we progress."
With the assistance of former and current state employees, planning began with a goal to register 1,000 participants and run similar games to past years.
"Without help from our sport coordinators, the facility managers and other volunteers, our task would have been impossible," remarked Phelps.
SUNY Cortland has hosted the senior games for all but four years — from 1998-2001 according to College records — since the event was launched in the early 1980s, said Mike Whitlock, the College's director of Corey Union, campus activities and conferences. The school offered food, lodging, shuttle transportation and use of its athletic facilities to competitors this year, according to Whitlock.
The sports council hoped to pay for all or most of the games with entry fees — which didn't increase from 2010 levels — and sponsor donations, Phelps said. The projected cost was about $160,000.
The games continued offering a wide variety of events, which ranged from discus and javelin throwing to softball, shuffleboard and tennis. Some participants used the games to qualify for the national senior games held every other year.
As the event is no longer state sponsored, out-of-state competitors were allowed to register for competitions, Signor noted. He doesn't know how many non-New Yorkers competed, but he knows a few Connecticut residents are signed up.
For more information, visit the Senior Games website at www.nyseniorgames.com. The site was constructed and is being hosted by Plan First Technologies of Cortland.
Cortland Rugby Player Makes All-Star Team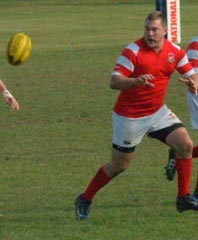 06/13/2011
Michael Compton, a SUNY Cortland senior who spent three years as an Army ranger, is once again part of a respected, select group: the Northeast Rugby Union All-Star Team.
Compton, a physical education major who plays prop for the Cortland Rugby Team, traveled to Colorado last week to play in the national Men's Collegiate All-Star Championship after being selected for the team. The Northeast Rugby Union is the coordinating body for rugby throughout New York and New England.
"We are very proud of Mike's accomplishment," said SUNY Cortland President Erik J. Bitterbaum. "He's been recognized as one of the best rugby players in the country, and he learned to play the game here at SUNY Cortland."
Compton, a former high-school football and baseball player, from Jeffersonville, N.Y., spent more than a year serving with the Rangers in Iraq. He began playing rugby about three years ago, after coming to SUNY Cortland.
"I knew I wanted to play ball in college, but I didn't want to sit on the bench," Compton said. "I tried rugby. I enjoyed the camaraderie. I enjoyed the sport. I never thought it would take me this far."
Compton made the starting, 15-man lineup that the Northeast Rugby Union fielded against the West All-Star team in Glendale, Colo. on June 9. He played prop, a key position in the center of a rugby scrum. The Northeast lost 21-14, but won a consolation match the following day against the West's second squad, 41-15.
Men's rugby is one of 34 competitive club sports offered to SUNY Cortland students through the College's Recreational Sports Program. The clubs range from standards like baseball and football to less mainstream athletic activities such as ultimate Frisbee, kickline, hoop dance, Tae Kwon Do and Quiddich, an earthbound adaption of the magical game depicted in "Harry Potter" books and movies.
Compton, 25, walked in Commencement ceremonies last month, but is still enrolled in the College because he will be completing his student teaching requirement this fall. He will teach physical education at Liberty Middle School and Liberty Elementary School in Liberty, N.Y.
Alumni Association Recognizes Volunteers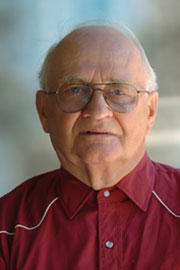 06/07/2011
Arnold Rist '47 and Ronnie Sternin Silver '67 will receive the Outstanding Alumni Volunteer Award at a luncheon during SUNY Cortland Alumni Reunion 2011.
The Alumni Luncheon, set for Saturday, July 16, will be held in the Corey Union Function Room.
The SUNY Cortland Alumni Association established the award in 1999 to honor Cortland graduates who have been exceptional in their engagement with the College, donating countless hours of their time to improving alumni relations with the school. With these awards, to date, nine graduates have been recognized.
Arnold Rist '47
Arnold Rist's life boils down to one word: service. A humanitarian by every account, the graduate's service involves his country, his students and his alma mater.
"My mother and father were always helping people," Rist said. "It just came naturally."
Rist, shown upper left, came to Cortland from his small Adirondack Mountain hometown of Newcomb, N.Y., before World War II interrupted his education. As a 20-year-old Army sergeant, Rist served in the 20th Armored Division that liberated the Nazi concentration camp at Dachau, Germany.
He obtained a bachelor's degree in physical education in 1947 and spent the next 60 years dedicated to the development of young people.
But Rist did not find his passion in teaching the most capable students. Rather, his focus was on the ones who needed and sought improvement.
His infectious smile aside, Rist is best recognized for his work with minorities and underachieving students. He led Rockland Educational Services, Inc. for 51 years, from 1955-2006. The firm, which he founded, offers speed learning programs, PSAT preparation programs and scholarships to deserving students in grades 8-12.
Rist maintained close ties with SUNY Cortland while he championed the educational rights of underprivileged students. In 1963, he worked directly with the local alumni chapter of the Alpha Phi Alpha fraternity to establish a scholarship incentive program for minority students in Rockland County. He earned a Certificate of Commendation for the Advancement of Minority Students from the trustees of the Rockland County Negro Scholarship Fund for his efforts.
"Arnie Rist has spent a lifetime quietly helping numerous young people from all walks of life and ethnic backgrounds realize their potential," said Douglas DeRancy '75, assistant to the College's vice president of Institutional Advancement. "He has done it without fanfare. He is driven to create educational opportunity for those who are less fortunate."
A former soccer and baseball player at Cortland, Rist was inducted into the C-Club Hall of Fame in 1987. His efforts, though, could not be measured in statistics.
Rist drove the endowment fundraising efforts of the T. Fred "Prof" Holloway Award in the late 1980s. This honor recognizes leadership, diligence and fairness in one male and one female physical education senior. Holloway, a former physical education professor and men's soccer coach at the College, left a permanent impression on Rist.
In 2002, Rist established the Stefan Mascoll '99/Brian Lange Senior Athlete Award in Track and Field. The accolade, like Rist's lifelong pursuit, recognizes the track and field athlete who shows the most progression, not necessarily the greatest ability.
Rist received the Distinguished Alumni Award, SUNY Cortland's highest honor, in 1993. He has served on the Alumni Association Board of Directors for the past 24 years and he has offered guest lectures relating to the Holocaust for the SUNY Cortland History Department for the past five years.
Rist, who resides in Nanuet, N.Y., earned two master's degrees from Syracuse University and a doctorate from New York University. He and his late wife, Roberta, have two children, Kevin and Randy.
Ronnie Sternin Silver '67
In the years following her graduation from SUNY Cortland, Ronnie Sternin Silver felt like she owed something to the College.
"Cortland was willing to do everything for us as students," Silver said. "Why not give back?"
| | |
| --- | --- |
| | |
| Ronnie Sternin Silver '67 | |
More than four decades later, Silver has repaid her alma mater with her post-graduate efforts.
She presided over the Alumni Association Board of Directors during 2008-10 and has served as a board member for the past 15 years.
As president, she oversaw the Strategic Planning Committee's efforts to implement the recommendations of the Hezel Report, an evaluation strategy prepared for the College. Her tenure as a board member has coincided with a period of unprecedented growth at the Lynne Parks '68 SUNY Cortland Alumni House.
"Ronnie Sternin Silver understands better than most the critically important role a public university like SUNY offers to the citizens and families of New York State and beyond," said DeRancy '75. "She has been, and will continue to be, one of our most committed alumni advocates and ambassadors for SUNY and Cortland."
A physical education major at SUNY Cortland, Silver exudes passion for education, specifically the notion that every student deserves a quality learning experience.
Her educational resume runs long. In her career, she taught physical education in Iowa and served in a variety of roles for two school districts in California.
She assumed the duties of volunteer coordinator, Parent Teachers Association (PTA) president and chairman of the Superintendent's Advisory Committee ? among other jobs ? during a 17-year stint in California education. She received a Santa Clarita (Calif.) Valley PTA Council Service Award and was recognized by the Los Angeles County supervisor for her outstanding service.
Silver relocated to Corning, N.Y. in 1996 and immediately recalled her time at SUNY Cortland.
"I needed a connection to the College when I moved back," she said. "The anchor was truly my work at Cortland."
Silver, who was a major contributor to the John L. Sciera Scholarship during her time out of state, joined the Alumni Association Board of Directors in 1996. She was introduced to an alumni network that she now considers a family.
"Everybody can do things their own way and accomplish something," she said. "But at Cortland, it was never a one-person deal."
Such was the case in 2002, when Silver attended her 35th Reunion at the College. The Class of 1967 banded together at a breakfast and decided to establish a scholarship on the spot.
"That's what Cortland is all about," she said. "It brings people together."
Even though she spent several years away from New York, Silver never truly left Cortland.
When she spoke at the Commencement ceremonies in 2009 and 2010, she welcomed graduates to the College's alumni family.
It is a group that boasts Silver as one its finest contributors.
Silver, who lives and substitute teaches in Saratoga Springs, N.Y., earned her lifetime teaching certification at the University of Iowa and completed course work in journalism at College of the Canyons in Valencia, Calif. She has four children: Amy, Leslie, Greg and Danny.
Athletics Program Claims Conference's Top Honor

05/27/2011
Following an impressive spring season, the SUNY Cortland intercollegiate athletics program finished first in the State University of New York Athletic Conference (SUNYAC) Commissioner's Cup standings for the 2010-11 school year.
The College has claimed the Commissioner's Cup, which is awarded for overall sports excellence, in 14 of the 15 years that it has been awarded, including the last eight seasons. Cortland finished with an average score of 8.18 points, just ahead of Geneseo at 8.13 points.
Commissioner's Cup points are awarded based on each team's finish in the SUNYAC standings, both during the regular season and in league postseason tournaments, when applicable. The first-place school in each sport receives 10 points, second place receives nine points and so on. A school's regular-season finish is added to its postseason finish and is divided by two to determine the points for each sport. The total points earned are then divided by the number of conference sports the school sponsors.
Cortland trailed Geneseo 8.25-7.46 entering the spring, but surpassed the Knights by earning five conference crowns and one runner-up finish during the six-sport season.
Cortland won seven league crowns – women's cross country and women's volleyball in the fall, and baseball, softball, men's lacrosse, women's lacrosse and women's outdoor track and field in the spring. The Red Dragons were also league runner-up in three sports – field hockey, men's swimming and diving and men's outdoor track and field.
After Cortland and Geneseo, the following SUNYAC members made up the rest of the Commissioner's Cup standings: Plattsburgh, Buffalo State, New Paltz, Fredonia, Oneonta, Brockport, Oswego and Postdam.

Suggest a feature story
---
People on the Move
Associate Professor of English Janet Wolf Retires
06/13/2011
Janet Wolf, who taught literature and theater at SUNY Cortland for 20 years, retired on Dec. 31. She has been designated associate professor emerita of English.
Wolf received a bachelor's degree in English and a master's degree from the University of California at Berkeley. She earned a doctoral degree from Syracuse University. In 1986, she was awarded a William Andrews Clark Memorial Library Summer Postdoctoral Research Fellowship at the University of California at Los Angeles.
A British literature and theater history scholar, she enjoyed studying William Shakespeare, the Restoration and the 18th century.
Wolf joined SUNY Cortland in 1991 as a visiting assistant professor and became an assistant professor the following year. In 2003, she was promoted to associate professor. Wolf taught courses in 18th century literature and William Shakespeare.
She directed the Central New York Conference on Language and Literature, an event sponsored by SUNY Cortland's English Department, in 1994 and 2001.
She made 29 conference presentations and wrote published articles on American playwright Tony Kushner, author John Gay, and playwright William Shakespeare and his contemporaries.
During her time at the College, Wolf was awarded two fellowships from the National Endowment for the Humanities (NEH) to participate in post-doctoral summer seminars at Emory University and Yale University.
She chaired a panel devoted to "Innovative Approaches to Teaching Canonical Texts" for the Northeast Modern Language Association from 2008-10.
Her interest in John Gay's satirical masterpiece The Beggar's Opera led her to research on 18th century political satire and baroque opera, especially the operas of George Frederick Handel.
Before she joined the College's faculty, Wolf taught at Le Moyne College, Syracuse University, St. Lawrence University and the College of William and Mary.
A resident of Manlius, N.Y., she plans to continue her research and travel internationally with her husband, Larry.
---
Faculty/Staff Activities
Michael Bersani
Michael Bersani, Public Relations Office, won a Charleton Scholarship to attend the SUNY Council for University Advancement (SUNYCUAD) conference in Saratoga Springs June 8-10.
Robert Darling
Robert Darling, Geology Department, presented "Breccia-filled Fractures on Western Adirondack Summits: Relicts of an Ordovician Paleosurface?" at the combined Northeast/Northcentral regional meeting of the Geological Society of America. It was held March 20-22 in Pittsburgh, Pa.
Moataz Emam
Moataz Emam, Physics Department, is the editor and co-author of an e-book titled "Are We There Yet? The Search for a Theory of Everything," located at www.benthamscience.com/ebooks/9781608052141/index.htm
Gayle Gleason
Gayle Gleason, Geology Department, co-presented a paper with undergraduate student Amie Whitlock titled "What Happens to Microstructures in Re-activated Shear Zones: An Experimental Approach," at the combined Northeast/Northcentral regional meeting of the Geological Society of America held March 20-22 in Pittsburgh, Pa.
Chris McRoberts
Chris McRoberts, Geology Department, co-presented a paper with undergraduate student Carolyn Furlong, titled "Commensal Endolithic Boring Traces on Spiriferid Hosts from the Middle Devonian of Central New York," at the combined Northeast/Northcentral regional meeting of the Geological Society of America held March 20-22 in Pittsburgh, Pa.
Robert Ponterio
Robert Ponterio, Modern Languages Department, along with professor emeritus of Spanish Jean LeLoup, US Air Force Academy, and Mark Warford, Buffalo State College, presented a two-hour workshop/symposium at the Center for Advanced Research on Language Acquisition (CARLA) Seventh International Conference on Language Teacher Education. They presented "Code-Switching, Cognitions and Communities: Promoting more teacher use of L2," and specifically addressed implications for teacher training, American Council on the Teaching of Foreign Languages' (ACTFL)/National Council for Accreditation of Teacher Education (NCATE) standards and implementation at the department level, as well as providing concrete examples of lessons representing strategies for achieving this goal in the high school and college classroom. The symposium, held May 20 in Minneapolis, Minn., presented the research base supporting 90-100 percent of target language use in language classes at all levels as recommended in ACTFL's position paper.

Submit your faculty/staff activity