15th Annual Scholars' Day Set for April 15
03/30/2011
The 15th annual Scholars' Day, a series of presentations highlighting faculty, staff and student scholarship and research at SUNY Cortland, will take place in Old Main on Friday, April 15.
This year, the all-day event encompasses 90 different presentations and poster sessions offered by hundreds of undergraduate and graduate students and more than 50 faculty and staff members. The subject matter covers a wide array of academic disciplines at SUNY Cortland.
Scholars' Day presentations take place in Old Main starting at 8:30 a.m. and continue throughout the day. The event is free and open to the public. SUNY Cortland President Erik J. Bitterbaum has suspended daytime classes to allow the SUNY Cortland community to fully benefit from the lectures and demonstrations. Area high school juniors and seniors and their instructors were again formally invited to attend this year's event. Complimentary refreshments will be served both in the morning and afternoon in Seminar Room 110.
"Scholars' Day is a great opportunity for members of the campus community to come together and learn about each others' work in the discovery of new knowledge that is essential for solving problems and addressing contemporary critical issues," said Bruce Mattingly, dean of arts and sciences and Scholars' Day Committee chair. "I believe that those who attend the presentations will be particularly impressed with the number of projects that have involved students as active participants in the process of discovery."
Among the many topics this year are: sustainable heating at SUNY Cortland using biomass and geothermal energy; the effects of tasting a carbohydrate drink on fuel utilization during exercise; the effects of PCBs on sexual development in rats; the crime victims' rights movement; the Cortland digital atlas of the historical geography of New York state; how monopoly capitalism stunted the growth of Seneca Falls, N.Y.; and writers read from their work in the Professional Writing Program.
SUNY Cortland graduate James T. Costa, an entomologist and author of Charles Darwin: A Facsimile of the First Edition of 'On the Origin of Species,' will deliver the keynote address on "Patience, Industry and a Fair Share of Invention: Insights from Charles Darwin and his Origin of Species" at 11:30 a.m. in Old Main Brown Auditorium.
James T. Costa
With his 2009 textbook, Costa, who is executive director of the Highlands Biological Station and professor of biology at Western Carolina University, strives to help readers better understand the historical context, structure and content of Darwin's masterwork.
"The Origin of Species ushered in a new way of looking at the world, and at ourselves," observed Costa, who earned his Bachelor of Science in Biology from SUNY Cortland in 1985. "Yet Darwin didn't set out to be a revolutionary — certainly when, in his early 20s, he embarked upon his voyage around the world on HMS Beagle he accepted the worldview in which he was raised. Reflecting later on his success, Darwin ventured that he had 'patience … industry … and a fair share of invention.'
"In this talk, I trace Darwin's personal process of discovery and his strategy in pitching his argument in The Origin of Species, the epochal book he regarded as 'one long argument.' Along the way I consider how we might learn from Darwin's method in the ways we encourage and teach scientific inquiry today."
The Scholars' Day Committee also includes: Cynthia Benton, professor of childhood/early childhood education; David Berger, professor of psychology; Phil Buckenmeyer, associate professor and chair of kinesiology; Patricia Conklin, assistant professor of biological sciences; Daniel Harms, coordinator of instruction at Memorial Library; David Miller, distinguished teaching professor of geography; Lisa Mostert, media operations associate; Gigi Peterson, assistant professor of history; and Kevin Pristash, associate director of College Union and conferences.
Scholars' Day is supported by the President's Office, the Provost and Vice President for Academic Affairs Office, The Cortland Fund, the Cortland College Foundation and the Auxiliary Services Corporation. The Student Alumni Association provides volunteers for Scholars' Day.
For more information, including the complete schedule of events, visit the Scholars' Day Web page at www.cortland.edu/scholarsday or contact Mattingly at (607) 753-4312.
Noted Biologist to Reflect on Darwin's Influence
A native of Long Island, Costa grew up in Plainview, Nassau County. As a student at SUNY Cortland, Costa and his mentor, Distinguished Professor of Biological Sciences Terry Fitzgerald, conducted research on social caterpillar communication. A SUNY Cortland Presidential Scholar, he earned numerous other scholarships and honors, including a Senior Class Award and induction into the interdisciplinary honor society Phi Kappa Phi.
Costa subsequently received a Master of Science in Insect Ecology and a doctorate in population genetics and behavior from the University of Georgia. He completed a postdoctoral fellow in entomology from 1992-96 at Harvard University's Museum of Comparative Zoology, where he is a longtime research associate in entomology and a former fellow of the Radcliffe Institute for Advanced Study.
Costa joined the faculty at Western Carolina University in 1996, becoming a professor of biology in 2005, the same year he was appointed to direct the Highlands Biological Station.
The author of the 2006 book, The Other Insect Societies ( Harvard University Press), Costa's special interest in social caterpillars and sawflies has taken him from the southern Appalachian Mountains to Europe and Latin America as he has studied insect social behavior.
He has taught genetics, biogeography, entomology, the Origin of Species, and field courses in Hawaii and the desert southwest. His passion for Darwin and the history of evolutionary biology has led him to the Galápagos Islands several times, where he has lectured on Darwin and evolution, and to England each summer, where he teaches in Harvard's Darwin program at the University of Oxford.
Costa is working on a third new book that draws on Darwin's experimental work as a novel way of teaching about Darwin, evolution and the nature of scientific investigation.
College to Celebrate Building Opening
03/31/2011
A grand opening ceremony for the SUNY Cortland Professional Studies Building will be held at 2 p.m. on Friday, April 8.
The facility, which has an older wing that was formerly called Studio West, faces Folmer Drive and Pashley Drive and is located near Tompkins Street.
President Erik J. Bitterbaum will preside over the ceremonies in Room 1176, which are free and open to the public.
A reception and tours will follow the event. Department representatives will be available to explain to visitors the use of these highly customized academic areas.
Scheduled speakers at the ceremony include Sen. James Seward, Assemblywoman Barbara Lifton, School of Professional Studies Dean John Cottone, Communications Disorders and Sciences Department Chair Regina Grantham and Kinesiology Department Chair Philip Buckenmeyer. Faculty representatives from the two other academic areas housed by the buildings will attend.
The 20,000-square foot, two-story Professional Studies Building, which encompasses an $11 million new building as well as the complete renovation of the 43,000-square foot, one-story former Studio West, features a brick-and-metal, contemporary-looking façade.
The new building occupies the existing parking area and part of the lawn on the east side of the former Studio West.
The project completion has allowed for the consolidation of all the School of Professional Studies academic departments into one complex, with the exception of the Health Department, which elected to remain in the Moffett Center, and the Physical Education Department, which has remained in Park Center. In March, the President's Cabinet officially renamed both structures comprising the facility the Professional Studies Building.
"The College's commitment for the addition and renovation of Studio West reinforces the transformation and identity of the building as the home of the School of Professional Studies," Cottone said.
The new building's first floor features an 8,000-square-foot clinic for the Communication Disorders and Sciences Department, which had been housed in the McDonald Building on Tompkins Street. The clinic includes an audiology chamber, observation and therapy rooms, a library and a resource area. A small, dedicated parking area offers convenient access to clients from the community.
The Recreation, Parks and Leisure Studies Department moved into the new facility from its current location in the Park Center. The department has an outdoor education laboratory, a play teaching area and academic equipment staging and storage areas on the first floor.
The second floor, which occupies 7,000 square feet, houses 23 offices and the two department offices for Communication Disorders and Sciences as well as Recreation, Parks and Leisure Studies.
The renovated building contains the School of Professional Studies dean's suite, the Sport Management Department, 21 offices and a special events room. The existing state-of-the-art sports technology labs underwent minor alterations.
The Center for Obesity Research and Education, with its laboratory, testing room, library and resource area, is situated in a 2,000 square foot area in the middle of the building. A new motor behavior testing laboratory and computer lab have replaced those located in the Park Center and are adjacent to the existing biomechanics lab, which underwent minor upgrades.
The Kinesiology Department, with 18 offices, is located near the west end of the renovated building.
"Our vision and priority to focus on academic excellence has been realized through the improvement in functional space that is complemented by state-of-the-art instructional resources," Cottone noted. "This new environment will present the faculty and staff with the opportunities to advance student learning and success."
The new building construction began in mid-November 2009, while renovation of the former Studio West facility began in March 2010. Both the new facility and the renovation were completed in time for the start of the Spring 2011 semester.
Constructed in 1948, the 50,000 square-foot Studio West was home to the Overhead Door Co. for many years. In 1968, SUNY Cortland wanted to relocate its maintenance operation from Old Main, so the College purchased the facility. Four years later, the maintenance operation moved to its present location near Route 281, but the building continued to be used by the grounds crew as storage space. In 1994, the Construction Fund allocated $3.2 million for the rehabilitation of Studio West. Design work commenced and the actual construction, started in 1996, was completed ahead of schedule in March 1998 to be used as flexible office and classroom space. In the most recent upgrade, the facility has retained its original footprint while undergoing significant interior changes.
KSS Architects, LLP, of Philadelphia, Pa., provided the design services for the construction and renovation, while M/E Engineering, P.C., of Syracuse, N.Y. were the project engineers. R.J. Taylor General Contractors of Penfield, N.Y., managed the construction and renovation projects.
The building has met Leadership in Energy and Environmental Design (LEED) silver certification standards, meaning that the materials and programmatic goals associated in its design and construction have met the nationally accepted benchmark for high performance green buildings. It is partially heated and cooled by 40 geothermal wells that were dug 400 feet underground on the building's west side.
The campus steering committee, along with Cottone, included Joseph Westbrook, associate facilities programming coordinator; Parvizi; Director of Facilities Planning, Design and Construction Jeff Lallas; Director of Recreational Sports Julian Wright; and Dan Donlon, capitol program manager with the State University Construction Fund.
---
Capture the Moment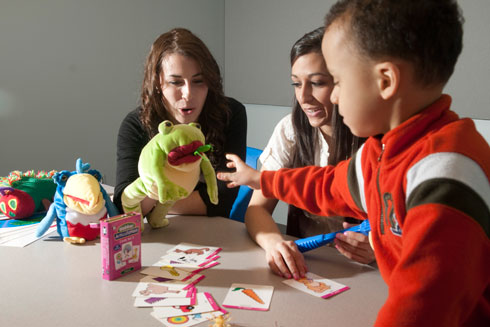 Two College seniors enrolled in Communication Disorders and Sciences Department programs, Sara Krukowski, left, and Leah Kadlecik, work with a boy in a therapy room that features an observation room concealed behind a mirrored window. The new facilities are part of the Center for Speech and Hearing Disorders inside the Professional Studies Building.
---
In Other News
Roundtable Addresses Native Plants in Landscape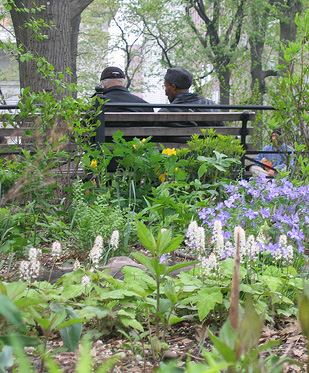 03/30/2011
The life history and mysteries of Central New York's native flowering plants and ferns will be explored during a Community Roundtable on Thursday, April 7, at SUNY Cortland.
The panelists will include Steven Broyles, a SUNY Cortland professor of biological sciences, and Daniel Segal, owner of The Plantsmen Nursery in Lansing, N.Y.
They will discuss "Native by Nature: The Ecology and Aesthetics of Native Plants in the Landscape" from 8-9 a.m. in the College's Park Center Hall of Fame Room. Refreshments will be served at 7:45 a.m.
Sponsored by the President's Office and the College's Center for Educational Exchange (CEE), the Community Roundtable is free and open to the public.
The broad extremes of Central New York's climate are a predicament for native plants. Native plants adapt to these conditions with beauty, which makes them fascinating to learn about and can be a simple solution to many ordinary landscaping situations.
With countless photos of native plants used in environmentally friendly landscaping, the discussion will investigate why using native plants is kinder to the environment, how native plants can better attract and support wildlife and how native plants require relatively no upkeep.
"We need biodiversity in our landscapes," said Broyles. "Native plants help support the environment around them. These beautiful plants adapt easily to their native landscapes."
Broyles earned a bachelor's degree at the University of North Carolina at Charlotte and has a Ph.D. from the University of Georgia.
The professor, who specializes in botany and field biology, has taught courses in Biological Science, Field Biology and Field Natural History. Utilizing a wide variety of field and laboratory techniques, Broyles' research involves examining the patterns of hybridization and introgression in milkweeds, patterns of postglacial migration in temperate forest herbs and pollination and reproductive biology of flowering plants.
A frequent lecturer, Broyles used his research to contribute to many different reference books.
The owner of The Plantsmen Nursery since March 2006, Segal has been engaged in horticulture, landscaping and botany for the last 18 years throughout the U.S. His background using native plants for environmental landscaping and restoration, plus his experience collecting and propagating thousands of species of plants, makes The Plantsmen Nursery somewhat unique, and brings a new style of horticulture to the area.
Segal's presentations feature all original photos and ideas.
"My presentations are part horticulture, part ecology and part emotion, with insight into our sustainable nursery production and practices," he said.
The Community Roundtable series provides programs on diverse intellectual, regional and cultural topics of interest to College faculty and staff and community members. Each roundtable is held on the first Thursday of the month. Parking in the Park Center lot is open to the public during the roundtables.
For more information, contact the CEE at (607) 753-4214 or visit www.2.cortland.edu/centers/cee/community-roundtables/.
East Meets West to Perform on April 7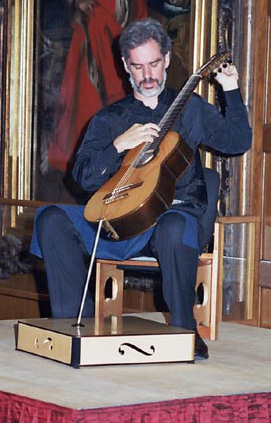 03/31/2011
East meets West, two world renowned musicians who collaborate in performances on musical instruments from around the world, comes to SUNY Cortland on Thursday, April 7.
The two master musicians, Aditya Verma and Paul Galbraith, will come together in Cortland's Old Main Brown Auditorium starting at 7 p.m.
The concert is being presented by the Campus Artists and Lecture Series (CALS). Ticket prices are $3 for SUNY Cortland students and $5 for general admission. Children ages 10 and under are admitted free. Tickets are available in Campus Activities Office Corey Union, Room 406. For more information, call (607) 753-2322.
Aditya Verma, a disciple of the legendary sitar performer from India, Ravi Shankar, is fast emerging as a force on the world music stage. A charismatic player of the sarod - a 25-string Indian instrument - Aditya has won numerous awards and the admiration of audiences across North America, Europe and India. Aditya is accompanied on stage by tabla, a percussion instrument.
"An incredible player who's capable of making both deeply introspective and fiery music …" CBC Radio One wrote about Aditya, "To say that he left the audience slack-jawed is an understatement."
Joining Aditya is classical guitarist Paul Galbraith, a Grammy nominee based in Brazil. Galbraith plays his eight-string guitar cello-style.
"Unique clarity and controlled passion … a soaring dignity," A Los Angeles Times reviewer said about Galbraith.
Critics have observed that the differences exhibited by these two master musicians enhances the dual performance.
For more information about these musicians, visit http://www.aditya.org/bio.php or http://www.paul-galbraith.com/.
For ticket information or questions regarding CALS events, please contact the Corey Union and Campus Activities Office at (607) 753-5574.
State Accredits University Police Department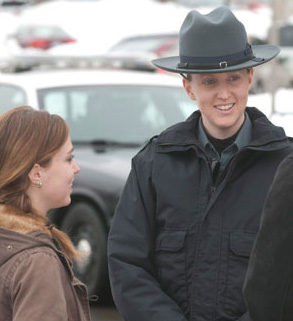 03/31/2011
SUNY Cortland's University Police Department (UPD) recently joined the relatively thin ranks of police agencies in New York state to achieve a standard for effective, professional law enforcement and community service.
Police agencies that apply for accreditation must meet standards set by the state's Division of Criminal Justice Services and are assessed by the New York State Law Enforcement Accreditation Council.
From Jan. 11-13, an assessment team consisting of David Gardner, the City of Elmira's retired deputy chief of police, and Detective Lt. Edwin Brewster of the Ulster County Sheriff's Office, conducted a site visit of the UPD.
On March 1, the council notified the UPD that it has earned first-time accreditation. SUNY Cortland's University Police Chief Steven Dangler, expressed his department's sense of validation at the result.
"The department's primary mission is the protection of the lives and property of our students, employees and visitors," he said. "This agency has long embraced the practice of community policing and we strive to be visible, proactive and available to the campus community."
The council primarily reviewed the operation of the UPD.
The College's 19 full-time sworn officers with arrest powers and seven civilian staff members serve on the 191-acre main campus in the City of Cortland and branch campuses. The current student enrollment at SUNY Cortland is more than 7,000, with approximately 3,000 students residing in on-campus housing. Faculty and staff make up an additional 1,000 people who while on campus fall under the UPD's jurisdiction.
In the course of their duties, University Police officers conduct foot, bike and vehicular patrols and operate a dispatch desk 24 hours a day, 365 days a year. When necessary, they work closely with other police agencies in Cortland County and New York state.
Gardner noted in his Jan. 27 assessment report, "…It is obvious that implementing the policies and procedures required to achieve accredited status has been taken very seriously by all the members of the Department."
The assessment team highly recommended that the UPD be awarded accreditation status.
In Dangler's opinion, the process provided an opportunity for his department to hone its strengths.
While patrolling the campus, SUNY Cortland University Police Officer Jennifer Olin, center, pauses to converse with two students.
"Having met the Division of Criminal Justice Services accreditation standards, we have built upon our professionalism by improving our overall performance, effectiveness and efficiency," Dangler observed. "Additionally, we are able to increase public confidence in our department and meet specific training levels."
With the council's endorsement, the SUNY Cortland UPD becomes one of only three police agencies among the State University of New York's four-year or doctoral colleges to achieve the status. Two university centers, University of Buffalo and SUNY Stony Brook, are the others.
Moreover, the College joins the New York State Police and just over 120 of the 600 police agencies in the state to earn accreditation, a ratio of approximately 20 percent.
New York was the first state in the country to sponsor a law enforcement accreditation program, which provides a comprehensive blueprint for effective, professional law enforcement. Community leaders embraced the initiative from the outset, and the program was immediately endorsed by leading statewide organizations of law enforcement and elected officials.
The initiative has had a significant impact on law enforcement in a very short period of time. More than 260 agencies submitted applications to participate during the first eight years of the program's operation. Accredited agencies range in size from four full-time officers to more than 4,000 sworn personnel and extend geographically from the tip of Long Island in Suffolk County to St. Lawrence County in the north and Erie and Monroe counties in the west.
Insurance benefits, enhanced community support, and a greater overall standard of professionalism are just are few of the many tangible benefits that accredited agencies enjoy.
In 1992, a national organization, the Council of State Governments, determined that New York's program "has dealt with a significant problem in an effective and innovative manner and has the potential to be transferred to other states."
President's Executive-in-Residence to Speak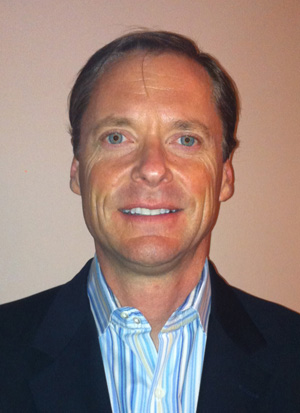 03/31/2011
Timothy J. Clark, a partner of Elm Street Capital Partners LLC, based in Rye, N.Y., will share his experiences from investing in private companies in an open discussion during a visit as a President's Executive-in-Residence at SUNY Cortland on Tuesday, April 12.
Clark, whose private equity firm invests in growing companies throughout the U.S., will begin the discussion at 4:20 p.m. in Brockway Hall Jacobus Lounge.
The Economics Club presentation, geared for economics majors, students, faculty and staff, is free and open to the public. A question-and-answer period will follow the open discussion.
Drawing on his own experiences, he will describe how he entered into an industry, finance, in which he had no prior contacts or relationships.
During his visit to the campus, Clark also will speak to students in Associate Professor of Economics Timothy Phillips' Strategic Management class. There, he plans to discuss private equity investing and the benefits and risks of acquiring smaller, middle-market companies. He will meet with the students of Associate Professor of Economics Kathleen Burke and with SUNY Cortland President Erik J. Bitterbaum.
The son of former SUNY Cortland President James M. Clark, he has worked for several private equity investment firms during his 20 year career, including the Blackstone Group and Joseph Littlejohn & Levy. Most recently, at Bear Stearns Merchant Banking Partners, Clark was a senior managing director and a partner in its $1.5 billion private equity fund. He has specific investment experience in numerous sectors including food processing, auto parts, chemicals, building products, agriculture, energy services, technology and manufacturing.
In 2004, Clark started his own investment firm, where he focuses on making investments in owner-managed and operated businesses with revenue between $5 million and $50 million.
Clark received a B.A. from Bucknell University and earned a master's degree in business administration from Harvard Business School.
The president of the board of directors of the YMCA of Rye, N.Y., he also serves as president of the board of directors of the non-profit Greater New York chapter of the Cystic Fibrosis Foundation.
Clark's visit as President's Executive-in-Residence is supported by the President's Office, Cortland College Foundation, Alumni Affairs Office and Career Services. For more information, contact Tina Aversano at (607) 752-2446 or via email.
Unity Celebration Set for April 13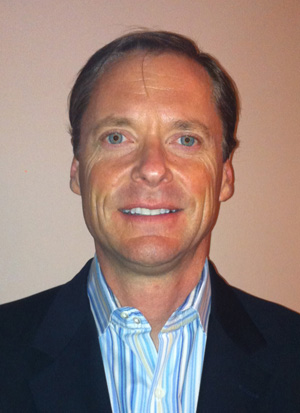 03/29/2011
The 13th annual Unity Celebration, featuring an hors d'oeuvres reception to commemorate cultural diversity on the SUNY Cortland campus, will be held on Wednesday, April 13. Inclement weather forced its cancellation on Feb. 1.
The event, which is free and open to the public, will be held from 5-6:30 p.m. in Brockway Hall Jacobus Lounge. The Unity Celebration will feature a musical performance by the SUNY Cortland A Cappella and the presentation of multicultural awards.
Speakers at the event include students Rushshane C. Brown and Cristina Millan, alumnus Thomas Bierworth '96 and Vicki L. Wilkins, professor of recreation, parks and leisure studies.
The program is sponsored by the College's Affirmative Action Committee, Center for Gender and Intercultural Studies (CGIS), the Committee on the Status of Women in Education, the Multicultural Council, the Multicultural Life Office, the President's Office, the Student Government Association, the Provost and Vice President for Academic Affairs Office and the Vice President for Student Affairs Office.
For more information, contact Ann Cutler, Multicultural Life Office, at (607) 753-2336.
Teacher Recruitment Planned for April 14-15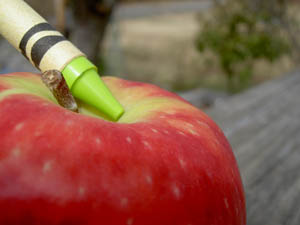 03/30/2011
More than 600 Central New York college students and 50 school district recruiters from New York and other states are expected to attend the 26th annual Central New York Teacher Recruitment Days on April 14-15 at SUNY Cortland.
Hosted by SUNY Cortland for the last 26 years, the event is organized through the College's Career Services and co-sponsored by the Central New York Career Development Association, which represents the career services offices of 13 area public and private colleges and universities.
Teacher Recruitment Days in the Park Center Alumni Arena will attract approximately 30 school districts in New York and a number of southeastern states. SUNY Cortland President Erik J. Bitterbaum and Vice President for Student Affairs C. Gregory Sharer will offer opening remarks at 8 a.m. on Thursday, April 14. Recruitment interviews will take place from 11 a.m.-5:30 p.m. on Thursday and from 8:30 a.m.-2:30 p.m. on Friday, April 15.
"We have added a counselor-on-call area to provide more resources to students who attend," said Lisa Allen, assistant director of career services and the event coordinator.
"The graduate schools that are part of the schools that are involved in the consortium were invited to have a table at Teacher Recruitment Days," a second change this year, she noted.
The association's Teacher Recruitment Days allow the colleges that have teacher education programs to collaboratively attract the largest number of school district administrators, Allen said.
The event participants will include education students who are graduating this spring or summer or who graduated last December with bachelor's or master's degrees and are receiving their teaching certificates by Fall 2011.
Registration for Teacher Recruitment Days is already closed. However, area residents with teaching qualifications may obtain a list of the job openings through one of the career services offices in the association. The association members are: Binghamton University, SUNY Cortland, SUNY Empire State College, Elmira College, Ithaca College, LeMoyne College, SUNY Oneonta, SUNY Oswego, SUNY Potsdam, Syracuse University, Utica College, Wells College and Cazenovia College.
For more information, visit the Teacher Recruitment Days website at cnycda.org.
Sorority to Host Benefit Dinner for Charity

03/31/2011
Cristina Jardine, the director of the Central New York Chapter for Cystic Fibrosis, will be the guest speaker at the fourth annual Benefit Dinner for Cystic Fibrosis at the Cortland Country Club on Saturday, April 16.
Titled "65 Roses," the buffet-style dinner, hosted by one of SUNY Cortland's sororities, Delta Phi Epsilon, will begin at 4 p.m. The majority of proceeds from ticket sales at $40 apiece will go directly towards the sorority's major philanthropy. The tickets can be purchased at the door or paid in advance.
The event also will feature guest speakers who discuss their own person battles with the disease. Cystic Fibrosis is an inherited chronic disease that affects the lungs and digestive system of about 30,000 children and adults in the U.S and about 70,000 people worldwide.
To purchase advance tickets or a t-shirt, contact Korrie Olszewski, Delta Phi Epsilon vice president, at (315) 430 9575 or via email. Visit the website http://www.cff.org/ for more information about the Cystic Fibrosis Foundation.
The dinner is called "65 Roses" because some children find those words easier to pronounce than the actual name of the terminal disease, Jardine explains.
She will speak about cystic fibrosis patients she has seen and different success stories in medications and treatments she has encountered. Jardine will also discuss the work that the College's sorority has done to help raise money for the science and research of cystic fibrosis.
"We fundraise throughout the school year for our philanthropy, which includes participating in the 'Making Strides' walks," Olszewski said. "Last year we raised more than $9,400 towards fighting this devastating illness."
Donations also will be made using a lottery system. Since April 1, tickets for $10 each have been drawn daily.
The sorority contacts local businesses to seek silent auction donations. An IPod, two plane tickets and gift certificates from local businesses are up for auction by the sorority.
Before the event, Delta Phi Epsilon will sell t-shirts that say "Hoping for a Cure" for $10 apiece. The shirts were donated from apparel company No Let Up, which is based in New York City.
"The t-shirts are geared towards men and women of all ages to promote awareness and a positive message of the importance of remaining hopeful in finding a cure," Olszewski says.
The t-shirts, which are white, will be on sale until the dinner. The front reads 'Hoping for a Cure,' and the apparel is decorated with a purple ribbon, which represents cystic fibrosis.
"All 98 sisters will purchase one and sell one," Olszewski said. "We also have requested a table in Corey Union to sell the remaining shirts."
Cynthia Benton to Address Honors Convocation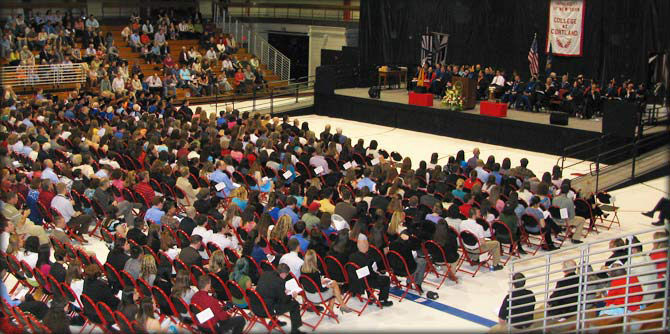 03/30/2011
Cynthia Benton, a SUNY Cortland professor of childhood/early childhood education, will deliver the keynote address at the institution's annual Honors Convocation on Saturday, April 16.
The College will recognize 405 students for their academic accomplishments at the event, which begins at 7 p.m. in the Park Center Alumni Arena. An academic procession of SUNY Cortland faculty will open the Honors Convocation. A reception for the honorees and guests will follow in the same location.
Students will be acknowledged for a variety of achievements, including ranking among the a top five percent in their respective classes and receiving College-wide and departmental awards and scholarships. The Donald Parish Brooks Scholarship Award will be presented to the residence hall having the highest cumulative grade point average.
Paul Luyben, professor of psychology, will carry the mace during the procession. Carrying the ceremonial gonfalons will be Timothy Phillips, associate professor of economics; Anne Burns Thomas, assistant professor of foundations and social advocacy; Noralyn Masselink, professor of English; and Yomee Lee, associate professor of kinesiology. Marshals will be Peter Han, assistant professor of sport management; Gigi Peterson, assistant professor of history; Shufang Shi, assistant professor of childhood/early childhood education; and Jeffrey Walkuski, associate professor of physical education.
Readers for the ceremony will be Caroline Kaltefleiter, associate professor of communication studies, and Professor Emeritus of English Arnold Talentino, coordinator of the College's Honors Program.
Professor Cyntia Benton
Benton, who has served the College for 13 years, will give an address titled "This is Your Brain on Charlie Sheen: Multitasking, Creativity and the Future of Problem Solving."
"My interests focus on how we learn, how we process information, and how we can preserve creativity in our lives," Benton said. "Recent brain research indicates high incidences of multitasking and information overload, caused by multiple electronic sources, block the ability to think clearly and problem solve creatively. If we focus on all the information we hear from multiple sources and don't take time to think, it results in mental mush. My talk focuses on giving the brain what it needs to be creative."
As a professor in the Childhood/Early Childhood Education Department, Benton teaches graduate research methods, undergraduate fine arts and instructional methods. She coaches master's projects each year in the department.
Her research interests include the study of teachers as researchers, male elementary teachers' career paths, and faculty communication and career development. Her research has been published in Teacher Education Journal, Action in Teacher Education, and Teacher Education Quarterly. She is the author of book chapters and a course text on cross-cultural humanities.
Benton has delivered many conference presentations in her field. She is a member of the American Educational Research Association (AERA), Association of Teacher Educators, and American Association of Colleges of Teacher Education.
Benton, who joined SUNY Cortland in 1998, chaired the Department of Education for her first four years. From 2003-2007, she chaired the Department of Childhood/Early Childhood Education in the new School of Education. She was promoted to professor in 2005.
Benton taught research methods and human growth and development courses as an associate professor in the Masters of Education Program at Le Moyne College from 1994-98.
From 1989-92, she was chair of education and associate dean for educational planning at Grove City College in Pennsylvania. She also taught educational psychology, designed assessment programs and implemented faculty development for the college.
Her early teaching experience includes six years of K-12 music education and choral conducting in New Castle, Pa.
Benton received a Ph.D. in higher education with a specialization in teacher education from the University of California at Los Angeles (UCLA), where she taught for five years and was assistant director of the Teacher Education Laboratory. During her graduate work and as an instructor in the Master of Education program at UCLA, she worked with Madeline Hunter, John Goodlad, James Popham and Merle Wittrock.
Benton earned a Master of Education in Counseling from Westminster College and an undergraduate degree in music education from Geneva College in Pennsylvania.
She resides in Homer, N.Y. She has two children, Christina and Nicholas DeCorse.
The Honors Convocation Committee is co-chaired by Joy Mosher, associate professor of childhood/early childhood education; and Mary Gfeller, assistant professor of mathematics.
Committee members include Sila Argyle, supervising janitor for physical plant; Nancy Aumann, interim associate dean of education; Darci Bacigalupi, special events coordinator; Philip Buckenmeyer, associate professor and chair of kinesiology; Mark Dodds, assistant professor of sport management; Brenna Filipello, student representative; Stacey Goldyn-Moller, executive director of alumni affairs; Thomas Hanford, associate registrar; R. Lawrence Klotz, SUNY Distinguished Teaching Professor and professor of biological sciences; Kimberly Kraebel, associate professor of psychology; Virginia B. Levine, executive assistant to the president; Kevin Pristash '85, M.A. '91, associate director of College Union; Tracy Rammacher, director of publications and electronic media; David Smukler, assistant professor of foundations and social advocacy; Brad Snyder, associate director of Classroom Media Services; Brooke Weidman, student representative; Stephen Wilson, professor of performing arts; and Christopher Xenakis, lecturer in political science.
For more information, contact Darci Bacigalupi at (607) 753-5453 or darci.bacigalupi@cortland.edu.
Thomas Hischak Obtains Fulbright to Teach in Lithuania
03/29/2011
Thomas Hischak, professor of performing arts who specializes in theatre, has received a Fulbright Foundation grant in the Senior Specialists Program in which American scholars are invited to teach and/or work with foreign universities for a limited period of time.
Hischak has been selected to go to Siauliai University in Lithuania for two weeks in May to teach, present workshops and participate in the college's international theatre festival. He also will work with Siauliai University's theatre department in planning an American studies program in the arts.
Hischak is a designated Fulbright Scholar who taught and directed theatre at the University of Patras in Greece in 2008.
Fulbright scholars teach in English so that the foreign students can improve their language skills. Hischak will be lecturing on American theatre and musicals and will hold an acting workshop for Lithuanian theatre students.
"My Fulbright experience in Greece was so rewarding that I wanted to visit another non-English-speaking country in Europe that I had never been to before," said Hischak. "I found working with foreign students in theatre fascinating. They know so much about American culture and are surprisingly fluent in English, yet they view the U.S. so differently than we do. Rehearsals were my favorite part of the Greece experience because that is when you really got to talk and realized how different we are yet how much we have in common."
Siauliai is a city in Northern Lithuania and the university has about 12,000 students. Since Lithuania's independence from the former Soviet Union in 1990, the use of English in schools and daily life has increased rapidly.
As a member of the Performing Arts Department, Hischak has taught and directed theatre productions at SUNY Cortland since 1983. He is the author of 21 books on theatre, film and popular music and is a playwright with 25 published plays. In 2004, he was honored with a SUNY Chancellor's Award for Excellence in Scholarship and Creative Activity. Hischak holds degrees in theatre and English from St. Louis University and Southern Illinois University at Carbondale.
Campus Community Response Requested for Survey
Periodically the Committee on the Status and Education of Women (CSEW) administers surveys to faculty and professional staff, classified staff and students in an effort to assess the SUNY Cortland climate with respect to gender-related issues. The survey was last administered at SUNY Cortland in 2005.
Results from these comprehensive surveys can provide important information regarding the educational climate for our students, faculty and staff, as well as identify the social conditions that govern interactions among the campus community. Past findings, for example, have been used to justify the construction of the Campus Child Care Center as well as the development of the Women's Studies minor.
Members of the SUNY Cortland community are invited to assist the CSEW in this effort by filling out the appropriate online survey by Friday, April 22:
Students:
http://oira.cortland.edu/ws1/CampusClimate-Student.aspx
Faculty/Professional Staff:
http://oira.cortland.edu/ws1/CampusClimate-FacultyStaff.aspx
Classified Staff:
http://oira.cortland.edu/ws1/CampusClimate-ClassStaff.aspx
Responses are anonymous and confidential.
For more information, contact Virginia Levine in the President's Office at (607) 753-2201.
Faculty Senate Passes Measure on Course-Teacher Evaluations
The Faculty Senate, at its March 22 meeting, unanimously approved a refinement to the College Handbook on personnel policies that pertain to the use of Course-Teacher Evaluation forms (CTEs) in measuring faculty performance.
In offering the recommendation, the Academic Faculty Affairs Committee (AFAC) intended to help department personnel committees and department faculty to clearly understand the use of these assessment forms about both the course and teacher, which students turn in upon concluding the course.
While this form of evaluation is primarily intended to measure the effectiveness of a course offering, and is required to be administered no less than every third time the class is taught, College records relate the CTE form also serves to assess the instructor's job performance.
The form has been administered that way essentially since the inception of the CTE, noted several faculty members who had researched College records as far back as the 1980s on the subject.
"It could be used for personnel decisions and it was not a matter of choice," said Senator David Berger, Psychology Department, who had looked into the matter with Senator Jalal Alemzadeh, Mathematics Department.
The recommendation adopted by the Faculty Senate, which after approval by President Erik J. Bitterbaum would be added to the College Handbook, is worded as follows:
"That each department be explicitly clear in its personnel policies how often CTEs should be administered and whether or not and in what ways they will be used evaluatively to consider personnel matters."
"This addresses the concerns particularly of untenured faculty, who need to know where they stand," said AFAC Chair Andrew Fitz-Gibbon, Philosophy Department.
"It's a fairly general and commonsense regulation: how best to use CTEs," noted Faculty Senate Chair David Miller, Geography Department.
In new business, with three quarters of senators present, the Faculty Senate determined it could legitimately pass a time sensitive request by the Executive Committee of the University Faculty Senate in support of a March 2011 "Resolution in Support of a Rational Fiscal Plan for SUNY."
The action, which was approved with one "nay" vote, centered on a proposed, five-year tuition plan that has been embraced by SUNY, CUNY, and the Student Faculty Assembly.
A few senators expressed unease at the vagueness resolution aspects but most endorsed its purpose and spirit.

Suggest a feature story
---
People on the Move
John Cottone Leads Professional Studies
03/30/2011
John Cottone, SUNY Cortland's interim dean of the School of Professional Studies since June 2008, was named dean effective March 3.
Since August 2009, he had simultaneously served as interim dean of the College's School of Education. An interim will be named while the search continues to fill that position.
As dean of professional studies, Cottone provides leadership over the school's six academic departments: Communication Disorders and Sciences; Health; Kinesiology; Physical Education; Recreation, Parks and Leisure Studies; and Sport Management. Four of the six departments he directs are housed in the newly renovated and expanded 63,000-square-foot Professional Studies Building on Pashley Drive. He also continues to oversee the SUNY Youth Sports Coaching Institute.
Cottone, a 26-year College employee who previously chaired the Kinesiology Department since 2002, reports to Mark J. Prus, provost and vice president for academic affairs.
"It is a great privilege to be afforded the opportunities to serve this college and be involved in the collaborative process that strategically shapes its future," Cottone said.
A member of the SUNY Cortland faculty since 1985, he received the SUNY Chancellor's Award for Excellence in Faculty Service in 2007.
Cottone was the interim director of the Physical Education Department when it also included sport management, athletic training and kinesiology in both 1997-98 and in Spring 2000.
He also directed the Athletic Training Program for 22 years. In 2008, the alumni and staff of the Athletic Training Program endowed the John Cottone Athletic Training Scholarship in his name.
He has served on more than 30 committees, many of which address critical components of the College's mission. His leadership led to his appointment as chair of the Faculty Senate's Educational Policy Committee and of the Curriculum Task Force.
Since receiving his doctorate in education from Syracuse University, Cottone has been a manuscript reviewer for Human Kinetics, a publishing company. He also has written articles in athletic training and has presented at conferences throughout the northeast.
A native of Brooklyn, N.Y., he grew up in West Babylon, N.Y. He earned his bachelor's degree in physical education from Castleton State College in Vermont, where he was a standout lacrosse player and an inductee into the Castleton State Athletic Hall of Fame. He earned a master's degree in physical education and athletic training from Indiana State University.
He began his professional career as an assistant professor of physical education and the athletic trainer at Castleton State College.
In 1985, he joined SUNY Cortland as an assistant professor of physical education and the head athletic trainer. He was promoted to associate professor in 2000.
He resides in Virgil, N.Y., with his wife Brenda. They have two children, Nicole, a 2010 graduate of Nazareth College and Caitlin, a sophomore at St. John Fisher College.
Frederic Pierce to Direct Public Relations
03/30/2011
Frederic Pierce of Syracuse, N.Y., the public relations director for the New York State Fair since 2008, joined SUNY Cortland as director of public relations on Monday, March 28.
Reporting to Raymond Franco, the College's vice president for institutional advancement, Pierce will oversee the College's media relations, external and internal communications, sports information, government relations, community relations and records access.
Pierce, who has worked more than 25 years in the communications field as a journalist, public relations professional and university instructor, will manage a six-member Public Relations Office staff. He will serve on key advisory groups, including the President's Council, and provide expertise and assistance to the other areas of the division: alumni affairs, fund raising, publications and electronic media.
"Fred's skills from two decades as an upstate New York journalist and his experience developed at the New York State Fair will transfer well to this position, and help ensure the university's continued success," Franco noted.
For three years, Pierce managed all public relations and marketing efforts for both the New York State Fair, New York's largest annual event, and the state Fairgrounds, which hosts more than 500 athletic, commercial and entertainment events throughout the year.
He also planned, wrote and oversaw production and distribution of a variety of Fair publications and marketing materials, including calendars, fliers, coupon books, daily programs and an annual Fair Visitors Guide with a circulation of 1.3 million.
Pierce coordinated the Fair's Internet activities, including an active Facebook page with more than 50,000 followers. He worked with consultants to redesign the Fair's website, established a Fair presence on Twitter, launched a digital Fair newsletter and moved the Fair to an entirely electronic press release distribution system. In both 2009 and 2010, the Fair's social media campaign was honored by the International Association of Fairs and Expositions.
"SUNY Cortland is an exciting institution that transforms students as it prepares them for the future," Pierce said. "You can feel the energy on campus, and I am thrilled to have an opportunity to help share the college's story with the public."
A native of Vestal, N.Y., Pierce grew up hearing positive stories about the college from his parents, who met while attending the school. He earned a Bachelor of Arts in government and in Soviet Studies from Cornell University in Ithaca, N.Y., graduating with distinction. He received a Master of Science in Journalism from the Medill School of Journalism at Northwestern University in Evanston, Ill.
Pierce began his journalism career in 1986, covering city hall for the Watertown (N.Y.) Daily Times.
In 1987, he joined The Post-Standard in Syracuse, N.Y., as a staff writer. Pierce researched and wrote on a wide range of topics, including government operations, education, high-profile crime, environmental issues, business development and the Central New York economy. He covered presidential, congressional, gubernatorial and local political campaigns.
As an assistant city editor from 1993-95, Pierce managed and supervised the newsroom night shift, working with reporters on breaking news and long-term projects. As a reporter, he won numerous awards from organizations that included the New York State Associated Press Association, the New York Newspaper Publishers Association and the Syracuse Press Club. He also pioneered the creation of two separate news blogs for Syracuse.com.
Pierce also worked as a freelance writer with Cool Travel Mail, Santa Monica, Calif., and GopherCentral.Com, Chicago, Ill. For eight years until 2007, he researched and wrote weekly Internet newsletters on a variety of travel topics.
And, as an adjunct professor at Syracuse University's S.I. Newhouse School of Public Communications, Pierce taught journalism skills to both undergraduate and graduate students for a decade.
He lives in Syracuse with his wife, Donna, and their two teenage children.
---
Faculty/Staff Activities
Denise D. Knight
Denise D. Knight, English Department, had her essay, "'that pure New England stock': Charlotte Perkins Gilman and the Construction of Identity," published as the opening chapter in Charlotte Perkins Gilman: New Texts, New Contexts (Ohio State University Press, 2011). Knight also has been informed that her "Note on Gilman's Supplement to 'A Conservative'" has been accepted by ANQ: A Quarterly Journal of Short Articles, Notes, and Reviews. In June, she will present two papers at the Fifth International Conference on Gilman in Missoula, Mont.: "Gilman Abroad," and "Artistic Renderings of Charlotte Perkins Gilman."
Tom Lickona
Tom Lickona, Childhood/Early Childhood Education Department, has been awarded a $10,000 contract with the Kansas State Board of Education for the "Character Education Partnership Grant." The period of performance is Feb. 21 to June 30, 2011.
Robert Spitzer
Robert Spitzer, Political Science Department, has been appointed to the editorial board for the new "Contemporary Social Issues" project to be published on the Web by ABC-CLIO Publishers. The series consists of Yes, No and Other essays addressing contemporary controversial issues including capital punishment, legalization of marijuana, prostitution, health care, immigration, climate change and privacy, among others.

Submit your faculty/staff activity