Distinguished Alumni to be Honored
07/04/2010
The SUNY Cortland Alumni Association will present its highest honor, the Distinguished Alumni Award, to three graduates during the Alumni Reunion Weekend luncheon in Corey Union on Saturday, July 17.
The 2010 Distinguished Alumni Award recipients are Judith Rink '65, a professor of physical education at the University of South Carolina who has been nationally and internationally recognized in her field, and the late Kathleen O'Callaghan Maul '72, who was nationally recognized for her leadership as the executive director for United Cerebral Palsy of Greater Suffolk (UCPGSC). The association will bestow its Distinguished Young Alumni Award on Amber Larkin Rice '03, a North Carolina schoolteacher who joined 19 outstanding educators on the national All-USA Teacher Team in 2007.
Since 1968, 109 SUNY Cortland graduates, including this year's honorees, have received the Distinguished Alumni Award for their career accomplishments and outstanding service to their community and alma mater. In addition, 19 alumni have been recognized with Distinguished Young Alumni awards and six have been named Honorary Alumni.
Judith Rink '65
A Long Island native and a graduate of East Meadow (N.Y.) High School, Rink earned a Master of Science in Physical Education from the University of North Carolina at Greensboro and a doctorate from Ohio State University.
A resident of Chapin, S.C., Rink has served 28 years on the physical education faculty at the University of South Carolina (USC).
"She is viewed as one of the foremost researchers in the country on physical education curriculum development," wrote Patricia Sullivan, professor emerita in the Exercise Department of The George Washington University, in nominating Rink for the award. "She is truly an exceptional individual and an exceptional professional. She has served as an inspiration to many."
Rink has authored or co-authored six books, including the 2010 text, Schoolwide Physical Activity: A Comprehensive Guide to Designing and Conducting Programs (Human Kinetics) and the 2008 text, Designing Physical Education Curriculum for a Physically Active Lifestyle (Boston: McGraw-Hill). Another book, Teaching Physical Education for Learning (Boston: McGraw-Hill), goes to press with a sixth edition. Rink also has written more than 40 articles appearing in refereed publications and delivered more than 60 national or international presentations in her field. She is a regular manuscript reviewer in leading physical education publications including the Journal of Teaching Physical Education, Research Quarterly for Exercise and Sport and the Journal of Physical Education, Recreation and Dance.
Rink has supervised and mentored many doctoral dissertations and masters theses and directed the post-doctoral studies of several current leading faculty members in higher education as well as hundreds of undergraduate students.
"I have been proud to pass the torch to them," she writes. "As important as academic preparation is for a profession, the most valuable tool for a successful career that I received from Cortland was the desire to be the best professional that I could be. We called it PA, or 'professional attitude,' back in those days and in today's vernacular it would be called 'socialization into a profession.' I have carried PA with me throughout my career and continue to hold dearly those values that were instilled in me as a young undergraduate."
Judith Rink '65 stands on the University of North Carolina at Greensboro campus.
At the state level, Rink has directed the South Carolina Education Assessment Program, which is a comprehensive model for state assessment emulated by New York state.
The National Association for Sport and Physical Education (NASPE) named her to its Hall of Fame in 2000 and, in 2007, presented her with its Teacher Educator Honor Award. Rink has served many professional organizations, including on NASPE's Board of Directors and its Quality Physical Education Task Force. In 2003, the College of Education at USC honored her with its Outstanding Researcher Award.
Rink was inducted into SUNY Cortland's C-Club Hall of Fame in 1988 for accomplishments that included both an Outstanding Teacher Award and a Scholar Award from the South Carolina Association for Health, Physical Education, Recreation and Dance.
The American Academy for Kinesiology and Physical Education, one of the most prestigious organizations in the field, inducted her as a member in 2006 and the American Alliance for Health, Physical Education, Recreation and Dance presented her with a 1999 Curriculum and Instruction Academy Honor Award.
"I have been successful at what Cortland sent me off to do: to be the best physical educator I could be and to be a tireless advocate for my profession," Rink writes. "When people ask me what I am, my response is always the same, 'I am a teacher and a teacher educator.'"
Kathleen O'Callaghan Maul '72
United Cerebral Palsy of Greater Suffolk County (UCPGSC) has named its universal access center, now under construction, in memory of the late Kathleen O'Callaghan Maul '72 as a heart-felt tribute to the woman who championed access for people of all abilities during the final decade of her life.
"Ms. Maul has been recognized on the national level as one of the most positive and productive forces in the field of services for persons with disabilities," writes George Maul '72 of Dix Hills, N.Y., who co-nominated his late wife with Kathleen's classmate, Carol Whitney-Agate '72 of Cortland, N.Y.
After receiving her bachelor's degree in special education from SUNY Cortland, Maul began her career at Rome Developmental Center, where she organized the first student government in a state agency.
Her efforts toward individual advocacy and maximization of each person's development continued as a special education teacher in the Syracuse Developmental Center and later at the Long Island Developmental Center in N.Y. While in Syracuse, she completed her post-graduate work at Syracuse University.
Her unique ability to organize and effectively focus her staff efforts to the benefit of clients was quickly recognized and she advanced to the position of associate director for community services at the Long Island Developmental Center.
In 1990, Kathleen Maul became the associate director of UCPGSC, based in Hauppauge, N.Y., which serves more than 2,500 clients and families. In 1993, she was promoted to executive director, and her agency received accolades. The New York State Self Advocacy Association named UCPGSC the 1995 Agency of the Year. The United Cerebral Palsy Association presented Kathleen Maul with its 1997 Commitment to Quality Award for Customer Responsiveness in recognition of her efforts to provide people with cerebral palsy and other disabilities and their families a larger participating role in every aspect of agency operations.
The late Kathleen O'Callaghan Maul '72.
"One of Kathy's visions was an environment of total accessibility on a campus that would include an education center and a comprehensive health facility, providing primary and specialty care, mental and dental health services and therapeutic interventions for persons with disabilities," wrote Marsha Gittleman, the agency's director of development and public relations. "Among her most significant accomplishments was securing property for this project through a federal grant and overseeing the initial plans for its design before her untimely passing" in 2003.
That year, the agency's board of directors voted to name the planned facility the Kathleen O. Maul Center as a living tribute to her commitment to universal access for everyone.
"Her spirit and commitment to individuals with disabilities is strongly ingrained in all who knew her and worked with her," George Maul said. "She is, most truly, a Distinguished Alumna, but more significantly, she is loved and respected by all who knew her."
She and her husband, George, raised three children, Brehan, Meaghan and Katie.
Amber Larkin Rice '03
A SUNY Cortland professor who never taught Amber Larkin Rice '03 nominated her for Distinguished Young Alumna after reading about her accomplishments in a 2007 newspaper article listing 20 of the most honored U.S. teachers.
A fourth grade teacher since 2008, Rice has become a national role model for inner-city educators.
USA Today placed her on its 2007 All-USA Teacher Team for transforming the lives of her impoverished, homeless and, in some cases, recent refugee students in Charlotte, North Carolina's largest city. The Rome, N.Y. native who earned her elementary education degree from SUNY Cortland, has been teaching at Billingsville Elementary School and its predecessor, Chantilly Elementary School, since graduation.
"To say the least, I was blown away by both the award and the creativeness of her teaching," observed SUNY Distinguished Service Professor of History Roger Sipher. "In 2006 all of her students passed the North Carolina End of Grade tests despite the fact that she teaches in the lowest performing school in the district. This despite the fact that she teaches in a school wherein 91 percent of the students receive either a free or a reduced fee lunch. And this despite the fact that 30 percent are English as a second language students and 18 percent are homeless."
USA Today selected Rice from among thousands of nominees for the honor. The USA Today article noted that Larkin will do whatever it takes to make her students learn. She created a military camp and battle scene to teach a lesson on the Civil War and transformed her classroom into a "grab and go" style grocery store to teach math. Within her classroom, she tailors her teaching method to the individual student. Quiet students are encouraged to talk and vocal students are given center stage.
Amber Larkin Rice '03 is shown teaching in North Carolina in 2007.
"Teaching is rewarding," Rice noted in the article. "I love to see their faces light up when they know they've learned a word or solved a problem."
Growing up in Rome, N.Y., Rice was inspired to join the field of education by her first grade teacher, Karen Kehoe Tagliaferri '86.
"I loved Cortland and the education program was great," said Rice, who still employs the technology research techniques she gained as an education undergraduate. "I feel like everything we did was real world. It wasn't so much theory-based as it was about strategies that you could actually take with you and use."
She earned a master's degree at nearby Pfeiffer University. Since her nomination, Rice has earned the Successful Teacher Administrator Award, reflecting her high academic change in achievement levels of students previously performing below grade level for 2005-06, 2006-07 and 2007-08. She received an individual teacher bonus awarded for exceptional growth on the End of Grade Assessments.
Rice was the subject of a 2008 "Above and Beyond" feature story by CMS TV3. She appears on "The Power of Two," a DVD produced by Marilyn Friend that provides a comprehensive look at co-teaching as part of the foundation of an inclusive, collaborative school. She delivered a presentation on "Classroom Strategies to Motivate Success" in 2008 at the North Carolina Department of Public Instruction's conference titled "Raising Achievement Closing the Gap."
In June 2008, she married Stephen Rice, another Rome, N.Y. native teaching fourth grade in the Billingsville School. They live in Tega Cay, S.C. They enjoy golfing together and are expecting their first child in late June.
Sheltmire Cabin Dedication at Raquette Lake July 31
06/30/2010
The Trapper's Cabin at SUNY Cortland's Camp Huntington along Raquette Lake will be officially dedicated as the Sheltmire Cabin aka Trapper's Cabin in honor of Jack Sheltmire M '73, who recently retired after 10 years as director of the College's Center for Environmental and Outdoor Education.
The naming ceremony will be held at the cabin at 2 p.m. on Saturday, July 31. Those interested in attending the invitation-only event must contact Melony Warwick in the Institutional Advancement Office by July 23. She can be reached at (607) 753-2518 or by e-mail at warwickm@cortland.edu.
Awarded emeritus status, Sheltmire increased educational programming facility use at the Outdoor Education Center by more than 30 percent. He also oversaw the College's Brauer Educational Center outside Albany, N.Y., and the Hoxie Gorge Nature Preserve in southern Cortland County
He spearheaded the successful efforts that culminated in 2004 with the U.S. Department of the Interior designating Huntington Memorial Camp as the first and to date only National Historic Landmark within SUNY. The complex of structures, including the Trapper's Cabin, was constructed in the late 1800s and originally known as Camp Pine Knot — the first of the Great Camps of the Adirondacks.
Because Camp Huntington is only accessible by boat, the College will be offering three different boat shuttle times across Raquette Lake on July 31. The boat will leave from the Antlers dock at 12:30 p.m., 1 p.m. and 1:30 p.m.
Rhonda Jacobs '01, the assistant director for the Center for Environmental and Outdoor Education, will emcee the dedication event. SUNY Cortland President Erik J. Bitterbaum and Robert Rubendall, who succeeded Sheltmire as the center's director, will provide the welcome.
Offering reflections will be Don '59 and Donna Bell Traver '59, Don White '53, Arethusa Sorority sisters, and Patricia Sullivan '69 and Barbara Moenich LoPiccolo '69 from Theta Phi Sorority. Following the unveiling of the plaque and Sheltmire's remarks, a reception will be held in the George Fuge '49 Dining Room.
Sheltmire received the New York State Outdoor Education Association Leadership Award in 1983 and the SUNY Cortland Excellence in Professional Service Award in 2009.
The Jacksonville, Fla., native graduated from Niagara-Wheatfield High School in Sanborn, N.Y. He earned an associate's degree in agronomy from SUNY Morrisville, a bachelor's degree in recreation education from Utah State University, a master's degree in outdoor education from SUNY Cortland and a Ph.D. in nature resource policy from SUNY College of Environmental Science and Forestry in Syracuse.
Sheltmire taught outdoor education in the Syracuse Public Schools before joining the SUNY Cortland recreation and leisure studies faculty. He then became a professor, recreation coordinator and academic division chair at the University of Maine Presque Isle. Before returning to Cortland, he was a professor, center director and department chair at Morehead State University in Kentucky.
A licensed master guide, Sheltmire presided over statewide professional associations in Kentucky, Maine and New York.
---
Capture the Moment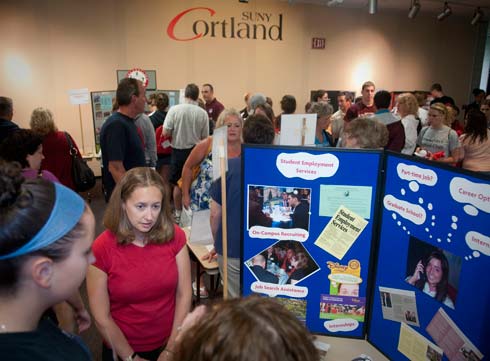 Incoming freshmen and their parents gathered in Corey Union Exhibition Lounge on June 29 to participate in the Campus Services Information Fair coordinated by the Advisement and Transition Office. In the foreground, Lisa Allen, a career counselor and the student employment coordinator in the Career Services Office, speaks with two students.
---
In Other News
Outstanding Alumni Volunteers Honored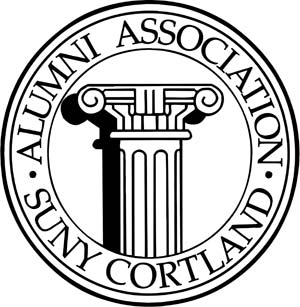 07/01/2010
Edward H. Olivari '49 and John Reardon '50 will receive the Outstanding Alumni Volunteer Award at a luncheon being held during the SUNY Cortland Alumni Reunion.
The Alumni Luncheon, set for noon on Saturday, July 17, will be held in the Corey Union Function Room. Reservations are required for this popular event and can be made by contacting the Alumni Affairs Office at (607) 753-2516.
The award was established by the SUNY Cortland Alumni Association in 1999 to honor Cortland graduates who have been exceptional in their engagement with the College, donating countless hours of their time to improving alumni relations with the College.
Edward H. Olivari '49
Long before the New York Jets came to the SUNY Cortland campus, the New York Giants enjoyed a steady presence with the SUNY Cortland Alumni Association through the efforts of their goodwill ambassador Ed Olivari '49.
A physical education major at SUNY Cortland, Olivari worked in the White Plains Public Schools from for 32 years until his retirement in 1982. During the last 14 years of that period, he also worked part-time for the New York Giants. Then he went to work on a full-time basis in the Giants Public Relations Office from 1983-96.
Always a loyal and proud Cortland alumnus, Olivari arranged for the alumni association to annually receive 250-300 tickets to the Giants-Jets pre-season game in the Meadowlands. Over its six-year run in the late 1980s and early 1990s, the alumni event was a perennial sellout and with its grand tailgate before the contest became one of the most popular of the association-sponsored functions.
Olivari used his close relationship to the NFL team to secure autographed footballs and other Giants' memorabilia that were raffled and raised thousands of dollars for a variety of SUNY Cortland alumni functions.
One of the many beneficiaries of Olivari's generosity has been the Post-World War II Classes Reunion. An Army veteran, he has been an active participant and supporter of the annual event since its inception in the 1990s. The funds he helped to raise put the beloved reunions on secure financial footing.
Leading up to 2009, Olivari directed his enthusiasm and creativity towards the 60th reunion of the Class of 1949. As event co-chair, he personally contacted his classmates many times to urge their attendance at the 2009 Reunion Weekend. His indefatigable efforts led to an impressive 45 percent showing by the Class of 1949 members. Olivari created a photo calendar featuring the Class of 1949 that was distributed free of charge to all the attendees, at the same time he supplied college caps, blinking pins and other collectors' items.
In nominating Olivari, his classmate, RoseMarie Kleinspehn '49, cited "Ed's faithfulness, enthusiasm and unselfish hard work on behalf of the College" as traits worthy of the award.
A member of Delta Kappa while a Cortland undergraduate, Olivari earned a master's degree from Columbia University Teachers College and his director's certification from New York University. He and his wife, Carmela, reside in Cortlandt Manor, N.Y. They have three children, Ed '76, Nancy '79 and Carol.
In retirement, he still helps scout college players for the Giants, many of whom have been drafted by the organization.
John Reardon '50
SUNY Cortland alumni have always been in good hands with John Reardon. An accomplished cartoonist, he has drawn and then donated thousands of images over the past half century that have celebrated the people and personalities near and dear to his alma mater.
Reardon's clever illustrations have graced Cortland sports and banquet programs and have been presented as gifts to C-Club Hall of Fame inductees. Legendary Cortland Coach Carl "Chugger" Davis was a Reardon favorite. Reardon's art, depicting Davis' colorful idiosyncrasies, is part of the Davis Building collection at the SUNY Cortland Stadium Complex.
For years, the Bessie L. Park 1901 Center conference room, now the Hall of Fame Room, featured a collection of Reardon's three-dimension paper reliefs depicting athletes in action in every sport the College offered at the time.
At the first-ever Post-World War II Reunion in Myrtle Beach, S.C., in the 1990s, Reardon surprised each of the 75 participants with an individualized, 12-inch by 18-inch portrait depicting the graduate in a pose related to his or her sport or interest while a Cortland undergraduate.
His talents included making intricate figures using peanut shells for torsos and adding wires for appendages, hair and whatever else was needed to create a 3-D caricature that became a treasured keepsake for the subject.
"John was selfless to all requests that the College made for his talents," explained RoseMarie Kleinspehn '49, who nominated him for the honor. "John had a big heart and shared it with all of his who loved him back."
A 1978 inductee into the C-Club Hall of Fame, Reardon grew up in New Rochelle, N.Y., where he was the high school yearbook art editor. He served in the same capacity at SUNY Cortland, where he co-captained the football team, was a lacrosse defenseman and a heavyweight in wrestling.
An Army Air Force veteran, he earned a bachelor's degree in physical education from Cortland, a master's degree in secondary administration from Hofstra University and his director's certification from New York University.
He taught and coached in Orchard Park, N.Y., where he started the wrestling program, Valley Stream, N.Y., and Roslyn, N.Y., before beginning his 27-year career at North Shore School District in Glen Head, N.Y. He retired in 1983 as district director of physical education and athletics.
He and his wife, Winnie, moved to East Aurora, N.Y., where he substitute taught, volunteer coached and became an award-winning woodcarver.
The Reardons have five children, Jon '75, Jody, Dariel, Douglas and Tracy.
Cortland Finishes 17th in Directors' Cup Standings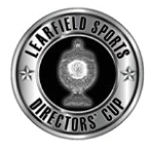 06/30/2010
The SUNY Cortland men's and women's intercollegiate athletic program finished in 17th place in the 2009-10 Learfield Sports Directors' Cup competition among the approximately 440 eligible NCAA Division III programs competing nationally for the prestigious honor. The award is presented annually by the National Association of Collegiate Directors of Athletics (NACDA), Learfield Sports and USA Today recognizing overall excellence among collegiate athletic programs.

Cortland is one of only six schools nationwide, and the only New York institution, to place in the top 20 each of the 15 years the standings have been compiled on the Division III level. The Red Dragons were the top finisher this season among New York Div. III schools.
Lindsey Brown Will Receive National Recreation Award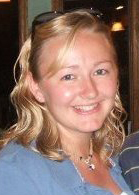 06/25/2010
Rho Phi Lambda, the national honor society in the field of recreation, parks and leisure services, will recognize Lindsey J. Brown, a recent graduate from SUNY Cortland, as the 2010 Outstanding Graduate Student.
She was chosen by representatives of the 25-year-old, Florida-based honor society from among several applicants from institutions around the country for one of four Rho Phi Lambda awards, according to Donna K. Lindenmeier, Rho Phi Lambda's national vice president and secretary. The three other awards presented for 2010 were the Chapter Incentive Award, the Outstanding Undergraduate Student, and the Leadership and Service Award.
Brown of Cortland, N.Y., will formally accept the award during the National Recreation and Park Association Congress and Exposition from Oct. 25-29 in Minneapolis, Minn.
She graduated with her master's in recreation from SUNY Cortland on May 21, having previously earned a bachelor of arts in sociology from SUNY Geneseo.
"Recreation is showing people what they can do and how they can do it," Brown asserts. "It's a very empowering experience. Being able to show other people how they can recreate is very important to me."
"Lindsey has served as the graduate assistant for the highly successful SUNY Cortland Community Bike Project," commented Professor Lynn Anderson, who chairs SUNY Cortland's Recreation, Parks and Leisure Studies Department, explaining why Brown received the kudos. "In her role, she helped us transition the bike project to a new type of sustainable program where students check bikes in and out. Lindsey was instrumental in developing the program and managing its implementation."
"Lindsey Brown has been an amazing student, researcher and teaching assistant," added Assistant Professor Edward Hill, who taught a course to Brown and notes she has maintained a 3.96 grade point average. "She is the type of graduate student you hope to one day have as a colleague."
"When it was first started, yellow bikes were out all over campus and there were issues with bikes not being cared for and people not taking ownership of them. Brandi Crowe, a graduate assistant (who earned her master's degree this year), and I put our heads together and came up with a plan that would be implemented by me as a graduate assistant in the 2009-10 year. Students, faculty and staff now sign a consent form to take a yellow bike and a helmet for three days. I think the checkout is going to turn into a one-week one."
"Students can come check them out and it doesn't cost them. There is also a semester-long rental program with a higher-end bike, also called the red bike program. The fee includes the lock and key, helmet and maintenance. If you have a flat tire, you can bring it in and we'll fix it up for you. I think the students who have participated in the red bikes program think it is a very good deal, and it is popular with the students who have traveled here from a very long distance and don't have transportation, including some of the international students."
In 2009, Brown was inducted into Alpha Eta, SUNY Cortland's six-year-old chapter of Rho Phi Lambda. Members must show evidence of academic excellence in scholarship, leadership and service to campus or community, rank in the top 15 percent of their class and maintain a minimum GPA of 3.2 in professional courses.
She served the Recreation, Parks and Leisure Studies Department as coordinator of its 59th annual SUNY Cortland Recreation Conference and organized the conference's first Research Symposium featuring 12 formal, peer-reviewed research presentations. A published author of research conducted in her field, Brown has delivered 14 presentations about the Community Bike Project and other recreation subjects on campus, in the region and in New York state at professional conferences.
The College's Institute for Civic Engagement presented her with its Leadership in Civic Engagement Award. At school, she also has participated in the SUNY Cortland Recreation Association. In the community, she served as program coordinator for the innovative afterschool program at Barry School called the League 56 Academy. Brown and the program leaders she managed used findings on the children's resilience in their own research.
"Cortland has an amazing recreation program, a diverse faculty and many opportunities for students," observed Brown, a 2004 graduate of Mahopac (N.Y.) High School who is the daughter of Susan and Neil Brown.
"My most empowering experience was being a teaching assistant in many undergraduate classes in the recreation department," said Brown, who this summer supervises recreation interns at various locations for SUNY Cortland's Recreation, Parks and Leisure Studies Department. "That gave me a lot of responsibility. I was able to oversee undergraduate students' work and it kind of gave me a test run of becoming a professor."
She will teach courses in Foundations in Recreation, Camp Programming and Administration, and Administration and Recreation as an adjunct professor at the College in the Fall 2010 Semester. Ultimately Brown may pursue a doctorate in recreation to become a college professor specializing in youth development.
"Being able to supervise student interns and undergraduates has been a very rewarding experience so far," Brown said. "I will be able to have my own classroom in the fall and that is very exciting to me."
"Lindsey is creative, effective and an excellent leader," Anderson asserted. "She has been an asset to the College and will be a marvelous professional in the field of recreation, parks and leisure studies."
Formed by the merger of the two existing academic honor societies, Rho Phi Alpha and Sigma Lambda Sigma, Rho Phi Lambda was incorporated in the state of Florida in 1985 with 18 charter chapters. The organization strives to recognize superior major students, encourage the development of professional standards, stimulate the personal development of individual members' professional growth, promote a sentiment of amity among the students of the profession, and to recognize those persons who have made outstanding contributions to the field.
College Announces Graduate Studies Changes
The College has moved away from having a singular Graduate Studies Office in Brockway Hall to distributing those services across "offices with the greatest expertise and ability to handle specific issues," reported Provost and Vice President for Academic Affairs Mark Prus in a July 1 message to the campus community.
"Over the past year, we have been assessing the services for graduate students and exploring the best way to provide efficient and high-quality support for the distinct needs of graduate students," he explained. "As a result, there have been structural changes that help invest the entire college in graduate education."
Students will work directly with the school deans and associate deans, department chairs, graduate coordinators and academic advisors to address academic policies and processes, noted Prus.
Meanwhile, a graduate student support coordinator has been established in the Advisement and Transition Office to provide orientation to the College, advocacy for student issues, and to support the Graduate Student Association.
Graduate registration, records and transcripts will be handled in the Registrar's Office, where the Summer/Winter Sessions will also be located. Graduate Admissions will coordinate recruitment and enrollment of new students.
For more information on where specific graduate functions are now situated, Prus shared a Graduate Student Quick Reference Guide and Graduate Student Service Resource List.
"We are looking forward to the upcoming year and will continue to endeavor to provide outstanding services and educational opportunities to all graduate students," concluded Prus.
College Council Meets July 22
The SUNY Cortland College Council will hold a special meeting at 8:30 a.m. on Thursday, July 22, in Miller Building, Room 405. The members will meet in executive session to discuss naming opportunities.
Transfer Student Honorary Announces Officers
Tau Sigma, the national honors society for transfer students, recently elected officers for 2010-11 academic year.
An increased interest to become involved with the honor society combined with a highly motivated group of new members, resulted in the creation of additional leadership positions.
The officers are as follows:
President: Sara Pick, a senior early childhood/childhood education major
Vice President: Megan Shirey, a junior physical education major
Treasurer: Heather Schowe, a senior early childhood/childhood education major
Secretary: Lisa Guth, a senior physical education major
Public Relations Officers: Nicholas Polhamus and Kelly Ann Shea, both senior childhood education majors
Representative: Nichole Ano, a senior childhood education major
Transfer Buddy Coordinators: Rachael Forester, a senior early childhood/childhood education major, and Lauren Tinger, a senior physical education major
Emily Quinlan, Advisement and Transition Office, is the Tau Sigma chapter advisor.

Suggest a feature story
---
Faculty/Staff Activities
Mark Dodds and Harlan Bigelow
Mark Dodds, Sport Management Department, and Harlan Bigelow, Budget Office, ran the Lake Placid Marathon for Team in Training, a non-profit organization that raises money to fight leukemia. More than 200 people ran the Lake Placid Marathon and Half Marathon on June 13, raising more than $500,000. Bigelow finished third in his age group.
Jenn McNamara
Jenn McNamara, Art and Art History Department, has had her woven work from 2009, "Untitled," accepted into the North American Sculpture Biennial at the Foothills Art Center in Golden, Colo. The international competition, established in 1979, was juried by sculptors Lawrence Argent and John McEnroe as well as curator Michael Chavez. The exhibition will be open from July 16-Aug. 29 with a presentation by the jurors on July 21.
Gail Wood and Anita Kuiken
Gail Wood and Anita Kuiken, Memorial Library, presented "What is this Thing Called a Commons?" at the SUNY Technology Conference 2010 held June 15 in Rye Brook, N.Y.

Submit your faculty/staff activity