Make a Difference Day on May 19
05/13/2010
The campus community is invited to participate in "Make a Difference Day," an annual campus beautification event, on Wednesday, May 19.
Volunteers are asked to meet at the front entrance of Moffett Center on Graham Avenue at 8 a.m. to receive work assignments. Coffee and donuts will be served. The event will be held from 8-11 a.m. at work sites throughout campus.
The Physical Plant encourages students, faculty, staff and alumni to join them in planting flowers and trees, mulching, raking, sweeping and general spring cleanup. The grounds crew staff will prepare the work sites and provide tools and assistance in all areas. Employees are granted release time, with supervisory approval, to assist in the beautification of the grounds.
"We see this as an opportunity for our campus community to help beautify the grounds for Commencement, one of the most important events at SUNY Cortland," said David Horrocks, assistant director of buildings and grounds at the Physical Plant. "It's a way to honor our grads and their families."
An annual tradition on campus, the event is weather-permitting. It was originally scheduled for May 12.
"We're happy to accommodate people who would like to work in their favorite areas," Horrocks said. "Many people return each year to a specific task that they enjoy — for some it's planting flowers at the memorials, others like to spread mulch around their office building."
Those interested in volunteering are asked to register by contacting Marianne Evangelista at (607) 753-5582.
Deborah Williams Honored by Chancellor
05/11/2010
Deborah Williams, a secretary I in the Communication Studies Department and a SUNY Cortland employee for the past 30 years, has been honored with the Chancellor's Award for Excellence in Classified Staff.
Williams will receive the prestigious award during the 2010 Undergraduate Commencement on Saturday, May 22, in the Park Center.
She becomes the second SUNY Cortland recipient of the award, created by SUNY in 2009 and presented in recognition of outstanding job performance in their present position, flexibility and creativity on campus, and demonstration of exemplary customer service.
The Chancellor's Award process begins at each of the 64 SUNY campuses with nominations submitted by the respective presidents. The SUNY Committee on Awards then reviews the nominations and makes its recommendations.
"Deborah Williams is deeply committed to SUNY Cortland," said the College's President Erik J. Bitterbaum. "Precisely because she cares about the SUNY Cortland community, everything she does is of the highest caliber."
"I am humbled and honored to be chosen as this year's recipient of the Chancellor's Award for Excellence in Classified Service," Williams said. "The years seem to pass quickly when each day brings something new and challenging. Working in an academic office affords me the opportunity to work with many wonderful students, faculty and staff."
Williams joined the College in 1977 as a temporary stenographer in the Affirmative Action Office. She soon became permanent and was transferred to College Activities. She served in the Financial Aid Office from 1981-82 and the Music Department from 1982-93. In 1989, she was promoted to secretary I and, in 1993, moved to the Communication Studies Department.
"'Exemplary' is the most common word echoed among her fellow colleagues when describing the manner in which Deborah Williams has executed her duties and responsibilities in her service to SUNY Cortland," observed Distinguished Service Professor Samuel L. Kelley, who nominated her for the award.
Beyond the basics of her job, Williams is knowledgeable in college procedures, curriculum, advising and graduation requirements, Kelley asserted. She is noted for her dependability in providing support and assistance to all department levels, including the chair, full- and part-time faculty, students and alumni.
"Her professionalism, outstanding organizational skills, attention to detail and strong interpersonal skills positively impact the department and campus," said Kelley. "She is generous in her time with students."
Williams provides extensive support to department-affiliated student organizations, including the Dragon Chronicle, WSUC-FM, Debate Team, Speak Magazine and CSTV.
"Several alumni currently serve as part-time faculty members in communication studies, each one advising one of the student organizations," Kelley noted. "They rely on Deborah's knowledge in providing history and continuity for the organizations and to keep information flowing to student leaders and group members. Deborah was also an invaluable asset to the SUNY Cortland Gospel Choir for tours to England and Germany. She volunteered to keep records of donations and sent out 'thank you' notices."
"She was never my boss, but rather a mentor who not only taught me about work ethics and self motivation, but also how to be kind to every person that set foot through the door or called on the telephone," commented one graduate and former Work Study student.
"Students, they are the reason we are here," Williams said. "I enjoy working with them and their organizations and it is exciting to watch the students mature into young professionals and to follow their career paths. I am blessed by the friendships made, and I hope that my interactions with them have had a positive impact on them."
Williams came highly recommended among her Civil Service Employees Association co-workers, Kelley said. In one instance, she helped a fellow employee, who had little prior training or background working in academia, adapt to a new job created by a retirement. She has volunteered her time to the college community with the Christmas Family Gift Drive for Migrant Education Outreach Program, and in key CSEA roles.
A resident of Cortland, N.Y., Williams has two children, Michele Wendel and Mark Yacavone, and four grandchildren. Michele is a kindergarten teacher's aide at Cassavant Elementary School in McLean, N.Y., and Mark is the assistant manager/outside sales representative for Kellogg's Auto Supply in Dryden, N.Y.
---
Capture the Moment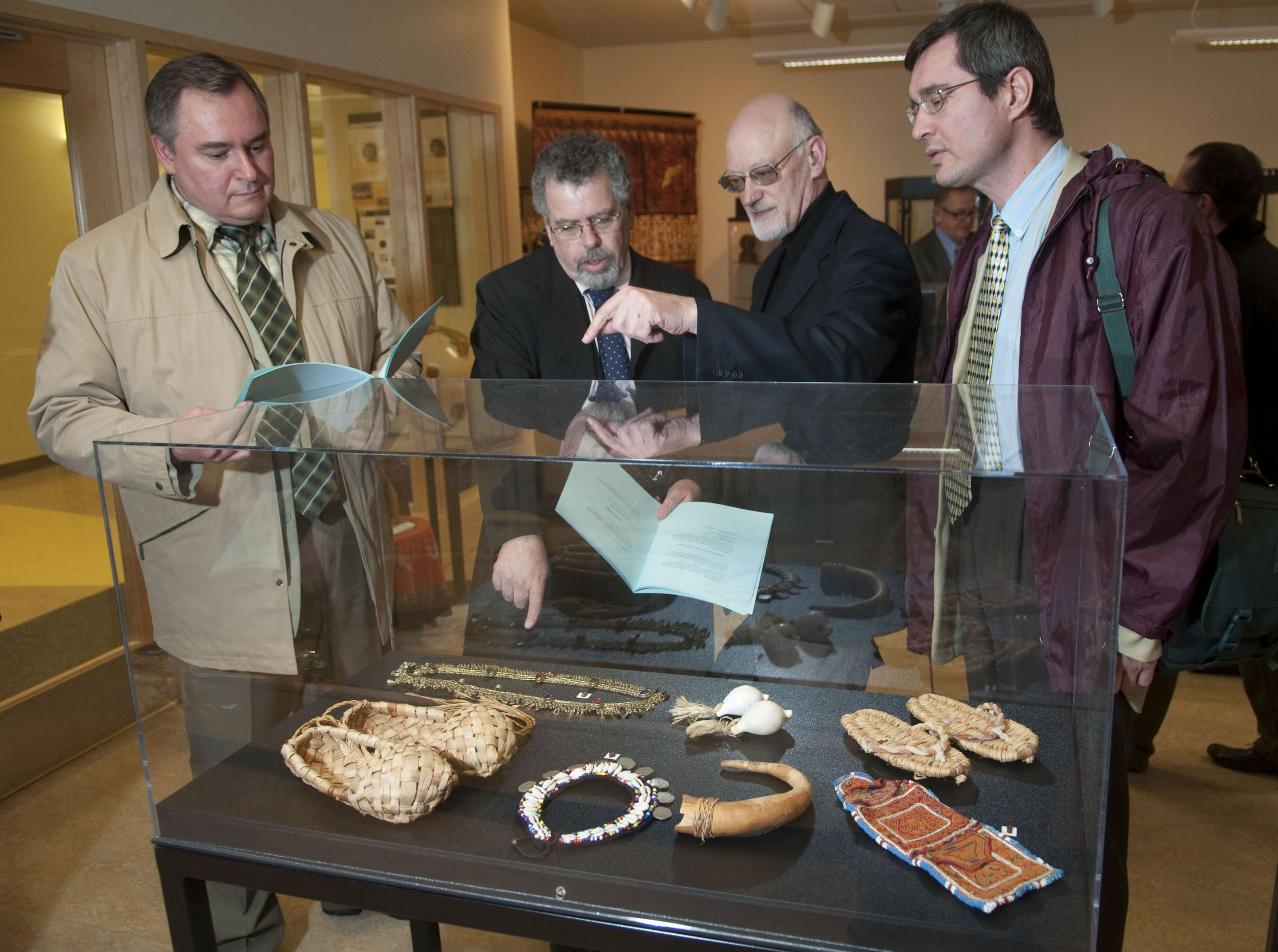 A Russian faculty delegation from Moscow State University's Department of Poliotology visited campus last week for a series of meetings with their Political Science Department counterparts. The group took a break to tour the Brooks Museum in the Moffett Center. SUNY Director of International Programs John Ryder, second from the left, points out an early 20th century ceremonial belt from Turkmenistan to three of the visitors.
---
In Other News
Junior Receives Champions for Children Award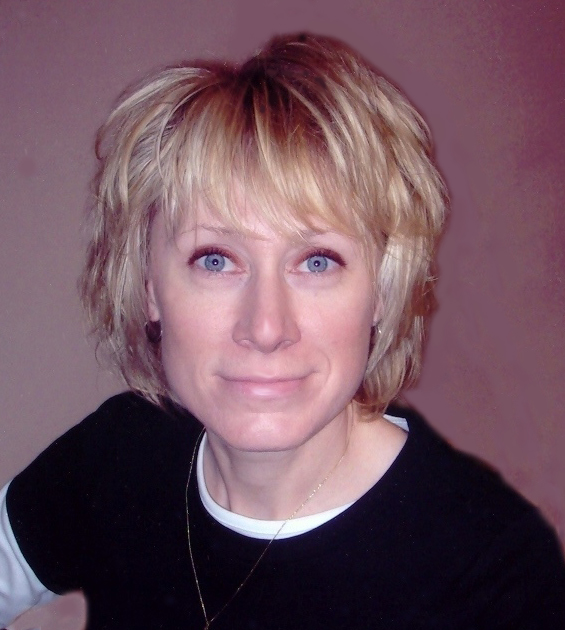 05/11/2010
SUNY Cortland junior Darcy Barber of Jordan, N.Y., received the 2010 Champions for Children Student Leader Award from the New York State Association for the Education of Young Children (NYSAEYC).
The competitive, statewide award is granted to students who display strong leadership skills and are active in improving the field of early childhood care and education. Honorees were recognized during the annual NYSAEYC conference on April 30 at the Turning Stone Resort and Conference Center in Verona, N.Y.
Barber is pursuing a degree in early childhood education at SUNY Cortland.
"She has impacted her fellow students and the children of our community in countless ways," says Patricia Gridley, a Cayuga Community College (CCC) professor and president of the Syracuse Association for the Education of Young Children (SAEYC), a division of NYSAEYC.
"She is a kind and caring individual who is passionate about children and the early childhood profession," said Gridley, who nominated Barber for the award.
Currently a non-traditional student at SUNY Cortland, Barber has presented posters for the previous two years at the NYSAEYC Conference, added Emilie Kudela, associate professor of childhood/early childhood education at SUNY Cortland and coordinator of the College's Early Childhood Education Program.
Barber said she began as a business major at CCC, but reconsidered and pursued her passion for working with children. She graduated with an associate's degree in early childhood education in 2009.
While there, Barber sponsored two very successful book sales and a Rock-A-Thon fundraiser to benefit the CCC Child Care Center.
Barber, who continues to work at the facility as an assistant teacher, also regularly attends NYSAEYC Conferences and develops poster displays advocating fundraisers that benefit children in the Auburn area. She also serves on the SAEYC Board of Directors.
In her personal life, Barber has volunteered as a religious education instructor, a co-ed kindergarten basketball coach, and summer vacation bible school instructor.
She and her husband, John, have a child in elementary school.
Student Director Stages First Play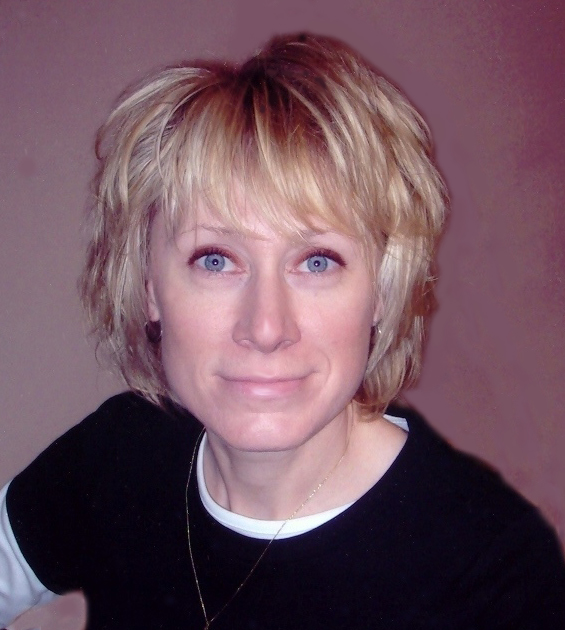 05/11/2010
With performances in 11 college plays and one musical under her belt, SUNY Cortland senior Rebecca Rozzoni was ready to move to the next level. This spring, she directed her first play.
The musical theatre major from Dryden, N.Y., led three one-act performances of the classic "You're a Good Man, Charlie Brown" in early May at SUNY Cortland's Lab Theatre.
On Sunday, May 9, her final, free staging filled the small room with some audience members standing and many others unable to see the play.
"By being a director and an actor I am able to see what it's like for both sides of the theatre world," Rozzoni said. "Working behind the scenes is just as hard if not harder than working on stage.
"It's very interesting seeing the cast create their characters even if it's different than what I originally was thinking for the character," she said prior to her play. "The cast is doing such a good job dealing with me and my first efforts at directing. We've had to restage, or rework almost every moment in the show but they deal with everything so professionally. For that, I can't thank them enough."
Student-directed plays are a 30-year, annual spring tradition for the Performing Arts Department. Another student, Colin Havener, oversaw several performances of the dark comedy, "Dog Sees God," this spring as well. Both plays related to the "Peanuts" comic strip.
The process for a student to direct his or her own play is very selective.
"The students who are chosen to direct their own plays must be in the program with enough experience to carry out the full responsibility of leading their peers to a successful production," explained Thomas Hischak, a SUNY Cortland professor of musical theatre and theatre history.
The student must approach the program's faculty a year in advance and present them with the play they have in mind, Hischak said. The professors decide who is ready and who is not. Only Rozzoni and Havener shared this honor.
Rozzoni was more than ready to sit in the director's chair, having appeared in nine main stage and two lab theatre productions and the student-directed, one-act musical, called "Romance, Romance," in Spring 2009.
"My favorite show to date has been 'Romance Romance,'" she said. "It was a wonderful experience. There were five people in the cast. We had a wonderful cast bond and it was really cool to work with a different director."
Along with acting, directing prepares Rozzoni for an essential role in her anticipated future career in the theater profession. She said that preparing for her directorial debut was a very long and rigorous process and showed her just how tough it is to put on a successful production.
"For some scenes I had no vision at all and it was very hard to block (edit) some of the scenes and the songs to fit into my production," Rozzoni explained.
With confidence and trust in her peers, she knew that everything would fall into place.
"I'm very excited for audiences to come see all the hard work my fellow students have done," Rozzoni said.
With passion and a sense of accomplishment, that final night she strove to lead her peers to an outstanding show and give the audience all she had.
"I was really apprehensive at first because I have never directed anything before but working on it has been such an enlightening and enjoyable process," Rozzoni said.
Rozzoni, who graduates this month, joins the rank of the numerous alumni pursuing careers in acting and directing at different levels and programs around the country.
"Many of our alumni are in acting right now and some are directing in places like other SUNY schools, New York City and even out in California," Hischak said.
"I'm very excited for the show to finally go up and for audiences to come see all the hard work my fellow students have done," Rozzoni said. "I'm so honored to be able to direct my peers and hope that their experience has been as rewarding as mine."
Campus Unites to Support Haiti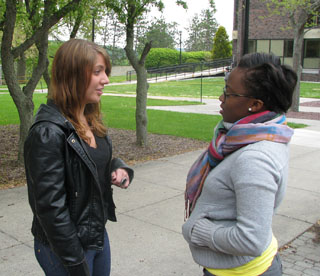 05/11/2010
Sarah Gentillon, one of several Haitian students at the College, joined the ranks of those on campus providing aid to the victims of the earthquake that struck her impoverished Caribbean island nation in early January.
"I was here for the winter session when I first heard about the earthquake," says Gentillon, who is president of the Caribbean Student Association. "It pained my heart and soul to see that happen to my country because Haiti is like no other country on this side of the globe. It's a very poor place where people struggle to eat and fend for themselves every day. The earthquake made everything worse."
SUNY Cortland senior Sarah Gentillon, right, a Haitian immigrant, thanks Lauren Zuber, Student Activities Board music coordinator, for her Haiti fundraising efforts
From residence halls to student organizations, the campus has unified in a semester-long effort provide Haiti relief.
More than 750 students and community members filled the Corey Union Function Room on April 30 for the Student Activities Board's Rock for a Cause benefit concert, featuring Grammy award winner Colbie Caillat. Ticket sales raised $3,735 with an additional $212 collected from raffle ticket sales and a donation basket. All proceeds were donated to the Haitian Orphan Rescue Fund of the Pittsburgh Foundation.
Joseph Piliero, a resident assistant in Hayes Hall, was inspired by the hardship in Haiti and raised almost $100 for the American Red Cross.
"I went door to door with a donation cup," says Piliero, a senior sociology major from Hampton Bays, N.Y. "Students were quite generous, some donated spare change and others upwards of five dollars."
The Health Promotion Office also spearheaded a successful campaign during Body Appreciation Week, Feb. 22-26, urging faculty and staff to donate $1 per day for the right to dress casually. This, combined with two Coffee House events featuring student musicians and poets, raised more than $1,000.
Not all of the campus' donations were monetary.
The Biology Club and WSUC teamed up with the American Red Cross to create the most successful blood drive in the past five years. Ninety-four productive units were donated, a portion of which was sent directly to Haiti.
This semester, the Student Government Association created and funded a scholarship for two Haitian students to study at Cortland. This augments an initiative made by the SUNY system in March to establish a tuition fund that allows Haitian nationals who attend SUNY schools to pay resident tuition rates through the spring of 2011.
"There's one thing I admire about the Haitian people," says Gentillon. "They never lose hope and faith. Although they have lost their homes and family members, they still have hope for a better future."
College Recognizes Student Leaders
SUNY Cortland honored students for their contributions to the College at the Student Leadership Recognition Banquet held April 15 in Corey Union.
Following are the award recipients:
Outstanding Student Leaders
Lindsay Anderson
Melissa Andosca
Eileen Bennett
Kristen Beyer
Marie Bieber
Briana Bonn
Allison Burke
Marisa Burkett
Allison Burritt
Jesse Campanaro
Amanda Cheetham
Nicole Chodkowski
Brandie Crowell
Jennifer Doeing
Jessica Elliott
Laura Emerling
Katelynn Faulkner
Erica Frerking
Michael Friel
Sara Gleisle
Rachel Gorman
Kelly Grogan
Stephanie Grube
Casey Henry
Amber Ingalls
Melissa Ivins
Patricia Kelly
Maureen Key
Jessica Kristy
Sara Krukowski
Erin Lange
Brandy Lawrence
Raquel Levine
Keith Lusby
Juliann Lykos
Daniel MacPherson
Gabrielle Magnanti
Rachel Monroe
Neal Nelson
Matthew Pennello
John Rudenko
Michelle Santoro
Rebecca Schnirel
Brooke Sharpe
Elana Shoykhet
Natalie Tarnow
Greta Tomaschke
Jennifer Traxel
Jeffrey Valenti
Brittany Wehr
Lauren Zuber
Excellence in Leadership
Marie Bieber
Marissa Burkett
Erica Frerking
Raquel Levine
Gabrielle Magnanti
Outstanding Senior
Kristen Beyer and Lauren Zuber
Vice President for Student Affairs Merit Award
Danielle Zinn
Student Government Association Awards
Outstanding Administrator/Staff Member Award – Richard Peagler, Director of Counseling Services
Steven J. Barnes Outstanding Faculty Member Award – Caroline Kaltefleiter, Associate Professor, Communication Studies
Outstanding Club Member – Alex Dean, History Club
Outstanding Club – Student Activities Board
Outstanding Student Senator – Allison Fucci
An award was also presented in memory of Steve Barnes.
Challenge for Success
Academic Strength Gold – Bibi Henrique
Academic Strength Suilver – Katrina Richardson
Academic Strength Bronze – Jamaal Stevens
Leadership - Bari Smith, Jean-Nicole Longmore, Lima Stafford, Andrea Villa
Gospel Choir – Khalia Brown
Outstanding Graduating Senior – Christopher Euler
Athletic Scholar and Achievement – Katelin Dable and Jenna Evarts
Greek Leadership Awards
Chapter Leadership Awards
For Delta Phi Epsilon – Kayla Espejo
For Nu Sigma Chi – Eileen Bennett
For Delta Chi – Joseph Sciortino
For Alpha Phi Omega – Brittany Wehr
Outstanding Sorority Member of the Year - Eileen Bennett of Nu Sigma Chi
Outstanding Community Service and/or Fundraising Award - Delta Phi Epsilon Sorority
College Names Leadership in Civic Engagement Honorees
Twenty-five SUNY Cortland students, five community members, five faculty members and 21 AmeriCorps members were recognized on April 29 with the College's Leadership in Civic Engagement Awards.
The awards recognize exemplary service in support of community agencies, social change and civic engagement by SUNY Cortland students, alumni, faculty, staff and community members.
Award winners were selected by the Leadership in Civic Engagement Awards Committee, whose members are from campus departments and offices involved in opportunities for service activities with local, regional and national organizations, including the Institute for Civic Engagement and the Career Services Office. Also seated on the committee are a student, a community agency supervisor, and an AmeriCorps member.
Student recipients were involved with a wide variety of activities, including leadership roles in the SUNY Cortland Relay for Life, tutoring and mentoring programs, reduction of bullying, economic development, literacy, health/wellness programming, hunger awareness, environmental protection and disaster relief. The vast majority of activity supports Cortland County residents, the public school system and numerous human service organizations.
Student recipients were:
Aaron Batchelder, Rouses Point, N.Y.
Dawn Batista, Homer, N.Y.
Jeremiah Best, Inlet, N.Y.
Laura Brienza, Farmingdale, N.Y.
Lindsey Brown, Marietta, N.Y.
Briana Bonn, East Aurora, N.Y.
Nicole Chodkowski, Westbury, N.Y.
Brandie Crowell, Wolcott, N.Y.
Jennifer Doeing, Syracuse, N.Y.
Roger Ennis, Gardiner, N.Y.
Alyson Finch, Johnson City, N.Y.
Sarah Gleisle, Webster, N.Y.
Amber Golden, Maine, N.Y.
Caitlin Goodwin, Cortland, N.Y.
Rachel Gorman, Brooklyn, N.Y.
Patricia Kelly, West Islip, N.Y.
Juliann Lykos, Dix Hills, N.Y.
Lori Jean Magnelli, Washingtonville, N.Y.
Cindy Nelson, Oxford, N.Y.
Danielle Singer, Binghamton, N.Y.
Natalie Tarnow, Baldwinsville, N.Y.
Greta Tomaschke, Elma, N.Y.
Bart White, Jamesville, N.Y.
Jenna Wright, Lockwood, N.Y.
Vitaliy Yanchuk, Cortland, N.Y.
The following community members were honored with Leadership in Civic Engagement Awards:
Marcia Mucaria Baier and John Sikora were recognized for their promotion of music and of local musicians. Mucaria formed a number of local flute-based ensembles; Sikora founded CortlandMusic.org, a nonprofit organization that offers the public a chance to enjoy classical, international and other styles of music performed by local talent.
Jillian LaDouceur, the American Cancer Society's Director of College Events and a SUNY Cortland graduate, was recognized for her tireless and upbeat efforts as she collaborated with SUNY Cortland students who participated in Relay for Life activities.
Leslie Wilkins, Family Counseling Service's Youth Assist Coordinator, received an award for her community successes, especially her expansion and strengthening of the "Homework Help" tutoring/mentoring program, and for her development and delivery of a high-school and college student-focused workshop at SUNY Cortland's November 2009 Leadership Conference.
The following SUNY Cortland faculty members were honored:
Jamie Dangler, Sociology/Anthropology Department, for her advocacy and publicity work with Cortland Aquifer Protection and Employment, as well as for her promotion of student interests in Albany through her role as president of the Cortland United University Professions.
Billie Jean Goff, Counseling Center, for her leadership in Catholic Charities, the Cortland County Alcohol and Substance Abuse Sub-Committee, the Jacobus Center for Reproductive Health and Body Appreciation Week.
Nanette Pasquarello, Judicial Affairs, for leadership in Justice for a Cure, the Take Back the Night march, Relay for Life and for volunteering at Barry School.
Richard Peagler, Counseling and Student Development, for his 37 years of dedication to the SUNY Cortland Counseling Center, chairmanship of 37 programs, active participation in the Cortland City School Board of Education, and for his leadership as vice president of the Seven Valleys Council on Alcoholism and Substance Abuse.
Special Leadership in Civic Engagement Awards were presented to three groups: the SUNY Cortland Softball Team and SUNY Cortland's Justice for a Cure, for their successful Relay for Life efforts; and Gas Drilling Awareness for Cortland County for its members' environmental awareness and protection activities.
Robert Rhodes, professor of English emeritus, presented the Cortland Area Chapter of the Alumni Association's Community Service Award to Jenna Wright for her work with the Migrant Education Outreach Program, and for her fund- and resource-raising activities.
Lindy Glennon, executive director of the Cortland County Community Action Program (CAPCO), accepted the Don Wilcox Civic Engagement Award on behalf of her staff. The Wilcox Award recognizes the anti-hunger work of a group or an individual. CAPCO received the award for its 36 years of exemplary service to Cortland County, and in particular for its poverty awareness-raising efforts through its State of Poverty Simulation, which it has conducted over the past two years for college students and teachers in local public schools.
Five students also won scholarships that acknowledge outstanding commitment to community and exceptional academic achievement:
Roger Ennis, the BorgWarner Morse TEC Scholarship
Danielle Singer, the Institute for Civic Engagement Scholarship
Jeremiah Best, the Judson Taylor Presidential Scholarship
Lori Jean Magnelli, the Community Scholarship for Interns and Volunteers
Aaron Batchelder, the Lambda Phi Delta Scholarship.
The reception was sponsored by the Institute for Civic Engagement, the Division of Student Affairs and the Institutional Advancement Office, with help from the Cortland Fund and from the Cortland College Foundation.
Political Science Honorary Inducts Members
Twenty-one students were formally inducted on May 12 into the SUNY Cortland Zeta Delta chapter of Pi Sigma Alpha, the national honors society formed to recognize outstanding achievement in political science.
The inductees include:
Patricia Collado
Alexander A. Dean
Sandra L. Erickson
Cassidy L. Fisk
Eleanor E. Fitzgerald
Kyle R. Hebden
Al-Amin M. Johnson
Bradley L. Kaufman
Kimberly J. Kodis
Jennifer R. Lutz
Todd G. MacIntosh
Daniel S. MacPherson
Christina E. Magraw
Christopher R. Montgomery
Patrick M. Palmisano
Jennifer B. Pilacky
Joseph C. Sbarra
William J. Scott
Danielle N. Singer
Bret R. Tinder
Michelle A. Witkowski.
Membership in Pi Sigma Alpha is open to juniors, seniors and graduate students. Undergraduates must be at least juniors who have completed a minimum of 10 credit hours in political science, including at least one upper-division course, with a "B" or higher grade point average (GPA). They must also have achieved an overall GPA placing them in the top one-third of their junior or senior class. They need not be political science majors to qualify for membership.
Robert Spitzer, Political Science Department, advises the Zeta Delta chapter. Formed in 1970, Cortland's chapter was one of the first to be established among political science departments in the SUNY system.

Suggest a feature story
---
People on the Move
Carol Van Der Karr Appointed Associate Provost
05/11/2010
Carol Van Der Karr, SUNY Cortland's interim associate provost for academic affairs since November, was appointed to the permanent position on April 23, following a national search.
Van Der Karr will oversee the College's curriculum review process, the General Education program, and the Registrar's Office, Institutional Research and Assessment Office, and Advisement and Transition Office, said Mark J. Prus, provost and vice president for academic affairs.
As associate provost, her leadership initiatives will foster cohesiveness and collaboration among departments, motivate and sustain the highest level of excellence in unit efforts and provide encouragement and support for ongoing professional development.
Van Der Karr previously fulfilled the duties of interim assistant provost for enrollment management from 2007-09. Before that, she had directed academic advisement since 2002. She joined SUNY Cortland in 2000 as coordinator of academic advisement and first-year programming.
Previously, Van Der Karr directed undergraduate services at Syracuse University's School of Education.
She began her professional career in 1991 at SUNY Buffalo as a career services assistant in the Educational Opportunity Center. She also worked as a counseling supervisor at the Sexuality Education Center and a development intern at the University's Independent Living Center.
In 2003, Van Der Karr was honored by the National Academic Advising Association (NACADA) with its 2003 Outstanding Advising Certificate of Merit to an Academic Advising Administrator Award for her accomplishments both as an academic advisor to students and as an administrator of an academic advising program.
She was honored with a National Service Day Recognition Award for Community Service in the City of Buffalo for her hospital advocacy on behalf of sexual assault victims.
She has served as an instructor at Syracuse University's Higher Education Program and an assessment intern at Onondaga Community College's Learning Support Center.
A native of Brockport, N.Y., Van Der Karr earned a bachelor's degree in social relations at Lehigh University, where she chaired the Lehigh Women's Health Conference, coordinated the university's first annual AIDS Awareness Week, and earned the Presidential Award for Outstanding Commitment to Student Life.
She received a master's degree in counseling and educational psychology from SUNY Buffalo and a doctorate in higher education from Syracuse University.
Van Der Karr resides in Cortland, N.Y.
Mike Urtz Named Director of Athletics
05/12/2010
Mike Urtz, SUNY Cortland's interim director of athletics since January, was appointed on May 1 as the College's full-time director of athletics. Urtz served as interim director following Joan Sitterly's retirement as director, a position she held since April 2004.
A 1994 Cortland graduate, Urtz earned his master's degree from the College in 1999. He was the Red Dragons' associate director of athletics from 2004-09 and served as interim director from November 2007 through April 2008 in addition to his most recent interim role. He held the title of assistant director of athletics from 2001 until his promotion to associate director.
Assistant athletic director Tom Cranfield will now assume the role of interim associate director of athletics and athletics coordinator for student services Mike Discenza has been named an interim assistant director of athletics following Urtz's promotion.
"(Mike) will continue to provide vision and guidance for SUNY Cortland's Division III intercollegiate athletics program," said Mark J. Prus, provost and vice president for academic affairs. "He will develop and lead the athletics program with an emphasis on academic achievement, integrity and a commitment to excellence and distinctiveness."
The Ilion, N.Y., native was a standout baseball outfielder for the Red Dragons from 1990-93 and also served as an assistant baseball coach for 10 seasons. As a player, Urtz earned All-SUNYAC, all-state and all-region honors in 1992, and as a senior in 1993 he helped the Red Dragons win the ECAC Upstate New York title and qualify for the NCAA Division III playoffs. A team captain that season, Urtz earned All-SUNYAC and all-region awards.
Urtz and his wife, Charlene, have three children and reside in Cortland.
---
Faculty/Staff Activities
Timothy J. Baroni
Timothy J. Baroni, Biological Sciences Department, recently had two papers published from work he participated in with a team analyzing macrofungal biodiversity in Guyana, South America. "The Entolomataceae of the Pakaraima Mountains of Guyana III: New Species of Rhodocybe," was published in the Dec. 26, 2009, issue of Mycoscience. "The Entolomataceae of the Pakaraima Mountains of Guyana IV: New Species of Calliderma, Paraeccilia and Trichopilus," appeared in the Dec. 21, 2009, issue of MYCOLOGIA. Both articles were written by team members by T.W. Henkel, M. C. Aime, D. L. Largent and T. J. Baroni. The team was funded by grants awarded to Henkel by the National Science Foundation and the National Geographic Society. Henkel is from Humboldt State University in Northern California, Baroni's alma mater for his B.A. and M.A. degrees.
A third paper, published in late 2009 in Synopsis Fungorum Fungiflora, was written by L. Ryvarden, Aime and Baroni. "Studies in Neotropical Polypores 26. A New Species of Trametes and Revisitation of an Old," is the result of National Geographic Funding to Baroni in 2007 to study fungal diversity of the Maya Mountains in Belize.
Ralph Dudgeon
Ralph Dudgeon, Performing Arts Department, will deliver a paper, "The Privilege of Joseph Riedl and Joseph Kail: 1 November 1823," at the Library of Congress as part of the 39th annual meeting of the American Musical Instrument Society being held May 26-29 in Washington, D.C. The paper was developed by Dudgeon's research team at the Musikinstrumentenmuseum, Schloss Kremsegg in Upper Austria and discusses a drawing for an early brass instrument valve that has not been previously examined by scholars.
John Cottone
John Cottone, Schools of Professional Studies and Education, was the keynote speaker for the New York State Association of Independent Schools annual meeting for athletic directors in New Paltz, N.Y. His presentation, "Athletic Risk Management: Concepts, Controversy and Confusion," was designed to inform coaches, administrators, parents and community organizations about the importance of developing and implementing a risk management plan. His address focused on Mild Traumatic Brain Injury and the latest evidenced-based information for dealing with environmental injury and the basic guidelines for fluid replacement in preventing heat-related illness.
Sam Kelley
Sam Kelley, Communication Studies/Africana Studies Departments, attended an April 30 performance of his play, "Pill Hill," which ran April 23-May 2 at Coppin State University in Baltimore, Md. The production was presented by the Coppin Players of the university's Visual Arts Department. He also visited a pickup rehearsal on Thursday and provided feedback for the actors and the director, David Smith. Additionally, Kelley gave presentations in the African American Theatre History class, an acting class and served as a panelist for a university-sponsored symposium on the black male initiative that also took place on April 30.
Jean W. LeLoup
Jean W. LeLoup, professor emerita of international communications and culture, was presented with the Outstanding Academy Educator (OAE) Award at the 34th Annual OAE ceremony on April 28 at the United States Air Force Academy in Colorado Springs, Colo. She was selected for this honor from among more than 60 members of the Department of Foreign Languages at the Academy. LeLoup, along with one representative each from 24 other academy departments, was recognized for excellence in teaching, significant professional contributions and leadership by example.
Mary McGuire
Mary McGuire, Political Science Department, served as chair and discussant on the "Internship Based Student Research in Political Science" panel at the New York State Political Science Association's annual meeting in Albany, N.Y. Two SUNY Cortland political science students presented their research on the panel. Keith Lusby gave his paper, "Civil Litigation: Problems and Solutions," and Michelle Santoro presented "The Delicate Constituent — Representative Balance." The Undergraduate Research Council funded the travel to Albany.
Jerome O'Callaghan
Jerome O'Callaghan, School of Arts and Sciences, presented a paper at the annual meeting of the North East Academy of Legal Studies in Business (NEALSB) on May 1 in Ithaca, N.Y. The paper, co-authored with Paula O'Callaghan and Rosemary Hartigan, addresses gossip in the workplace with a focus on management and free speech issues. The authors learned recently that they were joint winners of the Best Paper Award at the conference.
Cynthia Sarver and Shufang Shi
Cynthia Sarver, English, and Shufang Shi, Childhood/Early Childhood Education Department, organized a daylong event for school leadership and technology teams to demonstrate incorporating World Wide Web technology into their classrooms. Representatives from approximately 25 school districts from throughout Central New York attended "The 21st-Century Leadership Forum" held May 14 at SUNY Cortland. Sarver and Shi received a Spring 2010 Cortland Regional Professional Development School (CRPDS) mini-grant to organize the day's activities. More information about CRPDS is available online.
Henry Steck
Henry Steck, Political Science Department, had his article "Three Historical Moments: Contested Visions of the State University of New York," published in a recent edition of SUNY at Sixty (SUNY Press).

Submit your faculty/staff activity