College to Fight Obesity in the Community
07/25/2011
SUNY Cortland this fall will take control of a community program aimed at fighting childhood and teenage obesity.
The College's Center for Obesity Research and Education (C.O.R.E.) is taking charge of the HealthyNow Cortland County Weight Loss and Healthy Living for Teens program, a group that uses SUNY Cortland students to teach healthy living habits to local kids.
The College will handle supervision of the program starting in the fall, said Philip Buckenmeyer, the director of C.O.R.E. and chair of the College's Kinesiology Department.
"There's a real partnership between the College and the community that meets the collective effort to make the community healthier," he said.
The HealthyNow program, which started last September, offers 15-week sessions in the fall and winter and an eight-week session in the summer. During each session, two interns from SUNY Cortland lead physical activities and offer wellness advice to promote healthy lifestyles for teens with weight concerns.
Buckenmeyer said community partners play a vital role. The Golden Lotus Center for Well-Being offers yoga. The Cortland YMCA provides free 15-week memberships for teens and access to its pool. Central New York Mixed Martial Arts gives self-defense demonstrations. The list goes on.
"These partners are willing to put in time that they aren't paid for," Buckenmeyer said.
He also noted the HealthyNow effort provides unique service and research opportunities for SUNY Cortland students.
Valerie Tcimpidis, a fitness development major from Livingston Manor, N.Y., and Ashley Weaver, a community health major from Horseheads, N.Y., are finishing up their course work through summer internships with the program. They put in about 15 hours per week with 15 local kids in 5th through 10th grade.
Weaver said she is attempting to help program participants make a lifestyle change.
"If someone reaches out right now, (the participants) are more likely to grab a hold of healthy habits and carry them with them through the rest of their lives," she said. "Then, hopefully, they hand them down to their children."
Tcimpidis said she got involved with the initial HealthyNow session in September simply because she needed community service hours for a class. The commitment, however, soon turned into a worthwhile experience that was hard to walk away from.
"I got really attached to the kids and I wanted to be there for them," she said.
Through it all, she realized that there was a difference between her active childhood and the more sedentary life of HealthyNow participants. Tcimpidis said she grew up playing outdoors. She has stressed an active lifestyle for the kids as a healthier alternative to sitting on the couch and consuming junk food.
The HealthyNow program started for the same general reason the C.O.R.E. program launched at SUNY Cortland in 2004: to help make the obesity situation better. Buckenmeyer and other faculty members sought to create a database that would track the weights of children across New York state.
"We wanted schools to be able to determine how overweight their kids were," Buckenmeyer said. "Because nobody knew."
The center won a Promising Inventor Award from SUNY Albany in its early years. Now, Buckenmeyer wants the HealthyNow teens to become a focus for the CORE.
He has submitted a grant proposal through the Cortland Community Foundation to help offset the costs of the program. Participants pay $30 for a 15-week session that meets every weekday for about two hours.
An affordable cost was imperative for ReBecca Canzano, the Cortland County public health educator and HealthyNow founder. When she originally researched fitness camps for her daughter, Canzano found a six-week program priced at $1,800.
With some help, she developed the HealthyNow program last summer and launched it in the fall. Eight teens saw modest weight loss the first time around. But the program's effects were more evident in attitude changes.
"The teens reported getting much more out of the program, like improved self esteem and overall health," Canzano said.
On a recent summer day, a group of girls in the program sat in a circle at the Cortland City Youth Bureau and collaborated on a hypothetical letter to first lady Michelle Obama. They wrote about their use of dance as a fitness activity and their upcoming service project to collect donations for back-to-school supplies. The program promotes community service as much as it stresses nutrition and exercise.
Buckenmeyer said he looks forward to seeing what HealthyNow can accomplish in the next year. Integration of the C.O.R.E. laboratory and testing room will be a start. Eventually, though, Buckenmeyer said he would like to see a weeklong fitness camp that operates like a standard sports camp.
"What's been done so far is a small thing in the scope of what we can do," he said.
Students Begin Returning on Aug. 26
08/21/2011
Students begin returning to SUNY Cortland on Friday, Aug. 26. In all, College officials expect approximately 7,350 students to be enrolled for the fall semester. Classes begin on Monday, Aug. 29.
On Aug. 26, the campus will open its 16 residence halls and the West Campus Apartments to approximately 100 new residential students who did not attend the summer orientation program as well as the remaining new residential students.
Returning residential students will move in Saturday, Aug. 27, through Sunday, Aug. 28. Between Friday and Sunday, access will be limited on Prospect Terrace and from Graham Avenue to Neubig Road, which winds past the SUNY Cortland residence halls to the Broadway intersection. Traffic will proceed one-way, in a westerly, downhill direction from 8:30 a.m.-5 p.m. during this time. On Friday, university police will limit traffic solely to freshman or transfer students moving into the residences. Neubig Road will be closed to traffic from 5 a.m.-8:30 a.m. during all three move-in days.
Parents or guardians who are helping their new or returning student move into a residence hall should approach from Graham Avenue, quickly unload their vehicle, and proceed immediately to the Park Center and Professional Studies Building parking lots. Bus service will be available between the parking lots, Corey Union and the residence halls. Faculty, staff and others with business on the campus are encouraged to park at Park Center and Studio West and use the bus service.
Faculty and staff are invited to join the Welcome Team that helps new students move into the residence halls from 8 a.m.-4 p.m. on Friday and Saturday. There are two shifts each day: 8 a.m.-noon and noon-4 p.m. Volunteers can choose to sign up for one or two shifts. To sign up today, faculty and staff may log in to their online myRedDragon account, select the Faculty/Staff tab and look for the Welcoming Team Signup link on the lower left. Volunteers will receive a "Dragon Haller" t-shirt for making the move-in process welcoming and easy.
On campus, facility changes are apparent, noted Jeff Lallas, director of facilities planning, design and construction. Among the student residences, the 60-year-old Cheney Hall received its first major renovation starting in December, and is expected to reopen in time for fall occupation. Over the summer, energy efficient windows were installed in the Miller Building. That facility is getting a heating, ventilation and energy conservation upgrade. The total project will be complete by the end of September. Construction of the first phase of the Bowers Hall renovation and addition project will be under way in the middle of the fall semester. The work in the Bowers Hall parking lot is the tip of that iceberg, and involves the relocation of the underground utilities. Although not nearly as visible, the campus-wide satellite boiler project will begin in October and will take approximately two years to complete. The high-efficiency boilers installed in each building will replace the College's aging and less efficient central steam plant.
SUNY Cortland President Erik J. Bitterbaum will provide his annual opening address to the College's faculty and staff at 8 a.m. on Thursday, Aug. 25, in the Corey Union Function Room. Later, senior administrators will introduce new faculty and staff members and report on their respective areas. Subsequently, a panel will focus on the Middle States reaccreditation process.
Marking the start of another academic year, the Fall 2011 Academic Convocation begins at 4 p.m. on Sunday, Aug. 28, in the Park Center Alumni Arena. The hour-long ceremony is designed for all first-year and new transfer students. All SUNY Cortland faculty and professional staff are encouraged to attend.
Welcome Week will offer a number of events geared to help new students connect with the campus community and assist them in their transition and adjustment to college life, from Saturday, Aug. 28, through Tuesday, Sept. 7.
For more information about Welcome Week events, contact Campus Activities and Corey Union at (607) 753-2322.
---
Capture the Moment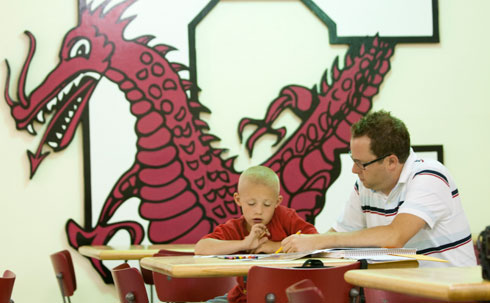 Elementary school students from the Cortland City School District have tasted a small piece of college life while attending summer classes in Old Main. The district is using the building's classrooms while its schools are under renovation.
---
In Other News
Multicultural Life and Diversity Office Expands
07/21/2011
SUNY Cortland's Multicultural Life Office recently expanded its name to Multicultural Life and Diversity and hired its first assistant director, former Onondaga Community College (OCC) residence hall director Lyndon Huling.
The changes reflect the broader scope of the office's responsibilities, said C. Gregory Sharer, vice president for student affairs.
Noelle Chaddock Paley, SUNY Cortland's director of multicultural life and diversity and an adjunct professor in Africana studies and philosophy, observed, "In the last two years, we have gained an institutional visibility and function that has become a sustainable energy on campus which is reflected in the restructuring of the office.
"The addition of 'diversity' to the office title is in line with national trends in higher education. I chose to keep 'multicultural life' in the title because I have an appreciation for the history of multicultural life and diversity at SUNY Cortland and wished to not lose that history and to be respectful of the hard work of those who came before me."
Paley said the July 1 name change highlights a core aspect of the College's mission.
"We believe diversity is an essential part of the pursuit of academic excellence and it enriches and strengthens the community," Paley observed. "Sharing diverse experiences and perspectives aids in the creation and sustaining of an inclusive campus community of engaged scholars and global citizens.
"Diversity consists of understanding and accepting our individual differences and the searching for that which we have in common. Diversity work is about the exploration of these differences in a safe, positive and nurturing environment. It is respecting each other, struggling together and moving beyond simple tolerance to embracing and celebrating the rich dimensions of diversity."
Huling, of Syracuse, N.Y., began his duties as assistant director of multicultural life and diversity on June 29.
Since July 2010, he had served as a residence hall director for OCC, where he took part in multicultural and diversity programming and training. He served on heritage month committees marking the accomplishments and history of African Americans and Native Americans. He also coordinated a panel discussion, film and dinner for more than 350 students on the subject of gang violence and helped implement a campus-wide Native American history quiz.
Huling has a Bachelor of Arts in Psychology from the University of California at Davis, where he completed minors in human development and education. As a student, he gained multicultural experience in working with learning communities.
He received a Master of Arts in Education Administration with a specialization in student affairs from the University of the Pacific in Stockton, Calif.
As an assistant residence community coordinator at California State University at Chico from July 2009-10, he oversaw the development, programming and sustainability of seven learning communities including Honors Houses, the Sustainability/Environmental House, the Project MATH House, the Natural Sciences building and the International House. As a campus staff member, he was frequently recognized for the quality of his service to students.
His graduate fieldwork at the University of the Pacific included 120 hours spent developing diversity-related campus initiatives, including an inter-American Spanish immersion program. He also served as a graduate residence hall director there. The University's Department of International Programs and Services presented Huling with its 2009 International Campus Citizen Award.
"I hope to not only be an educator and supporter for those students who faced similar struggles as my own, but also be able to promote the idea that 'diversity' does not just belong to students from underrepresented backgrounds," said Huling, who, as an inner-city student in California, experienced oppression, poverty and other barriers many students face in education today.
"Everyone is diverse, and every student should recognize this in themselves and strive to embrace this idea in their everyday lives," he noted.
The Division of Student Affairs has sought to encourage cultural diversity in campus life through staff and programming since the late 1980s, when a half-time position was first created in the Residence Life program, noted Raymond Franco, who led the division before his current appointment as the College's vice president for institutional advancement.
Marcia Moody served as the first multicultural life coordinator. She assisted students from an office on the third floor of Van Hoesen Hall while also serving part time as the Whitaker Hall coordinator. The multicultural life position was made full-time two years later. Moody and future heads of the office reported directly to the vice president for student affairs.
Successive generations of coordinators, co-coordinators and directors also managed and scheduled the adjacent Student Support Center. Originally housed nearby in Van Hoesen Hall, the center would eventually become the Voice Office, which currently houses seven multicultural clubs in a room off Corey Union's main lobby. The Voice Office remains under the supervision of the Multicultural Life and Diversity Office.
In December 2010, Paley was named the second director of multicultural life and diversity, a role she had filled on an interim basis since June 2009.
Brockway Hall Lobby to Honor Alumna Curry '52
07/22/2011
SUNY Cortland will dedicate the first-floor lobby of Brockway Hall, the College's second-oldest building on the main campus, to an alumna during a ceremony to be held at 4 p.m. on Wednesday, Aug. 17.
Margaret "Peg" Curry '52, a retired teacher and the namesake of an annual scholarship for physical education or sport management majors, will be recognized for her lifelong contributions to the College.
"Peg is more than just an alumna, but a dear friend who delights in our students and loves learning everything new about Cortland," said Tina Aversano, the leadership gifts officer for the College. "She really feels that SUNY Cortland prepared her well and helped her to be successful."
SUNY Cortland President Erik J. Bitterbaum and Vice President for Institutional Advancement Raymond D. Franco will attend the dedication ceremony in addition to other members of the campus community. The event is open to the public and refreshments will be served.
Curry grew up in Binghamton, N.Y., and taught for 34 years in New York state in the Mount Pleasant School District.
Her time at SUNY Cortland was marked by groundbreaking moments. Curry was among the first group of women to occupy the former campus residence, Wickwire Hall, located on Tompkins Street, and among the first group of students to use the College's Raquette Lake facilities.
She studied under legendary College professors and participated in the debate team and rifle club during all four of her years at SUNY Cortland.
Follow Peg Curry's lead by supporting The Cortland Fund. You can designate a gift for a program with personal significance. Or you can support the College's mission to offer a transformational education for every student. Student callers will begin making phone calls in September to explain how your gift can improve campus life. Make your gift today.
A member of the former sorority Sigma Sigma Sigma, Curry's friendships with faculty, staff and alumni are countless.
"When Peg graduated, she reminds me that she cried to her parents at the thought of leaving Cortland," Aversano said. "She has carried that love and adoration for the College throughout her life."
During the 2005-06 academic year, Curry endowed the annual Margaret A. Curry '52 Scholarship, which gives $1,000 to a physical education or sport management major with financial need. She also funded the naming of a bedroom at the Lynne Parks '68 SUNY Cortland Alumni House to ensure support for its upkeep.
Brockway Hall's first floor is home to the Jacobus Lounge. The elegant reception hall is one of the College's premiere event locations.
The building also houses SUNY Cortland's Division of Institutional Advancement. Its first floor offices house alumni affairs, publications and electronic media, and public relations, which includes sports information. Occupying the building's second floor are the division offices as well as those of the Cortland College Foundation, leadership gifts, planned gifts, advancement information services and the Student Call Center. One small conference room is located on each floor.
Hilltop, one of SUNY Cortland's newer dining facilities, opened in the basement of Brockway Hall in 2006. It features display cooking, which means most menu items are prepared directly in front of customers.
Dedicated in 1951, Brockway Hall is named after George A. Brockway, the former president of Brockway Motor Truck Corporation who contributed $100,000 to building the State University of New York's first student union. A painting of Brockway and a dedication plaque hang in the building's lobby.
Welcome Week Activities Offered Aug. 26-Sept. 7
07/28/2011
Welcome Week will offer a number of events from Friday, Aug. 26, through Wednesday, Sept. 7, at SUNY Cortland. The activities, which are free unless otherwise noted, will help new students connect with the campus community and assist them in their transition and adjustment to college life.
Highlights of Welcome Week are as follows:
Welcome Week will kick-off on Friday, Aug. 26 with the group PlayFair, voted "Novelty Entertainers of The Year" by the National Association of Campus Activities. PlayFair offers a team-building experience that is intended to have a long-lasting effect on members of the campus community. The program begins at 9 p.m. in the Corey Union Function Room.
On Saturday, Aug. 27, the College's Sexual Assault Prevention Committee will present an informational seminar titled "Let's Talk About It" at 2 and 4 p.m. in Old Main Brown Auditorium.
A "Welcome Picnic," sponsored by the Auxiliary Services Corporation and Campus Activities Office, will take place later in the day from 5-8 p.m. on the Shea Hall-Bishop Hall Quad. The picnic moves to Neubig Hall in the event of rain.
The men's soccer team faces St. John Fisher College at the Stadium Complex at 6 p.m. that day.
Comedian Ron G, a finalist on NBC's Last Comic Standing, will perform at 8 p.m. that evening in the Corey Union Function Room sponsored by the Student Activities Board (SAB). For more information on him, visit his website at www.gorong.com.
A "Transfer Takeoff" and two class-finding tours will be offered on Sunday, Aug. 28. Participants in the hour-long "Transfer Takeoff" should meet at noon at Newmark Pavilion outside the Memorial Library, or in Sperry Center lobby in the event of rain. At 2 p.m., transfer students should meet at Newmark Pavilion for the first class-finding tour. First-year students should meet at the same time on the outside front steps of Corey Union.
Marking the start of another academic year, the Fall 2011 Academic Convocation begins at 4 p.m. that afternoon in the Park Center Alumni Arena. The hour-long ceremony is designed for all first-year and new transfer students. All SUNY Cortland faculty and professional staff are encouraged to attend.
On Monday, Aug. 29, Campus Activities will host Hypnotist Kevin Hurley at 8 p.m. in the Corey Union Function Room. For more information on him, visit his website at www.kevinhurley.com.
On Tuesday, Aug. 30, the campus will host an American Red Cross Blood Drive beginning at noon in the Corey Union Exhibition Lounge and lasting until 5 p.m.
Later that evening, the Residence Hall Association (RHA) will host a block party from 5-7 p.m. in the Shea Hall-Bishop Hall Quad. The Block Party will have a variety of games and activities including a mechanical bull, prizes, music and giveaways.
On Wednesday, Aug. 31, Career Services and the Institute for Civic Engagement will hold a Volunteer and Civic Engagement Fair from 4-5 p.m. in the Corey Union Exhibition Lounge. By volunteering, students will help others while testing career options, getting hands-on learning opportunities and gaining the experience needed to fulfill service learning and course requirements. To find out more information, visit the Volunteer Civic Engagement Fair website.
"A Non-Threatening Introduction to Yoga" will open the College's semester-long "Wellness Wednesday" series to the newest arrivals on campus at 7 p.m. that day in Corey Union Exhibition Lounge. Louise Mahar, the College's assistant director of recreational sports for fitness, will present a beginner-level yoga class. Participants should dress in loose, comfortable clothing and bring a towel.
Students will have an opportunity to make friends and learn about Cortland history during "Dragon Drive-In" at 9 p.m. on Wednesday, Aug. 31. Students may walk down the hill or take the complimentary shuttle bus to the Lynne Parks '68 SUNY Cortland Alumni House at 29 Tompkins St. and listen to the information on traditions that will begin to make them feel part of the Cortland family. A movie with free popcorn and refreshments will be offered in the back gardens. Participants are encouraged to bring blankets. The evening is hosted by the SUNY Cortland Alumni Association's "Alum from Day One" program.
The Black Student Union (BSU) will host a "Back to School Bash" in the Corey Union Exhibition Lounge on Friday, Sept. 2. The dance begins at 10 p.m. Students must bring ID.
Cortland Nites will offer an "Extravaganza" at 8 p.m. on Saturday, Sept. 3, in the Corey Union lower level hallway across from Dunkin Donuts. The event will include giveaways, pictures and prizes.
On Sunday, Sept. 4, students have the opportunity to attend a Syracuse Chiefs baseball game. The price is $10 and includes the ticket to the game and transportation to and from Alliance Bank Stadium. Students will depart from 5:30 p.m. from the steps of Corey Union. The Chiefs take on the Leigh Valley Ironpigs at 6:30 p.m. Tickets may be purchased in Corey Union, Room 406. Space is limited.
On Labor Day, Monday, Sept. 5, students will get the chance to experience The Great New York State Fair. Buses will depart from campus at noon from the steps of Corey Union for the fairgrounds in Syracuse, N.Y., and return at 6 p.m. The $5 cost includes fair admission and bus transportation. Tickets may be purchased in Corey Union, Room 406. Space is limited.
The Multicultural Life and Diversity Office will host a picnic at Yaman Park at 1 p.m. that day. A shuttle service from the front of Corey Union to the picnic will begin at 12:45 p.m.
The Student Activities Board (SAB) and Health Promotion Office will host their first bi-weekly coffeehouse at 8 p.m. on Tuesday, Sept. 6, in the Corey Union Exhibition Lounge. Students may take turns performing for an audience at an open mic. Poets, musicians and comedians are all welcome and free refreshments are provided.
On Tuesday, Sept. 6 and Wednesday, Sept. 7, students can attend the educational program, "Know the Code," at 8 p.m. in Corey Union Function Room. Participants may learn the ABCs of the College's Code of Student Conduct in a relaxed atmosphere involving raffles for free prizes. Student Conduct Office staff members Nanette Pasquarello and Michael Pitaro will present this key seminar to help participants take their first steps along the path of a successful College career.
Also on Sept. 7, Career Services will hold a Student Employment Fair from 11 a.m. until 1 p.m. in the lobby and Exhibition Lounge of Corey Union.
Billie Jean Goff and Mike Holland will discuss issues for first-year and transfer students in the next "Wellness Wednesday workshop, "So You're In College: Now What?" at 7 p.m. on Sept. 7 in the Corey Union Exhibition Lounge. Topics will include: residence hall living, partying, homesickness, new relationships and peer pressure.
A related event, happening after Welcome Week, will be a "Student Involvement Fair" from 11 a.m. to 3 p.m. on Wednesday, Sept. 14, on the steps of Corey Union. The fair will feature many Student Government Association-recognized clubs, recreational sports clubs, Greek organizations and others. In the event of rain, the event moves to the Corey Union Function Room.
Welcome Week is sponsored annually for SUNY Cortland students by the Student Activities Board, Auxiliary Services Corporation, Campus Activities and Corey Union, Student Residence Hall Association, Advisement and Transition, Health Promotion Office, Vice President for Student Affairs Office and Cortland Nites.
For more information about Welcome Week events, contact the Campus Activities and Corey Union Office at (607) 753-2322.
Academic Convocation Set for Aug. 28
07/21/2011
SUNY Cortland Academic Convocation Sets Tone for Year of Study
As a 163-year-old institution of higher education, SUNY Cortland is steeped in many traditions lost but fondly remembered and one in particular that was revived in 2003 from its earliest years: Academic Convocation.
First-year students and upper class members gather the day before classes start for the solemn opening ceremony laden with Medieval symbolism that marks their primary, scholarly purpose for being on campus.
This traditional ceremony echoes with its regalia-clad faculty processions the spring Commencement ceremony. The formal display of pomp and circumstance was developed from a recommendation by the College's Cultural and Intellectual Climate Committee. The annual event is coordinated through the President's Office.
"Academic Convocation at SUNY Cortland marks the beginning of a student's academic journey," said SUNY Cortland President Erik J. Bitterbaum. "An important milestone, the event affords faculty and staff the opportunity to formally welcome incoming students to the College. In addition, the ceremony reflects the supportive role of the entire campus community in ensuring academic achievement."
The College will open its 2011-12 academic year with the ceremony on Sunday afternoon, Aug. 28, in the Park Center Alumni Arena.
Susan Wilson, associate professor of recreation, parks and leisure studies, will deliver the Academic Convocation address.
All first-year and new transfer students, along with the SUNY Cortland faculty, librarians and professional staff, are invited to participate in this hour-long event, which will begin at 4 p.m.
"Academic Convocation at SUNY Cortland marks the beginning of a student's academic journey," said SUNY Cortland President Erik J. Bitterbaum. "An important milestone, the event affords faculty and staff the opportunity to formally welcome incoming students to the College. In addition, the ceremony reflects the supportive role of the entire campus community in ensuring academic achievement."
The Academic Convocation processional begins with the all-college gonfalonier, who leads in the faculty, followed by the Schools of Arts and Sciences, Professional Studies and Education gonfaloniers. Provost and Vice President for Academic Affairs Mark Prus will carry the all-college gonfalon, while the gonfalons representing the College's three schools will be carried by Andrea Lachance, interim dean of the School of Education; R. Bruce Mattingly, dean of the School of Arts and Sciences; and John Cottone, dean of the School of Professional Studies.
The processional concludes when the mace bearer brings in the platform party, which consists of members of the College's administration and faculty leadership, the College Council, visiting dignitaries and honorees. Michael Berzonsky, distinguished professor of psychology, will carry the mace, a ceremonial staff used as a symbol of authority.
Susan Wilson, associate professor of recreation, parks and leisure studies, will deliver the Academic Convocation address. Speakers will include Bitterbaum; Prus; senior Jamie Piperato, president of the Student Government Association; senior Kelsey Baylinson; and Robert Howe, representing the Cortland College Foundation.
A photographic and video montage of SUNY Cortland created by Rebecca Job, a 2009 graduate in communication studies, will be shown prior to the ceremony. Performing Arts Department Associate Professor (Music) Karen Zimmerman will provide the processional and recessional music. Junior speech and hearing science major Kalia Brown will sing the National Anthem and junior musical theatre major Annali Alexander Fuchs will sing the Alma Mater. Several returning students have volunteered to serve as student marshals.
The concept for an opening academic convocation, modeled after a ceremony held during the College's earlier years, was developed from a recommendation by the College's Cultural and Intellectual Climate Committee. The tradition, restarted in 2003, is coordinated through the President's Office. An academic convocation website can be found at www2.cortland.edu/events/academic-convocation/.
For more information, contact the President's Office at (607) 753-2202.
Former Football Player Wrote His Own Song
07/25/2011
Joseph "Joe" Lopez '11, a former SUNY Cortland athletic standout, recently signed a professional football contract. But back when he graduated from high school, his senior class superlative had nothing to do with athletics.
"It wasn't 'most likely to be signed to a pro team,'" said Lopez, the newest member of the Arena Football League's Utah Blaze. "It was 'best singer'."
Consider Lopez a renaissance man.
Many people might recognize him as the star athlete who earned honorable mention All-America honors and set school records in Cortland. But then there is Joe Lopez, the former member of SUNY Cortland's a cappella singing group, who sang without instruments as wonderfully as he covered wide receivers.
Lopez grew up as a casual singer who liked re-creating the songs of Michael Jackson and Usher. Although he won a talent show during high school, he considers singing to be a hobby and joined the a cappella group for fun.
In 2008, Lopez connected with Noelle Chaddock Paley, the director of the campus singing group known as A Cappella and the director of Multicultural Life and Diversity, when he took her hip-hop culture class. She grew to admire his singing and his personal values without ever realizing his football talents.
"I knew nothing about his football career, which really is a shame," Paley said. "I just really liked him as a person."
Lopez admitted that he was nervous when he tried out for the group in 2009.
"It takes a lot of nerve to just go out and perform in front of a group of people," he said. "When you're in shoulder pads and a helmet, no one really sees you. They just know you by your number."
His raw singing talent and range were evident to Paley.
"The thing about a cappella music is you have to be able to sing," she said. "There aren't any holes or cracks to fill in someone who can kind of sing or sort of hold a tune."
Lopez proved to be easily trainable. And Paley never had to offer the same instructions twice.
Even with Paley's vote of confidence, Lopez said that learning a cappella was somewhat of a struggle. Growing up, he always tried to replicate what he heard. A cappella singing involved listening to the sounds of his fellow singers.
"It was an interesting dynamic, trying to learn on the go," he said. "Luckily for me, there were a lot of members who could explain things to me in layman's terms."
When it came time for the a cappella group's Senior Send-Off at the end of the academic year, Lopez carefully picked a song. He decided on "I Can't Make You Love Me," the 1991 hit recorded by Bonnie Raitt.
"When he brought it to me, I was like: Really, Joe?" Paley said.
When he performed it, he blew everyone away.
"Everyone got chills," Paley said.
But the most impressive thing about Lopez is his humility and willingness to help others, she said. Paley remembers how he and other members of the ensemble helped her assemble a barbecue grill at her house during the a cappella group's senior picnic. After eating with the group, Lopez taught her 10-year-old son how to catch a football.
"What's most impressive about him is he sets his mind to being a good human being," she said.
After his first professional game on July 16, a 62-58 come-from-behind victory for Utah, Lopez did something similar. He posed for dozens of pictures and signed close to 100 autographs.
"It was one of the most humbling experiences of my life," he said.
Arena football is a fast-moving, indoor version of American football played on a 50-yard field with eight players per side. It has been played professionally for decades.
The Utah Blaze wrapped up its season in Cleveland on Friday. Even though he's headed back to train in his hometown of Port Jefferson Station, N.Y., Lopez is hopeful he can catch on with another professional league, like the Canadian Football League, soon. The ultimate goal, he said, is to become the second SUNY Cortland graduate to play the National Football League, after R-Kal Truluck from 2002-05.
"It's even crazy to think that the journey isn't done yet," Lopez said. "I know that if I keep doing what I do, somebody else will find some interest in me."
When asked if he would pursue a singing career after football, Lopez laughed it off.
"You never know where life will take you," he said. "For now, I'm good (singing) in the car and in the shower."
Project Puts College's History Alumni on the Map
08/01/2011
The three oversized maps hanging outside of the History Department on the second floor of Old Main attempt to tell the story of the College's history and social studies alumni.
But the story is incomplete.
Jim Miller, a lecturer in SUNY Cortland's History Department, needs help with a project he started with a graduate assistant in 2009. The "Social Studies and History Alumni at Work" project visually displays the locations of the department's graduates on New York state, United States and world maps.
So far, 91 out of more than 600 alumni have been located. But only alumni who graduated in the last decade were contacted with an initial letter two years ago. Now, Miller wants to know where social studies and history degrees have taken SUNY Cortland alumni, regardless of class year.
"I was always big on geography," Miller said. "And I thought with all of our alumni and student teachers, (maps) would be a great way to visualize where they are."
In the fall of 2009, Miller approached graduate assistant Ashley Bertrand with the idea. Bertrand, who graduated from the College with a bachelor's degree in history in 2009, was pursuing a master's degree in literacy education at the time.
After Bertrand secured a $250 grant from the Cortland College Foundation Small Grants Program, she collaborated with the College's Alumni Affairs Office to put together a list of history graduates since 2000. She sent letters with the hopes of building an alumni network for the History Department.
All told, Bertrand poured more than 200 hours into the project.
"To have the maps display people that have graduated from Cortland, it was just a different idea and it was really cool," said Bertrand, who now teaches in Wilson, N.C.
With the help of Larry Jebbett, a retired structural maintenance worker at the College, three National Geographic maps measuring six-feet-by-ten-feet were mounted on the walls outside of the History Department's offices.
Different color stickers mark the locations of alumni. Most of the stickers — 63 to be exact — decorate the map of New York state. Twenty-two stickers represent the department's alumni who work in 15 other states, including Hawaii. And then there are six stickers that mark former history students who live outside of the U.S. in countries such as Romania, Thailand and South Korea.
Miller knows that the responses so far represent a modest sampling of SUNY Cortland's geographic reach.
"We need to tell other students: this is where (alumni) are teaching and this is what they're doing," he said.
Alison Cleary, a former graduate assistant who obtained her bachelor's and master's degrees from the College, took over the map project for the 2010-11 academic year after Bertrand graduated. Cleary said the giant map display serves as a reminder of the places she can travel with a SUNY Cortland degree.
"You spend four years here," she said. "Seeing the maps every day reminds you of all of the opportunities that await you and all of the things that you can do."
Social studies and history alumni are invited to email Miller with their current locations and professions. They can also visit the alumni update webpage to update their current information.
College Remodels Student Residence Cheney Hall
07/21/2011
When SUNY Cortland students went home for the 2010-11 winter break, about 200 Cheney Hall residents packed their belongings and moved so the residence hall could receive its first major renovation in 60 years.
When the building reopens for the Fall 2011 semester after its approximately $7 million upgrade, returning students will see a dramatic change.
Inside, residents and visitors will be able to gaze into a very large opening through the first level floor at a newly added lounge area on the ground-floor level, according to Robert Carr, facilities program manager for the College. The interior was gutted and renovated according to modern living needs, including a kitchen on every floor and a study lounge on most floors, Carr said.
"The rooms had a very old-style closet and built-in drawers that were suitable 60 years ago but not today," Carr said.
The living space will house 218 students, Carr noted. The uppermost level is being converted from conventional bedrooms into suites, for four fewer beds, while the ground level is being renovated to contain student rooms for the first time. The result of changes over all the floors will be a net increase of 12 total beds.
Unlike other recently renovated residential facilities, which received contemporary entryway upgrades, Cheney is considered historic and therefore will retain its traditional exterior architectural style, Carr said. When Cheney's upgrade is complete, the College will have renovated all but two of its 16 student residence halls in an effort to make on-campus life more attractive to approximately 3,000 students.
Cheney Hall is located next to Brockway Hall and bordered by Graham Avenue, Court Street and Stevenson Street. The renovation is expected to be completed around the end of July, observed Carr.
Project architect Woolley Morris, of Syracuse, which also designed the Casey and Smith Towers renovation, planned an elevator at the heart of the triple-winged building. Adding that feature originally was scheduled to delay the completion date into the fall, leaving the building's former residents occupying tripled rooms elsewhere around campus.
"With aggressive project management by our campus site representative Rob Davenport and all the hard work of the contractors, we instead expect to open the building in the fall," said Jeffrey Lallas, the College's director of facilities planning, design and construction.
Last spring, Cheney Hall's residents were placed across campus in residence hall rooms vacated by students who hadn't returned for the spring semester, according to Sarah Williams, assistant director for operations for the College's Residence Life and Housing Office.
In the Fall 2010 semester, the hall had been filled deliberately with freshmen and transfer students, who were offered the opportunity to return and enjoy living in the most recently renovated student housing on campus, Williams said.
"They will have all-new furniture and all-new rooms," Williams said.
Residence Life and Housing staff provided boxes and tape to pack their belongings and Physical Plant employees are providing elbow grease to help the students move back into Cheney.
"Transfer students enjoy living in a building where there are lots of other transfer students," she said.
The transfer students had the option, unavailable elsewhere on campus, to break their one-year lease after only six months without penalty and move off campus for the Spring 2011 semester, Williams said. About 20 transfer students accepted the offer.
Twenty electricians work hard inside Cheney Hall to ensure the building renovations finish on time.
As with all SUNY residential construction and renovation, the project was designed to meet the United States Green Building Council's (USGBC) Leadership in Energy and Environmental Design (LEED) building standards for sustainability, Carr said.
Constructed in 1951, Cheney and its twin opposite on the south side of Brockway Hall, DeGroat Hall, are the College's oldest residence halls and among the most venerable buildings on campus, according to the book, Cortland College: An Illustrated History, by Leonard F. Ralston, professor emeritus of history.
Fittingly, the facility originally called "North Hall" was dedicated in 1961 in memory of Francis J. Cheney, a revered early principal of what was then called the Cortland Normal School. He served from 1891 until his death in 1912. DeGroat Hall was named after Harry DeWitt DeGroat, the school's principal from 1912-1943. Ten years would pass before the College constructed another residence hall.
A grand reopening ceremony and open house will be held in the fall.
Former Football Star Aids Pool Rescue
07/14/2011
Ask Dominick "Dom" Sair, the former SUNY Cortland football standout, for the proudest moment of his life and he won't point to a four-touchdown game or an all-conference accolade.
On Monday, June 27, Sair, a 2011 graduate from Huntington, N.Y., saved an 11-year-old boy from drowning in a backyard pool by administering cardiopulmonary resuscitation (CPR).
He has received hundreds of text and Facebook messages from complete strangers in the weeks since an afternoon barbecue at his family's home turned into a rescue that landed Sair, Cortland's starting running back for the 2009 season, on all of the local news programs.
A group of eight youngsters that included Sair's younger cousin, his stepbrother and their friends planned to escape the Long Island heat with an afternoon swim. Before the group jumped in the water, Sair asked if each person could swim. They all answered yes.
"My cousin saw (the 11-year-old friend) going up and down and it seemed like he could swim," Sair said. "But then about 20 seconds after, my stepbrother screams: Get him! Get him! He's drowning!"
Sair and his father, Patrick, were loading soda cans into a cooler when they heard the shouts. Sair's 16-year-old cousin, Jalen, spotted the boy at the bottom of the pool and instantly went down to pull him up. But the 11-year-old was heavier than expected. As his rescuer struggled to get the boy out of the in-ground pool, the boy's head fell back and struck the top step of the pool ladder, according to Sair.
"He was unconscious from ingesting too much water but then he was also mildly concussed from hitting his head," Sair said.
The same instincts that proved vital to Sair's successful football career at SUNY Cortland took over and he began administering the CPR he learned in high school. His father blew air into the boy's lungs while Sair delivered chest compressions. By the time paramedics arrived, the boy's pulse had returned but he remained unresponsive.
"His eyes were open but he looked like he was gone," Sair said.
Eventually, the boy gave a thumbs-up to paramedics. Within an hour after the boy was taken away by ambulance, Sair received word that he would recover.
"I've never been in a situation where literally there's a chance of someone dying and you have a chance to help," Sair said. "I was shaking at one point."
Matt Steenberg, Sair's position coach at Cortland, heard about the rescue from Cortland head football coach Dan MacNeill. He said he wasn't surprised that Sair responded quickly.
"He rose up and stepped up to meet that call, a lot like he did at Cortland State," Steenberg said. He pointed out that Sair changed positions twice during his career at Cortland without question or hesitation.
Sair likened his reaction to an approach in the final two minutes of a close football game.
"You've got to react fast," he said. "And you've got to do as much as you can in that short period of time."
At six feet and 230 pounds, the former business economics major wasn't rattled by towering defensive linemen during his football career. Steenberg praised the former running back's mental toughness and his ability to lead by example without saying many words.
"Dom might have been quiet," Steenberg said. "But he expounded on his words with his ability and play."
Sair said the rescue, more significant than a hundred Cortaca wins, undoubtedly marked his life's greatest accomplishment.
"Football is temporary," he said. "This was legitimate."
CALS Lecture Grant Applications Available
Campus Artist and Lecture Series (CALS) Lecture Grant Applications are now available for the 2011-12 academic year. Applications are eligible for a maximum award of $500 and are open to any club, program or department. These are lecture grants and will not cover performances of any kind.
The fall semester deadline is Thursday, Sept. 8, to be considered for programs taking place in September, October, November and December. Applications received after Sept. 8 may not be eligible for any fall semester funds remaining.
For more information or to request a copy of the CALS Lecture Grant Application, contact Sandra Wohlleber at (607) 753-5574 or via email.
Fall Opening Meeting Set
President Erik J. Bitterbaum has announced that the opening meeting of the Fall 2011 semester is scheduled on Thursday, Aug. 25. The meeting will begin with light refreshments at 8 a.m. in the Corey Union Function Room.
Detailed information including an agenda and response form will be sent via email by Wednesday, July 27.
All classified, UUP and M/C campus community members are invited to attend.
For more information, refer to the email or call the President's Office at (607) 753-2201.
Corey Union Will Offer Limited Room Scheduling
Due to building renovations across campus, several rooms in Corey Union will be set aside for academic classroom use during the 2011-12 academic year and will not be available for scheduling events.
These rooms will not be available during most of the daytime hours. Rooms that are available in the evening hours must be used with their current classroom set-up, in lecture style with tablet armchairs.
Corey Union rooms affected are the Fireplace Lounge, Rooms 201-203 and Rooms 204-208.
Efforts will be made to accommodate reservation requests but everyone should be prepared for the possible occasion when no space is available.
For more information, contact Campus Activities and Corey Union at (607) 753-2321.

Suggest a feature story
---
Faculty/Staff Activities
John Foley
John Foley, Physical Education Department, was selected as a board member for the prestigious journal Adapted Physical Activity Quarterly.
Thomas Hischak
Thomas Hischak, Performing Arts Department, presented a performance workshop at the Po Saule (Under the Sun) International Student Theatre Festival at the University of Siauliai in Lithuania in May. He also taught classes on American theatre for two weeks at the university as part of a Fulbright grant.

Submit your faculty/staff activity