SUNY to Confer Honorary Doctorates at Graduation
04/25/2011
Two individuals — a champion athlete who pioneered the use of outrigger canoes among people with disabilities and an avant-garde musician who plays internationally acclaimed concerts on the toy piano — will receive honorary doctoral degrees from the State University of New York during SUNY Cortland's Undergraduate Commencement ceremonies on Saturday, May 21.
Jan Richards Whitaker, a marathon canoe racer whose innovative programs have helped thousands of disabled people — including many wounded soldiers — gain confidence and improved health through adaptive paddling, will receive a Doctor of Humane Letters. Whitaker is a 1965 SUNY Cortland graduate.
Margaret Leng Tan, a classically trained pianist who explores alternative forms of music and unconventional instruments, will receive a Doctor of Fine Arts. She has performed at prestigious venues such as Carnegie Hall and Lincoln Center, but also shared her music with students at SUNY Cortland.
"Both of these women are true champions in their respective fields," SUNY Cortland President Erik Bitterbaum said. "Jan Whitaker, one of the nation's top competitive canoeists, created innovative ways to share her passion with people challenged by physical disabilities. Her efforts, and the non-profit organization she created, opened a new world of activity for thousands of people. Margaret Tan has been on the cutting edge of avant-garde piano for decades. Her unique compositions have expanded the definition of modern music and created new worlds of sound."
Whitaker will speak at 9:30 a.m. during SUNY Cortland's morning undergraduate commencement ceremony in the Park Center Alumni Arena. Tan will address graduates during the afternoon ceremony at 2:30 p.m. in the same location.
Jan Richards Whitaker '65
Whitaker graduated from SUNY Cortland with a degree in physical education. She taught health and physical education in the Union Springs Central District for years.
At the same time, she became one of the nation's top marathon canoeists, winning more than 30 United States Canoe Association national championships. She earned numerous other honors, including an Empire State Games gold medal, induction into the Canoeing Hall of Fame and selection as USCA Canoeist of the Year for 1994 and 2003.
Whitaker is best known, however, for her devotion to adaptive canoeing. It began after she became involved with racing in outrigger canoes; modern versions of the traditional watercraft used by generations of Pacific Islanders. She realized that the stability of the canoes, created by their pontoon-like outriggers, made them perfect for people with disabilities.
Jan Richards Whitaker '65
In 2005, Whitaker founded Cape Ability Outrigger Ohana Inc., a chapter of Disabled Sports USA and a national group with more than 60,000 members. Whitaker's non-profit organization is dedicated to increasing access and awareness of outrigger canoeing as an adaptive activity among people who are physically challenged. She partnered with a canoe manufacturer in Maine to design the first modified seat system and a special, stabilized float for outrigger canoes, widening the accessibility of the sport to disabled paddlers.
She created the Rochester River Challenge, which is now the largest outrigger canoe race on the East Coast. Because of Whitaker, the City of Rochester is recognized as the birthplace of team outrigger canoe racing for people with disabilities.
In 2001, she established the first adaptive paddling event in the USCA National Championships. Cape Ability has since established scores of adaptive outrigger programs across the United States and in Canada, England, New Zealand and the Cook Islands.
Most recently, Whitaker extended her efforts to help soldiers wounded in Iraq or Afghanistan, establishing outrigger canoe rehabilitation programs at Walter Reed Army Hospital. In 2008, the Non-Commissioned Officers Association's National Defense Fund honored her with an American Patriot Award for this work.
Margaret Leng Tan
Tan, a native of Singapore (shown above left), was the first woman to earn a doctorate from the prestigious Juilliard School of music in New York City. Her artistic drive soon led her stray from classical piano into avant-garde world of experimental music.
By fusing American alternative piano with the Asian influences of her childhood, and by experimenting with unusual instruments Tan created a truly unique sound. By composing, performing and recording music for the toy piano, she elevated an ordinary child's plaything into an instrument of high art and inspired others to compose music for non-traditional instruments.
Over the years, she made numerous audio and video recordings, earning international acclaim. Tan is the foremost interpreter of the groundbreaking composer and aesthetic philosopher John Cage, whose ideas have strongly influenced modern avant-garde art.
The quintessential performer, Tan excels at interpreting difficult music for wide and diverse audiences. She has made the often-arcane tradition of avant-garde music accessible to people around the world, including students at SUNY Cortland.
Through her professional friendship with Donna Anderson, professor emeritus of music at SUNY Cortland, and their shared interest in the legacy of impressionist pianist Charles T. Griffes, Tan developed a strong connection with the College. She performed at the college on two separate occasions, inspiring music theatre majors as well as the SUNY Cortland community at large.
Undergraduates to Walk on May 21
04/29/2011
SUNY Cortland will conduct two undergraduate Commencement ceremonies — one at 9:30 a.m. and the other at 2:30 p.m. — on Saturday, May 21, in the Park Center Alumni Arena.
An estimated 1,517 seniors will receive bachelor's degrees during Commencement exercises, which will be presided over by SUNY Cortland President Erik J. Bitterbaum.
Jan Richards Whitaker '65, a marathon canoe racer whose innovative programs have helped thousands of people with disabilities gain confidence and improved health through adaptive paddling, will address the graduates during the morning ceremony. Margaret Leng Tan, a classically trained pianist who explores alternative forms of music and unconventional instruments, will address the graduates during the afternoon ceremony. The State University of New York will bestow an honorary Doctor of Humane Letters upon Whitaker and an honorary Doctor of Fine Arts upon Tan during Commencement. A prelude, processional and recessional music will be provided by the Cortland Brass Ensemble.
President Bitterbaum will deliver the charge to graduates.
During the morning ceremony, David Hollenback, associate professor emeritus of communication studies, will carry the mace, a ceremonial staff used as a symbol of institutional authority at the College's Commencement and academic convocations. Four multi-colored gonfalons, representing the College, its School of Arts and Sciences, its School of Education and its School of Professional Studies, will be carried, respectively, by Thomas Mwanika, professor of communication studies; Karen Zimmerman, associate professor (music) of performing arts; Kimberly Rombach, assistant professor of childhood/early childhood education; and John Foley, associate professor of physical education.
During the afternoon commencement, Lawrence Ashley, professor emeritus of philosophy, will carry the mace. Carrying the gonfalons will be: Margaret Anderson, professor of psychology, with the All-School banner; Paulo Quaglio, associate professor of modern languages, representing the School of Arts and Sciences; Judith Bentley, assistant professor of foundations and social advocacy, representing the School of Education; and Sharon Todd, associate professor and chair of recreation, parks and leisure studies, for the School of Professional Studies.
President Bitterbaum will welcome the graduates at both ceremonies. Mark Prus, provost and vice president for academic affairs, will recognize the honor graduates. The 2009-10 and 2010-11 Student Government Association (SGA) President Jesse Campanaro, a senior business economics major from Monticello, N.Y., will deliver remarks. Joining President Bitterbaum in conferring the degrees will be R. Bruce Mattingly, dean of arts and sciences; and John Cottone, dean of professional studies and interim dean of education.
A total of 113 students are scheduled to graduate summa cum laude — the highest academic honor — with grade point averages of at least 3.75 on a scale of 4.00.
The largest number of majors set to graduate in each of the three schools are: 210 physical education majors in the School of Professional Studies, 178 childhood education majors in the School of Education, and 81 communication studies majors in the School of Arts and Sciences.
Nancy Niskin Sorbella '82, the SUNY Cortland Alumni Association president, will officially welcome the graduates into the ranks of the College's more than 62,000 alumni.
The Undergraduate Commencement Committee is co-chaired by Virginia B. Levine, executive assistant to the president, and Marley Sweet Barduhn '76, assistant provost for teacher education.
Other committee members include: Sila Argyle, supervising janitor, custodial services; Seth Asumah, SUNY Distinguished Teaching Professor, professor of political science and chair of Africana studies; Ashley Aurilio '11, student representative; Darci Bacigalupi, special events coordinator; Laurie Barton, assistant to the president; Mary Kate Boland, assistant director of leadership and community development, campus activities; Terence Cahill, College Store director; Mark DePaull, university police assistant chief; Ralph Dudgeon, professor of performing arts; junior Benjamin Herman, student representative; David Horrocks, assistant director of buildings and grounds services; Cheryl Jewell, assistant manager of sports facilities and manger of the Alumni Arena; Emilie Kudela, associate professor and early childhood coordinator of childhood/early childhood education; Kathleen Lawrence, associate professor of communication studies; Eric Malmberg, professor of physical education; William McNamara, director of dining services; Megan Munson, campus catering manager; Mary Murphy '87, university police lieutenant; Tracy Rammacher, director of publications and electronic media; Susan Rayl, associate professor of kinesiology; Hailey Ruoff '98, assistant director, instructional technologies and design services; Lee Scott-Mack, associate registrar; Timothy Slack, director of physical plant; Brad Snyder, associate director of classroom media services; and Brooke Weidman '11, student representative.
This year, both undergraduate Commencement ceremonies will be broadcast live on Time Warner Cable access Channel 17 to viewers in the Cortland area. The ceremonies can also be seen on campus in any classroom equipped with a television, on channels 2 and 17.
Under a tradition inaugurated at the 2004 ceremony by President Bitterbaum, undergraduates may honor a special person who has helped them achieve their academic pursuit or goals. The respective name of the honoree will be read along with each graduate.
Graduating seniors wishing to acknowledge their multicultural heritage will also participate in a Kente Graduation Ceremony at 7 p.m. on Friday, May 20, in the Corey Union Function Room. The traditional, woven multicolored kente cloth of Ghana, originally worn by royalty, has become an important symbol for many African-Americans to highlight their connection to the African continent.
---
Capture the Moment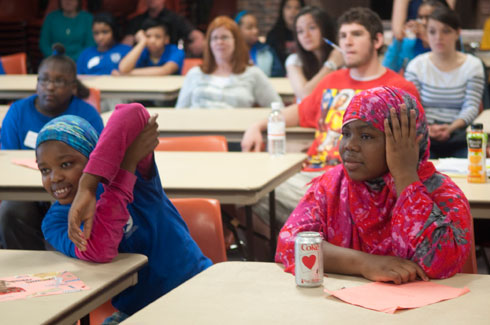 Two sixth graders from Hughes Elementary School in Syracuse, N.Y., Nuru Niyukuri, left, and Fatuma Muse, watch a classmate's presentation in the Corey Union Fireplace Lounge. More than 40 students from the school visited SUNY Cortland on Wednesday, April 27, to attend Cortland's Urban Recruitment of Educators (C.U.R.E.) program event.
---
In Other News
Graduate Commencement Set for May 20
04/29/2011
The SUNY Cortland Commencement ceremony for students earning master's degrees and certificates of advanced study is scheduled for Friday, May 20, at 7 p.m. in the Park Center Alumni Arena.
The College will award 296 master's degrees and 24 certificates of advanced study. After the ceremony, a reception for the graduates and their guests will take place in the Corey Gymnasium.
An academic procession will open the Commencement. Distinguished Teaching Professor of Geography David Miller, who chairs the Faculty Senate, will carry the mace.
Faculty members will carry the four multi-colored gonfalons representing the College, the School of Education, the School of Professional Studies, and the School of Arts and Sciences. The gonfalon bearers are, respectively: Joseph Governali, chair of the Graduate Faculty Executive Committee and professor and graduate coordinator of health; Lin Lin, associate professor of childhood/early childhood education; Donna Videto, professor of health; and Jerome O'Callaghan, associate dean of the School of Arts and Sciences.
Marina Gorelaya will perform the processional and recessional music.
Provost Mark Prus will offer a welcome, and Bonnie Jean Harding of Cortland, N.Y., a candidate for Master of Science in Education: Teaching Students with Disabilities, will provide remarks on behalf of the graduates.
A 2004 graduate of Paul V. Moore High School in Central Square, N.Y., Harding earned a B.S. in childhood education (grades 1-6) from SUNY Oswego in 2008.
This spring, Harding served as a student intern working among children with special needs in the Franklin S. Barry Elementary School in Cortland. Last summer, she was a counselor for grades kindergarten through third in Barry's Child Developmental Center.
President Erik J. Bitterbaum will deliver the charge to the graduates. Presenting the degrees and certificates will be Dean of Arts and Sciences R. Bruce Mattingly and Interim Dean of Education and Dean of Professional Studies John Cottone.
Nancy Niskin Sorbella '82, the president of the SUNY Cortland Alumni Association Board of Directors, will welcome these newest graduates into the ranks of the College's more than 62,000 alumni. Commencement marshals will be Michele Gonzalez, associate professor of literacy; Susan Rayl, associate professor of kinesiology; Kimberly Rombach, assistant professor of childhood and early childhood education; and Hailey Ruoff '98, assistant director of instructional technologies and design services.
The Graduate Commencement Committee is co-chaired by Virginia B. Levine, executive assistant to the president, and Ruoff.
Committee members include: Sila Argyle, supervising janitor, custodial services; Darci Bacigalupi, special events coordinator; Marley S. Barduhn, assistant provost for teacher education; Mary Kate Boland, assistant director of leadership and community development, campus activities; Terence Cahill, College Store director; Mark DePaull, university police assistant chief; Tracy Frenyea, academic advisor and coordinator of graduate student support; Michele Irvin Gonzalez, associate professor of literacy; Rena Janke, associate professor of biological sciences; Peter McGinnis, professor of kinesiology; Joy Mosher, associate professor of childhood/early childhood education; Mary Murphy, University Police lieutenant; Veronica Ripp, graduate student representative; Brad Snyder, associate director of classroom media services; and Arnold Talentino, Honors Program coordinator.
Students Earn SUNY Chancellor's Awards
04/25/2011
Four SUNY Cortland seniors were honored on April 5 in Albany, N.Y., with 2011 State University of New York Chancellor's Awards for Student Excellence.
The SUNY Cortland recipients, all seniors, are:
• Erica Frerking, an international studies major from Ossining, N.Y.
• Alyssa Riehle, a speech and hearing science major from Webster, N.Y.
• Michael Schoeneberger II, a dual major in political science and sport management from Middletown, N.Y.
• Danielle Singer, a political science major from Binghamton, N.Y.
The recipients were honored for integrating academic excellence with accomplishments in leadership, athletics, community service, creative and performing arts or career achievement.
With this year's awards, 60 SUNY Cortland students have earned a Chancellor's Award for Student Excellence since the program was created in 1997.
Each year, SUNY campus presidents establish a selection committee to review outstanding graduating seniors. The nominees are forwarded to the Chancellor's Office for a second round of review and a group of finalists is selected. Each honoree received a framed certificate and a medallion that is traditionally worn at commencement.
A more detailed profile of each 2011 SUNY Cortland honoree follows:
Erica Frerking
Erica Frerking
Erica Frerking, shown above to the left giving a presentation during the April 15 Scholars' Day at SUNY Cortland, isn't just a college student. In a phrase, the international studies major is a student of the world.
Globally, Frerking has traveled to Namibia and Senegal to utilize her educational training. Locally, she founded the International Awareness Club to bring a global perspective to campus.
"I traveled to Namibia in southern Africa when I was in high school," Frerking said. "I realized that I wanted to devote my studies to learning about the world, how it works and how to make it a better place."
Besides founding the College's International Awareness Club, Frerking held the vice president and treasurer positions in the Model United Nations Club and served as the international student orientation coordinator for the James M. Clark Center for International Education.
In the Clark Center, she established a partner program that pairs international students with American students to share respective cultures.
Frerking said her time at SUNY Cortland made a large impression on her life.
"In turn, I hope that I was able to make a distinct impact on the Cortland campus through the programs and organizations that I have been involved with throughout my time here," she said.
Frerking has volunteered her time on two continents and organized a fundraiser to pay a Namibian child's school fees.
A member of the College's Dean's List every semester and a four-time member of the President's List, she collected several leadership awards and merit scholarships during her academic career, including the UUP College Scholarship and the Alpha Delta Junior Scholarship.
Frerking will work for the Projects Abroad organization in Senegal next year.
Alyssa Riehle
Alyssa Riehle
Alyssa Riehle's work ethic, paired with a degree in speech and hearing science, will take her places.
She has already traveled to Oslo, Norway for her work on Alzheimer's disease, becoming the first undergraduate student to present at the conference of the International Clinical Phonetics and Linguistics Association (ICPLA).
"Presenting this research allowed me to inform and educate others about my findings," said Riehle, who will submit her research to the Journal of International Research in Communication Disorders. "This was by far one of the best experiences of my life and an accomplishment that I take pride in."
Her experience in her future profession runs beyond the presentation in Norway.
Riehle served the Communication Disorders and Sciences Department as a student mentor and as a representative for the College's Spring 2010 Open House. She presented at SUNY Cortland's Scholars' Day in 2010.
"Communication is an essential part of everyday life," she said. "Some people have extreme difficulties expressing themselves or communicating with others.
"I wanted to pursue a major in speech and hearing science so that I will be able to work with a variety of children and adults to help improve any difficulties that they may be experiencing."
Her work with children extends to her time as a summer counselor at Camp Good Days and Special Times and a volunteer at the Hillbrook Detention Facility.
A five-time member of the College's Dean's List and a two-time member of its President's List, Riehle is a member of invitation-only groups that include the National Speech Language Hearing Association and the ICPLA.
She will pursue a master's degree in speech-language pathology in the fall.
Michael Schoeneberger II
Michael Schoeneberger II
You won't find his name in any box score but Michael Schoeneberger is destined for a career in sports.
The aspiring sports agent will make his mark with the behind-the-scenes work that is his trademark, like the basketball league he co-founded for disadvantaged youth. The Orange County Basketball League offers down-and-out kids the ability to connect with positive roles models.
He serves on the Pi Kappa Phi and Greek Standards executive boards in addition to the College's Judicial Review Board. His many academic awards include the Excellence in Law and Justice Award, an accolade given to the student with the highest GPA for all law and justice majors.
Schoeneberger said he is proud of his entire body of work at SUNY Cortland, including his effort to pursue a law degree.
"When I came to Cortland I was specifically a political science major because I felt that it would best prepare me for law school, which was always the plan," he said.
He added a second major to move closer to his goal of becoming a sports agent.
"Combining law school with a background in sport management was the best choice for me," he said.
Outside of his basketball league, Schoeneberger's volunteer work includes Relay for Life and the Madden Committee, a video game tournament to raise money for charitable organizations.
A member of the College's Dean's List every semester and a three-time member of its President's List, Schoeneberger was a member of three honor societies, including the Zeta Delta chapter of the Pi Sigma Alpha political science honor society.
He will pursue a law degree in the fall.
Danielle Singer
Danielle Singer
After a 2009 shooting rampage took 14 lives in her hometown, Danielle Singer responded with action. It is the only way the Binghamton, N.Y. native knows.
A sophomore at the time, Singer did not personally know any of the shooting victims at the American Civic Association. Still, she organized a SUNY Cortland money collection for the victims.
"I look back on that moment and am proud of not only myself for really stepping up during a hectic time at school, but also of the SUNY Cortland student body as a whole," she said.
Singer flourishes as a political science major and English minor, especially in the legal landscape. She placed sixth out of 82 competitors at the 2010 Moot Court Regional Competition, arguing cases before judges. As president of the Political Science Association, she organized a voter registration event to enhance students' civic engagement. She also held positions with the College's Judicial Review Board, the Student Government Association and the Auxiliary Services Corporation.
"I have always had a serious interest in politics and the law and (the political science major) offered the best of both worlds to me at SUNY Cortland," Singer said.
Besides her volunteer effort for the Binghamton shooting, she lent her time to Relay for Life, the Cortland Historical Association and Rep. Michael Arcuri's campaign in 2010.
A member of the College's Dean's List every semester and a three-time member of its President's List, Singer is a member of Phi Kappa Phi, the college-wide honorary society.
She will attend the University of Miami School of Law in the fall.
"Oedipus Back-to-Back" Features Drama, Comedy
04/29/2011
The SUNY Cortland Performing Arts Department will present four performances from two wildly different pieces in "Oedipus Back-to-Back" at the Lab Theatre in Dowd Fine Arts Center from Thursday, May 5, to Sunday, May 8.
The show's first half will consist of the classic Greek tragedy, "Oedipus the King, believed to be the world's first detective story. A farce, titled "Cocoanut Soup at the Palace," or "If the Marx Brothers Had Performed Oedipus the King," will follow.
The Thursday to Saturday shows begin at 8 p.m. The Sunday performance starts at 2 p.m. Tickets, available at the door only, cost $12 for the general public, $10 for senior citizens and SUNY staff, and $5 for all students.
Directed by SUNY Cortland Professor of Performing Arts Thomas Hischak, "Oedipus the King" will be presented in a new prose adaptation by Hischak that follows the script of Sophocles' classic drama.
The play tells the story of the proud-willed Oedipus, performed by Ricky Wenthen, who sets out to find the murderer of the old king, not realizing that he, in fact, is the culprit. In his pursuit of the truth, Oedipus discovers his own past and how fate has doomed his entire family, including his wife, Jocasta. Samantha Rey acts in that role.
"Cocoanut Soup at the Palace" will retell the famous story of Oedipus as only the clownish Marx Brothers can. Broadway's celebrated brothers retell the Oedipus legend in their own unique way, with Groucho acting as a wisecracking king. Italian-accented Chico and the silent Harpo join Groucho in an attempt to harass the matronly Margaret Dumont and everyone else in the kingdom. The role of Groucho is performed by Charles O'Connor; that of Chico by Andrew Kohn; Harpo, by Mike Meaney; and Margaret Dumont by Annali Fuchs.
Hischak wrote the comedy and first produced it at SUNY Cortland in 1996. The play was published and presented in theatres across the country.
Hischak, a Fulbright scholar and past recipient of the SUNY Chancellor's Award for Excellence in Scholarship and Creative Activity, directs both plays. Scenic design is by Howard Lindh, lights by Derek Mellor and Joel Pape and costumes by Joey Gugliemelli and Kate Quigley.
College Council Approves New Residence Hall
04/29/2011
The College Council last week approved SUNY Cortland's plans to build a new, 220-bed residence hall.
The two-story, 61,000-square-foot structure would be built at the south ends of Hayes and Hendrick halls. It is targeted to open for the 2013-14 academic year.
The new residence hall is needed to meet increasing demand for on-campus housing as well as to compensate for the planned conversion of Whitaker Hall into administrative offices, said Jeff Lallas, the college's director of facilities planning, design and construction.
Lallas presented the plan at the council's April 25 meeting. The council unanimously approved the $14 million project, which would offer four-bedroom suites with private bathrooms.
Currently, about half of the college's undergraduate students live on campus. According to Lallas, the college currently has a waiting list for on-campus housing and typically has to put three freshmen in a room; something it would rather avoid.
Design work will begin this spring and construction could start by March, 2012.
In addition to approving the residence hall plans, the College Council approved two changes to the Code of Student Conduct.
Persistent, pervasive or severe bullying is now included as a form of prohibited harassment under the Code, in recognition of behavioral trends at other schools and in society, Judicial Affairs Director Nan Pasquarello said.
In addition, the college will now keep records of minor student misconduct for three years instead of only one year. The change was made to comply with a recent change in SUNY policy on records retention. Conduct violations involving drugs or alcohol will continue to be kept for seven years. Records of suspensions for hazing or other serious incidents will continue to be retained permanently.
College Hosts Visitor from Azerbaijan
04/29/2011
SUNY Cortland recently hosted a visiting official from Khazar University, a private school in the Middle Eastern nation of Azerbaijan whose president is a Cortland graduate and the former dean of the School of Arts and Sciences.
Khazar University President John Ryder's Cortland roots – as well as SUNY Cortland's success at institutional development and continued involvement with the Project on Eastern and Central Europe – helped make Cortland an important stop on the American itinerary of Khazar's director of development.
Raziya Isayeva met with selected SUNY Cortland staff and faculty from April 24 through April 27. It was the last stop on an information-gathering tour of American-style college fund-raising that took her to schools in Ohio, Vermont and New York City.
"I have learned a lot," said Isayeva.
Her Cortland visit was coordinated by Henry Steck, a professor in the Department of Political Science and coordinator of the Project on Eastern and Central Europe; a program created by Ryder and Steck that cultivates academic links between SUNY Cortland and several European universities.
Ryder, a 1973 SUNY Cortland graduate, was a member of the university's faculty from 1980 to 2002. He served as chair of the Philosophy Department from 1991 to 1996, and was dean of the School of Arts and Sciences from 1996 through 2002. Ryder then served as director of the SUNY Office of International Programs until he was appointed rector of Khazar University in September.
Khazar is a private university with 1,700 students in Baku, the capital of Azerbaijan; a former Soviet Union republic that straddles the boundary of Europe and Asia between Russia and Iran. Ryder was hired to modernize the school using western education models.
Part of this modernization involves generating revenue from gifts and donations. To that end, Isayeva spent two days in Cortland meeting with President Erik Bitterbaum and staff from the College's Division of Institutional Advancement, which includes alumni affairs, public relations, the Cortland Fund, the Cortland College Foundation, publications and other operations related to gift-giving.
Isayeva also met with faculty members who have a particular interest in Eastern and Central European affairs, including Steck and Thomas Pasquarello (political science), Girish Bhat and Scott Moranda (history), Sharon Steadman (anthropology), Paulo Quaglio (modern languages) and Craig Little (sociology). In addition, she met with representatives from the Clark Center for International Education.
Juried Student Art Show Opens May 9
04/29/2011
The Art Exhibition Association (AEA) will present Student Select 2011, a display of the most impressive SUNY Cortland student artwork produced during the academic year, at the Dowd Gallery from Monday, May 9, to Saturday, May 21.
An opening reception for the exhibition is set for Monday, May 9, from 4-6 p.m. The Dowd Gallery, located on the SUNY Cortland campus, is open Monday through Friday from 10 a.m. to 4 p.m. It will also open on Saturday, May 21, from 10 a.m. to 4 p.m. to mark the final day of the exhibit. The event is free and open to the public.
"It is the show we have been waiting for all year," said Xena Holzapfel, the secretary of the AEA and a bachelor's of fine arts student. "The show is always a great opportunity to be a part of a juried collective exhibition."
Allison Graff, the program director at the Schweinfurth Memorial Art Center in Auburn, N.Y., will jury the exhibition. The Student Select 2011 event will highlight the best works from the academic year and feature original pieces from all mediums.
College Recognizes Civic Engagement Efforts
04/29/2011
SUNY Cortland's Institute for Civic Engagement (ICE) awarded nine individual honors and recognized 37 members of the campus and the greater Cortland community during the 2011 Leadership in Civic Engagement Awards Ceremony on April 21 in Brockway Hall, Jacobus Lounge.
President Erik J. Bitterbaum, City of Cortland Mayor Susan Feiszli and ICE Director Richard Kendrick gave a welcome and introduction at the seventh annual ceremony.
"This really is an extraordinary group that helps our students learn to grow as citizens," Bitterbaum said. "We do know these experiences are changing our students' lives."
Mayor Feiszli said, "As mayor of the City of Cortland, I thank you very, very much."
Since 2005, the College has recognized the contributions of individuals and groups to the community's quality of life through civic engagement activities. The ICE and Division of Institutional Advancement also have provided students with scholarships for their civic engagement initiatives.
SUNY Cortland students, faculty, staff and local community members could nominate a person, group or themselves for an award. Event sponsors included the ICE, the divisions of Student Affairs, and Institutional Advancement, the Cortland Fund and the Cortland College Foundation.
Six students each received a $1,000 scholarship this year. The students included:
• Victoria Maione. She won the Borg-Warner Morse TEC Scholarship for Student Volunteers and Interns.
• Lori Jean Magnelli. She was awarded the Community Scholarship for Student Volunteers and Interns, which recognizes a student who has demonstrated initiative and dedication to community service.
• Ashley Mosgrove. Mosgrove received the Institute for Civic Engagement Scholarship, which acknowledges exemplary civic engagement leadership and entrepreneurism during at least one year at SUNY Cortland.
• Laura Brienza and Laura Platt. Each earned a Judson H. Taylor Presidential Scholarship, in recognition of their demonstrated commitment to community betterment by volunteering or interning at local schools or non-profit organizations.
• Juliann Lykos. The honoree was awarded the Lambda Phi Delta Service Scholarship, which is reserved for an active participant with at least two full years of study at SUNY Cortland and one year remaining who has made a positive impact in service to the College community.
A student and one student group were recognized with individual, non-monetary awards. They were:
• Jesse Campanaro. He received the Cortland Area Chapter of the Alumni Association's Community Service Award. The student-only award recognizes civic engagement work between SUNY Cortland and the greater Cortland community that goes beyond course or graduation requirements.
• SUNY Cortland's Habitat for Humanity. The organization won the Don Wilcox Civic Engagement Award. The award recognizes a campus or community group that lessens the effects of hunger and homelessness.
Twenty students, nine faculty and staff members, eight community members and two student groups received Leadership in Civic Engagement Awards. The award honors people with at least one year of service at SUNY Cortland who have shown exemplary civic engagement leadership. Activities include volunteer work, community action, service learning, social justice and political action. The award winners were:
• Students: Laura Brienza, Jesse Campanaro, Amanda Cheetham, Julie Ciotoli, Jason Decker, Devon Keir, Michelle Krenzer, Carmela Laya, Juliann Lykos, Lori Jean Magnelli, Victoria Maione, Grace McGeoch, Ashley Mosgrove, Laura Platt, Erica Raepple, Alaina Repetto, Alexis Robinson, Alaina Shanley, Lima Stafford and Caitlin Sullivan.
• Faculty and staff: Karla Alwes, Judy Bentley, Harland Bigelow, Diane Craft, Jeanette Dippo, David Franke, Eddie Hill, Lin Lin and Amy Shellman.
• Community members: David Beale, Michael Dexter, Lindy Glennon, Linda Kline, Kimberly McRae Friedman, Machell Phelps, Frances Pizzola and Christella Yonta.
• Student groups: Education Club and Running Club.
Roundtable to Address Computer Mapping
04/27/2011
David Miller, a SUNY Distinguished Teaching Professor, will give a presentation on how geographers can use computer mapping technology to help local residents better understand critical regional issues, during a Community Roundtable on Thursday, May 5, at SUNY Cortland.
He will talk from 8-9 a.m. in the Park Center Hall of Fame Room. A question-and-answer period will follow. Refreshments will precede the lecture at 7:45 a.m.
Sponsored by the President's Office and the College's Center for Educational Exchange (CEE), the Community Roundtable is free and open to the public.
Miller, a geography faculty member at the College, will discuss how the Geography Department's faculty and students have been using Geographic Information System (GIS) applications, essentially a computer mapping system on steroids, for more than a decade to chart intriguing information on area maps.
According to Miller, the GIS technology has enabled the mapping of drug-free schools zones and helped the Cortland County Soil and Water Conservation District to generate a database and produce maps showing what the Federal Emergency Management Agency's (FEMA) new flood maps have changed from the former ones.
GIS is also assisting The Hill Association to collect data and map rental properties, Miller said. He will show how the technology helps answer the public's questions and solve community problems.
The Community Roundtable series provides programs on diverse intellectual, regional and cultural topics of interest to College faculty, staff and community members. Each roundtable is held on the first Thursday of the month. Parking in the Park Center lot is open to the public during the roundtables.
Choral Union Will Perform 'Carmina Burana'
04/27/2011
SUNY Cortland's Choral Union will perform Carl Orff's "Carmina Burana" at 8 p.m. on Tuesday, May 10, in the Dowd Fine Arts Theater.
Stephen B. Wilson, performing arts professor (music), will conduct the chorus, three soloists, two pianos and six percussionists in this remarkable work written in Germany in the mid-1930s. Tickets will be sold only at the door and cost $5 for adults and $3 for students. A translation of the lyrics will be available.
Using 25 medieval poems, Orff's composition draws listeners into the rich, dramatic and kaleidoscopic world of "Carmina Burana." The piece begins and ends with "Fortune, Empress of the World," effectively encircling four medial sections that tell stories ranging from tender to lusty, to astonishingly unexpected.
The work is being conducted for the second time by Wilson with the Choral Union. In addition to leading the chorus, he directs the College Singers and teaches music theory. Wilson joined the SUNY Cortland faculty in 1985 and received the Chancellor's Award for Excellence in Teaching in 1992.
While Soprano Karen Dumont often performs in operettas, musical theater productions and with the Cayuga Vocal Ensemble, this will be her first performance of "Carmina Burana."
Tenor Gary Moulsdale first performed Orff's masterpiece as a college student chorus member in Toronto, Canada. He is currently a doctoral candidate in musicology at Cornell and member of the voice faculty at SUNY Cortland. Moulsdale is an active soloist, performer and music director in Central New York operetta and musical theater.
This will be the fourth performance of "Carmina Burana" for Baritone Steven Stull, who sings a wide range of musical repertory throughout Central New York and much of the nation. He is a recording artist, recitalist and a collaborator in modern dance. Stull co-founded the CRS Barn Studio with choreographer Jeanne Goddard in 1990.
Alan Giambattista and William Cowdery will play two pianos in the performance. Giambattista, the current pianist for the Choral Union and the Ithaca Community Chorus, appears regularly throughout Central New York and also teaches physics at Cornell. Cowdery is an adjunct instructor at Cornell University and music director and organist of the First Congregational Church in Ithaca. He is well known throughout Central New York as performer and musicologist.
Area musicians Lois Pfister, Maria Mucaria, Jonathan Walsh, David Alexander, Lynne Curtis and timpanist Anthony Di Bartolo will provide the dynamic percussion required in Orff's cantata.
The Choral Union includes SUNY Cortland students, faculty, staff and many experienced singers from the greater Cortland community. Since its creation nearly 50 years ago, the chorus has performed new works as well as great masterworks of the standard choral repertoire.
For more information, contact the Performing Arts Department at (607) 753-2811 or by email.



New Broomstick Club Sport Takes Field
04/27/2011
With their shoes tied tight, hands gripped firmly on their broomsticks and quaffle in hand, SUNY Cortland's fledgling Quidditch club team was not hesitant to get right to work.
Running and passing the ball back and forth, the eager College students raced up and down the field as if they were playing alongside J.K Rowling's fictional character Harry Potter. The approximately 18 members of the first semester club sport would give the teams in the Hogwarts Quidditch Cup league a run for their money.
With an unmatched passion for the Harry Potter novel series, the participants are excited to offer their classmates a way to be active and have some fun.
"The Quidditch Club has the perfect mix of fun and physicality," said Erica LaComb, a sophomore history education major, co-founder and president of the SUNY Cortland club sports team.
"The sport is perfect for anyone who enjoys both Harry Potter and athletics," adds LaComb of Syracuse, N.Y. "It is something new and different that everyone of all ages and athletic ability can enjoy."
"I think all the members are really passionate about this sport," said Morgan White, a senior English major and club secretary. "We usually are all disappointed because we can't practice often enough."
Participants involved will be playing the "muggle" or "on ground" version of the game attributed by the famous novels and films. "Muggle Quidditch" is played very much like the game found in the Harry Potter movies. Just like the movie, the object of the game is to throw the ball or quaffle through the goals to gain points, LaComb explained. Each team consists of seven players that must be mounted on a broom, holding it between their legs with at least one hand on it at all times.
"It's a tough sport to play, without having to think about keeping your broomstick between your legs," said LaComb.
LaComb and her friend, Sarah Mackin, approached assistant intramural sports director Matt Nuesell, about starting a Quidditch tournament locally for SUNY Cortland students.
"After we told the intramural director that we wanted to participate in an on-campus Quidditch competition, the director pushed us into getting together and starting a Quidditch club team," said LaComb.
"I thought about starting a team and decided that since I was a really big Harry Potter fan, there must be others on this campus," said LaComb.
"I knew it would be a big hit because it was something that is new and refreshing and not like your traditional club sports."
Members hope to practice one or two times a week.
"At our first ever practice, we had a decent turnout even though some members were unable to attend," LaComb said. "We will be looking to form a team this semester to compete with other universities across the country and around the world. But to do so, we're going to need a few more members."
After the spring 2011 semester, the Quidditch Club will seek to join the International Quidditch Association (IQA). The IQA was founded by two Middlebury College students, Xander Manshal and Alex Benepe in 2007. Joining the IQA would allow SUNY Cortland to travel around the U.S. and internationally to play other universities in the league.
"I love this club because it is based on books that I am very passionate about," said White of Binghamton N.Y. "I have always been impartial to sports, but now there is a sport that I am truly interested in."
"It is a way of getting Harry Potter fans together, basically creating a sporty book club."
After the spring 2011 semester, the Quidditch Club, some of whose members are shown here, will seek to join the International Quidditch Association (IQA).
Campus Incorporates Dining Changes
04/27/2011
Expanded hours, faster service and additional menu selections all became part of the College's dining experience this year as SUNY Cortland's Auxiliary Services Corporation (ASC), responded to feedback from members of the campus community.
More than 1,400 students, faculty and staff responded to the National Association of College and University Food Services (NACUFS) Customer Satisfaction Survey conducted in the fall. Based on the survey's results, ASC, the campus-based, not-for-profit organization that provides food services, vending, campus stores, student ID cards and other essential services to the campus community, improved its dining program.
"The results are important for a couple of reasons," said William McNamara, director of dining services for ASC. "First, they help us see where we are compared to where were a year ago.
"They also help us judge how we're doing against our competition. Overall, we were real happy with the survey."
Compared to other dining providers at institutions the same size as SUNY Cortland, the College compared favorably in most survey categories. Four themes dominated the responses of survey respondents: more weekend dining options, faster service, posted nutritional information and better variety in menu choices.
To offer more weekend dining options, ASC expanded the hours at Dragon Court in Corey Union on Saturdays and Sundays. Neubig Dining, the campus' unlimited access facility which used to close from 3 to 4:30 p.m. daily, added continuous service from 8 a.m. to 9 p.m. daily.
ASC added equipment at two of its busiest dining outlets to speed up service time. After adding a third cash register at Hilltop in Brockway Hall and a second espresso machine at Bookmark in Memorial Library, ASC measured a significant improvement in average service time in both locations. The dining program continues to look for more ways to increase efficiency in other campus units.
Nutritional information is now available at many of the serving stations in Neubig to enable more informed dining choices. ASC plans to post nutritional information campus-wide by the fall.
Many survey respondents requested more menu options. ASC began to incorporate new choices at its dining facilities. Additions include a taco bar and whole-wheat pasta selection at Hilltop, expanded salad and sandwich choices at the Bookmark and a new line of baked goods at Dragon's Den in Old Main and the Bookmark.
"Where we identify what we can do, we do," McNamara said.
Founded more than 50 years ago, ASC is governed by a board of directors made up of students, faculty and administrators. The organization employs more than 300 regular staff members and students and is the largest employer of students on campus.
The campus community is encouraged to offer dining suggestions throughout the year by contacting ASC.
Exam Break Brings Dogs to Campus
04/27/2011
"Paws for Stress Relief" is SUNY Cortland's most relaxing study break on four legs.
The two-day event, scheduled for Friday, May 13 and Monday, May 16 from 10 a.m. to 4 p.m., invites students to the College's Corey Union Function Room to interact with dogs and forget about the worries of exam week.
Co-sponsored by the Academic Support and Achievement Program (ASAP), the Health Promotion Office, Auxiliary Services Corporation (ASC) and Campus Activities, the day's activities are free and open to all students, faculty and staff.
Teri Vigars, a staff member from ASAP and a golden retriever rescue expert, started the event in Spring 2010. She looked at the models of other colleges that used dogs as study tools and drew up a plan for SUNY Cortland.
The College's plan, however, differs.
"Most programs that do this use therapy dogs." Vigars said. "We don't."
SUNY Cortland asks faculty and staff to lend their dogs for the day. The event's community component is vital, Vigars said.
"The interaction between students and faculty is phenomenal," she said. "It really is fun to listen to them all talking and getting to know each other."
Most of the dogs on display are rescue dogs. They include several breeds, from Maltese to Doberman.
At least four dogs interact with students at a given time. The dogs are brought together and introduced to each other before the event to ensure safety. They work on two-hour intervals and are available to be petted or played with.
More than 300 students attended past "Paws for Stress Relief" events, according to Cathy Smith, a health educator in the Health Promotions Office. Growing interest forced organizers to add an extra day to this semester's program and utilize two student interns for planning.
Smith and the interns, seniors Jason Decker and Caitlin Sullivan, planned other stress relief stations throughout the Corey Union Function Room. They include yoga, craft making and coloring.
"It's just a day to relax and not have to worry about your exam," said Decker, one of the interns in charge of planning. "You forget about your exam in five minutes."
Vigars said research suggests the presence of a dog can positively affect people, especially students suffering from exam-week anxiety.
Decker is one of those students.
"You just forget about everything besides the moment you're in," Decker said. "The day allows students to get in the moment."
Volunteers Sought for Make a Difference Day
The campus community is invited to participate in "Make a Difference Day," an annual campus beautification event, on Wednesday, May 11.
Volunteers are asked to meet at the front entrance of Moffett Center on Graham Avenue at 8 a.m. to receive work assignments. Coffee and Danish will be served. The event will be held from 8 a.m. to noon at work sites throughout campus.
The Physical Plant encourages students, faculty, staff and alumni to join them in planting flowers and trees, mulching, raking, sweeping and general spring cleanup. Teams, groups and individuals are welcome. The grounds crew staff will prepare the work sites and provide tools and assistance in all areas. Employees are granted release time, with supervisory approval, to assist in the beautification of the grounds.
"As everyone knows, this has been one of the most difficult winters we've had in quite a few years," said David Horrocks, assistant director of buildings and grounds at the Physical Plant. "The harsh and protracted winter weather, plus the very wet spring we're experiencing, has put our Grounds Department more than a month behind in our spring beautification efforts. The help of the campus community during Make-A-Difference Day will be doubly important this year as we try to make this campus shine for our graduates and their parents."
The annual event is weather-permitting.
"We're happy to accommodate people who would like to work in their favorite areas," Horrocks said. "Many people return each year to a specific task that they enjoy — for some it's planting flowers at the memorials, others like to spread mulch around their office building."
Those interested in volunteering are asked to register by contacting Melinda Ferguson at (607) 753-2101.
College Recognizes Student Leaders
SUNY Cortland honored students for their contributions to the College at the 26th annual Student Leadership Recognition Banquet held April 14 in Corey Union.
Following are the award recipients:
Outstanding Studenty Leaders
Tonya Alemao
Lindsay Anderson
Nicolle Arcara
Jennifer Arcuri
Ashley Aurilio
Meghan Babiarz
Michael Baldino
Brittany Ballard
Kelsey Baylinson
Khalia Brown
Matthew Budofsky
Jesse Campanaro
Laura Cantori
Jasmine Chandoo
Amanda Cheetham
Kailee Danford
Jason Decker
Kendra Duquesne
Laura Emerling
Katelynn Faulkner
Brenna Filipello
Alyson Finch
Rachael Forester
Allison Fucci
Gillian Garzia
Jaclyn Grimaldi
Kelly Grogan
Bethanie Hemingway
Bianca Hendricks
Lauren Herman
Sandra Hernandez
Toni Hodge
Leah Horning
Leah Kadlecik
Brianna Kennedy
Sara Krukowski
Erin Lange
Jean-Necole Longmore
Nicholas Mangan
Michael Millstein
Jenna Monahan
Lauren Morcerf
Liam O'Connell
Sara Pick
Jamie Piperato
Ronald Pleban
Nicholas Polhamus
Nicole Prinzi
Erica Raepple
Alaina Repetto
Anne Marie Rossi
Brittany Rourke
John Rudenko
Michael Schoeneberger II
Heather Schowe
Karyn Schutzer
Danielle Singer
Chelsea Smith
Caitlin Sullivan
Lisa Torswick
Alyssa Tretter
Stacey Ulrich
Tara Vasilakopoulos
Tatyana Walker
Leigh Marie Weber
Brittany Wehr
Brooke Weidman
Tameka Wilkes
Megan Wise
Tory Wooden
Leanne Wulforst
Kevin Yarnell
Excellence in Leadership
Nicolle Arcara
Kendra Duquesne
Lauren Herman
Sara Krukowski
Liam O'Connell
Outstanding Senior
Jesse Campanaro
Vice President for Student Affairs Merit Award
Kahlia Brown
Student Government Association Awards
Outstanding Staff Member – Kevin Pristash, Campus Activities
Steven J. Barnes Outstanding Faculty Member – Kathleen Burke, Economics Department
Outstanding Club Member – Linda Eastman, Non Traditional Student Club
Outstanding Club/Organization – Campus Rescue
Outstanding Student Senator – Julie Gorman
Challenge for Success Awards
Academic Strength Bronze – Rebecca Rooney
Academic Strength Silver – Bibi Henriques
Academic Strength Gold – Ho Woon Lee
Leadership – Tameka Wilkes, Jasmine Chandoo, Nina Mann
Gospel Choir Achievement – Khalia Brown
Athletic Scholar and Achievement – Alyssa Tretter
Outstanding Graduating Senior – Jazmin Ramirez
Greek Awards
Outstanding Sorority Member of the Year – Gillian Garzia of Sigma Delta Tau
Chapter Leadership Awards
Brittany Ballard of Alpha Phi
Gillian Garzia of Sigma Delta Tau
Rosalie Haran of Alpha Phi Omega
Tameka Wilkes of Omega Phi Beta
José Valdez of Phi Iota Alpha

Suggest a feature story
---
People on the Move
Lachance Named Interim Dean of Education
04/29/2011
Andrea Lachance, the chair of the Childhood/Early Childhood Education Department and a member of the SUNY Cortland faculty since 1998, will become the interim dean of the School of Education, effective July 1. A national search for a permanent dean will be conducted.
Lachance replaces John Cottone, who has served as interim dean since August, 2009, and was named dean of the College's School of Professional Studies in March.
Lachance has been the chair of the Childhood/Early Childhood Education Department since 2008. In addition to teaching, she acts as the project director for the Teacher Professional Development Network of Central New York and the undergraduate advisement coordinator for her department.
A two-time recipient of the SUNY Cortland Excellence in Research and Scholarship Award, Lachance has served on more than a dozen committees at the College. She was named a SUNY Cortland Research Enrichment and Development Initiative (REDI) fellow in 2009 and was a SUNY Cortland Innovative Teaching Award winner in 2003.
Since receiving her doctorate from Cornell University in 1999, Lachance has evaluated and consulted with six teaching development projects. She has written several book chapters and has presented papers at education conferences across the country.
From 1992 to 1998, Lachance served as a reading lab instructor, teaching assistant, instructor and graduate assistant in the Department of Education at Cornell University. In 1998, she joined SUNY Cortland as an assistant professor of mathematics education. She was promoted to associate professor in 2003 and full professor in September.
A native of Arlington, Mass., Lachance received a bachelor's degree in English from Boston College. She earned a Master of Science and a Doctorate in Curriculum and Instruction from Cornell University, where she specialized in mathematics education.
She lives in Ithaca, N.Y., with her husband, Bruce Lauber, and their two children.
---
Faculty/Staff Activities
Seth N. Asumah
Seth N. Asumah, Africana Studies and Political Science departments, was invited to write a guest foreword, "Rethinking African Philosophy in the Twenty-First Century" which is published in a new volume of the Value Inquiry Book Series. The book, Postethnophilosophy, is authored by Sanya Osha, a professor of philosophy and a research fellow at Tshwane University, Pretoria, South Africa. The book was published by Edition Rodopi B.V., Amsterdam, Netherlands. Andrew Fitz-Gibbon, Philosophy Department, wrote the editorial foreword for this book.
Brian D. Barrett
Brian D. Barrett, Foundations and Social Advocacy Department, recently had his article, "Faith in the Inner City: The Urban Black Church and Students' Educational Outcomes," published in the Journal of Negro Education (79(3) pp. 249-262). He presented aspects of the article on campus during a 2009 Black History Month Sandwich Seminar as well as in an invited session at the 2009 Annual Meeting of the American Educational Research Association.
Terrence Fitzgerald
Terrence Fitzgerald, Biological Sciences Department, is the author of an article titled "Phelypera distigma Un charançon processionnaire" (A processionary weevil) appearing in the current issue of the French magazine Insectes. Eleven of Fitzgerald's photographs accompany the article, which was translated by the editors of the publication from an English language version appearing on the author's website "Social Caterpillars." The original studies of the larva, the only weevil known to form head-to-tail processions, were conducted in the Guanacaste, Costa Rica and Jalisco, Mexico as a collaborative effort between the author, James Costa '85 of Western Carolina University, Alfonso Pescador of the University of Colima in Mexico, Dan Janzen of the University of Pennsylvania and Michael Turna '03, who recently completed an advanced degree in the chemical ecology of host selection behavior of the eastern tent caterpillars at Binghamton University.
Herb Haines
Herb Haines, Sociology/Anthropology Department, was interviewed live on April 6 by the host of "This Morning," a public affairs program of the South Korean radio station TBS eFM. The program dealt with South Korea's impending decision on whether to officially abolish capital punishment.
Tom Lickona
Tom Lickona, Center for the 4th and 5th Rs, presented a daylong workshop on "Building Character, Preventing Bullying" to 70 independent school heads and faculty on April 16 as part of a two-day conference sponsored by the Council for Spiritual and Ethical Education. The Center for the 4th and 5th Rs recently received a one-year extension of its four-year grant, "Building Smart and Good Schools," from the John Templeton Foundation.
Ellis McDowell-Loudan
Ellis McDowell-Loudan, Sociology/Anthropology Department, hosted the planning board meeting of the International Iroquois Research Conference on Saturday, April 23, in the archaeology lab in Moffett Center, Room 2124. McDowell-Loudan is part of the group involved in the planning and implementation of the conferences' transfer from the Rensselaerville Conference Center in New York, to the NAV Canada Training and Conference Center in Cornwall, Ontario, Canada. The annual meeting will be held near Akwesasne, Ontario, Canada. Also in April, McDowell-Loudan attended the Annual Joint New York Archaeological Council/New York State Archaeological Association Meetings held April 15-18 in Gloversville, N.Y. She presented a paper, "New Perspectives on Wyns Farm Site: Contributions of Gordon DeAngelo," as part of the Gordon DeAngelo Memorial Symposium titled "The Interface Between Avocational and Professional Archaeologists."
Mary McGuire
Mary McGuire, Political Science Department, chaired a roundtable discussion at the New York State Political Science Association's annual meeting held April 7-8 in Buffalo, N.Y. The panel participants included SUNY Cortland undergraduate students Megan Connors, Amanda Ephraim and Jefferey Quain. Participants discussed the opportunity to conduct original research related to internships and presented their own research on child neglect, hydrofracking and campaign initiation.
Robert Rubendall
Robert Rubendall, Center for Environmental and Outdoor Education, was named a 2011 Josh Miner Dialogue Series honoree. The Josh Miner Series, named for the person responsible for bringing Outward Bound to this country, was started in 2003 to honor and hear from a longtime leader in the field of experiential education who has made a distinct impact over the course of their career. The series consists of a public dialogue or conversation between the years' honoree and another professional in the field. Following tradition, Rubendall was interviewed during the Northeast Regional Conference of the Association for Experiential Education , which was held April 9 in Beckett, Mass. He was interviewed by Paul Hutchinson from Boston University.
David L. Snyder
David L. Snyder, Sport Management Department, served as an invited panelist at a symposium titled "Baseball and the Law: America's National Pastimes." The symposium was presented by the Albany Government Law Review with the Government Law Center and was held at Albany Law School on April 11.
Barbara Wisch
Barbara Wisch, Art and Art History Department, will have her co-edited book, Confraternities and the Visual Arts in Renaissance Italy: Ritual, Spectacle, Image (Cambridge University Press, 2000), reissued in paperback. Cambridge has selected a number of out-of-print volumes to be part of this new program.
Gail Wood
Gail Wood, Library, has received an award from the New York State Library for "Coordinated Collection Development Aid" in the amount of $9,868.
Tiantian Zheng
Tiantian Zheng, Sociology/Anthropology Department, was invited by the Department of Anthropology, Yale University, to give a talk on her ethnographic research on gay men in China. Her talk, "Activism and Shifting Identities of Self-Identified Gay Men in Postsocialist China," was presented on April 18.

Submit your faculty/staff activity