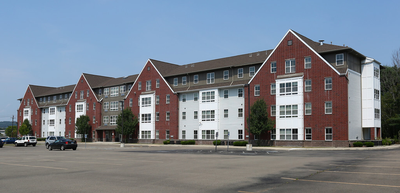 College Suites is a community of 185 SUNY Cortland residents located one mile from campus. This suite-style residence hall has suites with four single bedrooms, two bathrooms, full kitchens, and a living/dining room area; each suite come fully furnished. This residence hall houses both upper-class and transfer students.
College Suites affords residents the independence of off-campus living along with the available support from the Cortland campus in the form of student staff, a residence hall director, on-site maintenance staff, university police coverage and other campus resources. College Suites also offers a very affordable on campus housing option as you are not billed for a meal plan. You have the flexibility of choosing a meal plan or doing your own cooking.
College Suites Highlights
1,100 square feet of fully furnished living space in each apartment.
The kitchen comes equipped with a stove/oven, dishwasher, full sized refrigerator, and microwave. The living/dining area is fully furnished.
Each single bedroom has a standard extra long twin-sized bed, dresser, desk with chair and a closet.
Air conditioning is available in each suite.
The College Suite complex is on the campus bus route so you may easily get to campus.
Parking is right outside your building.
All utilities, Internet, cable, laundry, and trash removal are included in the cost.
Safe and secure facilities — College Suites are equipped with card access, cameras that monitor the entrance to your apartment building, and university police patrols the complex regularly.
The student staff office is located on the first floor
The RHD's office is located on the second floor.
The laundry facility is located on the second floor
The vending machines are located on the first floor; you use your college ID as a form of payment for vending.
An elevator allows access to all floors.
College Suites Bedroom Dimensions
Please be aware that these dimensions are approximate and may vary from room to room.
Bedroom
8.3' x 13.6' floor