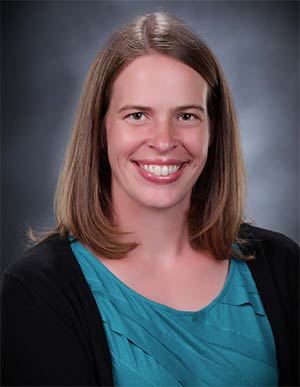 Chief of Staff Laura J. Panning Davies joined SUNY Cortland in 2014 as director of writing programs and assistant professor of English. She was promoted to associate professor in 2017. As director of writing programs, Davies led the composition program and the Writing Intensive courses and created two grant-funded campus initiatives: the co-requisite developmental Writing Workshops in 2017 and the Writing Center in 2018.
Davies graduated from Le Moyne College in Syracuse, N.Y., in 2004 with a bachelor's in history and English and New York State teaching certification in secondary social studies. In 2005, she earned her master's of science for teachers in English at the University of New Hampshire in Durham, N.H. Davies graduated from Syracuse University with a Ph.D. in composition and cultural rhetoric in 2012.
Davies is an active scholar in writing studies, publishing and presenting on research in writing pedagogy, writing program administration, and student composing and research practices. She is a contributing author to the fifth edition of They Say/I Say with Readings (W. W. Norton & Company, 2020), one of the best-selling first-year writing textbooks in the U.S. She teaches courses in first-year writing, writing pedagogy and assessment, technical writing and public rhetoric.
Born in LaGrange, Ill., Davies grew up in Springfield, Pa.; Coral Springs, Fla.; and Penfield, N.Y. Before coming to SUNY Cortland, she taught as an assistant professor of rhetoric and composition at the United States Air Force Academy in Colorado Springs, Colo., from 2012 to 2014. There, she also served as the first-year writing course director and assessment coordinator for the Department of English and Fine Arts. Davies also taught as a visiting assistant professor of English at Le Moyne College from 2010 to 2012.
She is married to John Davies, who grew up in DeWitt, N.Y., and is a former middle school social studies teacher. They live in Manlius, N.Y., and have seven children: Stewart (Mac), Gilbert, Adaline, John Henry, Ceridwen, Esther and Thomas.