Sending Encrypted email
Sending an encrypted message using Office 365, Outlook or the web client is simple. If you need to encrypt a message simply include the phrase "Encrypt: " (no quotes, please note the ":" it is important and you must leave a space after the ":" before your email subject text) in the subject of your email. The system will detect this phrase and send the message as an encrypted email.
Alternatively, you can look for an encrypt button, follow these instructions from Microsoft:
https://support.office.com/en-us/article/encrypt-email-messages-373339cb-bf1a-4509-b296-802a39d801dc
---
Encrypted messages allow you to send encrypted and rights protected messages to people inside and outside your organization (including users of Office 365, non-Office 365 email applications, and web-based emails services such as Gmail.com and Outlook.com)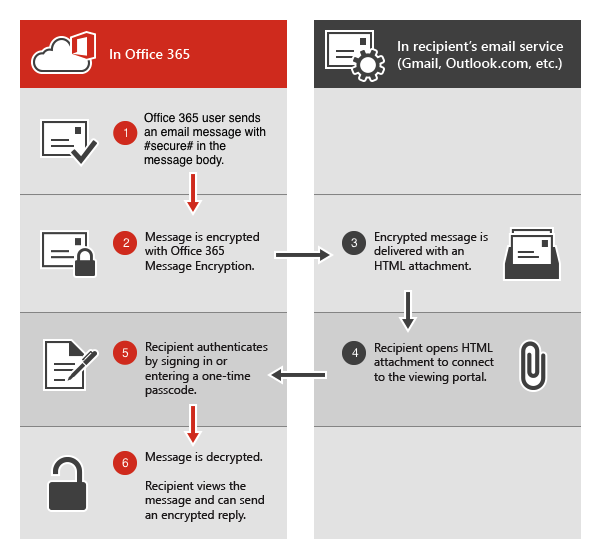 To view encrypted messages, recipients can either get a one-time passcode, sign in with a Microsoft account, or sign in with a work or school account associated with Office 365. Recipients can also send encrypted replies. They don't need an Office 365 subscription to view encrypted messages or send encrypted replies.
Upon receipt, the recipient will receive an email with an attachment and the following message in the body of the email:
You've received an encrypted message from user@cortland.edu

To view your message

Save and open the attachment (message.html), and follow the instructions.

Sign in using the following email address: recipient-email@domain.com
Upon viewing the secure email, the recipient will be able to send an encrypted reply
2019-10-03 14:51:46.007 - SAWS - JP