Linking Webex to Your Blackboard Course
Webex is an online conferencing tool that enables you to have synchronous sessions with your students. In order to use Webex with your Blackboard course to reach your students, you must first create a link to the Tool. You can create the link from either the course menu, or from within a content area depending on your personal approach.
To Create a Menu Link On the top left area of the course menu, mouse over the "Add Menu Item" icon

Click on the Tool link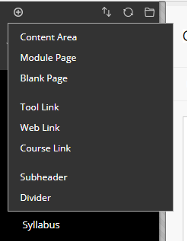 In the Add Tool Link box that opens: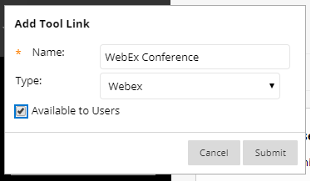 Under Name, type in the name that you wish to give the link. (e.g. Webex Conference)
Under Type, select Webex from the drop down menu
Check the box for Available to Users, otherwise the students will not be able to see the link, nor access Webex
Click on Submit
Congratulations, you have created the link. You can now drag and drop, or use the arrows to move the link to the position that you want it to appear on your menu.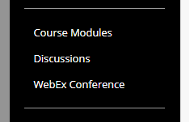 To Activate Webex Within Your Course
Click on the link that you created for Webex in your course
This will establish an LTI link to the Webex servers. If it does not work when you click on it, try again later.
After the LTI link is established, you will then see your options for setting up Webex within your course
In the Choose your features section, select the parts of the tool that you would like to use:
Classroom Collaboration: 

Please do not choose we are not licensed for this tool.

Virtual Meetings: 

Use

Webex

to hold Live class meetings for review or recitation.

Office Hours: 

Setup a schedule of virtual office hours appointments right from your Blackboard page.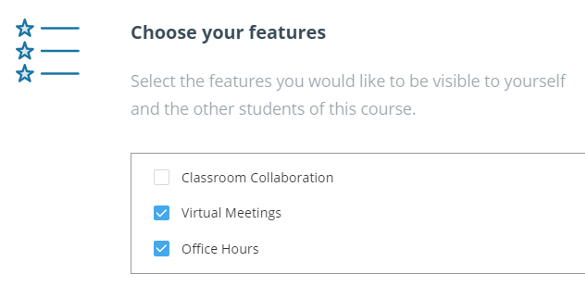 Click Apply. They will now appear in a menu at the top of your page

2020-08-12 14:00:07.364 - JP