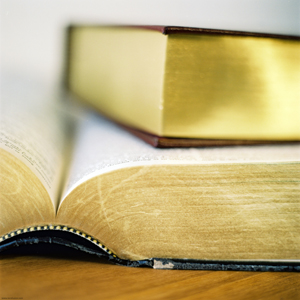 09/28/2012

A SUNY Cortland class studying the evolution of writing doesn't have a time machine at its disposal to analyze early versions of Homer's Iliad. So its professor recently secured the funds for the next best thing: a New York City field trip to visit three locations that treat writing as gold.
Fifteen students in "The Evolution of Writing," a 400-level professional writing elective offered at the College, will take a one-day trip Friday, Oct. 12, to visit the Center for Book Arts, the Strand Book Store and the Morgan Library.
"I'm very suspicious of the idea that education ought to happen only in the classroom," said David Franke, a SUNY Cortland professor of English and professional writing who teaches the course. "Learning should not be constrained simply to a nice, fluorescent-lit room. That's why we're doing everything that we can to create a larger context for what we're learning."
The course is a hybrid of sorts that blends the studies of both history and writing. It asks students to do more than memorize and regurgitate key dates and places.
"It's not just: 'This is what writing was in Egypt and Mesopotamia,'" said Allison Best, a senior professional writing major from Victor, N.Y. "We've talked about how what you write on and how you write it and the font size are all modes of communication. You start thinking about what writing means."
Students have learned, for instance, that one of writing's earliest uses was primitive bookkeeping for kegs of beer. Accounting was the primary purpose, not verbal communication.
"To express yourself in words, no one ever aimed for that at the beginning of writing's evolution," Franke said. "Very slowly, writing developed out of tally marks and pictures of actual objects."
Students so far have studied an evolution of writing that dates back to the earliest petroglyphs carved and painted on rock after the ice age. They've also discussed the importance of the alphabet's birth in ancient Greece for philosophy and read scholarship on the medieval scribe's craft.
But pictures and thoughtful discussions can only go so far. That's why Franke came up with the idea for a transformational, hands-on learning experience for his class.
At the Center for Book Arts, students will take a quick bookbinding course in the early book arts and emulate the work of monks in a scriptorium. Afterwards, they'll walk through Greenwich Village to the Morgan Library, which houses among its many artifacts one of the oldest fragments of the Iliad and papyrus scrolls harvested from the Nile River.
"Just to be able to see that in person would blow me away," Best said.
The group then will spend some time at the Strand Book Store, which opened in 1927 and claims 18 miles of new, used and rare books.
"One of the reasons for this trip is to make the history and power of writing more real," Franke said.
After students return to Cortland, they'll write a paper about libraries and their existence as both a sacred and secular space, Franke said. The class also will look to address some of its semester-long themes, which include the differences between a critical writer and a mere transcriber; the way writing enhances abstract thinking; and the current state of crisis where literacy finds itself, poised on the brink of a game-changing digital revolution.
"Sometimes, students don't realize they're joining a larger tradition of learning and a larger tradition of how writing has affected how we understand ourselves and function in our culture," Franke said.
Financial support for the trip is provided by the School of Arts and Sciences, the English Department, the President's Office and the Cortland College Foundation Small Grants Program.
For more information, contact Franke at (607) 753-5945.
---