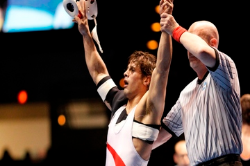 03/13/2017

SUNY Cortland senior wrestler Bobby Dierna and senior track and field athlete Jack Flood both won individual NCAA Division III national championships on Saturday.
Dierna, the defending 2016 Division III national champion in the 157-pound weight class, closed out an undefeated season with the victory. On Saturday, he defeated Logan Thomsen of Wartburg College (Iowa), 8-7 in La Crosse, Wis.
It was Dierna's fourth consecutive finish in the top four at the NCAA championships. He placed third at 149 pounds as a freshman and was second as a sophomore. As a junior, Dierna defeated Wartburg's Drew Wagenhoffer in a 7-5 decision.
Flood set school and SUNYAC records with a score of 5,247 points to claim the heptathlon title at the indoor track and field championships in Naperville, Ill. His score was the fifth-best ever posted by a male athlete at the Division III level. Flood had placed third as a junior in the heptathlon, which includes seven events: 60-meter dash, long jump, shot put, high jump, 60-meter hurdles, pole vault and the 1,000-meter run.
Flood's performance in the final event, 1,000-meter run, sealed his first-place finish.
| | |
| --- | --- |
| | |
| | Jack Flood (left) competes at the national championships. |
"When I finished, I thought I did it because the two people I was racing didn't finish ahead of me," Flood said. "The way I was running, I felt like I got it. I crossed the line and I was looking at the scoreboard thinking, "Did I really just do this?" I'm waiting and it felt like forever and then the scoreboard popped up with me at No. 1 and I literally just exploded. I yelled and I've never felt that energy come out of myself before. I couldn't believe it actually happened. I was in shock, in a way."
To date, SUNY Cortland athletes have won 104 individual national championships. The College also owns 25 team titles at the national level.
Dierna finished his career with a 106-9 record and joins former SUNY Cortland wrestlers Joe Giaramita '16 and Mike Bucci '99 as the program's only four-time All-Americans. He went 21-0 this past season, recording nine wins by pin, six on technical falls and five in major decisions. A native of Webster, Dierna won a New York State Public High School Athletic Association title at 96 pounds as a freshman at Wayne High School.
Flood was named the United States Track and Field and Cross Country Coaches Association's Division III Men's Atlantic Region Field Athlete of the Year earlier this month. He ranked No. 1 in the country in the heptathlon heading into the national championships and was ranked No. 14 in the high jump.
In the spring, Flood will compete in the decathlon for SUNY Cortland's outdoor track and field team.
Flood was taken aback by the support he received from friends and well-wishers. That was obvious the first time he looked at his cell phone.
"I got my award and I just wanted to take a picture to show my parents and I had a load of text messages," Flood said. "I was like, "Wow." Before the 1,000, I knew there were so many people watching and rooting me on. Warming up for the 1,000, I knew it wasn't just for me. It was for all the people watching and all the people who support me. That helped me go after it."
---