Alaina Lynch '19
Honors Program Scholarship Recipient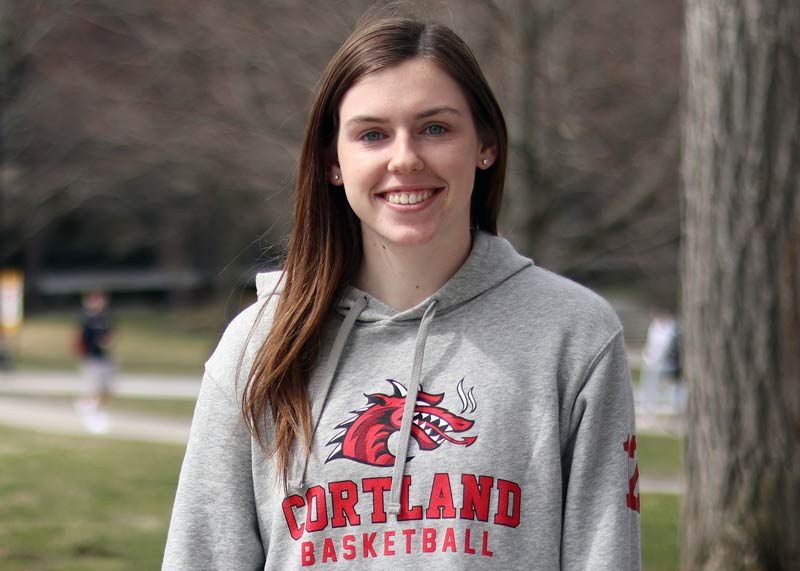 Alaina Lynch '19 made the most of her time at SUNY Cortland. A dual political science and criminology major from Staten Island, N.Y., Lynch aimed for law school. She also served as captain of the women's basketball team and was a leader for student-athletes across the state as SUNYAC Student-Athlete Advisory Committee vice president of legislation.
She also spent a large part of her senior year doing unique and groundbreaking research with Anna Curtis, assistant professor in the Sociology/Anthropology Department.
Lynch studied the television series "Black Mirror," exploring the way the show plays on a generation's fears of a dystopian future where technology clashes with human morality. Like "The Twilight Zone," the series' social commentary offers a glimpse at the things that motivate — and scare — today's college students.
"It's not statistics. It's not law. It's still research. I've learned all about this software I wouldn't have used otherwise. I liked the idea that it was something fictional, which is something I really never deal with in political science."
Using state-of-the-art NVivo software to analyze dialogue from all of the episodes from the first four seasons of "Black Mirror," Lynch uncovered findings that she presented at the Eastern Sociological Society's annual meeting. She knows her undergraduate research experience will help her no matter what she decides to do in the future.