Kyle Richard '19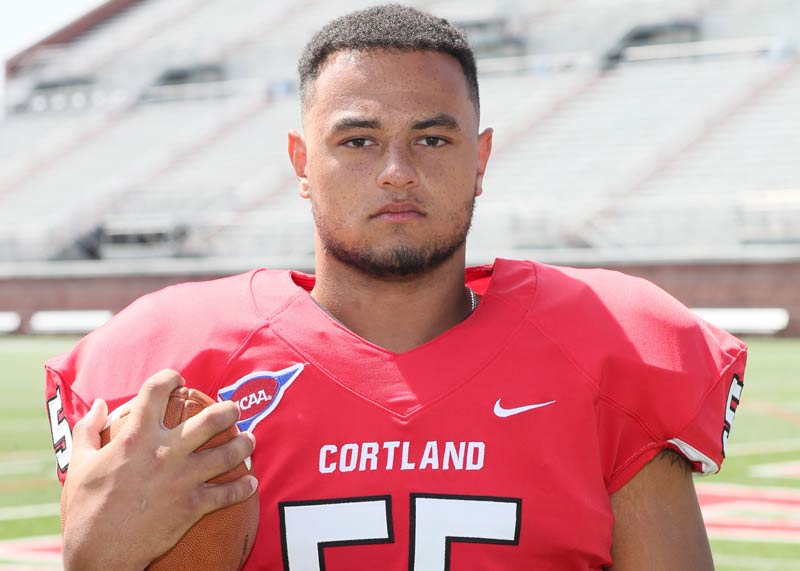 Kyle Richard '19 was preparing for his junior season as a linebacker on SUNY Cortland's football team during the summer of 2017. After a standout sophomore campaign, Richard had been voted as a team captain for the upcoming year.
Leadership and courage are in Richard's DNA.
His mantra on the field was always, "Don't be a bystander. Step up." He took that lesson to heart off the field as well, becoming a role model for student-athletes nationwide.
In July of 2017, Richard and friends were attending a party on Long Island. As they were about to leave, they heard a commotion coming from inside a bathroom. Richard and a friend intervened and interrupted a sexual assault in progress.
As the assailant fled, Richard pursued. Once outside, the perpetrator pulled a gun and shot Richard twice, once in each leg.
Not only did Richard quickly return from his injuries — he missed just the season opener and finished with 75 tackles, three sacks and a pair of fumble recoveries — he became a vocal and outspoken advocate for the prevention of sexual violence. Richard has been an invited guest speaker at colleges including the University of Minnesota, SUNY Maritime, Utica College and Stevens Institute of Technology. He also served as SUNY's student representative at the inauguration of Chancellor Kristina Johnson, sharing his message of being an active bystander.
"It's not hard to be somebody who takes action. All it takes is the first action. All it takes is for you to say something. Words do matter and sometimes all it takes is a word or two," he says.
Richard has received numerous national recognitions, including a Biden Courage Award, the Orange Bowl Courage Award and the SUNYAC Award of Valor. His story was featured on ESPN's SportsCenter on the morning of the 2018 Cortaca Jug game against Ithaca College.
Most of all, Richard hopes his message is taken to heart by others.