SIMS Lab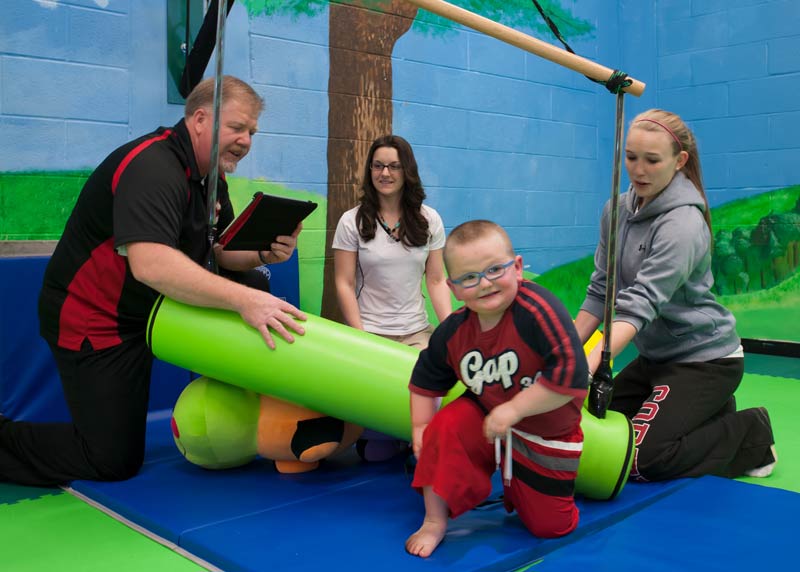 Tim Davis works with students in the lab.
For decades, SUNY Cortland has been committed to providing physical education teachers with the skills to reach students of all abilities.
Associate Professor Tim Davis and alumnus Scott Williams '82 are making sure that dedication continues for many years to come.
Davis is the director of the Sensory Integration Motor Sensory (SIMS) Lab located in Park Center. The lab will soon add a multisensory environment (MSE) that provides a stimulating and calming atmosphere for children who deal with sensory issues, including those with autism spectrum disorder. The MSE uses lighting, auditory and visual effects that can be manipulated by the users, allowing them to comfortably enjoy a variety of experiences.
These types of environment systems are becoming common in public schools around the country and it's important for today's students to get hands-on experience and be prepared for the changing field of physical education.
Williams, executive producer of TV's "NCIS," has partnered with his alma mater to fund the project for a deeply personal reason. He and his wife, Catherine Curry-Williams, are the founders of Inclusion Matters by Shane's Inspiration, named after their late son, Shane Alexander Williams. Shane was born with spinal muscular atrophy, a genetic disorder that affects one in 10,000 children and would have prevented him from using traditional methods of recreation.
SUNY Cortland's SIMS lab expansion will help students prepare for their careers and it also offers local children access to a safe and welcoming play space they may not be able to access otherwise.